Guide to the Northern Breweries in Richmond VA
Outside the city limits of Richmond, to the north, in particular, great beer can be found!
Often overshadowed by Scott's Addition, several of these breweries are worth the trek north. For purposes of this guide, we have arranged the breweries in order of closest to the city and moving north outside the city.
There are great northern breweries in Richmond and we've created this guide for you to visit them all. Find you DD and let's get drinking!
Short on Time? Here are the key takeaways:
The Answer Brewpub is a must visit on the list for their incredible craft beers and food
The farthest brewery is about 30 minutes north
Almost all of these places have food
**Boozing Abroad contains affiliate links throughout the site. If you choose to purchase items through these links, we will earn a small commission at NO extra cost to you. Read the full disclosure policy here**
Map of Northern Breweries in Richmond
Click the interactive map below!
HOW TO USE THIS MAP: To view the layers and see the names of the places on this map, click the tab in the top left corner. You can select the check marks to show or hide certain layers. If you select the icons on the map, you will get more information about the point of interest.
HOW TO SAVE THIS MAP: If you select the star icon next to the map name, you can save this map to your Google Maps account. To view it, open Google Maps in desktop or on your phone, select the menu button, go to "Your Places," scroll to the right to Maps, and you will see this map.
Beginning just west of Scott's Addition, this self-guided brewery-hopping tour will take you to a few different breweries in Richmond outside "city proper" offering up the brewery atmospheres you've come to know and love, insight into home-brewing, and experimental pilot brews!
Strangeways and The Answer could easily be added on to the Scott's Addition brewery crawl, but we chose to add them here as fantastic starting points for this brewery crawl!
1. Strangeways Brewing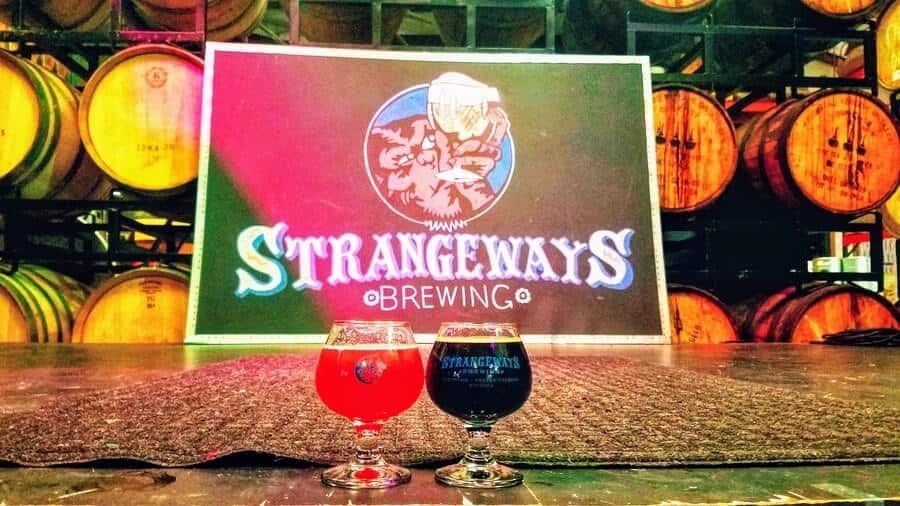 Just about 2 miles west of Scott's Addition, Strangeways sits in a strip mall of sorts and brews some very peculiar concoctions, as they call it, to satisfy all different cravings and palates.
They always have over 30 unique beers on tap, but make sure you taste to tried-and-true Woodbooger Belgian-style brown ale and/or the Albino Monkey Belgian white ale.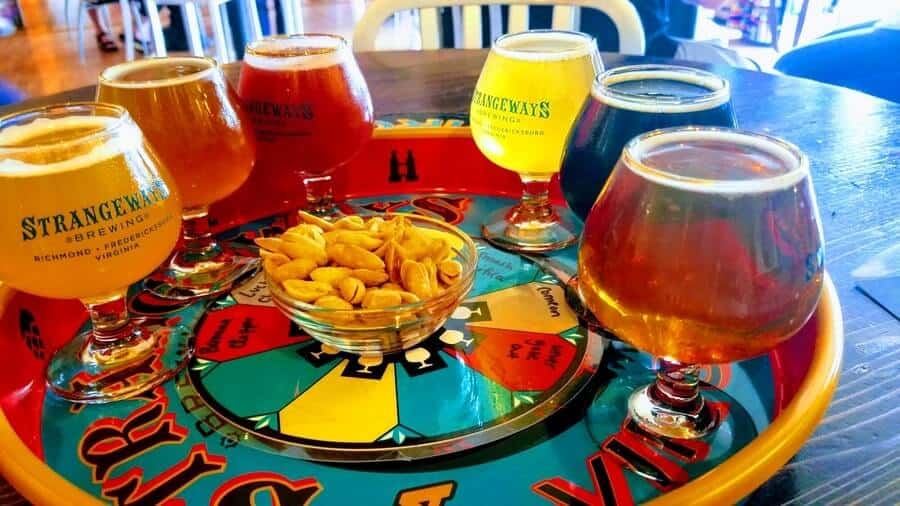 With so many different experimental beers on tap regularly, it's hard to pin down a go-to style for Strangeways.
They recently opened a second taproom in Fredericksburg, Virginia, beginning the process of expanding their distribution and reach across the state.
And even more recently, Strangeways announced they were building a taproom in the already booze-centric Scott's Addition. Who said the craft beer market is slowing down?! Not in Richmond!
2. The Answer Brewpub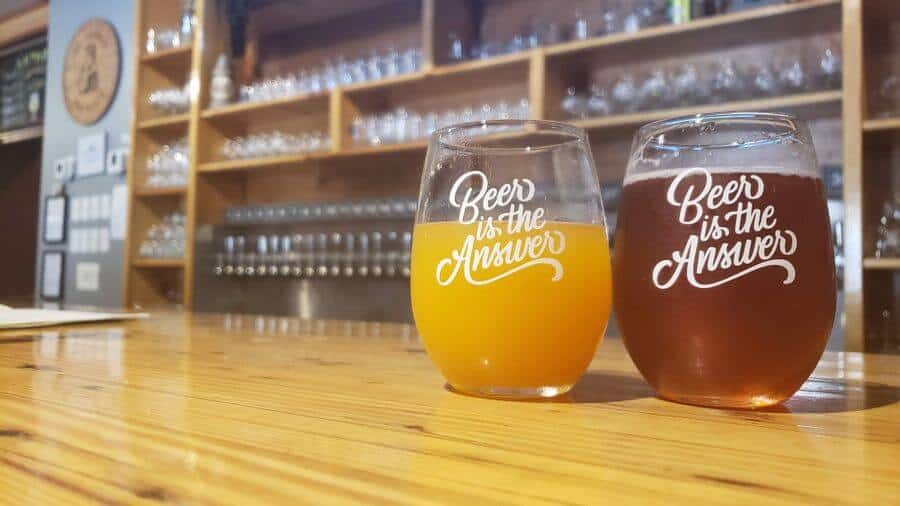 "Beer is the Answer"…Isn't it always? Beer enthusiast and restaurant owner An Bui opened The Answer in 2014 next door to his famed Mekong restaurant, a Vietnamese eatery which was twice named the #1 Great American Beer Bar by CraftBeer.com.
One of the most popular breweries in Richmond, the Answer focuses on fresh beers and you can really taste the freshness coming straight from their 5bbl system.
More than 50 guest taps with something for everyone, this is a great spot to catch some live music on their big stage or just enjoy the good beer.
For some big flavor, try one of their "Andall" beers (randall beer style, but named for owner An Bui) which are run through a double-chamber filter to infuse all sorts of different flavors into your beer.
Don't believe it's the real deal? Well, The Answer just recently beat out some craft beer heavyweights to claim "Best Brewery in America" in USA Today's 2019 Ultimate Craft Beer Bracket!
3. Final Gravity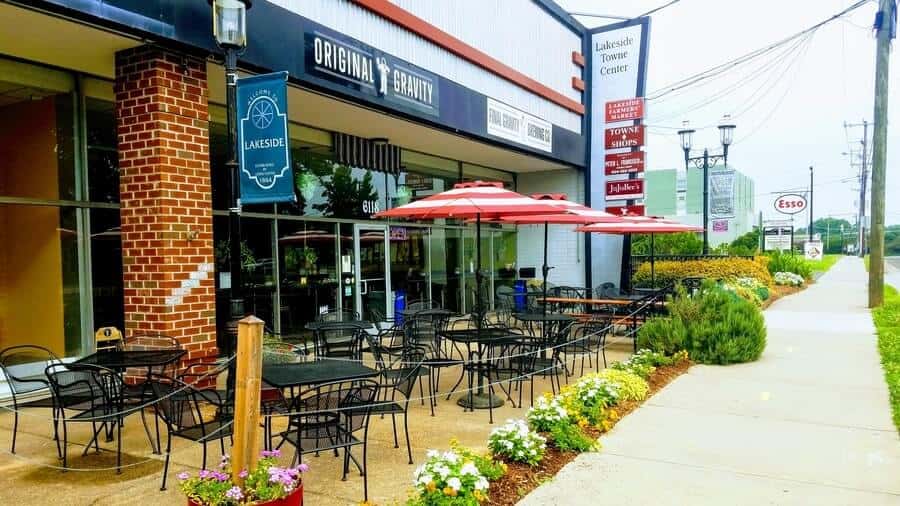 What started out as a beer/wine-making supply store in 2011 has since grown into a full-scale brewery in RVA's Northside.
Final Gravity is the only brewery in this neighborhood and one of the only brick and mortar homebrewing supplies stores in RVA.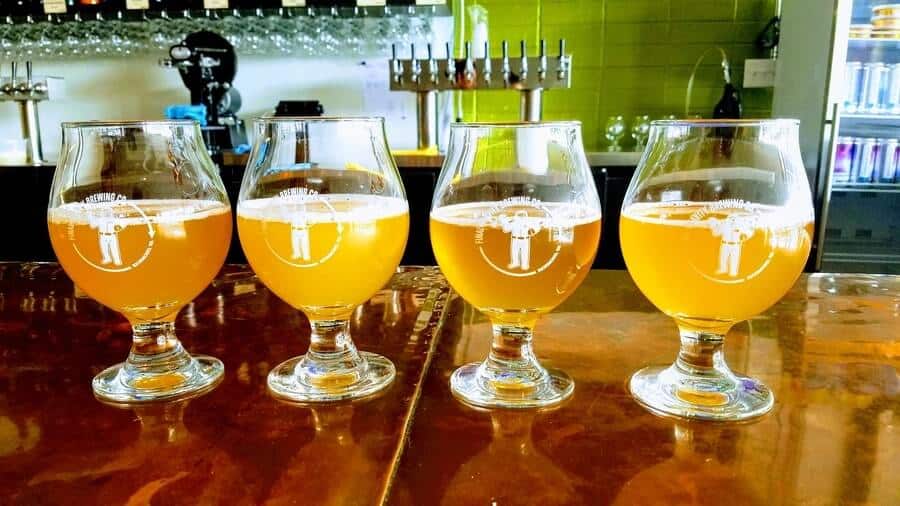 Grab a couple of 5-oz pours to try several of their beers, but make sure you don't miss The Doppler Effect, a 2018 Virginia Craft Brewers Cup gold medal winner for IPAs.
Strike up a conversation with other homebrewers, challenge your friends to a game of darts, or go for the high score on the pinball machines.
4. Intermission Beer Company
Located north of Richmond, near Virginia Center Commons, Intermission has all sorts of theater-related decor, an ode to the 2 owners who met backstage at a theater production, fell in love, and got married….no joke! Nothing fancy here, but a brewery in a part of town that doesn't have much in the way of local booze.
The Pale Ale and Irish Red Ale are the best-sellers, but grab a flight and enjoy the different varieties while looking at all the Playbills and artwork on your table. If you are pressed for time, we suggest moving on to the other breweries in Richmond.
5. Center of the Universe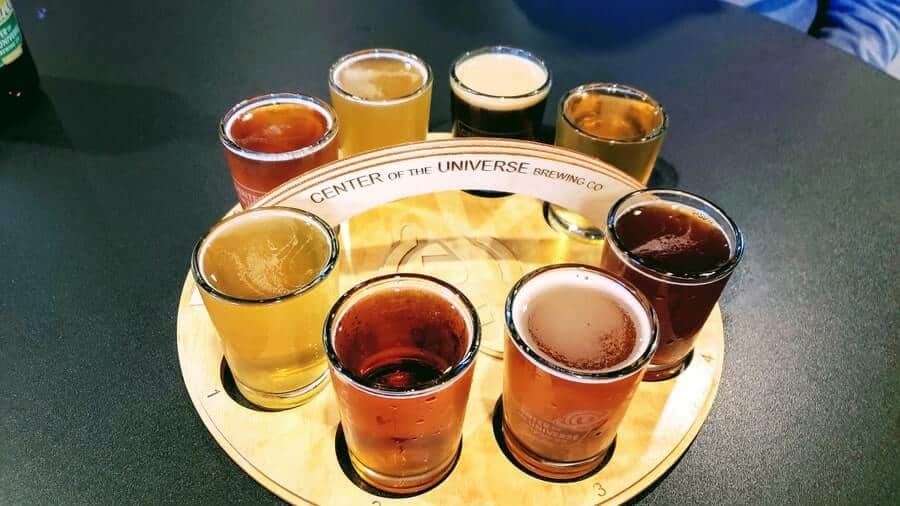 Center of the Universe, or COTU for those millennials out there (us included) who want to shorten everything, got its name from the city in which it is located.
The city of Ashland was coined as the "center of the universe" by a former mayor, and the name just stuck.
While you likely wouldn't agree that Ashland is the "COTU" when you're driving around, the brewery makes this part of town worth a visit.
One of the founders is a former professional baseball player, so naturally, there is a collaboration with Richmond's minor league baseball team (Richmond Flying Squirrels) called Chin Music.
According to COTU, it's "as crisp as opening night and as smooth as a walk-off swing." Or, try out the white Russian stout called El Duderino. The Dude abides!
6. Origin Beer Lab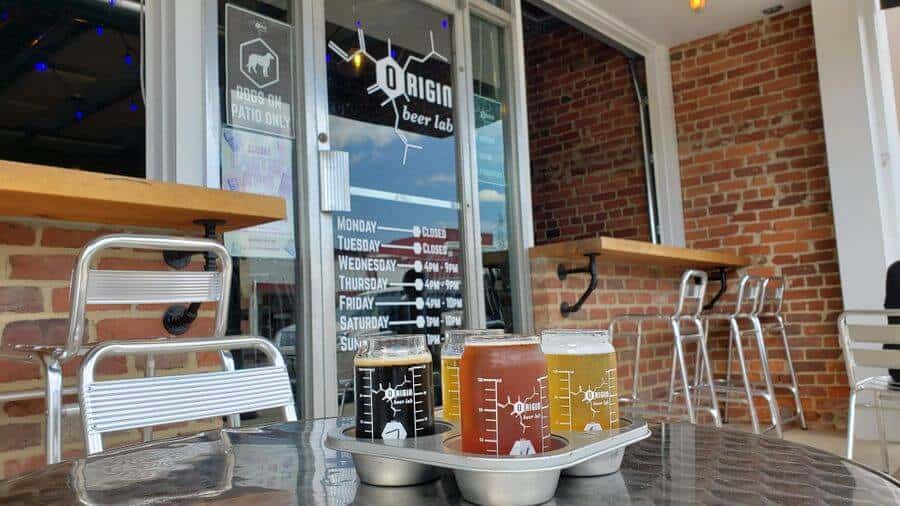 The last stop on our brewery-hopping tour of north Richmond, Origin Beer Lab, takes us to true downtown Ashland, right near the campus of Randolph-Macon College. Origin is the sister brewery of Center of the Universe and operates as its pilot brewery as well.
As COTU has grown in size and popularity among breweries in Richmond, demands for increased production and distribution, Origin was opened for the purposes of handling all recipe tweaks, new recipes, and experimentation for COTU. This allows the brewers to continue to experiment with new and innovative ideas without impacting the capacity of COTU's operations.
Origin features a maximum of 8 beers on tap depending on what experiments they have going on at the time. Also, you'll only be able to taste these beers here at Origin as there is no transferring of beers between breweries and there is no distribution.
If a beer is good enough to make it, it will be produced on a larger scale by COTU. Something that was interesting to us while we were there: the beers didn't even have names, rather just their styles. No sense in coming up with a kick-ass beer name if the beer is not going to make it!
Northern Breweries in Richmond
With so many great breweries in Richmond, this brewery guide will help you cover the northern breweries.
We suggest spreading this hopping out among multiple days, but if you think you can do it responsibly (aka you have a designated driver/walker and you pace yourself), then this guide is the route we'd suggest to hit them all.
Looking for brewery hopping guides in other neighborhoods of Richmond?