Things to do in Caye Caulker, Belize – Going slow is unBELIZEable
Caye Caulker's motto is "Go Slow" and with the unpaved road and just short of a million potholes, I don't know how you could possibly go fast. Time truly does slow down in Caye Caulker, despite our best efforts to speed it up with alcohol consumption.
**Boozing Abroad contains affiliate links throughout the site. If you choose to purchase items through these links, we will earn a small commission at NO extra cost to you. Read the full disclosure policy here**
Map of things to do in Caye Caulker Belize
Click the interactive map below!
HOW TO USE THIS MAP: To view the layers and see the names of the places on this map, click the tab in the top left corner. You can select the check marks to show or hide certain layers. If you select the icons on the map, you will get more information about the point of interest.
HOW TO SAVE THIS MAP: If you select the star icon next to the map name, you can save this map to your Google Maps account. To view it, open Google Maps in desktop or on your phone, select the menu button, go to "Your Places," scroll to the right to Maps, and you will see this map.
How to get from Belize City to Caye Caulker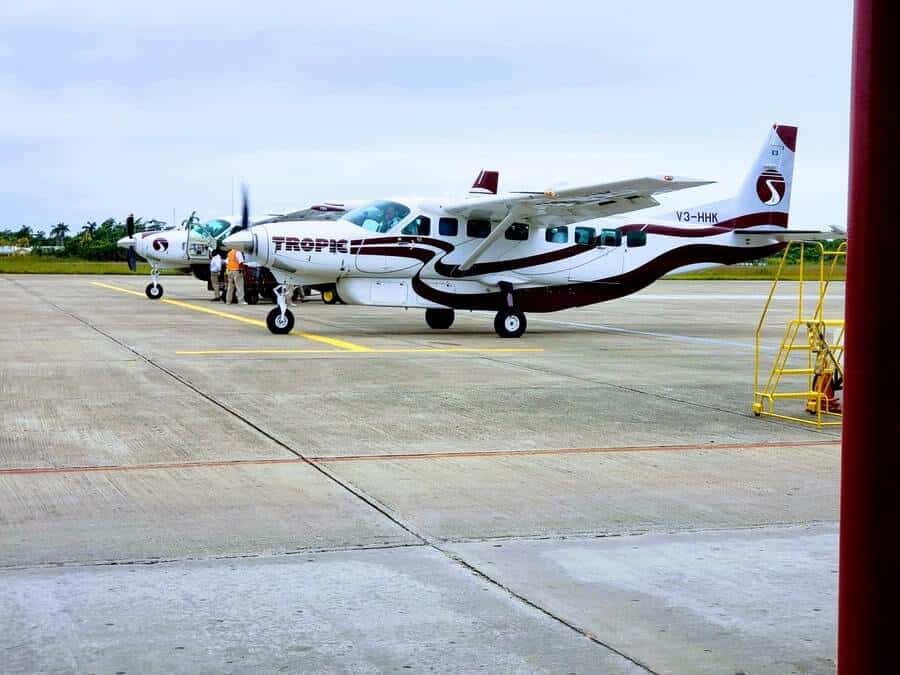 There are two ways to reach this slice of paradise, by plane or by ferryboat.
We opted for plane to save time and little did we know we were in a for a fun experience.
Tropic Air provides flights hourly from BZE airport and will bump you up to an earlier flight when you check in if they have space on their 10-seater airplane.
We arrived earlier than expected and were able to bump up flights and we needed every single seat on the plane…even the co-pilot seat up front.
Yep, you heard me.
The co-pilot seat next to the pilot with all of the controls an arms-length away! Who got picked for this lucky seat? Chris.
This quick 10-minute flight isn't ideal for nervous fliers as they pick random passengers to sit next to the pilot.
However, the view of the Barrier Reef offered from the plane is worth the extra money in comparison to less expensive ferry option. The runway on Caye Caulker extends the width of the southern part of the island meaning that takeoff and landing begin and end at the water.
We could see this being a bit nerve-racking for nervous fliers, but we loved every single second of this!
Caye Caulker Hotels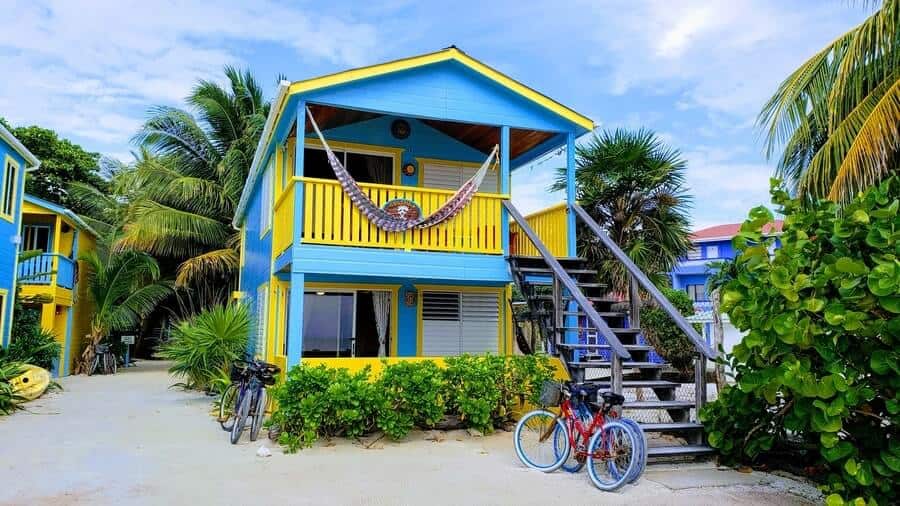 With it being essentially a 5 to 10-minute walk to anywhere on the island, you really can't go wrong with where you stay. We chose Colinda Cabanas based on their Booking.com reviews and we were not disappointed.
We stayed in Second Row Upper Suite # 9 which is a water view cabana fully equipped with a small kitchen, A/C bedroom, living room and bathroom.
The large covered patio has a hammock (Samantha's favorite) and each unit comes with 2 bicycles and access to 4 kayaks to use whenever (first-come, first-serve amongst the other guests).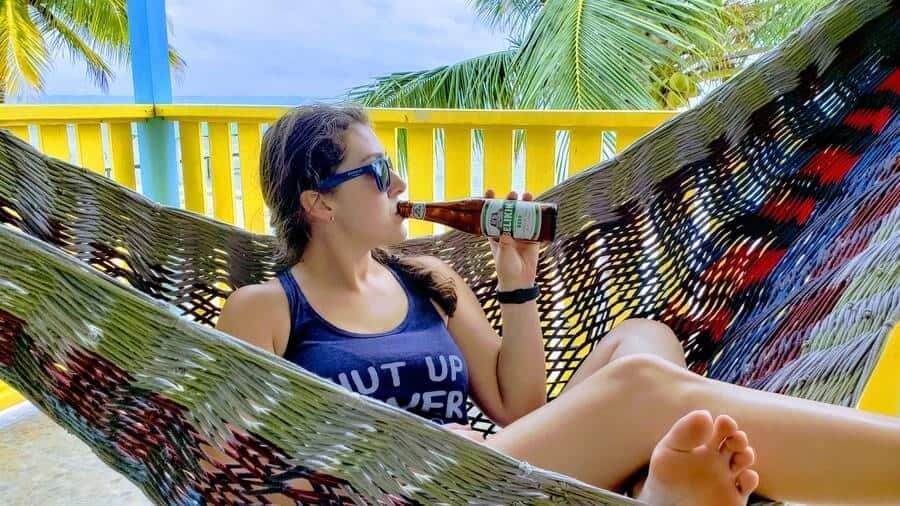 The best perk to this place, in our opinion – the option for the Beer Basket & local chips and salsa Welcome Package you can pre-order for your room.
We literally had 10 local Belikin beers and food the second we walked in. Why can't every place we stay provide local beer baskets? Sure would make this blog easier to write.
A short walk or bicycle ride to get to convenience stores and bars, Colinda Cabanas was amazing. Juan and Emelita, a husband and wife team, runs the cabana and they made the time there incredible.
From calling us "taxis" (golf carts) to giving us suggestions on where to eat and shop, they were very gracious and helped to make our trip magical.
Getting to know the Island
Caye Caulker (pronounced key cawl-kher) is a quaint island off the coast of Belize, located about one mile west of the Belize Barrier Reef, the second largest barrier reef in the world.
The island itself is only 5 miles long and can be up to a mile wide, but where all the bars and shops are located, I'd argue it's not more than a half-mile wide.
Mainland Belize offers the "go slow" island life, like you find in Caye Caulker, but also is home to a jungle/rainforest packed with various potentially life-threatening adventures – making this vacation an easy way to split time between both locations.
We spent 3 full days in Caye Caulker even though it felt like a week – but in a good way!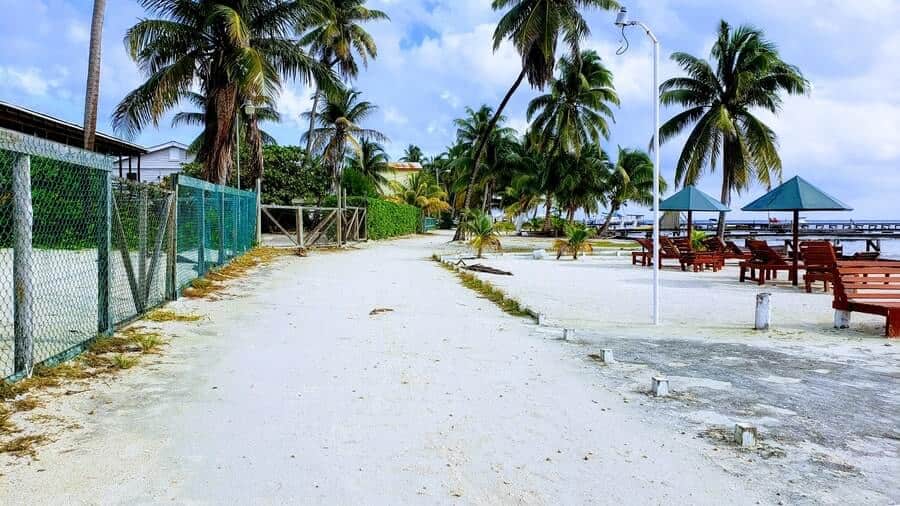 The only way around the island is on foot, bicycle, or golf cart. In the time we were there, we only saw 2 cars and they were both work vehicles.
There are only 3 actual roads on the island, and by roads, we mean heavily packed-down sand/dirt. Heading north, these roads will all go through the downtown area and eventually lead you to the Split.
"Downtown" Caye Caulker is a colorful scene incorporating every color of the rainbow – beige roads (okay, so beige isn't a color of the rainbow), crystal blue skies, green palm trees, and all the buildings are painted in vibrant pinks, yellows, purples, blues and more.
If a hungover unicorn threw up from too many island drinks, Caye Caulker's color scheme would match the magically spewed rainbow.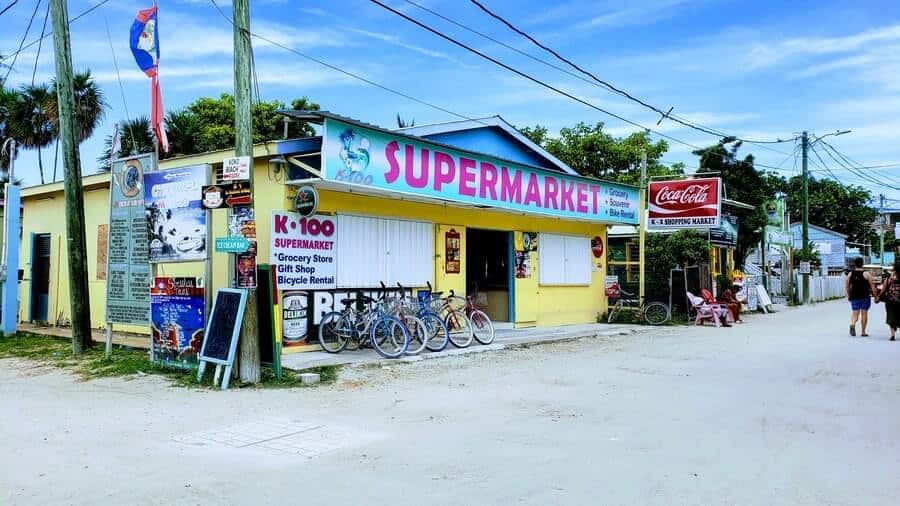 The Split is the area of the island that was literally split in half by a hurricane in 1961 and today is home to a beach, The Lazy Lizard bar, and a swimming and fishing area.
Directly across from the Split is the northern portion of the island. You can get there via a free boat ride and the western docks (more on that later).
Things to do in Caye Caulker
Water Activities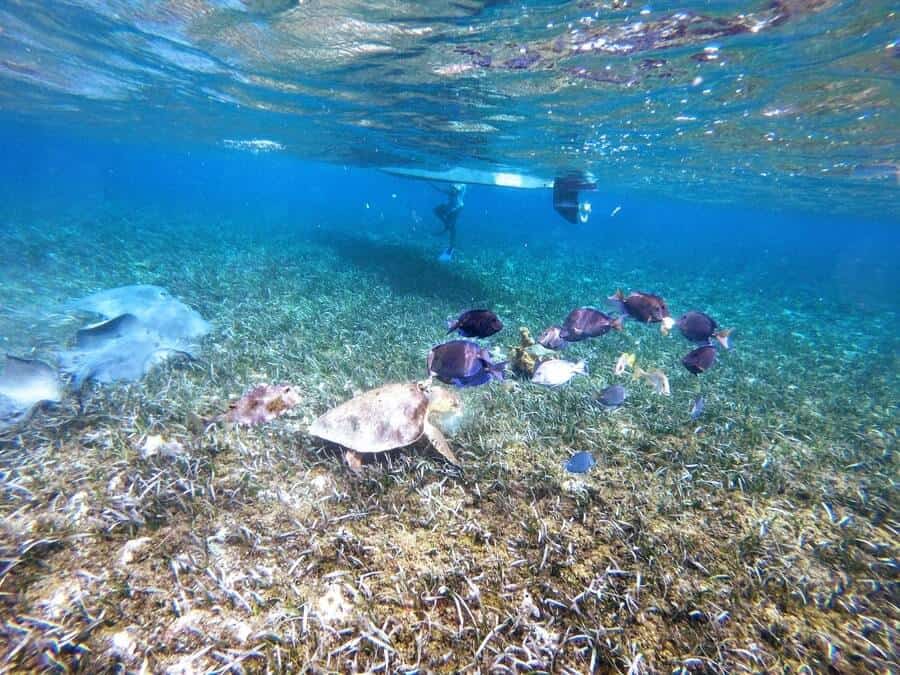 Outside of taking yourself on a daily bar crawl, which we did, Caye Caulker offers various day trips to the Barrier Reef and other snorkel/diving sites off the coast.
There are a couple different options on the island depending on what you're looking for. To see what we did, check out our post A Snorkel Day Trip with Caveman Snorkeling Tours. Sneak Peak: we got to swim with sharks, rays and turtles.
We aren't scuba divers, but heard really good things about Frenchie's.
Raggamuffin Tours also had good reviews, but that was on a sailboat, not a speed boat, and we wanted a faster ride so we could make it to more stops.
Koko King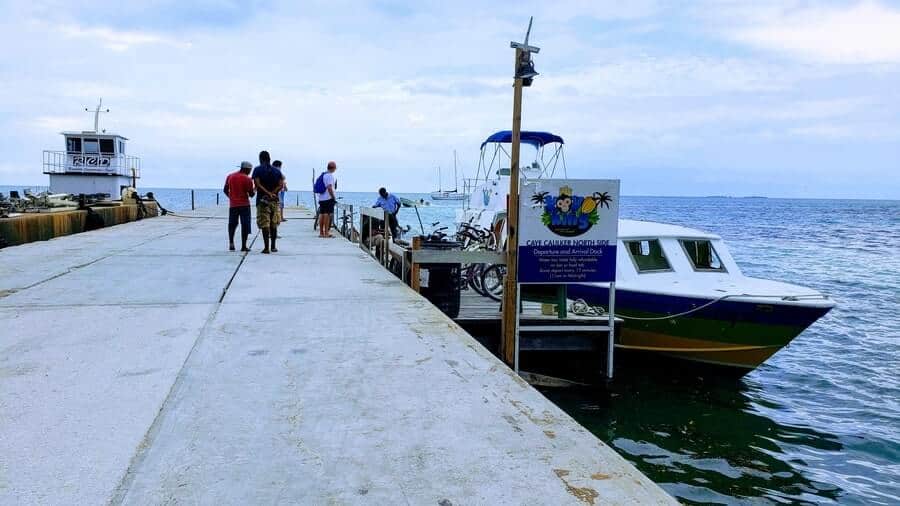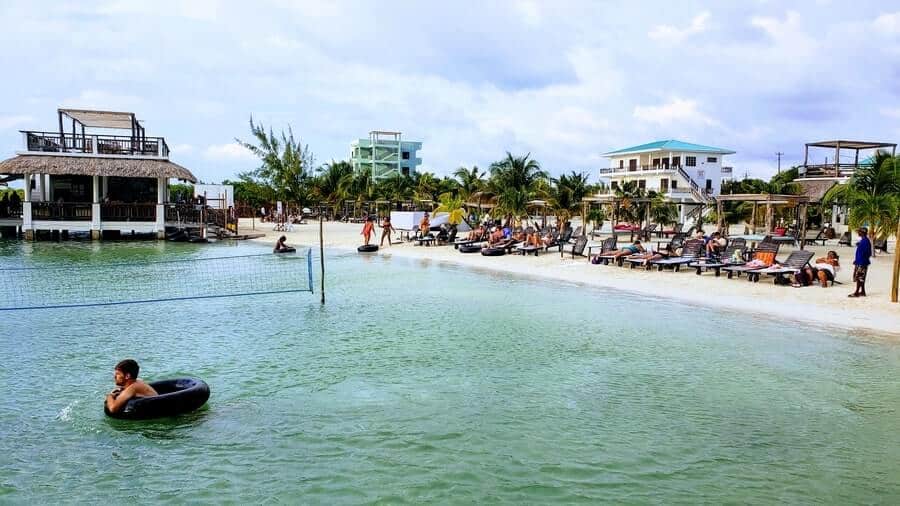 We categorize Koko King under "water activities " because you take a free boat ride there and they offer a blow-up jungle gym and trampoline in the water or tubes to float in.
Koko King is a bar on the north part of the island, opposite of the Split, and a condition of the free boat ride is the expectation for you to purchase a drink or food.
We usually don't need someone to nudge us to get a drink, but we can pretend that that's the reason we bought drinks!
With soft white sand and a cove protected from the winds, Koko King is a solid choice for a fun half-day activity.
I can't comment on the price of the drinks as we ventured over there after a half-day bar crawl, but we have some photos of drunk Sam floating around with beers in a tube.
We didn't stay for sunset, but it would be a great place to view it. Below is a pic from the dock where you can swing over the water. Lots of fun!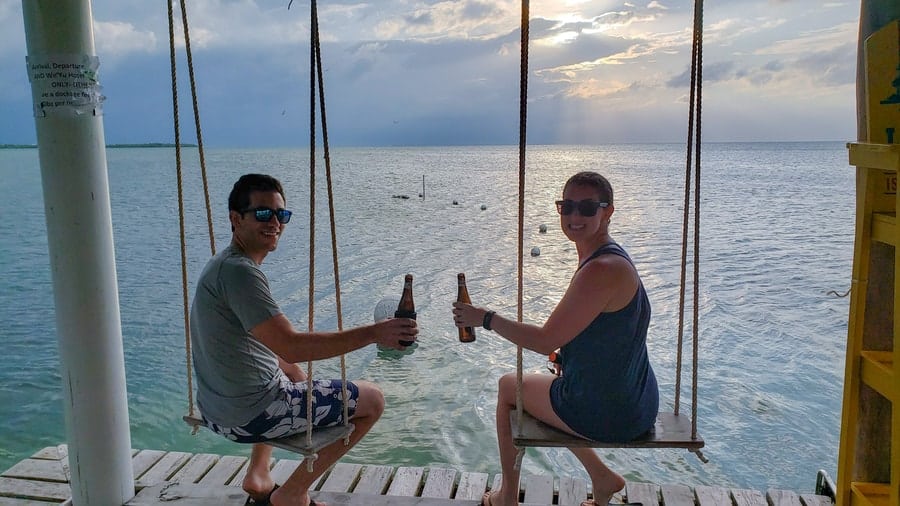 Land Activities
If land is more your style, grab a bike and explore the island. Like seashells? On the south side of the airport, aka the side opposite of the bars, you will find a massive conch wall.
It's only a 3-minute bike ride from the airport, but dodging mud and potholes might make it feel longer.
We ventured out there on an overcast day, and while it was pretty neat, if you never see it, you won't be missing anything unBelizeable.
Relax at the Split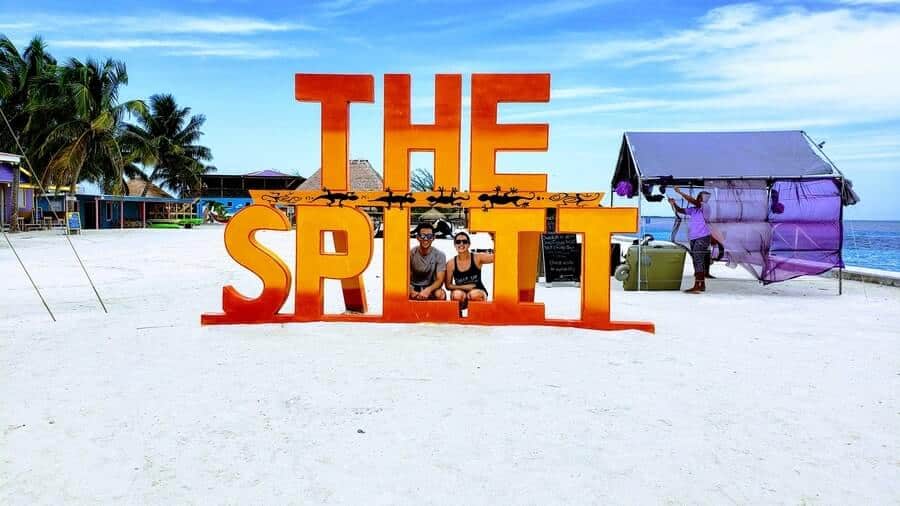 We'll use the Split as a segue into bars since the Lazy Lizard inhabits the majority of the Split, and trust me, you'll end up there!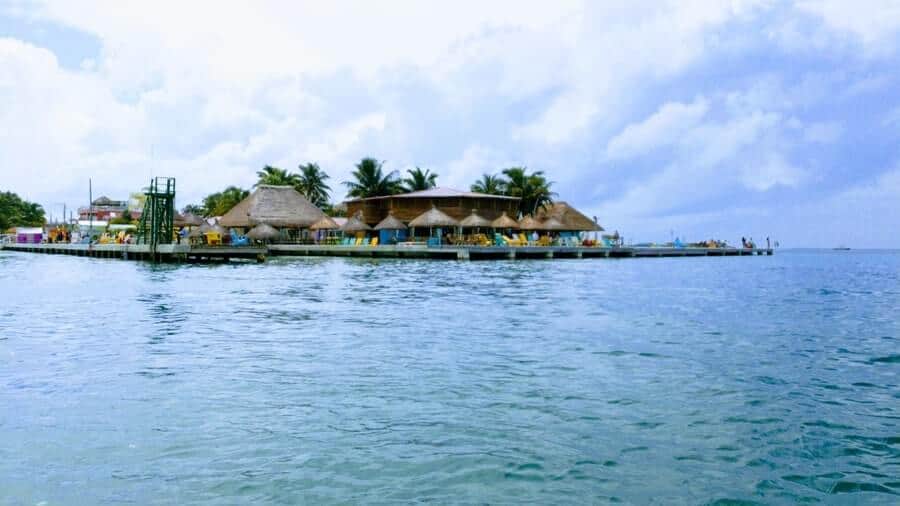 You won't catch the locals here since the drinks are more expensive than everywhere else on the island, except during happy hour of course.
It has a fantastic atmosphere with a nice breeze and arguably the best bar location on the island.
If you are up for a treat, try the Lizard Juice or Panty Ripper. We have zero idea what is in the Lizard Juice, but after watching Chris drink the bright-green frozen cocktail, I was waiting for him to turn into the Incredible Hulk.
Luckily, he never did. But he was ready to bar hop after it though!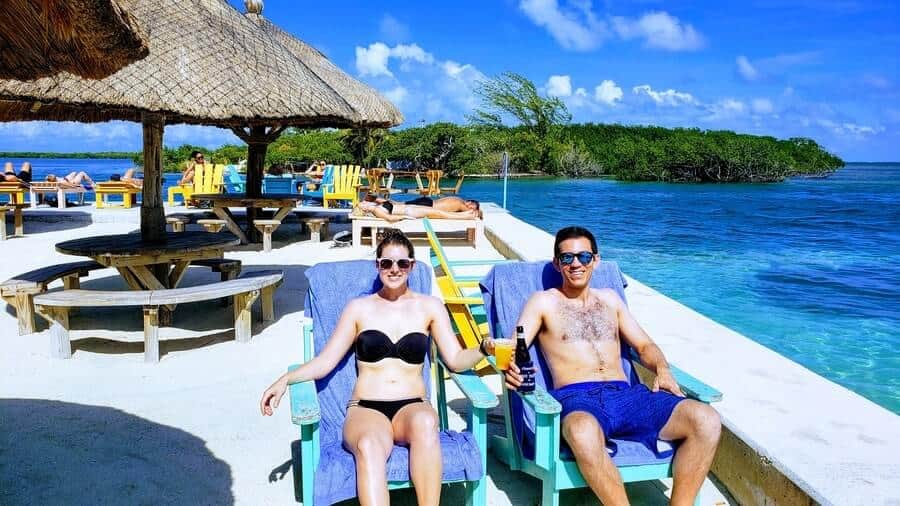 Bar Hopping
In no particular order, we tipsily made our way from the Split down the main street, stopping at any establishment that possessed alcohol/every single bar that was open. To see where we stopped and our reviews, check out our trip on our TripAdvisor Page.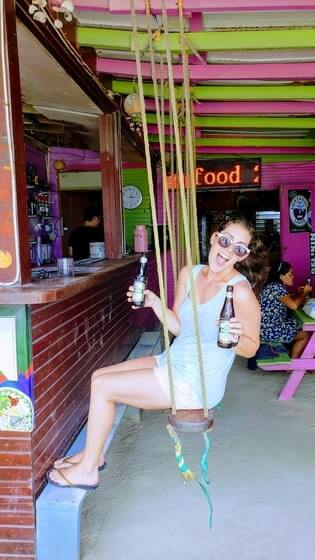 Honorable mentions on our bar crawl include:
Enjoy Bar & Restaurant (Pictured here)
Barefoot Caribe Restaurant Bar & Grill
Rainbow Grill & Bar
Bambooze Bar
Brisas del Mar
Barrier Reef Sports Bar & Grill
Caye Caulker Restauarants
Breakfast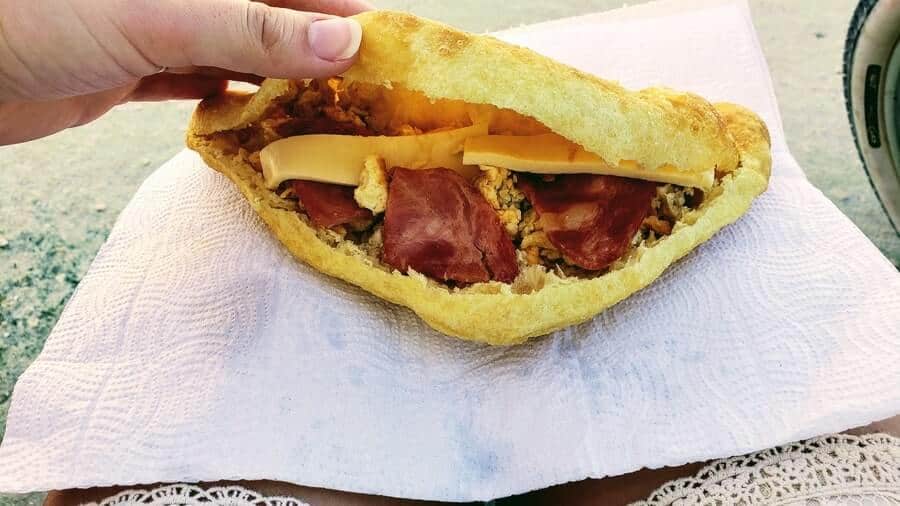 Errolyn's House of Fryjacks – Fryjacks are a local dish to Belize that are hard to describe, but I want to eat it every day. It's like a massive piece of bread that is fried and baked with your choice of what deliciousness is inside.
It's like a croissant met a loaf of bread, they had a baby, and stuffed it with meats and cheeses.
I feel like mouthwatering is an overused expression when it comes to food, but as we type this, I am actually starting to salivate (I know, super attractive).
Amor y Cafe – This is a delightful cafe that offers basic breakfast selections – and by basic we mean 3 staple dishes with options. For example, toast is the staple and you can pick the option of jam, nutella, peanut butter and banana, etc.
Samantha picked the grilled sandwich with ham and cheese and Chris picked salami and cheese. There was nothing extra special about these sandwiches so we remain neutral on a good or bad opinion.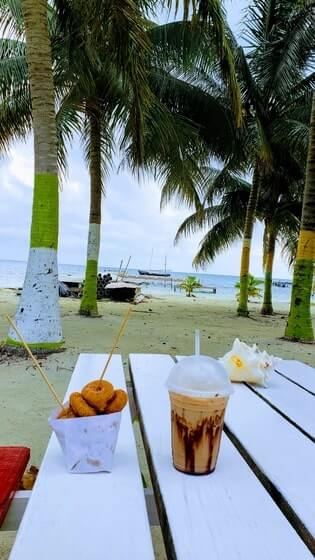 Ice N Beans – A small beachside hut surprised us with a full cafe selection as well as sweets.
Mini Donuts and bubble waffles are must-try on the menu.
The mini donuts will help your sweet tooth and the bubble waffle gives you tons of options for toppings. The line can get long and the wait is long after you order.
If you are going slow, then grab a spot at the picnic table out back and enjoy the view.
Paradiso Restaurant – Located across from Ice N Beans is Paradiso. We grabbed breakfast here our last morning and were very happy.
I have zero pictures of our food because I ate it too quickly to stop to take one.
Samantha is a scrambled egg expert and she thoroughly enjoyed her eggs. (That says a lot because she can be quite particular about eggs). The service was good and the outside bar seating was a great way to start our morning.
Lunch and Dinner Stops
Barrier Reef Sports Bar & Grill – Welcome to the sports bar in Caye Caulker. Barrier Reef has a tremendously fun atmosphere.
We were here for dinner the first night and then returned on Sunday night for trivia. Trivia was generic and anyone could play. At the end, while tallying up the points, they give you a free shot if you stand on your chair.
We ordered the fish tacos and the jerk pork tacos and enjoyed every bite.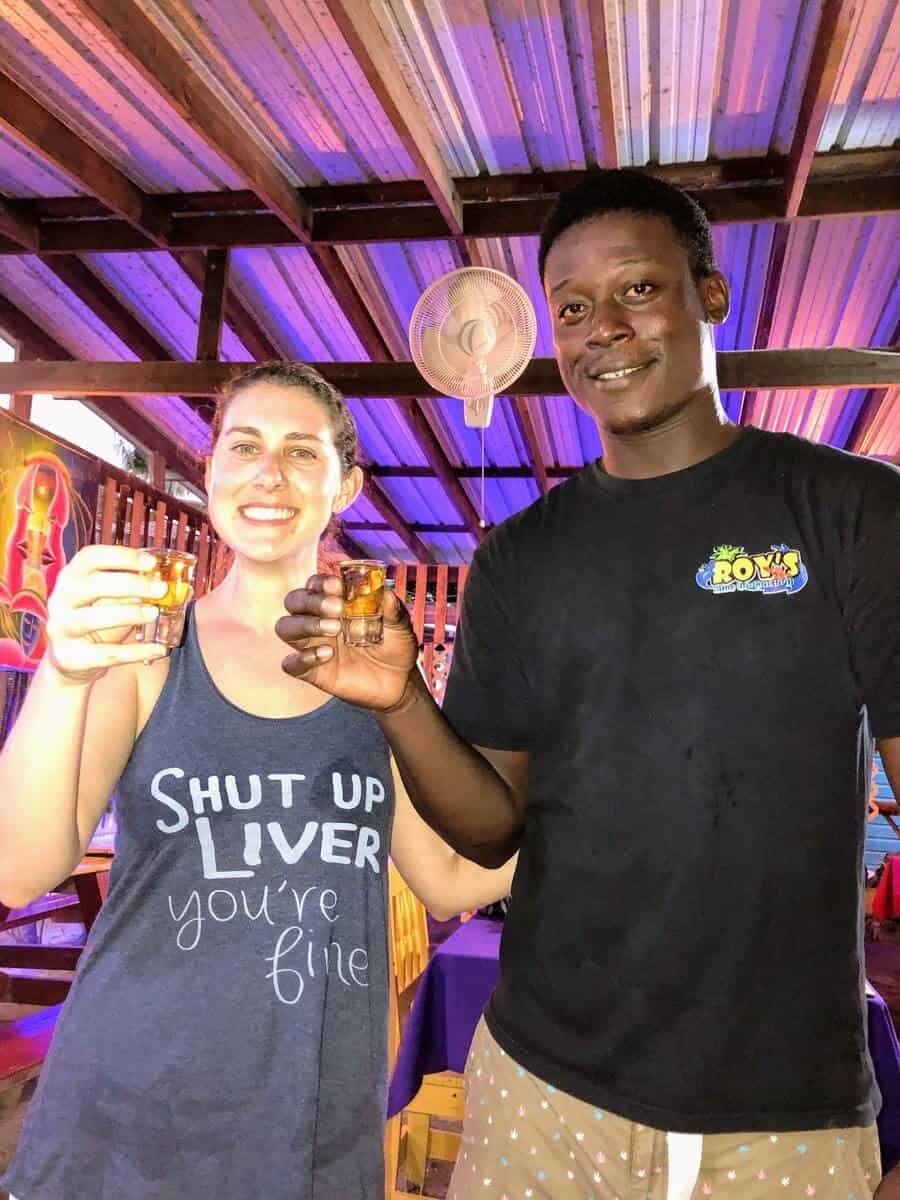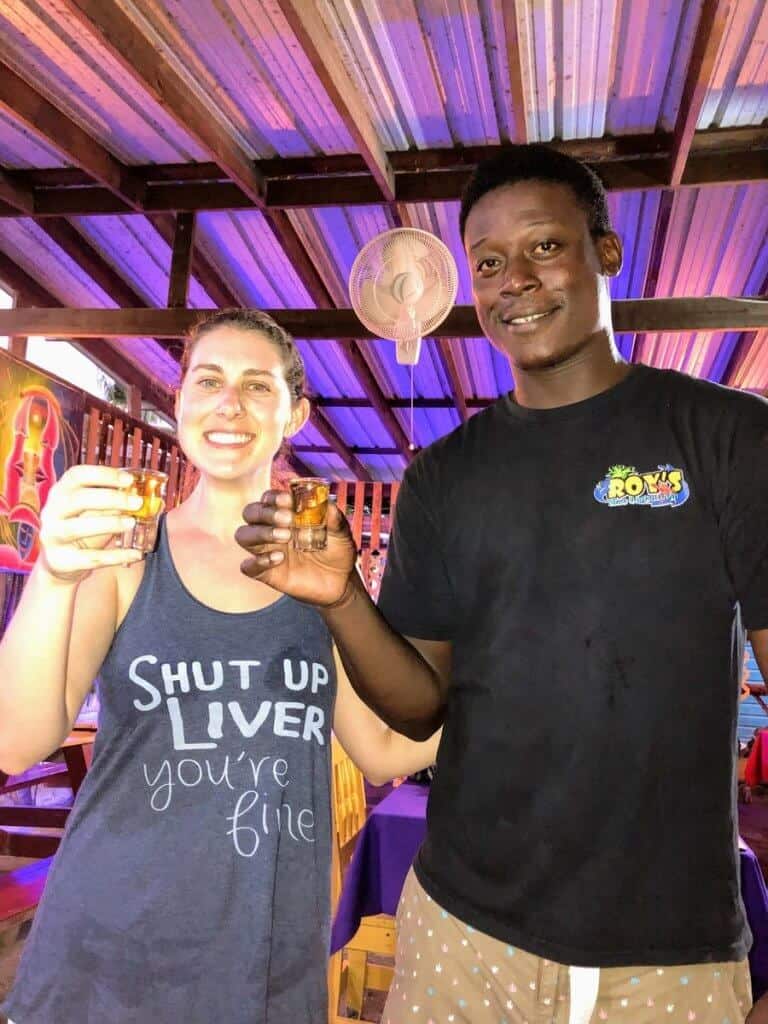 Roy's Blue Water Grill – Roy's was visited for dinner after a day drinking adventure to Koko King, and while Samantha remembers eating the chicken fajita, she also bought the server a shot and they took it together.
Put it this way, we don't remember the food being bad and we both cleared our plates!
Rose's Grill & Bar – This place was unique, to say the least, solely for the fact their sign reads, "If you haven't been to Rose's you haven't been to Belize".
We walked up to trays of seafood in ice that we could pick for dinner that night.
Considering it was 75 degrees, the ice was melting quickly. We decided to test our ironclad stomachs and select some fillets of fish from the tray for dinner.
The mystery fish was served with rice and beans and coleslaw. Not going to lie, it was decent. The biggest surprise was neither of us died from food poisoning – go team!
Bondi Bar & Bistro – We were walking down the main street discussing dinner options when Bondi's sign read "Taco Tuesday".
Samantha has never been able to pass a sign with those two words on them, so, naturally, in we went. With a dimly lit dining room, we ate our tacos and drank margaritas, enjoying the challenge of eating in near dark conditions.
Various Street Vendors – If you don't eat from a vendor on your trip, then you missed out 110% on the awesome cuisine Belizeans offer.
We sought out the street carts a few times for tacos and burritos. Samantha does not often equate specific tacos to addictive substances, but these tacos were top-notch, savory, delicious, can't-get-enough-in-my-mouth-in-one-bite tacos.
Needless to say, we stopped a few times. They are cheap, 5 belize dollars ($2.50 US) for 3 tacos. #winning
Overall – Things to do in Caye Caulker
Caye Caulker was an island with no laws, lots of bars, unBelizable street food and enough sunshine to satisfy the laziest sunbathing Lizard out there.
If you're looking for a super active location with tons to do, this probably isn't the best spot for you. If you're looking for bars, a slow-paced and friendly island with access to water activities, then Caye Caulker is the spot.
We hope to get back to Belize to explore other islands and see the progress they are making to preserve their Barrier Reef. Don't forget to check out our post on our Snorkel Adventure from Caye Caulker.