Belize Jungle – Sleeping Giant Rainforest Lodge Review
After a few days of going slow in Caye Caulker, soaking up the rays and sucking down the Belikins, we opted for a change of pace and a little more adventure by heading inland towards the jungle/rainforest to the Sleeping Giant Rainforest Lodge.
Honestly, most of Belize is covered in jungle so you'll need a bit more than that for context.
So…where most of the adventure (and related excursions) occurs is near Belmopan, the capital city of Belize. To get your bearings, Belmopan is a little over an hour east of Belize's largest city, Belize City.
**Boozing Abroad contains affiliate links throughout the site. If you choose to purchase items through these links, we will earn a small commission at NO extra cost to you. Read the full disclosure policy here**
Useless trivia: The capital of Belize was actually moved from Belize City to Belmopan in the 1960s and 70s after the devastation of Hurricane Hattie in 1961.
The thought was that the inland location and higher elevation of Belmopan would protect it from future devastation. So far, so good.
Where to Stay
There are countless options when looking for places to stay in Belize's jungle; and, as with most things in life, a lot of your decision will come down to how much you are willing to pay.
Just a quick note….most, if not all, of the lodges/resorts offer excursions for the various adventures you're likely here for including the ATM cave, cave tubing, ziplining, horseback riding, hiking, and/or just relaxing by the pool with your tropical cocktail.
During our trip, and after our extensive research, we decided on the Sleeping Giant Rainforest Lodge for our 3 nights. Sleeping Giant is about a 30-minute drive from Belmopan and about an hour and a half from Belize City (on some pretty bumpy roads, mind you).
For peace of mind, we chose to arrange transportation from the airport ahead of time (a private, air-conditioned van), which can be done when booking your stay.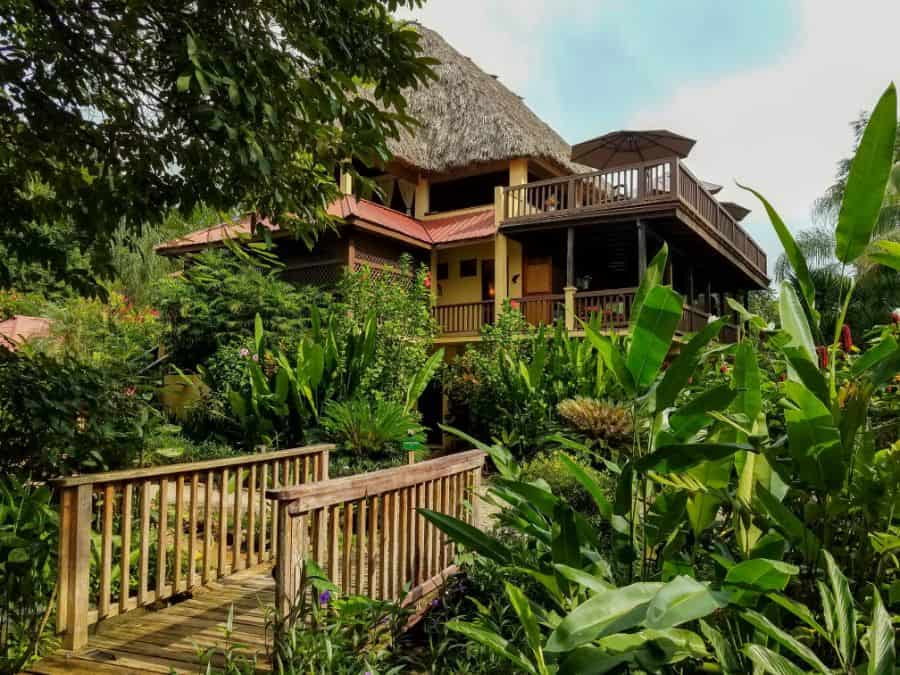 After our small airplane made it from Caye Caulker to Belize City successfully, our driver was waiting for us outside of baggage claim and was even nice enough to stop at a small convenience store on the way so we could grab some snacks.
Nom nom nom!
Note: there are flights from Belize City to Belmopan, which only takes about 10 minutes. So, if you want to save time (but definitely not money – the flights aren't cheap), you can pick that option too!
The hour and a half drive to Sleeping Giant passed through an eclectic bunch of towns, from downtown Belize City to some really desolate and rundown towns.
More useless trivia: we even passed the Belize Central Prison, which is the only correctional facility in Belize and holds about 2,000 inmates.
Welcome to the Jungle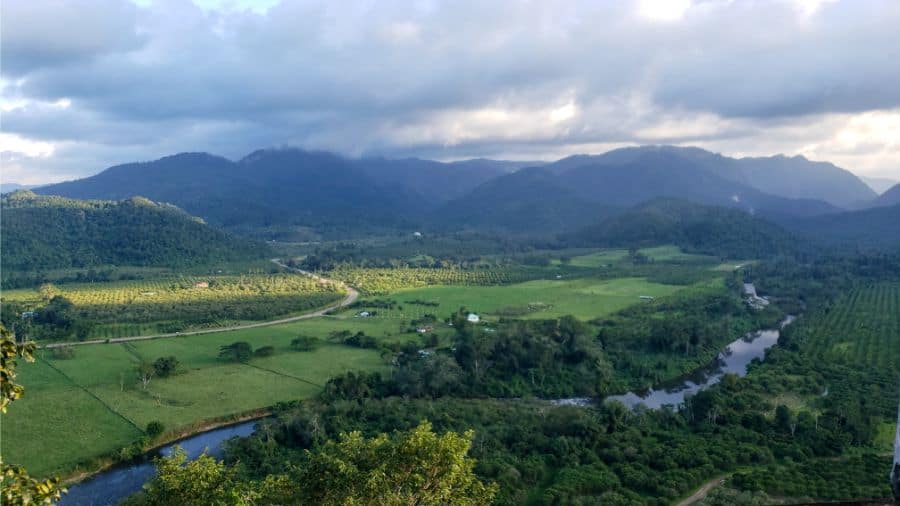 You'll know when you're getting closer to Sleeping Giant Rainforest Lodge because you'll start to notice the lush green forest all around you.
That, and you'll see a sign that says "Jaguar Crossing" at the entrance to the lodge. If that doesn't say welcome to the jungle, I'm not sure what does!
Not your style?
OK, how about a welcome drink of lemongrass tea mixed with rum while you are checking in. More your cup of tea?
Ours too!
Sleeping Giant really is an oasis of sorts with absolutely beautiful grounds (there were always people working on the foliage, pruning, watering) and wildlife everywhere.
We saw everything from ducks, turtles, peacocks, kittens, iguanas, snakes (harmless, we think), and of course, the pesky usual suspects, mosquitoes.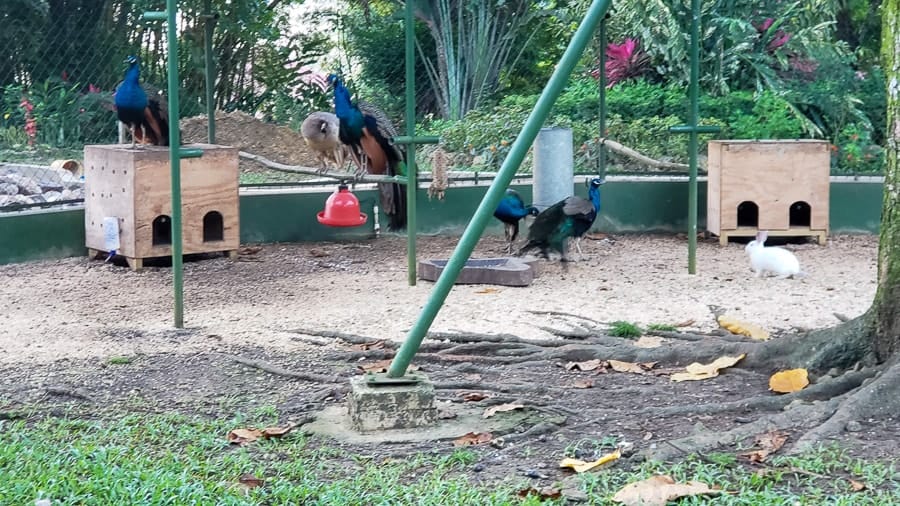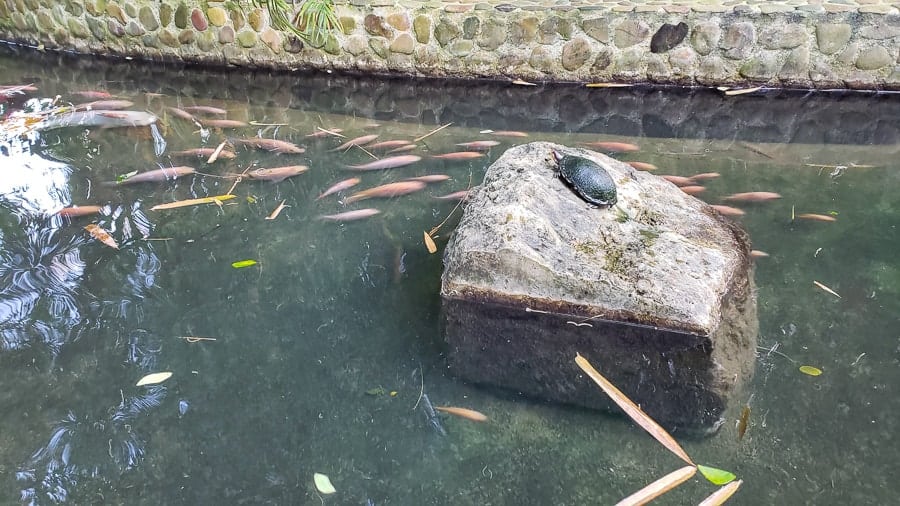 Although the sign at the entrance told us to beware of them, we didn't cross any jaguars, thankfully (we were slow-footed after 4 days of Belikin beers…), but we did see motion cameras in the woods on one of our hikes, so we know they're out there!
Unless Bigfoot has migrated to Central America…
There are a variety of different room types available (all air-conditioned): riverside, riverview, creekside, and even a river house.
Some of the rooms even come with their own massive outdoor shower (and even better, some come with a private plunge pool!). Whichever you choose though, we promise you'll love it.
None of the rooms have TVs or WiFi so this is really your chance to unwind, disconnect, and enjoy your surroundings (there is WiFi in the lobby if you really need it).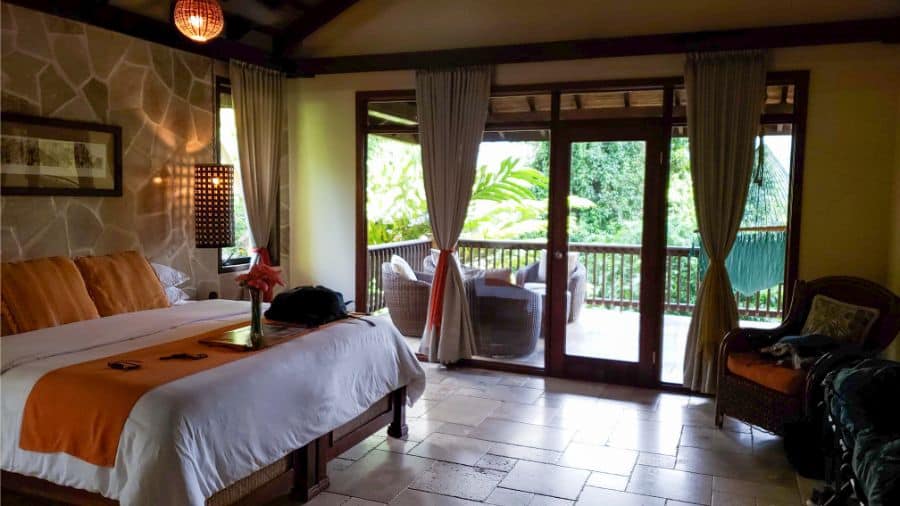 Where to Eat and Drink
One of the downsides to being so secluded in the jungle, and without a car (or Uber), was that our choices for dining were limited.
Very limited.
Sleeping Giant Rainforest Lodge has one restaurant on-site, and that's it. Luckily, the food is actually pretty good!
Chris had his fair share of fry jacks for breakfast, lunch, and dinner!
And not for anything, but the nachos we woofed down at the pool on day 2 were delish!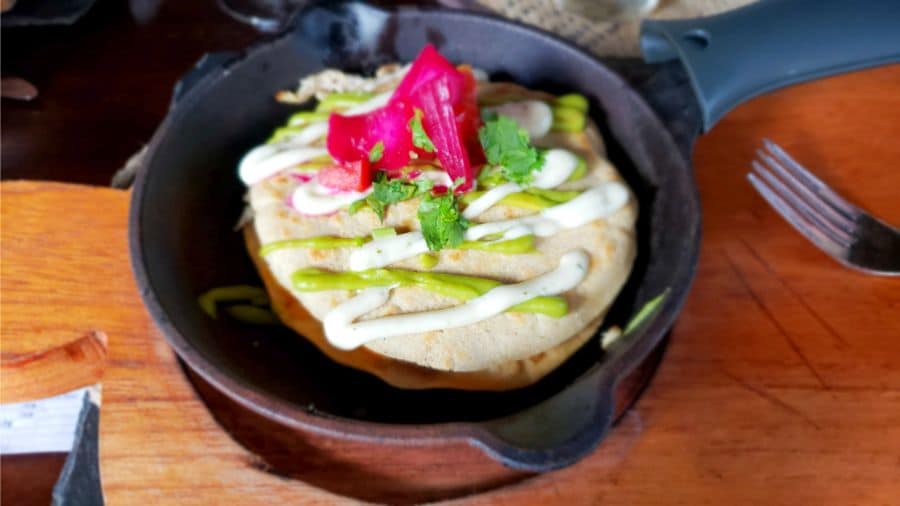 PRO TIP: If you can get out to a convenience store during your stay (perhaps coming in for the first time or on your way back from an excursion), we'd suggest buying some snacks and beers (duh!) so you aren't locked into purchasing the lodge's limited, and somewhat expensive, offerings.
There is a small refrigerator in each of the rooms.
If you follow our tip above and grab beers before you get onto the property, your wallets will thank us.
However, sometimes you just want that fruity cocktail while kickin' it poolside, and Sleeping Giant abides by setting up their mini-pool bar during the day.
They have your staple, aka Belikin beer, but they also have a list of cocktails made using local Belizean liquor.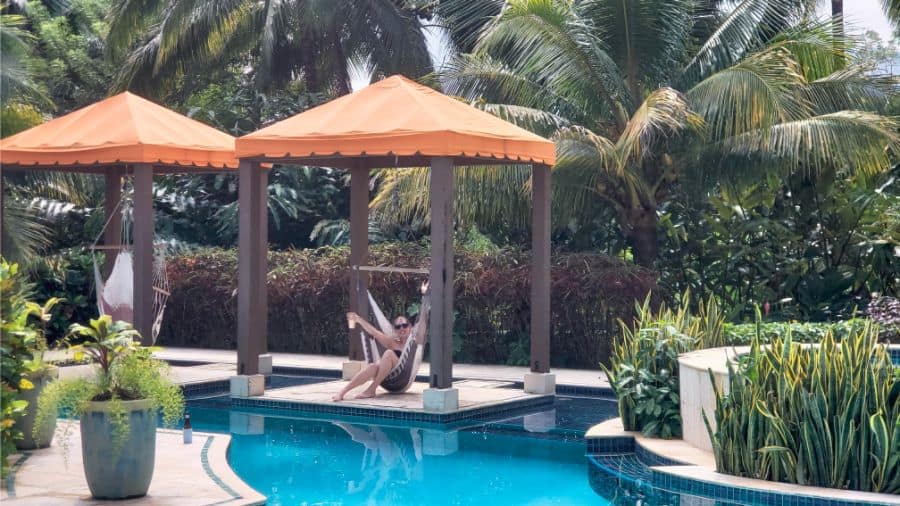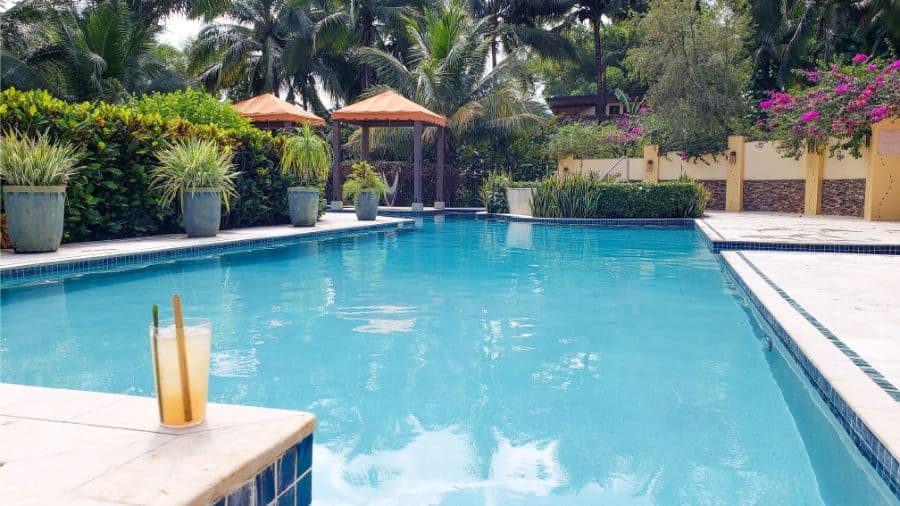 Things to Do Around Sleeping Giant Rainforest Lodge
As we mentioned above, most of the lodges/resorts around the area offer the full gamut of excursions, and Sleeping Giant is no different.
When you're checking in, the staff can give you a rundown of everything they offer, the time of day/day of the week that the excursion is offered, and the cost.
An added bonus, all of these excursions can be booked directly through the front desk, with transportation provided, which takes out all of the hassle!
Sure, you might pay a little bit more, but it's your vacation….relax a bit and let them do the legwork.
Trust us, you'll need the energy to do these excursions anyways!
In our two full days at the lodge, we did the ATM cave tour and the cave tubing (Belize has a lot of caves…).
Here's a quick list of some of the top potential excursions, but make sure you check their website to see what they currently offer as it may change with the seasons.
ATM cave – There is too much to say about this excursion. It's larger than life and we truly believe you can't miss it.

FYI, this is no longer advertised on Sleeping Giant's website because they have their own ancient Mayan cave on-site, but we'd strongly suggest the ATM cave! Just ask the front desk and they can help arrange it for you.

Cave tubing – A much more relaxing experience than the ATM cave, but still a lot of fun to be floating on a tube in an absolutely pitch-black cave. This one has a little bit of everything: hiking, tubing, and swimming. (VIDEO ABOVE)
Ziplining – A mixture of hiking and ziplining (1,700 feet above the jungle floor) all throughout the jungle
Rappelling – Adrenaline-junkies unite for this adventure rappelling off of the limestone cliffs!
Jungle safari after dark – If you're not scared of creepy-crawlers and potential nighttime jaguar sightings…
Tikal Maya Ruins – This is one excursion we wish we had time for. Some of the people we met on our ATM cave tour did this tour and they raved about how impressive it was. Something for us to do on our return trip!

If you're looking for snorkeling/diving, your best bet is to head back east towards the islands on a different part of your trip, like we

did in Caye Caulker

. Although some of the excursions at Sleeping Giant include snorkeling/diving, you'll lose a lot of time just traveling to the ocean.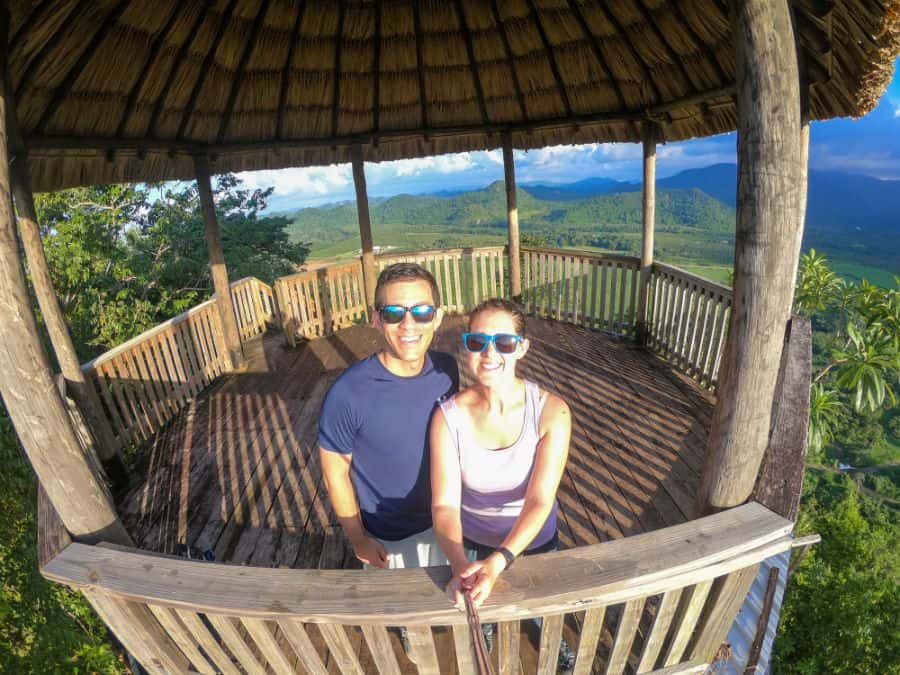 30-minute hike to the Treehouse
Things to do other than paid-for excursions:
Treehouse hike – Totally free and no booking necessary. On Sleeping Giant's property, there is a trail that progresses up a small mountain and ends up (after a very steep final 10 minutes) at a gazebo that rewards you with a flat floor and breathtaking views of the valley (pictured above)

. Find a good walking stick to help you with the steep incline/decline near the top.

Suspended bridge – On our last morning at Sleeping Giant, we walked to the back-end of the property for a short hike that took us to a suspended bridge crossing a small stream. This is where we saw the motion cameras for jaguars, but it was a very peaceful hike early in the morning (once you get over the jaguar thing)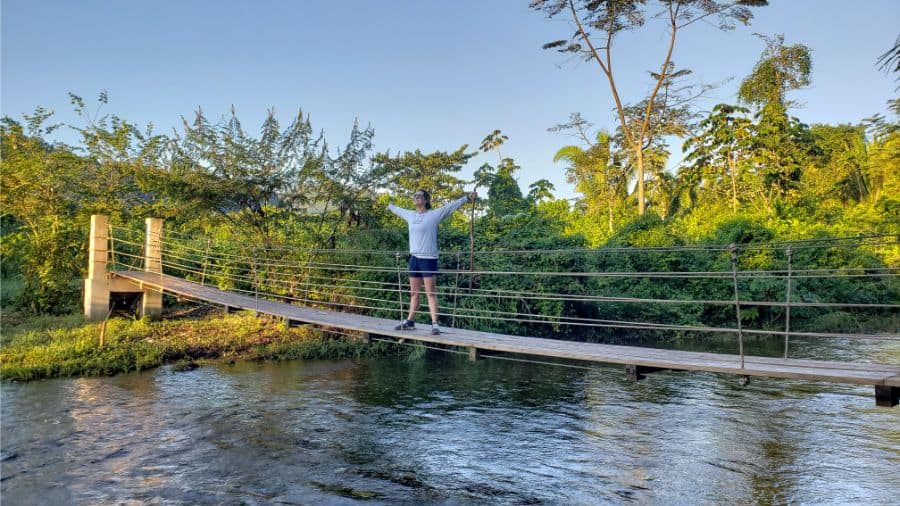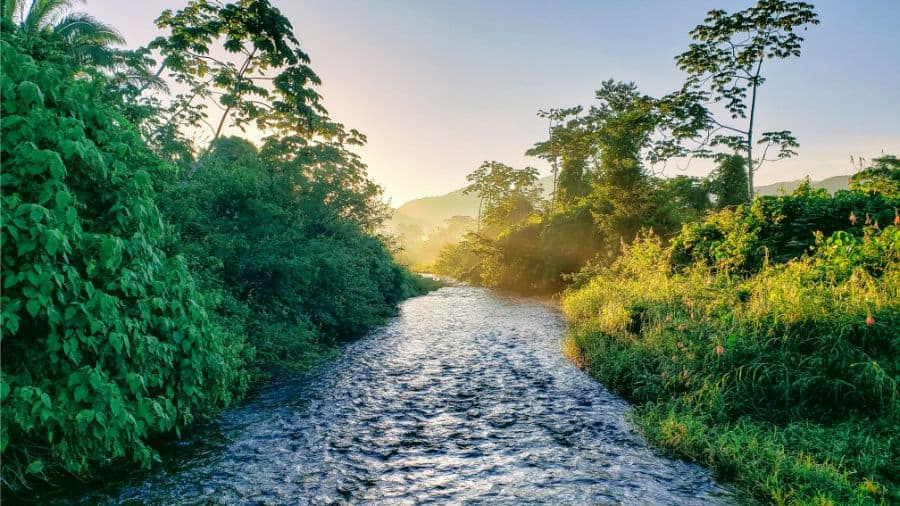 Single & double-person river kayaks – These are available for you to take out on the river. Just beware of the potential crocodiles lurking!
Stand-up paddleboards (SUP) – See above note about availability and crocodiles…
Pool/hot tub – If you're feeling lazy and just want to relax for a few hours/the whole day, recline in a pool lounge chair and soak up the sun. Just remember to re-apply your sunscreen….you're pretty close to the Equator.
Iguana watching – This might have been one of Samantha's favorite activities. An animal lover through and through, Samantha loves watching Iggy, her name for every iguana she has ever seen, slither around town.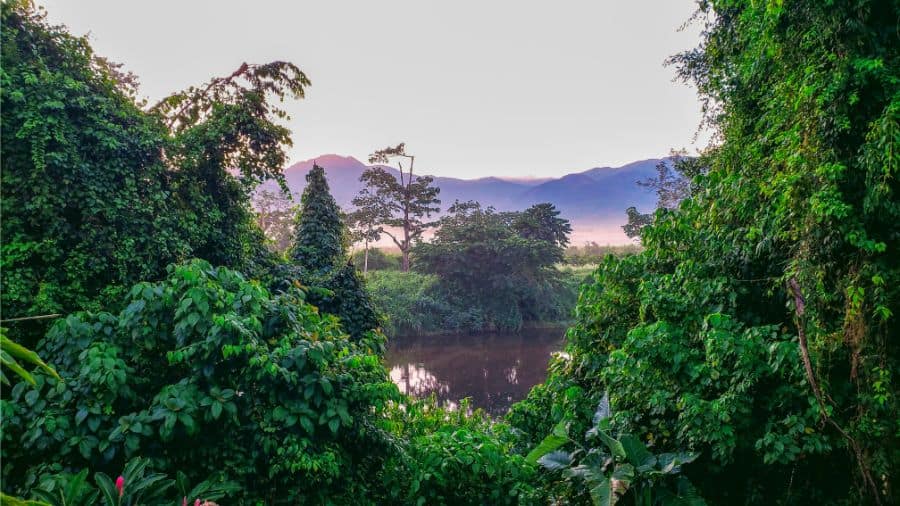 Sadly, our three-day adventure in the jungle had come to an end at some point.
But not before it was filled with a little bit of everything: an exhilarating swim/hike through an ancient Mayan cave, a relaxing tube-float through another ancient cave, plenty of hikes/walks, wildlife galore, pool relaxation, fry jacks, Jungle Fever (the yummy drink kind…), and more Belikins.
If you're going to Belize and are in the mood for a little adventure, we highly recommend making a stop in the jungle to feed all of your adventurous desires.
We'd also highly recommend the Sleeping Giant Rainforest Lodge to be your choice for lodging.
Outside of the limited dining options, which I imagine you'll find just about anywhere in the jungle, there isn't much to complain about here. The super-friendly and high-quality staff, the beautiful grounds, and the offerings of just about every excursion possible make this a can't-miss! Put this on your bucket list now!
Have you been to Sleeping Giant Rainforest Lodge or Belize's jungle? Let us know what you thought and what we missed!