How to get from Phuket to Phi Phi and things to do in Koh Phi Phi Thailand
Sometimes you just have to go and form your own opinion. If you're planning a trip to Thailand, then Koh Phi Phi is likely on your radar. Getting from Phuket to Phi Phi is easy and you are probably looking for things to do in Phi Phi, too.
The first blog post we read about Phi Phi talked about how awful it was and to avoid it and seek out a smaller, less touristy place. We, respectfully, needed to see it for ourselves to decide.
Overall opinion: if you know what you're getting into, then you can still have a great time!
Psst: We have a bunch of guides on Thailand. Browse them all here.
**Boozing Abroad contains affiliate links throughout the site. If you choose to purchase items through these links, we will earn a small commission at NO extra cost to you. Read the full disclosure policy here**
Getting from Phuket to Phi Phi
There are only two options to get from Phuket to Phi Phi: the Phi Phi ferry boat or speedboat. The ferry boat is the cheaper, more commonly used option as the speedboat is more expensive.
Phi Phi ferry: 1000 baht ($30 U.S.) per person, round trip – approx: 2 hours
Speedboat: ranges from 1200 – 2500 baht ($38 – 65 U.S.) – approx: 45 minutes
Cost to enter Phi Phi island: 30 baht ($.92 U.S.) per person
The ferry from Phuket to Phi Phi was 1000 baht ($30 U.S.) per person, round trip, even though everything we read online was advertised for less.
If this isn't your first stop in Thailand, we suggest booking online the day before to save some time and ensure a spot. The port/marina where you get on the Phi Phi ferry will have food options as well as bathrooms.
However, the ferry boat itself was 4 stories high and really impressive with clean bathrooms and a snack bar.
They even had TVs hanging everywhere and were playing a movie which made the two-hour boat ride go by quickly. Once you arrive, you will be asked to pay 30 baht ($.92 U.S.) per person just to get on the island – make sure you have the cash!!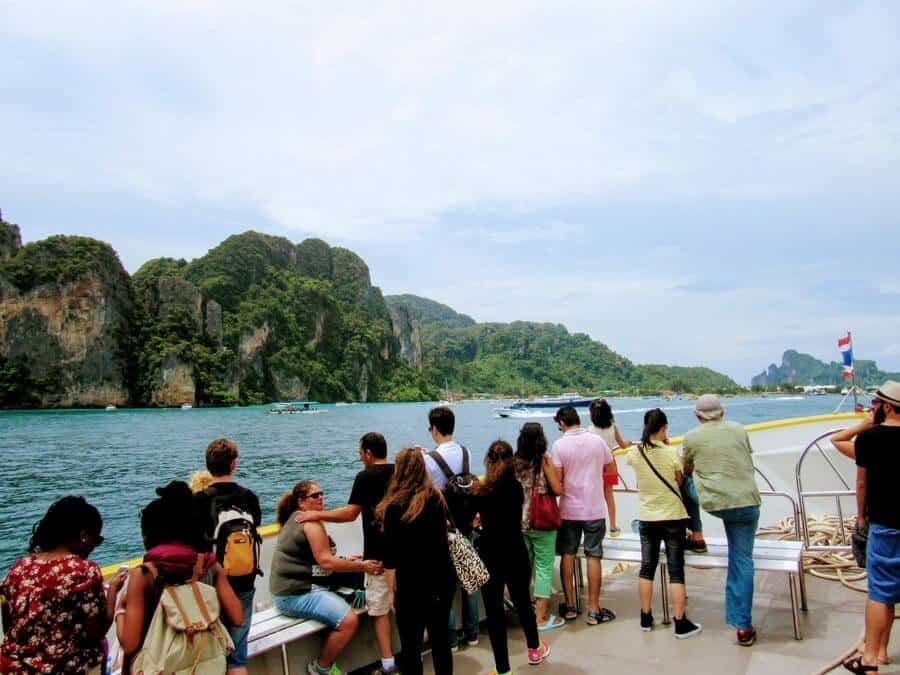 Coming Ashore – Koh Phi Phi Don
The ferry boat from Phuket to Phi Phi docks at Ao Tonsai Pier in Koh Phi Phi Don and the ferry ride in gives you a taste of the dramatic, lushiously green island coastline.
*Note: the walk off of the pier was very uncomfortable – full of hotel reps and locals aggressively trying to sell you a tour or water taxi and/or shove a flyer in your hand.
If you can make it off the pier with no flyers in your hand, you did a hell of a lot better than us!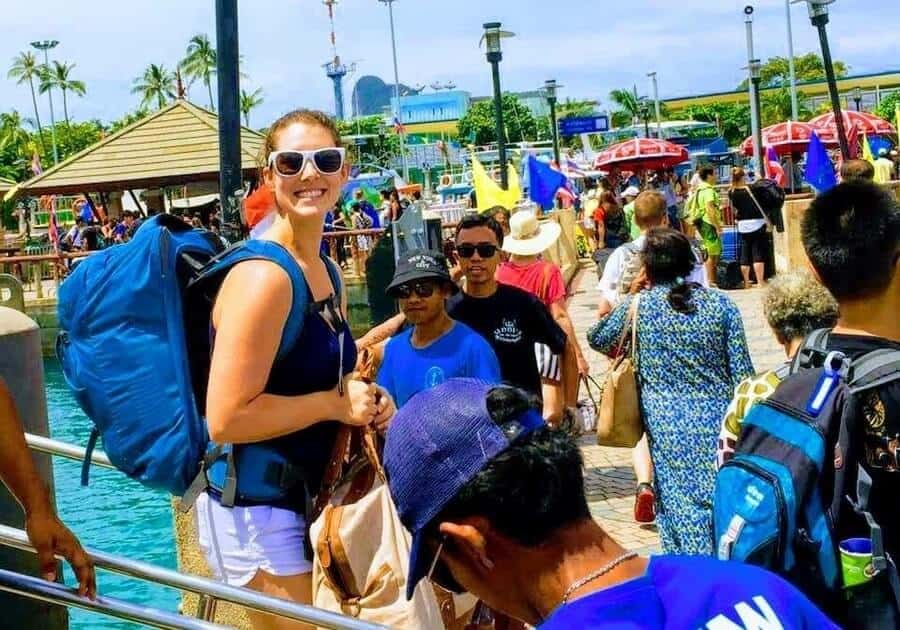 There are no cars on the island. If you have luggage, you are carrying it or paying someone to push it on a cart for you (see picture below). Pack wisely knowing this!
To make people move out of the way, the cart-pusher will yell "beep, beep!" which is incredibly comical.
Also, keep this in mind if you need to get to the hospital.
We were pushed out of the way by a cart with a person on it making the noise of a siren with their mouth.
Our nieces and nephews do this when they play doctor, so seeing it in real life made us chuckle.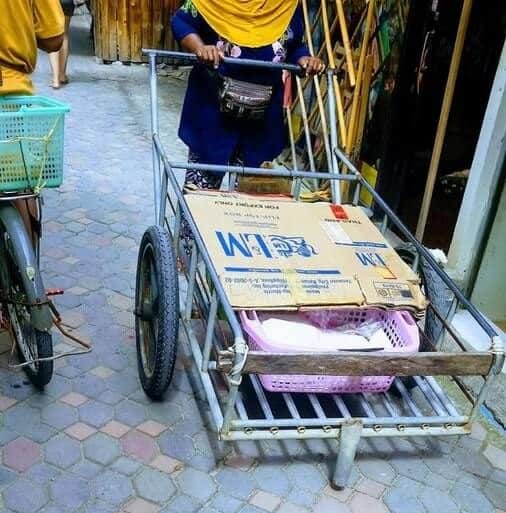 Phi Phi Island Accommodations
Where to stay on Phi Phi is a great question and really depends on what you want to do. Anywhere you stay in Tonsai Village (i.e. anywhere on the map below), will give you great access to the bar and nightlife scene.
Party Scene area: If you are looking to be in the heart of the party scene, you'll want to stay at the top of Loh Dalum Bay. Look for Blanco Beach Bar or options nearby. Let us be clear – these parties go until dawn, so unless you are a heavy sleeper, consider elsewhere. Unless you want to party all night, of course.
Be near the party, but not in the party: Okay, so you want to be able to walk home drunk but sleep peacefully when you get there? Perfectly acceptable. Chris's sister stayed at Cobble Beach, which they said was great because you can walk to the party. Other options would be the far side of Loh Dalum Bay near the pier.
Away from the party – Long Beach – This is a remote part of the island that is super tranquil and has a beautiful resort (where we stayed). Unfortunately (or fortunately), this is "outside" of town and there is no party scene here. See more on Long Beach below before you go booking it.
Tonsai Village – Phi Phi Island
The town of Koh Phi Phi is also known as Tonsai Village and is the hub for all activity. See the Phi Phi Don map below.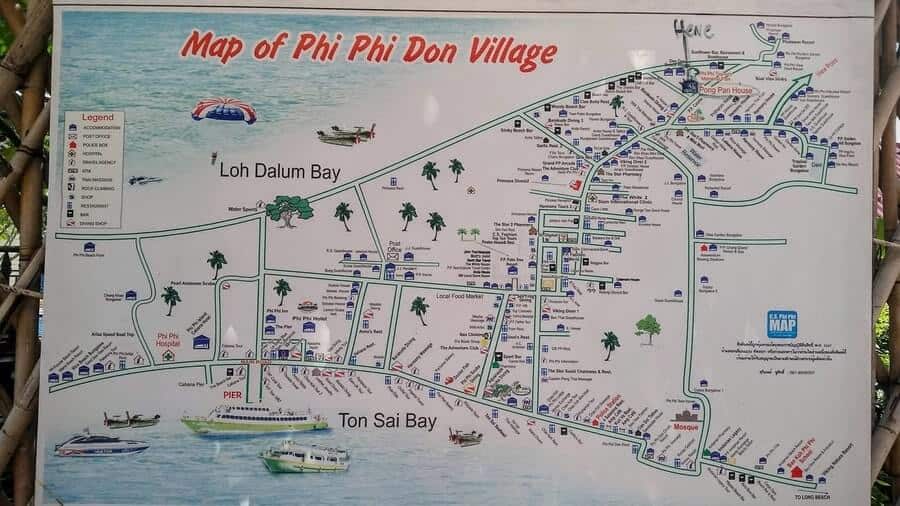 As you can tell, this island is pretty easy to navigate. I suggest taking a photo of this map when you find it or download an offline map from Google before you get there.
Don't let this map fool you, this isn't a large area at all.
From Blanco Beach Bar to the Pier is maybe a 10-minute walk.
Tonsai Village is where you will go for everything you need. Food, booze, clothes….bandages, hangover cures… basically everything is here. You can easily spend half a day walking around the shops and discovering the copious amounts of bars on the beach and scattered throughout Phi Phi Don.
Long Beach
If you are staying on Long Beach, go into town and grab a drink to wait for the chaos of the ferry to calm down.
There are only 2 ways to get to Long Beach – a 45-60 minute walk, up, down, and around the island's terrain, or by a long boat.
Long boats are 100 baht ($3 U.S.) per person during the day and 150 baht ($4.50) per person at night.
*Things that no one tells you about the long boats – you are going to get wet getting in and out.*
After everything we read, we chose to stay on Long Beach since it's away from all the bars and clubs and it truly is much quieter – also a true pain in the ass to get to!
Getting back to Long Beach after a day of drinking
After a night of partying on the beach, and at around 1:00 AM, we decided to go back to the pier to get a longboat to Long Beach.
Despite all of Samantha's pleading, the longboats don't run that late.
The high tide makes it nearly impossible to dock the boats on Long Beach, so if you're going to party, prepare to walk or wait for the tide. We knew it could be done, and that it was a "worn path", just not necessarily an easy one!
We took off in the direction of the hotel moving up and down the mountain, staying near the water. Sometimes the path was paved, other times just dirt.
Towards the end, there was a steep decline with a rope as the one means of assistance!
We finally made it to the opposite end of the beach near the hotel and, as cool as it sounds, we were thankful we didn't have to sleep on the beach!
Overall, it took us an hour to get back in the complete dark (with only cellphone flashlights) but definitely made for a good story the next morning.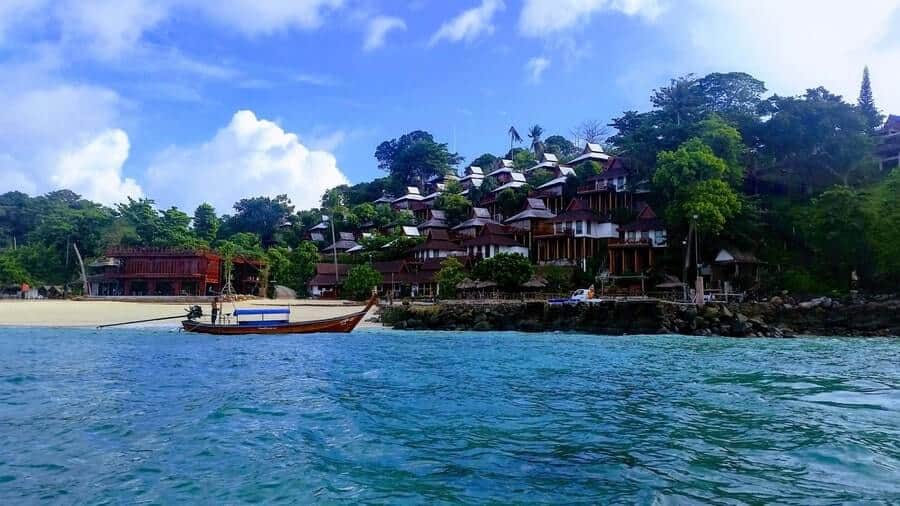 The Phi Phi Beach Resort
We picked The Phi Phi Beach Resort as our "splurge" hotel of the trip at $100 a night for the "Sea view Deluxe". Worth. Every. Penny.
At the Phi Phi resort, there was a pool, restaurant, bar, and spa. The staff was incredibly helpful and nice and would try to meet all of your needs.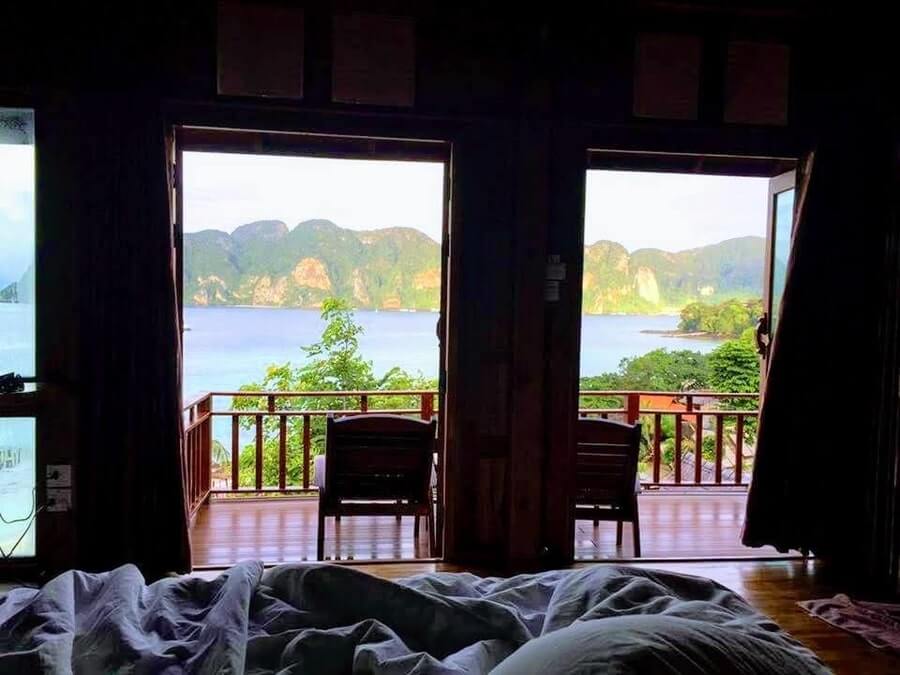 After a seamless check-in, a large golf cart will escort you to your private cabana equipped with a private balcony and large private outdoor shower (ooh-la-la!).
The views from our room and balcony were priceless, dreamy and romantic. Our cabana also included a mini-fridge stocked with waters, juice, fresh fruit, and chips.
There was also a TV, but no channels were in English. Honestly though, who needs a TV when your views are like that?
Based on the other blogs we had read, if this island was considered "overcrowded", we can't imagine how much nicer the other islands must be!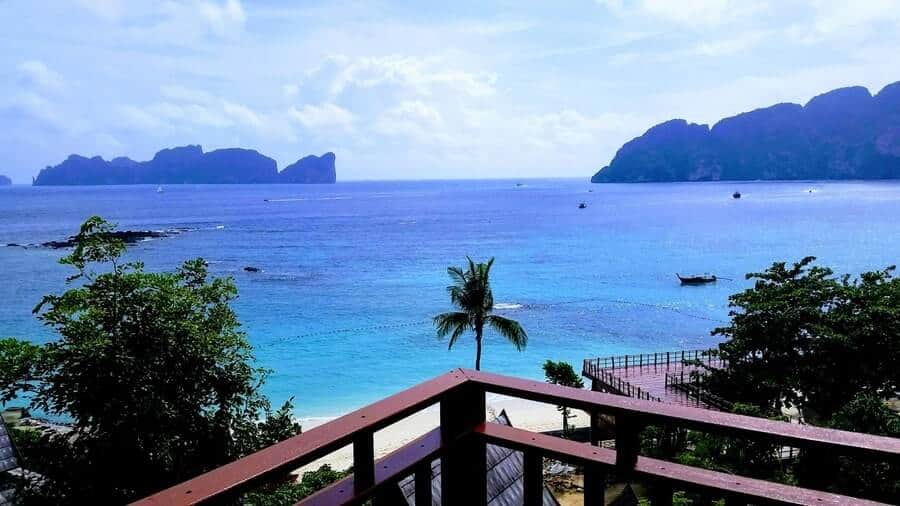 Things to do in Phi Phi
Let's be honest, you are here to party. You read the reviews and you know the party scene is incredible.
However, outside of the Phi Phi night life, there are other things to do like the Phi Phi Viewpoint and Captain Bob's Booze Cruise.
Phi Phi Bars
Blanco Beach Bar
Blanco Beach Bar is located on the Loh Dalum Bay side. A dorm and a bar combined into one, this place is great during the day or at night.
During the day, we grabbed a literal bucket of alcohol. Imagine a sand bucket/pail you use at the beach, but full of alcohol…and bad decisions.
We spent a good bit of time here drinking and taking in their decor, which consisted of moderately inappropriate signs (which we found to be hilarious).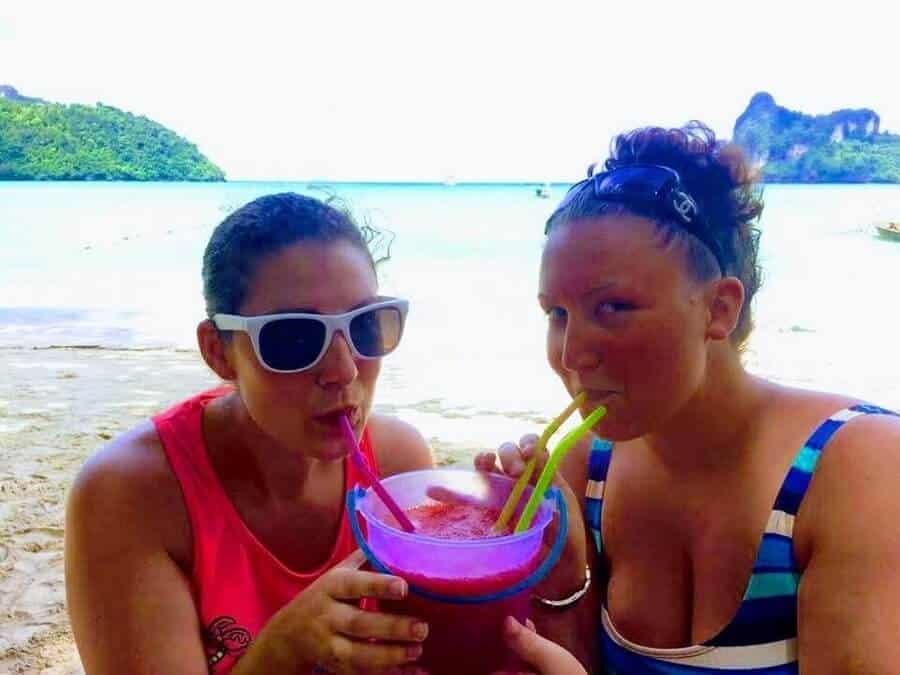 Banana Bar
The Banana Bar is definitely the most laid back party. This 2-story bar has a rooftop and played a wide variety of music.
If you are looking for an easy-going crowd, this is definitely the bar to visit.
We were there after dark so we can't comment on the view from the roof.
The roof bar does wrap around so you are able to see the floor below. They also have movie nights on a large projector, but they start before the nightlife gets rowdy.
We bought our drinks, guzzled them down, and ventured to the beach for the fire show – just wait for it.
Slinky's
If you are looking for the party, you'll find it on the beach at Slinky's! Every twenty-something-year-old on the island was here or at one of the other 10 bars that lined the beach. And for good reason!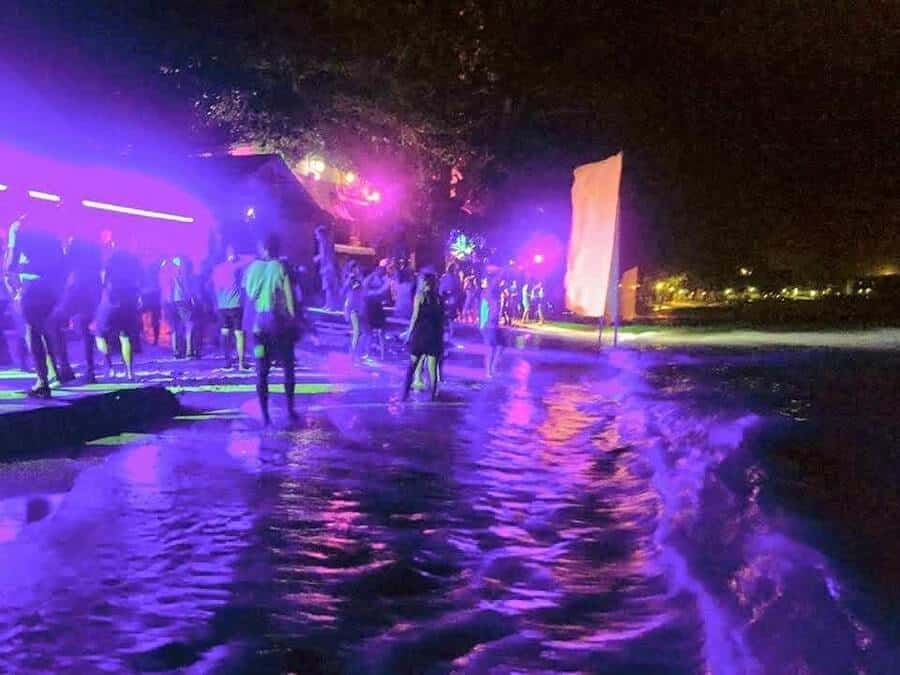 Great balls of fire! There were numerous guys with balls of fire on strings that were performing on the beach.
And because that wasn't cool enough, there was a giant jump rope and a limbo stick near the bar, too.
I know what you are thinking…limbo? Really?
But have you ever witnessed a 5-foot 4-inch, itty bitty Thai man pick up a tourist and use him/her as a counterweight to go under a limbo bar less than 2 feet off the ground? No? Neither had we…
There are 5 bars right in a row that all have deafening music……and an overwhelming amount of people.
It was only 11:00 PM and this party was just getting started!
If you participate in an activity, like jump rope or limbo, you earn a free shot.
Samantha did the mystery shot after jumping rope for a little bit. She didn't faceplant or stop the rope, so mission accomplished!
To this day, she doesn't know what she drank, but it was cold and sweet!
At midnight, all the balls of fire stop and the beach turns into a giant dance party.
This is the type of party you'd see on MTV: Spring Break, just on the other side of the world.
Bring on techno… and lots of random hookups!
There are 5 bars right in a row that all have deafening music……and an overwhelming amount of people. It was only 11:00 PM and this party was just getting started!
If you participate in an activity, like jump rope or limbo, you earn a free shot. Samantha did the mystery shot after jumping rope for a little bit. She didn't faceplant or stop the rope, so mission accomplished!
To this day, she doesn't know what she drank, but it was cold and sweet! At midnight, all the balls of fire stop and the beach turns into a giant dance party. This is the type of party you'd see on MTV: Spring Break, just on the other side of the world.
Captain Bob's Booze Cruise
If the nightly bar scene has you craving some day drinking, check out our day trip on Captain Bob's Booze Cruise.
We had an absolute blast! We love booze. We love boats. We love beaches.
This was the best adventure we had in Koh Phi Phi.
Unfortunately, due to a new law in Thailand, boozing on the boat is no longer allowed. However, unlimited booze is still provided on Captain Bob's Cruise (Booze had to come out of the name) at the pre-party and post-party!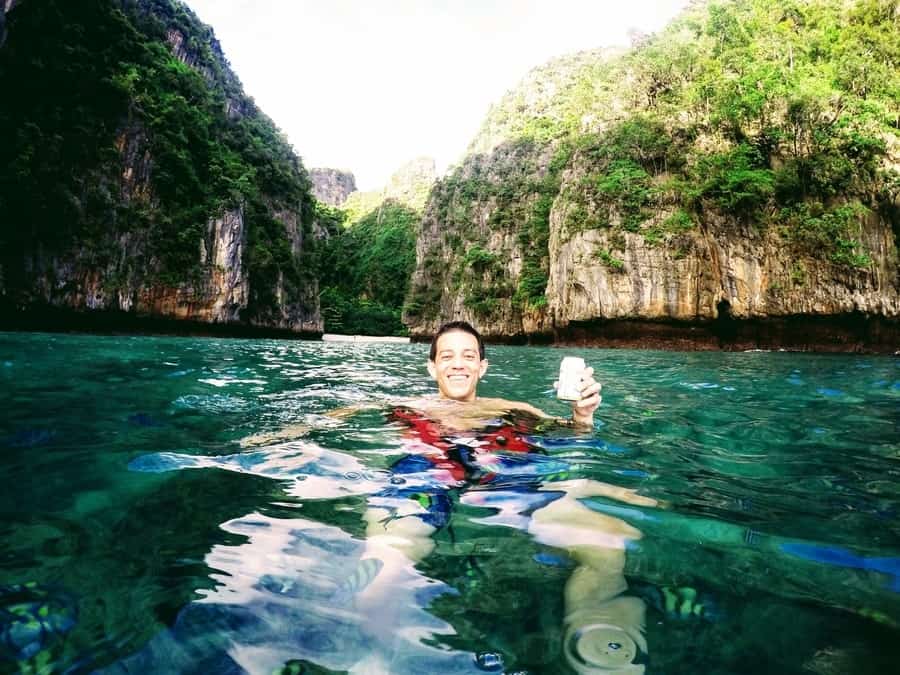 The Phi Phi Viewpoint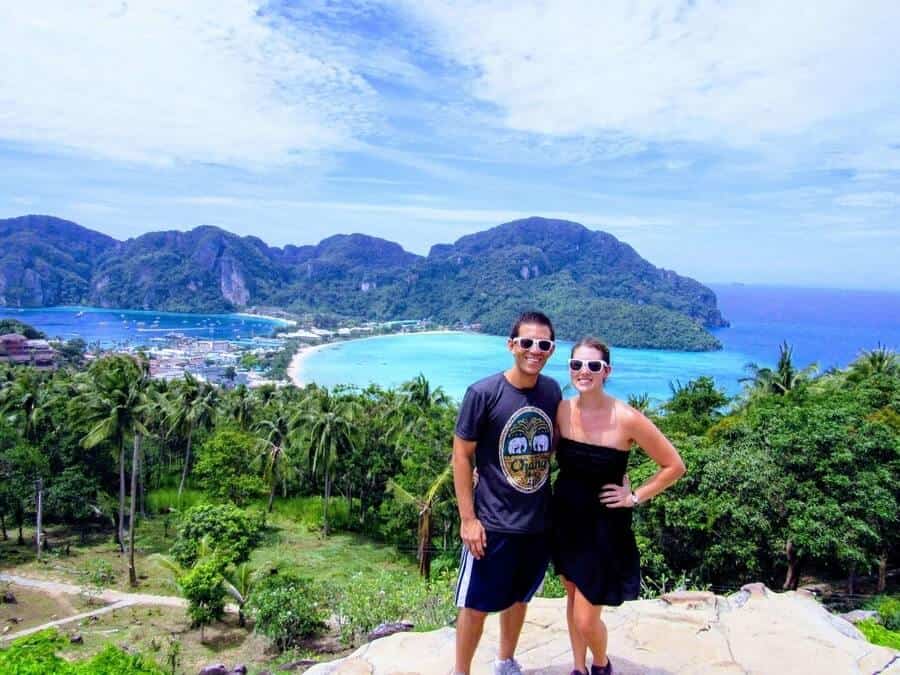 There are 2 ways to get to the Phi Phi Viewpoint.
From Tonsai Village, it's about a 30-minute walk up the island from the front.
From Long Beach, it's just over an hour.
Wanting to sweat out the alcohol from our night of beach partying, we walked from Long Beach until we reached the viewpoint and it was totally worth it (as you can see above and below)!
Entry is 30 baht ($.92 U.S.) per person and there is a snack bar with Gatorade, food, and ice cream at the top.
The view from the lookout is of Tonsai Bay and is absolutely stunning! No words, or even pictures, can accurately describe the colors of the water.
Remember to make sure you have cash!

From there, we hiked down the Phi Phi Viewpoint front path which leads directly into Tonsai Village.
We were beyond sweaty and gross and needed a shower before dinner.
Back in town on our last night in Phi Phi, we walked around purchasing last minute souvenirs and paintings.
We ended up at a waterfront restaurant with fresh seafood. It was clearly a touristy spot, but the mussels and chicken kabob were tasty.
Catching the Sunrise
We woke up a little before 6 AM to catch the sunrise on our last morning in Phi Phi.
We were told it was a 2-minute walk from our resort to see it, but after the hike yesterday, we were both a bit leery of how Thai people interpreted time.
Regardless, we walked about 7 minutes (see, their timing is off) to get to the Monkey Bar and from there you could see the sunrise – if only it wasn't overcast.
It was pretty either way but we didn't stay long as we had to pack up and catch the ferry back to Phuket.
Phi Phi to Phuket

Back in town, our experience at the pier was, again, unnerving. There was a woman there who was arranging rides to the airport for people.
Hoping that this wasn't a scam, we offered her 200 baht ($6 U.S.) each to take a minibus to the airport once we got to Phuket.
We were given a sticker (our ticket for the minibus) and boarded the ferry.
Unlike the ride from Phuket to Phi Phi, this ferry ride was extra rough. We had read about the rough seas during September and October but hadn't experienced it on the way over.
The swells were large and the smaller ferry boat was rocking. Several people were even getting sea sick.
The waves were breaking over the bow of the boat and were soaking everyone in the front! After making it to Phuket, and because of the sticker we had received in Phi Phi, we were ushered to a minibus with 4 other people and were on our way to the airport.
I can't believe it actually worked!
Overview of 3 days on Koh Phi Phi
In our opinion, it's not different than any other built-up beach town, except it's in Thailand and they live to party on this island.
As we've said before, if this is the "worst" island to visit in Thailand, then we are inspired to see them all.
We had a fantastic time! The Beach Resort was $100 a night which easily would have been over $300 in the States.
The food was just okay, but the cheap booze, beautiful sunshine, and blue water made it all worth it!