Captain Bob's Booze Cruise – Koh Phi Phi, Thailand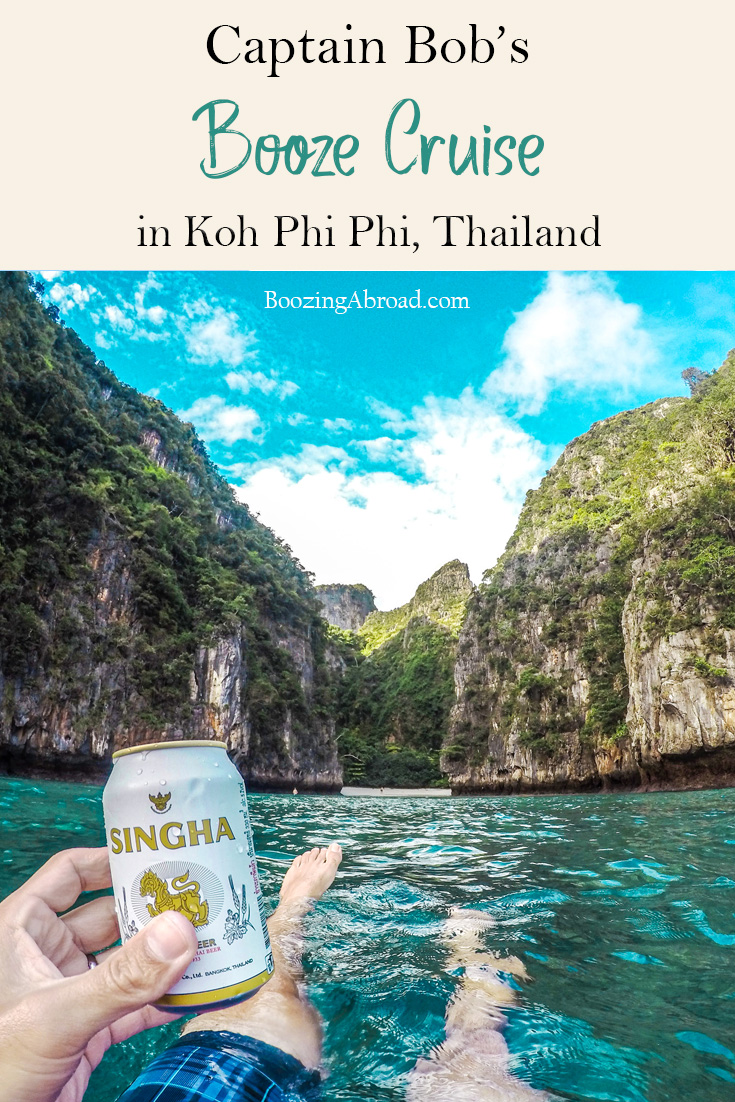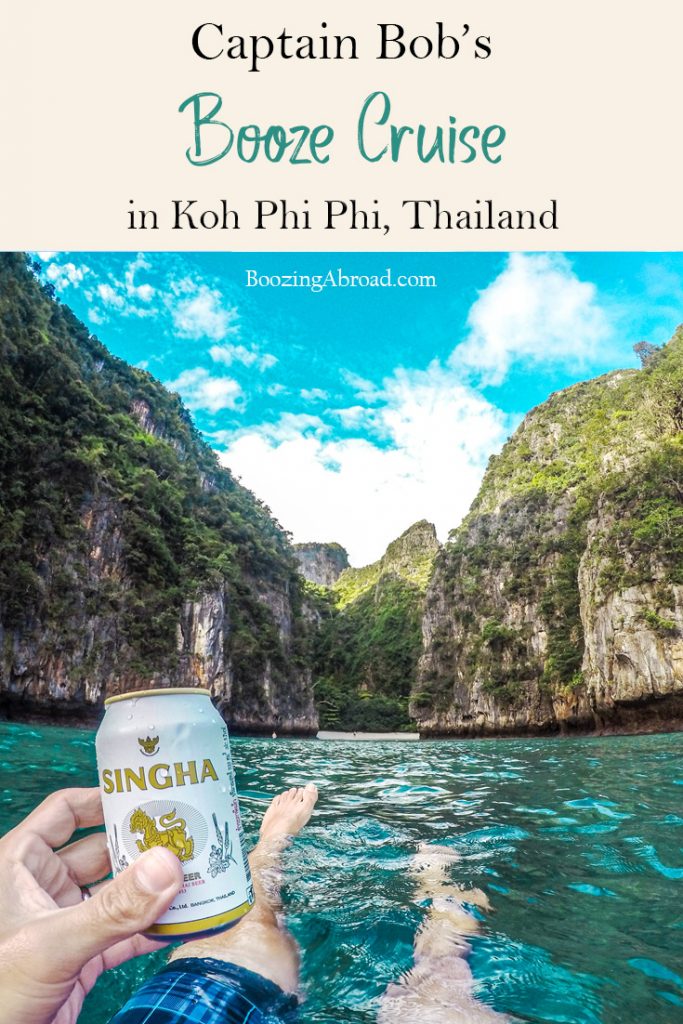 **2023 Update: From when this was written to today, laws have been put in place in Thailand which prohibits consumption of alcohol on a moving boat. However, based on the recent TripAdvisor reviews, this has not taken away from this adventure.**
We had read extensively about Captain Bob's Booze Cruise in Koh Phi Phi, Thailand and if you're looking for day-drinking fun, this booze cruise is a must do. Bob's booze cruise starts at 1:00 p.m., which gives you the morning to explore. Here is the TripAdvisor link.
With over 900 reviews, more than 90% are 5-star ratings. The cruise is 6 hours and includes stops at Monkey Beach, Pi-Leh Bay, Viking Cave, Loh Samah Bay, Maya Bay, and then sunset inside Wang long Cove. Unlimited alcohol is provided all day, and lunch, water and snacks are also included.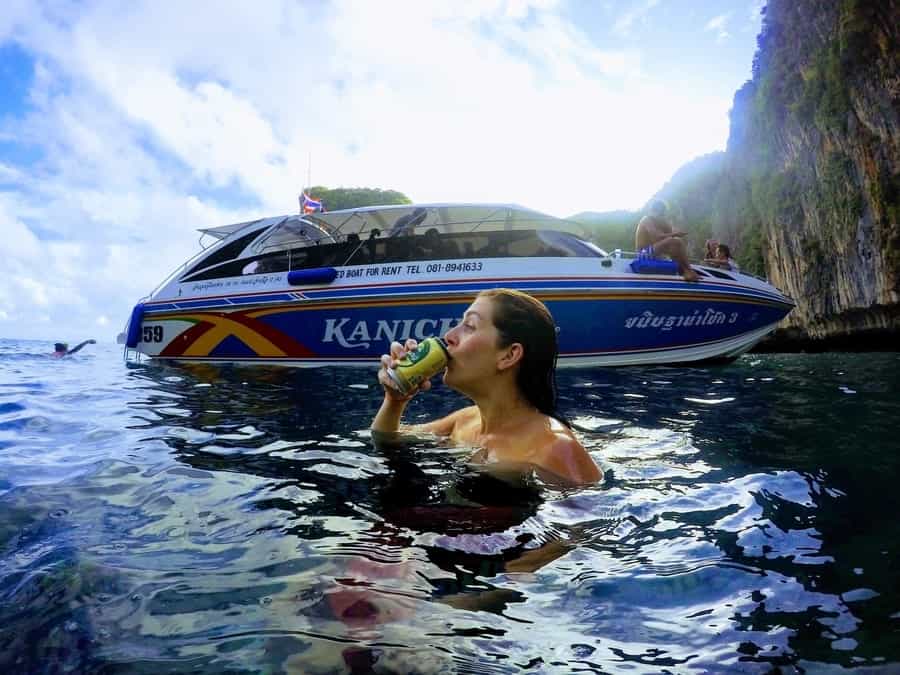 **Boozing Abroad contains affiliate links throughout the site. If you choose to purchase items through these links, we will earn a small commission at NO extra cost to you. Read the full disclosure policy here**
The Monkeys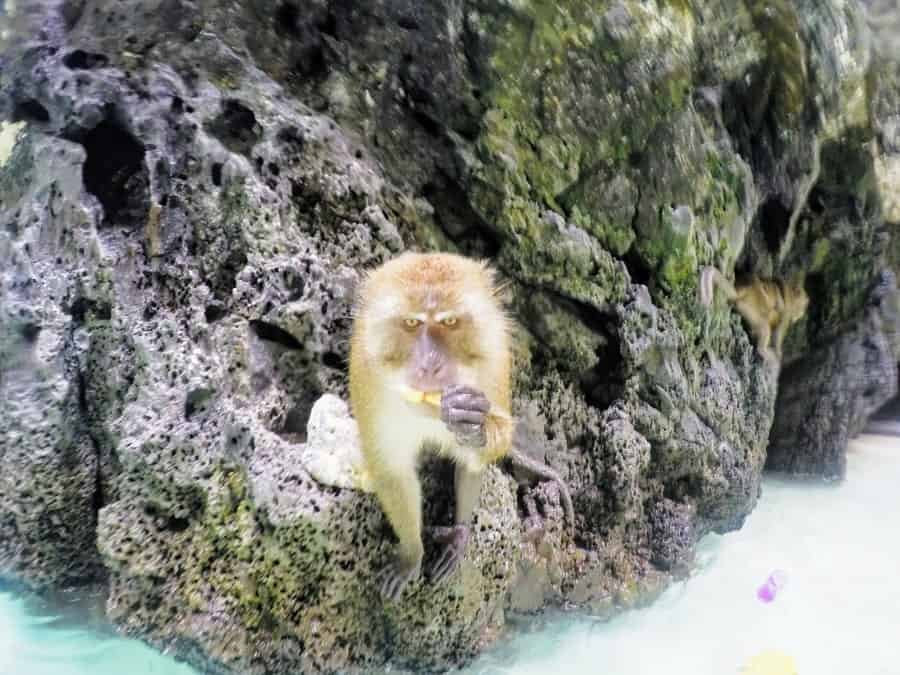 A few booze cruise crew will greet you in town and walk with you down the way to get on the booze cruise aka speedboat. Once on the boat, your guide explains the rules and tells you we are going to feed the monkeys before you get any of the unlimited booze or beer.
They had experience in the past with drunk people and monkeys.
Drunks and monkeys don't mix well.
You will have to swim from the boat into the cove where the monkeys live. Once you swim on the beach, your guide will pass out peanuts, and the monkeys will walk right up to you and take them from your hands.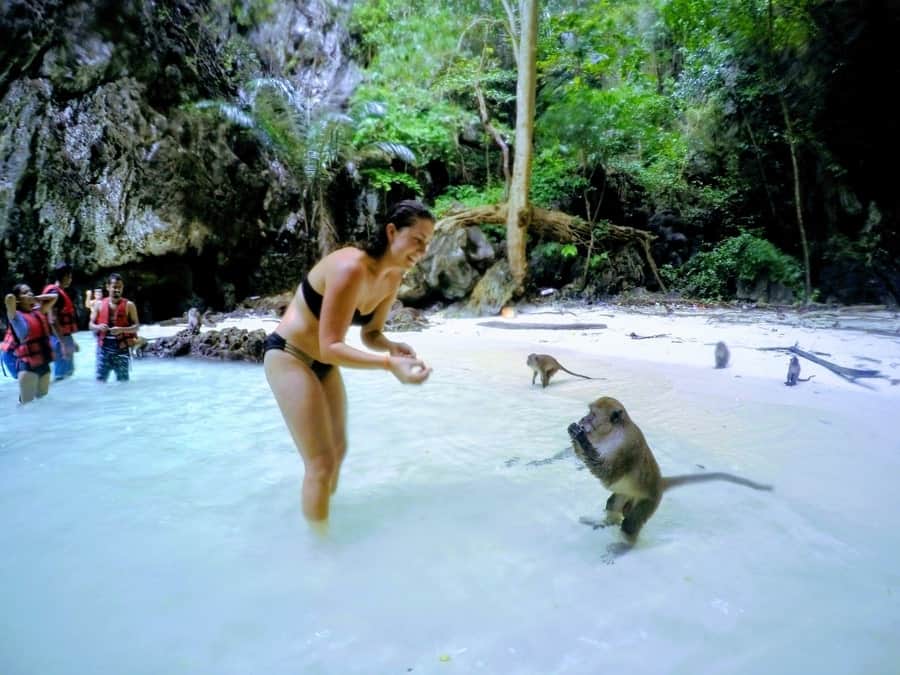 The cove itself was pristine and untouched, which added to the beauty of the encounter with the monkeys.
Once back on board, you are able to booze cruise on the ride over to Koh Phi Phi Ley, Thailand. This is a protected small island right off the coast of Phi Phi and was only a 10-minute boat ride to the first cove.
We stayed in this cove for over an hour drinking our delicious mixed drinks and local Thai beers in the clear blue water and playing on the large inflatable paddle boards.
Pour the Drinks Captain Bob!
Back on Captain Bob's booze cruise, we sailed to another cove to snorkel and saw some of the coolest, colorful fish and slug-like creatures. Maybe they weren't slugs, but we literally had beer goggles on trying to snorkel!
Taking a snorkel break for juicy sliced fruits as a snack and to replenish with more beer, we repositioned the cruise farther into the cove to get to Maya Beach. The crew of Captain Bob's cruise provided everyone water shoes since we were going to go through a cave to get to Maya Bay.
The caves were shallow, narrow and dark forcing us to go through one-by-one through them. The mouth of the caves opened up to a large intertwined rope that we all needed to climb.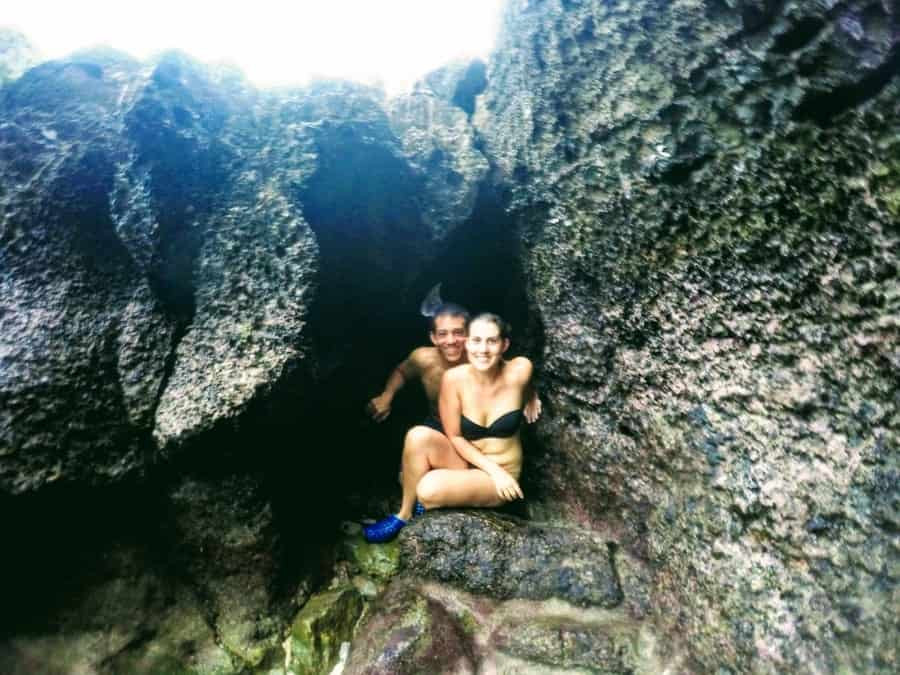 The crew will then lead you through a wooded area on a 5 minute walk to reach Maya Bay.
Maya Bay is now a famous beach due to the moviw "The Beach", with Leonardo DiCaprio. This beach has actually suffered from over tourism in recent years until the Thai government stepped in to close it for regrowth.
By this time during the evening, there are very few boats out and we practically had the bay to ourselves. While you won't be indulging on any booze during this time, it was kind of magical. Maybe it was the buzz or the fact we had the place to ourselves, but this was definitely our favorite part of Captain Bob's booze cruise.
With sunset quickly approaching, we took a different route back to the boat which included other small caves and a massive rope net.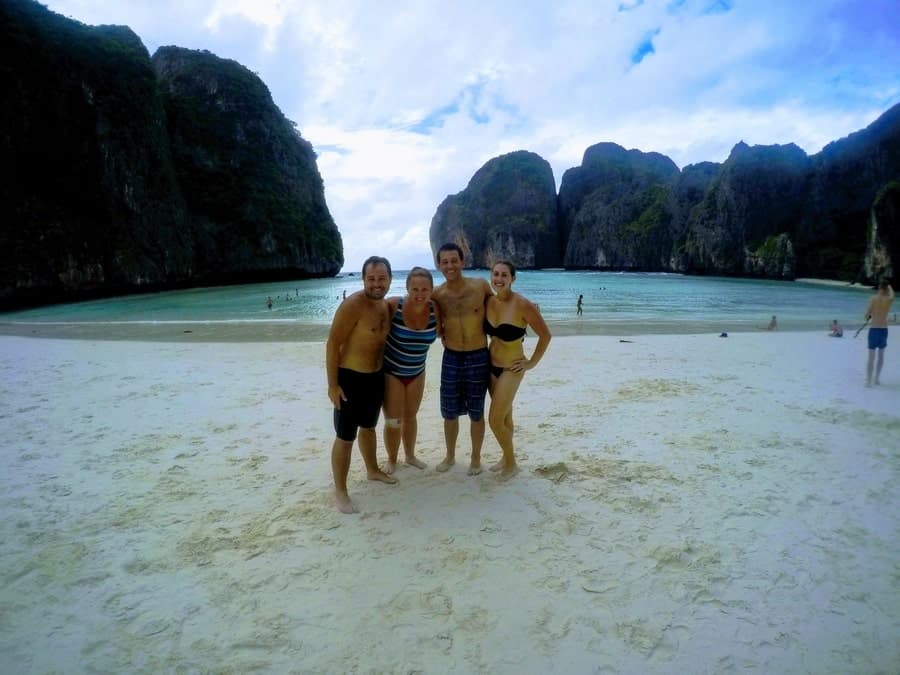 Once back on board, we ate a great meal and watched the sun sink down from the Thailand sky into the waters that we had been enjoying the entire afternoon. From the unlimited booze and beer to feeding Monkey and a beautiful sunet, this was definitely a highlight excurision from our time on Koh Phi Phi Thailand.
Completely un-sponsored review of Captain Bob's Booze Cruise in Thailand: We had an absolute blast! We love beer. We love beaches and this was the best adventure we had in Koh Phi Phi.