Breweries in Iceland – How to see and drink it all in 5 days
If you are planning a 5 days in Iceland itinerary AND want to visit breweries in Iceland, then this is the Iceland Guide for you.
Iceland is an iconic destination for other worldly experiences and we were even more fortunate to learn that Iceland has a craft beer scene.
While we did all the normal touristy things, like visiting numerous waterfalls, we would spend out evenings drinking with the locals in the breweries and have them built into this Iceland itinerary.
Buckle up cause this guide is a 5 day self drive tour of Iceland that builds in Iceland Breweries stops daily.
Short on Time? Here are the key takeaways:
There are 27 breweries in Iceland and we built in 6 beer stops in this 5 day guide
Our 5 day itinerary for Iceland will highlight all the main attractions you'd want to see on your road trip
In our opinion, don't miss Smiðjan Brugghús in Vik or Bryggjan in Reykjavik
Yes, they serve beer at the Blue Lagoon
This post was originally posted in September 2020, but has been recently updated in June 2023.
**Boozing Abroad contains affiliate links throughout the site. If you choose to purchase items through these links, we will earn a small commission at NO extra cost to you. Read the full disclosure policy here**
Iceland Road Trip – Self-Guided Tour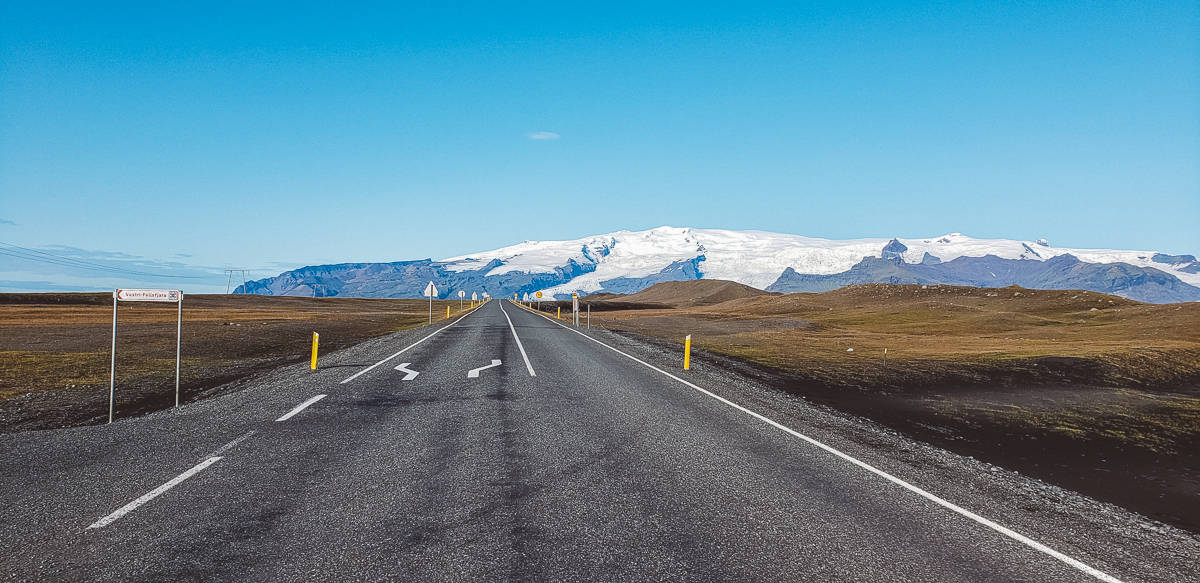 Iceland has become one of the go-to travel destinations over the last several years due to the relative ease of getting there (Iceland stopovers, cheap flights, and proximity to the US and mainland Europe) and its wide variety of things to keep you entertained.
The so-called land of fire and ice has a little bit of everything for you to enjoy, both indoors and out, so it's no wonder that Iceland continues to climb the list of popular travel destinations.
Car Rentals, insurance info
Public transportation in Iceland is pretty much non-existent (no trains, any buses are mostly limited to Reykjavik only) so to get around on your 5 days in Iceland itinerary, you're likely going to need to rent a car. This also allows you so much more freedom to go where you want, when you want!
We recommend renting a car as soon as you land at the airport as getting to downtown Reykjavik can be pricey (about 25€ per person with the bus and over 100€ for a private transfer). Most of the rental car companies are within a short walk or free shuttle bus ride of the airport terminal, so get your car situation taken care of right away.
One question sure to come up during the rental car check-in process is insurance.
Usually, insurance on a rental car is an absolute rip-off, but in Iceland, it's absolutely necessary! There are a lot of rocks, ice, sand, etc. being blown all over the place while you drive, and one little nick could cost you a pretty penny without insurance.
But, before you go spending crazy amounts of money on the rental companies' insurance, check your personal car insurance to see if it covers car rentals.
Also, many credit cards offer primary rental car insurance if you pay with that credit card and decline insurance options from the rental company. We used our Chase Sapphire Reserve card which offered this perk and it saved us BIG money! Call your credit card company to find out about any of the fine print.
You can also purchase separate insurance outside of your normal personal insurance and the rental company options. You're likely to get much better rates than the rental companies.
Just be sure you review what is, and, more importantly, what isn't covered.
Another tip: walk around your rental car and take a picture of EVERY single scratch and ding, no matter how small. Make sure you document it all before you drive away so it can't be used against you upon your return. Also, be mindful of any mileage limits on your rental contract.
Given the vastness of the ground you'll cover on this 5 days in Iceland itinerary, you're going to want to go with the unlimited option. It's not that much of a difference anyways, and it is definitely peace of mind!
Now that you're finally out of the rental car office, it's time to hit the road. Just know that Iceland has a number of speed traps and speed cameras to catch those of us with a lead foot.
The cameras are always marked a few hundred yards before they appear, so keep an eye out. Or better yet, slow down and enjoy the scenery!
Nothing worse than getting home from an amazing trip and then seeing a huge charge on your credit card from the rental car company for a speeding ticket or traffic violation.
Things we wish we knew about Iceland before we went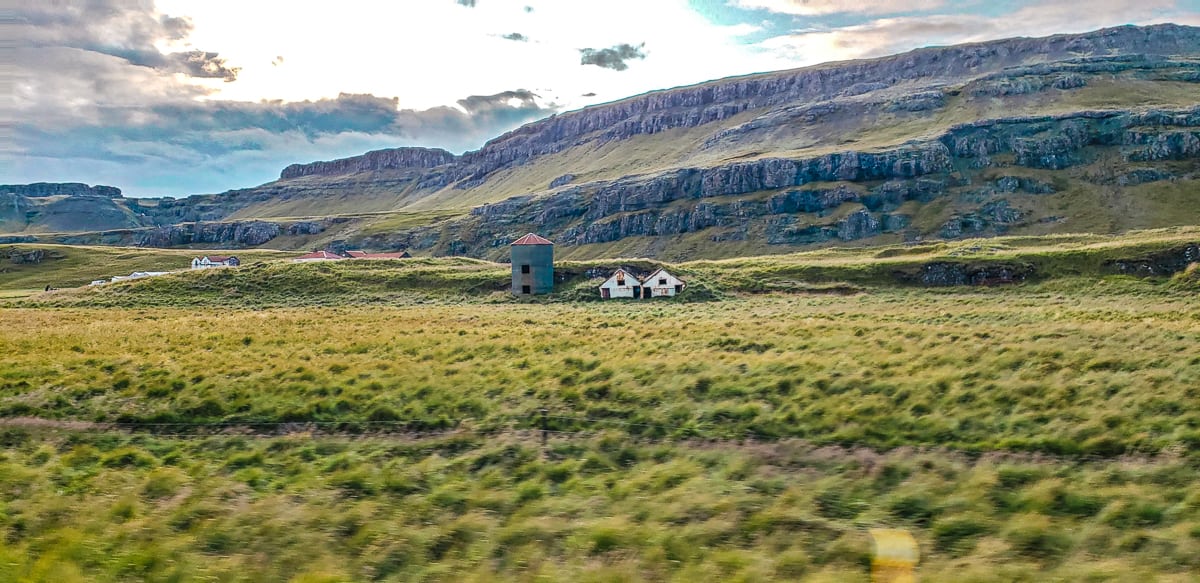 If you are looking to do the self guided drive tour of Iceland, you need to read this section.
There are things we didn't realize until we started planning (post-purchase) we wish we knew.
Driving Time
NOTHING is close in Iceland.
We easily spent 60% of this trip driving, but unless you have that expectation going in, you might be let down. The scenery is beautiful even from the car so just enjoy the ride. Download some playlist to your phone or an audio book to keep yourself entertained.
Entering and Exiting a town
Icelanders are super logical people and as non-Icelandic speaking people, we really appreciated their directness in signage. Specifically, these signs here.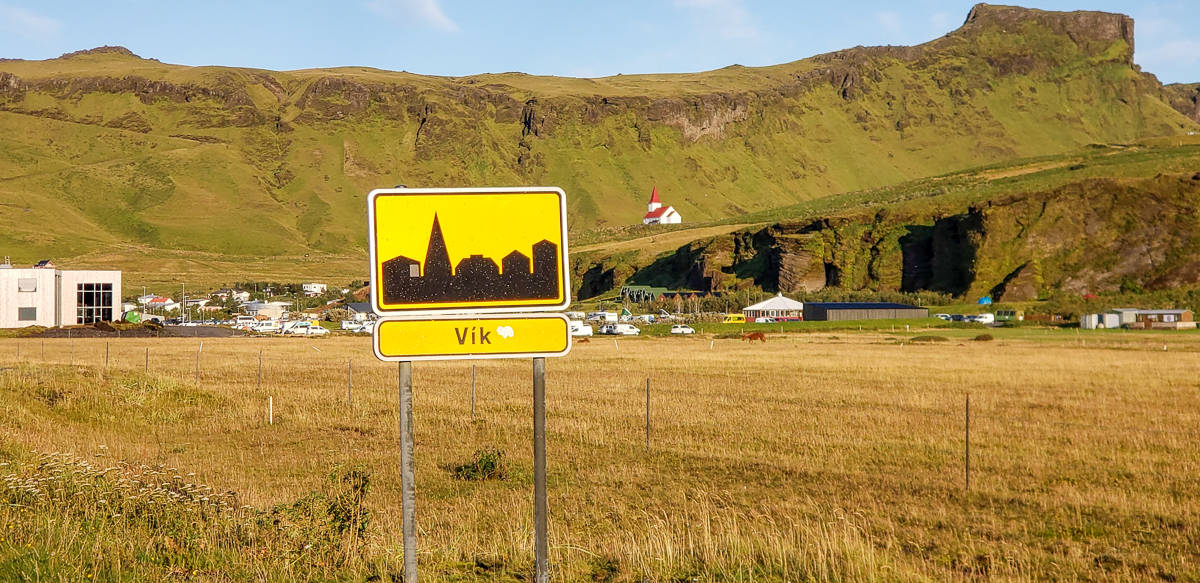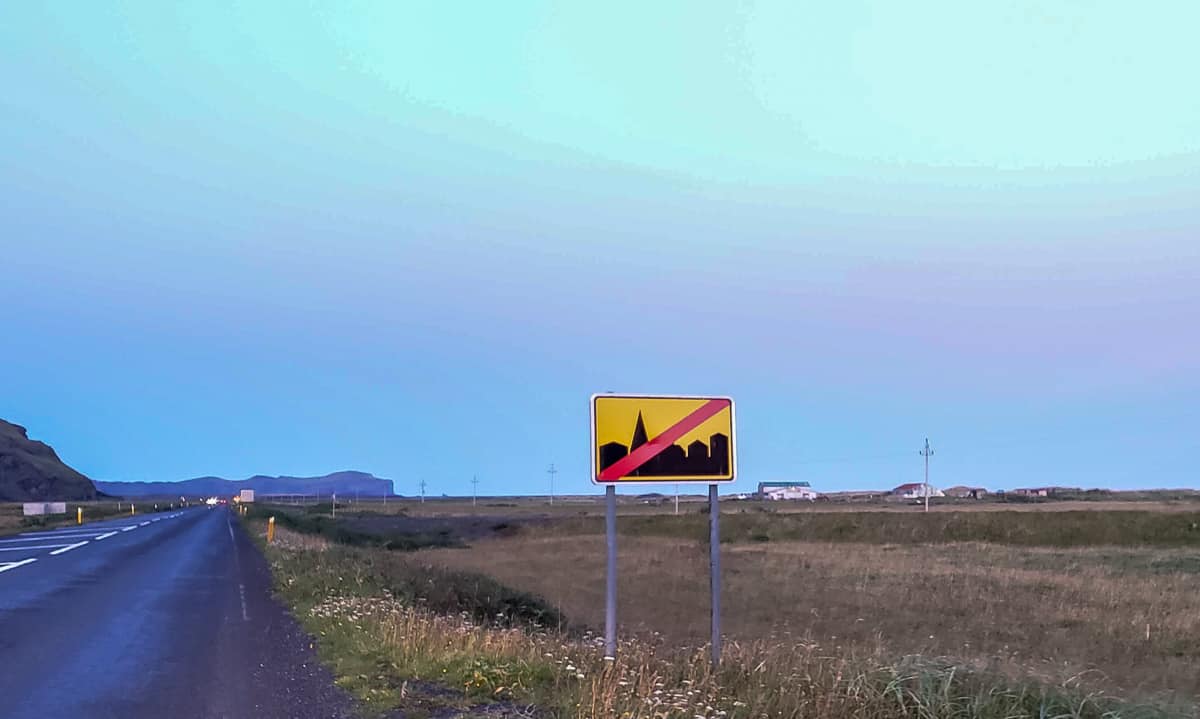 Food
You've probably read this, but we'll say it again, Iceland isn't cheap.
In fact, it might be the most expensive place we've been.
While the airfare was dirt cheap to get there, the cost of food and booze quickly made up the difference. We aren't saying it isn't worth it – it definitely is – just know before you go that running on a tight budget might lead to some sticker shock.
PRO TIP: take ziplock bags. Outside of the towns, there are NO convenience stores to grab snacks or food. In the morning at our breakfast buffet, we'd make a sandwich for the road later.
It's super important that before you leave Reykevik to stock up on water and snacks for your 5 days in Iceland itinerary. Better safe than hangry!
Airport Duty Free Booze Shop
We can't take credit for this, but can't remember who told us about it.
When you are in the airport, you'll go through a duty free shop. This is the CHEAPEST place on the island to get booze. We grabbed a 6 pack of local Viking Beer and an airplane kit of local liquors. We didn't drink much of the liquors, but we did pack them for gifts to friends.
If you are looking to save some money drinking, grab yourself a 6 pack of local beers for this trip.
Iceland Tourist Attractions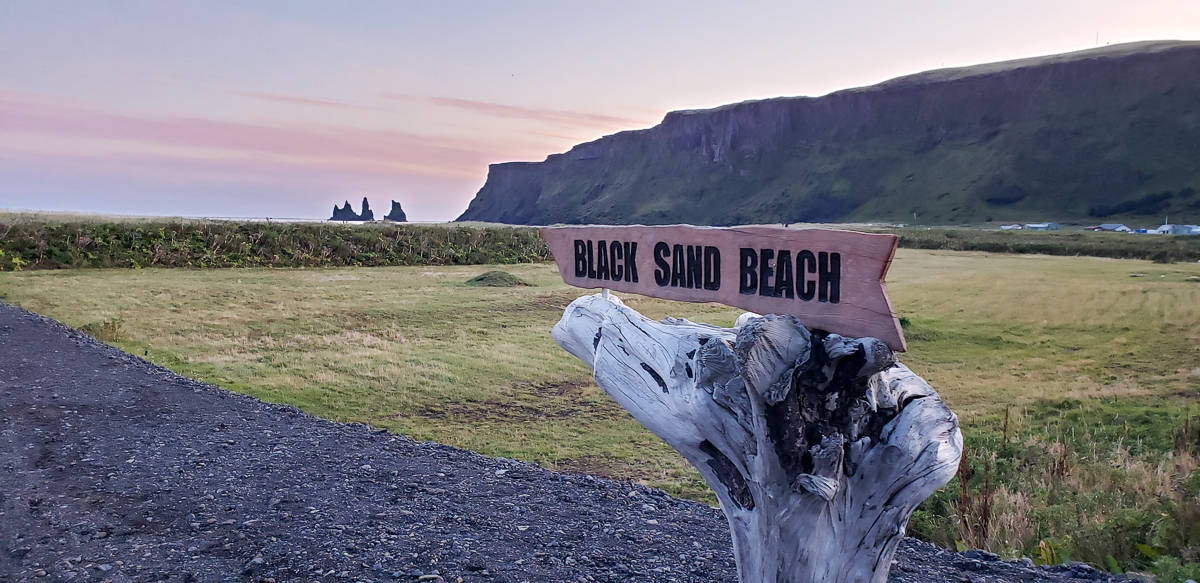 For a small country as sparsely populated as Iceland, there sure are a lot of things to do and see especially if you are trying to cram it all into a 4 days in Iceland itinerary.
The main Iceland tourist attractions are things you've probably heard about before: the Northern Lights, the famous Golden Circle, Ring Road, hot springs, countless waterfalls, massive glaciers, volcanic activity, and a growing craft beer scene.
Okay, so maybe you haven't heard about that last one, but trust us, there is some great craft beer being produced on this small Nordic island, in addition to some other good booze options.
What to pack for an Iceland road trip
It goes without saying, Iceland is cold, hence i-c-e land. The best way to pack for a cold weather climate is with layers. Here is what we packed:
Winter jacket
Long sleeve shirts
Sweatshirts
Base layers of clothes (long underwear)
Jeans/all weather pants
Rain jacket
Water-resistant socks and waterproof boots
Gloves, hats, ear warmers
Iceland Itinerary Map
HOW TO USE THIS MAP: To view the layers and see the names of the places on this map, click the tab in the top left corner. You can select the check marks to show or hide certain layers. If you select the icons on the map, you will get more information about the point of interest.
HOW TO SAVE THIS MAP: If you select the star icon next to the map name, you can save this map to your Google Maps account. To view it, open Google Maps in desktop or on your phone, select the menu button, go to "Your Places," scroll to the right to Maps, and you will see this map.
Day 1 – Golden Circle Iceland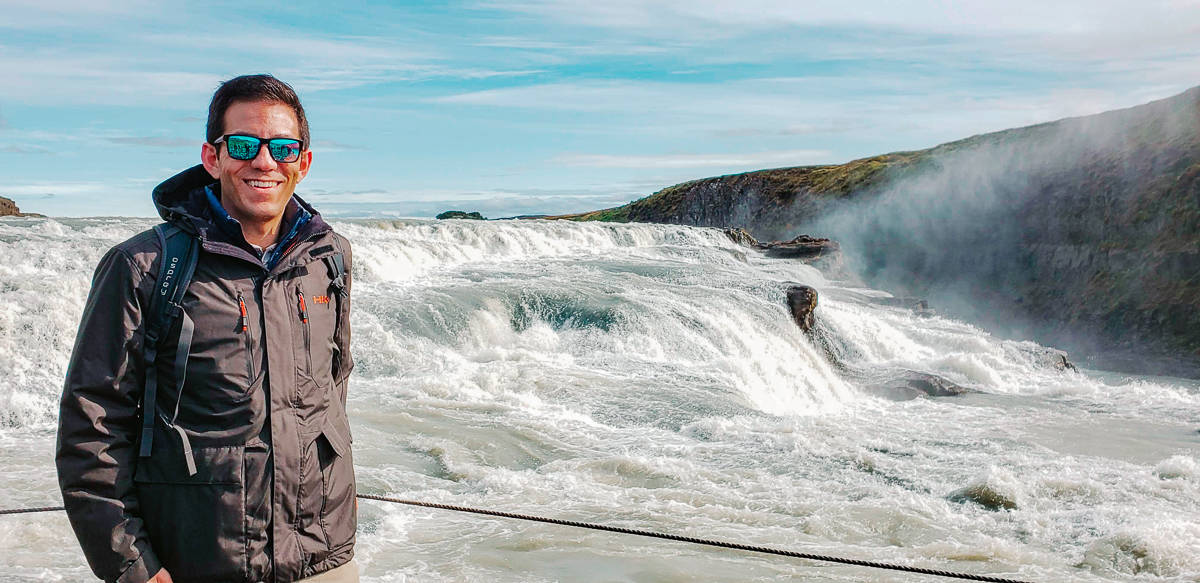 Outside of the Northern Lights, which everyone and their mother has heard about, the famous Golden Circle, a 190-mile loop (300 km) in southwest Iceland, is the most well-known Iceland tourist attraction and the first thing you need to see on your 5 days in Iceland itinerary.
And it's actually more than just one attraction as it contains three of Iceland's most iconic sites (and even more options for stop-off points, including a brewery).
If you're in Iceland for only a short amount of time, the Golden Circle is a great way to see a lot of what Iceland has to offer.
Full disclosure: if you look at the Golden "Circle" on a map, the first thing you'll likely notice is that the definition of a circle is, well, not quite what you learned in Geometry…just get over it.
This is an incredibly easy drive to add to your self-guided Iceland road trip as it's only a short drive from Reykjavik and can be completed in less than a full day.
Stop 1: Þingvellir (Thingvellir) National Park
If you're making the drive from Reykjavik, as we did, the first stop on the Golden Circle itinerary will be Thingvellir National Park, about 40 minutes from downtown Reykjavik.
The national parliament of Iceland was established at this site back in the 900s and sessions were held here until the 1700s. Hence the name of this national park which loosely translates to "assembly field".
Thingvellir, Iceland's first national park, has a visitors center at the top of the hill where you can look out across the expansiveness of the area.
For your first taste of Iceland waterfalls, head down the hiking trail for about 15 minutes and follow the signs to Öxarárfoss, one of Thingvellir's main attractions.
You'll quickly learn that the suffix "foss" means waterfall because you will see waterfalls all over on your Iceland road trip.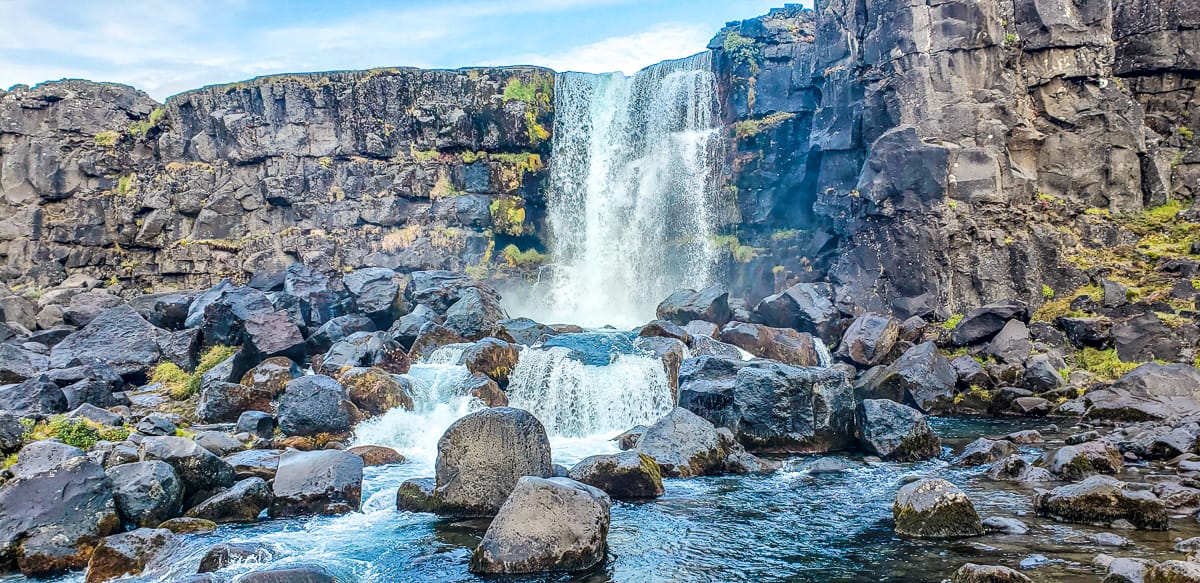 If you're up for it and can stand the freezing cold water and air temperatures, you can even scuba dive in crystal-clear Silfra Lake, which is located between the North America and Eurasion tectonic plates!  
If you're a Game of Thrones fan, you might even recognize some of the scenery around Thingvellir from some GoT scenes.
As we do with most of our visits to tourist attractions, we recommend you get here first thing in the morning to beat the droves of tour buses making their way here from Reykjavik.
This is the first stop on many of the guided Golden Circle tours, so the buses usually roll up when the visitors center opens at 9AM.
Thingvellir is free to enter and parking costs about $6.
Make sure you go to the parking kiosk to enter your license plate and pay the fee. Many of Iceland's parks, including Thingvellir, have a camera system that captures your license plate as you come and go to make sure that you have paid.
Save yourself the trouble (and fine) and remember to pay for your parking. Nothing will ruin your Iceland road trip more than a hefty fine at your first stop!
Stop 2: Haukadalur Geothermal Area – Geysir and Strokkur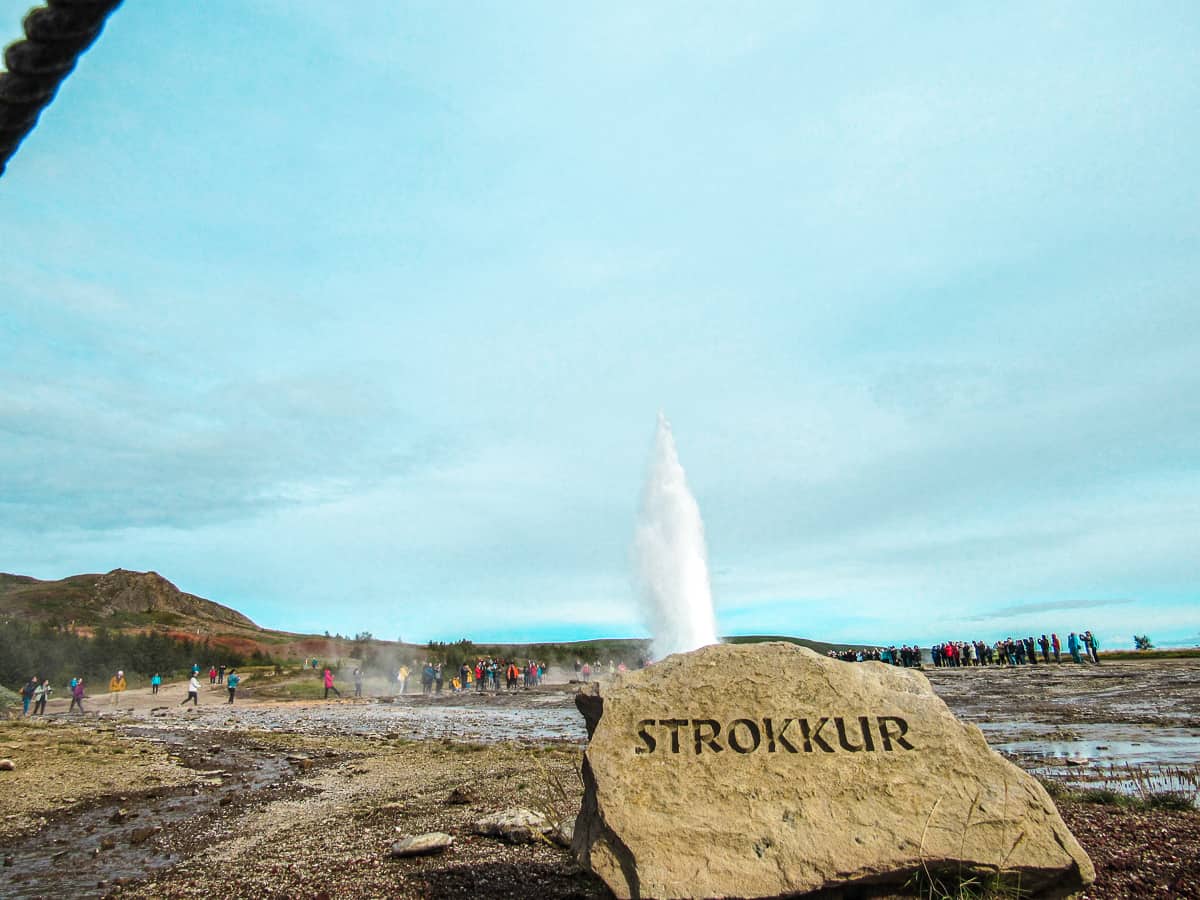 About an hour's drive from Thingvellir, and home to a natural phenomenon that gives us the English word "geyser", the Haukadalur valley is stop number 2 on our Golden Circle itinerary and Iceland road trip.
The two most well-known attractions here, both geysers, are Strokkur and Geysir (bet you know where we get the English word "geyser" from now), but there is additional geothermal activity in the area such as hot springs and mud pots.
Geysir, sometimes referred to as The Great Geysir, is the first known geyser described in a printed source and is the larger of the two geysers at this stop (eruptions up to 230 feet in the air). However, it is mostly dormant today, erupting very infrequently and has even stopped for years at a time.
Only a few hundred feet from Geysir is Strokkur and it's the attraction that you can actually see and enjoy.
The eruption is rather quick, lasting only a few seconds at a time, so keep your eyes on it. If you miss it, don't worry…Strokkur reliably erupts every 5-10 minutes (much smaller eruptions at 50 to 60 feet in the air), so you can easily see 3 or 4 eruptions during a short visit.
Across the street from the geysers, there is a (free) parking lot, a visitors center with more information, and a restaurant. Again, try to be as early as possible to stay ahead of the tour buses making their way around the Golden Circle with you.
Stop 3: Gullfoss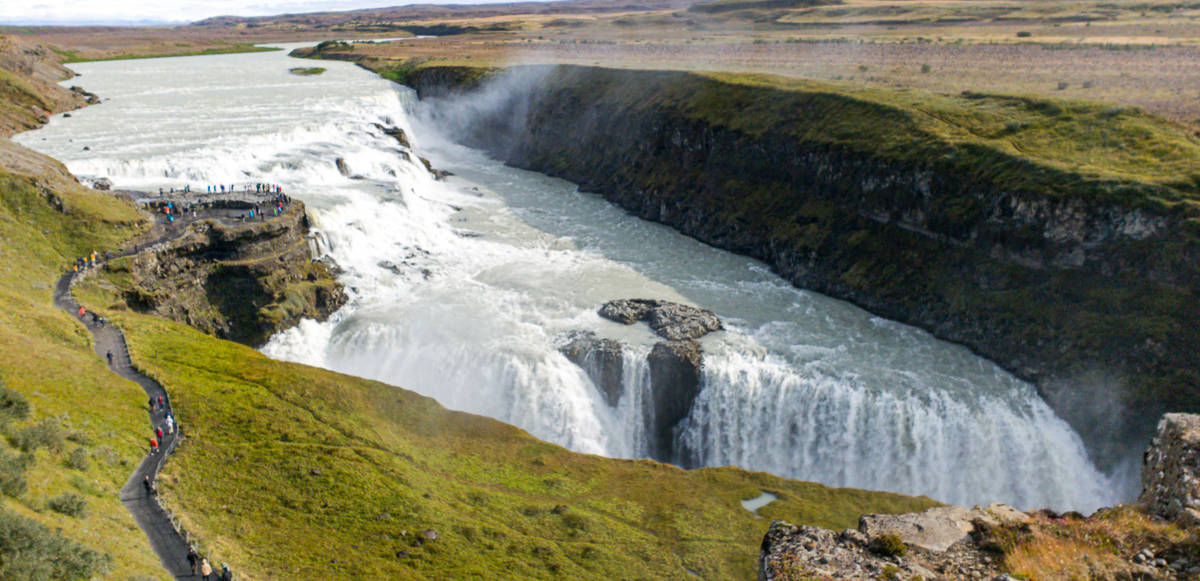 Stop 3 on our Golden Circle itinerary is Gullfoss, which as you know from earlier is some type of waterfall. This is a much shorter drive than the previous stops, only about 10 minutes, so your legs will get a chance to stretch again soon.
The Hvítá is the river we have to thank for this natural beauty.
But don't go thinking it's just some rinky-dink waterfall because its name literally means "Golden Waterfall". Gullfoss packs a serious punch and is incredibly powerful. The average amount of water falling down this staircase-looking waterfall is almost 5,000 cubic feet per second (over 36,500 gallons)!
When you arrive, you have two options for parking (both free). If you park at the top of the hill, you'll have easy access to the higher lookout point over the falls as well as a shop, restaurant, bathrooms, and information.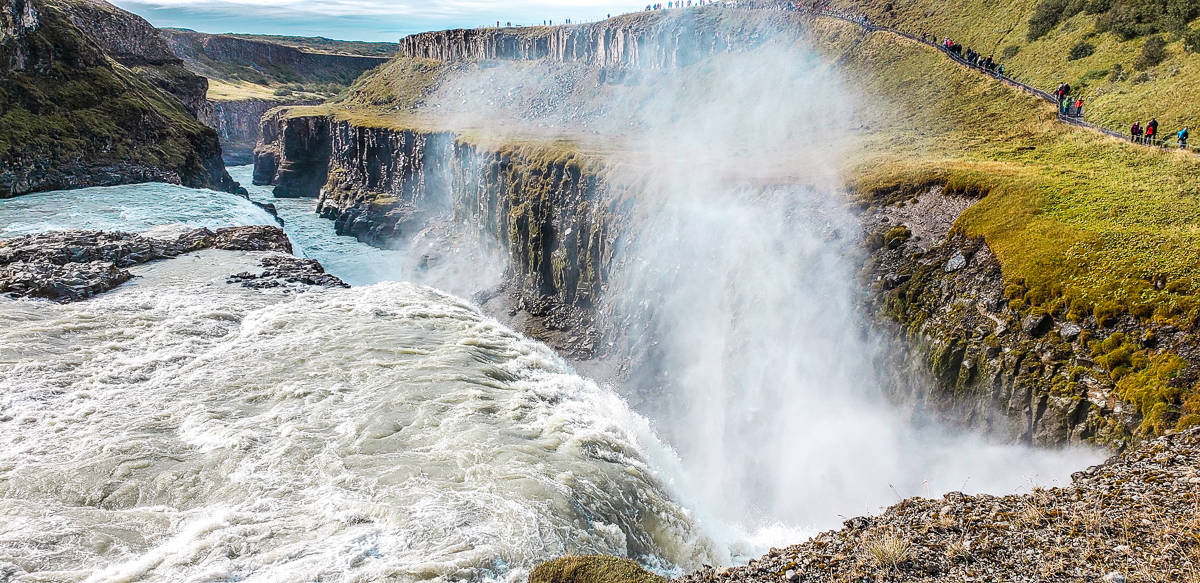 The lower parking lot gives you quicker access to walk along the trail that gets up close and personal with this behemoth. We parked up top and got our steps in walking down the stairs to the trail.
FYI, it's super windy right by the waterfall and the canyon that it falls into so be prepared for that.
Also, be prepared to get a little bit wet if you walk the lower trail to the front of the falls. The sheer power of Gullfoss creates a ton of mist keeping things pretty damp along your walk.
Stop 4: Kerið (Kerid) Crater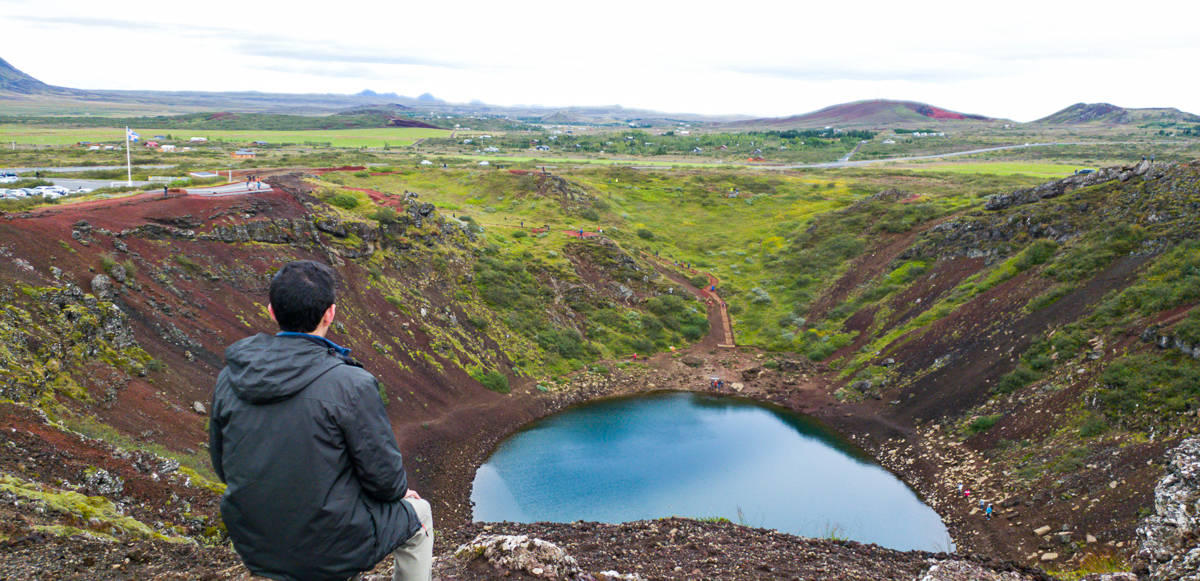 Although not one of the primary stops on the Golden Circle itinerary (stops 1 through 3 above), you're going to pass Kerid Crater on your loop back to Reykjavik, so you should definitely make this part of your Iceland road trip as it's right off of the main road.
Kerid is one of several volcanic crater lakes in the area, but it's one of the most popular because it has a very recognizable caldera still intact today (and again, it's right off the main road).
Unlike most volcanic rock which is black in color, Kerid's caldera is a dark red which helps distinguish this crater from other volcanic craters. Also, one side of the crater is gently sloped and covered in moss, which makes getting down to the lake much easier.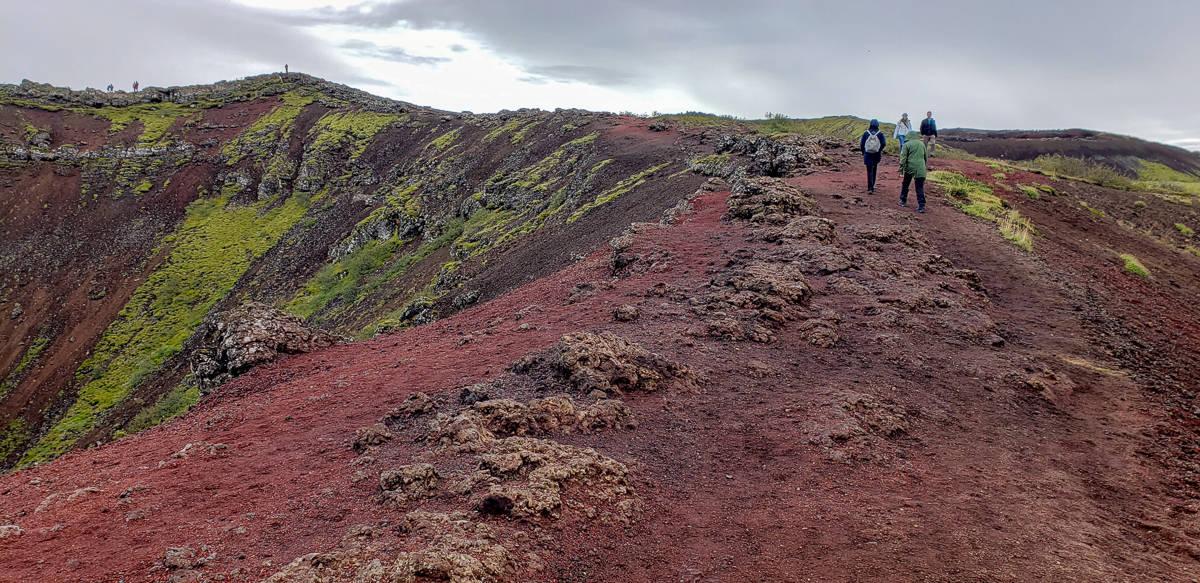 If you prefer to admire the crater from above, and wonder how much booze you could fit in this giant hole (we did the math – it's over 670 million gallons), there is a trail around the outer rim that doesn't take that long to complete.
Warning: we were here in early September and there were some extremely annoying flies all around us during our visit. Just be prepared to swat them away with the brochure you get upon entering!
At the bottom of this 180-foot deep, 560-foot wide, and 890-foot across crater (aka really big) is where you'll find a strikingly bluish-green lake. The stark contrast of colors is really unbelievable and a sight to see.
The entrance fee was 400 ISK per person (about $3).
If you are exhausted (which we were at this point), we suggest skipping this stop on your 5 days in Iceland itinerary. It was really cool, but if you skip it, the world won't end.
Stop 5: Ölvisholt Brewery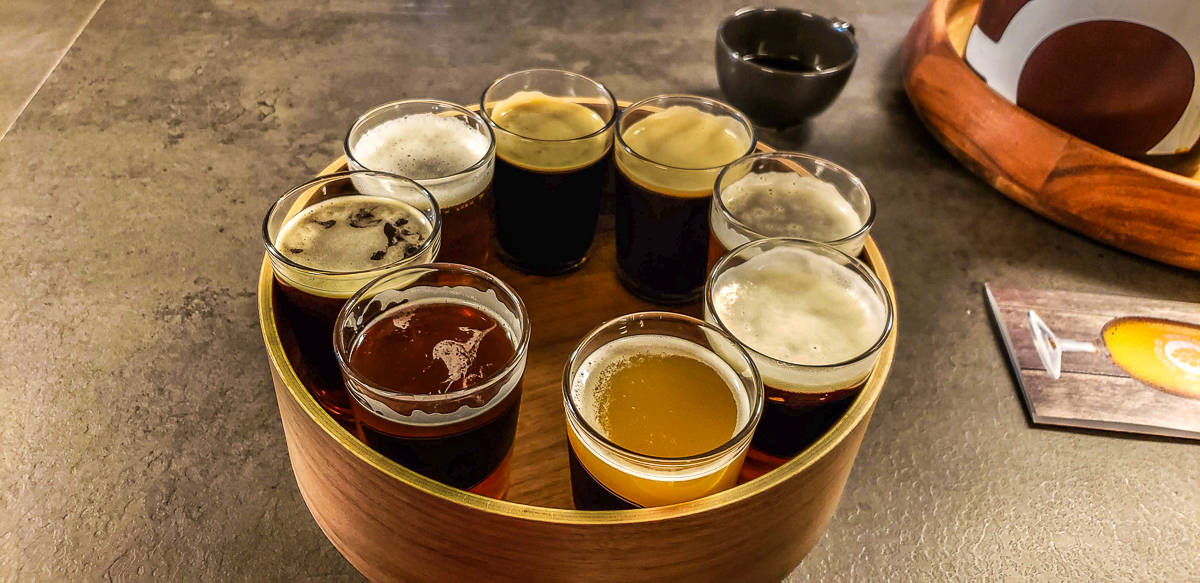 If you're completing the Golden Circle in a short day-trip from Reykjavik, this is usually the part of the day where you would leave Kerid Crater and finish the loop, making the hour-long drive back to Reykjavik.
But we're Boozing Abroad and you know us better than that!
At this point, we'd been awake for almost 30 hours and had accomplished a lot on our first day of our 5 days in Iceland Itinerary road trip. We earned a beer. Or eight. That's exactly what we got.
Leaving Kerid Crater behind, we made the 25-minute drive to Ölvisholt Brugghús, the first of many breweries in Iceland we'd be visiting.
Just a forewarning: you'll see signs for Ölvisholt on Route 1, which is Ring Road, and make the turn off the road, thinking you're almost there. You can taste the cold beer already.
Patience young grasshopper.
You've still got a slow, 2.2 km (1.3 miles) drive up, down, and around a very bumpy and rocky road before you arrive at the brewery. Rejoice!
Founded in 2007 by neighboring farmers who love beer, Ölvisholt is located at an old dairy farm that was adapted for a small brewery. A taproom was opened in the old cowshed next door (don't worry, the cow manure smell is gone) so you can come and taste their beer straight from the source.
If you're looking for another brewery that has 10 different varieties of IPA's, look elsewhere! With many other breweries having cornered that market already, Ölvisholt wanted to be a little bit different.
A refreshing change of pace in the IPA-heavy craft beer world.
Needing a jolt to our systems, we opted for the flight of all 8 of their draft beers, which included many of their mainstays and some other experimental beers.
A quick note on Iceland….it's expensive. Our flight of 8 beers was 4,500 ISK (or about $36). Once you accept that Iceland is an isolated country, the prices are put in perspective a little bit.
Their top-selling and most well-known beer is the Lava Smoked Imperial Stout. Inspired by nearby volcano Hekla (active, BTW, and visible from the brewery's door), Lava was named the best Imperial Smoked Beer of the year in the US Open Beer Championship in 2012.
It's even been featured in the World Atlas of Beer as an example of Icelandic brewing excellence!
The hours are extremely limited (be sure to check their website) and we were lucky to be in the area on a day/time that they were open. If you miss their taproom hours, you can find many of their beers all throughout Iceland in bars and Vinbudin, the government-run liquor store.
Quick note about Iceland: If you're looking to buy alcohol for personal consumption (i.e. not at a bar/restaurant), you'll have to do that in one of two places: the Vinbudin or the duty-free shop at the airport.
Our advice: stock up at the airport on your way into the country. It's much cheaper!
Stop 6 – Urriðafoss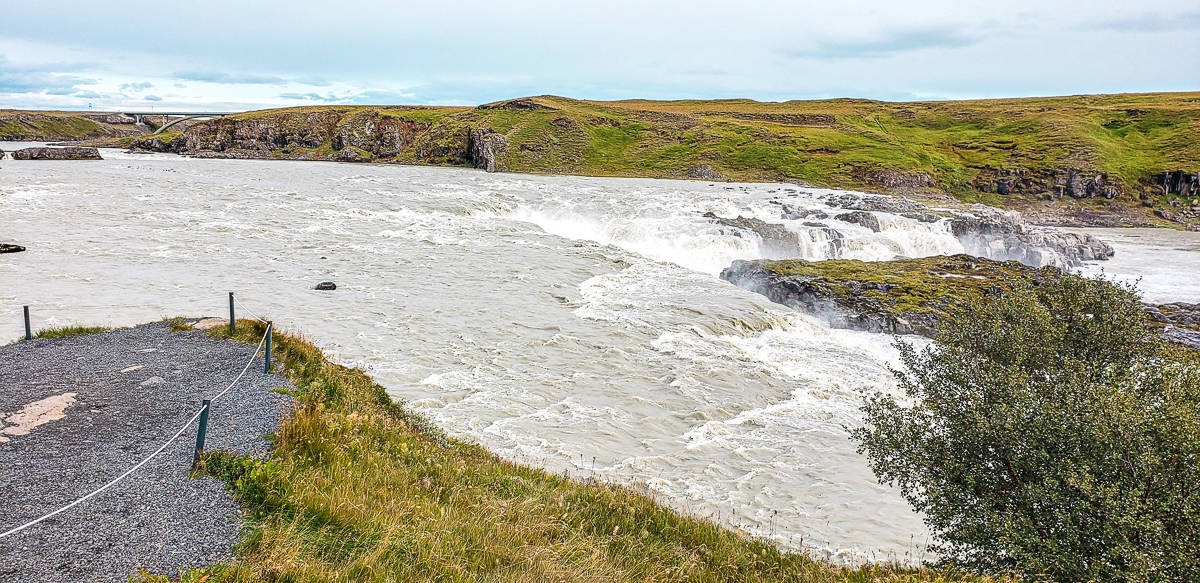 OK, so compared to Gulfoss from earlier in the day, Urriðafoss isn't really anything to write home about, but it was another chance for us to see one of the many Iceland waterfalls and it was on the way to our hotel.
Interestingly enough, this waterfall is at the center of controversy because of a proposed power plant planned to be built at the lower part of the river, which would effectively eliminate this waterfall.
Local residents have banded together to protest the proposed power plant in hopes to save Urriðafoss.
Where to Stay at the end of day 1 in Iceland
After an overnight flight (on which we didn't really sleep) and a full day of sightseeing and beer drinking, we were exhausted and wanted to get checked in to the hotel for the night before getting some food. We stayed at Hotel Selid, which honestly was more of a glorified hostel than a hotel.
Nonetheless, it was a cozy place with nice rooms, warm showers, and WiFi. Everything we needed to recharge for the evening.
They even had dining on-site which was a nice perk given that the hotel was about a 15-minute drive (over rather bumpy and sometimes-unpaved roads) from towns on either side of it – Hella and Hvolsvöllur.
Breakfast and dinner were available for an additional charge and you just needed to let them know ahead of time if you would be eating with them.
The hotel is somewhat off the beaten path, but follow your map/GPS. We promise it's there!
In our opinion, it's one of the better places to stay in Iceland because it's a bit hidden, it's inexpensive by Iceland standards (and compared to Hotel Ranga nearby), and it's close to many of the Iceland tourist attractions you'll be visiting.
For dinner, we were able to muster up enough strength to get out of the hotel, just not enough to eat local. We are somewhat embarrassed to say we had….pizza.
The heart wants what the heart wants! Especially when it's sleep-deprived and exhausted from a long day. The pizza, from Gallery Pizza, was actually quite good, if not basic and simple.
Day 2 – Southern Ring Road – Waterfalls, Beaches, Glaciers, and a Brewery (duh)
Seljalandsfoss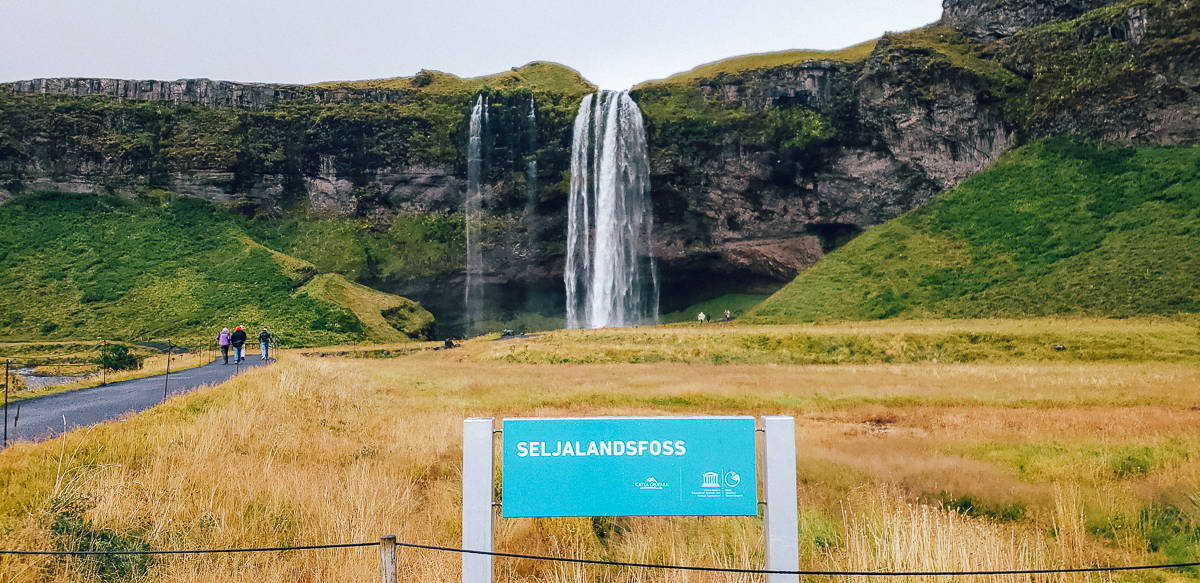 Day 2 of our self-guided 5 days in Iceland Itinerary got off to a cold and rainy start, but it hardly changed our plans seeing that we were going to one of the most famous Iceland waterfalls known for getting its visitors very wet!
Seljalandsfoss is one of the most famous Iceland waterfalls because you can walk behind it on a paved/rocky path. Make sure you bring your waterproof gear and jackets.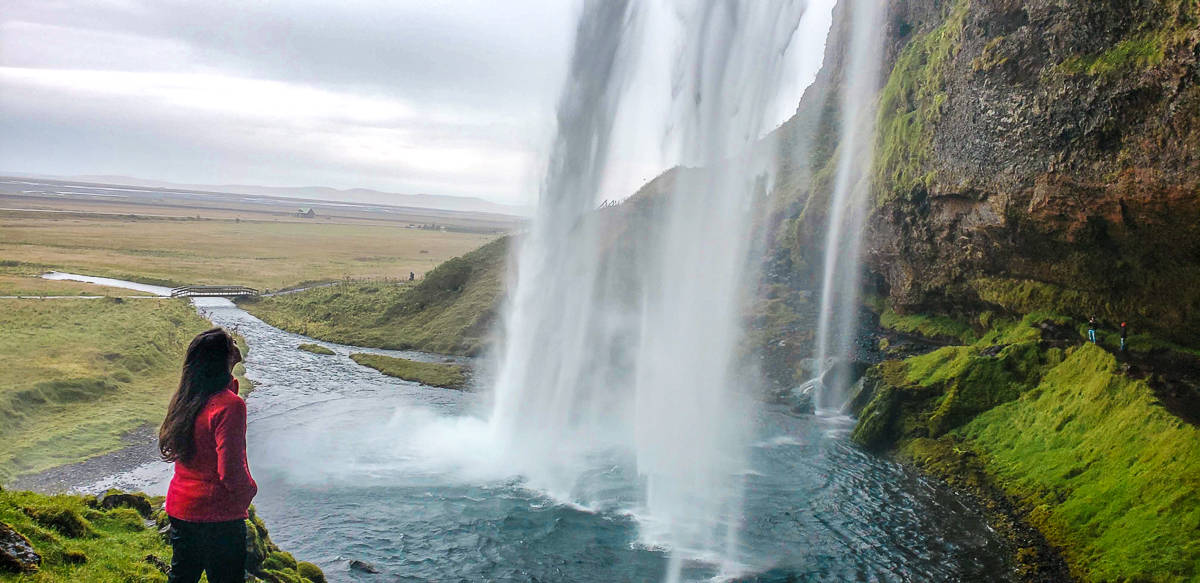 The mist from this powerful waterfall is sure to soak you on your way up. And if the wind is blowing, you'll get even more soaked! But hey, YOLO!
After you park in the lot (700 ISK $), head up the short path so you can get your pictures and videos from behind the falls. If you're up for another short hike and have the time, there is another waterfall just a little bit further up the path.
Gljúfrabúi waterfall is somewhat hidden inside the gorge and isn't really visible until you actually get up to it.
Gljúfrabúi is only a short walk over from Seljalandsfoss and will certainly be less crowded than it's more well-known counterpart. Follow the path to the left from Seljalandsfoss and you'll see information signs on the right side of the path.
PRO TIP: Much like yesterday's tips for arriving at these Iceland tourist attractions early, we recommend getting to Seljalandfoss first thing in the morning. We got here around 8 AM and beat all of the tour buses which made our visit quicker and much more enjoyable.
Skógafoss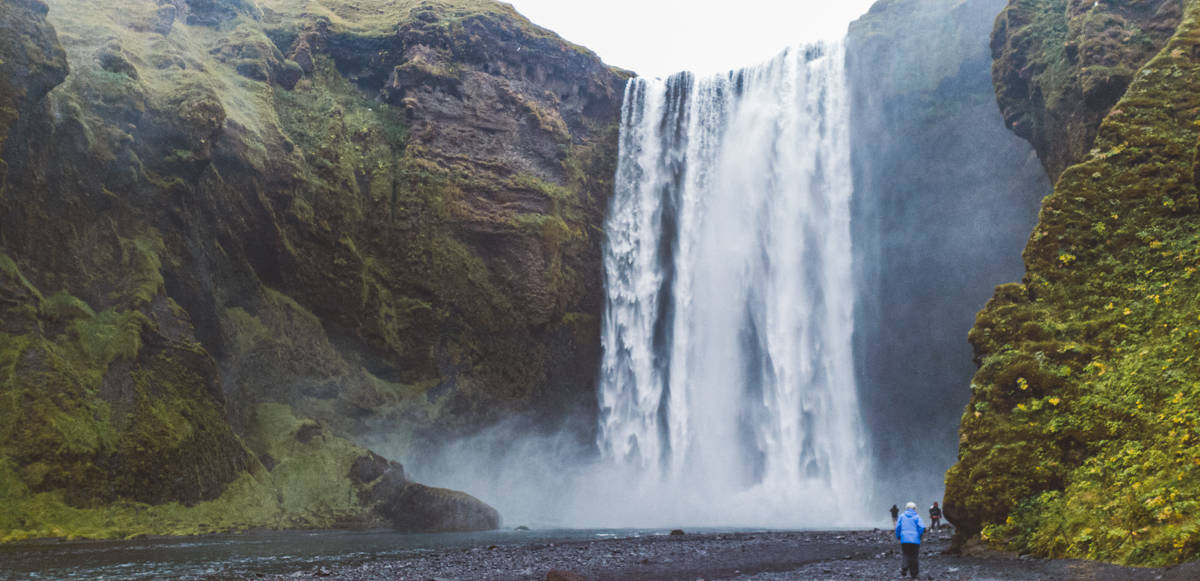 About 20 minutes further south of Seljalandsfoss along Ring Road, Skogafoss is one of Iceland's largest waterfalls at over 80 feet wide and almost 200 feet tall.
Game of Thrones diehards will recognize this waterfall from Season 8 of GoT when (spoiler alert) Daenerys Targaryen and Jon Snow fly to waterfall on her dragons and kiss in front of it.
This waterfall is so powerful that the spray produced by the water actually results in a single or double rainbow that is visible on clear days.
Unfortunately, it was raining when we were there, so there was no such rainbow to be seen. But since we were getting wet anyways, we got up close and personal with this waterfall too.
For a different vantage point of this powerful waterfall, we climbed up the sometimes steep winding staircase to the observation deck overlooking the falls.
A beautiful and impressive sight for sure. But keep in mind that what goes up the 500 steps, must also come down the 500 steps! Samantha uttered quite a few (playful, I think) obscenities at Chris on the way up and down.
Sólheimajökull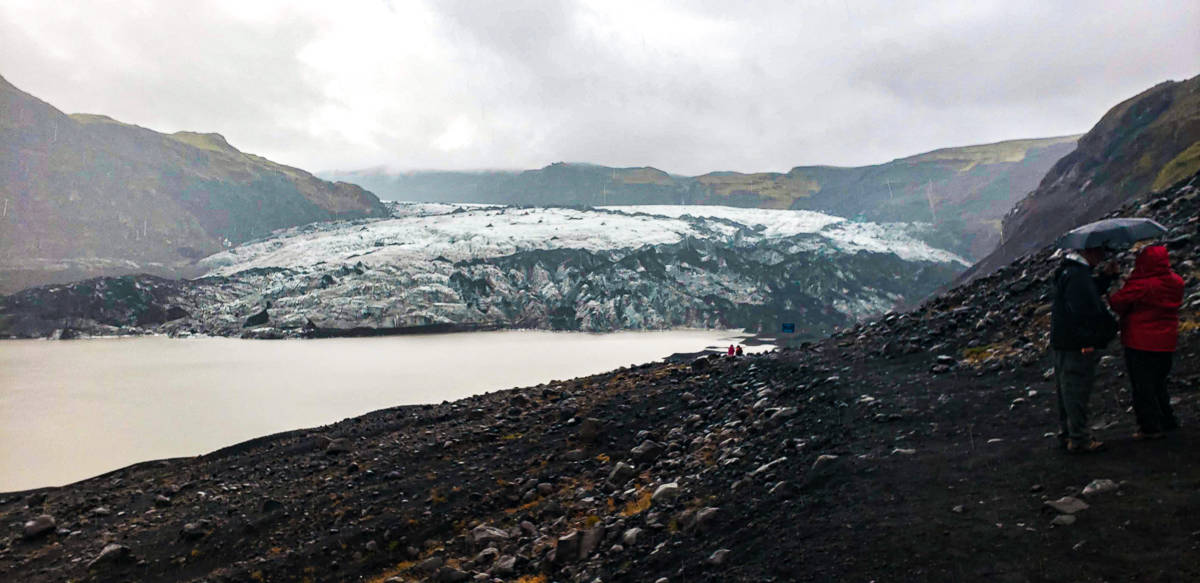 Another 20 minutes down the road is Sólheimajökull, a large glacier that covers one of Iceland's most infamous volcanoes, Katla.
This glacier is one of the most easily accessible glaciers if you're based in Reykjavik, so glacier walking tours are popular here. We parked and did a short 10-minute hike until we could see the base of the glacier and then headed back to the car.
Honestly, unless you are doing a glacier tour, there really isn't much to see and do here. Again, this would be a good stop if you weren't going farther east. But, if you are heading east, skip this stop and move down to the next spot on the 5 days in Iceland itinerary. 
Reynisfjara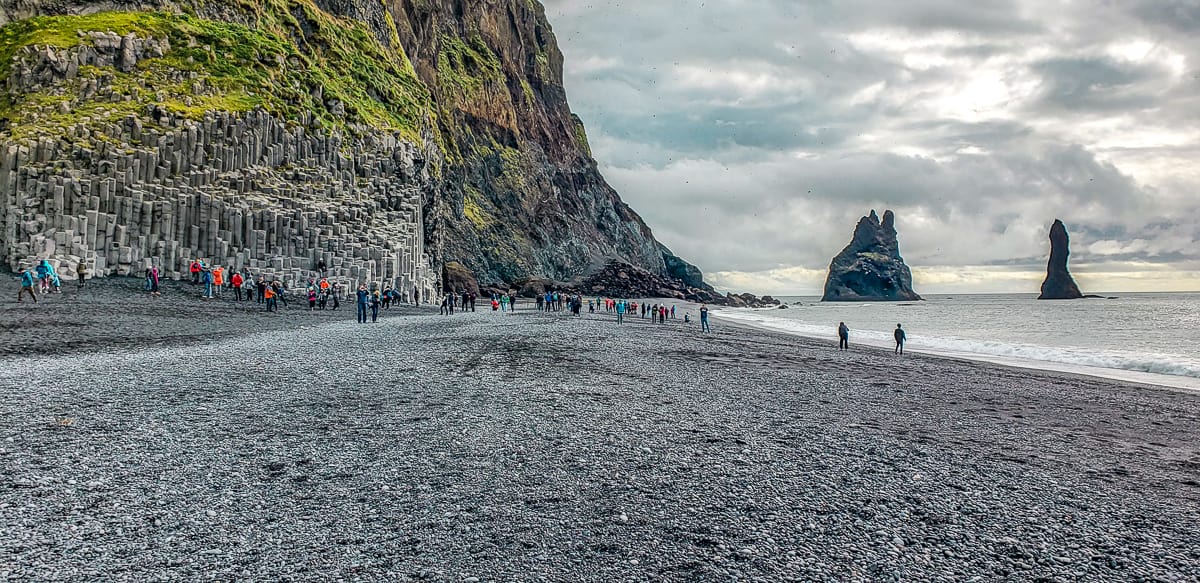 Another one of the most popular Iceland tourist attractions is the iconic black sand beach at Reynisfjara and a must do on your 5 days in Iceland Itinerary.
The black sanded beach is compliments of volcanic rock that has been heavily eroded over the years and is located a few minutes off of Ring Road, and just a short 10-minute drive from the town of Vik.
The black sand is a really cool sight to see, especially for those of us who have only ever seen the typical white/golden-sand beaches.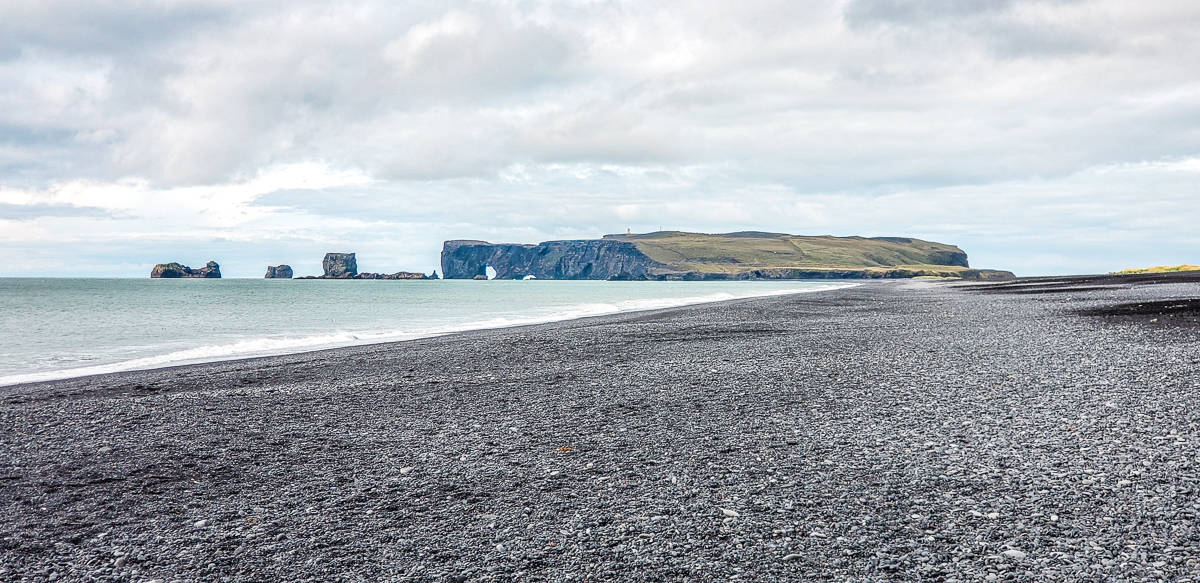 The beach is situated against a stunning backdrop of huge columns, the Reynisdrangar Columns, where you're likely to see all sorts of wildlife hanging out.
You'll (hopefully) find a spot in the parking lot before making the short walk to the beach itself. If you're hungry or thirsty on your way in or out, there is a small café right at the entrance of the beach where you can refuel for a bit. This is a completely free Iceland tourist attraction, absent any purchases at the café.
Skaftáreldahraun Lava Fields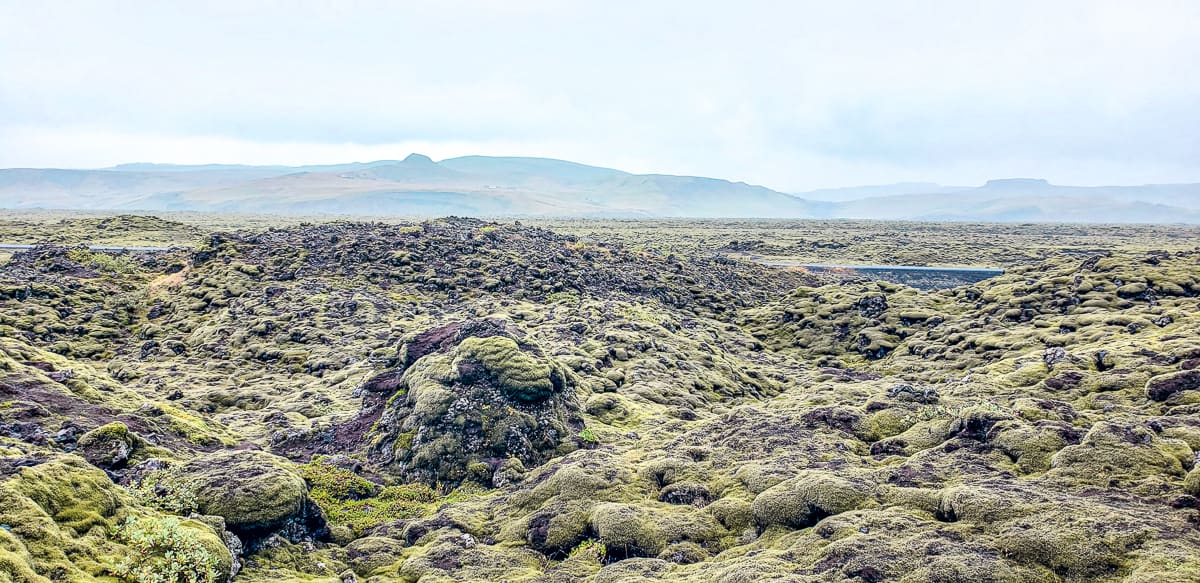 All alongside Ring Road are vast open fields that are covered in moss and quite bumpy/hilly. What we came to find out was that these were actually lava fields created by one of the largest lava flows in history.
Although it's one of the lesser known Iceland tourist attractions, likely because it is just so expansive (and really just a huge area of land), it is something that you should definitely make time for on your Iceland road trip.
We didn't really find one spot better or worse for stopping (you'll see lava fields all over Iceland), so when you feel the timing is right, pull off Ring Road to take in these huge lava fields.
Skaftá-Fires, as the lava flow is known, went on for 8 months during the eruption and covered over 200 square miles (about 520 km2) of land!
Secret glacier lookout point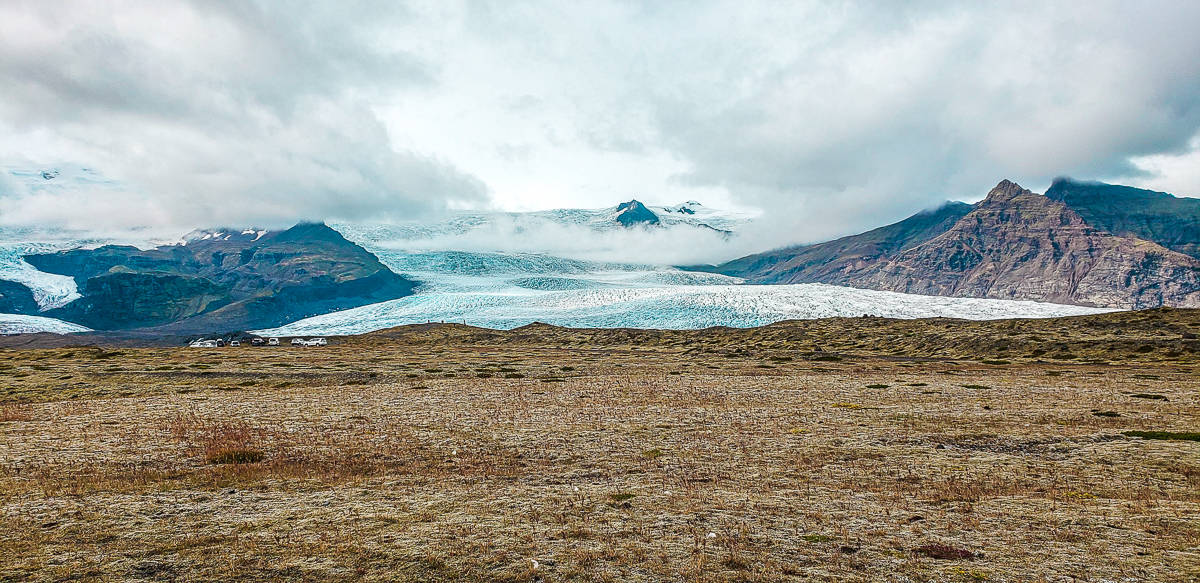 Just before Fjallsárlón Iceberg Boat Tours entrance, there is a dirt road that will take you to an amazing view of the Fjallsárlón glacier lagoon. Latitude and longitude for this dirt road entrance: 63.999240, -16.375964
You'll drive down a long, bumpy road until the road forks. Take a left and you get to a small parking area.
We stopped there twice during our 5 days in Iceland itinerary and both times there were just a handful of people there.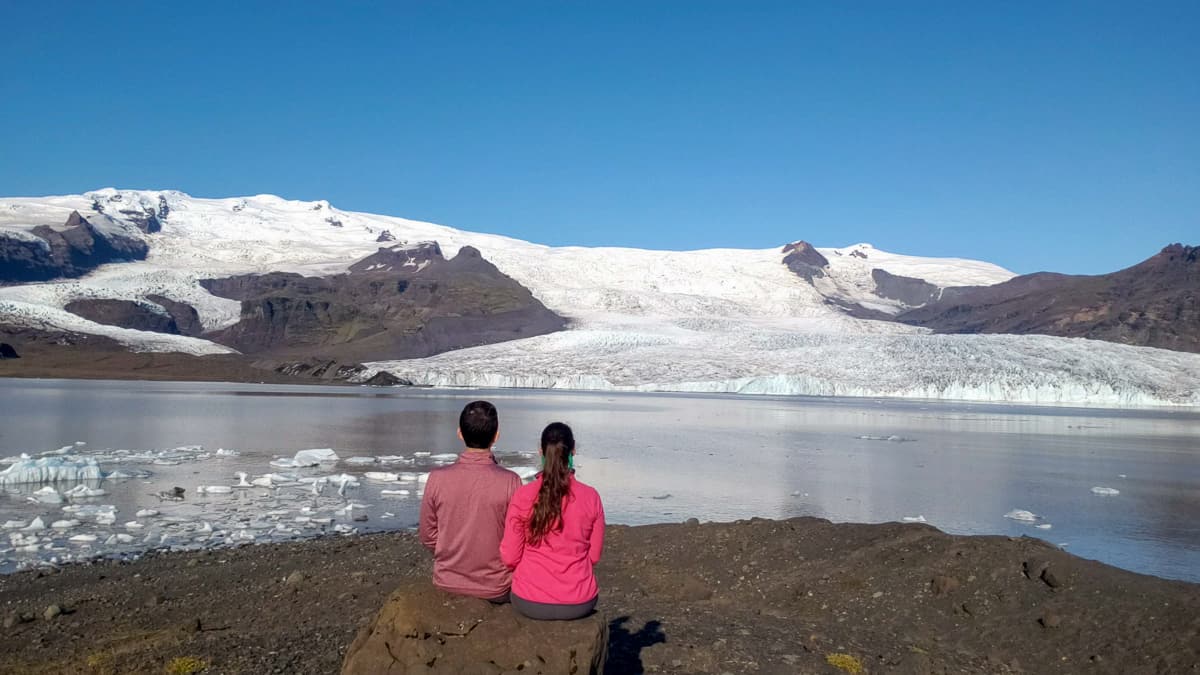 This secluded and private lookout to the glacier was magical. If you have time to spare, spend 30 minutes just looking at (and listening to) the glacier.
If you are lucky, you will see/hear a chunk break away and come crashing into the lake.
Jökulsárlón Glacier Lagoon roadside lookout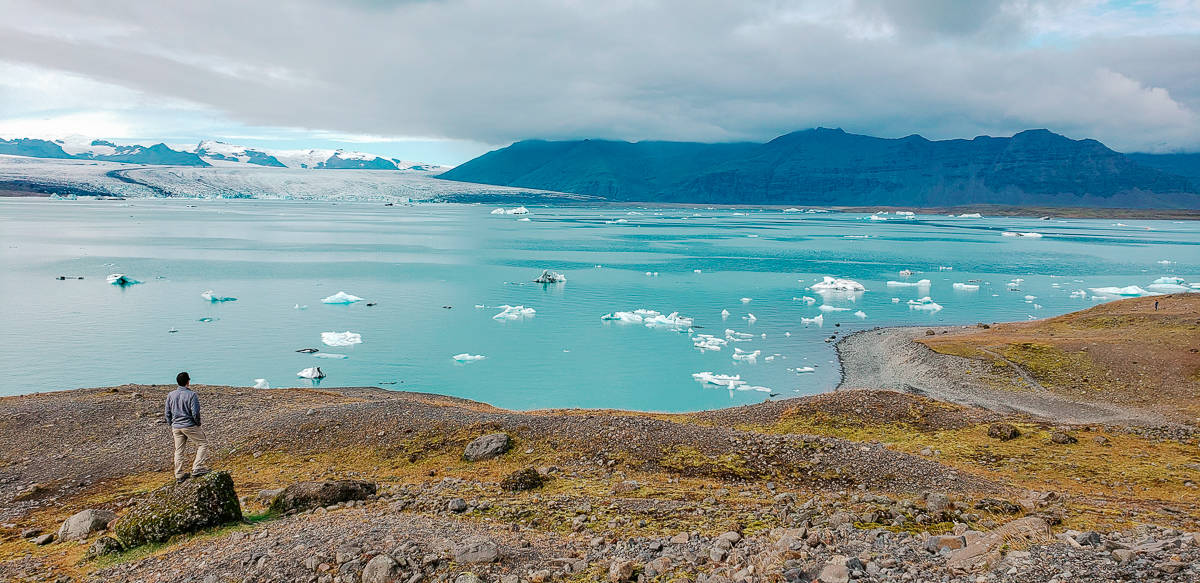 We stopped at another pullout along the Jökulsárlón Glacier Lagoon (just before you get to the main glacier parking lot for your zodiac boat tours) and we suggest you do too.
We definitely recommend going in the morning if you can. From the pullout, you will get a larger view of the entire lake with different and beautiful lighting in the morning sun.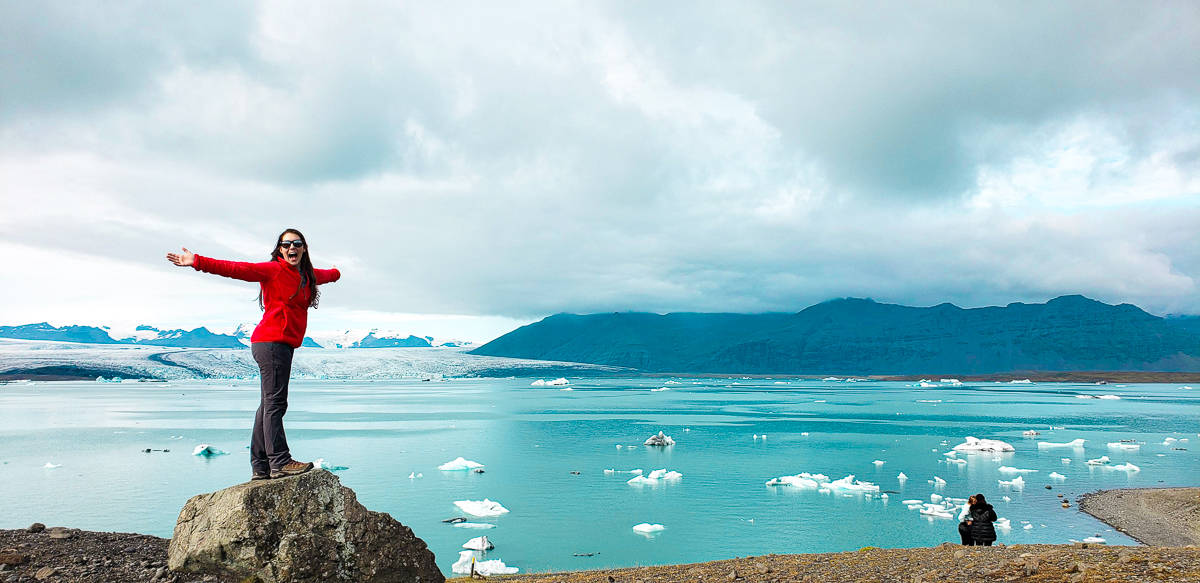 Remember that the wind coming across the lake is freezing as the breeze crosses the large glaciers. When it hits you, it knocks the wind right out of you making this place as breathtaking literally as it is metaphorically.
Latitude and longitude of this pullout: 64.042161, -16.202792
Jon Riki Restaurant and Brewery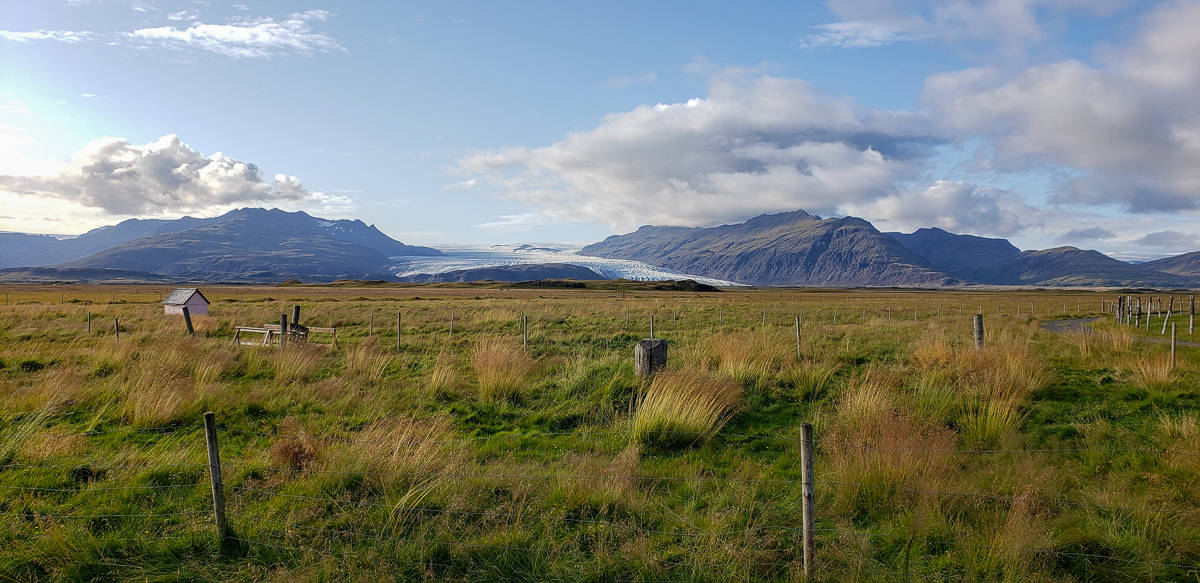 Jon Riki Restaurant and Brewery is a great option for drinks and dinner and is the second on the list for visiting breweries in Iceland. Their brewery is situated in the foothills of a massive field with beautiful mountain views in most directions. 
The beer is exactly what you would want after a long day of driving: flavorful, approachable and drinkable.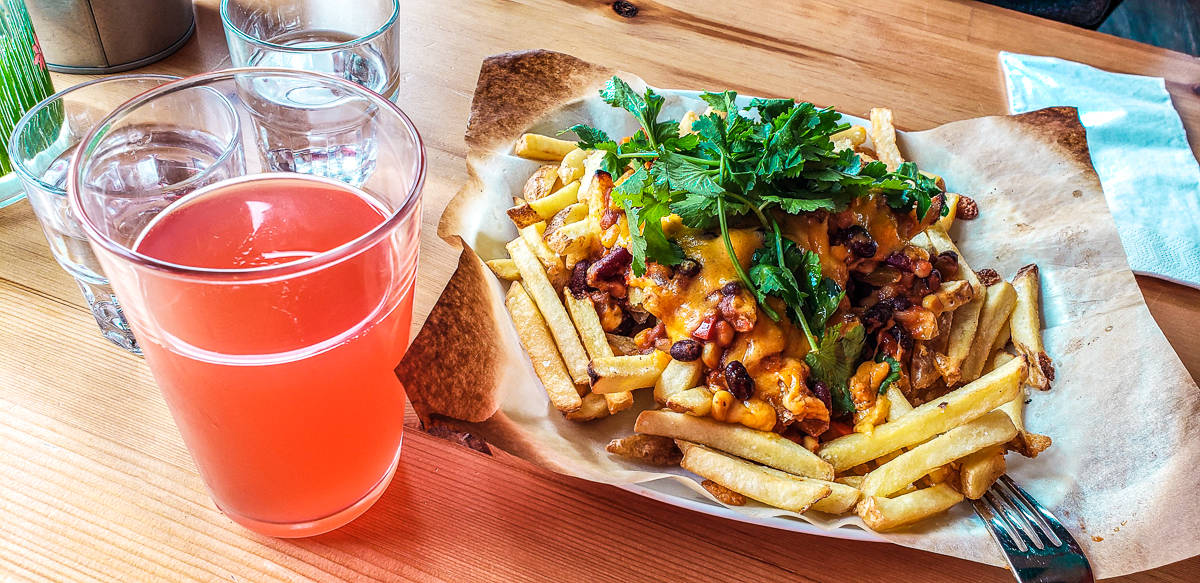 We also had dinner here too and ordered the nacho fries and pulled pork sandwich. Both were satisfying and did the job!
Where to Stay on day 2 in Iceland
Holmur aka Jon Riki
If you love the idea of being close to the brewery, the Holmur is a quaint 2-star hotel that shares a parking lot with the brewery. With the same views as the restaurants, you can rest easy knowing that you can walk home from the brewery.
The only downside to staying here is that it means there is more to drive on Day 3 to get back to the glacier in the morning.
Vagnsstadir Hostel
We stayed at the Vagnsstadir Hostel for 1 night and have no complaints. We typically don't look for luxury when we travel, but just the essentials in a hotel: clean, hot water, fresh linens, etc. The basic room was clean and the location was quiet. The staff was very friendly and the breakfast was included.
PRO TIP – take zip-lock bags for snacks later that day.
Day 3 – Glaciers, Diamonds, Hiking, Canyon, and Another Brewery
Breiðamerkurjökull Glacier and Jökulsárlón Glacier Lagoon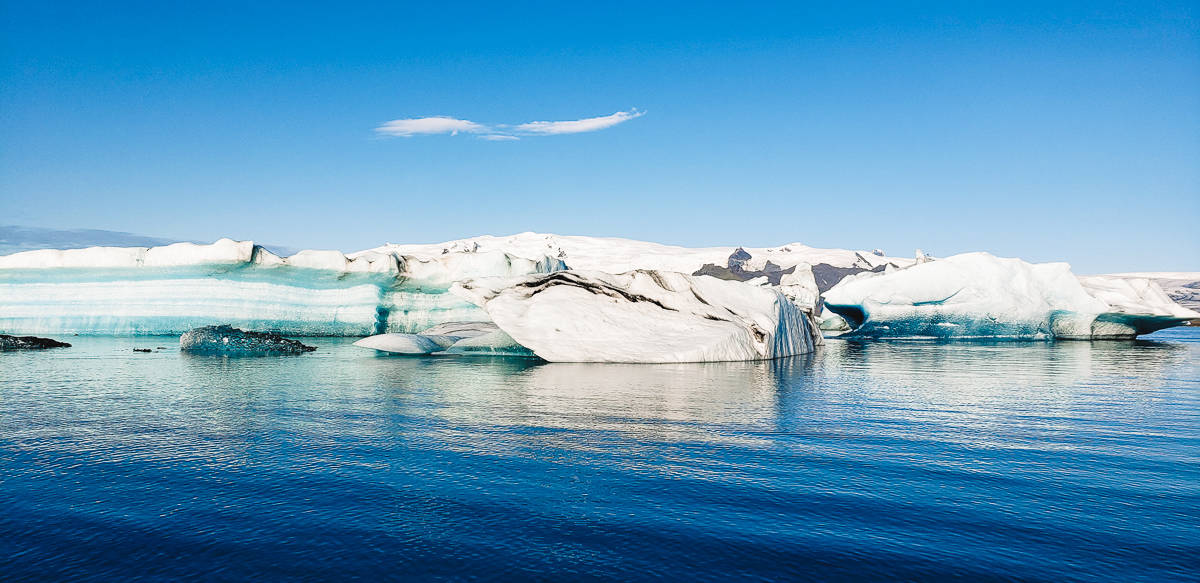 The Breiðamerkurjökull Glacier is an outlet glacier of the larger Vatnajökull and ends in the well-known Jökulsárlón glacier lagoon (which has been the setting for four movies: A View to a Kill, Die Another Day, Lara Croft: Tomb Raider, and Batman Begins, as well as the TV series The Amazing Race).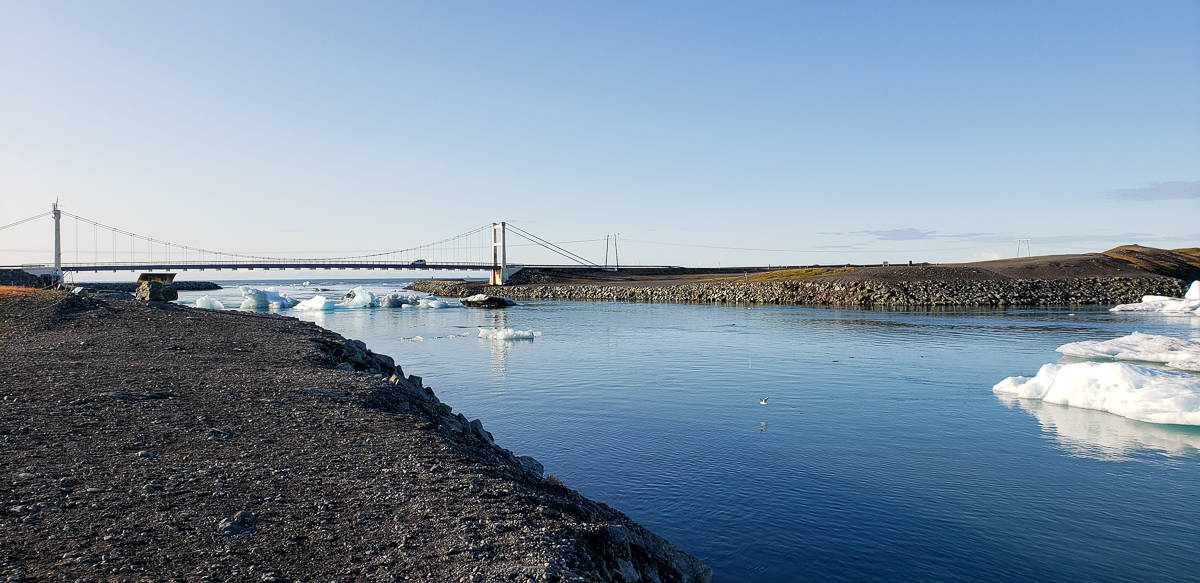 Over time, this glacier has been breaking down and floating into the lagoon, which is the deepest lake in Iceland, and then eventually joining with the ocean.
This needs to be your first stop on day 3 of your 5 days in Iceland itinerary because the lighting in the morning makes this place sparkle. The lake has an inlet to the ocean and we suggest you park in the Boat Tours parking lot.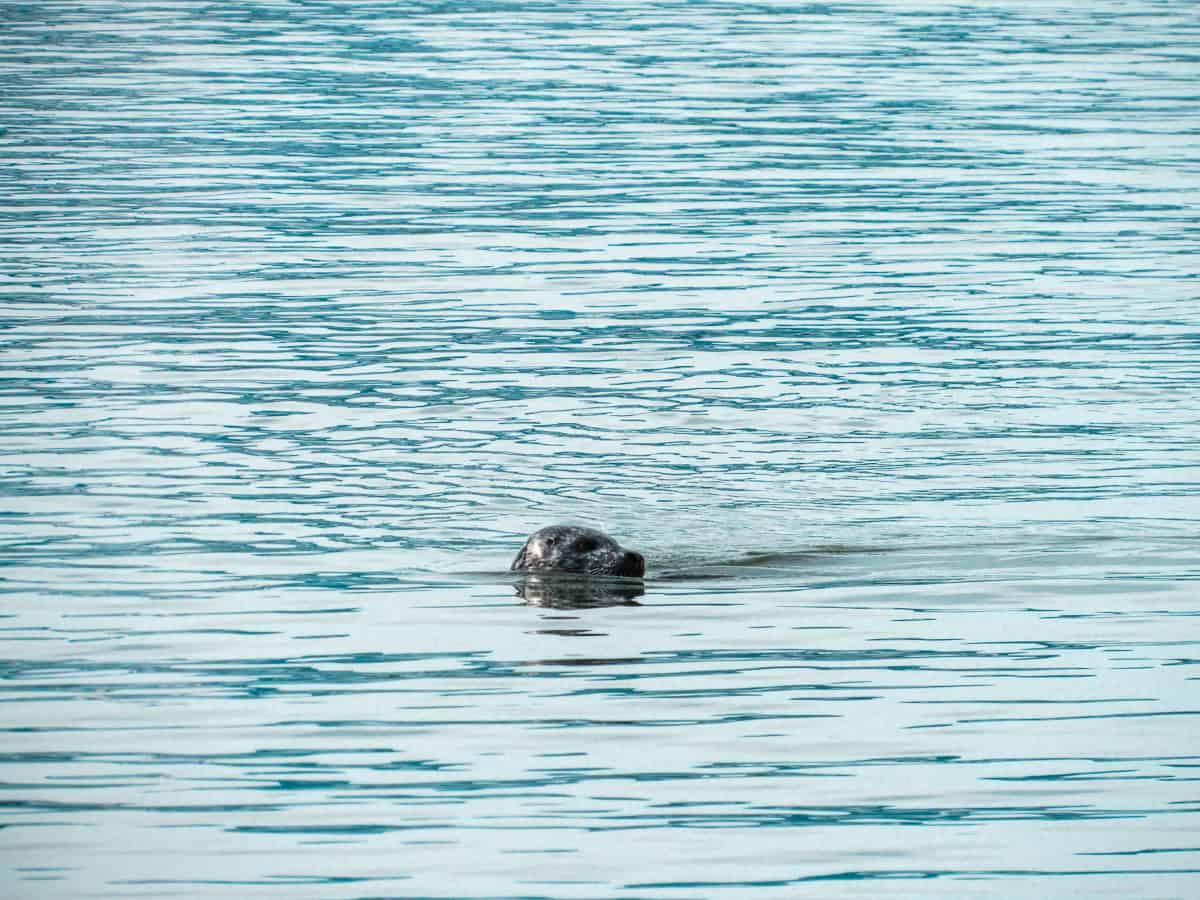 Did we mention there are seal? Early in the morning is the best time to see them playing and floating in the water.
Diamond Beach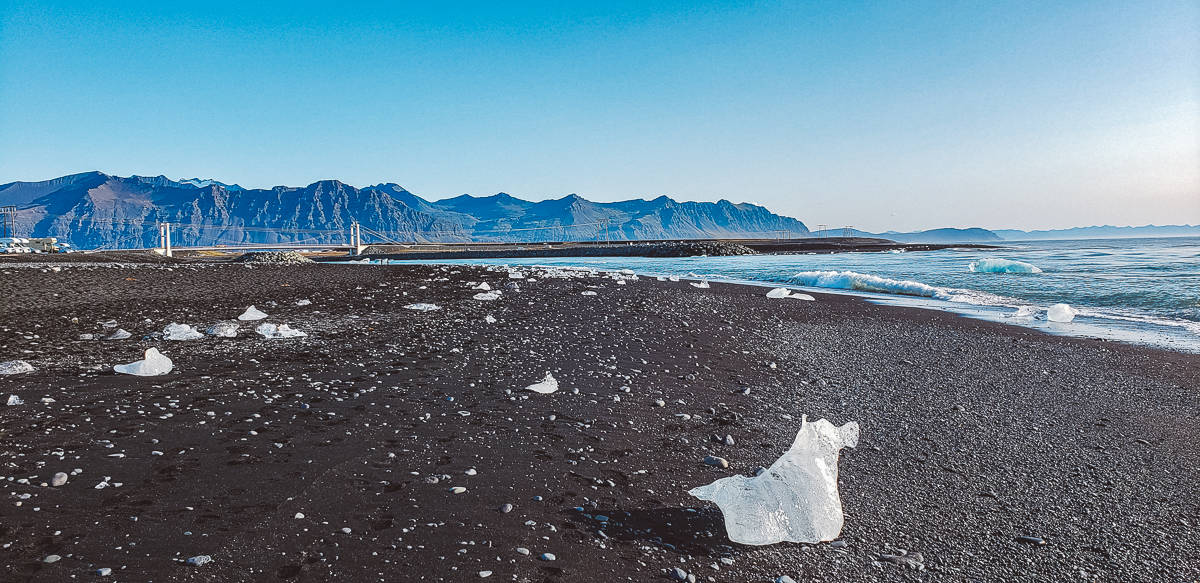 Directly across the street from Jökulsárlón Glacier Lagoon, you will find Diamond Beach.
While there are no actual diamonds here, this beach has earned the nickname because of the large pieces of glaciers strewn across the sand, which in the light, they glimmer like diamonds.
Skaftafell via Vatnajökull National Park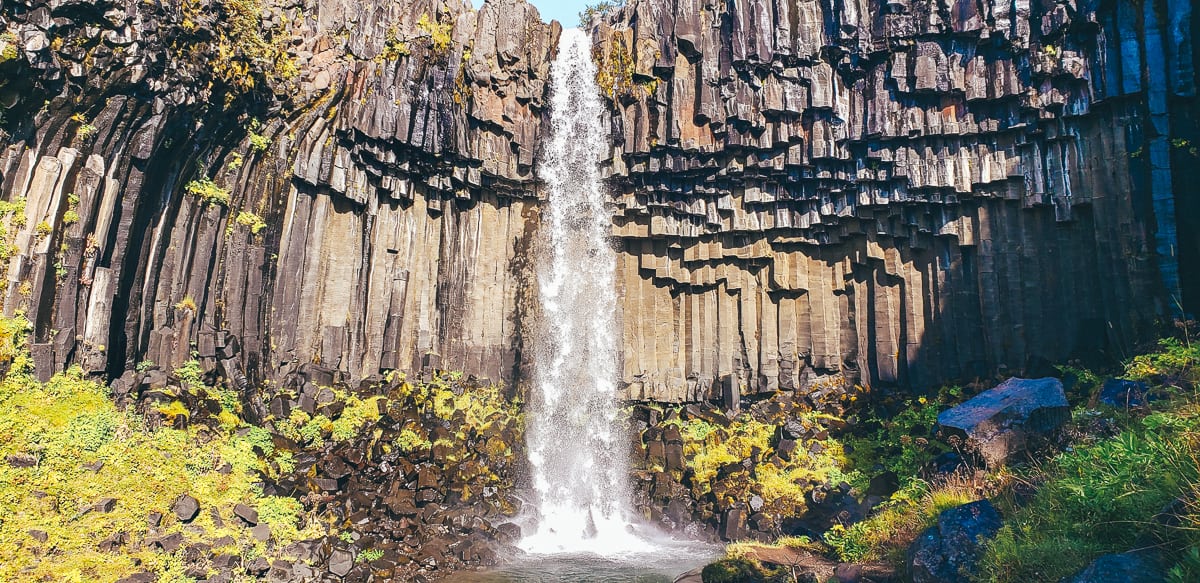 Get your walking shoes on, because this is the stop where you'll get to stretch your legs. If you've done any research at all on Iceland, then you have come across Skaftafell and it's best-known attraction of Svartifoss.
The hike to the Svartifoss aka the Black Waterfall, is a quick 1 mile walk (1.5km) and takes roughly 30-45 minutes one-way.
There are several things to see on the hike, but the waterfall is the main attraction.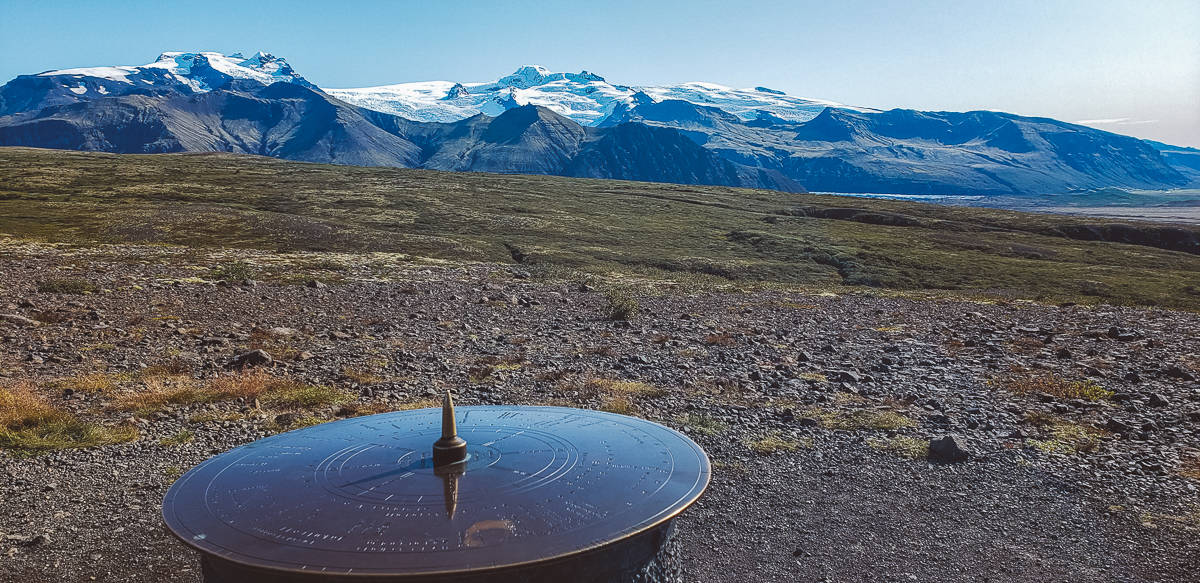 Once there, you have the option of going back the way you came or hiking up to Sjonarsker, which we did and highly recommend. The unobstructed, 360-degree views from the top are worth the ascent and are a little more than 0.5 miles from Svartifoss (0.8km).
From the top, follow the signs back to the visitor's center for about 1.4 miles (2.2 km).
Parking can be purchased from kiosks at the visitor's center. Remember your license plate number (take a picture on your phone) as you'll have to enter it into the kiosk to pay for parking.
The park uses cameras as you enter and exit to ensure all cars entering have paid.
Fjaðrárgljúfur Canyon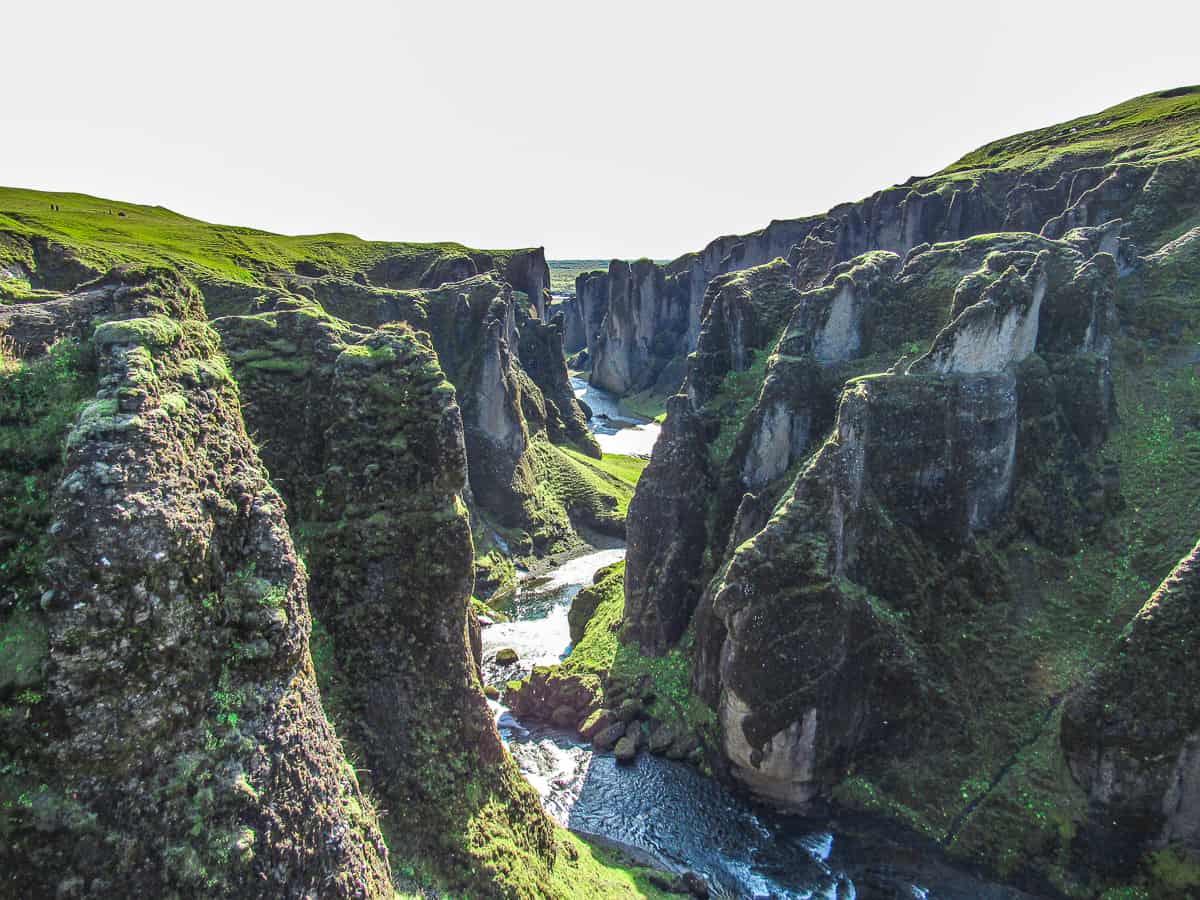 Glancing down the sheer rocky walls into a narrow canyon, you'll quickly understand the allure of the Fjaðrárgljúfur Canyon. 328 feet (100 meters) deep and 0.6 miles (1 km) long, the Fjaðrárgljúfur Canyon is a must see on your 5 days in Iceland itinerary.
The canyon is believed to have been formed during the Ice Age by a glacier melting and digging into the landscape, creating the present-day canyon.
Now, the surrounding glacial rivers run through the canyon creating dramatic grass-topped edges in the rocky ravine below.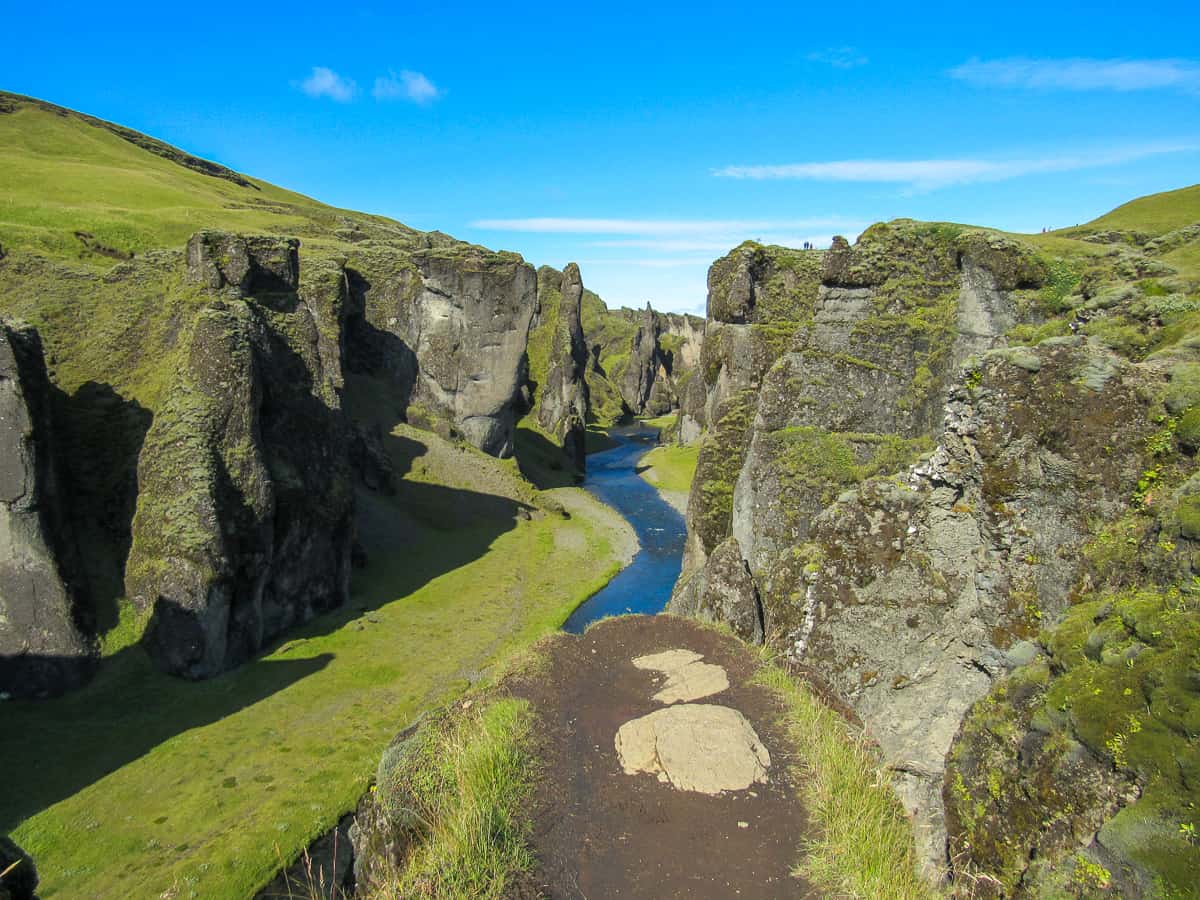 There are two lookout points along the canyon path, one near the beginning and another at the end. If you can make it up the hill, the walk will flatten out on the plateau and it will be an easy hike to the end.
Recognize this place? The Fjaðrárgljúfur Canyon was featured in the HBO series Game of Thrones in Season 8. (Bet you didn't see that coming!)
Dyrhólaey Nature Reserve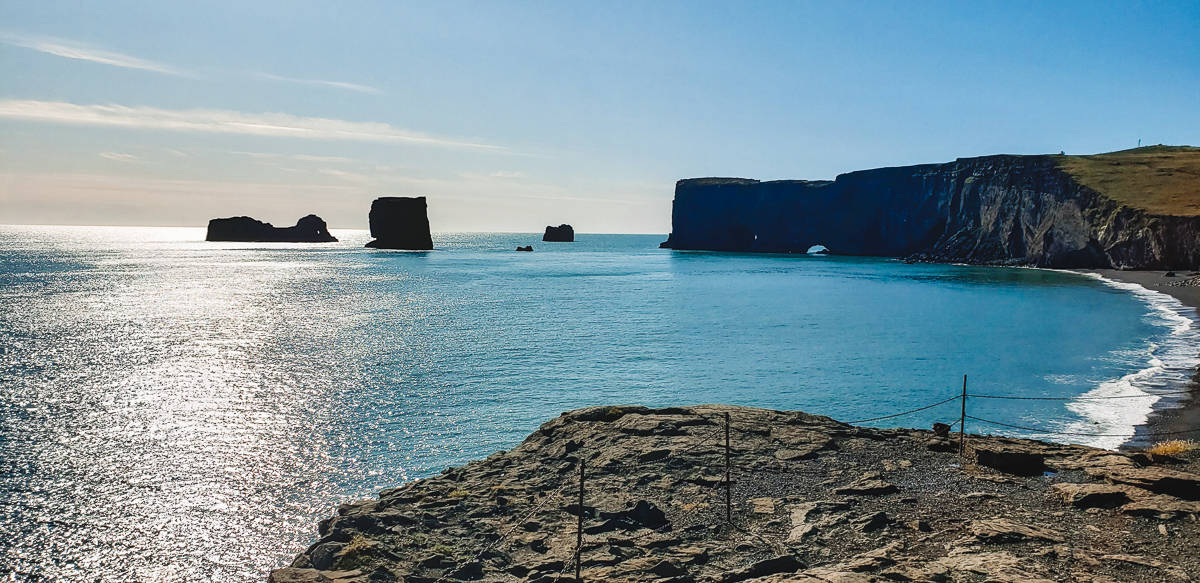 In 1978, the Dyrhólaey was established as a nature reserve to attempt to preserve the landscape and ecosystem for birds. This small piece of land is the southernmost point on the main land of Iceland and is rich with things to do and see.
There are two parts to explore and both should be on your 5 days in Iceland Itinerary.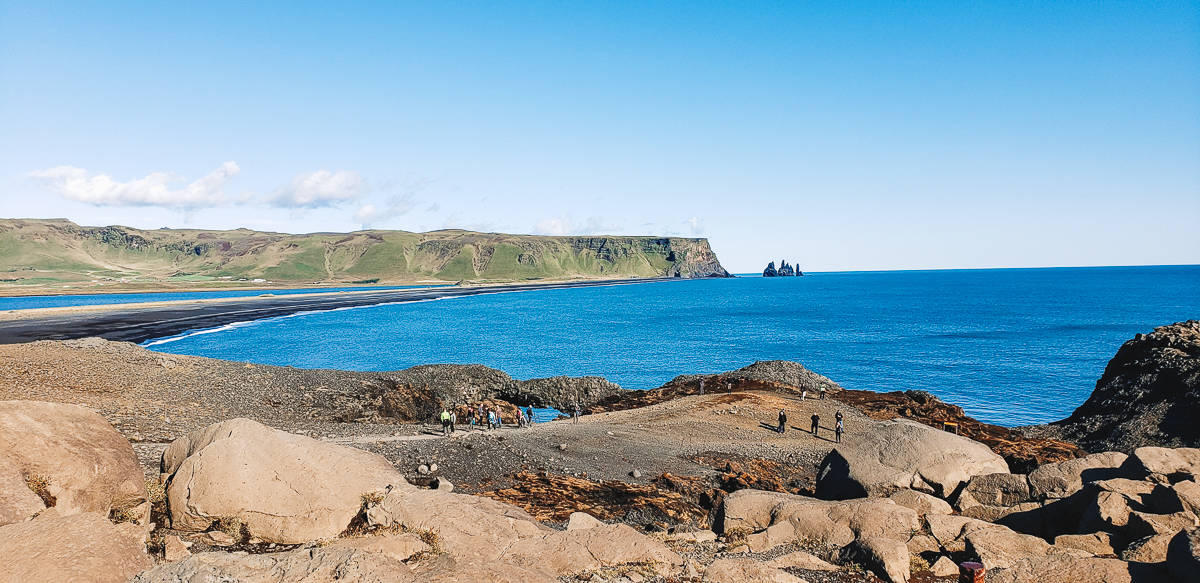 Appropriately named Háey and Lágey ("High Island" and "Low Island"), you can access both parts of the reserve from the main entrance. It's important to note that the upper area does suggest a 4×4 car for the windy dirt road that goes up a mountain.
We didn't chance it with our rental car, but wish we had and it's one of our biggest misses on our 5 days in Iceland itinerary.
The lower area has some magnificent scenery of the coastline and overlooks beautiful black sand beaches below.
Smiðjan Brugghús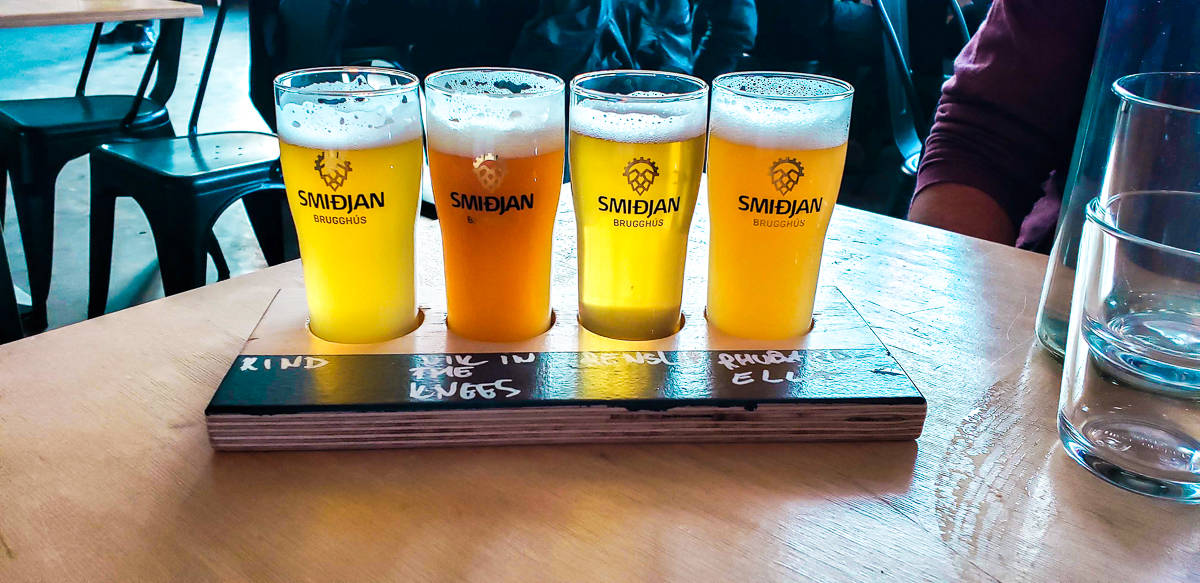 Vik will be the biggest town you come to after leaving Reykjavik which means more options for food and booze. Vik is home to Smiðjan Brugghús, a brewpub and restaurant with a large craft beer list. This one of our favorite stops when seeking out local beers and breweries in Iceland.
They brew their own beers plus a lot of other beers from Iceland and all over the world are on draft/in bottles so you can try a good bit of local beers here.
This place was packed and rightfully so as it's the biggest beer bar in town. While we didn't order any food, the table next to us did and by the look and smell of it, it had to be tasty.
If you are looking for a more traditional Icelandic meal, walk across the street to Halldórskaffi.
Halldórskaffi Cafe
This meal at Halldorskaffi Cafe was our "splurge" meal on the road and that's not saying much since the cost of things are astronomically high in Iceland.
We both ordered beer, an app to share, and an entrée and the total was in the $80-90 range. What we can tell you is the food was fantastic.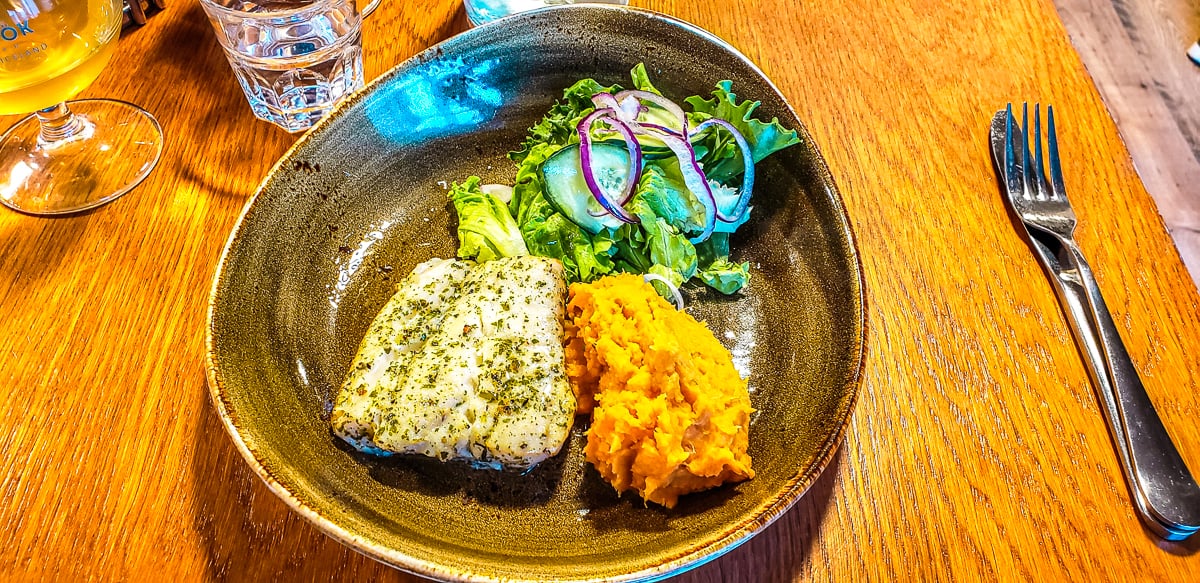 We were told by a local to go here for authentic and traditional Icelandic dishes and that's exactly what we ordered. We didn't hear much English being spoken from the tables around us so we assume it's a local favorite too.
Mall in Vik
After our meal, we went to the "mall" in Vik which was really just a large souvenir store.
If you have the energy and are looking for some gifts, this will be a great store to pop into. From wool blankets to viking helmets, you can definitely find some unique trinkets to remember your 5 days in Iceland itinerary.
Where to stay on day 3 in Iceland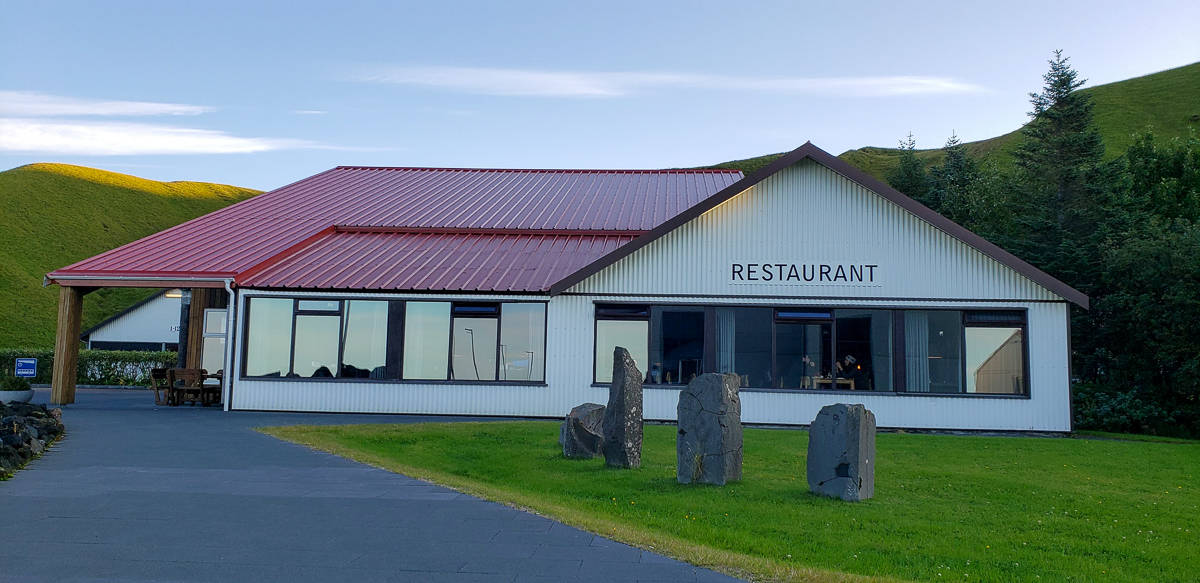 Hotel Katla
We chose to stay 10 minutes outside of Vik at Hotel Katla. The room was set up to have that cozy cabin feel with pine wood finishings and even had a full restaurant. This hotel also has the largest breakfast buffet and a hot springs-heated hot tub and pool on-site.
Book your stay at Hotal Katla here.
Day 4 – Volcanoes, craft beer, and hot dogs – Vintage Iceland
Þríhnúkagígur volcano tour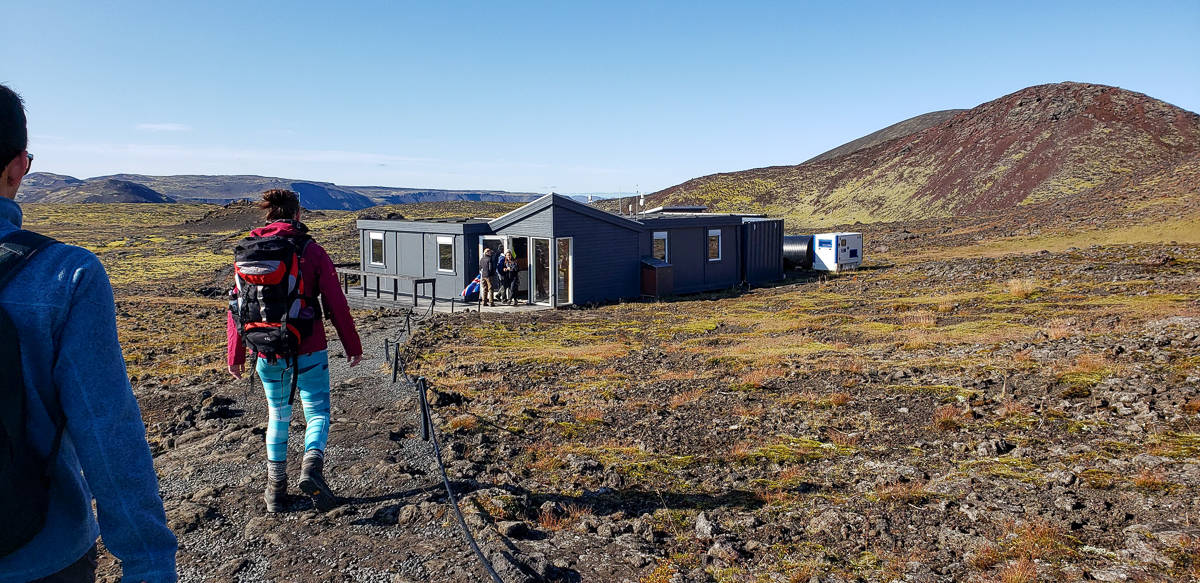 Thrihnukagigur, literally translated as "three peaks crater" for reasons which you can probably guess, is a volcano about 30 minutes outside of Reykjavik.
It was a truly unique and can't-find-anywhere-else experience to descend about 400 feet into the magma chamber of this volcano that last erupted 4,000 years ago. It isn't technically a dormant volcano, but scientists see no indications that it will come to life.
But that really just means it's due for another one…soon…!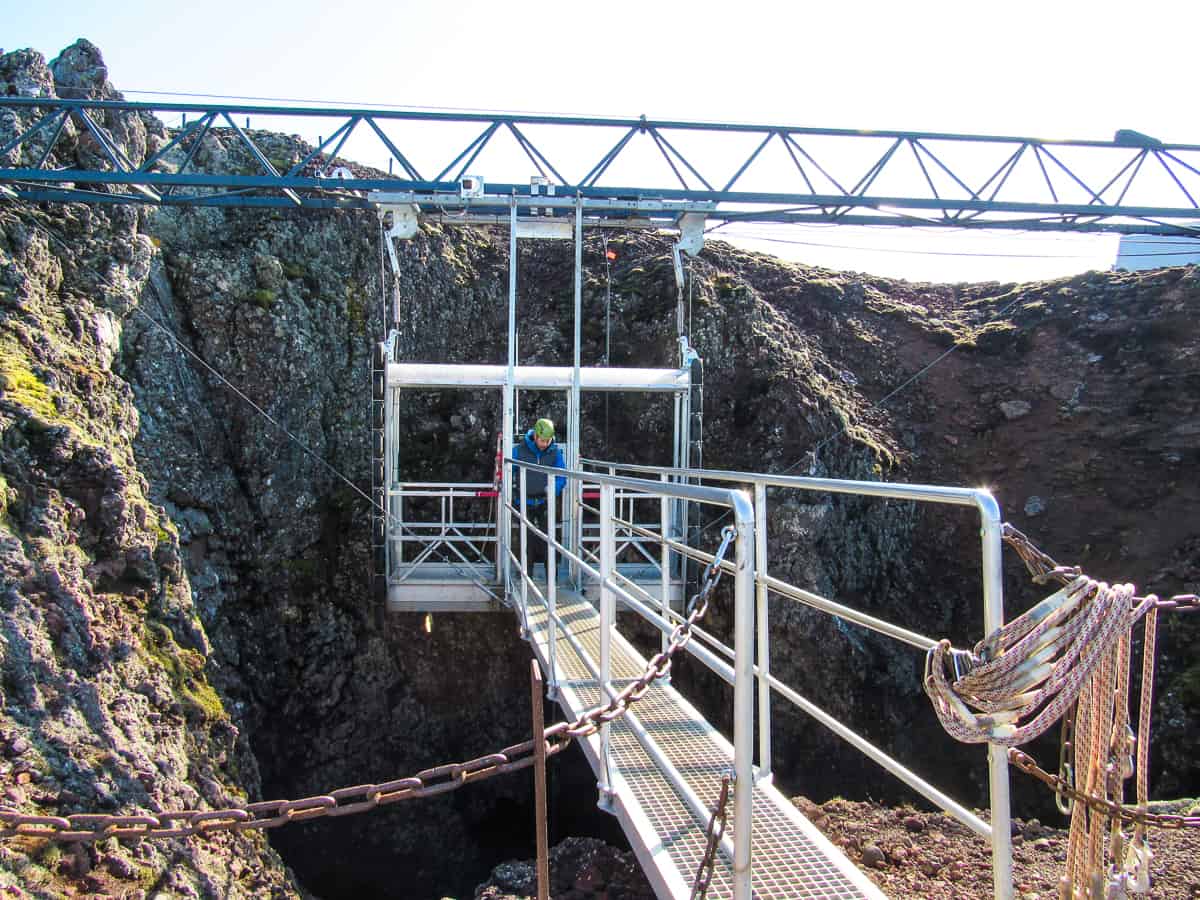 According to our research, this is one of the only places, if not the only, that you can go into the depths of a volcano's magma chamber in the world.
The tour company offering this once-in-a-lifetime experience is called Inside the Volcano.
It's an expensive experience to be sure (44,000 ISK = $320ish USD), but it comes with everything…a guide to answer all of your volcano questions, a short 2-mile hike across a lava field, all of the protective equipment needed (harness, helmet, head-lamp), a traditional Icelandic lunch, and even transportation to/from Reykjavik if you need it.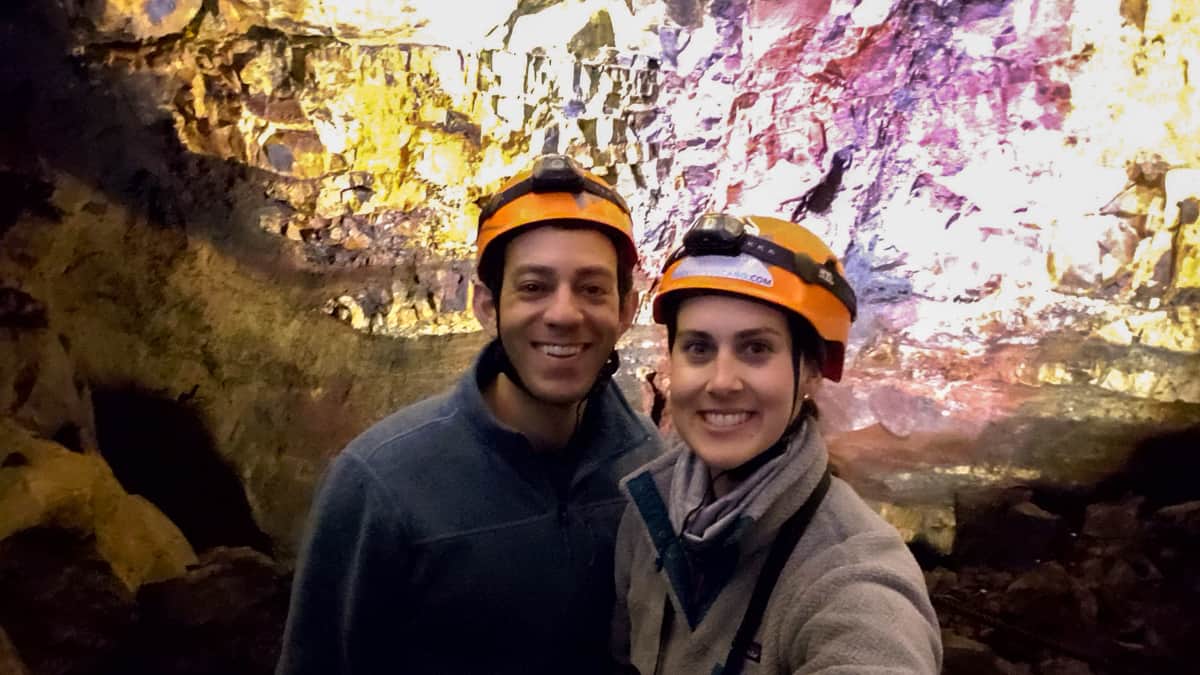 After your hike and safety instructions are complete, you'll descend through the opening that is about 12 feet in diameter and down the 400 feet (5-minute elevator ride) into the base of the chamber.
Once on the chamber floor, you'll have about 30 minutes to explore the vastness of the volcano (160 feet by 220 feet) and climb up and down all of the volcanic rocks. An unforgettable experience!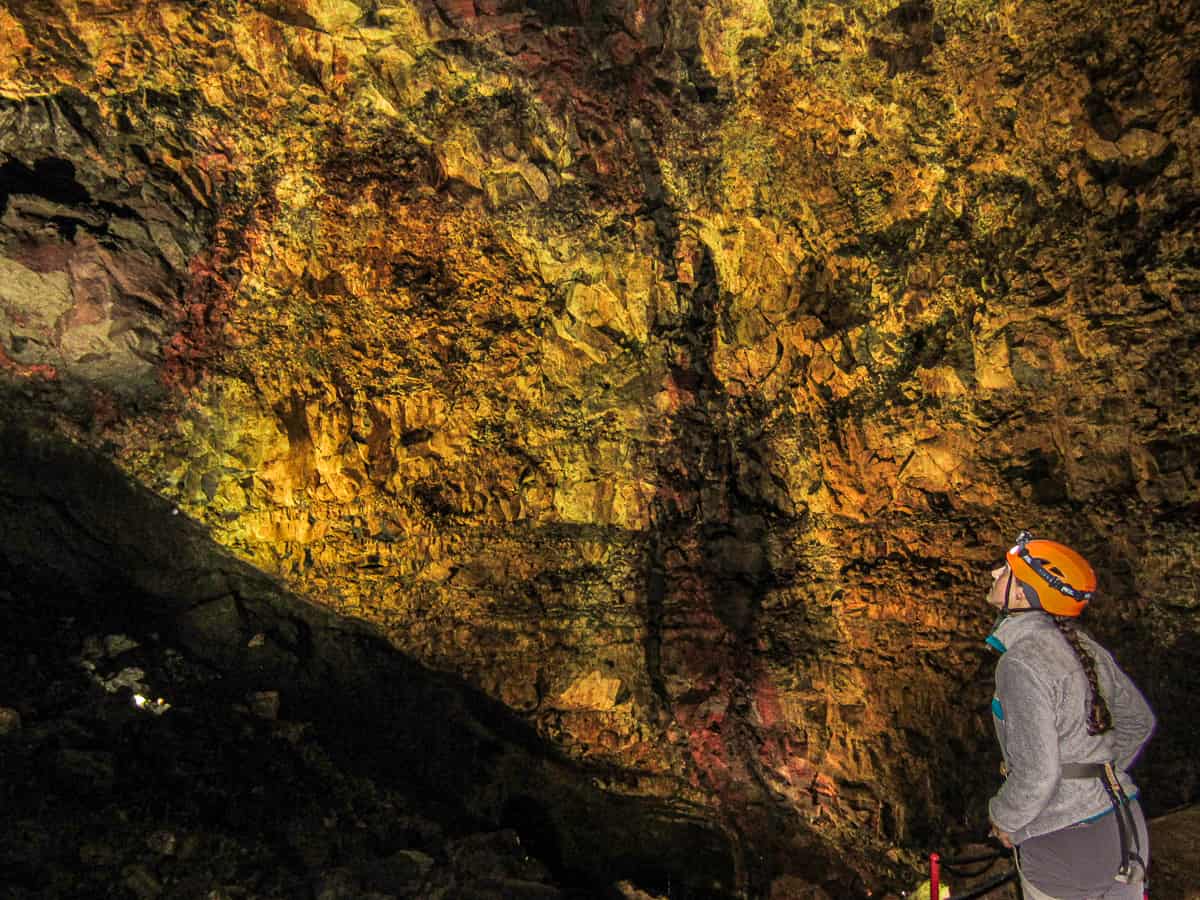 Need any more reasons to Visit Iceland? We wish we had come sooner!
Breweries in Reykjavik
From the volcano tour, we drove the 45 minutes back to Reykjavik to end our day 4 in Iceland itinerary brewery hopping.
Brewdog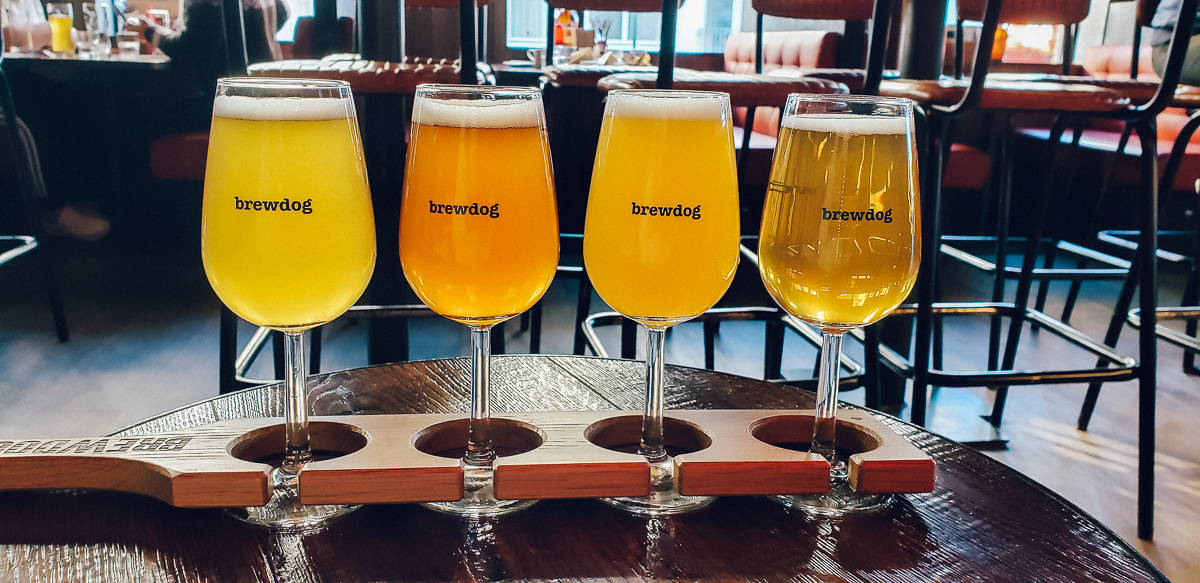 Although not native to Iceland, we chose Brewdog as our first stop on our breweries in Reykjavik because we know the beer is good and that they have a good variety of options that highlights the local beer scene and also some of the tried-and-true Brewdog brews.
Session Craft Bar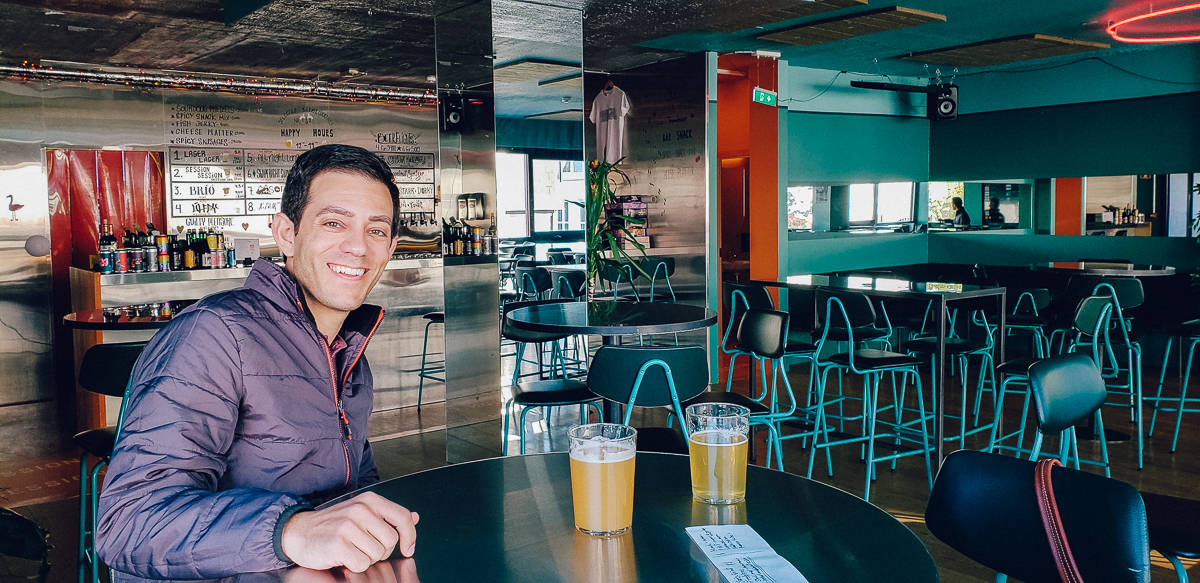 Lovers of all things craft beer, we made a 5-minute walk from Brewdog towards the center of Reykjavik and stopped at Session Craft Bar, a second-floor craft beer bar located at the northern end of Skólavörðustígur (that's a road by the way).
For easier reference, if you're here around August/September, it's located at the end of the road painted in rainbow colors (for Reykjavik Pride) that leads up to the iconic Hallgrímskirkja church at the other end of the road. Follow the yellow brick rainbow road and you can go all the way from beer to church or from church to beer….whichever way you deem necessary!
There are 14 taps at Session, offering a variety of styles from local breweries in Iceland, but they also have numerous bottles of beer (including Coors Light!), wine, and a cocktail menu.
Grab a beer or two and look out over the busy streets below from the bright taproom.
Bæjarins Beztu Pylsur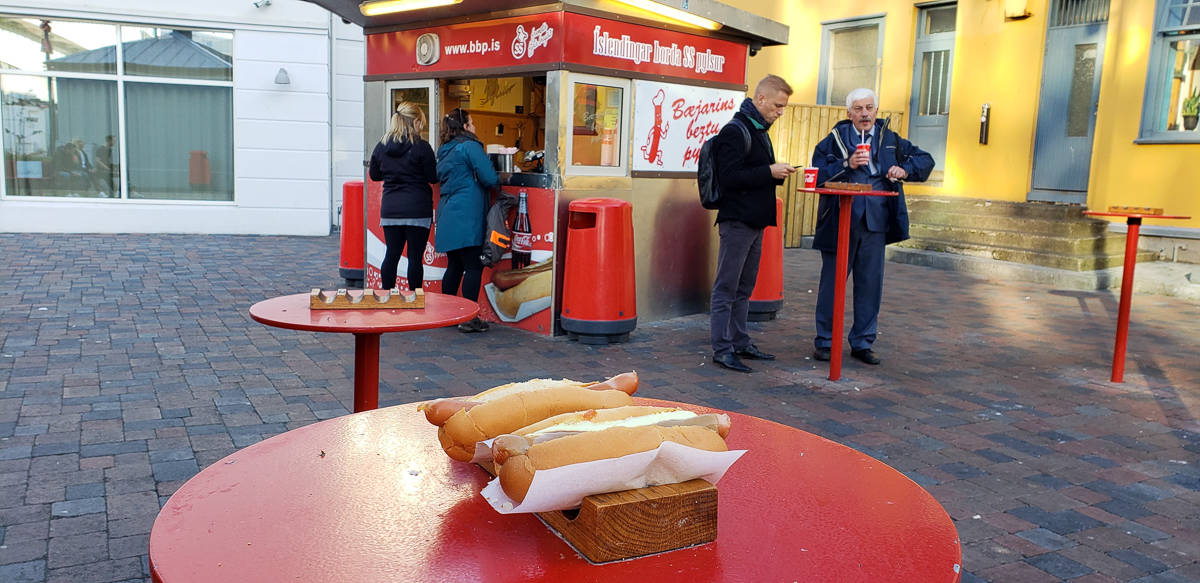 If you read about where to eat in Iceland, you'll see a list littered with numerous seafood options (it's an island nation, after all) and different varieties of lamb (the sheep population more than doubles the human population).
Surprisingly, you'll also see Icelandic hot dogs, or pylsa, which are made from a blend of lamb, beef, and pork.
The most well-known place to get an Icelandic hot dog is Bæjarins Beztu Pylsur, which literally translates to "the best hot dogs in town". The main hot dog stand is in the center of Reykjavik, but there are three others located around the city. The chain has been in continuous operation since 1937 and locals and tourists flock here for a quick snack/meal.
These hot dogs make a perfect treat for tipsy travelers, too! Naturally, we made the 5-minute walk to this famous spot (visited by Bill Clinton, Charlie Sheen, and Kim Kardashian, to name a few) to curb our appetite until dinner time.
You have a choice of toppings, including crunchy deep-fried onions, raw onions, ketchup, sweet mustard, and creamy remoulade sauce. If you want the works on your dog, utter the Icelandic phrase, "eina með öllu". If you can't pronounce that, go with the English version of "one with everything."
A definite must-do on your 5 days in Iceland itinerary!
Bryggjan Brugghús
After demolishing two hot dogs, a brisk and windy 10-minute walk along the water got us to our next stop on our booze crawl, Bryggjan Brugghús. Different from the other two beer stops above, this harborside brewery/restaurant produces their own beer on-site.
Bryggjan was actually the first independent microbrewery in Iceland.
Samantha had the Monk'y Business Belgian Dubbel and Chris had the Cloud Clipper New England IPA. Starting to feel a little bit fuzzy, we each got one beer and started thinking about plans for dinner.
Forréttabarinn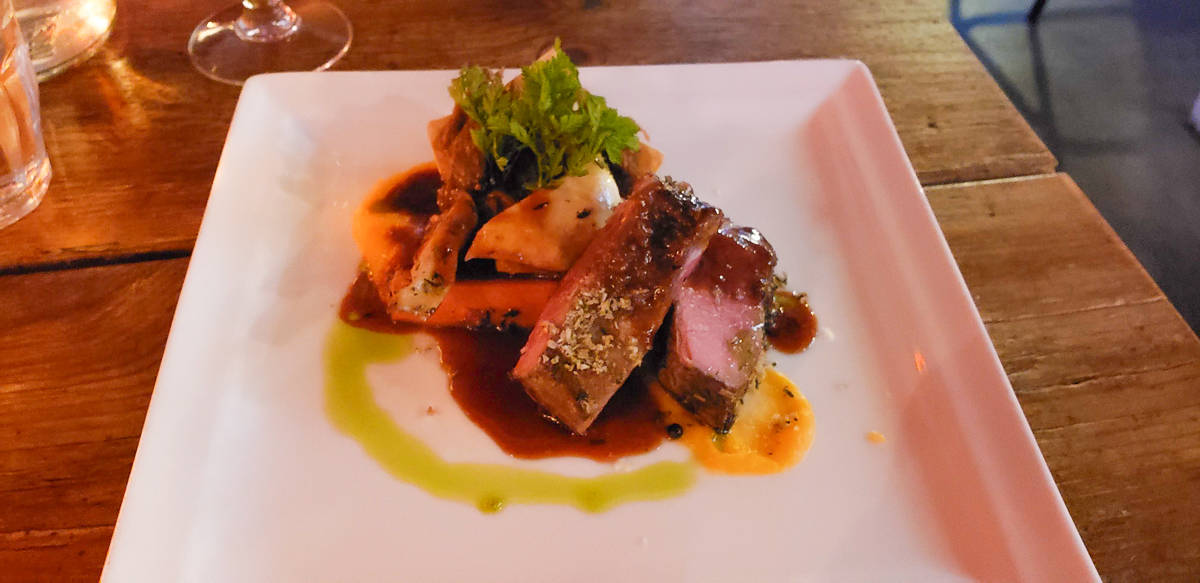 Luckily for us, our bartender at Bryggjan was an expat American and he gave us a huge list of great local spots for dinner. The recommendation at the top of his list was Forréttabarinn, a restaurant about a 10-minute walk back towards the hot dog stand.
One of the main reasons we chose this place was because our bartender said he was also going there for dinner to meet some friends. If it's good enough for a quasi-local bartender, it's good enough for us!
Forréttabarinn offers many appetizers as well as four-course prix fixe menus along with beer, wine, and liquor. We each opted for different menus and shared a little bit of each.
Samantha had the Smokey Bay prix fixe which consisted of smoked salmon, beef carpaccio, lamb, and crème brule, while Chris had the Fly Fish prix fixe with duck confit, chicken quesadillas, sauteed cod, and Skyr mousse.
Although it was certainly a pricier option, we both loved our meals! And since it was our only night in Reykjavik, we decided to splurge a little bit.
Vedur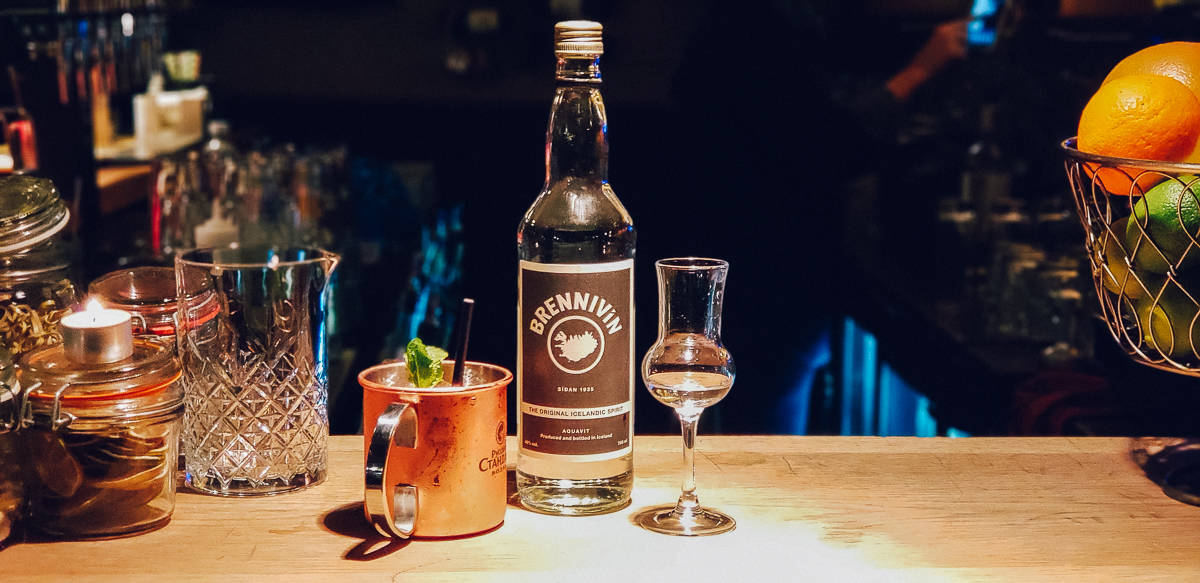 Completely stuffed from dinner, we took a 15-minute stroll through the streets of downtown Reykjavik and ended up at Veður (translated as "weather"), a bar recommended to us by our volcano tour guide, for a nightcap.
For our nightcap, we wanted to try Iceland's signature distilled drink, Brennivín, which is a clear schnapps distinctly flavored with caraway.
Not in the mood for a straight shot, we opted for a variation on a classic cocktail. During our travels, someone had suggested a Moscow Mule, but made with Brennivín instead of vodka. It was actually quite good! Surprisingly, even sipping chilled Brennivin straight was rather good.
Unrelated to Veður, but a little history on Brennivín: it means "burning wine" and was officially introduced in 1935, after Iceland's wine/liquor prohibition ended (prohibition on beer didn't end until 1989).
Similar to some cigarette cartons, the bottle contained a white skull on the black label to warn against consumption.
So, Brennivin is sometimes called svarti dauði or "Black Death"!
Not to worry though, it's perfectly fine to drink.
If you're adventurous and in the mood for an old-school Icelandic treat, pair your shot of Brennivin with some fermented shark. Though not available everywhere, it's a true Iceland "delicacy".
However, not surprisingly, you won't find many Icelanders who enjoy the taste of fermented shark.
Do it to say you did it, not because it tastes good!
Where to Stay In Reykjavik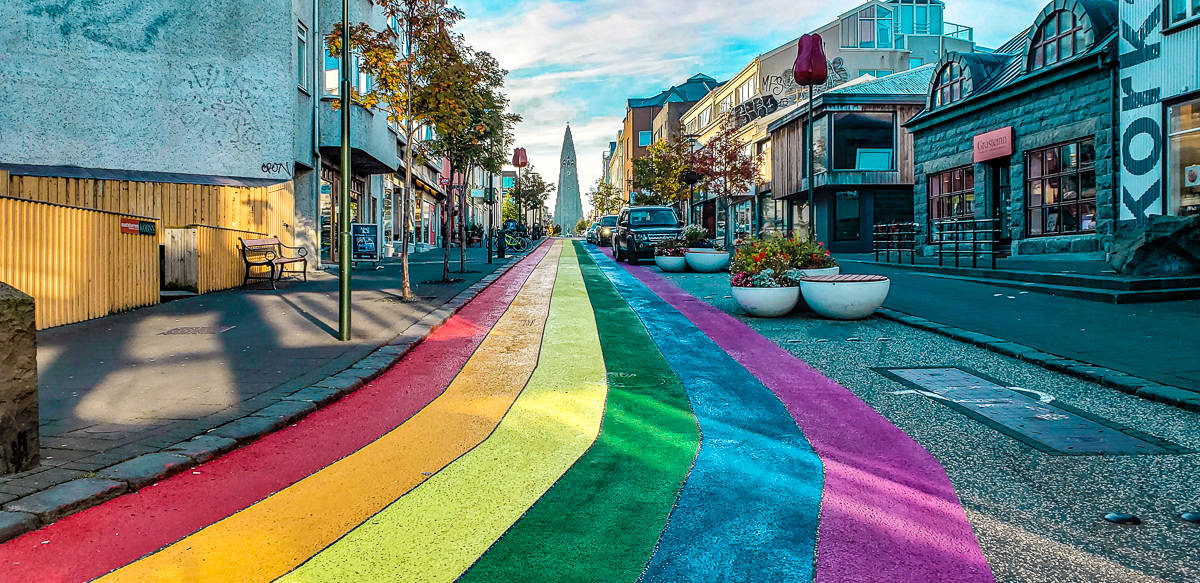 Unlike the small towns you've been exploring the last 5 days in Iceland, there are PLENTY of hotel options for you in Reykjavik.
If you are going in peak season, expect to pay over $200/night for a room in downtown unless you are looking for a hostel option. For this reason, we opted for an Airbnb, but here are our top picks for in the city:
City Center and sorta budget friendly: Hotel Fron
City Center and expensive: Reykjavik Residence Apartment Hotel
In the city but a slightly quieter location and moderately expensive: House of Snowbird OR Guesthouse Galtafell
AirBNB
When we visited, we opted to stay at this Airbnb. Glenn was an awesome host and we highly recommend staying here if you are looking for an affordable option in Reykjavik.
Day 5: Reykjavik Tourist Attractions and the Blue Lagoon
Icelandic boat sculpture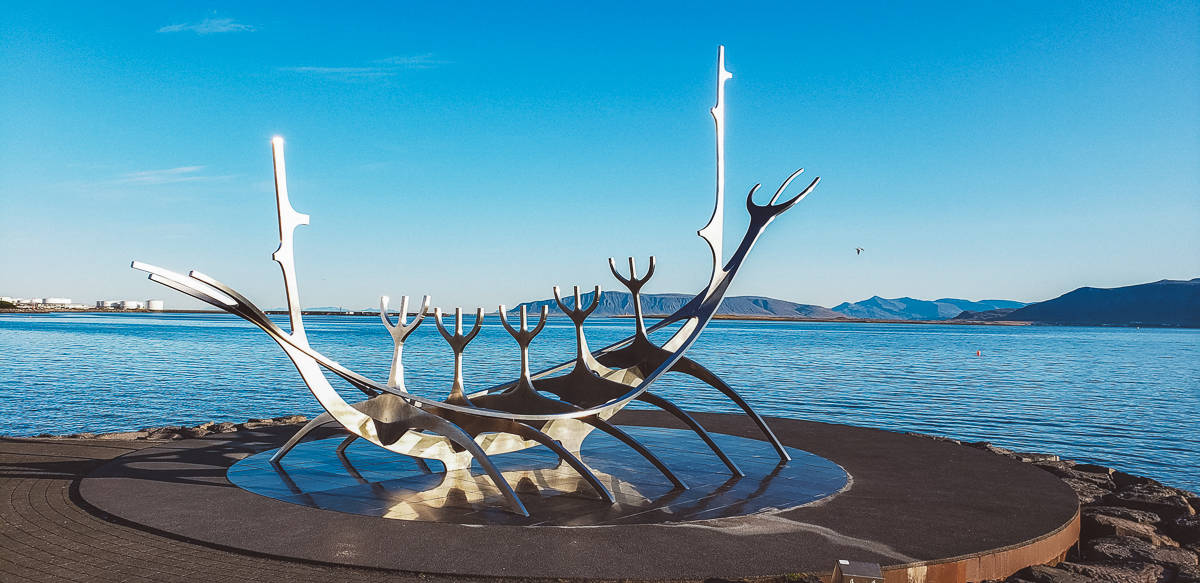 The Sun Voyager is a boat sculpture located right along the bay on the north side of Reykjavik. It looks incredibly Viking-esque, and the artist intended it to "convey the promise of undiscovered territory, a dream of hope, progress and freedom."
Snap your selfie along with all of the other tourists and be on your way.
From here, look up the road and you can see the Harpa Concert Hall with its uniquely colored glass facade which is said to be inspired by Iceland's landscape.
Hallgrímskirkja church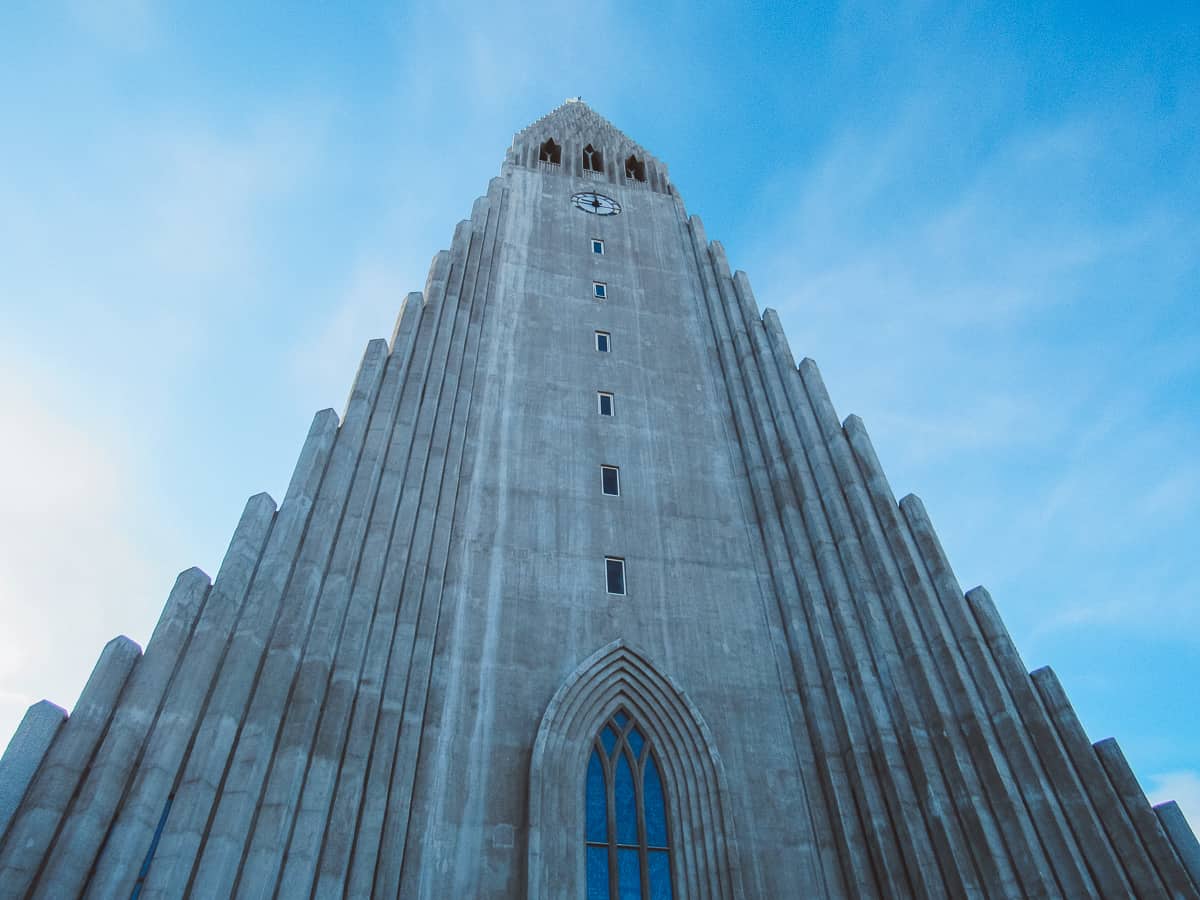 As one of the tallest structures in Iceland (just shy of 250 feet high), the Hallgrímskirkja church is one of the most well-known Iceland tourist attractions in Reykjavik and your 5 days in Iceland itinerary won't be complete without a stop here. Its iconic steeple can be seen from most points throughout the city. 
The church actually took more than 40 years to be completely finished, starting construction in 1945 and finishing in 1986. Today, the top of the steeple is used as an observation tower.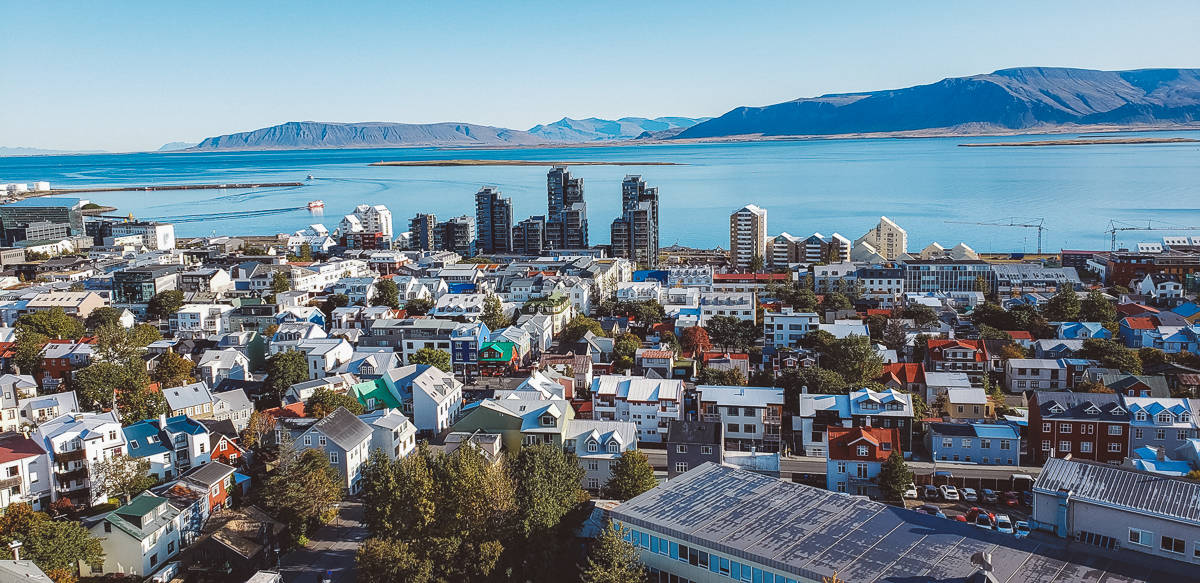 We took an elevator up to the viewing deck for a 360-degree view of Reykjavik.
The tower opens every day at 9 AM and it costs 1,000 krona (or about $8 USD) to ride the elevator to the top deck.
Blue Lagoon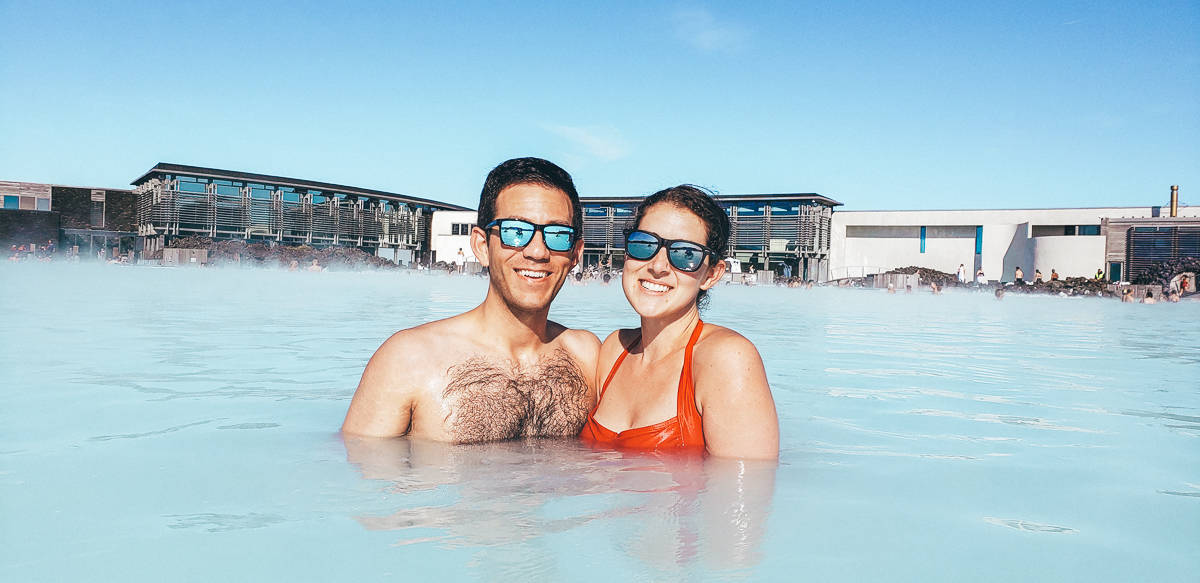 With our 5 days in Iceland itinerary coming to an end, and after a hectic few days of driving all over the country, we wanted some relaxation on our way to the airport.
And what better place to relax than a geothermal spa?
Cue the Blue Lagoon, one of the most popular Iceland tourist attractions.
The Blue Lagoon is located about 45 minutes outside of downtown Reykjavik and about 15 minutes from Keflavik airport, so this is an ideal thing to do either on your way into Reykjavik or on your way out of town/Iceland.
You can book transportation from Reykjavik and/or the airport that will shuttle you directly to the Blue Lagoon or you can arrange for your own transportation.
The tourist trap of all tourist traps, the Blue Lagoon is pricey, but in our opinion, it's worth it. Depending on the time of day and time of year that you visit, your ticket price will vary, but the basic ticket will include your entrance, a towel, a silica mud mask, and one drink (we opted for beer).
There are more expensive ticket options that offer more amenities such as bathrobes, an additional mask, reservations at their on-site restaurant, and spa services, if you're interested.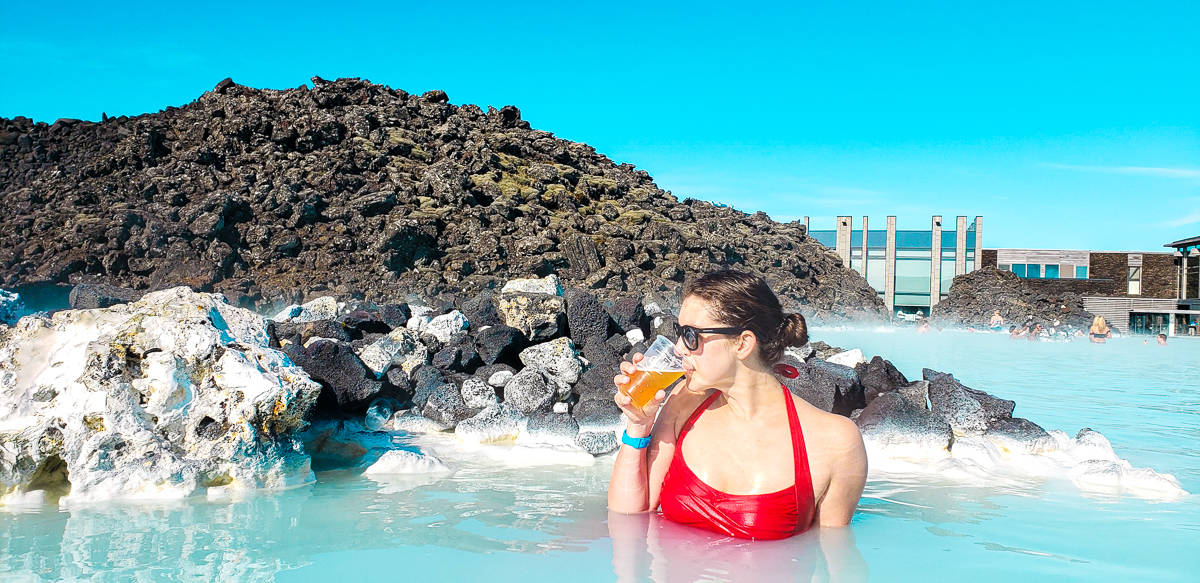 When you enter, you'll get your wristband which holds the key to everything you'll need for your day: ticket for entry, drink ticket, locker key, etc. Before entering the lagoon itself, you'll have to shower in the locker room. And they will have Lagoon personnel enforcing this rule!
Then, against everything common sense is screaming at you, walk outside into the open Iceland air in just your bathing suit. You won't want to dilly-dally for long because the 100°F milky blue water is waiting just a few feet away.
Our recommendation is to wade in and go to the right to get your free drink, and then head towards the back of the lagoon where it's a little less crowded. Once you finish your drink, head back towards the front of the lagoon to the little hut where you can get your silica mud mask.
We weren't sure about the mud mask at first, but it's supposedly good for your skin and has healing powers.
Plus, it makes for a fun picture!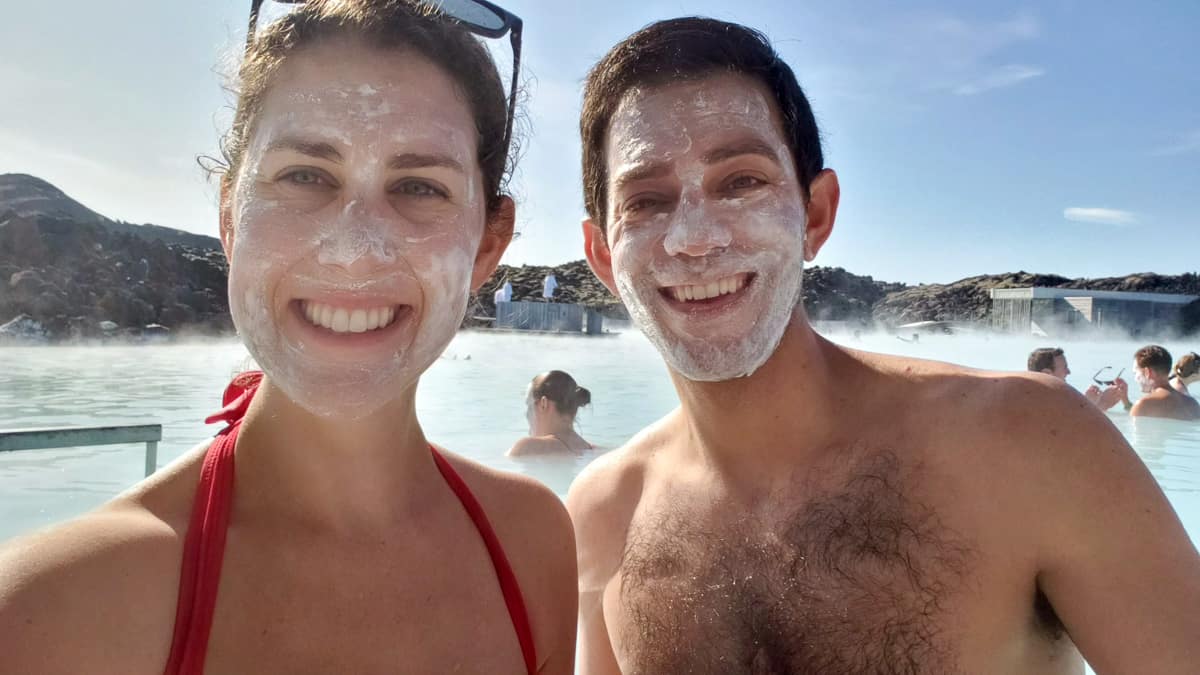 When you've had enough of the warm water and/or look like a raisin, you can dry off to head back into the locker room. You can (and should) shower again to get all of the salty water and mud off of you before going on with your day.
There are plenty of spots to get ready after your shower, so if you're jumping on a plane afterwards, take advantage of the locker room.
Some information about the lagoon: Yes, it's man-made. The water is a byproduct from the nearby geothermal power plant. After going through turbines, steam and hot water pass through a heat exchanger to provide heat for a municipal water heating system.
Then, the water, which renews every 2 days, is fed into the lagoon.
KEF Airport madness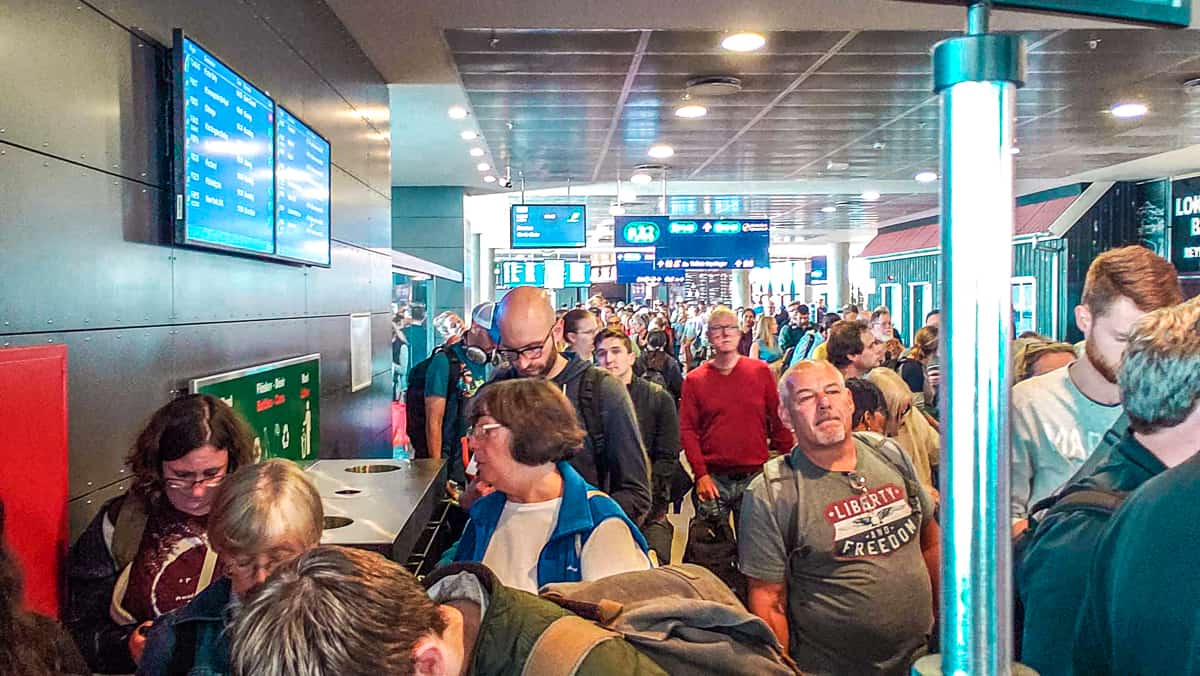 Returning our rental car was so easy that we should have known madness was about to ensue inside the airport. Security lines moved rather quickly, but they were super strict about liquids in your carry-on.
We have TSA Precheck so we are spoiled when it comes to breezing through security.
They were rather trigger-happy when it came to pulling your bag for searching if it appeared to have more than the allowed liquids (remember the 3-1-1 rule). Admittedly, we played a little dumb when it came our time for searching, but were able to consolidate our liquids into the alloted bags and pass through security with no other issues.
Once through security (conveniently, you'll pass through a duty free shop for your last shot at local booze), this is where the real madness begins.
In our terminal, there was no real seating area for individual gates, so when it was time for boarding, it was an absolute cluster of people cramming into the boarding line. And there were no boarding zones, at least none that were followed/enforced.
To make matters worse, all of the US flights seemed to be in the same wing of the airport and all seemed to be boarding and leaving at the same time. This made it extremely difficult and frustrating to tell where one gate's boarding line ended and another gate's boarding line began. All's well that ends well though as we made it onboard and home safely.
Overall – Breweries in Iceland Itinerary
Having experienced so much fun, adventure, food, and booze on our 5 days – breweries in Iceland itinerary tour, it's no wonder that this small Nordic country is such a popular destination for travelers these days.
The stopovers that the airlines have offered recently have really helped shine a light on all that Iceland has to offer. And if you're still around to read this, you know that's A LOT!
We'll be honest…coming home from Iceland, we didn't really have a true appreciation for what we had just experienced.
Not sure if it was the often-gloomy weather (we visited at the end of our normal summer, so we were used to sunny skies and warm weather) or the whirlwind of a trip it was (we accomplished this 5 days in Iceland itinerary in just under 4 days), or maybe a little bit of both.
Either way, as we looked back through pictures, talked about our trip with friends and family, and wrote this post, we really started to comprehend how awesome this little island is!
The Land of Fire and Ice has soooo many things to do to keep you busy.
Waterfalls, glaciers, lagoons, hikes, volcanoes, lava fields, sheep galore, Icelandic food, hot dogs, craft beer, Black Death, and fermented shark. Whatever you decide to include on your 5 days in Iceland itinerary, just keep the mindset that Icelanders live by: Þetta Reddast, or "it will all work out okay!"