Breweries in El Chaltén, Argentina
What better way to relax and unwind after a long days' hike up Mount Fitz Roy than a cold beer? Well, maybe a massage (which you can do in El Chaltén)….but beer! There is no shortage of breweries in El Chaltén and they all have pretty great happy hours to boot!
It is super easy to drink local beer here! We were told by a local that a large portion of the restaurants/bars brew their own beer. If they were running low on a type of beer, they would borrow some from another brewery and roll the keg down the street.
The local-to-restaurant/bar ratio is something like 14:1, so drink up buttercup!
We did this bar-hopping after our Cerro Torre hike as we were too tired to function after our Fitz Roy hike. The wind had picked up substantially and the storm coming in was fast approaching.
We only had 3 nights in El Chaltén and would highly suggest more if you can afford the time on your holiday.
This post was originally published in April 2019, and was updated in March 2023.
**Boozing Abroad contains affiliate links throughout the site. If you choose to purchase items through these links, we will earn a small commission at NO extra cost to you. Read the full disclosure policy here**
Breweries in El Chalten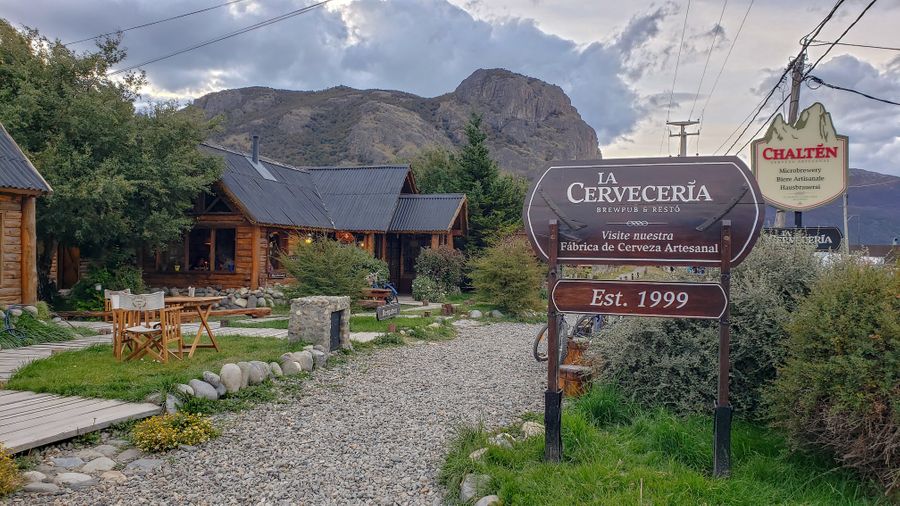 We started our last afternoon in town at La Cervecería, or "The Brewery". The grounds surrounding the log cabin-looking building were beautiful and inside, there was some pretty decent beer to choose from: a pilsner, a bock, and weissbier.
We had the bock and the weissbier and munched on the small basket of popcorn they gave us as well. A good start to the breweries in El Chalten.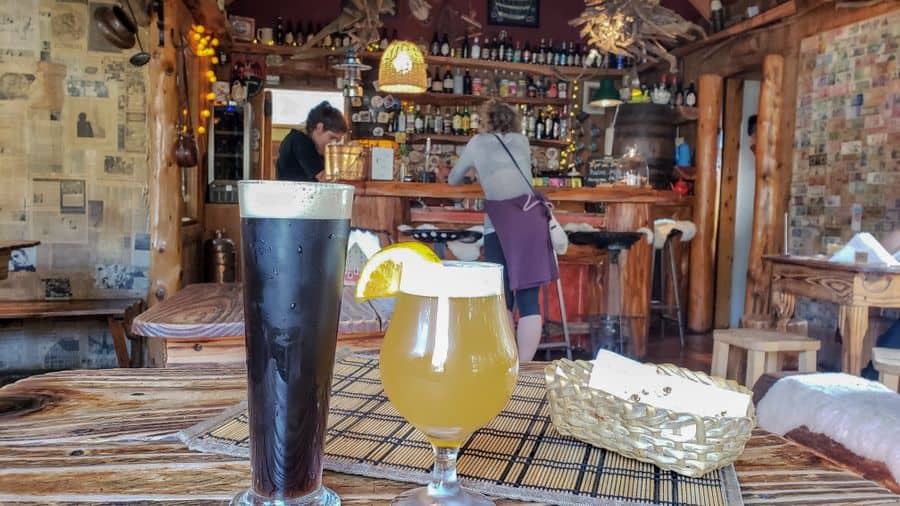 Next up was Bourbon Smokehouse, which we could tell was a definite hostel-hangout. Great views all around with the large windows lining all sides of the building.
They have a full bar and some pretty good happy hour prices as well. We're not here for a long time, we're here for a good time, so moving on…
Don Guerra Cervecería was the next bar on the road and here they had a lager, a dark ale, a red ale, and a cider on tap, in addition to a full bar.
Nothing over-the-top special about this place, but it's on the walk back from the Fitz Roy trek and right next to a waffle shop, so it's worth a visit!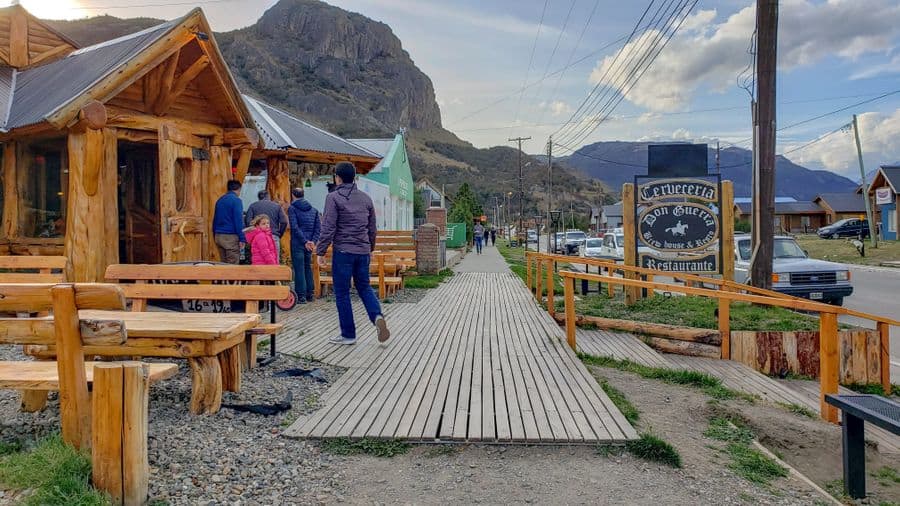 La Nieve (tacos and beer)
In the midst of bar-hopping, we stopped at La Nieve, right next to the Chaltén Suites hotel, for a "snack" which consisted of some made-to-order tacos and another Argentinian beer, of course; this time, a red ale from Cervecería Andes.
We can't find much about La Nieve online, but damn if those weren't some good tacos and beer!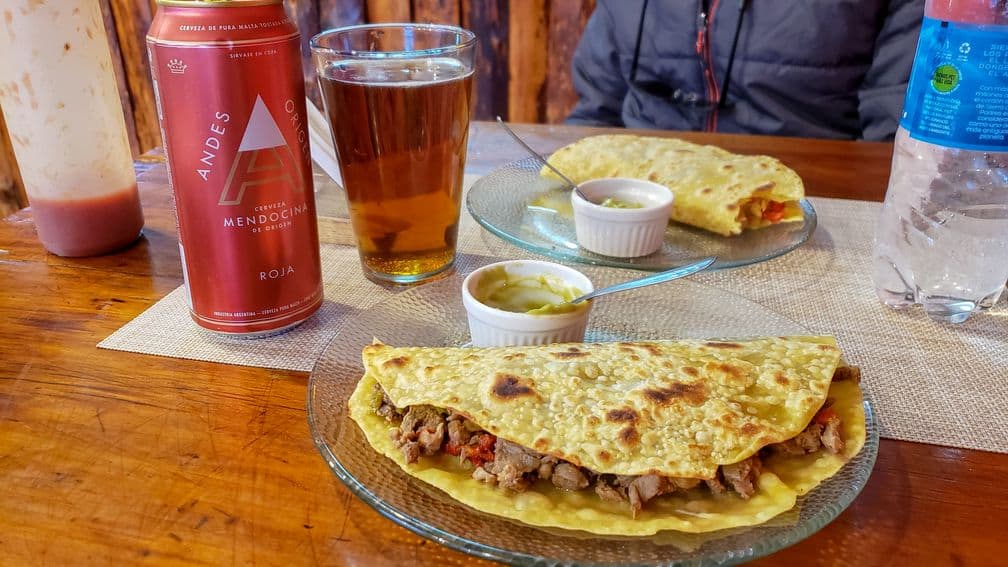 Things We Didn't Have Time For
Aside from the drinks we had while eating, this was all we had time for on our mini-bar crawl through El Chaltén, but there were so many more places that we would have liked to have visited, like La Vinería and the simply-named B&B Beers & Burgers.
With great happy hours everywhere, and seemingly every place having "Cervecería" in their name, you're sure to have a good time in El Chaltén when you aren't hiking up a mountain!
Not Alcohol-Related But We Have to Mention It
While in town, or at least while you're in Argentina, make sure you try the national drink of Argentina, mate (pronounced "mah-tay"). We tried our mate at Mathilda, a small coffee and tea house along San Martín, but you can likely find this drink just about anywhere.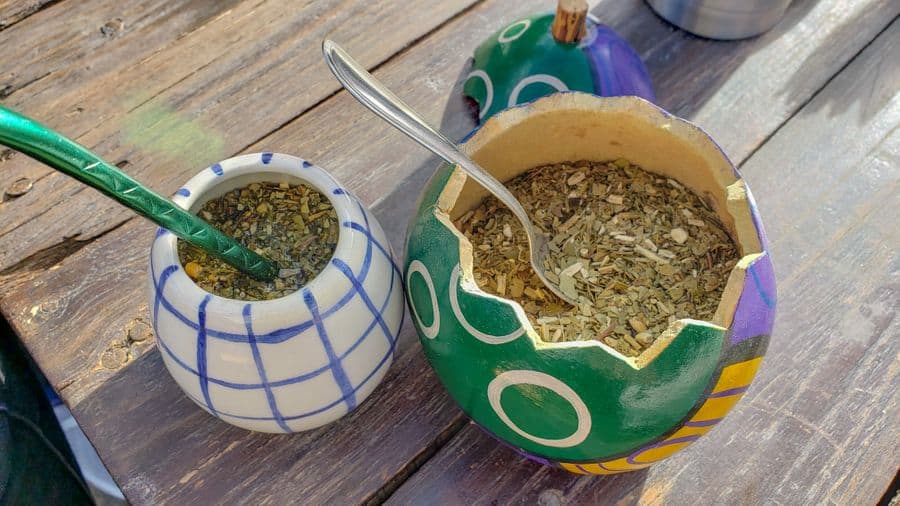 Mate is a caffeine-rich drink (sorry, it's not alcoholic) that is just like hot tea, although it is consumed quite differently than you might imagine. First, pour a little bit of hot water over the container of yerba mate leaves and drink from the metal straw, called a bombilla.
You do this little by little until you are done (Warning: be careful not to burn the top of your mouth like Samantha did!). It's a huge cultural thing in Argentina, so if you see people carrying around large metal thermoses, you can bet it's their hot water for their mate. Read more about mate here.
Drinking local is our favorite thing to do. We started our hopping with the mate, which helped keep us energized the rest of the night.
As always, we paced ourselves while drinking and made sure to drink tons of water to re-hydrate from our hiking.
There are so many great local beers and breweries in El Chalten. We've said it before, but we wish we had more time.  Not just in El Chaltén, but in all of Argentina. 
P.S. This photo is not proof of intoxication, but the wind in El Chaltén. Don't even try to have a good hair day.