These are the 8 Phoenix Breweries you can't miss on your trip
In Arizona, the Phoenix Breweries are producing a spectacular list of award-winning craft beers, creating a hoppy oasis for those thirsty beer dwellers in the desert.
There are over 100 breweries in the state of Arizona, and a large portion of that is concentrated in the sprawling city of Phoenix. The breweries in Phoenix provide over 40 places to grab some suds, so rest assured that the craft beer movement is alive and well in the desert!
When you think about it and read the stats, it's really no surprise that craft beer is surging here. Phoenix, AZ is the 5th-most populous city in the U.S., the largest state capital by population, and one of the biggest cities in the country by size.
We visit Phoenix yearly and have fallen deeply in love with the city and beer scene.
Psst: Looking for more Arizona info? You can browse them all here.
This post was originally published in January 2021, and was updated in November 2022.
**Boozing Abroad contains affiliate links throughout the site. If you choose to purchase items through these links, we will earn a small commission at NO extra cost to you. Read the full disclosure policy here**
Map of Phoenix Breweries
Click the interactive map below!
HOW TO USE THIS MAP: To view the layers and see the names of the places on this map, click the tab in the top left corner. You can select the check marks to show or hide certain layers. If you select the icons on the map, you will get more information about the point of interest.
HOW TO SAVE THIS MAP: If you select the star icon next to the map name, you can save this map to your Google Maps account. To view it, open Google Maps in desktop or on your phone, select the menu button, go to "Your Places," scroll to the right to Maps, and you will see this map.
Phoenix Breweries
1. Wren House Brewing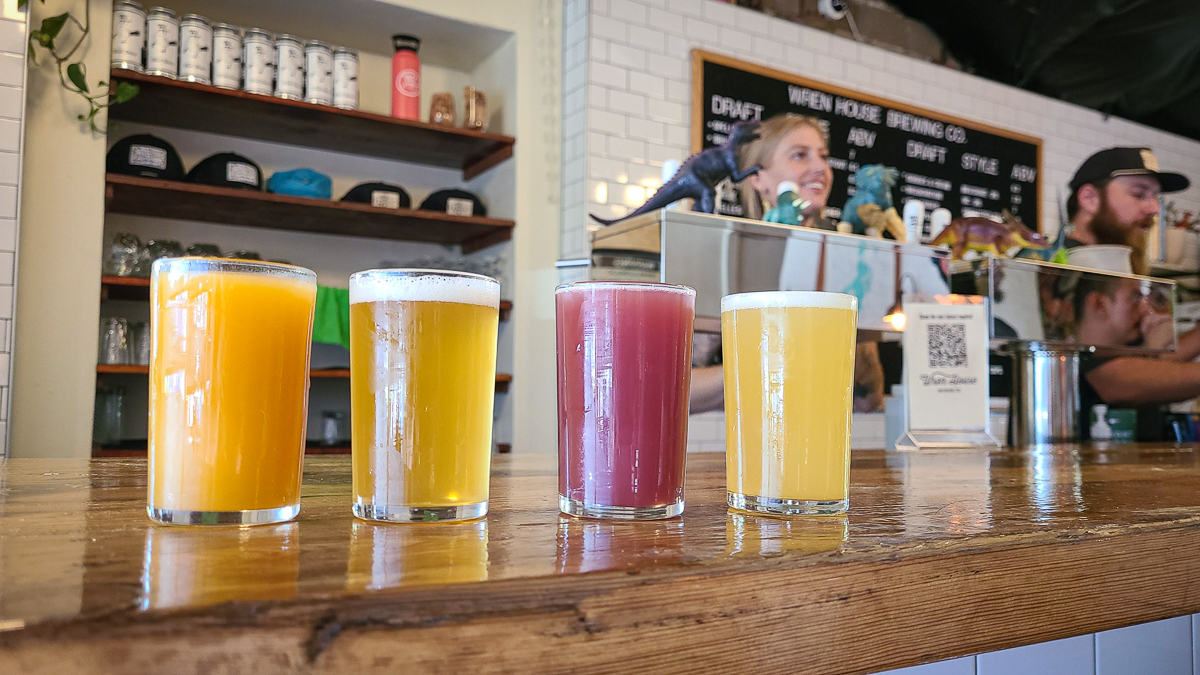 Having spent 6 weeks in Arizona, we asked numerous local bartenders and bar patrons their favorite brewery in the state. Without any hesitation, Wren House Brewing was the consistent answer.
Located in the Green Gables neighborhood of Phoenix (central), Wren House Brewing is a 1930s bungalow-style house that has been converted into their sleek and inviting taproom.
Finding a way to merge various styles from around the world while capturing the essence of Arizona was something they sought to accomplish – and boy, they NAILED it!
Their most recent accolades include: 2020 Great American Beer Festival gold medal for Spellbinder, their house hazy IPA with Arizona-grown white wheat; 2020 Best of Craft Beer Awards gold medal for Big Spill Pils and a silver medal for their Valley Beer lager.
In April 2020, on our first visit to Phoenix, we snagged a can of the Seven Stars Imperial Stout, an 11% ABV, highly-sought after beer that is a blend of several different variants of their stouts/strong ales (7, to be exact) that have been aged in various barrels, including Buffalo Trace and Woodford Reserve.
The result is a delicious vanilla, toasted marshmallow, and chocolate-y stout.
2. Tombstone Brewing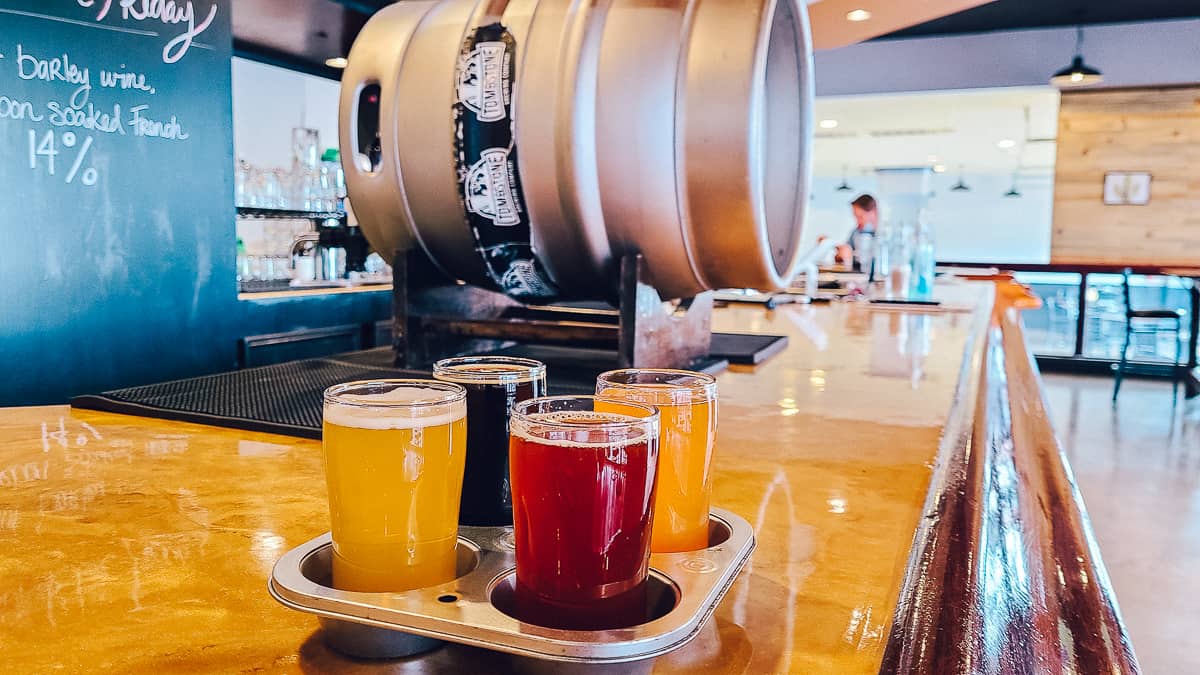 If you are a fan of old Westerns, then this brewery will knock you dead! (hehe). Tombstone Brewing, as you have probably guessed, started in the legendary town of Tombstone, Arizona, an old silver mining town established in the 1800s.
While all the silver and miners are long gone, the brewery here is a diamond in the rough and has recently expanded their brewing operations to the heart of Phoenix. Their Phoenix location is large with plenty of room to spread out and enjoy your craft beers.
We visited both locations and found different beer available at each. Some of our favorites included the Mexican Vanilla Imperial Stout, the Now That's What I Call Hops double IPA series, and the Strawberry Shortcake sour.
3. Helton Brewing Co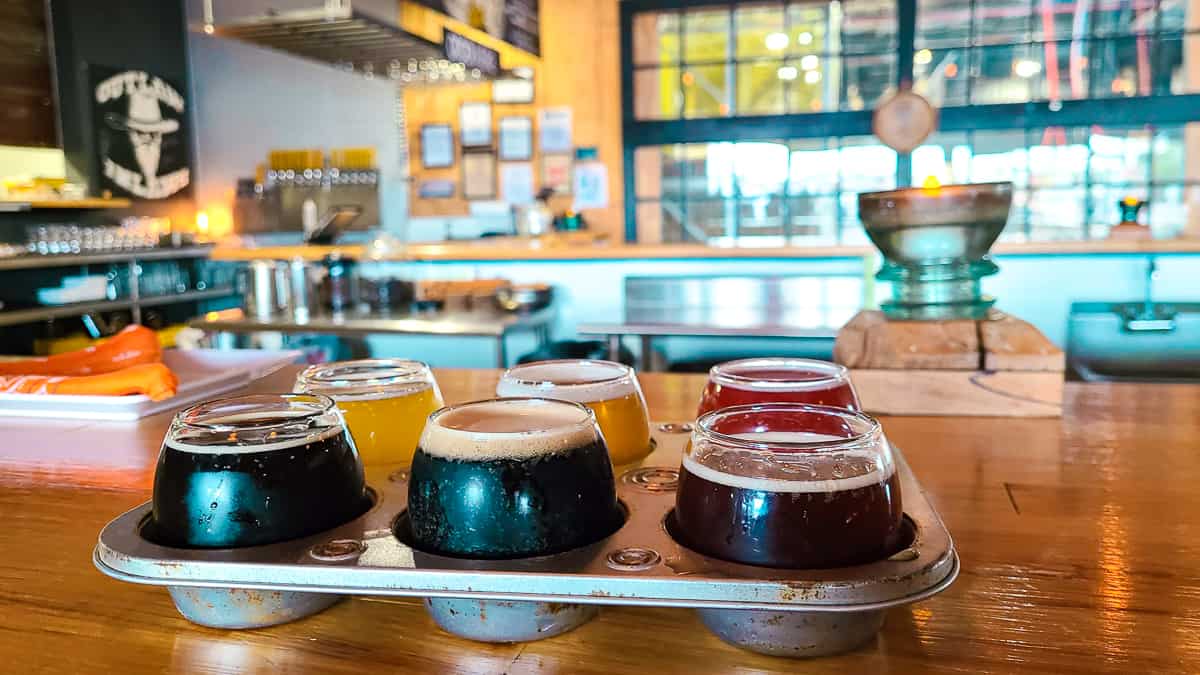 The unassuming exterior of Helton Brewing opens into an industrial-style taproom with a large U-shaped wooden bar set against the backdrop of massive windows into the brewery.
Helton Brewing was named after the owner/brewmaster/beer guru, Brian Helton, who has won multiple World Beer Cup Awards and Great American Beer Festival awards. With over 20 years of industry experience, Helton produces great craft beers with intensely unique flavors.
Our favorites include their year-round Boysenberry Sour, brewed with 88 lbs of Oregon boysenberries, and their Valley Venom, a nod to the classic, crisp American Pilsner.
4. Arizona Wilderness Brewing Co.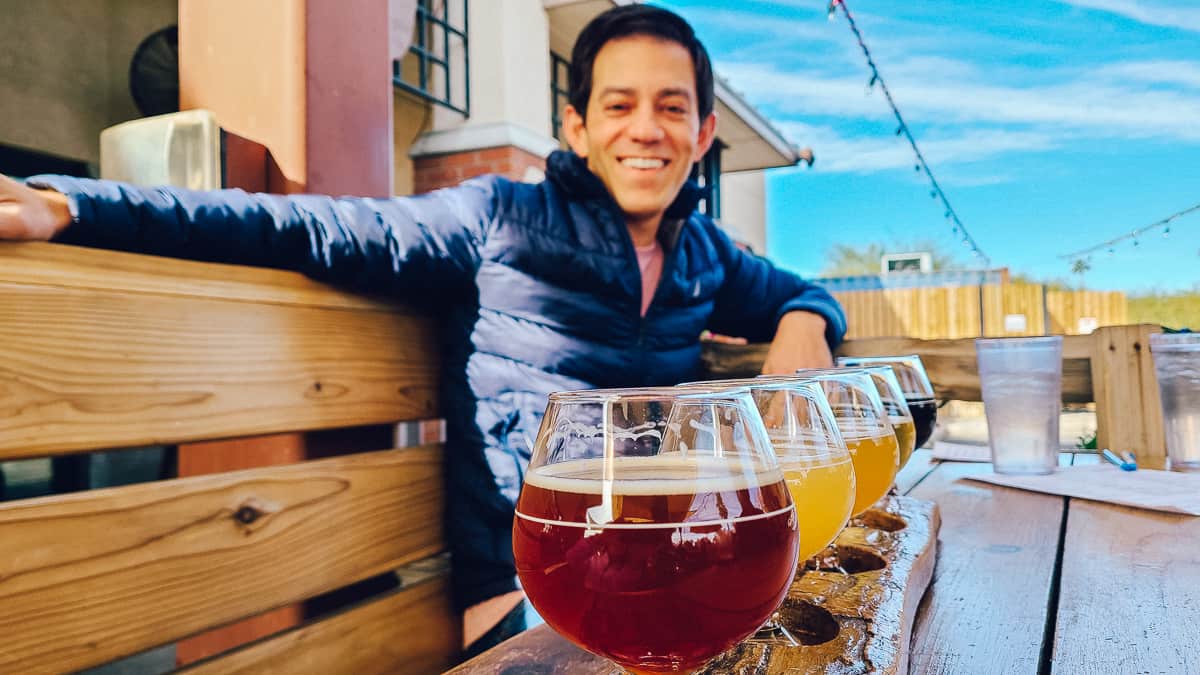 Beer and the great outdoors. They just go together. There's not much better than a summit beer after a hard climb or an ice cold beer at your favorite brewpub after a day on the trails. Enter Arizona Wilderness Brewing, one of the favorites in the Phoenix breweries scene.
At Arizona Wilderness Brewing, or AZ Wilderness for short, the owners have a true passion for exploring their great state of Arizona and all of the wilderness that it has to offer. Much of the inspiration and ideas for AZ Wilderness stems from their adventures in nature.
Many of their beers highlight local agricultural products and are named for things related to Arizona's outdoors: Superstition Breakfast Stout (named for the Superstition Mountains), State Park Porter, Bright Angel Imperial Blonde ale (named after famous Grand Canyon trail), Grand Falls Belgian Brown (waterfall near Flagstaff), and the eloquently stated Don't F#%k It Up Blonde ale.
The original brewpub location is southeast of Phoenix in Gilbert, but there is also a downtown Phoenix beer garden for all your wilderness-themed beer needs. No matter the location, they've both got great outdoor areas, as you might expect.
They have a full menu of food and even many local and regional wines and liquors, all showcasing Arizona.
5. State 48 Brewery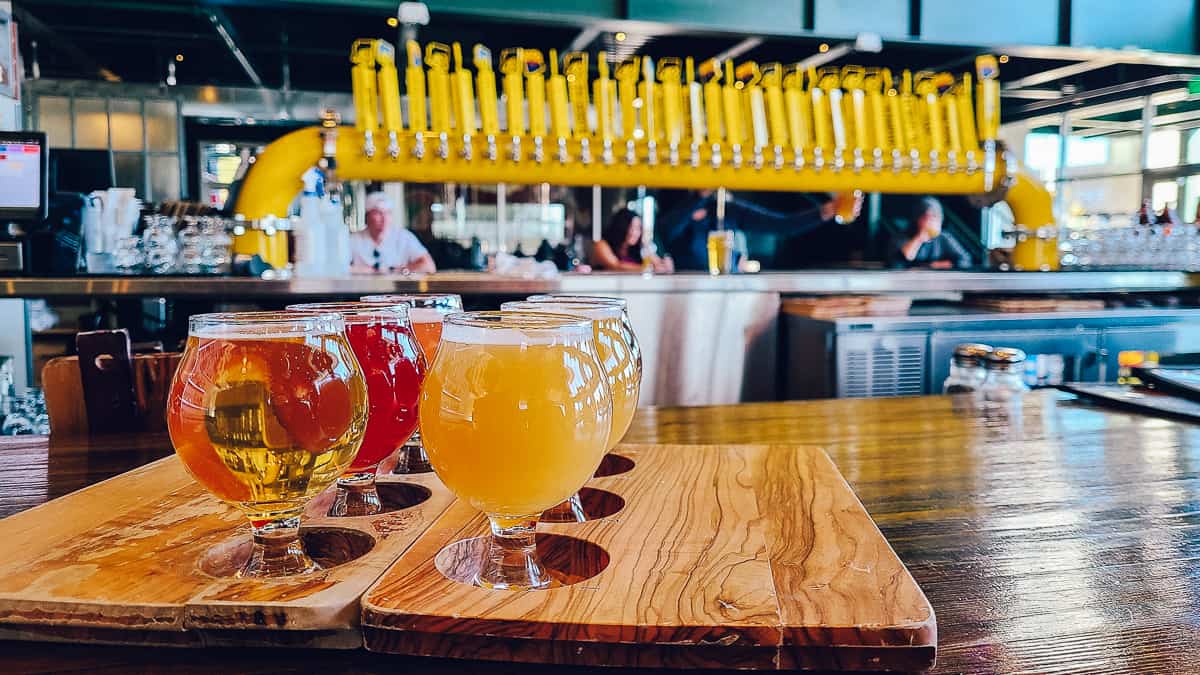 State 48 Brewery is a neat concept as it's a collective consisting of 4 different breweries at 4 different locations and each featuring its own style. It's 4 Phoenix breweries in 1!
Each separate brewery location has its own brewhouse and also offers a full menu of food to complement the beer. The original location is in Surprise, AZ (northwest Phoenix) and brews up the seasonal and specialty beers.
The Funkhouse location is in Glendale (west Phoenix) and this is where the sours and other mixed fermentation beers are made. You can also try your hand on the 12 lanes of bowling, 2 pool tables and a shuffleboard table. If those sports aren't enough, the Funkhouse is located right next door to the Arizona Cardinals (NFL) and Phoenix Coyotes (NHL) stadiums.
The downtown Phoenix, or DTPHX, location takes care of brewing all of the flagship beers like the Sound of Freedom IPA, Javelina Hefeweizen, Lost Dutchman Golden Ale, Copper Star Kölsch, and Vortex Amber.
And last, but not least (this is the location we visited), the Lager House in North Scottsdale (northeast Phoenix) is the biggest brewing system in the collective and exclusively brews State 48's lagers. Thanks, Captain Obvious. If you can, snag a table on their second-level patio which overlooks the not-so-beautiful road below and the more-beautiful McDowell Mountains in the distance.
With all of these different types of beer being made (you can find them at any of the locations), we guarantee that you can find a style and a beer that you like.
6. Throne Brewing
Located in north Glendale, Throne Brewing is a chill atmosphere with a definite local feel. They opened in 2018 and opened a second location a little further west in Peoria in 2020.
The brewery was started by someone who had several years' experience running a craft beer shop in downtown Phoenix, so naturally, opening and owning a brewery was the next logical step in his craft beer career.
The core beers here include the Bell Road IPA and its blood orange variant, and the Freak'N Raspberry Wheat. They also have some Maibocks, Märzens, and other lagers on draft throughout the year.
While we did enjoy the War Hammer Imperial stout which clocks in at 10% ABV, we found the other beers fell a little flat for us. But just because they aren't for us, doesn't mean they aren't for you. We always encourage you to try them for yourself and make your own decision.
7. PHX Beer Co. Downtown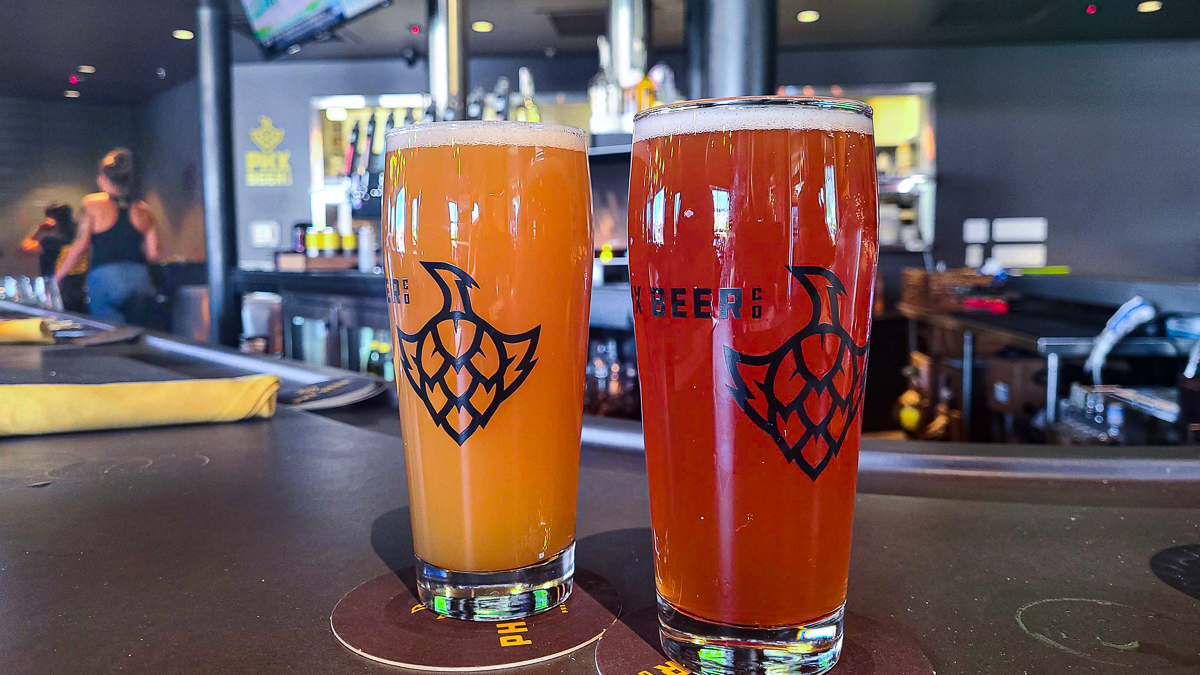 PHX Beer Co. has three locations in the greater Phoenix area: Scottsdale, Downtown, and in the Airport.
Located along the Marguerite Lake in North Scottsdale, PHX is producing crowd-pleasing flagship beers as well as unique seasonals.
Their most popular beers are their flagships: IPA, Arizona Gold, and Monsoon, but typically their seasonals rate higher on Untappd.
The Scottsdale restaurant is kid-friendly and you can't beat the view from their covered patio.
8. Superstition Meadery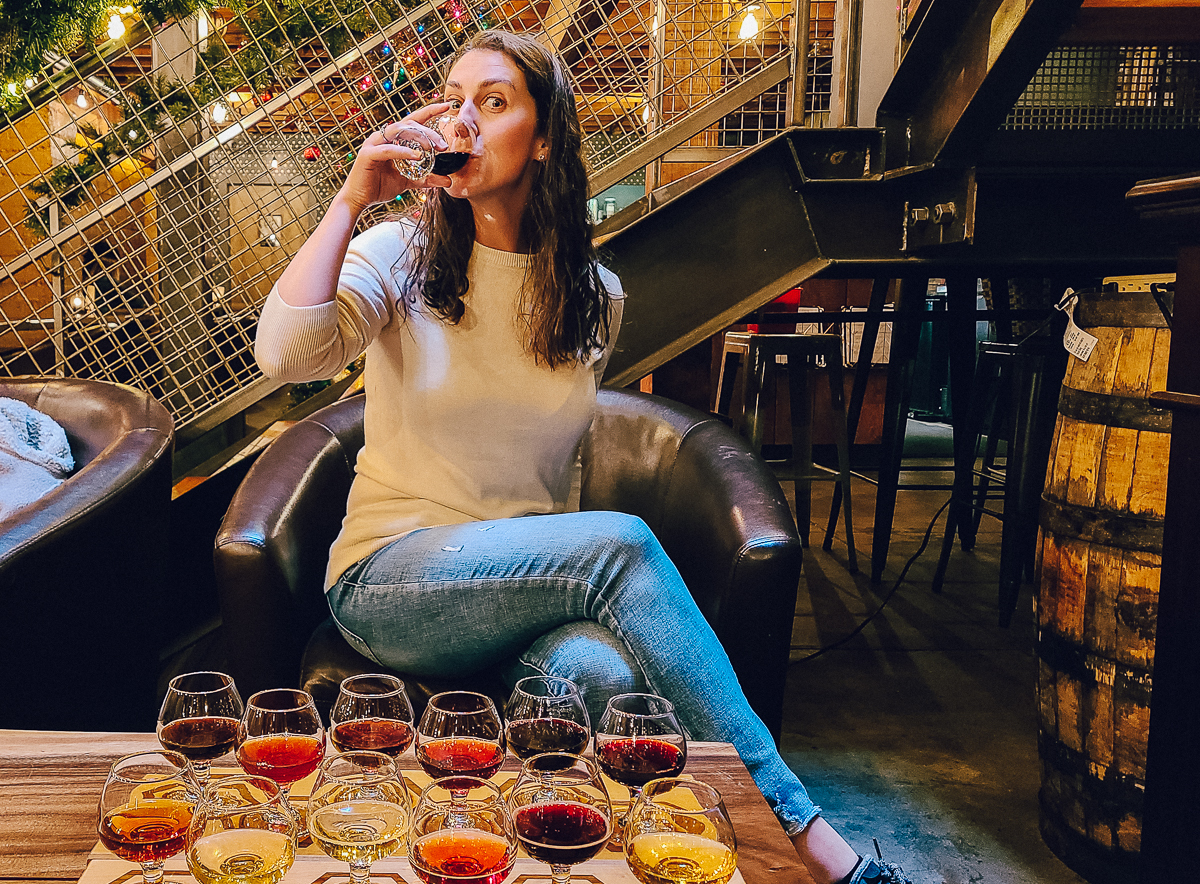 We usually aren't huge fans of mead as we don't like our alcohol to be too sweet. Superstition Meadery has some of the most recognized meads in the world. The world. So, of course, we had to check it out.
We had their pre-selected flight of 12 tasters (3 ciders and 9 meads) and all were incredibly delicious and flavorful.
Our favorites were:
– the Blueberry Spaceship Box (top-rated cider in the world)
– the Peanut ButterJelly Crime (straight liquid PB&J)
– the Amante (coffee, cacao, cinnamon, and a hint of red hatch chili)
We also tried their Blueberry and White Chocolate dessert mead which was out of this world!
In addition to the full-flavored mead, they also have cider, seltzers, wine, and many barrel-aged meads. Their mission is to reintroduce the world's oldest fermented beverage to mankind. Mission accomplished.
In downtown Phoenix, check out their first-of-its-kind mead and food pairing restaurant.
Bonus: The Shop Beer Co.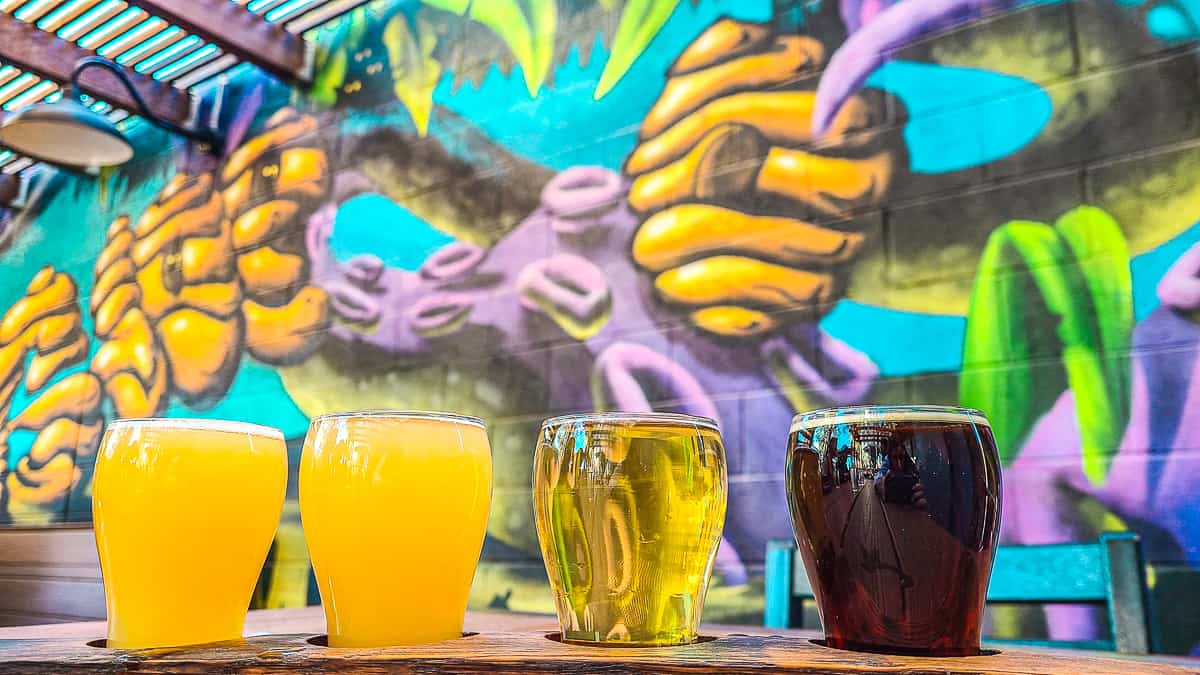 The Shop Beer Co. is a little bit off the beaten path compared to many other Phoenix breweries, but this place still definitely has its history and charm.
The Shop is located in an historic neighborhood in Tempe and was actually the home of two former Tempe mayors (father and son).
Today, things are a little less political here and more about great beer. Rejoice! There's a small tasting room inside, but make sure you head out to what the folks call the "backyard" and hang at one of the large community tables and make some new friends.
The Shop produces four core beers: Crispy (blonde lager), Church Music (hazy IPA), Coffee Brown (nut brown ale), and a double IPA called F.Y.I.T.M.
If you're looking for the PG-version of F.Y.I.T.M., pronounced "fight-em", the beer name means "Five Years in the Making". But if you're looking for the R-rated version, a quick search on Urban Dictionary will fill you in on the more infamous meaning! Let's just say it clocks in at 10.1% ABV and 110 IBUs.
They also have several other rotating beers available, including numerous seasonals, their Neonic sour series, and their Dream Crusher Imperial stout series which is their stout aged in different barrels and conditioned on different flavor profiles. You're only going to need one of these, if that, as it is a boozy 14.5% ABV.
Bonus Beer Bar: The Whining Pig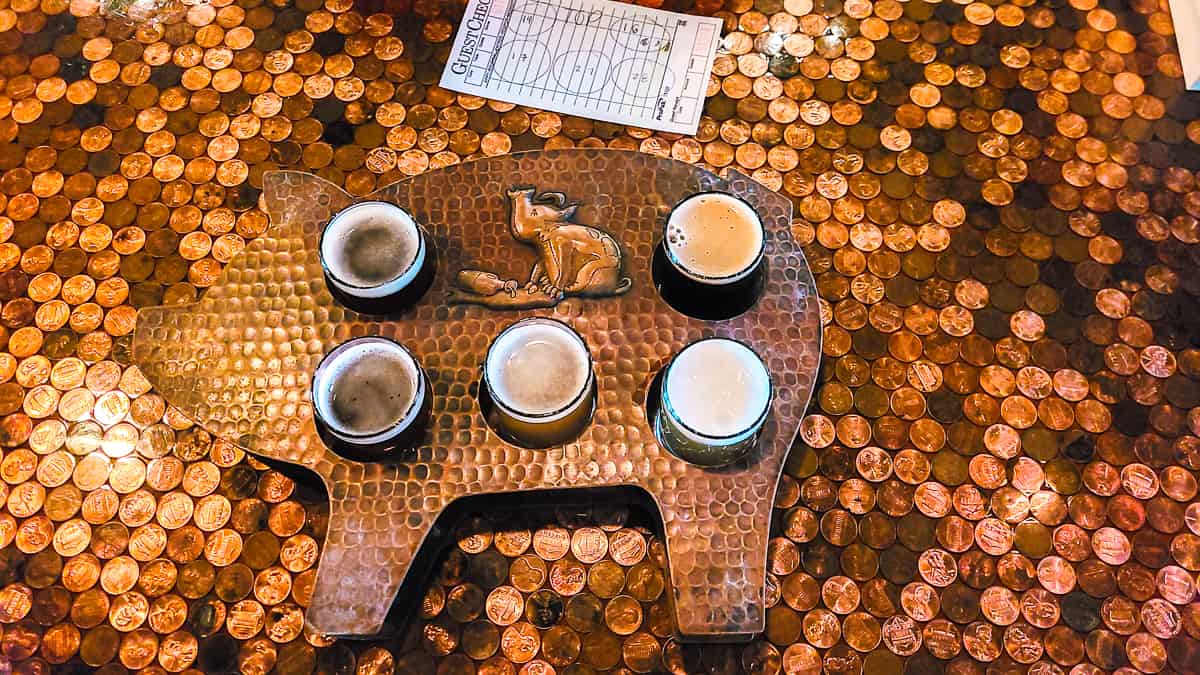 The Whining Pig is a locally owned and operated beer and wine bar that has 7 different locations across the Phoenix metro area.
When you walk into any of the locations, you'll immediately be drawn to the huge chalkboard with all of the beer and wine options. Warning: there are a lot of options! And they will differ from location to location.
The draft list has a bit of everything from IPAs to stouts to lagers to sours to wheats to browns. If you can't find something here, we don't know what to tell you!
It's a seriously deep beer list, from local and regional favorites to international stalwarts. They even do flights of beer if you can't decide on a particular flight.
Or you can even get their cans to-go and build your own little 6-pack (or more…)
Happy hour (every day) nets you $2 off glasses of wine, $2 off draft beer, and $1 off canned beer. Also, if you trust your bartender enough, go for the mystery wine ($6) or brown bag beer ($3) which are both the bartender's choice.
One thing you'll notice when you visit Phoenix: it's massive (one of the largest cities in the US – by population and size).
Even though we spent several weeks in the Arizona capital on two different occasions, we still couldn't cover enough ground to hit every one of the Phoenix breweries. More of a reason to return!
Still Thirsty? Check out our beer bars and breweries in Scottsdale guide.