The Top 7 Breweries in Western Richmond
The brewery scene in Richmond isn't contained to Scott's Addition or downtown. There are 7 incredible breweries in Western Richmond area that should not be missed.
You might have notice the Google and other sites have a bunch of results for breweries not in the West End.
This brewery guide will cover the breweries ACTUALLY in the Western Richmond area.
For more info on the beer scene, see our complete guide on Richmond Breweries here.
**Boozing Abroad contains affiliate links throughout the site. If you choose to purchase items through these links, we will earn a small commission at NO extra cost to you. Read the full disclosure policy here**
Map of Western Richmond Breweries
Click the interactive map below!
HOW TO USE THIS MAP: To view the layers and see the names of the places on this map, click the tab in the top left corner. You can select the check marks to show or hide certain layers. If you select the icons on the map, you will get more information about the point of interest.
HOW TO SAVE THIS MAP: If you select the star icon next to the map name, you can save this map to your Google Maps account. To view it, open Google Maps in desktop or on your phone, select the menu button, go to "Your Places," scroll to the right to Maps, and you will see this map.
1. Fine Creek Brewing Company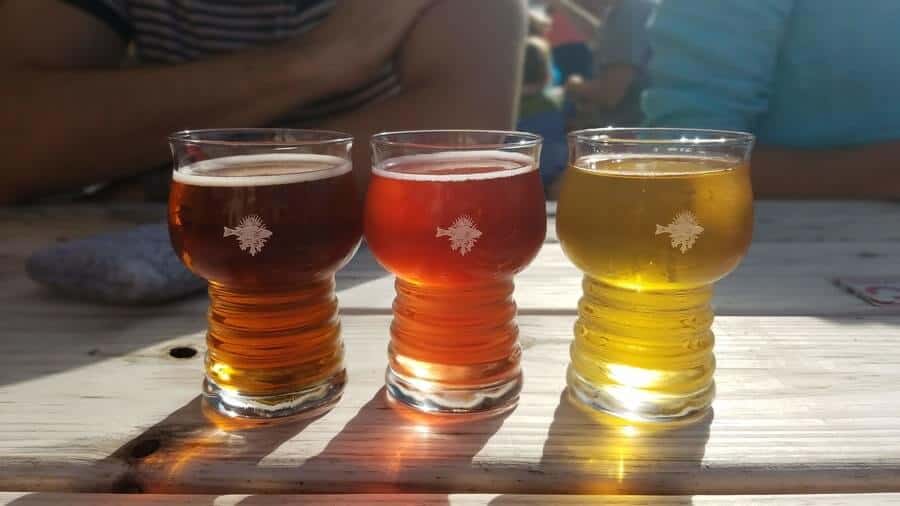 Originally a popular wedding and event venue 30 miles west of Richmond, Fine Creek has now turned into a weekend getaway complete with cottages and a farm brewery operation.
The event venue, The Mill at Fine Creek, prides itself on giving its event guests the privacy they desire, so you won't see much of the event side of things while at the brewery.
Fine Creek Brewing Co. is up on the hill and overlooks the beautiful cottages just down the way and has a definite farm feel to the inside. Choose from the wide variety of brews here, from IPAs to a Thai tea milk stout to sour beers, all listed on the subway-tile menu.
Once you have your beer or flight, head outside to relax on the large covered patio or down onto the grass to enjoy the view and the outdoors.
2. Kindred Spirit Brewing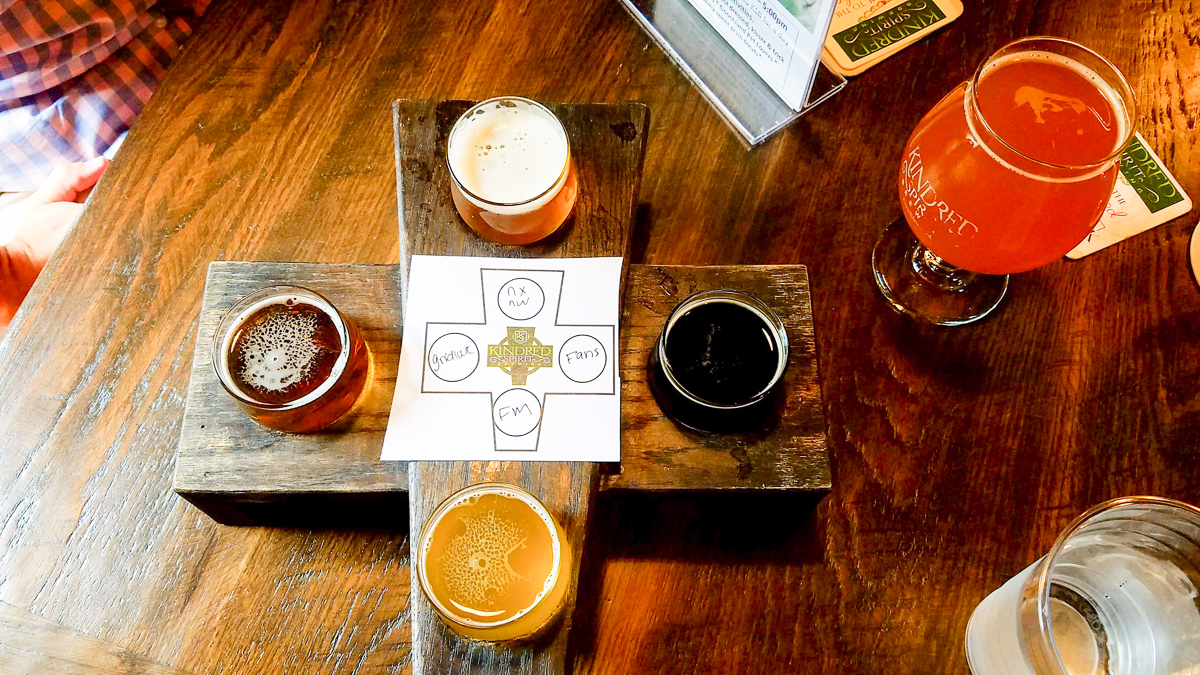 Located out in Goochland County right near Hardywood West Creek, Kindred Spirit Brewing creates some new takes on classic styles.
The Headspace IPA is a crowd-pleaser, but make sure you try the Orange Dream, an orange and vanilla cream ale that tastes just like a Creamsicle.
For a real treat, order a pint of the Strawberry Milkshake. This 8.0% beer is aptly named as it tastes just like your favorite frozen strawberry treat!
If live music isn't your thing, head outside to play some cornhole and grab a bite to eat at the food truck of the day.
3. Hardywood Park Craft Brewery – West Creek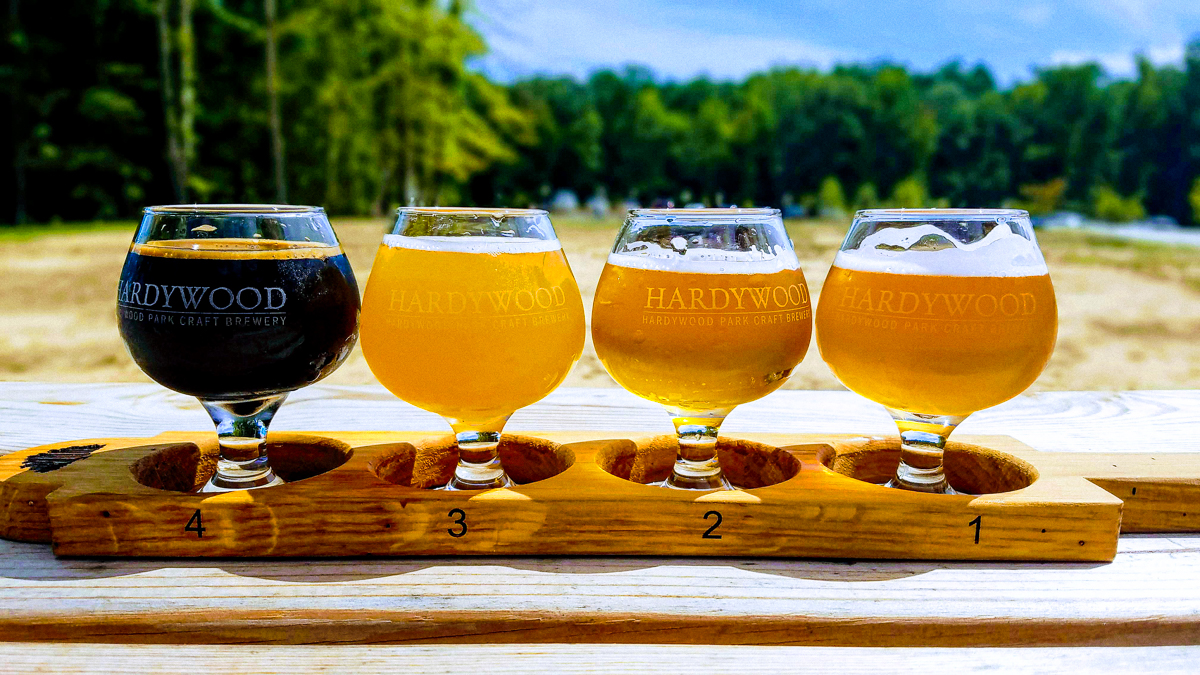 In early 2018, Hardywood opened a huge expansion in Goochland, about 20 miles west of its original location in Richmond.
This beer cathedral, as some might call it, is vastly different than their Scott's Addition Richmond brewery, boasting a HUGE indoor space with a stage for live music and a large outdoor patio as well.
4. Rock Bottom Brewery and Restaurant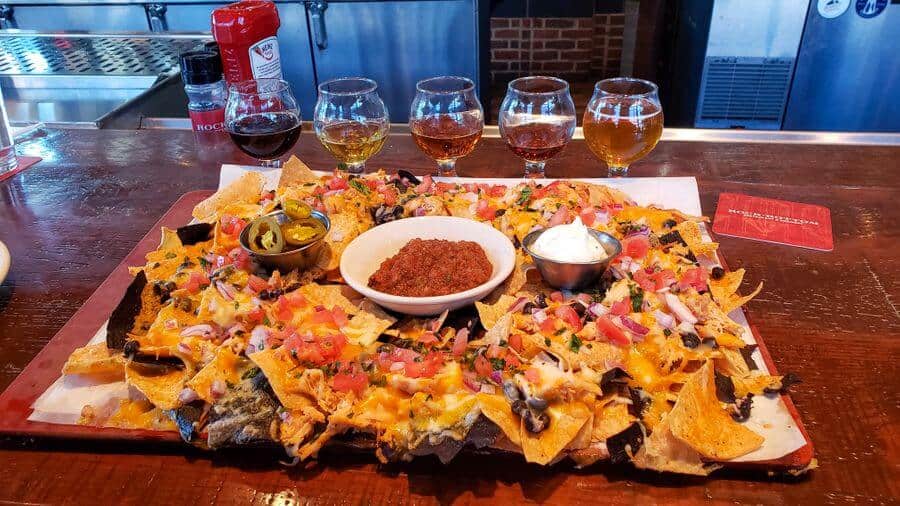 Depending on where you live and where you've traveled, you might have heard of Rock Bottom Brewery because it is a corporate chain of sorts. However, don't let that discourage you from visiting. After all, it is beer!
I say a corporate chain "of sorts" because really the only thing that is chain-y about this place is the fact that the food menu is the exact same no matter which location you visit.
But the beer….that is unique to each individual location. Now, there may be some recipe-sharing between locations and similar beers on tap, but for the most part, you will find completely unique beers at each location which will rotate through like any other local brewery.
Try out the Fire Chief red ale or the Fine Bine IPA. Or, if you need an even longer break from shopping at Richmond's busiest mall, grab a flight of 6 beers and enjoy some high-quality pub food!
5. Midnight Brewery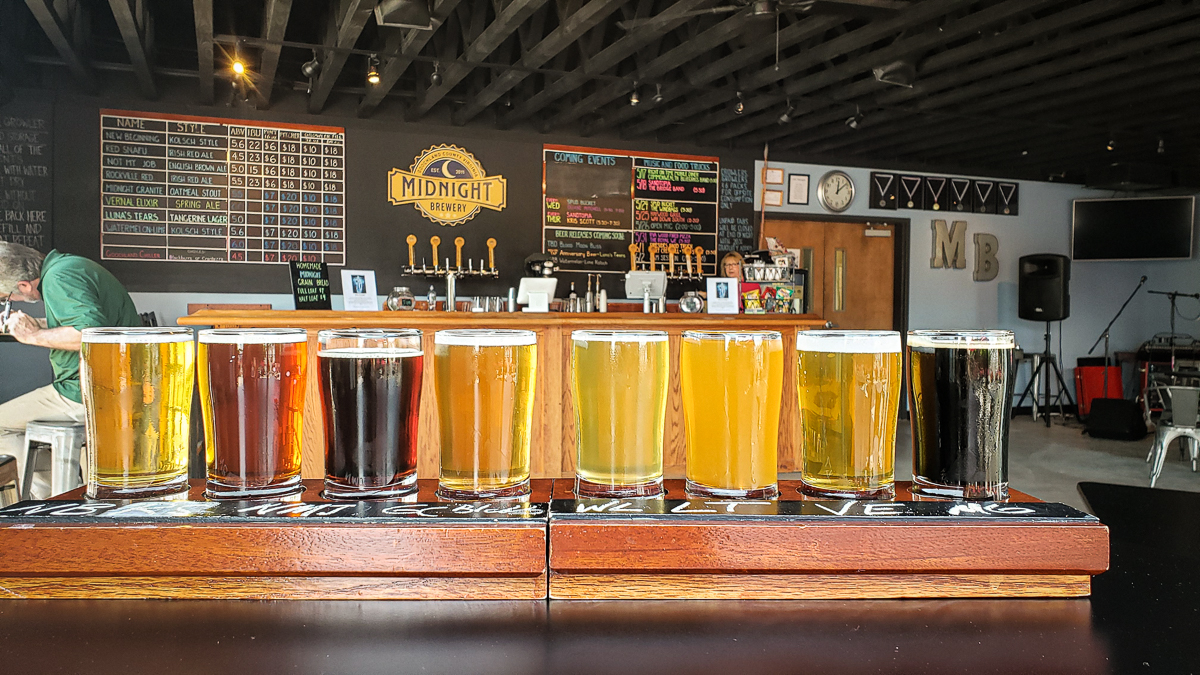 A true family operation, Midnight Brewery was started by Trae Cairns, a home brewer who perfected his brews in the wee hours of the morning after a full-days' work at his IT job…..hence the name.
Taking a leap of faith in 2011, Trae jumped into becoming a full-time brewer and starting Midnight. His philosophy: "Approachable enough for the novice craft beer drinker, complex enough to satisfy more advanced palates." A Richmond brewery crowd pleaser!
With their wide variety of beers available, it might be hard to narrow down your choices. Looking for a clean and crisp beer with a summery twist? Grab a pint of the Watermelon Lime Kolsch.
In the mood for something a little malty or more robust?
Check out the Rockville Red (Irish red ale) or the Midnight Granite (oatmeal chocolate stout), respectively.
Make sure you ask for a "tour" of the brewery, too. We say tour in quotes because it is less of an actual walking-around tour and more of a chance for you to get a chance to speak with Trae and ask all your brewing questions!
6. Lickinghole Creek Craft Brewery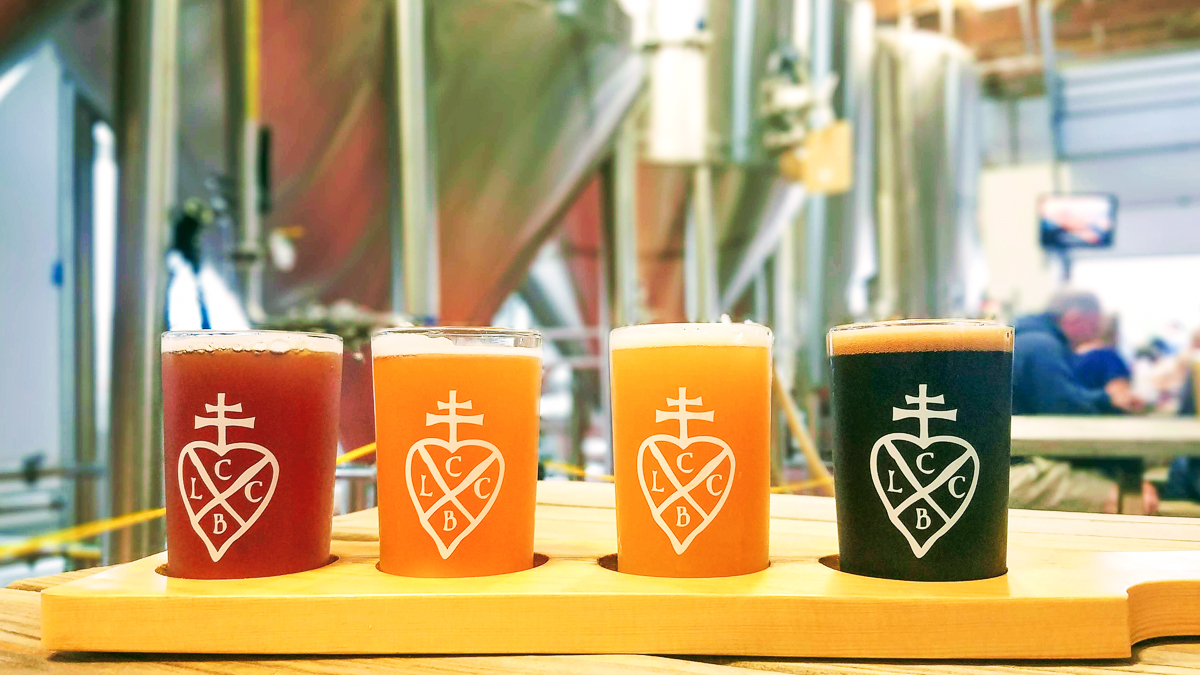 Picture this……you're walking through a field of sunflowers with a craft beer in hand. Who doesn't love the sound of that?!
Well, that's exactly what you can expect and experience at Lickinghole Creek Craft Brewery, a farm brewery located on almost 300 acres of land way out in Goochland, about 40 miles west of the downtown Richmond brewery scene.
LCCB infuses a lot of flavor into their beers, and has a devout following of those looking for barrel-aged beers and a wide variety of stouts and many Belgian-inspired options.
Try the Enlightened Despot, an 11.3% bourbon barrel Russian imperial stout; a fusion of chocolate, vanilla, and bourbon!
Ask any of the bartenders about the sunflower fields as the blooms are staggered and some will be more picked over than others.
7. Steam Bell Beer Works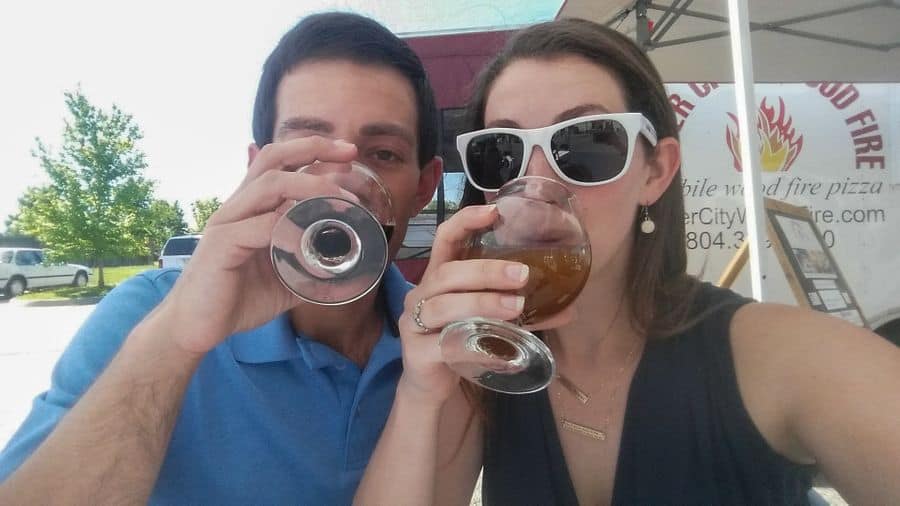 Steam Bell Beer Works opened up shop in 2016 and is located in Midlothian, about 20 minutes from the city.
Industrial setting with big garage doors opening up to a back parking lot for cornhole and food trucks.
When the owner/head brewer started this place, his whole family came onboard to help with operations.
Wide variety of choices here too, including the always popular Tiramisu Stout, but Samantha and Chris each like the Liege, a Belgian tripel fermented with maple syrup and aged on vanilla beans…Mmmm!