The 4 Must-Visit Breweries in Monterey, CA
Looking for a list of the breweries in Monterey, CA that are actually IN Monterey? A lot of articles out there include nearby towns of Seaside or Carmel, but we have created a list of the breweries that are actually in Monterey.
Believe it or not, there are only 4 breweries in the Monterey area all offering unique frothy beverages to keep you hydrated on your visit.
From outdoor beer gardens to art deco-inspired brewpubs, Monterey offers a delightful range of craft breweries that combine great beer with unique experiences.
Short on Time? Here are the key takeaways:
Of the 4 breweries in Monterey, only 1 actually has their production location in the area; the rest are located in other cities
Peter B's Brewpub is the oldest brewery and is located in a hotel
In our opinion, don't miss Alvarado Street Brewing for its unique, delicious, and varied lineup of beer
Map of breweries in Monterey, CA
Click to view the interactive map!
HOW TO USE THIS MAP: To view the layers and see the names of the places on this map, click the tab in the top left corner. You can select the check marks to show or hide certain layers. If you select the icons on the map, you will get more information about the point of interest.
HOW TO SAVE THIS MAP: If you select the star icon next to the map name, you can save this map to your Google Maps account. To view it, open Google Maps in desktop or on your phone, select the menu button, go to "Your Places," scroll to the right to Maps, and you will see this map.
1. Fieldwork Brewing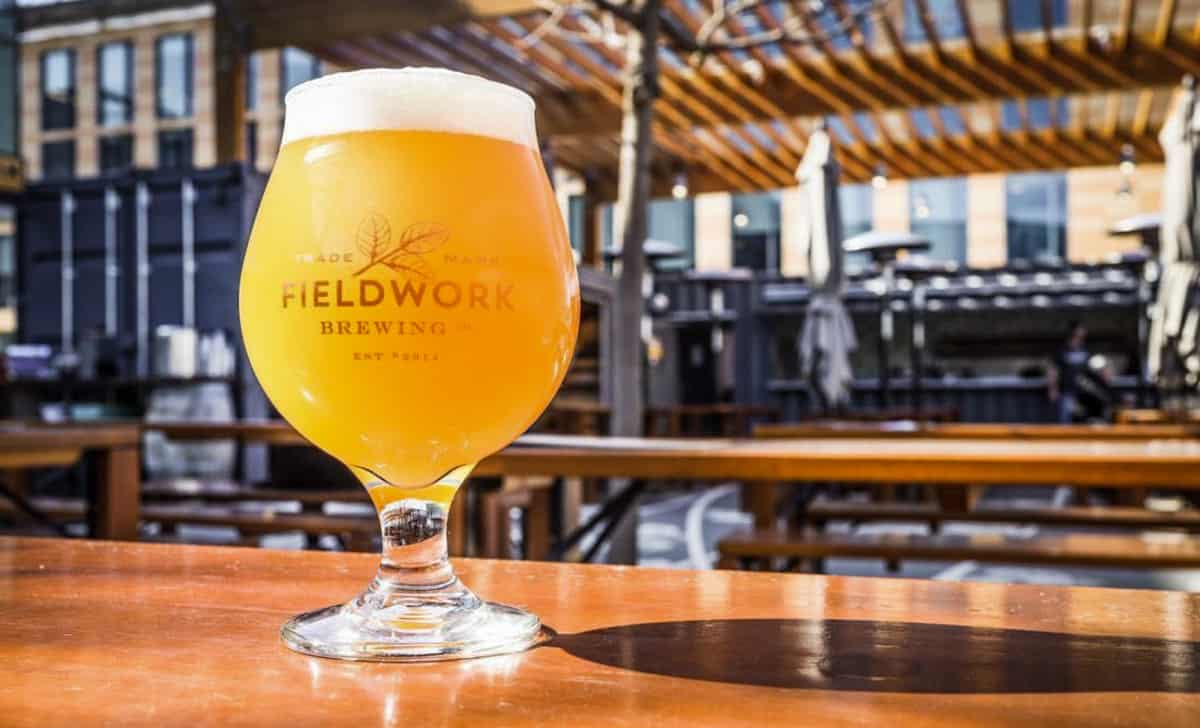 Hours:

Sunday – Thursday: 12PM – 9PM
Friday & Saturday: 12PM – 10PM

Food Available: No
Pet Friendly: Yes
Nestled in the Uptown Shopping Center, Fieldwork Brewing's Monterey Beer Garden provides a perfect spot to enjoy a beer with friends in Monterey's mild and beautiful weather.
Founded in 2014, this craft brewery is headquartered in Berkeley, CA but opened their Monterey location in 2017. They've got an ever-evolving list of brews on tap for you to explore, one sampler flight or glass at a time with a rotating selection of 12 -15 taps.
Fieldwork's triumph lies in its commitment to freshness, variety, and drinkability. Alex Tweet, the co-founder and head brewer, has curated an extensive collection of IPAs that share a common thread of smooth and approachable flavor profiles. Rather than overwhelming hoppiness or bitterness, these IPAs offer a gentle and easy-drinking experience.
Additionally, Fieldwork constructed an open and laid-back atmosphere by using shipping containers in their structure, providing a unique and inviting ambiance. To ensure comfort even during cooler weather, the venue offers cozy fire pits, creating a warm and cozy atmosphere.
2. Alvarado Street Brewing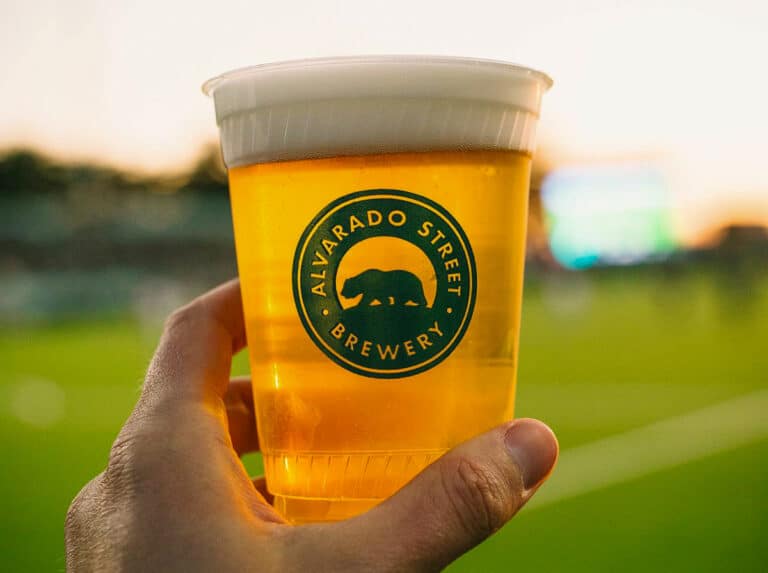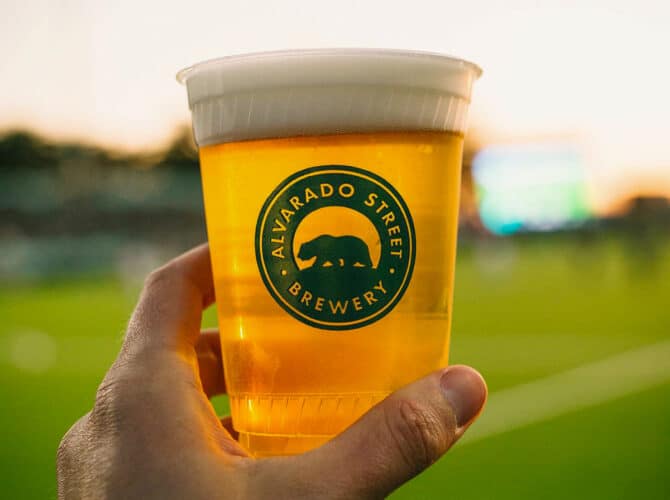 Hours:

Sunday – Thursday: 11:30AM – 10PM
Friday & Saturday: 11:30AM – 11:30PM

Food Available: Yes, full kitchen
Known simply as "the pub," Alvarado Street Brewing's downtown Monterey location offers a delightful combination of fresh beer and regional gastropub fare. Since its birth in 2014, this father-son duo John and J.C. Hill has evolved from a neighborhood spot in Downtown Monterey to three locations dedicated to beer enthusiasts.
With generous outdoor seating options, you can relax on the patio along the vibrant Alvarado Street or find solace in the lush beer garden at the back. With just a short walk, guests can explore the wonders of Monterey's historic coastal town and even enjoy the scenic beauty of the nearby Pacific Ocean.
Alvarado Street Brewing is renowned for its progressive, hop-forward ales. From hazy IPAs to clean lagers and heavily-fruited sour ales, they dabble in a bit of everything to keep your taste buds intrigued. Their sister brand, Yeast of Eden, crafts mixed culture sour ales with native microflora and hyper-local ingredients, creating beers that embody complexity and a sense of place.
If you are traveling with non-beer people and don't want to kick them to the curb, they also offer wine and cocktails so they can't complain if you want to go to a brewery.
3. Dust Bowl Brewing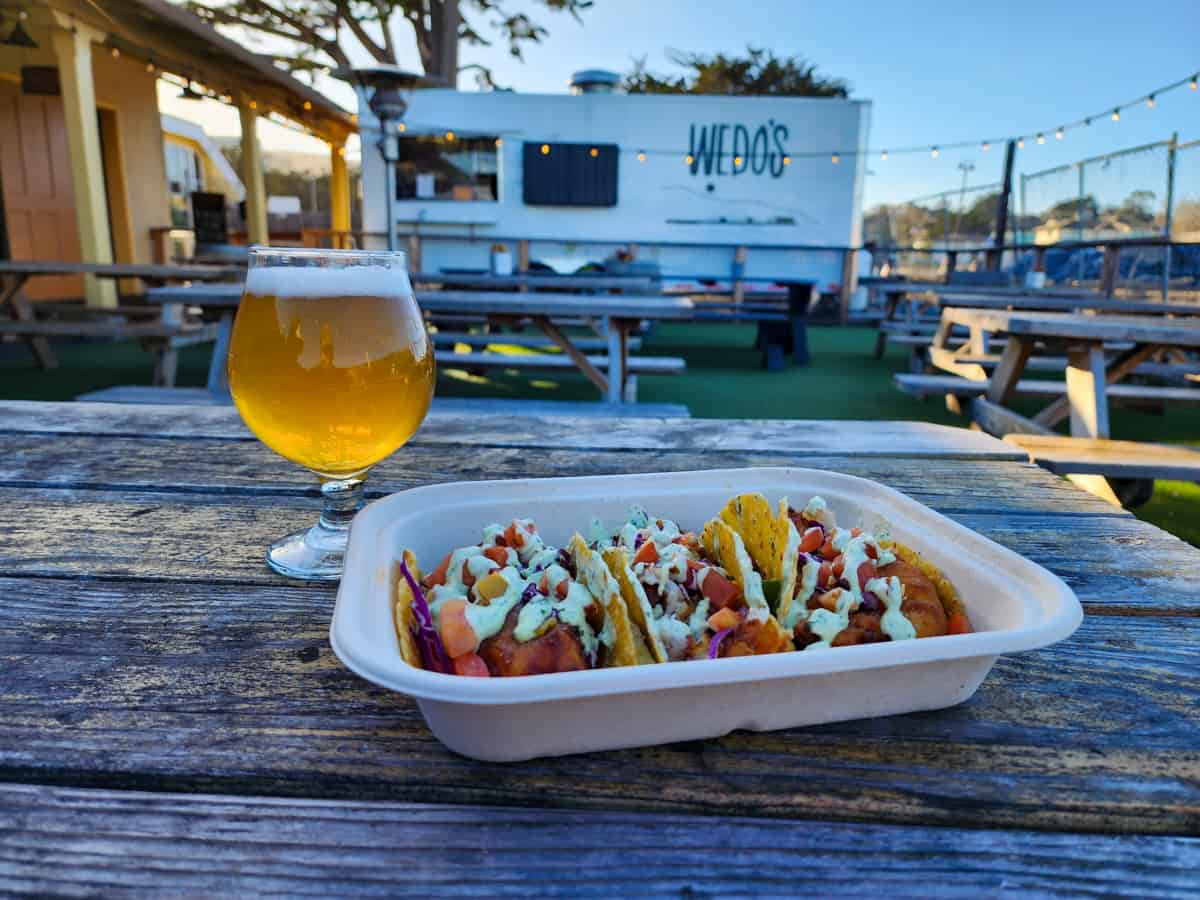 Hours:

Monday – Thursday: 12PM – 9PM
Friday: 12PM – 10PM
Saturday: 11AM – 10PM
Sunday: 11AM – 9PM

Food Available: Yes via permanent food truck
Tap Depot, Dust Bowl Brewing's Monterey taproom, is a hop, skip, and a jump away from the famous Fisherman's Wharf. Once a buzzing train station in the 1930s, it's now a haven for craft beer lovers offering 24 taps for you to whet your whistle. Enjoy the rustic charm of the interior, featuring bar rails, communal seating, and lounge chairs.
Soak up the outdoors on their patio complete with fire pits, picnic tables, and a good ol' cornhole match. The resident food truck, Wedo's Tacos, adds to the brewery's charm and provides a tasty pairing. The award-winning brewery achieved Regional Brewery status in 2020, and by 2022, they were named Brewery of the Year – a testament to their exceptional brews!
4. Peter B's Brewpub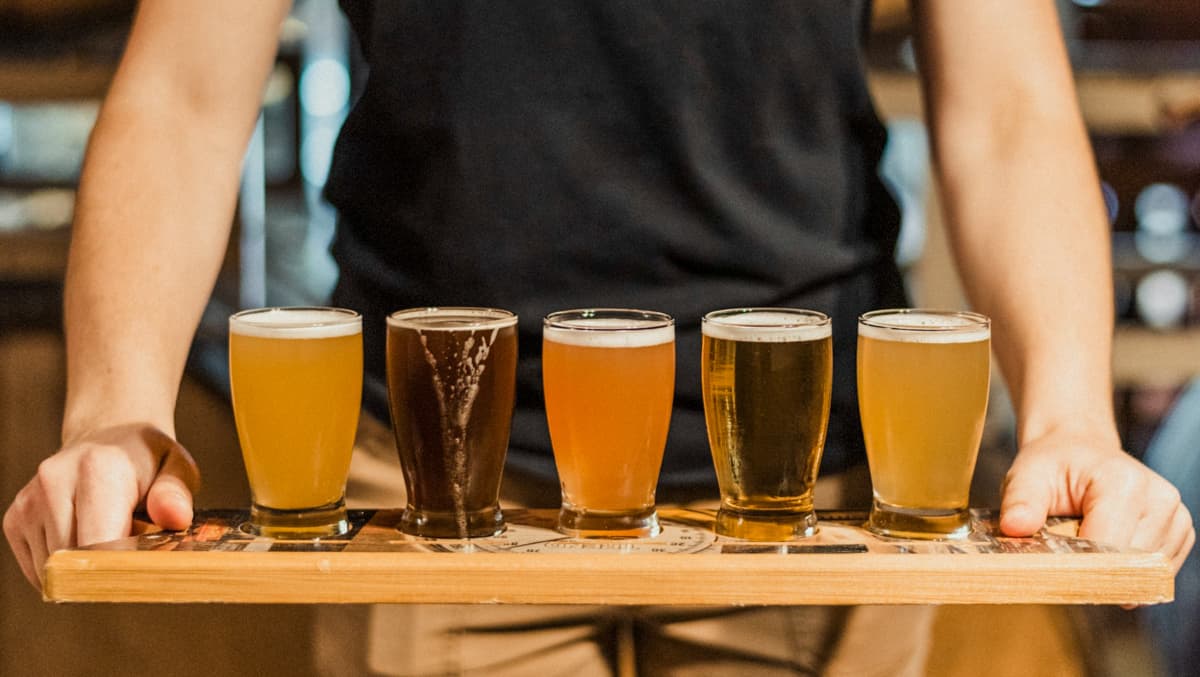 Hours:

Wednesday-Sunday: 4PM to 10PM
Monday & Tuesday: Closed

Happy Hour: 4PM – 6PM and 9PM to 10PM
Food Available: Yes, full kitchen
Pet Friendly: Yes, on patio
For over 20 years, Peter B's Brewpub has been the go-to destination for craft beer lovers in Monterey and is Monterey's original craft brewery (and technically it's the only locally-produced beer among all the breweries in Monterey, CA on this list).
Under the leadership of Head Brewer Natalie Mika, they've racked up several accolades, including the 2020 Craft Beer Awards Silver Medal and the California Craft Brewers Cup 2019 Gold Medal.
Blending creative pub grub (along with a full bar) with fine beer, Peter B's Brewpub promises a memorable experience. This place caters to both beer-loving humans and fur-babies alike as the only brewery in Monterey to offer a happy hour and they include pet deals during their "Yappy Hour". For pups, there are 3 "Bark Bowls" available for $6 on Yappy hour.
While there are many places to get beer in the area, there are truly only 4 breweries in Monterey, CA. Whether you're sipping a fresh release in Fieldwork Brewing's outdoor beer garden, indulging in progressive ales at Alvarado Street Brewing, enjoying the rustic charm of Dust Bowl Brewing's Tap Depot, or savoring award-winning craft beers at Peter B's Brewpub, you're in for an unforgettable experience.
Looking for more California info? Browse all our California Travel Guides here or check out these top post:
To see all our shenanigans in the area, check out our Youtube video here: