Weekend in Santa Barbara, CA: the Best Bars And Restaurants
If you're looking for a weekend getaway that's equal parts relaxation and adventure, then a weekend in Santa Barbara, California should be at the top of your list.
We were able to explore this charming coastal town in February 2023 and we can attest to the fact that Santa Barbara is the perfect destination for those seeking a healthy dose of sunshine, sea, and a great bar scene.
While it was too cold for us to enjoy the beach, we did spend most of our time eating and drinking our way around. From wine tasting rooms to craft cocktail bars, we were pleasantly surprised with all the things we ate and drank for our weekend trip here.
Short on Time? Here are the key takeaways:
The Funk Zone offers numerous bars that are easily walkable to each other.
In our opinion, don't miss Paradise Springs Winery and Shaker Mill (for cocktails).
For beer, check out Validation Ale for a unique approach to the beer menu.
Weekend in Santa Barbara Map
HOW TO USE THIS MAP: To view the layers and see the names of the places on this map, click the tab in the top left corner. You can select the check marks to show or hide certain layers. If you select the icons on the map, you will get more information about the point of interest.
HOW TO SAVE THIS MAP: If you select the star icon next to the map name, you can save this map to your Google Maps account. To view it, open Google Maps in desktop or on your phone, select the menu button, go to "Your Places," scroll to the right to Maps, and you will see this map.
Sterns Wharf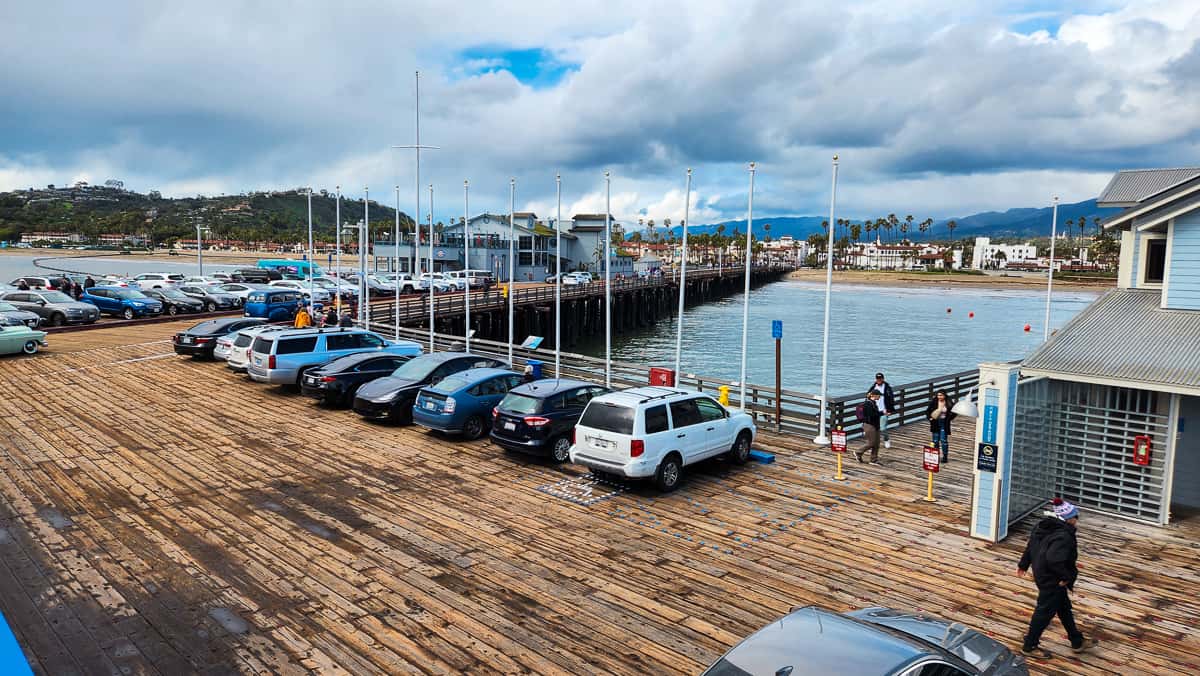 No trip to Santa Barbara would be complete without a visit to the iconic Stearns Wharf, the oldest working wooden wharf in California. It's home to a variety of restaurants and shops, as well as some stunning views of the ocean and mountains.
We decided to start our boozy filled weekend in Santa Barbara here with a local winery.
Deep Sea Conway Family Wines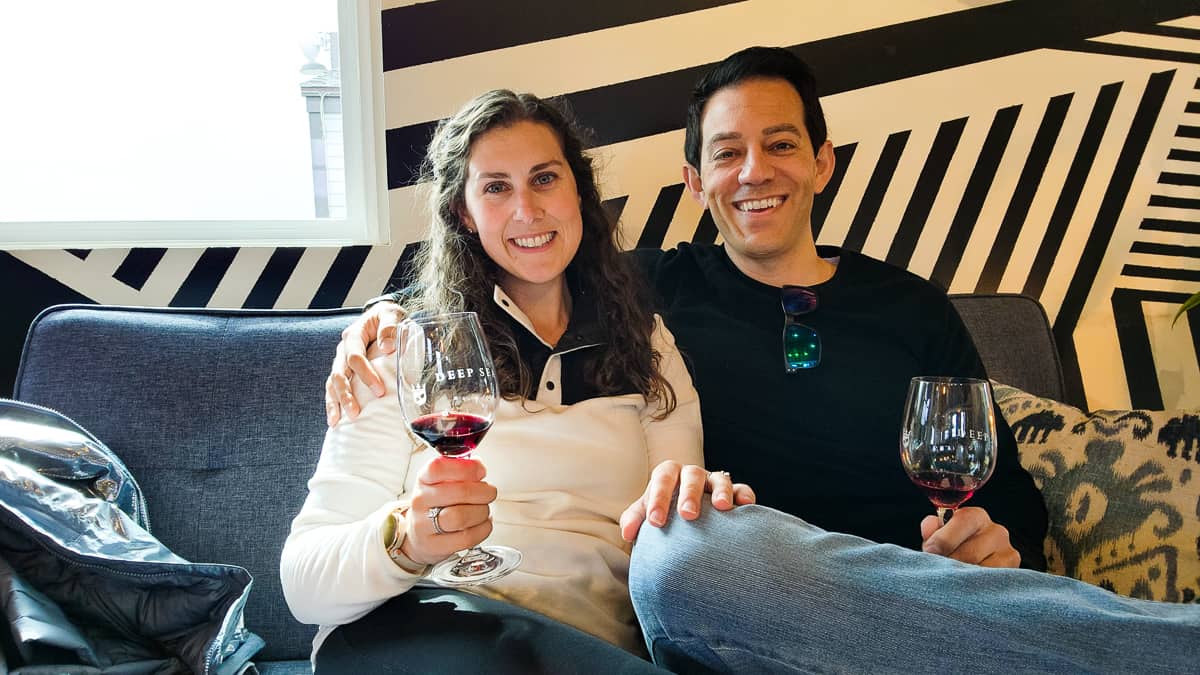 Hours: Daily opening at 11 AM
Food Available: Yes, small bites
Located on the Stearns Wharf, Deep Sea Wines offers a delicious wine tasting paired with sensational ocean and mountain views.
We visited in late February when a rare snow storm descended upon southern California, giving us a rare sight: palm tree-lined beaches at the base of snow-capped mountains. The upstairs tasting room has both indoor and outdoor seating with nautical décor throughout pairing perfectly with the location.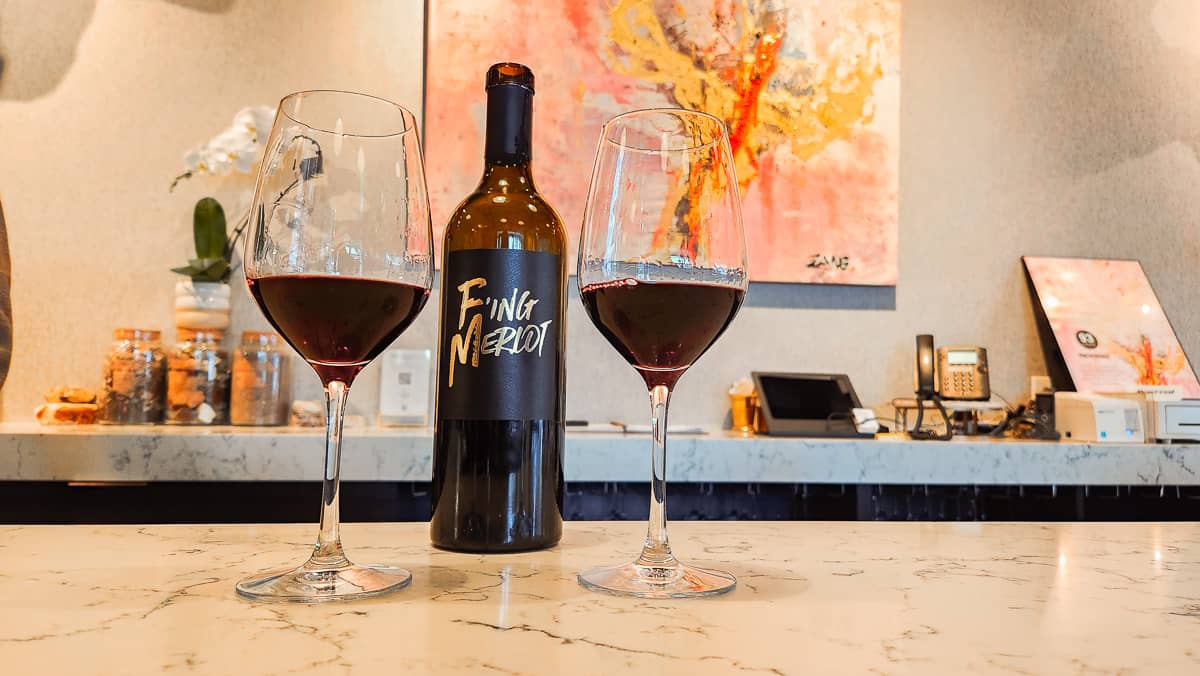 The wine itself hails from Santa Barbara County with the majority of their vines within 20 miles of the Pacific coast which gives the wine a unique oceanic influence. The Deep Sea and Conway wines are two different lines but are both produced in Santa Barbara, California by siblings Tom, John, and Gillian Conway.
Deep Sea wines are light, well-balanced, and can be found in many of Santa Barbara's best restaurants. Conway wines are limited production wines made in small lots, with many offerings featuring blends that have great depth of character, multiple layers of flavors and aromatics, and often pair well with food.
With both of us preferring red wines, we opted for the red wine flight which included both the Deep Sea and Conway brands. We both enjoyed the latter end of the flight with bigger, bolder reds like the Malbec and the Dolcetto/Merlot blend.
The Funk Zone
The Funk Zone is a trendy neighborhood in Santa Barbara, CA, known for its art galleries, wine tasting rooms, numerous bars, and breweries. This area is very walkable and you can easily bar hop your way around, which we did. Twice.
Paradise Springs Winery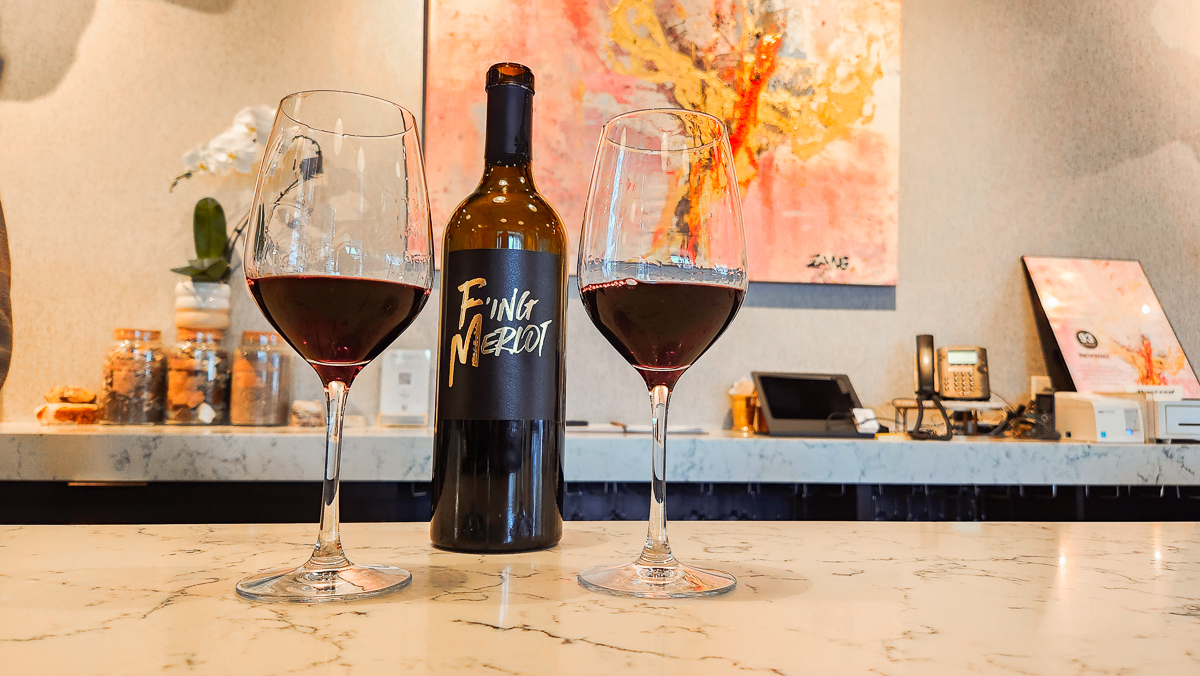 Hours: Opens daily at 12 PM
Food Available: Yes, small bites and pop-up events
Paradise Springs Winery is a family-owned winery and the first bi-coastal winery in the United States! Given that we're born-and-raised/transplant Virginians, we wanted to share how this Virginia winery ended up in California.
In 2007, Kirk Wiles founded Paradise Springs Winery in Clifton, Virginia, which is on the outskirts of Washington D.C. By 2013, they experienced massive growth, producing over 12,000 cases per year, which exceeded the amount of quality fruit available in Virginia.
In 2014, during a trip to Santa Barbara wine country in California, Kirk and his friends fell in love with the Pinot Noirs of the region. It was during this trip that Kirk came up with the idea of starting a second winery on the west coast to expand the brand without compromising the high standards of quality that he had set.
What resulted was the making of the first "bi-coastal" winery brand in the United States, both producing high-quality wines that are varietally correct for their region. Their California location specializes in Rhône-style wines, such as Syrah and Grenache, which are made from grapes grown in their estate vineyards in the nearby Santa Ynez Valley.
We had planned on popping in for just a flight, but the staff was engaging and so much fun that we ended up hanging out there for several hours, sampling a lot of wines and ordering a cheese plate as well. We happened to visit on a day that had a pop-up Oyster bar, too. If you check their events, you'll see they frequent this winery and we HIGHLY suggest trying them. The oysters and Umi were phenomenal!
Margerum Tasting Room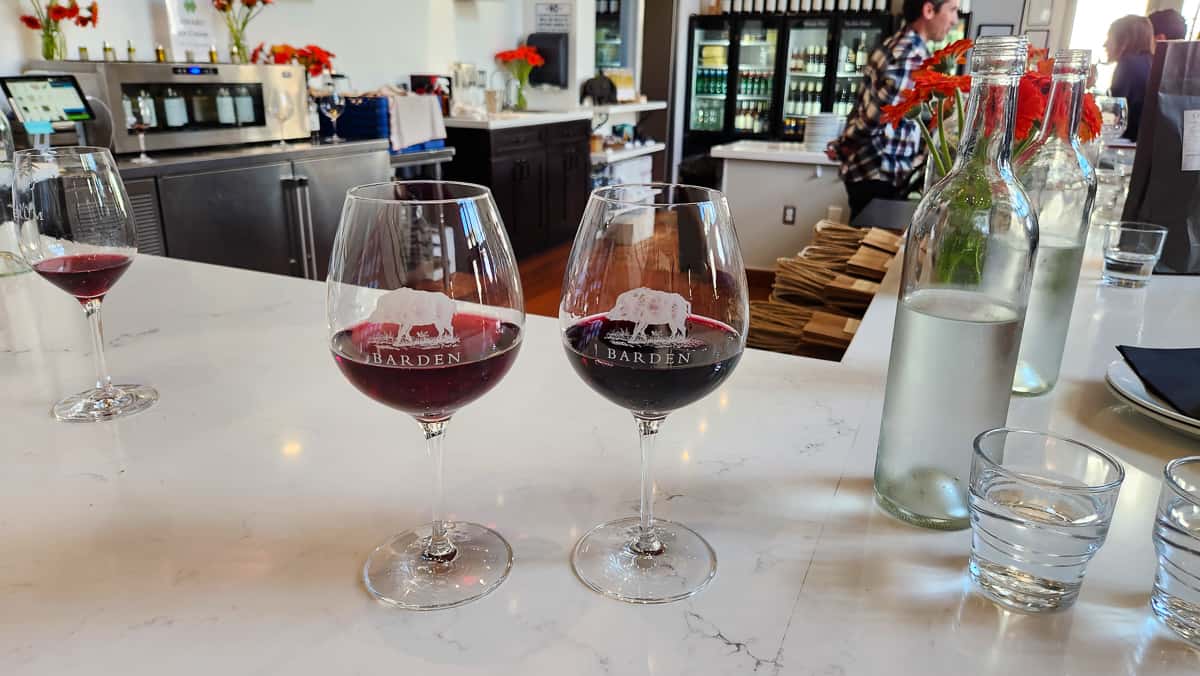 Hours: Opens daily at 12 PM
Food Available: Yes, small bites, pizza and sandwiches
Margerum Wine Company was founded in 2001 by Doug Margerum, a renowned restaurateur and sommelier. Doug's passion for wine led him to start making his own wine, and soon he was producing small batches of exceptional wines that quickly gained a loyal following.
Today, Margerum Wine Company is known for its outstanding Pinot Noir, Syrah, and Sauvignon Blanc, as well as its inventive blends and limited-edition releases, which are sourced from vineyards throughout the Central Coast. They've received a number of accolades from establishments such as Wine Enthusiast, Wine Spectator and International Wine Review.
The winery produces limited quantities of wines made from both their 18-acre Estate Vineyard and top vineyards in and around Santa Barbara County, with a focus on Rhône grape varietals.
In 2014, they launched BARDEN wines, an exploration of cold climate grapes grown in and around the Sta. Rita Hills AVA. The company's mission is to create high-quality wines that are indicative of the place where they are grown and to make wines with personality.
They offer 3 tasting flights to sample different styles of their wines, but we each ordered a glass of wine to try.
Validation Ale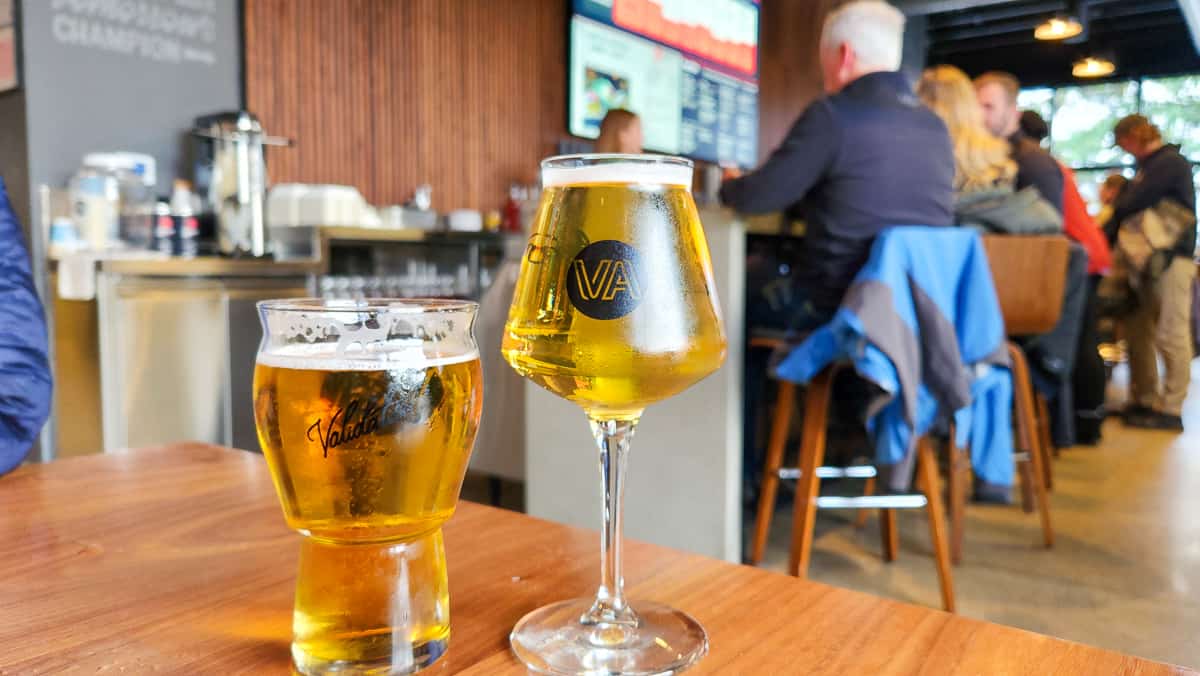 Hours: Opens daily at 11:30 AM; Sunday at 10 AM
Food Available: Yes
Validation Ale is a craft brewery producing a variety of beers, including IPAs, stouts, and lagers, which are all brewed on-site. They have a rotating selection of Validated beers that you can taste, as well as competing brews that you can vote for to become a top choice.
Validation Ale Project's philosophy centers around the concept of validation. Homebrewers can submit a recipe and they will brew it for you. This creation gets added to their rotating tap list and bar patrons can "vote" (aka buy the beer). If your beer wins, you get the honor of being Validated! You'll stay validated until the next beer knocks you down.
The tasting room is spacious with a modern, industrial-chic decor offering a relaxed and laid-back vibe.
When we visited, we each grabbed a beer to go with our food – a round of crispy tater tots as an app before digging into the Validate Burger and Fried Chicken Sando.
Test Pilot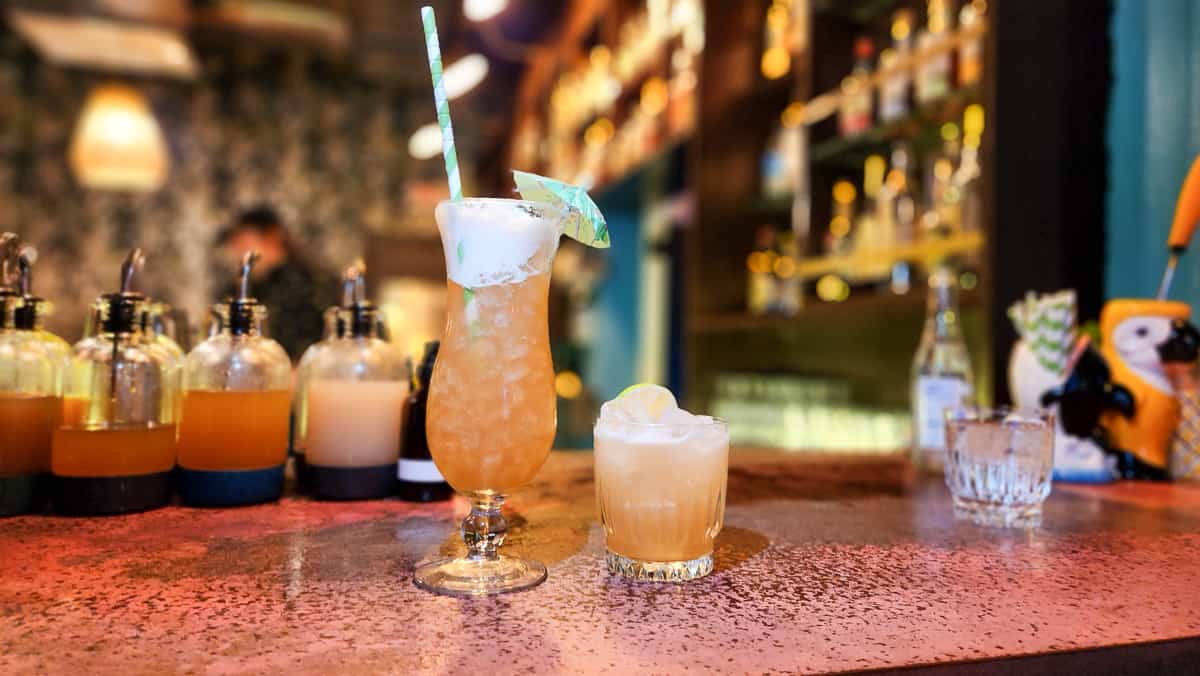 Hours: Monday – Thursday 4 PM – 1 AM
Friday – Saturday 2 PM – 2 AM
Sunday 2 PM – 1 AM
Food Available: Yes
Sharing a wall with Paradise Springs Winery, Test Pilot is a tiki-inspired cocktail bar that offers a unique and playful drinking experience. We learned about Test Pilot through multiple bartenders who said they offered some of the best tropical craft cocktails.
From the moment you walk into Test Pilot, you're transported to a tropical paradise. The bar is decked out in tiki decor, with colorful lights, bamboo walls, and a thatched roof.
Test Pilot's menu is filled with a variety of tiki-inspired cocktails, each one more creative and delicious than the last.
We ordered the Lion's Tail (bourbon, caribbean allspice, pineapple, rum, and lime) and their namesake drink, the Test Pilot (house rum blend, clove, citrus, bitters, and absinthe foam). Yes, you read that right, absinthe foam.
Cutler's Artisan Spirits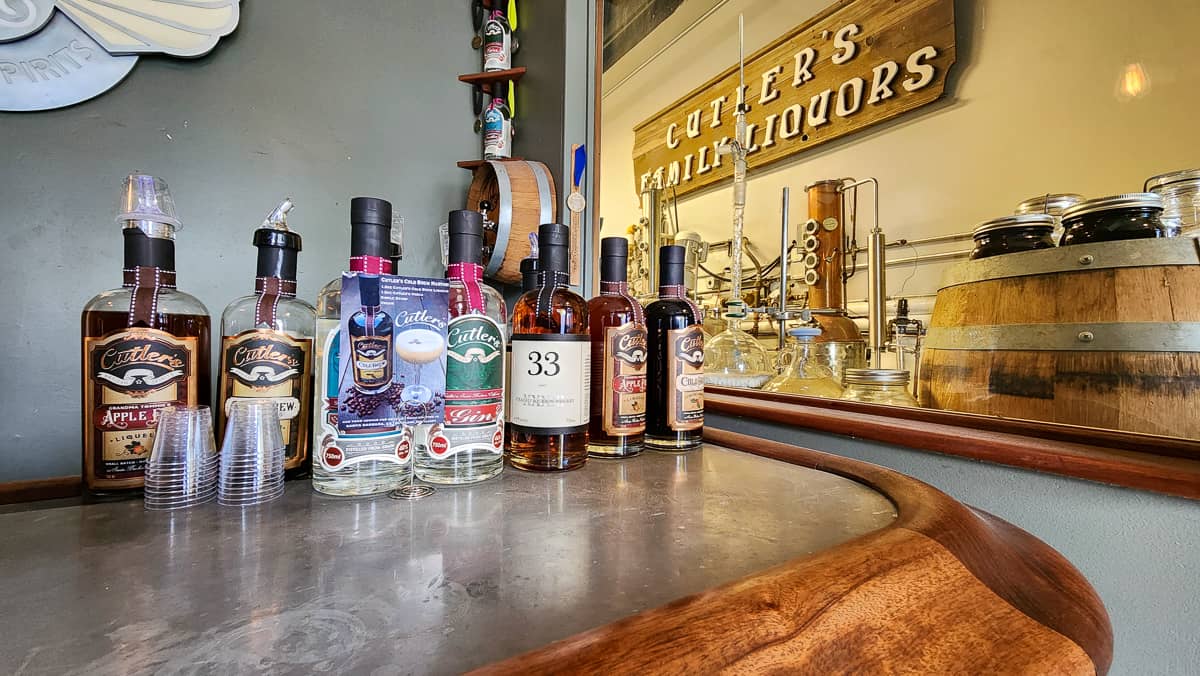 Hours: Sunday – Thursday 12:30 PM – 6 PM

Friday – Saturday 12:30 PM – 9 PM

Food Available: No
Cutler's Artisan Spirits is a craft distillery located in the Funk Zone of Santa Barbara, CA. The distillery produces a variety of spirits, including gin, vodka, whiskey, and brandy, all made in-house with locally sourced ingredients.
The first thing that caught our eyes when we walked into Cutler's was the beautiful copper stills that were on display. The tasting room is cozy and intimate, with a rustic and industrial decor that adds to the overall ambiance.
You can try a flight of their spirits for a reasonable price or if you aren't in the mood for straight liquor, they have a variety of craft cocktails as well.
When we visited, we opted to split a flight and a cocktail. In the flight, we tried the Vodka, Gin, Stagecoach Whiskey, Bourbon, and the Apple Pie Liqueur.
For the cocktail, we selected their Cold Brew Martini which was made with their Vodka, their Cold Brew Liqueur, simple syrup, vanilla extract, and cream.
Loquinta Santa Barbara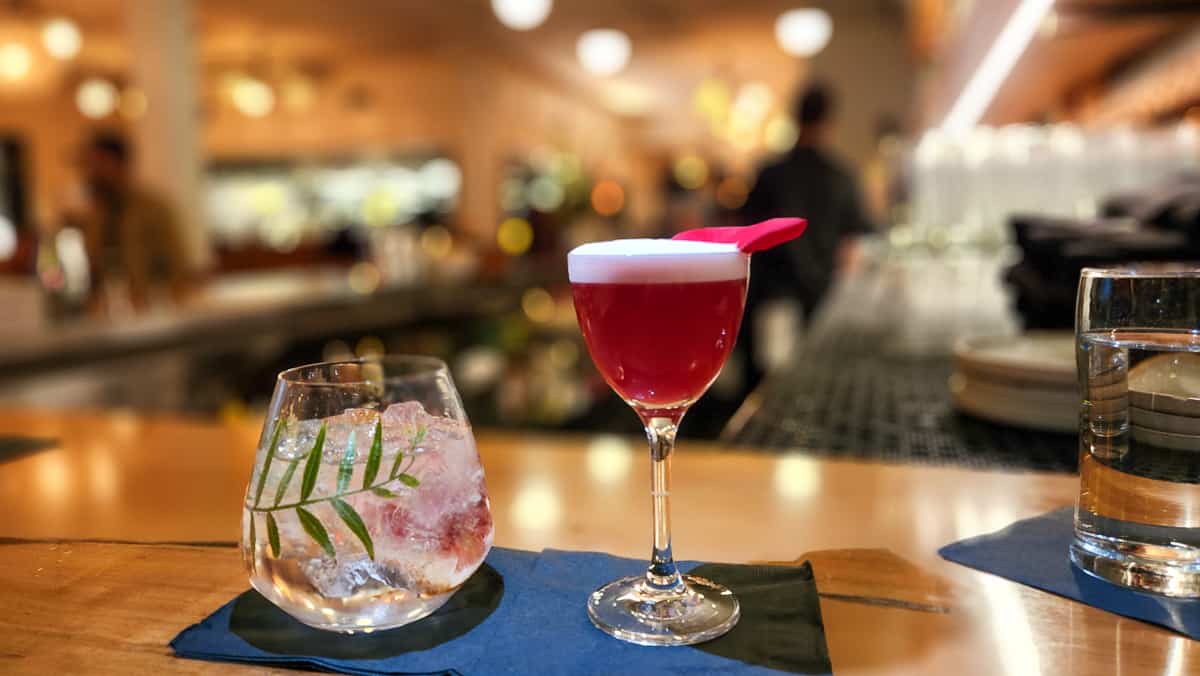 Hours: Sunday-Thursday 5 PM – 9 PM

Friday-Saturday 5 PM – 10 PM

Food Available:
Loquita offers a genuine Spanish culinary experience with its variety of hot and cold tapas, grilled seafood and meats, and seasonal paella.
Their menu is inspired by the bold flavors of Spain and the Mediterranean, with a focus on fresh ingredients and vibrant spices. From the moment we took our first bites, we knew we were in for a culinary adventure.
The locally sourced produce, meats, and seafood blend well with the Mediterranean climate and terroir of Santa Barbara County, which shares similarities with Spain.
The restaurant's wine list mainly features Spanish wines (a few local wines available) that complement the food well. Loquita's cocktail list offers a range of Spanish vermouths, hand-crafted cocktails, and a rotating selection of Spain's signature drink, the Gin Tonic.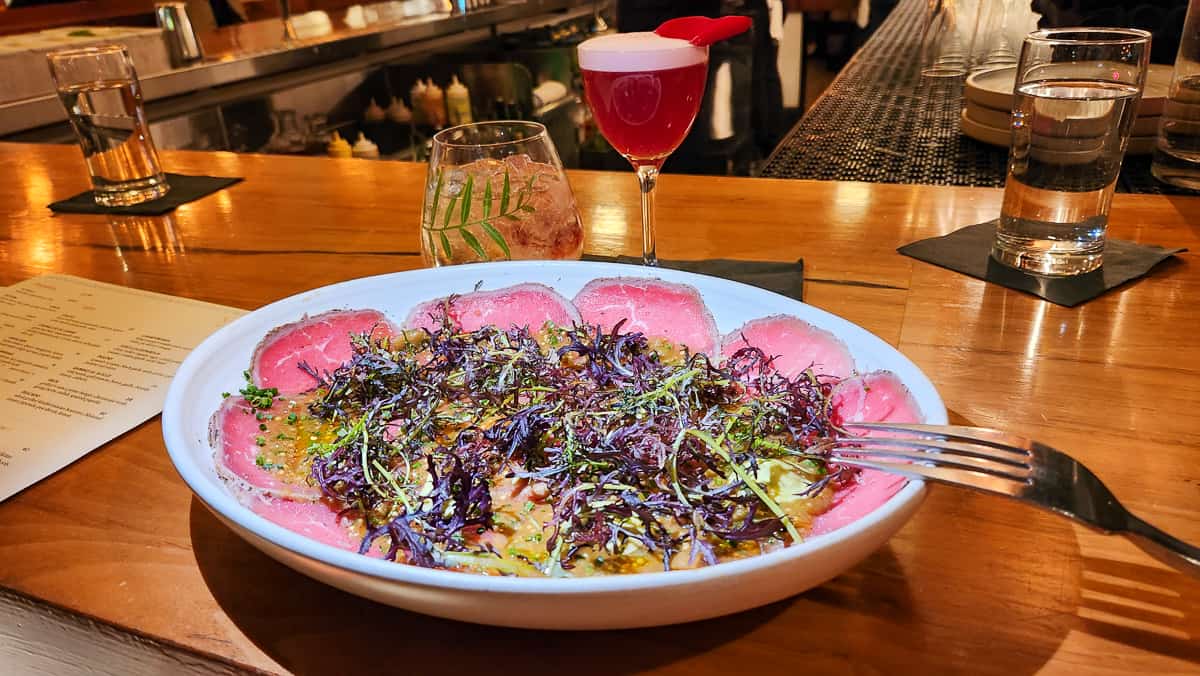 In true tapas style, we ordered a few different dishes to split. First up was the Carpaccio de Carne: grass fed beef, manzanilla olive, pickled mustard seed, 12 year sherry vinegar, and arbequina olive oil. This dish literally melted in your mouth and was so light but exploded with flavor.
Wanting to balance out the meat with carbs, we ordered the Patatas Bravas: yukon gold potatoes, brava sauce, hot pimentón emulsion, roasted garlic aioli, and parsley. Imagine breakfast potato wedges, but 1000% better. The outsides were crispy and the potatoes were perfectly cooked inside.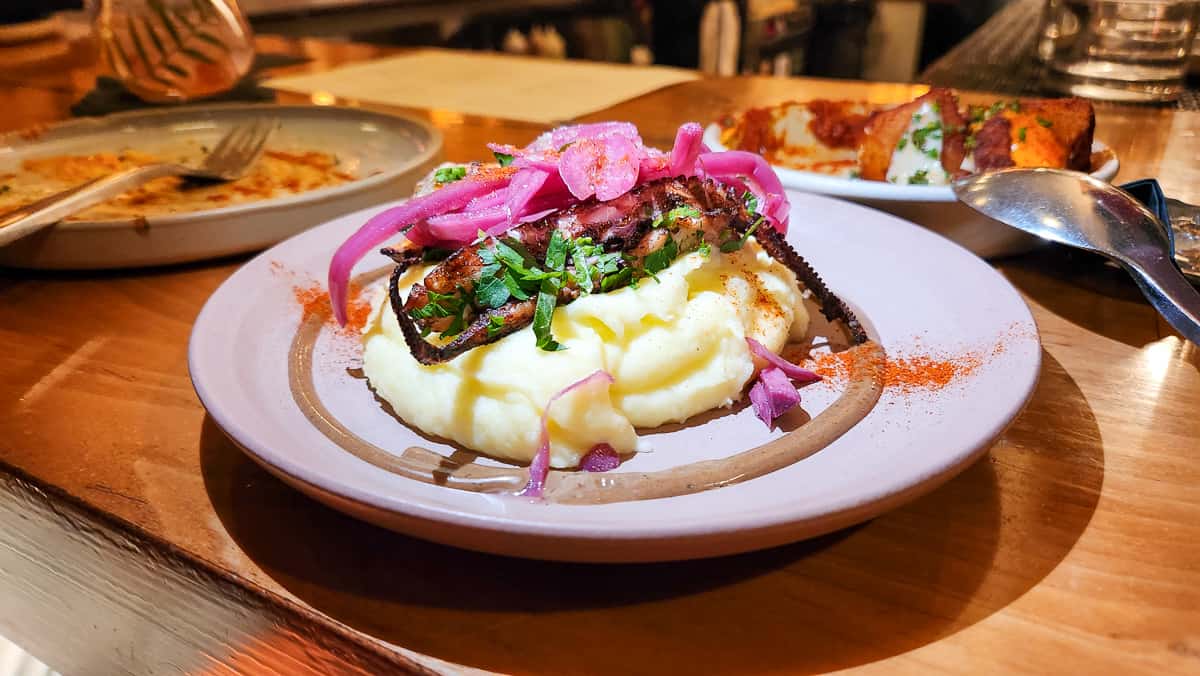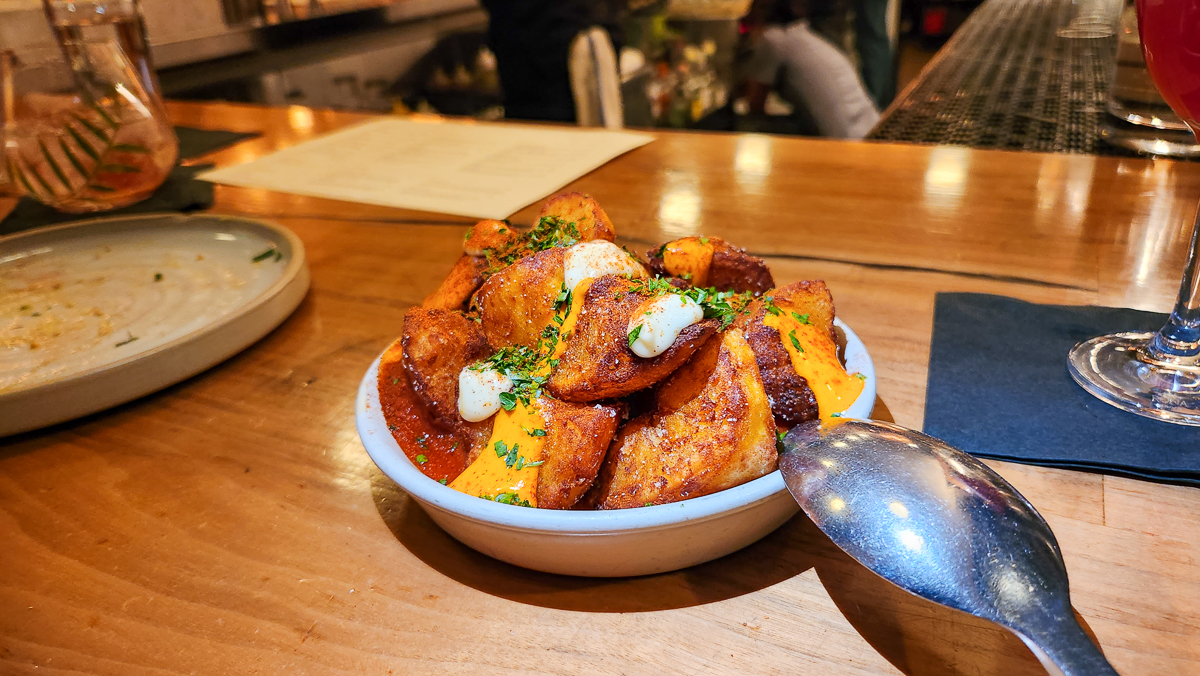 We ended our night with the Pulpo: spanish octopus, manzanilla olivada, spring pippirana, and piquillo pepper emulsion. We're not typically big fans of octopus being served this way, but we both cleaned the plate. It was that good.
One thing we missed ordering was the Paella. Paella is a classic Spanish dish that's notoriously difficult to get right, but Loquita is known for theirs. If you do order it, you'll need to get some additional plates as it takes over 40 minutes to prepare.
Shaker Mill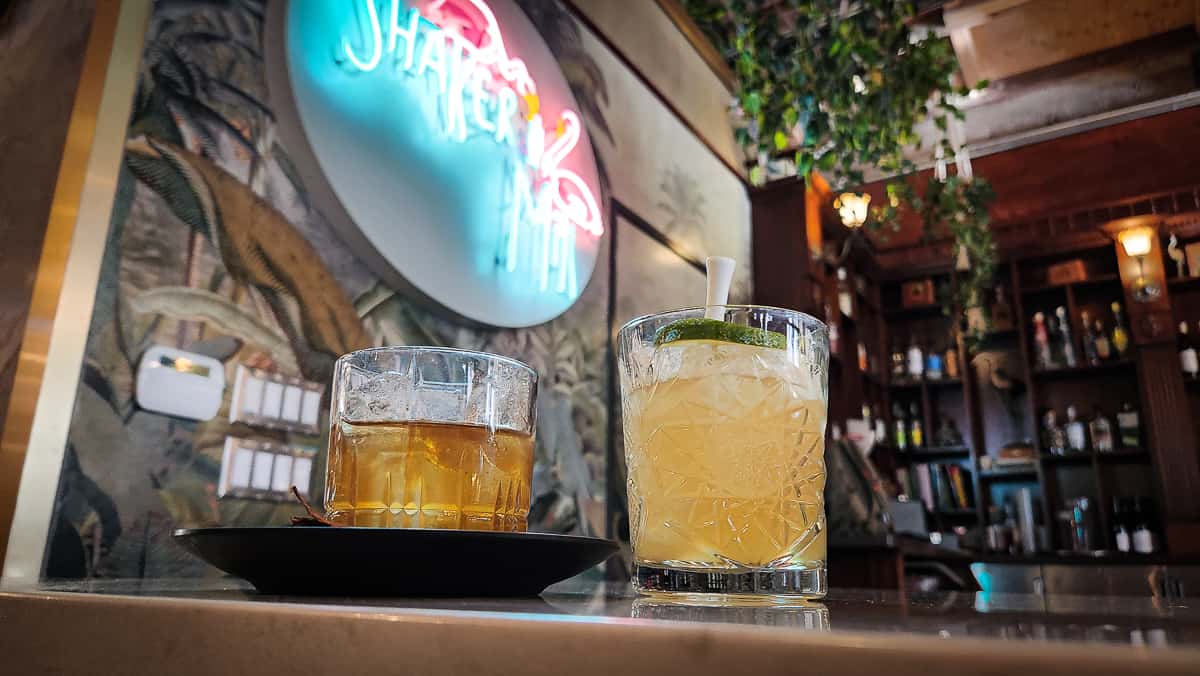 Hours: 7 Days a Week 11:30 AM – 1 AM
Food Available: Yes
Tucked inside a shared space about a 5-minute walk from The Funk Zone, Shaker Mill is a craft cocktail bar serving up an eclectic menu. From fizzy and sours to punches and classics, each cocktail is a fusion inspired drink for the senses to mull over.
Chris sipped the Cigar Box, a spirit forward mezcal / cognac cocktail that was a nod to The Roosevelt Room (one of our absolute favorite cocktail bars in Austin, TX).
Sam chose the Florida Man, a bourbon based concoction with a citrus blend that was perfectly balanced with a minor tart finish.
If you are feeling hungry, Shaker Mill shares the space with Broad Street Oyster Company.
Location Suggestions we didn't get to:
While we only spent a weekend in Santa Barbara, we were given literally a dozen suggestions from locals everywhere we went. These are the bars and restaurants we missed, but can't wait to visit to experience for ourselves.
Lama Dog Tap Room + Bottle Shop
Mony's Mexican Food
Flor De Maiz
Rodeo Room
Aperitivo
The Palace Grill
Third Window Brewing
Villa Wine Bar and Kitchen
Bibi Ji
Press Room
The Good Lion
Secret Bao
Santa Barbara is a must-visit destination for anyone looking to escape the hustle and bustle of everyday life and indulge in some relaxation, good food, and great drinks.
With its stunning beaches, world-class restaurants, and delicious vineyards, there's so much to explore in this beautiful coastal town.
So why not plan your next weekend getaway to this beautiful city and experience all that it has to offer?
Looking for more California info? Browse all our California Travel Guides here or check out these top post: