Austin breweries, wineries and bars you can't miss on a weekend visit
If you are visiting Austin, there are several Austin breweries, wineries and bars you must add to your list!
Austin is quickly becoming the favorite city in Texas and it's easy to see why – great food, live music, and an incredible local booze scene.
We've been to Austin a few times now, so we know it's initially hard to know where to start. Whether you are into beer, wine, or spirits, this guide will cover all of our favorite places (and some popular ones) to help you support local booze businesses.
Psst: Needing more Texas content? Check out our other posts!
**Boozing Abroad contains affiliate links throughout the site. If you choose to purchase items through these links, we will earn a small commission at NO extra cost to you. Read the full disclosure policy here**
Map of Austin breweries, wineries, and distilleries
Click the interactive map below!
HOW TO USE THIS MAP: To view the layers and see the names of the places on this map, click the tab in the top left corner. You can select the check marks to show or hide certain layers. If you select the icons on the map, you will get more information about the point of interest.
HOW TO SAVE THIS MAP: If you select the star icon next to the map name, you can save this map to your Google Maps account. To view it, open Google Maps in desktop or on your phone, select the menu button, go to "Your Places," scroll to the right to Maps, and you will see this map.
Pinthouse Brewing and Pizza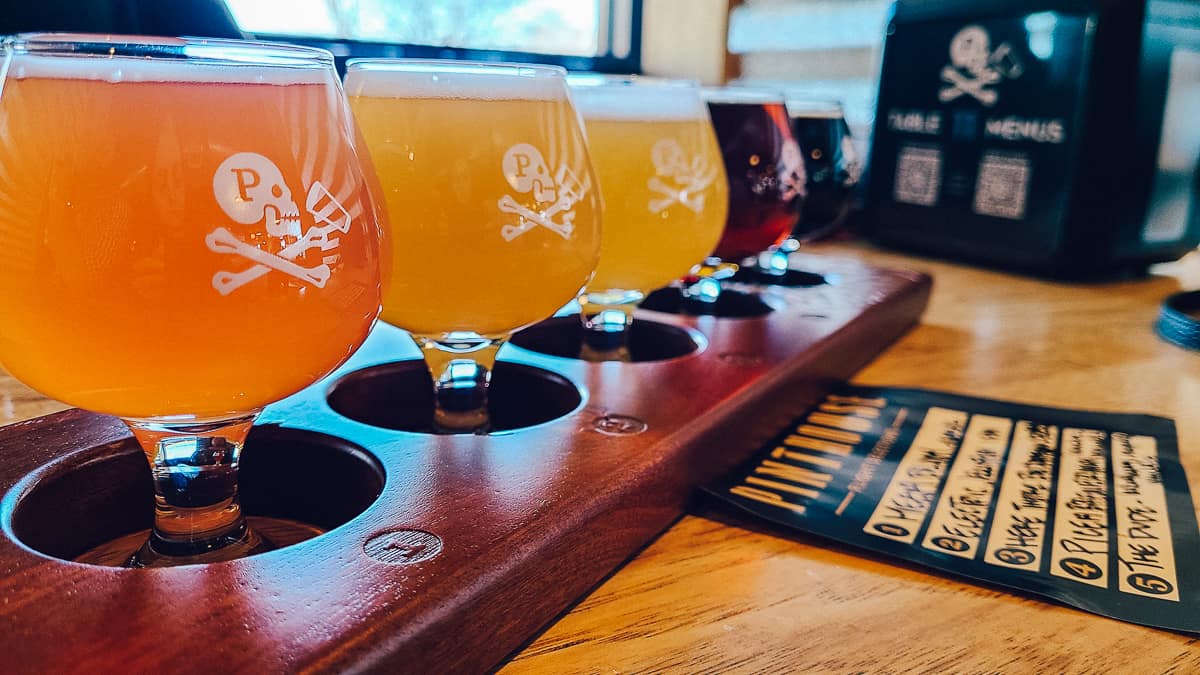 Have a hankering for pizza and beer? Pinthouse Brewing and Pizza has multiple locations throughout Austin to satisfy that hankering, all at the same time.
We only visited the Lamar Blvd location, and its open beer hall-style layout, complete with large communal tables and benches, is a great starting point for hopping around south of the city.
Feeling indecisive about their list of specialty pizzas? Create your own or alter any specialty pizza to your liking. We suggest the Shroomin' Goat (mushroom and goat cheese) or the Ohh La La (pepperoni, spicy honey, and peppers).
As for the beer, ask any local for one of their favorite beers from the Austin breweries and they will probably suggest Pinthouse's Electric Jellyfish hazy IPA. But be sure to venture out and try something else too, like The Dude imperial stout or the Megabloom sour, all made in-house.
Whether you're here for a slice and a pint or a pie and a flight, there's a wide variety of both pizzas and craft beer styles to satiate your appetite.
Easy Tiger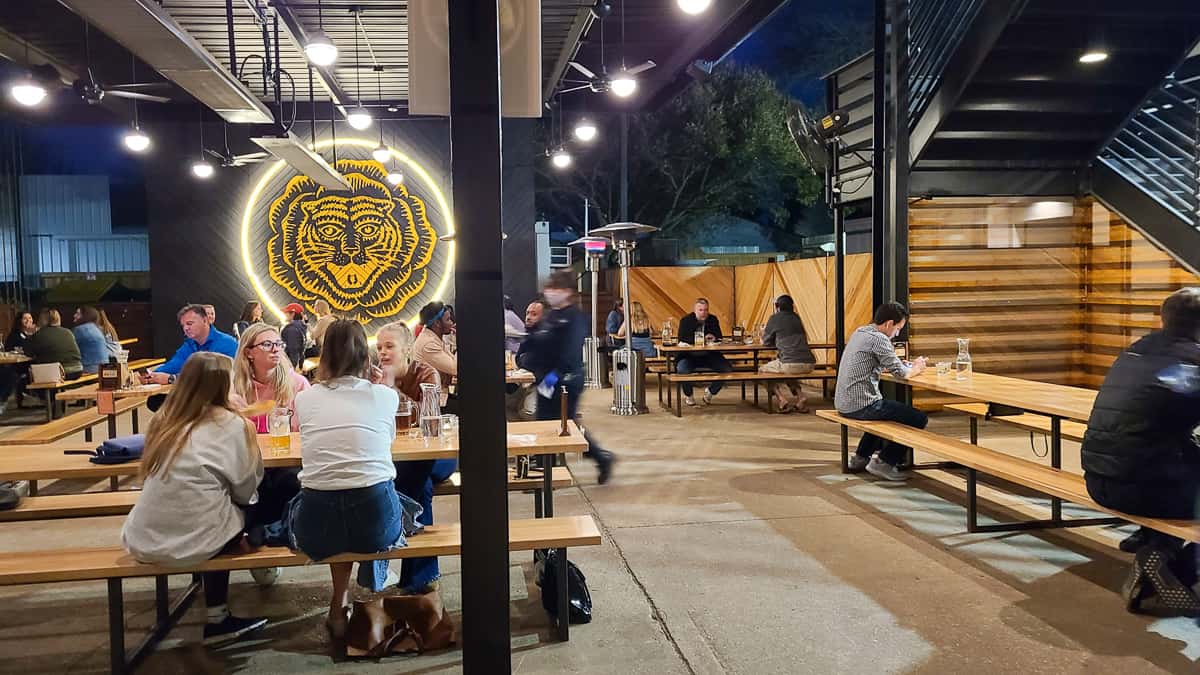 In the hustle and bustle of everyday America, rarely do you find a place to "Slow down, stay awhile." But that's exactly what Easy Tiger does.
They'll keep you happy from morning till night as they also double as a bake shop in addition to the popular beer garden, which has been named one of the best beer gardens by Food & Wine Magazine.
While we didn't visit the original 6th Street location, we visited their large outdoor beer garden just south of Austin and really enjoyed the easy-going atmosphere which still featured several beers from many of the awesome Austin breweries.
You might say, they're gr-r-reat!
Blue Owl Brewing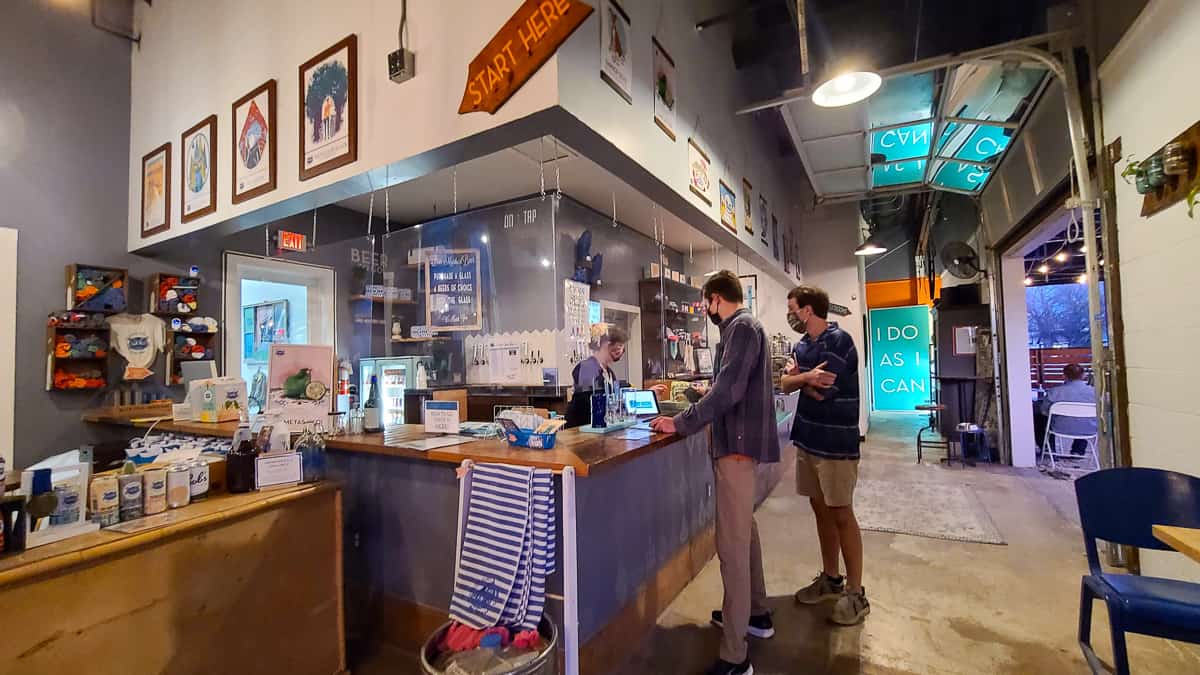 During our travels, we've come across several places that we've called "Sour Heaven" due to the number of sours available.
But Austin's Blue Owl Brewing might actually sit at the heavenly gates of Sour Land. Everything they make is sour. Literally.
Sour wheat ales, sour red ales, sour IPA's, sour hazy's, sour stouts, sour scotch ales. Think of a beer, make it sour, and it's probably here.
The sours are all unique, yet approachable, which can be uncommon in the sour beer world. It's about complementing the beer, not overpowering your taste buds.
If sours just aren't your thing, they do actually have two non-sour beers: a Pilsner and a hazy IPA called "What Do You Have That's Not Sour".
Due to zoning restrictions, Blue Owl has to sell you a take-home logoed glass for a big price tag (starting at $18), but that glass also comes with 4 full beers of your choice. It actually works out pretty well price-wise.
Grab a glass, pucker up, and enjoy!
Jester King Brewing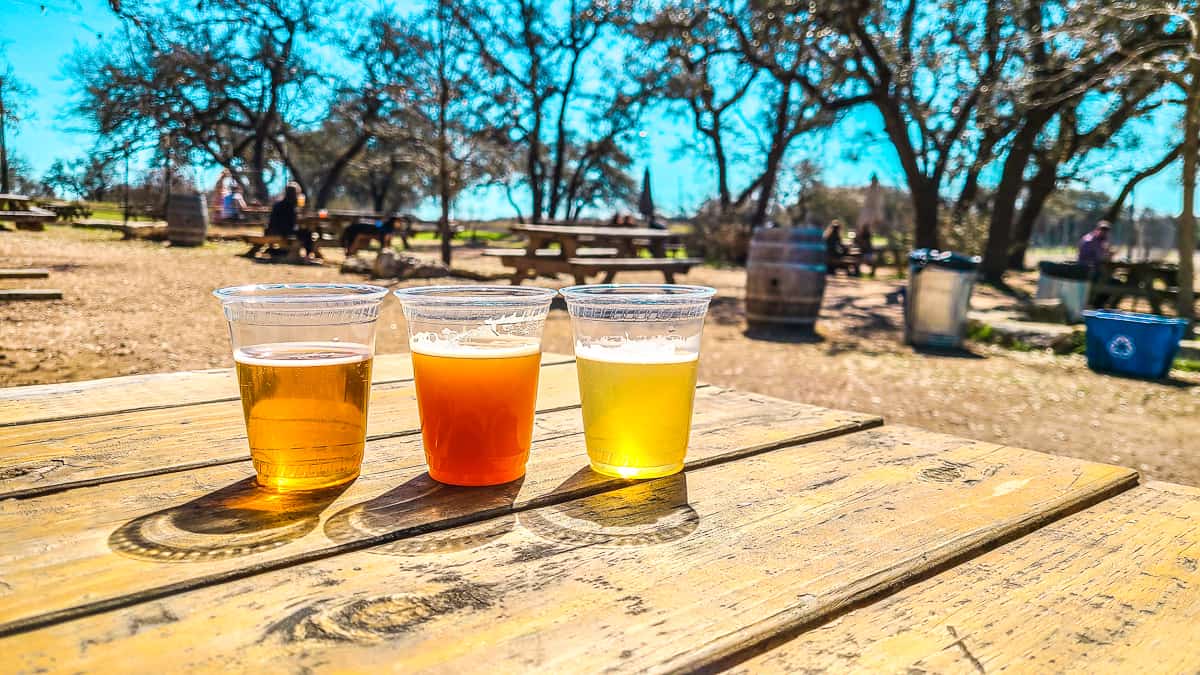 Have you ever built up a place in your mind that when you visit, your expectations were too high and you were let down? We'll be honest…this happened to us with Jester King.
If you're into the craft beer scene, Jester King has a cult-like following and is known for their unique beers that are unlike any other you'll find. Crafting small batch brews, they have a massive selection of beers to pick from or take home to savor.
With that being said, we had VERY high expectations of this place and in hindsight, we put them on an unfairly hard-to-reach pedestal, leaving us a bit disappointed. So, if you are going to go and think that this is your beer pilgrimage to the motherland, maybe temper those expectations a bit.
The major downside for us was they had fixed flights and if you wanted to try them all, your only option was a pint, which ranged between $7-15 a pour. While they were offering samples, we didn't want to be those people, who tasted all of the beers on draft.
Overall, the grounds are spectacular! Complete with a farmhouse brewery, beer hall, pizza kitchen, and hiking trails, there is no shortage of things to take in, whether it be beer, food, or scenery.
The majority of their beers are inspired by European farmhouse styles which ultimately leads to the funky flavors during the fermentation process. There really aren't any "mainstays" so each time you go, you can experience a new brew, such as:
Liquid Bake Sale

(

Babka-Inspired Imperial Stout with Brioche, Vanilla, Cacao Nibs & Milk Sugar)

Figlet

(collaboration with Franklin Barbecue – a farmhouse ale with smoked figs)

Provenance Blood Orange

(Farmhouse ale fermented with 800 pounds of hand-juiced and zested Texas-grown Blood Oranges and Sunburst Tangerines. Dry-hopped with Ekuanot, Loral, and Sabro hops)
We want you to know that it is a really cool experience and given the right mindset, you will enjoy your time here. We grabbed a beer and walked around the grounds on a hiking trail which was absolutely amazing to do.
We don't want to discourage you from going because it was a really awesome spot. Their beers are the most unique-with-strange-flavor combos that will delight and confuse your senses. You'll just have to go for yourself and find out!
St. Elmo Brewing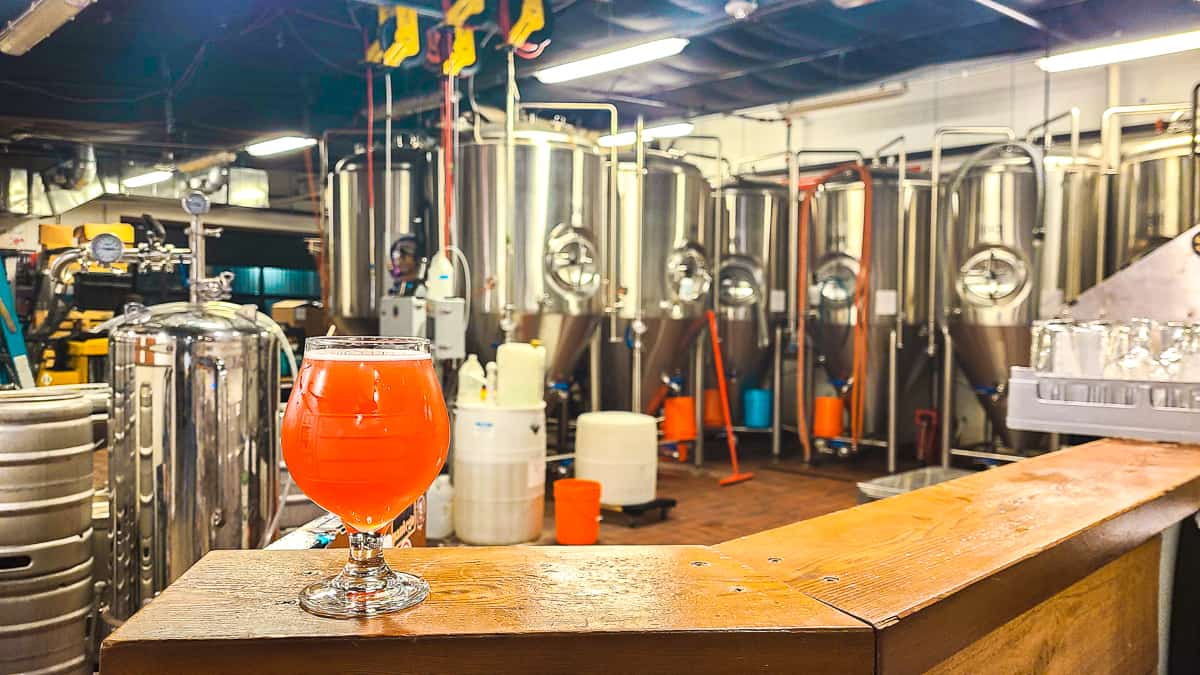 Located on the same strip as Austin Winery and Texas Sake (keep reading for those), St. Elmo Brewing has a cute and quirky taproom offering a wide variety of familiar beer styles. From pilsner and kölsch to IPA's and sours, St. Elmo strives to create beer that brings people together.
While they like to keep it simple with their beers, they have found a way to craft some delicious brews and combine their love of the great outdoors with a Hiking League.
Also on site is a permanent (and delicious) food truck, Spicy Boys, serving up yummy Thai fried chicken and some other Thai favorites.
Zilker Brewing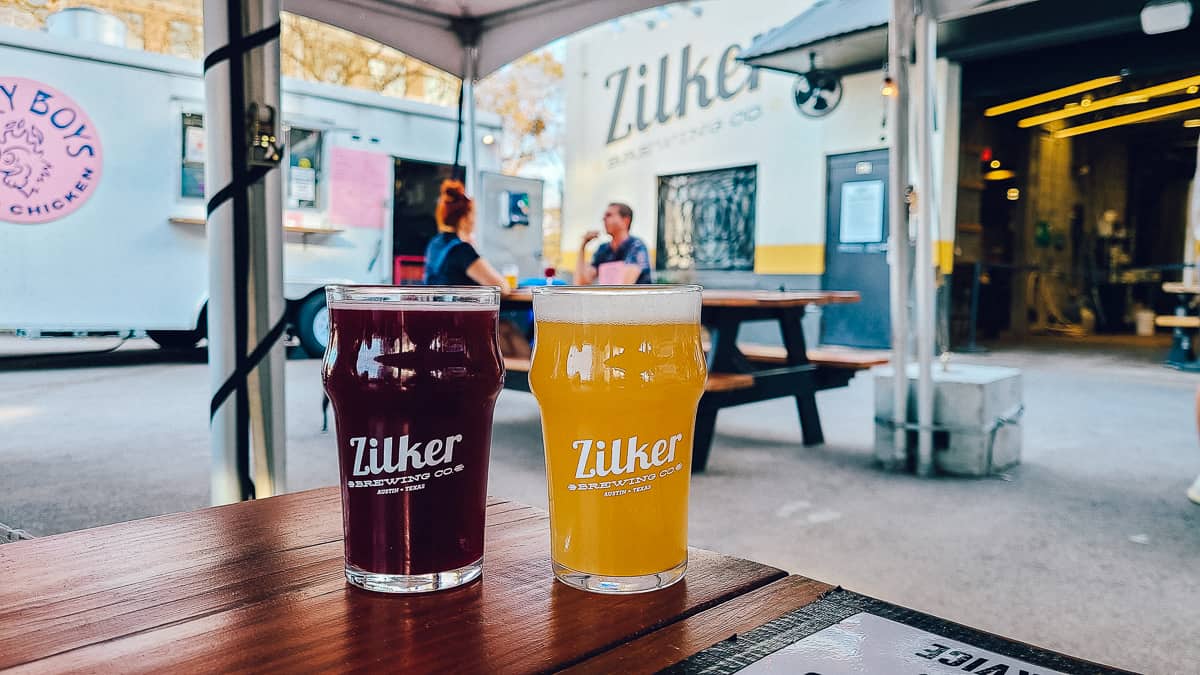 Zilker Brewing started as a passion project in a garage in 2008 when three friends decided to start brewing beer. Fast forward to 2015, they quit their full-time jobs and upgraded their garage to a brewery and taproom.
Located on the east side of Austin, Zilker is a great spot to grab a pint of their Parks & Rec pale ale or the Heavenly Daze hazy IPA.
And if you didn't get your fix of Spicy Boys fried chicken at St. Elmo, there is also an on-site Spicy Boys location at Zilker. You can even wash down your chicken with Icy Boys, a rice lager made in collaboration with the food truck.
Lazarus Brewing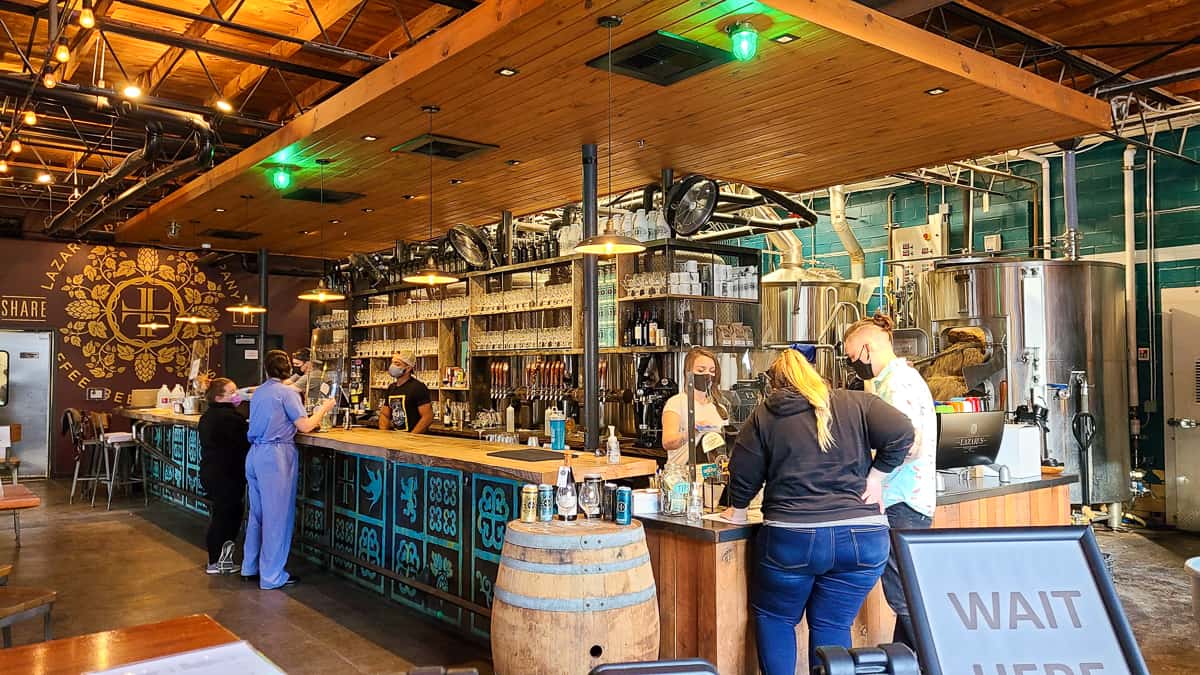 Beer. Tacos. Coffee. Need we say more?
Lazarus Brewing is a fun and funky spot to grab a beer with big flavors with a super unique backstory involving a pastor, a garden, and Montana. Don't worry, this is not the beginning of a bad joke.
You see, a pastor initially planted some hops in his garden and then used these hops to homebrew beer because he thought that beer, in addition to bringing cheer to our hearts, can be a "force for great good."
In 2010, wanting to help people in need, the yet-to-be-born Lazarus Brewing partnered with Montana's largest brewery in Missoula, Big Sky Brewing, to brew All Souls Ale, an 11% knockout that ultimately sprouted the idea for a brewery of their own.
Specializing in small batches of bold flavors, this cozy taproom offers three of life's most essential things: beer, tacos, and coffee. Regardless of which one brings you in, you'll find transcendence…or at the very least enjoy a yummy treat. If your tummy is feeling hol(e)y…wink, wink…you can go for the Holy Trinity and get all three.
The Roosevelt Room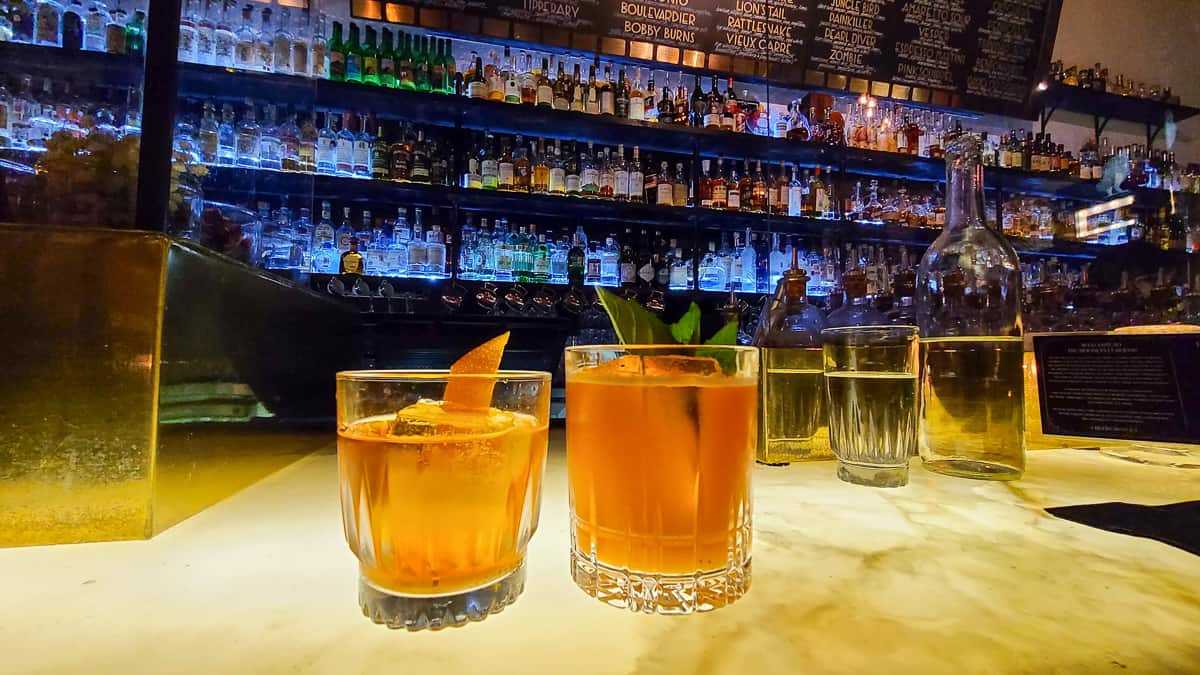 Without a doubt, this is the number one spot we recommend visiting in Austin if you like craft cocktails. The Roosevelt Room is an award-winning cocktail bar and the entire experience is the bomb.
From walking through the door, you will be greeted in a small lobby and escorted through a large curtain into a retro 1920s-themed cocktail lounge. In addition to the dozens of cocktails to pick from, reserve yourself a seat at the bar for a full on show in cocktail-making art.
If you have a favorite type of drink, i.e. whiskey sour, gin & tonic, or piña colada, tell the bartender what you like and they can recommend something off the menu to try. We both now have new favorite drinks to add to our list when we go out.
Also of note is the massive drink board above the bar. The coolest thing is that they've taken drinks from throughout history and broken them down by time period. Rumor has it, if you drink every single drink on the board (53 in total), they'll name a drink after you. If we were locals, you better believe we'd have this as a goal!
Happy hour features some of their classic cocktails for $8 and there is a discount for beer and wine (although we really don't suggest ordering either here). To complement your drink, they have a small selection of snacks ranging from caramelized nuts and salads to cheese boards and desserts.
Given our awesome experience here, we will go back to The Roosevelt Room the next time we are in Austin!
Still Austin Whiskey Co.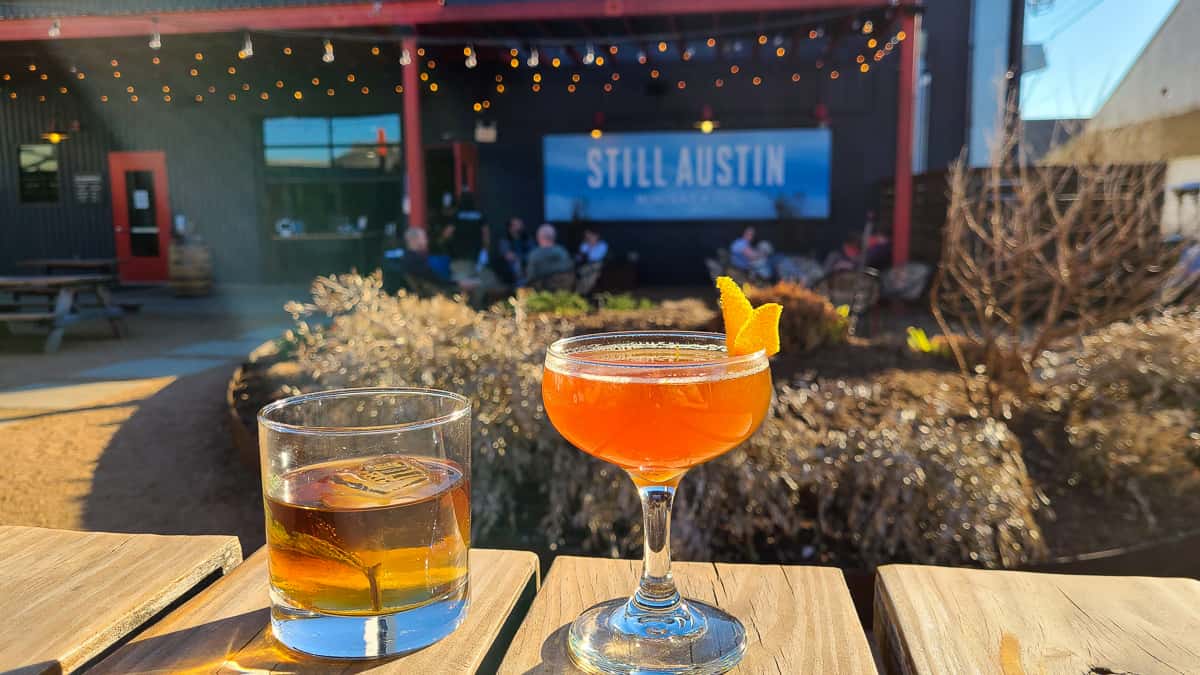 Anything named after a movie called "Attack of the 50-Foot Woman" is worth a visit. And when it's booze that you're visiting for, it's a no-brainer.
Nancy, a 42-foot high still, is the main attraction at Still Austin Whiskey Co., which produces bourbon whiskey, rye whiskey, and gin.
And if 42 feet sounds big for a still, it is. It's also the only still in the US to be built by Scottish stillmakers, and in case you didn't know, the Scots know their whisk(e)y.
We had the New Fashioned cocktail, with chocolate bitters, lemon, and mint, and the Figgy Smalls with fig jam, vermouth, and plum bitters. Both delicious!
There's a large outdoor courtyard, complete with The Bearded Baking Company food truck, which shouldn't be missed.
Pearl's Taters were a perfect salty and slightly spicy snack to go along with our whiskey drinks and the Fairly Gay C4 cookie was a perfect and delicious treat after a night of drinking (actually, we ate it during our night of drinking).
Texas Saké Co.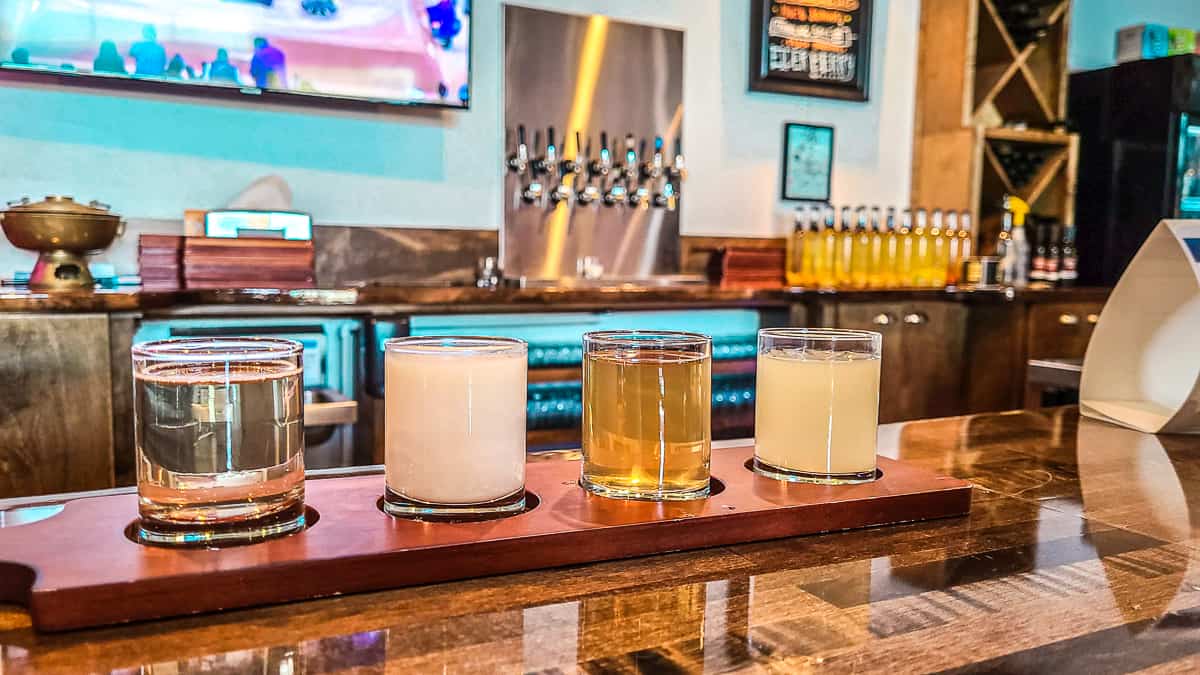 A Texas and Japanese fusion…"Kanpai Y'all!" (that's "Cheers, Y'all!", in case you didn't know).
That's right, Texas and Japanese. A saké company in the middle of Austin, Texas. A first in Texas, probably goes without saying.
As you might expect, saké is a beverage steeped in tradition and Texas Saké is following all of those traditions, while putting their own Texas twist on things.
You can get the traditional saké drink which is brewed with rice, water, yeast, and koji, which has been named Japan's national mold. Yeah, mold. But it's been a culinary staple in Asia for hundreds of years.
If you're not feeling traditional saké, they are also making sparkling saké and several different saké cocktails.
Try a flight if you're unsure and choose whether or not you want to join in on the "When I say saké…you say bomb" fun!
Oh, and bonus…there was sumo wrestling on the TV and those cute waving cats on the bar. Talk about tradition!
Austin Winery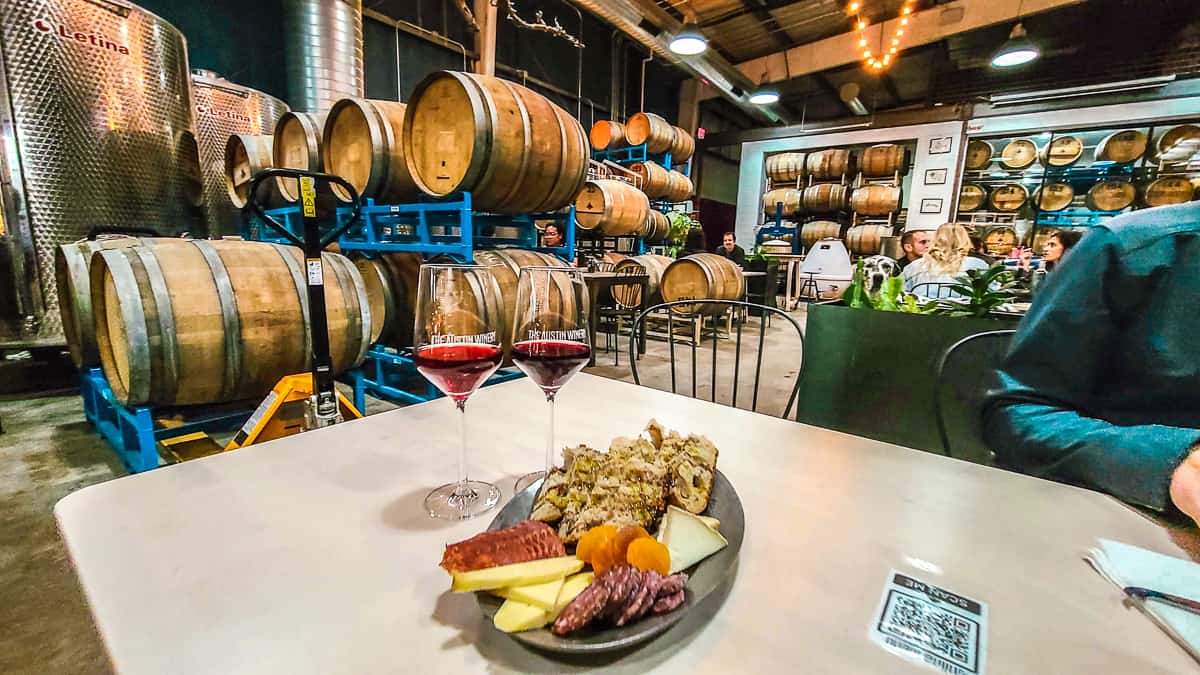 Believe it or not, there is a massive wine scene in Texas and Austin is no exception. While this winery doesn't have a sprawling landscape, Austin Winery is the first full production winery in the city limits.
Considered an "urban winery", they source their grapes from local Texas wineries and transport them to their production facility where they produce their wine.
If this is your first time at an urban winery, rest assured that the wine is just as delectable as drinking it at a vineyard.
Actually, it might be better because you don't have to drive too far or down a long, bumpy road to get it!
Their wine production facility is also home to their tasting room on Elmo Street and the atmosphere is an industrial chic environment surrounded by wine barrels and modern decor.
We opted to do a 3-pour tasting and rounded it out with a cheese and charcuterie board. Whether you are into whites, reds, rosés, or bubbles, you can pick your own tastings to be sure you get to try what you want.
We enjoyed all the wine, but ended up taking home a bottle of the Work Horse, a juicy Merlot – Petit Verdot blend.
Wanderlust Wine Co.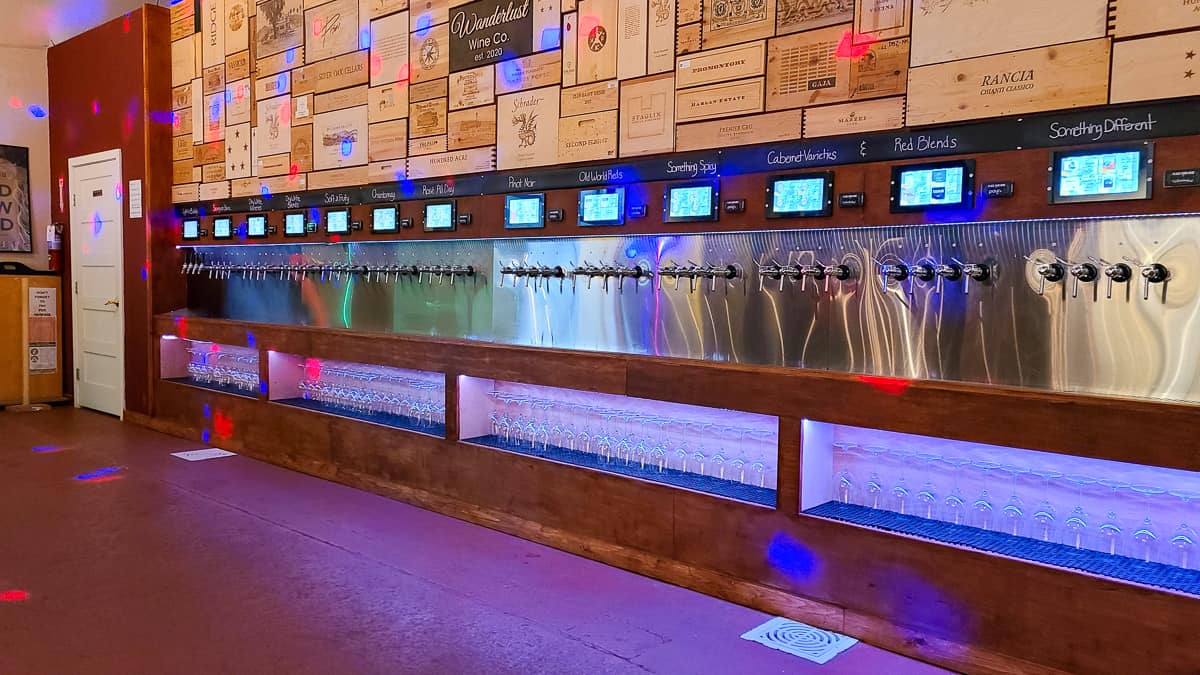 The name of this wine bar had our attention and boy, were we delighted with what we found.
Opening in March 2020 (talk about sh*tty timing), Wanderlust Wine Co is Austin's newest self-serve wine station. Encouraging you to travel the world through wine, you can try as many or few wines as you like using a charge card that is tied to your credit card (which is so dangerous once you start pouring).
We suggest putting a set limit on it – start with $20!
It's pretty simple how it works. Grab a wine glass and read about the different types of wine above the self-serving station, put your card in the slot and pour as much (or little) as you'd like!
With 56 wines on tap, you can really travel around the globe through your glass.
Have the wine munchies? They have The Heel of the Boot food truck parked out back that offers authentic southern Italian food which pairs perfectly with the yummy wines on tap. We tried the bruschetta which was stupidly delicious.
Overall Austin breweries, wineries, and distilleries
The Austin breweries, wineries, and distilleries offer something fun, different, and special for the boozy traveler.
So whether you're tapping your feet because the booze from the Austin breweries, wineries, and distilleries is getting to you or if it's just because you're in the Live Music Capital of the World, there is no shortage of delicious offerings in Texas's capital city.