6 awesome Wineries in Scottsdale, Arizona
If you haven't been paying attention to Arizona, it's quickly becoming a wine destination. There are 6 wineries in Scottsdale (a suburb of Phoenix) that will give you the opportunity to drink local without ever leaving the city.
While the physical vineyards of these Scottsdale wineries are mostly located in southeastern Arizona, these urban tasting rooms are a great option to explore the wine scene while exploring the big city.
Not only is the wine sensational, each stop has something a little bit different and unique which makes wine tasting in Scottsdale more fun!
We lived in the Phoenix area for over 2 months in 2023 and try to return yearly because we love it so much!
Short on Time? Here are the key takeaways:
Arizona has 3 wine regions with 6 tasting rooms in Scottsdale.
Our absolute favorite is Aridus Vineyards.
Make sure you download the Wine Trail Passport for bottle discounts.
Psst: Looking for more Arizona info? Browse all the guides here.
This post was originally published in December 2020, and was updated in September 2023.
**Boozing Abroad contains affiliate links throughout the site. If you choose to purchase items through these links, we will earn a small commission at NO extra cost to you. Read the full disclosure policy here**
Are there wineries in Scottsdale AZ?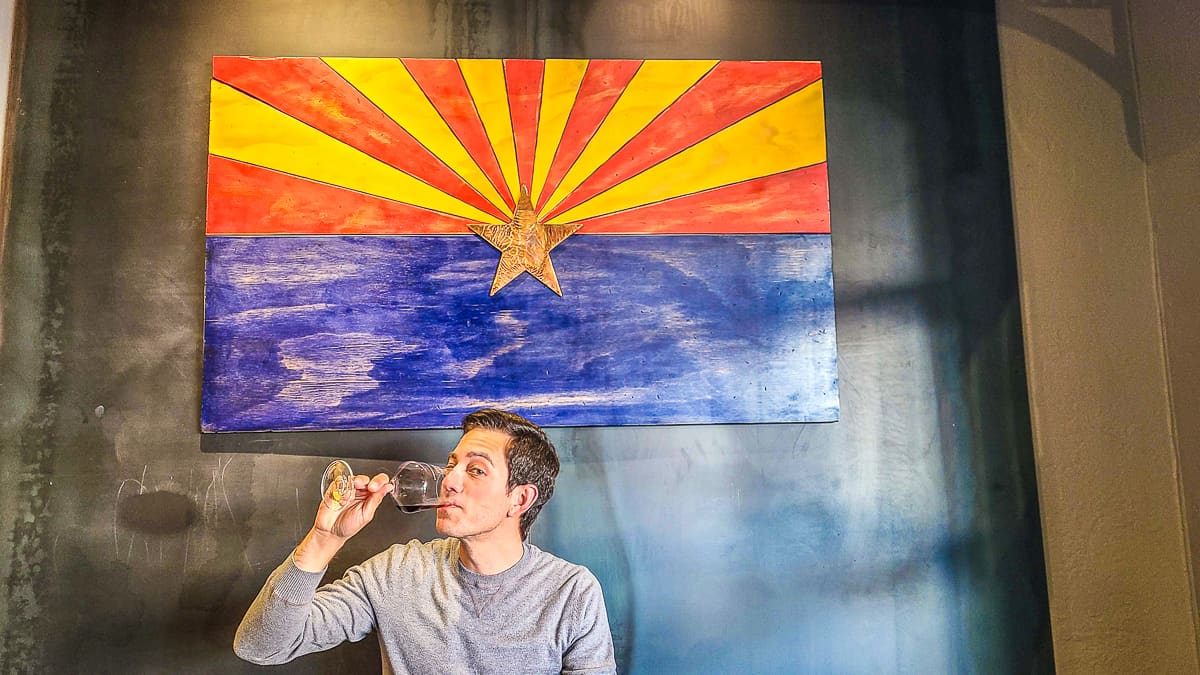 Yes! There are wineries in Scottsdale, AZ. There is even a Scottsdale Wine Trail to plan your visit.
Scottsdale Wine Trail
While we did this winery-hopping before we found the Scottsdale Wine Trail, it lays out the path to take rather perfectly.
HOW TO USE THIS MAP: To view the layers and see the names of the places on this map, click the tab in the top left corner. You can select the check marks to show or hide certain layers. If you select the icons on the map, you will get more information about the point of interest.
HOW TO SAVE THIS MAP: If you select the star icon next to the map name, you can save this map to your Google Maps account. To view it, open Google Maps in desktop or on your phone, select the menu button, go to "Your Places," scroll to the right to Maps, and you will see this map.
Arizona Wine Trail Passport
Visit Arizona offers the Arizona Wine Trail Passport. It's free to join and the best part is, it's exclusively on your mobile. No paper passports needed.
Once you sign up, you'll receive a text to access your info. The biggest advantage to signing up is some wineries offer 10% off a bottle purchase.
While there aren't guaranteed prizes, you can check in at different wineries locations to potentially win a shirt, wine glasses, wine gadgets and more.
1 – Merkin Vineyards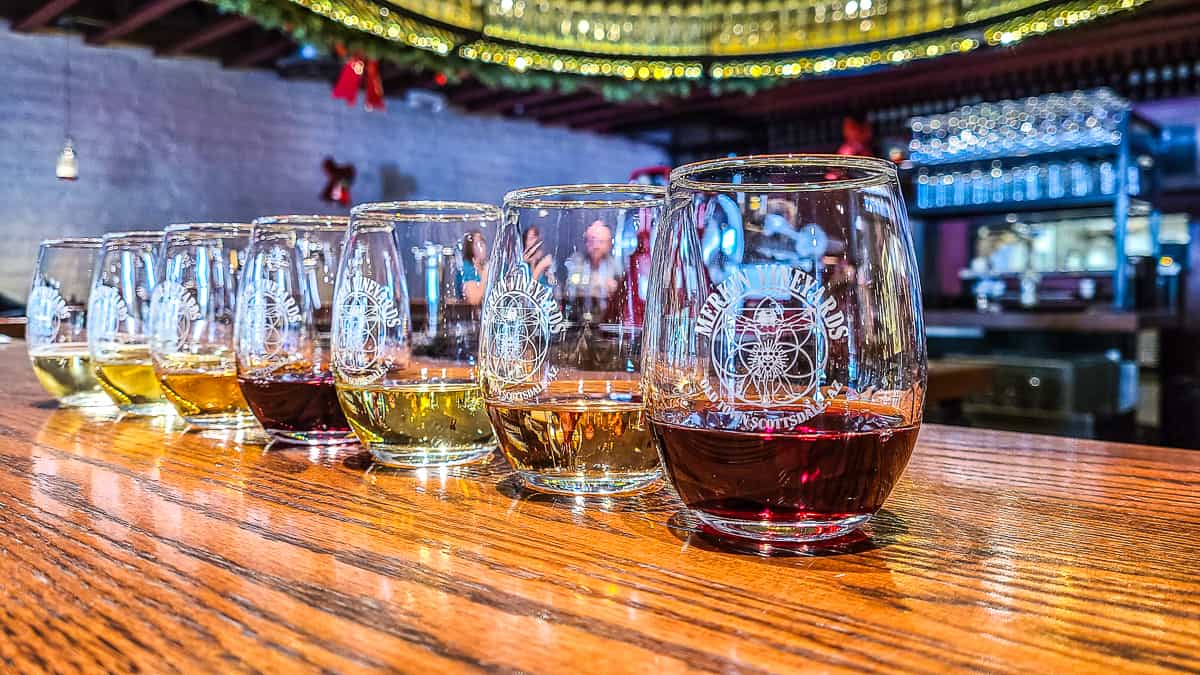 Hours:

7 days a week

Food Available: Yes
You may recognize the Merkin Vineyards name from our time in Cottonwood as that is where this winery brand got its start alongside big sibling Caduceus Cellars.
Because of this relationship, Merkin is one of the more well-known wineries in Scottsdale.
The Old Town Scottsdale location of Merkin strives to meet their mission of "Our Farm to Your Table. Our Vines to Your Glass."
The wines are all made with grapes from their estate vineyards in Willcox and the Verde Valley and they source much of the food ingredients from Arizona farms and businesses.
It's a true Arizona experience when you come here!
In addition to the Old Town Scottsdale location, there is also a location in Old Town Cottonwood.
And while you can try most of the different brands (Caduceus, Merkin, Four Eight Wineworks) at any of the locations, we'd recommend focusing on the Merkin options here as there are 3 different wine programs to choose from.
The Chupacabra line is produced using French varieties, the Shinola is the Italian varieties, and the Tarzan/Jane is the Spanish/Iberian varieties.
Grab a flight of each and make your decision for which country's varieties result in the best wine!
2 – LDV Winery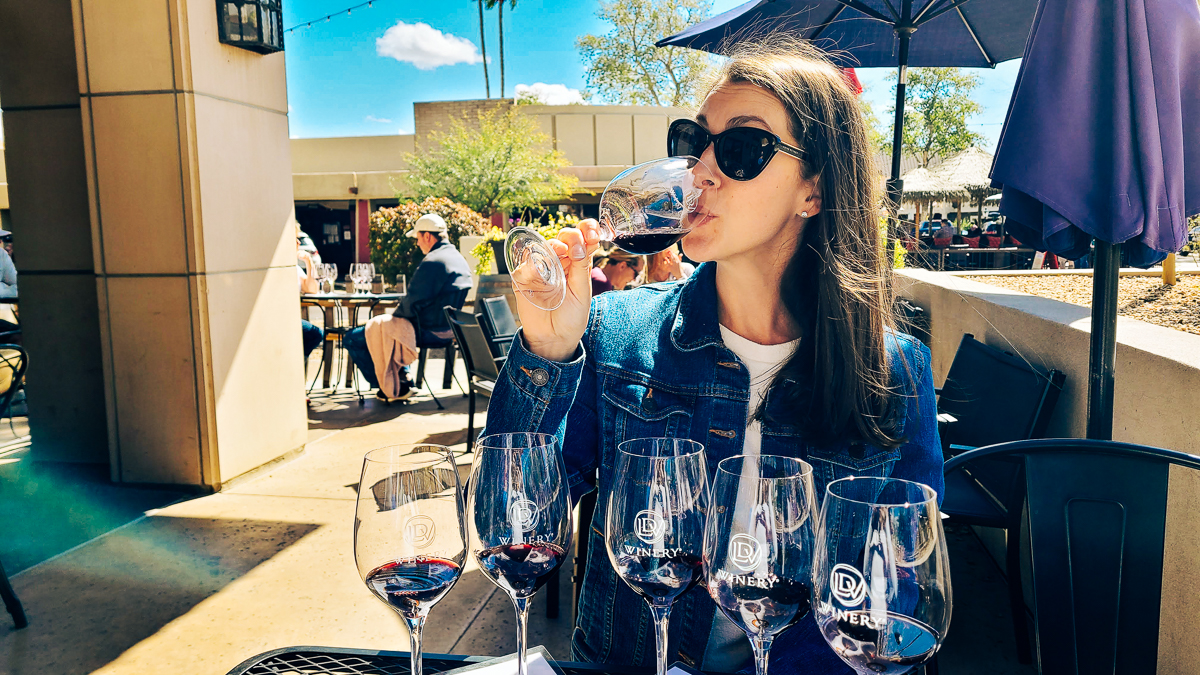 Hours:

7 days a week

Food Available: No
The LDV Winery tasting room is located directly across the street from Merkin, making your winery-hopping super easy.
This comfy and cozy tasting room offers wine by the glass or flights.
For your tasting flight, you can choose from the Taste of LDV ($12 for four estate-grown grape varieties) or the Premium LDV Red Wines ($16 for some of their more premium estate-grown red wines).
Their list of wines includes some Viogniers, a Rosé, and red wines including several Syrahs, Petite Sirahs, Grenaches, and blends of the three.
Their actual winery is located in the Chiricahua Mountain foothills near Willcox in southeastern Arizona and all of their wines are made using estate-grown grapes.
There is a large outdoor seating area, so grab a glass and enjoy watching people stroll by in Old Town Scottsdale.
3 – Salvatore Vineyards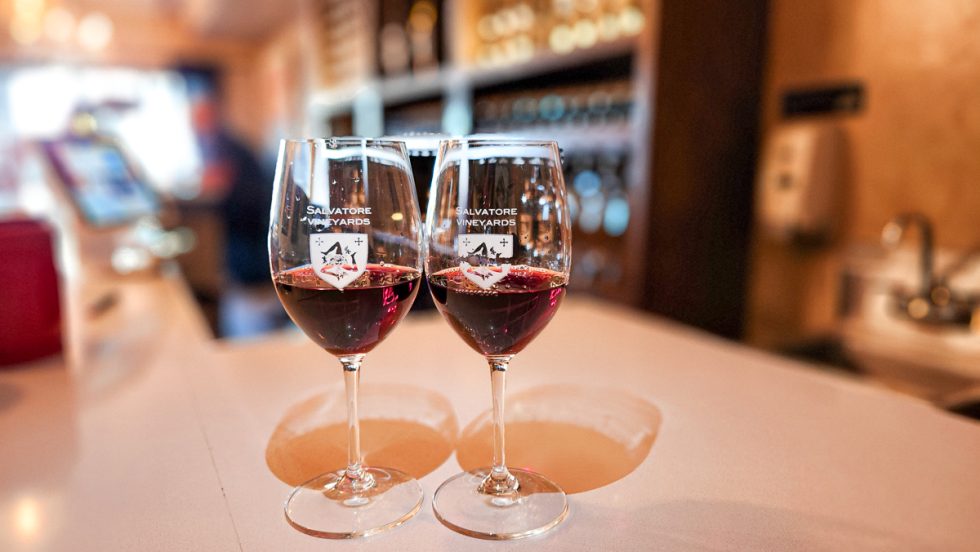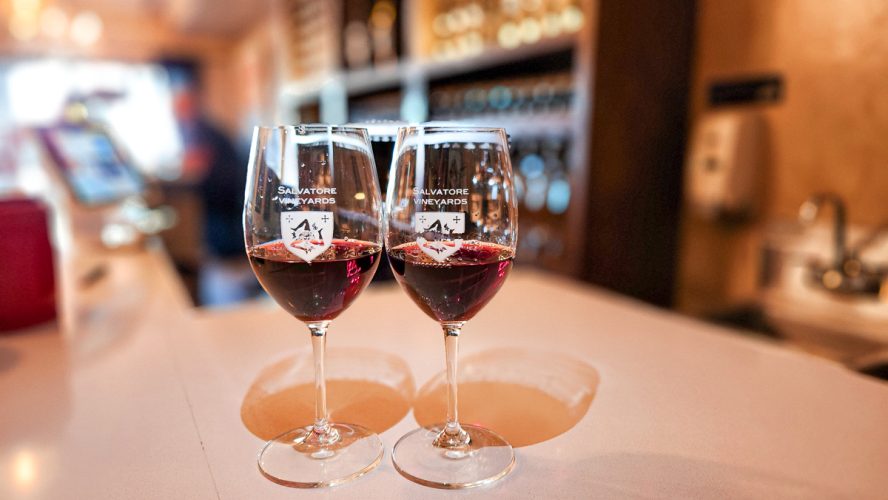 Hours:

7 days a week

Food Available: No
Salvatore Vineyards is located in the lively Old Town Scottsdale area and is the big brother of Passion Cellars and Cabal Cellars of Willcox and Jerome, respectively.
The Salvatore line of wine is all of the reserve wines made by the winemaker, meaning they age anywhere from 24 to 48 months in the barrel and they make less than 100 cases of each of the wines available.
True collector's items, but you'll want to drink them right away!
At the Old Town Scottsdale tasting room, you can taste a flight of the reserve wines (4 for $30 – priced for the additional time these spend in barrels) or a flight of the Passion Cellars wines (5 for $15).
They might also have some Cabal Cellars wine available for tasting or glasses if you can't make it to Jerome.
The vibes of the small and quaint tasting room were very relaxed and approachable compared to many wineries we've stepped into on our travels.
This is within walking distance of all of the other wineries in Scottsdale and definitely needs to be on your list of Scottsdale wineries to visit.
4 – Carlson Creek Vineyard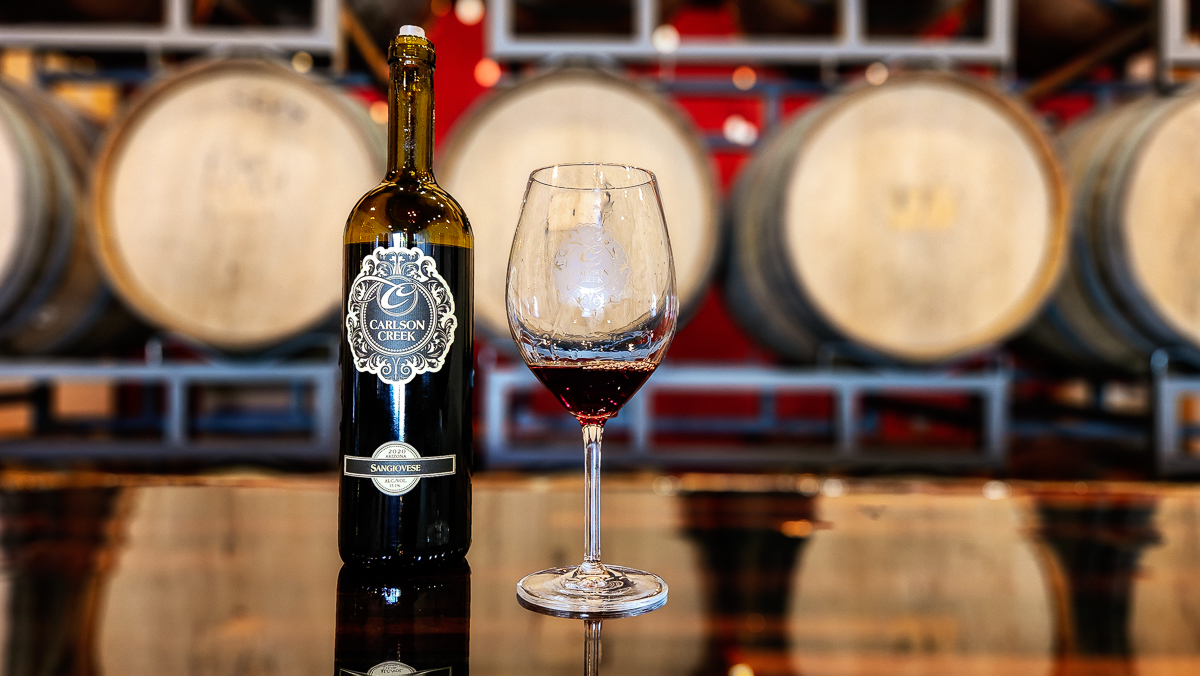 Hours:

7 days a week

Food Available: Yes
Carlson Creek Vineyard is an estate winery that sources all of its grapes from its vineyard in Willcox. They have three tasting rooms in Willcox, Old Town Cottonwood, and Old Town Scottsdale.
The Scottsdale location feels a bit like you're inside of a wine barrel with all of the wood and barrels around the tasting room.
You can try a flight of 5 wines for $12 (pick your poison) which could include the Sangiovese, the Cabernet Sauvignon (best in class at AZCentral Grand Wine Competition), or one of their Rule of Three vintages which is their flagship wine made from Grenache, Syrah, and Mourvèdre.
Or you can try their Split Flight which is their taste of wines sold in half-bottles (perfect for sharing a glass with your significant other or just by yourself if you've had a bad day at work). The Split Flight is 5 pre-selected wines for $10 and gets you a good variety of their wines, white and red.
We tried their 2014 and 2015 Sangioveses side by side and the differences were pretty stark. Both were great, but we could tell that 2014 was a better harvest year, evidenced by the gold medal it won at the 2019 World Wine Championships.
5 – Aridus Wine Company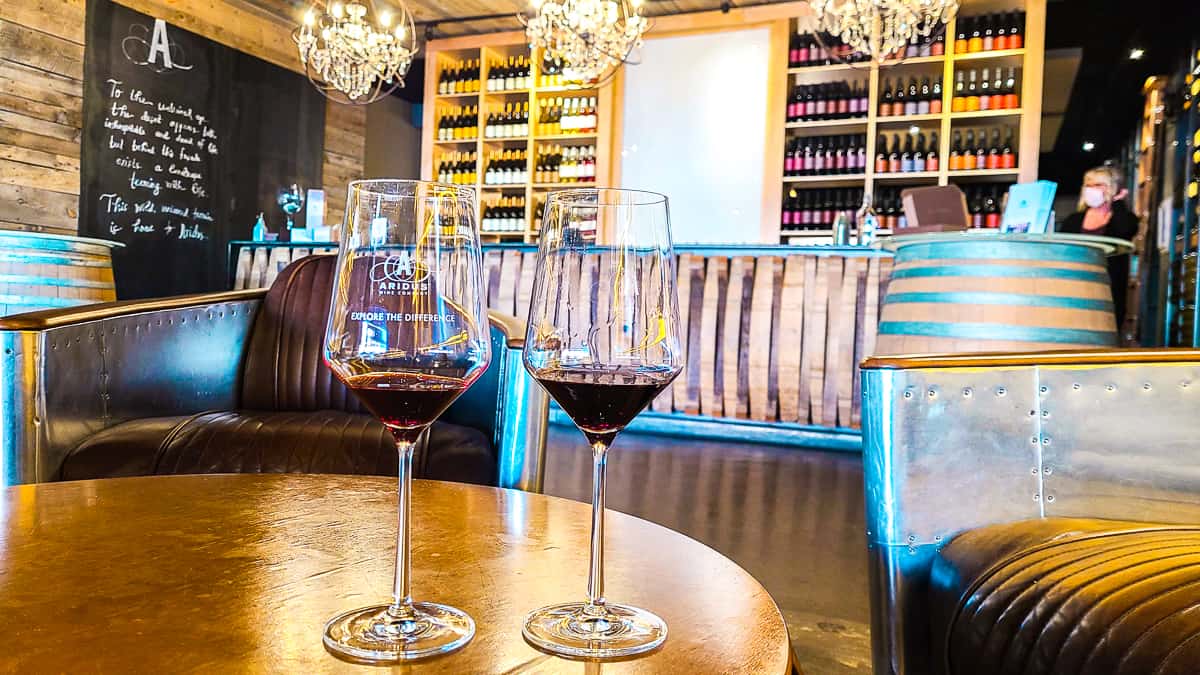 Hours:

7 days a week

Food Available: No
Aridus means arid or dry in Latin, which is a perfect description of the climate and landscape here in Arizona.
And Aridus Wine Company, located in Willcox, like so many of its Arizona wine friends, is letting that definition shine through in its wine using grapes from its estate vineyard in Willcox (as well as New Mexico and California).
The Willcox winery is one of the biggest winery productions in the state and has a tasting room to go along with it. There is also a tasting room in Old Town Scottsdale which is where we got to taste these delicious wines.
They strive to repurpose where they can and that includes much of the decor of their tasting rooms and winery. They've won awards for their sustainability in their interior design excellence, using reclaimed lumber from old barns, cold grey steel, concrete, and natural stone.
A tasting flight of 5 wines for $15 will get you a good cross-section of their wine. We did 10 different red wines…what can we say, we like our red wines!
Their 2016 Syrah won Wine & Spirits' Best Syrah in 2019, but we really enjoyed the Montepulciano, Petit Verdot, Tempranillo, and Cabernet Franc (some of Sam's favorite varietals).
6 – Arizona Stronghold Vineyards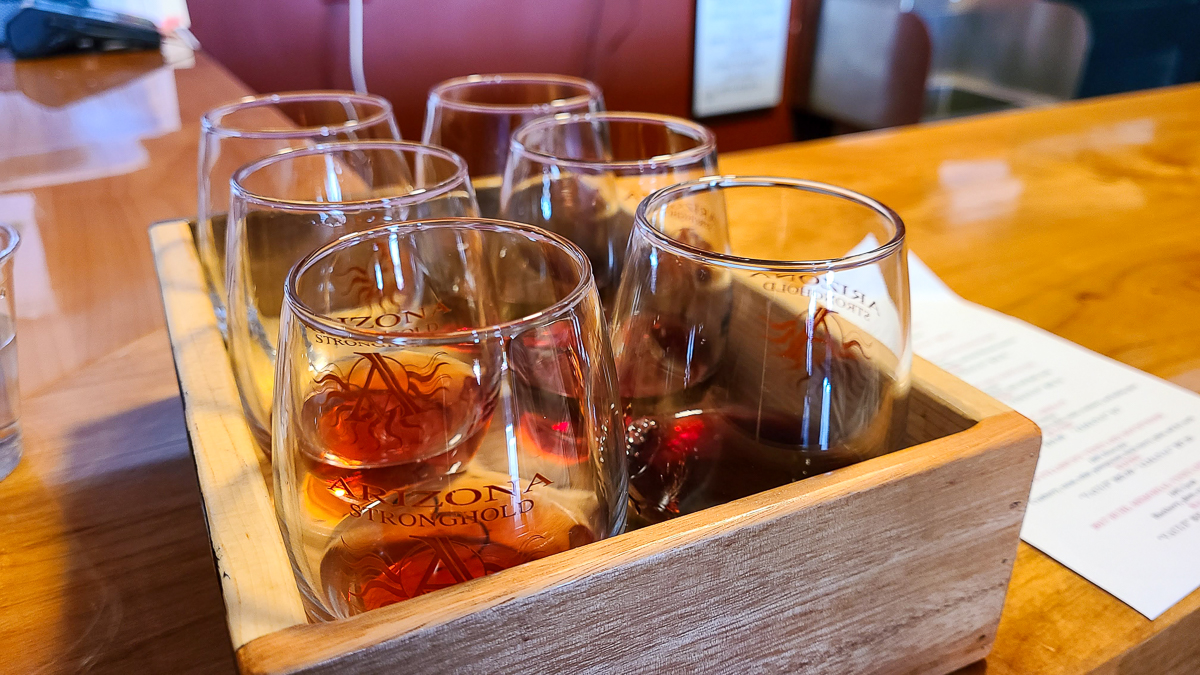 Hours: 7 days a week
Food Available: No
Arizona Stronghold Vineyards was started back in the late 2000s (Maynard James Keenan was involved here too until 2014) and has grown into one of the largest and best-selling wineries in all of Arizona.
They opened their Scottsdale location in January 2022 making them the newest winery to this area.
They've done this by "keeping their nose level," as one of their bartenders said. It's wine, but it's approachable, which is so refreshing in a sometimes-stuffy industry.
The wines at AZ Stronghold express the unique Arizona terrain and the winemakers do their best to let that shine through in the wines.
Most of their grapes come from their vineyard down in the Willcox area and are then produced at their winery in Camp Verde.
They offer 4 different flights of wine (white, combo, or two different red flights) which all showcase the assortment of delicious varietals and blends. Flights start at $9 and the bartenders are admittedly a bit heavy-handed and they love talking about their wine in as simple or complex terms as you'd like.
Wines by the glass and bottle are also available, but we love doing flights to try a little bit of everything.
Stronghold also has an outdoor patio and a full kitchen with grilled skewers and tapas to pair with the wine. Some of our favorite wines were the Dala Cabernet Sauvignon which was just awesome for a $20 bottle of wine, the Nachise (Grenache, Syrah, Mourvedre, Petite Sirah), and the Lozen (Merlot, Cabernet Sauvignon, Malbec).
Ready to keep drinking wine? Check out The 6 Best Wine Bars in Scottsdale, Arizona.
While you wouldn't expect it, the wineries in Scottsdale are absolutely worth checking out.
We only recently learned about Arizona's incredible wine region and we love that there are tasting rooms in the city so you can support the local wineries in Scottsdale.
While there are no physical vineyards in Scottsdale, the wineries in Scottsdale give you a great opportunity to try the wine in lieu of visiting the physical winery.
For more info on the Arizona wine scene, check out our post on:
Not done drinking in the Phoenix area? Check out:
Ready to brunch? Read our Best Boozy Brunch in Old Town Scottsdale.