Complete Guide to the 6 Jerome Wineries in Arizona
While the population is only around 460 people, there are 6 incredible wineries in Jerome that you need to visit.
Jerome is located in the Verde Valley Wine Region which is a certified American Viticultural Area (AVA) region in the United States.
We stumbled upon the wineries in Jerome kind of by accident and just had to extend our trip so we could explore this tasty region!
Thank goodness we did because it led us to visit Arizona's other wine regions, Willcox and Sonoita, later on!
Short on time? Here are the key takeaways:
Of the 6 wineries in Jerome, Cabal Cellars is our favorite for big, bold reds.
Four Eight Wineworks has great views from their tasting room.
Jerome is located on a hill and it's a windy road to get up to the top. Please don't drink and drive.
Looking for more Verde Valley wine info? Check out our Cottonwood Wineries Guide or Cornville Wineries Guide.
**Boozing Abroad contains affiliate links throughout the site. If you choose to purchase items through these links, we will earn a small commission at NO extra cost to you. Read the full disclosure policy here**
About Verde Valley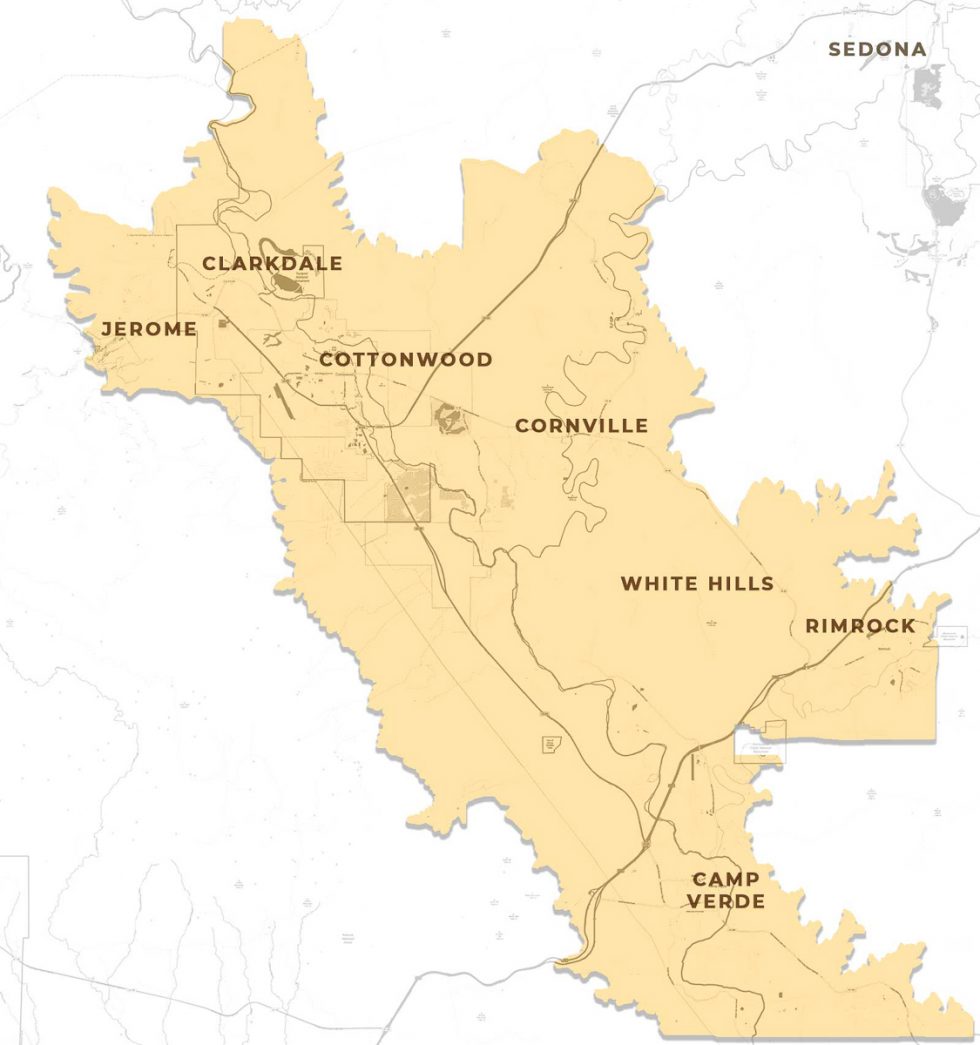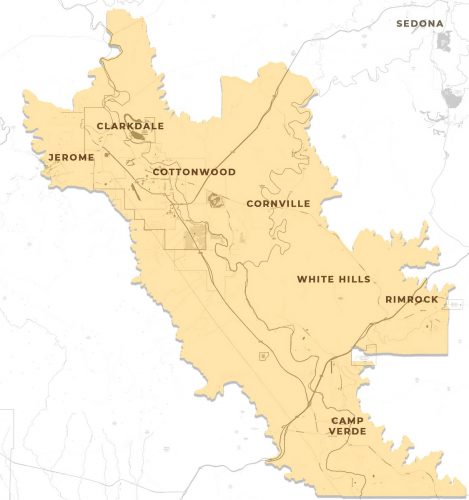 The Verde Valley AVA is located in the center of Arizona, covers roughly 200 square miles, and currently has over 18 wineries.
There are more than 40 wine grape varietals being grown in the region. The top white varietals include: Malvasia Bianca, Viognier, Chardonnay, Vermentino, Seyval Blanc, and Picpoul Blanc.
The top red varietals in the region include: Syrah, Petite Sirah, Cabernet Sauvignon, Sangiovese, Tannat, and Barbera.
How many wineries are in Jerome?
There are 6 wine tasting rooms located in the town of Jerome.
How many wineries are in the Verde Valley?
There are over 25 wineries in the Verde Valley AVA wine region in Arizona.
Arizona Wine Trail Passport
Visit Arizona offers the Arizona Wine Trail Passport. It's free to join and the best part is, it's exclusively on your mobile device. No paper passports needed.
Once you sign up, you'll receive a text to access your info. The biggest advantage to signing up is some wineries offer 10% off a bottle purchase.
While there aren't guaranteed prizes, you can check in at different wineries locations to potentially win a shirt, wine glasses, wine gadgets and more.
Verde Valley Wine Trail App
Brand new to 2022, the Verde Valley Wine Trail created an app to support the region. If you visit 10 stops in the Verde Valley, you'll be entered to win a weekend getaway for 2 in the region.
While we both downloaded the app in November 2022, most of the locations listed we visited didn't have the QR code to scan to log your visit.
In addition, none of the locations had a paper copy to get stamped. Also of note, at least 4 locations listed on the app were permanently closed.
Our advice, keep reading our guide for the most up to date info!
Where to Stay in Jerome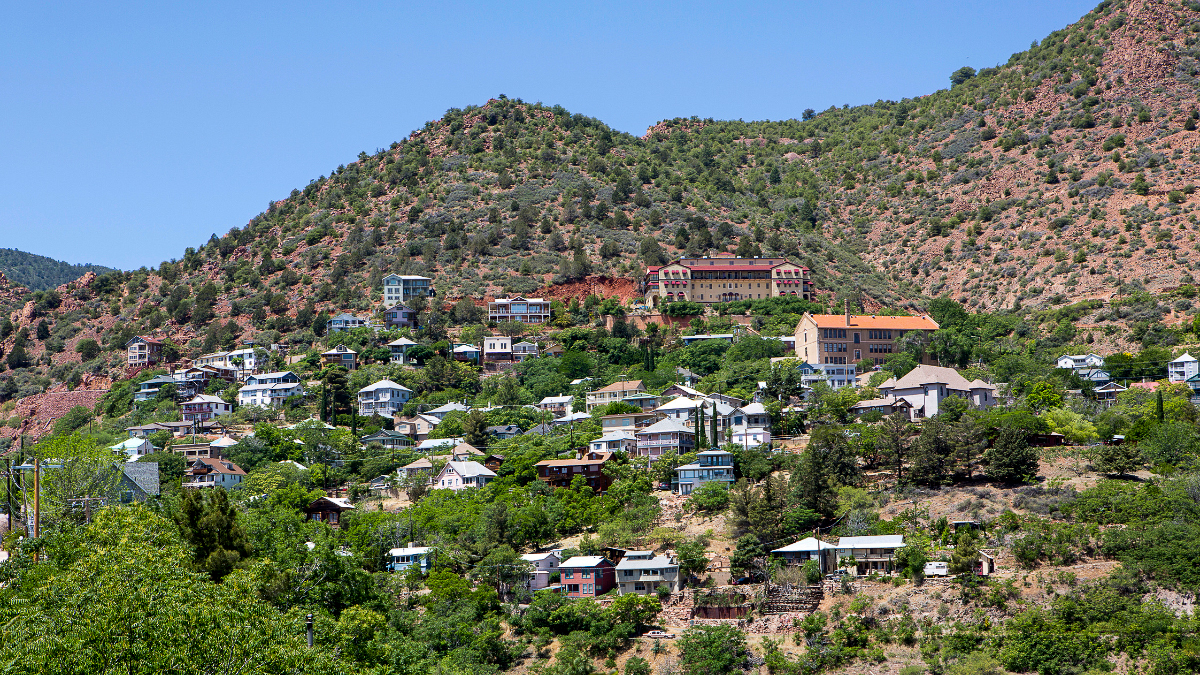 If you aren't staying in Sedona or just want to spend a few days in the Verde Valley, there are a number of great places you should consider.
Booking.com probably has the widest selection of budget (and luxury) accommodations in the world. In our experience, they consistently found the cheapest rooms. We also like their easy to use interface and no money down policy. When we book our travel stays, we personally use booking.com.
Situated on top of a hill, Jerome is a historic copper mining town that is quaint and extremely walkable (minus the hills).
Our top choices for hotels are both located on Main Street and have consistently great reviews:
Map of Jerome Wineries
HOW TO USE THIS MAP: To view the layers and see the names of the places on this map, click the tab in the top left corner. You can select the check marks to show or hide certain layers. If you select the icons on the map, you will get more information about the point of interest.
HOW TO SAVE THIS MAP: If you select the star icon next to the map name, you can save this map to your Google Maps account. To view it, open Google Maps in desktop or on your phone, select the menu button, go to "Your Places," scroll to the right to Maps, and you will see this map.
Jerome Wineries
Before we get into all of the yumminess of Cottonwood wineries, let's first talk about the several wineries and tasting rooms in the small and unique town of Jerome.
Jerome is an old mining town which is about 20 minutes from the Cottonwood wineries and roughly 40 minutes from Sedona.
While you are here, be sure to eat at the Haunted Hamburger for a spooky encouter with some spirits.
1 – Caduceus Cellars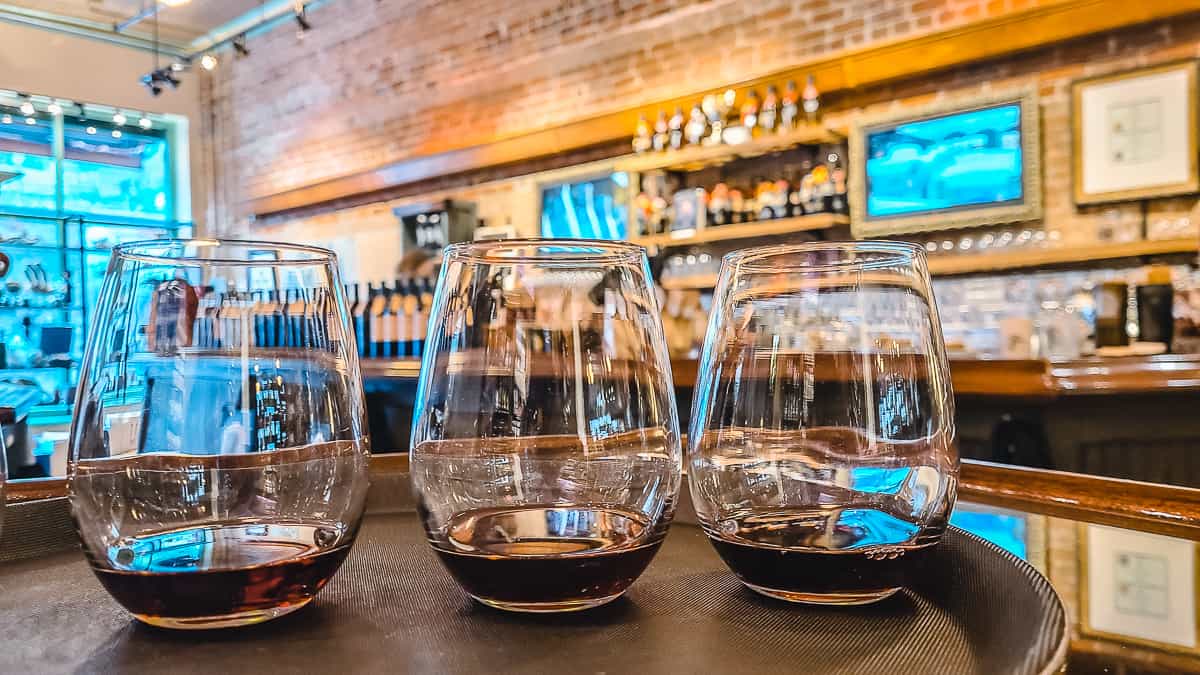 Days open: 7 days
Reservation Required: No
What do great wine and the rock band Tool have in common (other than they *may* make your head hurt after indulging in too much of either)?
The link is Maynard James Keenan, the lead vocalist of Tool and esteemed winemaker.
Keenan's grandparents and great-uncle made wine in northern Italy, so it's no surprise that he has grape juice running through his veins. And while he may not admit it, MJK has helped revive this northern Arizona area into the thriving wine region that it is today.
Case in point, you'll see his name pop up a few more times below.
While most wineries in the state source/grow their grapes in southeastern Arizona, Caduceus Cellars and Merkin Vineyards are based in the Cornville, Arizona, area which is nearby to Keenan's home.
The Jerome winery has a tasting room and cellar that is open 365 days a year and contains a small local market with tons of local products for sale.
You can get a flight ($15) of 4 red wines or a flight of 2 whites and 2 rosés. Any full glasses of wine will need to be purchased at Four Eight Wineworks next door.
You can also get a taste of Caduceus's younger sibling, Merkin Vineyards, which is under the same ownership.
We opted to visit the standalone Merkin tasting room in Scottsdale, AZ, but you can find them here at the Caduceus tasting room in Jerome or at their other tasting room amongst the several Cottonwood wineries.
2 – Four Eight Wineworks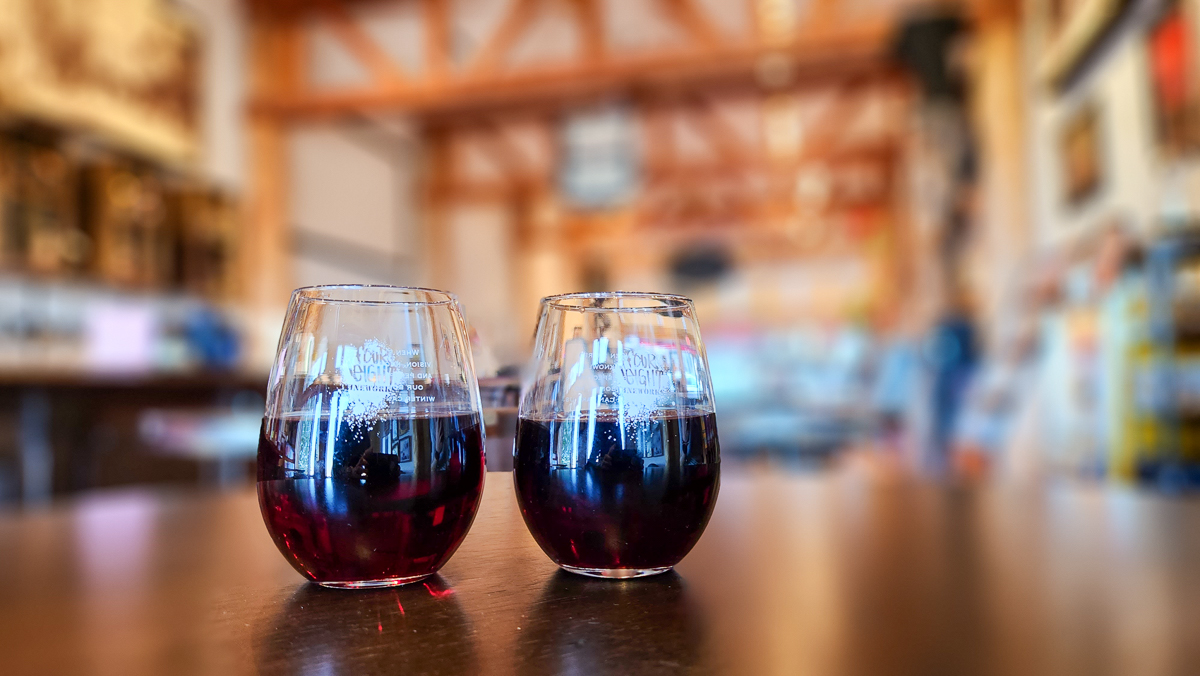 Days open: 7 days a week
Reservation Required: No
Ever stop to think about the money needed to open a winery with all of the necessary equipment? We don't have any numbers to report, but rest assured it's a lot.
That's where Maynard James Keenan steps in. The same guy behind Caduceus Cellars & Merkin Vineyards is putting up the capital for new Arizona winemakers to make wine and serve it to thirsty folks through Four Eight Wineworks, Arizona's Winemakers Co-Operative.
MJK and his brand are the co-op hosts and select various winemakers to produce and serve wine in the Jerome tasting room, which is a couple doors down from the Caduceus Cellars tasting room.
While in theory it acts like a co-op, it's technically an Alternating Proprietorship which means that the participating wineries all have their own grapes, storage, aging, packaging materials, and permits, but they alternate the use of the big-dollar production equipment.
We won't tell you what our favorites were because the wines offered will assuredly change when you visit as wineries come and go, but this is an opportunity for you to try some up-and-coming wine from the 48th state in the union, Arizona.
This stop will let you taste multiple Jerome wineries at one great location!
3 – The Original Jerome Winery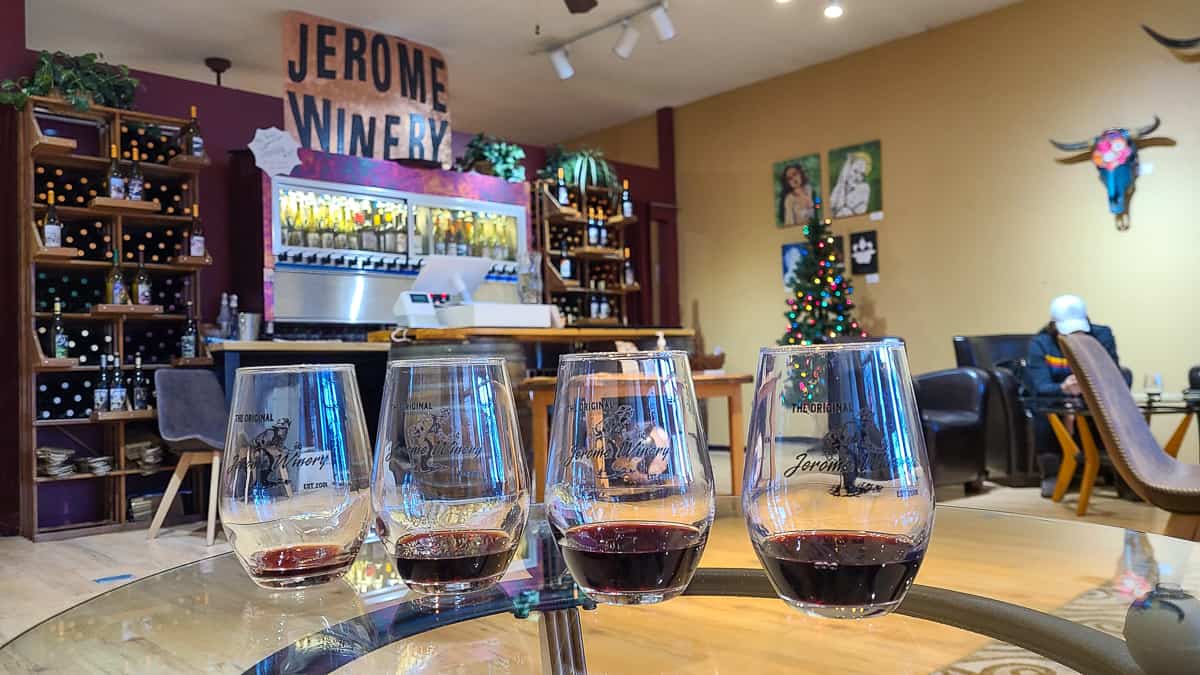 Days open: 7 days a week
Reservation Required: No
The Original Jerome Winery can trace its roots to 2001, literally.
Owner John McLoughlin planted his first vines in Arizona with the belief that the state was the best kept secret for wine possibilities. 26 years and over 150 acres later, the wine scene in Arizona is thriving.
Matching the climate, the majority of the wines are smooth and dry which is perfect for the non-sweet wine drinker. Don't worry though, there are plenty of fruit-forward sweet wines to go around.
As its name implies, they stake claim to being the OG winery in the fun and eclectic town of Jerome. You can try Arizona's only flight of vintage ports or the only flight of Heritage Zinfandels in the state.
They even make their own mead if you want to sip on some fermented honey. It was incredibly delicious and not overly sweet!
4 – Passion Cellars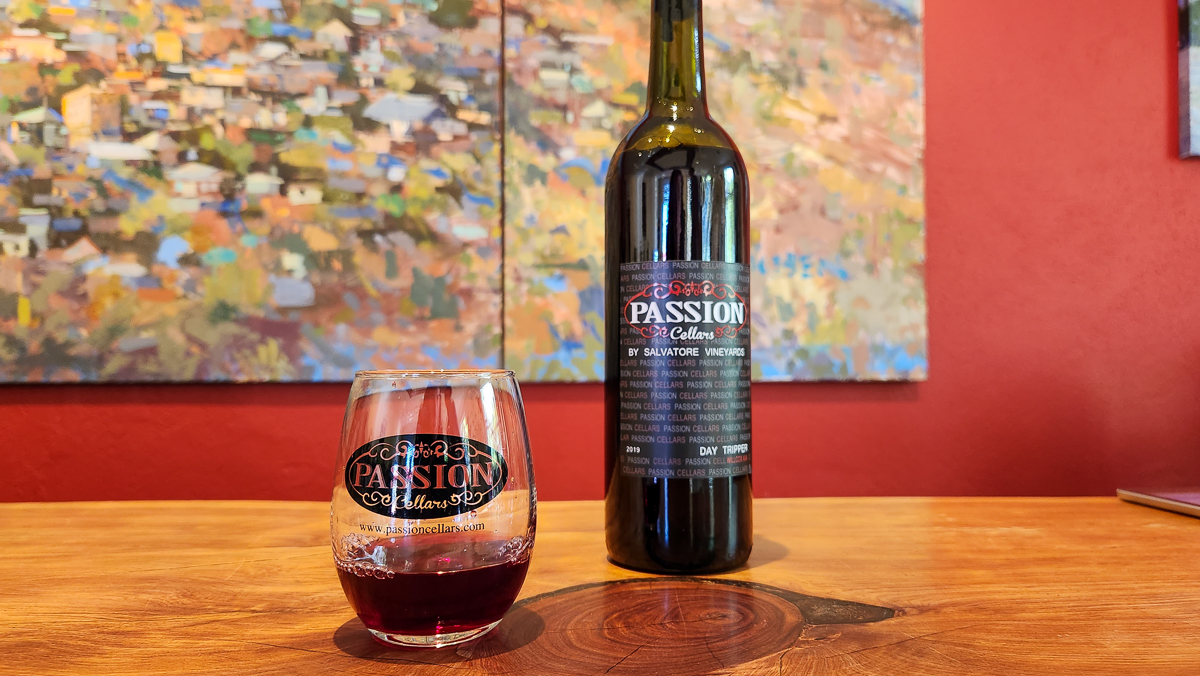 Days open: 7 days a week
Reservation Required: No
If Salvatore Vineyards in Scottsdale is the big brother of the family (Salvatore Vineyards, Passion Cellars, and Cabal Cellars), then Passion Cellars is the middle child. But don't forget about this middle child as the Passion wine lineup is delicious.
Their tasting room in Jerome is located right on Main Street overlooking the historic town. We actually had a flight at the Salvatore Vineyards location in Scottsdale (and then again in Jerome) of one white and four reds ($15) and all were very, very good. The Pinot Grigio was an orange wine style, rested on the skins for 48 hours, and would be perfect for a seafood dish.
The Tempranillo, Malbec, Cabernet Sauvignon, and Syrah were that old-word style red which we know and love. Several of their award-winning wines from the well-known San Francisco Chronicle Wine Competition dot their tasting menu.
Since you can get their wines in Scottsdale as well, you can pick and choose where you want to taste them to save more time.
Soon, Passion will have their own tasting room down in Willcox at their winery and production facility.
5 – Cabal Cellars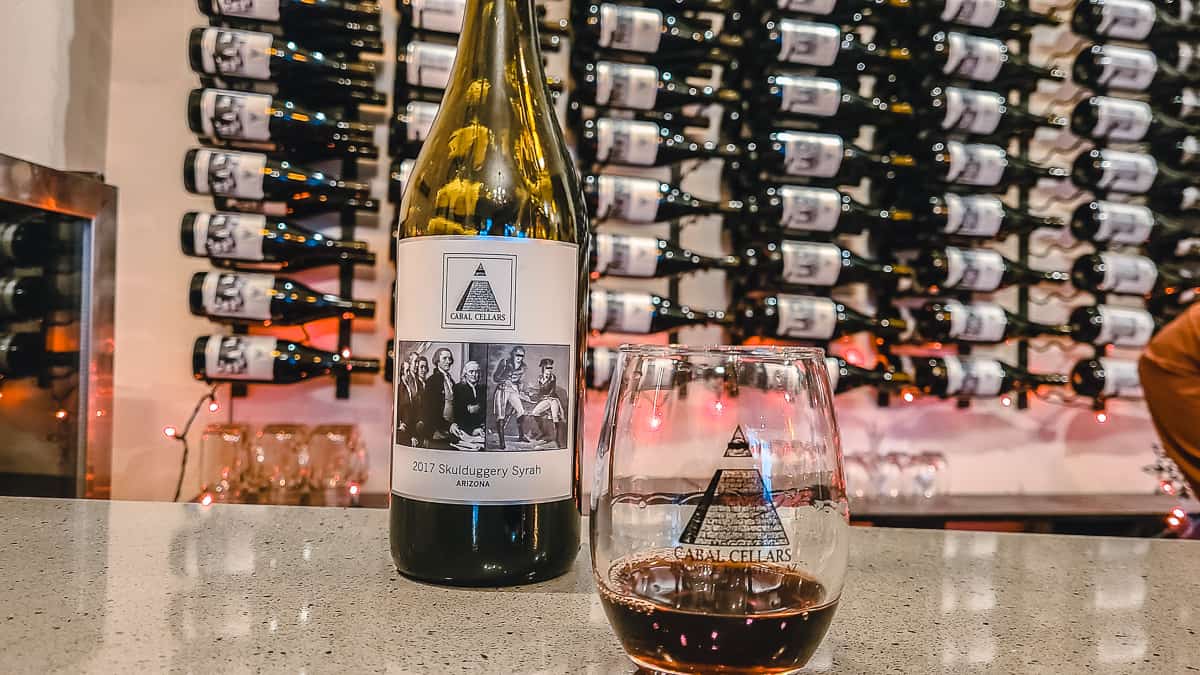 Days open: 7 days a week
Reservation Required: No
A cabal is a group of people who are united in some close design, which fits the theme at Cabal Cellars.
Cabal is where the winemaking and employee teams from Passion Cellars and Salvatore Vineyards put their heads together to create great wines.
Employees participate in every single part of the winemaking process: selecting grape varietals, creating blends, and even designing the labels. To coincide with the Cabal name, every wine label has a picture of a famous conspiracy story from history.
For example, Benedict Arnold as a traitor, Pete Best and the Beatles, and the 1919 Chicago Black Sox Scandal, to name a few.
A history lesson while drinking good local wine? Sign us up!
If you can't make it to the Cabal tasting room in Jerome, the winemaker also does the winemaking for Passion Cellars (several locations in Arizona, including Jerome) and Salvatore Vineyards in Scottsdale (reserve wines).
6 – Coronado Vineyards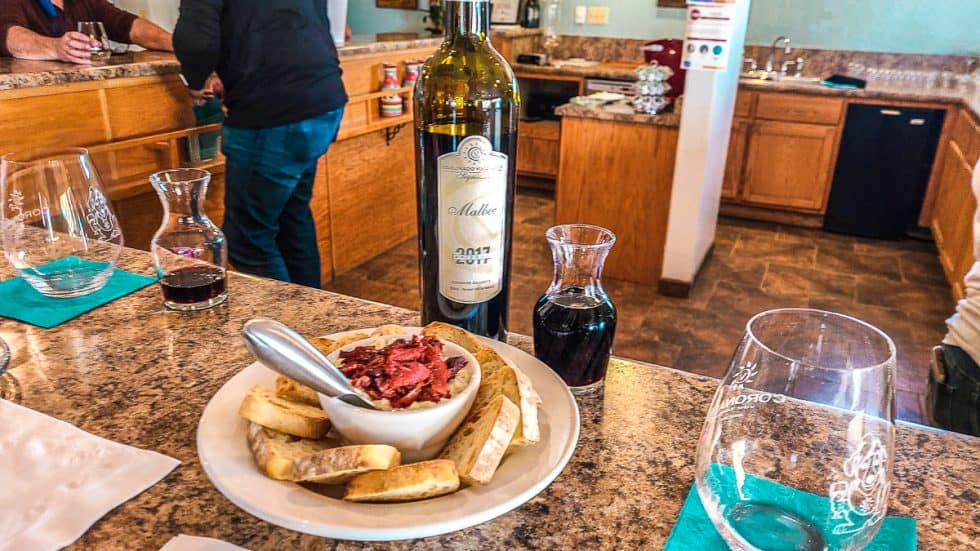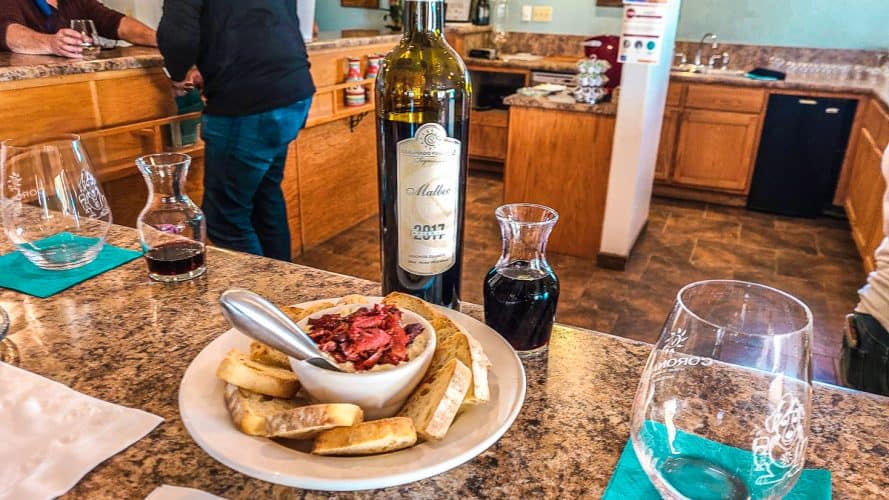 Days open: Thursdsay – Monday, Closed Tuesday and Wednesday
Reservation Required: No
While we didn't get the opportunity to visit Coronado Vineyards in Jerome, we were able to taste their wines when we visited Willcox.
Their Jerome location opened in early 2023 and offers up some classics like Sangiovese, Cabernet Sauvignon, and Syrah.
They recently won a few medals in the 2023 San Francisco Chronicle Wine Competition including their La Donna Red Blend, Sangiovese and Fore.
While this new tasting room doesn't have a full kitchen, they do offer small bites if you are hungry.
If exploring wine tasting through the Jerome wineries has you thirsty for more, head down to Cottonwood, Cornville or Camp Verde in the Verde Valley for more wine.
Click on the link below to read about:
We thoroughly enjoyed our time in the Verde Valley and it inspired us to travel to Willcox to get to the source of the grapes.
Psst: Looking for more Arizona wine info? We have a few guides! Browse the most popular post here: