10 Elgin and Sonoita wineries: Guide for wine tasting in Arizona
Considering a trip to the Elgin and Sonoita wineries in Arizona?
Looking at the southeastern Arizona region of Sonoita on a map, your first thought probably isn't a burgeoning wine region.
It definitely wasn't for us.
Surprisingly, the Sonoita wineries are producing some top-notch, high-quality, and award-winning wines!
We visited this fantastic wine region in early 2021 and have been inspired to visit all Arizona wine regions because of the experience we had.
Short on time? Here are the key takeaways:
There are more than 15 wineries in Elgin and Sonoita and most participate in the "share a glass" program.
There are limited options for hotels / camping.
In our opinion, don't miss Rune Wines, Twisted Union, or Autumn Sage.
Psst: Looking for more Arizona info? We have a bunch of guides!
This post was originally published in February 2021, and was updated in April 2023.
**Boozing Abroad contains affiliate links throughout the site. If you choose to purchase items through these links, we will earn a small commission at NO extra cost to you. Read the full disclosure policy here**
About Elgin and Sonoita Wines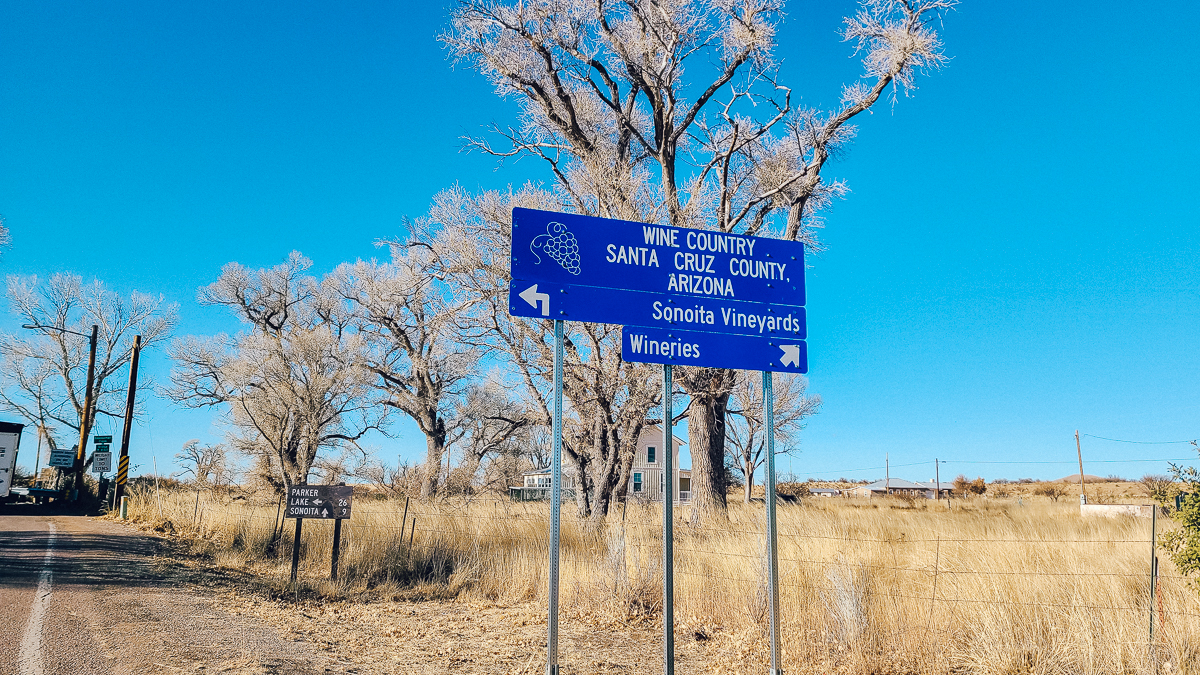 Sonoita, the first region in Arizona to be designated an American Viticultural Area (AVA), is located about 2.5 hours south of Phoenix (1 hour from Tucson) and only about an hour road trip west of Arizona's other AVA, Willcox.
The growth in number and popularity of the Sonoita wineries has really exploded over the past 15-20 years, but the roots of the industry actually date back to the 16th century during the Spanish occupation of this area.
Though they are thriving today, the Arizona and Sonoita wineries haven't always had it easy. In fact, it was illegal to grow grapes (for wine) in Arizona from 1915 all the way through the early 1980s.
And that's not even mentioning one of the main challenges for the Sonoita wineries: the climate.
If you think the hot and arid climate is rough on you and your skin, think what it is doing to those precious vines.
But the winemakers at these Sonoita wineries are persistent and dedicated to their craft. They have learned to listen to their vines/grapes, utilize the rich and unique soil to their advantage, and push the boundaries on what should be done.
All of this has resulted in a wine region that the experts and judges are raving about, as you'll see below. It's only a matter of time before this concentrated cluster of Sonoita wineries begins to gain steam amongst the masses.
How many wineries are in Elgin / Sonoita, AZ?
There are over 15 wineries in the Elgin / Sonoita region.
Arizona Wine Trail Passport
Visit Arizona offers the Arizona Wine Trail Passport. It's free to join and the best part is, it's exclusively on your mobile device. No paper passports needed.
Once you sign up, you'll receive a text to access your info. The biggest advantage to signing up is some wineries offer deals like 10% off a bottle purchase.
While there aren't guaranteed prizes, you can check in at different winery locations to potentially win a T-shirt, wine glasses, wine gadgets and more.
Where to Stay to visit the Elgin and Sonoita Wineries
If you are looking to visit the Elgin and Sonoita wineries, the remote locations of these wineries result in some slim pickin's as far as hotel/Airbnb options are concerned.
The closest town is Sierra Vista, which is roughly a 30+ minute drive to get to the main cluster of wineries. BUT, it's totally worth it since the wine and views are spectacular.
Booking.com probably has the widest selection of budget (and luxury) accommodations in the world. In our experience, they consistently found the cheapest rooms. We also like their easy-to-use interface and no money down policy. When we book our travel stays, we personally use Booking.com.
Closest accommodations in Elgin/Sonoita:
Sierra Vista
Map of Elgin and Sonoita Wineries
Click the interactive map below!
HOW TO USE THIS MAP: To view the layers and see the names of the places on this map, click the tab in the top left corner. You can select the check marks to show or hide certain layers. If you select the icons on the map, you will get more information about the point of interest.
HOW TO SAVE THIS MAP: If you select the star icon next to the map name, you can save this map to your Google Maps account. To view it, open Google Maps in desktop or on your phone, select the menu button, go to "Your Places," scroll to the right to Maps, and you will see this map.
Elgin and Sonoita Wineries
Most of the Elgin and Sonoita wineries participate in the "Share a Glass" Program. If you bring in a glass from another participating winery, you will receive a reduced rate for a tasting!
1 – Sonoita Vineyards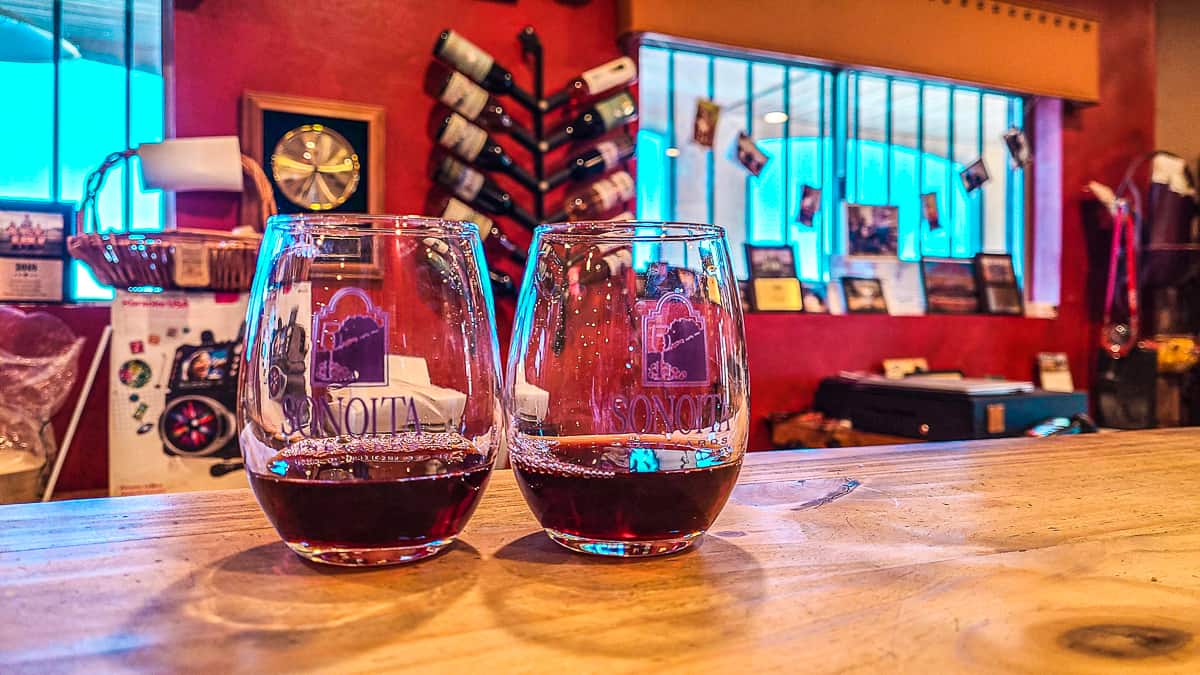 Days open: Wednesday – Monday, Closed Tuesday
Share a Glass Program: Yes
Reservation Required: No
Opened in 1983, Sonoita Vineyard is the oldest commercial vineyard and winery in Arizona.
Their tasting room is high up on a hill overlooking the long driveway in and the surrounding vistas.
They have several wines, including a dry Riesling, a Sauvignon Blanc, a Zinfandel/Sangiovese blend, a Syrah, and a Cabernet/Merlot/Syrah blend.
There is also a lineup of sweet wines, both red and white.
But, if you know us, you know we aren't much for sweet wine, so we stuck to the dry whites and reds for our tasting flight of 5.
This place is well-known in the wine world not only for being the first in Arizona, but one of their wines was even served at the Presidential Inauguration gala in 1989. Talk about name recognition!
The majority of the grapes used in their wines are grown on their estate in Elgin, and if not grown on property, all come from this southeastern Arizona region.
Come enjoy a glass/flight of wine at this 3rd-generation, family-run winery and enjoy the views.
Happen to be coming through the area in an RV, camper, or want to do some tent camping?
You can stay at their winery for up to three nights if you're a member of Harvest Hosts. Check out more about Harvest Hosts here.
2 – Deep Sky Vineyards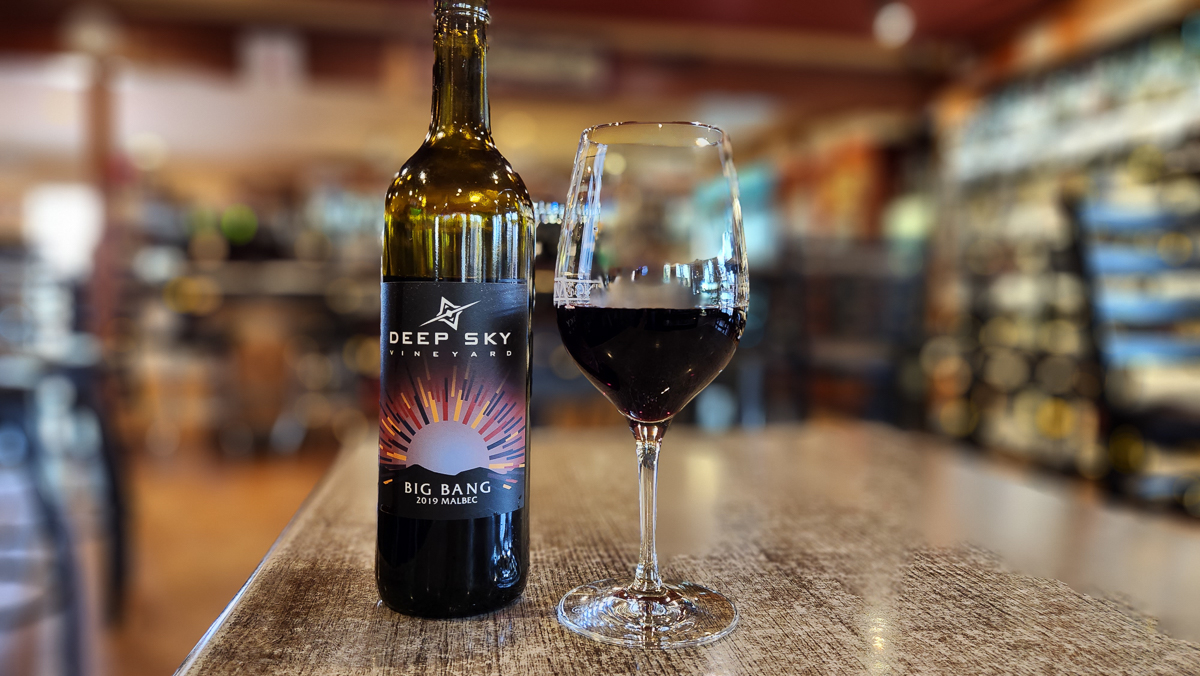 Days open: Wednesday – Sunday
Share a Glass Program: Yes
Reservation Required: No
Deep Sky Vineyards actually started after the owning family took a 50th birthday trip to Argentina. They fell in love with the Mendoza wine region so much that they actually bought a small vineyard just south of Mendoza, Argentina.
They returned home stateside and started noticing all the similarities between the Mendoza region in Argentina and the southeastern Arizona region.
One is at 33 degrees south latitude and the other at 33 degrees north latitude
Both have large temperature fluctuations between day and night
Both lie in the foothills of a mountain range
Both have high desert climates at over 3,500 feet in altitude
And so, with these similarities, Deep Sky Vineyards was born.
As any good Argentinian-influenced winery does, they are growing Malbec, but they didn't stop there. They are planting many Rhone varieties like Viognier, Grenache, Mourvedre, Syrah, and Petite Syrah.
Out back, they have a patio area with a bocce court and cornhole which overlooks the vineyards and the beautiful countryside.
It's a beautiful place to kick back with a glass and enjoy the view.
3 – Twisted Union Wine Co.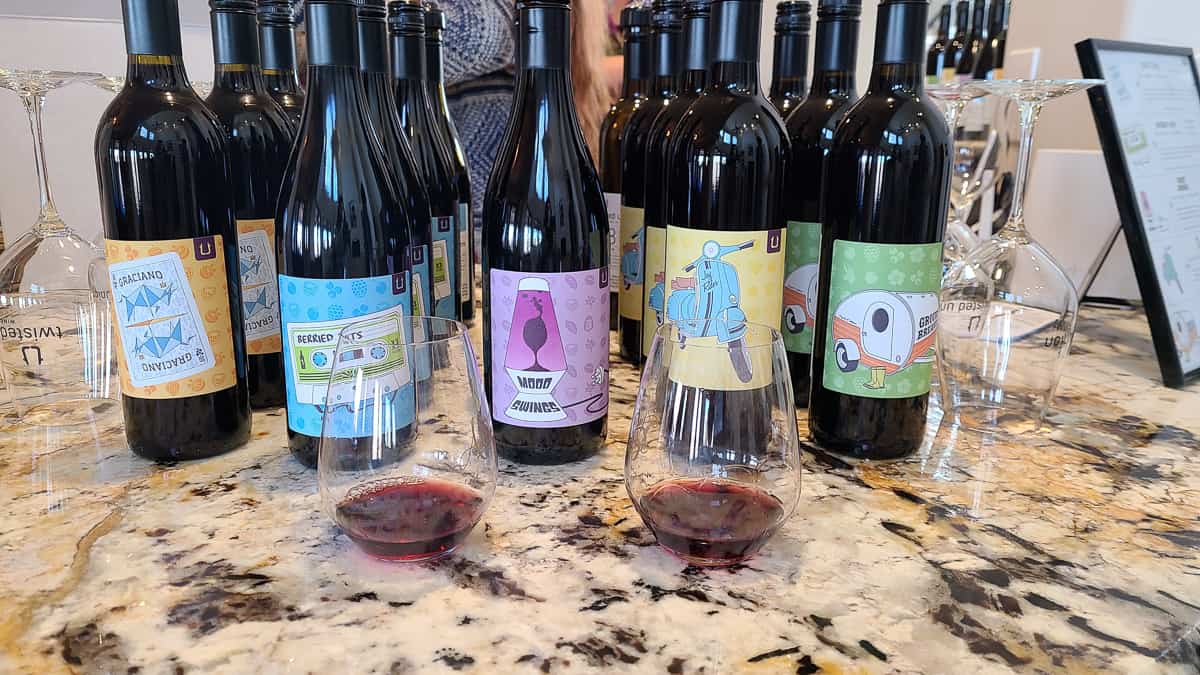 Days open: Thursday – Sunday
Share a Glass Program: Yes
Reservation Required: No
Twisted Union Wine Co. is new to the Sonoita wineries block, but the vineyards and tasting room have been here for quite some time, previously as Kief-Joshua Vineyards.
The name Twisted Union comes from the collective of 14 "grape growers, winemakers, and storytellers".
And if you talk to members of the collective 14, they'll tell you that the "twisted" comes from their personalities.
These folks all have experience in the wine industry, many of which worked and learned at some of the other long-established Sonoita wineries.
Their vineyard, which is right out back of the tasting room, has many different varietals including some of our favorites: Tempranillo, Cabernet Franc, and Petit Verdot.
The wines are all super approachable and have fun names and labels like the Berried Hits, Wood Swings, Joy Rider, and Ground Breaker.
The tasting room kind of feels like that awesome beach house you rented once on a beach trip with huge ceilings and tile floors all around.
But instead of the salty air and beach out the backdoor, there are beautiful vineyards!
If you love this place so much that you want to stay (or maybe you indulged too much on your Sonoita wineries excursion – no judgment), you can even book one of their two suites (either vineyard view or mountain view) that are just up the stairs from the tasting room.
Don't worry about the noise from the tasting room though as they are only open from 11AM to 5PM, so the rowdy wine drinkers will be gone long before bedtime.
4 – Dos Cabezas WineWorks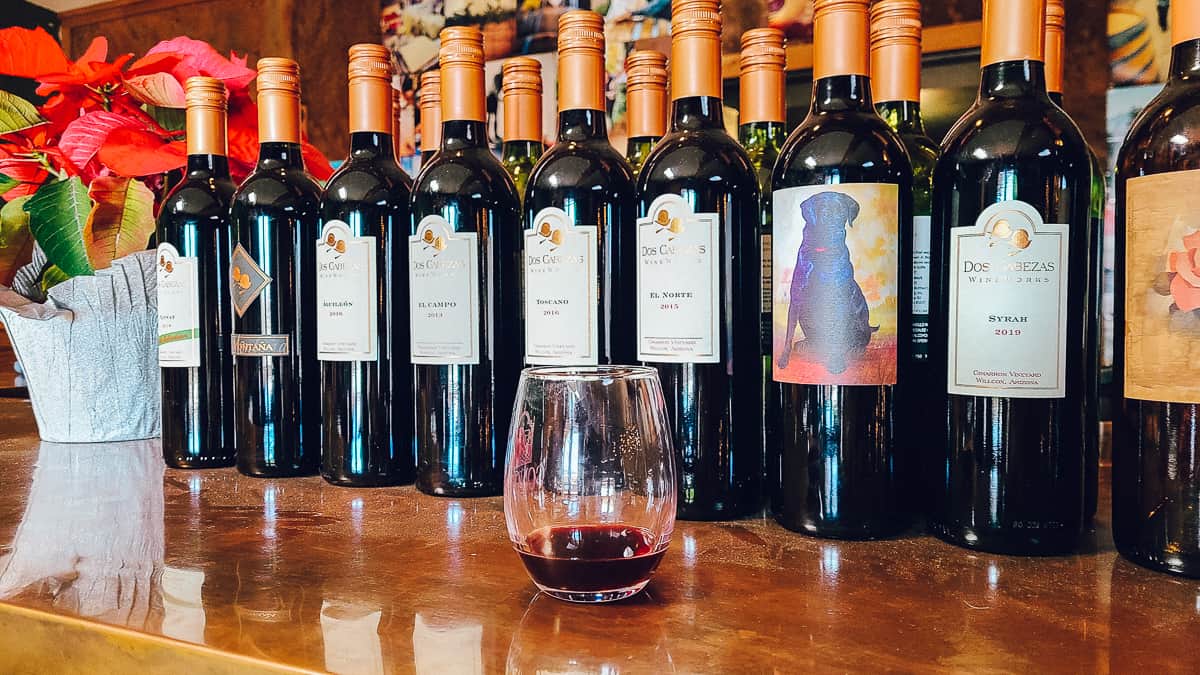 Days open: Thursday – Monday
Share a Glass Program: Yes
Reservation Required: Yes for groups 10 or larger
Located right off of the main road heading into "downtown" Sonoita, Dos Cabezas WineWorks has been serving up their wine since 1995.
The winery was originally located next to the vineyards, in the same area as the many Willcox wineries.
But in 2006, the tasting room was moved up to its current location in Sonoita where their other small vineyard is located.
The wines are made with all estate-grown grapes and are mostly all blends (except for their single varietal Syrah). Their blends are made using several different varietals and cover the gamut of whites, rosés, and reds.
It was fun to see how all of the different varietals played with each other in the different blended wines.
However, because of the blending, many of the wines, well, "blended" together, and although they were all very good, we can't recall one that really stuck out to us.
The La Montaña was probably the most memorable because it was a 50/50 blend of the bold Syrah and one of our favorite varietals, Petit Verdot. All of the wines were approachable and hit the spot at 10:30 AM (one of the earlier opening times for a winery).
Wine tastings include 6 wines of your choice so choose wisely!
5 – Rune Wines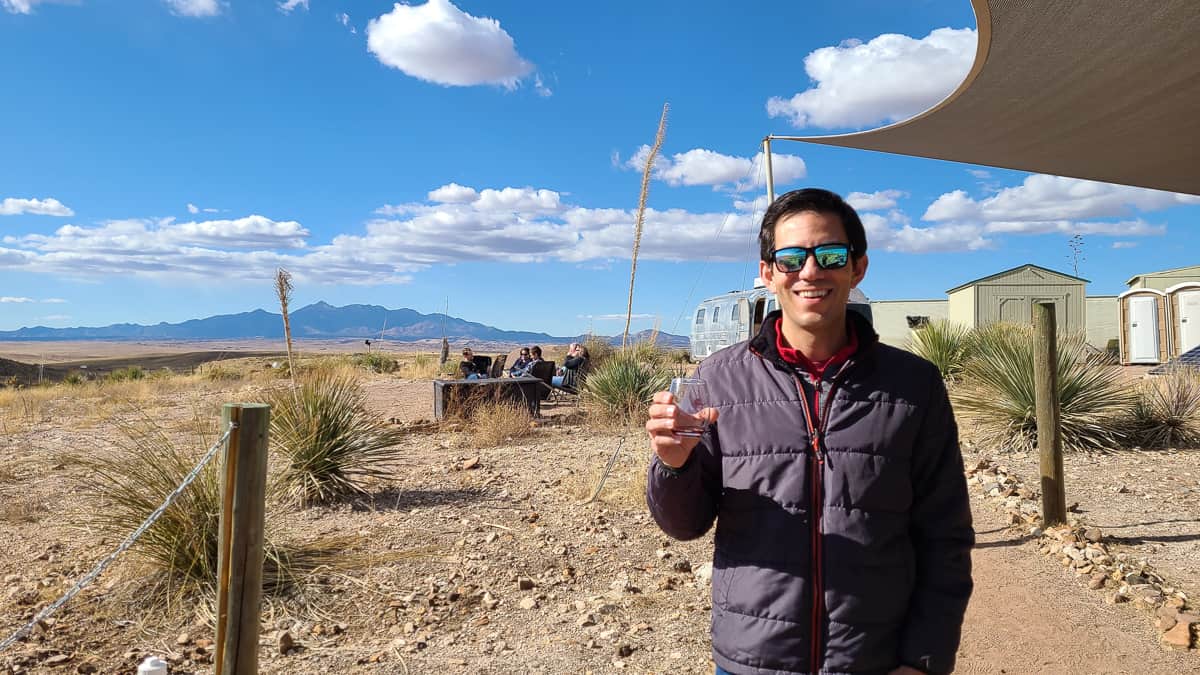 Days open: 7 days a week
Share a Glass Program: Yes
Reservation Required: No
Rune is an Old English word meaning "a mark or letter of mysterious or magical significance." More interesting to us and you, Rune Wines is also one of the many Sonoita wineries.
Even as one of the most influential and ancient beverages in the world, wine is still every bit as mysterious and magically significant to so many, including Rune's winemaker.
The winemaker got his start in the industry back in 2005 when he began to work at a restaurant that allowed him to experience wine from all over the world without ever leaving his glass.
After a short stint in the restaurant industry, he took on jobs in some of the most well-known wine regions in the US (California and Walla Walla, WA) and the world (New Zealand).
He then returned home to Arizona where Rune Wines began in 2013.
Rune is located at the top of the hill between mile markers 39 and 40 on Highway 82 in Sonoita (that's how directions are given around here) and overlooks the beautiful Arizona landscape.
The winemaker strives to do things a little bit differently by experimenting and producing unique wines.
Their wines include a Counoise (Arizona's lightest red grape and similar to an Oregon Pinot Noir), a Mourvèdre, Syrah, Grenache, Viognier, and Rosé, to name a few.
6 – Autumn Sage Vineyards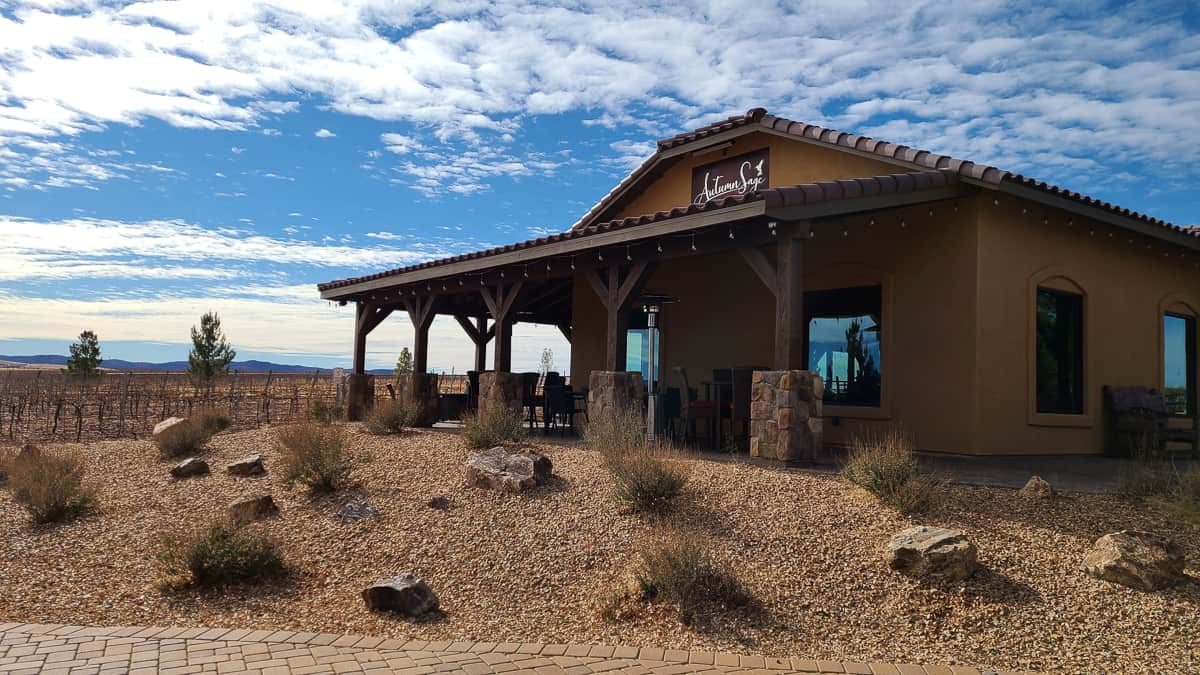 Days open: Wednesday – Sunday
Share a Glass Program: No
Reservation Required: No
You know those times when you just stumble upon a place and it ends up being one of your favorite parts of the day/trip/memory? That was our experience at Autumn Sage Vineyards.
As one of the newer Sonoita wineries, Autumn Sage wasn't really on our radar because we hadn't heard/read much about it.
In fact, we only ended up here because one of the other Sonoita wineries that we wanted to visit was closed and our route to the next stop took us right by this place.
As soon as we saw the vineyards out front and the big winery flags inviting us in, we slammed on the brakes, made a quick left turn and the rest is history.
Since it's one of the youngest Sonoita wineries, the wines are still young but are all very good and approachable, as was our bartender who was fun, energetic, and informative.
And the varietals that they grow here are a little bit different than what you'll find at the other Sonoita wineries, including a little-known Italian grape called Sagrantino from central Italy.
Though Autumn Sage is on the smaller side of the Sonoita wineries, they are one of the largest producers of Sagrantino grapes in the entire country!
The winery has a huge outdoor space with a gazebo, a dock over a fishing pond, and mountain ranges in every direction.
You'll even find the autumn sage plant, unique to the Southwest, all over the property, hence the winery name. This venue would be an absolutely perfect place for a wedding or other event.
7 – Flying Leap Vineyards and Distillery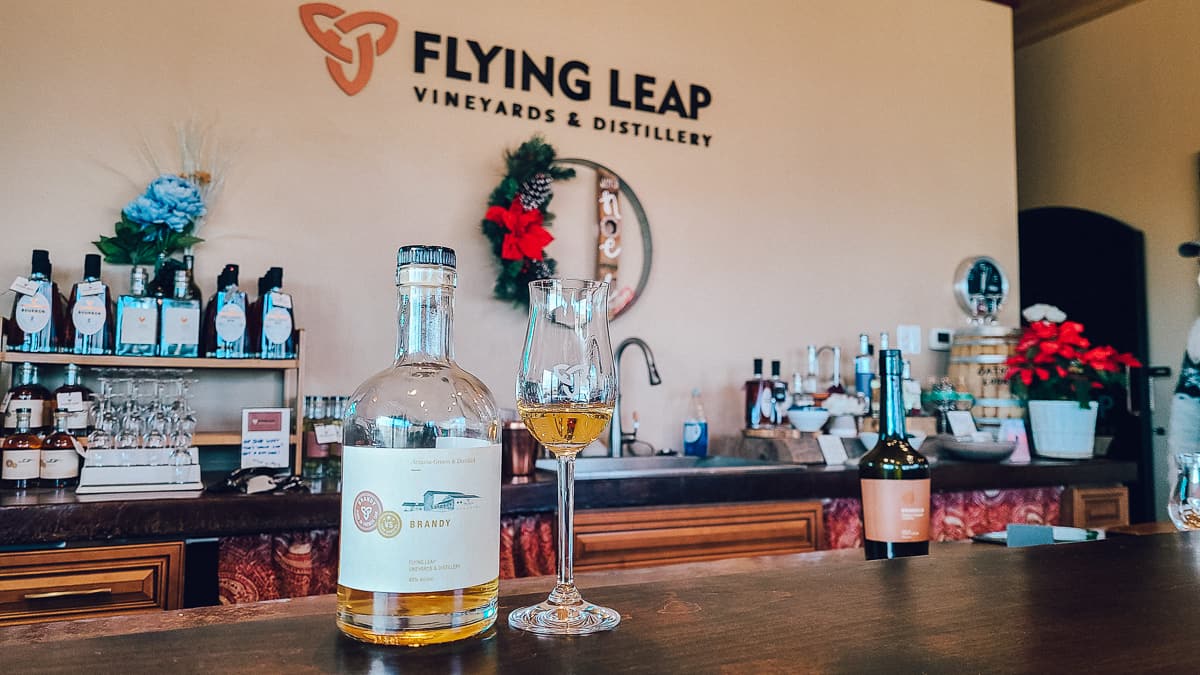 Days open: 7 days a week
Share a Glass Program: Yes
Reservation Required: No
Flying Leap Vineyards is the only one of the Sonoita wineries that has multiple locations throughout the state.
They have a variety of whites, reds, and dessert wines available to taste.
The Union red wine is a blend of Cabernet Franc, Cabernet Sauvignon, and Petit Verdot and was incredibly delicious.
The Habanero wine is a Grenache infused with fresh Habanero peppers and then blended with Graciano wine. It's a warming sensation from the spice and uniquely southwestern.
The wine tasting fee is a bit on the high side, but it does come with one of their branded stem-wine glasses, and you can even save money if you purchase a bottle.
The vineyard itself is located in Willcox (along with a tasting room), but the location in Sonoita, located in the middle of all of the Sonoita wineries, is their main tasting room.
Flying Leap Distillery
Exclusively at this location is their distillery. Due to state liquor laws, the distillery tasting room is separate from the winery tasting room.
We wanted to try the grape-based spirits (vodka, brandy, grappa) as well as many of their different types of whisky (bourbon, moonshine, rye and single malt) that they started distilling in 2016.
They were all incredibly delicious and some were very unique, like their lavender brandy, made with lavender straight out of the garden which is just outside of the tasting room.
8 – Elgin Winery and Distillery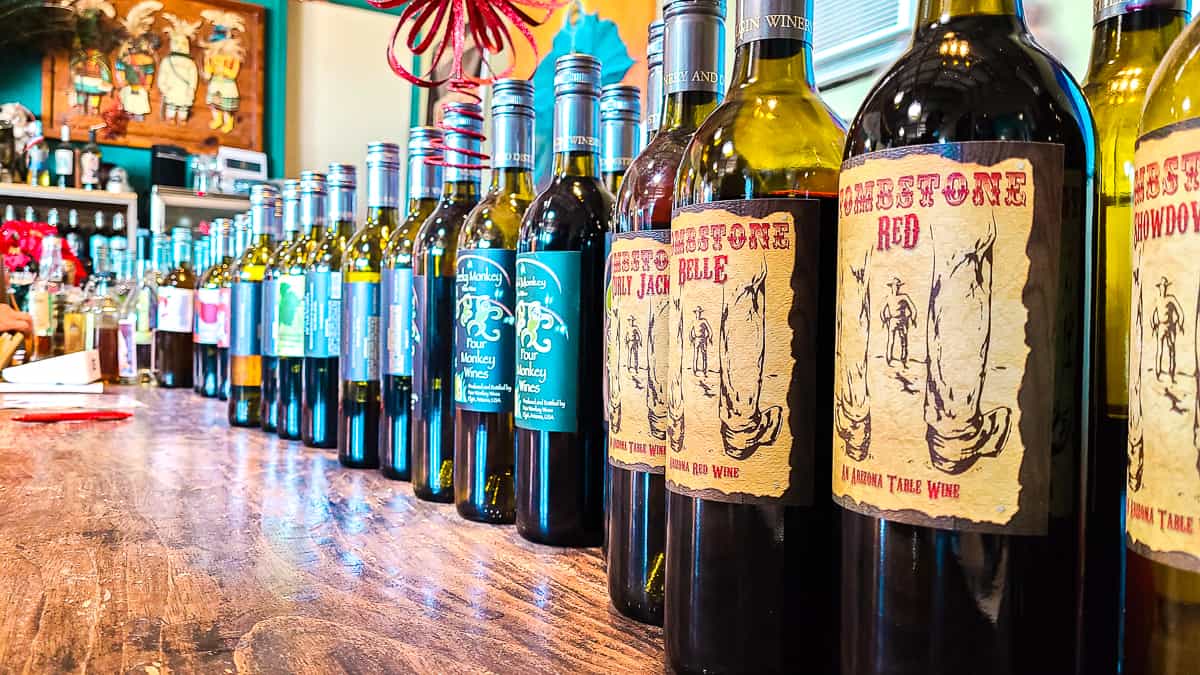 Days open: Wednesday – Sunday
Share a Glass Program: Yes
Reservation Required: No
Since we've already taken you to the oldest commercial winery in Arizona, why not also take you to the second-oldest commercial winery in Arizona. Thus, the second-oldest of the Sonoita wineries.
Elgin Winery believes, much like we do, that the enjoyment of wine (or any alcohol) does not have rules.
"If you like it it is good, if you don't it is not." Simply put, but so true. Taste is subjective.
There is nothing wrong with liking the $5 bottom-shelf bottle of wine more than the $50 top-shelf bottle. Drink what you like!
To that end, Elgin makes a wide variety of wines, under several different brands (Elgin, Four Monkey, and Tombstone) for the many different palates.
Their goal is to be approachable and accessible to everyone, and in our humble opinion, they nailed it.
The Elgin brand is an ode to where it all started back in the 1980s, using grapes from the Sonoita and Willcox AVA's.
The Four Monkey wines, of which there are 4 (duh!), were named to match the personalities of the family owners: Playful, Naughty, Cheeky, and Sinful.
The Tombstone brand reflects those traditional old-world European styles and includes one of the top-selling Arizona wines, the Tombstone Red.
Elgin Distillery
Believe it or not, the Elgin Distillery was the first licensed craft distillery in Arizona. Eligin is also the most and highest-awarded distillery in the West.
Their bourbons and gins have consistently won awards and medals at all of the prestigious spirits competitions and are absolutely delicious.
But their Regalo de Vida rum won back-to-back crowns as the best rum in the WORLD at the San Francisco World Spirits Competition.
And just for good measure, it is the only American rum to ever win a gold medal at the International Wine and Spirit Competition.
Having seen the awards and tasted the spirits, we can say that we agree with the judges! You'll just have to make a visit here yourself to be your own judge.
If you're planning on visiting many of the Sonoita wineries in a day, we'd recommend starting here with the liquor and working your way back down to wine.
You'll thank us the next morning!
9 – Callaghan Vineyards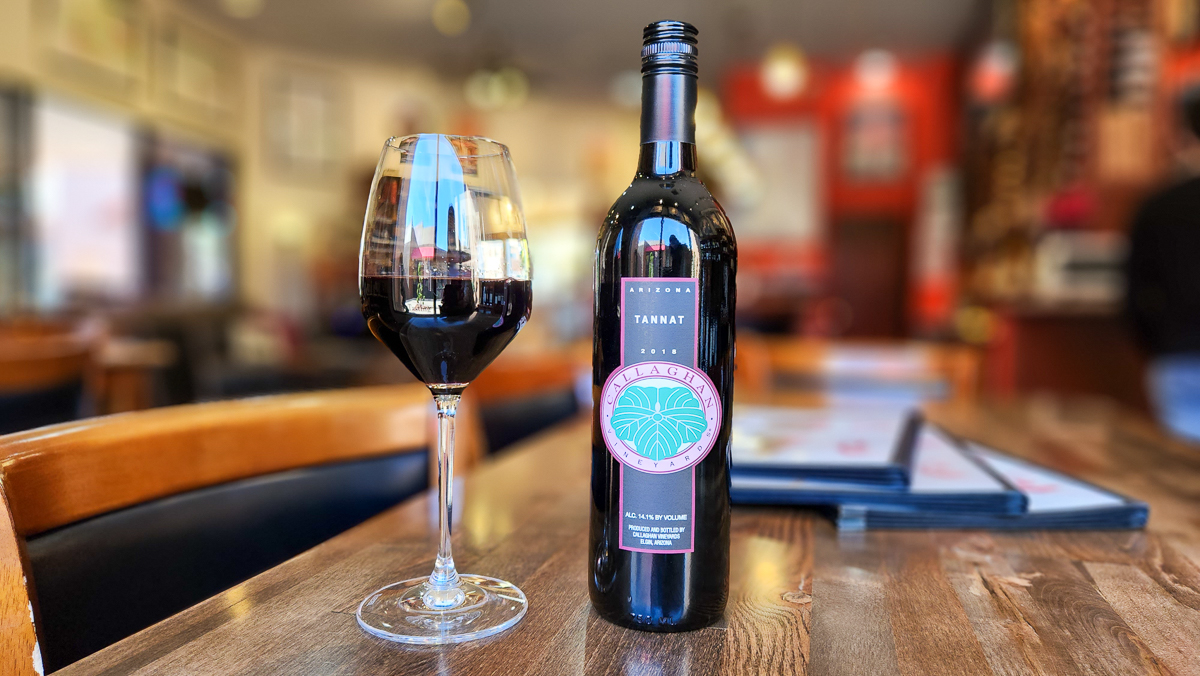 Days open: Thursday – Sunday
Share a Glass Program: Yes
Reservation Required: No
The story of Callaghan Vineyards actually got off to a pretty hot start, and not at all in a good way.
The first vines were planted back in June 1990, which just happened to coincide with a blistering heat wave.
It got so hot in the area that the Phoenix airport had to shut down for a few days as passenger jets hadn't been tested at temperatures over 120°F.
Say all you want about it being a dry heat, but that's hot!
Callaghan, located in the Sonoita/Elgin area, was only 105°F, but the few thousand vines that had been planted still withered away.
With this huge loss right out of the gates, they reset and replanted grape varieties better suited to the Arizona terroir.
What was initially supposed to be a focus on Bordeaux-style wines transitioned to Mediterranean-style wines, specifically many Spanish varieties, which liked the Arizona climate better.
Some of the varietals that you'll find here, both in single varietals wines and in blends, include Graciano, Mourvedre, and Grenache.
And although the Bordeaux-style varietals haven't historically worked out, the Petit Verdot does result in a distinct taste that they use often in their blends.
Callaghan, located within a 2-mile radius of 7 other Sonoita wineries, has been well-recognized and awarded by some of the top names in the wine industry.
And trying to one-up Sonoita Vineyards, their wine has been served at the White House four different times for three different Presidents.
As it turns out, we may not all agree on politics, but we can all agree on great wine!
10 – Wilhelm Family Vineyards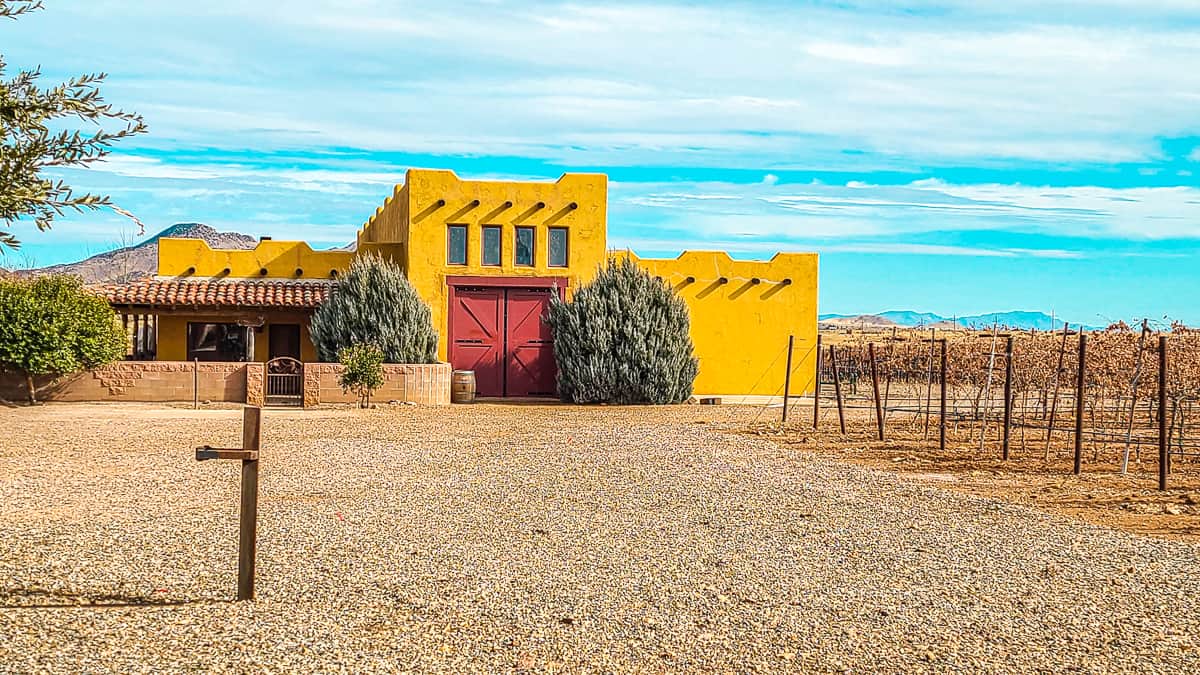 Days open: Saturday – Sunday
Share a Glass Program: Yes
Reservation Required: No
Another family-run, husband-and-wife ownership team amongst the Sonoita wineries, Wilhelm Family Vineyards looks and feels a bit like you are in the Spanish countryside.
The building has earth-tone stucco walls, perfect for keeping out that hot desert sun, and the rolling hills and vineyards all around.
Given its Spanish look, and like many of the other Sonoita wineries, Wilhelm specializes in a large variety of Spanish wines (Tempranillo, Graciano, Verdejo, Garnacha, Albariño) due to the similarities in climate.
They also have several French varietals from the Rhone region including Petite Sirah, Cabernet Franc, and Cabernet Sauvignon.
No matter your palate, one (or many) of the various reds, whites, rosés, Sangrias, or Port-style dessert wines will certainly tickle your fancy.
If you are passing through Tucson, they own the Terra Alta Bistro and Wine Bar. They crafted this menu to pair with their wines so you can enjoy them with a delicious meal.
BONUS: Copper Brothel Brewery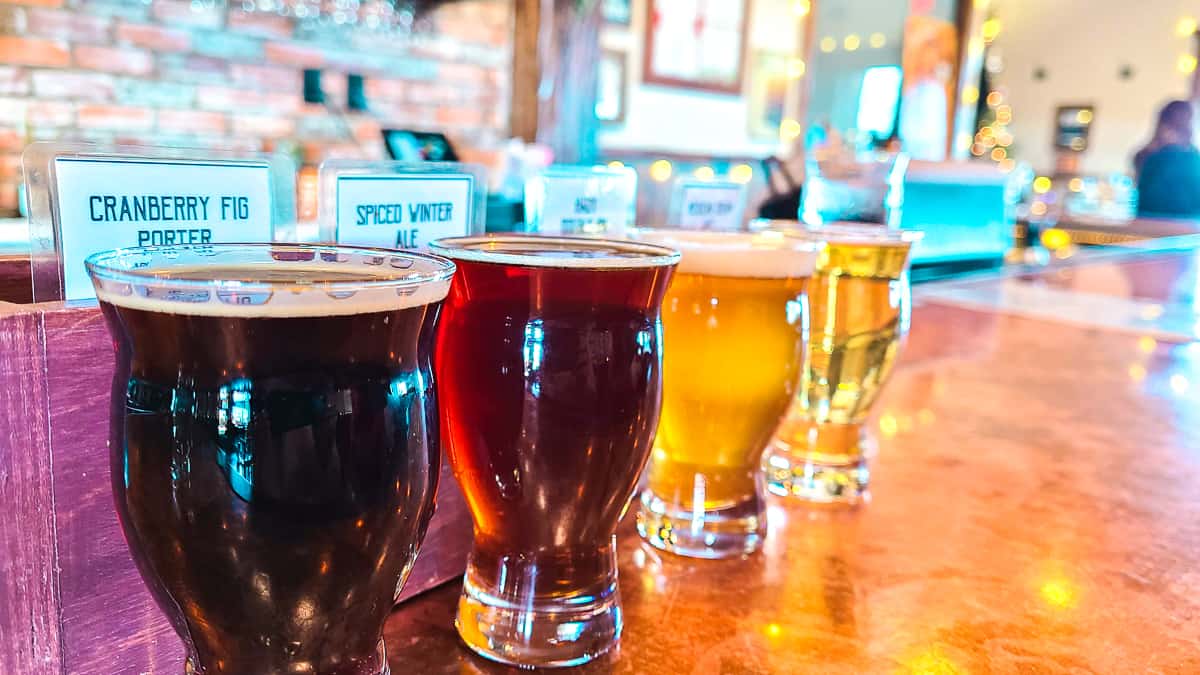 Days open: Tuesday – Sunday
The start to Copper Brothel Brewery actually stemmed back to a family gathering on July 4th, 2014. This gathering happened to include the family huddled around a jar of moonshine (the brewery's motto is Smooch the Hooch).
The family talked about their dreams of opening a brewery that resembled Rosa's Cantina from the Marty Robin song 'El Paso'.
A few years later, after one of the family members unexpectedly passed away, they found some handwritten notes with a list of final wishes.
The first thing on that list: "Start a Business."
Looking back to that inebriated conversation over some moonshine, the family knew that "business" was going to be a brewery.
At this point, you're probably wondering about the name.
It's an homage to Arizona as the "Copper State" while recognizing the impact that brothels had on mining communities in this very Wild West.
Some of their offerings include the Happy Wife Happy Life double IPA…it's as hoppy as they come at 103 IBUs (Chris says there's some poetry to that).
But honestly, according to Sam's expert bitterness tolerance, it wasn't that bad from a bitterness standpoint (Sam also says there's some poetry to that).
The tap list has a little bit of everything from pale ales and IPAs to stouts, wheats, and cream ales. We visited in early January so they had some festive seasonal beers too, like the Cranberry Fig Porter and a Spiced Winter Ale.
Copper Brothel also has a full food menu and even the local wine from Rune Wines in case you have that non-beer drinking friend (and don't want to replace said friend).
If the weather is nice, which it seems like it always is, there is a nice outdoor back patio that overlooks some of the Sonoita countryside.
The Wineries we missed
While we always try to hit them all, we know that sometimes it's nearly impossible.
Here are the Elgin and Sonoita Wineries we missed on our visit:
Hannah's Hill Vineyard
Lightning Ridge Cellars
Los Milics Vineyards
Rancho Rossa Vineyards
When we return to this area again, we'll be sure to visit these first.
By our list alone, that's nearly 15 Sonoita wineries. All located within about 5 miles of each other. This is like a bachelorette party's dream or a perfect couples-weekend getaway.
As the region continues to grow in popularity, more wineries are bound to surface, which is only good news for the wine drinkers out there.
If you haven't heard of the Sonoita wine region or tasted any of it yet, do yourself a favor and get down here as soon as possible to get a taste of the award-winning wines made in this unique terroir!