9 Top Willcox Wineries to Visit in Arizona
Arizona: sounds like wine country, right? Though you may not think it, Arizona is ripe with vineyards (dad jokes) producing delicious grapes that turn into award-winning wines.
And the group of Willcox wineries is leading the charge to put this region on the winery map.
You should have grape expectations about the Willcox wineries. (OK, enough dad jokes!).
Short on Time? Here are the key takeaways:
The Willcox AVA produces 75% of Arizona's wine grapes.
"Downtown" Willcox has a few tastings rooms that are walkable.
Many of the wineries participate in the "Share a Glass" Program.
In our opinion, do not miss Pillsbury Wine Co, Birds and Barrels, or Bodega.
Psst: Looking for more Arizona info? We have a bunch! Browse them all here.
This post was originally published in January 2021, and was updated in April 2023.
**Boozing Abroad contains affiliate links throughout the site. If you choose to purchase items through these links, we will earn a small commission at NO extra cost to you. Read the full disclosure policy here**
Willcox Winery Info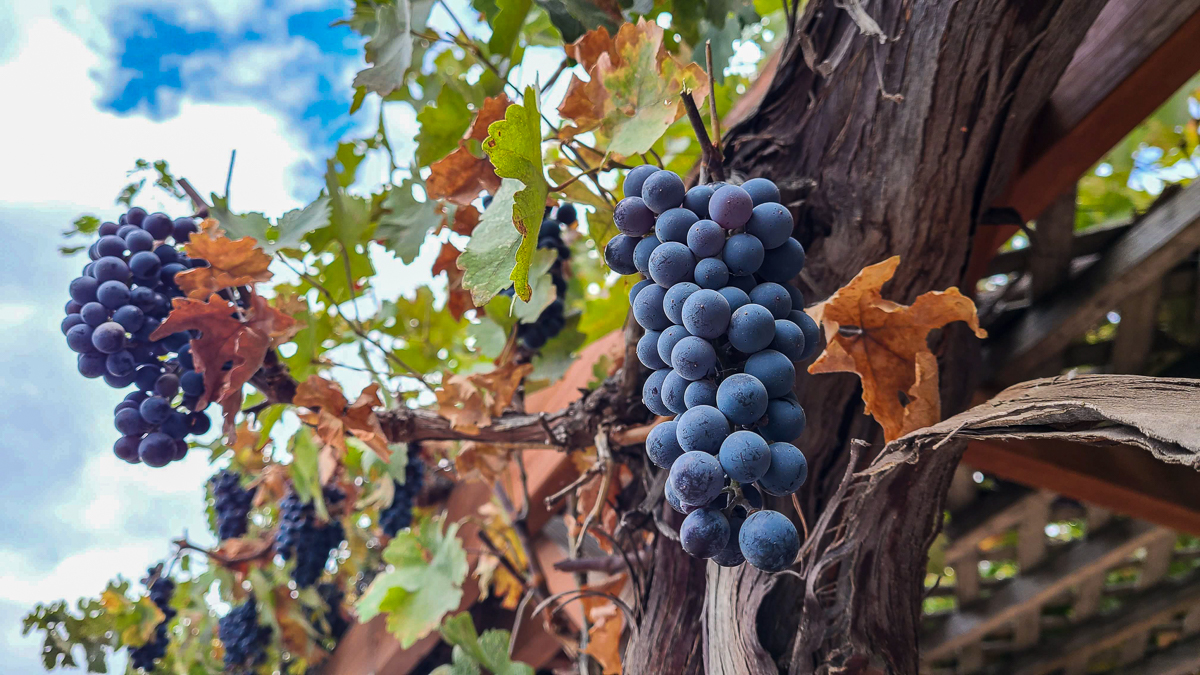 In the southeastern portion of the state, Willcox, Arizona is a gateway to wine country.
Willcox is Arizona's second American Viticulture Area (AVA) and has some spectacular views and a serious concentration of wineries.
The cooler-than-desert weather and higher elevation (over 4,300 feet) are actually perfect for grape-growing.
In fact, over 75% of Arizona's wine grapes come from the Willcox AVA. Willcox has that small-town feel, yet still offers many tourist attractions like wine.
How many wineries are in Willcox?
As of November 2022, there are 10 wineries in Willcox. However, most wineries in the state source their grapes from this region.
Arizona Wine Trail Passport
Visit Arizona offers the Arizona Wine Trail Passport. It's free to join and the best part is, it's exclusively on your mobile. No paper passports needed.
Once you sign up, you'll receive a text to access your info. The biggest advantage to signing up is some wineries offer 10% off a bottle purchase.
While there aren't guaranteed prizes, you can check in at different wineries locations to potentially win a shirt, wine glasses, wine gadgets and more.
Where to stay in Willcox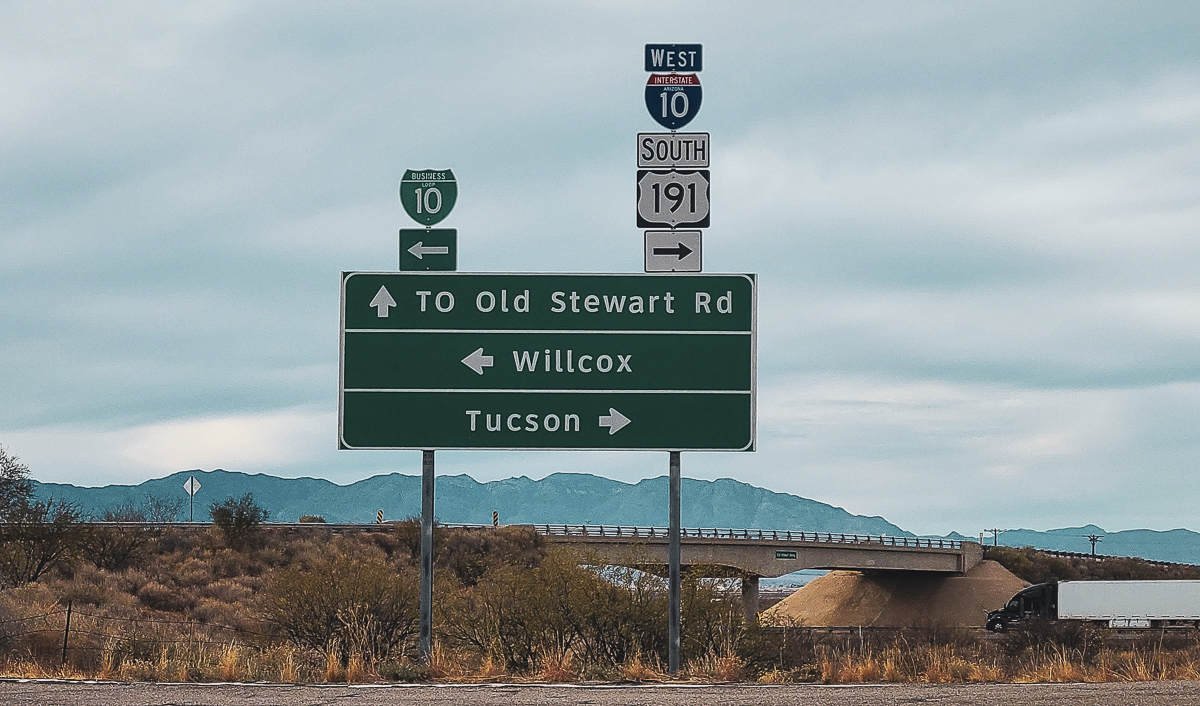 We'd classify Willcox, AZ in the "small town USA" category. It's population is near 3,500 which means there will be limited availability on places to stay. Our top suggestions are below due to walkability to the few tasting room downtown.
1. Arizona Sunset Inn & Suites: consistently gets top reviews and is the only option with suites.
2. OYO Hotel Rose's Willcox – North Haskell Ave: rooms have been recently updated and is great for a couple's getaway.
3. Motel 8 Willcox: cheap option in the heart of their main street.
Map of Willcox Wineries in Arizona
HOW TO USE THIS MAP: To view the layers and see the names of the places on this map, click the tab in the top left corner. You can select the check marks to show or hide certain layers. If you select the icons on the map, you will get more information about the point of interest.
HOW TO SAVE THIS MAP: If you select the star icon next to the map name, you can save this map to your Google Maps account. To view it, open Google Maps in desktop or on your phone, select the menu button, go to "Your Places," scroll to the right to Maps, and you will see this map.
Willcox Wineries
These wineries aren't arranged in any particular order. However, Pillsbury and Birds & Barrels are our two favorite.
Most tasting rooms are only open on the weekends (Thursday-Sunday), so be sure to check before you head out.
Most of the Willcox wineries participate in the "Share a Glass" Program. If you bring in a glass from another participating winery, you will receive a reduced rate for a tasting!
1. Pillsbury Wine Company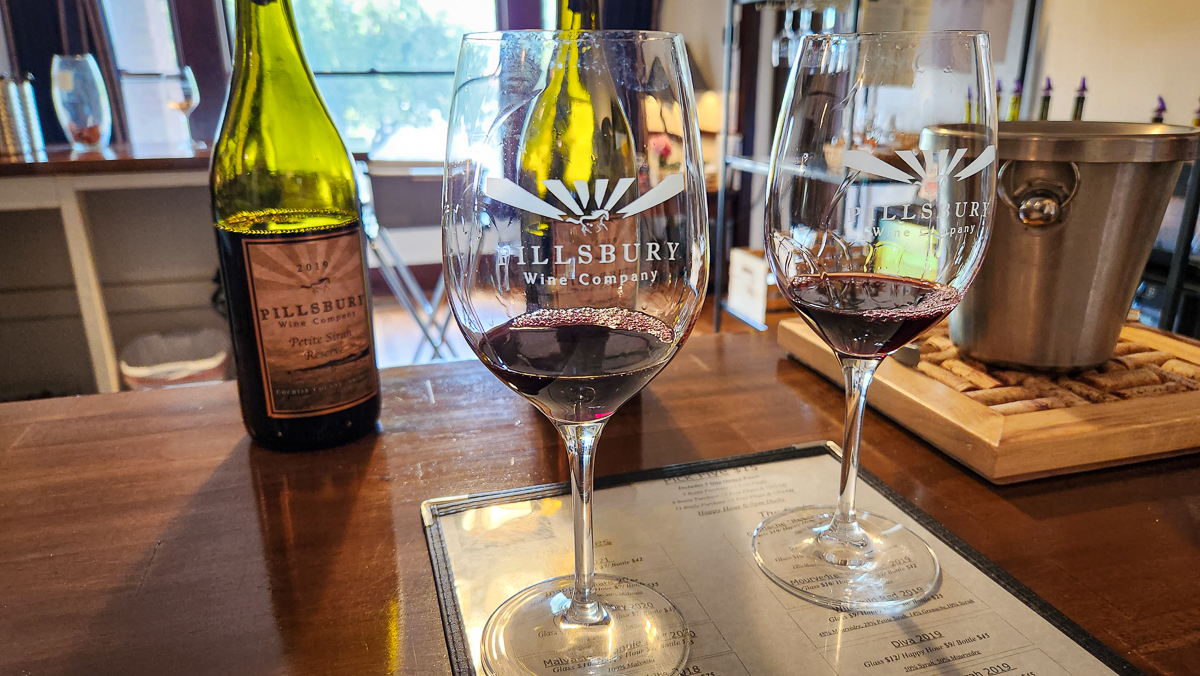 Reservation Required: No
Days open: Thursday-Sunday
Share a glass program: Yes
Pillsbury Wine Company is one of our favorite wineries in Willcox and for so many great reasons.
Owner and winemaker Sam Pillsbury was born in the U.S. but grew up in far, far away New Zealand. He is an incredibly fascinating person to talk to about his wine, his career in the movie industry, or just about anything else on your mind.
Fun fact: He was the director of the movie Free Willy 3, among many others.
He says there is enough generic wine on the market today, so he is breaking the mold for how things "should" be done.
As a result, his wine has won numerous awards.
The accolades include several golds and double golds at the prestigious San Francisco Chronicle Wine Competition, which is the premier North American wine competition.
Sam strives to make food wine, not cocktail wine, so his wines all pair with various foods extremely well.
Their single-varietal Mourvèdre was incredibly unique and unlike anything we've tried before. However, it's quite easy to find in Arizona as the grape grows well in teh desery.
Stop in to the small tasting room in Willcox to have some wine and if you are lucky, a discussion with Sam!
There is also a tasting room in Cottonwood if you can't make it to the weekend-only tasting room (Friday thru Sunday) in Willcox.
2. Coronado Vineyards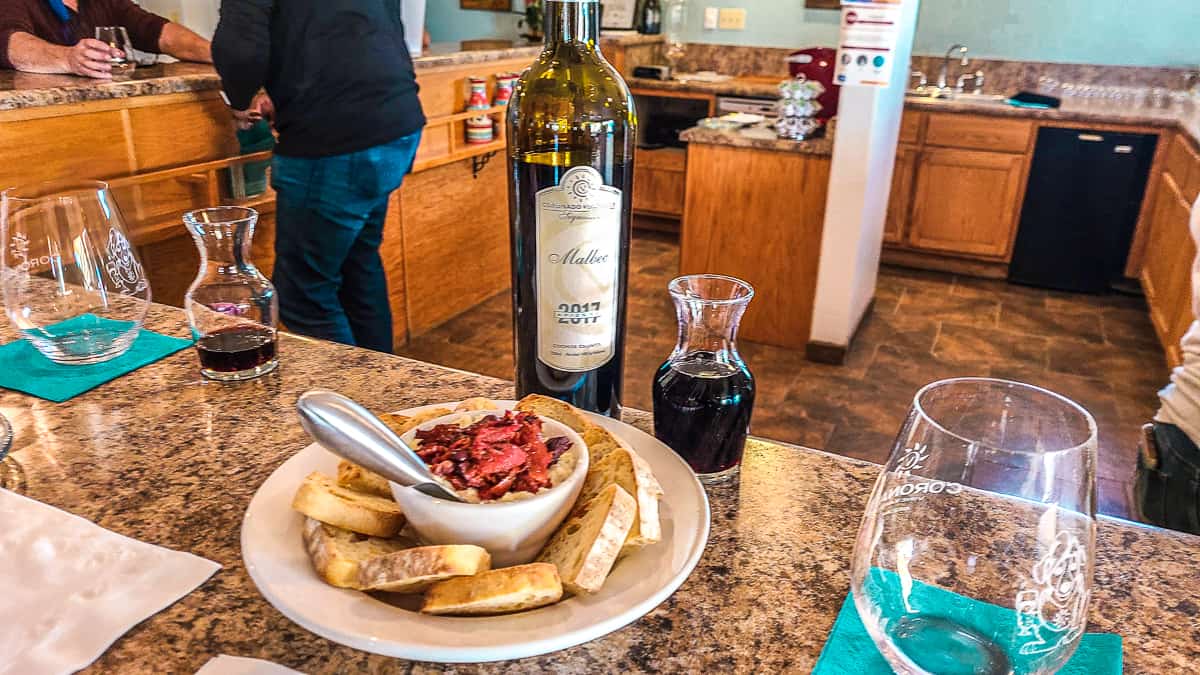 Reservation Required: Yes for groups 8 or more
Days open: 7 days a week
Share a glass program: Yes
One of the biggest tasting rooms of any of the Willcox wineries, Coronado Vineyards changed hands to a husband-and-wife team who are as nice as could be and carrying on the Coronado name.
If you're winery-hopping through downtown Willcox, this will/should likely be your first stop as it's the farthest tasting room from downtown.
It's a large tasting room and would be perfect for a beautiful wedding venue for all of your friends and family. However, it's provides a cozy atmosphere offering up some classics like Sangiovese, Cabernet Sauvignon, and Syrah.
If you're hungry, they have several tapas-style appetizers including spinach and artichoke dip and flatbreads.
Our absolutely favorite was the goat cheese and sun-dried tomato dip. Simply put, this dip was heavenly.
3. Birds and Barrels Vineyards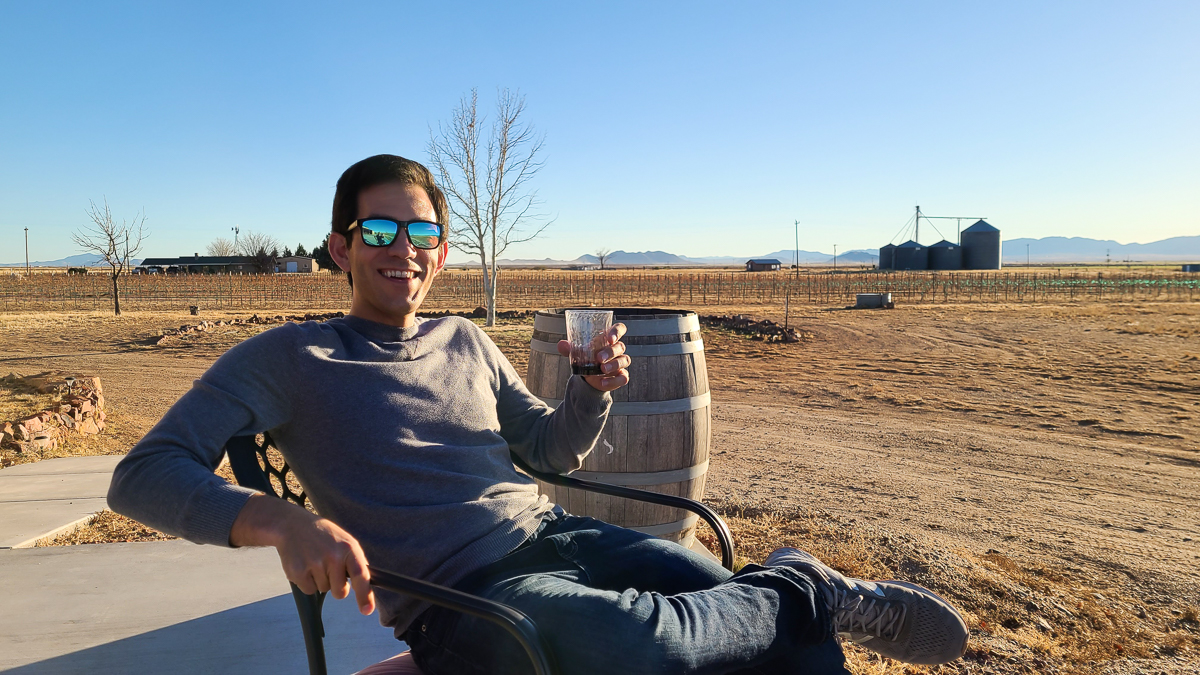 Reservation Required: No
Days open: both locations Thursday-Sunday
Share a glass program: Yes
There may not be much better than sitting on a rocking chair and sipping on a glass of wine while overlooking the same vineyards that produced said wine.
If you want that experience, look no further than Birds and Barrels Vineyards in Willcox.
Husband-and-wife owners (because that is a theme with the Willcox wineries) are all about hand-crafting this wine.
That means hand-harvesting, hand-crushing, hand-pressing, and doing just about everything else possible in the winemaking process by hand.
Surrounded by mountain views, their estate vineyards just amplifies your experience.
Currently, they are growing 10 wine varietals (7 reds and 3 whites). Some of the varietals include Malbec, Petit Verdot, Tempranillo, and Montepulciano, to name a few.
Their Vineyard tasting room is rustic and all outside, just off the back of the winery operations, but most of it is covered by a large overhang to protect you from any extreme weather.
They also have a tasting room in downtown Willcox if you can't make it to the winery.
Adopt a Vine Program
Birds and Barrels offer a truly awesome experience where you can adopt a vine. Starting at $25, you can choose a vine at the winery and tag it with your name and date.
Yearly, you can return to the vineyard to see how your vine is growing, all while enjoying a glass of wine!
4. Bodega Pierce (and Saeculum Cellars)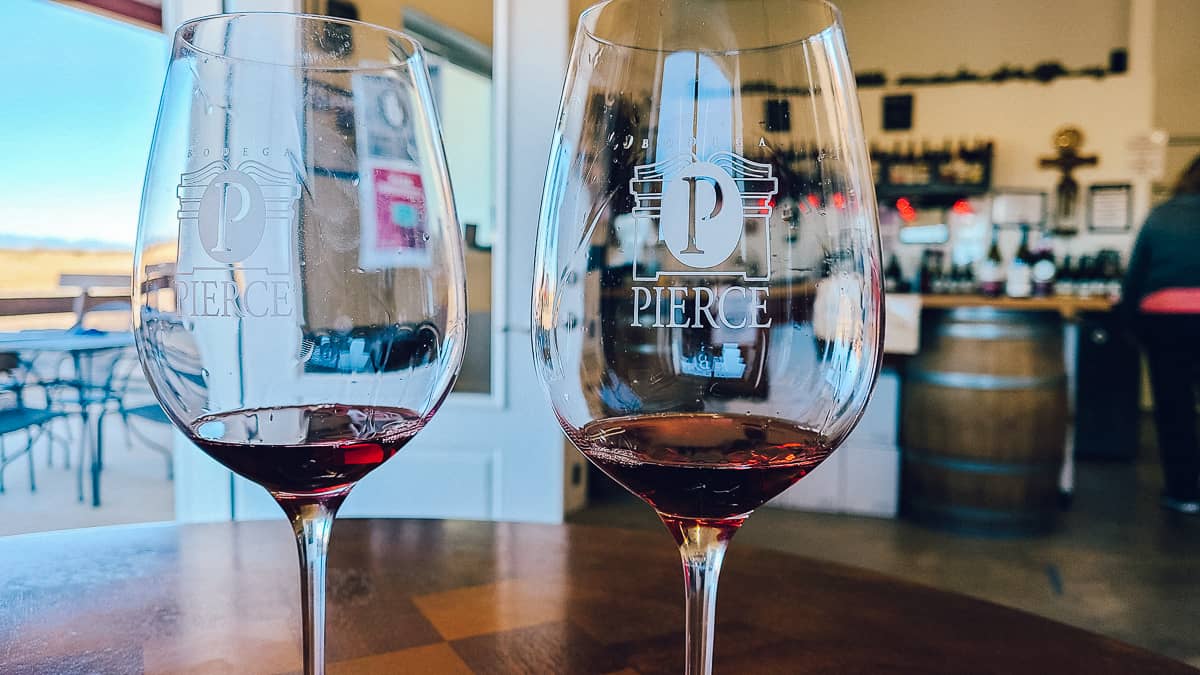 Reservation Required: No
Days open: Thursday-Sunday
Share a glass program: Yes
As you've seen already, many of these Willcox wineries are true family affairs, and Bodega Pierce is no different.
The winemaker is the son of the husband-and-wife duo who served us wines in the Willcox tasting room.
And the winemaker-son isn't only molding his own wines. He's molding the minds of our winemaking youth, teaching the wine program at Yavapai College's Verde Valley campus in Clarkdale, AZ.
Naturally, Bodega Pierce also has a sister tasting room in Clarkdale, which is near the wineries in Cottonwood, Jerome, and Sedona.
Their grape varietals, of which there are many, are all grown in their Rolling View Vineyard in Willcox. (Rolling View was named for the generations-old family farm in Nebraska.)
Today, they've continued on with the family business of agriculture, just this agriculture can make you tipsy.
Saeculum Vineyards is their second wine label that does some of the one-offs and less-mainstream wines, but no less delicious.
We actually got a bottle of the Cache, which is a GSM blend (a popular Rhône wine featuring Grenache, Syrah, and Mourvèdre).
Also, we got to try something very unique called Piquette, which is low-alcohol "wine" made from the second pressings of grape pomace (pulp that remains after being pressed).
This wine was said to have been enjoyed by French farmhands and vineyard workers…probably so they could imbibe without getting too drunk!
5. Zarpara Vineyard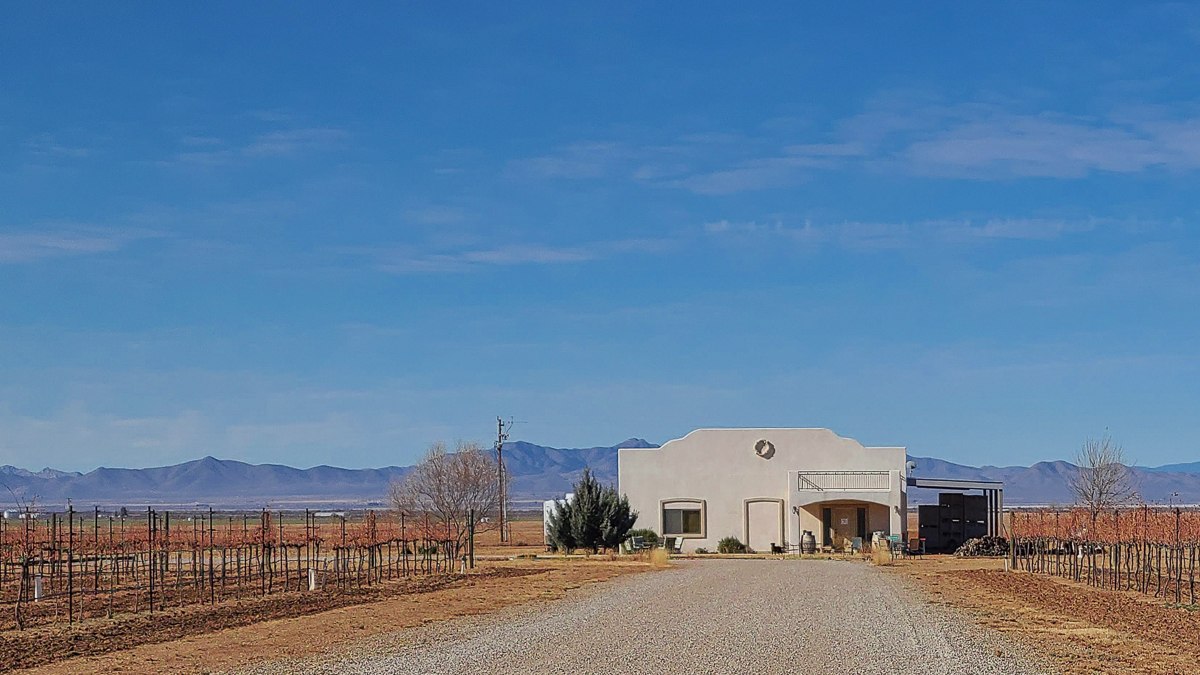 Reservation Required: No
Days open: Friday-Sunday
Share a glass program: Yes
After driving down a quiet, bumpy, gravel road to get to Zarpara Vineyard, we were immediately greeted by the sweetest resident winery-dog named Tilly. She got this name because she walked onto the property and became part of the family on Bastille Day, July 14.
She is an expert greeter and will come around to make sure you love your wine!
Enough about the dog, what about the wine? Well, given the name of the winery dog, you might expect a French influence in the wine, and you'd be right.
But the folks at Zarpara really love all European-style wines, so you'll find those dry, earthy reds from France (Syrah), Spain (Tempranillo), and Italy (Sangiovese) on the menu.
They also have a Viognier, a Sauvignon Blanc, and a dry rosé for their lighter side of things.
If you're lucky and you like sweet wine, you may even find a Port-style dessert rosé to taste.
Regardless of the type of wine you choose, all of the grapes come from right here on their estate.
The vines were planted back in 2010 and the owners are very hands-on with the entire winemaking process, touching and taking care of each and every vine to ensure that high-quality product.
Their tasting room is small but they have a large outdoor area that looks right into the vineyard and the surrounding Arizona mountains.
Of note: Google Maps struggled to get us here so please see their website for directions!
6. Golden Rule Vineyards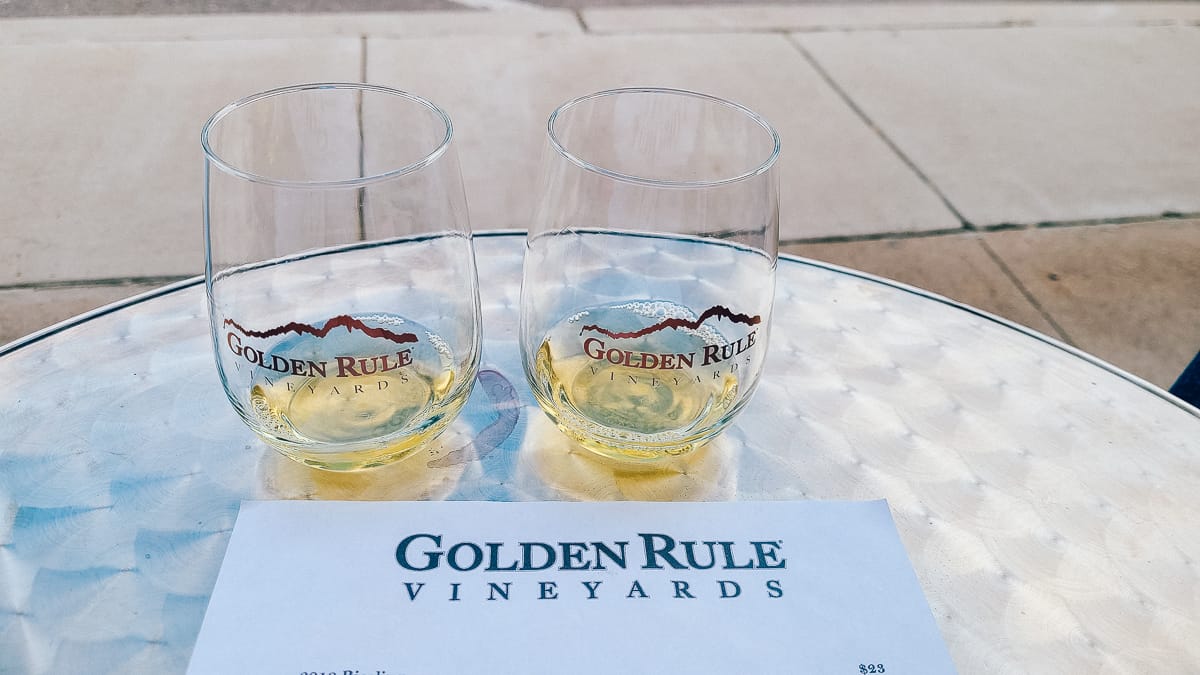 Reservation Required: No
Days open: Wednesday-Sunday
Share a glass program: yes
Golden Rule Vineyards offers several single varietals of wine like Syrah, Cabernet Franc, and Sangiovese, but they also have many different blends like their Eureka series.
Like many other Willcox wineries, they have a tasting room in the downtown historic Willcox Mercantile.
The changing-with-each-vintage Eureka red blend is a super-Tuscan style (which just means it operates outside of the sometimes-restrictive Italian classification system). The current version is a magical blend of Cabernet Sauvignon, Sangiovese, and Petit Verdot.
If you prefer the farm-winery vibe, you must book an appointment to visit the farm/vineyard for a tasting. The vineyard is located just 30 minutes southeast of downtown Willcox.
And if you're winery-hopping, remember to bring in your glass from any of the other Willcox wineries on this list to receive 10% off of your tasting.
If you get hungry, you can snack on an Arizona staple, pistachios, from their friends at Cochise Groves!
In case you forgot, the Golden Rule is "Pour wine for others as you would have them pour for you." That means pour them great wine!
7. Keeling Schaefer Vineyards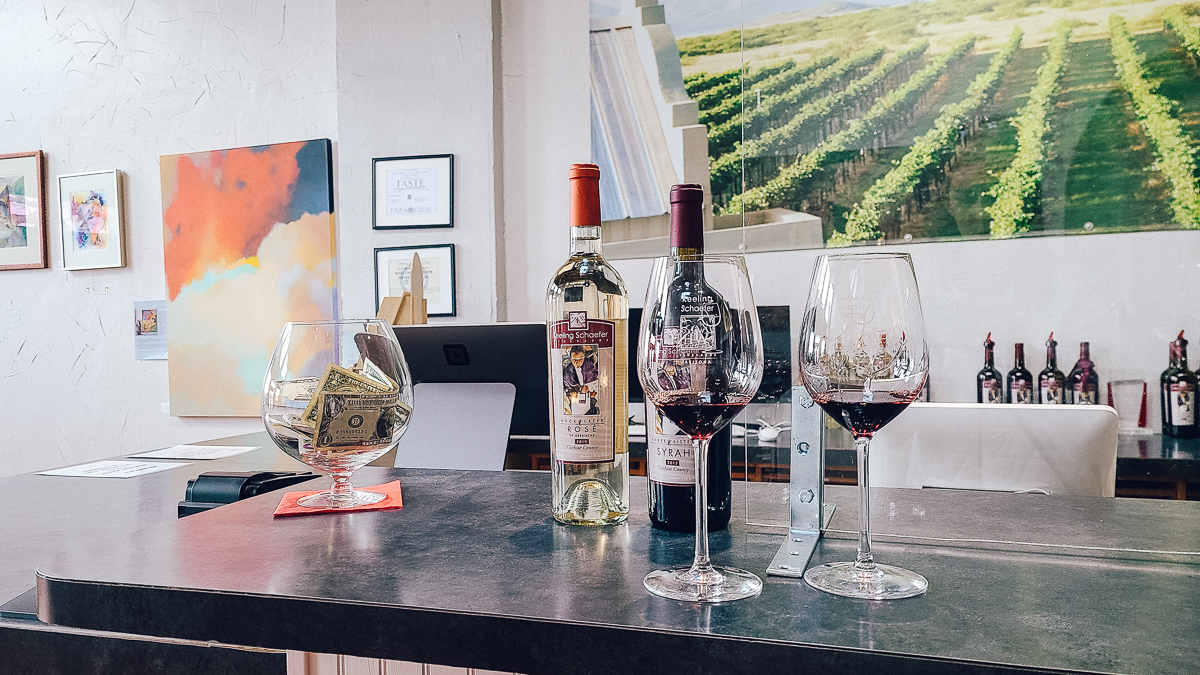 Reservation Required: No
Days open: 7 days a week
Share a glass program: yes
Like most of the Willcox wineries, Keeling Schaefer makes their wines exclusively from estate grapes that are grown in their own two vineyards here in southeastern Arizona.
That means they have complete control, except for Mother Nature, of course, over the product from vine to wine.
The tasting room is located a couple of doors down from Golden Rule in the historic downtown section of Willcox.
Most of the wines are single varietals and gives you the chance to compare and contrast the different grapes and wines from around the world.
Similar to Golden Rule and the other Willcox wineries, bring in your glass from another winery and enjoy a tasting for a reduced fee.
The tasting menu includes light white wines (Viognier), medium-bodied reds (Mourvèdre), and the boldest of red wines (Petite Sirah – which they call "velvet glory" in a bottle).
8. Carlson Creek Vineyard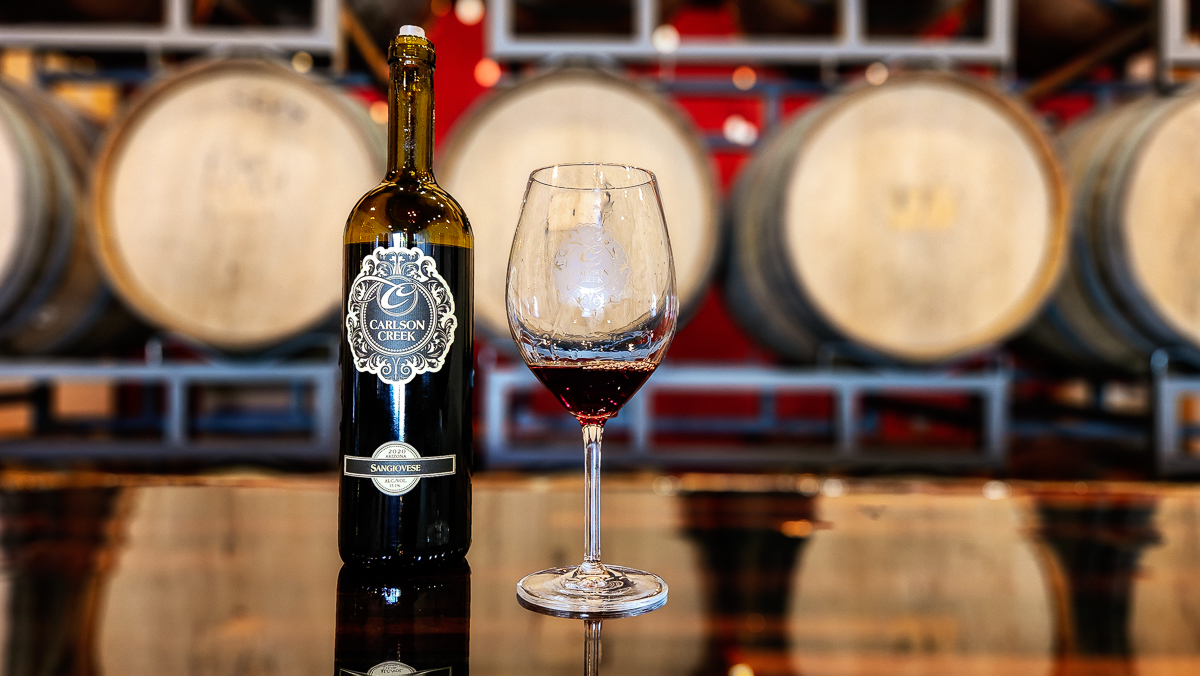 Reservation Required: No
Days open: Thursday-Sunday
Share a glass program: yes
Carlson Creek Vineyard is an estate winery that sources all of its grapes from its vineyard in Willcox.
They have a tasting room onsite at their winery which allows you to really take in the wine.
If you can't make it down the Willcox, they have additional tasting rooms in Old Town Cottonwood and Old Town Scottsdale.
No matter which tasting room you choose, you can try a flight of 5 wines for $12 (pick your own wines).
Some of their reds include the Sangiovese, the Cabernet Sauvignon (best in class at AZCentral Grand Wine Competition).
Their Rule of Three vintages is one of their flagship wine made from Grenache, Syrah, and Mourvèdre.
9. Aridus Wine Company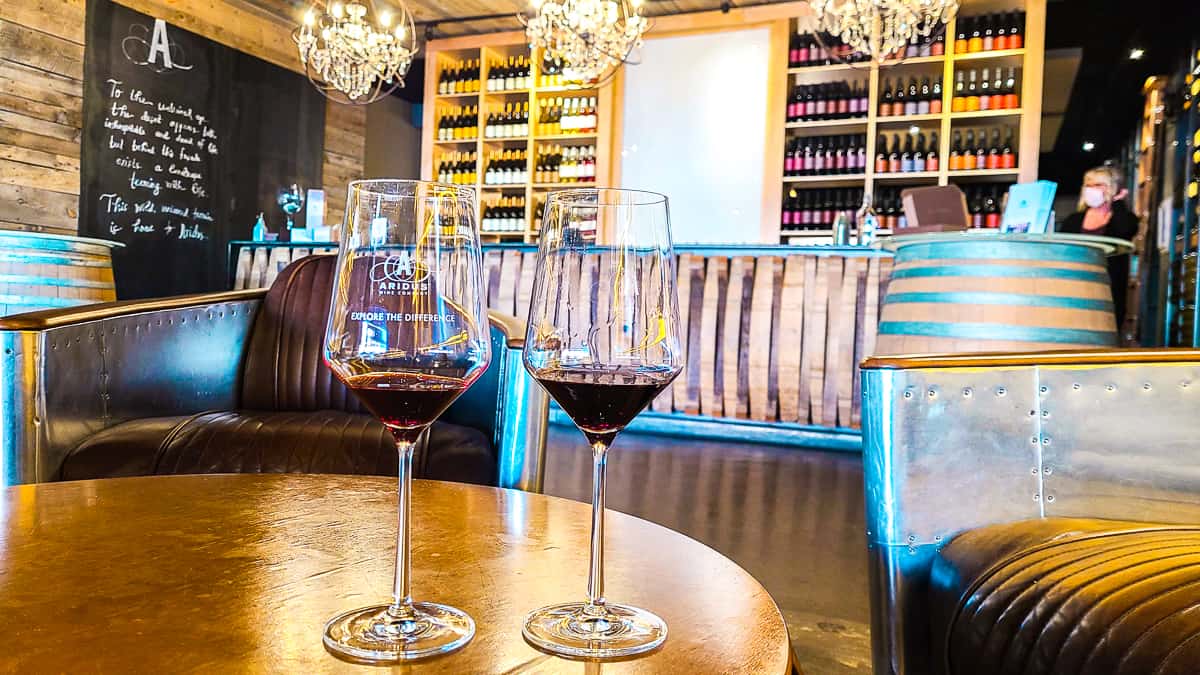 Reservation Required: No
Days open: Tuesday-Sunday
Share a glass program: No
Aridus Wine Company is letting that definition shine through in its wine using grapes from its estate vineyard in the Willcox AVA region as well as New Mexico and California.
Aridus means arid or dry in Latin, which is a perfect description of the climate and landscape here in Arizona.
The Willcox winery is one of the largest winery productions in the state and has a tasting room to go along with it.
There is also a tasting room in Old Town Scottsdale which is where we got to taste these delicious wines.
They strive to repurpose where they can and that includes much of the decor of their tasting rooms and winery.
They've won awards for their sustainability in their interior design excellence, using reclaimed lumber from old barns, cold grey steel, concrete, and natural stone.
Their 2016 Syrah won Wine & Spirits' Best Syrah in 2019, but we really enjoyed the Montepulciano, Petit Verdot, Tempranillo, and Cabernet Franc!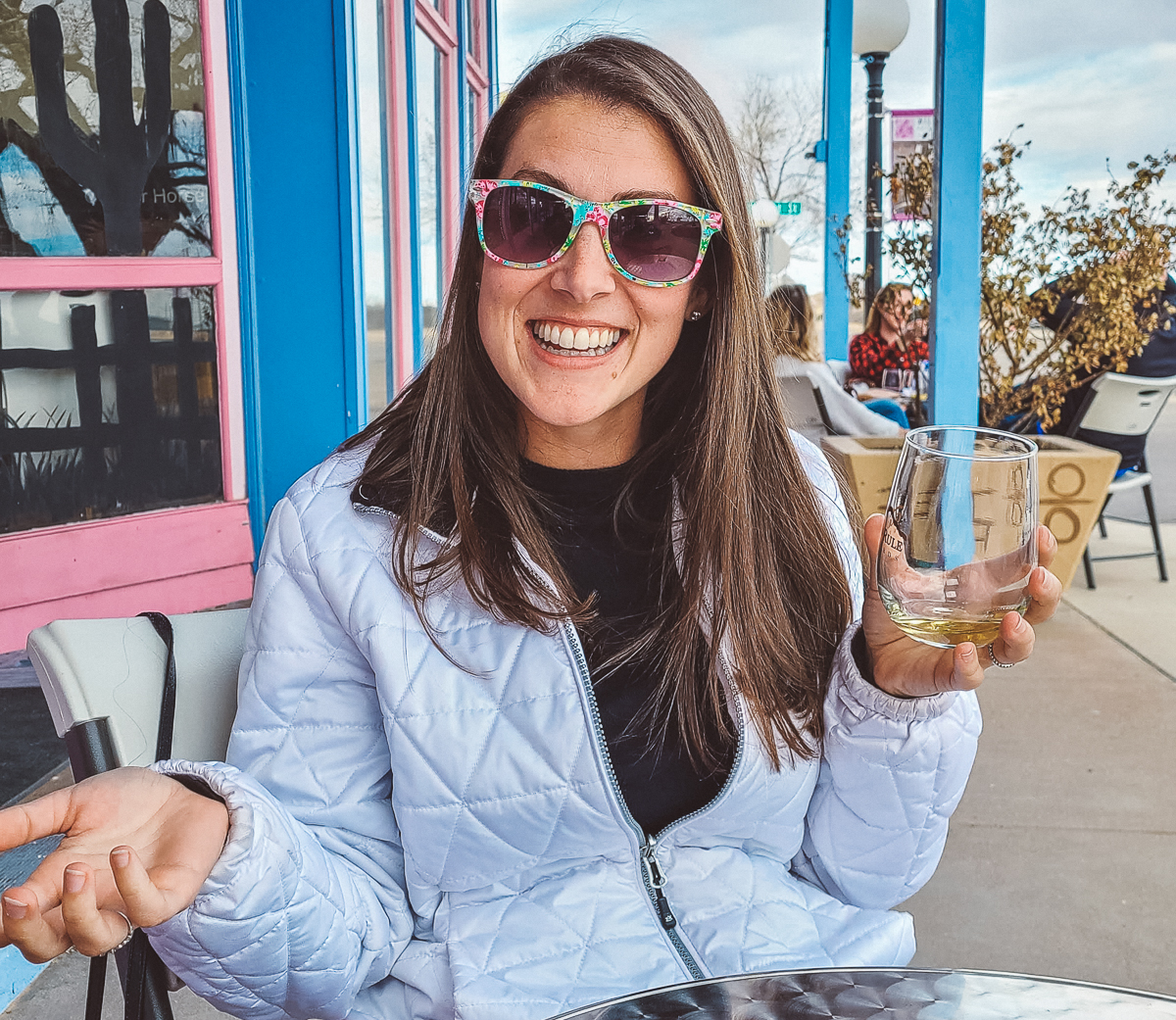 Throughout our time tasting at the many Willcox wineries, we kept running into very similar themes: great wine, family-owned and operated, and very supportive of the other Willcox wineries.
In an industry that can get a reputation for being stuck up and snooty, it was beyond refreshing to see how highly everyone speaks of each other and how passionate everyone is about their craft!
Though it may not look and feel like a quintessential "wine country", it's the warm days, cool nights, rich soil, and high elevation that make this place great for grape-growing.
Trust us, we did the hard research and can assure you that these Willcox wineries are pumping out some seriously-good wines that are winning awards at the local, regional, and national levels.
Come visit and try for yourself. And let us know which one is your favorite!
If you are done tasting the delicious wine, drive one hour west to Elgin and Sonoita for even more grapes and vineyards.