Things to do in Hot Springs, SD for First Time Visitors
Nestled in the Southern Black Hills, Hot Springs, South Dakota is a great place for a weekend getaway or stop-over when visiting South Dakota.
This quaint town, known for its hot springs, has been attracting locals and tourist for over a century. Apart from the hot springs, this is a great spot to stay if looking to explore nearby attractions like the Wind Cave National Park (which we highly recommend).
We travel to the Black Hills yearly and were able to visit 3 times in the last year. Hot Springs is one of our favorite small towns to visit.
If you are looking at visiting Mount Rushmore or Custer State Park, you should consider a night or two in Hot Springs, SD.
Short on Time? Here are the key takeaways:
There are both free and pay to visit hot springs. Our favorite is the Moccasin Springs Natural Mineral Spa.
It's a great spot to stay if you want to visit the Wind Cave National Park
Don't miss the Mammoth Site Museum. It's larger than life (haha)
Psst: Vacationing in South Dakota? We have several guides for you to check out. Browse them all here.
This post was originally published in June 2020, and was updated in March 2023.
**Boozing Abroad contains affiliate links throughout the site. If you choose to purchase items through these links, we will earn a small commission at NO extra cost to you. Read the full disclosure policy here**
Map of Hot Springs, SD
HOW TO USE THIS MAP: To view the layers and see the names of the places on this map, click the tab in the top left corner. You can select the check marks to show or hide certain layers. If you select the icons on the map, you will get more information about the point of interest.
HOW TO SAVE THIS MAP: If you select the star icon next to the map name, you can save this map to your Google Maps account. To view it, open Google Maps in desktop or on your phone, select the menu button, go to "Your Places," scroll to the right to Maps, and you will see this map.
Where is Hot Springs, SD?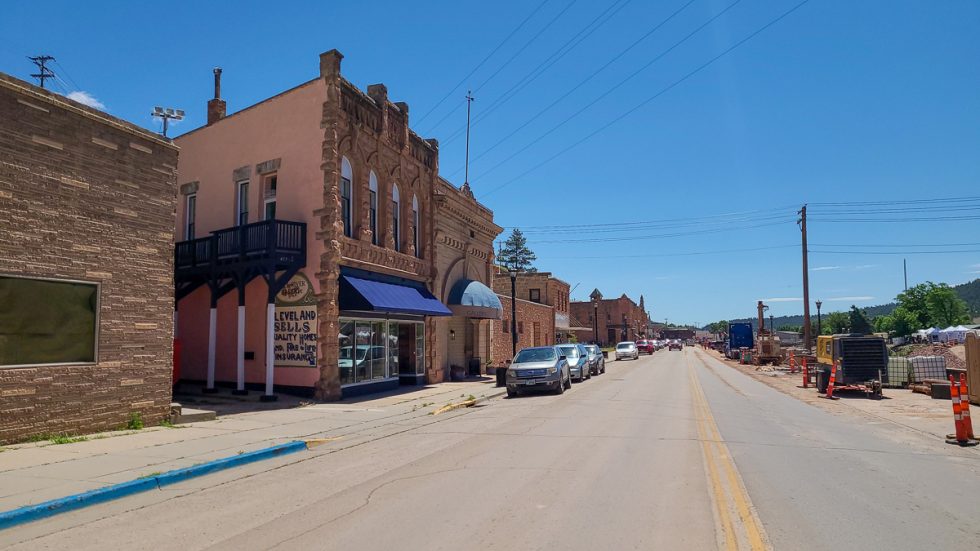 Hot Springs, SD is located in the southwest corner of South Dakota and is at the base of the Black Hills. It's an easy one hour drive from Mount Rushmore and 45 minutes from Crazy Horse.
From Hot Springs, SD to Rapid City, SD, it's also a one hour drive up State Road 79. This route is actually outside of the Black Hills National Forest and Custer State Park so there aren't huge elevation gains or winding roads through the forest.
>> Be sure to check out our South Dakota Road Trip Guide <<
Are there hot springs in Hot Springs, SD?
As its name suggests, yes! There are 5 locations to see and visit the mineral water hot springs. Keep reading for more info on the hot springs!
Best time to Visit South Dakota
When deciding on the best time to visit South Dakota, it's important to consider the weather. Most people visit during the summer months to ensure nicer and warmer weather.
The best times to visit would be in the late spring (April-May) and early fall (September-October) when the crowds are smaller and the weather is a bit cooler.
Where to Stay in Hot Springs, SD
Booking.com probably has the widest selection of budget (and luxury) accommodations in the world. In our experience, they consistently have the cheapest rooms.
We also like their easy-to-use interface and no money down policy. When we book our travel stays, we personally use booking.com.
Hot Springs South Dakota hotels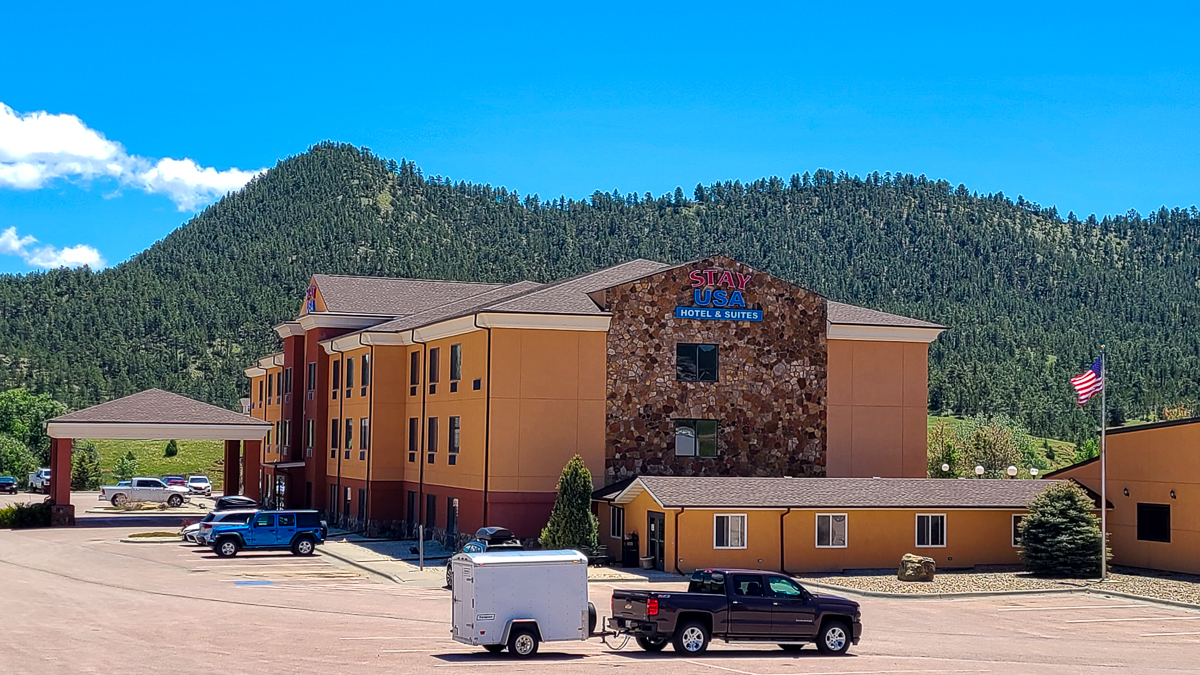 There are over 10 hotels within the City of Hot Springs, SD. In a city of about 3,500 people, you really can't go wrong on location, but here is where we recommend:
Baymont
>>>Check Prices or Book your stay at Baymont by Wyndham Hot Springs
Baymont is a Wyndham hotel and you can earn or burn points here if you are a member. This low-key hotel is conveniently located 1 mile from the Mammoth Site museum, 2 miles from Evan's Plunge Hot Springs, and 8 miles from the Wind Cave National Park.
Children age 17 and under stay at no charge when with their parents. There is free Wi-Fi, TVs, as well as microwaves and minifridges in each room.
Don't forget the continental breakfast buffet and an indoor pool! Pets are welcome too!
USA Stay Hotel and Suites
>>>Check Prices or Book your stay at USA Stay Hotel and Suites
The newest hotel in town, USA Stay Hotel and Suites is located across from the Mammoth Site museum, about 2.5 miles from Evan's Plunge Hot Springs and 15 minutes from the Wind Cave National Park.
Modest rooms and suites come with microwaves, minifridges, and coffee makers, as well as free Wi-Fi and flat-screen TVs.
Looking to splurge??
Their upgraded rooms have sofas and suites with whirlpool tubs. A hot breakfast buffet is free.
There's also an indoor pool, a whirlpool, and a fitness room as well as coin-operated laundry and a convenience store.
Looking for a private and remote option?
Cozy Black Hills Home
>>>Check Prices or Book your stay at Cozy Black Hills Home w/13 Acres, Deck & View
This private 3-bedroom vacation home is about 10 minutes south of Hot Springs, SD. With 2 queen beds and twin-sized bunk-beds, this home offers 13 acres of quiet ranch-like living.
It's equipped with a full kitchen and an incredible deck to take in the countryside and roaming wildlife.
It is 10 minutes from the Mammoth Site, 15 minutes from Evan's Plunge Hot Springs and 45 minutes from Wind Cave.
This home is conveniently located 1 mile from Cascade Falls, which is one of the natural springs you can visit.
Hot Springs, SD Camping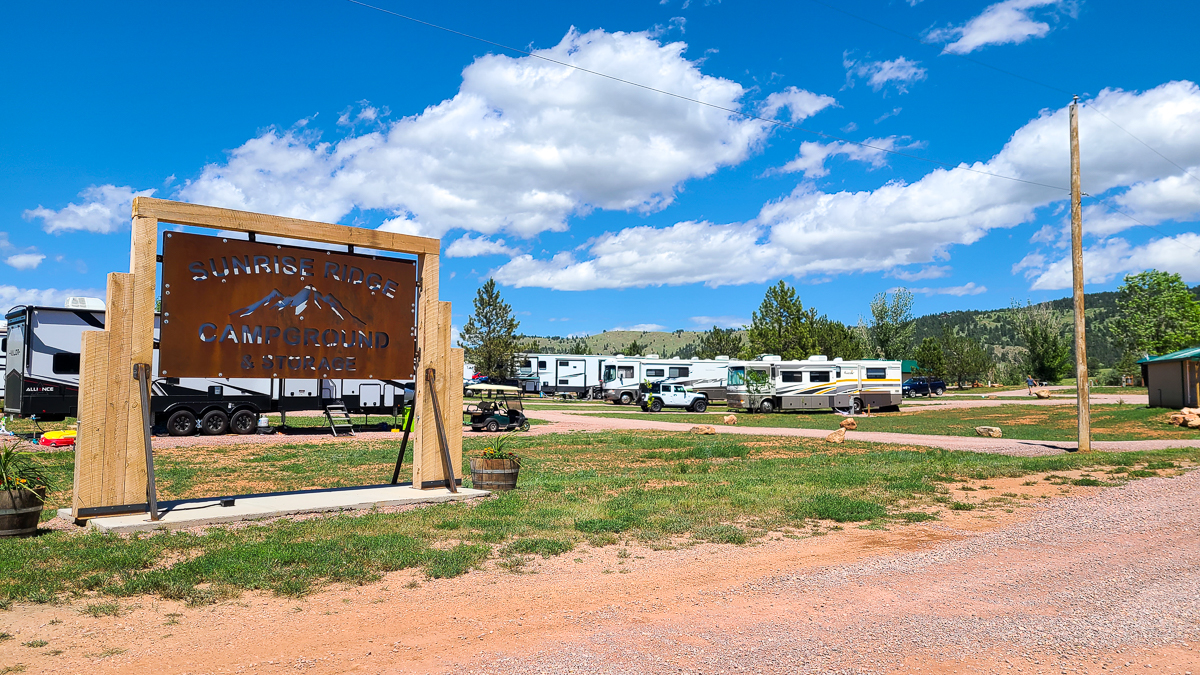 Looking for a unique camping experience?
Allen Ranch Campground
>>>Check Prices or Book your stay at Allen Ranch Campground
Experience the beauty of Hot Springs at Allen Ranch! From tent sites and RVing to Glamping or Tipi options, Allen Ranch offers a fun experience in Hot Springs.
With access to the river, you can bring your own flotation devices to float down the river. Glamping offers 1 queen bed while the Tipi can sleep up to 5 on cot-like beds.
Deluxe pricing includes a full cowboy breakfast too! Only 5 minutes to town, this is a distinct experience for your South Dakota vacation!
Sunrise Ridge Campground
>>>Check Prices or Book your stay at Sunrise Ridge Campground
We stay here each time we visit Hot Springs, SD. It was about 5 minutes from the Historic Hot Springs downtown and about 10 minutes from the Mammoth Site Museum.
Prices vary based on type of site, but start at around $35+. RV sites, tent sites, and cabins are available.
Things to do in Hot Springs, SD
Visit the Natural Hot Springs in South Dakota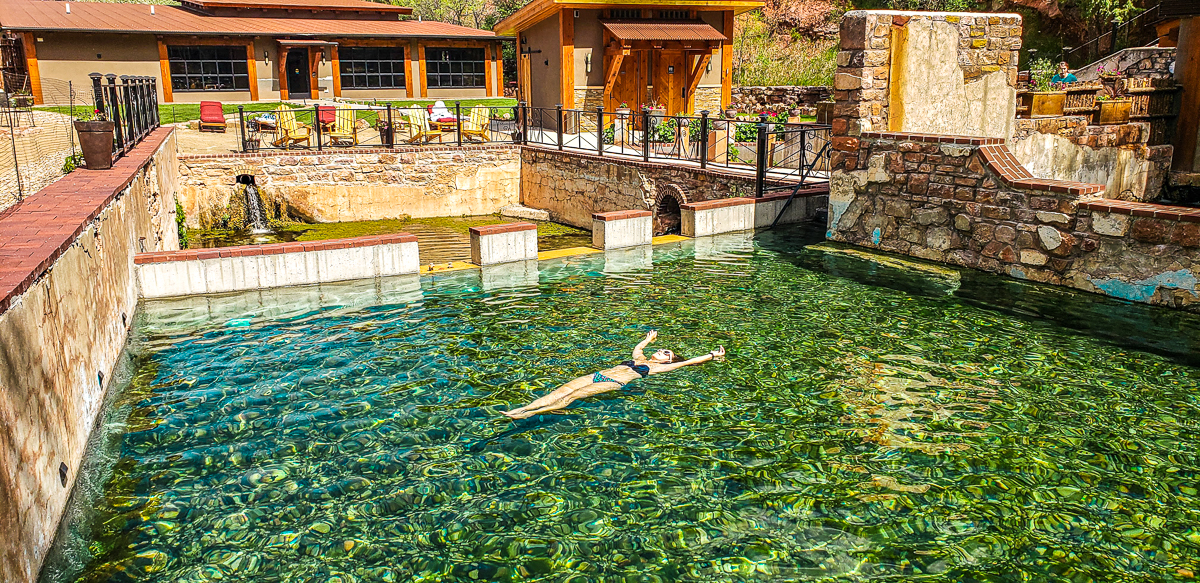 Hot Springs, SD was a sought-after destination for many travelers exploring the west by train.
But long before the trains brought people west, the mineral springs in Hot Springs, SD were used by Native Americans for rejuvenation, relaxation, and other health benefits provided by the natural mineral water.
These mineral waters are rich in calcium, magnesium, and potassium and many people believe they have magical healing powers.
Today, you can experience 5 of the hot springs located in this town and we highly suggest adding this to the top of your things to do in Hot Springs list!
Evans Plunge Mineral Springs
Children under 15: $10
Adults (16+): $14
In 1880, Frederick Evans enclosed one of the spring pools in a building, creating a popular tourist spot with a year-round water temperature of 87 degrees.
The original Native American name for the Hot Springs area was "Minnekahta," which means "warm water."
Today, this giant indoor pool is still fed by the hot springs and now has water slides, making this a fun stop for all ages.
As this stop doubles as an indoor water park, we'd recommend this hot spring for the whole family! It's very kid friendly and there will be a lot to keep them entertained.
Moccasin Springs Natural Mineral Spa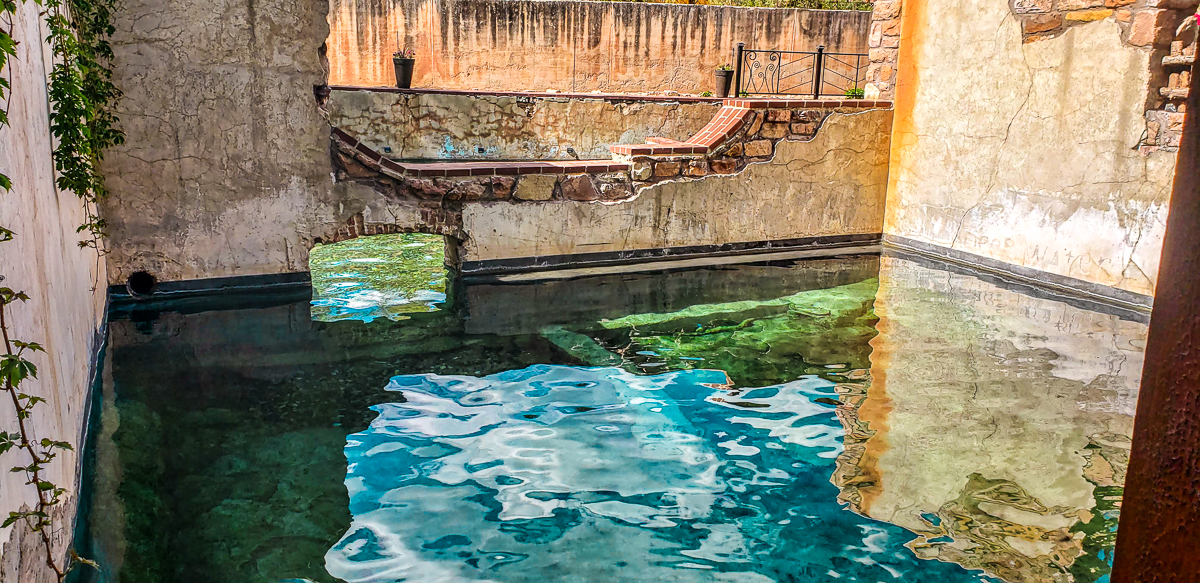 Admission: $25 for a drop in soak (no reservations required)
Moccasin Springs in Hot Springs, South Dakota is the most recent hot springs addition to the area.
Back in 1963, the 1890 Minnekahta Bathhouse and Hot Springs Hotel was deemed a hazard, officially closed, and the buildings torn down.
But in 2014, it was reclaimed, re-purposed, and revitalized by new owners and officially opened in 2019.
Tucked on a hillside surrounded by pines, this hot springs resort is a mix of rustic and modern featuring 4 warm and hot spring pools that range in temperature from 88°F to 102°F (31°C to 39°C).
There is also a spa onsite as well as a yoga studio for those looking for more rejuvenation and relaxation.
We thoroughly enjoyed our time here allowing the warm waters to work their magic.
While kids are allowed, there isn't much to keep them entertained by the pools. If you are traveling with small children, you might want to consider Evans Plunge instead.
Cascade Springs & Keith Park
Roughly 8 miles south of town on Highway 71, Cascade Springs is the largest single spring in the Black Hills.
You can experience one of the warm water springs bubbling under the historic gazebo.
Swimming is not permitted in Cascade Springs but it's a great place to picnic on your way to Cascade Falls just down the road.
Cascade Falls
Cascade Falls is the local "swimming hole" and you can get there by driving a short 20 minutes south of town. Cascade Falls has a pathway and is just a few minutes walk from the parking area.
There is a stairway down a steep bank to Cascade Falls, where swimming is allowed.
The water here is cooler than the other springs, but swimming in the natural pool is incredible!
Fall River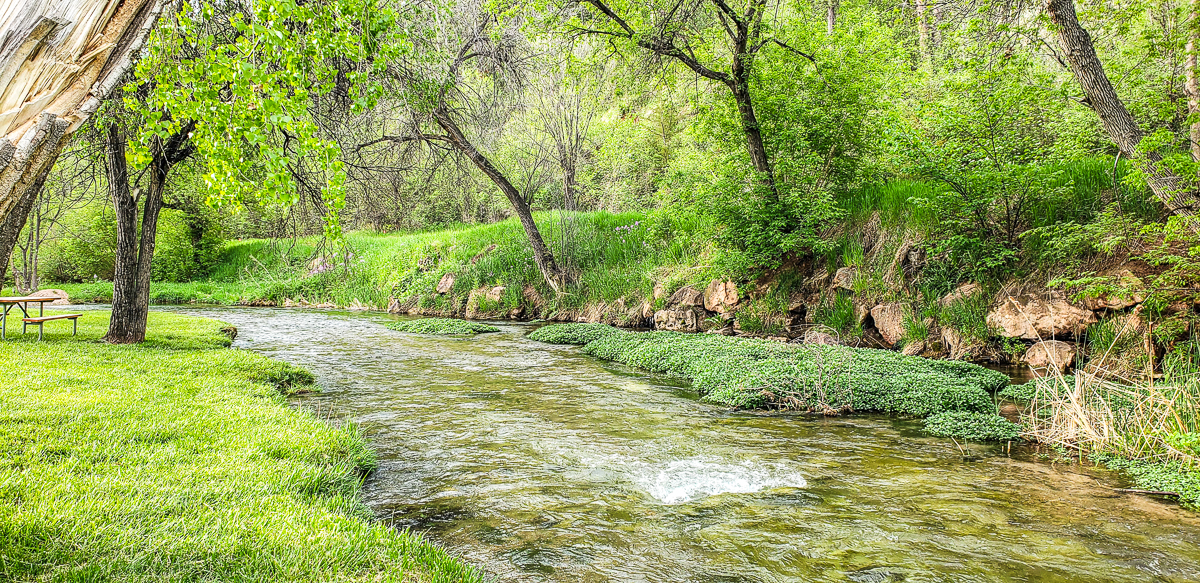 Fall River is the easiest to find as it runs the entire length of Hot Springs, SD. Following the 1-mile Fall River Freedom Trail, you will walk through 2 city parks: Centennial Park and Brookside Park.
In Brookside Park, you can soak in the deeper spots. Continue past Evans Plunge to reach Chautuaqua Park.
Sit on the bridge and dip your feet in like the locals do!
Hot Springs Riverwalk
Paralleling downtown Hot Springs, you can stroll along the Fall River. Start at the Kidney Spring Gazebo and make your way to Centennial Park.
Along the way, stop and check out the Hot Springs Waterfall or take a sip of Natural Spring water from the fountain in the gazebo.
While the walk is short, you can stop and put your feet in the river to cool off on a hot summer day.
During the summer months, Centennial Park host festivals and markets. Be sure to check the calendar before you visit to take advantage of the festivities or concerts.
The Mammoth Site Museum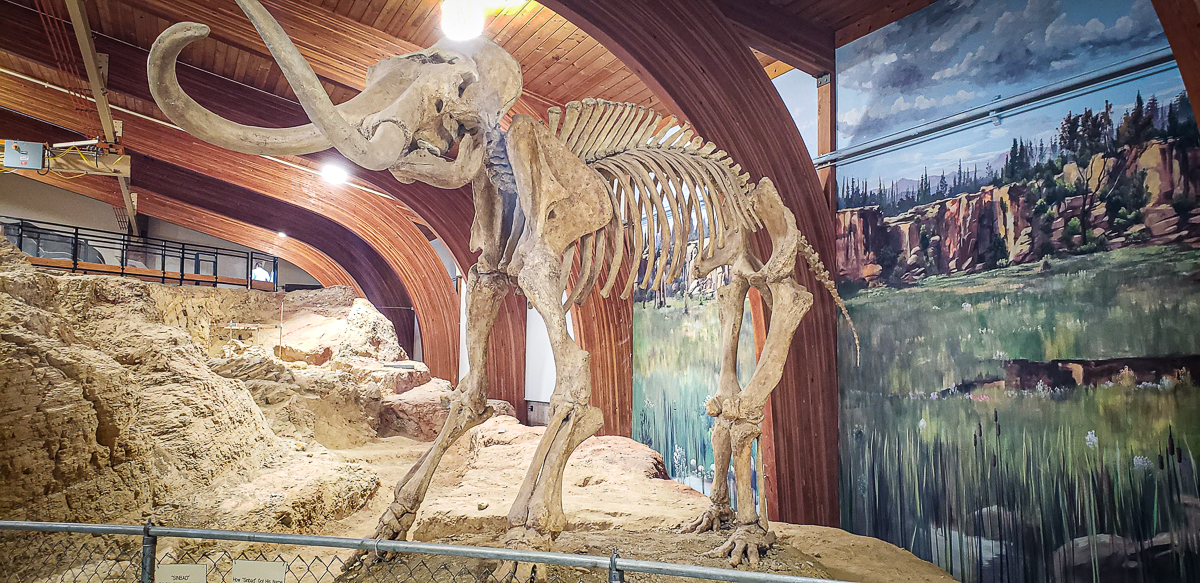 Children 12 and under: $7+
Adults (13+): $10+
This is a must-do in our opinion and one of the most unique experiences.
A hybrid museum and live archeological site, the Mammoth Site houses the world's largest concentration of mammoth remains in the world!
We didn't know what to expect when we visited but we had a great time and actually learned a lot! Without a doubt, this was one of the coolest museums we've ever visited.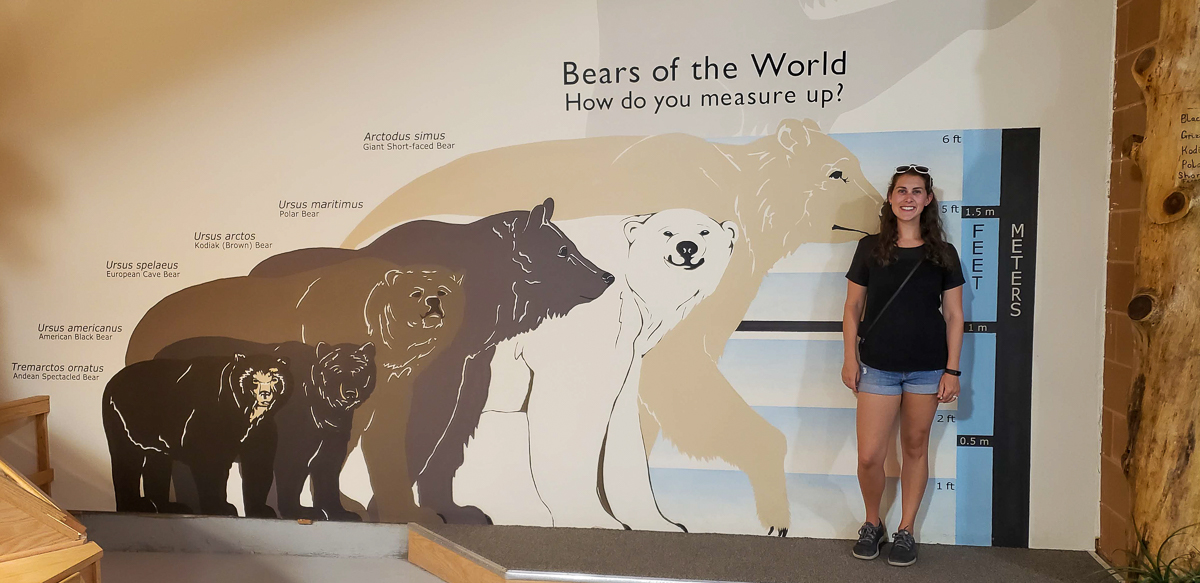 Researchers from around the globe journey here to learn more about the Ice Age fossils. Over 61 mammoths have been discovered and excavated here along with several other species of insects and animals.
You can download the free self-guided tour app and explore at your own pace. There are several programs that allow you to get up close to the bones if you have time.
This is definitely one of our favorite things to do in Hot Springs.
Hot Air Balloon Ride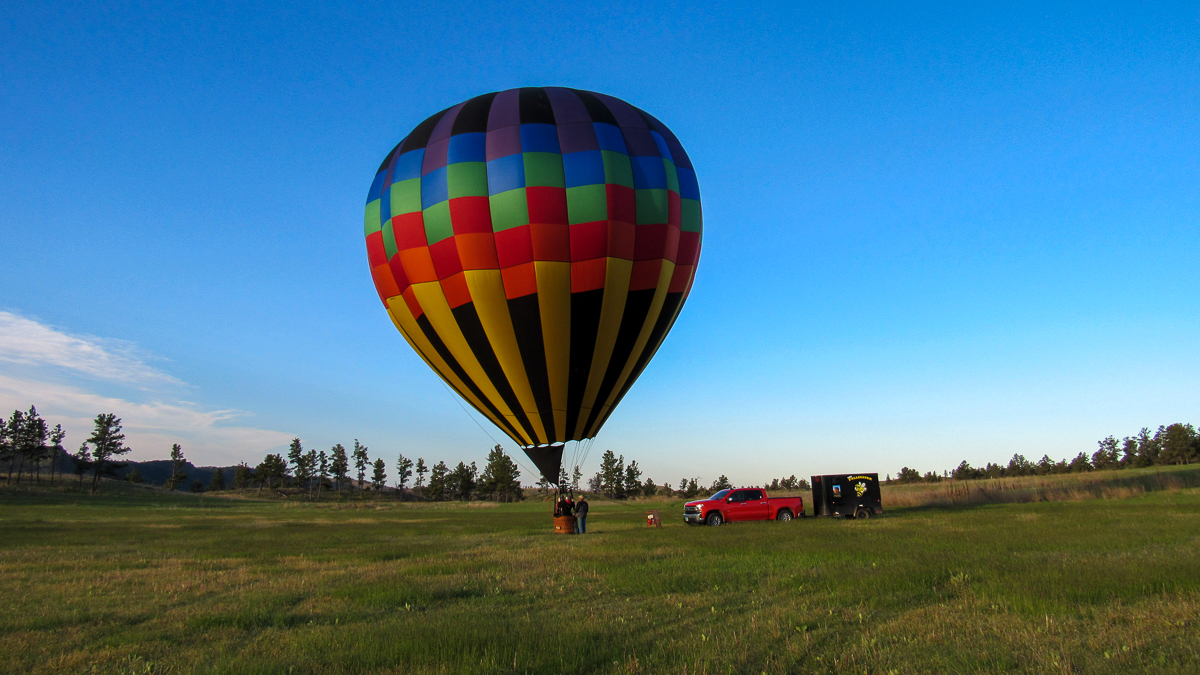 Prices start at $300/per person
There might be nothing more magical than floating silently in the air over dramatic scenery such as the Black Hills.
Western Horizons is the only service offering flights in Hot Springs and if you have the extra cash to spare, this should be on the top of your list for things to do in Hot Springs!
We met a local (at a bar, of course) who happened to work on the crew for a private pilot. While we weren't able to go up with him, but we were able to watch the balloon launch, which was super fascinating!
If you happen to plan your trip to be in Hot Springs in August, look to see if you will be there for the Fall River Hot Air Balloon Festival! Usually in late August, dozens of hot air balloons will take to the sky. If you want to fly, the rides are usually a little bit cheaper during the festival.
Black Hills Wild Horse Sanctuary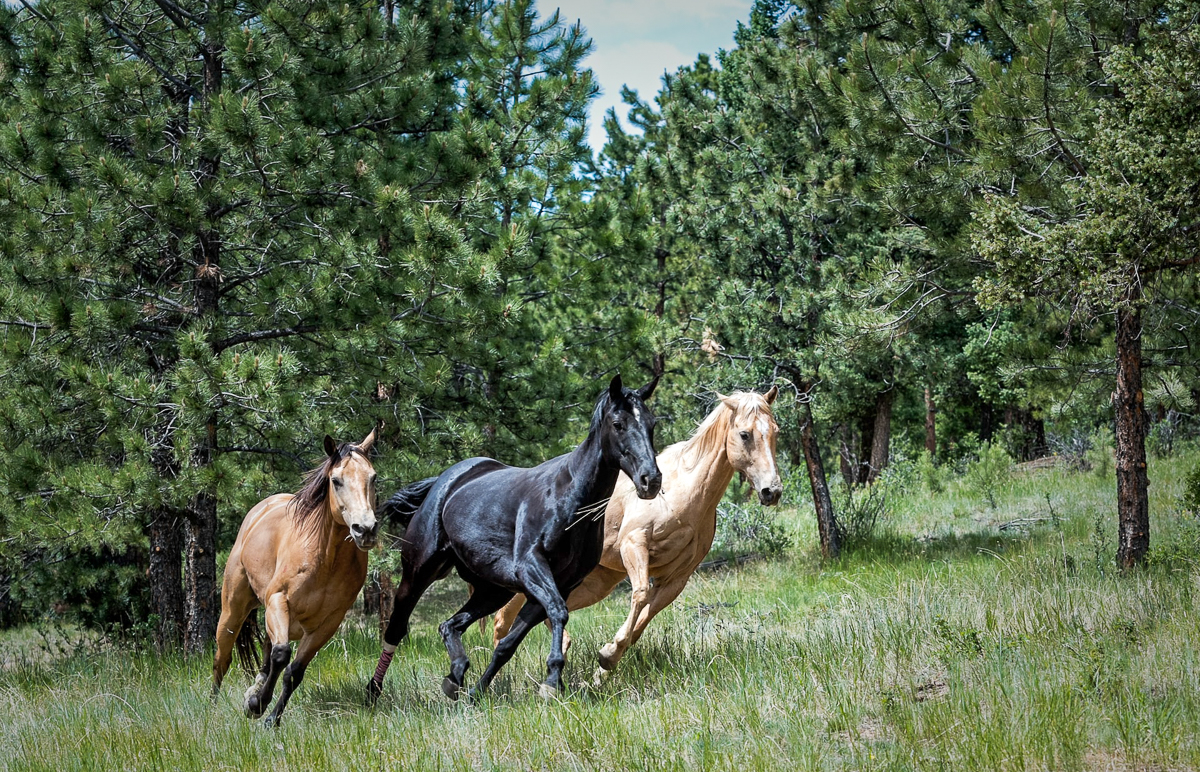 Tour cost: starting at $300/pp
Looking to see some active animals near Hot Springs?
The Wild Horse Sanctuary is home to over 500 wild mustang horses that roam across this 11,000-acre prairie. The organization provides a safe haven for these majestic animals to live and thrive, free from the threat of human interference.
As of 2023, the Sanctuary is only offering select tours to see the wild horses. Reservations are required and the tours are only offered Monday-Friday, weather permitting.
If you are a horse lover, this might be one of the top things to do in Hot Springs, South Dakota as there are very few places you can see wild horses run!
Wind Cave National Park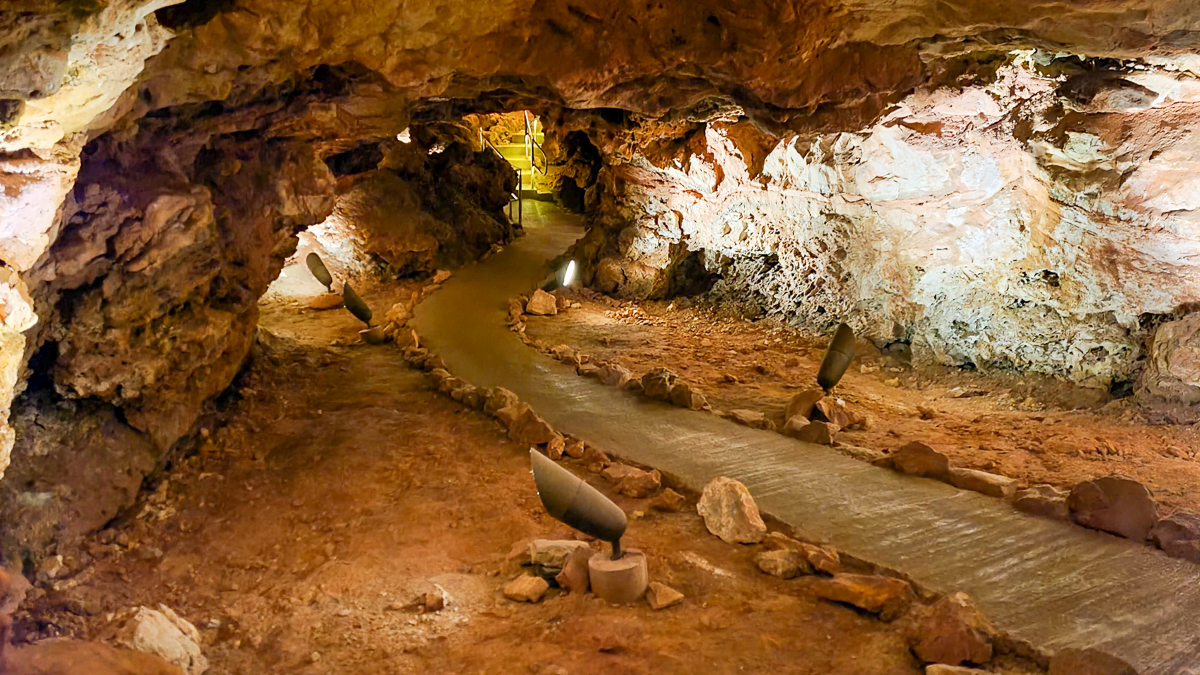 Free to visit museum and hike; tour prices vary
We personally visited the Wind Cave National Park in August 2022 and was blown away. The cave itself was fascinating, but what we weren't expecting was the amount of wildlife visible on the land.
For generations, Native American Indians have been telling stories about a hole in the Black Hills that blows wind up to the surface. In 1881, two brothers took credit for discovering the cave.
One of the nation's oldest parks, the Wind Cave has over 20 miles of passages mapped and is only available to see with a guided tour.
Above the cave, visitors can explore diverse wildlife with over 30 miles of hiking trails.
The most popular tour is a moderately strenuous ⅔-mile hike to get to the cave entrance. From there, you will enter a man-made entrance and descend below into the middle level of the cave.
We went on the Garden of Eden tour with my 70-year-old parents (with bad knees) and they didn't have any issues. As expected, the dim lighting in the cave just means you need to slow down and take your time on the tour.
This is easily one of the best South Dakota National Parks to visit!
Chautauqua Park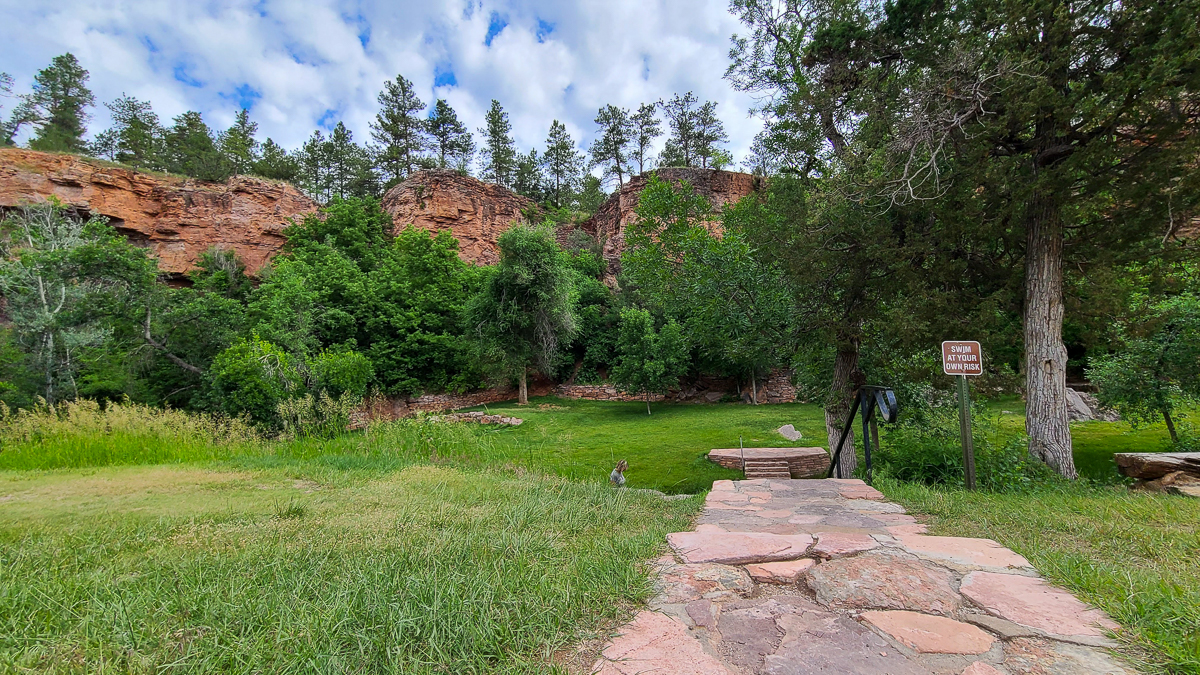 Looking to get outdoors?
Chautauqua Park is small park located just 5 minutes from downtown. Small but mighty, the park is divided into the Upper and Lower
In addition to its natural beauty, Chautauqua Park also offers several amenities for visitors including: several picnic areas, grills, and a playground. There is also a campground located within the park that offers primitive camping sites for tents and RVs.
Places to eat in Hot Springs
Big Time Pizza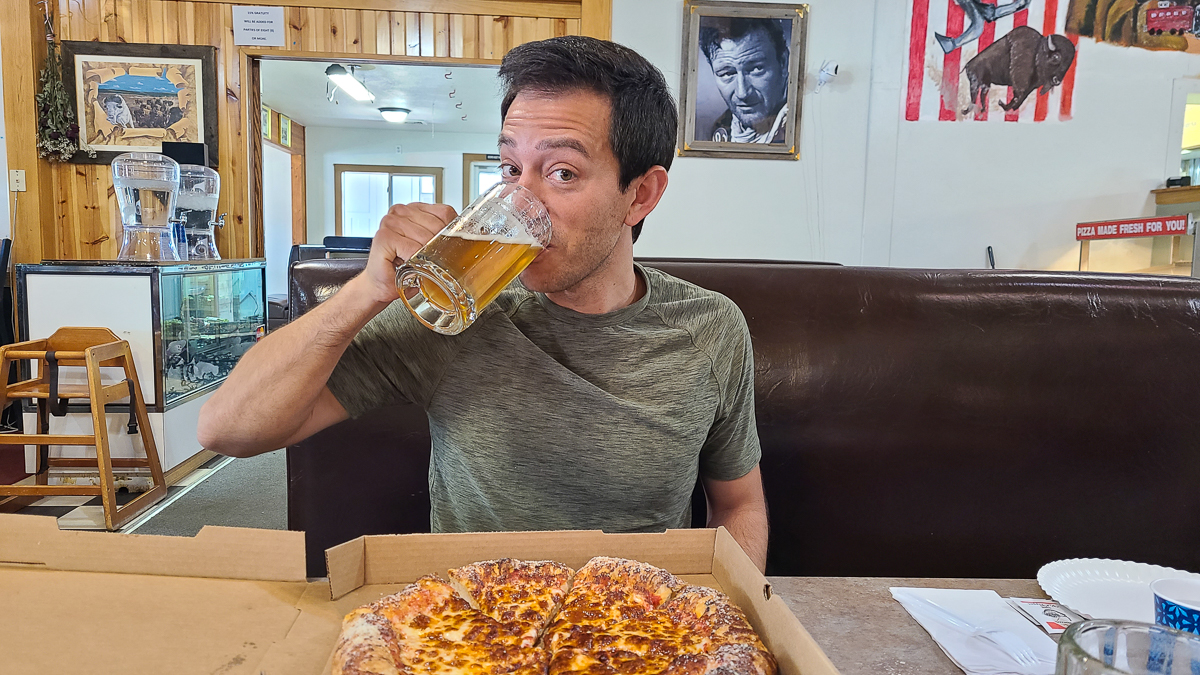 In a town this small, dining options are somewhat limited, but Big Time Pizza was the best meal we had in Hot Springs.
Delicious, made-from-scratch pizzas with so much yummy, cheesy-gooeyness. This is a good place to grab a local South Dakota beer with over 8 options as well.
Have a large group or just hangry? Try the 20" pizza – the slices were as big as our heads!
Mornin' Sunshine Coffee House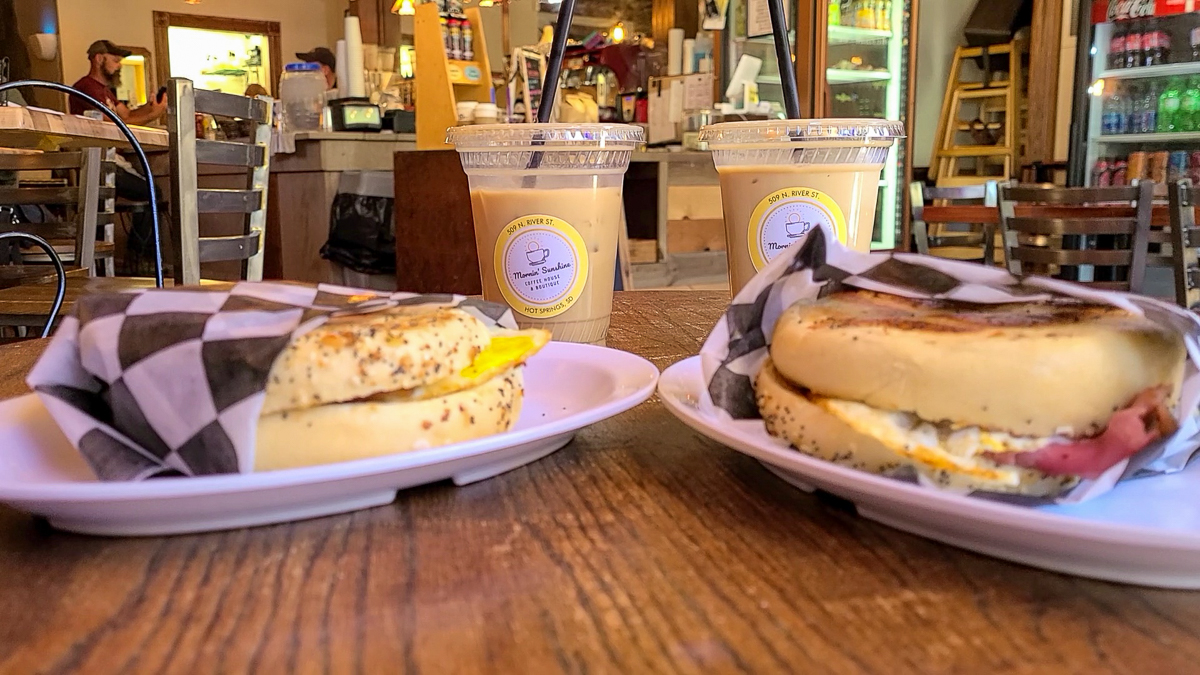 Located in the heart of downtown Hot Springs, SD, the Mornin' Sunshine Coffee House is an adorable boutique style coffee house that offers both breakfast and lunch items.
We opted to choose the B.Y.O.B. (build your own bagel) sandwich and we were not disappointed.
They also offer a range of café items and soft drinks to add that pep in your step in the morning. They try to use locally-sourced items so you can taste the local here too.
Two Cows Creamery and Bistro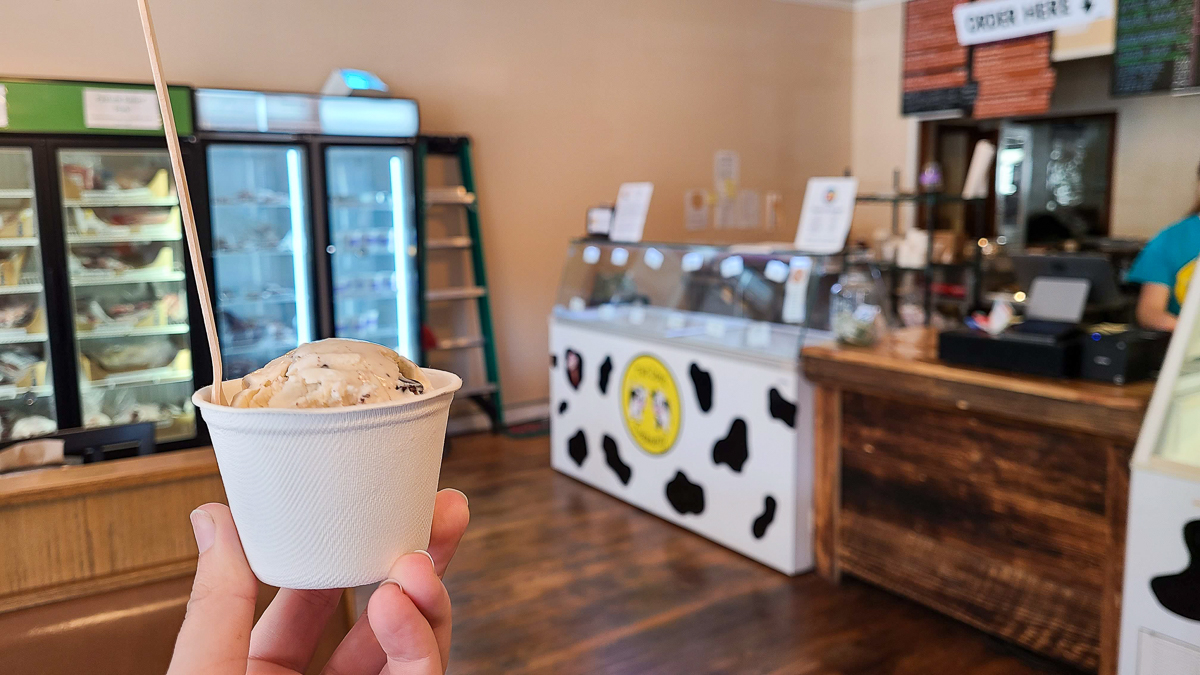 Two Cows Creamery and Bistro is a unique dining establishment located on the main street in Hot Springs. This family-owned business that specializes in serving homemade ice cream, freshly baked goods, and delicious comfort food.
They offer breakfast, lunch and dinner daily in addition to their homemade ice cream! Made in-house using locally sourced ingredients, we enjoyed small scoops each, especially on a hot summer day. The ice cream flavors range from traditional ones like chocolate and vanilla to unique ones like lavender honey and black raspberry.
If you aren't in the mood for ice cream, they have other yummy desserts like pies, cakes, and cookies.
Where to drink local in Hot Springs, SD
We'll be honest, if you are looking for a bar, you have pretty limited options as there are only 3 located in Hot Springs, SD.
With limited local options, these are your best bets for a South Dakota (or nearby-Wyoming) beer.
The 309 General Restaurant and Bar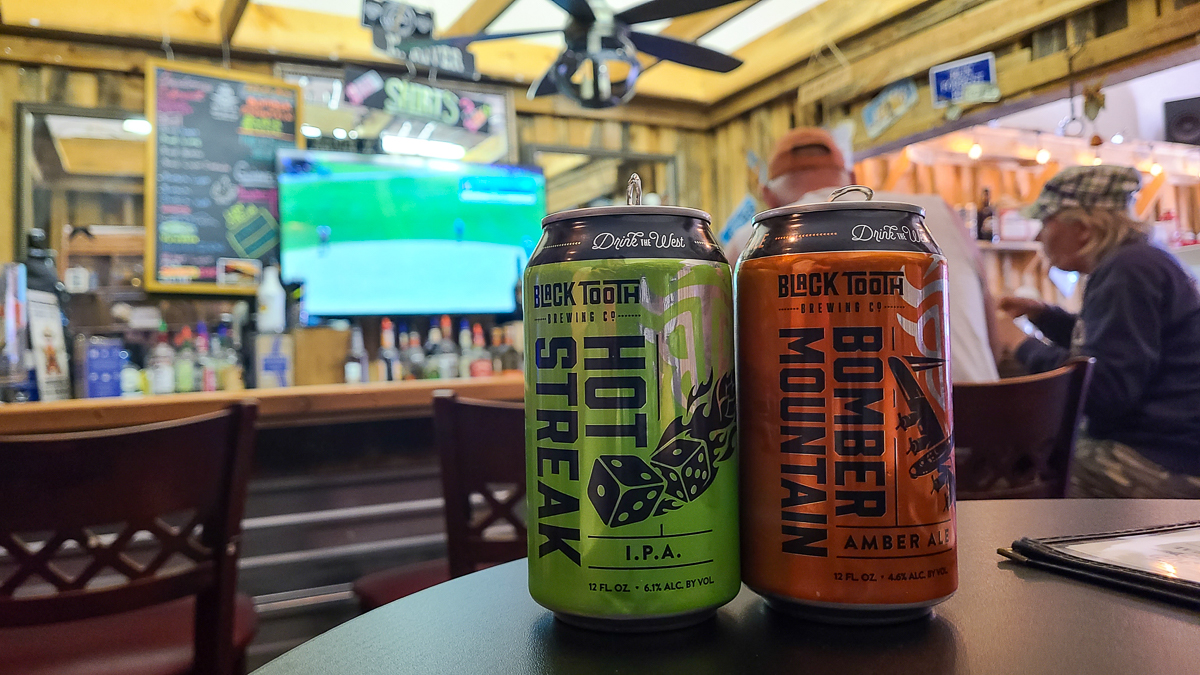 The 309 General is located in the downtown area on Rivers Street. This bar has a western honky-tonk feel with wood paneling and wrought iron decorations.
While there are no breweries in Hot Springs, they do carry some local brews from South Dakota and Wyoming.
If you are visiting on a weekend, they have a small stage set up in the room adjacent to the bar and offer live music a few times a week.
They also have a 21-and-up room with a few slot machines if you are in the mood to gamble.
Misty River Tavern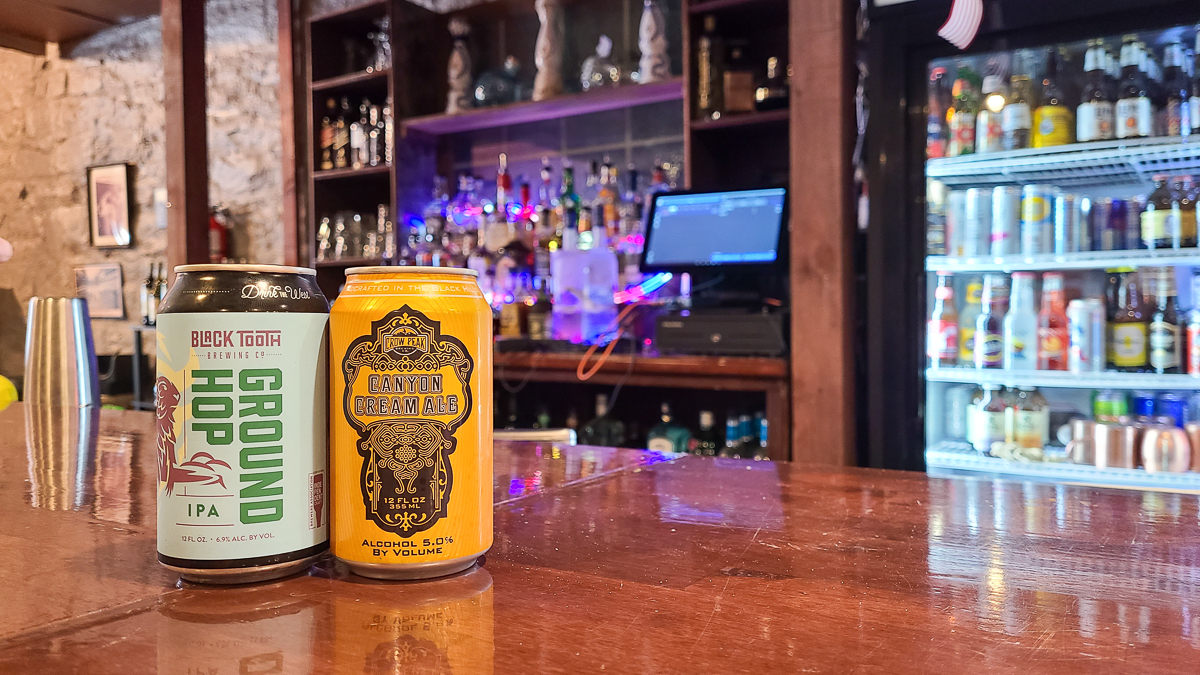 The Misty River Tavern opened in late June 2022 and is the "newest" bar in town. We happened to be there on opening weekend so they were just getting up and running.
With a great beer list and full bar, this stop has a wide variety of local brews from throughout the state (all cans; draft beer is domestics).
Offering both food and drinks, this is the best bar in Hot Springs, SD to find a "local" beer.
While we were there, the kitchen wasn't open yet, but we are looking forward to returning to see what menu items they select.
American Legion Post 71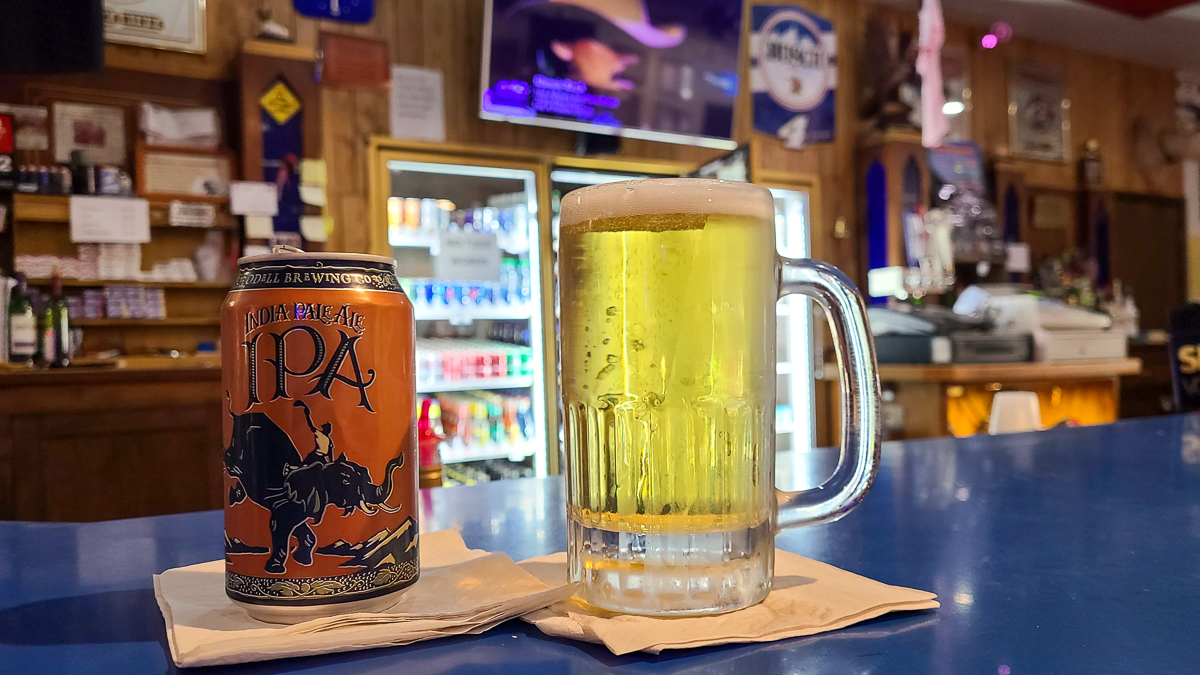 The last bar on our list is the American Legion Club, which supports military veterans.
With a full bar, 4 taps and a large selection of bottled/canned beer, they are the largest bar in town.
Complete with slots and pool tables, you can enjoy a round while playing a game of pool. You don't need to be a member to support the veterans.
Go enjoy a drink and support a good cause!
Day Trips from Hot Springs, SD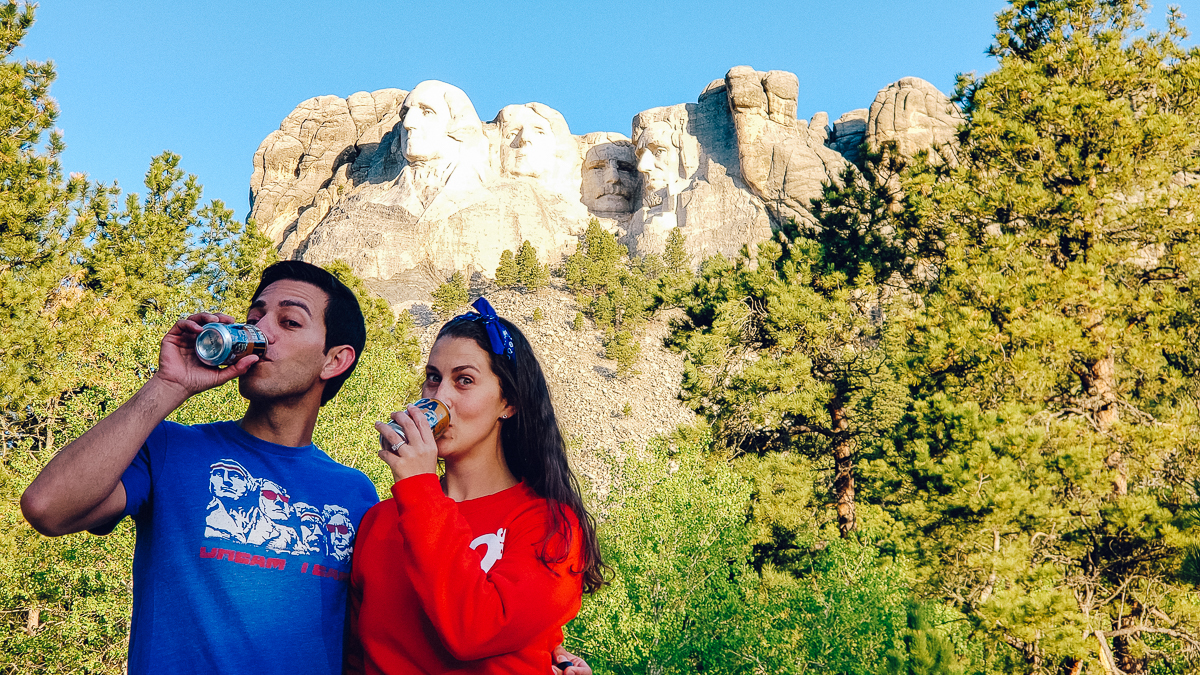 The following places below are accessible from Hot Springs, but we do recommend closer accommodations so you can maximize your time and experience there.
Mount Rushmore: Hot Springs is about 1 hour and 10 minutes south of Mount Rushmore.
Crazy Horse: Hot Springs is 45 minutes south of Crazy Horse.
Custer state park: Hot Springs is 45 minutes south of Custer State Park.
>> Click hear to read about all the places to visit in the Black Hills <<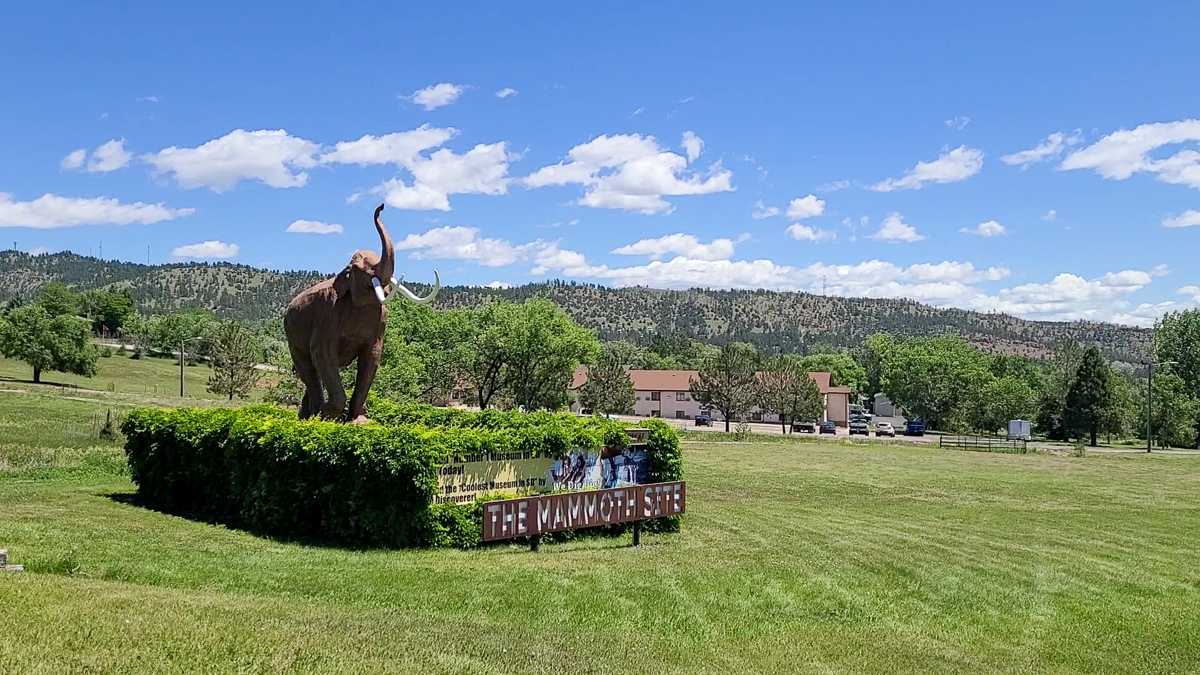 Hot Springs, SD is a great spot to experience some unique things in South Dakota. We definitely think it's worth a 1 or 2-night stop.
Be sure to step back in time with the Mammoth Site or find the magic healing powers of a hot spring.