South Dakota Road Trip: the Ultimate Guide to the Black Hills & Badlands
We know what you're thinking, "a South Dakota road trip, really?" We thought the same thing at first. But having spent time here, we genuinely don't understand how South Dakota isn't a top travel destination in the U.S.
Most people only visit Mount Rushmore and the Badlands, but this state has some of the most interesting terrain and landscapes and we've compiled all the stops you need for your South Dakota Road Trip to have a monumental time!
Psst: Vacationing in South Dakota? We have a bunch of info for you! Browse all our epic guides here.
**Boozing Abroad contains affiliate links throughout the site. If you choose to purchase items through these links, we will earn a small commission at NO extra cost to you. Read the full disclosure policy here**
About South Dakota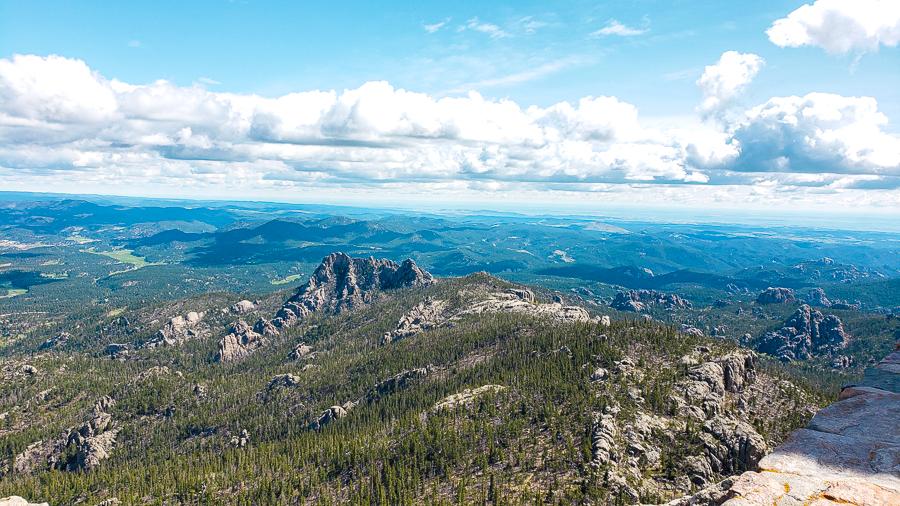 If you've looked up any information on South Dakota, you know it's the 40th state and has about 10 people per square mile. But what you don't know is how truly beautiful it is….until you visit, of course!
If you are like us, working full-time with limited PTO, you'll need to pick and choose where you visit to get the most out of your South Dakota road trip.
Best Time to take your South Dakota road trip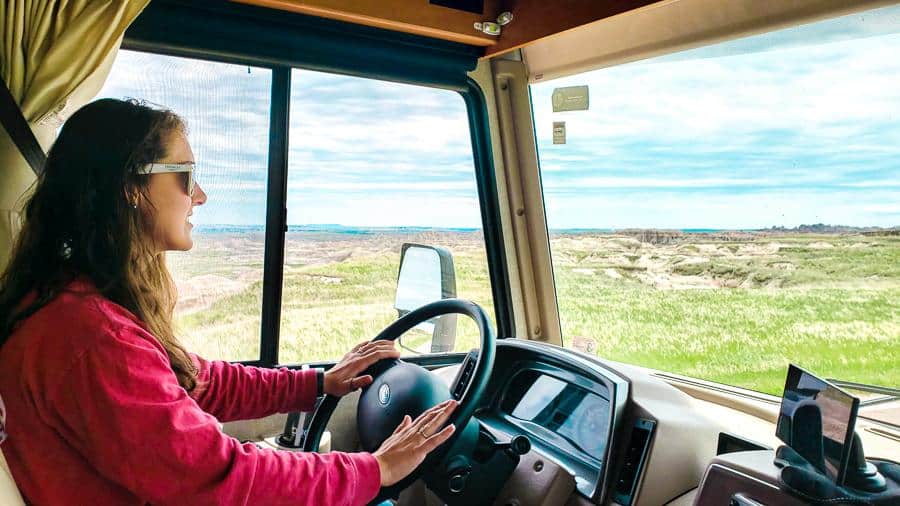 Your South Dakota road trip should be during the warmer months of April – September.
While the west side of South Dakota has milder winters than the eastern half of the state, the temperatures do get down below zero for days on end so for a South Dakota road trip, it makes more sense to do it when it's warmer.
We did our South Dakota Road trip in May and thought it was the best time to visit. The temperatures were warm enough to hike and explore comfortably, but at night, it would get cooler and comfortable.
What to pack for your South Dakota road trip
Regardless of where you are coming from, you'll need a few essentials on your South Dakota road trip. Whether you are hiking through the Badlands or sipping some wine in the Black Hills, be sure to pack the following: rain gear, road trip snacks, plenty of water, sunblock, a map and a good camera for capturing all the wildlife!
Don't forget to pack layers. Depending on when you start a hike, it could start off cold and end up being hot. We always wear layers!
Supporting the Local Booze Businesses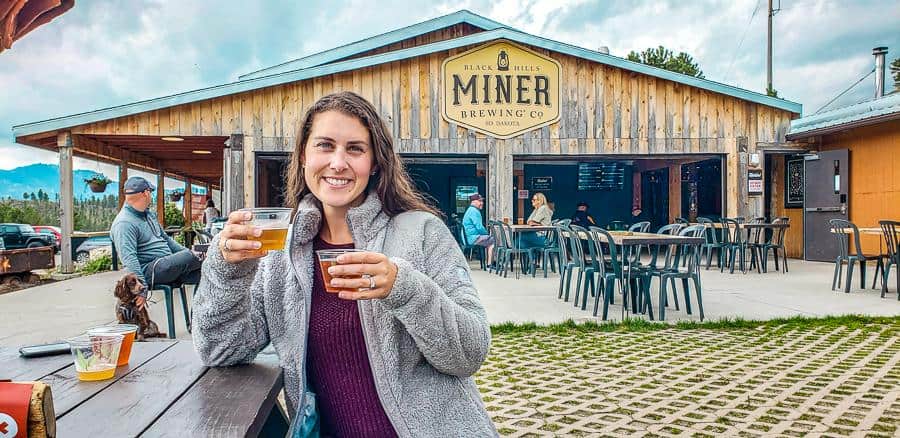 Now, we wouldn't be Boozing Abroad if we didn't have guides to all the local breweries and wineries in the Black Hills.
Whether you are looking for wine or beer, this guide is sure to please.
Since this post is about your South Dakota road trip, please don't drink and drive, otherwise you won't be able to finish your journey!
Places to visit on your South Dakota Road Trip
Hot Springs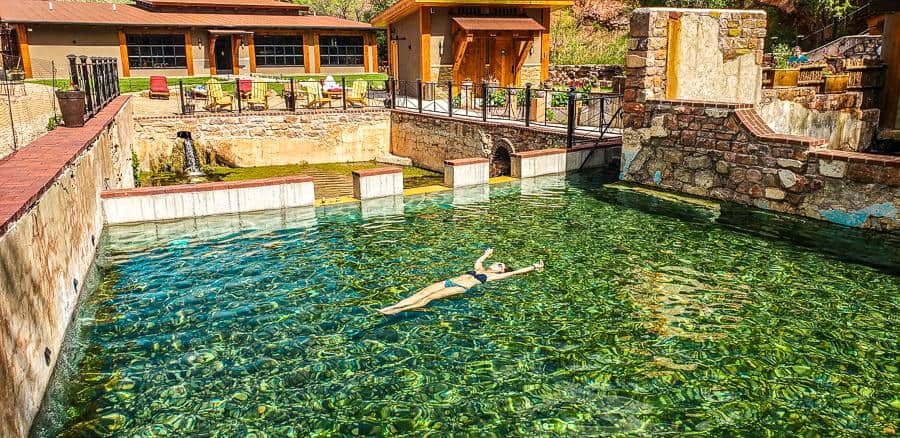 In the far southern portion of the Black Hills, you will find the quaint town of Hot Springs, SD.
Home to several hot springs (bet you didn't see that coming), you can spend a couple days here playing in the natural hot springs or step back in time at the Mammoth Site, the world's largest collection of mammal fossils.
Whether you are looking to rejuvenate in an ancient hot spring or looking to excavate Ice Age Mammoth bones, Hot Springs, SD is a great place to visit for 1-2 nights.
Mount Rushmore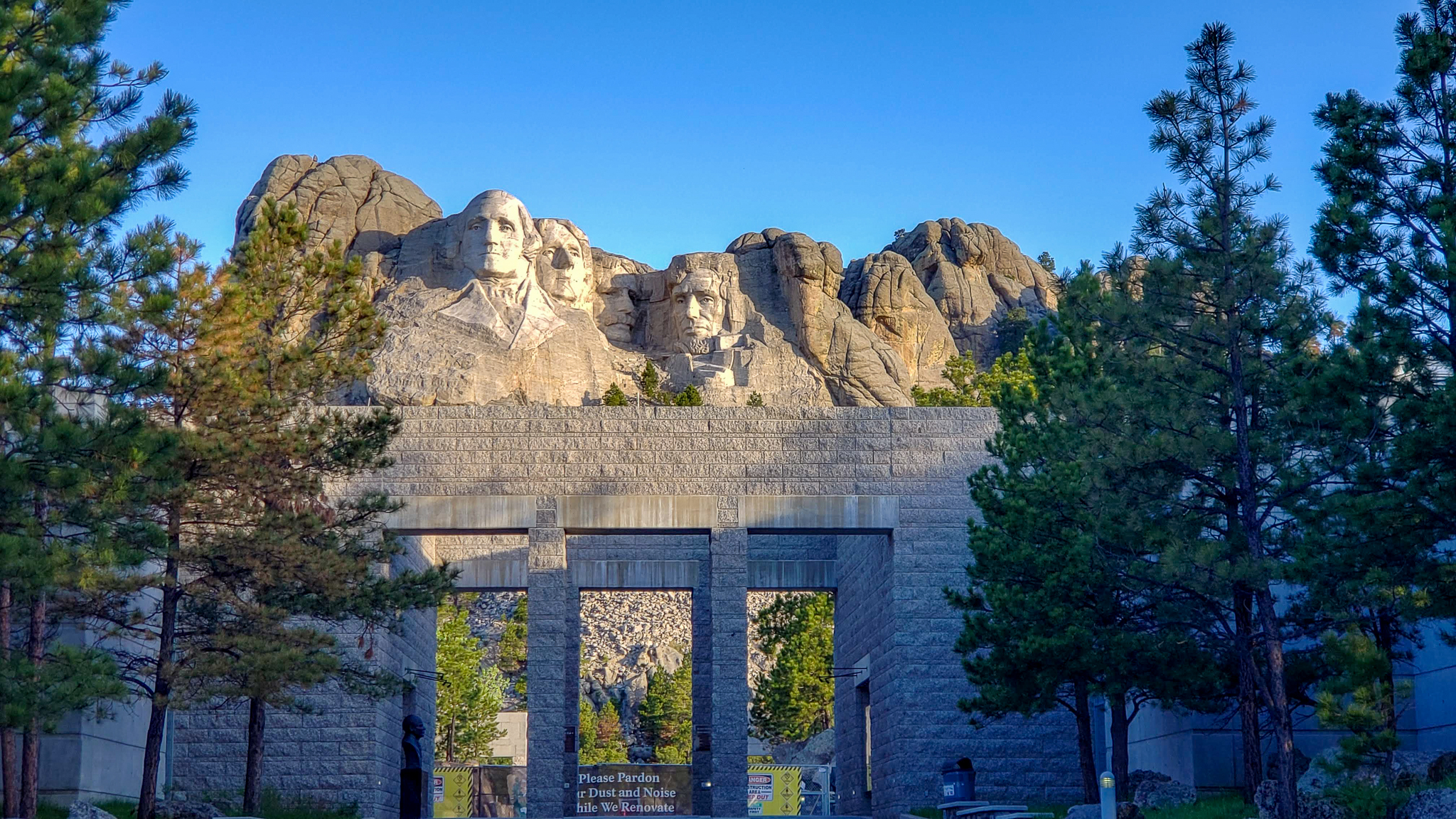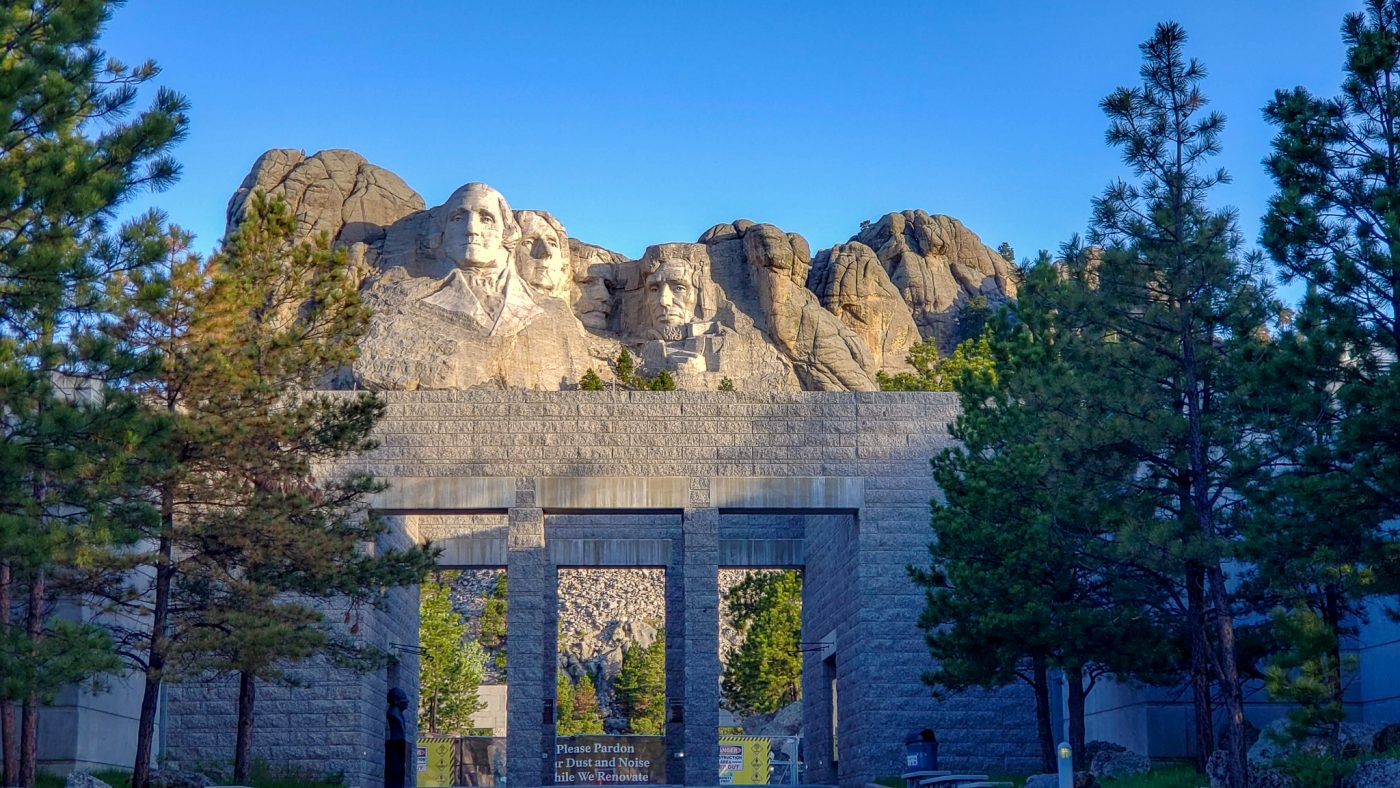 A Mount Rushmore visit should be on everyone's bucket list for a South Dakota road trip.
Visiting the monument only takes a half a day (probably even less), so what will you do next?
There are so many great things to do around Mount Rushmore and the little town of Keystone.
Custer State Park / Wildlife Loop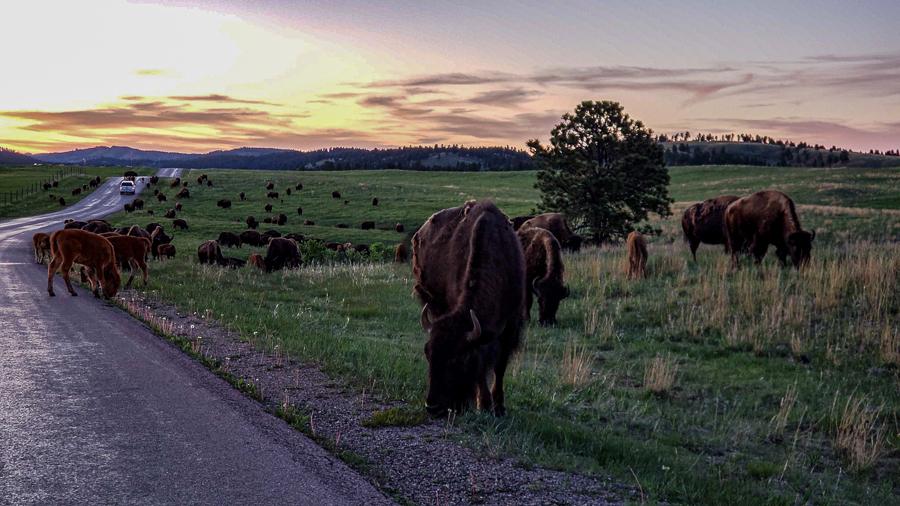 Arguably the best South Dakota State Park and the in thing to Mount Rushmore, Custer State Park is a must see on your South Dakota road trip.
From driving the sharp turns of the Needles Highway and Iron Mountain Road to bison traffic Jams and watching mountain goats roam, this state park is one of our favorites.
We suggest spending at least 3 days exploring and we have the best guide for you to discover the Top Things to do in Custer SD and Custer State Park.
Crazy Horse Memorial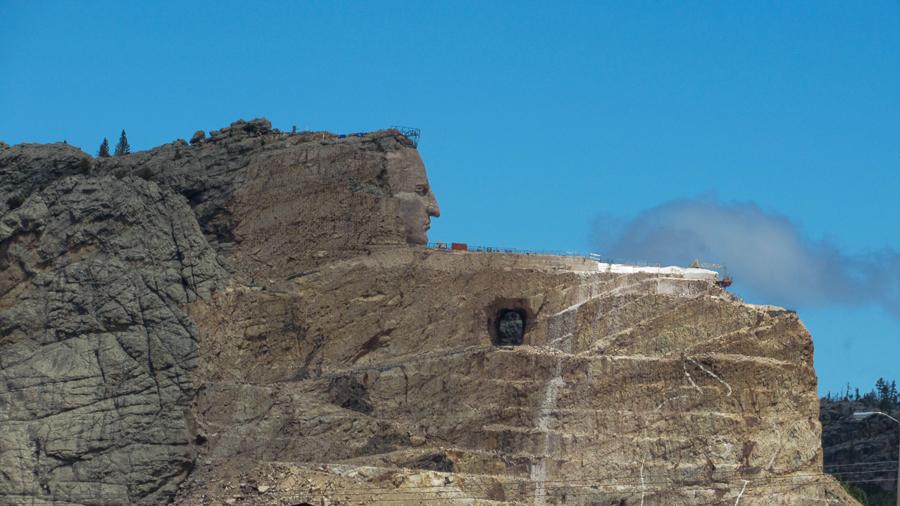 Located in the Southern Black Hills, the Crazy Horse Memorial is the World's Largest Mountain Carving, but it's still currently in progress. In 1939, Chief Henry Standing Bear asked a sculptor to create a memorial to honor the Indians of North America. This memorial does not accept any government funding and is solely funded through admission fees and private donations.
Once the memorial is completed, it will be around 560 feet tall and 640 feet long! Compare that to the Mount Rushmore faces that are "only" 60 feet tall.
The Crazy Horse admission fee will get you access to the Indian Museum of North America, Native American Educational and Cultural Center, the sculptor's home and workshop, as well as live Native American performances that are performed 3 times a day. In the summer, there is the Legends in Light laser show that starts after it gets dark!
An easy stop on your South Dakota road trip, the Memorial is 17 miles from Mount Rushmore and 5 miles north of the town of Custer.
Deadwood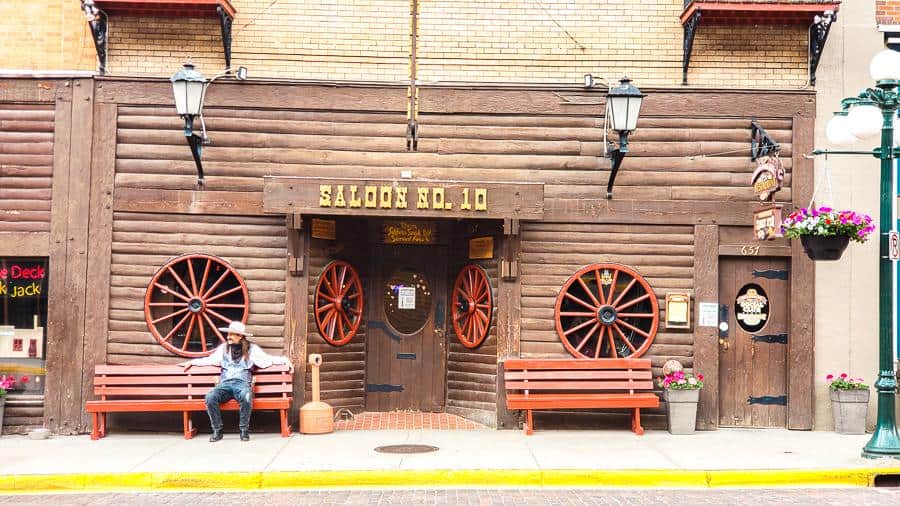 Voted the Best Town to Live like a Cowboy in 2018, Deadwood is like no other town in South Dakota (potentially America). In the late 1800s, Deadwood was a gold rush town and people flocked there by the hundreds hoping to find their own piece of wealth.
Today, Deadwood is a thriving paradise in the northern Black Hills with casinos, saloons and great dining establishments.
If you are planning time in the Black Hills, check out all the things to do in Deadwood SD and consider adding it to your vacation.
Sturgis / Bear Butte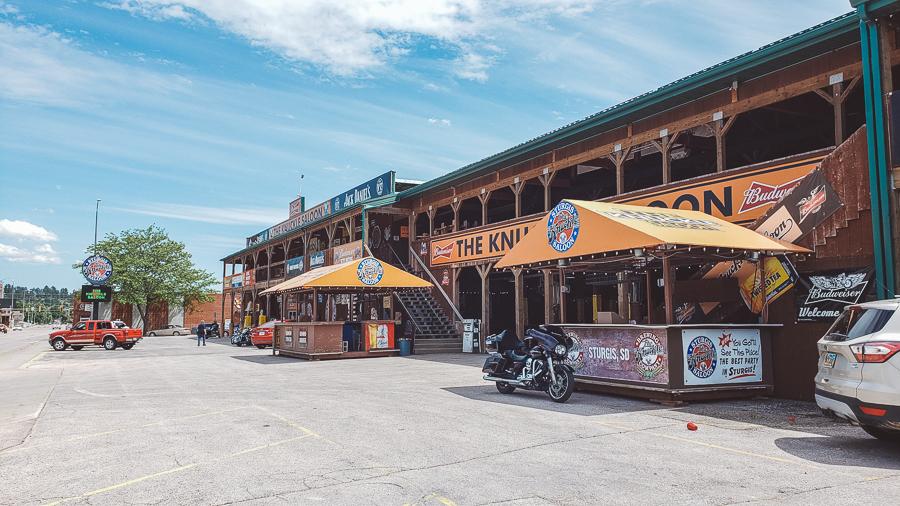 When you think of Sturgis, you probably think of the infamous motorcycle rally that happens here every August. Located along interstate 90, Sturgis is a great layover to explore the motorcycle museum or climb Bear Butte.
This small town might surprise you.
If you are like us and aren't into motorcycles, here are some suggestions of a few things to do in Sturgis. If you are into bikes, there are dozens of blogs for you out there!
What to do in Sturgis, SD if you aren't into motorcycles:
Hike Bear Butte
When you think of Sturgis, you probably think of the motorcycle rally, not hiking. The climb up to Bear Butte is a great way to sneak away from the crowds in downtown. While this trail is only 1.85 miles (one-way), you will sweat out the toxins from the bar hopping the night before as you hike up numerous switchbacks to get to the peak at 4,400 feet.
At the top on a sunny, clear day, you'll bask in the rewards of a 360-degree view of the Black Hills and beyond as four states are within sight.
A sacred place to local tribes and "Mato Paha", Bear Butte has hosted sacred ceremonies here for centuries, so please be considerate when you hike it. To get to the trailhead, head northeast out of Sturgis and you can't miss it because it's the last peak before the plains off SD Highway 79. This is a steep climb with NO shade, so bring plenty of water, sunscreen, a hat and camera.
Fort Meade
If you want more outdoor adventure in Sturgis, head over to the eastern side of Sturgis to the Fort Meade Recreation Area.
Fort Meade served as a US Cavalry Post during the Great Western Expansion and is known for having the "The Star-Spangled Banner" played every evening as the flag was lowered which is said to have played a factor in that song becoming our national anthem 39 years later. As the last active military fort in South Dakota, Fort Meade today is a veteran center and a recreation area for hiking. For more info, check out Fort Meade Rec Area.
Bar Hopping in Sturgis
If you want to get a taste of the infamous Sturgis Rally without the thousands of people, there are two must-see spots, Full Throttle Saloon and Buffalo Chip. The Full Throttle Saloon claims to be the "world's largest biker bar," and might actually be given their 550-acre bar, venue, and campground.
The Buffalo Chip was created when a large field outside of Sturgis became an improvised campground for bikers attending the Sturgis Motorcycle Rally in 1981. The area has since evolved into the Sturgis Buffalo Chip Campground which is a 600-acre campground transformed into its own massive community during the Rally with entertainment stages, more than 25 pop-up bars, racing, art exhibitions, stunt performances, and more.
Don't forget to include a stop at The Knuckle Brewing Co on your South Dakota road trip to try some local brews in Sturgis.
Spearfish Canyon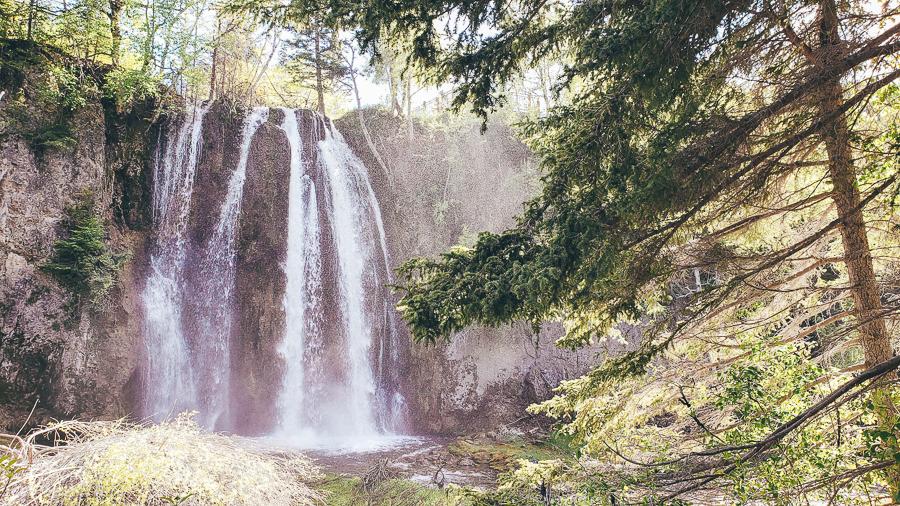 Nestled into the north half of the Black Hills, Spearfish Canyon is a nature lover's dream.
With dozens of hiking trails and a beautiful landscape, you must spend a few days here to take in all that the magnificent canyon has to offer.
We suggest 2-3 days here, especially if you are into hiking. The drive is beautiful in the canyon and well worth the time on your South Dakota road trip. (Our Spearfish guide is coming soon!)
Rapid City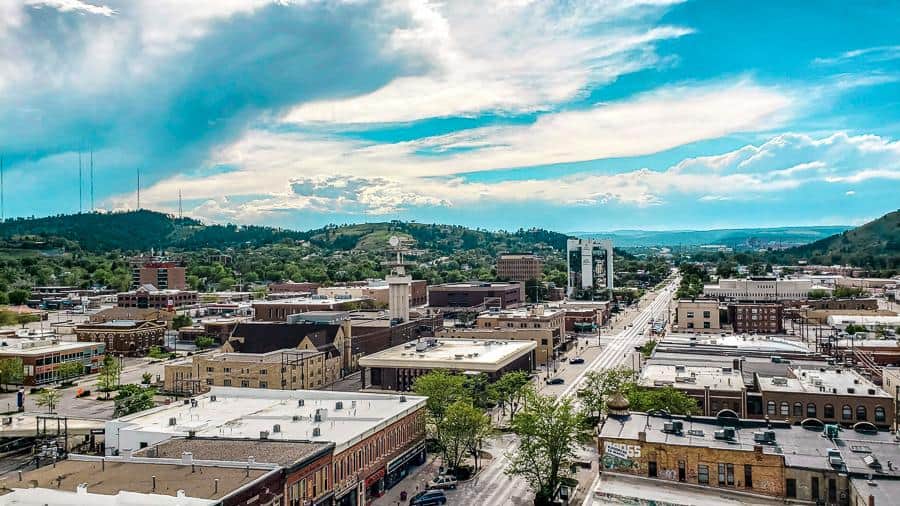 Rapid City is more than just a hub for your South Dakota vacation.
From 45 presidential statues lining street corners to a giant dinosaur overlooking the city, Rapid City is a fun town that should be added to your trip, even if it's just to drink your way through it, like we did. (coming soon).
Badlands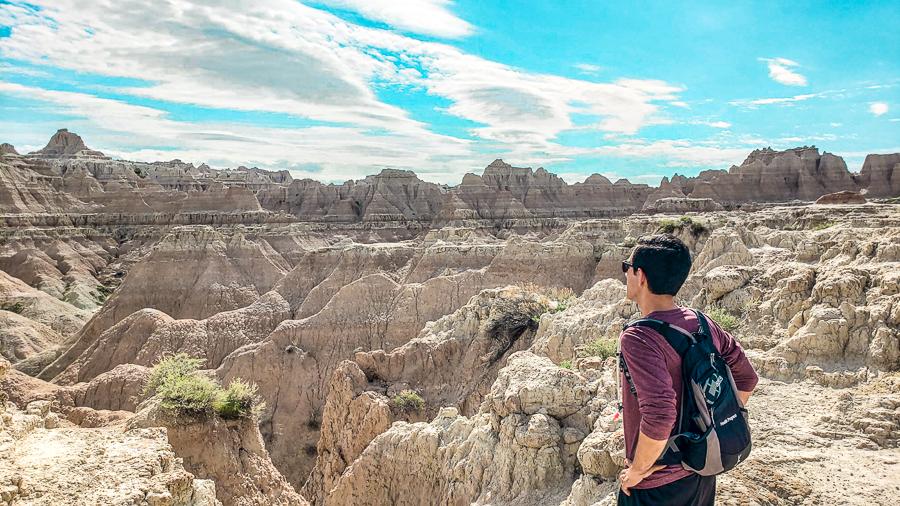 Hundreds of years ago, the Lakota Indian Tribe called this area "mako sica" which translates to "bad lands". They called this area bad because it was impossible to farm and had treacherous terrain.
Today, the Badlands National Park is an awe-inspiring stop for any traveler coming through on a South Dakota road trip and we believe this is a must-do.
Don't miss the Window Trail, Door Trail and Notch Trail! They were our favorite.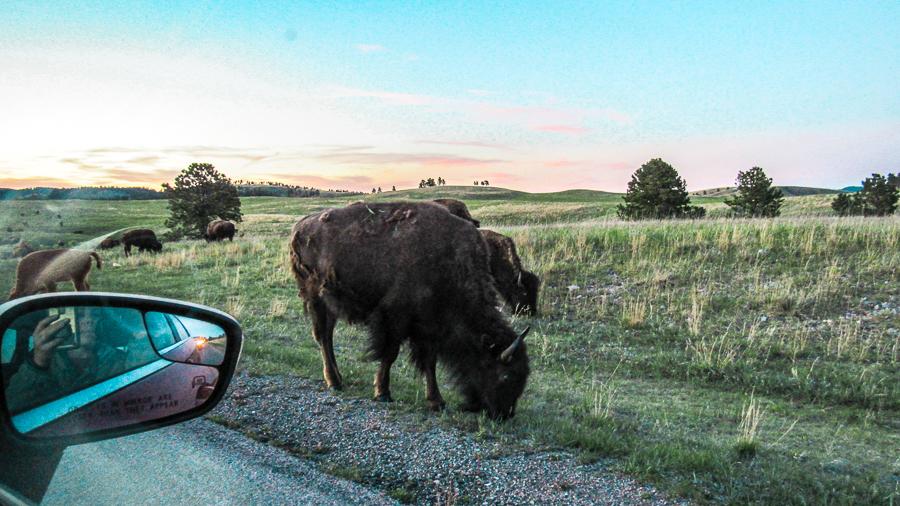 Your South Dakota Road trip will surprise you with just how incredible the Black Hills region is.
With so much to do and a little something for everyone, this South Dakota road trip will be a memory that lasts a lifetime.