WildManDan Beercentric Bed and Breakfast in Charlottesville VA
Are you looking for a bed and breakfast in Charlottesville VA that is unique and cozy? While there are plenty of bed and breakfasts in Charlottesville, there is only 1 WildmanDan Beer-centric B&B near all the Charlottesville wineries, breweries, meaderies and distilleries.
On our first trip to WildManDan, we pulled up around 6:30 p.m. to a country farmhouse with a white wrap-around porch, complete with rocking chairs and other places to sit. Within minutes of arriving, Terri greets you in the driveway with a big grin and a warming hug and invites you in for a beer. We knew then that this was going to be a great weekend!
This post is not sponsored, wasn't solicited or paid for. We just really like this place and highly recommend it!
If you are looking for a weekend getaway, near the beautiful mountains of Charlottesville Virginia at a bed & breakfast, then look no further than WildManDan Beer centric B&B.
I'll say it again so it sinks in – a beer-centric bed & breakfast. No, your eyes are not fooling you!
About 30 minutes west of Charlottesville (home to the University of Virginia), WildManDan beer centric B& B is a fantastic escape from the daily grind and the hustle and bustle of any city, whatever and wherever yours may be.
**Boozing Abroad contains affiliate links throughout the site. If you choose to purchase items through these links, we will earn a small commission at NO extra cost to you. Read the full disclosure policy here**
Brief Info on Nelson County
This (near) Charlottesville bed and breakfast is located right off of Virginia Route 151 in Nelson County, Virginia.
With 6 wineries, 4 breweries, 2 cideries and 2 distilleries located along 151 within a 15-mile stretch of each other, you can understand why this part of the Virginia countryside is a favorite getaway for us from our home in Richmond, Virginia.
We've done our fair share of brewery/winery/cidery tours up here over the years, but since finding WildManDan in 2017, I'm not sure we will stay anywhere else in the Charlottesville area.
By sheer coincidence (I think), the highest proof of alcohol that can be (legally) sold in Virginia happens to be…..151 proof! Figures that the name of the road in such an alcohol-dense area would be loosely tied to a Virginia law about controlling booze!
All of these alcohol establishments even decided to band together to more efficiently market and leverage their close proximity to each other. Keep in mind, these are only the ones directly located on Route 151 (there are numerous other wineries, breweries, cideries, and distilleries that are within a short drive of WildManDan but not technically on the 151 trail).
>>>Click her to learn more about where we drank wine, beer, cider and liquor on Nelson 151 trail!<<<
WildMan Dan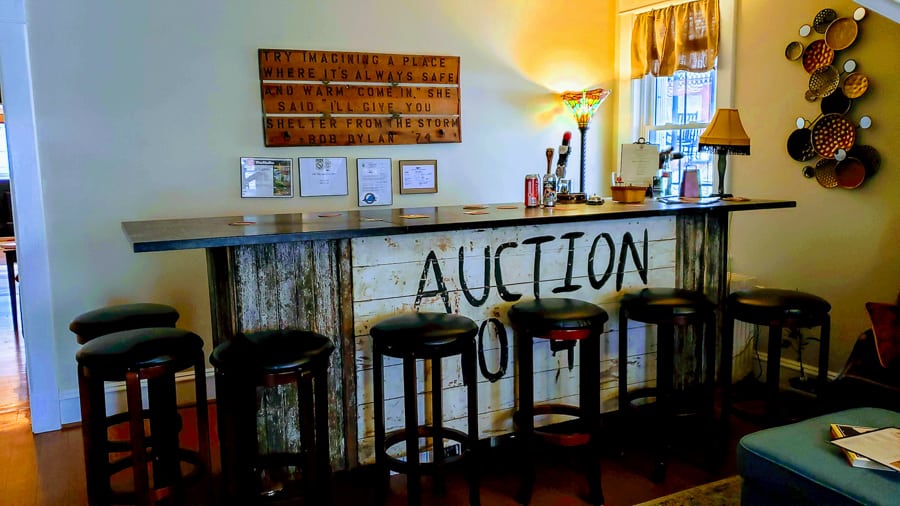 Let's start with the hosts, WildManDan himself and his wife, Terri. These are quite possibly some of the nicest people you will get to meet…..ever! Such friendly, caring people who truly want you to have a great time on your getaway.
Their mission is to "provide the quiet little things that turn a visit into a memory," and Dan and Terri go above and beyond to make this a reality for every single guest!
Their motto when you walk in the door is "a hug and a beer", specifically in that order.
Terri meets you out front with a hug (along with Choco Taco the brew-dog — she's adorable), and then brings you into the bar area where Dan pours you a beer, or two, of what he has on tap at the moment.
Why isn't this a standard greeting?! We are always down for hugs and beer.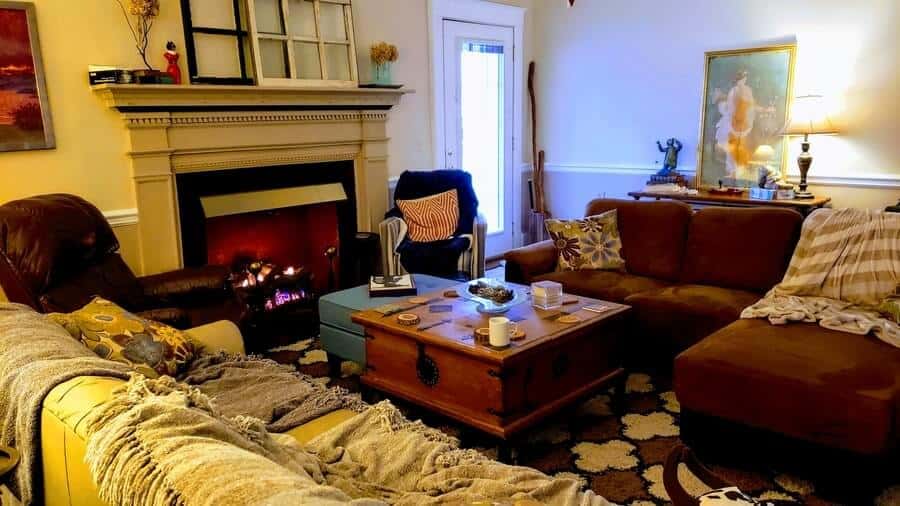 Dan is the obvious namesake of the B&B, but I'm not entirely sure where he got his nickname from, because he is anything but a wild man….maybe that's the point?
In his other life, Dan is a fiber-optic engineer (recently-retired), but in this life, he is an award-winning homebrewer — Home Brewer of the Year award in 2014 and a National Home Brew First Place award in 2017.
Dan is more reserved (very much like Chris…), but loves to talk about his homebrewing and/or any of his other many talents/interests…..welding, art, being the food-runner for breakfast each morning, etc.
During our couple of visits over the years, we've had Dan's rye IPA, an abbey, a mango habanero gose, a witbier, and a chocolate stout. All fantastic!
Chef Terri
Terri has over 30 years' of experience in restaurant and hotel management, and she is the true wild one of this husband-and-wife team!
She literally has more spunk and energy than Chris knows what to do with and she has never met a stranger in her life (very much like Samantha…).
Terri has trained under and worked with some of the most prominent chefs around, including Chef Ziggy at the Opryland Hotel and Chef Boo in New Orleans.
Look them up – they're the real deal!
Breakfast is served at 9 a.m. each morning and the delectable smells wafting from the kitchen will draw you downstairs and have you seated well before then for Terri's homemade, gourmet, farm-to-table breakfast.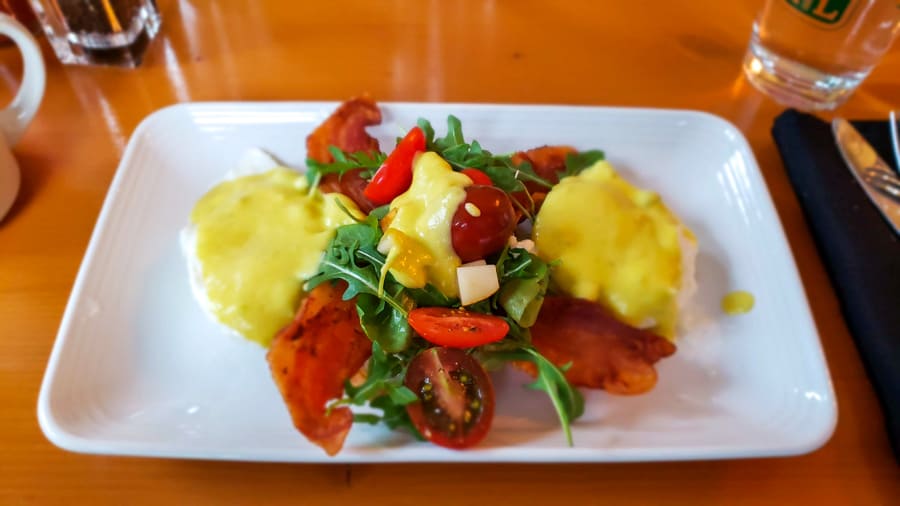 I've included our menu from our most recent visit below, but keep in mind that Terri changes the menu daily and seasonally depending on what is available locally and she even posts the menu the night before so you can give her any dietary restrictions/requests:
Day 1: Three-cheese frittata, potato pancake (or boxty for you Irish folks out there), spicy sausage, Irish soda bread, and Grand Marnier-infused sorbet
Day 2: Eggs benedict with sriracha hollandaise, the thickest slices of bacon cooked to perfection, and a scone with fresh raspberry sauce (with a hint of a crushed-up Thin Mint in the sauce! — anybody else craving some Girl Scout cookies now?)
Where does she come up with this stuff?! With each bite, you begin to savor the carefully crafted meal more and more. Saying it was scrumptious doesn't do it justice. It's such a rush for your taste buds that it really isn't fair to try and describe how good this food is!
Terri even has a "pastry room" in her basement – we don't know about you, but we don't have a pastry room.
I mean, we can't even figure out how to set up our home office or guest room properly, but this lady has a full room dedicated to just pastries!
Everything about this bed and breakfast is wonderful, well-thought out, and of course, beer-centric.
From the beer soap and beer shampoo/conditioner in all of the bathrooms to the periodic table of beer styles in the breakfast room, this Charlottesville B&B has it all!
Heck, they are even the reason we purchased a Casper mattress the day we got back after our first visit in 2017! Some of the most comfortable nights of sleep we have had!
Beer Me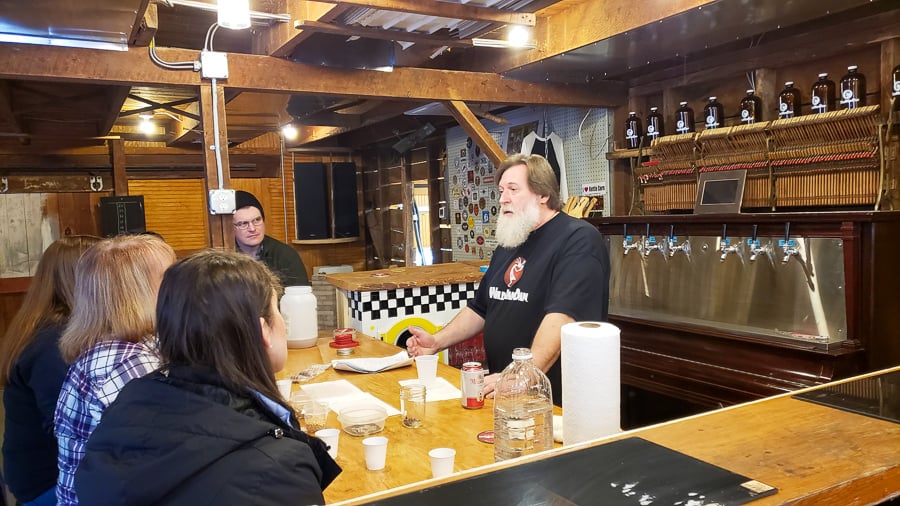 Also, when we were here in late 2017, Dan and Terri were still working on building out the brewing and production facility, which is located in a historic Coca-Cola barn right behind the house.
On our most recent visit in 2020, we got to go back to the barn to see that the facility has almost been completely converted to a true home-brewing facility, complete with a small taproom. The tap system pouring Dan's beer was actually made from an old grand piano….super cool! This is our kind of bed and breakfast in Charlottesville!
On Saturday morning of our recent visit, we all got to meet in the BrewBarn for a Beer 101 class on the brewing process, how to taste various off flavors in beer, and even tried one of Dan's beers from the grand piano taps! And, new as of March 2020, you can now book this class as part of an AirBnB experience.
Don't miss out on this chance to see behind-the-scenes of the brewing process, learn a little bit about beer, taste some of Dan's award-winning beer, and meet Dan and Terri! It's only $10 and well worth the trip because, as you read above, there is so much other booze-related stuff within a short distance from here. They even have a license to sell beer now, so you can even take home a growler of Dan's beer!
If the offerings of a delicious breakfast, beer, a comfy bed, and friendly conversations with Terri and Dan aren't enough for you, they also have a large fire pit out back which they will light, weather-permitting of course. Great way to unwind with newly-made friends.
PRO TIP: Bring some communal beer from your favorite local spot that you don't mind sharing with other guests while sitting around the fire. And/or bring supplies for s'mores (don't worry, they have plenty of sticks laying around)! Talk about a great way to become even more awesome to those newly-made friends!
Book a weekend. Get hugs. Drink beer.
This beer-centric B&B near Charlottesville is a true gem in central Virginia.
You probably won't go home hungry or thirsty from this place, and if you pay attention, you might even go home a little bit smarter on the brewing process.
One thing is for sure though, you definitely will leave this place with at least two more friends in Dan and Terri.
We can't wait to go back and spend more time with them in the near future!
Check out their website here to see the different rooms they have available.
They are open only on the weekends (because I guess Dan and Terri need time to themselves) and a 2-night minimum stay is required on Friday and Saturday, unless you just want to come on a Sunday night and stay over into Monday.
Need further proof of how great Dan and Terri are? Well, we wanted to test out some of our new hiking gear in preparation for our trip to Argentina.
We had talked with Terri all weekend about different hiking options in the area as well as their hiking trip on the Inca Trail.
For our test run of our equipment and clothing, we chose nearby Crabtree Falls. Not quite the Inca Trail or Patagonia, but it would have to do for this trial run!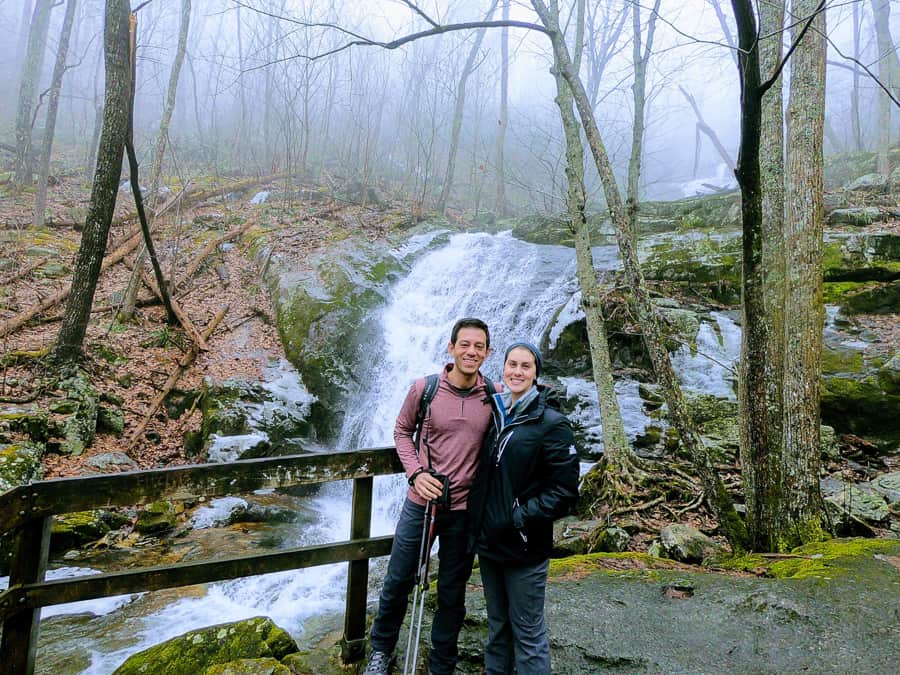 On Sunday, as we are saying our goodbyes, she offers to let us borrow her hiking poles for the day while we hiked around the area just to test them out. She let us take this rather expensive hiking gear out of her house and return them after we were done! That's true Southern Hospitality y'all!
Have you been to WildManDan Beer centric B&B in Charlottesville VA?
What beers did you get to sample and what was your favorite breakfast food? Let us know in a comment below!