Nelson 151 Trail – Charlottesville wine, beer and liquor guide
For quite some time, the Charlottesville area has been the talk of the Virginia alcohol scene, and for good reason. They are producing incredible wines, beers, and spirits. The Nelson 151 trail encompasses stellar local booze businesses in that region and can't be missed.
Because this area is so densely populated with alcohol, it's pretty easy to find a wine trail overlapping with a beer trail within an overall alcohol trail (aka heaven).
We are focusing this article on the alcohol establishments along the Nelson 151 trail in Nelson County, an area about 30 minutes southwest of downtown Charlottesville.
Short on Time? Here are the key takeaways:
There are over 10 "spirited" stops on the Nelson 151 trail that are detailed below.
We wrote organized this guide based on location from North to South.
In our opinion, don't miss Afton Mountain Vineyards, Silverback Distillery or Blue Mountain Brewery.
This post was originally published in October 2019, and was updated in April 2023.
**Boozing Abroad contains affiliate links throughout the site. If you choose to purchase items through these links, we will earn a small commission at NO extra cost to you. Read the full disclosure policy here**
Overview of Charlottesville Wine

Charlottesville wine can trace its roots all the way back to the days of Thomas Jefferson and his investment in Virginia wine. (That man did so much for this country!)
That being said, it's no wonder that Charlottesville VA wineries have continued to increase in number over the years and that this area remains a hotbed for adult grape juice.
However, this area isn't just about the wine so be sure to give some love to the numerous Charlottesville breweries, cideries, and even distilleries.
Charlottesville wine is delicious and the number of Charlottesville VA wineries are numerous, making putting together a wine trail for you and your friends fun and relatively easy.
What is the Nelson 151 Trail?
Nelson 151 is a route located in Nelson County, Virginia, nestled in the Blue Ridge Mountains that has become a top destination for award-winning booze businesses.
They call it the "Nelson 151 Craft Beverage Trail" as Route 151 is littered with booze — 7 wineries, 4 breweries, 3 cideries, and 3 distilleries, all within a 25-mile stretch of each other!
We lived only about an hour and a half from the trail and we came up here several times a year to getaway.
Nelson County is the most mountainous county east of the Mississippi River, so you know the scenery alone will be worth it.
Nelson 151 Passport
Be sure to download the Nelson 151 Passport before you go or grab one at your first stop to get rewarded with some boozy swag! If you visit all 14 participating members, you will receive a "Pioneer Club gift".
Getting Around Nelson County
Here are some options for a designated driver:
Whatever you choose, always remember to drink responsibly and never drink and drive.
Although Uber and Lyft may be available, they aren't as prevalent given the relative remoteness of the area.
However, there are all sorts of taxi companies/drivers with whom you can arrange private transportation for a block of time during the day.
Pool together a bunch of your friends and it's all of a sudden super affordable for a private chauffeur!
Where to stay
WildManDan and its hearty breakfast is our hands-down favorite, and provides the perfect beginning to your boozy adventure! Click here to read all about our weekend at WildManDan!
There are also several other bed & breakfasts in Nelson County that you can find just by doing some Googling. Wintergreen Resort, located near the southern tip of the Nelson 151 trail, is a beautiful mountain resort located in the Blue Ridge Mountains. The booze route below will also work if you are staying in Wintergreen – just run it in reverse from south to north.
Booking.com probably has the widest selection of budget (and luxury) accommodations in the world. In our experience, they consistently found the cheapest rooms. We also like their easy-to-use interface and no money down policy. When we book our travel stays, we personally use booking.com.
Here are a few places at the Wintergreen Resort:
Stay at a winery: Some of the wineries have overnight options. For more info, see the sections below for Afton Mountain, Veritas Vineyards, and Cardinal Point.
Map of Nelson 151 Trail
HOW TO USE THIS MAP: To view the layers and see the names of the places on this map, click the tab in the top left corner. You can select the check marks to show or hide certain layers. If you select the icons on the map, you will get more information about the point of interest.
HOW TO SAVE THIS MAP: If you select the star icon next to the map name, you can save this map to your Google Maps account. To view it, open Google Maps in desktop or on your phone, select the menu button, go to "Your Places," scroll to the right to Maps, and you will see this map.
Nelson 151 Trail
For purposes of this guide, we are taking you from north to south, with no regard for what type of alcohol.
Pick and choose your route based on your own preferences and schedule. We've done this route before doing just wine, just beer, or even an adventurous mix of both.
How you divvy up your days/visits is up to you. Maybe you want to stick to the southern portion of the trail on one day and tackle the northern portion the next.
Or maybe you don't want to mix your types of alcohol so you do a wine trail one day and beer trail the next.
Where the cideries and distilleries fit into that is up to you and your tolerance.
Valley Road Vineyards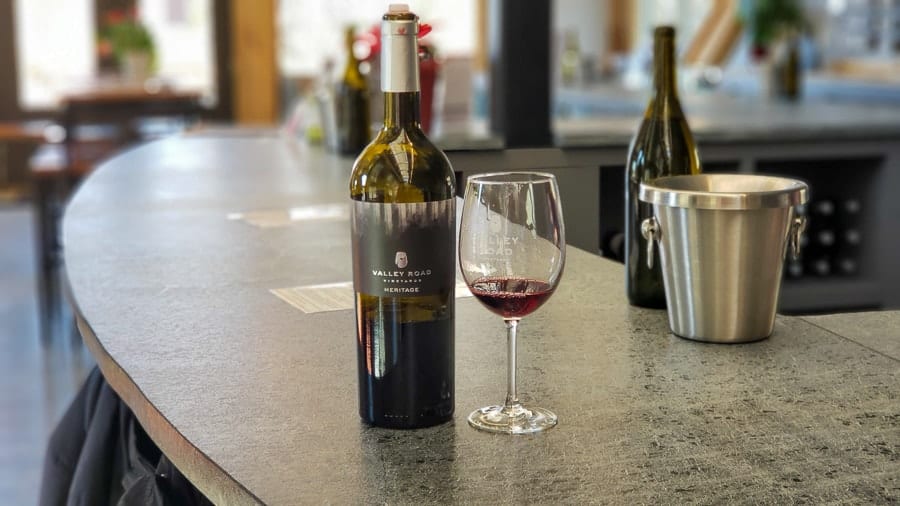 Food: Snacks / Charcuterie; sometimes food truck
Outdoor seating: Yes
Reservations Required: For groups 8 or larger
Valley Road Vineyards is one of the newcomers to the Nelson 151 party (first vines planted in spring 2016) and is the first stop when coming from the north.
More heavy on the white varietals, Valley Road has a homey and relaxing atmosphere with a big, bright tasting room.
A wine tasting consists of 7 wines ranging from rosé to reds. They have a frosé available on weekends during the summer months.
Grab your glass or bottle and head out to the patio (shaded in the summer, fire pit in the winter) and enjoy the scenic view of the vineyards and mountains surrounding you.
And if you thought growlers were just for beer, think again!
Valley Road sells growlers/carafes of certain of their wines throughout the year. Either buy a branded one of theirs or bring your own 1-liter growler for a to-go fill.
Hazy Mountain Vineyards and Brewery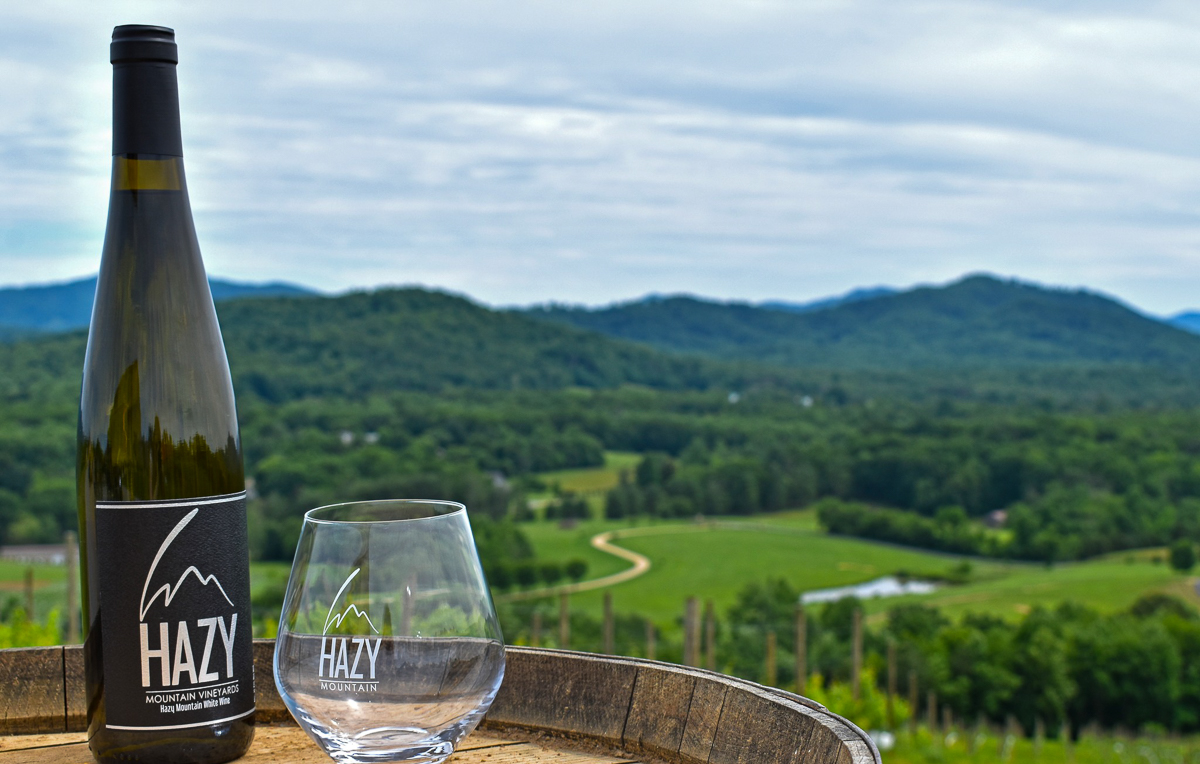 Food: Yes
Outdoor seating: Yes
Reservations Required: For group 14 or larger
Hazy Mountain Vineyards is relatively new to Nelson County having planted their first estate vines in 2019. They are a family owned and operated winery and have over 80 acres of vines between their two vineyards.
They offer guided wine tastings in their tasting room with over 13 varietals available.
If you aren't in the mood for wine, they do offer beer flights and pints as well.
Blue Mountain Brewery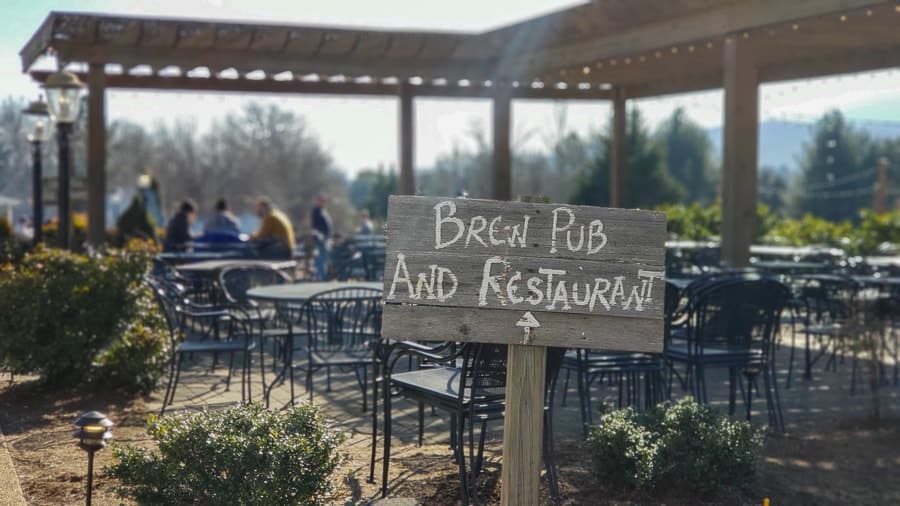 Food: Yes, full restaurant
Outdoor seating: Yes
Reservations Required: No, all seating is first-come, first-serve
Opening way back in 2007, Blue Mountain Brewery was Nelson County's first brewery! They have some unbelievable views of the mountains from their brewpub location in the north.
They also have a barrel house tasting room about 30 minutes further south down Nelson 151.
Some of their mainstays include the Full Nelson, a pale ale balancing hops with aroma, the Hopwork Orange, an orange-infused IPA, and the Kölsch 151, which is as crisp as they come.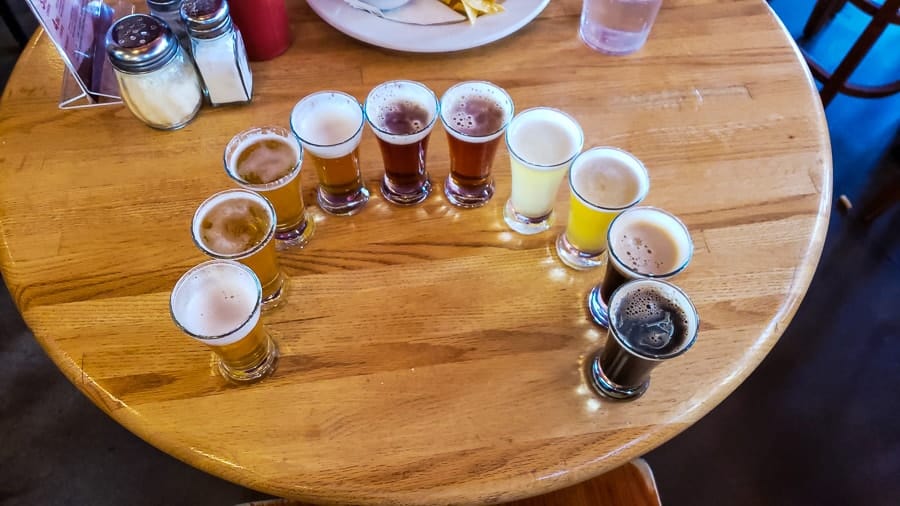 Often regarded as one of the best Charlottesville breweries, the brewpub is located on a beautiful plot of land with a huge outdoor area for seating under the large veranda.
Don't skip out on their food either….some seriously delicious farm-to-table fare which sources many of its ingredients from surrounding farms. And you know us, we love supporting local!
Get the full flight of beers (usually around 10-12 beers total), sip on the deliciousness, and kick back to some live music outdoors while overlooking the aptly-named Blue Ridge Mountains.
Afton Mountain Vineyards
Food: Light snacks only; can bring own food in
Outdoor seating: Yes
Reservations Required: No, groups 6 or less only. Larger groups will be split up.
Tucked a little further back into the mountains and a few miles off of Route 151, Afton Mountain Vineyards offers up some stunning views of the surrounding mountains and some delicious Charlottesville wine to boot! (Great views are a theme at wineries near Charlottesville, VA.)
The original vines were planted here in 1978 (and are still producing grapes today), so this place has some great history to its name.
The Petit Verdot has quickly become one of our favorite varietals, and Afton's is definitely up there on the list of Virginia's top Petit Verdots.
Tastings of 5 wines are $15 each.
If you're looking for a weekend getaway in the mountains, and think staying on the premises of a winery sounds cool, then check out Afton's cottages and guest houses.
These houses line the road as you enter the property and provide a great view of the winery, vineyards, valley, and mountains right out your bedroom window.
Talk about romantic!
Veritas Vineyards & Winery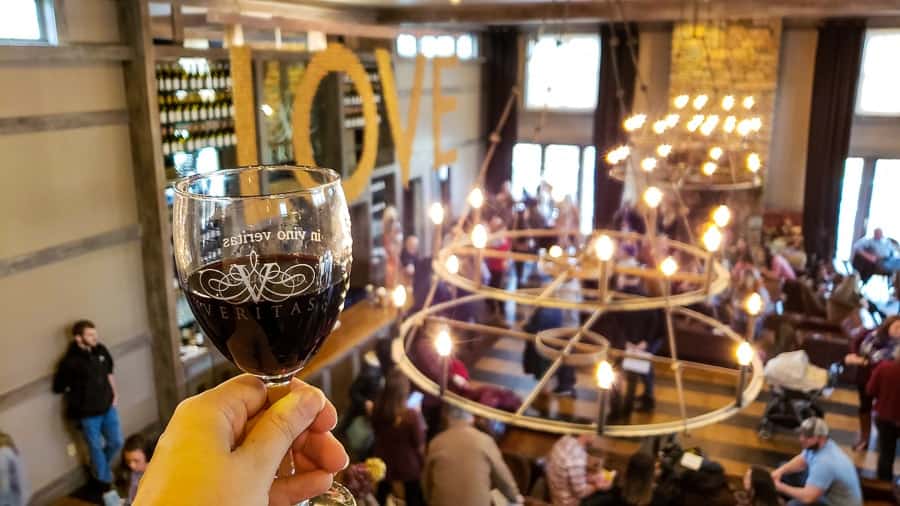 Food: Yes, snacks, cheese boards, sandwiches and salads
Outdoor seating: Yes
Reservations Required: No
Veritas Vineyards & Winery started as a "passion project" in 1999 with a small 5-acre planting of grapes. Since then, they have grown into one of Charlottesville's most well-known and popular wineries.
Veritas Vineyards is a true family affair as the original owners, a husband-and-wife team, have been joined by all three of their grown children in the business.
When you first walk into the tasting room, you're immediately greeted by a huge "LOVE" sign over the tasting bar made out of wine corks (must have been a fun arts & crafts project!).
After your tasting, make sure you go towards the back of the building and take a peek into the beautiful great hall to see exactly why this place is one of Virginia's most popular wedding destinations!
With expansive outdoor and indoor seating options, it's a great place to kickback and enjoy a bottle.
Similar to Afton, Veritas has recently added onsite accommodations at an adjacent farmhouse.
Simple, yet elegant, a stay at the farmhouse comes with made-to-order breakfast each day, a wine hour from 5-6 each night (which includes a small hors d'oeuvres plate paired with wines), and a bottle of wine and 2 glasses in your room.
There is also a restaurant onsite for dinner only. Reservations are required.
Their motto: In Vino Veritas – "In Wine there is Truth". Couldn't have said it any better ourselves!
Cardinal Point Vineyard & Winery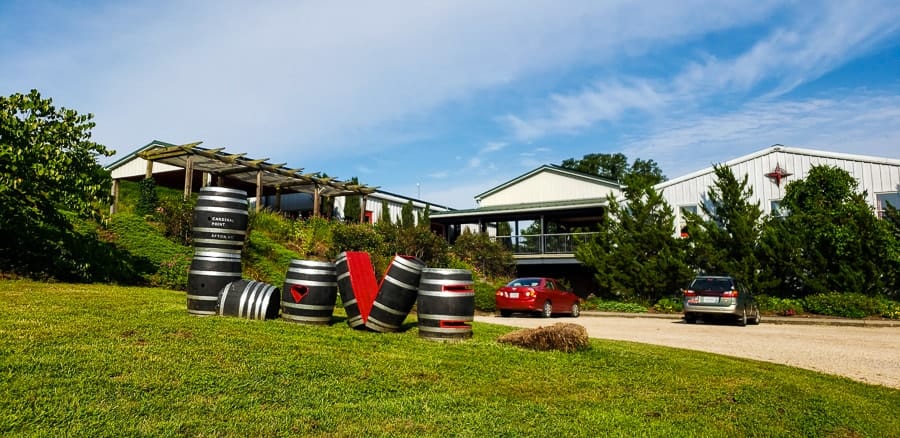 Food: No
Outdoor seating: Yes
Reservations Required: For groups 5 or larger
Another family-owned-and-operated winery, Cardinal Point has one of the smaller tasting rooms of the places on this list, but no shortage of different varietal wines to offer.
The deck and covered outdoor patio were expanded a few years ago to ensure you'll have a great spot to sip on some of their award-winning wines no matter what Mother Nature throws your way.
Tastings are pre-poured flights, but are waived for each bottle of wine you buy.
With a friendly staff and furry friends waiting to greet you, this winery has a great wine selection in addition to being dog friendly.
If you want to stay on site, they also have a farmhouse. This 5 bedroom, 3 bathroom house has a full kitchen and can sleep up to 10.
Silverback Distillery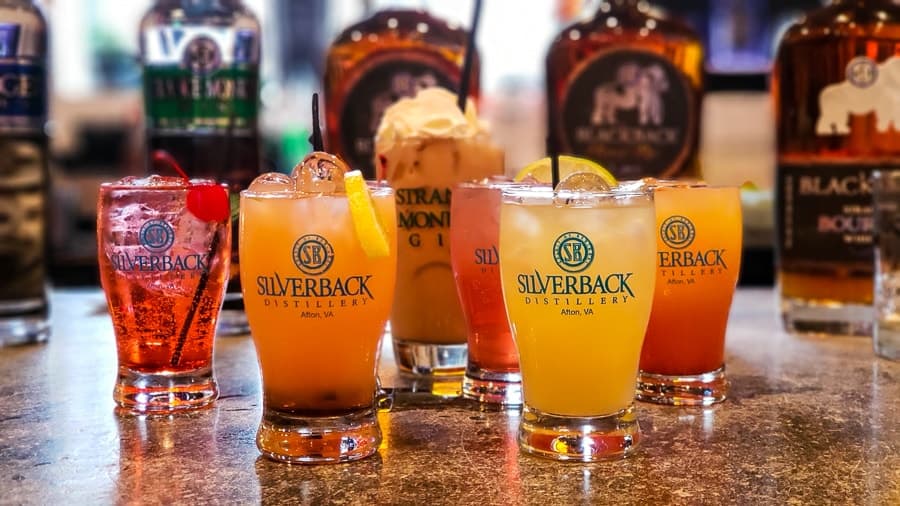 Food: No
Outdoor seating: No
Reservations Required: For groups 8 or larger
At its beginning, Silverback Distillery was one of the only, if not the only, mother-daughter distilling teams in the United States, pumping out numerous award-winning liquors and deliciously creative cocktails.
Talk about some serious girl power!
One of Chris's favorites is the Blackback Honey Rye Whiskey, which has won several gold medals.
This has been one of their most popular spirits, so much so that it is often sells out at ABC stores within a few days once it hits the shelves. They call it the "Honey Rage!"
As you might know from our distillery hopping tour in Richmond, Virginia law limits customers to 3 ounces of this liquid gold per day. Silverback offers their liquor straight, in adorable little mini cocktails, or in full cocktails.
If it's your first time visiting, we'd recommend tasting a few of the products straight to see why they are winning awards, and then try a few different mini cocktails so you can see and taste their creativity.
Why the name Silverback?
No, it's not because silverback gorillas are common around this region. They aren't at all.
Silverback is actually the nickname that the owner's "three wonderful, wise-ass daughters" gave to their father for his prematurely-graying hair, overprotective demeanor, and generally grumpy attitude. Go easy on dad, girls!
Whatever your route for visiting all of these places may be, make sure you allot enough time for Silverback. It's 100% one of our favorite stops on the Nelson 151 trail.
Brewing Tree Beer Company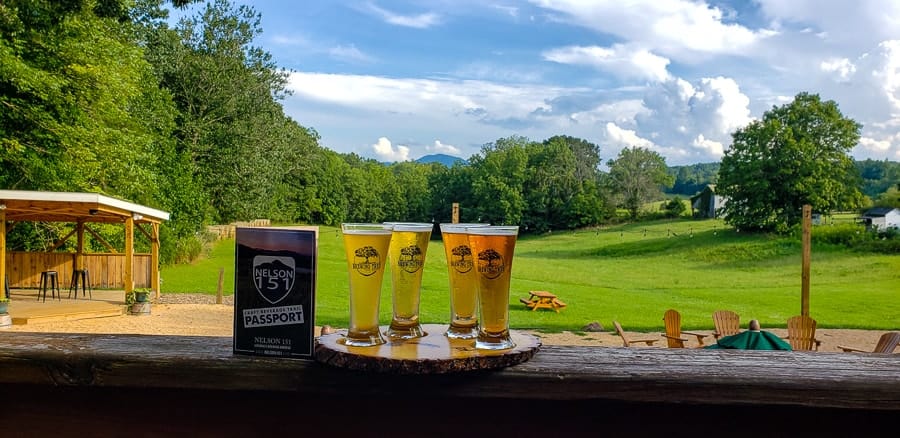 Food: Yes, permanent food truck
Outdoor seating: Yes
Reservations Required: For groups 8 or larger
One of the newer breweries to the 151 trail, Brewing Tree Beer Company was started by the same man who helped co-found Starr Hill Brewery, one of the pioneers of the Charlottesville breweries, way back in the late 90s.
The brewery got its name by borrowing from the "coaching tree" analogy, meaning that the head coach often has a lot of assistant coaches who develop and then move on to become head coaches themselves.
Same kind of thing here too….many brewers have learned and developed under owner Mark Thompson for decades and have since gone on to start their own breweries.
Brewing Tree is also big into the collaboration beers and always has a guest tap available which just goes to show how collaborative and friendly these folks really are.
And the food slingin' around here from Scratch Kitchen is just delicious! Pimento cheese fritters, anyone?!
The focus of the kitchen, as the name would imply, is on making things fresh and from scratch, with a hyper-local feel sourcing from nearby farms and businesses.
Come hang out at their tasting room which just screams "rural Virginia", featuring a large deck, fire pit, and views of the mountains and surrounding pastures.
Flying Fox Vineyard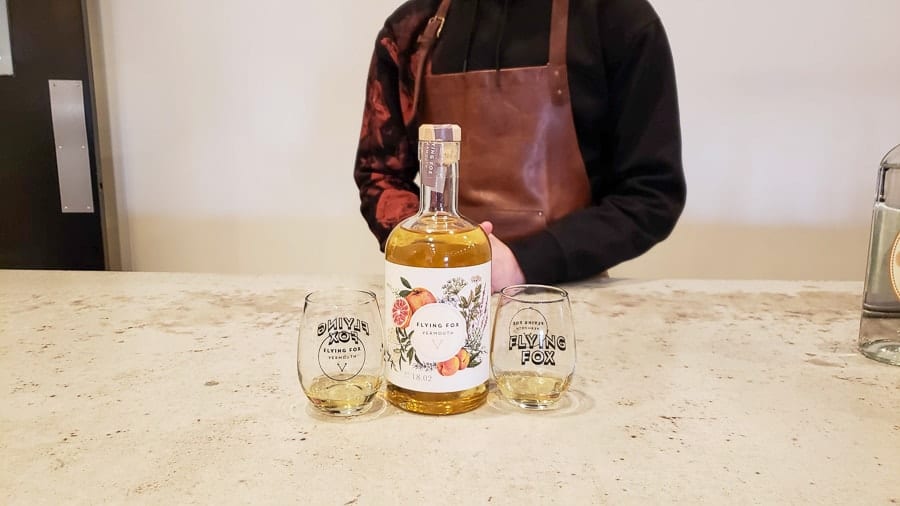 Food: No
Outdoor seating: No
Reservations Required: For groups 5 or larger
From the same family that brought us Veritas Vineyards (Charlottesville wine family roots run deep), Flying Fox Vineyard is located just a few miles away right on the Nelson 151 route.
Relax in some of their comfy chairs, something fit for a fancy living room, or hang out in the main tasting room which seems to be inspired by an old English pub with wood paneling all around.
While the wine is good (remember, it's made by the same family that makes Veritas), do not skip out on tasting one of their vermouths. In our opinion, they steal the show.
While you might think of vermouth when you think about a martini and/or a Manhattan, Flying Fox's seasonal vermouths are great for sipping all by their lonesome as they highlight the different flavors of the seasons.
Flying Fox's wine tastings include one of the seasonal vermouths as well. We usually buy a bottle every time we visit.
Hill Top Winery & Meadery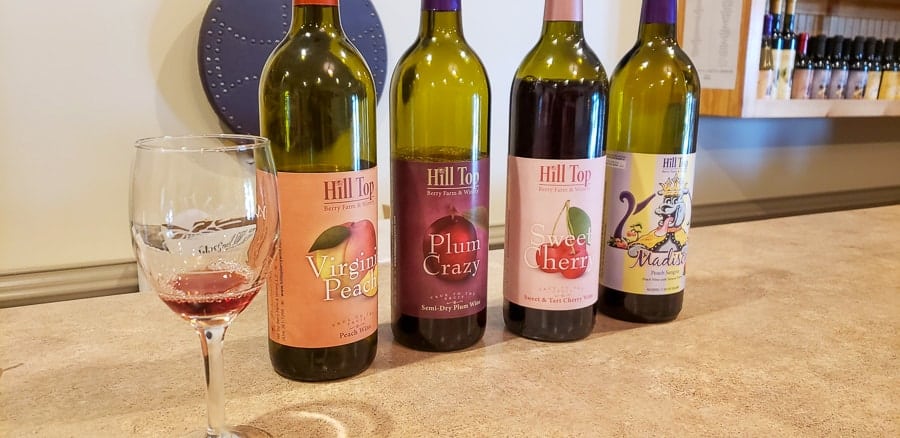 Food: Yes
Outdoor seating: Yes
Reservations Required: For groups 8 or larger
If you're looking for something along the Nelson 151 trail that is a little bit different, head up the hill and taste the wines and meads that Hill Top Winery & Meadery is cranking out.
Although they do have some grape-based wines, Hill Top creates mostly "true to the fruit" wines, meaning if you taste a blackberry wine, the base of the wine is actually blackberries.
And to up the freshness and deliciousness of these wines, many of the fruits they use are grown right out back in their "vineyard".
They also make an assortment of authentic honey mead, some of which we have used as a marinade for chicken. Boozy dinners are the best.
The tasting was only $5 for a flight of wines/meads and your tasting fee is waived if you purchase a bottle. Naturally, we purchased 2 bottles, one wine and one mead, and got away with 2 "free" tastings.
Bold Rock Hard Cider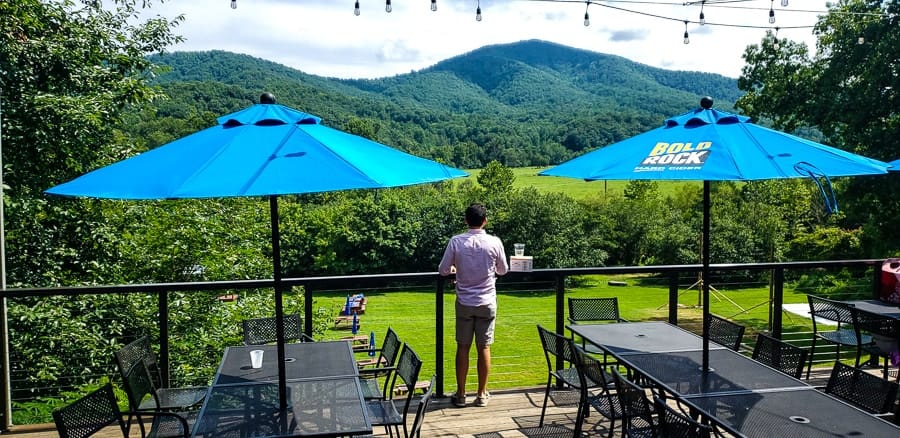 Food: Yes
Outdoor seating: Yes
Reservations Required: No
Bold Rock Hard Cider & Distilling is the nation's largest independently owned cider company and it started right here on the Nelson 151 trail.
The headquarters of Bold Rock, or the "Chapel of Apple" as they call it, is a huge rustic-looking barn overlooking a river.
Opened back in 2014, this location serves as the main production facility and tasting room. With other locations in the region including a barrel barn (small craft batches and R&D lab) and outposts at Carter Mountain Orchard and Chiles Peach Orchard, it's clear that cider is here to stay.
We've all heard the saying that the apple doesn't fall far from the tree, and that is literally true in the case of Bold Rock's ciders.
Every single apple that gets pressed into their crisp and refreshing cider is sourced from an orchard within 35 miles of their two locations. And they use a super-efficient process too that turns 85% of the apple into juice.
You might say the juice is worth the squeeze. (hehe)!
Make sure you head upstairs to the viewing deck where you can watch the production process in action.
It's one of those oddly satisfying things to watch bottle after bottle get filled, capped, and packaged. We watched for longer than we care to admit!
Bold Rock Distillery
If cider doesn't do it for you, they also have a line up of seltzers, hard teas and lemonades, and craft cocktails from their distillery!
Bold Rock Distilling produces a vodka, bourbon, whiskey, and flavored whiskeys in addition to a line of ready-to-drink cocktails!
Blue Toad Hard Cider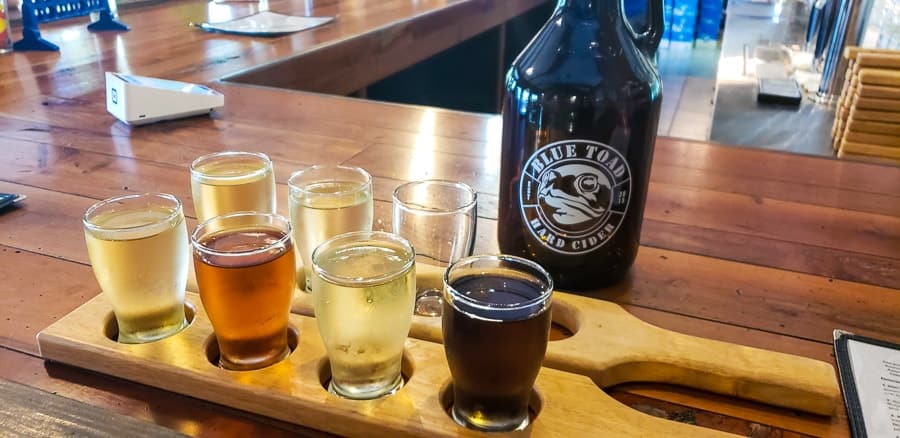 Food: Yes, Friday – Sunday only
Outdoor seating: Yes
Reservations Required: For groups 8 or larger
Blue Toad Hard Cider brews all-natural cider using a variety of locally-grown apples from western New York (where another production facility and tasting room is located) and from the Blue Ridge Mountains.
Offering a good mix of dry and sweet ciders, Blue Toad prides itself on using fresh, local ingredients to create its diverse lineup of cider.
A fantastic view of the Blue Ridge Mountains awaits you right outside of their tasting room near the base of Wintergreen.
Grab a flight so you can try them all!
Devils Backbone Basecamp Brewpub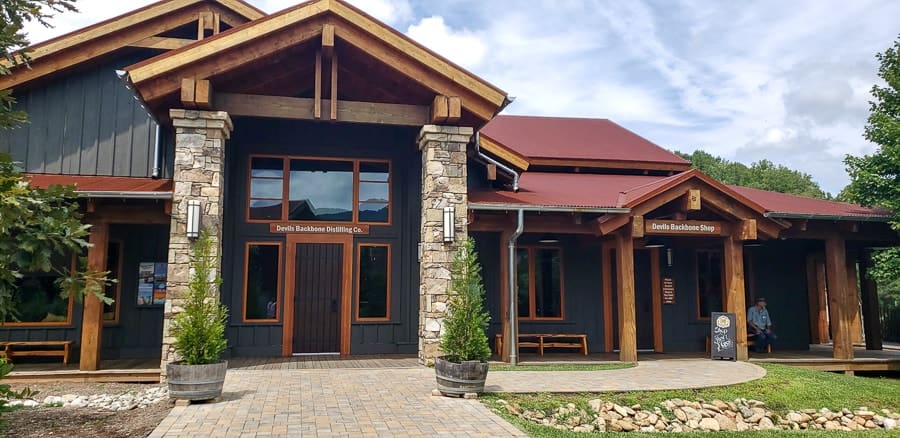 Food: Yes
Outdoor seating: Yes
Reservations Required: No
Before you criticize Devils Backbone because you think they sold-out to Anheuser-Busch, let's remember how this place actually started back in the day.
Husband-and-wife owners were on a ski trip in the Alps and wanted to re-create a local hangout spot that served European-style beers where people could come to share stories of their time on the slopes.
Fast-forward to today, and no matter who owns the brewery, Devils Backbone is still doing just that near the base of Wintergreen Resort in its traditional European (heavy German influence) style.
Their Vienna Lager is wildly popular and recognizable by both its taste and its copper color.
They call it "Ol' Faithful" and we couldn't agree more.
Find us a beer drinker who doesn't like a good old-fashioned Vienna Lager and we'll gladly take it off of their hands!
It has twice won a gold medal at the Great American Beer Festival, the most prestigious beer festival out there!
The Eight Point IPA was one of the first beers brewed here and is still going strong today….another good old-fashioned beer to rely on.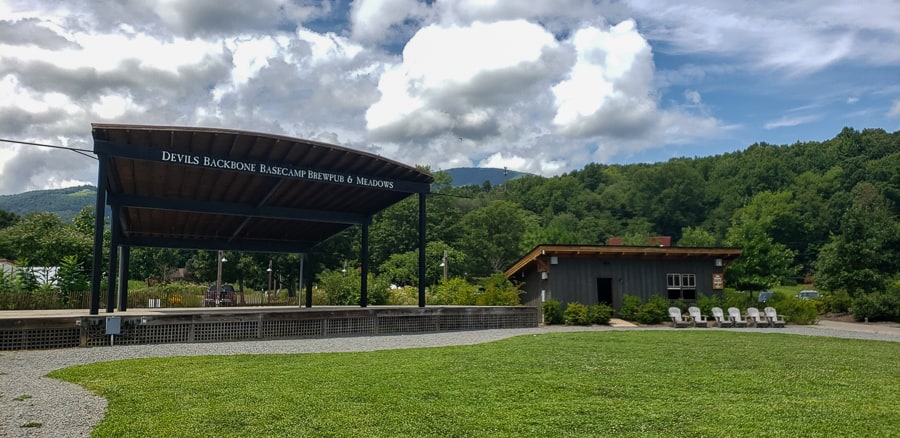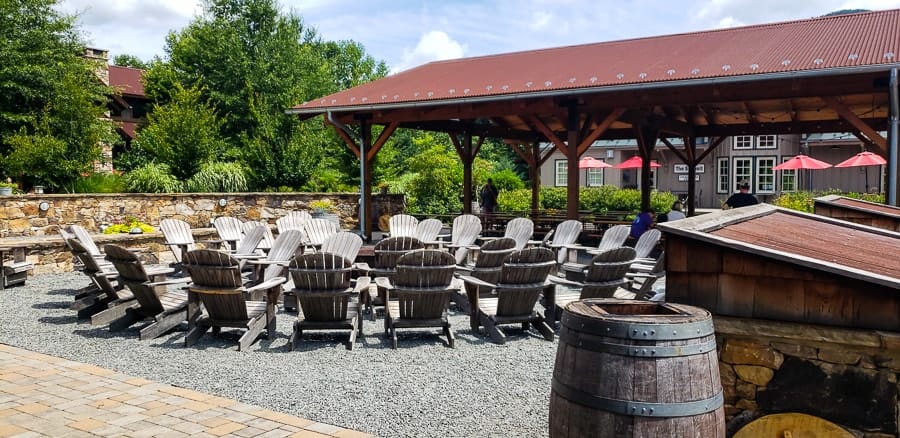 With the additional capital from Anheuser-Busch, Devils Backbone has been able to expand the offerings of their Basecamp in Nelson County and now offers more than just a brewery and restaurant.
There are now a total of 48 tap handles on the property pouring a variety of beer.
Looking to enjoy nature? They have a huge outdoor bar (with wine, too) and host a variety of concerts and other events year round.
Also onsite is a spot called The Shanty which serves up rare DB beers along with a focus on whiskey and cigars.
Because all that wasn't enough, there is an actual distilling company (Devils Backbone Distilling Co.), made-to-order breakfast and specialty coffees at The Summit, and even campsites, RV hook-ups, and luxury homes for rent.
A full-service beer, wine, and spirit destination along the Nelson 151 Trail!
Bryant's Dry Cider & Brewery
Food: Yes
Outdoor seating: Yes
Reservations Required: No
Another 10 minutes past Devils Backbone, Bryant's Cider & Brewery is the southern most stop along the 151 trail.
Bryant's Dry Cider is known for producing award-winning, non-sweet, dry cider (I bet you didn't see that coming). They only produce small batch, locally-sourced ciders at their "farm" location with a satellite tasting room in Richmond.
With live music on the weekends, the farm location also has plenty of activities to keep you entertained such as disc golf, cornhole, Super Nintendo, and more.
Wowza! That was a fun trip down a 15-mile stretch of road now wasn't it?! No matter which route you create, we hope you'll find and appreciate all that Nelson County and the Nelson 151 spirits, beer, and wine trail have to offer.
From breweries to wineries, cideries to distilleries, small shops to big productions, you're all but guaranteed to find something that you love and keep you coming back for more.
With so many places serving up local craft beverages within such a small area, why haven't you planned your first, or next, trip here yet?
Ready to explore more of Virginia? Read More here: Visit Richmond, VA