Complete Guide to the 18 Best Las Vegas Breweries
For a city that claims to consume more alcohol per capita than anywhere else in the world (including tourists), it's no wonder that the craft booze scene, in particular Las Vegas breweries, is going all in and beginning to take hold and take-off.
There is obviously no shortage of places to get a drink on the world-famous Las Vegas Blvd, aka the Strip, but those are mostly casinos and high-dollar tourist traps.
We are here to find and support the local guys and gals doing great things in the Las Vegas breweries and booze scene!
First things first, the greater Las Vegas area is big!
To hit all of these spots, some of which are 20 miles from the Strip, you're going to need a car.
We've tried to split up our guide to the local Las Vegas breweries, wineries, and distilleries by location to help you plan your day(s) and transportation accordingly.
Viva Las Vegas breweries!
Short on Time? Here are the key takeaways:
We've divided up the breweries by location: downtown, the strip, Fremont and Henderson.
In our opinion, don't miss Able Baker, the Mad Fermentist and CraftHaus.
This post was originally published in September 2020, and was updated in April 2023.
**Boozing Abroad contains affiliate links throughout the site. If you choose to purchase items through these links, we will earn a small commission at NO extra cost to you. Read the full disclosure policy here**
Map of Las Vegas Breweries
Click the interactive map below!
HOW TO USE THIS MAP: To view the layers and see the names of the places on this map, click the tab in the top left corner. You can select the check marks to show or hide certain layers. If you select the icons on the map, you will get more information about the point of interest.
HOW TO SAVE THIS MAP: If you select the star icon next to the map name, you can save this map to your Google Maps account. To view it, open Google Maps in desktop or on your phone, select the menu button, go to "Your Places," scroll to the right to Maps, and you will see this map.
Downtown Las Vegas Breweries
Beer District Brewing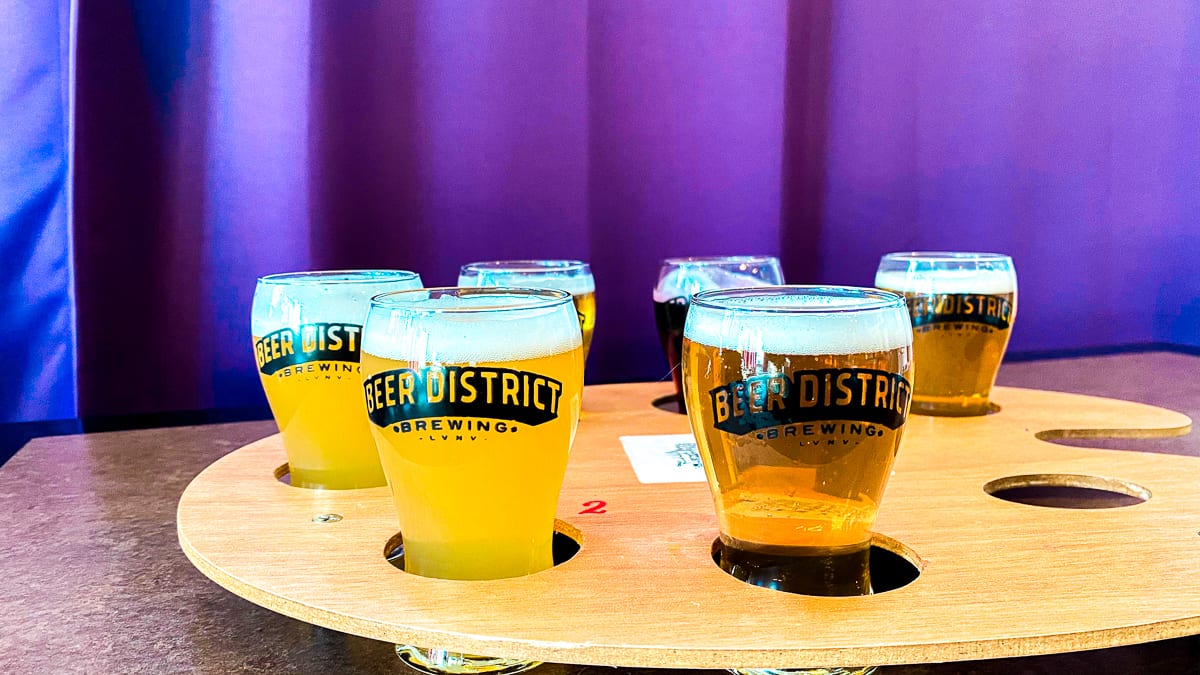 Appropriately named, Beer District Brewing is located at the top of the Arts District in Las Vegas, which boasts 5 other Las Vegas breweries within a half-mile of each other. Hooray for walking between the Las Vegas breweries!
A lengthy tap list can sometimes be seen as negative: jack of all trades, master of none.
But Beer District bucks that trend and produces many great beers like their Talus Hazy pale ale, which is their standard hazy, but uses a Belgian yeast strain to up the fruit aroma and flavor.
Other favorites include the Heaven is Helles, the Around it Gose, and the Sip City nitro which is a white stout and may remind you of (or replace) your favorite iced latte!
Hop Nuts Brewing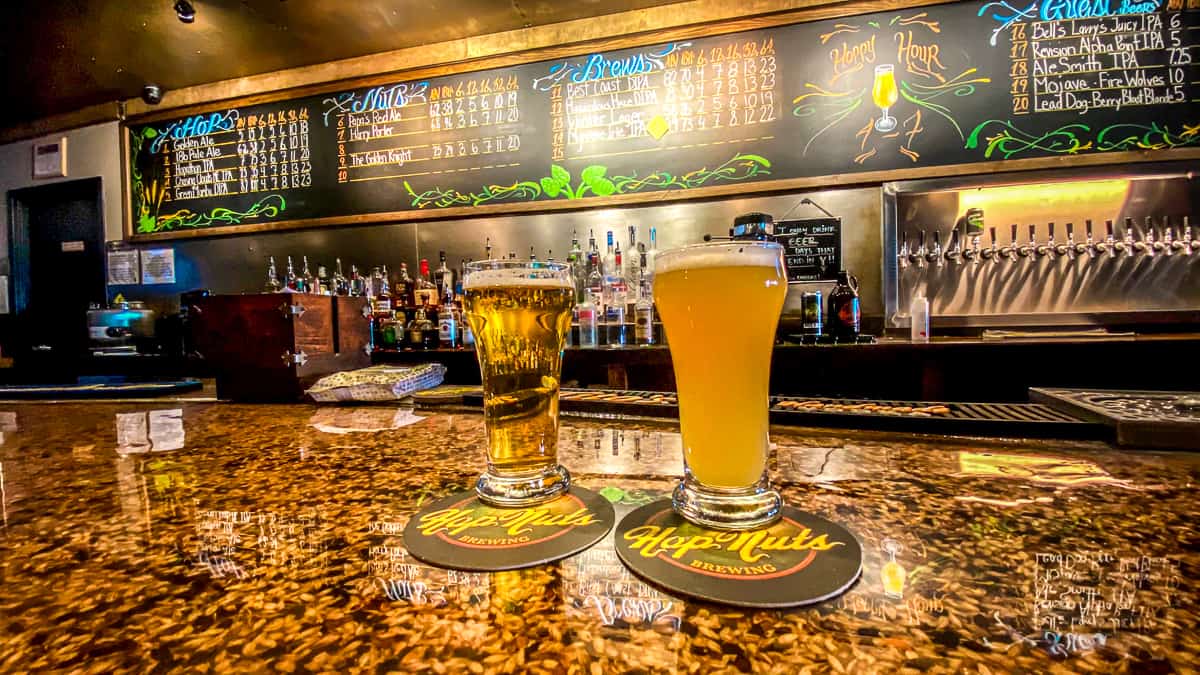 With a name like Hops Nuts, you'd expect an emphasis on hop-forward beers. And you'd be right.
Hops Nuts Brewing has two locations, one in the Arts District between Fremont and the main cluster of casinos on the Strip, and one about 15 minutes west of downtown Vegas in Summerlin.
Their 18b pale ale, named for the original location in the 18b Arts District, is one of their best-sellers and is a classic that you'd expect from a pale ale.
Their BBA Omniscient Imperial Stout is their base stout aged in Woodford Reserve chocolate rye barrels. Keeping things hyperlocal, the beer is finished off with coffee beans from the coffee shop next door.
To go along with the brewery, the Arts District is super walkable with galleries, shops, restaurants, and stages for live music. In total, there a
HUDL Brewing Co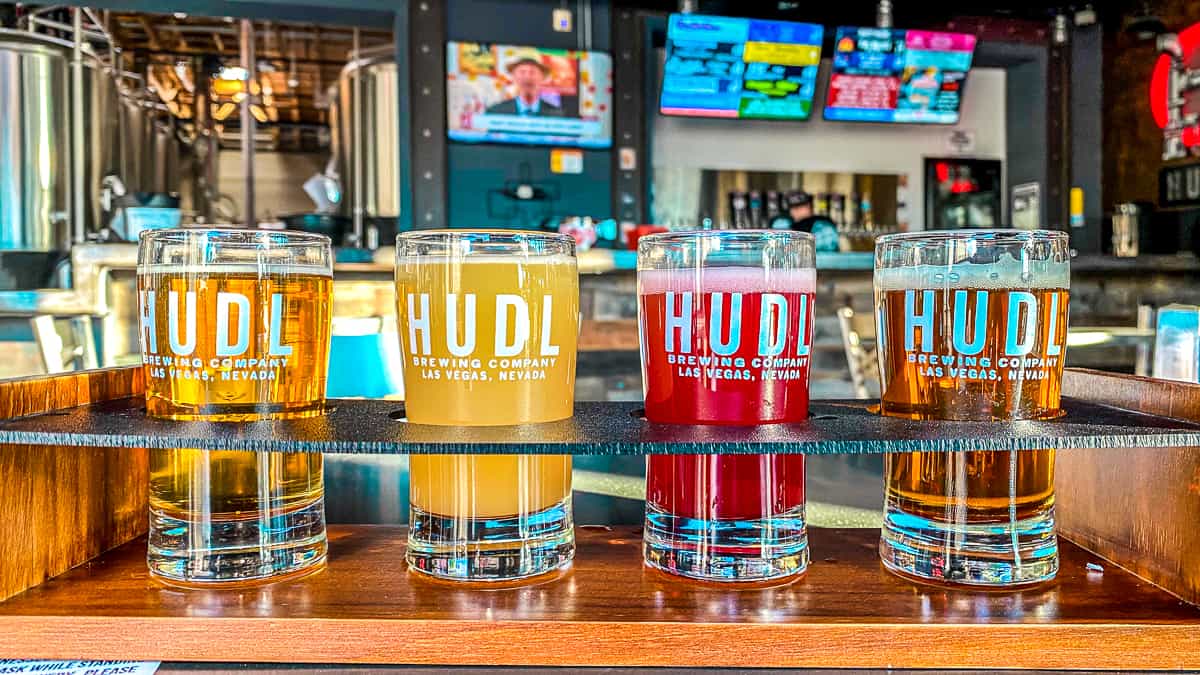 Having just opened in October 2020, it's the newest of the Las Vegas breweries.  But HUDL Brewing Co is definitely NOT short on experience when it comes to brewing. 
The brewmaster has a long history in the industry, working with numerous breweries like Pizza Port and AleSmith in San Diego, as well as at the American Brewers Guild, where he took on many apprentices and has helped grow the craft beer industry.
The other two owners also have a history of home brewing and a passion for craft beer, making their partnership a perfect match.
The Vanilla Oak cream ale is one of their top beers so far, but don't pass over the Salty Swabber double IPA, which doesn't drink like the 9.4% ABV that it is. Dangerous!
The Scorched Meadows is a Las Vegas style IPA, meaning it's a New England style IPA that is a bit drier than most of the juice bombs you may be used to these days.
HUDL shares a patio and building with another newcomer to the Las Vegas breweries scene, Nevada Brew Works (there is a wall between them).
Nevada Brew Works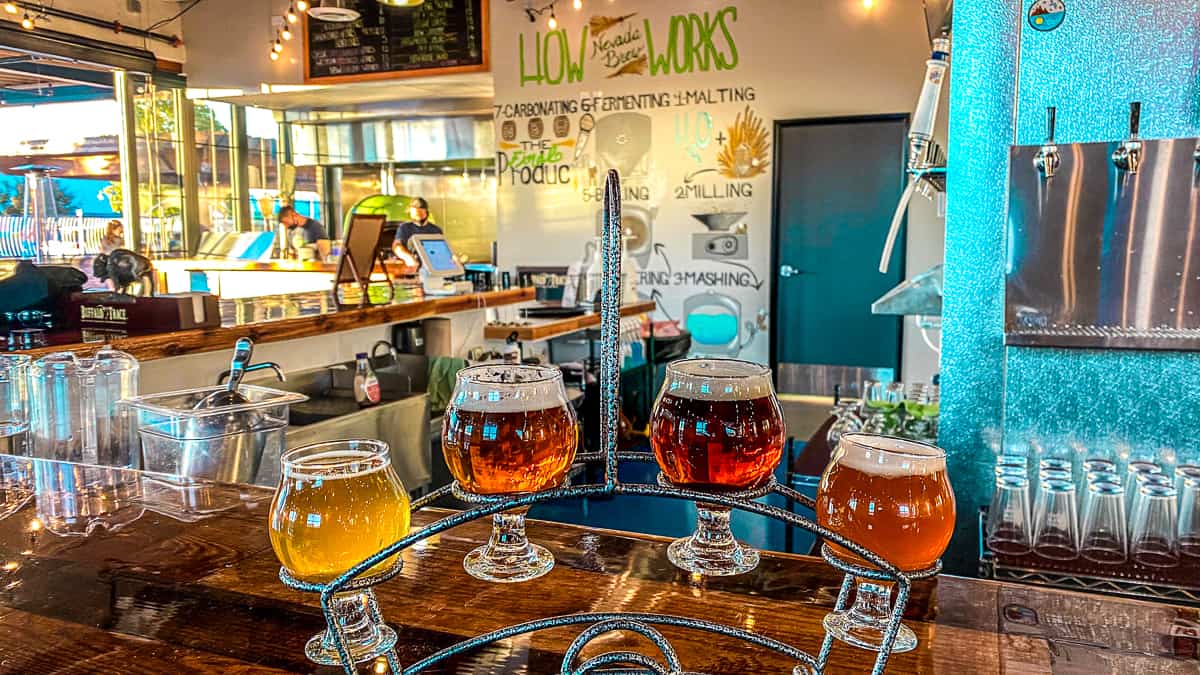 Nevada Brew Works shares a wall and patio with HUDL Brewing and is the senior member of the two, which is saying something since they only opened one month prior in September 2020. So still fairly new to the Las Vegas breweries scene.
A tap list features a handful of their house brews and several guest taps as well, both local and regional.
At least initially, NBW is into naming their beers what they are: Hefeweizen, Irish red ale, hazy IPA….you get the idea. And if you aren't into beer, they have a full bar to whet your whistle.
If you've worked up an appetite boozing your way through the Arts District, they offer a menu consisting of tipsy favorites: pizza, burgers, and fries. Enough said!
Able Baker Brewing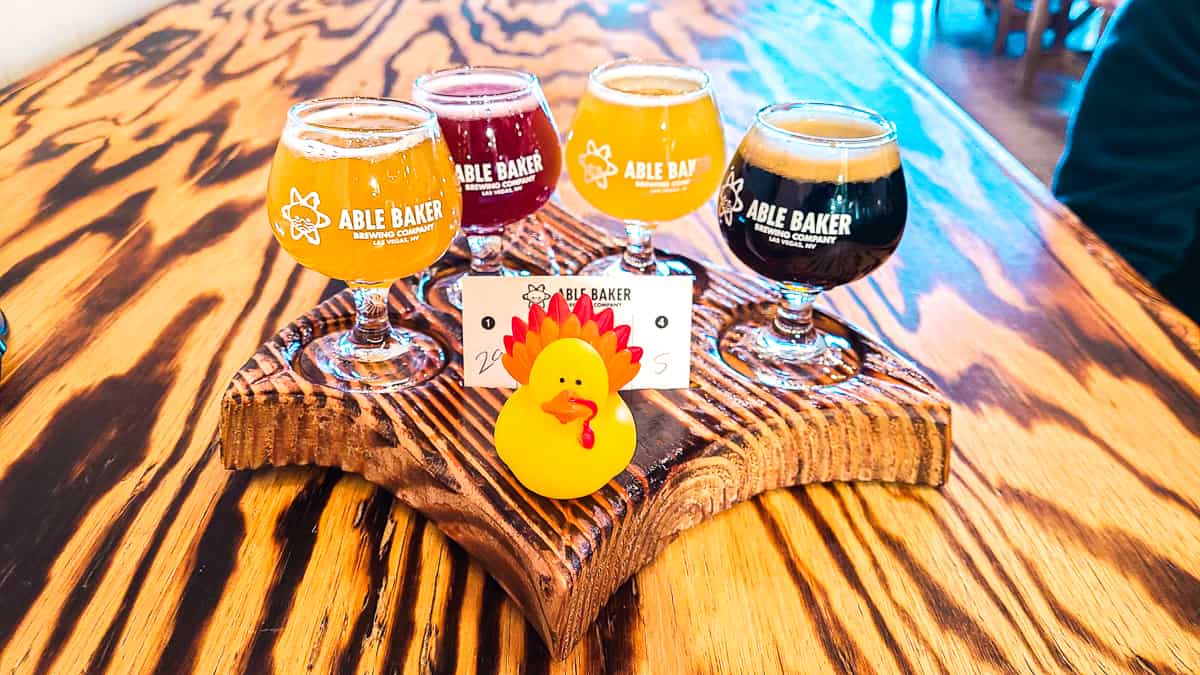 This place is just fun! Able Baker Brewing is at the south end of the Arts District and immediately gets you with those awesome brewery vibes.
Bright lights, big ceilings, colorful chalkboard menus, lively music, shiny brewing equipment, and ducks. Yes, ducks.
The brewery name comes from the first two atomic bombs tested at the Nevada Test Site, whose code names were "Able" and "Baker". So, why the duck?
The story goes that a duck, affectionately known as the "Atomic Duck", was the only animal to survive those atomic tests and waddled into our hearts and into the history books.
Today, Able Baker has a huge tap list filled with some awesome beers. Several dark ales, stouts, and barleywine (all over 10% ABV) complement the rest of their IPA-and-sour filled menu.
They do love their duck puns here, as evidenced by their fun names like the Atomic Duck IPA, the Snuggly Duckling mango IPA, the Waddle session IPA, and the Split Bill IPA.
Come have fun, drink some beer, and take home a souvenir rubber duckie at one of the most fun Las Vegas breweries!
The Mad Fermentist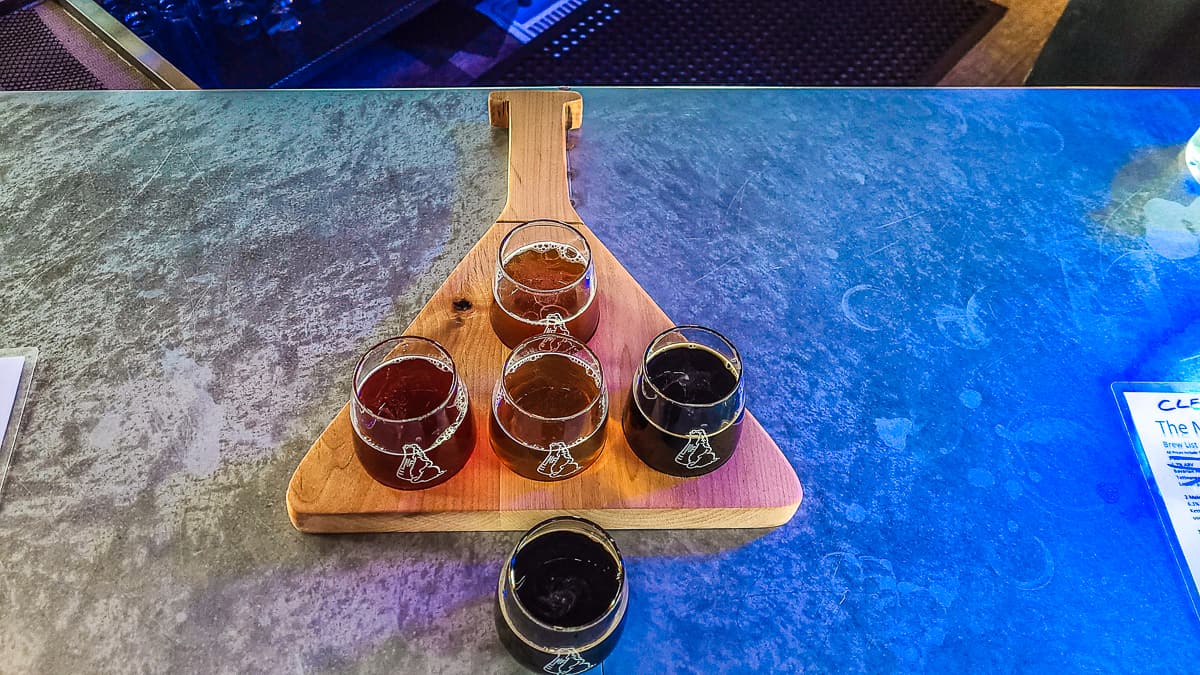 Spend a few minutes talking to The Mad Fermentist himself and you'll come to find that he just absolutely loves craft beer.
He's well-traveled, having been born on an Air Force base in Germany and traveling through Europe for the first portion of his life, and those life experiences come through in all of his beer.
Located above the Three Sheets Craft Beer Bar in the Arts District, The Mad Fermentist brews its beer down in Henderson at Mojave Brewing and has a pretty diverse lineup.
Everything from IPAs and sours to hefeweizens and a Baltic porter called Milk Dudz, this place has it all. The Mad Fermentist, Al, really enjoys talking to tourists and locals alike about his craft.
For now, this is the smallest of the Las Vegas breweries but makes up for it with some big flavors and some great conversation!
On (or just off) the Strip
Trustworthy Brewing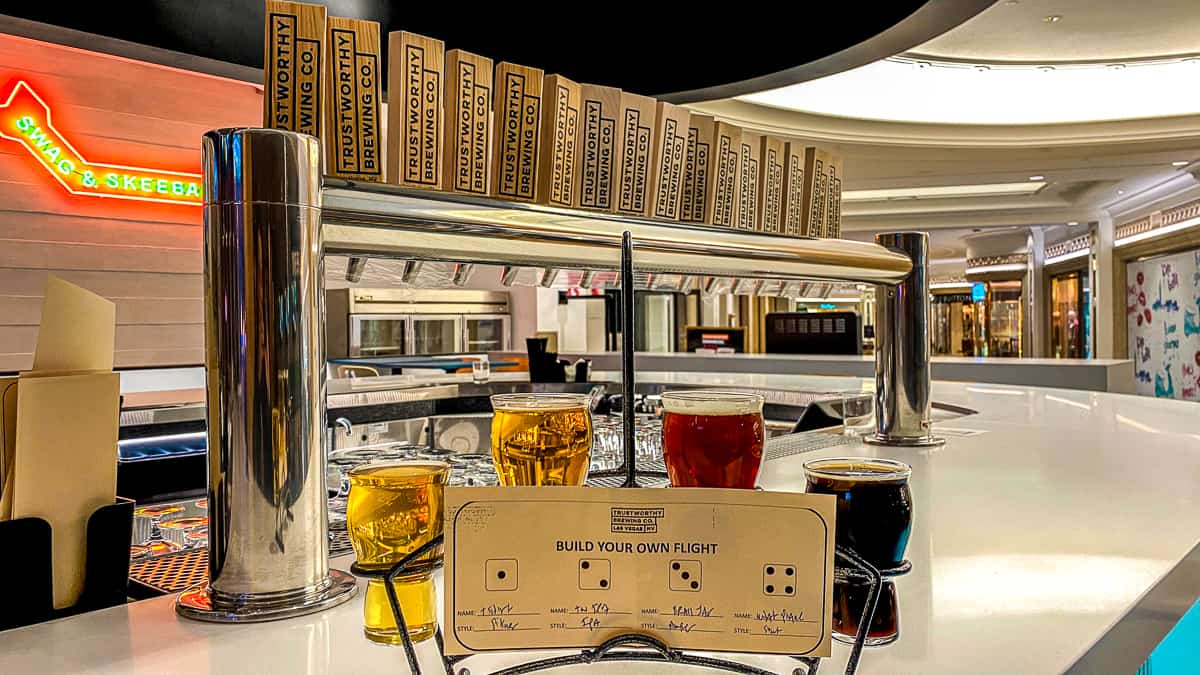 Trustworthy Brewing's original home is in Burbank, CA, but they have an adopted home in the Grand Canal Shoppes inside of the Venetian Hotel on the Strip in Las Vegas. 
Though you may get a commercialized feel from this place in the midst of all of the name-brand shops in the Grand Canal area, you still get the solid craft beer that you'd find at the original location on the outskirts of Los Angeles.
You can get their "Get to Know to Us" flight which gives you a taste of four of their core beers like their T-Shirt Weather Pilsner, the Trustworthy IPA, the Brass Jar amber, or the What Plane? stout.
Come during happy hour for $2 off draft beers (the 24 oz. mug will be your better deal) and half off some of their yummy appetizers.
Ellis Island Brewery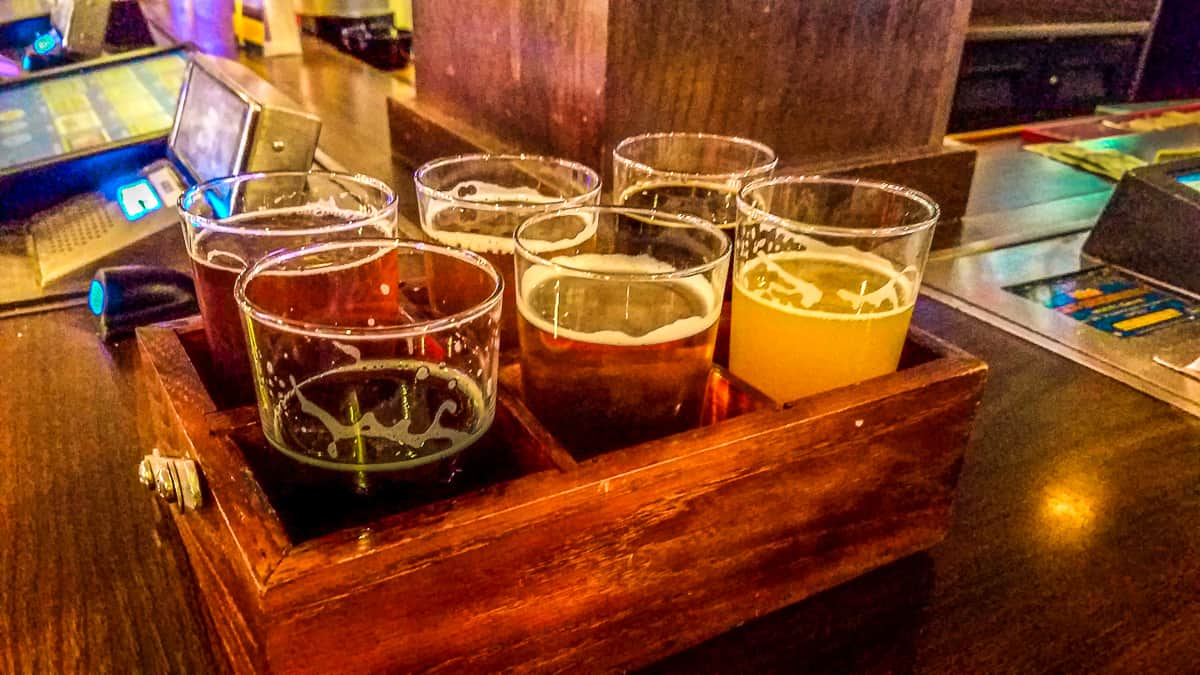 In our opinion, this is one of the best-kept secrets amongst the Las Vegas breweries. And that's really only because it's located just off of the Strip, so it's a much more relaxed atmosphere than the typical glitz and glam.
Ellis Island Brewery poured its first craft beer way back in 1988 and brews over one million glasses of beer every year for thirsty gamblers in six core styles and several seasonals. 
Their core beers are light, amber, Hefeweizen, porter, IPA, and a non-alcoholic root beer (which is actually pretty good!). They don't mess around with the crazy trends in today's craft beer world. If it ain't broke, don't fix it. If you like a classic style beer that is true to form, this is your stop.
The brewery is located inside of the hotel and 24-hour casino so you can get your craft beer fix at any time of day. And the prices are dirt cheap in craft beer terms. We paid $6 for a flight of their 6 core beers and full beers were only $2.50!
Fremont
Tenaya Creek Brewery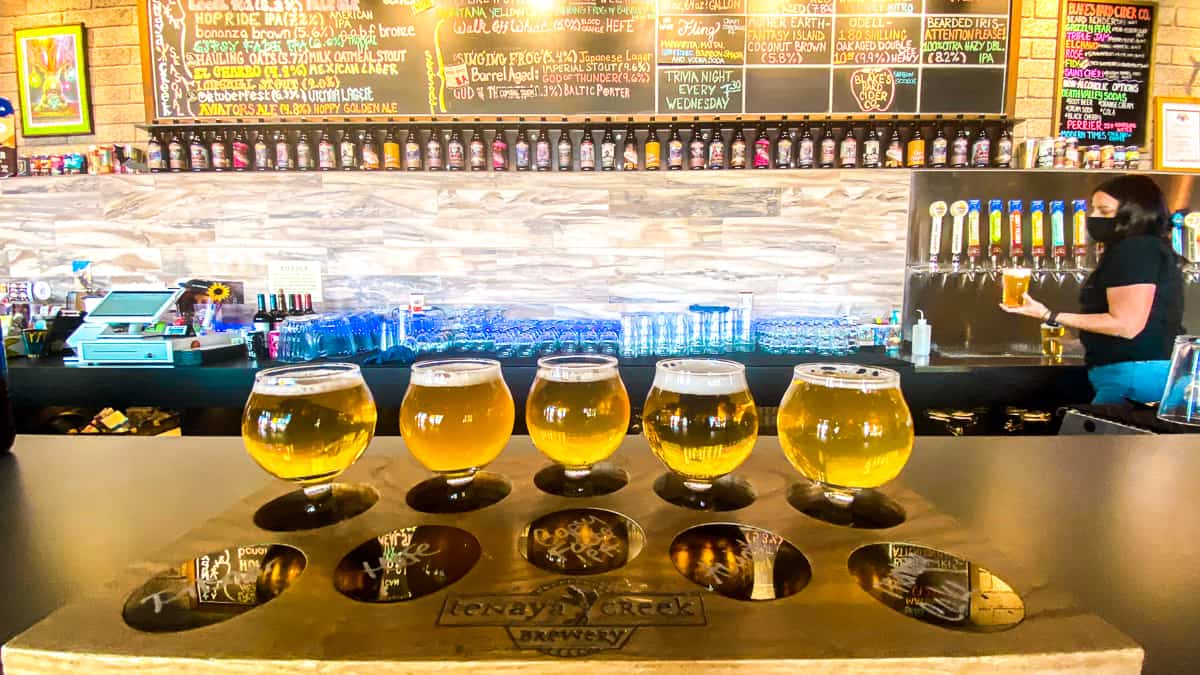 Located about a mile from Old Town Las Vegas (aka Fremont), Tenaya Creek Brewery is one of the award-winning Las Vegas breweries with chill vibes and good craft beer.
Enjoy a flight of 5 or a pint of beer off of their large list of in-house brews and several guest taps.
Their Pilsner won gold at the Great American Beer Festival and is one of the few craft pilsners that we have found to really enjoy.
They also have what they call the Montana Yellow Cake Singing Frog. A mouthful for sure. But it starts with their Singing Frog Japanese Lager base, and then it is essentially dry-hopped with bubble hash hops.
The bubble hash hopping technique basically takes hops and shakes them up really well, which results in sticky resin which is formed into little lumps used for hopping the beer. It was just the right amount of hop flavor to go with the light Japanese lager.
Banger Brewing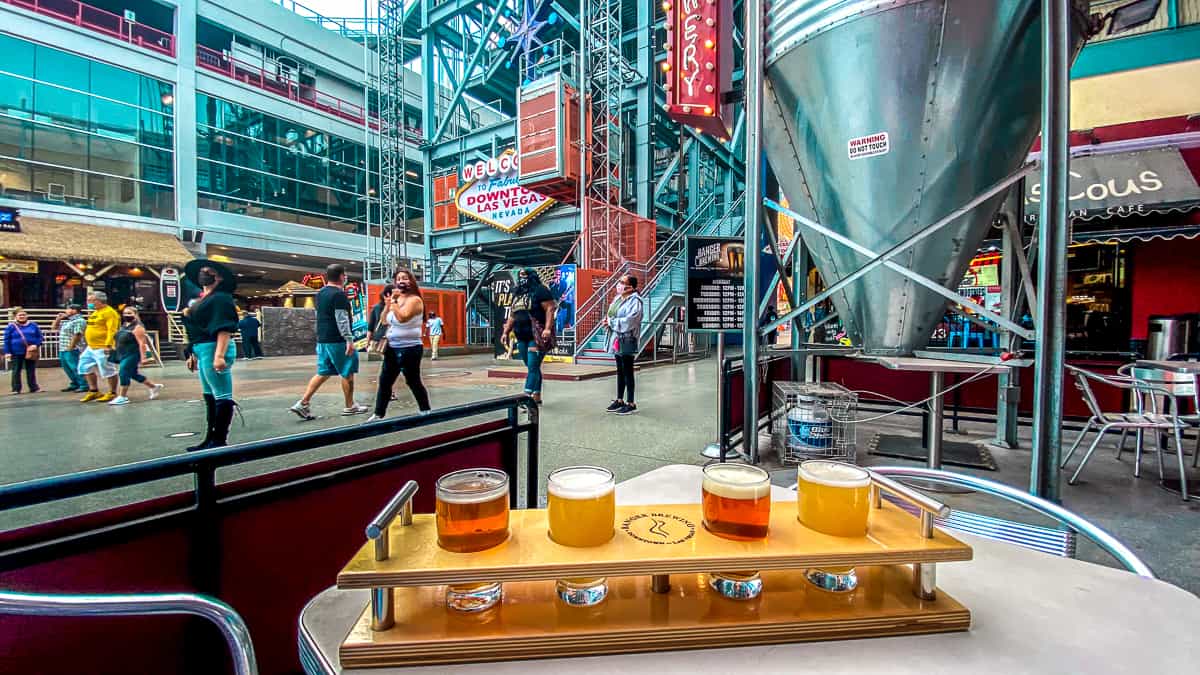 Banger Brewing sits right along Fremont Street, one of the most eclectic, interesting, and happening streets in all of the United States.
Fremont Street is Old Town Vegas and dates back to when Las Vegas itself was originally founded. It was the first paved street in Sin City and even had the first traffic light.
Today, Fremont Street is home to all sorts of activities, including the Slotzilla zip line, numerous famous casinos like the Golden Nugget and Binion's, and this craft brewery, complete with a patio perfect for people-watching.
Banger has a full list of their own beer plus many guest taps. Their house-made beer includes the Honey Pot golden cream ale, the El Heffe jalapeño Hefeweizen, the Perfect 10 pale ale, and the Dangerous by Default bourbon-barrel barleywine.
Chicago Brewing Co
Southern Nevada's most award-winning brewery has two locations in Sin City, Chicago Brewing's original location which is about 10 miles west of the city, and their second location is a brewpub inside of the Four Queens Hotel in historic Fremont.
The brewpub in Fremont is your typical Vegas bar with video gambling at the bar and also serves up a full menu and even a cigar lounge.
Something you don't see for a craft brewery (at their original location): they are open 24/7. Yep, craft beer 24 hours a day, 7 days a week.
While you gamble, sip on their brews which include the All Nighter golden ale (hence the hours of operation), the Sun Down stout, and the Hardway IPA, which was actually pretty tasty for a core beer.
BONUS: Atomic Liquors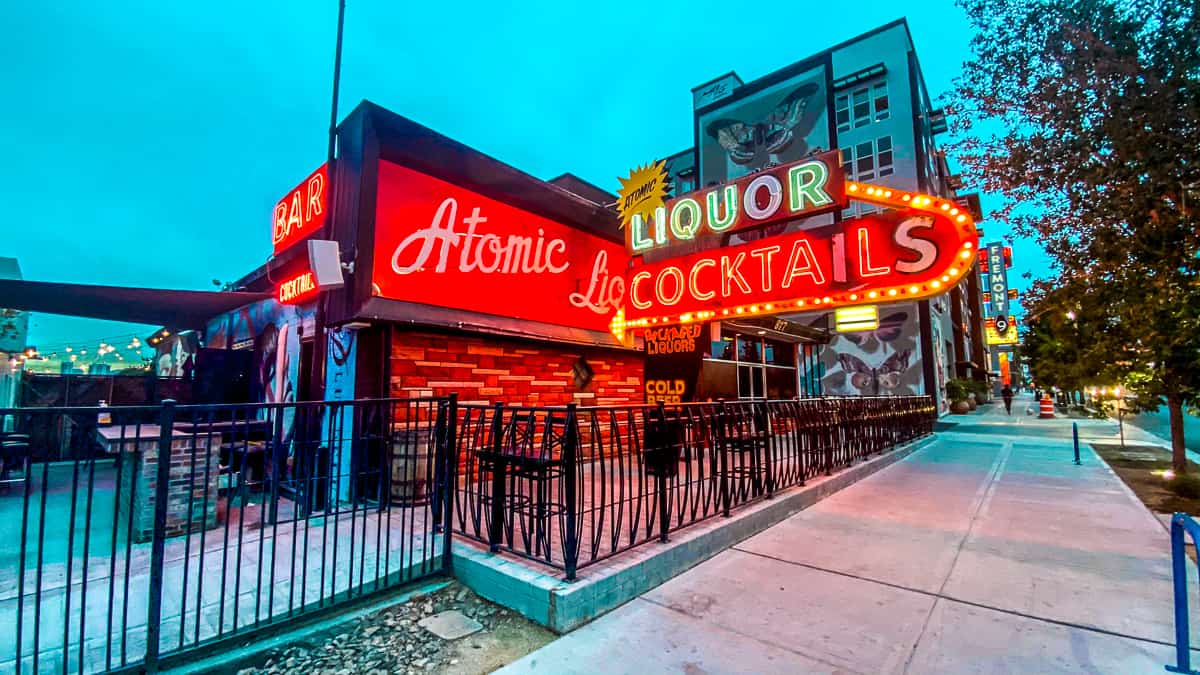 Atomic Liquors, the oldest free-standing bar in Las Vegas, is located on Fremont Street, but about a half-mile from the center of the Fremont Street Experience. Though it's not one of the many Las Vegas breweries, it has quite the history behind it!
The property where the bar currently sits was inherited by one of the original owners and she began developing the land into many different business ventures: a gas station/garage and a cafe, to name a few.
The husband-and-wife owners eventually tired of cooking for the public and wanted to do the rational thing: open a liquor store. And thus, Atomic Liquors was born with the first liquor store license in Las Vegas.
They also later purchased the 'pouring' license from a nearby closing casino, which allowed them to supplement their to-go business with beer, wine and mixed drinks sold over the counter. This created something new and Atomic was issued the first ever "Tavern License", #00001.
Today, there are still nods to the original business all over the place, including the bathrooms and a floor safe containing receipts and paperwork that was sealed sometime around 1950. The safe is in its original location and on display to take you back to the 50s.
Though there are old-school touches, there's a full tap list, signature cocktails, a full kitchen, an outdoor patio, and new-school music to complete the modern-yet-rustic feel.
BONUS: The Underground – The Speakeasy at the Mob Museum
What better place for a speakeasy than in the basement of the National Museum of Organized Crime and Law Enforcement, aka the Mob Museum?
The Speakeasy is complete with around-the-back-of-the-building location, basement floor, and password protection (do some Googling and you'll find the whereabouts of said password) and is an exhibit to yesteryear's secret booze hangouts.
The menu is filled with craft beer from many Las Vegas breweries, wines, whiskey flights, and classic Prohibition-inspired cocktails like the Giggle Water, the Bee's Knees, and the Ginger Jake, which is a moonshine cocktail that was a popular over-the-counter medication in the 1920s. It's gingery and boozy and used to be sold to pharmacy customers with a wink.
They even have a distillery on-site that distills many of the liquors used in the cocktails. If you want to tour the museum, you can do that upstairs for $30 ($10 off for happy hour – Sunday thru Friday after 5PM) or for $17 if you're a Nevada resident.
Henderson
Bad Beat Brewing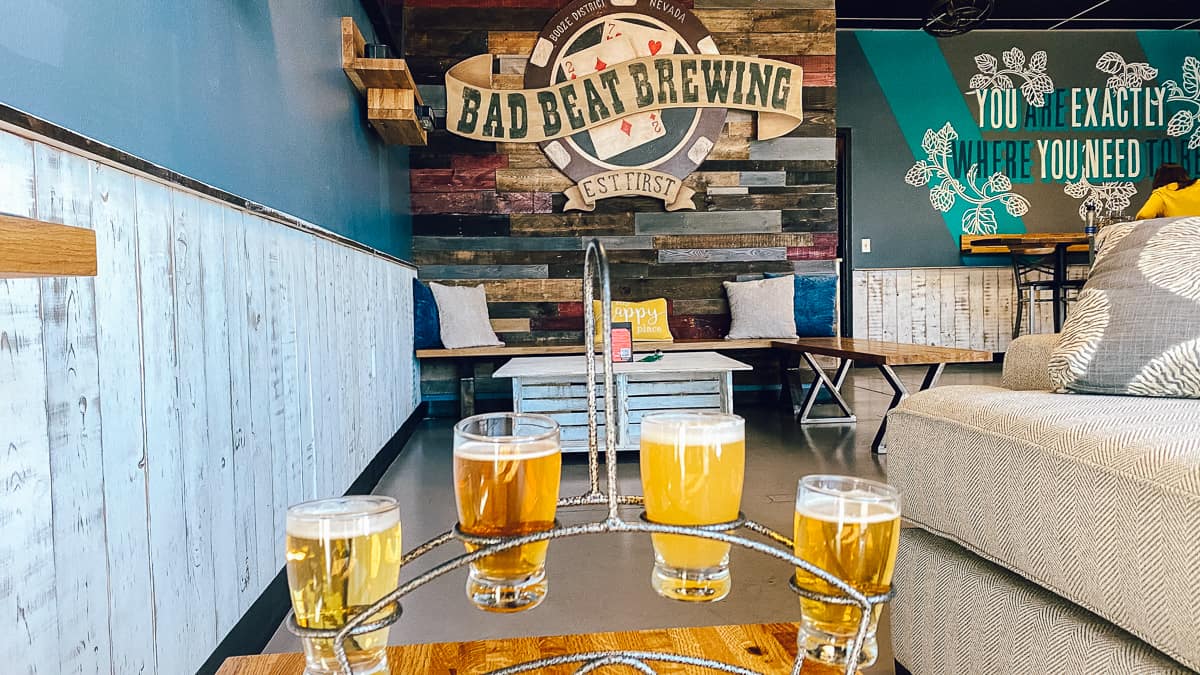 If you spend enough time in Las Vegas and try your hand at gambling, you're likely to experience the so-called "bad beat". But if you come to Bad Beat Brewing in nearby Henderson, you're unlikely to drink a bad beer!
In true Las Vegas fashion, the owner and founder took a big gamble: he sold his house and spent every dollar in his bank account to fund his dream of opening a brewery. Six years later, that gamble continues to pay out…in the form of great craft beer.
A few year-round beers like The Ringer (German Pilsner) complement their many rotating drafts available, including the Night Circus double IPA, and Poppin' Bottles gose blended in Champagne and Chardonnay barrels.
Their Hoppin' Around the Globe IPA series highlights regions around the world by using hops from that particular region. It's a geography lesson through beer!
CraftHaus Brewery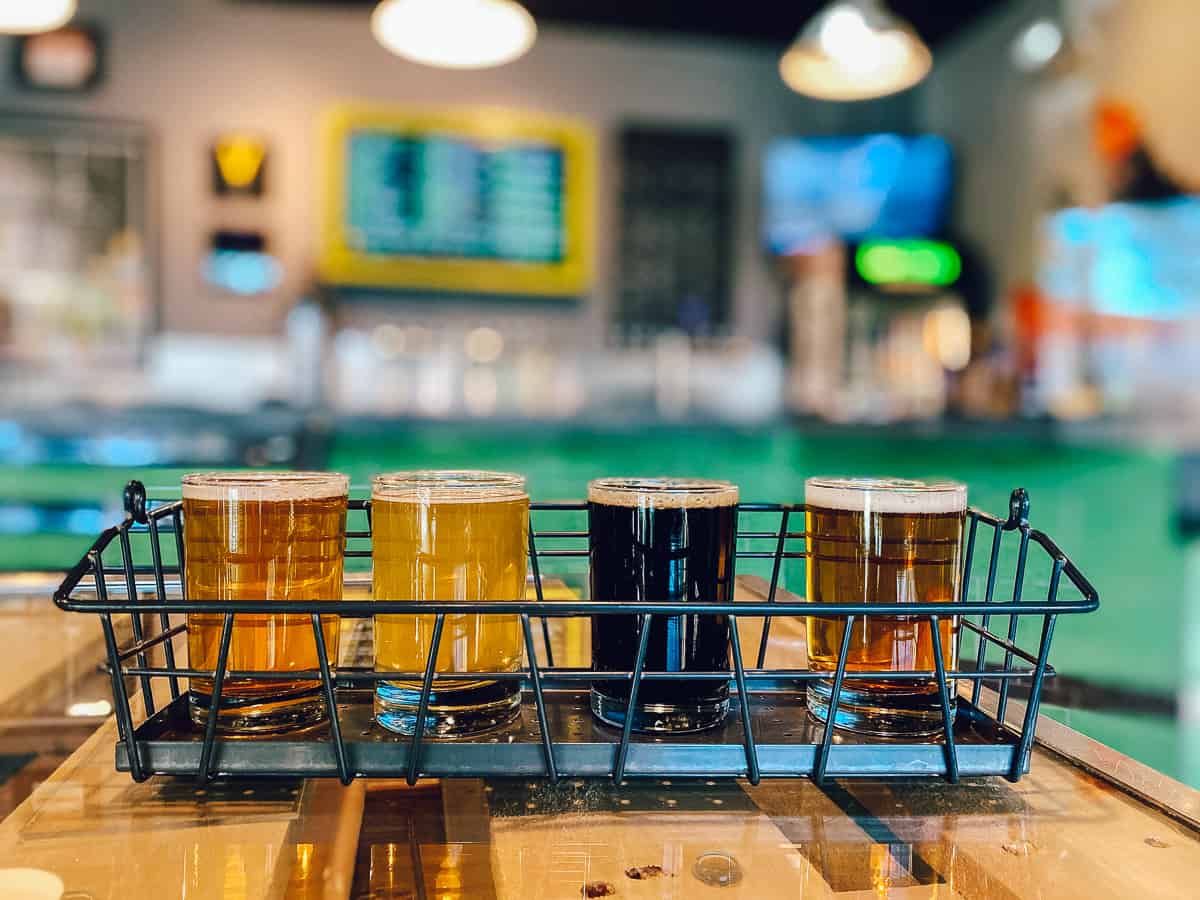 Husband-and-wife owners, who claim to be partners in business and life, came up with the idea for CraftHaus Brewery while traveling through Europe (where many good ideas are born). And almost just as much as they love serving great craft beer, they also love talking about the craft of beer!
Their Resinate IPA is a year-round offering, but don't skip over it. It's incredibly delicious for a core beer. They also offer a vertical tasting flight of their Lowlands Clans scotch ale which pits many of the recent vintages of this dark beer alongside (not against) each other.
In addition to their original location in Henderson's Booze District, they also have a location closer to the Las Vegas Strip in the Arts District. The Vegas taproom location is near several other Las Vegas breweries, a craft beer bar, and even a wedding chapel, if you happen to get that tipsy!
Astronomy Aleworks
Located in Henderson's Booze District, Astronomy Aleworks creates "works of fermented art using keen scientific principles inspired by the hard-working men and women who labored to bring the stars and planets closer to our hearts". Astronauts, for those who didn't get the fancy wording.
We sat next to one of the founders/brewers when we visited and he answered the question (from someone else) of "Why the name, Astronomy Aleworks?" and he answered, "Because I like astronomy." Simple as that!
Most of the beers are named after something space-related, like the Speed of Light Kölsch, Hawking Hazy pale ale, Pluto is a Planet IPA, and the Get Your Ass to Märzen Oktoberfest, which was incredibly delicious, and perfect for those cool evening desert temperatures.
Unlike anything in space, this brewery is located within walking distance of CraftHaus Brewery, Bad Beat Brewing, plus a winery and a distillery!
Lovelady Brewing
It's not often you'll find four brothers agreeing on much. Unless it's craft beer. That's exactly what's on tap at Lovelady Brewing in Henderson.
The Lovelady brothers have strong roots in Henderson dating back to the 1950s, so giving back to their community was something they always wanted to do. And what better way to give back than craft beer?!
One of their best-sellers is the Love Juice hazy IPA which is just so smooth and drinkable. If you're not feeling the hoppy vibes, try the Golden Nites Mexican lager or the Love Triangle red ale.
Mojave Brewing
Rounding out the Henderson Booze District and one of the many Las Vegas breweries, Mojave Brewing's founder spent 30 years brewing, drinking, and sharing his own beer with friends before starting the process of beginning his own brewery.
His internships took him to some well-known and high-profile breweries before finally starting his own in the historic Henderson neighborhood.
The tasting room has a patio and even uses an abandoned bank vault as a private tasting area for members of its Founders Club. To complete the bank feel, "founders" have a safety deposit box that contains a thank you gift every so often from the brewery.
Beers include a few ciders, a West Coast IPA, the GoseBusters sour, and the Shotgun Wedding Raspberry and Pepper Ale which is their blonde ale with raspberries and Serrano peppers. Like many shotgun weddings, it's an unexpected marriage of unique flavors!
BONUS: Vegas Valley Winery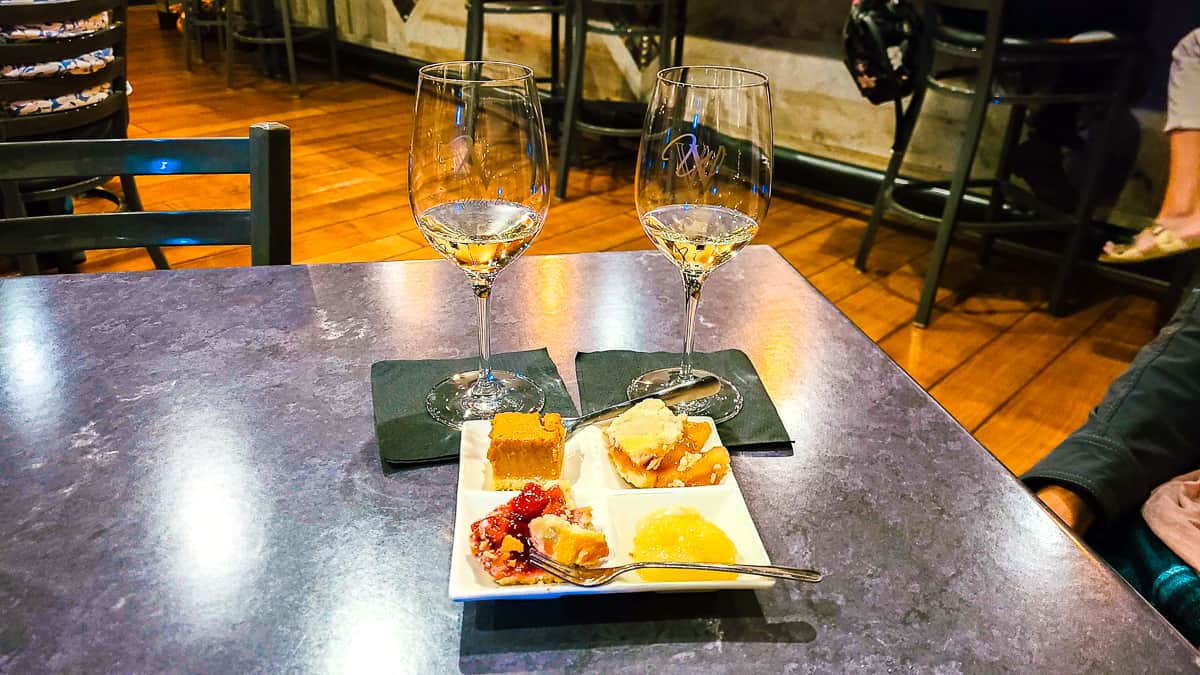 First things first. No, the grapes aren't grown here. Grapes just don't grow well in climates that feature dozens of 100-plus degree days a year.
The grapes used at Vegas Valley Winery, the first and only winery in the valley, are all imported cold from various California vineyards, and all of the production and bottling is done in-house here in Nevada.
The dry Riesling was bright, tropical, and delicious, and the Zinfandel was rich and peppery, perfect for a hearty steak.
They even have pie pairings…yes, pie! They pair 4 small bites of pie with 4 of their wines and/or ciders. Sangiovese with cherry pie, Riesling (sweet version) with lemon meringue, and their spiced hard apple cider with, duh, apple pie, among others.
Honestly, we weren't expecting much from a Vegas-area winery, but it surpassed all of our expectations! Next door, there is a wine school called Grape Expectations that allows you to try your hand at making wine through 4 winemaking sessions over 9 months.
It's just $10 for a tasting of 5 of their wines/ciders or $14 for a tasting of 7 of their offerings.
BONUS: Las Vegas Distillery
If you're looking for the hard stuff, look no further than Nevada's first craft distillery at Las Vegas Distillery. You can find vodka, gin, rum, moonshine, and whiskeys. 
Though it's obviously not one of the many Las Vegas breweries, it is located right in the middle of the Henderson Booze District near Vegas Valley Winery and Bad Beat Brewing.
Tastings are at limited times but $15 will get you a taste of 7 of their liquors. You can also take a tour of the distillery to learn more about the Las Vegas Copper Angels and get the backstory to Nevada's first legal distillery.
While big beers and fun frozen drinks are aplenty on the Strip, they often come with a hefty price tag, tons of tourists, and zero local-feel. That's where the Las Vegas breweries, wineries, and distilleries swoop in to save the day.
Visiting the numerous Las Vegas breweries allows you to experience all of the fun and variety that the great city of Las Vegas offers without having to really mess with the chaos that is Las Vegas Blvd.
Yes, do experience the Strip if you've never been, play some slots, watch the Bellagio fountain show. But venture out a bit off the beaten path and experience the great local booze scene of Las Vegas!