The 6 Best Breweries in Tucson, Arizona
While Tucson may be widely known for its desert landscape littered with cacti or its rowdy college atmosphere (University of Arizona), it's the Tucson breweries that are making waves today.
Not literal waves, because, you know, this is the desert.
But if you're visiting the city for a day or just passing through, there are a few Tucson breweries that should definitely be on your list.
Psst: We have a bunch of guides about Arizona.
This post was originally published in September 2022, and was updated in March 2023.
**Boozing Abroad contains affiliate links throughout the site. If you choose to purchase items through these links, we will earn a small commission at NO extra cost to you. Read the full disclosure policy here**
Map of Breweries of Tucson
Click the interactive map below!
HOW TO USE THIS MAP: To view the layers and see the names of the places on this map, click the tab in the top left corner. You can select the check marks to show or hide certain layers. If you select the icons on the map, you will get more information about the point of interest.
HOW TO SAVE THIS MAP: If you select the star icon next to the map name, you can save this map to your Google Maps account. To view it, open Google Maps in desktop or on your phone, select the menu button, go to "Your Places," scroll to the right to Maps, and you will see this map.
Best Breweries in Tucson
We have some pretty strong opinions about what makes a brewery the best. Instead of telling you why we think something is the best, we've devised our own ranking system based on 4 factors:
Public ratings (sites such as Google and Yelp)
The brewery's rating on Untappd
Popularity
Our personal Boozing Abroad opinion
The middle two rankings showcase how loved they are while our personal opinion also plays into the overall ranking.
In the end, we are ranking each brewery we visited by this formula. If you want to learn more, read our ranking formula.
| | | |
| --- | --- | --- |
| Rank (2023) | Brewery | Score |
| 1 | Crooked Tooth | 5.32 |
| 2 | 1912 Brewery | 5.29 |
| 3 | Pueblo Vida | 5.28 |
| 4 | Moto Sonora | 5.08 |
| 5 | Dragoon | 4.97 |
| 6 | Borderlands | 4.92 |
1. Crooked Tooth Brewing Co.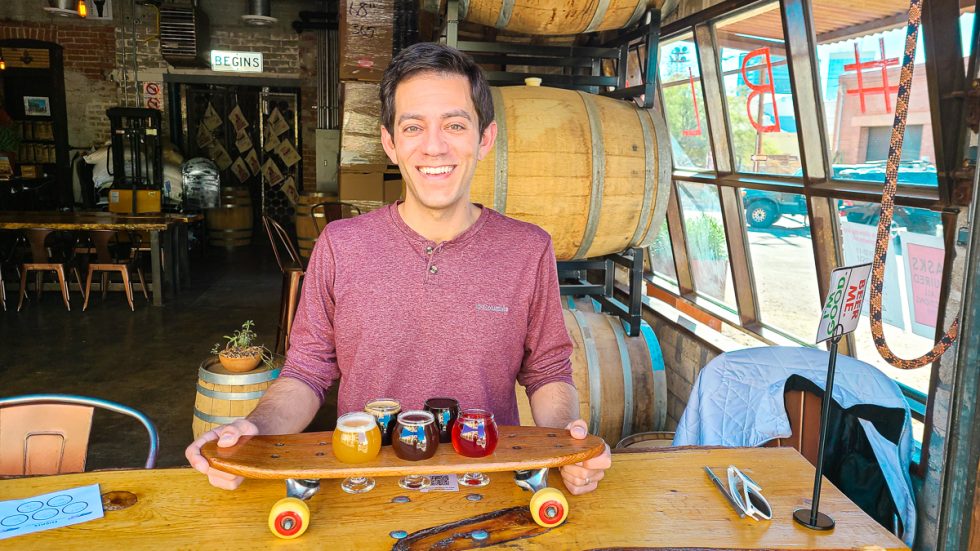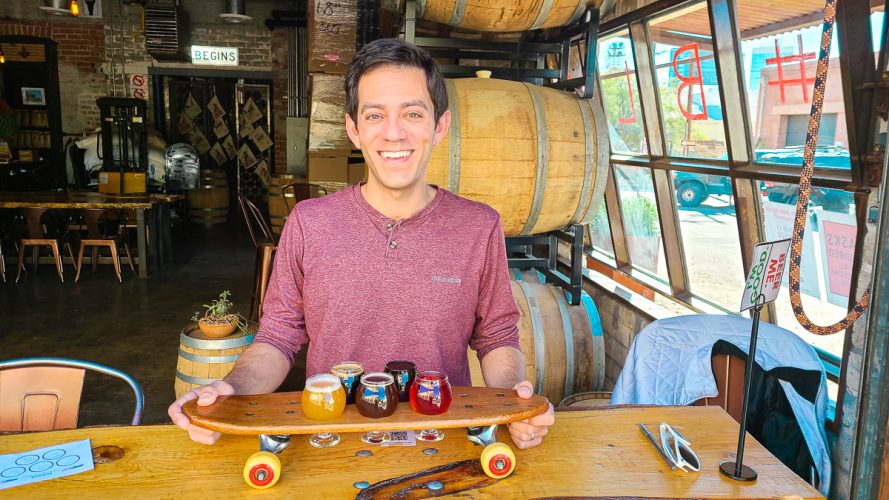 Located amongst a cluster of a few other Tucson breweries, Crooked Tooth Brewing is brewing up some trusty classics, but also some unique creations which give this place its name.
The name is said to be a celebration of the qualities that make something (or someone) unique; just like a crooked tooth!
Their trusty classics include an 11% Imperial stout that isn't brewed with any adjuncts or additional flavors. What you're left with is a yummy, chocolate-y, and coffee-y stout. It's been a while since we've had just a plain stout and this was very, very good!
Their very first beer and flagship is the 18th Hour hazy IPA, but it's not too hazy and not too bitter – just very well-balanced.
The unique creations include some of their English or Belgian strong ales, and also what this place is known for….sours. At the time of our visit, we had a brown sour brewed with tamarind, a barrel-aged plum sour, and a mezcal sour. But they keep coming up with delicious creations all the time so you'll have to let us know what you have when you visit.
The taproom is inviting and open with a large outdoor back patio, garage doors at the front to watch the cars pass by, and a huge foeder (pronounced food-er) as soon as you walk in which is used to ferment their stouts, lagers, and sours.
Come hang out here and grab a flight of beers on their unique skateboard flight board and drink in the uniqueness!
2. 1912 Brewing Company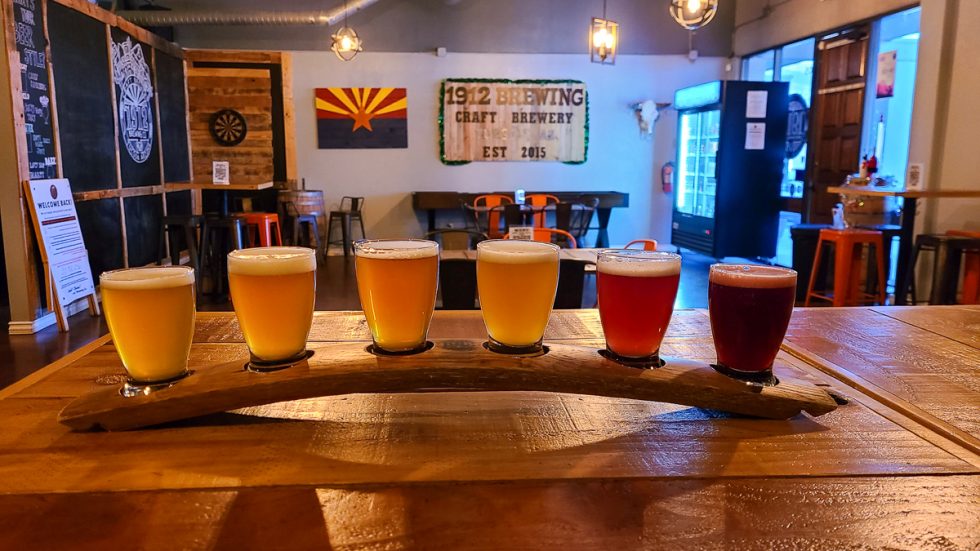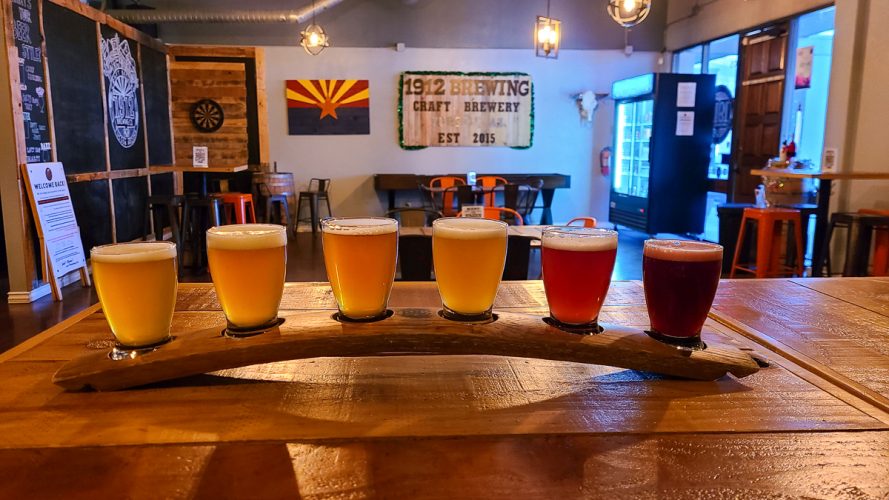 This is another one of those places that just smells like a brewery when you walk through the doors. Those familiar aromas fill every inch of 1912 Brewing. Mmmmm!
The name of the brewery is a nod to the year that Arizona became our 48th state and husband-and-wife owners/brewers are natives of the state and are trying to use all aspects of their unique Arizona in their beers.
There are usually around 20 beers on tap, and they also have wine on tap, cider, and even mead. If you're hungry, nosh on some locally-made tamales, chips and salsa, or the brewery-staple of popcorn.
Some of their beers include the Drink to You in Riddles Dunkelweizen, the Forbes Blvd IPA (brewery is located on Forbes Blvd), the Mescalito stout, and a lineup of sours which Sam loved!
The sours included an orange sour, a Guanabana sour (Caribbean fruit similar in aroma to pineapple but with the texture of a banana), a milkshake gose, and a peach cobbler gose for dessert.
3. Pueblo Vida Brewing Company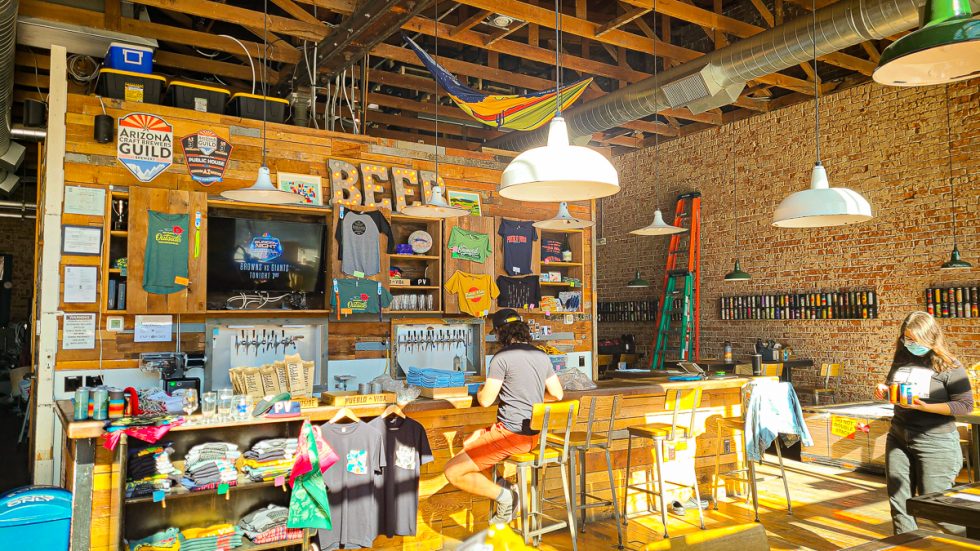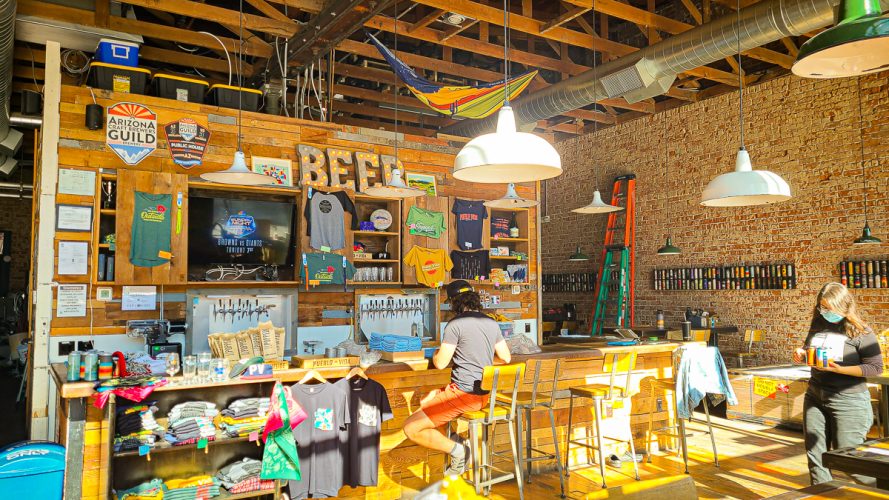 Ask any local what one of their favorite Tucson breweries is and you'll undoubtedly hear Pueblo Vida Brewing Company mentioned several times.
Located in downtown Tucson, Pueblo Vida is one of the masters of the hazy IPA in the Tucson breweries scene, so be sure to grab the Cereus hazy IPA – it's a fantastic 0-IBU beer.
There are a few other mainstay beers, like the Hef (hefeweizen) or the Order Up coffee stout (if you're here in the winter). Enjoy their artfully crafted beers in their revitalized historic building which dates back over 100 years. It's a warm and laid back taproom where you'll enjoy kickin' back.
4. MotoSonora Brewing Co.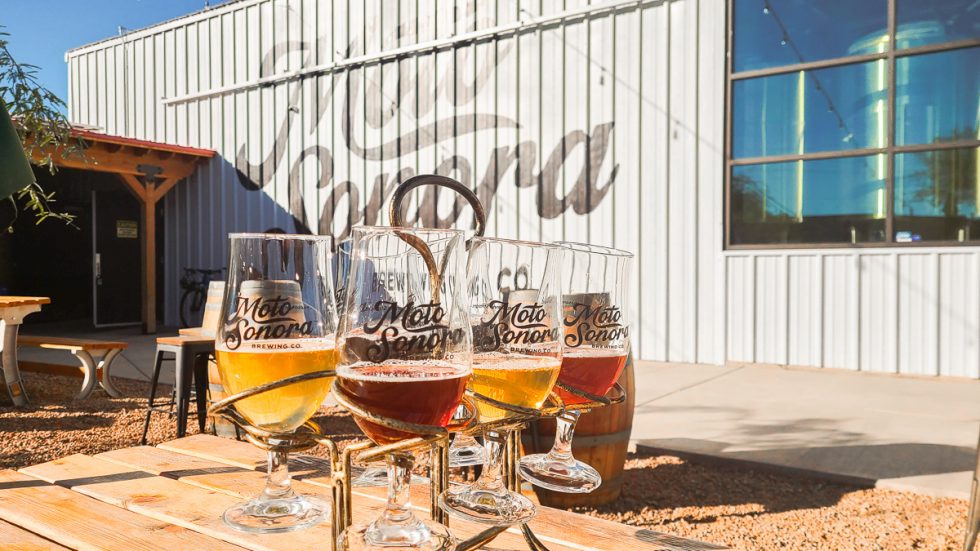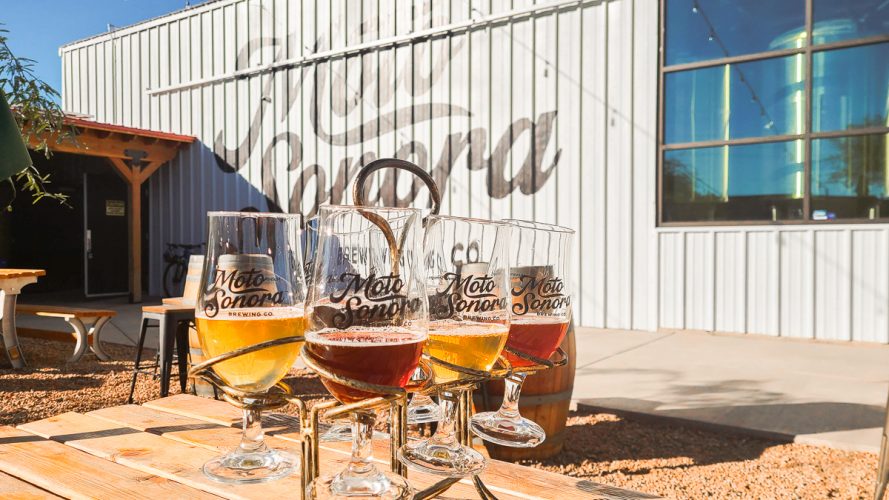 The idea for MotoSonora Brewing Company actually came during a 2010 brothers-trip through South Africa and Botswana. Sounds crazy. But it was on this overlands trip that the Tucson brothers-turned-brewer came up with their idea. 
They consider Tucson to be a cultural and culinary crossroads as well as a crossroads for the adventurous spirits to explore the southwestern United States.
And so, Moto (referencing the vehicles used on their overland trips and their Italian heritage) Sonora (referencing their location in the Sonoran Desert) was born, blending Old World European beer styles with the southwestern United States.
The tasting room is a tribute to cross-country road racing and vehicular references as are many of its beer names, including the Victory or Death IPA, Silk Road Imperial stout, Cafe Racer coffee brown ale, and their Speedster sour series.
This is another one of the Tucson breweries that has a fantastic outdoor patio just behind its tasting room. It's huge with several barrels repurposed as tables, picnic tables and benches, and a great fire pit. If you're hungry, there is a cute food truck right on the premises.
5. Dragoon Brewing Company
Located on the northside of Tucson on the way up to Phoenix, Dragoon Brewing is the three-headed brainchild of a father-son duo and a friend they met in a homebrew club.
Today, Dragoon offers up three year-round beers (the true-West Coast-style Dragoon IPA, the Santa Cruz'r golden ale, and the Dragoon PILS) and numerous other special releases throughout the year – there are usually at least 11 beers available on tap.
While we never got to enjoy their beer in their large taproom due to COVID, we enjoyed the beer we had to-go and look forward to making it back and visiting on our return trip to the Tucson breweries.
6. Borderlands Brewing Co.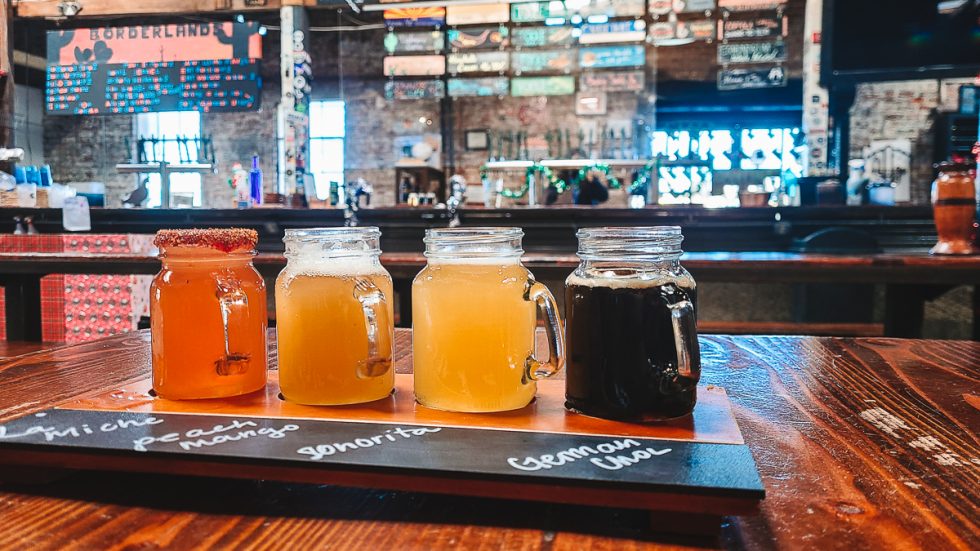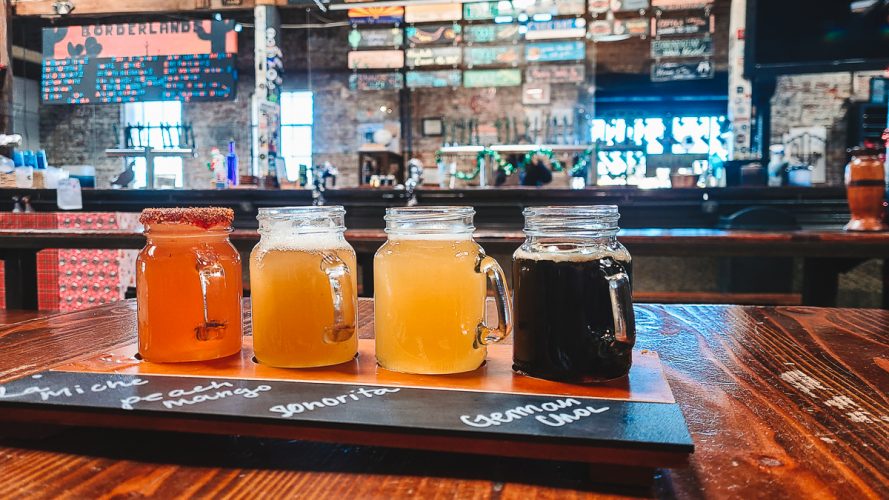 Dogs and beer: two things Borderlands Brewing Co. loves.  A great combination in our books!
Located on Toole Avenue about a half-mile from the main downtown streets of Tucson, Borderlands has a HUGE outdoor patio that is perfect for hanging with all of your friends, whether they be of the 2-legged or 4-legged variety. You'll often find the CEO of the brewery hanging out with his best friend Troy, an adorable and sweet pit bull.
If you do come here with Fido, make sure you BYOB (bring your own bowl) as they make "beer" for dogs! 0% ABV, of course. It's even in a can to give the dogs the full effect of drinking with their human. It's essentially vegetable broth, but we watched several doggos slurp it up like we do to our favorite beers.
They offer about 20 of their (human) beers on tap and also showcase some other local and regional beers and ciders. Not feeling the carbonated stuff today? They also have wine and margaritas available, as well as a menu of tacos and tot-chos. They know the way to our hearts!
We had a chance to meet with one of their Brand Ambassadors, Larry, who was so knowledgeable about the brewery itself and the beer scene in general. One thing we loved was how he mentioned how supportive all of the Tucson breweries are of each other, oftentimes holding company events at another one of the Tucson breweries. Everybody love everybody!
Their beer list consists of a wide variety of options including the flagship Toole Avenue hazy IPA and many variants of it (peach & mango, tangerine, coconut pineapple, etc.), the La Miche chili ale which is deliciously-rimmed with chili salt, a series of sour beers, and a delectable German Chocolate Cake Porter.
The Tucson Breweries We Missed
While we only had one day in Tucson, we tapped out at 6 stops (a few were to-go only stops). But there are several more Tucson breweries that we missed on our visit, but we can't wait to go back to try more!
Barrio Brewing

FireTruck Brewing Co

Ten55 Brewing Co

Thunder Canyon Brewing

Dillinger Brewing Co

Copper Mine Brewing Co
Let us know what else we missed and we'll try it on our way back through Tucson!
Tucson doesn't just have to be for desert hiking, mountain biking, and snowbirds hiding out from their cold, northerly winters. There is plenty to do in and around Tucson for an extended visit, but if you're here just for a short while, make sure you stop in at one (or many) of the Tucson breweries to whet your whistle!