The 5 best speakeasy bars in Phoenix (and surrounding areas)
Looking for the best speakeasy bars in Phoenix? While true speakeasies are long gone (as the sale of alcohol is legal), our modern day speakeasies give the Prohibition-era vibes and deliver some incredible, high-quality cocktails.
The term "speakeasy" originated in the 1920s from the practice of patrons speaking quietly (or "easy") to avoid detection by police.
There are several speakeasy-style bars in the Greater Phoenix area and only one actually requires a password to get in.
While some of these are true-to-form speakeasies, others have taken a modern approach by hiding access in pizza shops, behind bookcases, or just minimal information on how to get there.
Short on Time? Here are the key takeaways:
In our personal opinion, don't miss White Rabbit or Rough Rider for an authentic speakeasy experience.
If you have kids or are looking for an arcade bar, Ziggy's Magic Pizza Shop is for you.
A lot of these bars have limited seating so you will want to try to get reservations or be prepared to wait.
Psst: Looking for more Arizona info? Browse all the boozy guides here.
**Boozing Abroad contains affiliate links throughout the site. If you choose to purchase items through these links, we will earn a small commission at NO extra cost to you. Read the full disclosure policy here**
Map of Speakeasy bars in Phoenix
HOW TO USE THIS MAP: To view the layers and see the names of the places on this map, click the tab in the top left corner. You can select the check marks to show or hide certain layers. If you select the icons on the map, you will get more information about the point of interest.
HOW TO SAVE THIS MAP: If you select the star icon next to the map name, you can save this map to your Google Maps account. To view it, open Google Maps in desktop or on your phone, select the menu button, go to "Your Places," scroll to the right to Maps, and you will see this map.
1. White Rabbit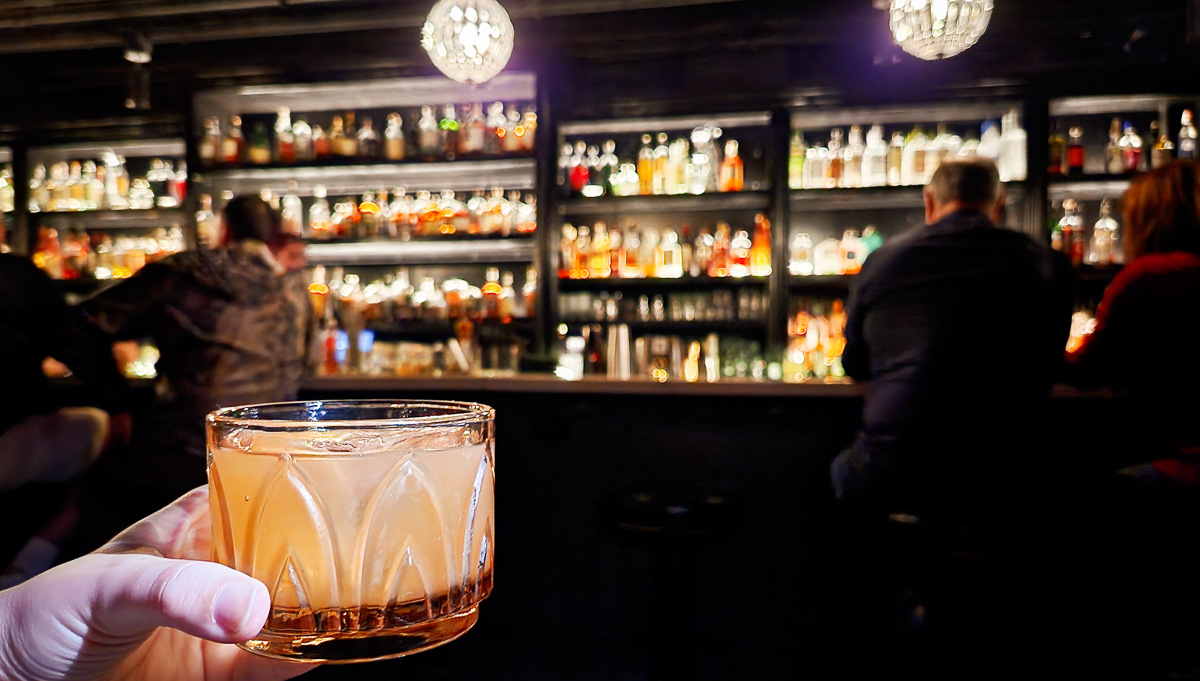 Hours: Sunday – Thursday 5 – 11 PM

Friday – Saturday 5 PM – midnight

Food Available: Yes, small bites and flatbreads
Average Price per drink: $15-25
Happy Hour: No
First on our list is White Rabbit, a true speakeasy bar located down in Gilbert, AZ. In our opinion, it's worth the 20 minute drive from Scottsdale if that's where you are staying. 
When you arrive, you'll be greeted at the top of a staircase and asked for a password. To get the password, you can join their VIP list. If you don't have it, don't worry (they are nice and will kindly ask you to sign up for their VIP list to receive the password). 
Once you are allowed to enter, you walk down the stairs to enter a hallway lined with bookcases. Pick the right one and you'll find the secret door to enter the bar. (Hint: the bar is called the white RABBIT…).
As soon as we walked in, we felt like we were transported back to a 1920s Prohibition speakeasy. The dim lighting, antique furniture, and vintage decor all added to the vibes.
The cocktails were crafted to perfection, with an extensive menu that catered to suit many different tastes.
My personal favorite was the "Mitsubachi," which combined Suntory Toki Whisky, plum, honey, umami and lavender for a clean and crisp flavor.
Needing a little snack, we split their margherita flatbread which was light and just what we needed to hold us over.
This place is in high demand so we suggest making a reservation, but they are only available Sunday – Thursday. For the weekend, we suggest getting there early or prepare to wait 30+ minutes.
2. Rough Rider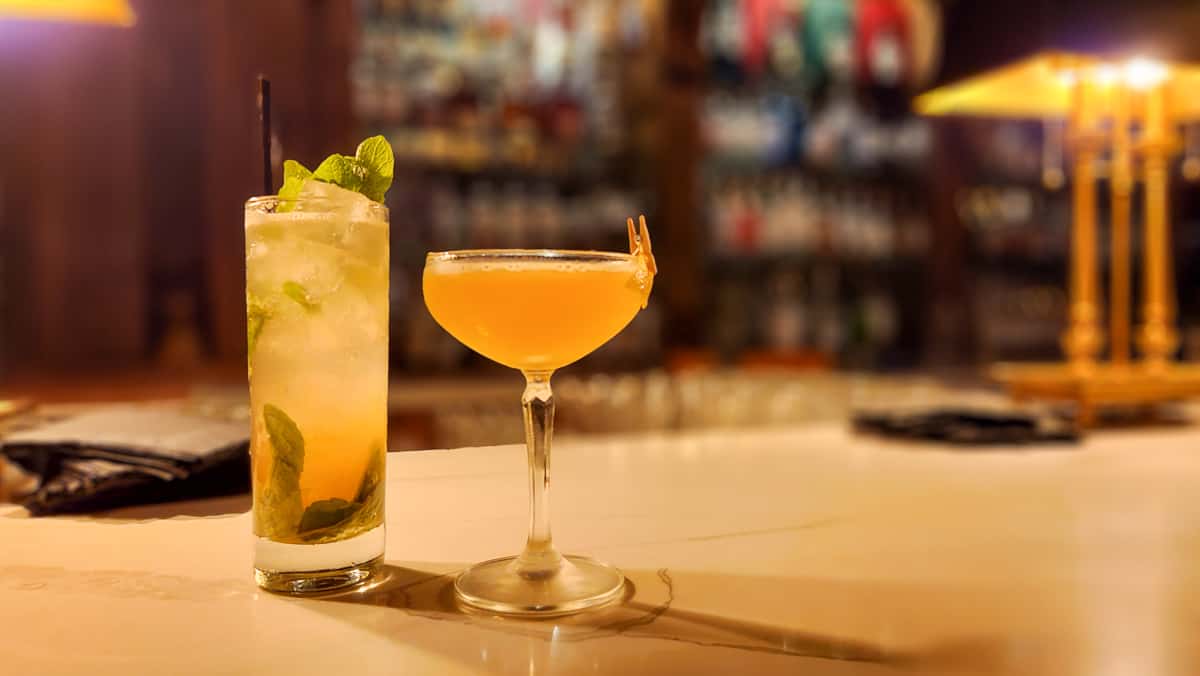 Hours: 7 days a week
Food Available: Yes, full restaurant
Average Price per drink: $14-18
Happy Hour: Yes, Tuesday – Sunday 3 – 5 PM
Rough Rider is located in the downtown Phoenix area, specifically in the Roosevelt Row Arts District. 
The cocktail bar is inspired by the late 19th century, and features a menu of classic cocktails and American dishes.
To enter the bar, head to the building at the corner of E. Roosevelt St. and N. Central Ave. Enter from the Ten-0-One building from the alleyway. Walk through the glass lobby until you find the elevators. Only the middle elevator is the time machine back in time (not sure where the others will lead you, but not down).
Once the time machine stops, you'll be standing in a swanky bar with a nod to the main Rough Rider himself, Teddy Roosevelt.
I had to look this bit of history up so let me save you the trouble. According to the Library of Congress, the "Rough Riders" was the name given to the First U.S/Volunteer Cavalry under the leadership of Teddy Roosevelt in 1898. Back to the speakeasy….
Their spirit list is expansive to say the least and their cocktail menu is an ode to the past with traditional punches and cobbler-style cocktails. (If you've never had one, definitely get one here as they are made with housemade jams).
Their bartenders are excellent at helping find you a drink if you are unsure what to get. (Side note: I'm always unsure of what to get because I like to try new things so I always ask for recommendations and suggestions).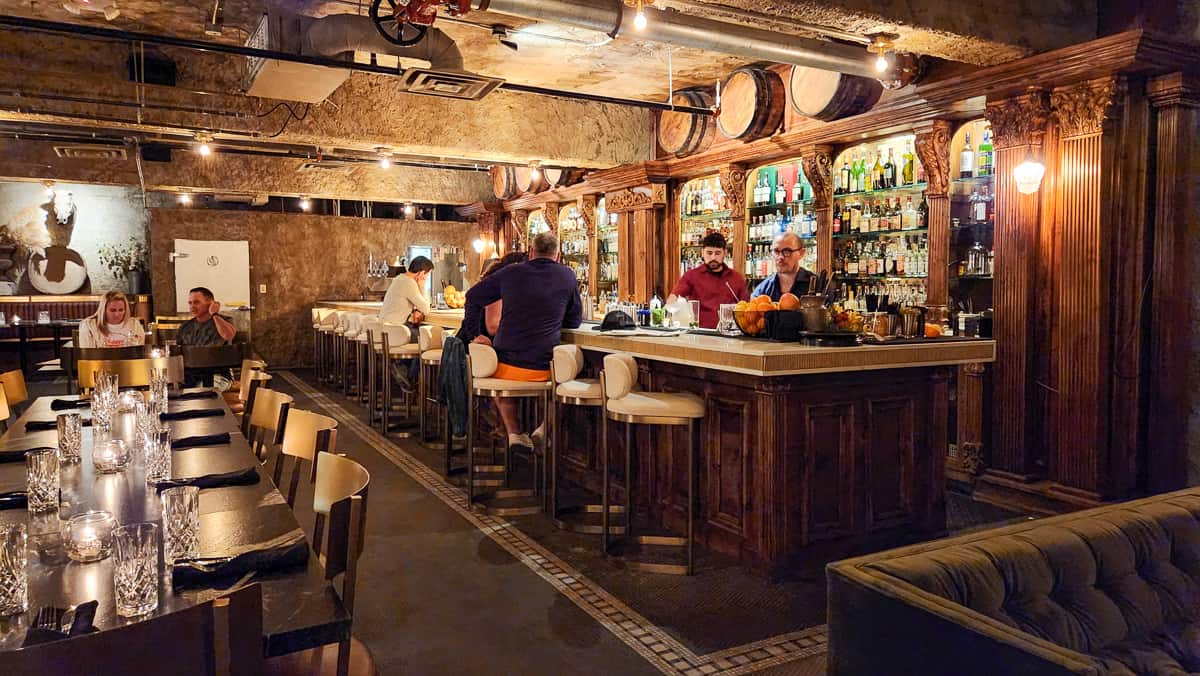 Since we visited during Happy Hour, Chris (the frugal accountant) selected The Derby, a bourbon, honey, grapefruit and sparkling water cocktail.
I, on the other hand, leveraged the bartender's expertise and he created me an off-menu item (full price HAHA) called The Gold Rush which consists of bourbon, lemon juice and honey. Given its simplicity, I assumed it was prohibition-era, but it was actually created in the early 2000s. It was sheer perfection and I was very happy with the recommendation.
If you're feeling adventurous, there is a drink on their happy hour menu called "The Mystery Punch". We can't tell you what's in it because…it's a mystery.
We didn't eat a full meal here, but we did snack on some oysters as they have a raw bar inside. During happy hour, oysters were $1 off per selection which was a steal if you ask me.
For this spot, reservations are recommended, especially on the weekends. While there was no password, this is definitely on the top of our list for great speakeasy bars in Phoenix to visit.
3. Ziggy's Magic Pizza Shop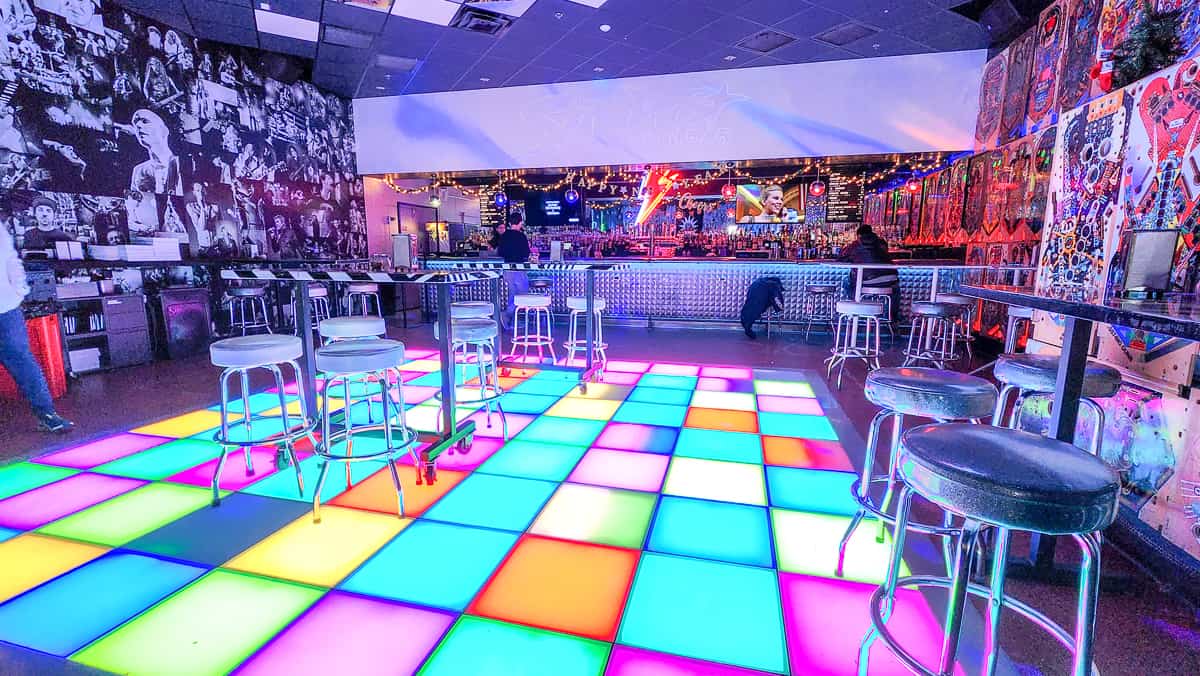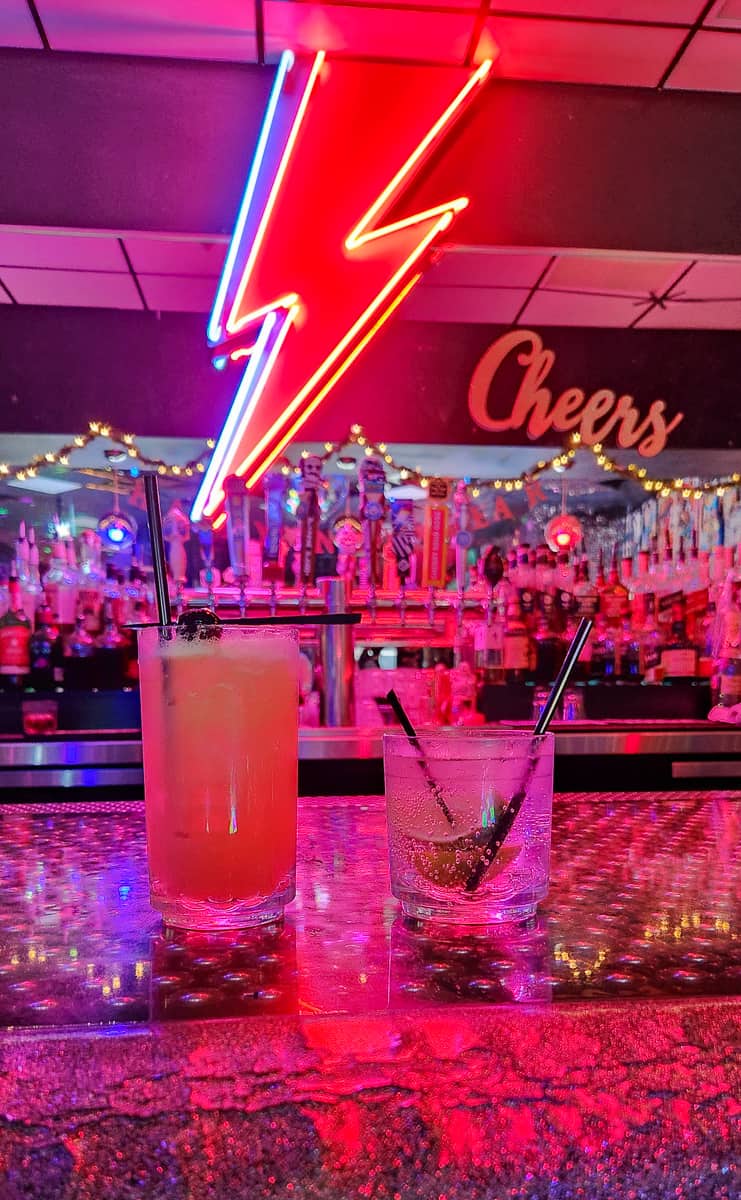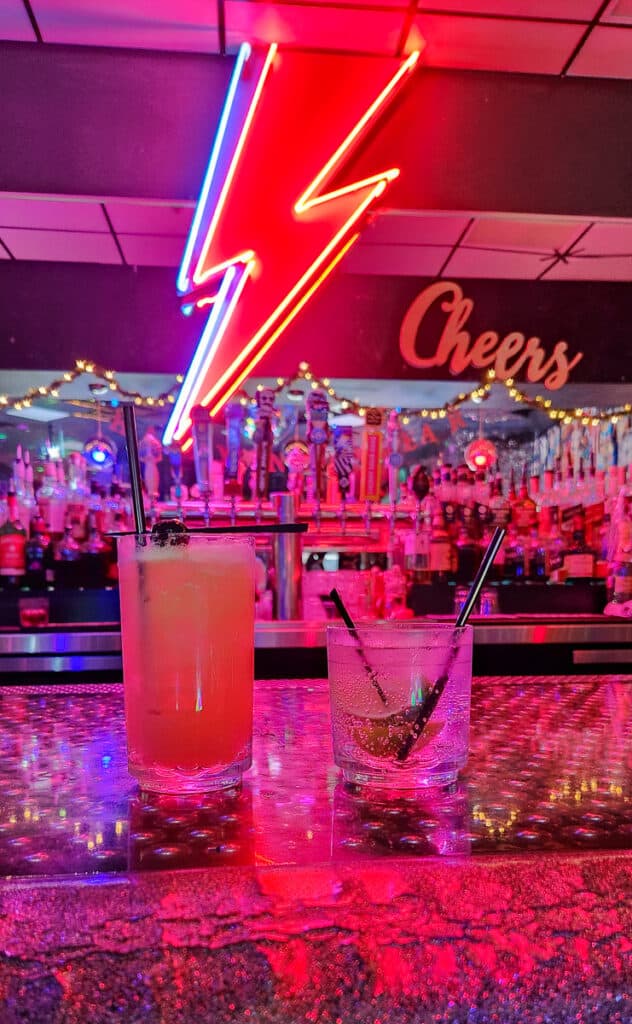 Hours: Monday -Thursday 4 PM-1 AM

Friday – Saturday 4 PM-2 AM
Sunday 12 PM – 1 AM

Food Available: Yes, in the pizza shop
Average Price per drink: $8-12
Happy Hour: No
Here's a sentence I'd never thought I'd say: Ziggy's Magic Pizza Shop is a speakeasy that is suitable for ALL AGES (until 9 PM).
Let that sink in for a minute. Here's why…
Located in the downtown Phoenix area, this speakeasy-ish bar is definitely one of the more quirky spots, with a pizza shop facade that leads to a secret bar. The front business, Ziggy's, is a real functioning pizza shop known for their New York Style pizza.
To enter the secret bar called "Stardust Pinbar", walk into the pizza shop. Along the right side of the counter, walk towards the restrooms and through the swinging white doors. Straight ahead is a freezer door with a sign above that reads in all caps, "DON'T COME IN!". Live on the edge, break the rules, and open it.
Once through, you'll hear the music bumping and see the colorful disco floor to your right. Ta-Da! You've been magically transported to a pinball bar!
The Stardust Pinbar is an arcade style-bar during the day time and kids are permitted to enter until 9 PM. We were there earlier in the day so there were a lot of kiddos running around. 
Given their social media account, we believe this bar plays to a college-aged crowd after dark.
I wouldn't come here looking for a craft cocktail of any kind. Chris opted for a specialty drink on their menu and it wasn't his favorite. I went for my go-to dive bar drink, a vodka-soda. They also have beer and wine available.
If you are looking for a speakeasy lounge that's dark and sultry, this will NOT be the stop for you. If you want the experience of walking through a freezer door to a secret arcade bar, then check this place out.
4. 36 Below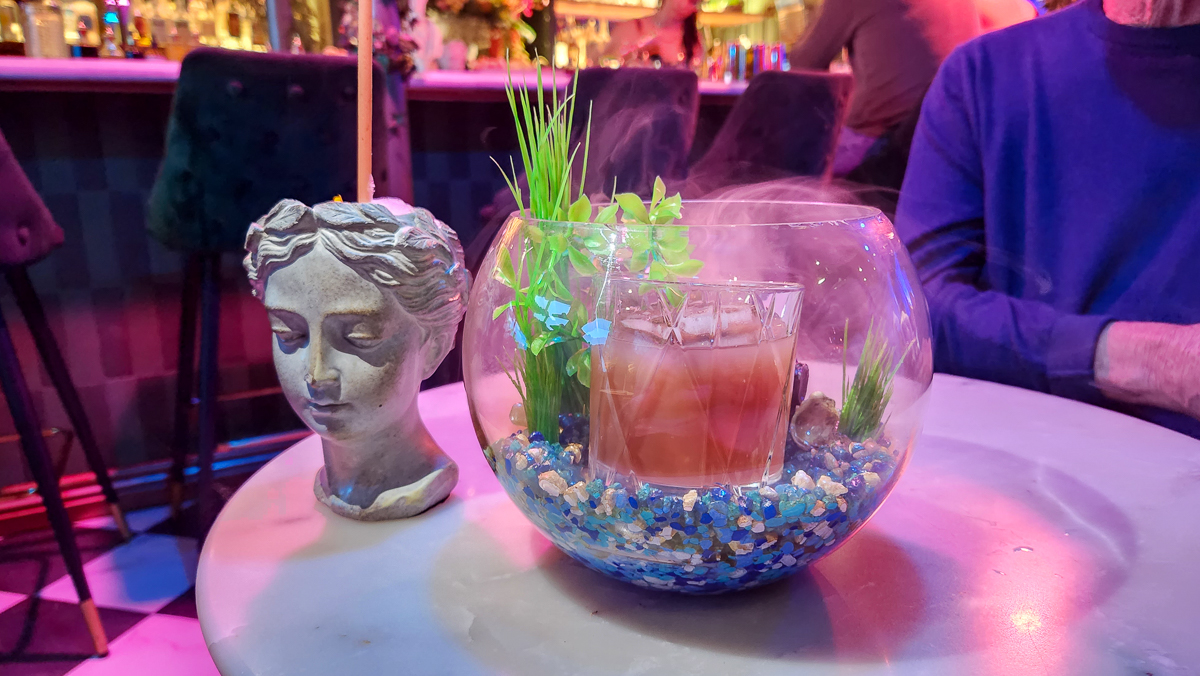 Hours: 7 days a week
Food Available: Yes, but in the coffee shop upstairs
Average Price per drink: $16-25
Happy Hour: No
36 Below is a cocktail bar that is hidden inside Sip Coffee Bar. Finding it is not as difficult as other speakeasies because it is well-marked and easily accessible from the coffee shop.
36 Below is well-known for its inventive and experimental cocktails. They have a rotating menu that changes with each new theme they introduce, and they often use unique ingredients in their cocktails.
During our multiple visits, we experienced two different themes – Ancient Greece (in 2022) and Under the Sea (in 2023) – and enjoyed the cocktails that matched each theme.
The presentation of the cocktails was impressive, with special glassware and effects such as smoke.
Although there is no happy hour, you can book a private and hidden room within the bar for a true speakeasy experience.
Due to limited seating, it is highly recommended to make a reservation on their website, whether for the private room or just to enjoy a cocktail.
5. Grey Hen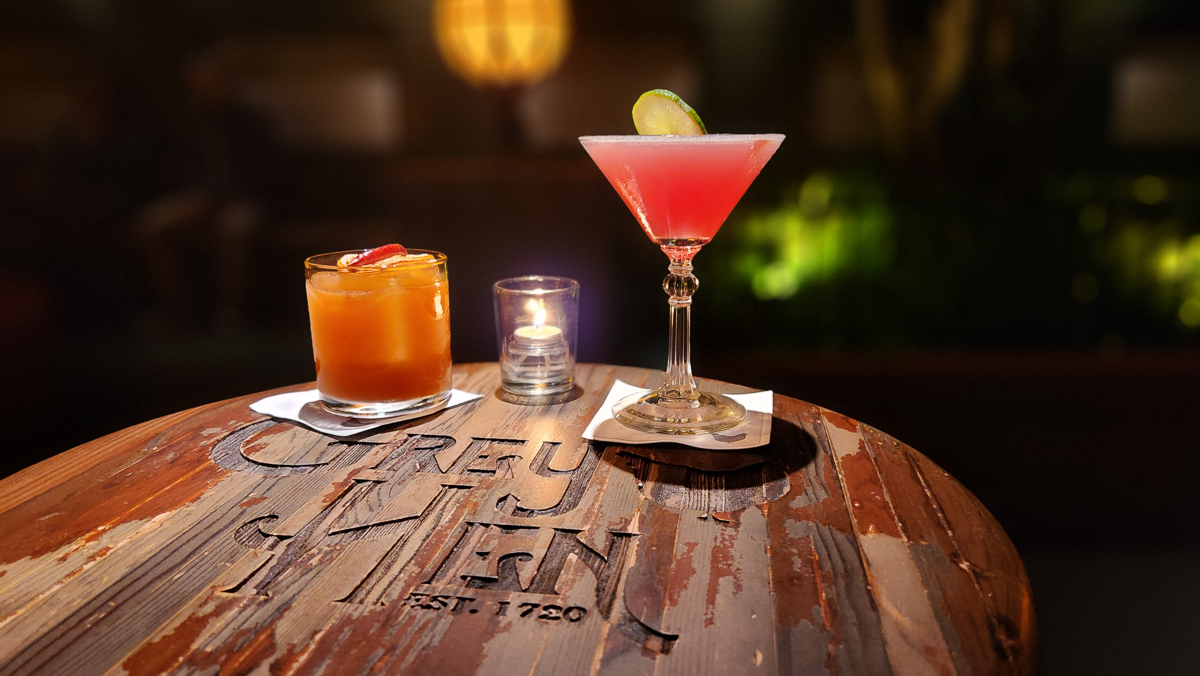 Hours: 7 days a week
Food Available: No
Average Price per drink: $16-25
Happy Hour: No
Just a few steps away from 36 Below, Grey Hen is a cocktail bar that follows a speakeasy and apothecary style with a snug and intimate atmosphere. It feels like we were transported to a 1930s apothecary where the pharmacist can mix up a tasty drink to cure what ails you.
Although the menu includes several classic cocktails such as a Sidecar and a Negroni, they also offer creative pre-prohibition style drinks such as the "Marigold Mule" which is made with ginger beer and marigold-infused vodka.
Seating is incredibly limited, so we strongly advise that you make a reservation online. If you do decide to walk-in, be prepared to wait or be informed that they are already fully booked and asked to return another time.
This bar is located in a complex of bars called Grand Century. For more info, read our Scottsdale Craft Cocktail Guide.
The ones we missed
As we previously mentioned, there are dozens of speakeasy bars in the greater Phoenix area. While we had hoped to get to more, these were the ones we missed and will be visiting when we return again.
Bitter & Twisted Cocktail Parlor
Melinda's Alley
From hidden entrances to secret passwords, the speakeasy bars in Phoenix invite you to experience a different time with a great drink in hand. Each bar has its own personality and vibe. Whether you're looking for a low-key night out or an adventurous experience, get ready to sip on some delicious cocktails in these literal hidden gems.
Still thirsty?  We have these drinking guides for the Phoenix area: