Top 8 Spots for the Best Boozy Brunch in Old Town Scottsdale, Arizona
Looking for a top notch boozy brunch in Old Town Scottsdale?
Old Town Scottsdale is best known for its great weather, boutiques, nightlife, and amazing restaurants, making it one of the best places to enjoy a delicious brunch with a few drinks.
Old Town is home to tons of restaurants and cafes and, due to the layout of the neighborhood, you can easily walk to most of them.
The restaurants serve cuisines from around the world and many of them offer a patio and the key to any respectable brunch…great drink specials!
Psst: We have a bunch of guides about Arizona. Browse them all here or see the post below about Scottsdale:
**Boozing Abroad contains affiliate links throughout the site. If you choose to purchase items through these links, we will earn a small commission at NO extra cost to you. Read the full disclosure policy here**
Map of Boozy Brunches in Old Town
Click the interactive map below!
HOW TO USE THIS MAP: To view the layers and see the names of the places on this map, click the tab in the top left corner. You can select the check marks to show or hide certain layers. If you select the icons on the map, you will get more information about the point of interest.
HOW TO SAVE THIS MAP: If you select the star icon next to the map name, you can save this map to your Google Maps account. To view it, open Google Maps in desktop or on your phone, select the menu button, go to "Your Places," scroll to the right to Maps, and you will see this map.
Boozy Brunch in Old Town Scottsdale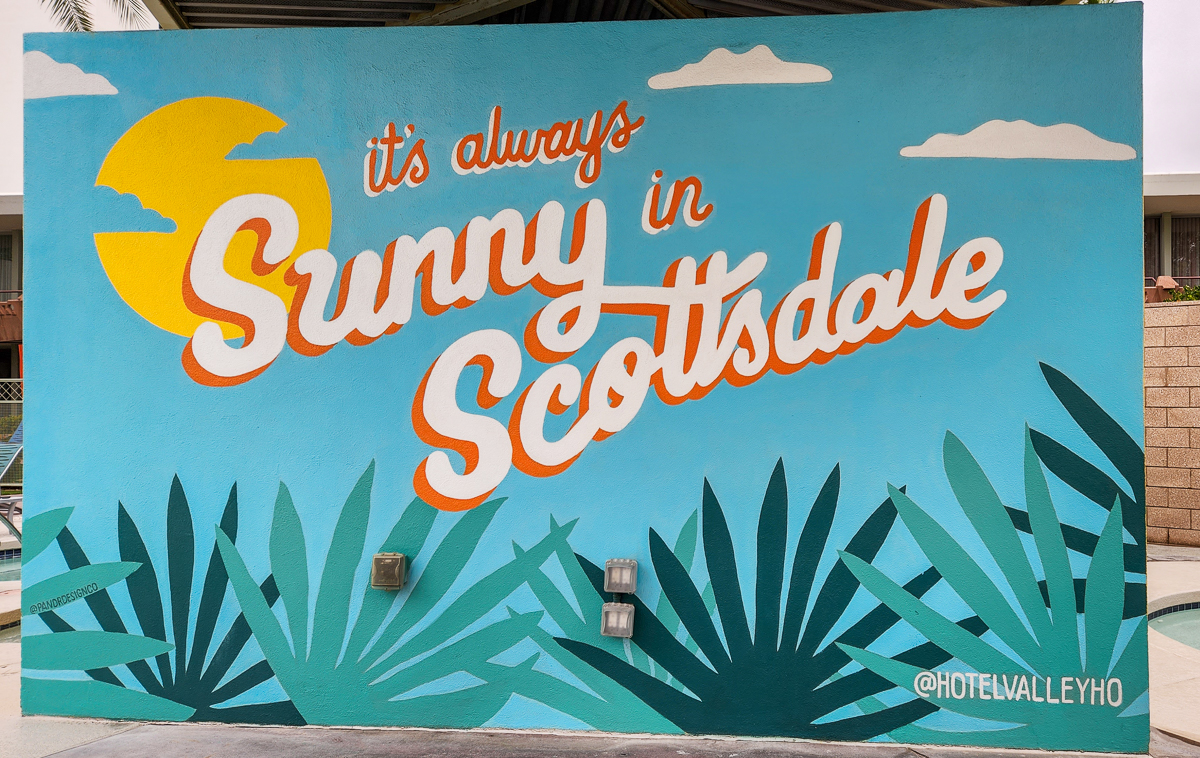 Before we get too far down the list, know that most spots in Old Town Schottsdale offer booze with their brunches.
Our Top 3 brunch in Old Town Scottsdale:
Morning Squeeze
Prep & Pastry
Maple & Ash
Keep on reading to find out why!
1. Morning Squeeze
Brunch Hours:

Daily from 7am-2pm

Reservations:

Yes, via OpenTable
If you want to enjoy brunch in Old Town Scottsdale and be in the midst of it all, check out Morning Squeeze, a cozy and vibrant café offering food made from fresh and locally-sourced ingredients.
The location is right along the bustling Scottsdale Road which cuts right through Old Town.
There's a dog-friendly patio and bar seating that looks out over the thoroughfare, allowing you to indulge in a boozy brunch and people-watch – the best of both worlds.
The menu is a mix of classic and modern dishes including a fruit and pastry platter, quiche, biscuits and gravy, benedicts, breakfast burritos, chicken and waffles, carne asada fries, stuffed french toast, Belgian waffles, and more.
And this wouldn't be a guide to boozy brunch in Old Town Scottsdale if we didn't mention their solid lineup of brunch cocktails: house-made bloody marys, mimosas, creative cocktails, wines, and beer. If you can't decide, they have a mimosa flight available or do it yourself and build your perfect mimosa at your table.
Recovering from last night? Non-alcoholic drinks include coffee, smoothies, protein shakes, hot teas, juice, soda, and lemonade.
2. Prep & Pastry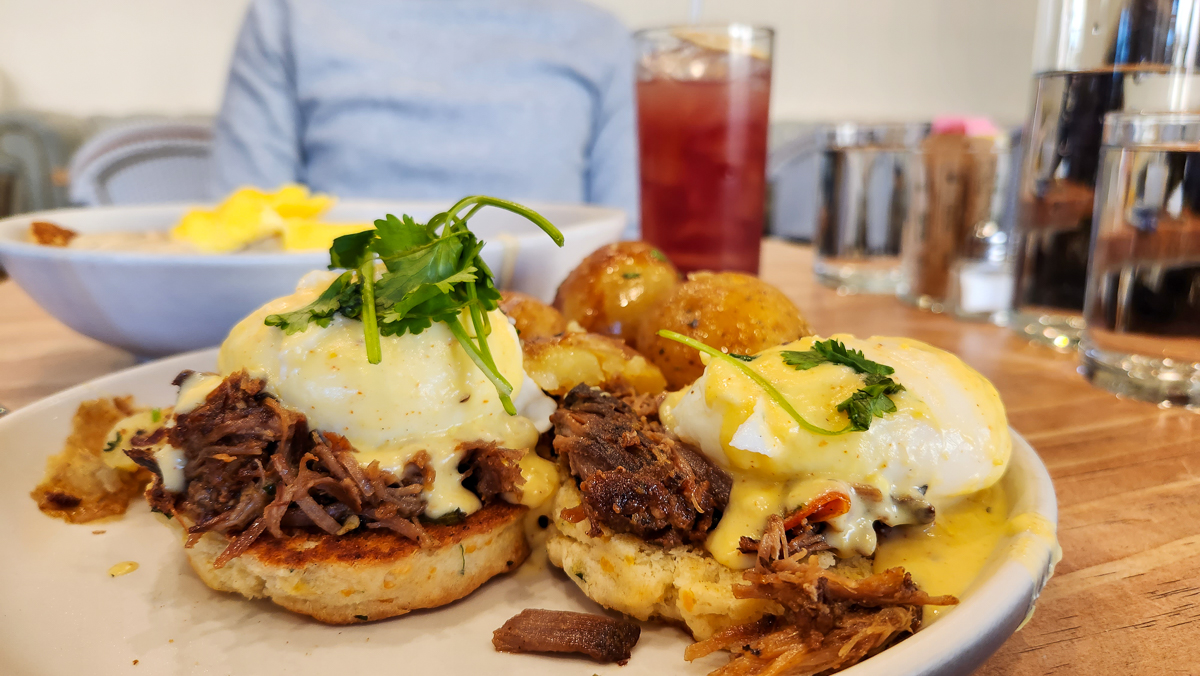 Brunch Hours:

Mon-Thurs 8am-2pm, Fri-Sun 8am-3pm

Reservations:

Join the waitlist via Yelp
Prep & Pastry is a chic restaurant that serves delicious breakfast, brunch, lunch, pastries, and drinks.
While the restaurant always seems to be busy (we'd recommend checking their website to check the waitlist before arriving), the interior still seems calm and relaxing.
You can grab a quick bite to go from their pastry case and coffee bar when you walk in or sit down for a great first meal of the day.
As you'd hope, the best part about Prep & Pastry is the food. The brunch menu includes sandwiches, omelets, benedicts, a Monte Cristo, toasts, pancakes, and more. For lunch, you can enjoy sandwiches, burgers, and more.
Be sure to check out their drink menu as well for cocktails, mimosas, wine, beer, and non-alcoholic options like tea, coffee, and juice.
Their cocktail menu changes throughout the year to highlight the tastes of the season – when we visited in January 2023, we had a Sinful Seas which was rum, spices, apple juice, and lemon – perfect for those crisp winter mornings.
3. Olive & Ivy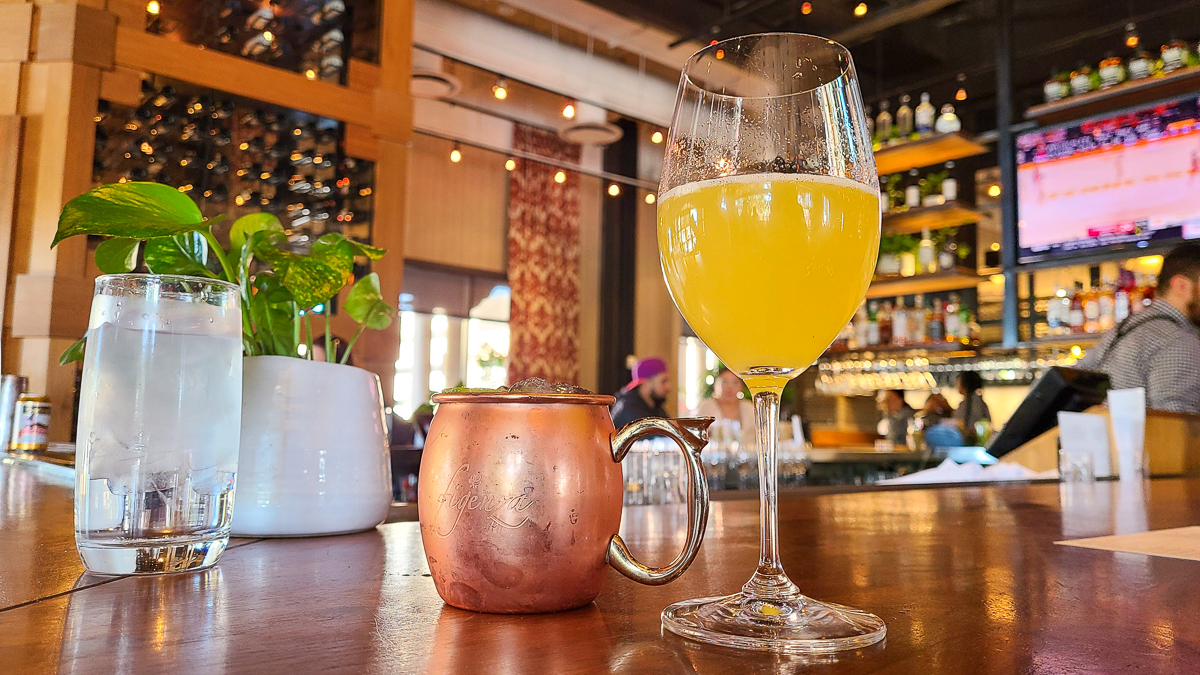 Brunch Hours:

Mon-Fri 7am-11am, Sat-Sun 7am-3pm

Reservations:

Yes, via OpenTable
What could be better than brunch in Old Town Scottsdale while sitting right alongside the Arizona Canal? At Olive & Ivy, this is exactly what you'll get: a massive dining room that offers gorgeous canal views if choose to dine outdoors.
This place is picture perfect as there is a private indoor dining room surrounded by glass with floor-to-ceiling drapery and elegant white chandeliers.
Inside their main dining area is a beautiful U-shaped bar backdropped by a floating shelf of bottles and, as you might expect from the name, ivy.
For the brunch scene, you'll get the choice of both breakfast and lunch options with brunch-ready cocktails to kick off your bar-hopping in the area. Complete with a "bottle and bar" option, you can grab a bottle of bubbles and create your own mimosa bar at your table.
If you are looking for a unique cocktail that is refreshing, try the Fig and Ginger Mule or spice things up a bit with the Spicy Jalapeno Mary.
While we can't speak to dinner, we can tell you that the breakfast was superb and the breakfast sandwiches were so simple and light, but oh so delicious and filling.
4. Maple and Ash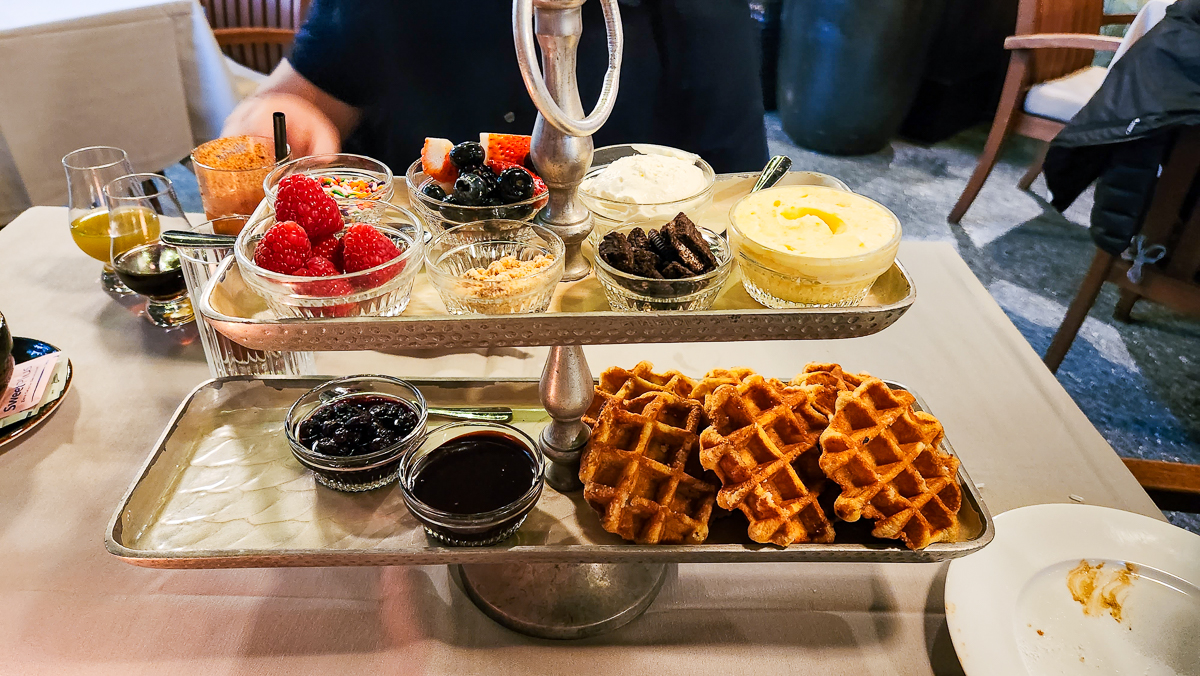 Brunch Hours:

Sat & Sun 10am-1pm

Reservations:

Yes, through their website
Maple & Ash is the spot to go if you're looking for a fancy brunch (or dinner) with your friends or if you want to indulge.
As far as the places doing brunch in Old Town Scottsdale, this is certainly on the pricier side, but the food is delicious and the overall experience is more than just your typical weekend brunch.
The restaurant is typically known as an elegant steakhouse with wood-fired dishes and an extensive wine list, but they also do a fantastic brunch complete with unique cocktail creations and a full menu of all of the classic brunch favorites (steak & eggs, crab benedicts, French toast, chicken and waffles, beignets, and even a Belgian waffle tower!).
As of January 2023, you can choose from two experiences: the standard brunch which is $75 per person or the "I Don't Give A F*@k" experience for $150 per person in which Maple & Ash takes care of everything for.
The standard option allows you to choose your main dish while small plates are served for the entire table (small plates include beignets, bacon, and filet mignon). You can order as much and as many of these small plates as you can stomach to go along with your main dish.
While this was one of the more expensive brunches we've ever been to, the service, food and drinks were worth the cost if you are ready to be pampered!
5. The Montauk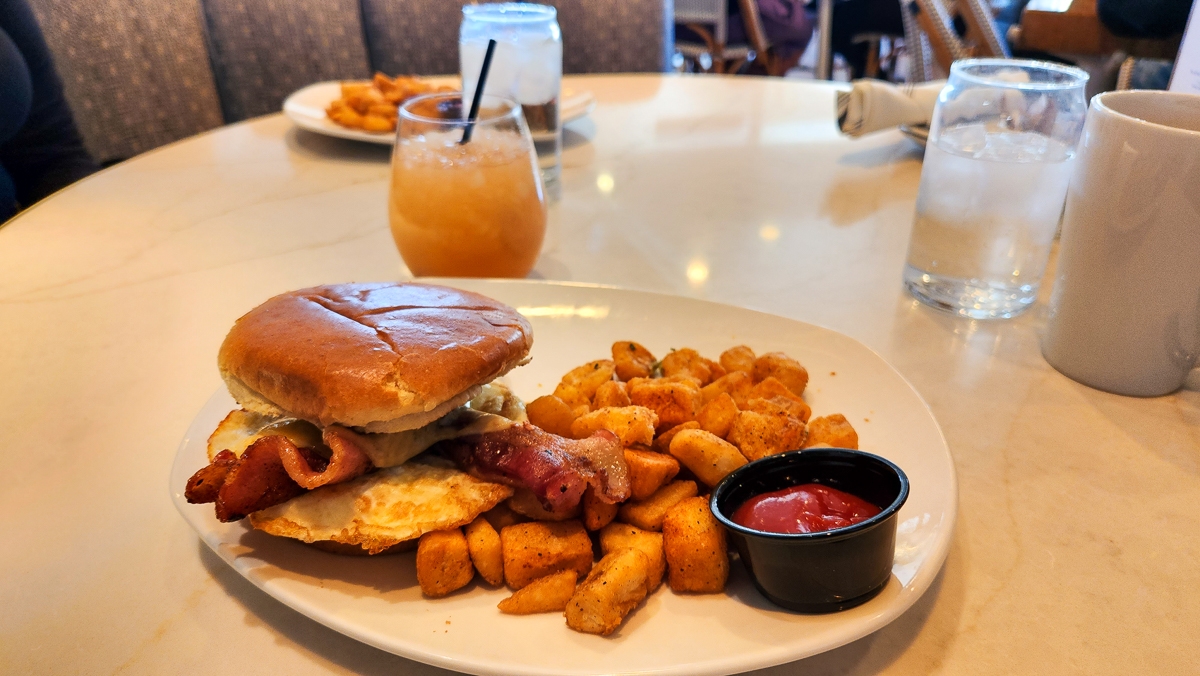 Brunch Hours:

Mon-Thurs 10am-1pm, Fri 10am-2:30pm, Sat-Sun 9am-2:30pm

Reservations:

Only for parties of 8 or more
The Montauk is a Hamptons-inspired restaurant that's known for its laid-back vibes and delicious American food.
One of the biggest things about brunch in Old Town Scottsdale is the overall atmosphere and Montauk is definitely not lacking in that department.
Transporting you from the southwest to the east coast, the interior is nautical-themed and offers comfortable indoor and outdoor seating right in the heart of Old Town.
It feels like an Instagrammers dream or a perfect spot to kickstart your bachelorette party weekend.
The Montauk is well-known for its brunch. During the week, the menu is a bit more simplified with classics you'd expect (avocado toast, breakfast burrito, sandwiches, and huevos rancheros with short rib).
On the weekends, the menu expands a bit to include some small plates like deviled eggs, decadent crepes, and a few more lunch options (for the late-arriving brunch crowd).
No matter the day you visit, you can always expect a full list of cocktails to whet your whistle.
The Montauk Frosé is perfect for those hot summer days or the Spark Plug will give you the energy you need for a day on the town: vanilla vodka, Irish cream liqueur, cold brew coffee, and a coffee ice cube.
They also do tableside mimosas and have a full bar of wines and beers too.
6. RnR Gastropub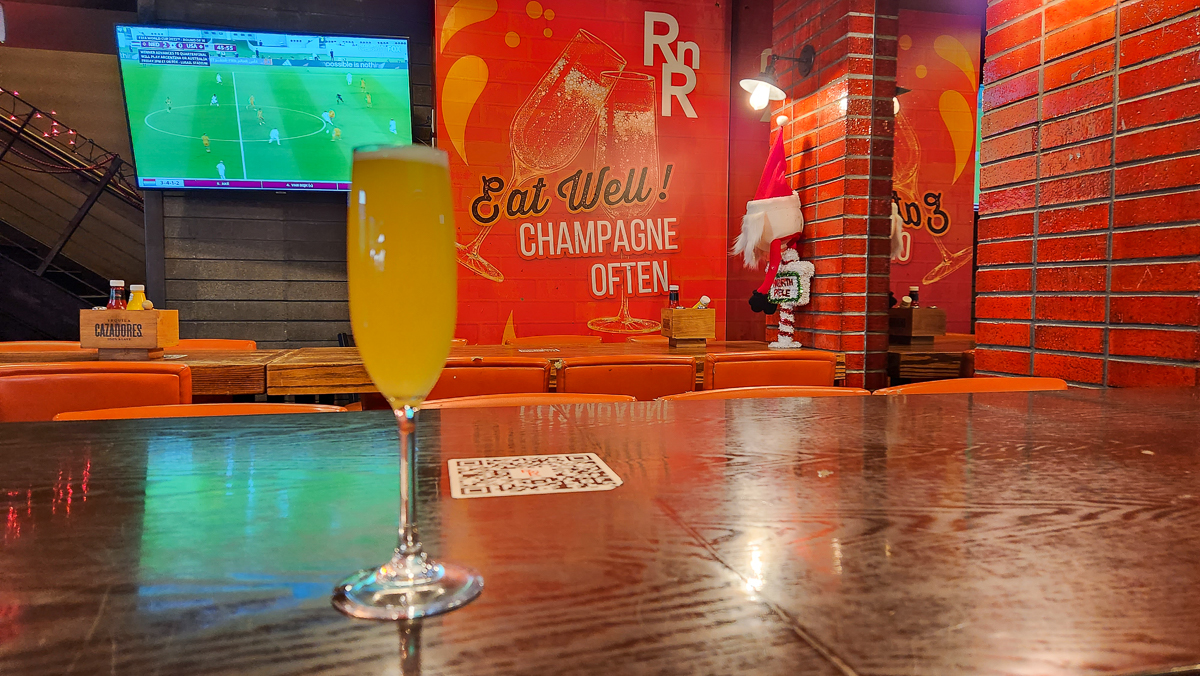 Brunch Hours:

Daily until 4 PM

Reservations:

Yes, by email (check their website)
RnR Gastropub is a large restaurant that offers plenty of seating, tons of TVs, and a massive LED video wall to watch sports.
RnR has also been rated as the best brunch in Old Town Scottsdale numerous times – great food and fun all in one place!
Brunch is served daily until 4pm and the menu includes avocado toast, pulled pork hash, breakfast burritos, brunch tacos (try the green chile pulled pork tacos), pancakes, french toast, and more.
You can also choose from eight different sides to complement your main course.
RnR also has an extensive drink menu to pair with your food.
Brunch cocktails are served daily – try the Berry Breeze Sangria or the Breakfast Old Fashion (Crown Royal vanilla, agave nectar, maple syrup, coffee bitters).
If you're here on the weekends and plan to hunker down for a while, your best bet is the bottomless mimosas and bloody marys. From 9am to 4pm, drink these classic brunch drinks until your heart is content (or you're cutoff) for only $35, or $30 if you order food.
If you are with a group, RnR offers several tower options for drinks, like a margarita tower, a Moscow mule tower, or a beer tower (must have at least 3 people).
7. Arcadia Farms Café
Brunch Hours

: Mon- Fri 9am-2pm, Sat-Sun 8am-3pm

Reservations:

Yes, give them a call or visit OpenTable
Arcadia Farms Cafe is an elegant and cozy space that offers tasty meals, pastries, wines, and an outdoor garden patio. It's one of the best places to have brunch in Old Town Scottsdale if you're looking for a variety that serves plenty of sweet treats!
Some of their delicious brunch dishes include Smoked Salmon Benedict, omelets, crepes, quiches, and any of their pastry items from the bakery like cakes, muffins, croissants, tarts, and more.
Arcadia Farms keeps their drink menu fairly simple with beer and wine, but also classes things up some with their champagne bar. They offers a variety of bubbly drinks made with different flavors and concepts – like the Strawberry Fields made with strawberry shrub, the Cherry Sour made with wine-soaked pitted cherries, or the Mango Sparkler made with mango nectar.
8. ZuZu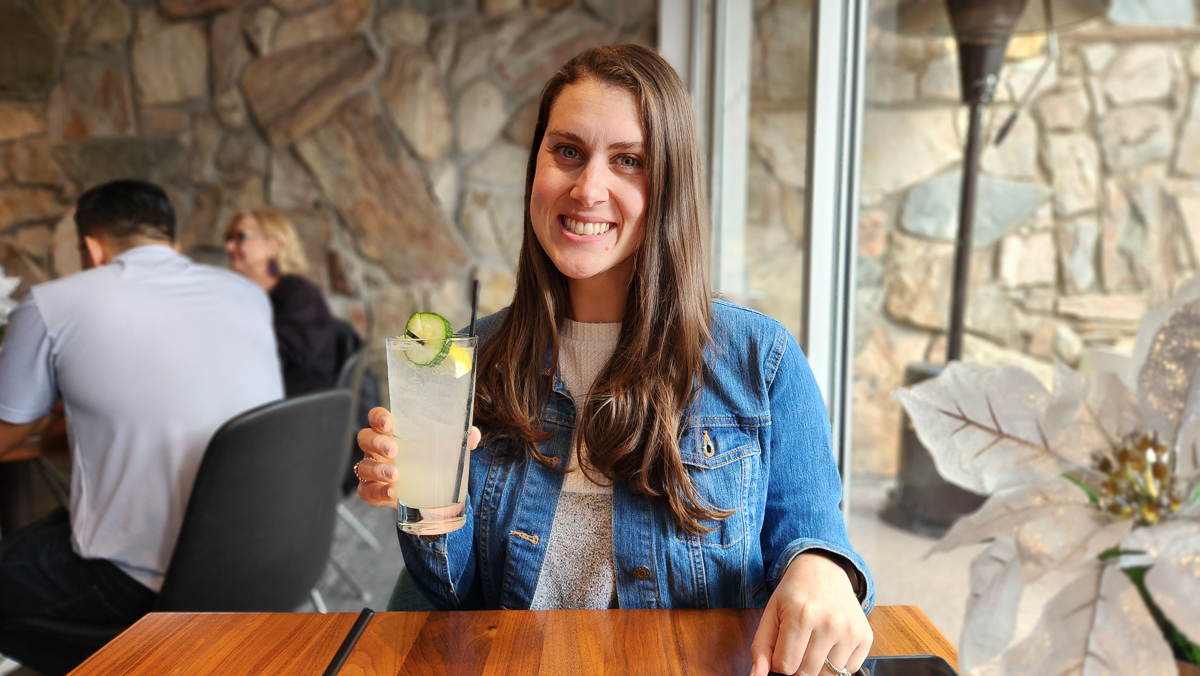 Brunch Hours:

Daily from 6am-2:30pm

Reservations:

Yes, give them a call or book on their website
If you're looking for the trendy spot for brunch in Old Town Scottsdale, look no further than ZuZu. This small, yet vibrant space, located in the Hotel Valley Ho, will definitely liven up your morning or afternoon.
The brunch menu is packed full of options like cinnamon roll bread pudding to start, short rib and sweet potato hash, chicken and waffles, huevos rancheros, enchilada burritos, breakfast fried rice, and so much more.
We wanted to try everything!
If you're not feeling the breakfast options, they do have other starters, salads, burgers, and sandwiches too.
There's also a great drink menu that includes your classics but also unique cocktails like the Purple People Eater (gin, blueberry lavender syrup, lime juice, Prosecco float) or the Sunny in Scottsdale (vodka, St-Germain, simple syrup, cucumber juice, lemon juice, tonic).
Honorable Mentions Outside of Old Town Scottsdale
Though there are plenty of great places to have brunch in Old Town Scottsdale, there are a few honorable mentions just outside of Scottsdale to consider as well.
The Henry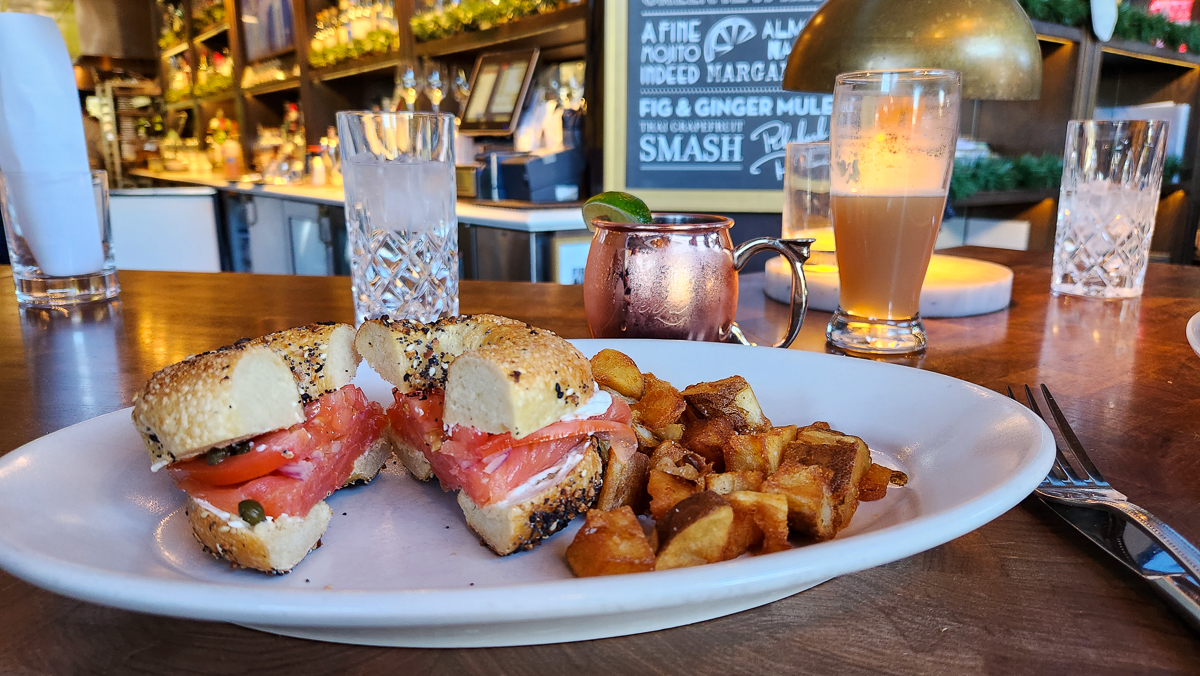 Brunch Hours:

Mon-Fri 7am-10:30am, Sat-Sun 7am-3pm

Reservations:

Yes, on their website

Distance from Old Town: About 10 minutes
The Henry is an upscale restaurant located just outside of Old Town that offers a mix of classic and modern brunch options. Some of the items on the menu include cinnamon sugar French toast, breakfast burritos, smoked salmon bagel, quiche, as well as lunch-type options.
There's also a large drink menu that includes a wide variety beer, a large wine list, champagne, and various cocktails. The bartenders are skilled mixologist and we enjoyed a few non-menu cocktails as well.
The Henry was also named in OpenTable's Top 100 list for 2022 for their creative culinary options. If you can't make it for brunch, they'd be a great lunch or dinner time option as well.
Snooze A.M. Eatery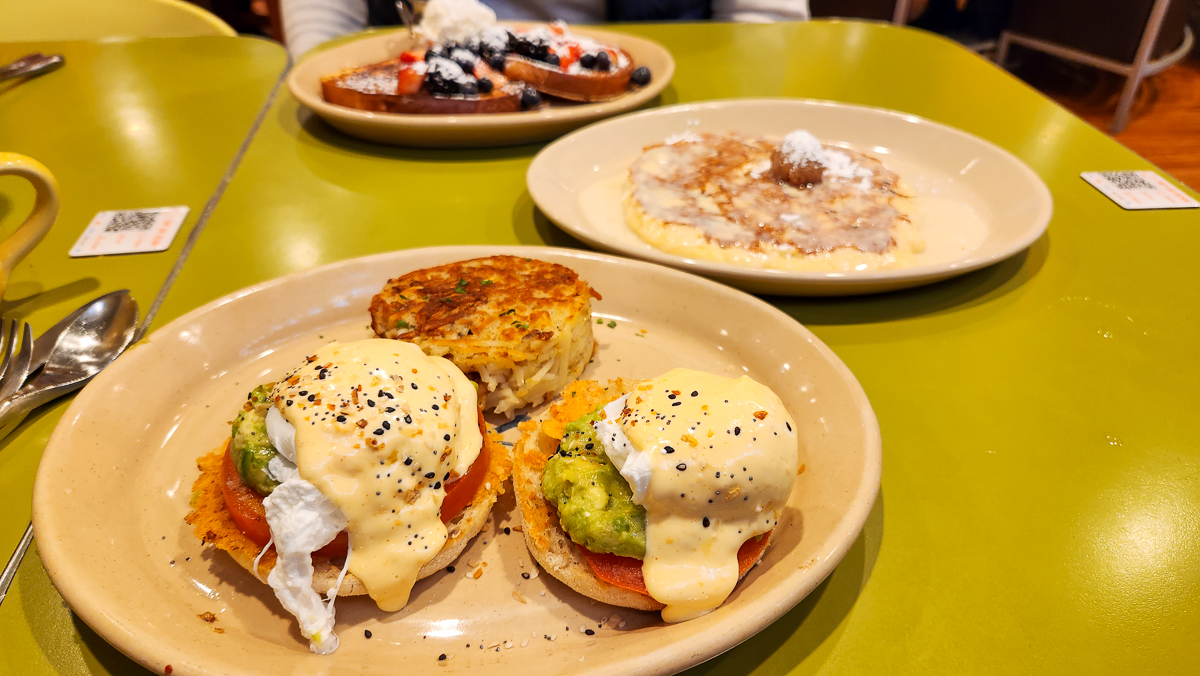 Brunch Hours

: Daily from 7am to 3:30pm

Reservations:

No, first-come, first-serve
Snooze A.M. is a retro eatery that specializes in classic American fare. The space has a 1950s diner feel to it but does have a full bar and the food is oh-so-good!
The menu includes a wide variety of omelets, benedicts, pancakes, french toast, sandwiches, tacos, burritos, and tostadas. There's also a kids menu and plenty of vegan and vegetarian options.
Some of our favorites include:
the Smashed Avocado Benedict

any of their pancakes or French toast

the Sandwich I Am (pretzel roll, scrambled eggs, cheddar cheese, sausage patty, served with smoked cheddar hollandaise)

Juan's Breakfast Tacos (scrambled eggs, hash browns, cheese, green chile hollandaise and pico de gallo).
Be right back, heading to Snooze now to get all of these!
Something unique and perfect for those of us who can't decide on one item is that Snooze offers flights of food so you can sample.
Can't decide on just one type of benedict? Try the Benny Duo and pick two different options.
Or, indulge in the pancake flight, which is three of their most popular pancakes – Pineapple Upside Down (which is just heavenly), Blueberry Danish, and Pumpkin Pecan.
The drink menu is quite large and includes a variety of bloody marys (try the Thai version), mimosas, martinis, and more. Non-alcoholic drinks include coffee, hot tea, juice, soda, iced tea, and lemonade.
Unpopular Opinion: Avoid Breakfast Club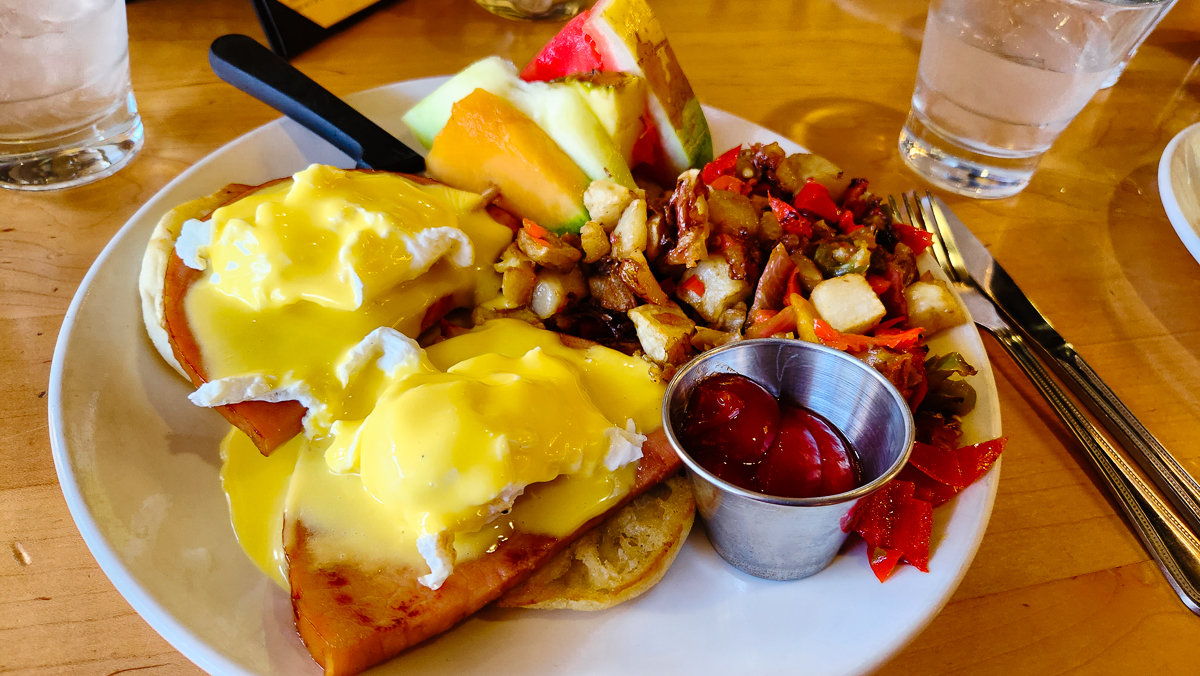 Brunch Hours:

Mon-Fri 6am-2pm, Sat-Sun 7am-3pm

Reservations:

No, but you can add yourself to the waitlist on their website
Breakfast Club is a very popular option for those looking for brunch in Old Town Scottsdale, but in our opinion, we think there are many places that just do it better (see above).
The menu does offer a variety of brunch classics, but our experience just wasn't what we were hoping for in terms of the quality of food. There was nothing wrong with the food, it just didn't hit home with us and live up to the hype.
While you'll hear many people tell you to visit and see the line outside of the restaurant, we think you'd be better served going elsewhere, especially if you only have one day for brunch in Old Town Scottsdale.
Brunch in Old Town Scottsdale is something that you must do when you're visiting the area.
There are so many great restaurants that range from casual to upscale, healthy eats to comfort food, and quiet to lively. As well as the amazing food that these places are churning out, many of these restaurants also offer large and creative drink menus and specials to get your day started right!
While there are so many options for brunch in Old Town Scottsdale, we hope this list has narrowed down some of the very best the area has to offer, so that you can enjoy some delicious brunch during your stay in Old Town Scottsdale.
Still thirsty? We have these drinking guide for Scottsdale: