A Uniquely Boozy Guide to a Great Weekend in San Antonio Texas
While there are plenty of guides out there for what to do in San Antonio, we have crafted the best boozy guide for a weekend in San Antonio.
We spent a weekend in San Antonio and spent virtually the entire weekend drinking local at various breweries and bars throughout the city.
Taking a short break to visit the Alamo and some missions, we suggest spending a weekend in San Antonio getting to know the city through the local booze scene.
Psst: Needing more Texas content? Check out our other posts!
**Boozing Abroad contains affiliate links throughout the site. If you choose to purchase items through these links, we will earn a small commission at NO extra cost to you. Read the full disclosure policy here**
Quick summary of Alamo/San Antonio Missions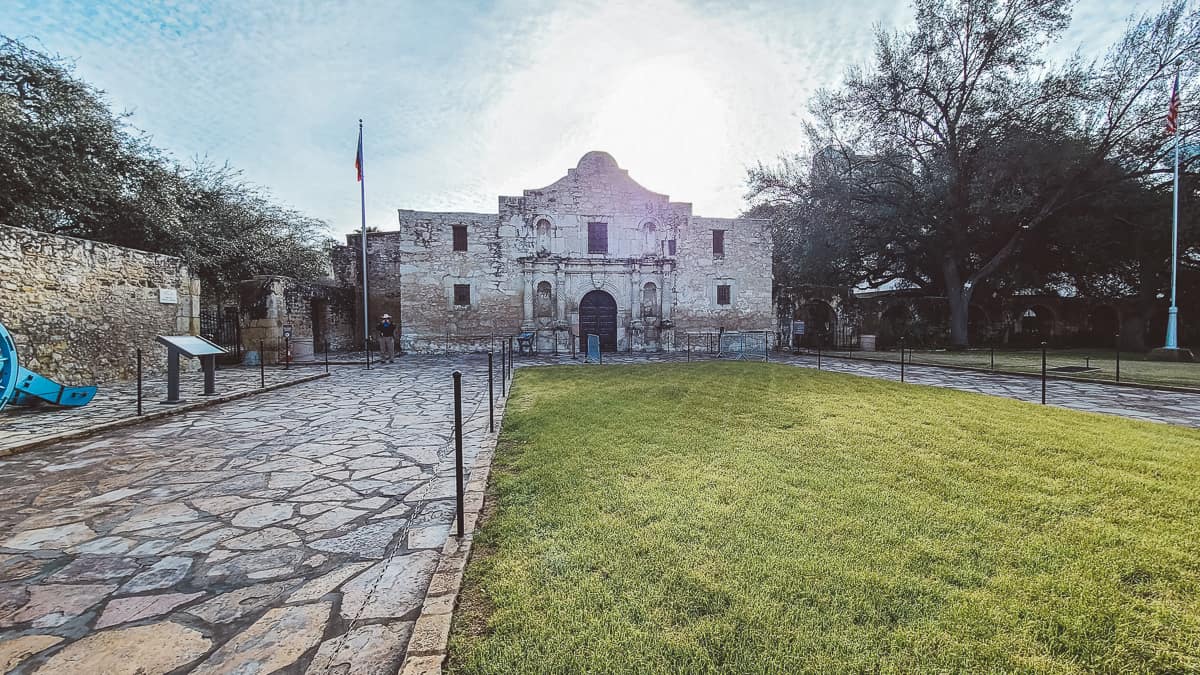 It's not often we make a point to remember the times we lost a battle. But sure enough, "Remember the Alamo!" That's right. In 1836, we (Texas) actually lost the Battle of the Alamo, a 13-day siege, to the Mexican forces.
But it's this battle that was considered one of the crucial turning points in Texas's battle for, and eventual declaration of, independence from Mexico.
And while remembering and visiting the Alamo is a must for any weekend in San Antonio, remember that there are also 4 other nearby missions.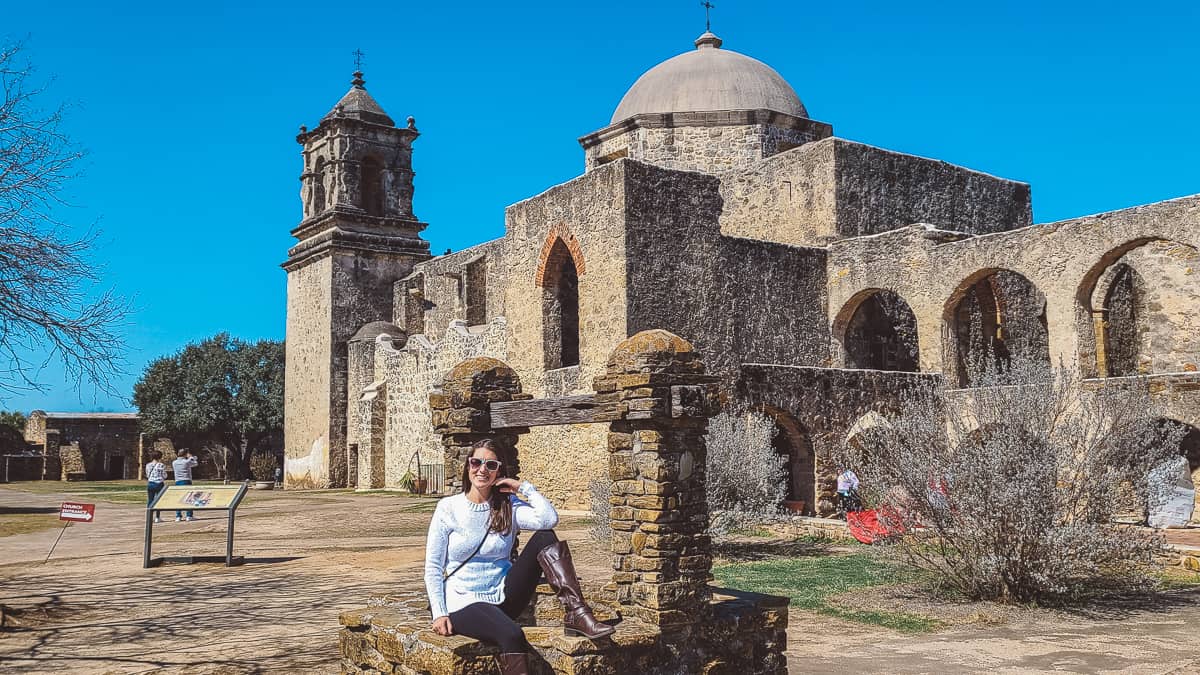 Together with the Alamo, these 5 missions are collectively called the San Antonio Missions, Texas's only UNESCO World Heritage Site.
You can plan an entire day visiting all 5 missions, as there is a network of trails that connects Mission Concepción, Mission San Juan, Mission Espada, and Mission San José to San Antonio's River Walk near the Alamo.
In addition to the Alamo, we also visited Mission San José, which is the largest of the 5 and considered the Queen of the Missions.
Even though this is a boozy guide, we felt it necessary to talk about it and visit some of the missions. It's also an important note that our livers needed a break!
Roadmap Brewery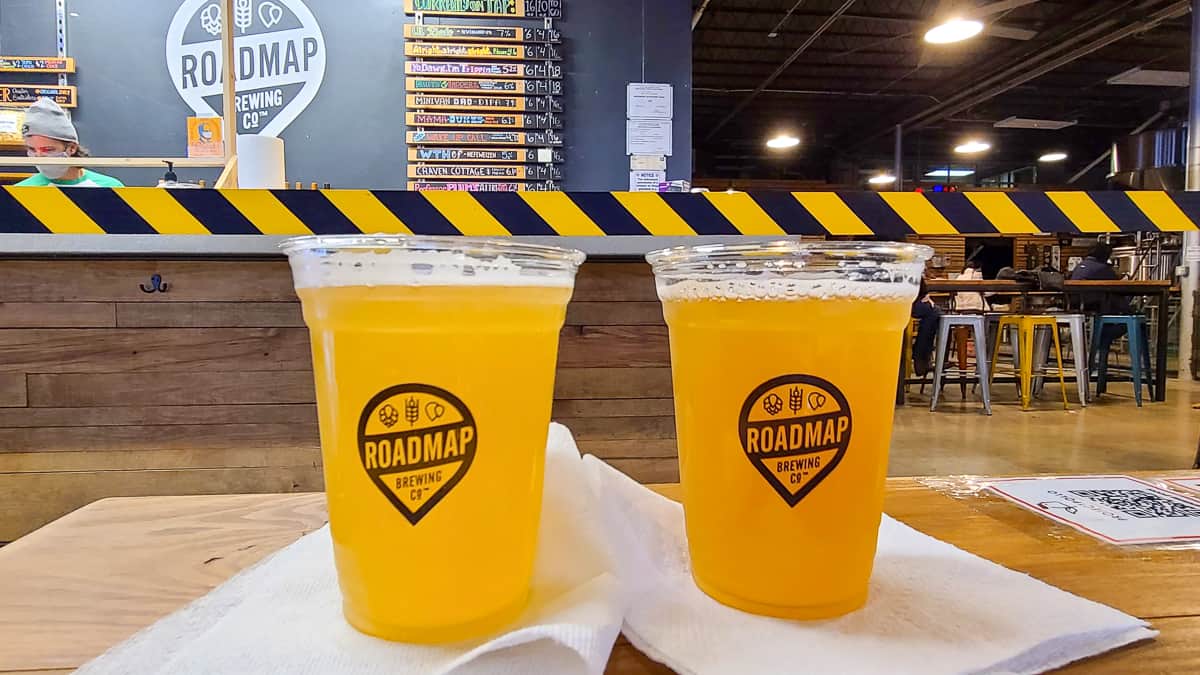 "All roads lead to beer". Considering we are boozing our way across the globe, we'd 1000% agree!
Roadmap Brewing was born out of a wedding gift – more specifically, a home brew kit (we definitely messed up our wedding registry)! When the owner outgrew the kit and his garage, the brewery was created.
While they weren't doing flights when we were there (you know, 2020…), we did get 4 full pints to sip on over a couple of hours. Our favorites included Cat on a Zoom Call (NEIPA) and Professor Plum's Alibi (fruited kettle sour w/lactose).
If you are looking for some modern-day entertainment, head over to their website to play the game "Fruits and Ladders". It's a creative beer version of everyone's favorite childhood game. Check it out here.
When making your way through San Antonio, make sure that your compass is set to take you here.
Back Unturned Brewing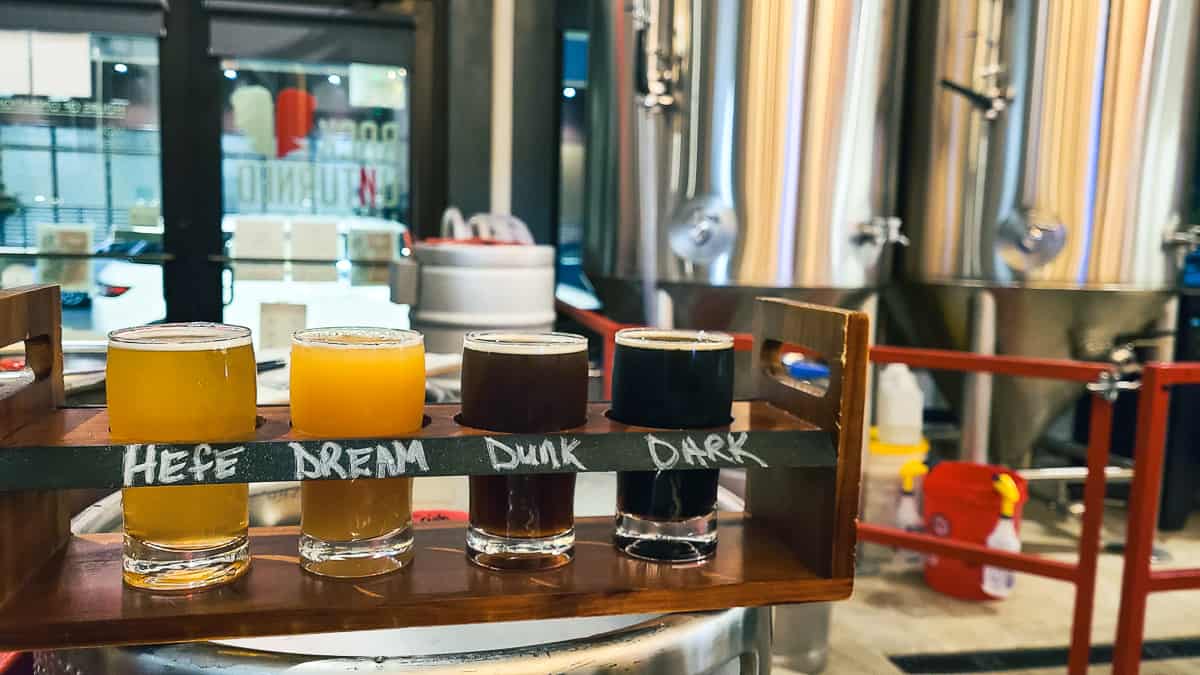 Have you ever refused to quit working on something you really wanted?
Back Unturned Brewing is just that – a dream the owner refused to turn their back on. Considering the place was at capacity when we stopped by, we think it's safe to say that this dream is a success.
And the craft beer and a full pizza kitchen combine the best of both worlds to make this place a dream for visitors!
Their industrial-vibe taproom has brewery equipment on one wall with a vaulted exposed ceiling. Above the bar, there is a massive mural covering the length of the wall as a reminder that you shouldn't turn your back on your dreams.
We enjoyed our flight of craft beer with staples like the Hefeweizen, Dunkelweiss, and a dark lager. While we weren't able to enjoy the pizza or appetizers, the plates being served around us were mouthwatering.
Based on everyone's generally happy demeanor and our yummy beer, this place is worth the stop in.
Künstler Brewing 
Künstler Brewing is a craft brewery that blends Old World beer styles with innovative flavors. They like to say they brew with American boldness and German heart.
Less than 2 miles from downtown San Antonio, this neighborhood brewery serves up craft beers with a large selection of German food (with some Texas flare) to help with any beer munchies – from pretzel bites to bratwurst to fried bologna sandwiches.
The beer list includes a little bit of everything, again blending the Old World with the New World. Everything from a Berliner Weisse and a Spiced Belgian ale to IPA's, stouts, and a Mexican lager spiced with chili peppers.
Blue Star Brewing Company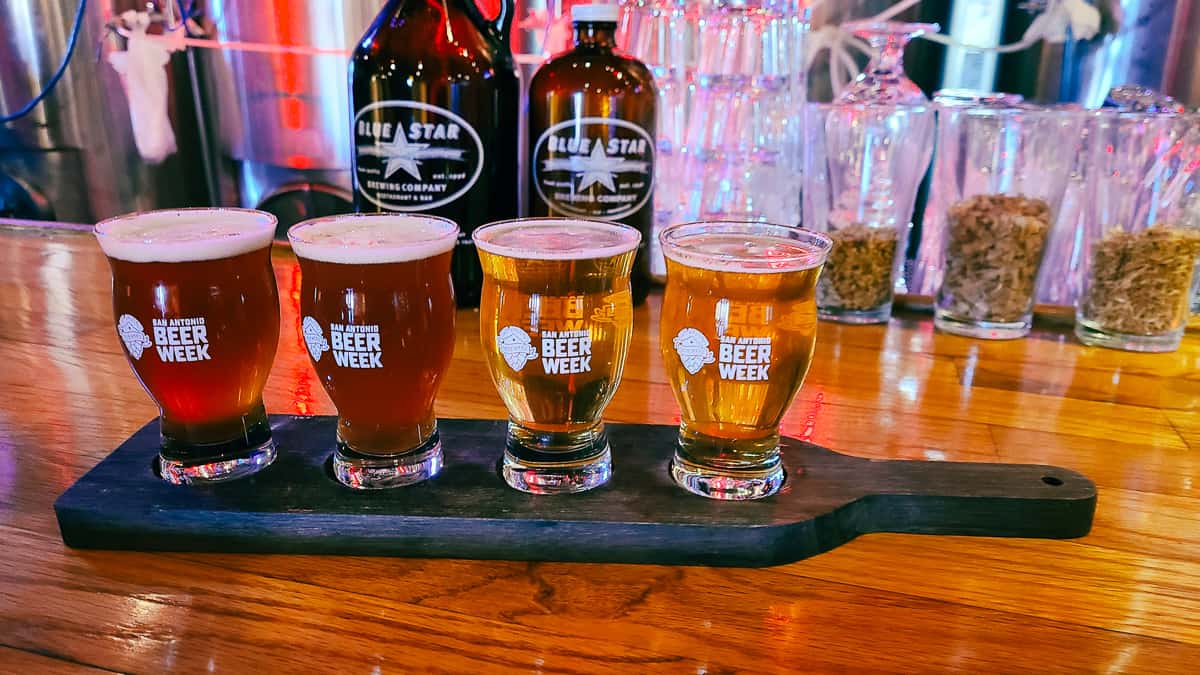 In 1996, Blue Star Brewing opened its doors and has been a San Antonio staple ever since. Not diving into all the trends of the craft beer movement over the last 10 years or so, Blue Star serves several traditional-style beers.
You won't find any rhubarb, strawberry, lactose, cream of coconut, or triple-fruited beer here. Instead, when you order the lager, it tastes like a lager. An IPA tastes like an IPA. How refreshing?!
Sometimes an ode to the past is just as delicious as today's limit-pushing craft breweries expanding our palates with new-millennium beers.
Bar 1919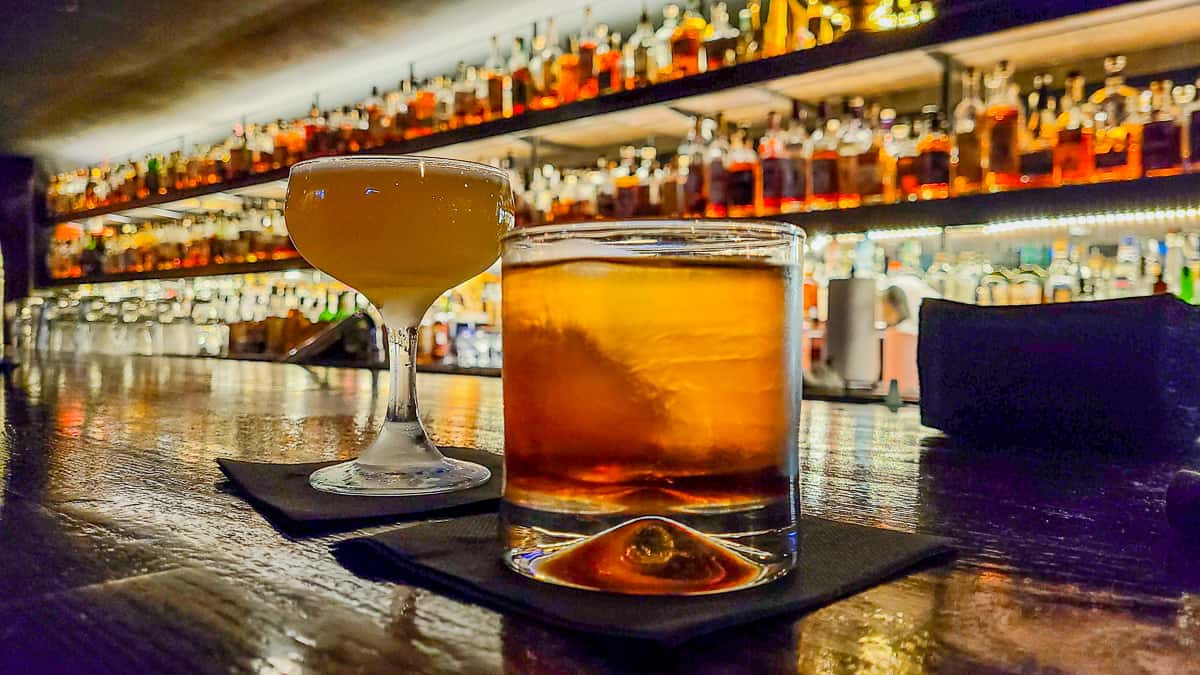 This is an absolute must-do for craft cocktails and liquor during your weekend in San Antonio. Bar 1919 is somewhat of a speakeasy since it's an underground bar. The windows are blacked out and the bar itself feels like you've stepped into a 1920s secret liquor and cigar lounge (minus the smoke).
Their house rules are posted online, but our favorites include:
Please, speak easy.

Do NOT ask for a Cosmo, Long Island Ice Tea, Jager anything, or "so-called drinks" of this kind, especially energy drinks.

Do NOT ask for chilled beer glasses
Bar 1919 has over 1,600 bottles of liquor showcased beautifully through a backlit bookcase. There are over 1,000 bottles of whiskey and bourbon with the next largest selection being gin at over 200 bottles. Because that isn't enough, their craft cocktail list seems equally as long. Definitely makes for a hard decision.
This bar draws in the sophisticated drinker. If you are looking for a run-of-the-mill bourbon & ginger drink to get drunk (which is fine), go somewhere else. This bar ain't it! They truly specialize in craft cocktails.
Their mixology is an art. Respect the art and try something new or better yet, ask the bartender to help you pick – they are the experts, after all.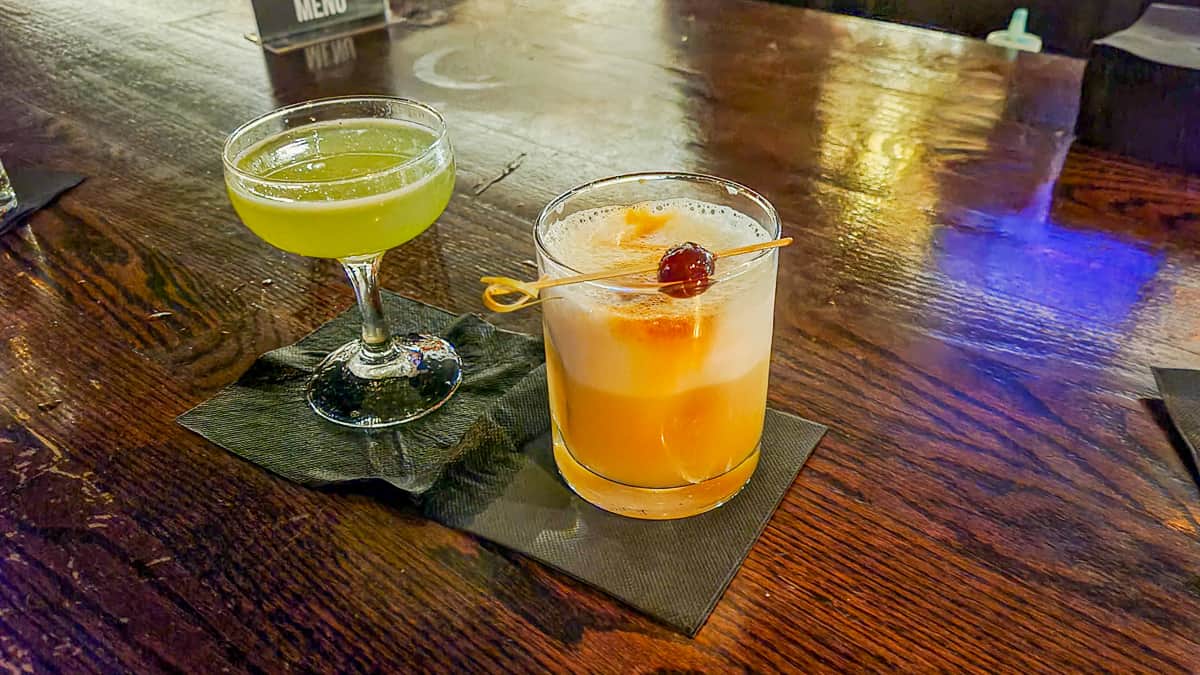 If you like an Old Fashioned, we highly suggest the Bourb Reynolds, an incredible spin on the classic which includes bourbon, cynar, cherry, ginger syrup and a flamed grapefruit peel.
If you like a refreshing and crisp fruit juice, try the Waterfall, a cilantro-infused gin with fresh cucumber juice, honey, lemon, and a secret ingredient that they just won't divulge.
One of the other drinks that was suggested to us was the Sweet Potato Bomb, an Irish Car Bomb-style drink where you drop a shot into a beer. But unlike the original, the Sweet Potato Bomb combines an Irish whiskey infused with sweet potato and cinnamon that is dropped into a Left Hand Brewing Milk Stout.
Because there is no Irish cream in this drink, you don't have to worry about the beer curdling. That means, if you desire, you can sip it rather than chugging. Samantha suggests sipping because it was absolutely f***** delicious (side note: she hates Irish Car Bombs). Chris suggests the opposite, because.
"Thanksgiving in your mouth" is an understatement.
The combination is seriously amazing and was reminiscent of over-indulging in Thanksgiving desserts. With that being said, this drink is a massive dose of alcohol and we don't suggest it unless you are looking for a buzz. Samantha wasn't looking for said buzz and quickly learned how strong a bomb can actually be.
If you aren't up for the bomb, the Snow White cocktail uses their house-infused sweet potato and cinnamon Irish whiskey if you want to try it!
The Esquire Tavern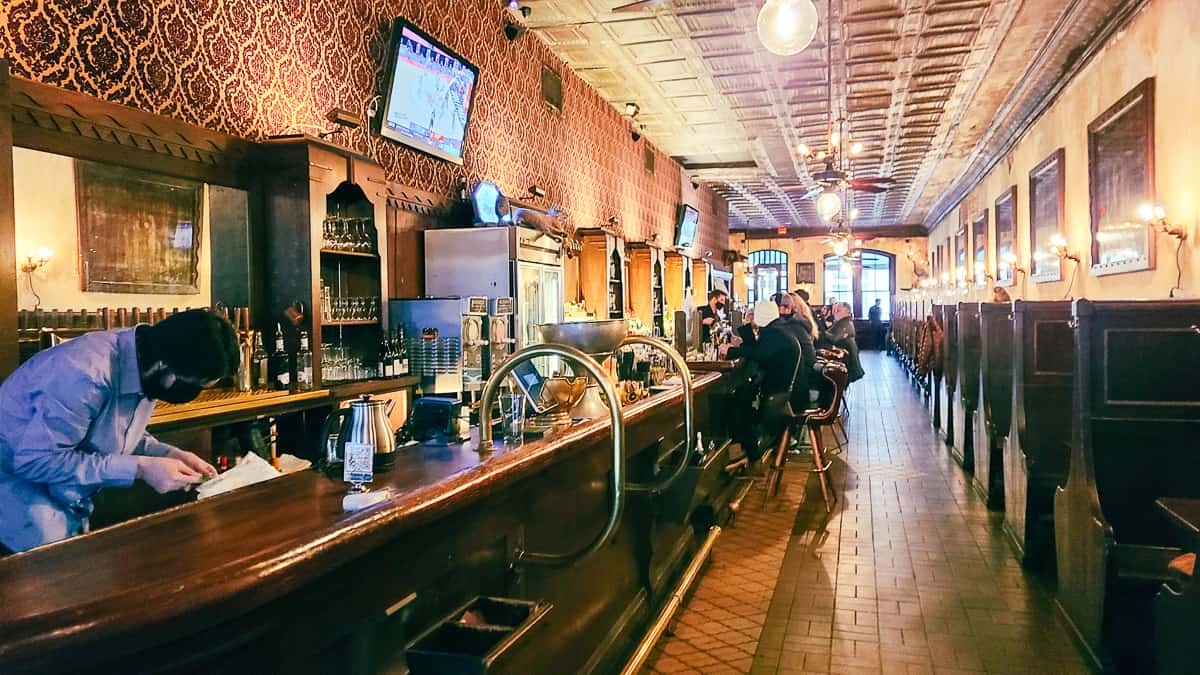 Established in 1933, The Esquire Tavern opened to celebrate the end of Prohibition. Located along the infamous River Walk in downtown San Antonio, this beloved bar has become an institution and is a swanky nod to alcohol liberation.
The main reason we popped in was to see their bar. It's one of the longest bars in Texas measuring at 100 feet in length. It took a solid 20 seconds to walk the length of the bar!
We were told by several people that they have the best burger, and while we didn't indulge, we did see it first hand and holy moly – it looked epic.
We had two drinks, a classic Whiskey Sour and a more adventurous mezcal cocktail called Doxycycline (which is also a type of medicine that can treat and prevent infections).
There is another bar downstairs that is directly on the River Walk, but it's only open Friday and Saturday nights. An intimate lounge, this is a great option when you want a lounge atmosphere without leaving the hustle of the River Walk.
The Buckhorn Saloon and Museum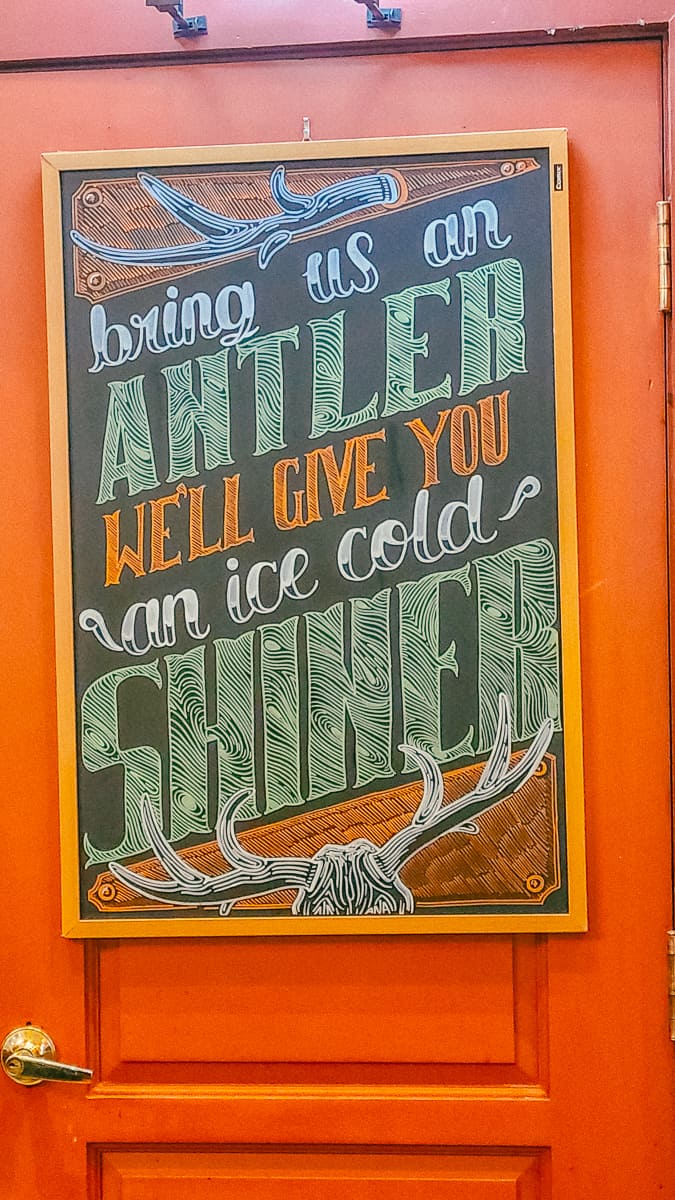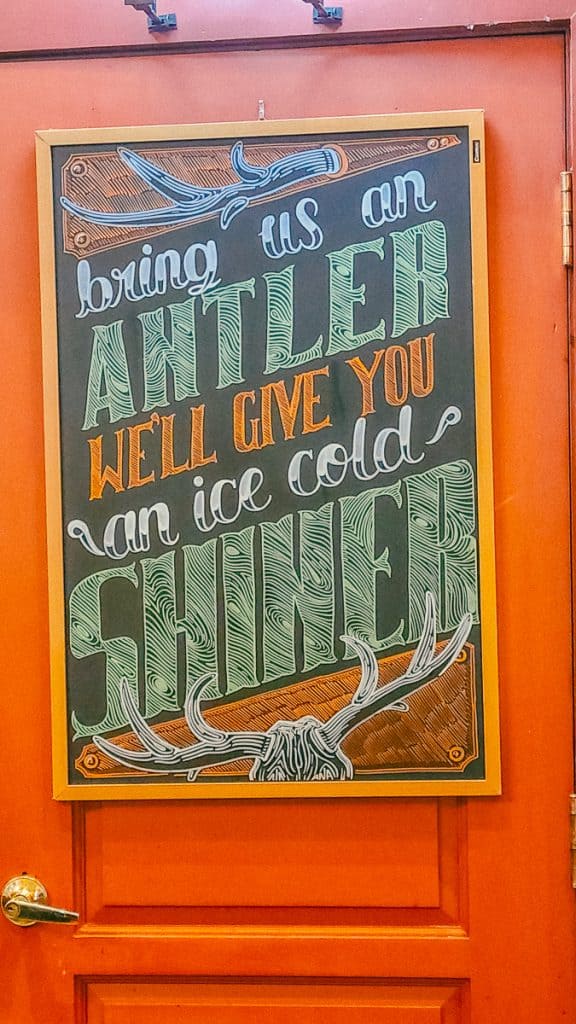 Texas. Where antlers are still a form of currency.
Seriously.
Bring in a pair of antlers to The Buckhorn Saloon and Museum and they'll give you a free beer. If that doesn't scream Texas, we don't know what does.
Upon walking into this famous establishment, you'll immediately be greeted by a (very informative) cowboy who will explain everything that this saloon, restaurant, and museum has to offer.
As he gives you the rundown, it will be hard not to let your eyes wander and gawk at the hundreds of mounted animals on every single wall of the building. Their taxidermist certainly stayed busy.
Seemingly every animal is up there: an elephant, a jack rabbit, bears, moose, goats, and dozens of deer, just to name a few. Let's just say that this place isn't for those involved with PETA. Although we'd wager a bet that much of Texas isn't.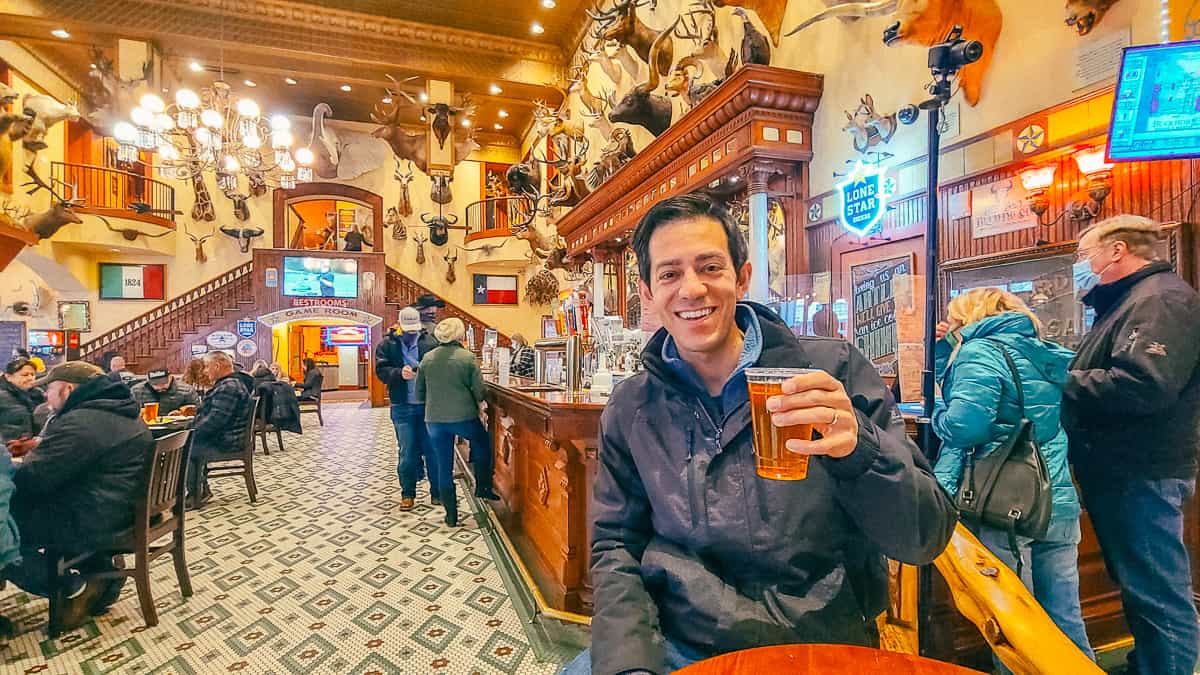 The entryway leads right into the saloon area where you'll head straight to the bar for your drinks (no table service) or to the separate food service station nearby. Choose from options at their full bar including local craft beer and some Texas mainstays like Lone Star and Shiner.
If you're looking for a place during the weekend in San Antonio that just feels "Texas", this is it. The mostly-clean yet somewhat-broken-in mosaic-tiled floor, the large wooden bar adorned with a buck's head with the most points we've ever seen on the antlers, and even the game of Big Buck Hunter to try your hand at Texas's pastime.
The best part? You're encouraged to grab a drink before entering the museums which showcase even more animals on display and the Texas Ranger Museum.
Maverick Whiskey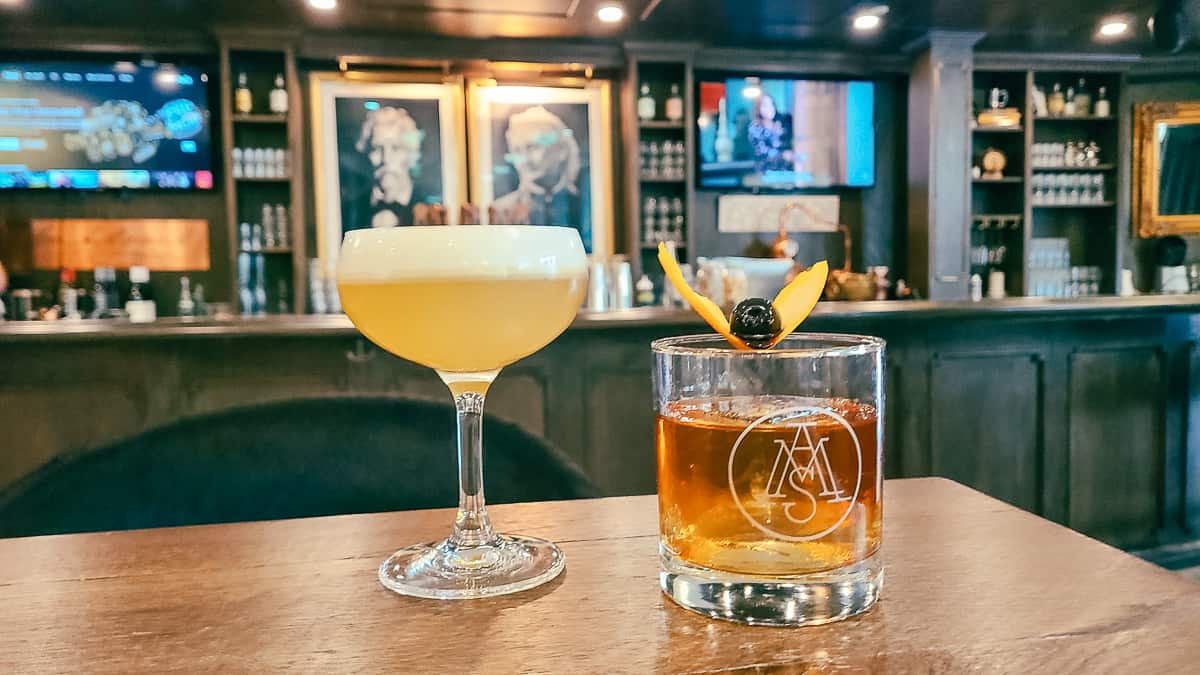 The term "maverick" means an independent individual who doesn't just go with the flow.
You might think that comes from some old-world origins (or Top Gun). But it actually originated in San Antonio, Texas, in the 1800s because of a man named Sam Maverick, for whom all future mavericks are named.
Sam Maverick's fingerprints are all over the city of San Antonio. He fought in the Battle of the Alamo, served as mayor and city treasurer, owned thousands of acres of land, served in the Texas legislature, and even made whiskey that was wildly popular amongst his peers.
Fast forward to today and the family tradition of whiskey-making is being carried on by the great-great-great grandson of the original Maverick on some of the same land that was owned by the family back in the 1800s.
Though Maverick Whiskey is the namesake and the original, today's distilling also includes vodka, agave, gin, and rum.  All of the spirits are distilled on-site and even aged on-site too, in the old bank vault.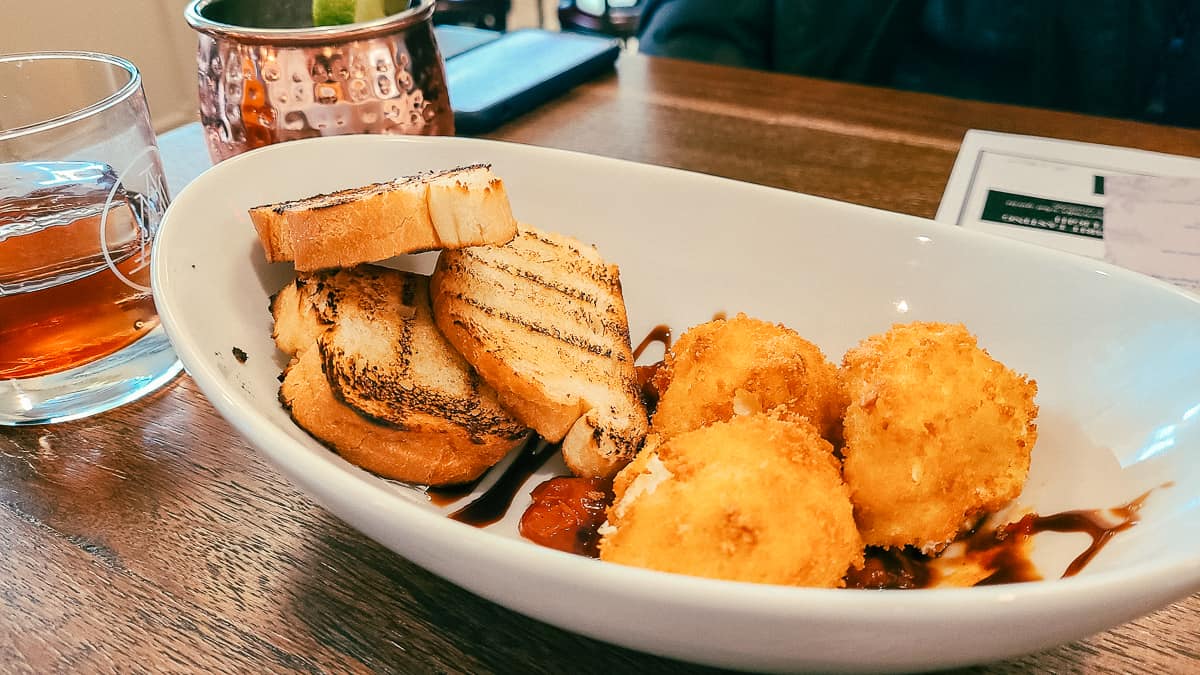 The cocktail menu features the classics (Old Fashioned, Bloody Mary, Margarita, Piña Colada) and some unique tasting-room only cocktails like The Smoking Revolver (bourbon, coffee liqueur, bitters and smoked with cinnamon) and the Lavender Lemon Drop (vodka, fresh lavender syrup, fresh lemons and lavender sugar rim).
The entire experience, which is a perfect addition to your boozy weekend in San Antonio, has a speakeasy feel to it (no password needed), complete with an elevator ride to get to the tasting room which has large windows peering down into the distillery.
It all feels like an ode to the past with mosaic-tile flooring, a dark-paneled wooden bar with black-and-white marble counter, and apron-clad bartenders mixing up cocktails under the watchful eyes of Sam and Mary Maverick's family portraits (it's only kind of creepy).
And because spirits and cocktails weren't enough for the do-it-all family, they are also making beer on-site as well. Expect more classic styles like blondes, lagers, porters, and stouts than your new-age craft brewery.
The family and distillery motto is to "Live like Sam", something we can obviously get behind for many different reasons!
While you may not have expected the awesome bars and breweries in San Antonio, you now have the guide to exploring more than just the tourist attractions. While it's always fun to drink at multiple places, please make sure you drink responsibly and don't drink and drive.