The Top 9 Urban Wineries in Boise, Idaho
If you were looking to sip some wine in Boise, you'll be delighted to learn that there are 9 urban wineries in Boise.
Most of these tasting rooms and urban Boise wineries source the majority of their grapes from the Snake River Valley AVA located in the Sunnyslope/ Caldwell region.
The wineries in the downtown area make it easy to enjoy the AVA wine without the drive (although we highly suggest visiting the wineries there).
Keep reading below to find out all about the Boise wineries! 
Short on Time? Here are the key takeaways:
While there are over 40 wineries outside of Boise, there are 9 tasting rooms located in the downtown area.
Most offer some food option or are near restaurants
In our opinion, don't miss Telaya Wine or Scoria Vineyards.
This post was originally published in November 2020, and was updated in June 2023.
**Boozing Abroad contains affiliate links throughout the site. If you choose to purchase items through these links, we will earn a small commission at NO extra cost to you. Read the full disclosure policy here**
Intro to Idaho Wine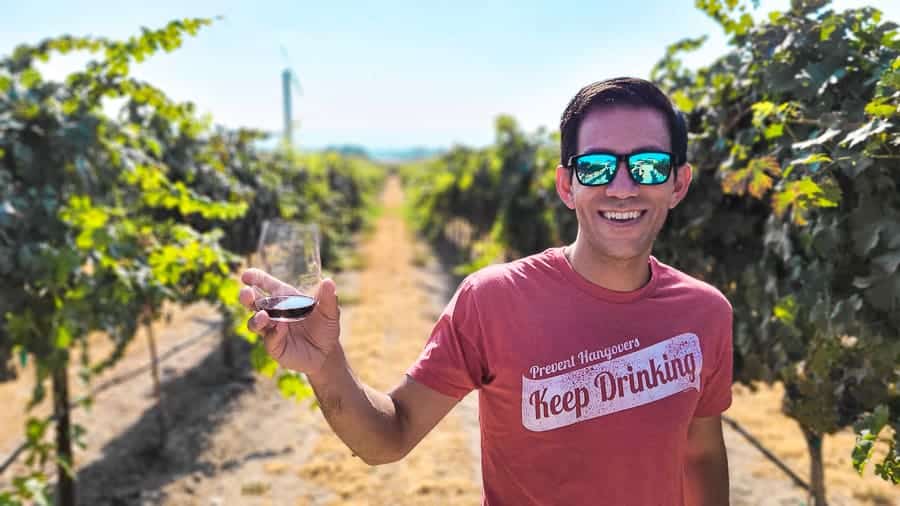 In the U.S., we have our own geographic classification system of wine called the Appellation of Origin called American Viticultural Areas (AVAs).
In order for a wine to be designated with a political boundary (i.e. a county name), federal law requires that 75% or more of grapes used to make the wine be from that region and that the wine be fully finished within the state in which the county is located.
There are currently over 250 AVAs in 30+ states, with more than half of the AVAs in California (and 17 AVAs in Sonoma County alone).
Idaho has 3 AVAs, including the Snake River AVA located near Caldwell, Idaho, each producing its own distinct and delicious wine!
The majority of the wine at the tasting rooms in Boise source grapes from the near by AVA in Sunnyslope aka Snake River Valley.
How many wineries are in Boise, Idaho?
There are 9 wineries in the downtown Boise, Idaho area, but over 40 in the near by Snake River AVA region.
While many articles claim to talk about these wineries, many cover the area outside of Boise. This article will only talk about the tasting rooms and urban wineries in the city.
What's an urban winery?
So, what is an "urban winery"? The simple answer is that an urban winery is a winery/tasting room located in an urban setting.
While there is obviously less access to the sprawling vineyards and estates of most typical wineries, urban wineries have greater access to the people who drink their wines.
In a densely populated city like Boise (Idaho's largest and capital city), you might imagine the real estate for vineyards is pretty limited.
Plus, why not just source your grapes from an up-and-coming and award-winning wine region that's only about 30 minutes away?
The production, aging, and bottling of the wine are all done in-house, so you're still getting a locally-made product.
Where to Stay in Boise
Booking.com probably has the most variety of accommodations not only in the U.S., but in the world. In our experience, we have consistently found the most affordable rooms on Booking.com. We also love their easy-to-use interface, responsive customer service, and no-money-down policy. When looking for a hotel, we have always booked through them.
We spent a good bit of time walking and scootering around the city visiting wineries and breweries. We have picked these hotels based on the walkability of restaurants, wineries, and nightlife that is sure to please.
Splurge: Inn at 500 Capitol
A true luxury stay, this 4-diamond hotel offers spacious guest rooms with incredible skyline views and stylish rooms. If you are yearning to experience the royal treatment, click here to book your stay.
Mid-Range: Home2 Suites By Hilton Boise Downtown
In terms of excellent walkability, you won't be sorry staying here. One block off the main boulevard, this hotel is right around the corner from Boise's historic Basque block (Boise has one of the biggest Basque communities in the nation) and a short walk from the famed Freak Alley, a walkable street filled with street art, bars, restaurants, and shops. To be in the middle of it all, click here to book your stay.
Map of wineries in Boise
HOW TO USE THIS MAP: To view the layers and see the names of the places on this map, click the tab in the top left corner. You can select the check marks to show or hide certain layers. If you select the icons on the map, you will get more information about the point of interest.
HOW TO SAVE THIS MAP: If you select the star icon next to the map name, you can save this map to your Google Maps account. To view it, open Google Maps in desktop or on your phone, select the menu button, go to "Your Places," scroll to the right to Maps, and you will see this map.
Potter Wines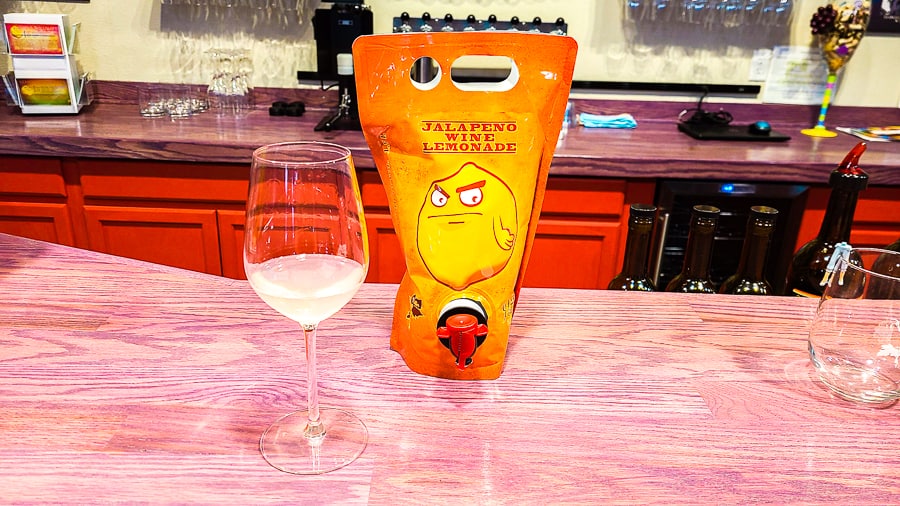 Hours:

Thursday – Friday: 2 PM – 7 PM
Saturday: 12 PM – 7 PM
Sunday: 12 PM – 5 PM
Monday – Wednesday: Closed

Food Available: Snacks only
In our cross-country and global quest to find everything that is local booze, it's not often that we find something that surprises us. Well, consider us surprised at Potter Wines!
While you'll find many of your traditional wines here like Riesling, Chardonnay, and Syrah, you'll also find something very unique; jalapeño wine. Yes, jalapeño wine. The pepper.
The grapes and the jalapeño peppers get crushed and mixed from the very start of the process and result in a delicious concoction. The jalapeño wine lemonade is one of their best-sellers and is perfect for either sipping in their tasting room or sipping on the river from their to-go bag. It's way classier than Franzia. Trust us.
Potter likes to think of its customers as risk-takers, decision-makers, rule-breakers, cocktail-shakers and chipotle-chocolate-cake-bakers. A crazy idea of jalapeño wine has turned into a great wine business that inspires others to create and explore their wild dreams.
Rolling Hills Vineyard
Hours:

Wednesday – Thursday: 12 PM – 7 PM
Friday – Saturday: 12 PM – 8 PM
Sunday: 12 PM – 6 PM
Mondays – Tuesdays: Closed
Located in Garden City, Rolling Hills Vineyard is a true family-owned winery involving a husband-and-wife team and their children to produce this award-winning wine.
What started in 2016 as an acquisition of neglected grapes, the whole family pitched in to revitalize the land. In 2021, they opened their elegant tasting room, whose design matches the wine.
At the 2022 Boston Wine Competition, they took home several medals including Best in Class for their 2019 Petit Verdot, Platinum Medal for their 2021 Estate Rose, and Gold Medals for both their 2021 Unoaked Chardonnay and 2019 Estate Cab Franc.
In addition to their award-winning wine, they are also passionate about giving back to the community. 10% of the proceeds from every purchase of their Mascot Red Blend goes to a nonprofit animal shelter. We also support drinking for a cause and this is definitely something we can get behind.
Par Terre Winery
Hours: Friday – Sunday: 12 PM – 5 PM

Monday – Thursday: Closed

Food Available: Snacks only
What do ballet dancing and wine have in common? Other than both being classy hobbies.
Par Terre Winery, one of Boise's newest wineries, is the brainchild of two former ballet dancers-turned winemakers. During our visit, we met Travis, the husband of the dynamic duo, who studied wine in Walla Walla, and has a true passion for his craft.
Still fairly new to the wine industry, they have some great wines to sip on like their Merlot, which was extremely approachable, and the Malbec.
While we tend to shy away from white wine, they blended their Gewürztraminer and Viognier to make an incredibly dry wine which we adored.
In 2022, they moved their tasting room closer to downtown so you'll be even closer for tasting their delicious wines.
Cinder Wines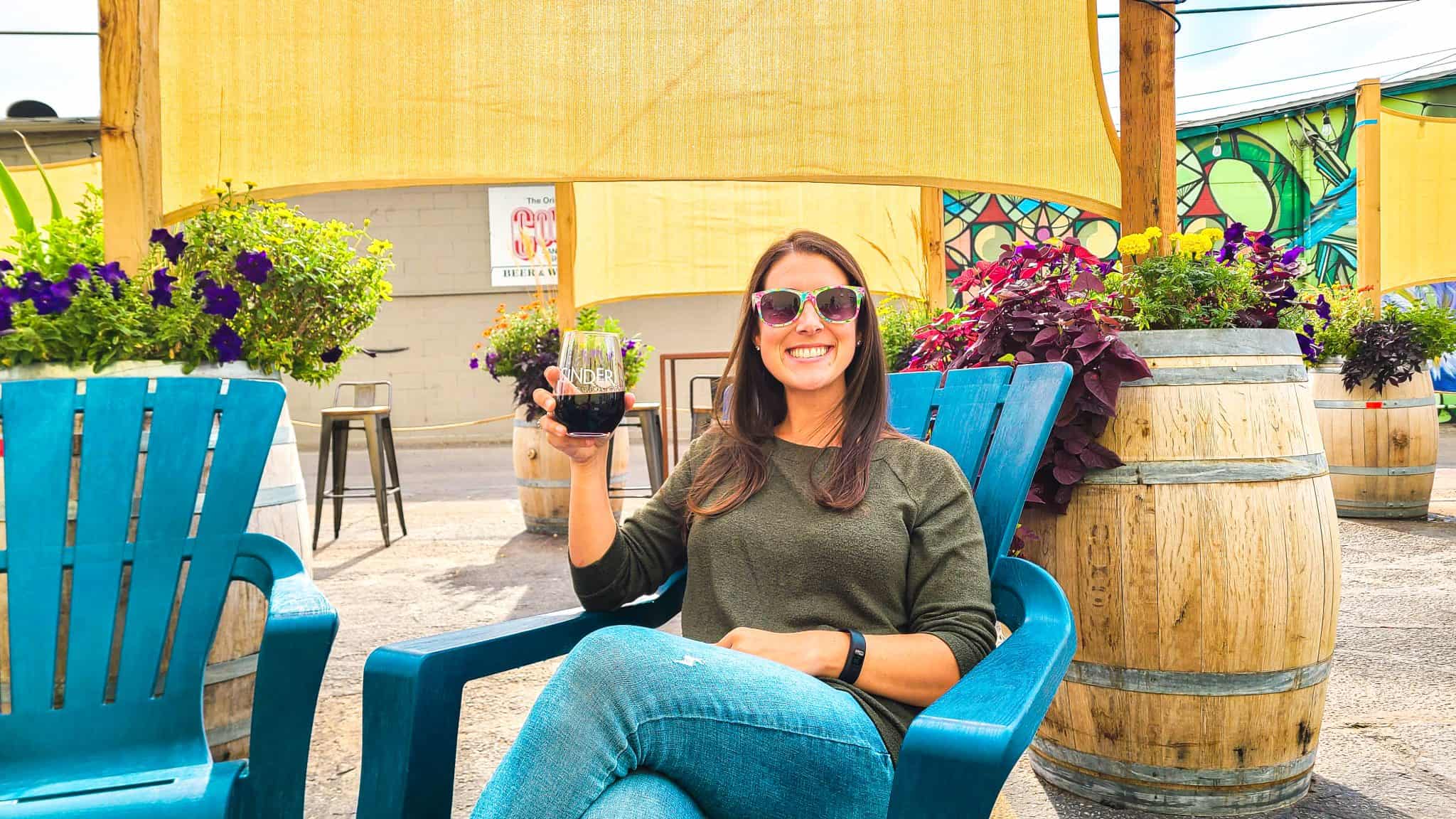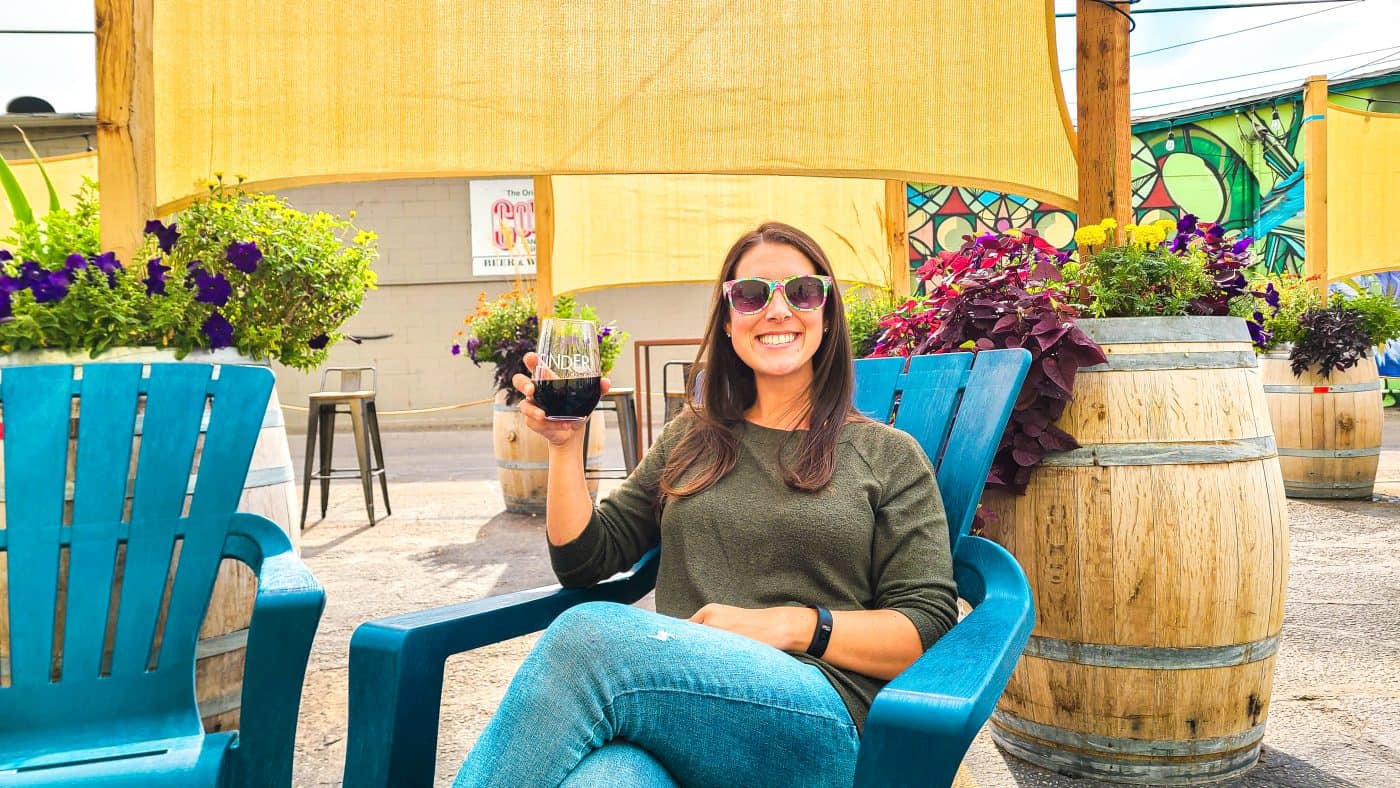 Hours: Wednesday – Sunday: 1 PM – 7 PM
Food Available: Charcuterie boards
Just a few minutes from Boise-proper, Cinder Wines is named after the volcanic cinder that composes the soil of the vineyards used in production. Cinder sources it's grapes from several vineyards in the Snake River Valley, something we know all about.
It's not every day that you find a winery in the middle of a downtown city, complete with a great outdoor area perfect for relaxing and sipping on wine with friends. Over the years, Cinder has been considered one of the west's best urban wineries by various publications.
Even better, the folks at Cinder think the best is still yet to come for this wine region, which has that unique and rich volcanic soil as well as a great climate for many grape varietals.
We downed their bold and velvety Tempranillo as well as their Laissez Faire red blend made with one of our favorites, Sangiovese.
Scoria Vineyards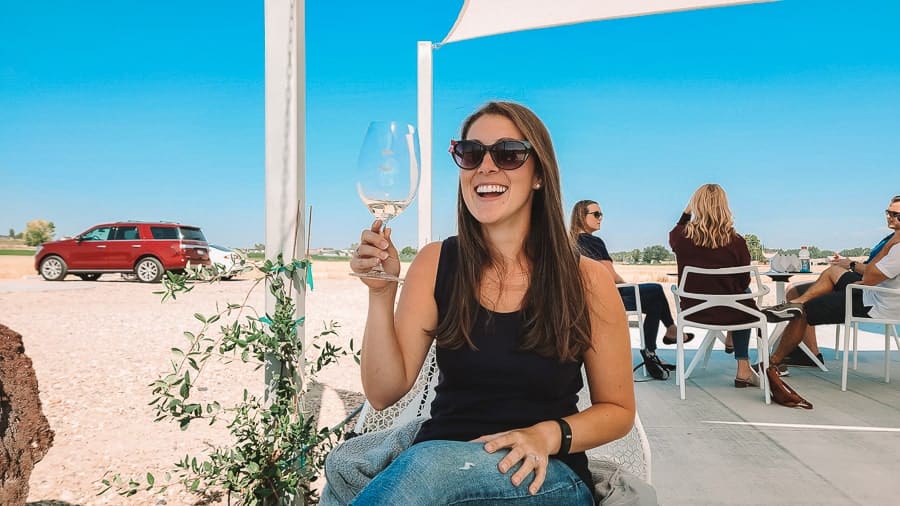 Hours:

Thursday – Sunday: 1 PM – 7 PM
Mondays – Wednesday: Closed

Food Available: Yes
Scoria Vineyards is named for the type of geologic rock that makes this soil so great for many of the Idaho wineries.
While we didn't visit their new downtown location, we did visit their Sunnyslope location to sample their wine.
Their vineyards grow 4 different varietals, including Petit Verdot, Malbec, Merlot, and Cabernet Sauvignon.
We really liked their 2018 Malbec and the 2018 Merlot/Malbec blend, but loved the unique Cabernet Sauvignon so much that we purchased a bottle. Highly suggest trying it! 
Split Rail Winery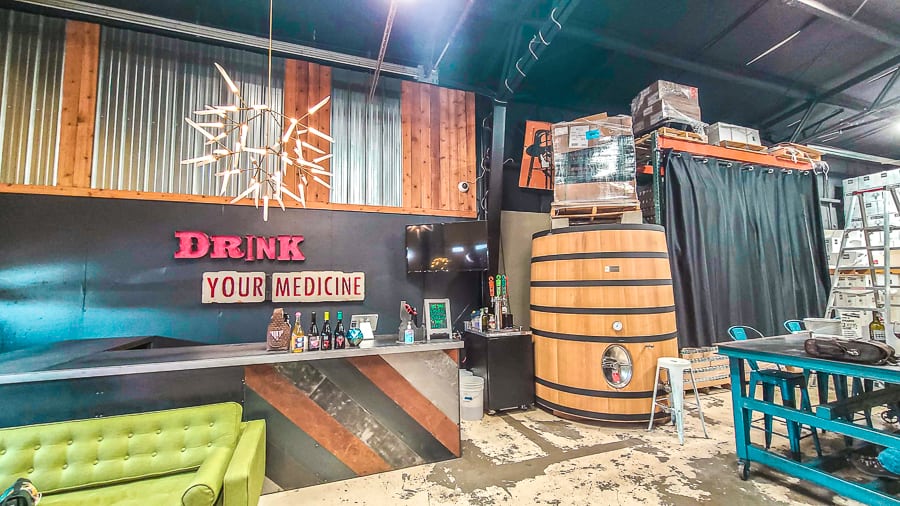 Hours:

Monday – Thursday: 12 PM – 7 PM
Friday – Saturday: 12 PM – 8 PM
Sunday: 12 PM – 6 PM

Food Available: Yes
This ain't your mama's winery. Stepping into the new-age millennium and completely unpretentious, Split Rail urban winery has a quirky (or corky, if you will) and unique take on wine unlike the rest of Boise.
Located in the Garden City area of Boise, this winery focuses on the Rhone varietals from the famous French region and strives to never make the same wine twice.
In talking to our wine-tender, we found out about all of the different aging methods they use here, including the tried-and-true barrels and stainless steel vats, as well as a concrete egg and a terra cotta amphora. Super unique processes and lets the grapes do the talking!
Most of their grapes are coming from Idaho or nearby regions in Washington and they are pushing the envelope on the varietals they use, like Cinsault, Mourvèdre, and Counoise.
They even make a naturally-carbonated sparkling wine and a very unconventional, but delicious, Chardonnay.
Coiled Wines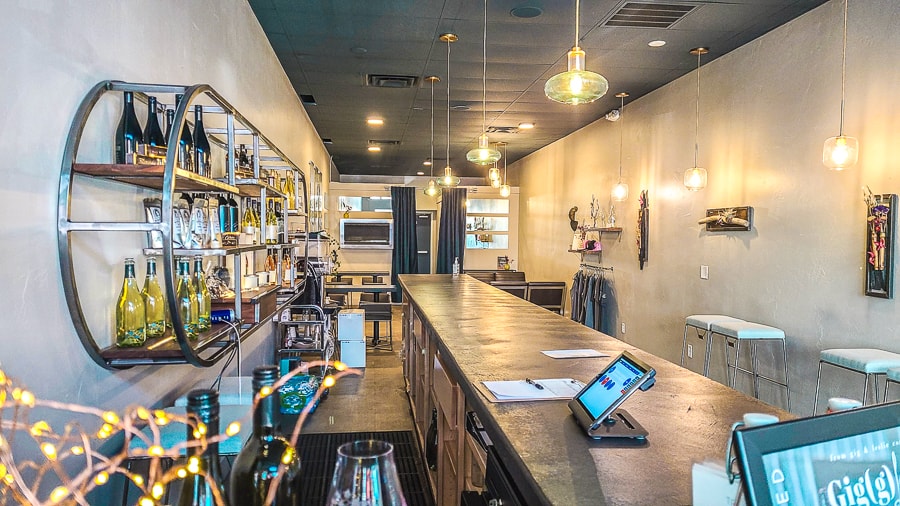 Hours:

Wednesday – Sunday: 1 PM – 7 PM
Mondays – Tuesdays: Closed

Food Available: No
Named for Idaho's first grape-growing region, the Snake River Valley, Coiled Wines is making wines with grapes from the various western-wine regions.
But no matter where the fruit comes from, everything is made in Boise or Garden City: it's vine to wine under an Idaho roof!
Some delicious wines under two different labels, the Coiled label and the Translations label, like the Scrappy MF (Cabernet Sauvignon, Petit Verdot, and Cabernet Franc blend) and the Sidewinder await you at either of the tasting rooms in greater Boise.
Production happens at the Garden City location while you can people-watch along the street at the downtown Boise location.
The Translations brand is a result of the winery buying developing wines from neighboring wine regions, and then blending and refining them before bottling. This allows them to broaden what they offer and provide something for everyone.
Telaya Wine Co.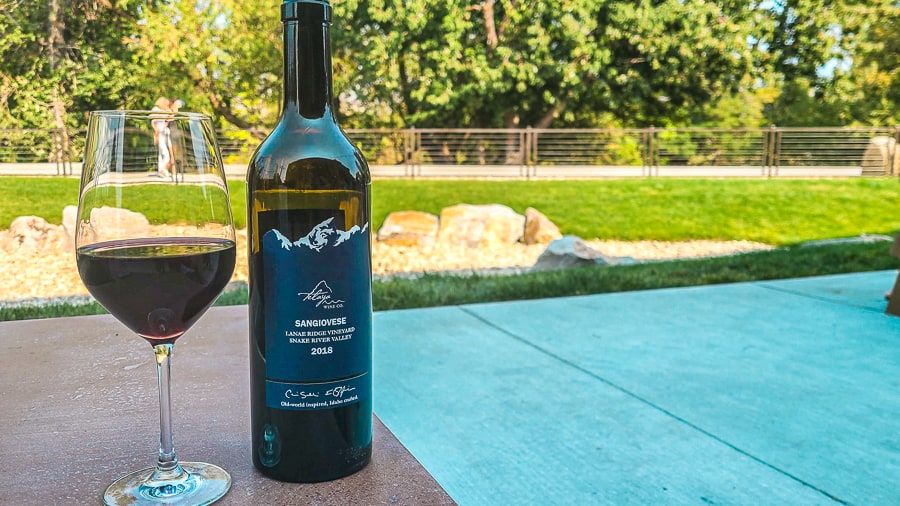 Hours:

Sunday: 12 PM – 6:30 PM
Monday-Wednesday: 12 PM – 7:30 PM
Thursday-Saturday: 12 PM – 8:30 PM

Food Available: Rotation of food trucks and/or snack boxes
Telaya Wine Co. started back in 2008 and is crafting many of your old-world varietal favorites with grapes sourced from the up-and-coming Snake River Valley AVA and other nearby wine regions in Washington.
Located right off of Boise's Greenbelt, which is a recreational trail paralleling the Boise River, Telaya is a great spot for enjoying a glass of wine along the river with some live music and food truck offerings.
You can ride your bike, scooter, jog, or walk along the Greenbelt right to the winery tasting room.
The name Telaya is a combination of words of the owners' two favorite places: the Tetons and la Playa (Spanish for beach). Two pretty good favorites in our opinion!
The wines here are full-bodied thanks to the winemaker who loves to make a bold wine. Our bottle of Sangiovese was much bolder and darker than a typical Sangiovese, but still delicious!
3100 Cellars
Hours: Working on building a tasting room
Food Available: TBD
It's a proven fact that bubbles make everything better. 3100 Cellars is Idaho's first (and only) sparkling winery.
Wine Press Northwest named them "the 2018 Idaho Winery to Watch" and for many good reasons.
Established in 2014, 3100 Cellars is producing classic styles of sparkling wine, but also crafting new innovative wines. Sourcing 100% Idaho grapes for their wines, they have made a splash in the wine scene.
In 2021, they received double gold at the Great Northern Wine Invitational Wine Competition for their 2016 Whitewater Sparkling Wine.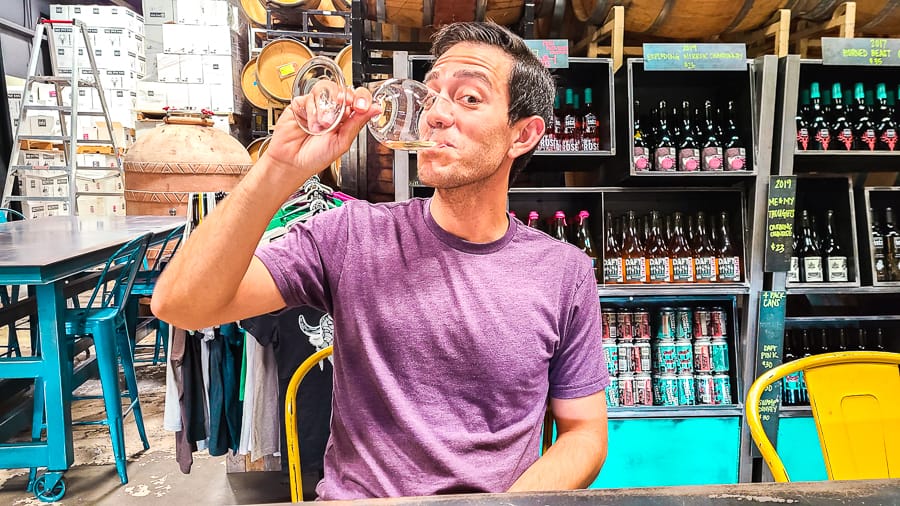 Wineries are typically reserved for quiet, remote towns devoid of the hustle and bustle of an urban area. Not so fast, says Boise!
As one of the country's fastest-growing cities (the greater metro area is nearing 750,000 people), Boise is home to these 6 wonderful urban wineries, plus numerous breweries and outdoor recreation.
If you find yourself visiting Boise, dubbed the City of Trees, make sure you stop into these urban treats!
Still Thirsty? We have a couple of guides for the Boise area. See the other post below: