15 wineries near Boise, Idaho along the Sunnyslope Wine Trail
When you think of top wine regions in the U.S., the Sunnyslope Wine Trail in Idaho probably doesn't roll off of your tongue.
Trust us, we thought the exact same thing!
Situated between the Snake River and the Rocky Mountains, this region of Idaho wineries sits on the same parallels of countries like Italy, Spain, and France and has the climate to produce some tremendously-delicious wine!
If you are looking for a comprehensive guide to the Sunnyslope Wine Trail, we've traveled to the region twice in the last two years to enjoy their delicious wine!
Psst: We have a couple of boozy guides for the Boise area. See the other post below:
This post was originally published in October 2020, and was updated in November 2022.
**Boozing Abroad contains affiliate links throughout the site. If you choose to purchase items through these links, we will earn a small commission at NO extra cost to you. Read the full disclosure policy here**
Intro to the Sunnyslope Wine Trail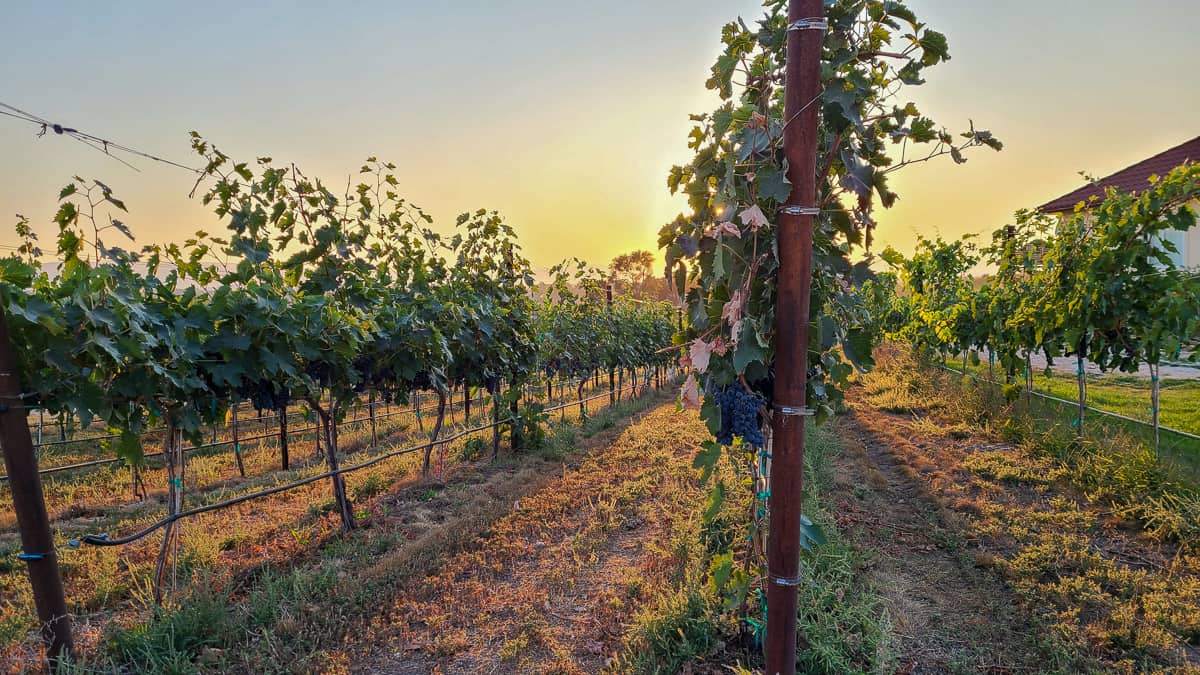 In the U.S., we have our own geographic classification system of wine called the Appellation of Origin called American Viticultural Areas (AVAs).
In order for a wine to be designated with a political boundary (i.e. a county name), federal law requires that 75% or more of grapes used to make the wine be from that region and that the wine be fully finished within the state in which the county is located.
There are currently over 250 AVAs in 30+ states, with more than half of the AVAs in California (and 17 AVAs in Sonoma County alone).
Idaho has 3 AVAs, including the Snake River AVA located near Caldwell, Idaho, each producing its own distinct and delicious wine!
Where to Stay for Sunnyslope Wine Trail hopping
Booking.com probably has the widest selection of budget (and luxury) accommodations in the world. In our experience, they consistently found the cheapest rooms.
We also like their easy to use interface and no money down policy. When we book our travel stays, we personally use booking.com.
We personally have stayed in Boise or at an RV campground when we have visited.
The choices for hotels are limited due to its remote location, but Caldwell isn't too far away.
Best Western Plus Caldwell Inn & Suites
This Best Western is 20 minutes away from the cluster of wineries on the Sunnyslope Wine Trail.
Some private house options:
To see all stay options through bookings, click here.
Wine Tours in Sunnyslope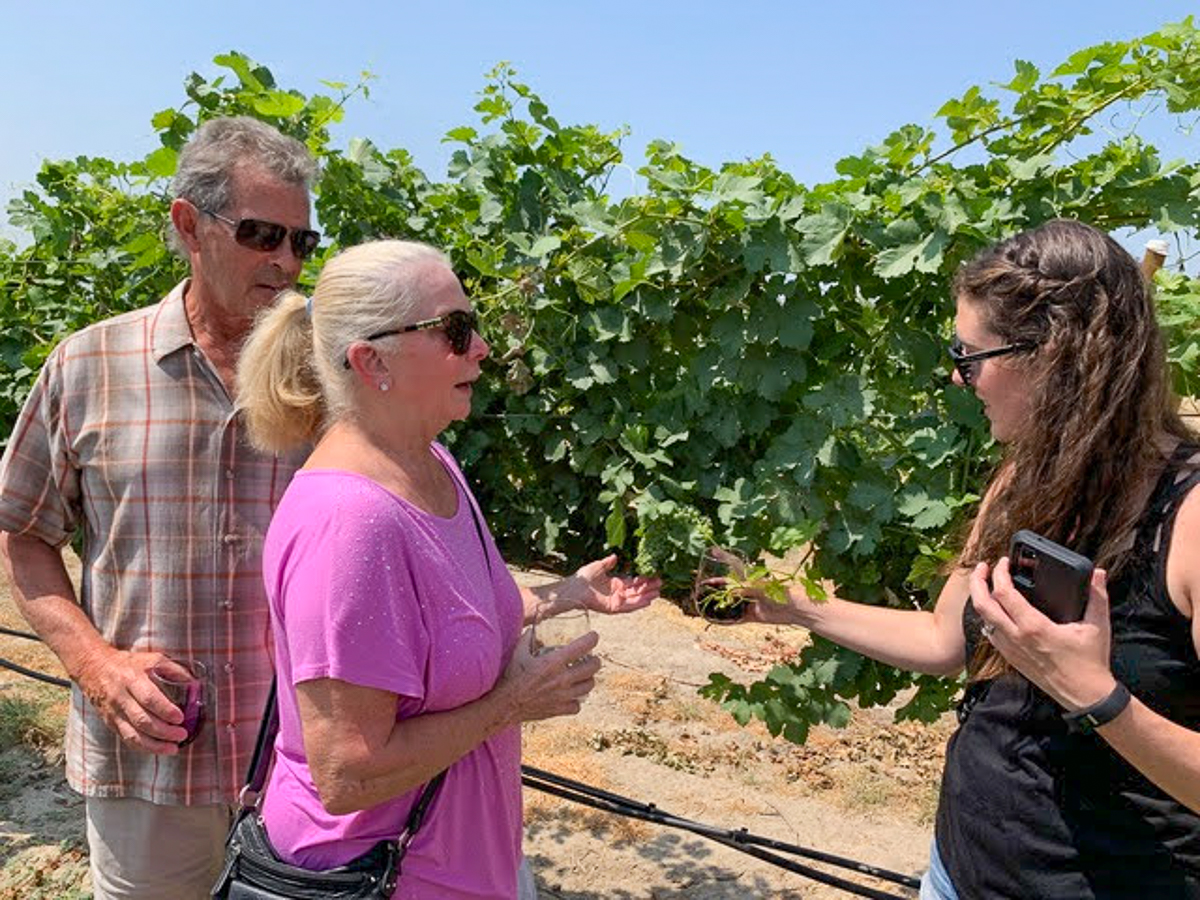 The first few times we visited the Sunnyslope Wine Trail, we were staying in our RV at the wineries through Harvest Hosts. Because of this, we didn't have to worry about driving anywhere.
When Sam's parents came to visit, we were staying in Boise and decided to hire a tour service.
After extensive research, we went with Snake River Wine Tours. They were the most affordable and offered more customizable stops.
We had a great day and learned so much about the Snake River Wine AVA!
Sunnyslope Wine Trail Map
Click the interactive map below!
HOW TO USE THIS MAP: To view the layers and see the names of the places on this map, click the tab in the top left corner. You can select the check marks to show or hide certain layers. If you select the icons on the map, you will get more information about the point of interest.
HOW TO SAVE THIS MAP: If you select the star icon next to the map name, you can save this map to your Google Maps account. To view it, open Google Maps in desktop or on your phone, select the menu button, go to "Your Places," scroll to the right to Maps, and you will see this map.
Wineries on the Sunnyslope Wine Trail
The wineries aren't listed in any particular order, except the order in which we personally visited them.
If you are short on time, our favorites are:
Scoria Vineyards
HAT Ranch Winery
Kindred Vineyards
1. Ste. Chapelle Winery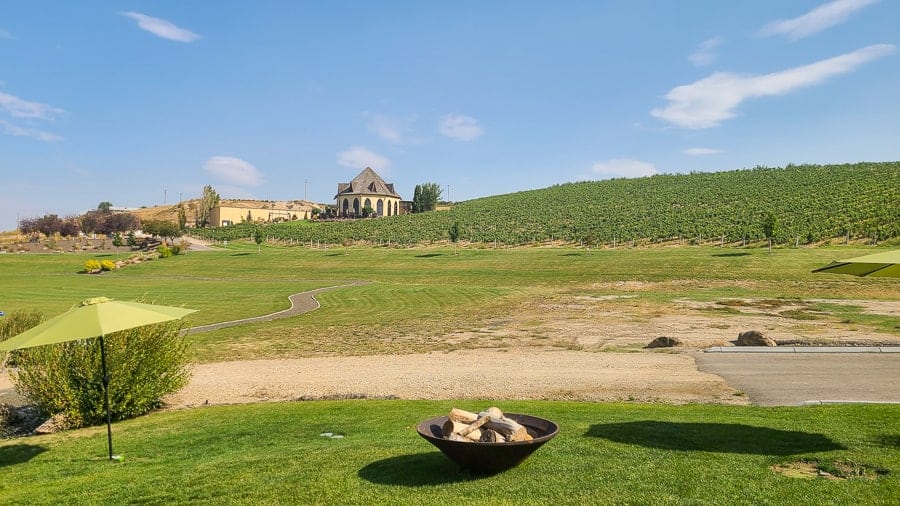 Reservations Required: No, but encouraged
Food Available: snack boxes
Driving up to this well-known winery, we immediately thought "fairy-tale".
The beautiful cathedral-style tasting room has vaulted ceilings with wood beams and stained-glass windows.
This winery, named after the beautiful Ste. Chapelle cathedral in Paris, boasts a majestic tasting room which is situated on the hill with expansive views of the vines all around.
Ste. Chapelle started way back in the mid-1970s and has been committed to using grapes planted in this Snake River Valley AVA since opening.
Today, it's the largest of the Idaho wineries, a hometown favorite, and something you can likely find in most places across the country.
Our red wine flight at the first of the Caldwell wineries included 4 wines that we shared. We really liked both the Merlot and the Malbec to go along with our goat cheese, honey, and apple appetizer.
2. Sawtooth Winery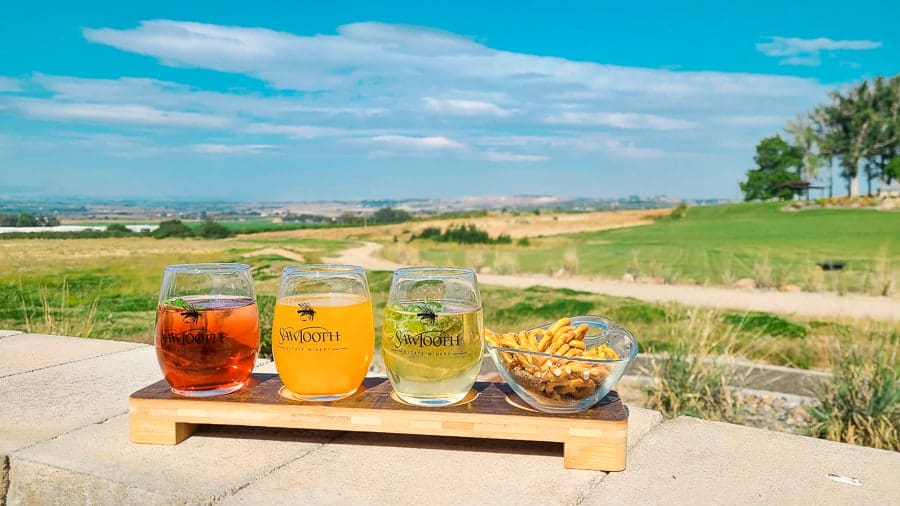 Reservations Required: No, but encouraged.
Food Available: Yes, snacks / cheese boards
Located on the same property and sharing the same winemaker as Ste. Chapelle, Sawtooth Winery boasts a chic and modern feel compared with its big sister just up the hill.
Sawtooth has those unbelievable views of the surrounding vineyards right out its back door. We personally think it's one of the best views on the Sunnyslope wine trail.
Sawtooth breaks the mold a bit from your typical winery by having an upbeat and fun vibe (not that classic wineries aren't fun).
We tried most of their reds from the Classic Fly series which are limited production wines representing the best of the harvest.
We even went back the next morning for something we haven't had before: a mimosa flight! (You can't drink all day if you don't start in the morning!)
Yep, a 3-glass flight of your favorite brunch drink. The flavors will vary on the time of year, so when we visited we enjoyed: Huckleberry Mint, Peach Nectar, and Lavender White Grape.
And to top it all off? A Champagne Jell-o shot.
We haven't done a Jell-o shot in quite some time, and this was definitely different than those we had during college.
It felt more classy downing it too because it was at a winery and because it was made with Champagne rather than vodka from a plastic bottle!
3. Fujishin Family Cellars and Freedog Wines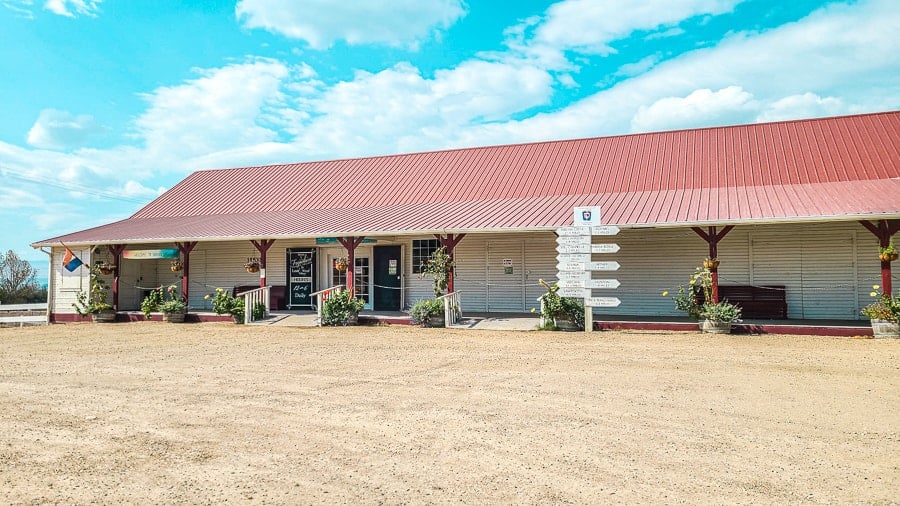 Reservations Required: No
Food Available: Snacks only
The Caldwell, Idaho wineries and the Snake River Valley AVA represent outliers in an industry that is often dominated by huge corporations and glamorous wineries.
And Fujishin Family Cellars definitely fits into that outlier status.
Like most of the wineries in this region, Fujishin sources its grapes from no more than 22 miles away from their tasting room doorstep. Some from as close as across the street.
Talk about supporting local!
The 2018 Idaho Winery of the Year actually produces wine under two different labels, one being Fujishin and the other being Freedog Wines.
You can taste both labels under one roof, in their simple and rustic tasting room.
The overall goal of this family-run winery is to create wines that showcase this unique corner of the northwest that can compete on a national and global level.
Their Tempranillo was a 50/50 blend of grapes from some older vines mixed with some much younger vines, which created an incredibly well-balanced Tempranillo.
It was one of our favorite Tempranillos from any of the Idaho wineries that we visited.
4. Williamson Orchards and Vineyards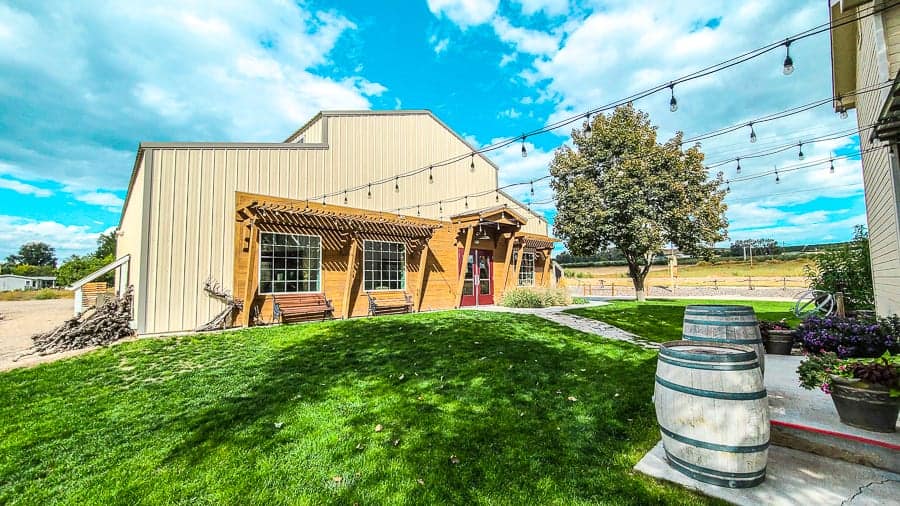 Reservations Required: Yes for groups 6 or more
Food Available: Snacks
Williamson Orchards and Vineyards is another family-owned-and-operated business.
Williamson can trace its roots back to the early 1900s when the family farm was homesteaded as part of the Homestead Act of 1862. This act meant they took on two, 80-acre parcels of land and agreed to develop the land for agriculture (among other stipulations).
Fast forward about 80 years, and the family was planting grape vines to try and diversify the family farm and business.
Today, the orchards and vineyards are operated by descendants of the initial landowners and consists of 200 acres of vineyards, orchards, and other crops.
There are over 65 acres of vineyards, 13 varietals, and 17 award-winning wines.
5. Bitner Vineyards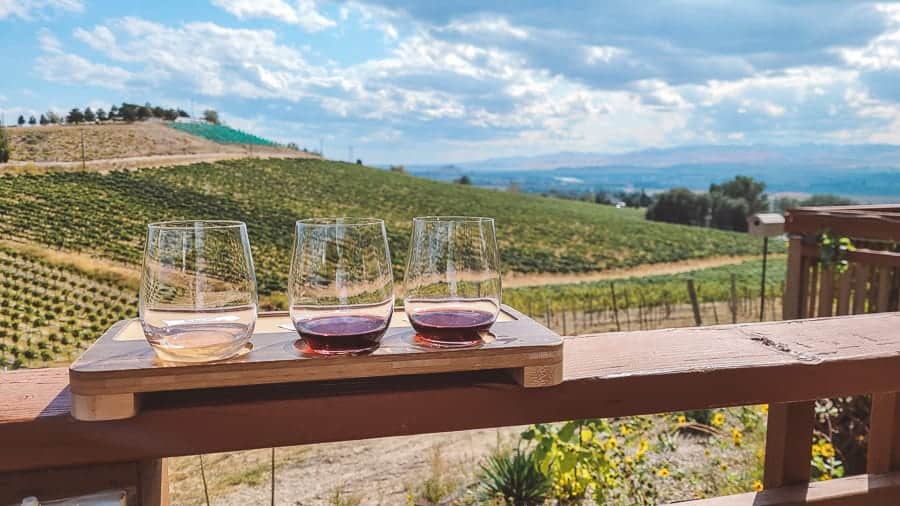 Reservations Required: Yes
Food Available: No
Dating back to the early 1980s, Bitner Vineyards is home to some of the oldest blocks of producing vines in the region.
Driving up to the tasting room gave us our first real taste of the Idaho countryside and reminded us somewhat of our time in Italy's Tuscan countryside.
Big comparison, we know.
But at least for a minute, we were transported overseas in our minds.
Beautiful, sweeping views of the Snake River Valley alongside the delicious and sustainably-grown wines await you on their outdoor balcony.
The owners are devoted to promoting sustainable and socially-conscious practices and they are the only certified sustainable vineyard amongst all of the Idaho wineries.
You might also notice that there are many pollinators fluttering around the area as this vineyard is bee-friendly (and other important pollinators).
The owner's background is as a scientist, so the vineyard takes a scientific and forward-thinking approach to their craft. Sustainably-Grown, Patiently-Crafted, and Innovatively-Driven.
6. Kerry Hill Winery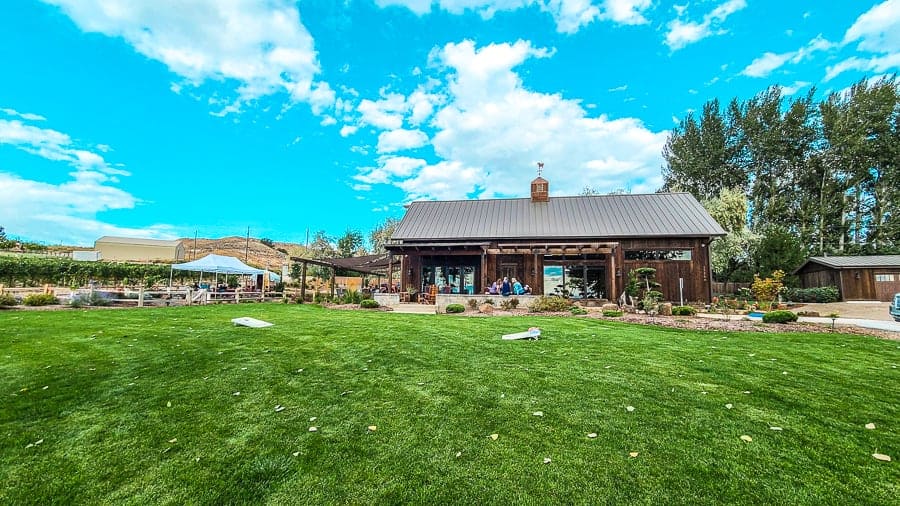 Reservations Required: No
Food Available: They usually have a food truck with live music on the weekends
Kerry Hill Winery is one of the newcomers to the Caldwell wineries list and the Sunnyslope Wine Trail.
Kerry Hill is named for the adorable black-and-white sheep that the owner raises on the property (you might catch a glimpse of them on your visit, along with the Border Collies working the farm).
The wines are made by the same winemaker of HAT Ranch and Vale Wine Company, but Kerry Hill is still distinct in its own right.
A huge, outdoor grassy area is great for kicking back with a glass of wine, listening to some live music, and noshing on some local food trucks.
Kerry Hill is an estate vineyard, meaning they own the land on which they grow and harvest their grapes.
Similar to Bitner, the landscape of the winery was designed to attract pollinators, owls, bats and raptors — all vital to a healthy ecosystem, and better wine!
The 2018 Tempranillo and the 2018 Malbec were our two favorites during our visit.
If you're over wine tastings:
1) are you feeling okay?

2) they have canned beer for sale as well.
7. Scoria Vineyards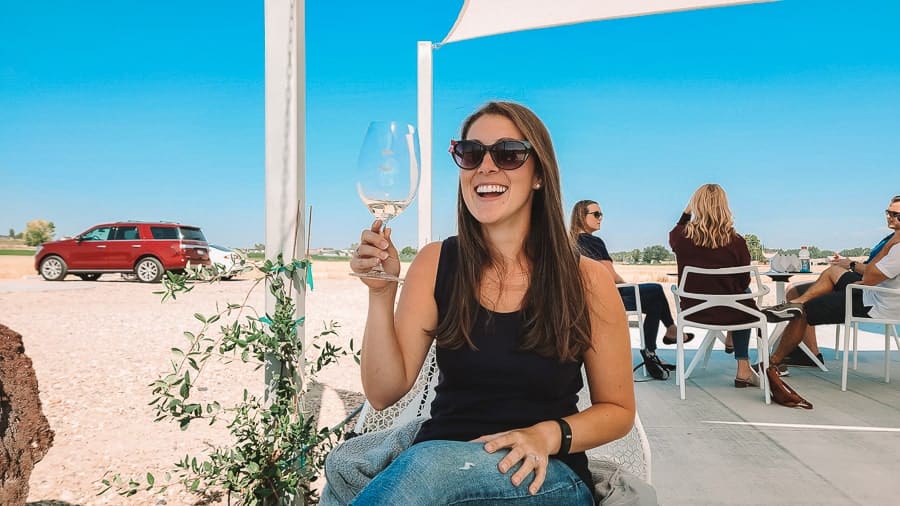 Reservations Required: No, but encouraged
Food Available: No, but outside food allowed
Named for the type of geologic rock that makes this soil so great for many of the Idaho wineries, Scoria Vineyards is a no-frills winery a little bit further away from the cluster of Caldwell wineries.
Stepping on the property reminded us a little bit of our time in Iceland with the volcanic rocks amongst the surrounding terroir. You can even see some of the volcanic craters and vents covered in the scoria rock from their outdoor patio.
Though the look of the building is somewhat unassuming, the views of the Idaho countryside surrounding the tasting room and its large namesake rocks are just beautiful.
Their vineyards grow 4 different varietals, including Petit Verdot, Malbec, Merlot, and Cabernet Sauvignon.
We really like their Malbec and the 2018 Merlot/Malbec blend, but love the unique Cabernet Sauvignon so much that we got a bottle to take with us.
8. Kindred Vineyards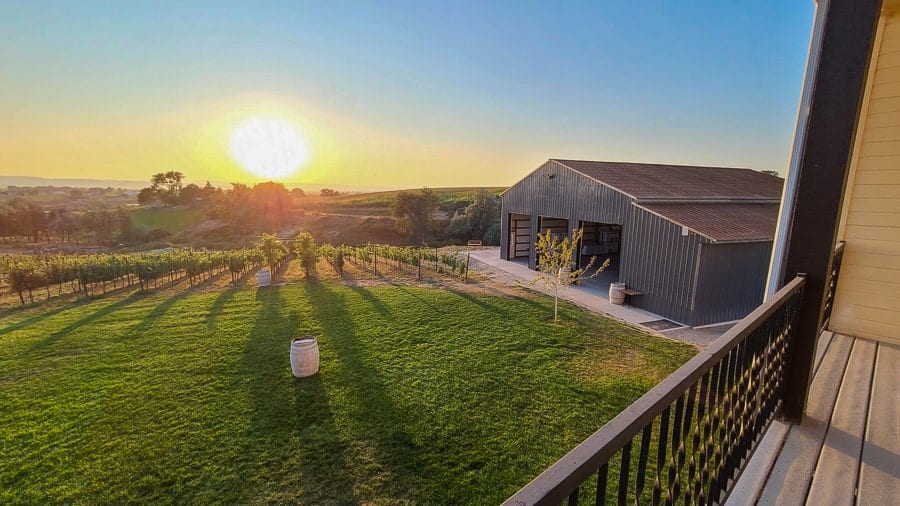 Reservations Required: No
Food Available: Yes, pizza kitchen on site
Nestled into Idaho's own little "Tuscany", Kindred Vineyards is the newest entrant on the Sunnyslope Wine Trail scene. With a little time, they will be muscling their way into the conversation for one of the region's greats.
Their list of wine includes Sangiovese, oaked and unoaked Chardonnay, a Rosé made with Pinot Noir grapes, and two different Pinot Noirs.
Kindred conducted a great science experiment. Their winemaker used the same process for the same grape varietal (Pinot Noir). But the grapes are from different terroirs (Oregon and estate-grown Idaho grapes) to compare and contrast.
We wish we would have thought of this for our school science fair project!
Their Idaho Pinot Noir was so good that it won silver at the 2020 Idaho Wine Competition. Not bad for the new kid on the block!
Although they are new to the Idaho wineries game, they have been around as a stunning wedding venue for a few years and are continually adding to their grounds to make this a true destination for lovers and wine-lovers alike.
While you are there, be sure to save some room for their pizzas! Without a doubt, the view, wine and pizza were sensational!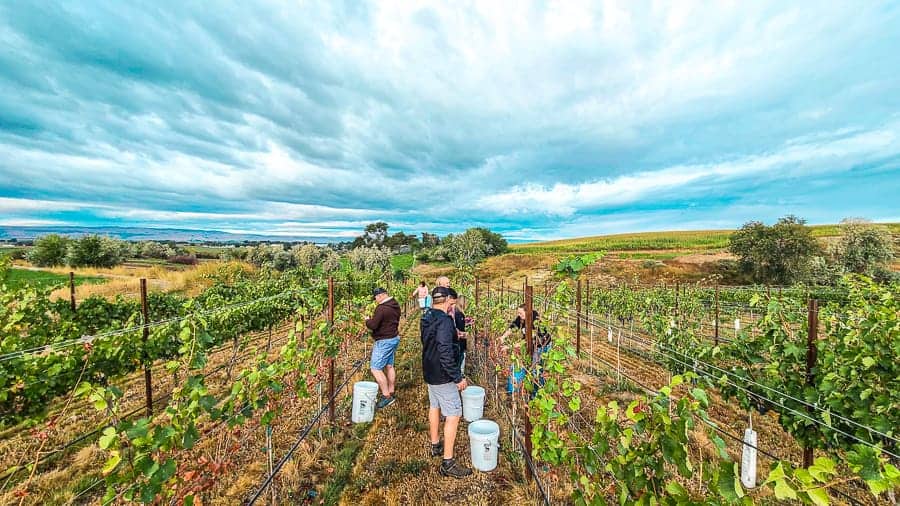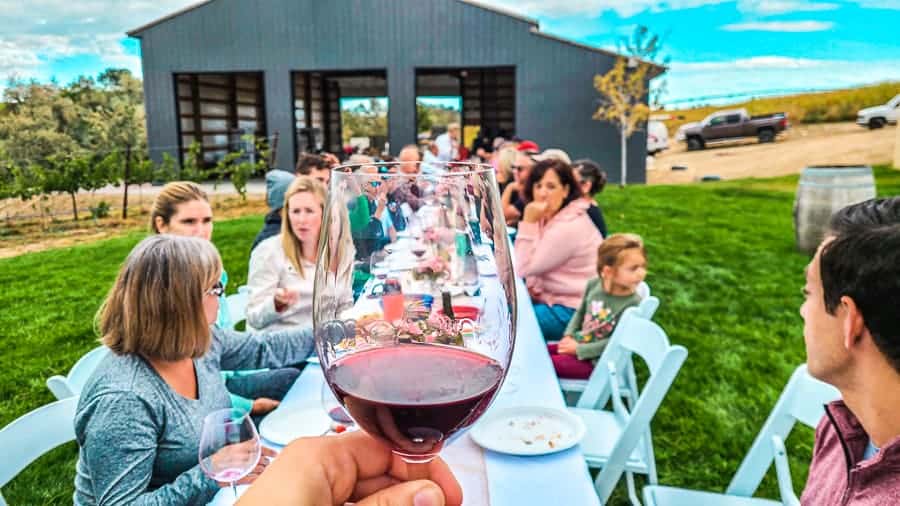 By sheer luck, we were in town during the same time as their Pinot Noir harvest in late September.
We had an absolute blast snipping the grapes (and eating a few) from their vines. Then almost immediately, we were dropping the 750-something pounds of grapes into the de-stemmer to begin the winemaking process.
All of the hard work was followed by a delicious Italian lunch with loads of their delicious wine, of course! Needless to say, this is one of our favorite wineries near Boise!
Having now harvested grapes here at one of the newest Sunnyslope wineries, we have a much better appreciation for the dedication that goes into making that wine which you enjoy with your family and friends (or by yourself, no judgment).
9. Hells Canyon Winery and Zhoo Zhoo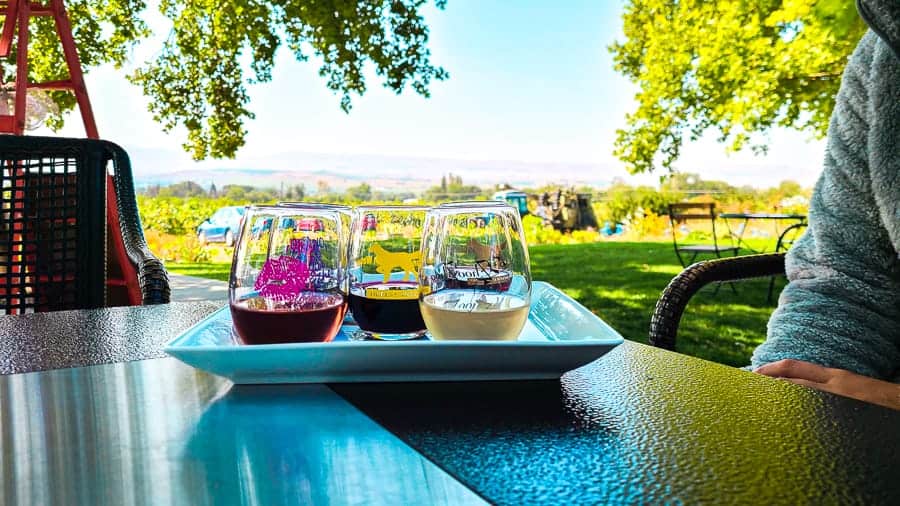 Reservations Required: No, but recommended
Food Available: No
Hells Canyon Winery is the first on the list of Caldwell wineries, and Idaho wineries too for that matter, to use solar power in its day-to-day operations.
With more than 200 cloudless days a year in the Sunnyslope region, the solar panels are put to good use!
Located at the corner of Symms Road and Chicken Dinner Road (yes, that's a real road name), the vines were planted in their current spot here in Sunnyslope back in 1981.
This make Hells Canyon the oldest wine grape vineyard in Idaho.
The postcard-like scenery overlooking the Snake River and Owyhee Mountains along with the cute cottage feel to the winery make this an enjoyable stop on your Caldwell wineries tour.
Under the same roof, a second label of wines, called Zhoo Zhoo Wine, is also made.
The fine-art wine labels are women-focused and are paired with youthful wines made with the woman-consumer in mind.
The Zhoo Zhoo name comes from the nickname given to the head winemakers' three daughters, Bijou, Jocelyn, and Hadley.
One very interesting note about Hells Canyon: when we sat down, we were given a wine horoscope so we could pair wines with our zodiac sign.
For those of you into astrology (and wine), you'll get a kick out of this unique take on wine-pairing.
10. Indian Creek Winery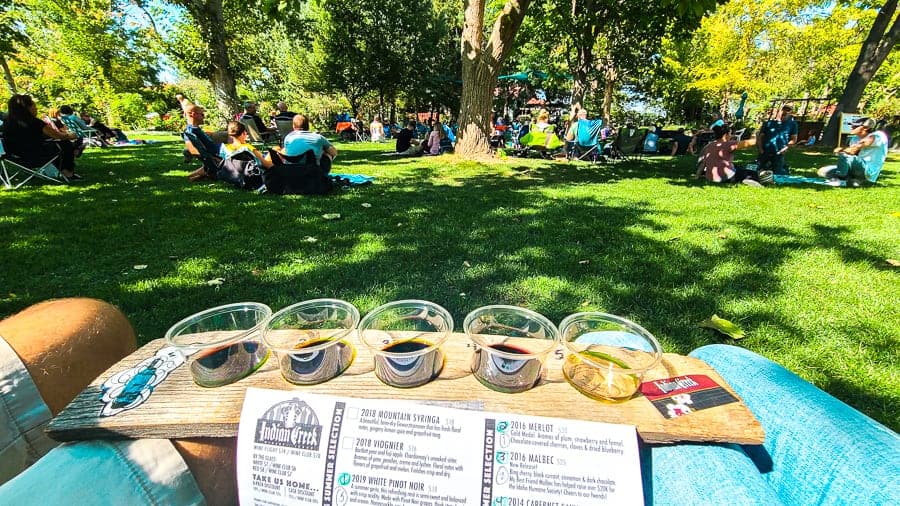 Reservations Required: No
Food Available: Snack, but they usually have events with food trucks on weekends
Be sure to bring a blanket or some lawn chairs for your trip to Indian Creek Winery!
After grabbing your glass or flight of wine, you'll want to immediately head outside to their large outdoor area and sink your feet into the lush green grass and listen to the live music.
If you forgot your picnic basket with your snacks, don't fret.
Several food trucks rotate through the schedule and feed your tipsy tummy.
They even have wine slushies in the summer to cool you down!
If we are being honest, we favored wine at other Sunnyslope wineries. Make sure you try it out for yourself though!
11. Vizcaya Winery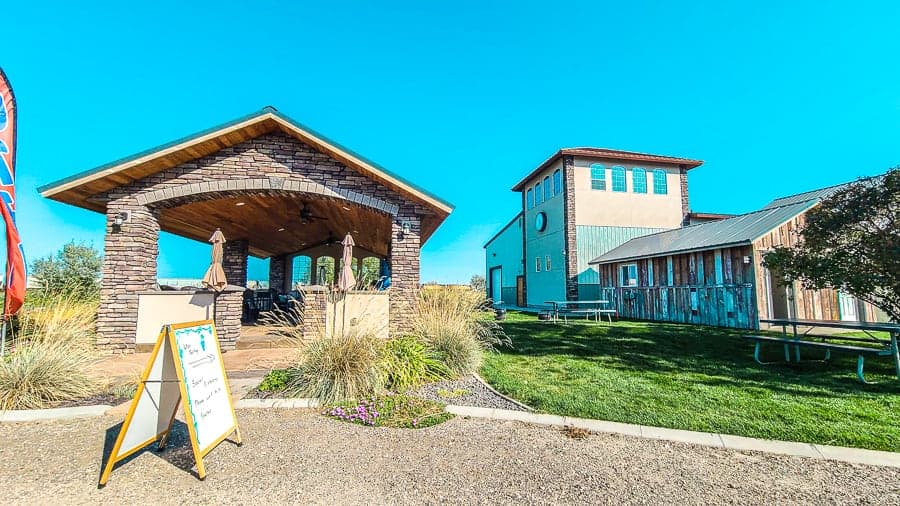 Reservations Required: No
Food Available: No
Vizcaya Winery is a small, family-owned winery with incredibly nice owners who love talking about their wine and their winemaking process.
We got a sneak peak of their VIP lounge which had a great vantage point of the surrounding vineyards and the mountain ranges all around these Sunnyslope wineries.
We grabbed their Tempranillo bottle to go so we can add that to our at-home wine tasting.
12. HAT Ranch Winery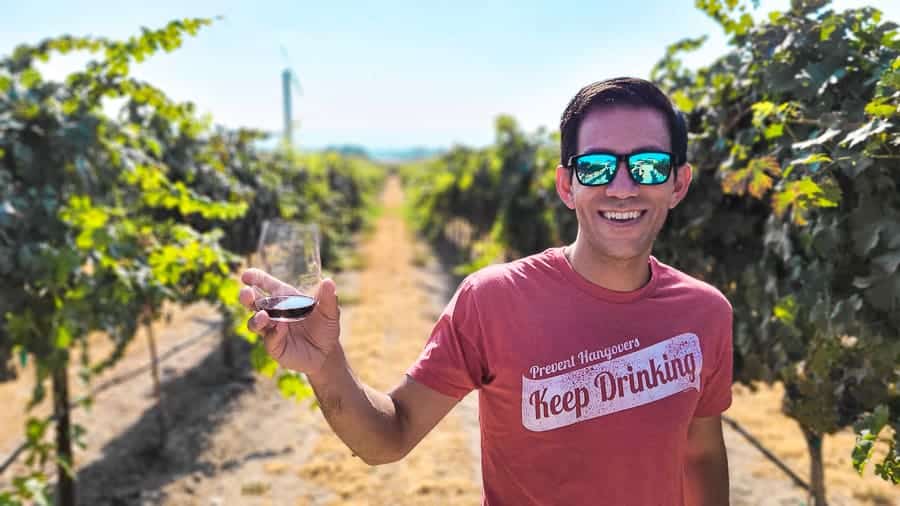 Reservations Required: No
Food Available: No
Numerous award-winning wines dot the tasting menu at HAT Ranch Winery.
HAT Ranch is a name taken from the owners' great-grandparents who created the HAT Ranch homestead as a farm and ranch back in 1902.
The current winemaker learned the tricks of the trade and consulted the folks at nearby Vale Wine Company when making his first wines in 2011.
And the consulting proved fruitful (see what we did there?), as the first wines made were entered into a regional competition, bringing home gold for the 2011 Chardonnay and silver for the 2011 Riesling.
More awards followed for their Tempranillo, HAT Trick Red blend, and some of their white varietals that are available today. They also won the most prestigious award for Idaho wineries, the Idaho Winery of the Year in 2019.
HAT Ranch also took over the wine production at Vale Wine Company in 2014, so you can find either wine label at either of these Caldwell wineries.
Beautiful scenery is on full display here right off of its back patio, as is the case with many of the wineries in the area.
A lot of locals are wine club members here and once you try their wine, you'll know why this is a local favorite along the Sunnyslope Wine Trail!
13. Koenig Vineyards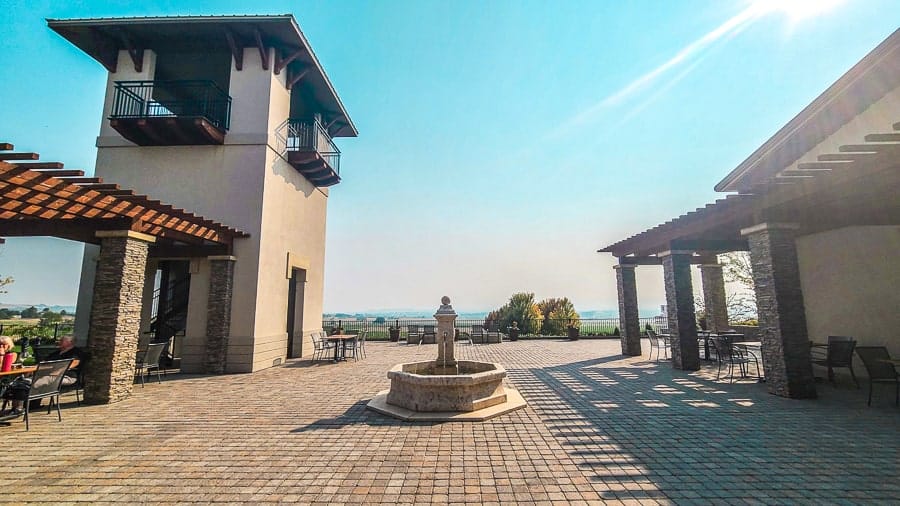 Reservations Required: No, but encouraged
Food Available: Snack trays; can bring outside food
Step onto the Koenig Vineyards property and you may feel like you've been transported to an Italian countryside (we know, we've said that numerous times).
The beautiful architecture, rows of vines, and stunning tasting room all contribute to the awesome atmosphere.
And having tons of delicious wines doesn't hurt, either!
Koenig really believes in letting the unique soils and other components of this Idahoan terroir dictate their wine.
There is minimal intervention in the cellar and a dedication to traditional winemaking processes that results in wines very indicative of their origin.
If the shelves of their countless award-winning wines is any indication, their belief and commitment to this is definitely working.
They produce many varietals including: Viognier and Syrah, which do very well at Idaho wineries, as well as Cabernet Sauvignon, Merlot, Riesling, Sangiovese, Petite Sirah, and Chardonnay.
They even do some Port-style dessert wines using spirits from the Koenig family distillery (related, but not attached – and unfortunately, not something that has a tasting room).
Something very unique about this winery: they are one of the rare wineries in the world (yes, the world) that produces ice wine from the Cabernet Sauvignon grape.
They leave a few select rows of grapes on the vines until winter and the first freeze to procure their ice wine.
14. Huston Vineyards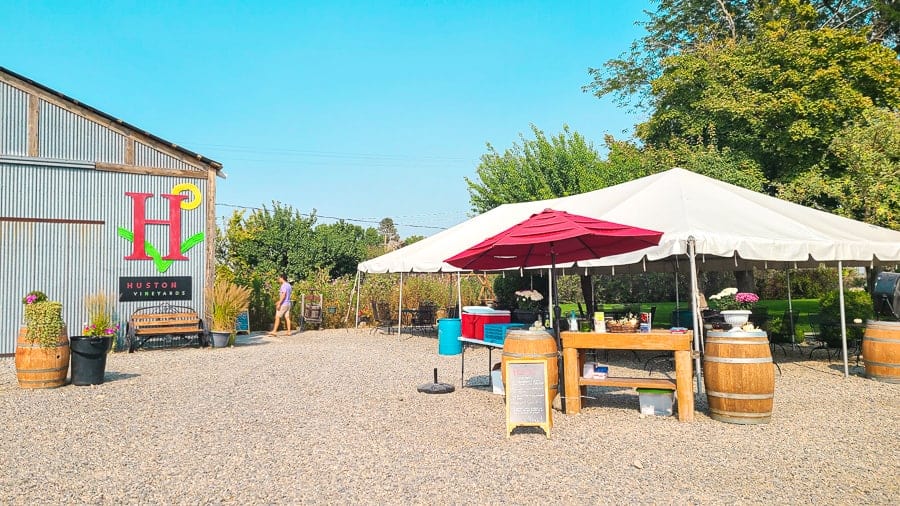 Reservations Required: No, but encouraged
Food Available: No, but host events on the weekend. Check their calendar.
We alluded to the volcanic soil of the Caldwell wineries and the Sunnyslope Wine Trail earlier, but at Huston Vineyards, they really use that soil, along with many other factors, to highlight the fruit.
Things such as the rich, volcanic soil, the 2,500 feet in elevation, and the long growing season with warm days and cool nights all contribute to what gives Huston wines, and all of the vineyards in this AVA, their character.
We spent the night in our RV at this winery as part of the Harvest Hosts network and had a flight of their 4 wines available.
This area is mostly known for its red wines given the rich soil, and our favorites were the Malbec and the Cabernet Sauvignon.
15. Parma Ridge Winery
Reservations Required: No
Food Available: Yes, full food service
The goal of Parma Ridge Winery's husband-and-wife owners is to bring joy to people through wonderful wine, fabulous food, an amazing view.
The husband is the head winemaker, but is a chef by trade, so he is always trying to engage your senses with both wine and food.
The wife is an artist so her original artwork adorns both the walls of the winery-restaurant combo and the wine labels.
Many of their wines are made from grapes that are hand-harvested from the small estate in the heart of the Snake River Valley.
One of our favorites is "The Bomb," which is a blend of Merlot, Cabernet Sauvignon, and Malbec, and is named for the "tannic explosion of cardamom and vanilla with a tobacco-oak finish".
Who knew?!
That's exactly what we said when we visited this area and saw how many wineries near Boise, Idaho are clustered together.
It gave us plenty to do for several days and absolutely blew us away with how good the wines were from these Caldwell wineries.
We had an absolute blast (responsibly) winery-hopping around the region and getting to taste everything that this terroir has to offer.
If you love wine, but don't want to deal with the crowds of Washington, Oregon, and California wine countries, you need to put this list of Idaho wineries and the Caldwell wine region on your list!
If you are heading to Boise after your wine experience, be sure to check out the Urban Wineries in Boise and the Boise Breweries.