Ultimate Guide to Richmond Distilleries in Virginia
When visiting a local place, we don't limit ourselves to just beer and wine. There are 3 Richmond distilleries located within 1 mile of each other and a few others that are worth the trip outside the city center.
You've probably read or heard about (or have seen us drinking in) the rapidly growing craft beer scene in the Richmond market, so it's no wonder that craft beer gets so much of the publicity.
However, if you're not one for the carbonated suds or just want the hard stuff, a growing population of distilleries in Richmond, many of which are conveniently located near the breweries (Coincidence? We think not!), making visiting these places super easy!
Also, thanks to some much-needed liquor law changes in recent years (but still not so great), you can now taste, onsite, the great liquors that these places are producing (albeit in limited quantities) and craft your own distillery-hopping tour.
Yeah, that's right….distillery hopping: like brewery hopping, but for bad-asses!
Psst: We have a bunch of guides about Richmond. Browse them all here.
This post was originally published in May 2019, and was updated in June 2023.
**Boozing Abroad contains affiliate links throughout the site. If you choose to purchase items through these links, we will earn a small commission at NO extra cost to you. Read the full disclosure policy here**
Quick rant on Virginia Distillery Laws
Virginia has very strict alcohol laws (controlled and regulated by the state) that are slowly catching up to modern times (hopefully in this millennium).
However, Richmond distilleries still have it pretty bad as they are only allowed to serve 3 ounces of liquor to be consumed onsite per-person, per-day. (Sarcasm: way to support local businesses, Virginia.)
End rant. On to the Guide to Richmond distilleries….
Interactive Map of Richmond Distilleries
HOW TO USE THIS MAP: To view the layers and see the names of the places on this map, click the tab in the top left corner. You can select the check marks to show or hide certain layers. If you select the icons on the map, you will get more information about the point of interest.
HOW TO SAVE THIS MAP: If you select the star icon next to the map name, you can save this map to your Google Maps account. To view it, open Google Maps in desktop or on your phone, select the menu button, go to "Your Places," scroll to the right to Maps, and you will see this map.
Richmond Distilleries
Cirrus Vodka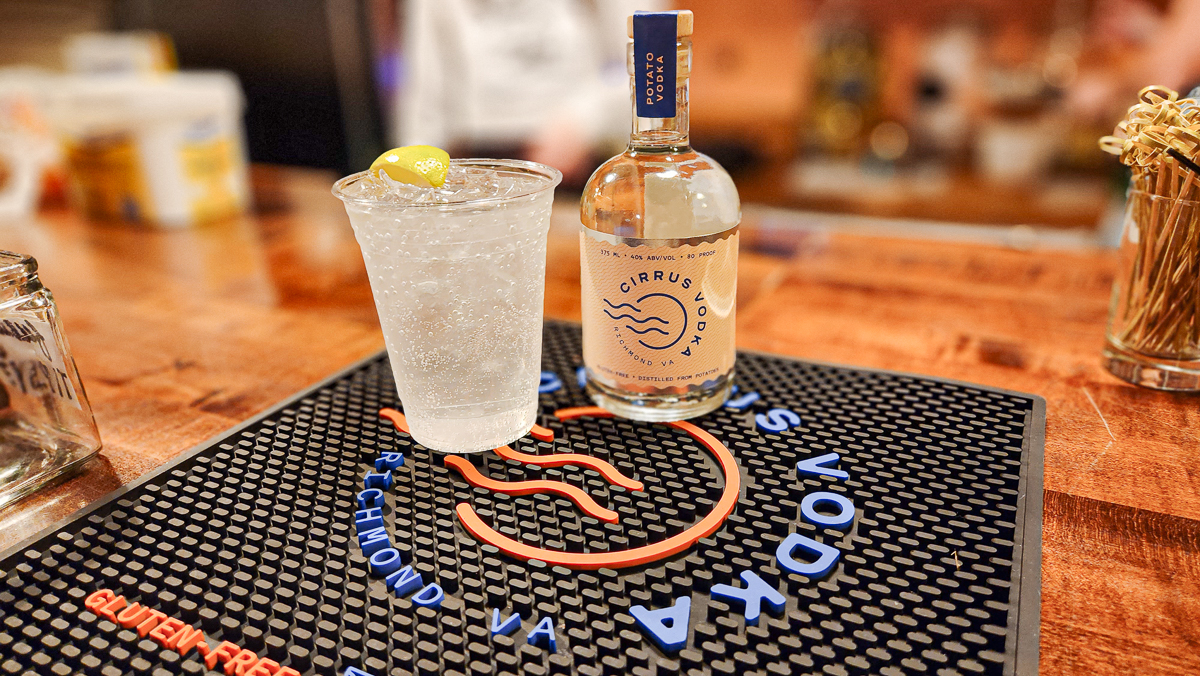 The Wonder Vegetable
Thought potatoes were only good for eating mashed or fried?
Think again.
Cirrus Vodka, located right near Hardywood's RVA location, has found one of the best uses (in our opinion) for potatoes: distilling vodka. All other vegetables need to step up their game!
If it's your first time visiting, make sure you try the vodka by itself so you can taste the smoothness and sheer perfection of the spirit.
100% potatoes throughout the process make this drink 100% gluten-free!
They offer a flight of delicious cocktails for tasting which makes this the perfect first stop on this distillery hopping adventure.
Make sure you ask about getting a tour of the distillery too, so you can find out about their commitment to excellence.
Click for Cirrus Vodka Tour info!
Virago Spirits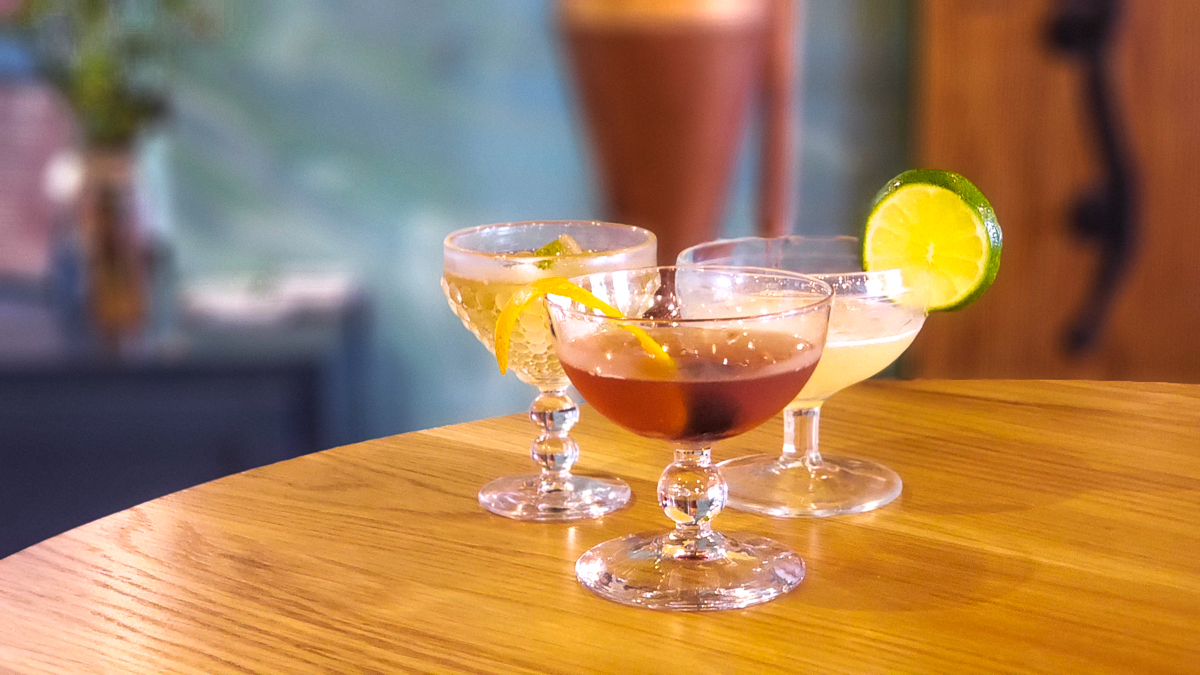 A Heroic Woman
Virago Spirits is said to get their inspiration from the Virago, a heroic woman of great strength, courage, and determination.
After tasting one (actually, both) of their rums, we definitely think they embodied those characteristics into their creations.
Virago distills its rums in a "vintage, direct-fire, 2,500-liter Charentais-style alembic still – one of only a few operating in the United States".
If you speak with one of the bartenders or distillers, you'll be able to tell just how much they care about and value the very laborious process they use.
The two main spirits are the Four-Port Rum, which is a blend of pot and column-distilled rums from four Caribbean ports (Barbados, Jamaica, Nicaragua, Panama) and the Ruby Port Cask-Finished Rum.
Both of these rums have won a variety of prestigious national and international awards, including a gold medal (Four-Port Rum) and a platinum medal/Best-in-Show (Ruby Port Cask Finished Rum) in the gold rum category of the World Spirits Competition!
Talk about high-quality products…..winning the two highest awards for your spirits category with both of your products and from a Richmond distillery!
The tasting room, located only about 10 minutes by foot from James River Distillery or Hardywood, is very cozy with comfy couches and chairs to relax in while you sip on your award-winning rum!
Like Cirrus and James River above, before you go running straight for the cocktails, make sure you get a taste of the straight liquor first.
Reservoir Distillery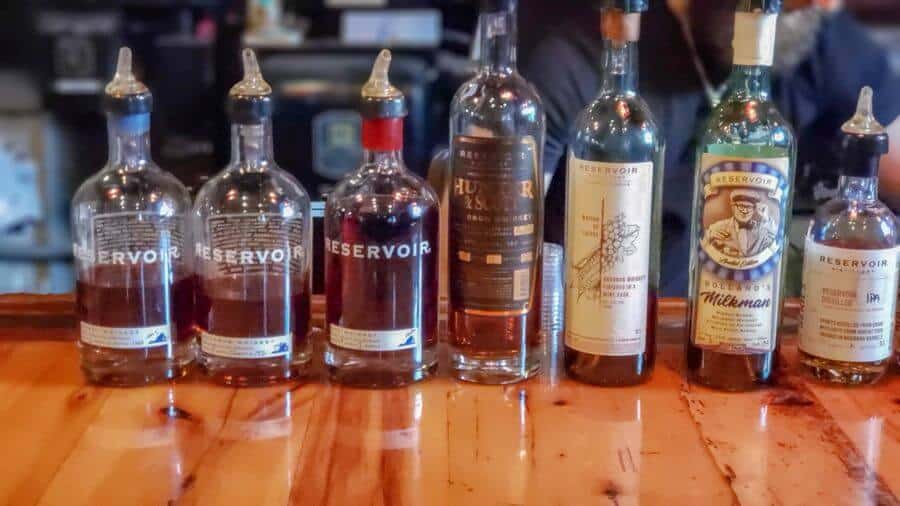 Reservoir Distillery is situated just a stone's throw away from Isley Brewing in the heart of Richmond's booziest neighborhood, Scott's Addition.
Step into this tasting room and you'll find two things:
First, you'll find that these folks are truly dedicated to their process and will be happy to educate you and tell you all about it

Second, you'll likely find a very crowded tasting room as the secret is out about this place!
One of the more popular Richmond distilleries since it's in the Scott's Addition neighborhood so be prepared to wait.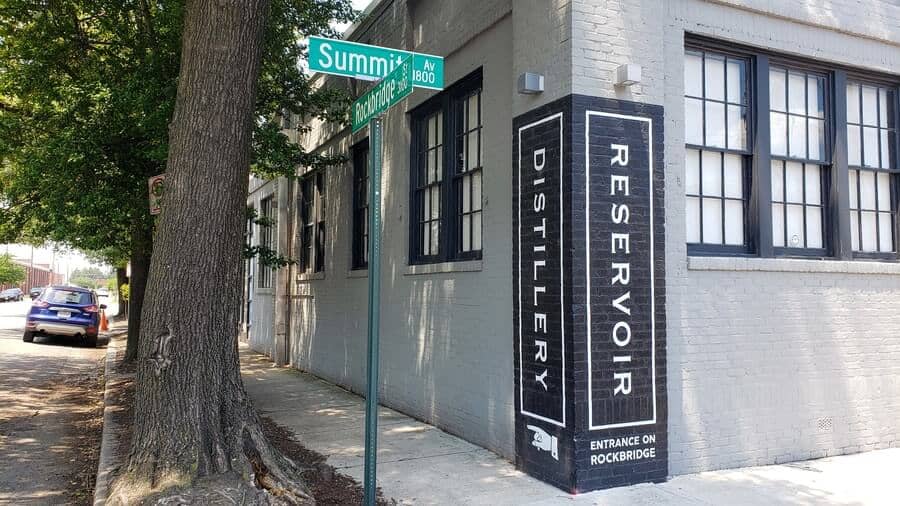 Something unique about Reservoir is that they specialize in and use primarily quarter casks, which are smaller than your normal barrels, and they use these barrels only one time.
The barrels are then repurposed to use at breweries, wineries, meaderies, other distilleries, etc. Might as well make good use of a dead tree!
Unlike the other places on this list, you won't find an extensive list of mini-cocktails here. Not to fear though, that burn on the way down only builds character!
Trial & Error Distillery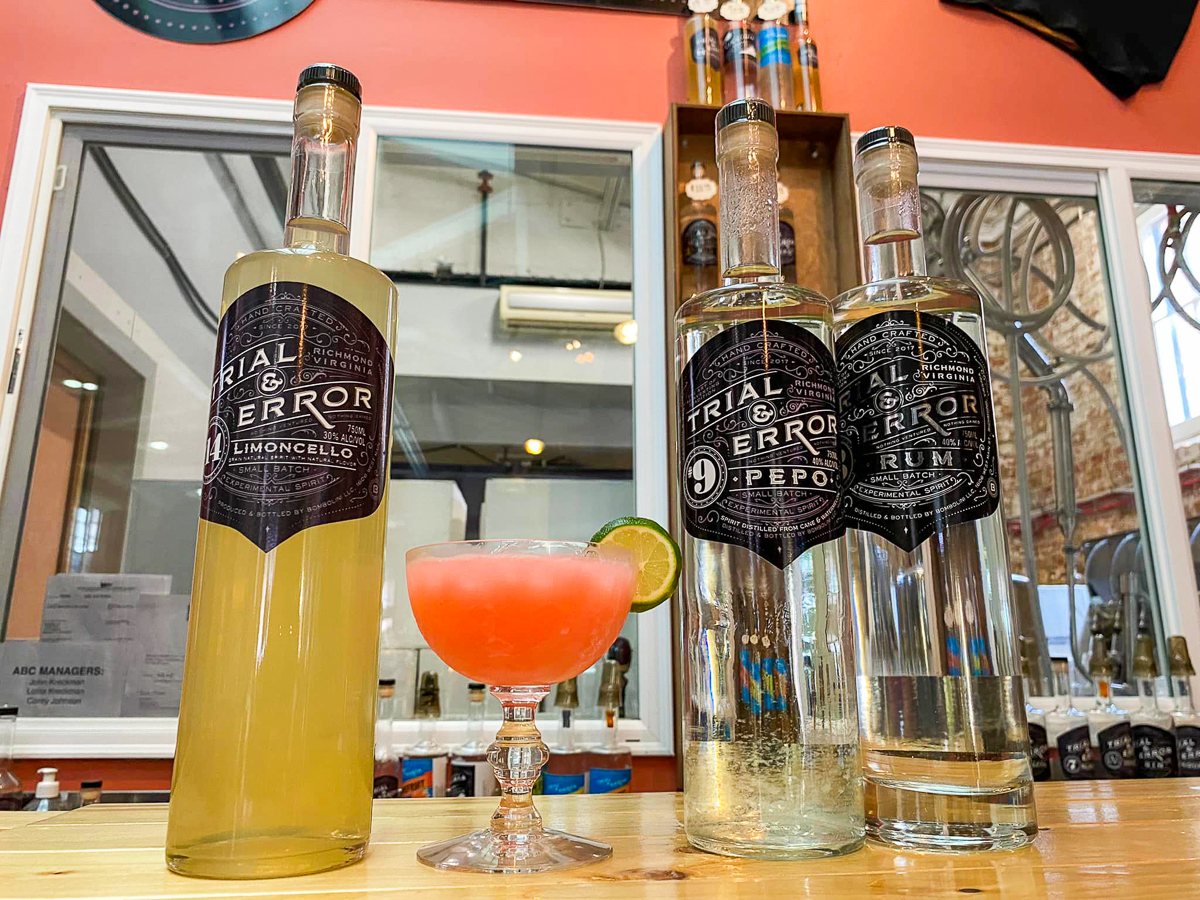 If at first you don't succeed, keep making liquor
Trial & Error is located in the heart of The Fan, one of Richmond's most iconic and historic neighborhoods and just a few minutes away from Scott's Addition.
For years, this particular storefront, named Bombolini, was the local spot for delicious handmade pasta and sandwiches.
The fresh pasta business is still alive and well and operates out of the same storefront; but back in 2017, the owners followed their passion for experimentation and opened Trial & Error Distillery, where experimenting is literally the name of the game.
As their name suggests, they are not afraid to try just about any type of spirit, and their menu echoes that with one of the most diverse offerings of the Richmond distilleries.
With everything from the staples (gin, rum, whiskey, vodka) to some lesser-known spirits (grappa, limoncello, aquavit) to interesting experiments-turned-spirits (hopped whiskey, pear fig cordial), you'll enjoy your trial-and-error tasting process just as much as the distillers enjoyed their trial-and-error production process.
Stop in for a craft cocktail and grab some pasta for dinner!
Sleepy Fox Distillery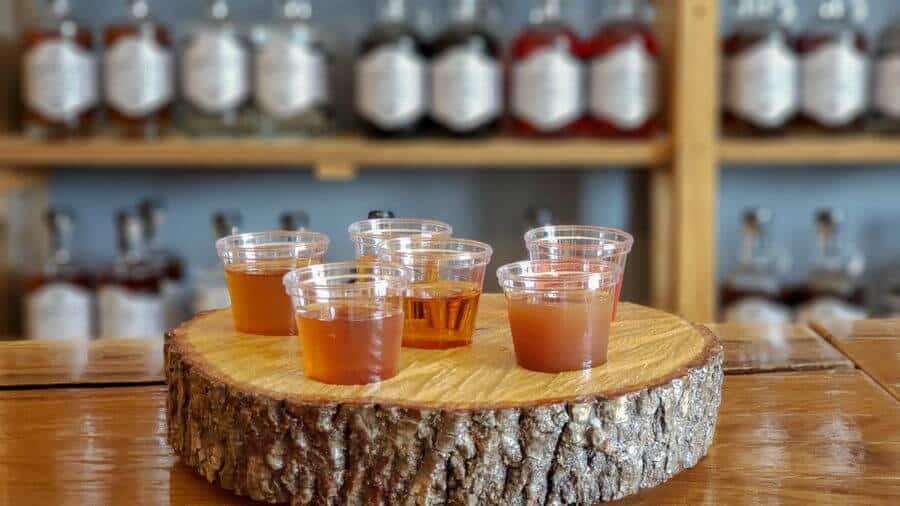 Skip the Nap, Raise Your Spirits
Finally, we exit the boozy Scott's Addition neighborhood and travel about 20 minutes north of Richmond to Ashland, where you'll find Sleepy Fox Distillery.
In addition to vodka, whiskey, and bourbon, Sleepy Fox also has 6 different varieties of moonshine, too. Completely street-legal, of course!
The country-vibe of the tasting room goes perfectly with the area and even more perfectly with the adjoining Layne's Country Store.
If you're not feeling anything on the seasonal menu, feel free to concoct your own cocktail from the different syrups they have or ask your bartender to make their favorite off-the-menu drink.
Our secret favorite is the peanut butter and jelly shot!
For more on our homey visit to Sleepy Fox and our sit-down with co-owner Michele, click here.
Three Crosses Distilling Company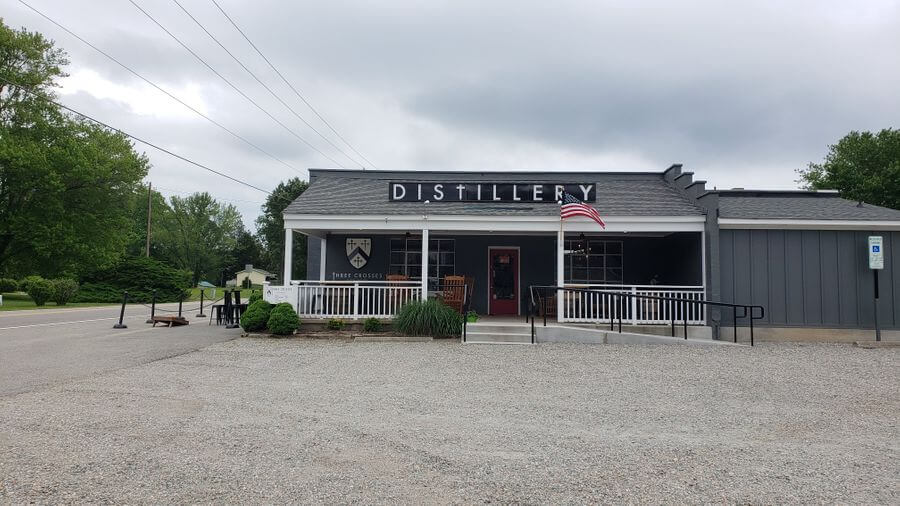 Well worth the 45-minute drive west from downtown Richmond (and one of our favorite), Three Crosses Distilling Company is a family-owned distillery in Powhatan, Virginia.
They offer a variety of incredible cocktails using one of their craft liquors: American Whiskey, Moonshine, White Rum and Vodka. Three of their spirits (whiskey, spiced rum, and vodka) have won medals at some of the most prestigious spirits competitions around!
Their tasting room has a country feel with the backdrop of the bar being a window into their handcrafted distillery.
With numerous options for cocktails, we suggest trying a smoked Old Fashioned with their homemade Blackberry bitters. Their head bartender uses locally sourced ingredients for all the homemade mixes and syrups.
Three Crosses Distilling is also committed to supporting the local community around them as well as other charitable causes.
Check out their Facebook page for all of the updates on the events and causes you can support!
We really believe this is a must-do stop when following our Richmond distilleries guide! When you do stop by, tell them that Boozing Abroad sent you and enjoy drinking their fantastic spirits!
Belle Isle Craft Spirits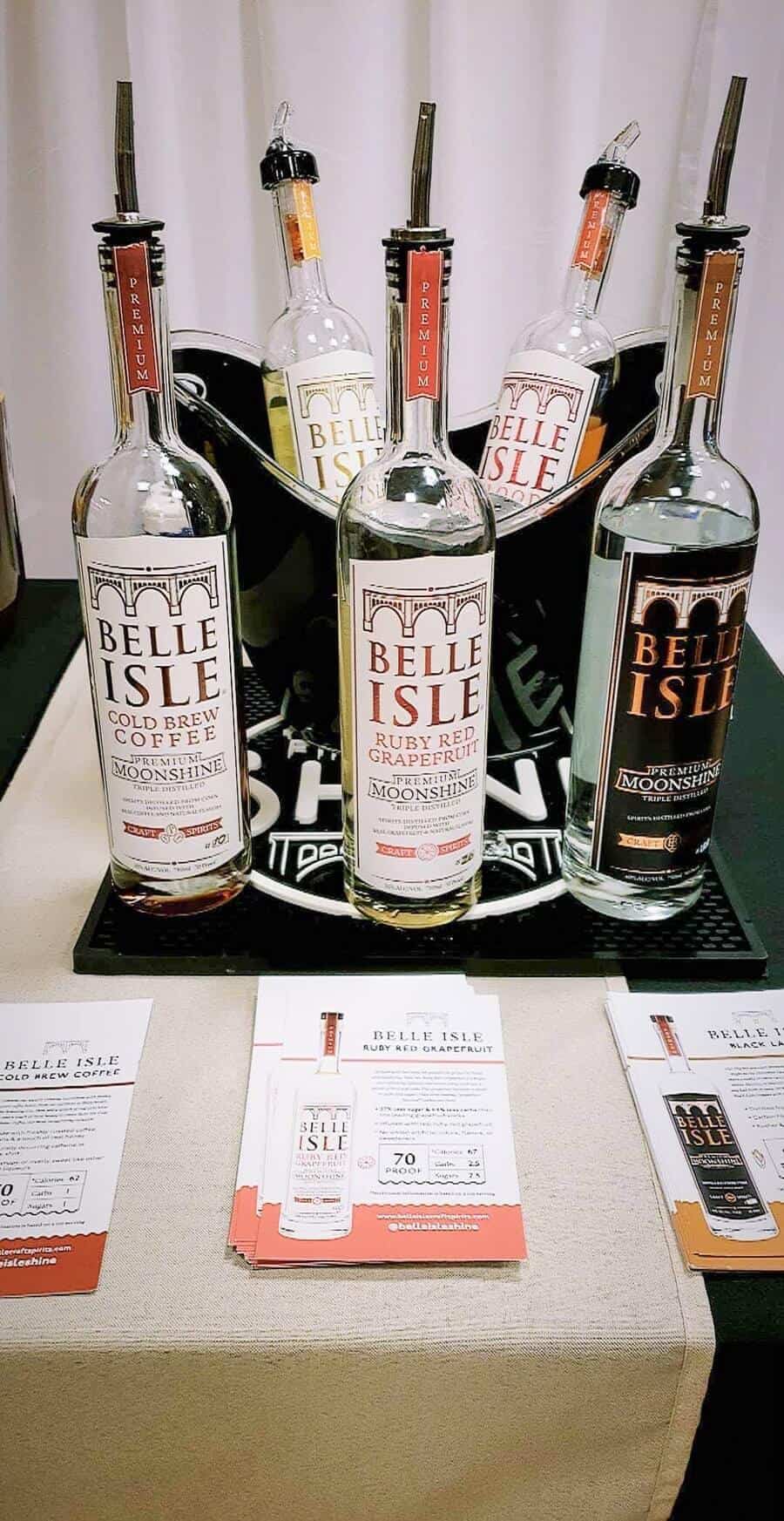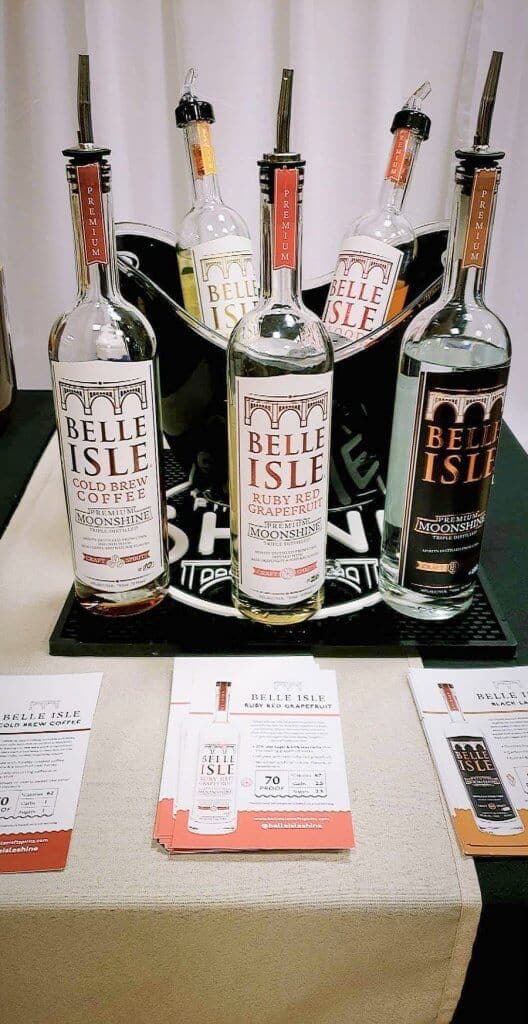 Belle Isle Craft Spirits has finally opened a tasting room in the South Side of Richmond and is a quick 15 minute car ride from Scott's Addition.
They have a great lineup of moonshines including Honey Habanero and Cold Brew Coffee, which is brewed in collaboration with Blanchard's Coffee Roasting Company, another local business. They also have a line of ready to drink cocktails which we both really enjoy.
Belle Isle takes its name from the nearby island which is rich with Richmond history. The island is smack-dab-in-the-middle of Richmond and connects opposite sides of the side across the James River.
Belle Isle, the moonshine-maker, strives to be a bridge between opposite sides too, "a meeting point where good people come together and make great things happen."
As their website perfectly quips, Belle Isle wants to "bridge together lessons from the past, passion in the present, and dreams for the future, and bottle it all up to make something spectacular."
A favorite of locals among all of Richmond distilleries, be sure to try them at many of Richmond bars.
Where to Stay near the Richmond Distilleries
As you might have read in our Scott's Addition Breweries post, the hotels in the area aren't the best and we don't suggest them for multiple reasons. Instead, we suggest staying downtown at these places below!
Booking.com probably has the widest selection of budget (and luxury) accommodations in the world. In our experience, they consistently found the cheapest rooms. We also like their easy to use interface and no money down policy. When we book our travel stays, we personally use booking.com.
For downtown recommendations, see below:
Luxury – Quirk Hotel
Quirk is a boutique hotel that was named one of the south's best hotels by Southern Living magazine in 2018!
The rooms are super bright and fun, the seasonal and locally-inspired menus at the Maple and Pine restaurant are delicious, and the Q Rooftop Bar offers some great views of Richmond while soaking up some sun and sucking down some drinks!
Mid-range – The Graduate
The Graduate is a newer boutique hotel chain popping up around the country with hotels located in the heart of college towns.
Budget – Linden Row Inn
This hotel has so much history to it and is centrally located right near Richmond's restaurant row, just down the road from The Graduate and The Jefferson Hotel.
Hostel
HI Richmond Hostel
HI Richmond Hostel is Richmond's only true hostel. Conveniently located right near all of the major roads in downtown Richmond (Cary Street, Main Street, and Broad Street), HI Richmond has many of the comforts you are looking for when traveling, including free breakfast and free Wi-Fi.
So, are you ready to try all the local spirits all the Richmond Distilleries have to offer?
There are so many great craft distilleries in the RVA area, you'll be sorry to miss out on any!
Please drink responsibly and NEVER drink and drive.
Click here to see all our Richmond post.