The Feast at Lele Luau Review in Maui, Hawaii
When we began planning our very short four-day trip to Maui, we immediately made attending a lūʻau a top priority.
Because what sounds better than sitting on a Hawaiian beach for three hours of entertainment, delicious nourishment, and culture all while the warm sand trickles between your toes?
Nothing, that's what.
Short on Time? Here are the key takeaways:
The Feast at Lele is an immersive 3-hour dinner complete with entertainment and an open bar.
The dinner is a 5-course meal and suitable for all ages.
The history of the Pacific Islands is meticulously displayed through the food menu, dances, and drinks.
**Boozing Abroad contains affiliate links throughout the site. If you choose to purchase items through these links, we will earn a small commission at NO extra cost to you. Read the full disclosure policy here**
Overview of the Feast at Lele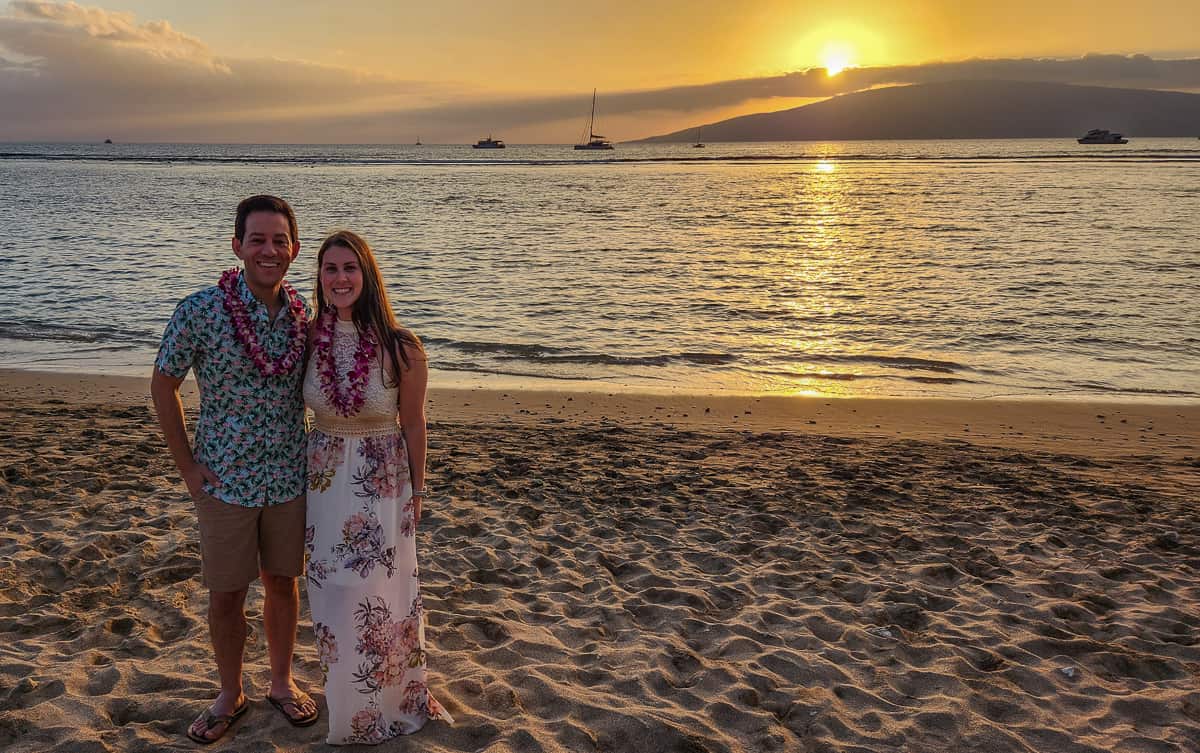 There are a few options to choose from when searching for a lūʻau in Maui, but based on our research (and because it was a very convenient stumbling distance from our hotel), we decided on the Feast at Lele Luau.
Needless to say, we walked away extremely impressed with the quality of the entertainment, service, food, and drinks. It was a true first-class operation from start to finish.
Having never been to a luau before and not done much research on what actually happens at a luau, we had no idea what we were in for.
If you're in the same boat as we were, here's a quick rundown.
The Feast at Lele luau is a celebration of Polynesian culture, history, music, and dance that is paired with traditional food dishes from the Polynesian cultures including Hawaii, New Zealand, Samoa, Tahiti, and Fiji. This is a sit-down dinner as opposed to a buffet-style.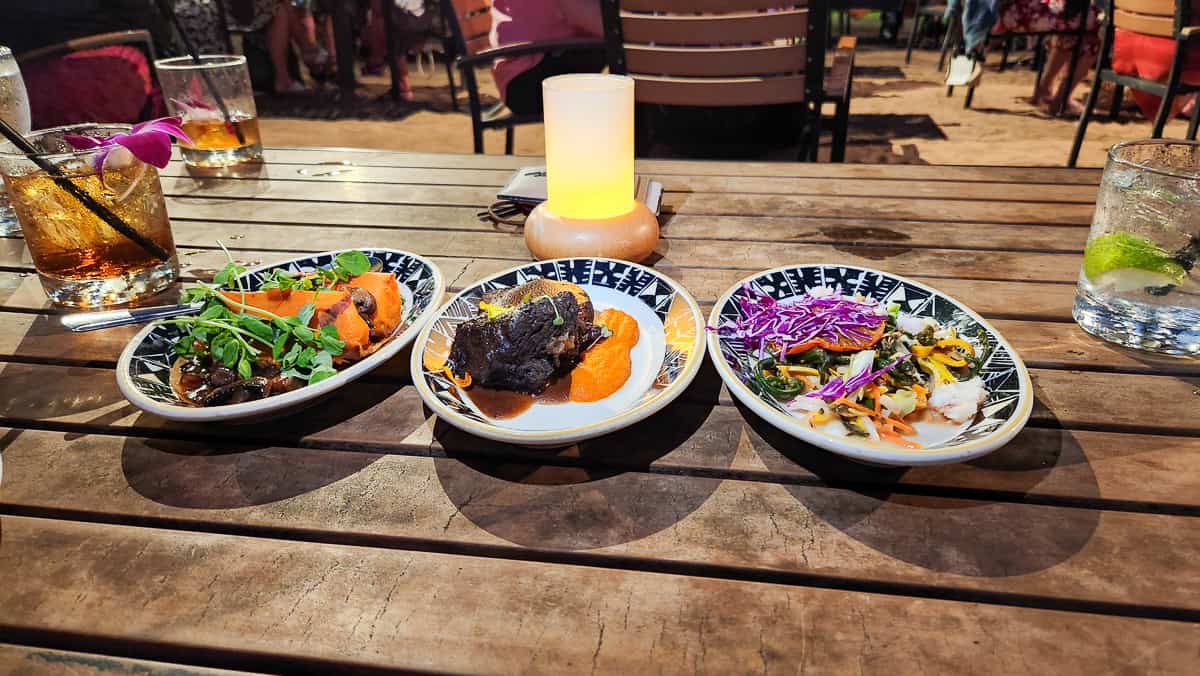 The Feast at Lele luau takes place right in the midst of old town Lahaina, an old whaling village in Maui and one of the most popular places to visit on the island.
And for any of you history buffs out there, "Lele" is the ancient name for Lahaina and this is the very beach where the royal family of Maui would feast and entertain.
So we dined where royals once dined. How cool?!
How to Reserve your Feast
Booking an online reservation for the luau was incredibly quick and easy and we didn't have to print anything out to attend – just our names and ID's at the door and we were all set for an evening to remember.
Rates as of April 2023:
Regular Rate (Ages 13 & above): $245.00 including all taxes*
Child Rate (Ages 12 & under): $140.00 including all taxes*
*Note: the above rates do not include gratuity. 
After seeing the performances and receiving the awesome service, you're definitely going to want to give a little extra love. At the end of the dinner, they will bring you a receipt to sign. You have the option of adding a tip on your credit card or you can leave cash.
Also, while these prices may seem a little high at first glance, trust us: three hours of toe-tapping, head-bobbing music and entertainment, a five-course meal brought right to your table, and a wide variety of delicious and local/regional drinks is well-worth it to experience an unforgettable night.
What to Expect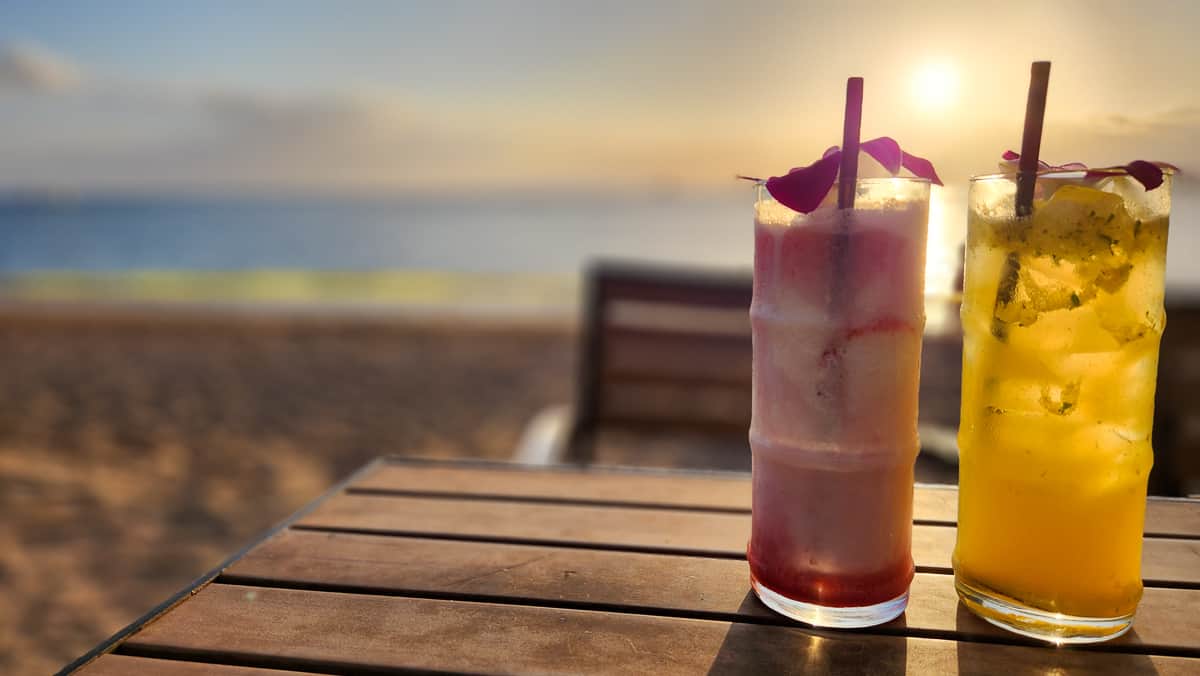 Our unbelievable experience began just as any good Hawaiian experience should: being lei'd by a shirtless Polynesian man with a fresh flower lei.
We were then led to our table where we were promptly greeted by our server for the night who explained a little bit about what to expect…and of course, took our first drink order.
With so many options to choose from, it was a tough decision.
Sam landed on a delicious Pina Coloda (with a banana and strawberry swirl) and Chris ordered the daily special made with Maui's own Ocean Organic Vodka (pictured above).
As we settled in and talked about our plan of attack for covering the most ground with our drink orders (does anyone else do this or is that just us?), we noshed on our appetizer.
The pre-dinner course was some dried ahi (think jerky) and Moloka'i U'ala chips (sweet potato) with traditional Ulu Kiawe dip (sauteed taro leaf and coconut milk). These are things we've never had and would never even think to try, but they were surprisingly a great start to the night.
One drink down and about to begin our journey across the Pacific Islands, we ordered the Hawaiian classic Mai Tai and buckled up for our adventure.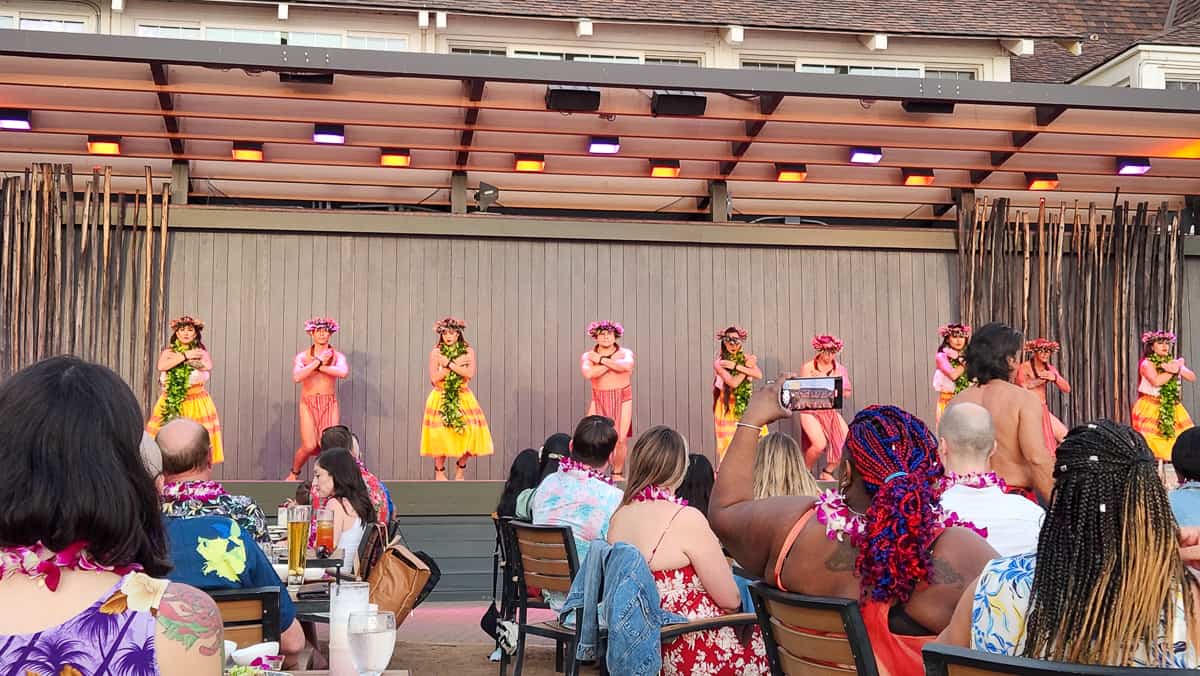 Each "stop" along our journey included performances by some extremely talented, passionate, and authentic professionals who showed off their moves and skills (and bellies) to keep the audience engaged throughout.
The program did a fantastic job of highlighting some of the history and culture of the different locales we visited in a fun and energetic way.
With each location change came a new style of food and all of the courses were designed to showcase a particular aspect of Polynesian food. This was some darn good food too!
And we aren't just saying that because it was made for hundreds of people and came out all at the same time (though that certainly was impressive). The food was very high-quality and gave us a great snapshot of the local cuisine without ever leaving our seats.
To make things even better, the night is made complete by the open bar which offers numerous different options that can be paired with your five-course meal, many of which are native to the Polynesian cultures that are on display throughout the night.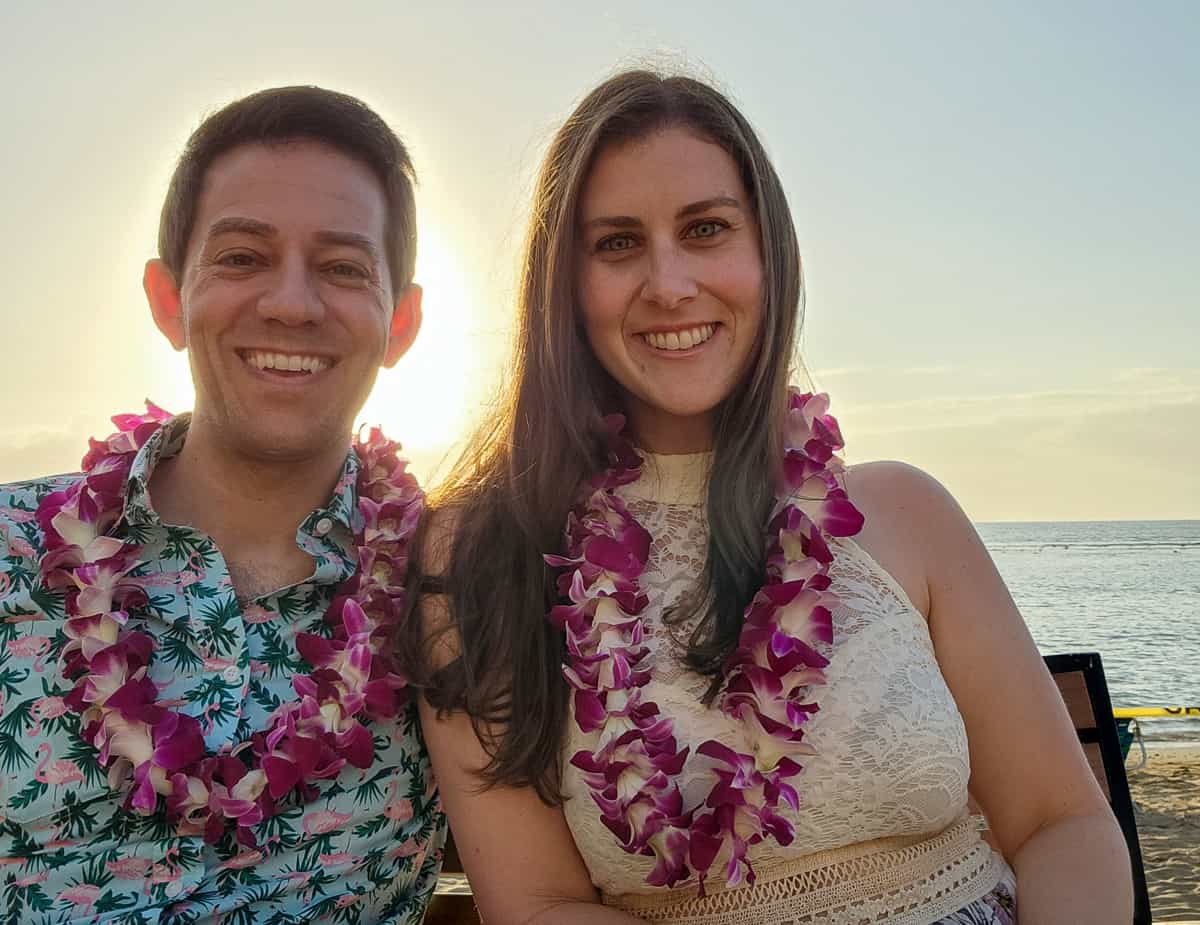 The Feast at Lele luau was a memorable night and a one-of-a-kind experience that we are SO glad we did and would love to experience again!
In just three blazing-fast hours, we experienced five cultures, five cuisines, too-many-to-count drinks, and tons of fun in one of the most picturesque settings around.
It's a true feast for the senses: See the dancers, taste the food, hear the banging of the drums, smell the ocean that backdrops your evening, and feel your heart palpitate with excitement as you and your tastebuds complete a journey like no other.
One more check off our bucket list!
Looking for more Maui info? We have a breweries in Maui guide as well.
This post was produced in a partnership with Maui Visitors and Convention Bureau.