The Best Richmond Brunch Guide – from a local
Deciding on a brunch location is key to a successful weekend kickoff, and the Richmond Brunch scene is pretty top-notch for its size.
It's hard to rank the options based on good-better-best brunches, so we decided to rank the Best Richmond Brunch by the different types of brunch!
Psst: Looking for more posts on Richmond? We have a bunch! Browse them all here.
**Boozing Abroad contains affiliate links throughout the site. If you choose to purchase items through these links, we will earn a small commission at NO extra cost to you. Read the full disclosure policy here**
Map of the Best Richmond Brunch spots
Click the interactive map below!
HOW TO USE THIS MAP: To view the layers and see the names of the places on this map, click the tab in the top left corner. You can select the check marks to show or hide certain layers. If you select the icons on the map, you will get more information about the point of interest.
HOW TO SAVE THIS MAP: If you select the star icon next to the map name, you can save this map to your Google Maps account. To view it, open Google Maps in desktop or on your phone, select the menu button, go to "Your Places," scroll to the right to Maps, and you will see this map.
Best Overall Richmond Brunch
Moore Street Café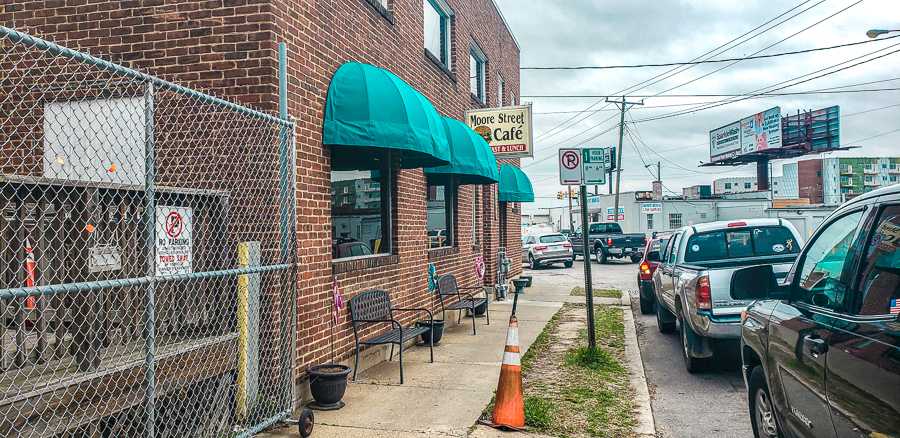 Brunch Hours: Saturday 8AM-2PM, Closed Sunday
Reservations: nope; will only seat full parties
Favorite dish: Pancakes – they are made on a flat top so the edges are slightly crispy, but the center is deliciously buttery…you don't even need syrup
We lied, we clearly ranked the best brunch first. If you are new to Richmond or haven't been paying attention, then you have missed out on the best brunch in Richmond.
Located on the edge of Scott's Addition, Moore Street Café has been around for years and is easily one of the best valued brunches out there. They were there before the Scott's Addition brewery scene took off.
Their vintage diner got a much needed face-lift in 2019 and now includes a bar area to sit while you wait.
If you're looking for brunch cocktails, and why wouldn't you be, try one of their 8 flavors of mimosas, served up in a personal 32-ounce pitcher ($6-8). Your wait won't feel so long with one of these in your hand.
Unless you are there when they open, prepare to wait 20-60+ minutes on Saturdays, but we promise, they are 110% worth it.
Despite the fact they aren't even open on Sundays, they still take the Best Overall Richmond Brunch ranking because their food really is that good. The pancakes are criminal and you must order 1 on the side to try. It's big enough to split with 1-2 people.
If you can't make it here on Saturdays for brunch, they are open Monday through Friday from 6AM to 2:30PM.
Best Hungover Richmond Brunch
Liberty Public House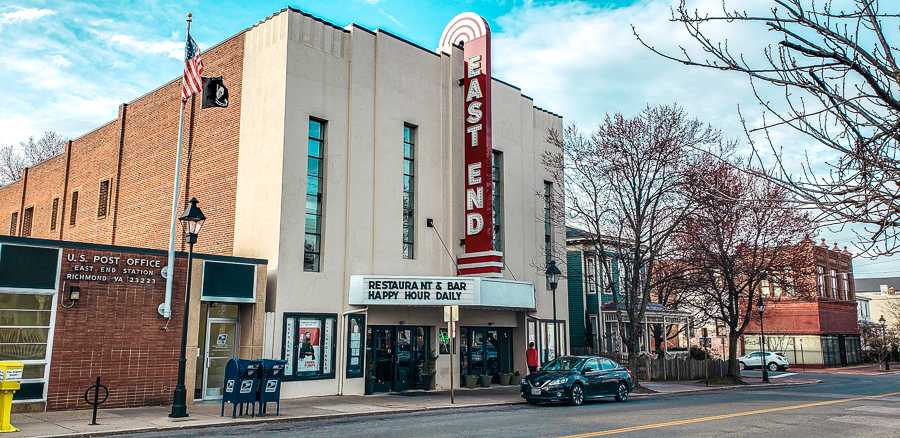 Brunch Hours: Saturday 7AM-11PM, Sunday 7AM-10PM,
Reservations: Yes, call ahead
Favorite dish: RVA Style Chicken & Biscuits – biscuit sandwiches w/country chicken drizzled with hot sauce & honey
Liberty Public House (LPH) has really good food regardless of your hangover status. Located on the ground floor of the East End Theater, Liberty Public House is a great go-to Richmond brunch for a wide selection of brunch options.
It made our list for best Hungover Brunch for 2 reasons:
LPH serves an

all-day breakfast

meaning that whenever you roll out of bed, you can scarf down some delicious breakfast, from 5 varieties of eggs benedict to Chicken and Waffles to breakfast-style Shrimp and Grits.

In an effort to cater to the medical community at nearby MCV Hospital, they started a happy hour from 7AM-10AM called the "Don't Judge Me" Happy Hour everyday. (We appreciate that!) Whether you are part of that community or not, the food is on point and you are sure to find something scrumptious to eat with a hangover or if you are just hungry.
If you are in Northside, The Mill at MacArthur used to be their sister restaurant (until a recent ownership change) and is equally as delicious as LPH/serves up similar foods, even after the ownership shuffle. The Mill also serves brunch on Saturdays and Sundays from 9AM-2PM.
Best Diner Brunch
Millie's Diner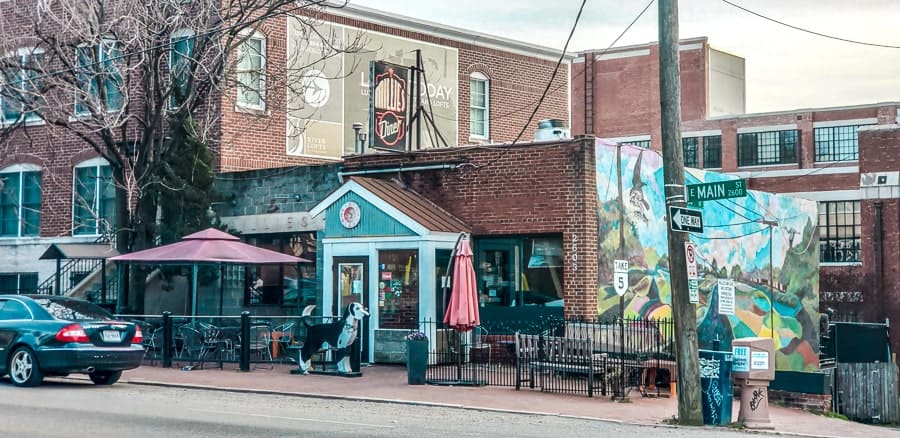 Brunch Hours: Saturday-Sunday 9AM-3PM
Reservations: Not for weekend brunch (reservations accepted during the week)
Favorite dish: Devil's Mess – an open-faced omelet with sausage, onions, green peppers, garlic, tomatoes, white cheddar, and avocado. It's the perfect amount of spice to kick things up a notch!
Millie's has been a Richmond brunch staple for 30 years in the Church Hill/Shockoe Bottom neighborhood. We can remember many weekends in our 20s waiting in line outside to get in this small, eclectic restaurant.
And for good reason, too! If you want to avoid the wait, get here early and make sure your full party is present.
They do serve some of their brunch menu during the week at lunch hours (Tuesday-Friday 11AM-2:30PM), including the Devil's Mess, so that could be another option if you want the brunch food without the wait.
But that's all a part of the Millie's experience.
If you grab a seat at the countertop in the front room, you'll be able to watch them make everything from scratch right behind the bar to get that true diner-feel.
Other diner characteristics include the various jukeboxes (of course), the slightly-cramped space, and the fun/interesting/sometimes random décor.
Best Classic Richmond Brunch
Joe's Inn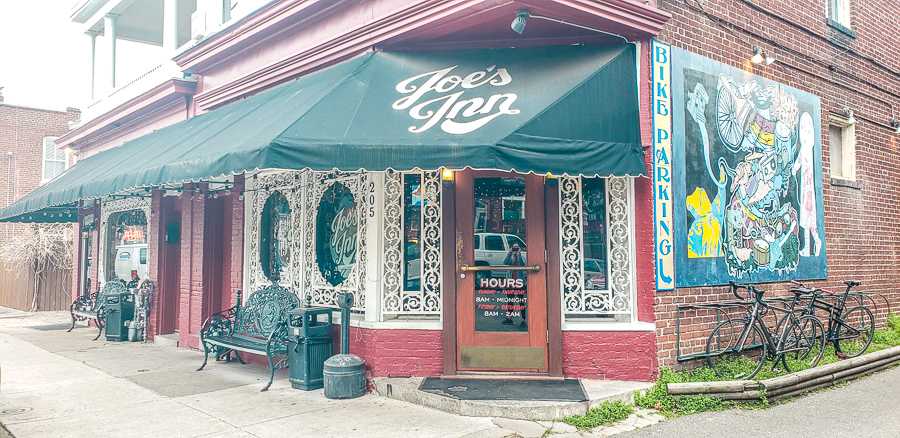 Brunch Hours: Saturday 8AM-2AM, Sunday 8AM-12AM (brunch specials only go 'til 3PM)
Reservations: That's a negative Ghostrider
Favorite Dish: Western omelet – see below for Samantha's experiment
When you think of the best classic Richmond brunch, it's probably smart to start somewhere that's been serving breakfast anytime of day for as long as we can remember. That would be Joe's Inn in Richmond's historic Fan neighborhood. Moore Street Cafe just beat out Joe's Inn on our list.
Located in the heart of the Fan on Shields Avenue, Joe's has been a Richmond brunch institution forever, thanks in large part to its damn good breakfast food (and great beer list/happy hour).
To prove the "damn good breakfast food" description, Samantha has conducted a very scientific experiment over the past several years:
Hypothesis: Samantha believed that she could determine a great Richmond brunch spot by ordering a constant menu item everywhere we went
Experiment/Observations: Indulged in a Western omelet at pretty much every Richmond brunch place we went to
Results/Conclusion: There is no hesitation when asked who has the best Western omelet….Joe's Inn. We don't know how they do it, but the cheese is still melty on the inside and the eggs are cooked just right.
And the Western omelet isn't the only great option on the menu. The "Most Requested Omelette" comes with feta cheese, tomato, and spinach (no substitutions – seriously, they'll deny your request) or try some of their pasta specialties if it's closer to lunch time.
Portions are ginormous and you will not leave hungry.
They are open every day during the week as well (Monday-Thursday 8AM-12AM, Friday 8AM-2AM) so if you have a craving for that Western omelet on a weekday, you're in luck.
Best Brunch Date Spot
Lunch. | Supper!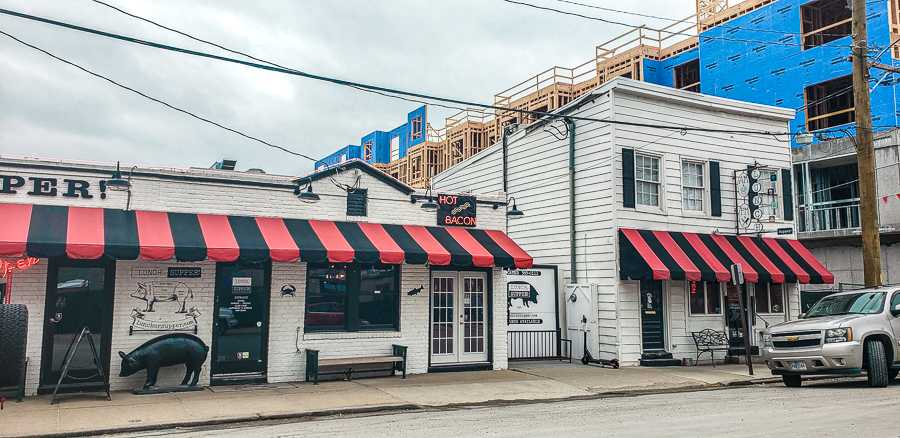 Brunch Hours: Both Lunch. & Supper! serve brunch Saturday-Sunday 9AM-3PM
Reservations: Not for brunch and will only seat full parties
Favorite dish: AM Quesadilla – Your choice of sausage, Jersey ham, or bacon with eggs, avocado, onions & peppers, mixed cheese topped with salsa and sour cream
Ok, if you aren't from Richmond, this will be confusing, so focus for just a second. Lunch. and Supper! are two completely separate restaurants (but related) that are directly next to one another in Scott's Addition.
During the week, they have slight variations in their menus and hours, but on the weekend, they join forces to create an epic brunch landscape.
Depending on your brunch date, you can enjoy one of the top brunches in Richmond from either spot since the same menu is offered at both locations.
Supper! is much larger and has outdoor seating while Lunch. is quaint and more intimate.
Don't forget to order yourself (or brunch date) a Fizzy Izzy (mango vodka, pineapple juice, and Prosecco)!
Best Party Brunch
Sidewalk Café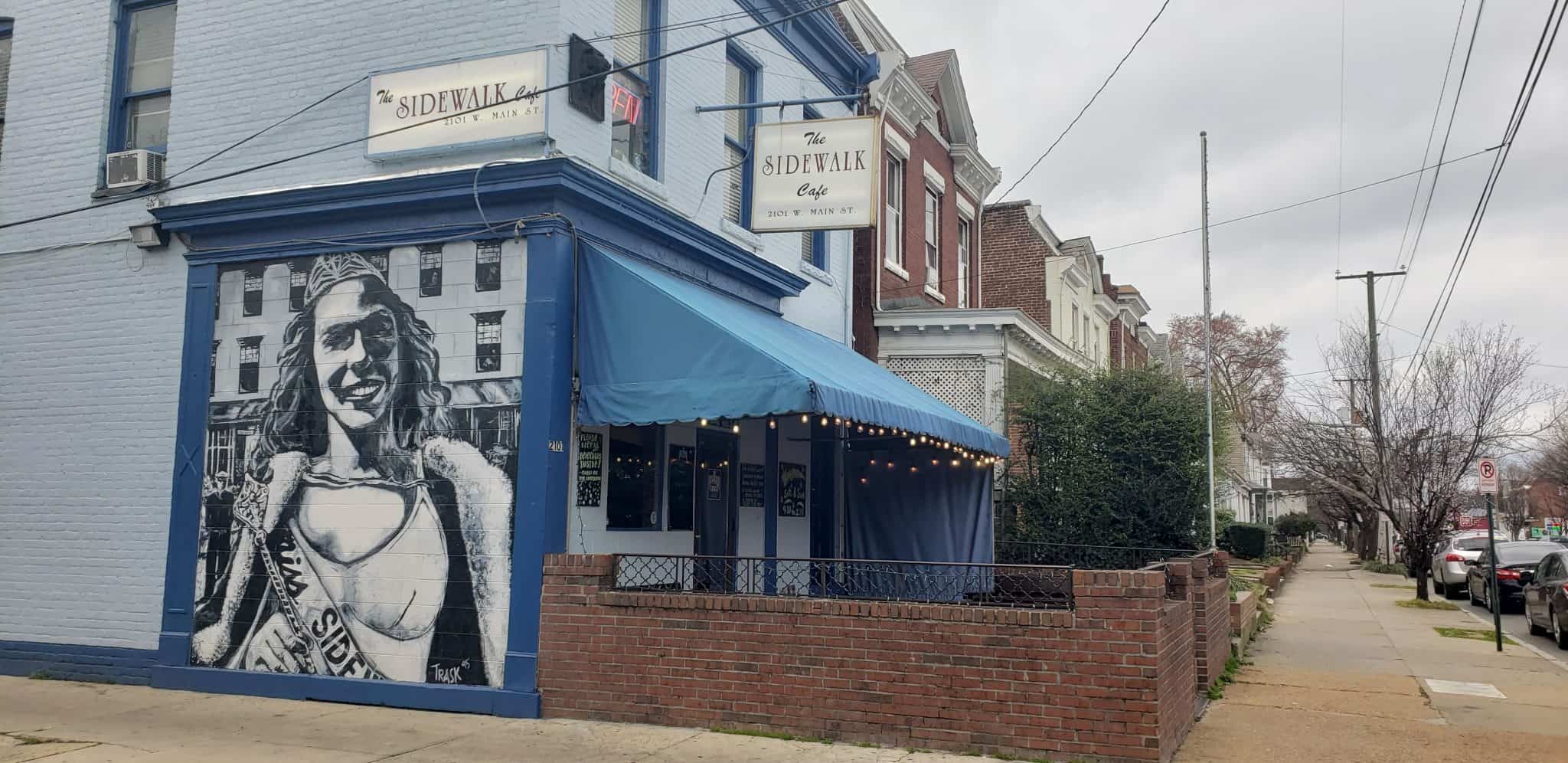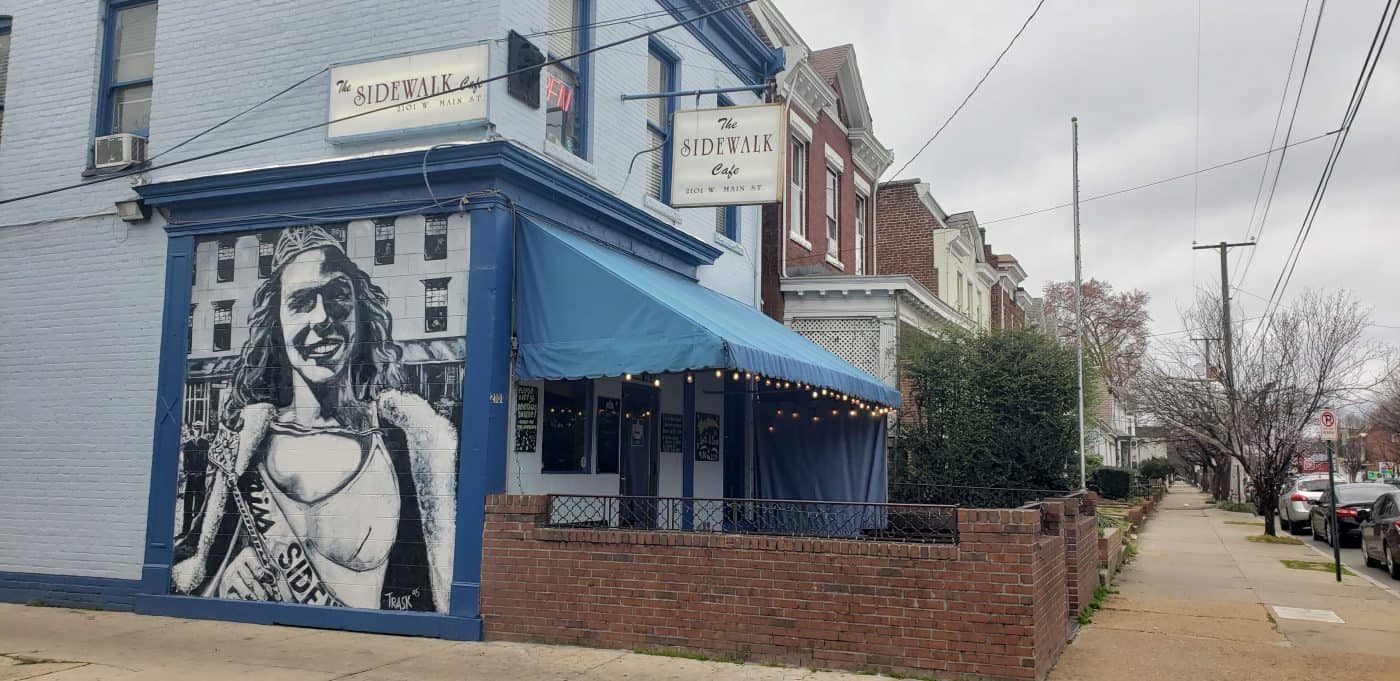 Brunch Hours: Saturday-Sunday 9:30AM – 2:30PM
Reservations: You wish
Favorite dish: Mimosa Pitcher – duh, you came here to party
Brunch menu: they don't have one online. You'll just have to be open-minded and DTP (down to party).
We don't think it's an insult to say this place is a hole-in-the-wall because the snugness of this place is what adds to its dive-bar charm. Sidewalk Cafe has been a popular Richmond brunch party spot for as long as we can remember and the atmosphere is what draws the crowd.
This place isn't fancy but it's a true party and you'll wait to get in if you arrive too late. The wait staff can disappear from time to time, the music will be loud, and the food you ordered probably won't be delivered quickly, but the giant-ass mimosa pitchers and classic brunch options will keep you satisfied.
Best Vegan Friendly
The Daily Kitchen & Bar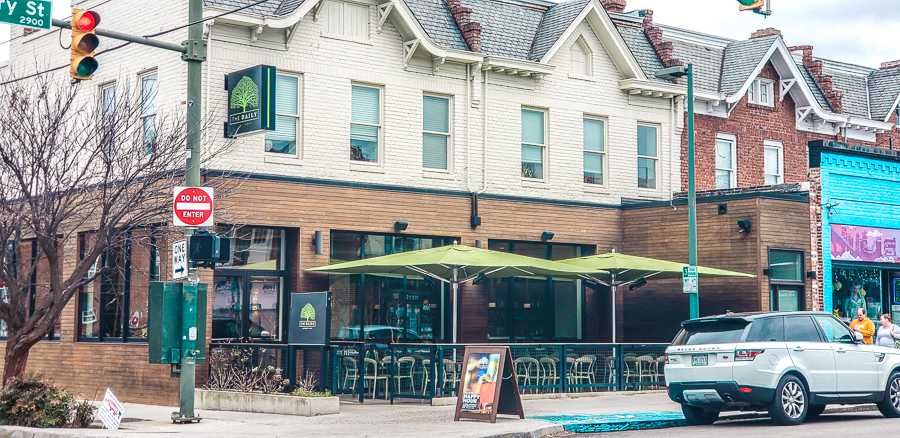 Brunch Hours: Carytown – Saturday-Sunday 8AM-3:30PM; Short Pump 9AM-4PM
Reservations: Yeppers! Check out their website or OpenTable App
Favorite dish: Berry Acai Bowl – blended acai, strawberries, banana & almond milk, topped with coconut, granola & berries
The Daily Kitchen & Bar is a perfect option for those health-conscious people who are looking to get their grub on.
With two locations in Richmond, they have great options for vegetarians, vegans, gluten-free and paleo diets in addition to using organic and local ingredients.
The portions here are "smaller" so we suggest grabbing an appetizer to split like the Made-to-Order Guac!
The brunch menus vary slightly at each location, but both offer yummy options for all dietary restrictions. They can accommodate large groups with reservations.
For walk-ins, all you have to do is leave your phone number and their computer system will let you know when your table is ready via a text message.
Best Fancy Vibes Brunch
The Jefferson Hotel's Champagne Brunch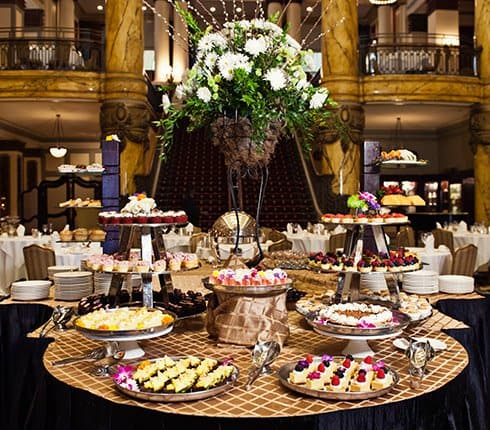 Brunch Hours: Sundays only – seatings are: 10:30AM, 11AM, 1PM and 1:30PM
Reservations: Required! Don't think you can walk in a get a spot. You aren't Beyonce.
Prices: Adults (ages 12 and up) are $45, Children (ages 6-12) are $20, and under 5 is free. Holidays carry special prices. See website for details.
Favorite dish: it's a buffet – so literally all of it. Just kidding. Eggs Benedict and freshly shucked oysters are a must try.
Fancy Vibe might be an understatement for this place considering it's been ranked by others as the best brunch in Richmond. Think Downton Abbey meets the Great Gatsby meets Breakfast at Tiffany's.
This is the crème de la crème of brunches in Richmond and the price tag will remind you of how extravagant it is, which is not to say it isn't worth it (cause this is the real-deal folks).
From glamorous ice cravings to a live jazz trio, you will indulge in a culinary feast that can only be found with Kings and Queens.
The Jefferson Hotel Sunday Brunch Champagne menu is extensive, to say the least. Some top items include: carving station, seafood display, salads, pastas, cheeses, meats, pastries, eggs (in essentially every form), and a hefty dessert bar (pro-tip: wear elastic pants).
As for the drinks, your buffet reservation comes with unlimited OJ and sparkling wine (not actual champagne) as well as tea and coffee. Anything that strays from this list will be an upcharge so make sure you are ready for some fizz.
While their website does not detail any specific dress code, you'll feel out of place in jeans. We suggest slacks and a polo/button down for guys and sundresses/slacks and nice top for ladies. Your reservation is capped at 2 hours so drink up buttercups.
As we are writing this post, brunch is sold out 2 months in advance and all holidays in a 6-month timeframe are sold out too.
There is a waitlist, but you'll only get a 1-week notice if you get the call. You might need more than a week of fasting alone to prepare yourself for this experience.
Best Drag Brunch
Godfrey's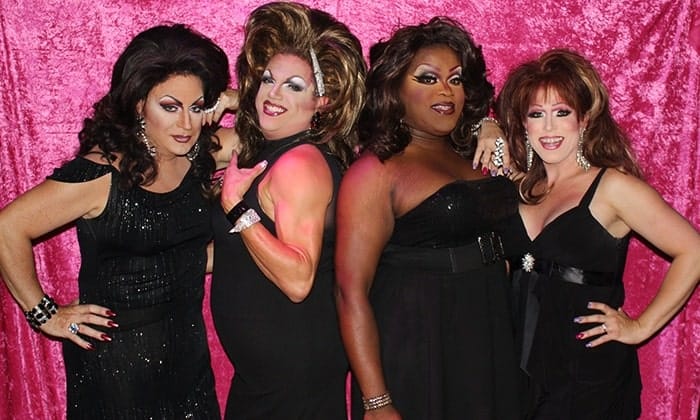 Brunch Hours: 2 seatings each on Saturday and Sunday – 11AM and 2PM
Reservations: You must have one….call their reservation line 804-549-9512
Favorite dish: This isn't about the food, now is it?
While this won't be the best brunch in Richmond in terms of food, Godfrey's will be the most unique brunch experience, hands down! While they have your standard brunch fare, that's not the reason you come here (at least, we hope it isn't).
Godfrey's has been around in Richmond since 1997 and attracts performers who are the "best of female illusion and entertainment". Expect the unexpected when you come here. Don't come waltzing in just expecting this to be drag queens merely serving you food. It's so much more!
Also, bring your stack of $1's that you have stashed away so you can show the ladies some love! You'll definitely catch their attention and it will enhance your experience even more.
When you're done with brunch and drinks — which are a must for this experience — just remember that they don't split checks, so cash is ideal, especially if you're with a large group (which is really the best way to experience Godfreys anyways).
If you're looking for where to brunch in Richmond, but looking for something a little different, Godfreys has you covered.
Best Bakery Brunch
Sub Rosa
Brunch Hours: Saturday-Sunday 8AM-5PM
Reservations: Nope
Favorite dish: Chris loves bread, so really anything! But the salami and cheese croissant is delicious
Does a bakery even qualify as brunch? We've added it to the list because it can't be missed. Let's be honest, when you were thinking of where to brunch in Richmond, a bakery probably didn't cross your mind. And you might think that since it's just a simple bakery that you can miss the normal brunch hoopla and related wait times. Mostly true…
We've lived within walking distance of Sub Rosa for a few years, and we see a line at Sub Rosa every Saturday and Sunday morning, often times out the door.
Even first thing in the morning in the freezing cold weather! Richmond loves its bread, pastries, and coffee.
Don't worry though, this bakery line moves a hell of a lot quicker than your normal Richmond brunch line.
Chris's dad actually likes the Sub Rosa coffee blend (made by Lamplighter) so much that we've had to mail him reinforcements every few months to replenish his coffee cupboard.
Best Talked-About Richmond Brunch
Lulu's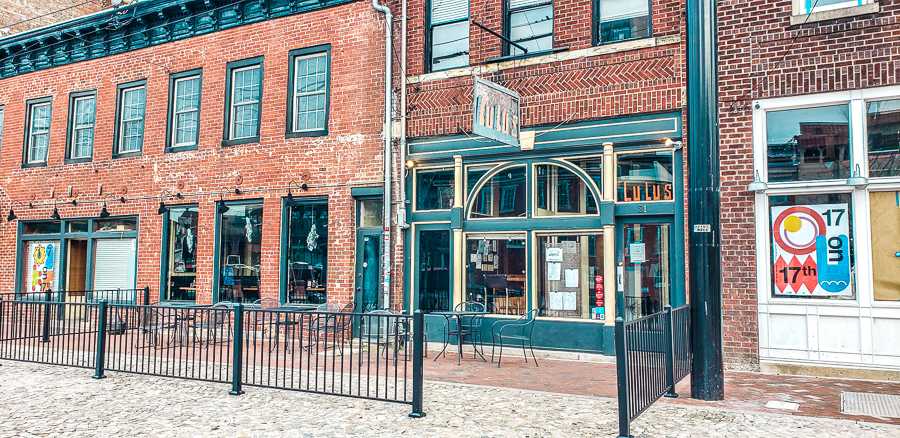 Brunch Hours: Saturday-Sunday 9AM-3PM
Reservations: Parties of up to only 8 people. Either call directly or OpenTable
Favorite dish: Chicken & Biscuit – fried chicken and buttermilk biscuits are just the start of this dish, which is finished with scrambled eggs, sausage gravy, and honey
Lulu's has been a Richmond brunch staple for years.
We've had brunch here a few times over the years and have had great experiences and incredible meals.
But, the last time we went, the food was just okay and the service wasn't the best. With that being said, it's one of the MOST popular places to visit in Richmond and the food is typically great. Use the OpenTable app and avoid the crazy.
They will only seat your full party with (or without) a reservation so tell your hungover-ass friends to be on time for a change.
Also, make sure you try some of their variations of the classic brunch cocktails of bloody marys and mimosas. Chris's go-to in the past has been the Brazilian mimosa (Kraken rum, pineapple juice, and champagne) while Samantha likes the tropical mimosa (Malibu rum, pineapple juice, and champagne).
Brunch 'til you Drop
No matter what type of Brunch you are looking for, you'll find it in RVA. When writing this guide for the Best Richmond Brunch, we know we left off some favorites. Feel free to drop us a comment below and tell us your favorite spot or what we should consider adding! Have a favorite dish we missed above? Let us know that too. We love to brunch!
Read More: