Three Crosses Distilling Company in Richmond, VA
What do you get when a passion project spirals out of control into a full-time gig for a husband-and-wife team?
Three Crosses Distilling Company, an award-winning distillery offering Virginia whiskey, vodka, rum and moonshine.
We had the chance to sit down with John and Michelle Davenport, owners of Three Crosses Distilling, to hear their story and to get a behind-the-scenes look at Powhatan's first, and only, legal distillery and one of 6 Richmond distilleries.
Psst:  We have a bunch of guides about Richmond. Browse them all here.
**Boozing Abroad contains affiliate links throughout the site. If you choose to purchase items through these links, we will earn a small commission at NO extra cost to you. Read the full disclosure policy here**
Birthday Present Turned Business Venture
Like many things in life, John has family ties to thank for his interest in the process and business of alcohol. Recognizing his passion (and enjoying a good Jim Beam herself), Michelle purchased a small 1-gallon still, later named "Itsy Bits", for John as a birthday present.
By the way, before you decide to buy a still and start making liquor at home, remember that it's a federal crime to own and operate a still (assuming you're making distilled spirits and not some other distilled product), even if it's just for personal use.
Be warned, illegal distillation is a "whiskey" business (yep, we went there).
Wanting to create a liquor they could call their own, they smartly obtained a license to legally operate their still.
That 1-gallon still became 5 gallons which eventually became a 26-gallon still.
Today, they are making the good stuff on both a 150- and a 250-gallon still, named Daisy and Boss Hog, respectively, because apparently, it's bad luck to not name your stills.
What's in a Name? – Three Crosses Distilling
Curious about the name? Google "Davenport family crest" and you'll find a shield with three crosses on it. Simple enough, right? It's a little deeper than that though.
Each cross in Three Crosses Distilling stands for a pillar of their beliefs: family, service to country, and faith.
The correlation to family is easy to understand. Service to country and faith actually come by way of the Crusades, religious wars from the medieval time period.
During the Crusades, warriors carried actual crosses to plant in the ground, thus marking it "holy ground".
Spend a few minutes with John and Michelle and you'll see how important their faith is to them and how proud they are of John's service in the U.S. Army. Cheers to that!
These three pillars also fit this little village of Powhatan so well and it's a big reason why these folks have been successful in the early going. The deep history of moonshine and a very supportive community hasn't hurt either!
Bourbon Distillery lessons
To become even more immersed in the craft of making liquor, Michelle took a pilgrimage to where bourbon-lovers go, also known as Kentucky, to study the basics of distillation and the making of whiskey at a traditional bourbon distillery.
She is now one of the few female distillers in Virginia (today, John does most of the production while Michelle handles the front of the house)!
John and Michelle have mastered more than just whiskey, too.
In fact, the first liquor they produced and sold was their moonshine, the Route 13 Shine, paying homage to the rich tradition and history of moonshine in the area (Three Crosses Distilling is located right off of Route 13, naturally).
Rumor has it that Powhatan was the 2nd wettest county in the US during Prohibition.
In translation, these people know their moonshine.
Three Crosses Distilling rounds out their full lineup of quality spirits with white rum, spiced rum, and vodka.
We even heard rumblings of gin potentially being in the works down the road.
Three of their spirits (whiskey, spiced rum, and vodka) have won medals at some of the most prestigious spirits competitions around!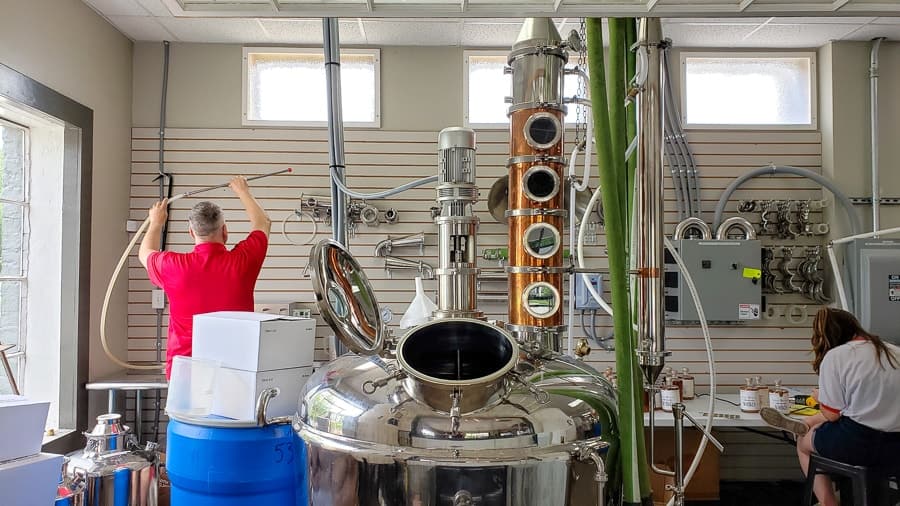 The Solera-Aging Process
What makes their whiskey so incredible? The solera-aging process. The reason you probably don't know what this is as it relates to whiskey is because only a few other distilleries in the country are doing it.
It's very common with wine, rum, brandy, other cognac-type spirits, but it is rarely done with whiskey and a first for a Virginia whiskey.
In the solera process, the whiskey is blending vertically and horizontally through a stacked barrel system that allows new whiskey to mix with aged whiskey.
For example, 100 pounds of new whiskey tops off the barrels of the 2-year whiskey which blends and mingles in the barrel, robbing the "good stuff" from the 2-year whiskey.
You could say the new Virginia whiskey was single and ready to mingle.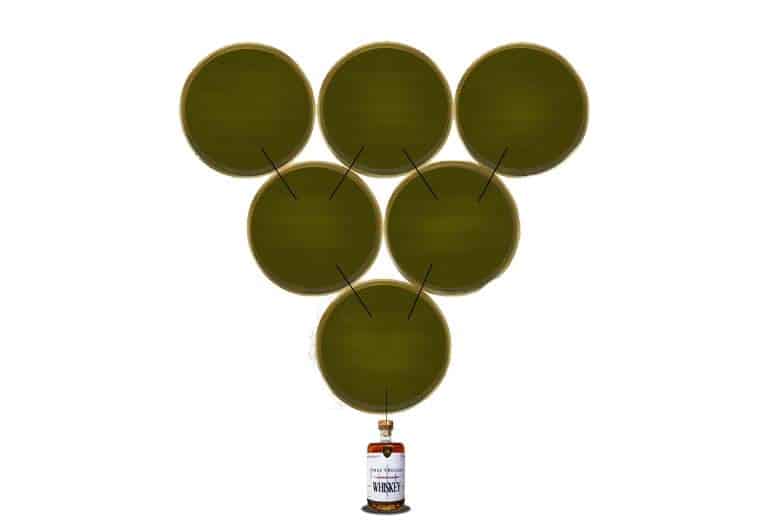 Repeat this process with the 2-year whiskey blending with the 3-year whiskey. This starts the aging process all over again in the barrels.
This process produces a more consistent spirit over time and helps to continually harvest the barrels.
It also means that every bottle of Three Crosses whiskey has a little bit of the older-aged batches in it since the barrels are in continuous use.
In short, this process is unique to whiskey which is why their whiskey is so consistently smooth, drinkable, and delicious!
Supporting Local – the Virginia whiskey way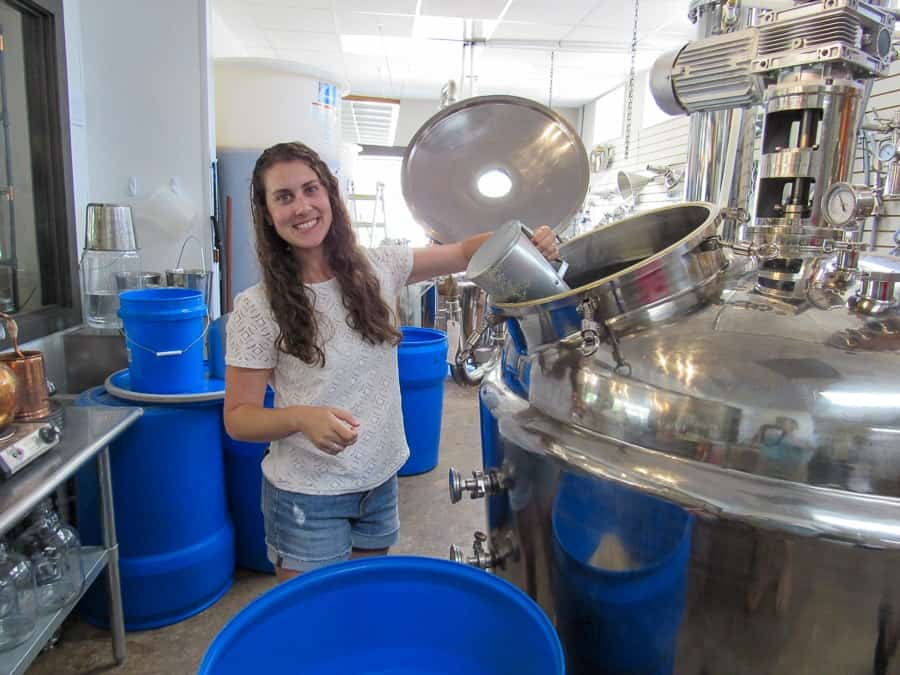 Even better than just an awesome product, Three Crosses Distilling is also committed to supporting the local community around them as their moonshine, vodka, and whiskey all start with locally-grown corn from Powhatan farms.
Then, the spent mash goes back to the farms to feed cattle, and to complete the fullest of circles, they've even enjoyed some of the beef that comes from one of their farmers, likely with a whiskey in hand, of course.
With John's military background, military and veteran-related causes are high on the list of things that Three Crosses Distilling supports and promotes as well as numerous other local and charitable causes.
Check out their Facebook page for all of the updates on the events and causes you can support!
In addition to these great causes, you can also take part in many other fantastic events, including cigar nights, Distiller for a Day events, Bar-ology 101 classes, and even a Booze Cruise along the historic Richmond Canal while tasting delicious Three Crosses-inspired cocktails!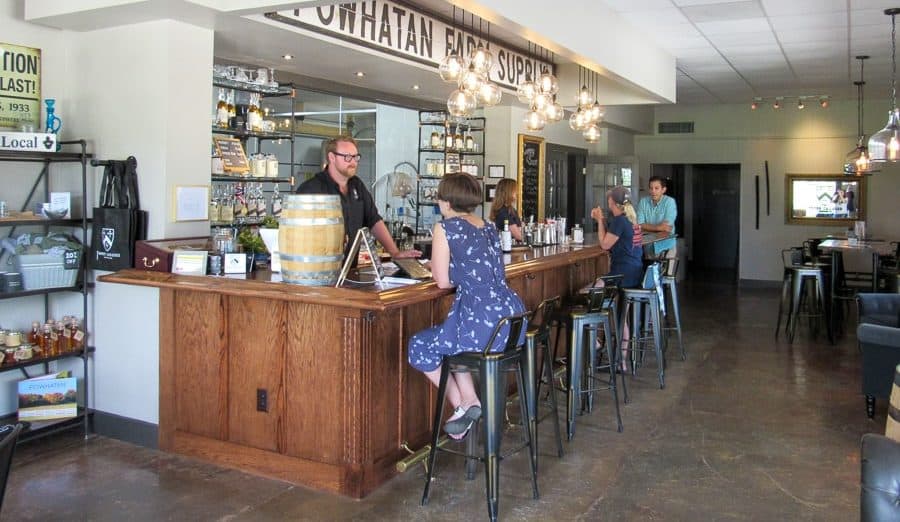 Virginia Distillery laws
Before you start to plan out your Virginia whiskey cocktails, remember that by Virginia law, you are allowed to consume a total of 3 ounces of liquor per day at a Virginia distillery.
So no, that isn't the bartender cutting you off because they think you've had too much (unless it is, of course).
Speaking of bartenders, Three Crosses Distilling has one of the best bartenders around and an absolute pleasure to sit and talk to over one of his creations.
Justin is the chief bartender and his drinks are super creative and innovative!
A self-proclaimed perfectionist, he told us that he loves experimenting with the spirits, but that once his cocktail is complete, he enjoys naming the drinks even more!
The list of cocktails changes every season or so and his name choices are equally as spot-on as his drink-making!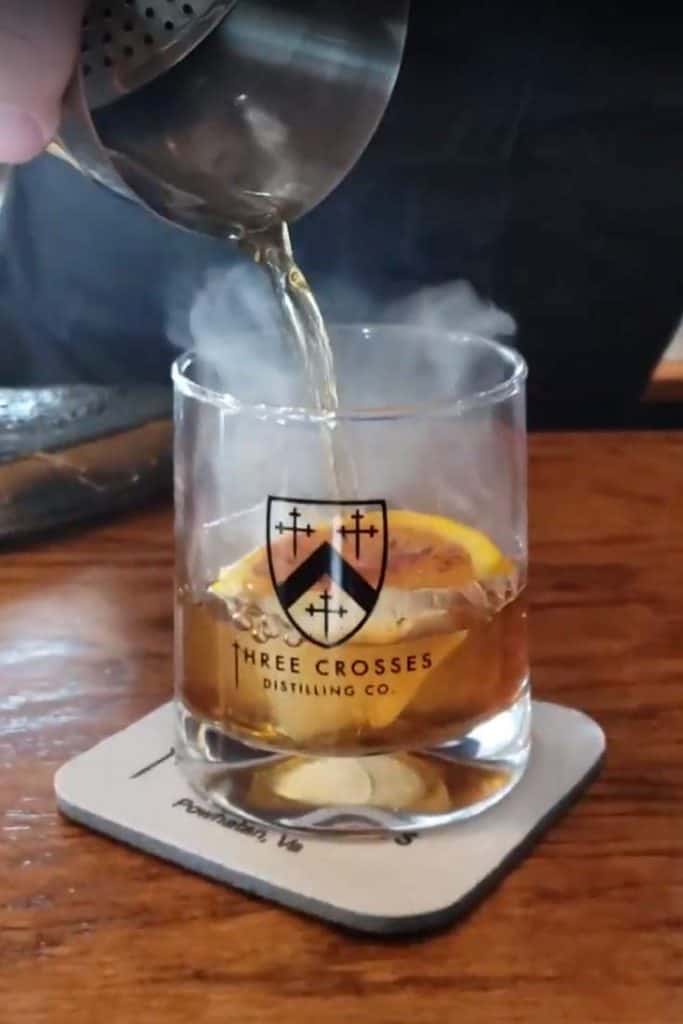 Sticking with the local theme, Justin strives to make all of his mixes and syrups in-house with fresh, local ingredients.
When you visit, trust us and make one of your drinks (you can have two cocktails total) a smoked Old Fashioned.
It's a fun cocktail to watch Justin make (burns the wood right in front of you) and it's an even more fun cocktail to drink!
Virginia Whiskey through Southern Hospitality
All in all, John and Michelle have got to be some of the hardest-working, nicest, and down-to-earth people you'll ever meet.
Their interactions with customers make you feel like you've known them for years and they are happy to talk "shop" with you all day long.
John will even show you around the production house and educate you on their unique solera-aging process for their whiskey.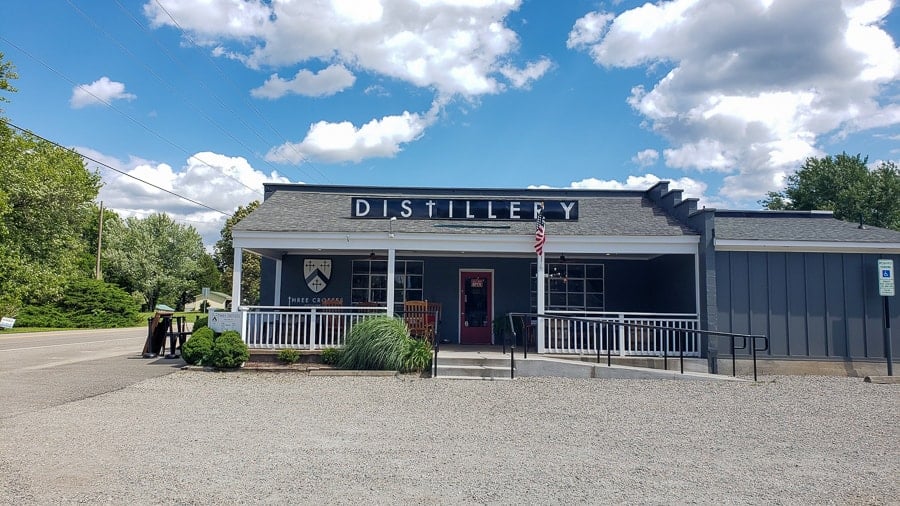 Whether you are a local to Powhatan or passing through Richmond, Three Crosses Distilling is a great place to soak in that true southern hospitality you always hear about.
If you are crunched on time and can't make the 45-minute drive, you can stop by the local liquor store and pick up a bottle to go.
We have been trying our hand at Old Fashioned-making at home with their liquor and although we aren't as good as Justin, we are still very happy!
When you do stop by, tell John, Michelle, and Justin that Boozing Abroad sent you and enjoy drinking the local Virginia liquor!