7 can't miss Houston Breweries for Texas Beer Lovers
Houston, Texas, is the 4th-largest city in the country, with a metro population of almost 7 million people, but it wasn't until recently that the Houston breweries scene started lifting off like a rocket ship (space jokes – Houston is also home to NASA's Space Center).
There are numerous Houston breweries in today's market: some old (including the oldest brewery in Texas) that put Houston breweries on the map and some new that have kept the beers flowing since.
Whatever your palate, Houston has it somewhere. But one logistical note: Houston is ginormous. Spending only a week here, we obviously didn't make it to every single one of the Houston breweries (there are over 60). That being said, we criss-crossed the city in search of great craft beer and found some awesome stuff.
By no means is this list "The Best of Houston Breweries". These are some of the places we visited based on our research, recommendations from people like you, and suggestions from one of our most trusted sources: bartenders.
We encourage you to try as much as you can to get a feel for the city and its beer. Don't let us sway your opinion one way or the other. Come decide for yourself and see why Houston has recently been called "Brewston"!
Psst: Needing more Texas content? Check out our other posts!
**Boozing Abroad contains affiliate links throughout the site. If you choose to purchase items through these links, we will earn a small commission at NO extra cost to you. Read the full disclosure policy here**
Urban South HTX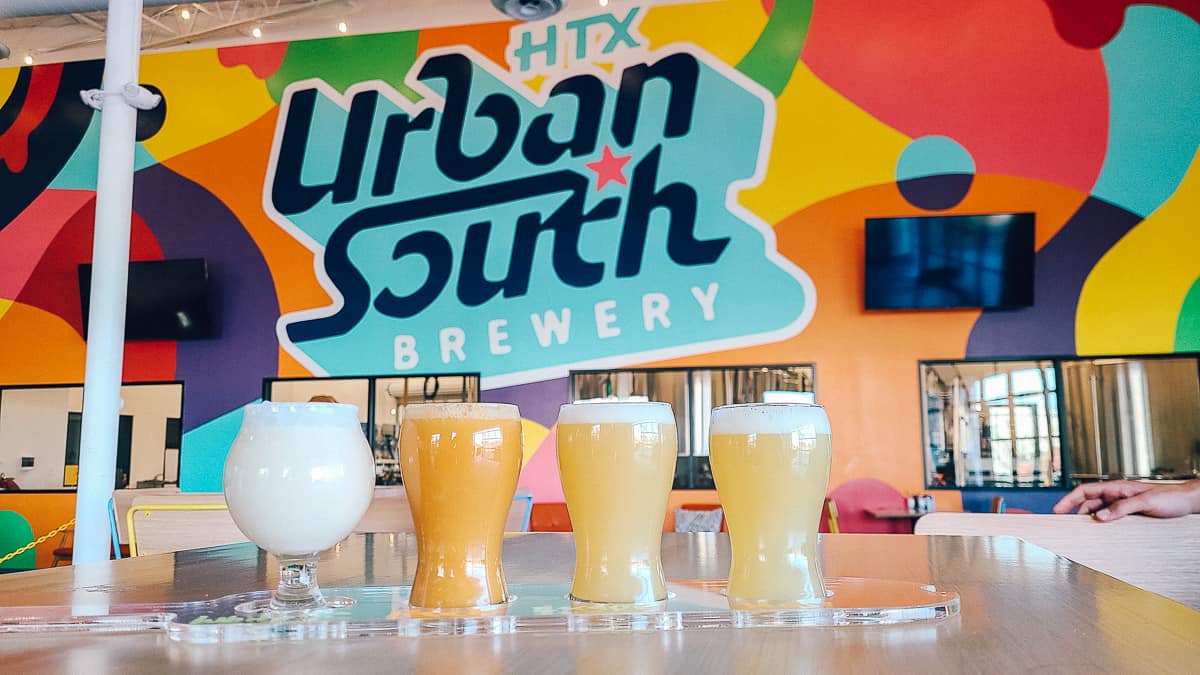 Though it's not one of the native Houston breweries (originally hails from New Orleans), Urban South HTX has quickly become one of the favorites in the Houston breweries scene.
The bright combination of colors in the large taproom and patio reminded us a bit of Easter-time, but overall it was just a mood-lifting color scheme (or maybe that was the beer?).
The Houston location is used as Urban South's research and development department for the bigger New Orleans operations. This means basically no mainstay beers and a constantly-changing lineup of unique and great experimental beer.
If you like something, you better get it in cans right away because it will probably be gone the next time you visit.  Unless you visit the next day.  No judgment here.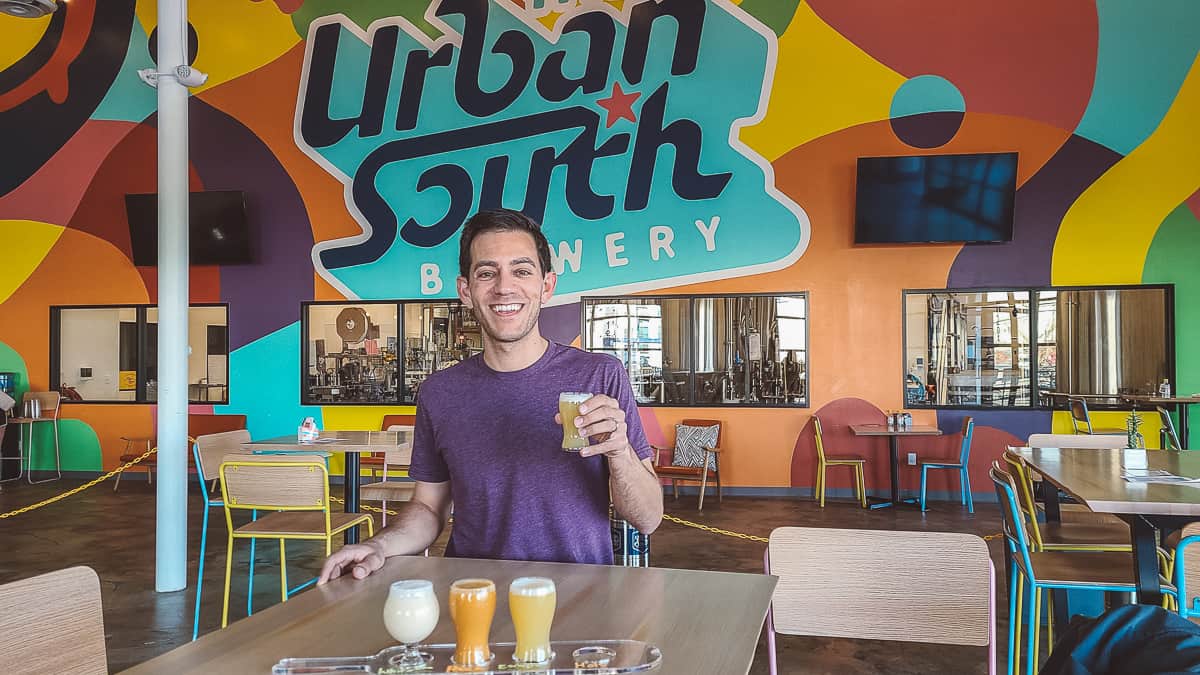 They do continuously make beers in their fruited sour series, which includes Spill, Spilled, Double Spilled, Triple Spilled, and Split. All of these variations clock in at different ABVs and use different fruits and variants for each batch.
On our visit, we tried an incredibly unique Double Spilled beer brewed with banana and white chocolate.
We'll be honest…we were unsure when it came out of the tap a milky white color/consistency.
But man, it was absolutely spot on flavor-wise and was absolutely delicious! The Double Spilled with passionfruit, pineapple, and peach rings tasted almost exactly like that bag of Peach Rings you bought at the gas station that one time.
In addition to the numerous sours on tap, they had several other styles including a full lineup of IPAs (classic, hazy, double, triple) and some interesting stouts.
Come grab an experimental beer that you may never have again!
Buffalo Bayou Brewing Company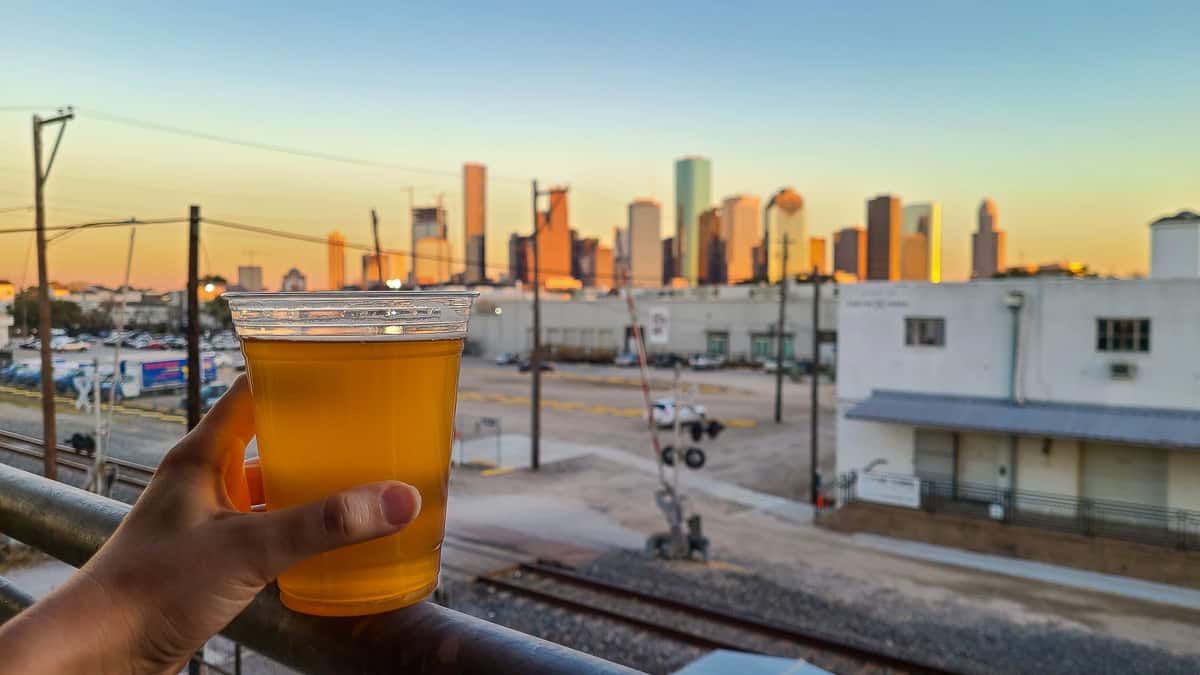 The Buffalo Bayou Brewing herd started back in 2011 because the owners said none of the Houston breweries were making the beer that they wanted to drink.
They wanted more beer that pushed the limits and sometimes went beyond the edge. And so, one of the most creative Houston breweries was born.
The masses liked what they saw and drank. So much so that they crowdsourced $1 million for expansion to their new digs in just 6 weeks time!
A full restaurant complements the wide-ranging and risk-taking brewery with some of the best Houston-skyline views on their second and third-floor patios.
They literally have it all (too many to even name): blondes, coppers, IPAs, porters, stouts, scotch ales. All of which push the boundaries on what beer "should" be. While it wasn't our favorite beer, the view can't be beat!
Grab a drink. Roam on your own like a Buffalo. And head to the top floor for a great view of Houston.
Great Heights Brewing Company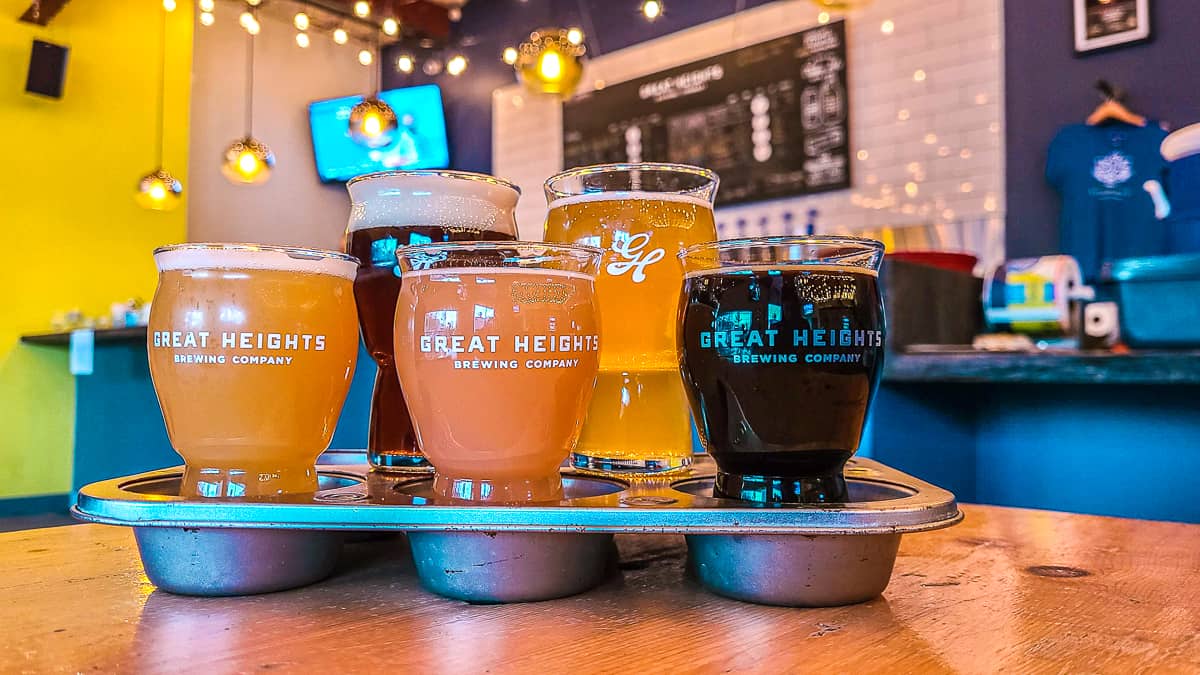 The entire Heights neighborhood of Houston is a fun and chill place to explore. Great shops and restaurants, eclectic streets to stroll down, beautiful houses, wine, and beer.
The vibe at Great Heights Brewing definitely fits in with the neighborhood. An airy yet cozy tasting room has a large garage door that opens to let in the warm Houston weather (and easy access to food trucks).
Some of our favorites included the Super Terrific Happy Sour (pineapple, guava, blackberry), the Fruity Pellets New England IPA, and the Toy Cannon imperial stout brewed with cinnamon and vanilla.
After you finish up your pint or flight here, head next door to Decant, an urban winery, or across the street to another one of the Houston breweries, Walking Stick Brewing Company.
Walking Stick Brewing Company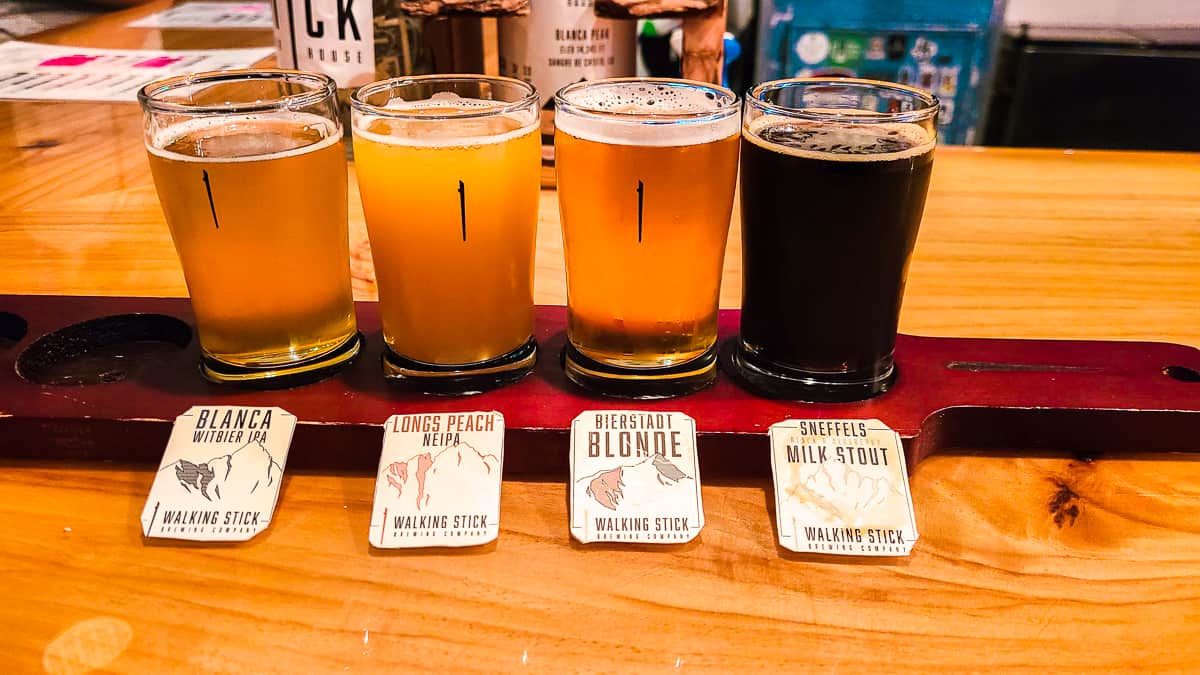 "A Texas Brewery. With Rocky Mountain Roots."
When the current owners of Walking Stick Brewing Co first saw the distressed building and plot of land where their brewery now stands, they were playing volleyball across the street. It had a For Sale sign on it. Against all logic, they decided to buy it, without even knowing what they'd do with it.
They just knew that they wanted a business that incorporated the industrial-feel of Houston with the alpine feel of their beloved state of Colorado. Eventually, and thankfully, they decided on a brewery.
When we first walked into the brewery, we actually thought we were in a wedding venue, rather than one of the Houston breweries. There were beautiful and ornate flower decorations hanging from the ceiling and that perfect mood lighting.
The walkup to the front door walked right through a classic beer garden with beautiful string lighting. Beauty and beer!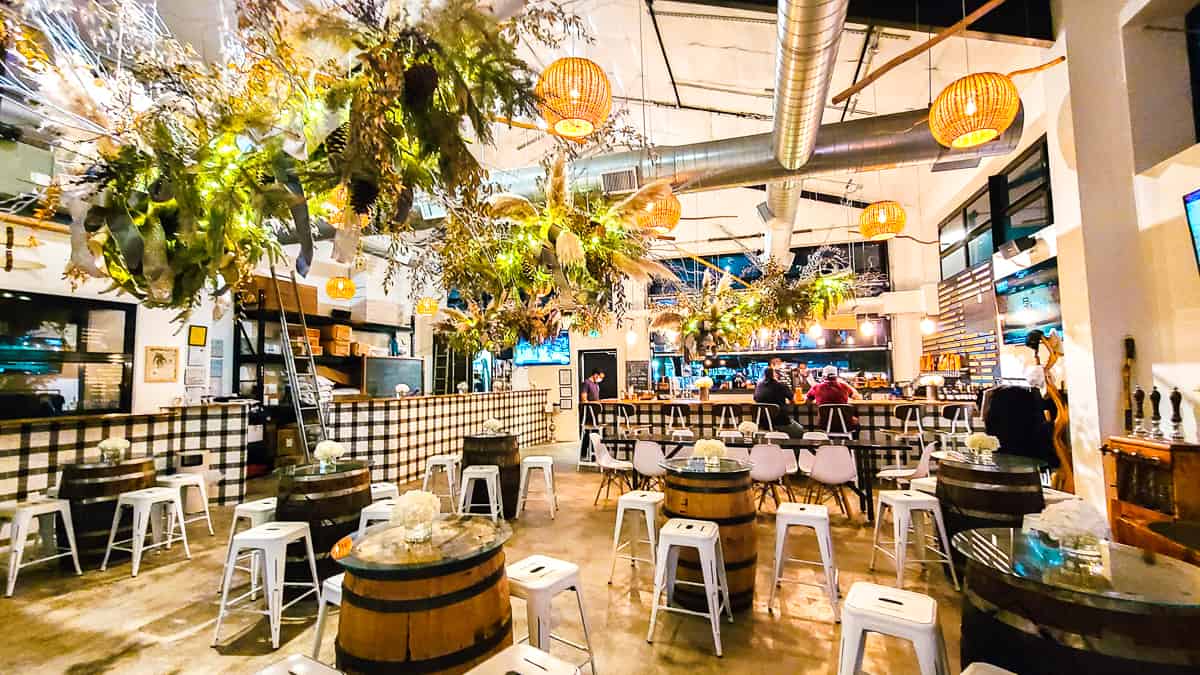 Because of their Colorado roots, their beers are named for the different Rocky Mountains that are known as 14ers, or mountains over 14,000 feet in elevation.
In between running their brewery in Houston, the owners even have a goal of climbing one of these 14ers each summer.
There are IPA's, as any Colorado-loving brewery would have, but also many traditional British-style ales stemming from the owner's time spent in the UK.
The Blanca Witbier IPA was a very unique hybrid of an easy-drinking witbier and a hop-forward IPA, while the Longs Peach New England IPA (named for the Longs Peak 14er) was probably our favorite, a hazy IPA with some serious peach flavor.
Saint Arnold Brewing Company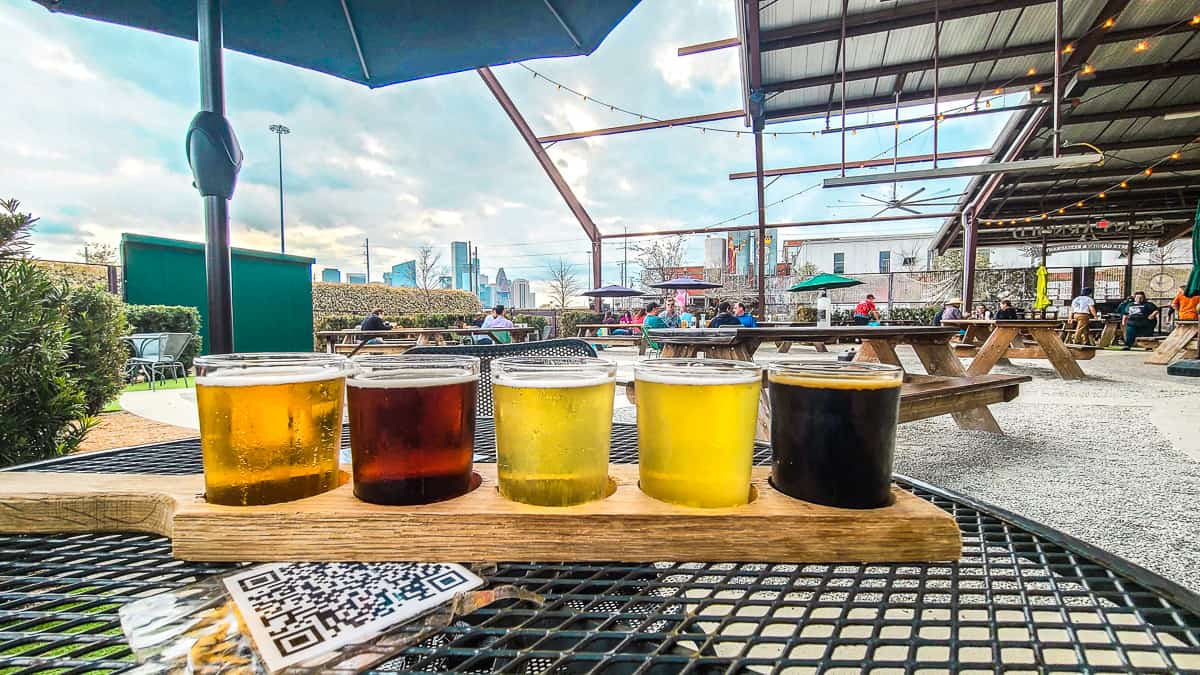 Located right in the midst of Houston's downtown, Saint Arnold Brewing Company was the first of the Houston breweries and also Texas's first craft brewery. Back in 1994, the owners saw a void — at the time, Houston was the biggest city in the country without a microbrewery — and filled it.
Today, they serve their beer in either their cathedral-looking tasting room or a huge outdoor beer garden with picnic tables galore, perfect for grabbing a beer with your friends and family (feels like an epic Oktoberfest waiting to happen).
As the first, Saint Arnold brewed Houston's first modern craft beer, the Amber Ale, which is just an all-around solid beer. The Fancy Lawnmower is their well-known kölsch, but their Santo is a very unique beer, basically a black kölsch.
The black kölsch style doesn't really exist, but Saint Arnold, the patron saint of beer, does what he wants. Like brewing a kölsch with black malt to give it that distinct dark malt flavor while still being light and drinkable.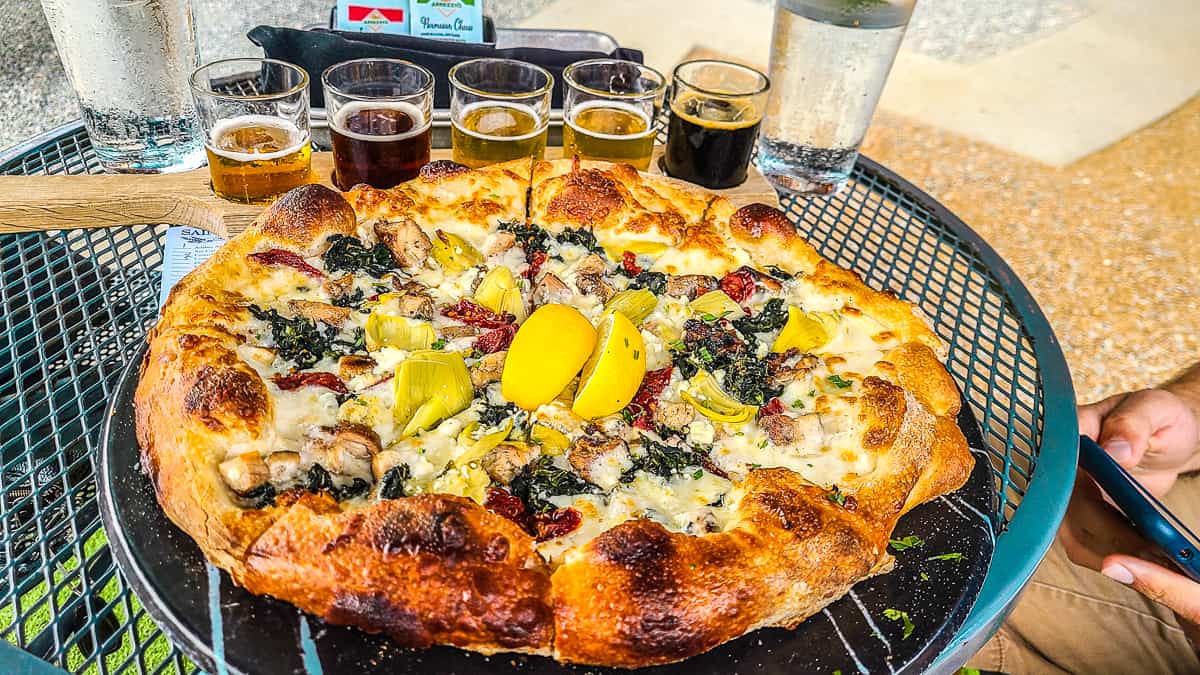 Saint Arnold has a full restaurant to accompany their beers, including pretzels and beer cheese, a Crawfish Roll (think lobster roll, but more Houston), Bratwurst, and some delicious pizzas.
Like much of Houston, art is on display all over the place…on the walls, in various sculptures, and even on some art cars as you arrive.
8th Wonder Brewery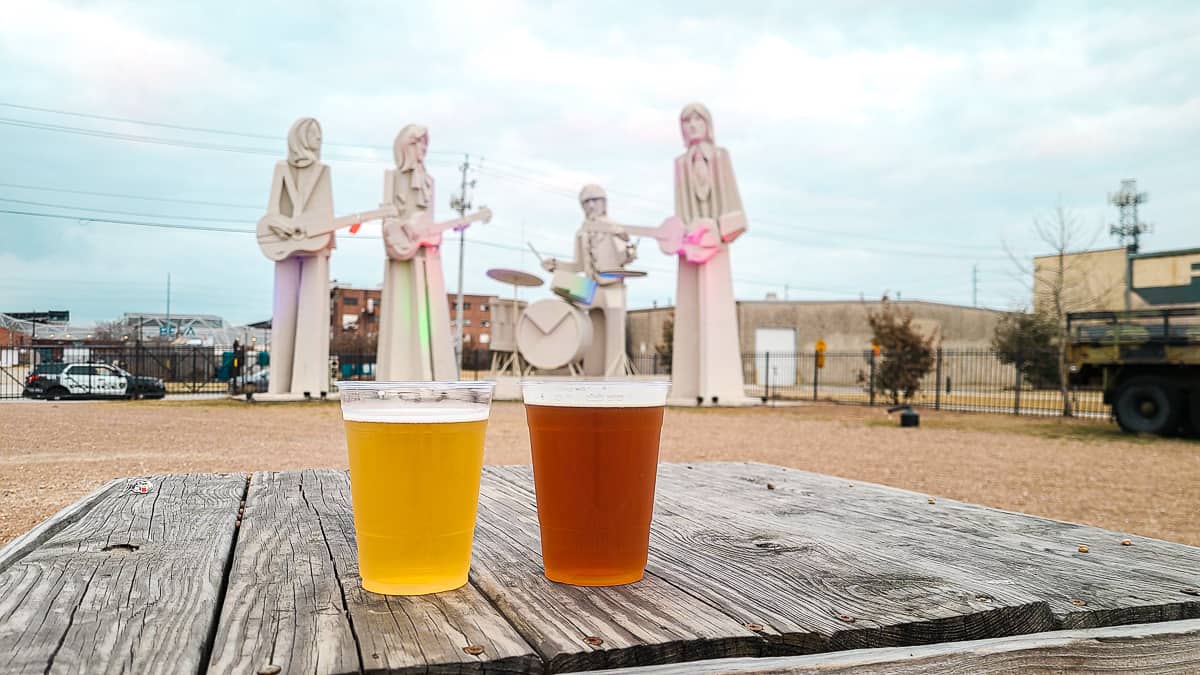 The iconic Houston Astrodome opened in 1965 as the first-ever domed sports stadium and was nicknamed the "8th Wonder of the World". So what's the relation to beer?
The brewery started brewing back in 2013 in a nearby dome-like warehouse, and they thought the name embodied the spirit of Houston perfectly.
8th Wonder Brewery has a huge outdoor courtyard area with shipping containers, string lights, and some unique Houston artwork, including a 36-foot tall sculpture of the Beatles and the "We Love Houston" sign.
Like their name, many of their beers are Houston-themed like the Hopston IPA, Dome Faux'm cream ale, Rocket Fuel coffee porter, and the Weisstheimer (named for a major street in Houston, Westheimer).
The taproom is ideally-located in Houston's EaDo area, or East Downtown, which is right near many of Houston's sports venues, making it one of the most popular Houston breweries for pre-, during-, or post-game craft beer.
The brewery recently opened a sister distillery (8th Wonder Distillery) right across the street serving up spirits (vodka, gin, rum, whiskey) and cocktails.
True Anomaly Brewing Company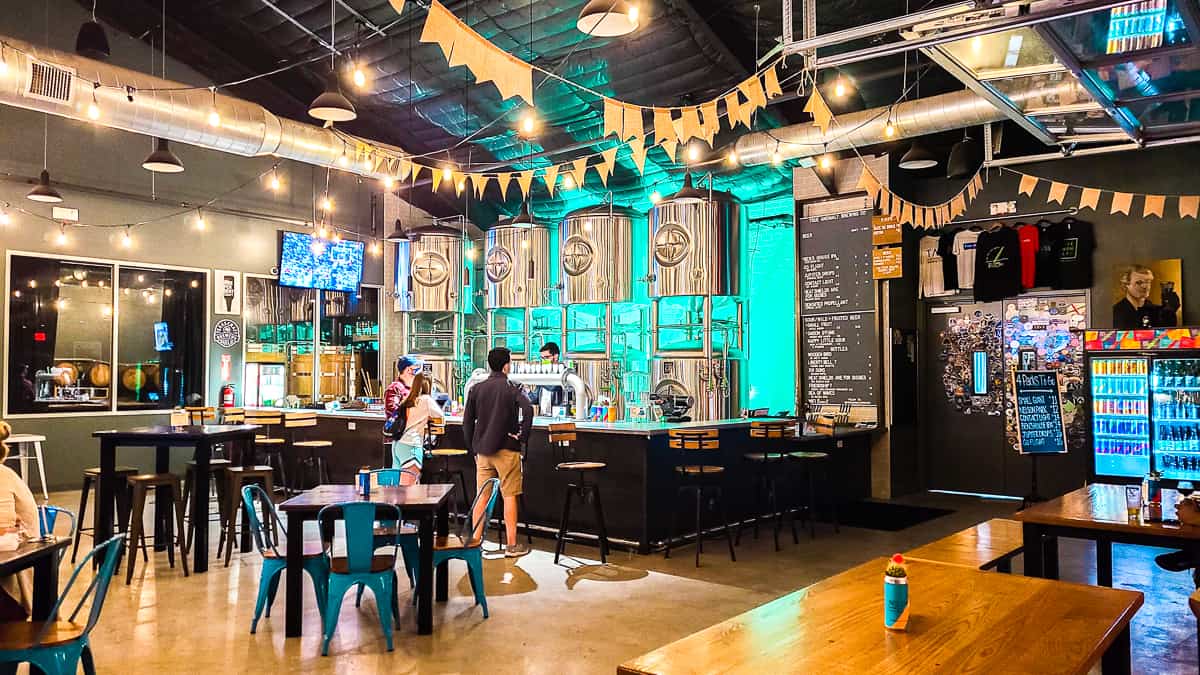 If it seems like most breweries start out with 4 dudes homebrewing in the garage for years before going all in on the brewery business, you're not all wrong.
And while True Anomaly Brewing Co started out similarly, the 4 dudes also happen to have backgrounds as rocket scientists, space-suit developers, and mission managers. So, basically really intelligent people! These guys love outer space and they love beer.
No offense to any of the other Houston breweries, but we feel safe saying they probably have the highest combined IQ of any of the Houston breweries.
Only 2 blocks from 8th Wonder, the folks at True Anomaly are inspired to make beers that are bold and different from the rest and like to say that their brewery is a "launchpad for fermented exploration".
As you might expect from a group of former space industry employees (and current space-enthusiasts) in Houston, there are nods to the space industry all over the place, like small-scale models of rockets, space shuttles, and the International Space Station.
Many beers are also space-themed, like the Go Flight New England IPA, Heat Shields are for Sissies Belgian Quadrupel, and the Contact Light saison. "Contact Light" was actually the first phrase spoken when Buzz Aldrin and Neil Armstrong were landing on the moon.
Their specialities include wild, sour and hop-forward beers, as well as many Old World styles.
SpindleTap Brewery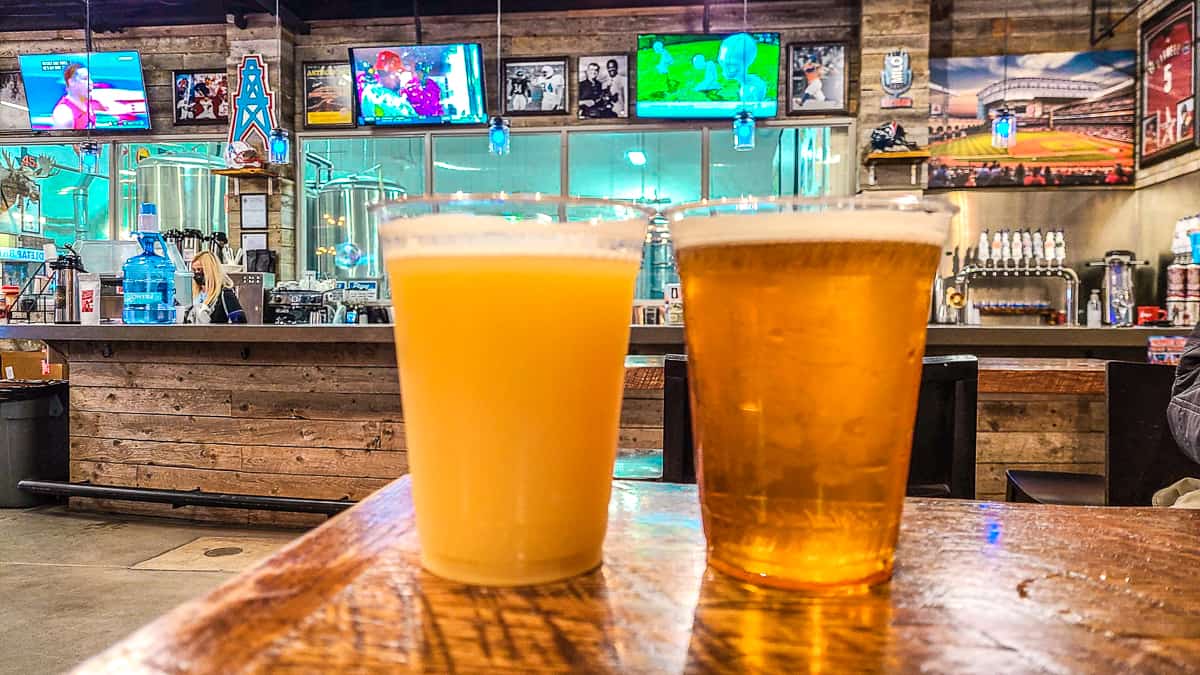 SpindleTap Brewery is an ode to the town of Spindletop, which was an old Texas oil boom town which gave rise to many of the big oil companies that we see today.
But with today's shift to more renewable energy, SpindleTap is trying to strike a different kind of liquid gold…the consumable kind.
Based on the marketplace and our taste buds, this is one of the Houston breweries that has struck gold and the beer is gushing!
SpindleTap is located in a bit of an unassuming neighborhood and an unassuming building. But the beer inside is anything but. They are known for their IPAs and hazy IPAs (the Houston Haze was delicious), but they have several other styles like the Honey Hole honey ale, the Boomtown blonde, and the Don't Mess Wit Texas.
The taproom just feels like your neighborhood Texas brewery too. There are oil well platforms plastered all over the taproom, including as the base of many of their tables, upbeat music, large windows looking into the brewery operations, and Houston sports memorabilia covering the remaining walls.
They even opened up SpindlePark, a 3.5-acre outdoor entertainment complex, complete with access to play baseball, kickball, basketball, soccer, lacrosse, volleyball, cornhole, disc golf and play nine holes on the SpindlePutt Championship Golf Course (putt-putt).
Bonus: Anvil Bar & Refuge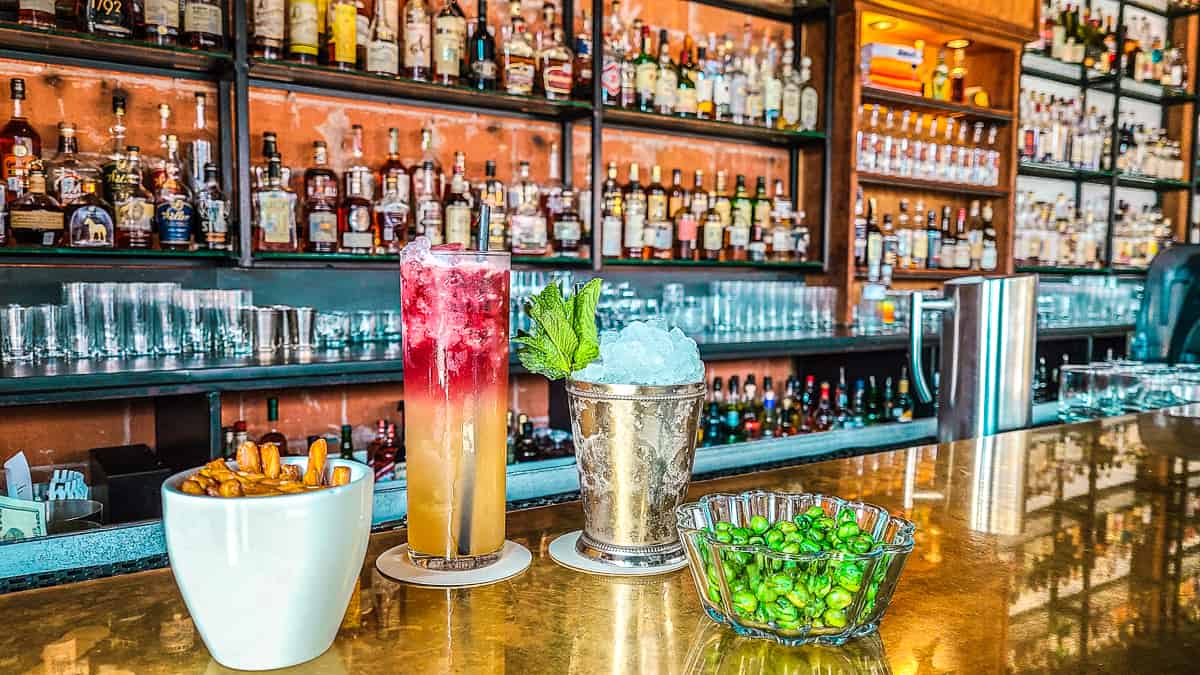 Houston's hip and trendy Montrose neighborhood is just west of the middle of the city and is full of art, food, booze, and nightlife. If you're like us, you probably keyed in on the word "booze" in the last sentence and want to know more.
Well, as we always do, we asked locals about places to drink in the city and nearly every single person mentioned Anvil Bar & Refuge for their extensive liquor list and handcrafted cocktails.
Step one foot into Anvil and you'll immediately be drawn to the huge wall that is filled to the brim with all kinds of spirits. We have no idea how many bottles there are on the wall, but let's just say the spirits list is 63 pages long!
To help you narrow things down from those 63 pages, the folks at Anvil have developed a list of 100 of their favorite classic cocktails, dubbed The 100 List. This list actually started as a training guide for their bartenders — a list of common cocktails that every bartender should know by heart — but was added to the permanent Anvil menu shortly after opening.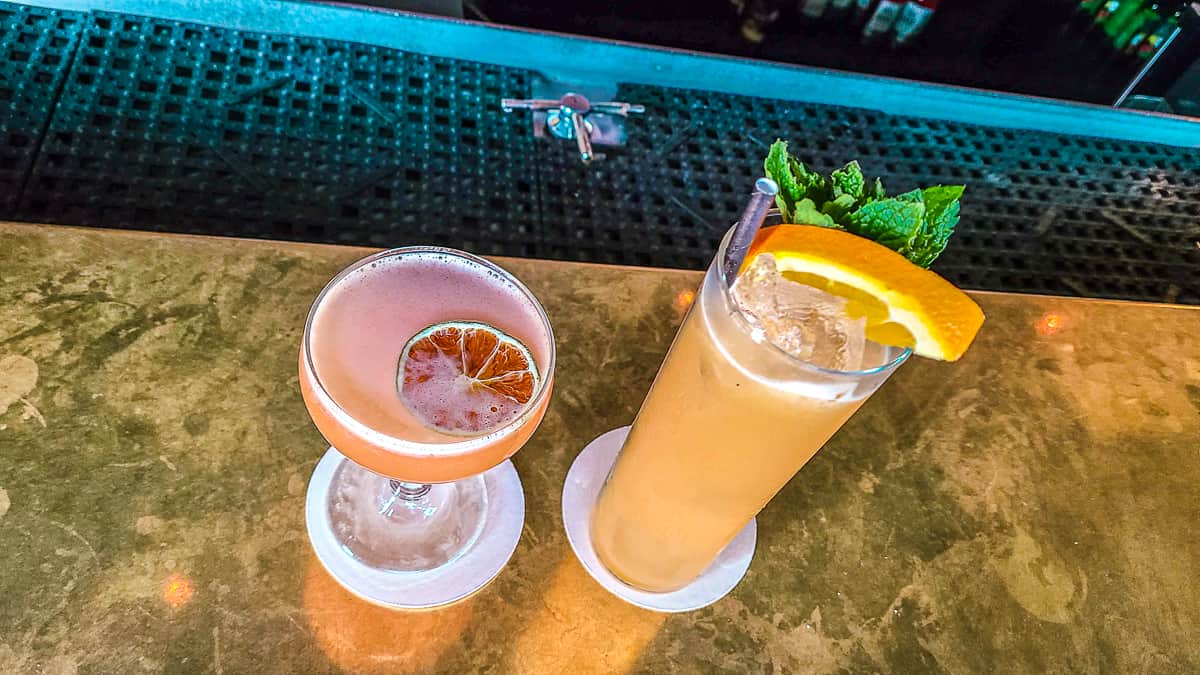 The drinks here are made with the utmost care by expertly-trained staff using the highest-quality ingredients they can find. As you might expect, this attention to detail can take some time. Cocktail perfection can't be rushed, after all.
We ordered a New York Whiskey Sour (classic drink with a float of dry red wine) and a classic Mint Julep and settled in for the expected lengthy wait. To pass the time, we started to play a game of how much money would a single shot of everything on the wall cost.
But, contrary to everyone's warnings about the wait for drinks, we had ours in front of us in no time at all. We didn't even have time to do our mathematical calculations!
It's hard to argue that the Houston Breweries aren't carving a name for themselves in the Texas craft beer scene. Whether you are stopping in for a weekend or here for a week long getaway, you'll be able to quench your thirst at one of the many breweries in the city.