The 4 breweries in Maui, Hawaii you won't want to miss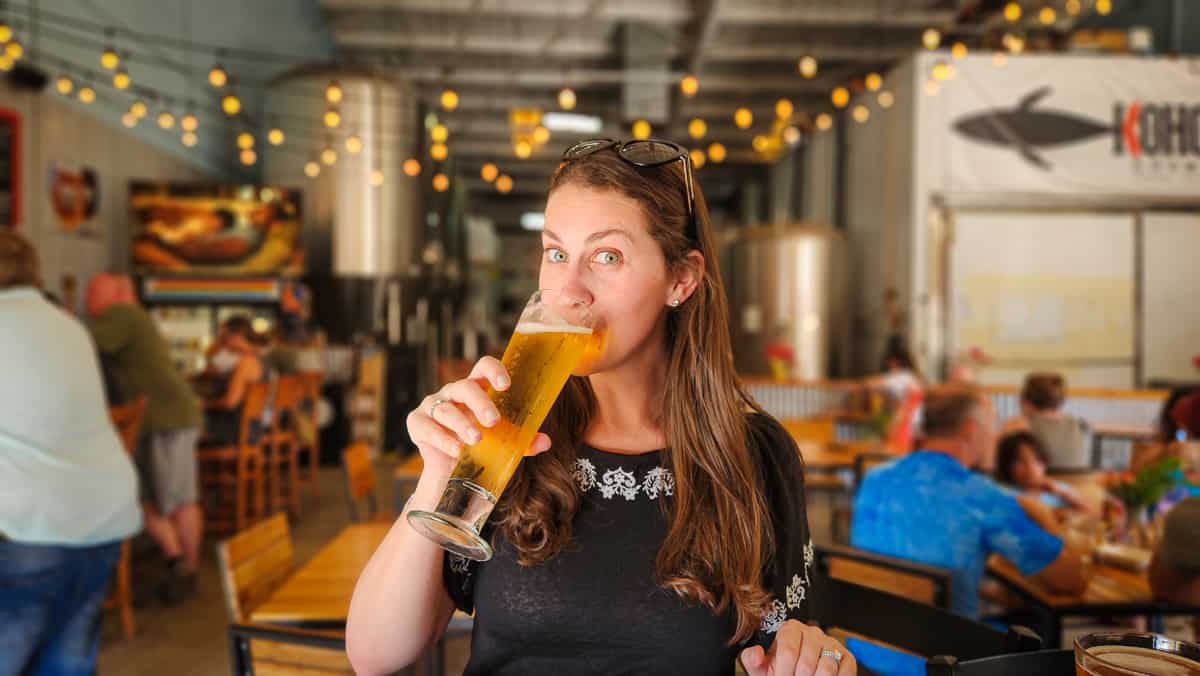 While this may come as a surprise, there are only 4 breweries in Maui. Despite a few of the breweries having multiple locations on the island, there are truly only 4.
For the purposes of this article, we are going to exclude any beer bars and just stick to the breweries themselves.
While many other articles out there list 5 or 10 breweries on their guides, we are here to tell you, there really are only 4 unique places.
Short on Time? Here are the key takeaways:
There are truly only 4 breweries in Maui.
We are excluding beer bars (since you can find a local beer almost everywhere).
These are listed in no particular order.
**Boozing Abroad contains affiliate links throughout the site. If you choose to purchase items through these links, we will earn a small commission at NO extra cost to you. Read the full disclosure policy here**
Map of the Breweries in Maui
Click the Image below to be taken to Google Maps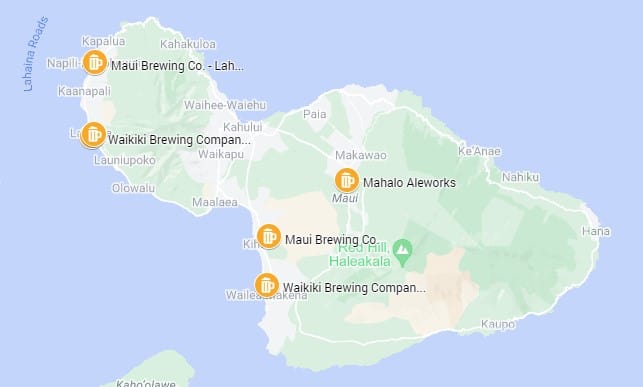 HOW TO USE THIS MAP: To view the layers and see the names of the places on this map, click the tab in the top left corner. You can select the check marks to show or hide certain layers. If you select the icons on the map, you will get more information about the point of interest.
HOW TO SAVE THIS MAP: If you select the star icon next to the map name, you can save this map to your Google Maps account. To view it, open Google Maps, select the menu button, go to "Your Places," scroll to the right to Maps, and you will see this map.
1. Mahalo Aleworks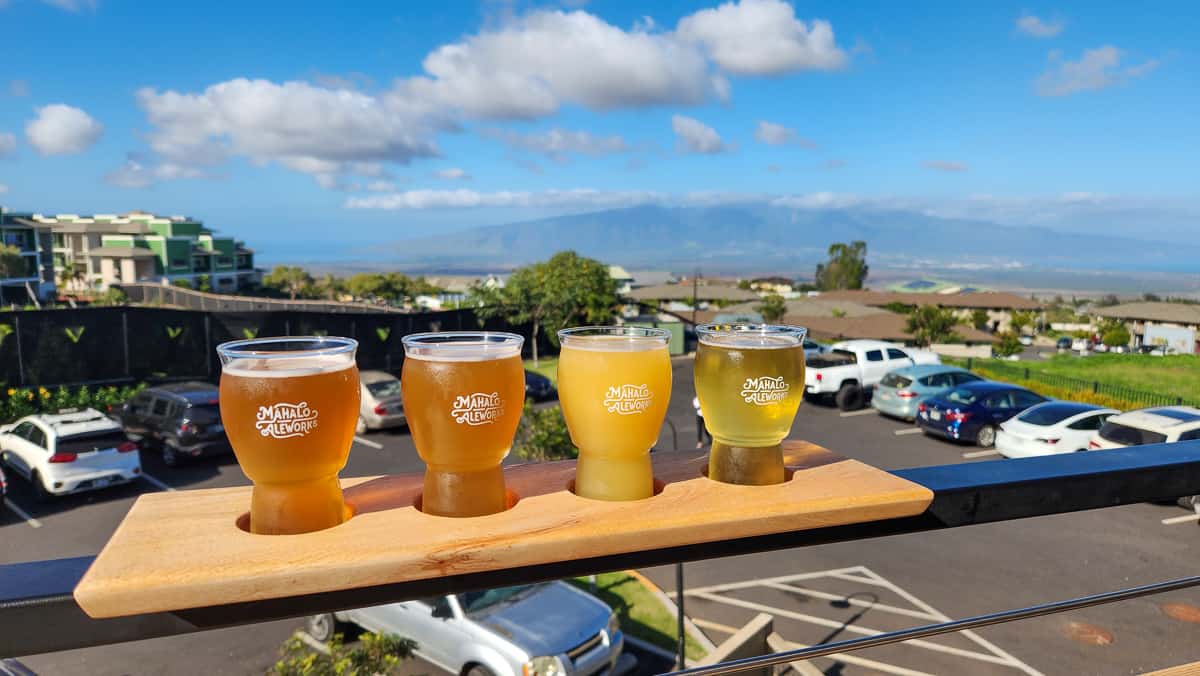 Hours: 7 days a week
Food available: No
Happy Hour: No
Mahalo Aleworks is located in "Upcountry" (as the locals call it). This means its inland and located away from the shoreline on the Haleakala side.
While we said earlier that these breweries in Maui weren't in any particular order, we would like to note that this one was our favorite.
The brewery's name, "Mahalo," is a Hawaiian word used to express gratitude such as "thanks." This reflects the brewery's mission to create high-quality beers that express gratitude for the island's natural beauty and resources.
To show their love of the island, they are committed to only the best sustainability practices which is evident in their use of locally-sourced, seasonal ingredients, solar power buildings, energy efficient appliances, reclaimed water and so much more.
Their sustainability efforts are also reflected in their beers. They only source hyper-local seasonal fruits and ingredients. While Mahalo Aleworks does offer a variety of beers, when we visited there were 4 sours on drafts (a dream for Sam) in addition to a range of IPAs, ales and stouts.
While we can't guarantee any beer will be on tap when you visit, Sam's Mango Sour was a show stopper in her opinion.
Mahalo doesn't offer food, but there are several restaurants within walking distance. We visited on a Saturday and went to the Upcountry Farmers Market beforehand.
Our suggestion, go on a Saturday morning, eat at a food truck and walk over to the brewery when you are done.
2. Waikiki Brewing Company – Lahaina Brewpub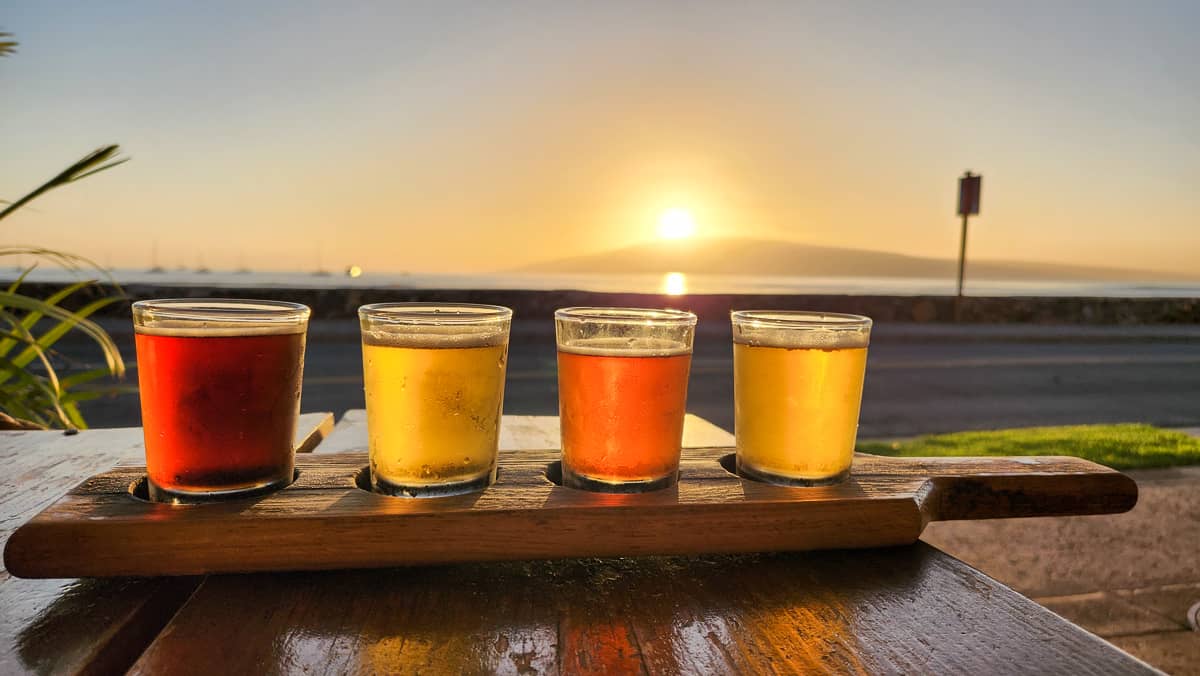 Hours: 7 days a week
Food available: Yes, full menu for breakfast, lunch and dinner
Happy Hour: daily 2-5 PM
Founded in 2015 by two residents of Hawaii, Waikiki Brewing Company originated in Waikiki (surprise, surprise) on the island of O'ahu, but now has 4 locations across the Hawaiian islands.
If you are visiting Maui, there are two locations on the island, one in Lahaina and one in the South Side near Wailea.
When we traveled to Maui, we visited the Lahaina brewpub location. The taproom is spacious and decorated with a modern, beachy vibe, with an outdoor patio area for soaking up the Hawaiian sun.
This particular location faces west and will reward you with the most incredible view at sunset. We highly recommend trying to make it there for that time.
They offer a wide range of beers, from light and refreshing pilsners to bold and hoppy IPAs. One of their most popular flagship beers is the Hana Hou Hefe, a traditional German-style wheat beer with notes of banana and clove as well as the Skinny Jeans IPA, a West Coast style IPA.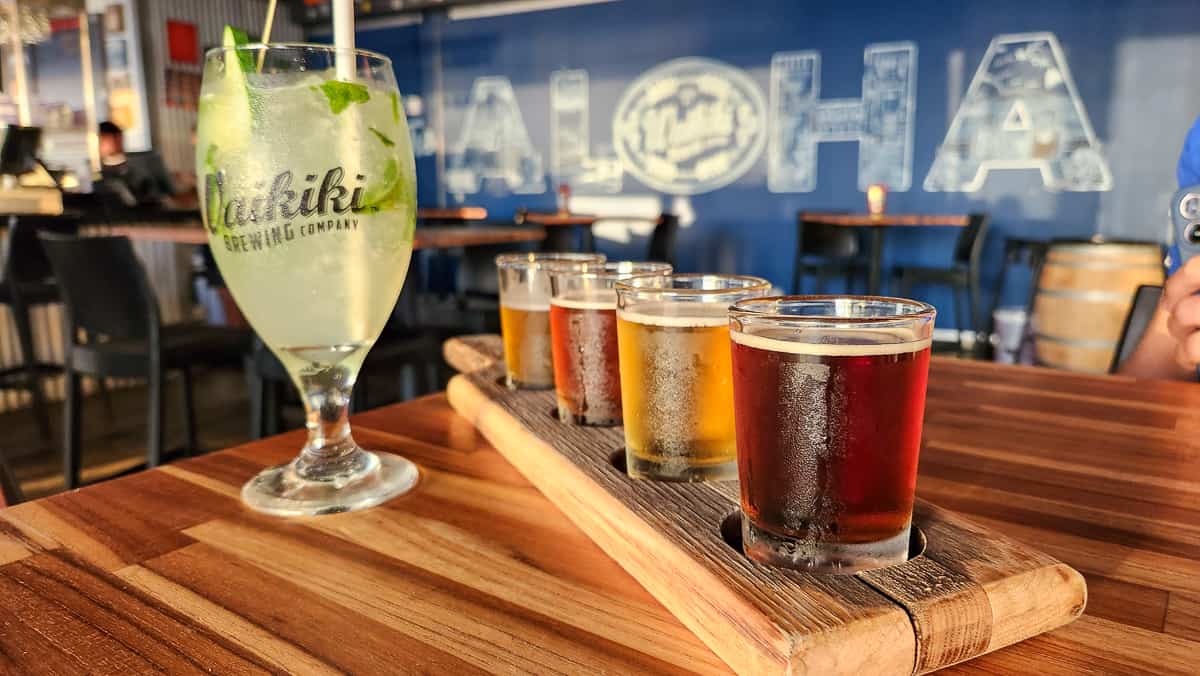 In addition to their flagship beers, Waikiki Brewing Company also offers beer cocktails, craft cocktails (with liquor) and has a small selection of wines and seltzers.
Chris sipped on a flight of beer while I (Sam) went with a Ginger Fresh cocktail (cucumber vodka, ginger, mint and soda). It was very refreshing!
We also ordered dinner here and the portions were large and very good. Sam loved her Pineappple Pork Belly Fried Rice and Chris devoured his Chicken and Pork Belly Wrap.
3. Koholā Brewing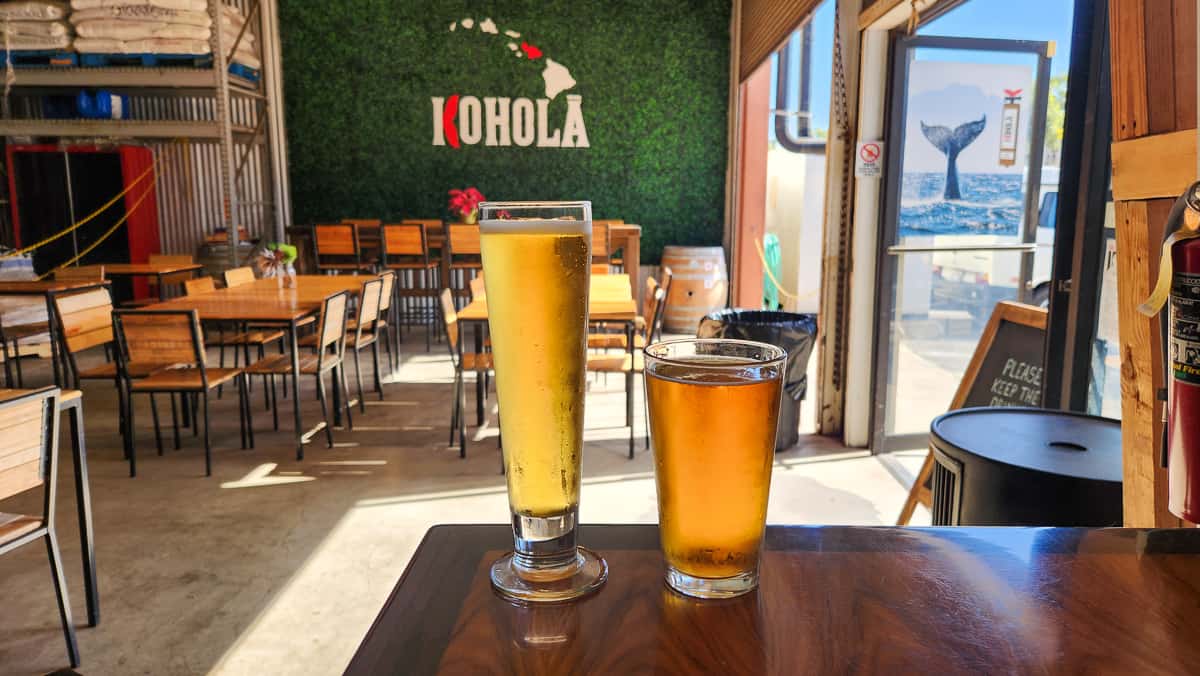 Hours: 7 days a week
Food available: No, but you can bring your own food in
Happy Hour: daily 4-6 PM
Tucked into an industrial complex, Koholā Brewing is a small craft brewery located in Lahaina , just a few minutes from the bustling Kaanapali area and just on the outskirts on downtown Lahaina.
The brewery's name, "Koholā," is the Hawaiian word for humpback whale, which can often be spotted in the waters off the coast of Maui. Both their logo and taproom pay homage to these beautifully majestic creatures.
Koholā Brewing offers mostly ales (like pale ales, amber ales, etc) but throws in a smooth and crisp pilsner and a yummy stout for good measure. Some of their most popular beers include the Pineapple Blonde and the Talk Story Pale Ale.
If you're looking for a fun activity, they offer live music, trivia nights and even karaoke. Check out their website for all the details.
4. Maui Brewing
Hours: 7 days a week
Food available: both locations offer food
Happy Hour: Yes, varies per location
Based in Kihei, Maui Brewing is the largest craft brewery in Hawaii. Established in 2005 by Garrett Marrero and Melanie Oxley, Maui Brewing aims to produce high-quality, locally-brewed beer using traditional techniques and locally sourced ingredients.
As one of the oldest breweries in Maui, Maui Brewing's beer offerings include a variety of styles, ranging from their flagship Bikini Blonde Lager to their award-winning Imperial Coconut Porter.
The brewery also produces seasonal and limited edition beers, such as their Lemongrass Saison and POG IPA.
Maui Brewing has received numerous accolades for their beer, including multiple medals at the Great American Beer Festival and the World Beer Cup.
Given its size, Maui Brewing also operates several brewpubs and restaurants throughout Hawaii. Their flagship brewpub is located in Kihei and features a taproom, restaurant, and merchandise shop.
They also offer brewery tours at this location on the weekend for $20/per person which includes a guided tour of the production facility and a flight of 4 beers.
While we personally didn't visit a location during our stay, we did have them on tap numerous times throughout our drinking adventures.
In 2019, they created a spirit line of gin and white whiskey and ready-to-drink cocktails called Kupa Spirits. We purchased two of the ready-to-drink cocktails to drink at the beach which were both very good!
Ready to keep exploring Maui?
Our favorite thing we did on the island was a luau. You can read our complete review of the Feast at Lele here.