Halloween Candy and Beer Pairing Guide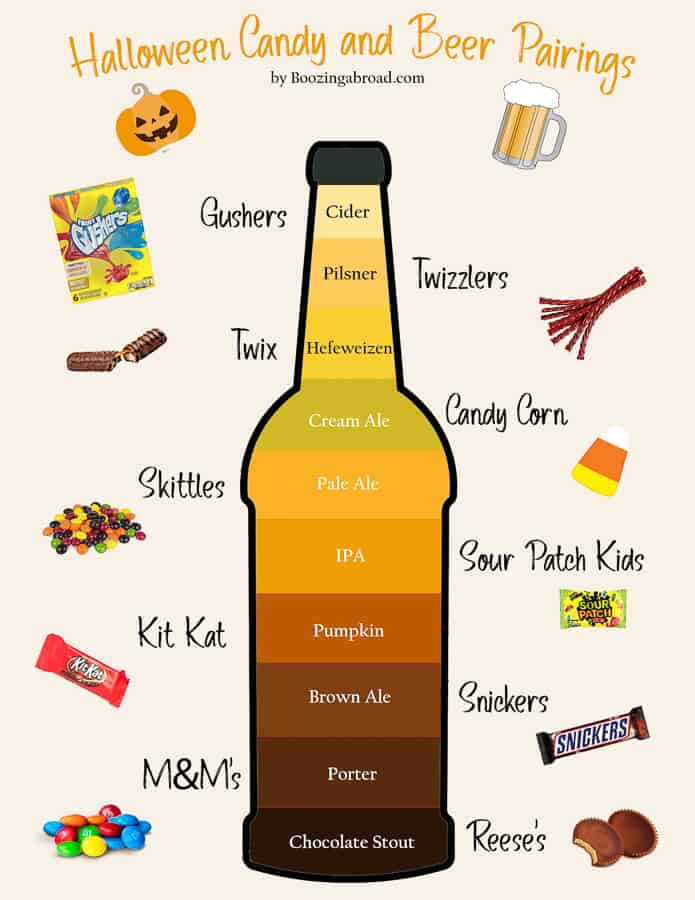 Do you always have a bunch of leftover Halloween candy because you were expecting a big year of trick-or-treating and purchased an oversized bag?
Or maybe you're one of those kid-stuck-in-an-adult-body types who likes to indulge in a fun-sized piece of candy in between trick-or-treaters?
Whichever it is, you probably also have a beer in your hand too, because that's how we adults like to Halloween.
With our help below, you can now satiate your sweet tooth with some of your favorite candies while expertly pairing it with a beer (or cider). It's no longer just eating leftover candy…it's a sophisticated way of whittling away your extra candy!
Keep in mind that when you pair beer with anything, you are either going for a complement of flavors or a contrast of flavors.  If something sounds like a gross combination to you, don't try it!  If you're feeling brave and think something might work, try it!
**Boozing Abroad contains affiliate links throughout the site. If you choose to purchase items through these links, we will earn a small commission at NO extra cost to you. Read the full disclosure policy here**
Gushers + Cider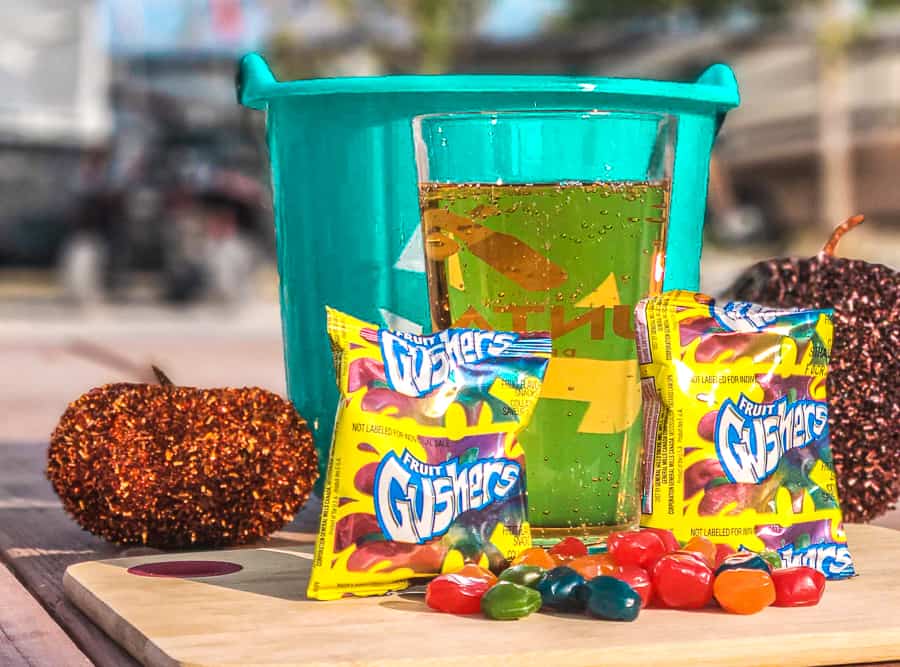 What 90s kid wouldn't want a Gushers pairing!? As great as chocolate candy is, sometimes you just need a pack of Gushers. The tangy flavors of Gushers pair perfectly with a tart, dry apple cider.
This combination will leave you reminiscing about your own childhood…just with an upgrade from apple juice to apple cider. P.S. it's also a gluten-free pairing – how about them apples (see what we did there)!
Twizzlers + Pilsner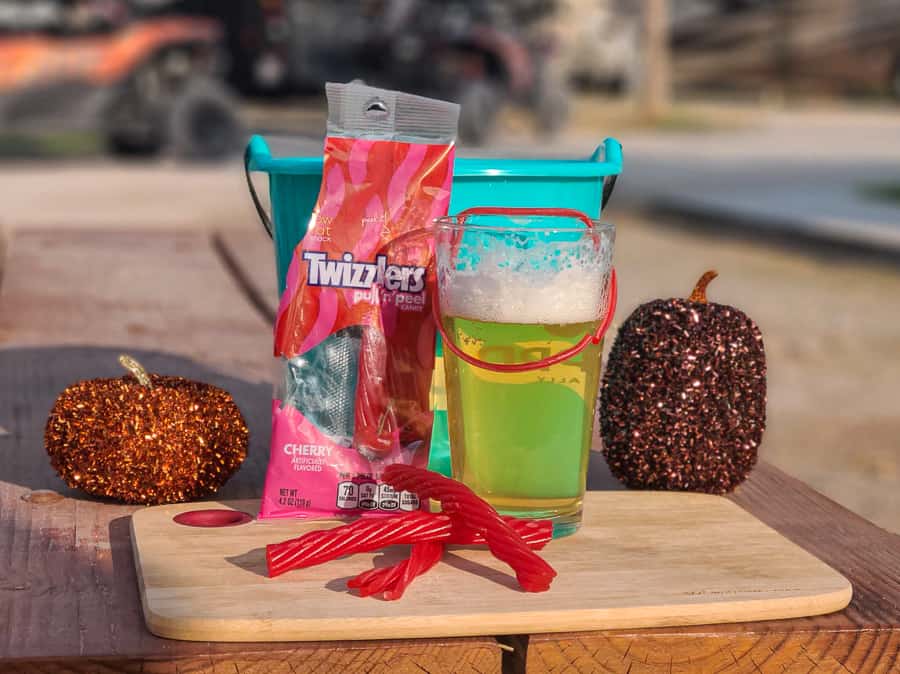 Unlike most candies on this list, the sweetness of a Twizzlers isn't overpowering so it's much more subtle than some of our other chocolate favorites. Most pilsners have a sweet biscuit-like maltiness with floral hop aromas which pairs well with the strawberry/cherry licorice.
Since neither the beer or this candy are overwhelming, use your Twizzler as a straw and sip on it!
Twix + Hefeweizen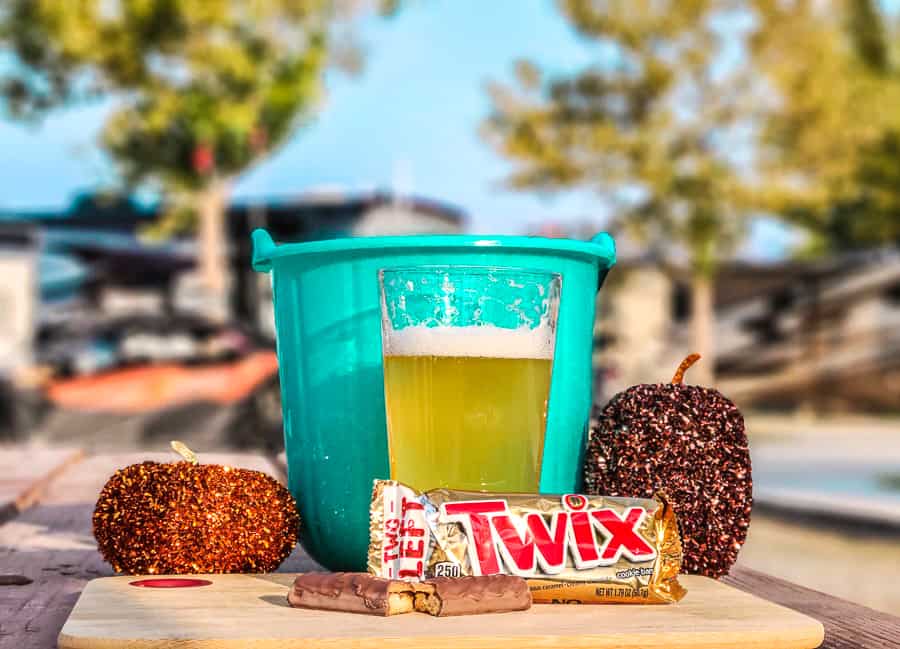 The crispy caramel covered wafers are the heart of the Twix bar, so a Hefeweizen beer should play well with the crunchy caramel-y goodness!
Although banana and clove often come to the forefront when tasting a Hefeweizen, the bready and wheaty undertones come out to play when matched with the shortbread and caramel inside your left and right Twix.
Candy Corn + Cream Ale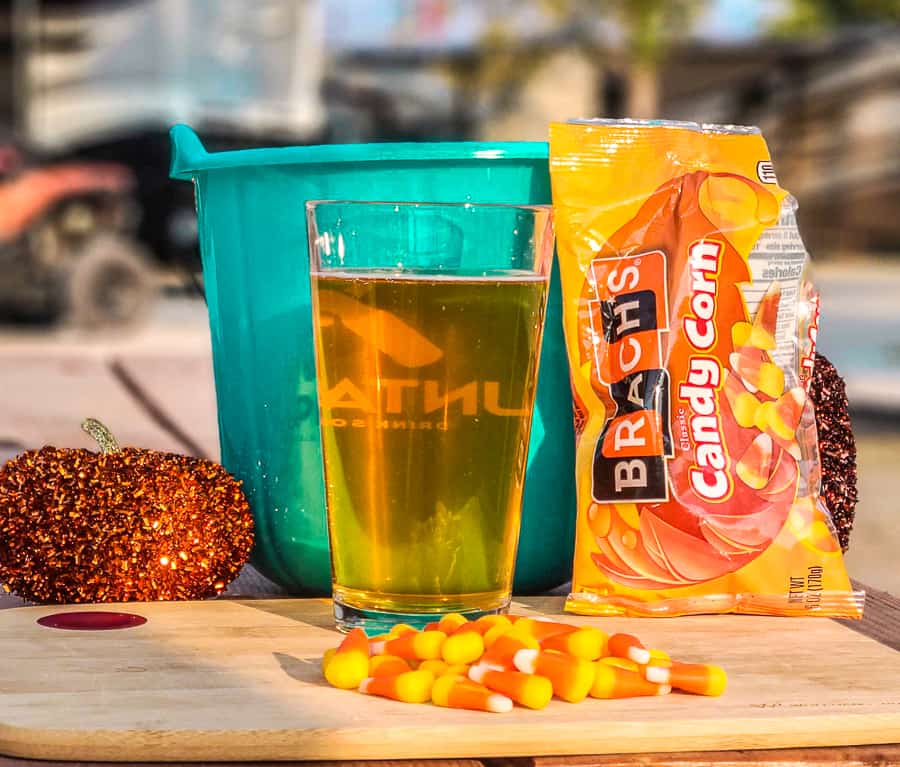 Cream ales have been in existence since the beginning of the 19th century. Ironically, so has candy corn. Either loved or hated among candy connoisseurs, the sweet taste and vanilla flavors of candy corn need a light, refreshingly-crisp, low-hopped brew to wash down all of that sugar. A cream ale accomplishes this task perfectly.
Skittles + Pale Ale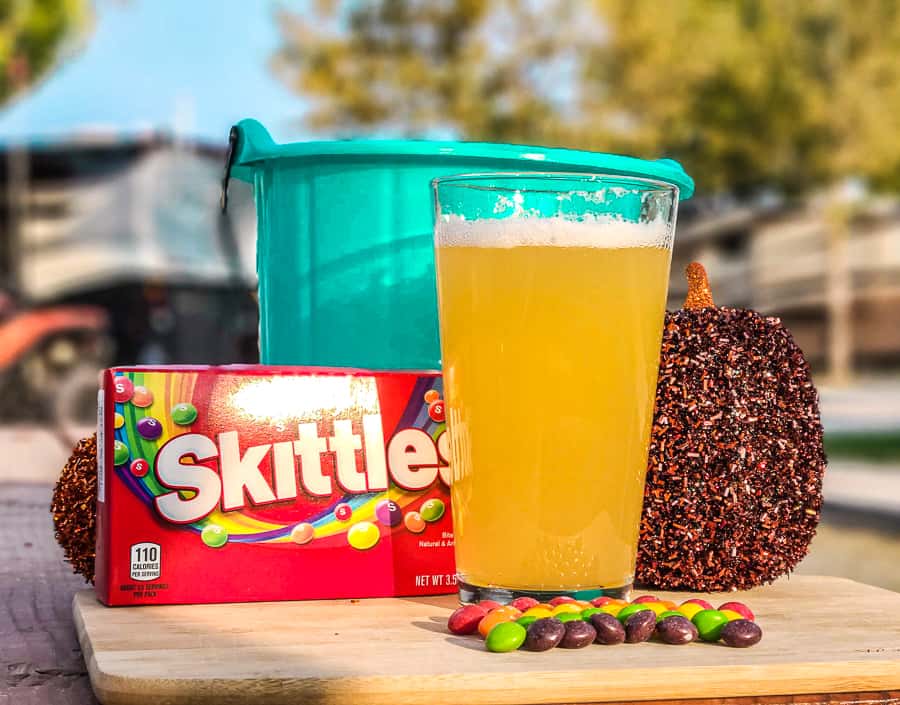 What beer can stand up to the untamed fruitiness of a bag of Skittles? These chewy, fruity candies need a slightly bitter and not overly-heavy beer to balance them out.
Enter the pale ale which has those hoppy characteristics and yeasty malts, but it's not an overpowering beer, so both beer and candy will shine through here.
Sour Patch Kids + IPA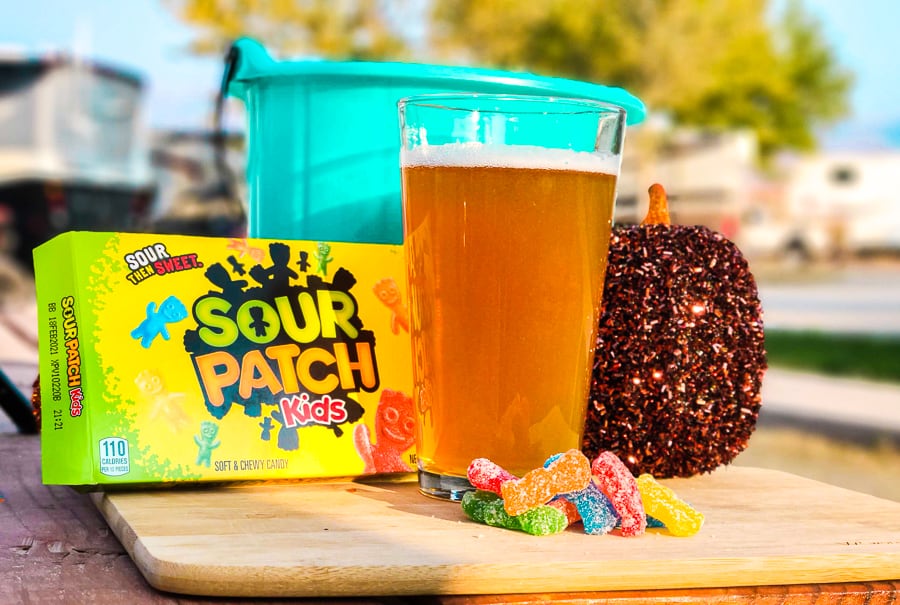 Sour Patch Kids are deliciously sour on the front end and sweet and gooey on the back end. It's this sweetness at the end that makes them a perfect complement for the big hops and flavors of an IPA.
If you eat this sour candy first, you're going to need a beer that can take a punch, and vice versa. Both the candy and the IPA are up to the task and duke it out with each other in an all-around mouth-watering experience!
Kit Kat + Pumpkin Ale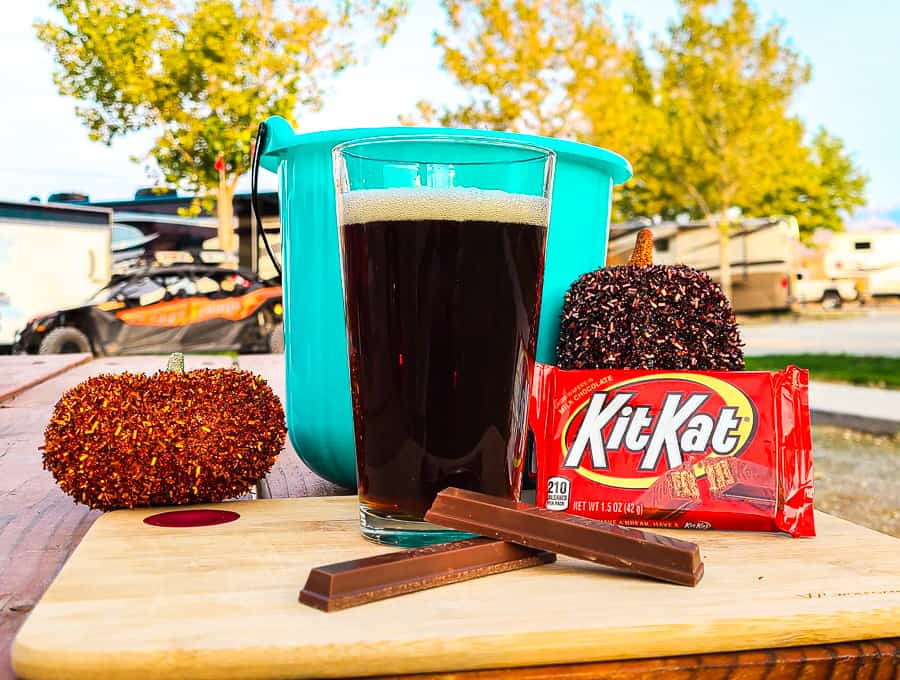 Kit Kat's milk-chocolate-covered wafers 'scream' for some nutty maltiness to balance out and contrast the flavor. These crispy chocolate treats go really well with the pumpkin spices of clove and cinnamon that you'll get from a pumpkin ale. The sugary taste of the Kit Kat acts as a bit of a palate cleanser for your favorite pumpkin ale, bringing out the spices in the beer!
And before you say "Give me a break" from all of this pumpkin beer, give this pairing a try…this may be a combination that finally changes your mind!
Snickers + Brown Ale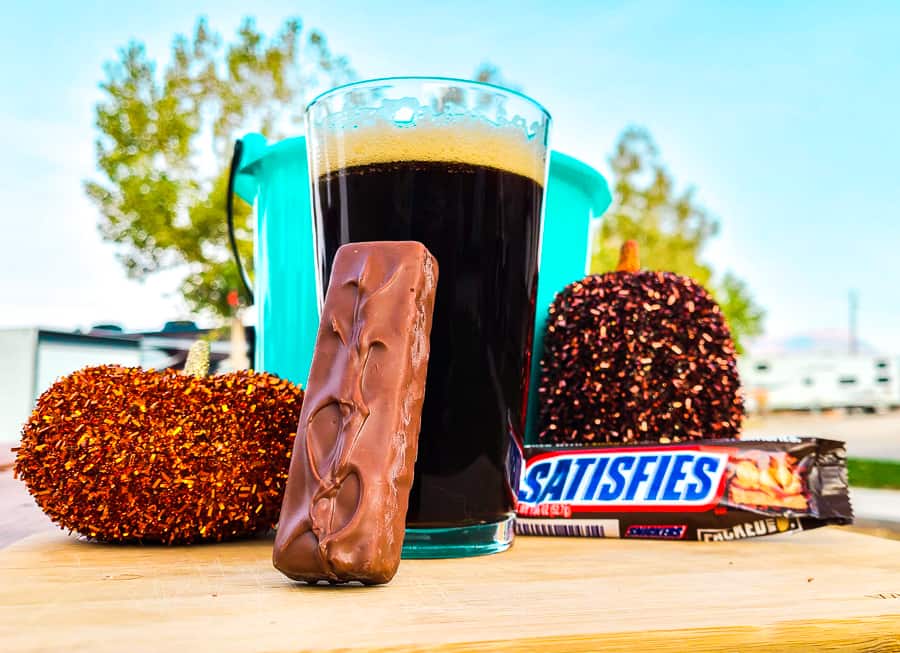 If you'll be sticking to candy and beer as your sole Halloween evening nourishment, look no further than this combination of a Snickers and a brown ale, or a baby meal in itself. Brown ales have a complexity and depth that pairs well with and stands up to a Snickers bar, which explodes with nutty and chocolate flavors.
One of America's favorite candy bars is sweet and salty and pairs well with the brown ale's roasted and nutty malt flavors. "You're not you when you're hungry" (or thirsty). Grab a Snickers and a brown ale.
M&M's + Porter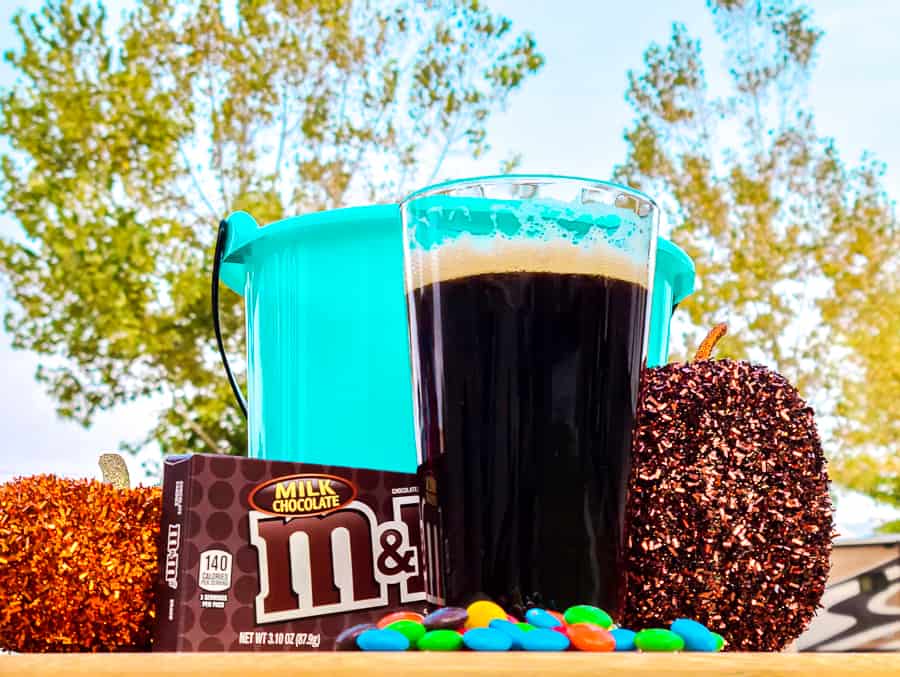 M&M's are good ol' straight colorful chocolate that never gets old (and is a favorite of ours). With their sugary shells and melty only-in-your-mouth chocolate deliciousness on the inside, M&Ms go great with a crisp and clean porter that pierces through the sugar and refreshes your palate.
The roasted, smokey and malty notes of a porter make M&Ms seem even chocolat-ier.
Reese's Peanut Butter Cups + Chocolate Stout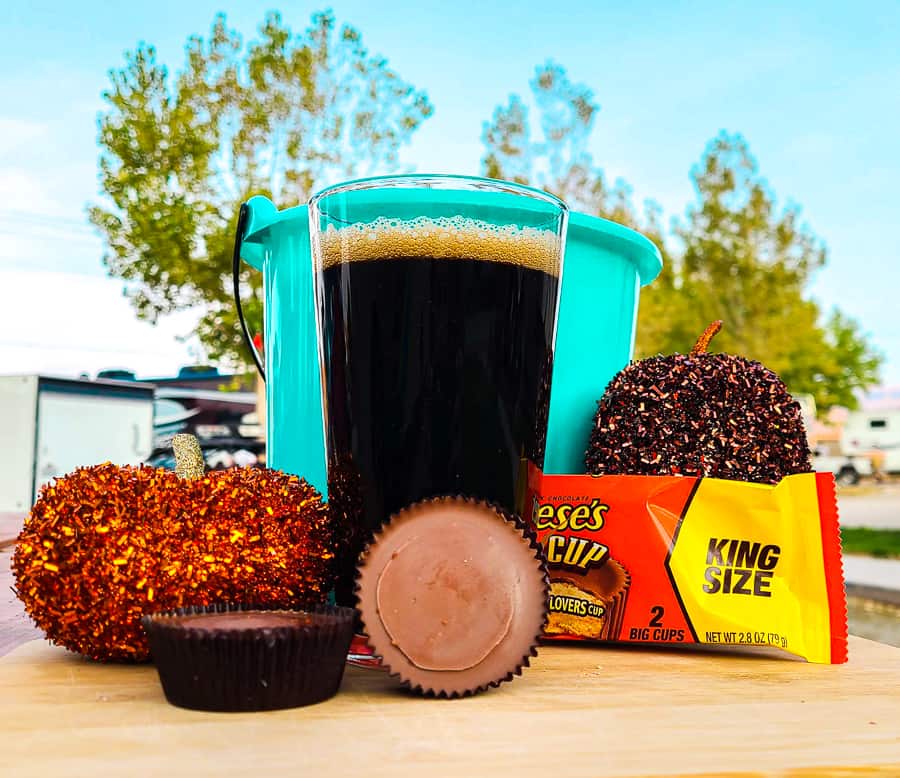 Whether you're on the "You got chocolate in my peanut butter" side or the "You got peanut butter in my chocolate" side, most people would agree that a Reese's peanut butter cup is one of their favorite candies.
The luscious marriage of peanut butter and chocolate with the darker and more aromatic roasty notes of a chocolate stout will satisfy any chocolate craving…like Samantha's. The combination brings the full-bodied, rich flavors of chocolate, malts, and sugars together very nicely. There's no wrong way to eat a Reese's and drink a stout!
Overall – Halloween Candy and Beer Pairing
Well, there you have it folks! Who knew candy and beer could be paired?
We hope you enjoy your complete guide to pairing your favorite Halloween (or anytime) candy with your favorite style of beer. Like we said, if something sounds disgusting, try something else that sounds more appealing. Better yet, experiment with your own pairings and let us know what you come up with!
Now go brush your teeth!