The Top 10 Beer Bars and Breweries in Scottsdale, Arizona
Looking for some solid beer bars and breweries in Scottsdale, AZ?
There are over 100 breweries in the state of Arizona, with a large portion sprinkled throughout the greater Phoenix area.
For the close to 5 million residents living in this metropolis, there are plenty of Phoenix breweries to go around for these thirsty desert dwellers.
We visit Scottsdale yearly and always enjoy the yummy craft beers we find. Keep reading to find out more!
Short on Time? Here are the key takeaways:
Our favorite brewery (on this list) is Goldwater.
Our favorite beer bar is Trevor's.
If you're thirsty and hungry, Craft 64 is the best of both.
Psst: Looking for more Arizona info? Browse them all here.
**Boozing Abroad contains affiliate links throughout the site. If you choose to purchase items through these links, we will earn a small commission at NO extra cost to you. Read the full disclosure policy here**
Map of Scottsdale Breweries and Beer Bars
Click the interactive map below!
HOW TO USE THIS MAP: To view the layers and see the names of the places on this map, click the tab in the top left corner. You can select the check marks to show or hide certain layers. If you select the icons on the map, you will get more information about the point of interest.
HOW TO SAVE THIS MAP: If you select the star icon next to the map name, you can save this map to your Google Maps account. To view it, open Google Maps in desktop or on your phone, select the menu button, go to "Your Places," scroll to the right to Maps, and you will see this map.
Scottsdale Breweries
1 – Goldwater Brewing Co.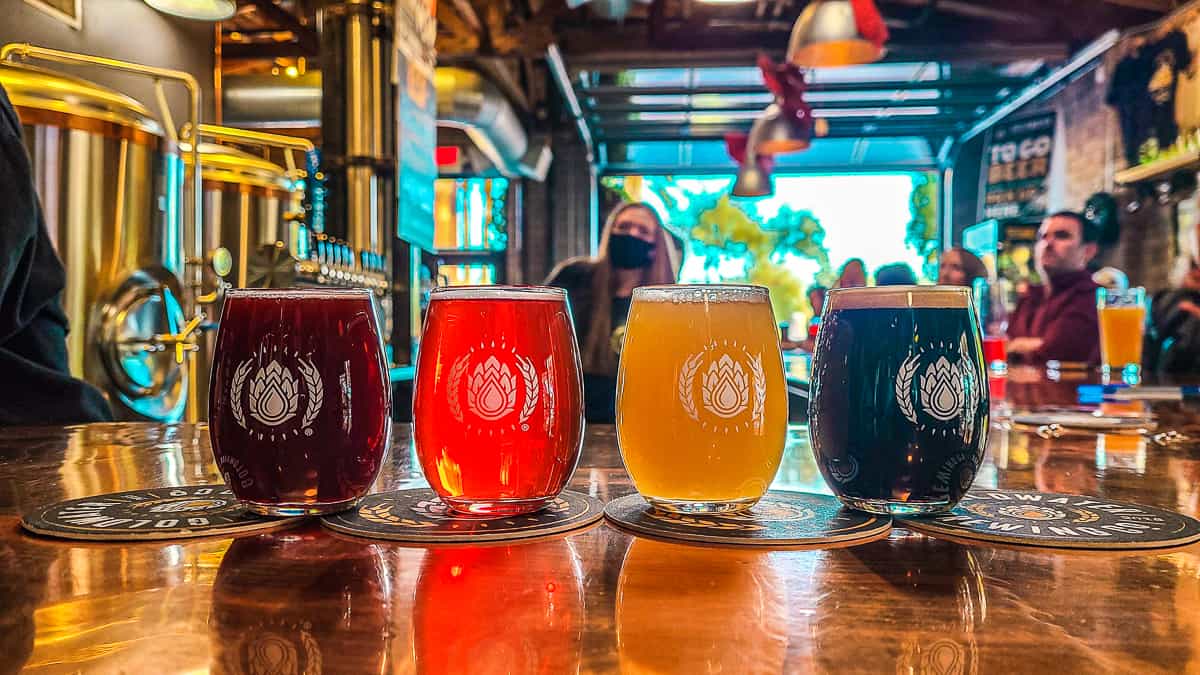 You know how they say business and family don't mix? Well, the folks at Goldwater Brewing Co. are proving that all wrong, beer after beer. Located just off of Goldwater Blvd in Scottsdale, Goldwater Brewing is a true family affair in the Phoenix breweries scene.
There are 4 partners in the business: a dad, his two sons, and another family member. The two sons learned the ins and outs of brewing beer growing up with their homebrewing dad.
And though their initial careers in the real world didn't involve beer, they always seemed to come back to craft beer and sought it out on all of their travels (hey, sounds like us!).
Then, in 2014, they got the (family) band back together and started the process of opening a brewery, which they accomplished in May 2015. Each family member turned business partner brought something different to the table: brewing experience, restaurant management, and branding/design. The makings of a great brewery!
With a background in branding and design, one of the brothers likes to say, "People like what they see before they taste what they like."
With that mindset, you may notice the artsy cans, the engaging social media, and the fun and laid back atmosphere. But rest assured, this place isn't just eye candy.
People do eventually taste the beer and Goldwater makes some really good ones!
Sip on the Hundred Dollar Pils, the Hop Chowda hazy IPA, the Oats M'gotes oatmeal stout, and something from their Go Go Sour Rangers sour series. One of their most popular beers is the Machine Gun Teddy brown ale (2017 GABF bronze medal winner).
If the weather cooperates, and it almost always does in Phoenix, drink your beers on the large back patio while eating some food from some great local food trucks.
2 – Fate Brewing Co.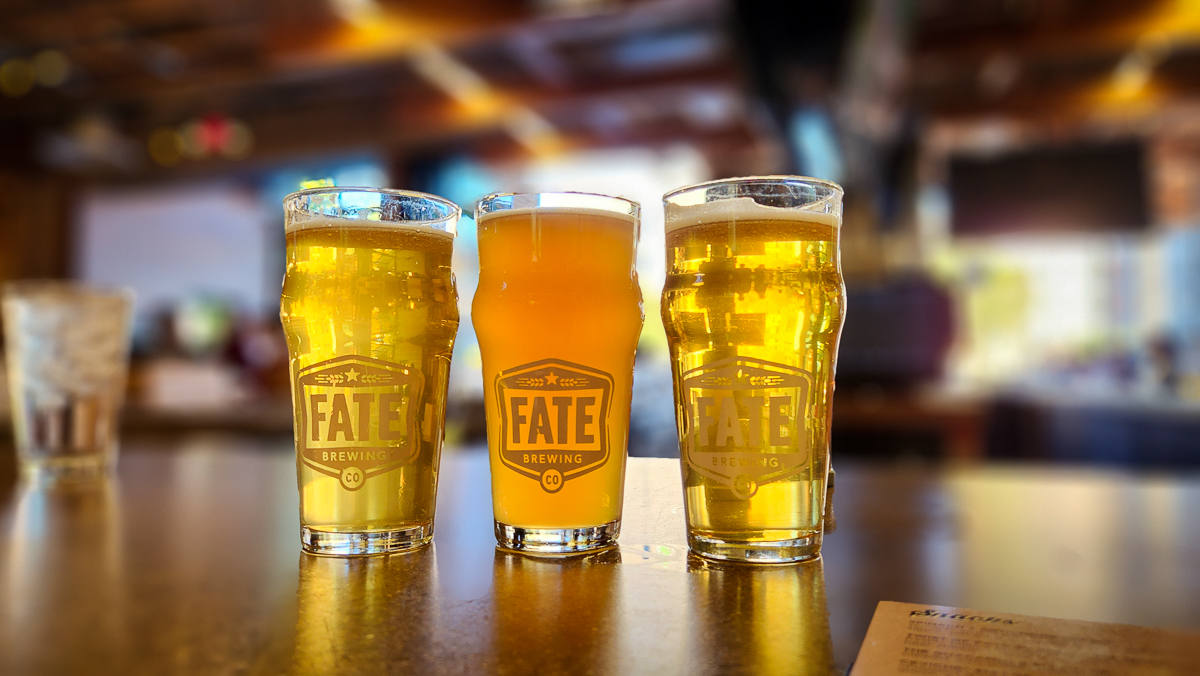 Fate Brewing, named for owner Steve McFate, and not that it is fate that we ended up here, is one of several Phoenix breweries to have multiple locations.
Fate has three locations (North and South Scottsdale and Tempe) but the original opened in 2012 as a place for the local community to gather and celebrate.
And the locals came and celebrated…a lot. So much so that Fate couldn't keep up with demand and kept running out of its beer! So, in 2015, they expanded operations from their brewhouse and limited barrel space in North Scottsdale to a larger brewhouse and room for 180 barrels!
They are putting those barrels to good use with many of their beers, including the King Size Candy Bar Milk Stout, which is a bourbon barrel-aged version of their 2013 GABF silver medal winner Candy Bar Milk Stout. It's a classic milk stout brewed with honey roasted peanuts, cacao nibs, vanilla bean, and a touch of sea salt. This was truly dessert in a glass.
If you're not feeling the heavy beers, try their Hatch Chile Gatos which won gold in 2018 (World Beer Cup) and bronze in 2020 (GABF). This one has a lot of chile aroma, but very little actual heat.
Or, their Fatality double IPA is said to be "Specifically designed to 'finish' your taste buds with an irresponsible number of hops." Chris had to try both of these and both were surprisingly drinkable and enjoyable, given their descriptions.
3 – Loco Patrõn Brewery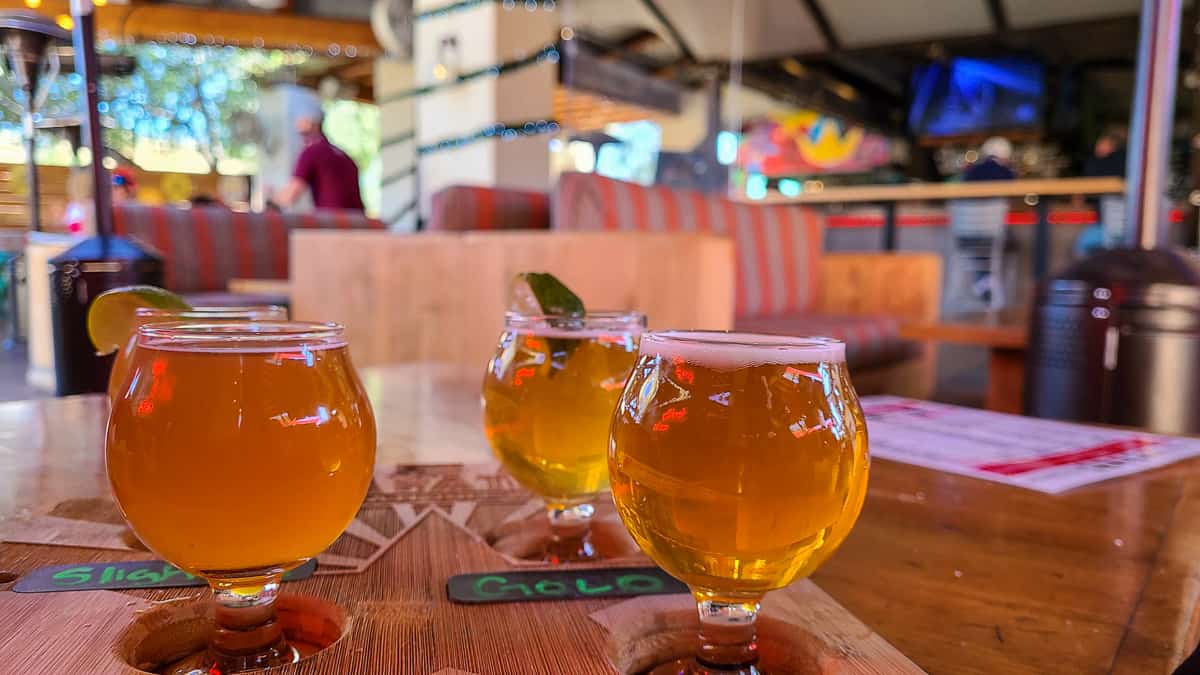 Loco Patrõn may sound like a Mexican restaurant. And first and foremost, it is. But recently, Loco Patrõn has begun brewing Mexican craft beers and makes it the only one of the Phoenix breweries to be making Mexican craft beer.
There are a few locations across the greater Phoenix area (Scottsdale and Tempe) which all serve up your standard Mexican fare including large portions of tacos, fajitas, burritos, and nachos.
Wash it all down with the Ocho IPA, Sir Veza Lager, Señor Hopper IPA, and Loco Gold Golden Ale. Throughout the year, seasonal options will come and go from the menu as well.
We visited the North Scottsdale location which had an awesome outdoor patio area with tables, couches, TVs, ping pong, putt-putt, cornhole and more. This place would be a hoot during football season!
Logistical note: the North Scottsdale location is the official bar for many Wisconsin-area teams including the Green Bay Packers and the Wisconsin Badgers. So keep that in mind if you're a fan of an opposing team and visit on gameday.
4 – O.S.H.O. Brewery & Distilling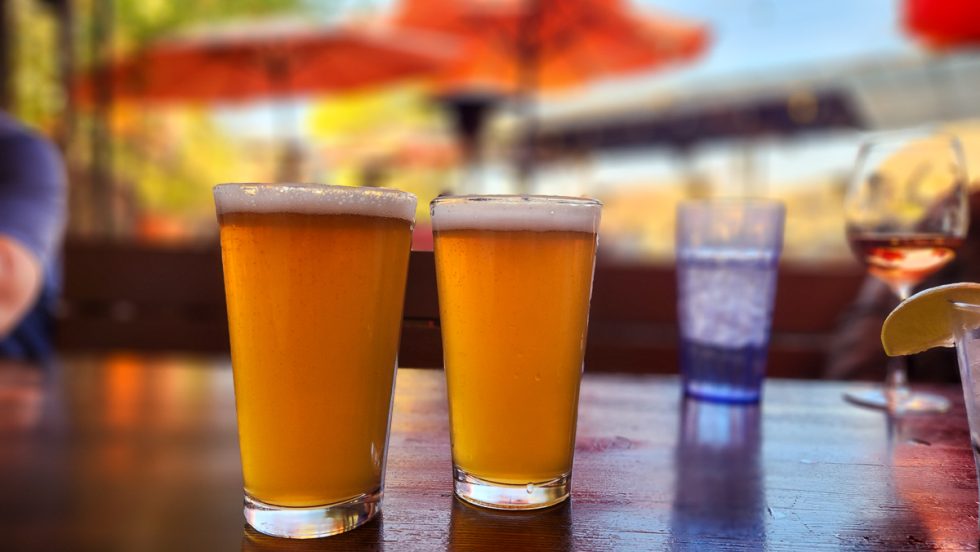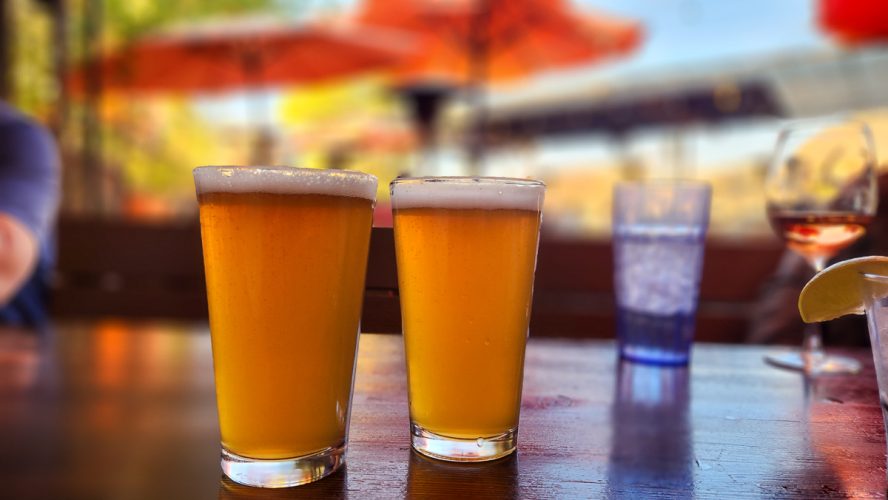 O.S.H.O. Brewery & Distilling is a local favorite for a few reasons.
First of all, they have multiple (dog-friendly) locations throughout the greater Phoenix area including Gilbert, Arcadia, North Scottsdale, and Paradise Valley.
Second, they are not only producing great craft beer, but they are also making incredible spirits showcased through craft cocktails. Vodka, gin, and rum are their main staples but they also have a line of flavored vodkas to round out the lineup.
Lastly, in addition to the variety of options on the menu for beer, wine, and cocktails, they also boast a full food menu.
They have great drink and appetizer deals during happy hour as well as brunch on the weekends at most locations.
We found all their beers to be good, but particularly enjoyed their seasonal sours.
They also offer a brewery and/or distillery tour at their Gilbert location.
5 – PHX Beer Co.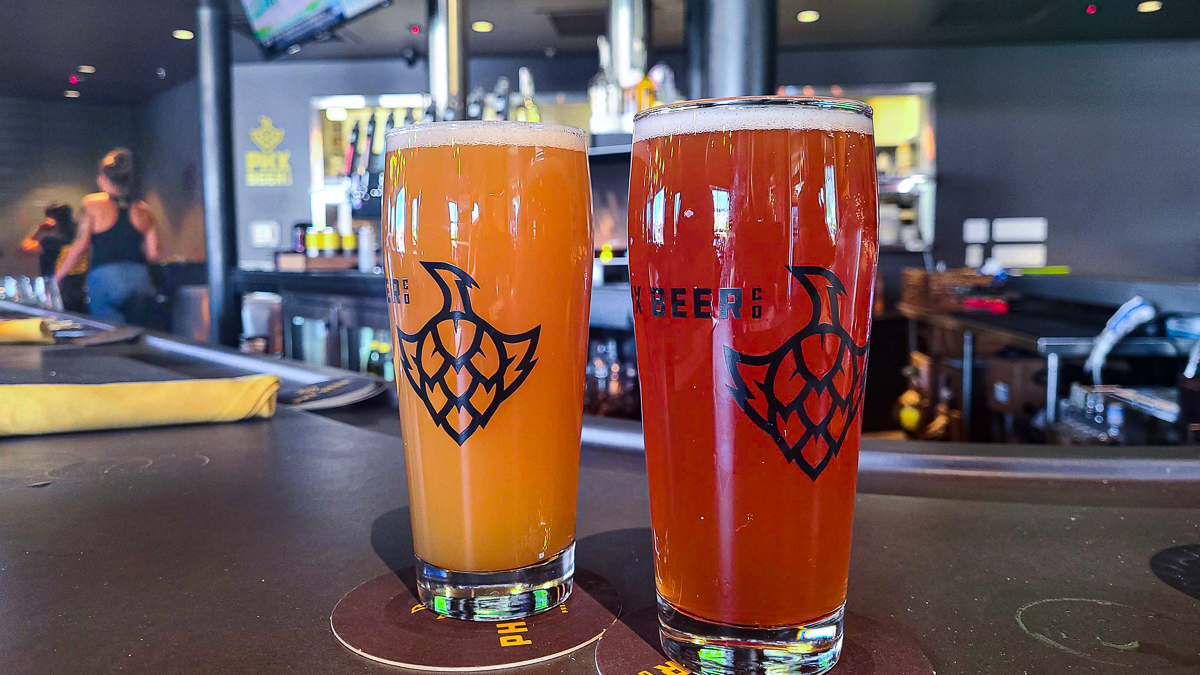 PHX Beer Co. has three locations in the greater Phoenix area: Scottsdale, Downtown, and in the Airport.
Located along the Marguerite Lake in North Scottsdale, PHX is producing crowd-pleasing flagship beers as well as unique seasonals.
Their most popular beers are their flagships: IPA, Arizona Gold, and Monsoon, but typically their seasonals rate higher on Untappd.
The Scottsdale restaurant is kid-friendly and you can't beat the view from their covered patio.
Scottsdale Beer Bars
6 – Craft 64
Craft beer and pizza. Do you need any more reasons to visit Craft 64 in Scottsdale?
Craft 64 is a unique hybrid beer bar and brewery in Scottsdale. They are all about supporting local with everything they do. They want everyone to feel at home in their casual and cozy restaurant whether you're an actual local or just a local for the day.
And you'll be treated to an awesome farm-to-table meal with locally-sourced foods and all Arizona craft beer all the time (over 30 taps).
They partner with a nearby brewery to make their own lineup of Craft 64 beers, like Smoove Hoperator IPA or the Just Peachy sour.
If craft beer isn't your thing, one of the co-owners is also a sommelier and he has curated an awesome wine list to perfectly complement the pizzas and food on the menu.
Now, the pizza. D.E.L.I.C.I.O.U.S.
Your wood-fired pizza is made with the freshest of ingredients in wood-fired ovens imported straight from Italy.
And when we say "fresh" ingredients, we mean it.
They make their mozzarella in-house every single day. In fact, they estimate that they make over 7,000 pounds of mozzarella at each of their two locations (Scottsdale and Chandler) every year!
Their bar program is rounded out with unique and local spins on some classic cocktails, like the margarita (made with mezcal from our friends Mezcal Carreno) and the French 74 drink (made with local gin from the local OSHO Distillery ).
They even have a line of signature Mules, served with fresh lime juice and real ginger beer.
If you're here when it is sweltering hot, these mules are absolutely perfect for cooling down!
7 – Scapegoat Beer and Wine Bar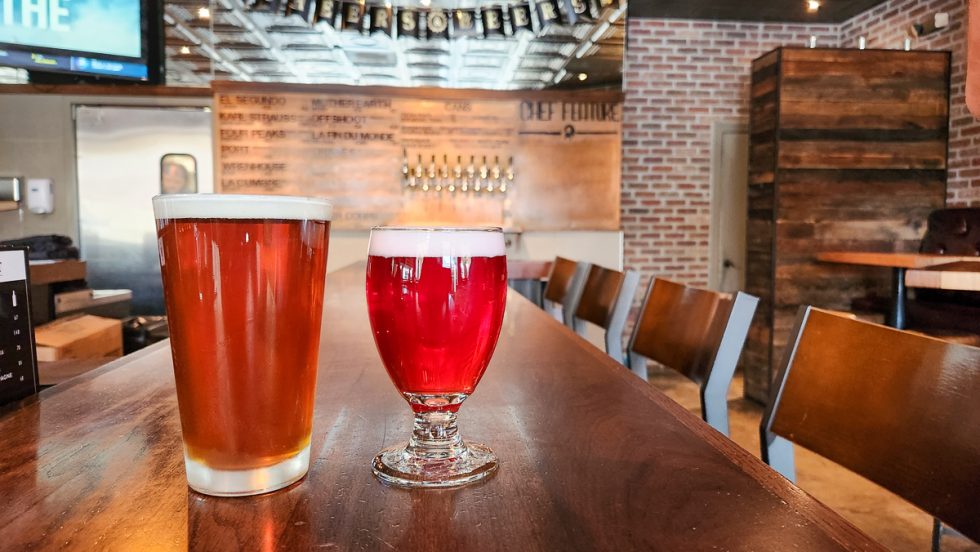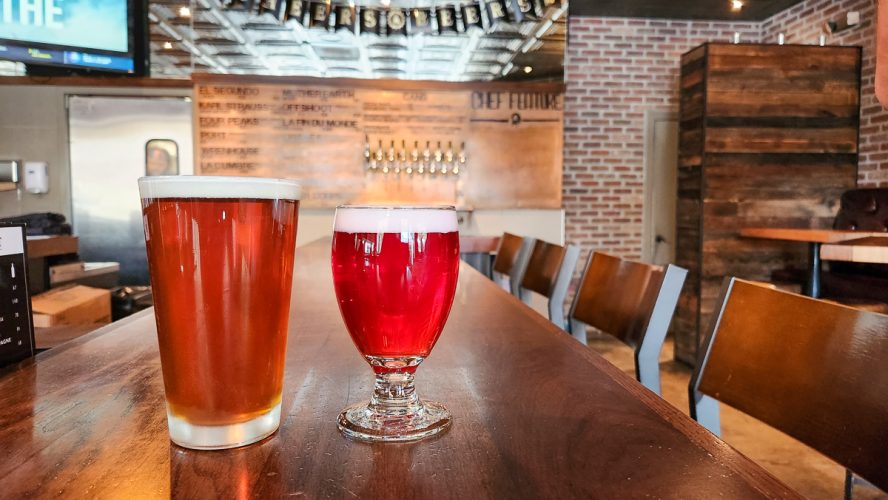 Located in the heart of Old Town Scottsdale, Scapegoat Beer and Wine Bar wants to bring people together in their quaint taproom.
With no more than 20 seats available, Scapegoat opened in 2016 and has built a fantastic reputation among the locals.
They offer over 15 draft beers, many of which hail from Arizona, as well as wine by the glass and bottle sourced from around the globe.
What steals the show is their small, yet mighty menu with shareable bites for you and your crew.
We recently tried the Asiago Spinach Dip. While we don't want to be dramatic and call it "life changing", let's just say we haven't shut up about how good it was. And that was a few months ago.
We overheard a couple near us (you'll understand how once you visit) that their meatballs "were the best ever".
Happy Hour is Monday through Friday and their beer changes frequently so be sure to check out their website to see what's on tap.
Click here if you are curious about other wine bars in Scottsdale.
8 – Trevor's Liquor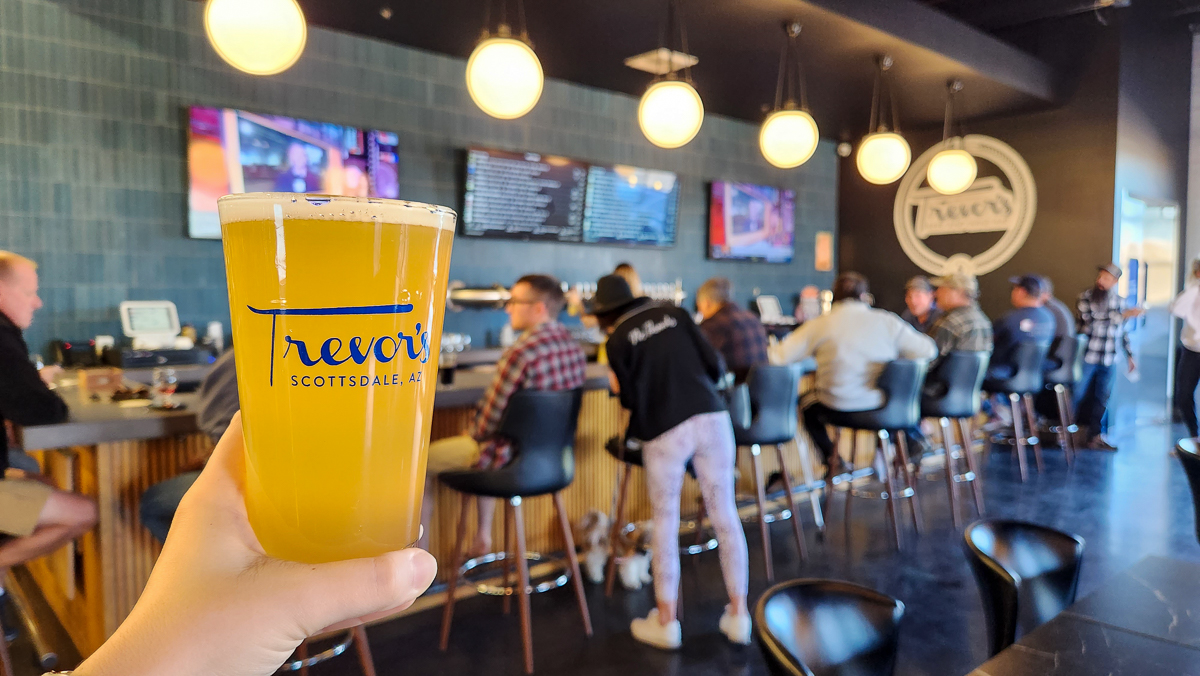 Trevor's is more than just a liquor store. It's a legit beer and wine bar destination just outside of Old Town Scottsdale.
Established in 2020, it's the first liquor store that has a built-in bar. In our opinion, there is nothing better than shopping for booze with an open drink in your hand.
They also have a large outside seating area with games like cornhole to keep you occupied while you drink.
With 24 beers on tap and over 20 wines to purchase by the glass, you can bring your pup to relax inside at the lounge or on their non-smoking patio.
If there isn't anything that tickles your fancy, you can purchase any beer or wine to drink on-site as well. And there is a lot of beer, wine, and liquor to choose from!
With rotating food trucks and an all day happy hour, we visit Trevor's every time we come to town (usually multiple visits).
If you are a local, sign up for their rewards program and get cash back for your purchases that can be earned at the bar and store, not to mention promotions and whiskey raffles.
We aren't locals, even though we tend to spend months in PHX yearly, but we signed up because we love free stuff.
If you join their mailing list, you get $5 off any purchase. It's a no-brainer, just do it.
9 – Rift Wine & Beer Bar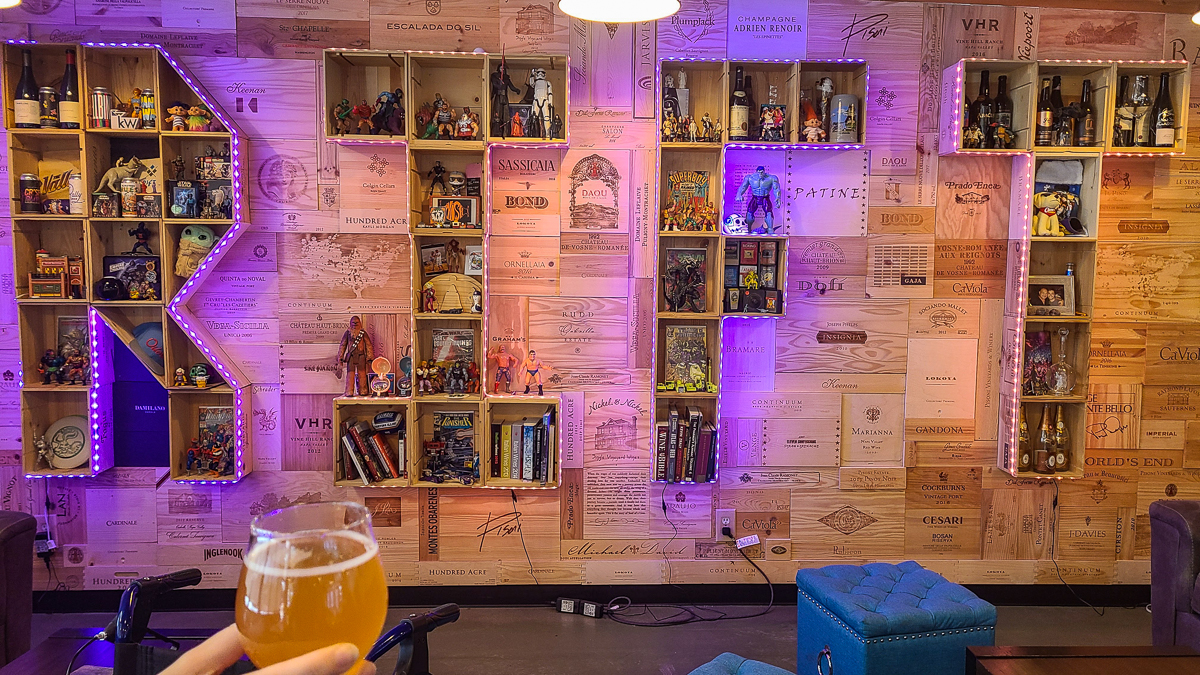 Rift Winebar & Taphouse is a cozy taproom just minutes from Old Town Scottsdale that takes great care in its carefully curated beer and wine list.
Founded in 2020, Rift has 25 rotating beer taps with an emphasis on Arizona breweries and has over 150 wines in store to purchase.
With a large selection of memorabilia adorning the walls as decorations, their taproom is inviting and comfortable offering beer and wine nerds alike a good time.
Be sure to check out their rotating food truck schedule on their website as well as other events such as wine tastings and trivia nights.
10 – Brat Haus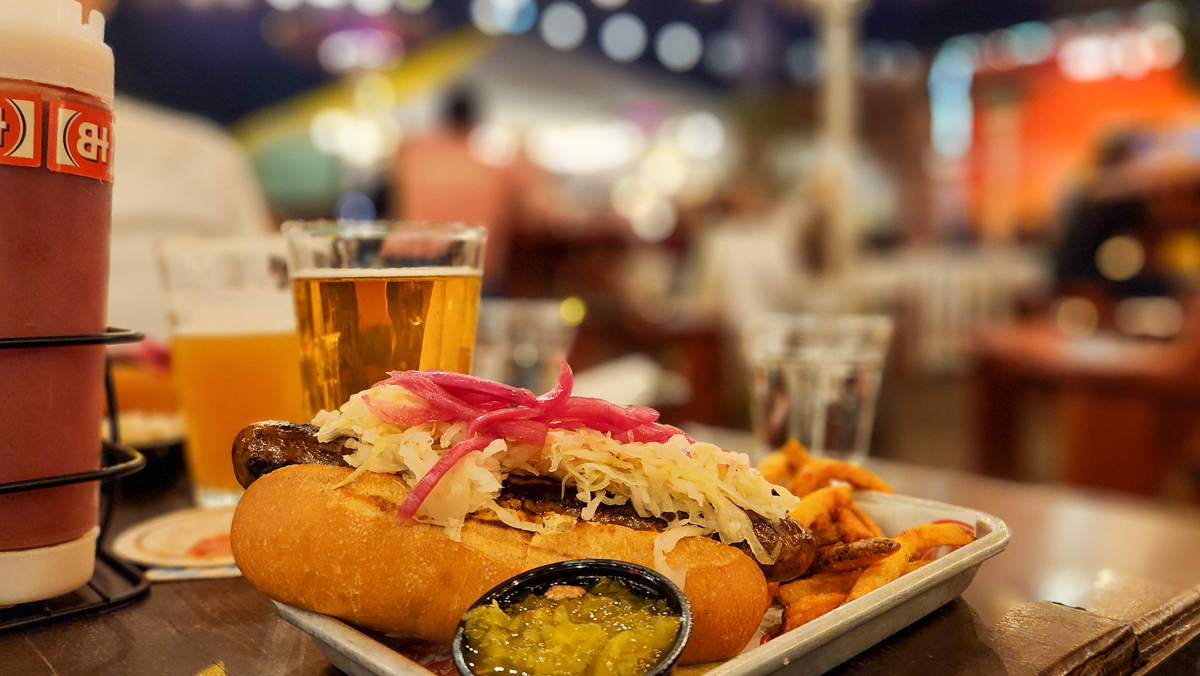 From the street, Brat Haus is an unassuming German restaurant but has a massive outdoor beer garden and houses 28 beer taps.
Whether you are looking to sip on a local beer or one of the German staples, you can pair either with their impressive line up of Sausages and German inspired dishes.
We both ordered a brat and washed it down with beer. They even have a house beer called Brat Haus Lager, brewed exclusively for them by Four Peaks Brewing.
While we know you are reading this because you are looking for beer, they do offer wine and cocktails for your non-beer friends. (Though, we do suggest finding new friends – JK!).
In addition, their outdoor area is dog-friendly and has a variety of games to keep you occupied. If you're visiting in the summer months, there is a small taproom with a handful of seating options.
There are so many great beer bars and breweries in Scottsdale to visit when you want to drink local. We personally love the budding beer scene in Arizona and hope that more breweries continue to call Scottsdale home.
Still thirsty? Check out:
Ready to brunch? Read our Best Boozy Brunch in Old Town Scottsdale.