The 6 best dive bars in Scottsdale, Arizona
Scottsdale, Arizona, known for its luxurious resorts, golf courses, and upscale shopping, has a hidden nightlife in the city. Within the town's lavish exterior lies a world of kick-ass dive bars in Scottsdale. These establishments may not be as glamorous as their high-end counterparts, but they offer a chillaxing vibe and usually a more affordable place to grab a cold one.
If you're a fan of dive bars and are looking for the best places to grab a cheap drink and hang out with locals, then Scottsdale has plenty of options for you.
Short on Time? Here are the key takeaways:
The oldest dive bar in Scottsdale is Coach House
The rowdiest crowd can be found at Pattie's
Live music 7 days a week can be found at the Rusty Spur Saloon.
We ran out of creative ways to tell you these places are "small" in this post.
**Boozing Abroad contains affiliate links throughout the site. If you choose to purchase items through these links, we will earn a small commission at NO extra cost to you. Read the full disclosure policy here**
Map of the best dive bars
HOW TO USE THIS MAP: To view the layers and see the names of the places on this map, click the tab in the top left corner. You can select the check marks to show or hide certain layers. If you select the icons on the map, you will get more information about the point of interest.
HOW TO SAVE THIS MAP: If you select the star icon next to the map name, you can save this map to your Google Maps account. To view it, open Google Maps on your desktop or on your phone, select the menu button, go to "Your Places," scroll to the right to Maps, and you will see this map.
Rankings of the Best Dive Bars in Scottsdale
We have some pretty strong opinions about what makes a dive bar the best.
Instead of telling you why we think something is the best, we've devised our own ranking system based on 4 factors:
Public ratings (sites such as Google, Facebook and Yelp)
Popularity using public rankings
For this particular article, we only used 3 public ratings to devise an average and then added popularity as bonus points.
In the end, we are ranking each dive bar by this formula. If you want to learn more on how we did this, read about our ranking formula.
| Dive Bar | Ranking |
| --- | --- |
| Rusty Spur Saloon | 4.56 |
| Old Town Tavern | 4.45 |
| TT Roadhouse | 4.43 |
| Patti's | 4.36 |
| Coach House Entertainment | 4.35 |
| The Well | 4.26 |
1 – The Rusty Spur Saloon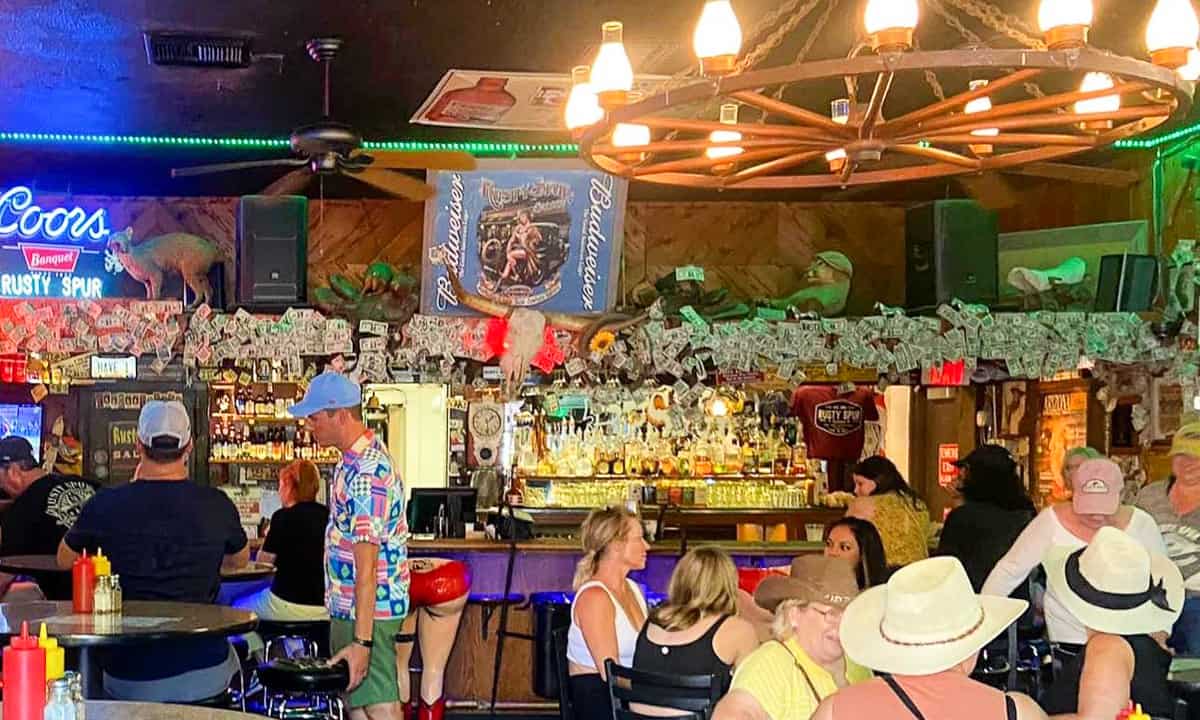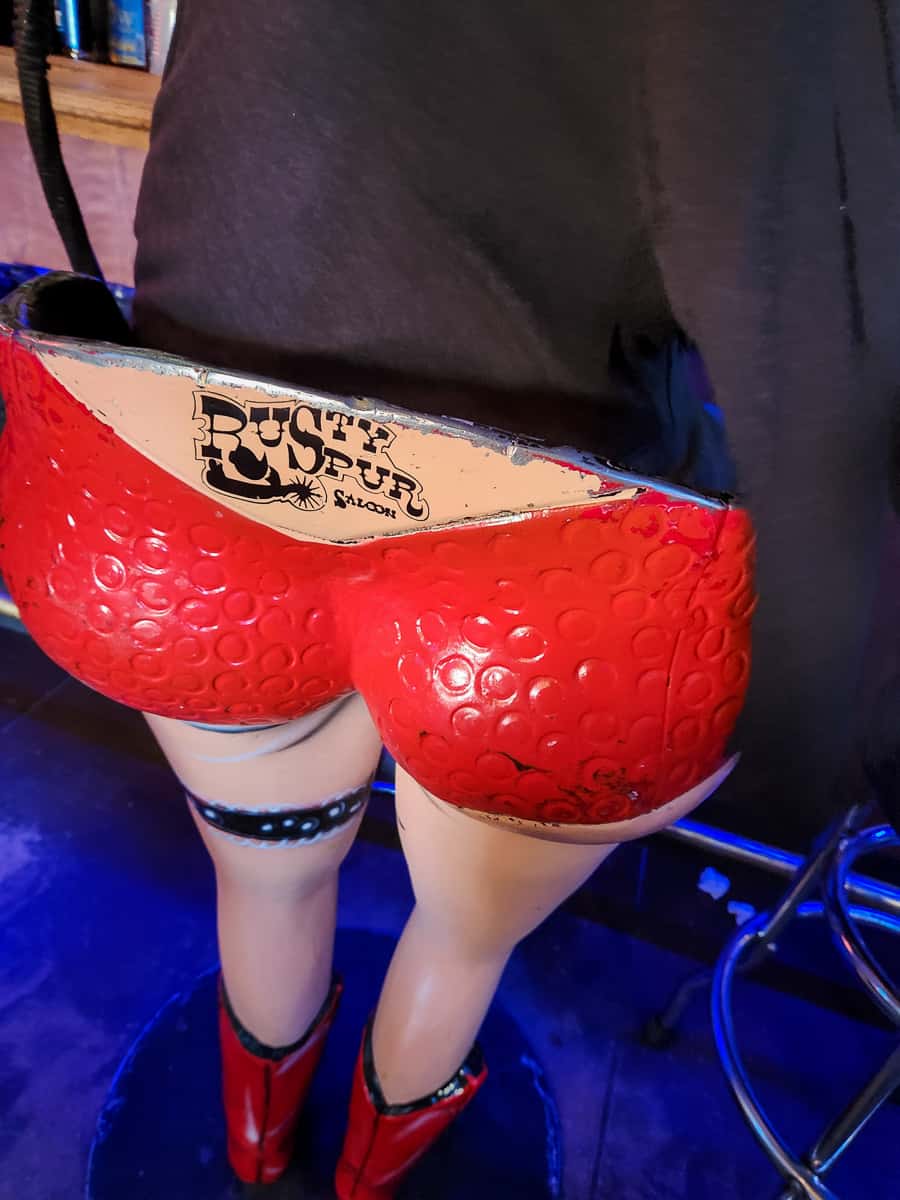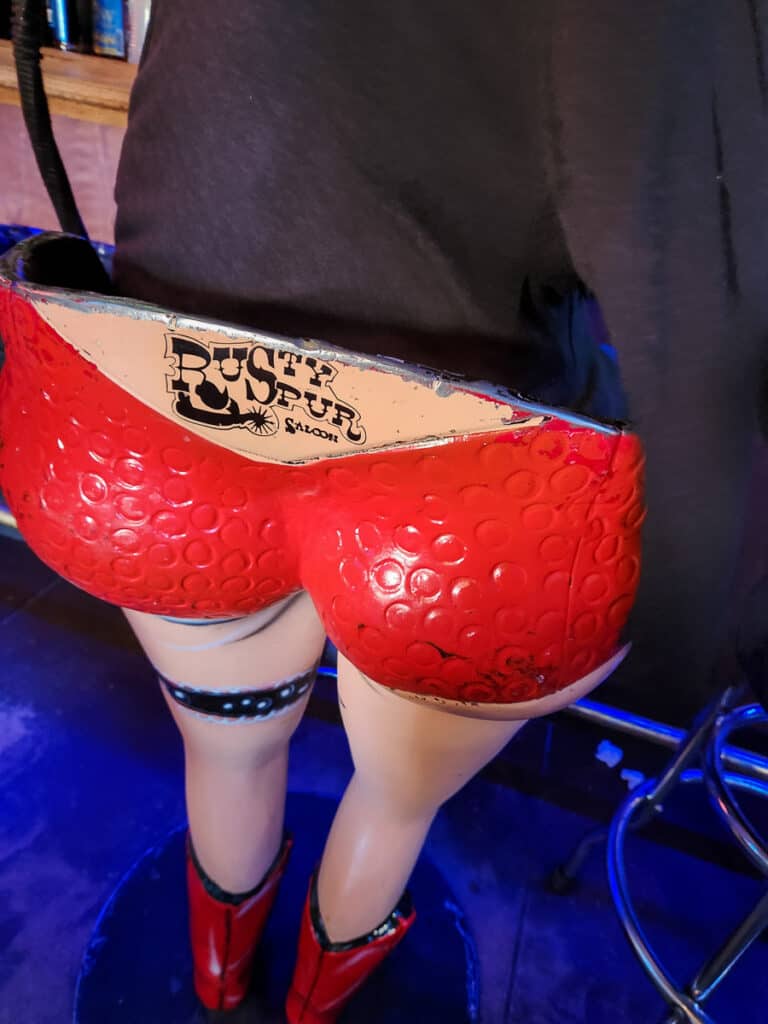 Hours: 7 days a week; 10 AM – 1 AM
Food: Yes
Pet Friendly: No
Yeehaw, hold on to your hats because we've got the scoop on the best dive bar in Scottsdale!
The Rusty Spur Saloon is an absolute must-visit if you're looking for a good time in Old Town.
As soon as we walked in, we could tell this place was something special. The bar is located in an old bank building from the 1950s, which makes for a unique and interesting atmosphere.
The drinks are super affordable (because it's a dive bar, duh), which is a refreshing change from some of the more upscale places in the area.
The bar hosts live music seven days a week, featuring a variety of local and national artists. The music ranges from classic country and western to blues and rock. This can bring in a rowdy crowd which really gives it that dive bar feel.
And let us tell you, the male country singer, Harry Luge, is phenomenal. He usually brings in a crowd so be sure to get there early if he is playing.
One thing to keep in mind is that the bar is quite small, so it can get cozy on busy nights. But honestly, that just adds to the charm.
The over-the-top, western decor is another standout feature of this bar. The "big butt chairs" are certainly memorable and had us laughing all night.
If you're looking to combine a dive bar with epic live music, head over to The Rusty Spur Saloon and get ready for a rootin' tootin' good time!
2. Old Town Tavern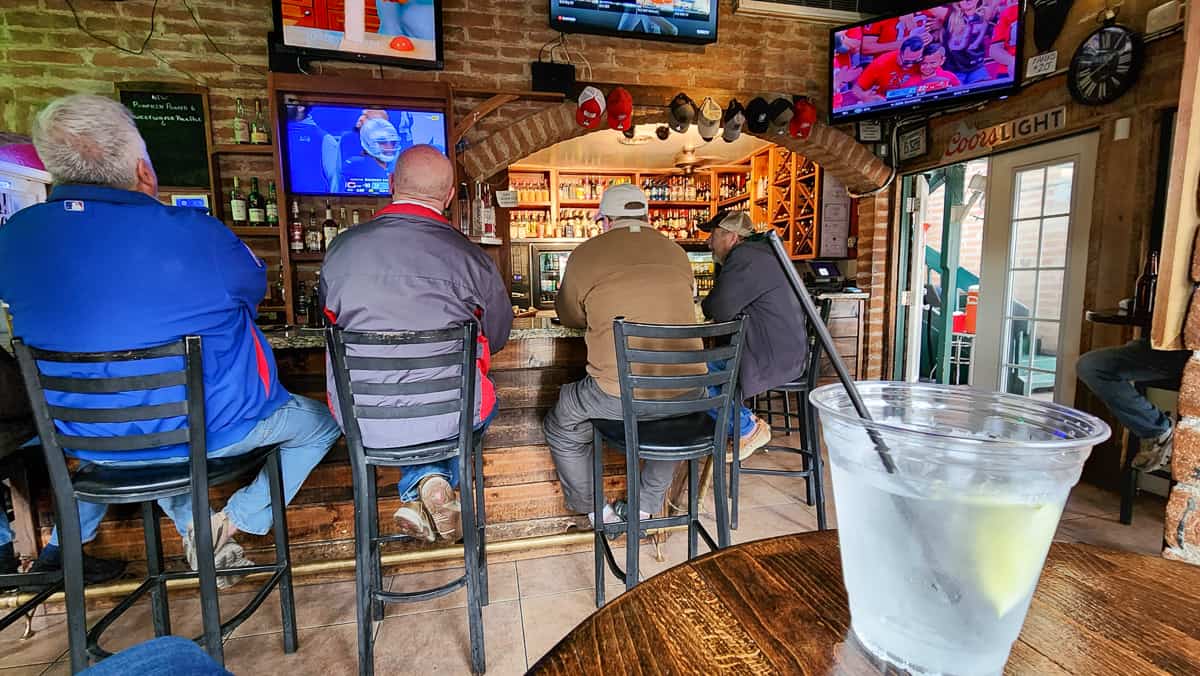 Hours: 7 days a week; 10 AM – Midnight
Food: No
Pet Friendly: No
Located in the heart of Old Town Scottsdale a block away from the Rusty Spur, you'll find Old Town Tavern.
Old Town Tavern has been around for over 30 years and is known for its chill patio vibes, lively atmosphere, cheap drinks, and mostly friendly bartenders.
If you're looking for more music, they also offer live music 7 days a week. The place is really quaint inside, but they make up for it with their ample patio area.
When we visited, I ordered a vodka-soda which was served with a generous amount of vodka (at 10:30 AM) while Chris opted for a nice and cold canned beer. If you happen to be visiting on a Sunday, they offer $4 mimosas all day long.
3. TT Roadhouse
Hours: Noon – 2 AM
Food: Yes, food truck only
Pet Friendly: No
TT Roadhouse is one of the best dive bars in Scottsdale for bikers, whiskey, beer, and music.
As soon as you walk in, you'll notice the old-school decor and satellite dish on the roof that gives it a nostalgic feel. The analog era is alive and well in this place, and it's a wonderful throwback experience.
One of the best things about TT Roadhouse is their craft beer selection. With over 30+ beer (and cider) options, all pints are $4 until 7 pm every Monday through Friday.
If you're a fan of live music, you'll want to check out TT Roadhouse's lineup. They have bands playing regularly with a wide range of music, including heavy metal. However, it's worth noting that the live music usually starts early, so you'll want to get there early if you want to catch a set.
While the bar doesn't offer food service, you can usually find food trucks parked outside or grab something to eat from one of the nearby restaurants. And if you need to use the restroom, be warned – it's the smallest, darkest toilet area ever.
4. Pattie's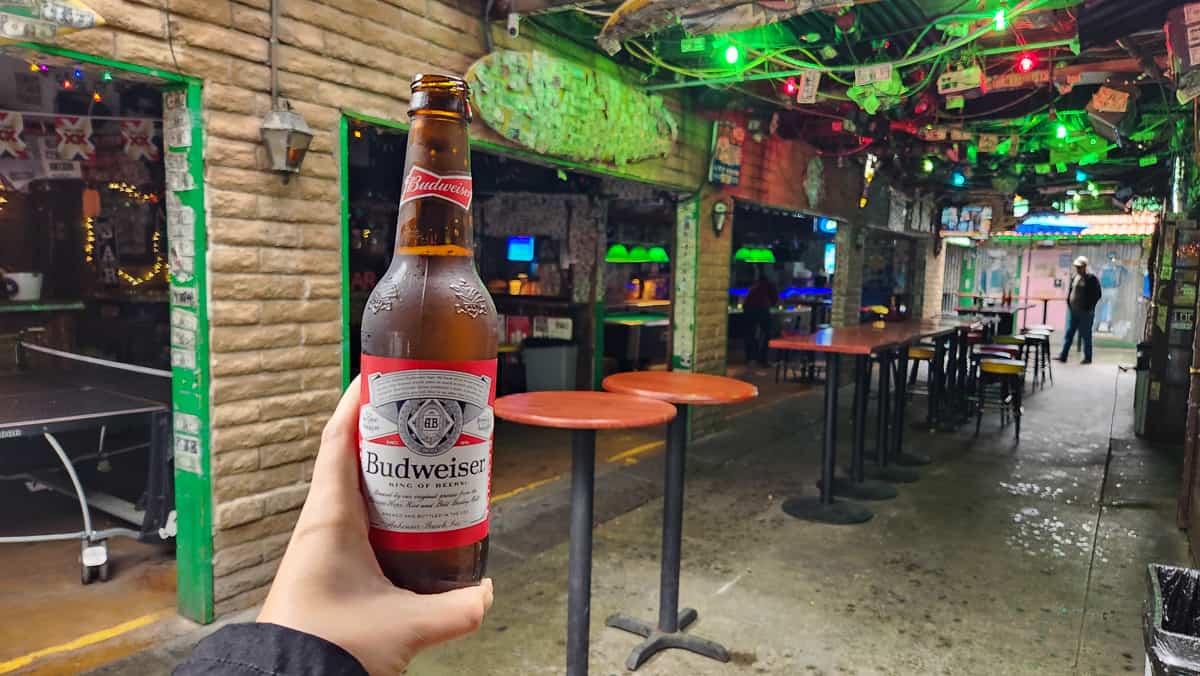 Hours: 8 AM – 2 PM
Food: No
Pet Friendly: No
Pattie's First Avenue Lounge has been a popular dive bar in Scottsdale for over 50 years. This establishment has managed to maintain its dive bar charm and appeal despite being located in an area that has become more upscale over time. Pattie's is a favorite among locals and visitors alike, and it's easy to see why.
Located in the heart of Old Town Scottsdale, this dive bar has been around for years and has made a name for itself as one of the best dive bars in Scottsdale.
Upon walking in, you can't help but notice the dollar bills that cover the walls and ceiling. It's been estimated that there are over $50,000 worth of bills hanging up there. The bar itself is dimly lit and has an open air hallway, for lack of better terms.
There are pool tables, ping pong tables, and shuffleboard to keep you entertained while you sip on your drink. There are a few bars inside, so you don't have to worry about waiting too long for a drink. At night, things get a bit crazier and more crowded, but in a good way. The crowd is always lively, and the music is on point.
If you're looking for a good time with a down-to-earth crowd, then Pattie's is the spot. It's definitely a dive bar, but it's a dive bar with character.
5. Coach House Entertainment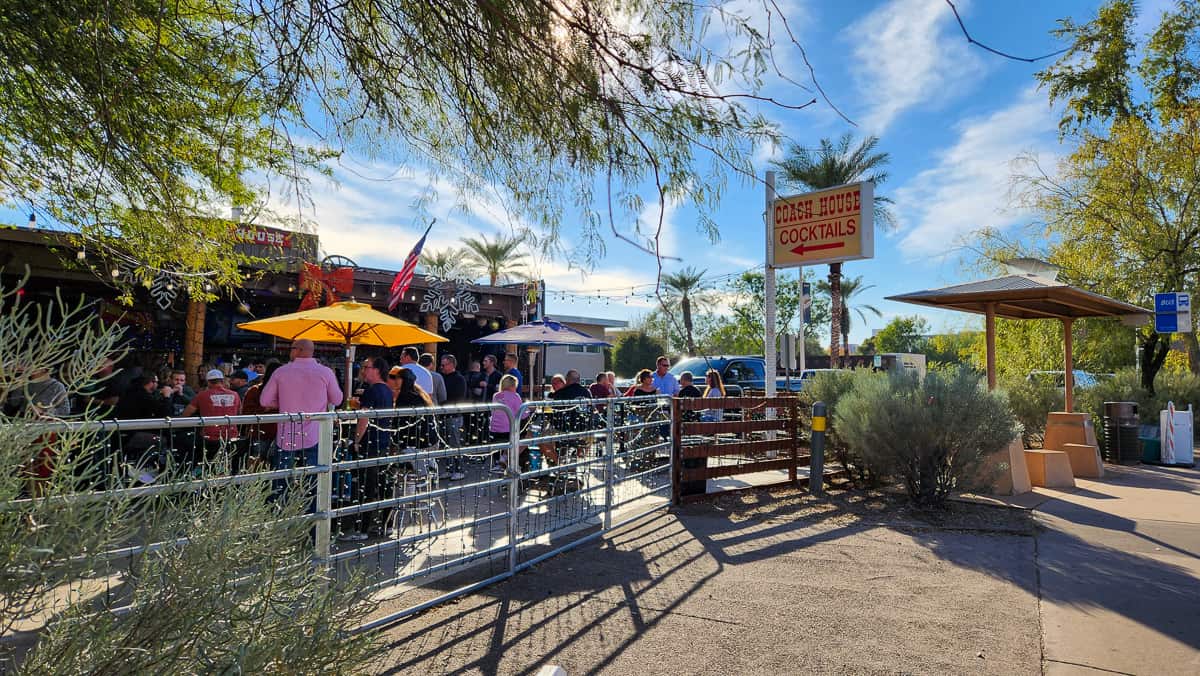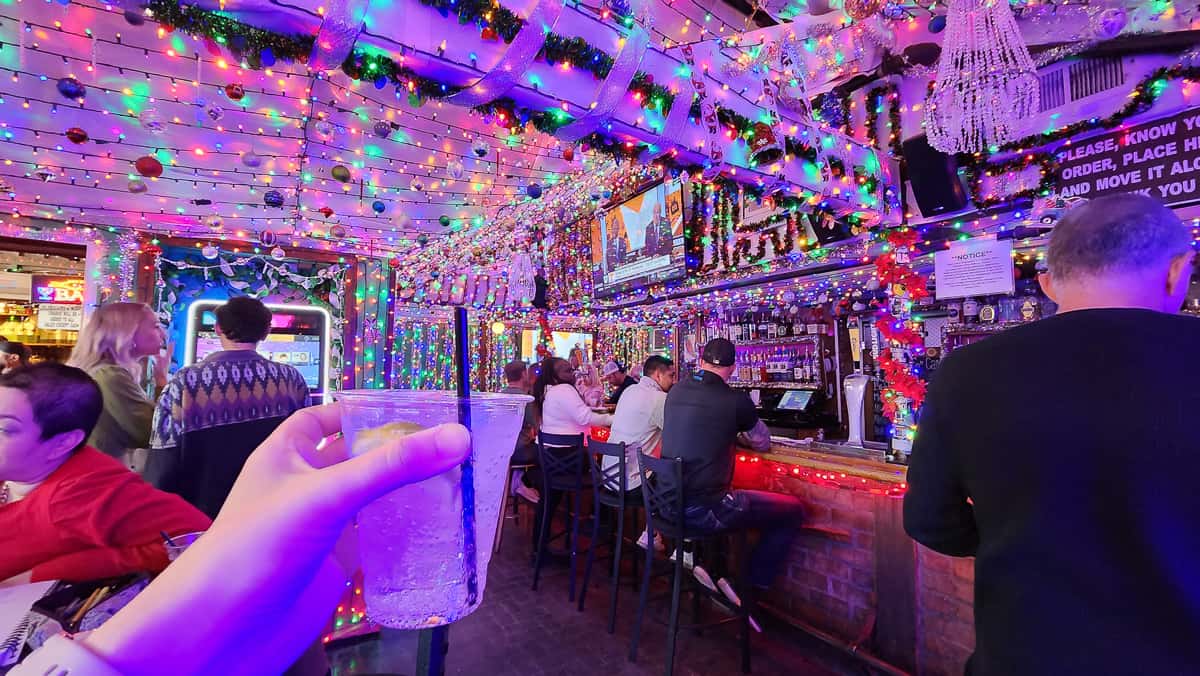 Hours: 6AM – 2AM Daily
Food: Nope
Pet Friendly: On patio
Having been around since 1959, Coach House is one of the oldest and best dive bars in Scottsdale. This establishment has managed to maintain its dive bar atmosphere despite the city's development around it. Known for its cold beer, cheap drinks, and year-round Christmas lights, it's a popular spot for locals and tourists alike.
When we visited, it was 3 PM on a Wednesday and the place PACKED. A group of locals were kind enough to offer me (not Chris) a seat and we chatted with them for a bit.
The majority of Coach House is outside with only a handful of seats inside. There are a few bars for faster service as well as a cash only bar that really cuts down on the wait time.
Given how "petite" the interior is (this shouldn't come as a surprise at this point), Coach House typically has a line outside (especially if the weather is nice). We've personally known people who have waited over an hour to get in.
Our advice: get there early and avoid the wait.
6. The Well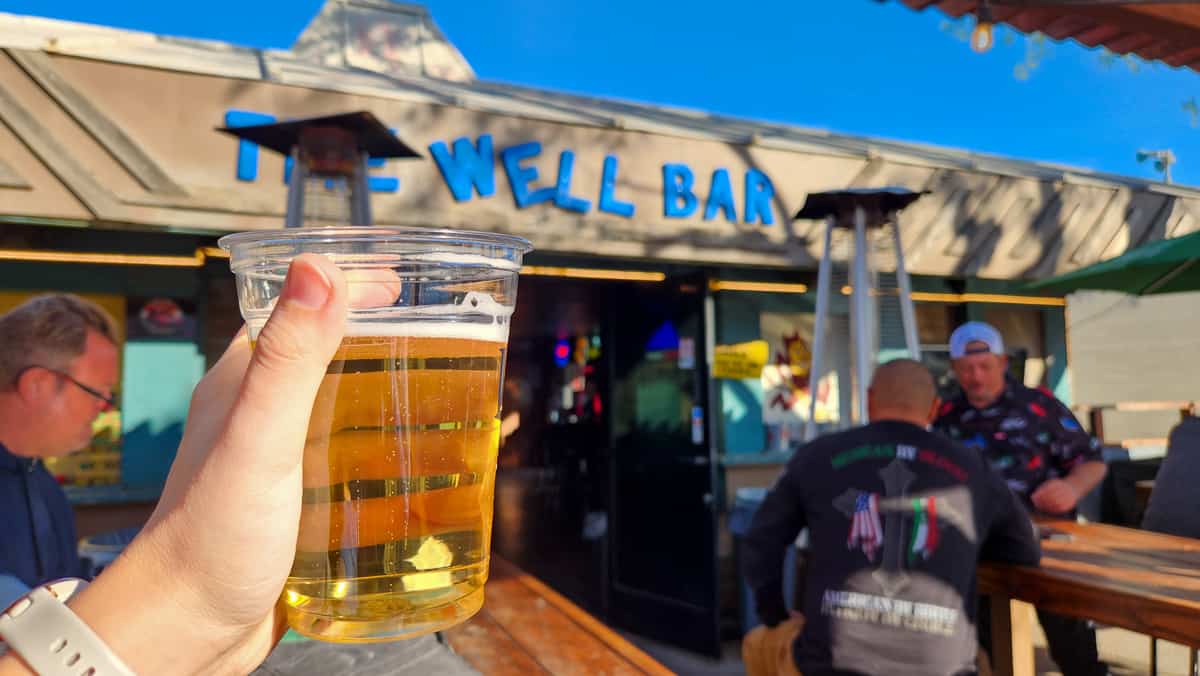 Hours: 6 AM – 2 AM daily
Food: Yes (but we wouldn't eat here)
Pet Friendly: No
The Well is a dive bar located just south of Old Town Scottsdale. Advertising a 6AM open time on their sign, our curiosity was peaked and we needed to check it out for ourselves.
The interior of The Well is a bit dark, dingy, and fun-sized (synonym for small). The bar features a variety of beers on tap, cheap drinks, and bar food. There's also a jukebox, some arcade games and a pool table.
In addition to the cheap drinks available all the time, they also have a Power Hour from 10-11AM and a Happy Hour from 4-6PM. During both, all domestic beers are $2 and well drinks are $4. When we visited, we didn't go for either Power or Happy Hour. However, our total bill was less than $20 for 4 drinks so no complaints here!
In a true dive bar fashion, smoking is allowed on the patio and everyone out there that day was smoking so be prepared for that if you don't like cigarette smoke.
Honorable Mention: JT's Bar & Grill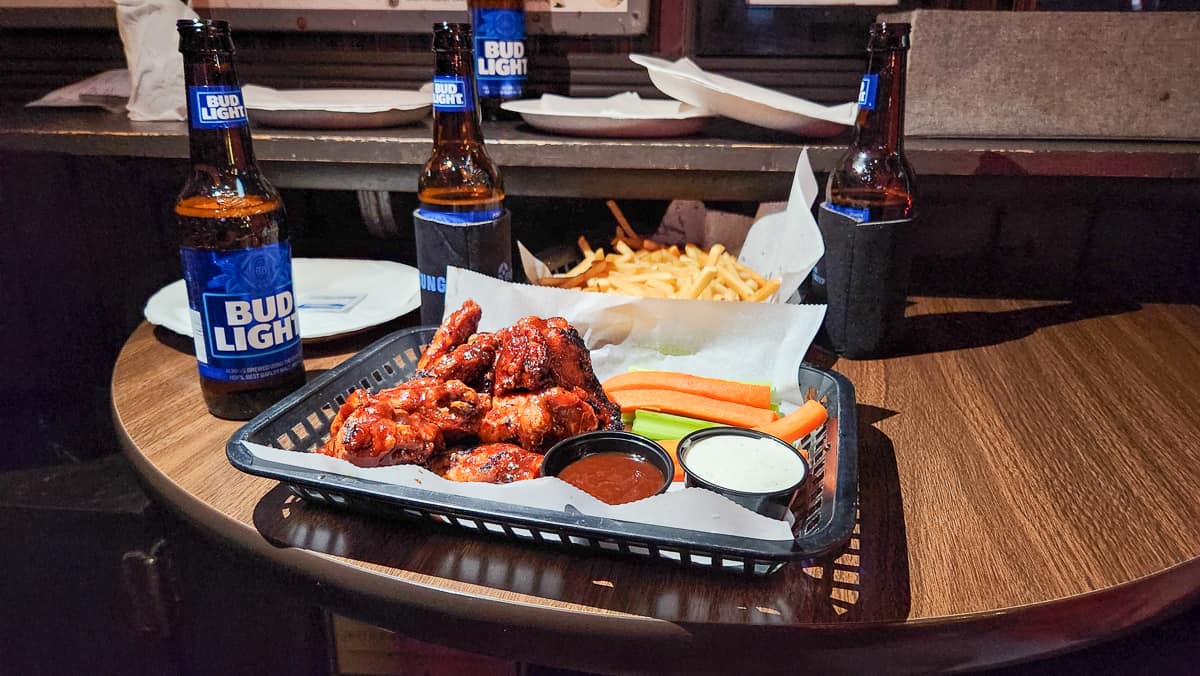 Hours: 7 days a week
Food: Yes, order the wings
Pet Friendly: No
Located on East Indian School Road less than 10 minutes from Old Town, JT's Bar & Grill is a popular dive bar that's been around for over 25 years. In addition to being one of the best dive bars, they are known for their chicken wings and is the only dive bar where we've ever ordered food.
Like every single bar on this list, the interior is compact with limited seating. We visited with some friends late one-night specifically for the wings. It was dimly lit inside (also a common theme here), very busy, and we were lucky enough to grab a table near the door.
We didn't venture very far in this bar because of the crowds, but the bartender was very quick to grab our drinks and the wings came out shortly after.
After 1 bite into the juicy chicken wing, we can tell you they are worth the hype (especially after you've had a few drinks). While this dive bar is located in Arcadia, we wanted to give it an honorable mention since it's so close to the others.
P.S. don't skip out on the fries. They were sheer perfection with the light beer and wings.
Still thirsty? We have several Scottsdale drinking guides: