Top Things to do in Custer, SD and Custer State Park
If you grew up on either the East or West Coast, or just about any other state that didn't share a border, you probably don't know much about the midwestern state of South Dakota.
Sure, you might remember that Mount Rushmore is located in South Dakota and that Nicholas Cage found a lost city of gold inside of the iconic piece of granite, but that's about it.
Well, if that's all you know about this state, you're definitely missing out on a…"national treasure."
Fun fact for your next trivia night: the geographic center of the 50 United States is located in South Dakota.
South Dakota is rich (not with gold-filled mountains) with history, culture, beauty, recreation, wildlife, and, of course, booze. And one city in South Dakota checks off just about every one of these boxes: Custer.
The list of things to do in Custer, SD and the surrounding Black Hills is chock full adventure and should be on everyone's travel bucket list. Seriously.
Psst: Vacationing in South Dakota? We have a bunch of guides. Browse them all here.
**Boozing Abroad contains affiliate links throughout the site. If you choose to purchase items through these links, we will earn a small commission at NO extra cost to you. Read the full disclosure policy here**
Map of Things to do in Custer, SD
Click the interactive map below!
HOW TO USE THIS MAP: To view the layers and see the names of the places on this map, click the tab in the top left corner. You can select the check marks to show or hide certain layers. If you select the icons on the map, you will get more information about the point of interest.
HOW TO SAVE THIS MAP: If you select the star icon, you can save this map to your Google Maps account. To view it, open Google Maps in desktop or on your phone, select the menu button, go to "Your Places," scroll to the right to Maps, and you will see this map.
What you need to know about Custer, SD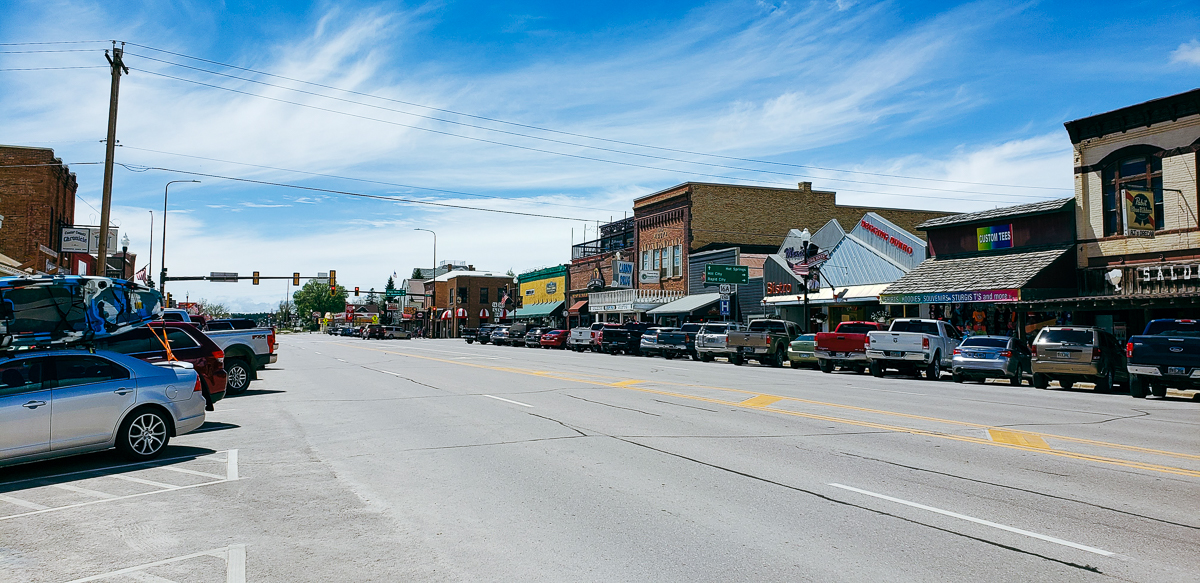 So, we've already determined you know where Mount Rushmore is.
But just where exactly is Custer, SD?
Well, it's just a short 30-minute drive south from that face-covered rock we cherish so much (or about an hour away from Rapid City, which has a decent-sized airport).
The small city of Custer was founded in 1875 and named after Lieutenant Colonel George Armstrong Custer (the same guy who had his Last Stand in Montana a year later).
Custer, the person, led the 1874 Black Hills Expedition during which gold was found, starting the Black Hills Gold Rush (so, maybe those gold-filled mountains are real after all).
Now that you've got a quick history lesson on the whereabouts and founding, let's move on to the fun part: our list of things to do in Custer SD.
Top things to do in Custer SD
1 – Custer State Park
Custer State Park, is for the outdoorsy, nature-and-wildlife-loving, adventurer. The 71,000-acre park, South Dakota's first and largest state park, could nearly fill a list of things to do in Custer SD all on its own, as evidenced by the few other entries on our list below.
Custer State Park has it all when it comes to terrain too – grasslands where hundreds of prairie dogs chirp away, mountains where majestic goats patrol the trails, and rolling hills where buffalo, deer, and antelope freely roam.
If we didn't know any better, we'd think that the song "Home on the Range" was written about Custer State Park (it wasn't, for the record).
The park is open year-round, but Custer can get pretty cold and snowy in the winter months, so be prepared for that if you're braving the cold.
Buffalo Roundup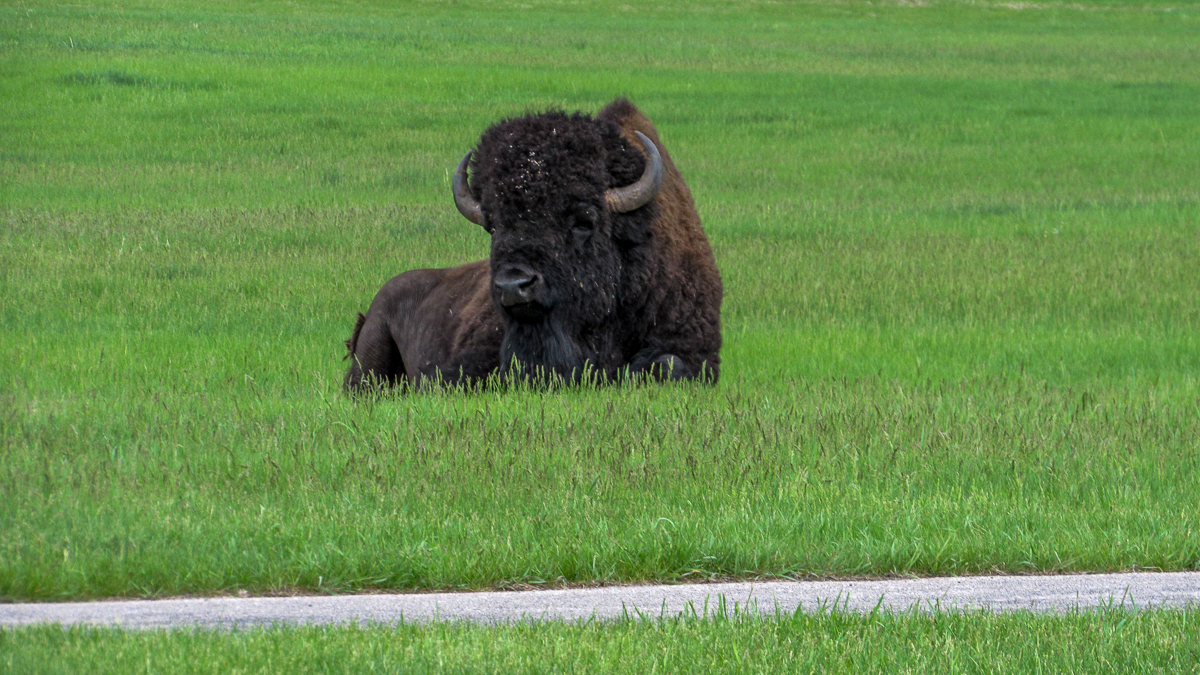 One of the most popular things to do in Custer, SD occurs right here in Custer State Park: the annual Buffalo Roundup in September. You can come and watch cowboys and cowgirls round up and drive the herd of nearly 1,300 buffalo through the park.
The event, which started back in 1965, is a big tourist draw but is also a critical tool in maintaining a strong herd of buffalo. You can even apply to be one of the cowboys or cowgirls to help with the roundup, but just remember, like most things in life, it's BYOH (bring your own horse).
This park is an absolute oasis for those who love to hike, bike, camp, fish, and swim in one of the five lakes in the park. If you need a little more comfortable accommodations, other than a tent, there are a handful of lodging places to stay that are located inside the park .
Specifically, The State Game Lodge offers luxury amenities and you can even stay in one of the historic Presidential rooms where President Coolidge and President Eisenhower used to spend their holidays.
2 – Wildlife Loop in Custer State Park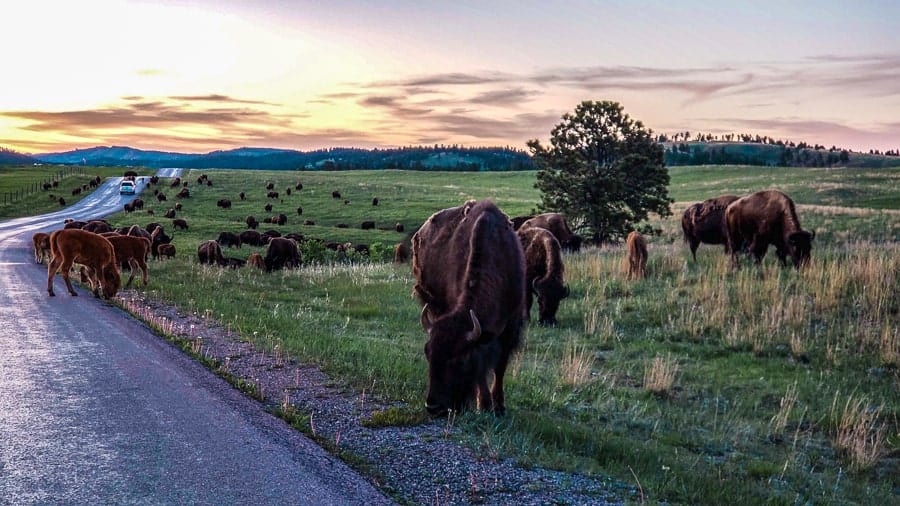 Once you enter Custer State Park, head over to the Visitor's Center where you can get information about the park and begin your first adventure by driving down route 16A, better known as the Wildlife Loop.
This 18-mile drive is the perfect introduction to what the park is all about and probably one of the coolest things to do in Custer, SD.
You will likely encounter herds of bison, pronghorns, and prairie dogs roaming freely. The speed limit around the loop tops out at 25 MPH, but you may want to go even slower so you can try and spot all of the wildlife.
**Remember to drive with caution and please do NOT feed or approach the animals.**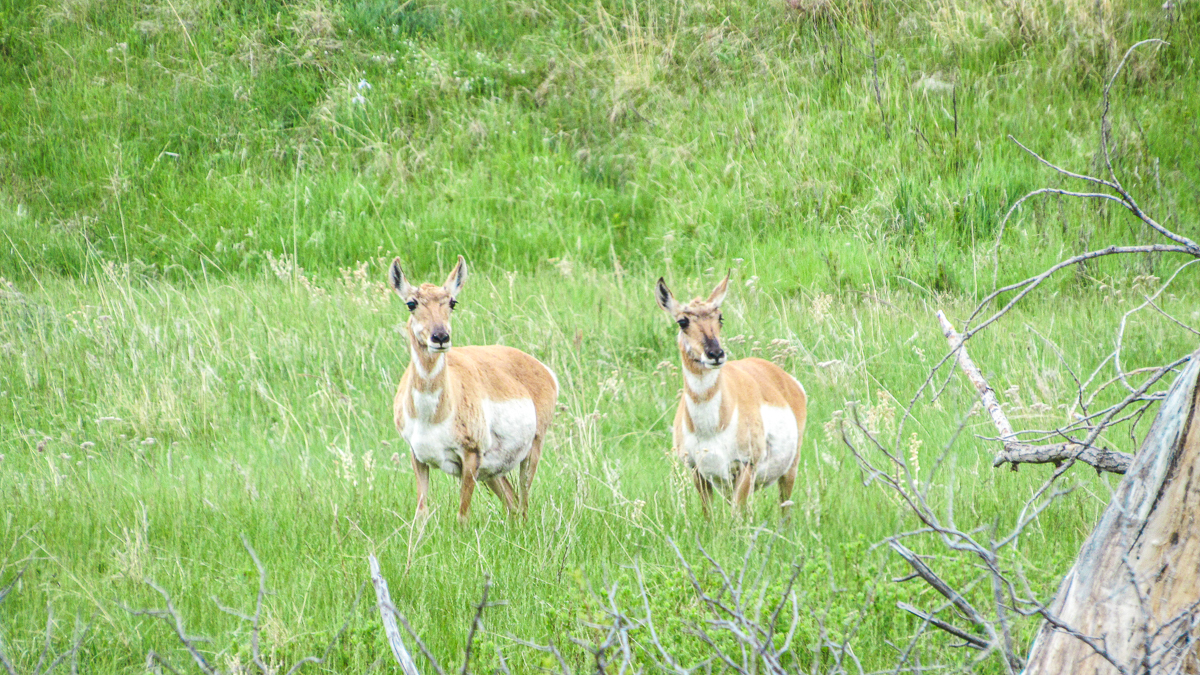 We recommend going either early in the morning or right around sunset as this is when the animals are out and about and most active. We drove through the Wildlife Loop in the evening time right around sunset and the amount of wildlife we saw was just insane!
There were bison EVERYWHERE just strolling along minding their own business and playing with each other. There was one point when we were literally surrounded by bison and one decided to use our back windshield wiper as a nose-scratcher. Bison snot was smeared across the back of the car. Disgusting, slightly terrifying, but so awesome all at the same time!
We also spotted pronghorn, some very friendly donkeys, coyotes, and more. This was definitely one of our top things to do in Custer, SD and we imagine it will be for you too.
If you don't want to drive through Wildlife Loop in your own car, you can take a safari Jeep tour which will get you off the beaten path and up close and personal to the wildlife.
Our recommendation: drive your own car through Wildlife Loop and brave the bison snot!
3 – Needles Highway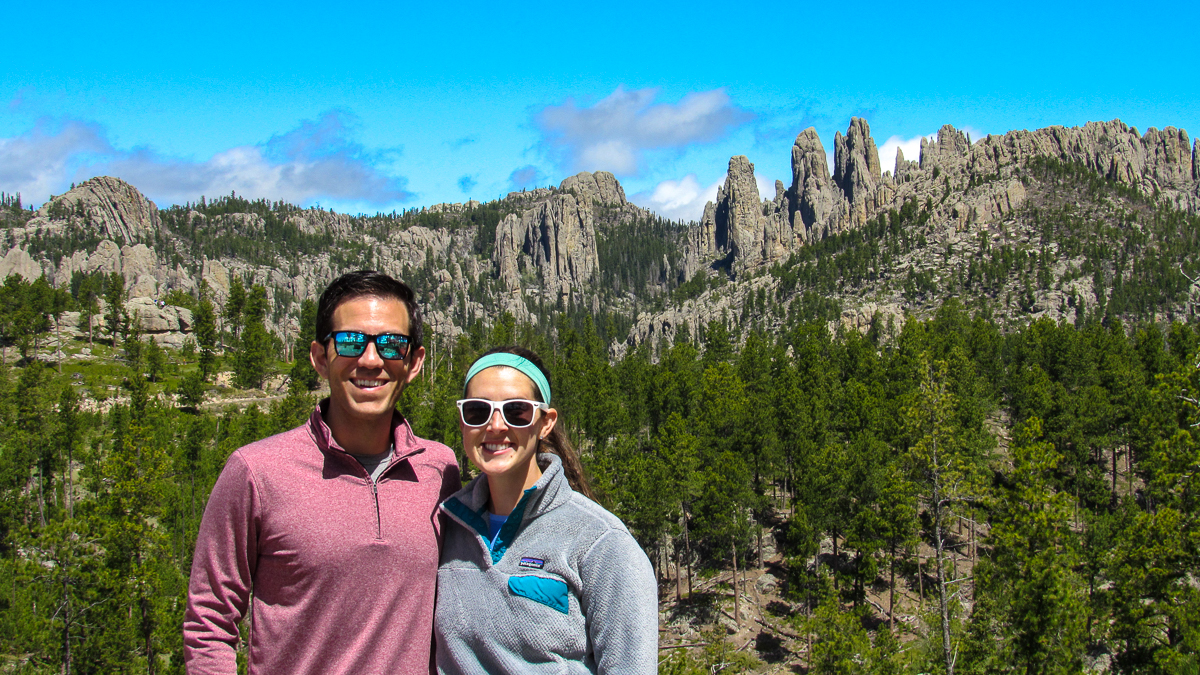 The third entry on this list of top things to do in Custer, SD also involves driving your car through Custer State Park, but this time we aren't looking for wildlife, rather just experiencing an insanely scenic drive through the Black Hills of South Dakota.
The Needles Highway, located about 8 miles from the town of Custer, is about 14 miles in length from end to end. We don't recommend this at all, but if you were to drive straight through the Needles with no stops, it would take you about an hour.
Again, DON'T do this because there is so much to see and do along the way.
You'll drive through towering ponderosa pine trees and spruce trees while navigating around, under, and through the granite mountains.
As the road's name suggests, there are needle-like rock formations all over the place and will leave you repeatedly saying, "Wow!"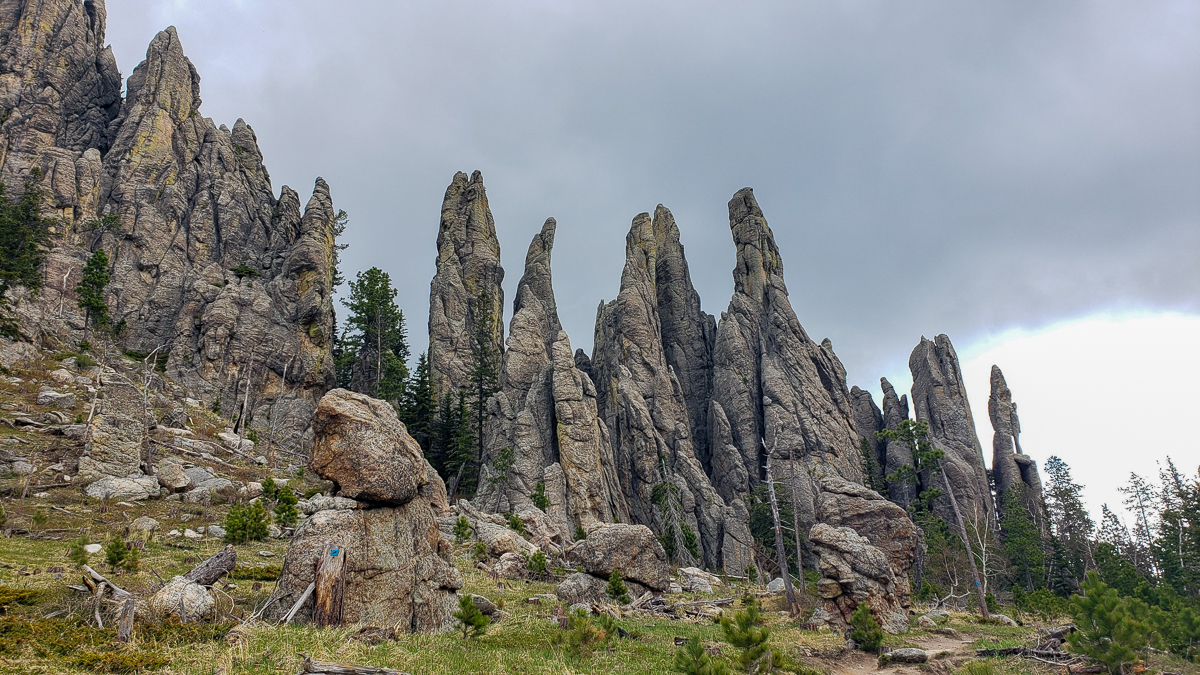 Fun fact about the Needles Highway is that many people initially considered it an impossible feat to build a road through this area, but the then-South Dakota Governor Peter Norbeck carefully mapped out the entire road on foot and horseback and construction was completed on this engineering marvel in 1922.
Hairpin turns and narrow one-lane tunnels through rock formations are the norm on this iconic South Dakota drive and may leave you feeling like you are threading the needle…
Throughout the drive, there are several areas where you can (safely) pull off the road to capture some jaw-dropping pictures of the area.
There are even several hiking trails along Needles Highway, including the easy Sylvan Lake Loop (1.6 miles), the more difficult Sunday Gulch Trail (3.9 miles), and the Cathedral Spires trail (see hiking section below).
4 – Iron Mountain Road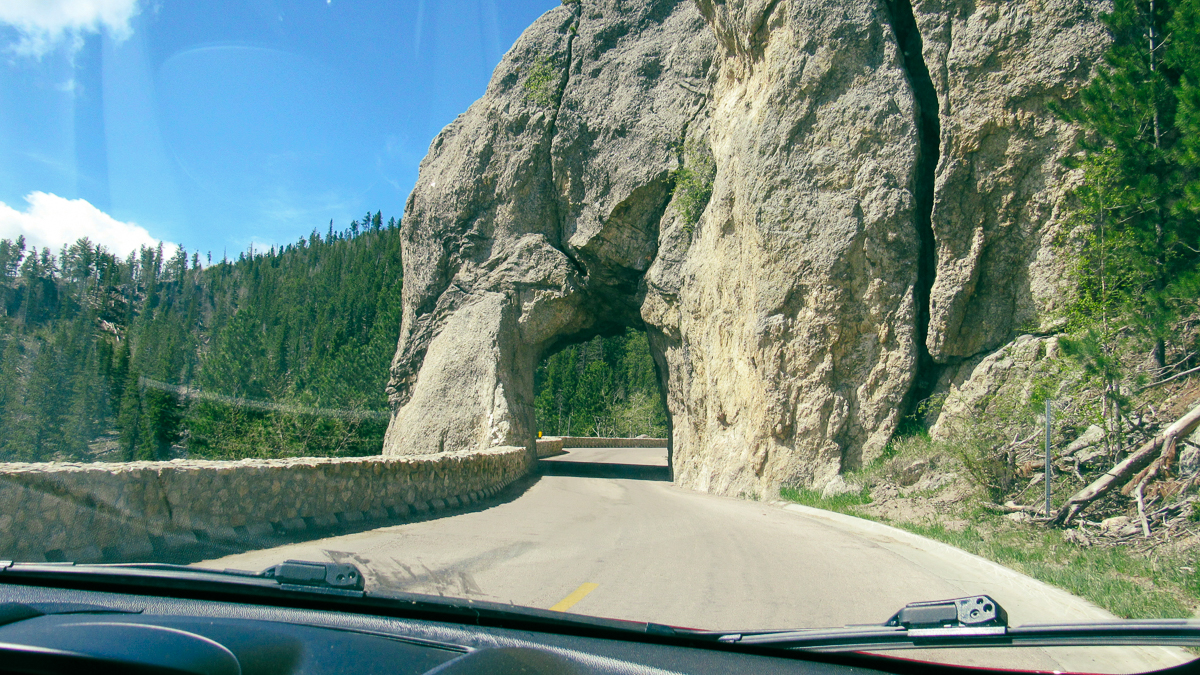 Hope you aren't tired of driving yet because next up on our list of top things to do in Custer, SD is another scenic drive through the Black Hills. This scenic drive, called Iron Mountain Road, is just as awesome and exhilarating as the Needles Highway, but for different reasons.
If you're wanting to visit Mount Rushmore as part of your list of things to do in Custer, SD (of course, you do), the 17-mile Iron Mountain Road can help you out.
The highway connects Custer State Park, where we just spent some time above, and Mount Rushmore.  Along the drive, you'll pass through three different tunnels that give you a very different look at Mt. Rushmore.  Definite photo op!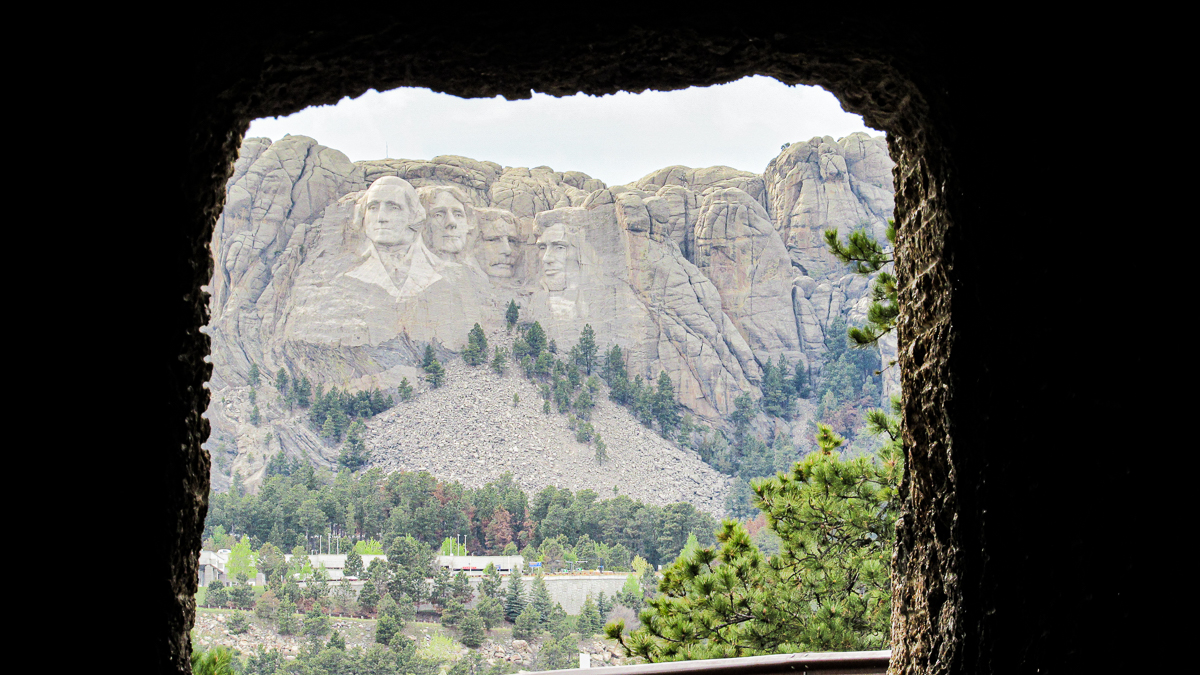 In addition to the tunnels that frame Mount Rushmore in the distance, the road is well-known for its "Pigtail Bridges" which allows drivers to drop or gain altitude very quickly in a small space. Think of it almost like a circular parking garage.
And not that you even could speed through this area if you tried, but as then-Governor Peter Norbeck (yep, same guy from above who loves to build impossible highways) put it, this road wasn't designed "to be a super highway, to do the scenery justice you should drive no more than 20 mph and to do it full justice you should simply get out and walk."
Get car sick or have worn-out car brakes?
Be prepared for this one as the road has more than 300 curves, numerous switchbacks, three pigtail bridges, and three tunnels (and four presidents).
5 – Get Sipsy at Mount Rushmore Brewing or Grapes and Grinds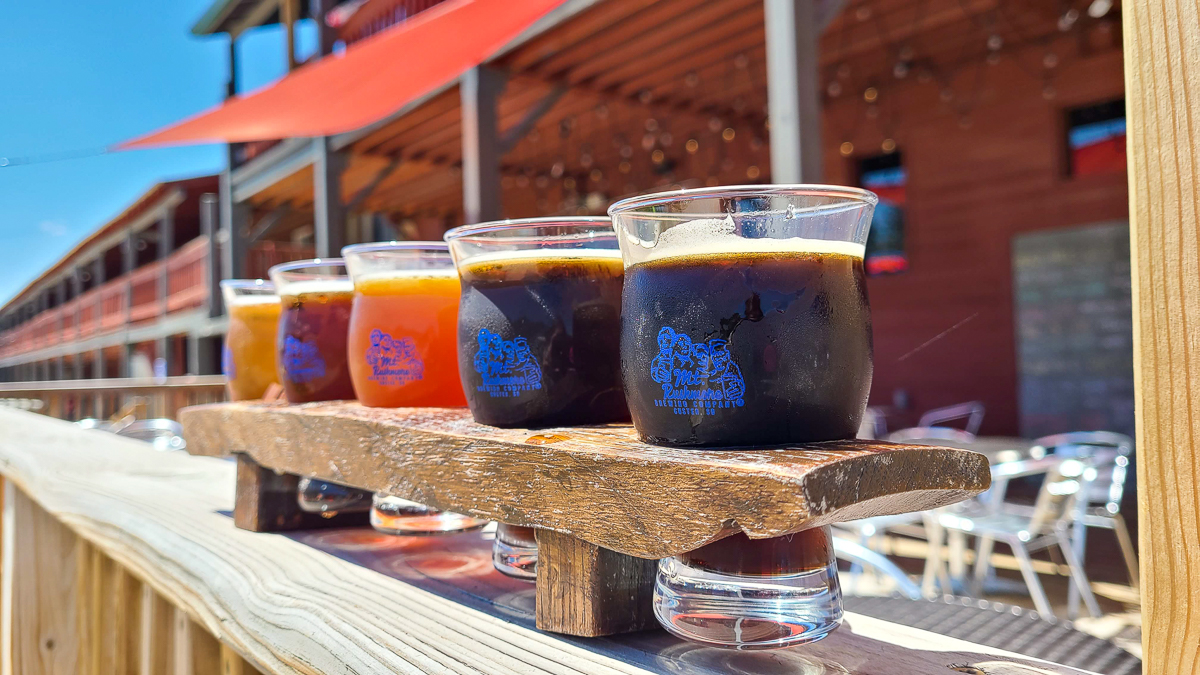 Need a break from all the fresh air, wildlife, and driving? Then add these boozy places to your list of things to do in Custer, SD.
Mount Rushmore Brewing Company is located right in the middle of downtown Custer and pays homage to the four faces on the mountain with beers for each. Washington's American Fabius blonde ale, Jefferson's Long Tom IPA, Roosevelt's Trust Buster Scottish ale, and Lincoln's Rail Splitter porter are the four flagship beers to choose from.
But you can also try some of their other offerings like the Black Hills Gold lager, the Washington Cherry Tree wheat ale, or the Oktoberfest Märzen.
Once you've had your fill of beer, head over to their restaurant called "The Pounding Fathers" for burgers, pizza, steaks, and more.
There is a finer dining experience upstairs from 4 to 9 PM or you can order food in the taproom all day.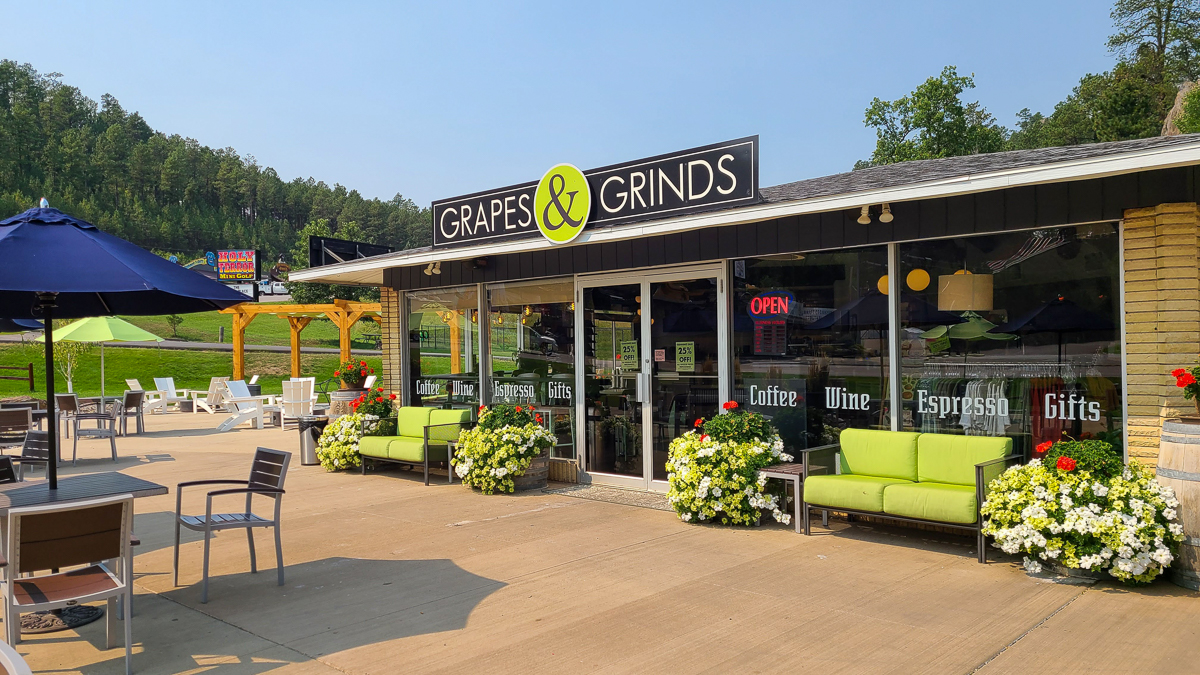 If beer isn't your thing, add this next stop to your list of things to do in Custer SD. As you might expect from the name, Grapes & Grinds offers wine and coffee, not necessarily in that order.
In addition to those two necessities in life, they also offer smoothies, bagels and made-from-scratch-daily gelato.
Whether you're looking to start your day off with a strong cup of coffee or their house specialty B-52 latte, or you're looking to relax and unwind with some local wine from the Black Hills and South Dakota area ($5 tastings), Grapes & Grinds has you covered.
Looking for more boozy stops? Check out the Black Hills Wineries and Black Hills Breweries guides.
6 – Go Hiking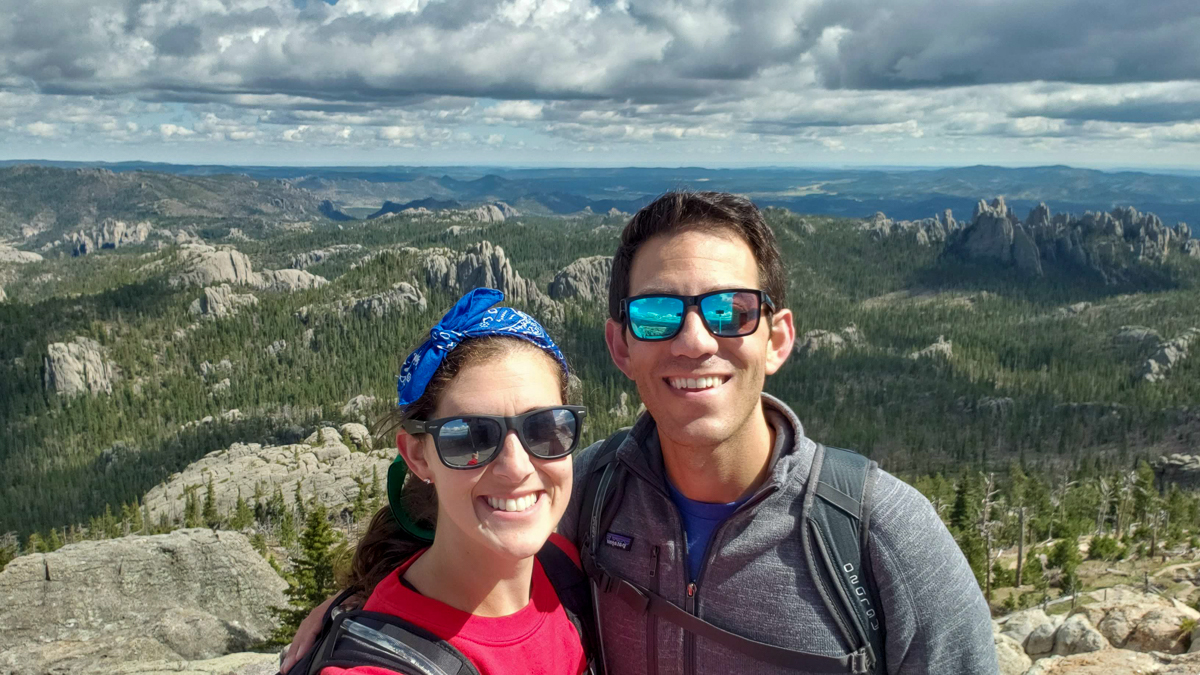 When looking for things to do in Custer SD, no doubt that hiking should be on that list. If nothing else, you need to stretch those legs after all that driving above! There are numerous hikes all over this area, each with their own great views and experiences.
Black Elk Peak, a 7.1-mile trail, is located in Custer State Park and is the highest elevation between the Rocky Mountains in the US and the Pyrenees Mountains in France.
There are numerous different paths to take to end up at the summit, but no matter which you choose, expect incredible views along the way and at the top (where you can look out from an old fire watch tower).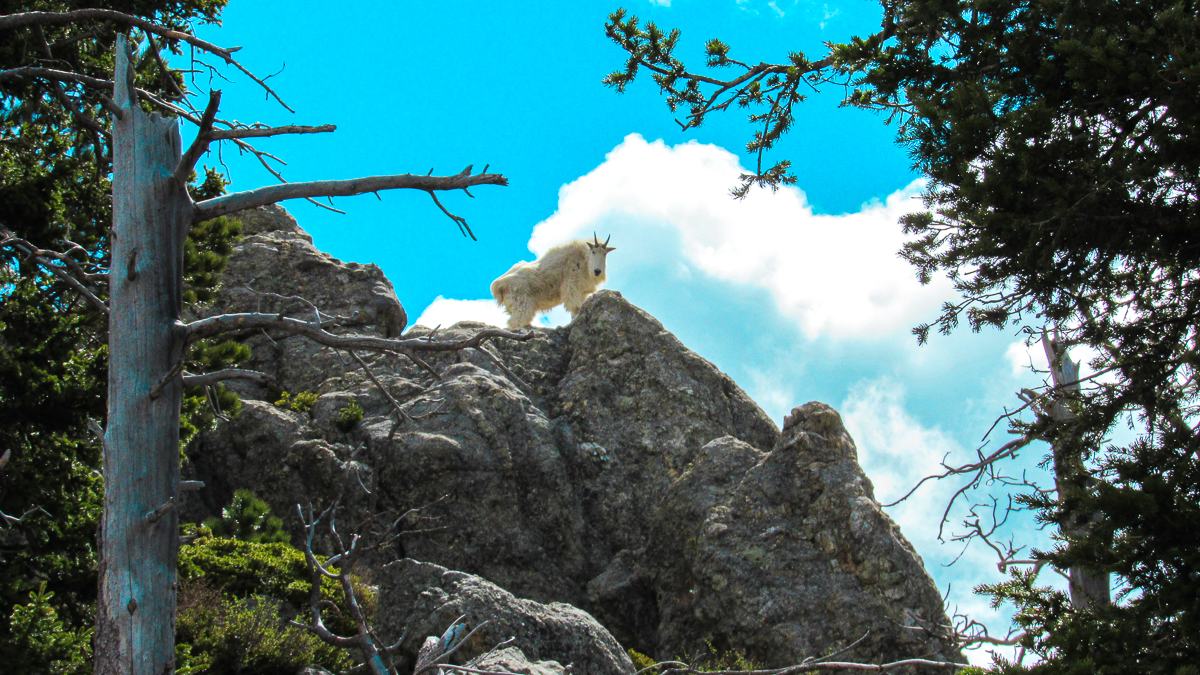 We even saw a beautiful mountain goat just lounging at the summit watching, and likely judging, all of the hikers.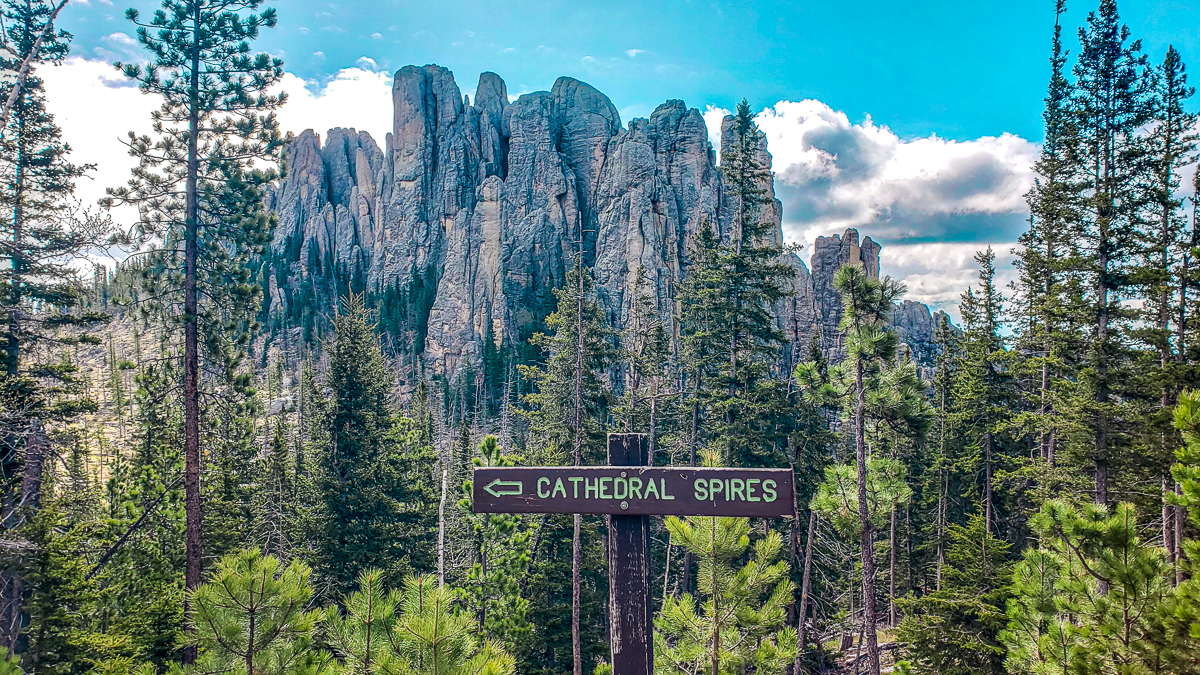 As we mentioned above, the Cathedral Spires trail is another hiking trail that you can add to your list of things to do in Custer, SD.
This is a relatively short hike from the trailhead, but many hikers often choose to add this on to their hike to Black Elk Peak (you can also add a stop at Little Devils Tower). The granite formations spiraling into the sky are just awesome and well worth the trek to get there.
7 – Wind Cave National Park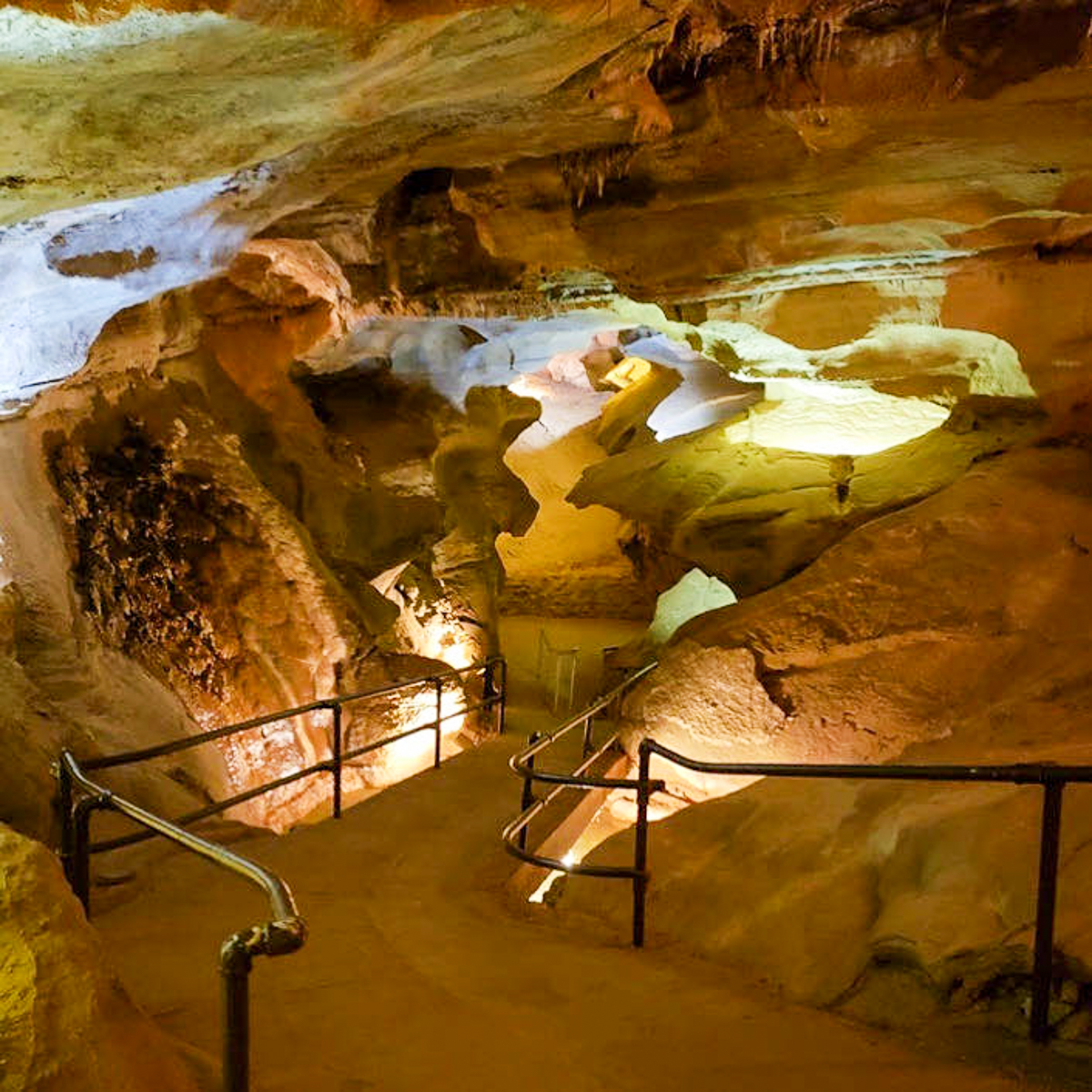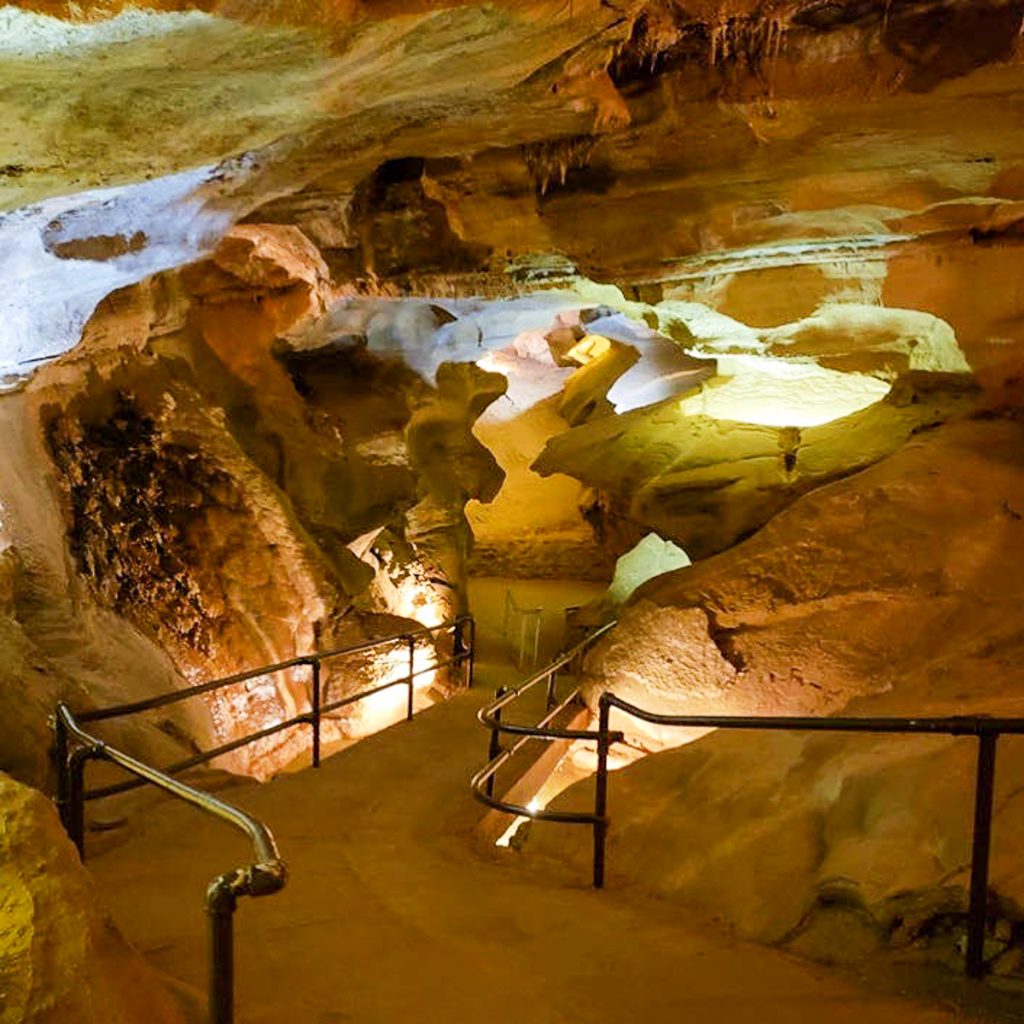 If you have a couple of extra days to spend in Custer, SD, and you've already tackled some of the other items on this list (plus Mount Rushmore), we'd recommend heading over to Wind Cave National Park, which is just 30 minutes southwest of Custer State Park.
The park, named for the winds at the cave's entrance, boasts one of the longest and most complex cave systems in the world. Wind Cave is well-known for the honeycomb calcite formations called "boxwork" which dates back millions of years and is rarely seen anywhere else.
In order to get into the actual cave itself, you'll need to take one of three ranger-guided tours that range from 60 minutes to 90 minutes (and vary in difficulty).
You'll be reminded several times by your ranger guide, but please remember not to touch anything in the cave, no matter how fascinating it is, as the oils on your hands can ruin the boxwork formations.
Logistical note to remember: tickets must be purchased in person on the day of the tour.
In case you forgot, you are in a cave, so there are several narrow and confined spaces to traverse through. If that freaks you out a bit, head above ground to the prairielands for some of the open-air hiking trails where you can see all sorts of wildlife.
Driving through the Wind Cave area was actually the first time we experienced a bison traffic jam!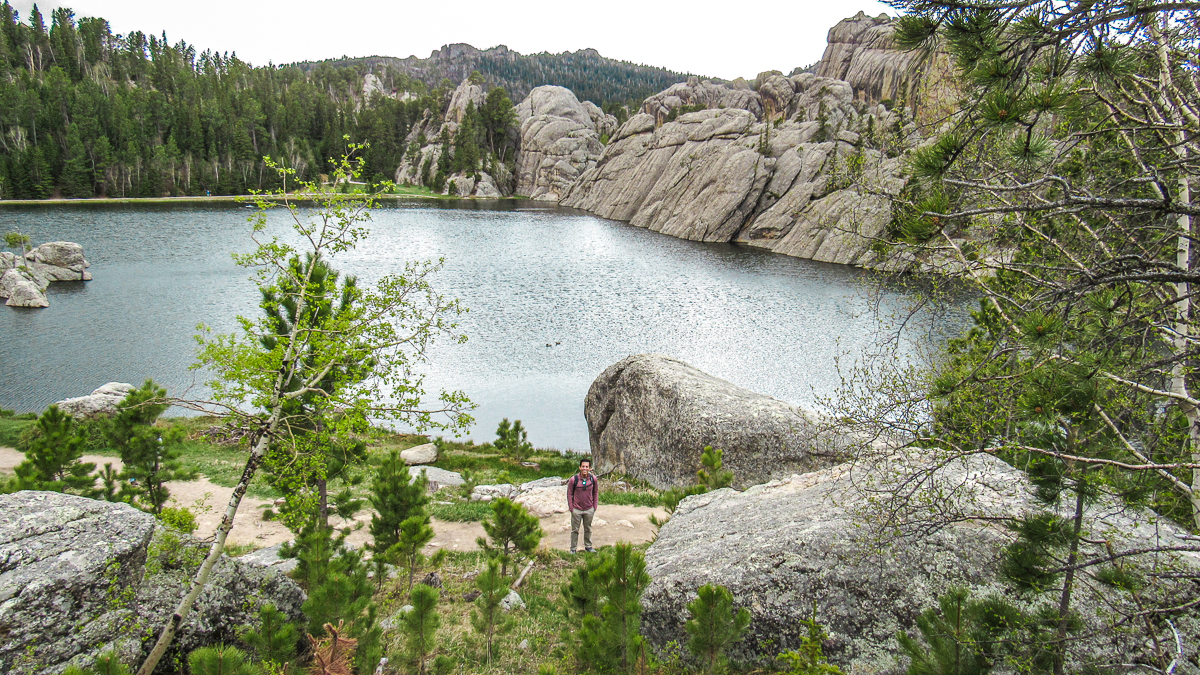 Though you might not have South Dakota pegged high on your list of places to visit, we are here to tell you that it absolutely should be.  There is so much to do and so much beauty to see in this oft forgotten midwestern state, and nowhere is that more true than Custer, SD.
We could probably fill a list of things to do in Custer SD that is considerably longer than what we have mentioned above, but this list alone is packed with adventure and fun.
Whether you're experiencing the beauty of Custer State Park (and the exhilaration of being stuck in a bison traffic jam), hiking to the magnificent Black Elk Peak, having a few beers in honor of our Founding Fathers, or whipping around tight turns on one of the iconic scenic drives, Custer, South Dakota, has it all and is a great place for any and everyone to visit!