The 6 Best wineries in Lodi, CA for First-Timers
Are you a wine lover looking for your next sipsy adventure that won't break your bank? Lodi, California is a hidden gem in the world of wine, and if you haven't visited yet, it's time to add the wineries in Lodi to your travel bucket list.
Located on the north end of California's Central Valley, Lodi is home to over 85 wineries and is one of California's fastest-growing wine regions. Lodi's unique climate, with hot summers and cool delta breezes, makes it the perfect location for growing a variety of grape varietals, including Cabernet Sauvignon, Chardonnay, and their pride-and-joy Zinfandel.
As someone who has recently explored the region in March 2023, I can attest to the fact that the wineries in Lodi are truly worth the sips.
Short on Time? Here are the key takeaways:
Most of the wineries in Lodi

require all guests to be 21+

, regardless of whether you're trying to drink (infants included)
Fields Family Winery was our favorite boutique winery offering a more in-depth tasting experience
Acquiesce Winery is all white wines but offers the most unique food/wine pairing tasting
In our opinion, don't miss Klinker Brick Winery which offers more full-bodied wines at a very reasonable price
**Boozing Abroad contains affiliate links throughout the site. If you choose to purchase items through these links, we will earn a small commission at NO extra cost to you. Read the full disclosure policy here**
Map of Lodi Wineries
HOW TO USE THIS MAP: To view the layers and see the names of the places on this map, click the tab in the top left corner. You can select the check marks to show or hide certain layers. If you select the icons on the map, you will get more information about the point of interest.
HOW TO SAVE THIS MAP: If you select the star icon next to the map name, you can save this map to your Google Maps account. To view it, open Google Maps in desktop or on your phone, select the menu button, go to "Your Places," scroll to the right to Maps, and you will see this map.
Brief History of the Lodi AVA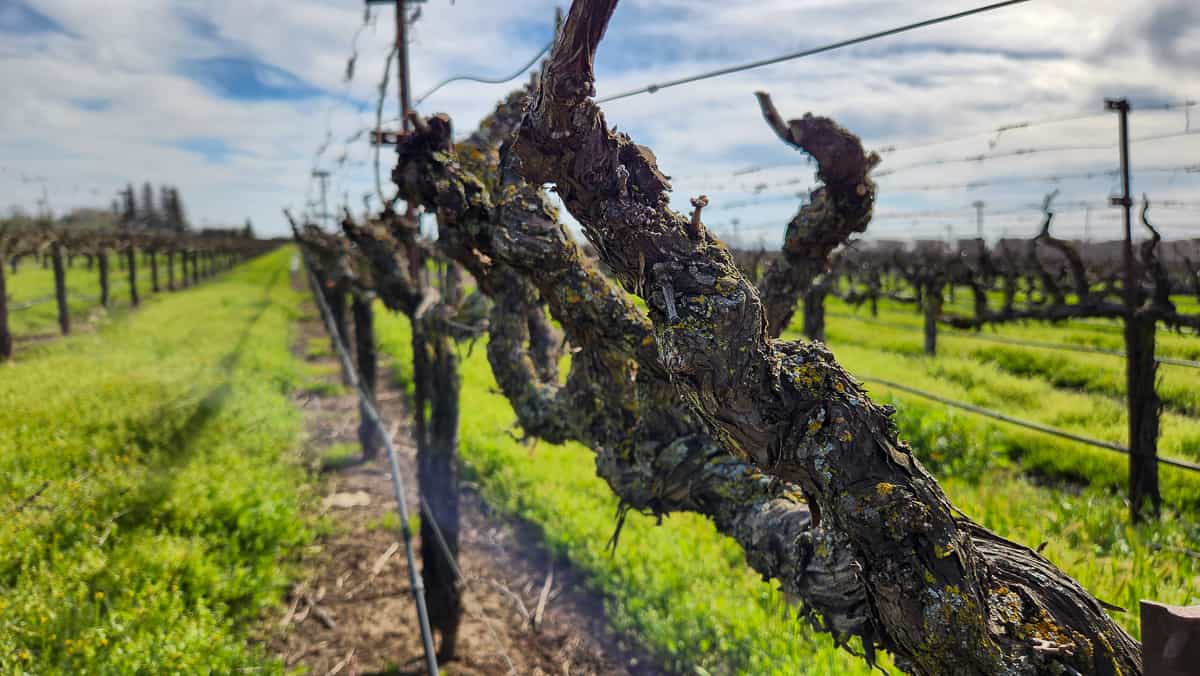 The Lodi American Viticultural Area (AVA) is located in California's Central Valley, just east of the San Francisco Bay area and just a short trip south from the capital of Califronia, Sacramento. The region has a rich history of grape-growing dating back to the mid-19th century.
In the early days of Lodi's wine industry, Zinfandel was the primary grape grown, with much of it being shipped to the East Coast for use in making jug wines. However, by the mid-20th century, the Lodi region was largely focused on other agricultural crops, such as almonds and cherries.
In the 1980s, there was a renewed interest in Lodi as a wine region, with a focus on producing premium wines from old-vine Zinfandel. The Lodi AVA was officially established in 1986 and is home to over 100,000 acres of vineyards today, making it one of the largest winegrowing regions in California.
Today, Lodi is known for producing high-quality wines that offer exceptional value, and the region continues to grow and evolve as a wine destination.
Wineries in Lodi, CA
We had a limited number of time in Lodi when we visited and tried to drink as many places as possible. Based on our trip, we believe these 6 wineries in Lodi are PERFECT for a first-timer! They are a good mix of the area and give wine drinkers a chance to sample a broad variety.
If you can only visit a few, we'd suggest making Field Family Winery, Klinker Brick Winery and Acquiesce Winery a priority!
Fields Family Winery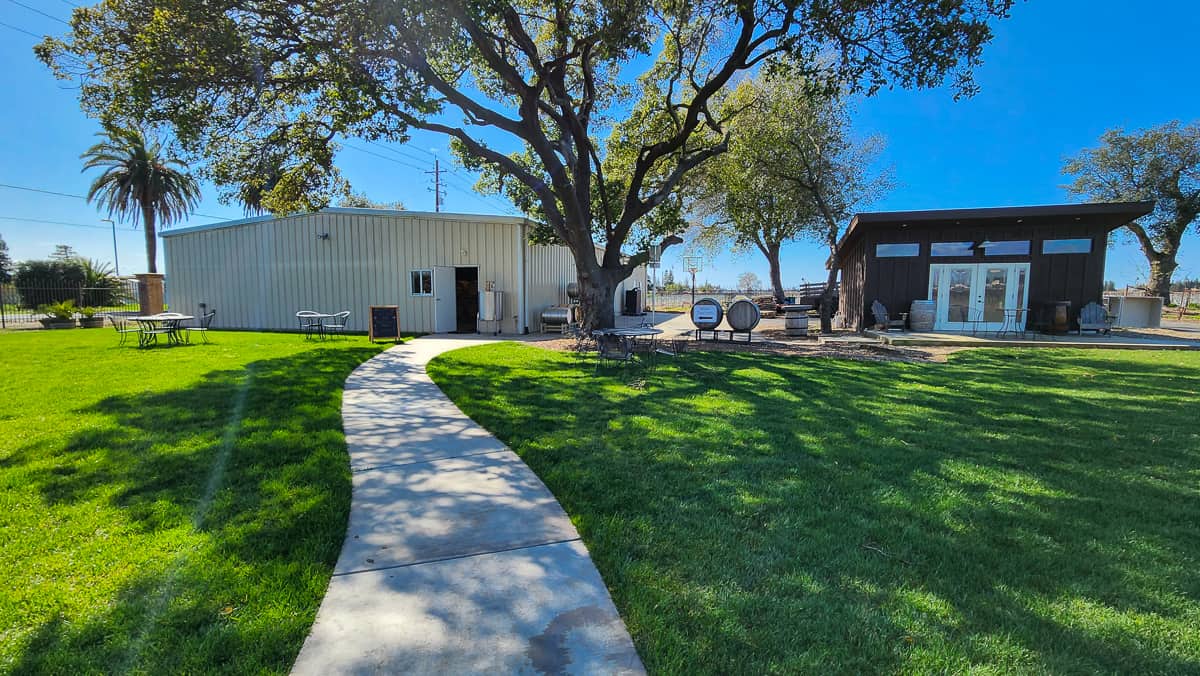 Hours: 7 days a week 11 AM to 5 PM
Reservation Required: No
Food Available: No
Established in 2005, Fields Family Winery is a small, family-owned winery that has quickly gained a reputation for producing some of the best wines in Lodi. They specialize in Rhône-style wines, including Syrah, Grenache, and Mourvèdre, as well as Tempranillo, Zinfandel, and Cabernet Sauvignon.
As its name implies, the winery is owned and operated by Russ Fields and his wife, Melinda. Russ is a fourth-generation grape grower and winemaker who learned the art of winemaking from his father and grandfather.
When it comes to their winemaking, the Fields Family Winery team wants to showcase the unique terroir of the Lodi region, and thus, takes a minimalist approach which allows the grapes to speak for themselves. This philosophy is evident in their final products which are elegant and balanced with a focus on fruit and terroir.
We personally snagged a bottle of the 2018 Vin du Sol, an Estate Red Blend showcasing their Mourvèdre and Syrah with just a touch of Cinsaut.
Klinker Brick Winery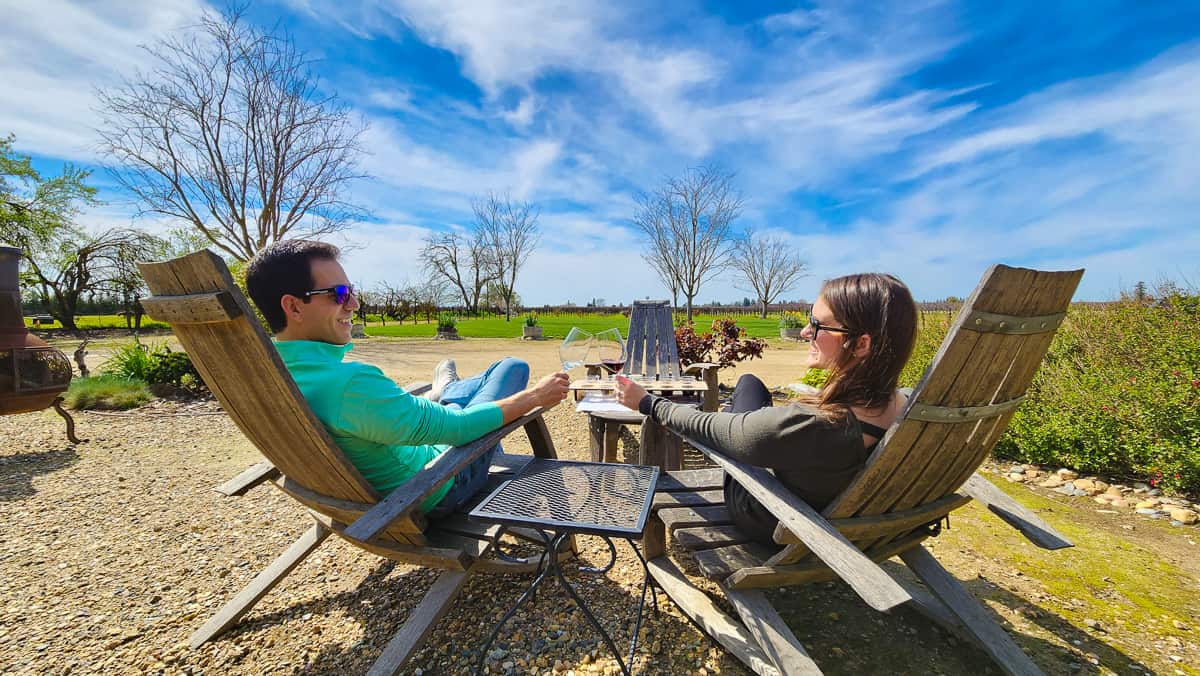 Hours: Daily 11 AM to 5 PM
Reservation Required: No, but recommended
Food Available: Yes, a charcuterie board
Klinker Brick Winery has a rich history in Lodi, dating back to 1855 when the original winery was established. Today, the winery is owned by Steve and Lori Felten, who continue the family's legacy of producing high-quality wines.
Klinker Brick is best known for its Old Vine Zinfandel, made from vines that are…as you probably guessed…old – over 100 years old to be exact. These vines produce low yields but high-quality fruit, resulting in wines that are intensely fruity and full-bodied with flavors of blackberry, spice, and chocolate.
In addition to Zinfandel, Klinker Brick also produces other red varieties, including Syrah, Cabernet Sauvignon, and Petite Sirah as well as white wines, including Albariño and Chardonnay.
The name "Klinker Brick" refers to the type of brick used in the construction of the winery's original building. Klinker bricks were made in the early 1900s and are known for their durability and strength. The Felten family saw the use of these bricks as a symbol of the winery's commitment to quality and tradition.
We each got our own flight to sample as much as possible. Firstly, the flights consist of six 3-oz pours which is probably why we felt like superheroes when we were done. Chris got the Retail Flight for $10 which consisted of their top wines that are widely available in grocery stores or shops. Chris's favorite (also a fan favorite) was the 2019 Old Vine Zinfandel.
I (Sam) opted for their Limited Production Flight ($15) and thoroughly enjoyed every single one. I was so impressed when I tried their 2020 Old Vine Zinfandel varietals which were harvested from two of their vineyards.
While their vines weren't in bloom during our visit, we absolutely loved sitting outside and overlooking the vines. We didn't get anything to eat here, but a couple nearby got the cheese board and it was impressive in size. And size matters.
D'art Hand Crafted Wines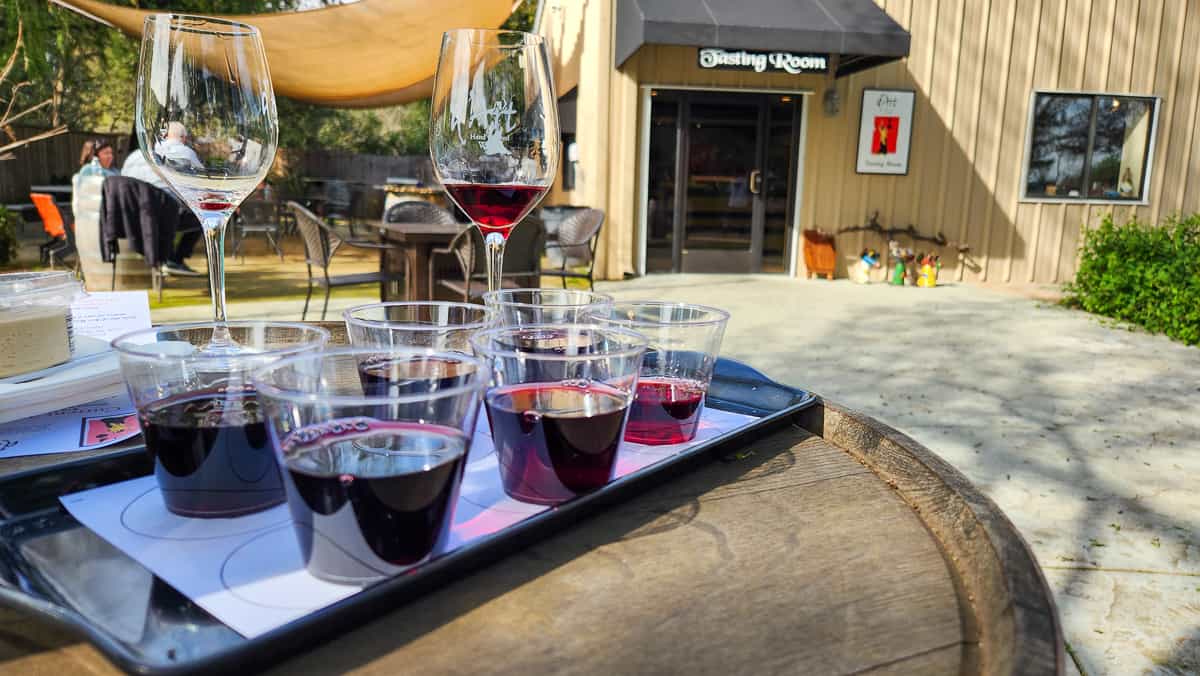 Hours: Thursday-Monday from 11 AM to 5 PM; Closed Monday-Tuesday
Reservation Required: No, but encouraged
Food Available: Snacks only
D'art Hand Crafted Wines is a small, boutique winery owned by a husband-and-wife team, Dave and Helen Dart, who are both passionate about producing high-quality wines.
They planted their first vines in 1999 and established the winery shortly after when they took home "Best in Show" at the Sacramento Home Winemakers wine competition for their Syrah.
This passion-project-turned-business now creates wines that are not only delicious but also artistic.
D'art showcases single-varietal wines, including Cabernet Sauvignon, Petite Sirah, and Zinfandel.
When you visit D'art, be sure to take a look at the artwork on display in the tasting
room, which features pieces created by local artists.
We split their tasting which rotates through their collection of wines. We opted for an all red flight which was six 2-oz pours. And while neither of us tend to gravitate towards sweet wines, their Dog Day Red, a red wine/port blend, absolutely stole the show! We wouldn't be able to drink more than a few ounces, but it was one of the more unique wines we tried.
Chris really enjoyed their Sangiovese and Barbera as well.
Acquiesce Winery & Vineyard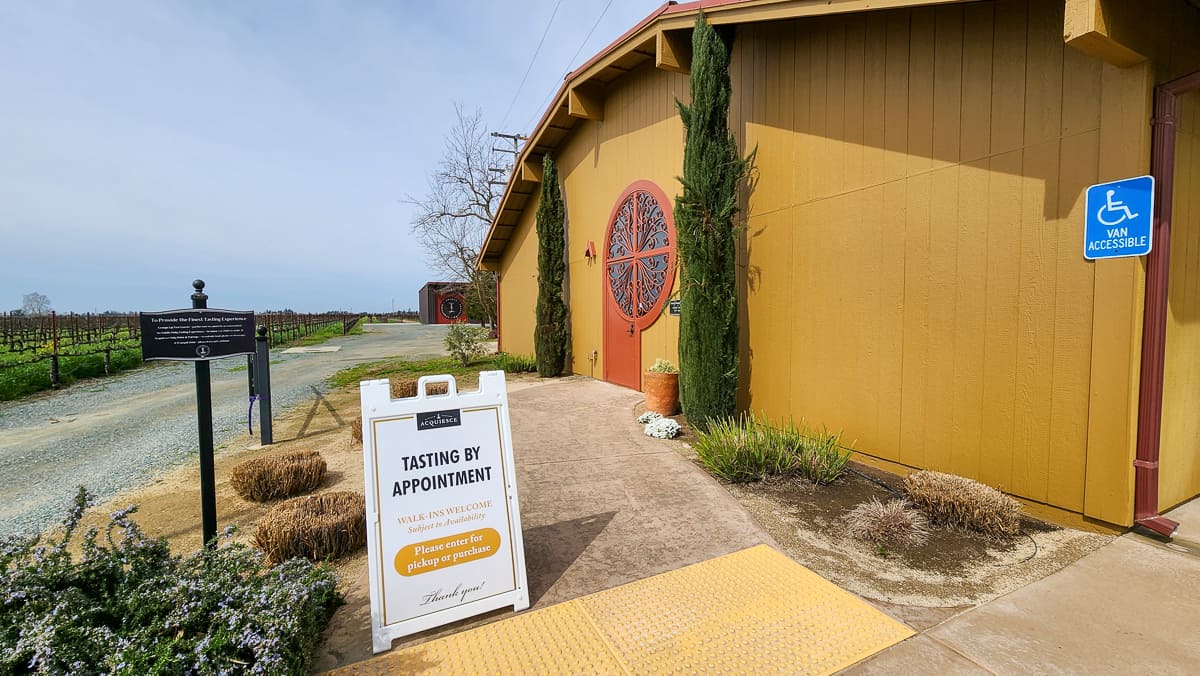 Hours: Thursday-Sunday, 11 AM to 5 PM; Closed Monday-Wednesday
Reservation Required: Yes, but will accept walks-in if there is room
Food Available: Yes, it's included as part of the tasting
Acquiesce Winery & Vineyard is probably the most unique winery in Lodi as it specializes in and serves exclusively white wines made from Rhône varietals.
If we are being honest, we usually choose to drink big, bold red wines that punch your tastebuds in the mouth, but we'd heard SO many incredible things about Acquiesce, we had to try it for ourselves. FOMO is real.
Walking in from the parking lot and up to their tasting room, it felt a bit like we were in a scene in the Hobbit or maybe Matilda looking for Ms. Honey's house. The door and window create this allusion of a whimsical house in a faraway land. We later found out that the tasting room was actually a 100-year old barn which backs up our whimsical thoughts and only adds to the charm.
And once you are inside, you get to experience one of the most interesting and unique wine tastings that you've ever had.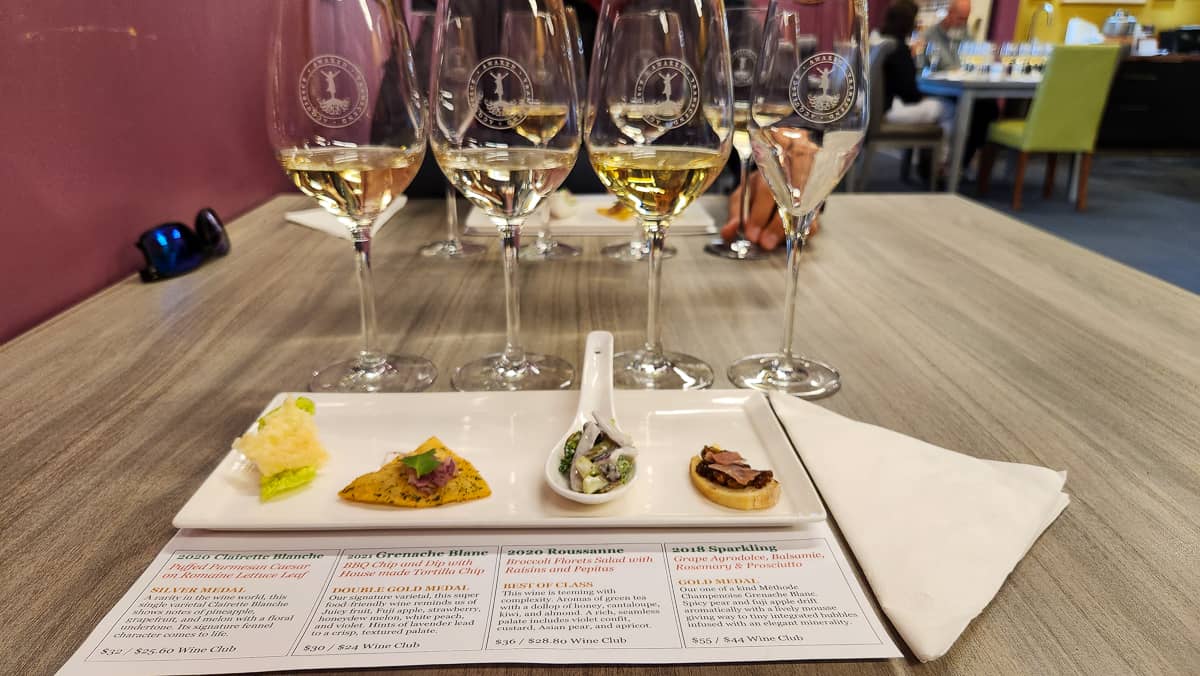 Acquiesce Winery was founded as the brainchild of winemaker Susan Tipton, who fell in love with the white wines of the Rhône Valley during a trip to France. If you are unfamiliar with this style, these varietals tend to produce crisp, refreshing white wines that aren't overly sweet or buttery.
Because of that, Acquiesce's wines are all about elegance and finesse, with a focus on fruit and acidity. All of their wines are made in small batches, with a focus on quality over quantity.
The winery's signature wine is the Belle Blanc, a blend of Grenache Blanc, Roussanne, and Viognier which is crisp and refreshing, with notes of peach, apricot, and citrus.
They must be doing something right as the number of awards and accolades would be longer than this entire blog post. Just to highlight a few, Sue was named the "Best Woman Winemaker in 2022" by the International Women's Wine Competition and in 2021 took Double Gold for their 2021 Picpoul Blanc, 2021 Grenache Blanc, and 2021 Belle Blanc at the International Women's Wine Competition.
The Tasting
Acquiesce offers an "elevated" tasting and boy did they get the description right. It's like no other paired tasting we've done before.
For $20 a person, you're taken on a sensory journey through your mouth and seeing the impact that food has on wine and vice versa. The tasting experience rotates so the chances of you tasting what we had is slim, but we can assure you, it will be incredible.
When we visited, we tasted these pairings:
2020 Clairette Blanche – Puffed Parmesan Caesar on Romaine Lettuce Leaf
2021 Grenache Blanc – BBQ Chip and Dip with house made tortilla chip
2020 Roussanne – broccoli florets salad with raisins and pepitas
2018 Sparkling – grape agrodolce, balsamic, rosemary and prosciutto
If you couldn't tell by now, I talk a lot and usually have a lot to say, but it's hard to put in words how awesome this tasting was. The irony is that the word acquiesce means "to surrender, to become quiet".
Maybe it was the wine. Maybe it was the food. But I'll go ahead and be dramatic and say this tasting left me speechless (except for this blog post). In our opinion, this is one of the top wineries in Lodi to visit!
Peltier Winery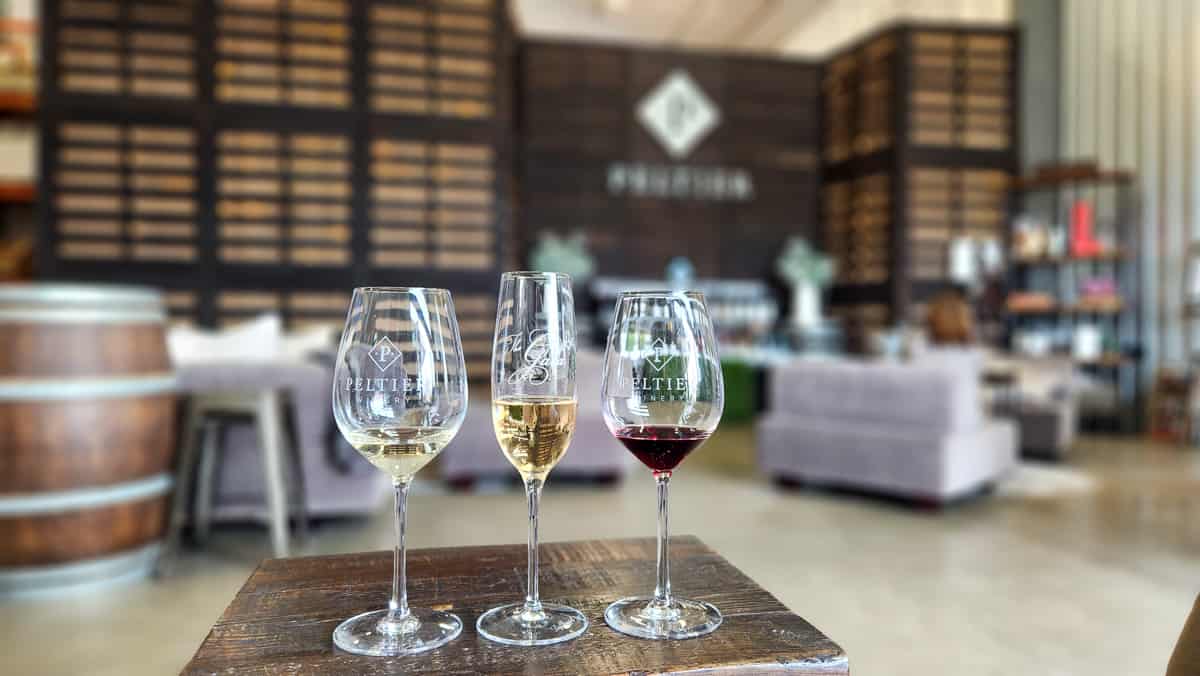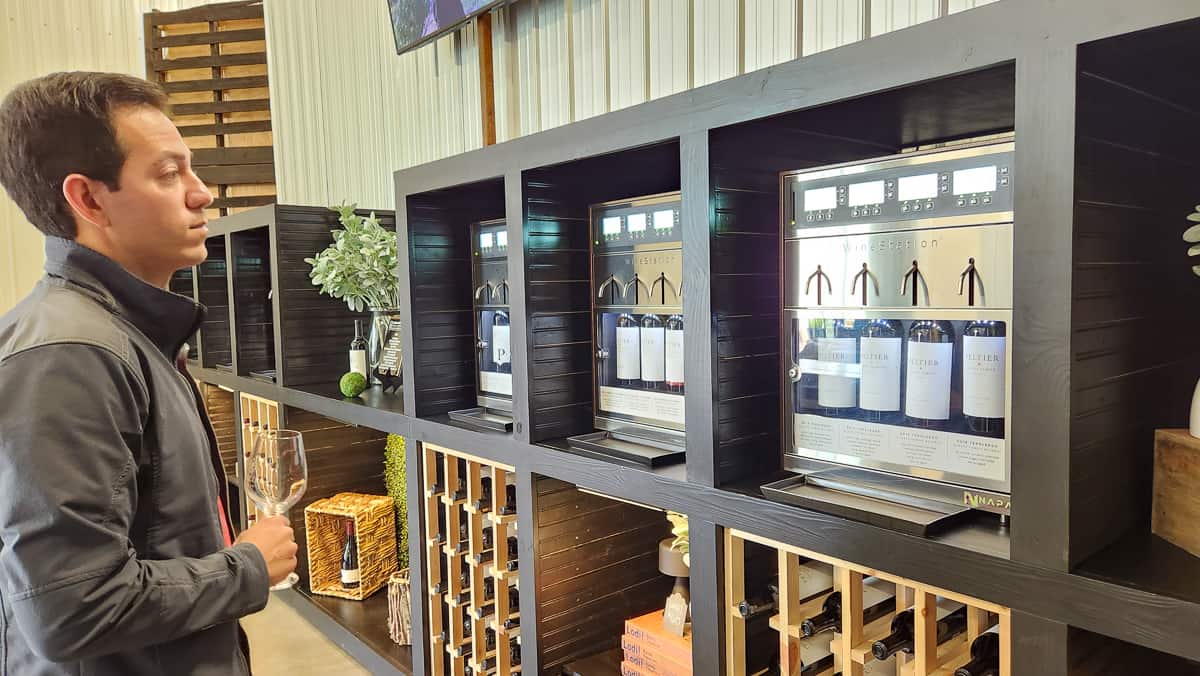 Hours: Daily 11 AM – 5 PM
Reservation Required: No, but recommended
Food Available: No
Peltier Winery is a modern and innovative winery in Lodi, established in 2001. Their wine tasting room houses a self-pour wine station that provides you the opportunity to taste as many (or little) wines as you like.
If you've never done this before, it's easy to use, but can sneak up on you quickly from a financial perspective. In short, you tie your credit card to a card that you insert in the machines to get wine. They have different size pours (a taste, a half glass, or a full glass) and naturally, the more wine you get, the more money you pay.
Needless to say, we tried a lot and PAID for it (literally).
With 24 options to try, you could be here for a while. If this is too daunting or overwhelming, ask for help on a guided tasting or you can grab a bottle and sit outside on their massive plush patio.
In addition to producing well-known varietals, Peltier Winery also dabbles in less familiar grape varieties, including Albariño, Vermentino, and Teroldego. These grapes thrive in the Lodi climate and results in wines that are fresh, vibrant, and expressive.
M2 Wines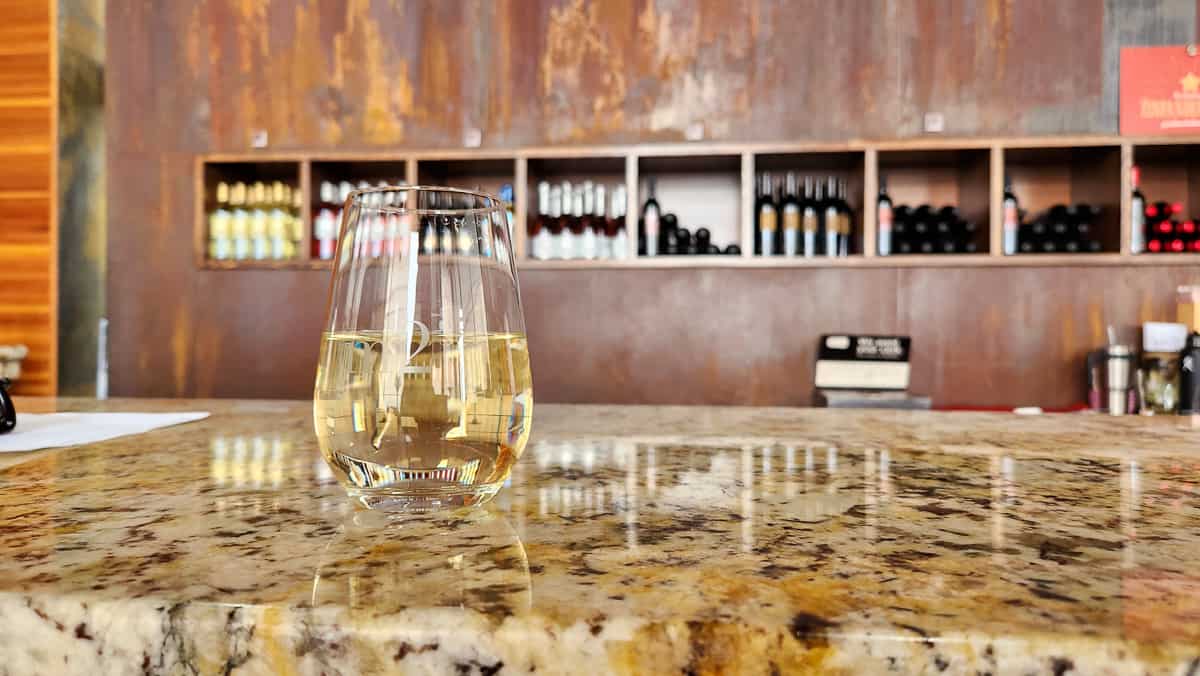 Hours: Thursday-Monday 11 AM to 4 PM; Closed Monday-Wednesday
Reservation Required: No, but recommended
Food Available: Snacks and some cheese options only
Last but not least, we have M2 Wines, known for their dynamic Zinfandels, Rhône-style wines and audacious blends.
The winery was founded by Layne Montgomery and his family in 2004, who had a passion for crafting wines that reflect the unique character of the Lodi region.
With its focus on producing high-quality wines that reflect the unique terroir of the Lodi region, M2 Wines has quickly become a popular destination for wine lovers who are seeking a unique tasting experience.
The winery has received numerous awards and accolades for its wines, including the Best of Class award at the California State Fair for their 2016 Zinfandel.
Instead of doing a flight, I casually sipped on a glass of Vermentino (one of my favorite white Italian varietals) while Chris went on to enjoy a complete tasting.
His favorite was their signature wine, the Soucie Vineyard Zinfandel, which is made from grapes grown in a historic vineyard that dates back to the 1920s. The wine is bold and spicy with flavors of black cherry, black pepper, and cocoa.
Overall, Lodi is a secret wine lover's paradise with a diverse range of wineries and wine styles to explore. These 6 wineries are just the tip of the iceberg when it comes to Lodi's wine scene, but they are definitely worth a visit for first-time visitors.
To see all our shenanigans in the area, check out our Youtube video here:
Looking for more California info? Browse all our California Travel Guides here or check out these top post: