Why the Breweries in Colorado Springs are worth every sip
Everyone knows that Denver has a great beer scene, but did you know that the breweries in Colorado Springs are also making a name for themselves?
To say we were pleasantly surprised by all the Colorado Springs breweries would be an understatement! Each one we visited made us more excited and more thirsty to visit the next one.
While you may come to Colorado Springs, which is Colorado's second-largest city, for the outdoorsy scene, like summiting Pikes Peak at 14,115 feet or floating down the Arkansas River amidst the Royal Gorge, there are plenty of indoor activities to keep you busy too, namely the Colorado Springs breweries scene.
Though it's a large city, it still feels fairly small and navigable; there are numerous different pockets or neighborhoods with their own feel and vibe to which the breweries in Colorado Springs all contribute.
**Boozing Abroad contains affiliate links throughout the site. If you choose to purchase items through these links, we will earn a small commission at NO extra cost to you. Read the full disclosure policy here**
Map of Colorado Springs Breweries
Click the interactive map below!
HOW TO USE THIS MAP: To view the layers and see the names of the places on this map, click the tab in the top left corner. You can select the check marks to show or hide certain layers. If you select the icons on the map, you will get more information about the point of interest.
HOW TO SAVE THIS MAP: If you select the star icon next to the map name, you can save this map to your Google Maps account. To view it, open Google Maps in desktop or on your phone, select the menu button, go to "Your Places," scroll to the right to Maps, and you will see this map.
The Local Relic Artisan Ales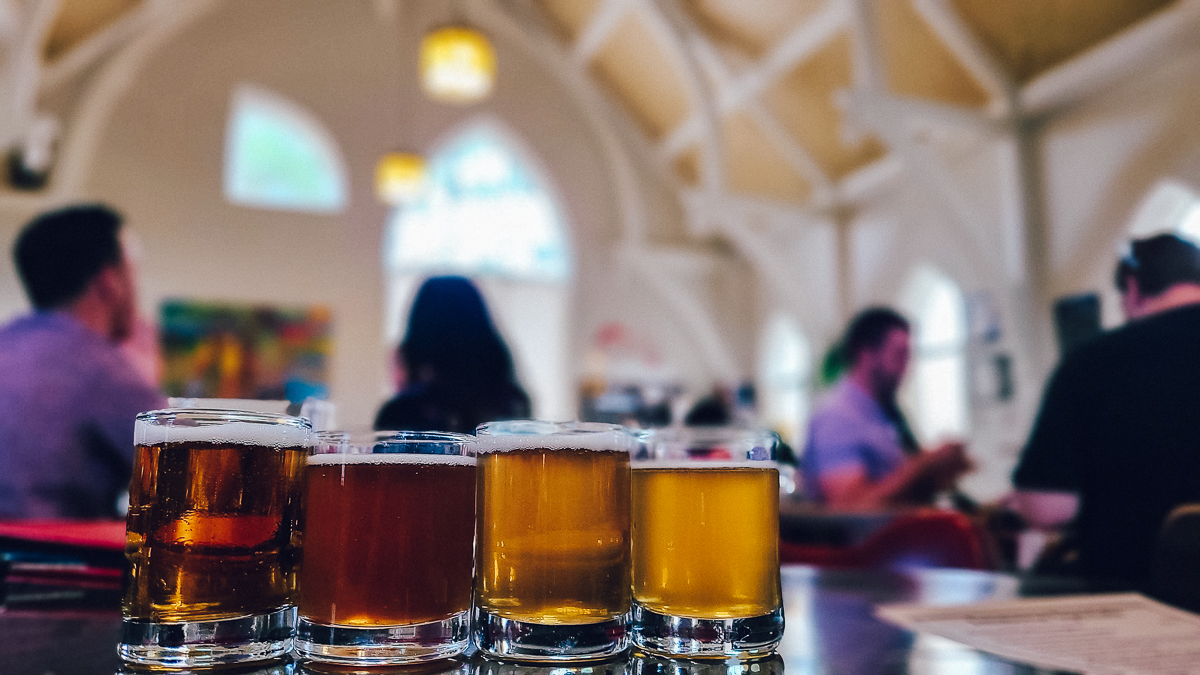 If you are looking for a laid back ambiance with all the alcohol toppings, Local Relic Artisan Ales is a co-op space for liquor, wine, food, and beer in a transformed church just outside of downtown. Most bartenders we talked to recommended this place and we now know why.
The Local Relic is a brewery as well as a multi-concept space that is shared with four vendors: two restaurants and two bars.
The Local Relic produces over 200 new beers every year! There are 18 taps that are always rotating, and nearly 100 bottles are on the list. Some of its most popular beers include the "Pumpkin Milkshake" IPA and the "Aloe Vera" Farmhouse Ale.
If beer isn't your thing, you can check out Aruacana, a cocktail bar, or Crusade, a wine bar; both located inside The Local Relic.
For food, check out one of The Local Relic's two restaurants: Immerse Cuisine, which features local and modern Colorado cuisine, and BFD, which serves breakfast all day long.
The Local Relic was such a unique experience with absolutely inspired beer that will make you feel as though you've been saved. Of all the Colorado Springs Breweries we visited, this one was a favorite for both the atmosphere and their beers.
OCC Brewing Company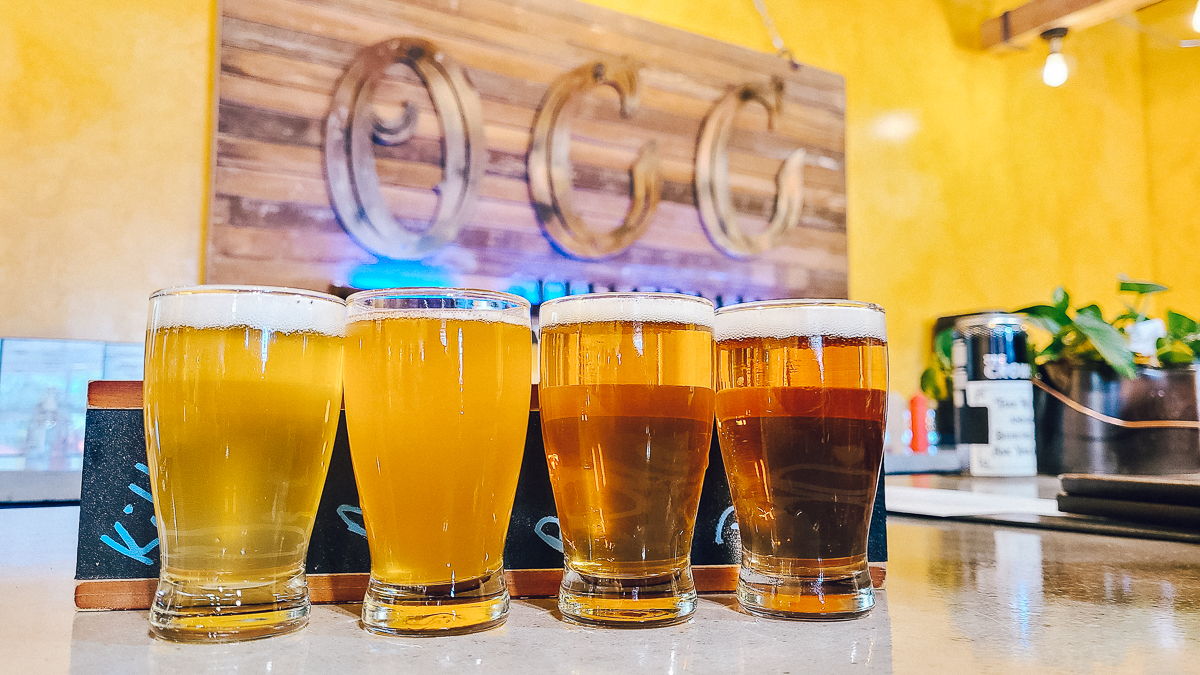 A new kid on the brewery block in Colorado Springs, we asked around about OCC Brewing Company (short for Old Colorado City, the neighborhood where it is located) but many of the bartenders had "heard great things, but haven't been there yet". Enter us, hop-bent on trying it.
With 2 garage doors as the entry ways, you are immediately immersed in a vibrant yellow taproom that is reminiscent of Spanish stucco which is both warm and inviting.
The place was packed when we visited with several delicious smells wafting from their kitchen. We nestled up to the busy bar to order a flight.
Easily one of our favorite breweries in Colorado Springs, the beer was unique, different and offered diverse flavors for your taste buds to ponder.
With incredible names like Emotional Support Ass (Moscow Mule-inspired sour) and Bad Bitches Never Die (IPA series), they are definitely making a name for themselves and with good reason. Their beer rocks.
Cerberus Brewing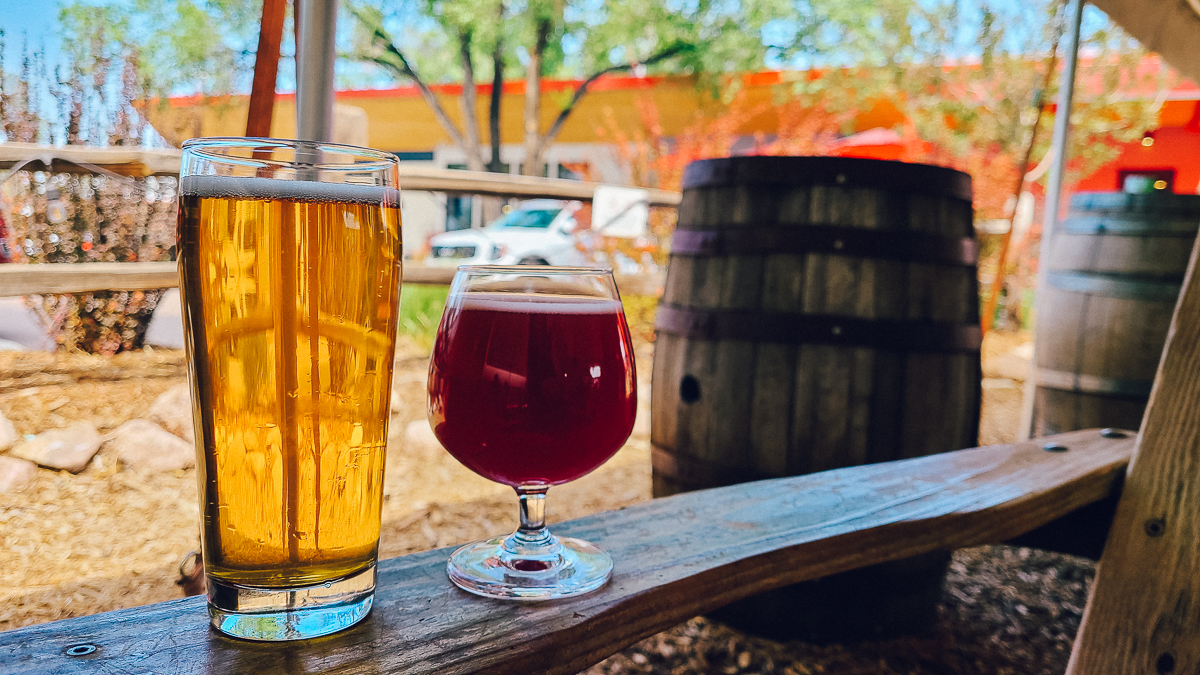 Highly revered by locals for their food. Cerberus Brewing has an extensive beer selection of 20+ taps with a range of beer styles.
While we didn't get a chance to sample the food menu, both of our beers were good (not great), but true-to-form.
Chris had the Tiny Umbrella Party which he said, "tastes like an IPA", which is always a good thing in our book. Sam had the Walk in the Park sour, which didn't really taste like a sour, but had some light tart notes.
Mash Mechanix Brewing Company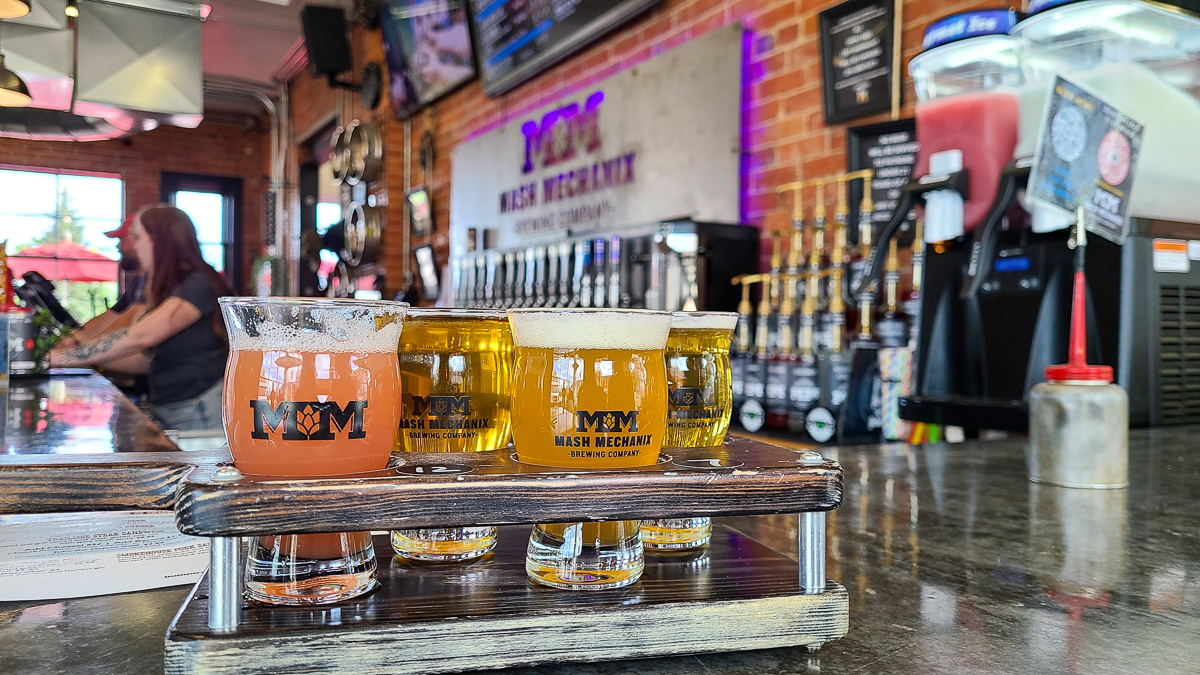 On your marks, get set, DRINK! Calling all gear heads to report to Mash Mechanix Brewing! Mash Mechanix Brewing opened in Summer of 2020 making this one of the newer breweries in Colorado Springs.
The owners restored a 100 year old building just on the outskirts of the downtown.
Their slogan is "a beer for everyone" and we can see why. With 13 taps ranging from a drinkable light beer to stout to hard seltzers, Mash Mechanix has…a beer for everyone. The taproom has ample inside seating and an outdoor area, as well as axe throwing on site. They also consistently have live music and food trucks to complete the brewery vibe.
Colorado Mountain Brewery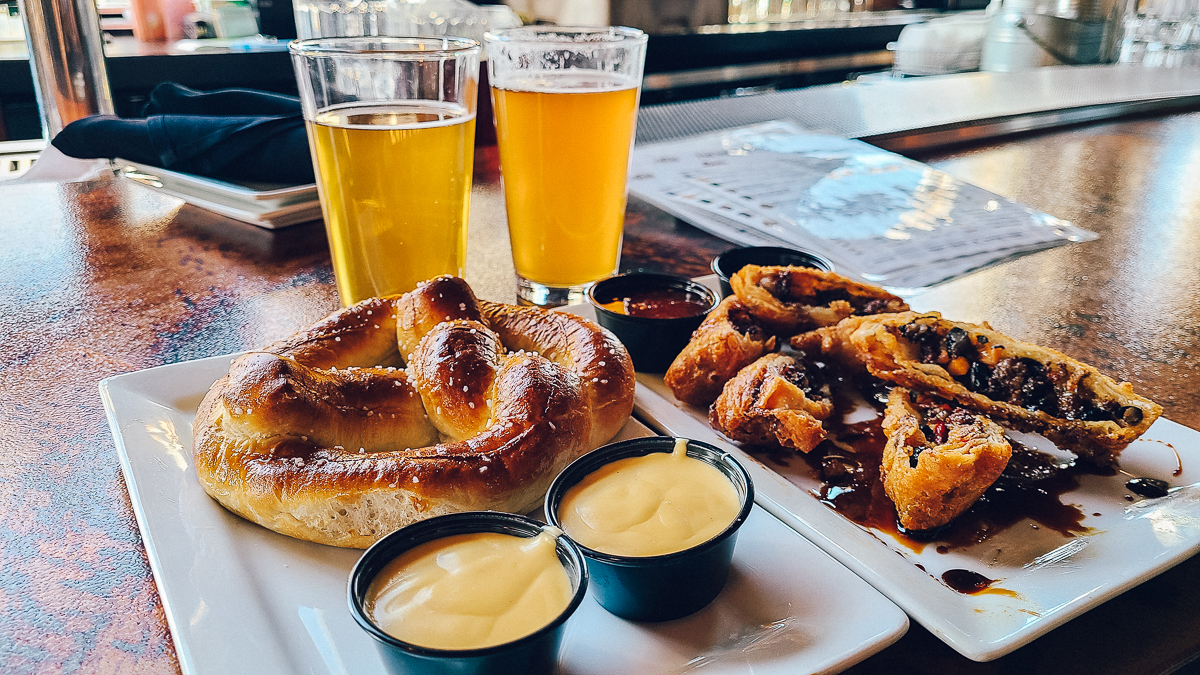 Colorado Mountain Brewery is one of the larger breweries in Colorado Springs, nestled in the foothills on your way to the Garden of the Gods.
With a massive curved bar and ample seating areas, this brewery, which almost has a commercial feel to it, crafts true-to-style beers.
We opted for a seasonal and a flagship (Panther IPA) and both were approachable and easy sipping.
We also sampled several other flagship beers and all were spot on to traditional styles. What you see is what you get.
If you're with people who don't drink beer, this is a good spot to go as they have a full liquor bar and wine list.
They also have a full food menu. Take our advice, get the Venison Egg Rolls. These crispy rolls will pair nicely with your brew and the dipping sauces add unique flavors. You're welcome.
Smiling Toad Brewery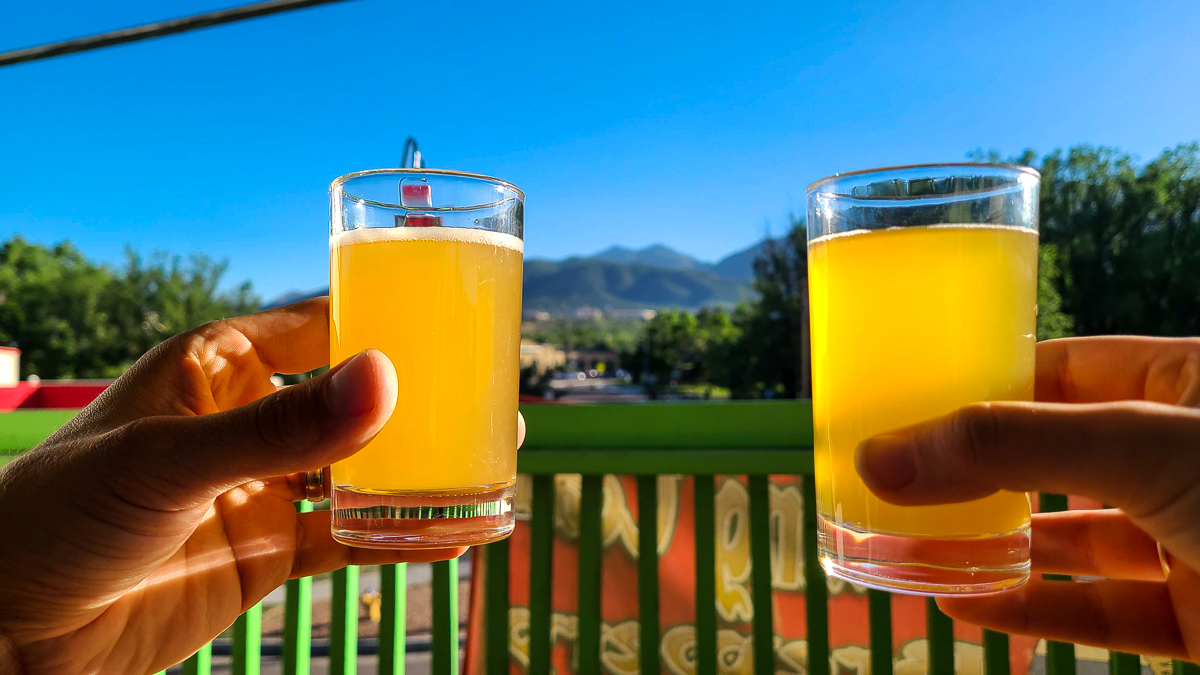 If you are looking for a low-key, "we're here for the beer" spot, Smiling Toad Brewery should be at the top of your list for breweries in Colorado Springs.
If we are being honest, their taproom seems a bit like an afterthought as it took the place of an old tavern but that shouldn't take away from the quality of beers.
We had several 5-ounce pours, including their flagship "IP(a) Freely", and each was great in their own craft.
With rotating food trucks and a mug club for locals, you can kick back and relax while enjoying your brew.
If the weather is good, sit outside on their 2nd story patio with great views of the mountains as your backdrop.
Fossil Craft Beer Company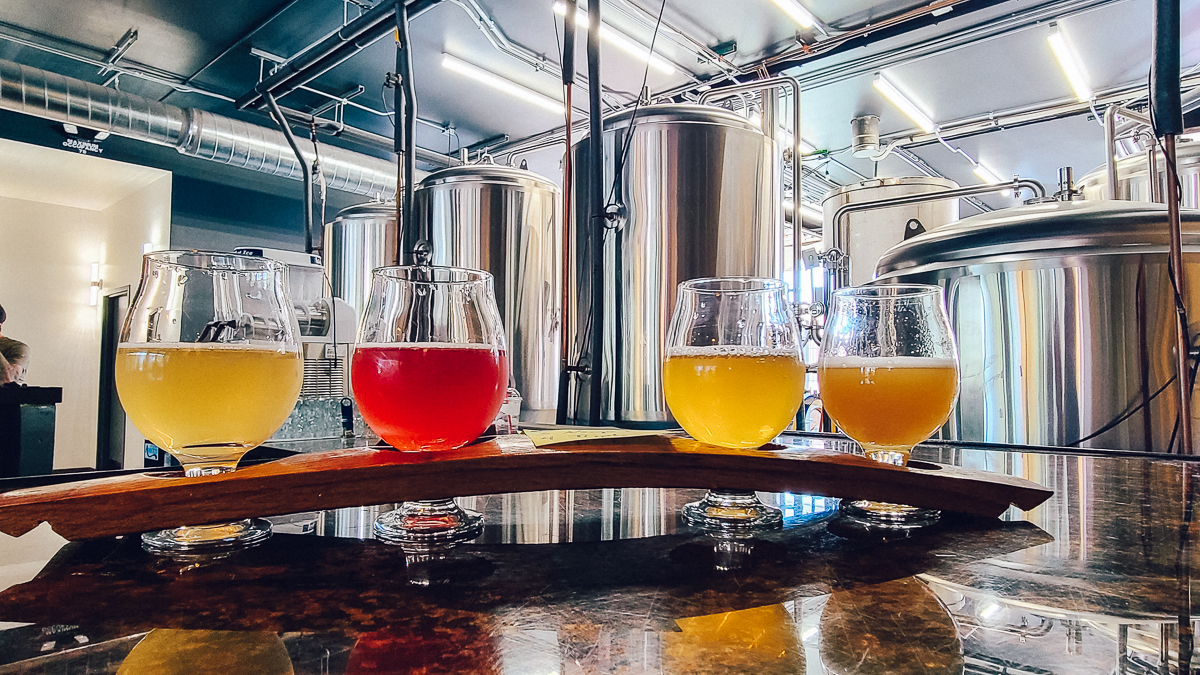 Ok, so at first glance, Fossil Craft Beer Company doesn't look like much. It sits in a strip mall of sorts, so "unassuming" definitely fits the bill.
But step inside and it's a TOTALLY different vibe…for the better! A large U-shaped bar is centered in the taproom with the brewing operations right behind it.
And a huge mural on the wall reminds you of the beautiful mountainous Colorado landscape.
As for the beer, there's a pretty diverse offering of styles, including cream ales, the Red Rock amber ale (no doubt named for the nearby red rocks within the Garden of the Gods park), sours, and several different IPA's.
Chris's favorite was the 10.8% hazy triple IPA which could definitely be trouble and sneak up on you.
They also make their own seltzers and have a few non-alcoholic options available, so definitely one of the most diverse breweries in Colorado Springs.
In addition to the brews, Fossil Craft Beer is also a member of "1% for the Planet" which means they donate 1% of their sales to local environmental initiatives.
Drink more and save the world. #theplanetmadeusdoit
Pikes Peak Brewing Co.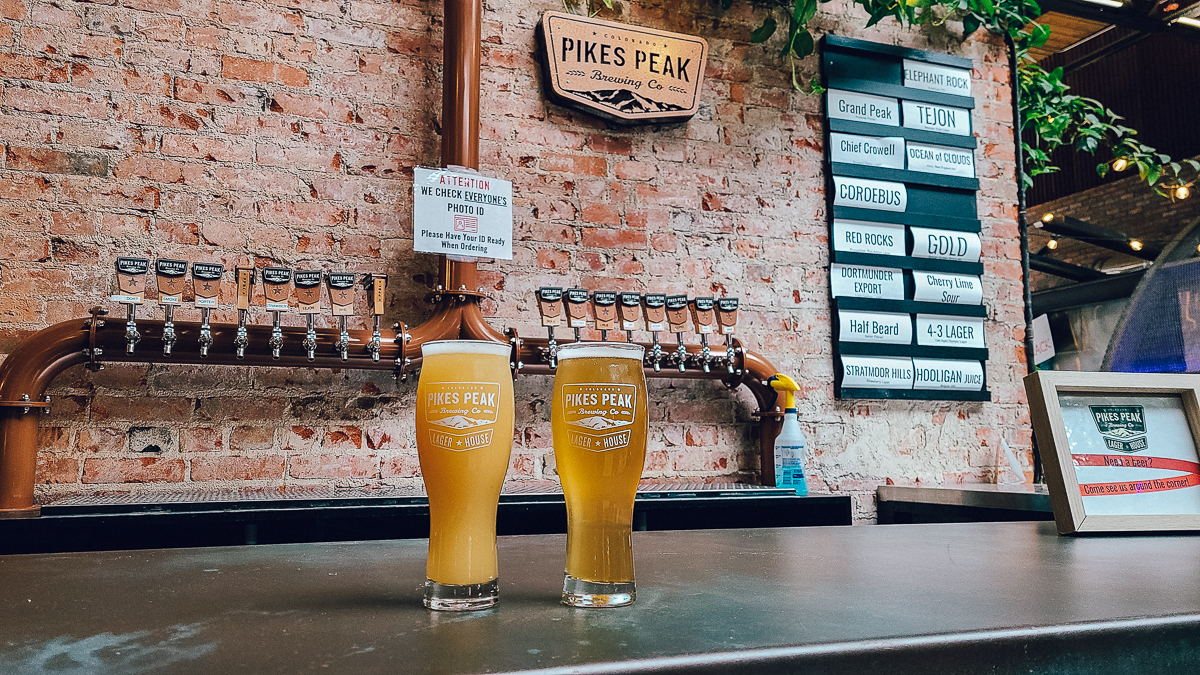 Pikes Peak Brewing gets an A for location as it sits right amongst the bustle of downtown's vibrant Tejon St. Nestled into one side of a food hall, you can grab a brewski and walk around to get some grub. One-stop shop!
Pikes Peak Brewing opened their original location in 2011 in Monument, CO, which is about halfway between Colorado Springs and Denver, but this downtown Colorado Springs location opened in 2020 and serves as their lager house, making some of the best lagers in southern Colorado.
Complete with 15 beers on tap, like the Ocean of Clouds hazy IPA and Hooligan Juice Belgian wit, and rooftop seating with some epic views of the surrounding mountains, you should definitely put this on your list of breweries in Colorado Springs to visit.
Red Swing Brewhouse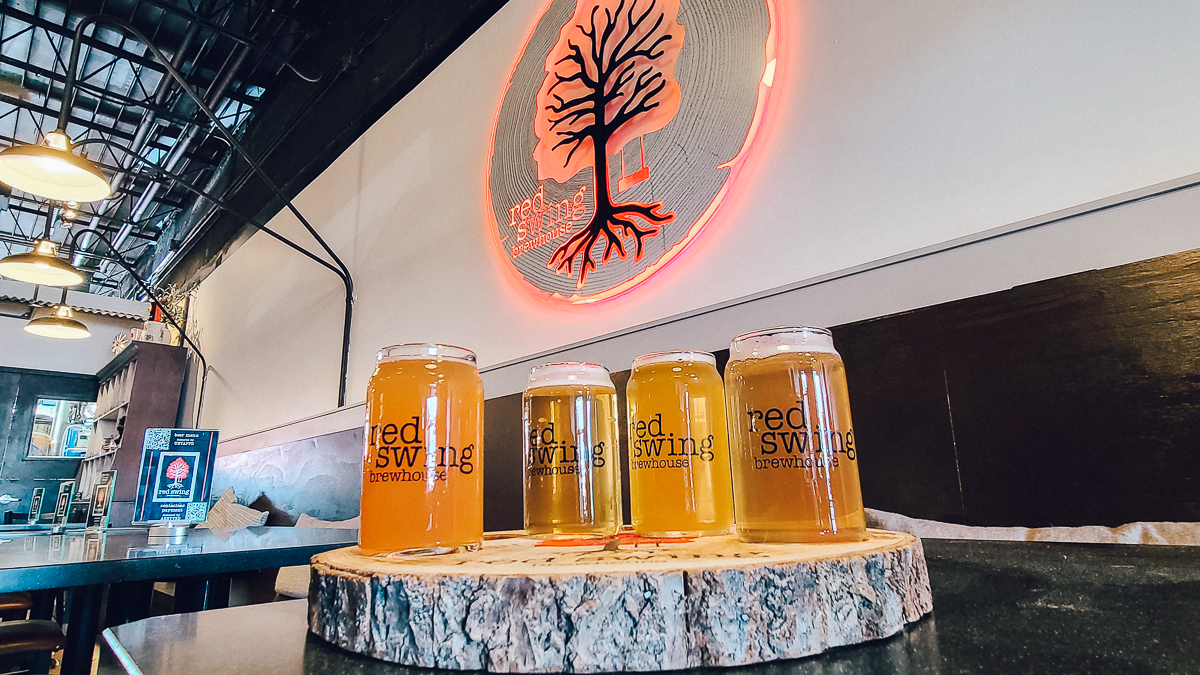 Located across the way from the downtown Pikes Peak taproom, Red Swing Brewhouse is one of the family-owned Colorado Springs breweries.
Inspired from a Maple Tree in their yard, Red Swing's logo was created and a brewery was born.
With deep roots in the community, they have 14 beers on tap with a wildly diverse selection.
From Imperial Stouts and IPAs to Belgian Tripels and Quads, their unique variety is perfect for those looking to sample a flight.
Bristol Brewing Co
Bristol Brewing Co is a family-owned microbrewery located inside of the old Ivywild School. The brewery focuses on creating amazing fresh and balanced beer that isn't overloaded with hops.
Sit back and enjoy your drink in a cozy atmosphere that has plenty of seating options, brick walls, and string lights.
There's an outdoor space as well that has umbrellas and fire pits so that you can be comfortable in most weather conditions.
Some of Bristol's most popular beers include the "Laughing Lab" Scottish Ale and the "Compass" IPA.
Bonus stop: Manitou Brewing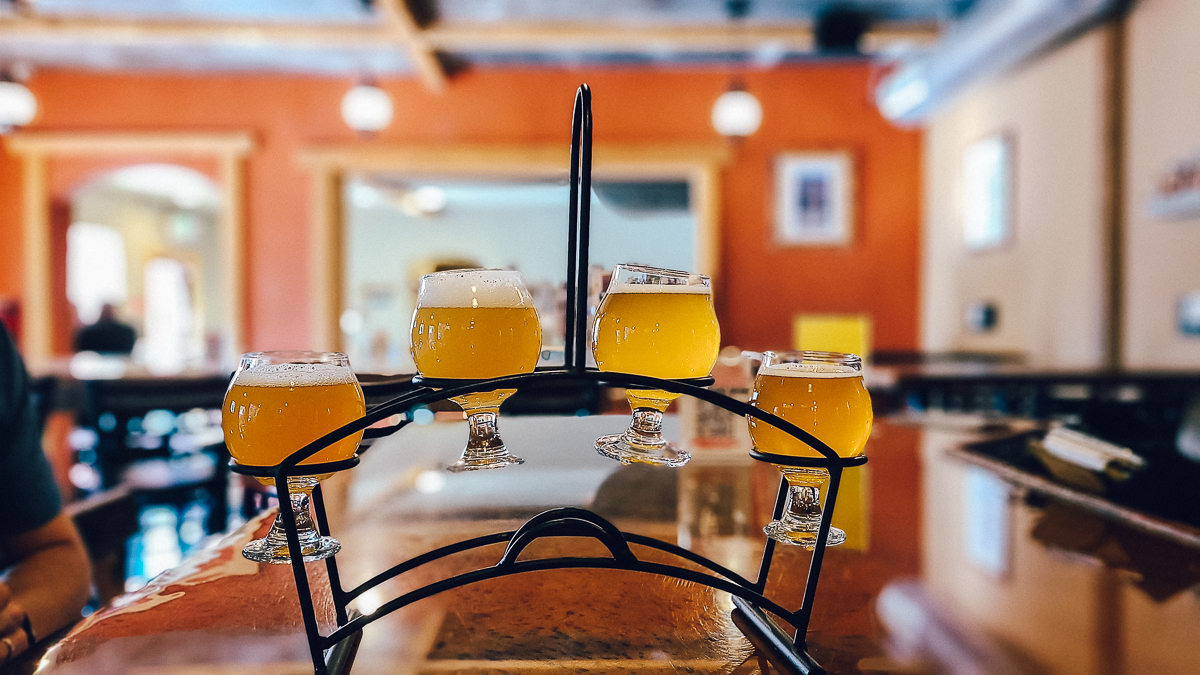 Sometimes listening to a local bartender's advice will lead you somewhere you never would have gone. Our trip to Manitou Brewing is a case in point.
Somewhat blindly trusting our bartender, we ventured up to Manitou, an adorable little mountain town about 10-15 minutes outside of downtown Colorado Springs.
And what we found at Manitou Brewing was awesome. Delighted doesn't quite explain it.
While Manitou Brewing isn't technically one of the breweries in Colorado Springs, it gets an honorable mention because it's so close and it's a great little find.
This brewery is tucked into a pedestrian alley with a small patio and medium-sized taproom. With over 16 taps, a full bar, and a food menu, this brewery is the only one in town.
There are several mainstays including the High Ground IPA, but Sam's favorite was the White Whisker Wit, named after the owner's 3 white cats (who each happen to be named after a hop in the beer).
Light, refreshing, and true to form, you got to try it right meow!
The ones that got away
While we were able to accomplish a great bit of breweries in a couple of days, we unfortunately missed out on these locations:
Battle Mountain Brewing

Brass Brewing

Phantom Canyon Brewing Co

Whistle Pig Brewing Co

Metric Brewing
While we hated to miss them, it gives us a reason to go back and continue to support the local businesses.
We'd be kidding ourselves if we said we weren't impressed with the breweries in Colorado Springs.
For a small town, their beer scene is top notch and with plenty to do in the beautiful outdoors during the day, you can end your evening with a cold frothy brew.
Ready to visit to Colorado Springs? Read hotel reviews on TripAdvisor then book your room here!
Don't forget to pick up a Colorado guidebook for your other Colorado adventures.
Love this guide? Have questions? Get in touch with us on Facebook | Twitter | Instagram | Pinterest