The 7 best cocktail bars in Colorado Springs, CO
Colorado Springs is a city that offers a diverse and vibrant nightlife scene, with many great bars and cocktail lounges to explore. From underground speakeasies to trendy bars, there is a cocktail bar in Colorado Springs for every taste and preference. The city's cocktail bars are known for their creative and innovative cocktail menus, featuring unique and locally-sourced ingredients that reflect the region's rich history and culture.
The city's cocktail bars are also home to some of the most talented mixologists in the region, who take pride in crafting the perfect cocktail to suit your taste. With their expert knowledge and passion for their craft, these bartenders are sure to impress even the most discerning cocktail aficionado.
We will explore some of the best cocktail bars in Colorado Springs, highlighting their unique features and what sets them apart from the rest. We've tried and tested them all (you're welcome) and have come up with a list of best ones below.
Short on Time? Here are the key takeaways:
In our opinion, don't miss The Principal's Office and The Archives.
Most of the bars are open 7 days a week with the majority opening around 4 PM. We've designated below if they offer a happy hour.
The Rabbit Hole is the most popular on this list. Get reservations to ensure you get to visit.
4 of these are in walking distance of each other if you want to hit up a few without needing to worry about a car. See the map below for more info.
Boozing Abroad contains affiliate links throughout the site. If you choose to purchase items through these links, we will earn a small commission at NO extra cost to you. Read the full disclosure policy here**
Map of Cocktail Bars in Colorado Springs
HOW TO USE THIS MAP: To view the layers and see the names of the places on this map, click the tab in the top left corner. You can select the check marks to show or hide certain layers. If you select the icons on the map, you will get more information about the point of interest.
HOW TO SAVE THIS MAP: If you select the star icon next to the map name, you can save this map to your Google Maps account. To view it, open Google Maps in desktop or on your phone, select the menu button, go to "Your Places," scroll to the right to Maps, and you will see this map.
Colorado Springs Cocktail Bars
Principal's Office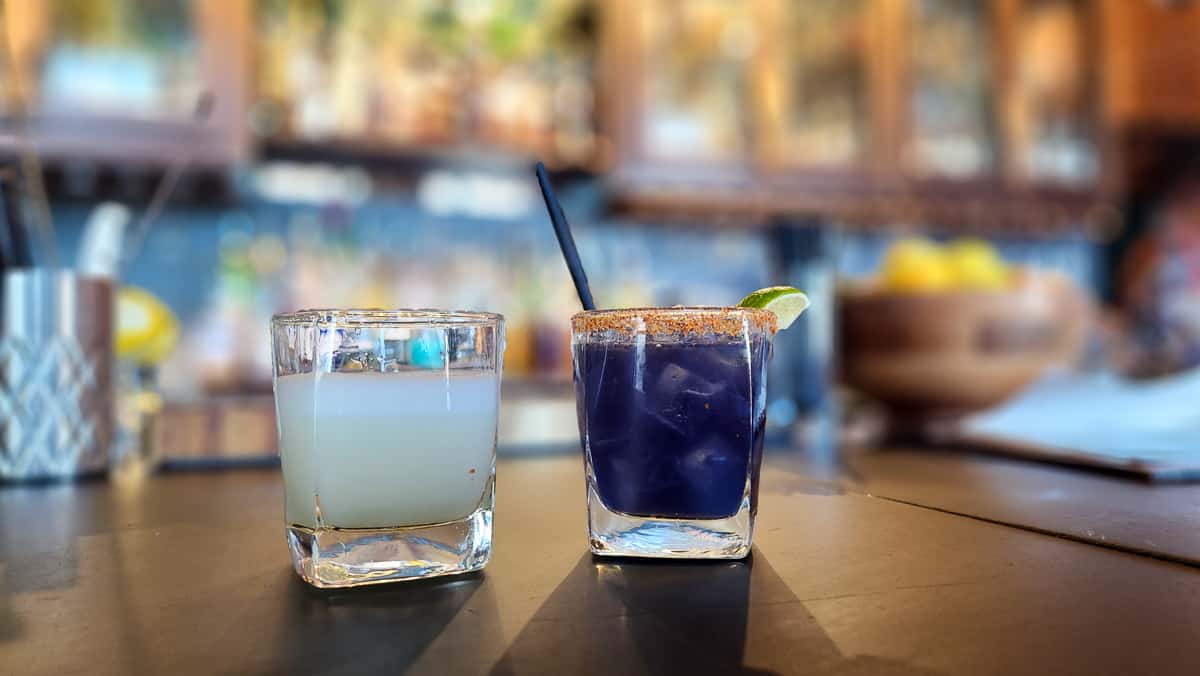 Hours: 7 days a week

Sunday-Thursday 11 AM – 10 PM
Friday – Saturday 11 AM – 12 AM

Food available: Yes, it's located in a food hall
The Principal's Office is located in the Ivywild School complex just south of downtown and might just be the most unique spot we've enjoyed a cocktail. This former school turned food hall is complete with a café, cocktail bar, brewery and a few restaurants. It came highly recommended by several locals so we made it the first stop for our Colorado Springs cocktail bars adventure.
As soon as we walked in, we felt like we were transported back to our high school days (minus the crappy homework).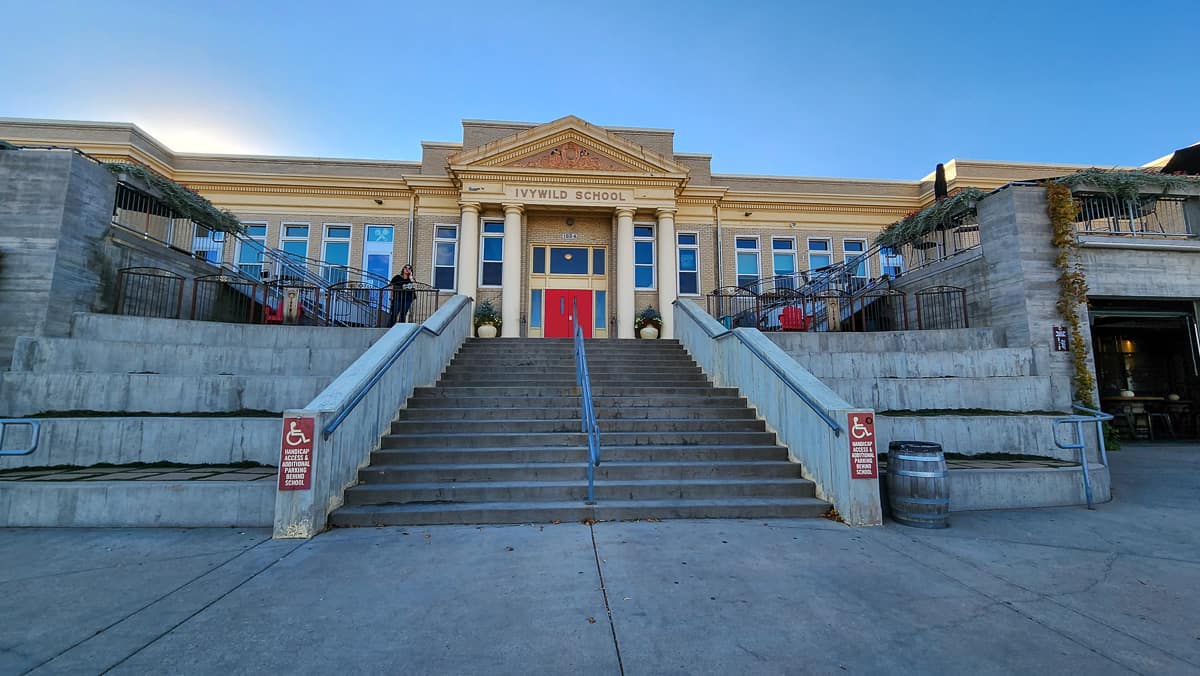 Located on the 2nd floor, The Principal's Office cocktail menu is super creative, breaking down all the names of the cocktails into different school terms with drink names like the "Detention Slip", "Old Fashioned P.E. Teacher" and "Nurse Joy". Their mixologists are skilled and know how to make a mean cocktail, so if you're in the mood for something different, give this place a try.
We tried two seasonal cocktails: the Nurse Joy (Gin, limoncello, lemon, simple syrup, egg white) and the Smoke Show (mezcal, tequila, blue caracao, lime hibiscus syrup). Both of which were amazing and definitely set a high bar in terms of craft cocktails.
They do offer beer and wine as well, but unless you have a damn good reason for not drinking a cocktail, we suggest you try it. For both of these, we asked the bartender for guidance and they nailed it.
The Archives Underground Libations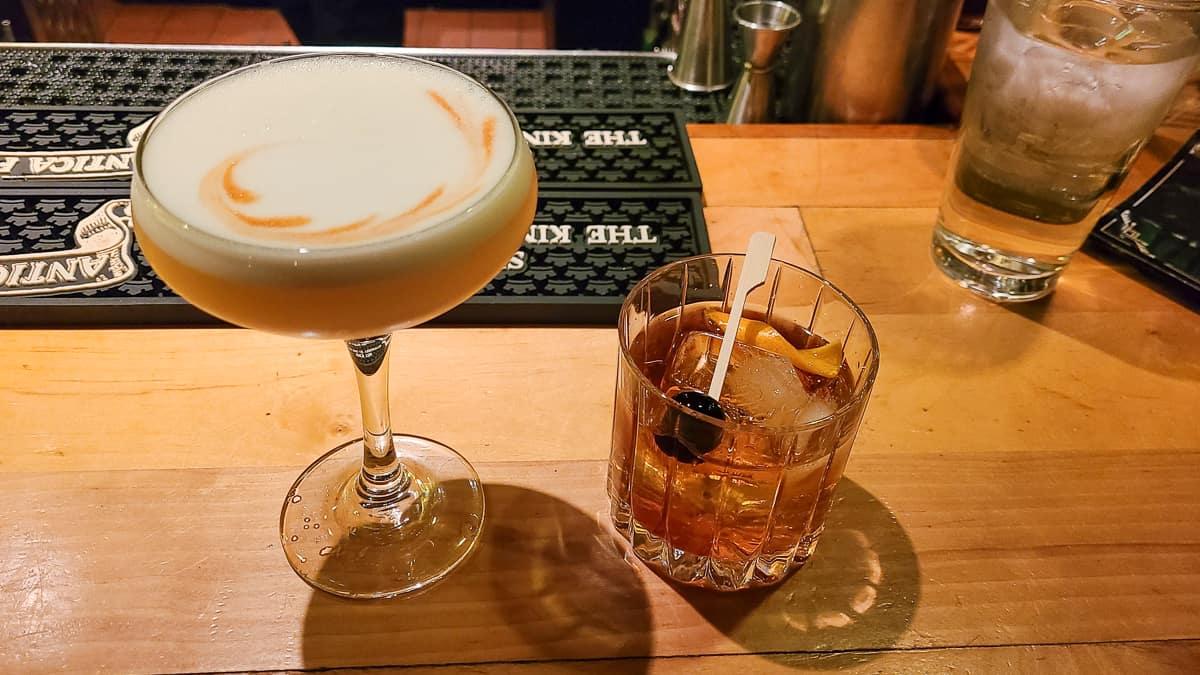 Hours: 7 Days a week

Sunday – Thursday 5 PM – 12 AM
Friday – Saturday 5 PM – 2 AM

Food available: Yes
Happy Hour: 5 PM – 7 PM daily
The Archives is exactly what it sounds like – a hidden gem in the basement of a historic building downtown. The entrance is discreet, but once you walk down the stairs, you'll be blown away by the speakeasy vibe.
The cocktails are expertly crafted and their selection of spirits is impressive. We highly suggest trying whatever their seasonal cocktail is and if they have the "Smoke and Mirrors" on their menu, get that. It's a twist on an Old Fashioned where they smoke the drinks which adds layers of silky, smokey complexity to this classic.
The atmosphere is intimate, making it the perfect spot for a date night or a night out with friends.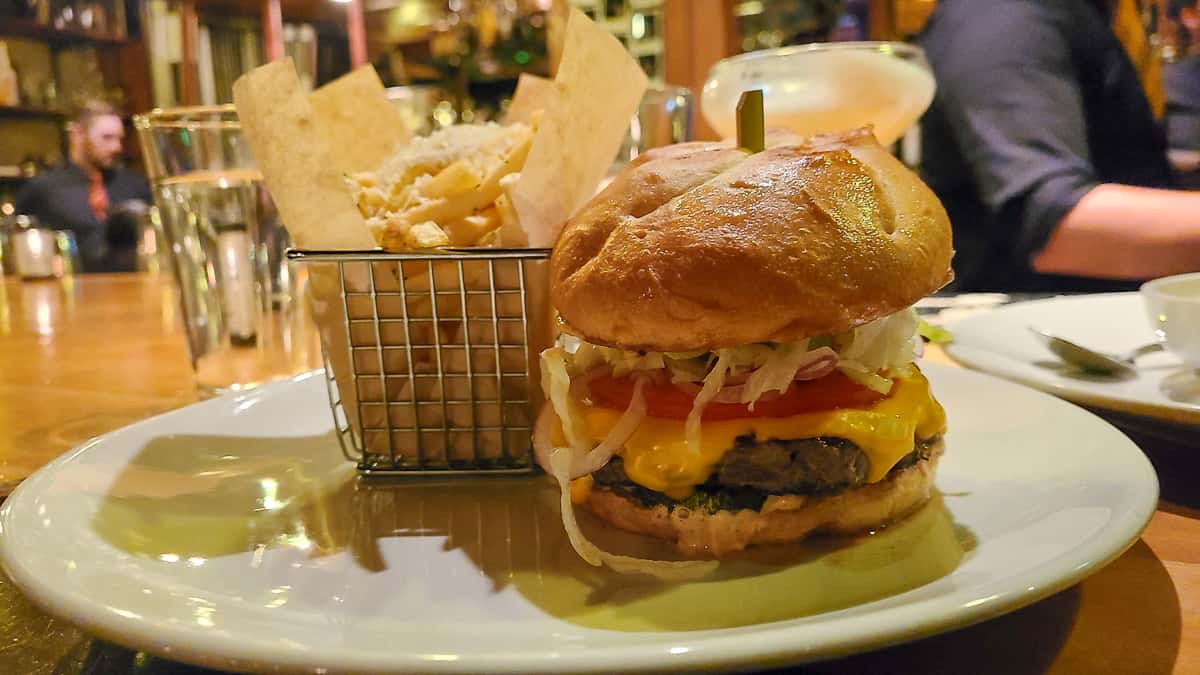 Having been to another stop nearby, we ordered a delicious dinner here. I know I was feeling the effects of the spirits, but I swear this was the best burger in town.
On a somewhat unrelated note, this also happened to be the place where we tried the liquor, Malort, for the first time. Take it from us, don't. Even if the bartender talks you into it.
The Rabbit Hole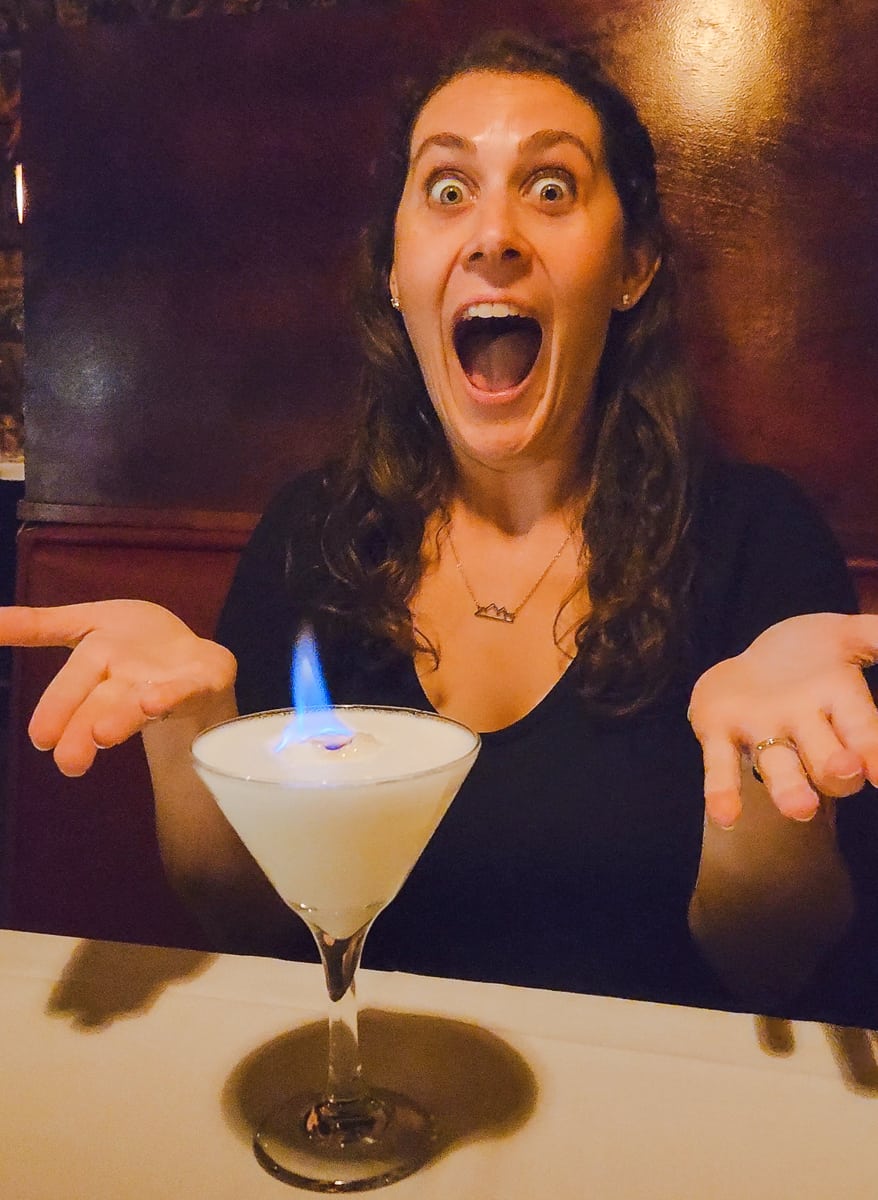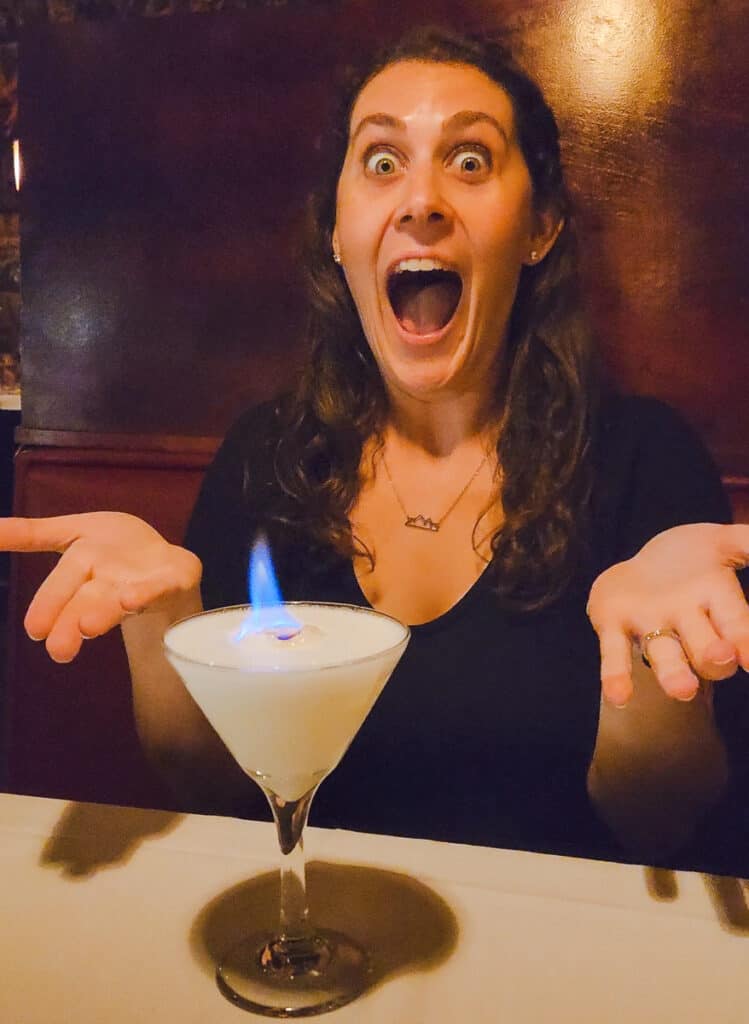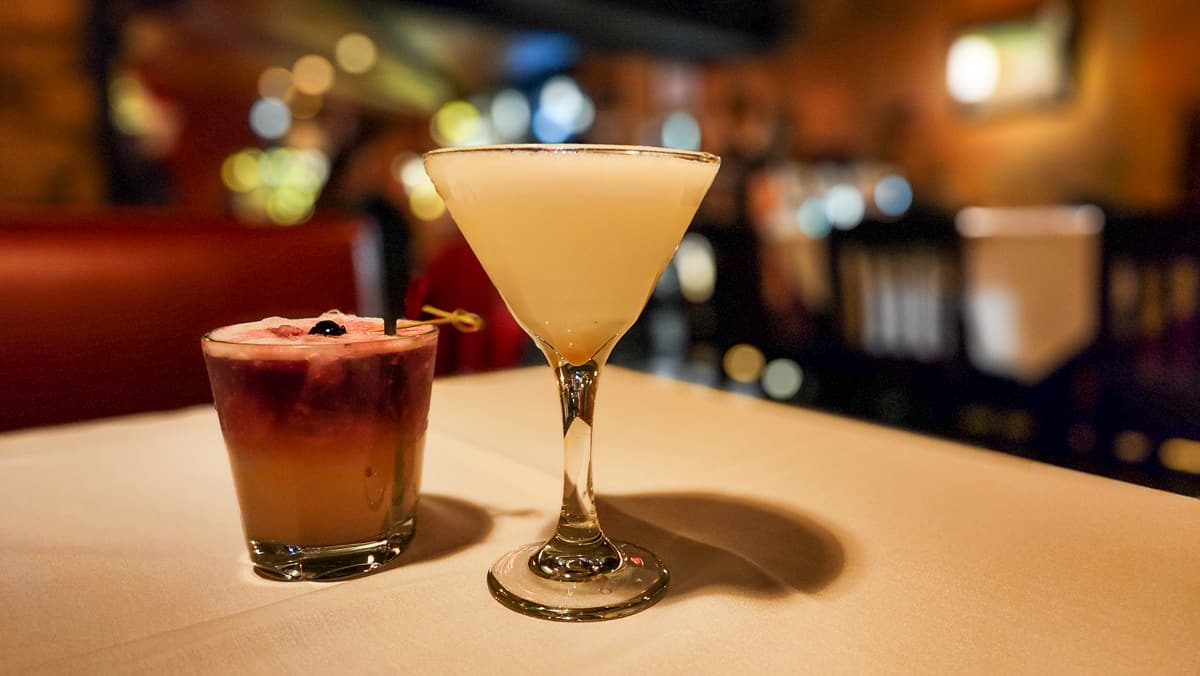 Hours: 7 days a week from 4PM to 10:30 PM
Food available: Yes
If you're in the mood for something a little more whimsical, head over to The Rabbit Hole.
Descending "down the rabbit hole" via old subway stairs, you'll be transported into an Alice in Wonderland-themed bar.
The "Drink Me" cocktail menu is just as fun, with drinks like the "The Queen's Garden" and the "Mad Hatter". I ordered the White Rabbit which is their signature martini: Vanilla vodka, coconut rum, and a dash of cream, topped with a flaming marshmallow. You read that right. This drink is lit on fire at your table. It's creamy and thick and would be a solid dessert drink (or pre-dinner snack – haha).
Chris went with the Cheshire Sour: Breckenridge Bourbon, Fresh Lemon Juice, Housemade Simple Syrup, Red Wine.
Wanting to dive deep into the full experience, we started with an arancini order as a base layer. I ordered the Filet Mignon and Chris ordered the Chicken Cordon Bleu, both of which were sensational.
This place is usually in high-demand so if you want to visit, we highly suggest making a reservation or you can walk in like we did at 4 PM to snag a table. They do have time limits for each table so they can try to accommodate as many parties as possible.
Shrunken Head Tiki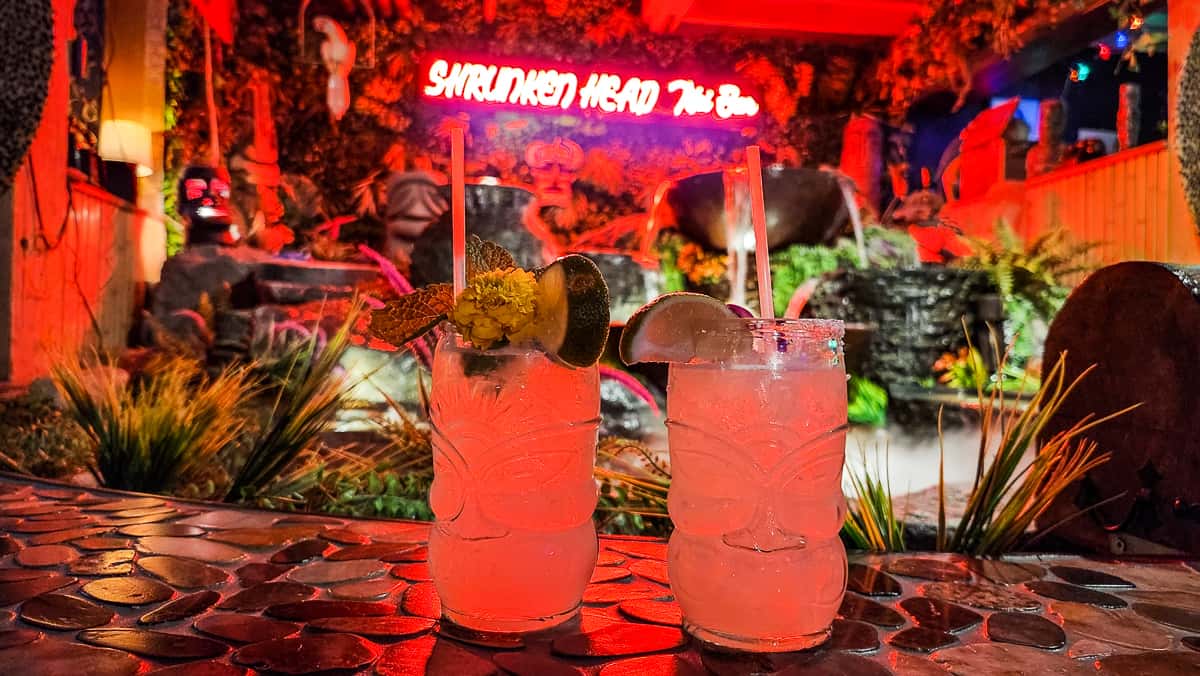 Hours: 7 days a week, 4 PM – 2 AM
Food available: Yes, snacks only
Happy Hour: Monday – Thursday, 4-6 PM
Shrunken Head Tiki is another must-visit spot among the Colorado Springs cocktail bars especially if you like island-themed cocktails.
As soon as you walk in, you'll feel like you've jet-setted away to a tropical paradise. This little oasis is tucked into the basement of a downtown building and is complete with tiki-inspired decor.
In addition to the fun island relics, a unique feature that sets the bar apart is the swing set in the middle of the bar. The best part: there is a massive Lite-Brite in the center of the bar. For those of you reading this who were born after 2000, a Lite-Brite creates illuminated pictures by placing small, colored plastic pegs into a light-up pegboard. Add in a tiki cocktail and swinging chairs and this place is a true adult playground.
We visited during Happy Hour and each ordered a different drink from the Happy Hour menu. I went with the classic Mojito and Chris ordered a margarita.
According to their bartender, their Mai Tais are a fan favorite. While we didn't try it, I personally love the idea of the "Volcano Bowl" drink. It's meant to be shared with a group, but I won't judge if you want it all to yourself.
In true craft cocktail bar fashion, each of their cocktails contain more than six ingredients each and that type of complexity takes time. Be patient while you wait to sip your tropical escape. Perfection takes time.
Shame & Regret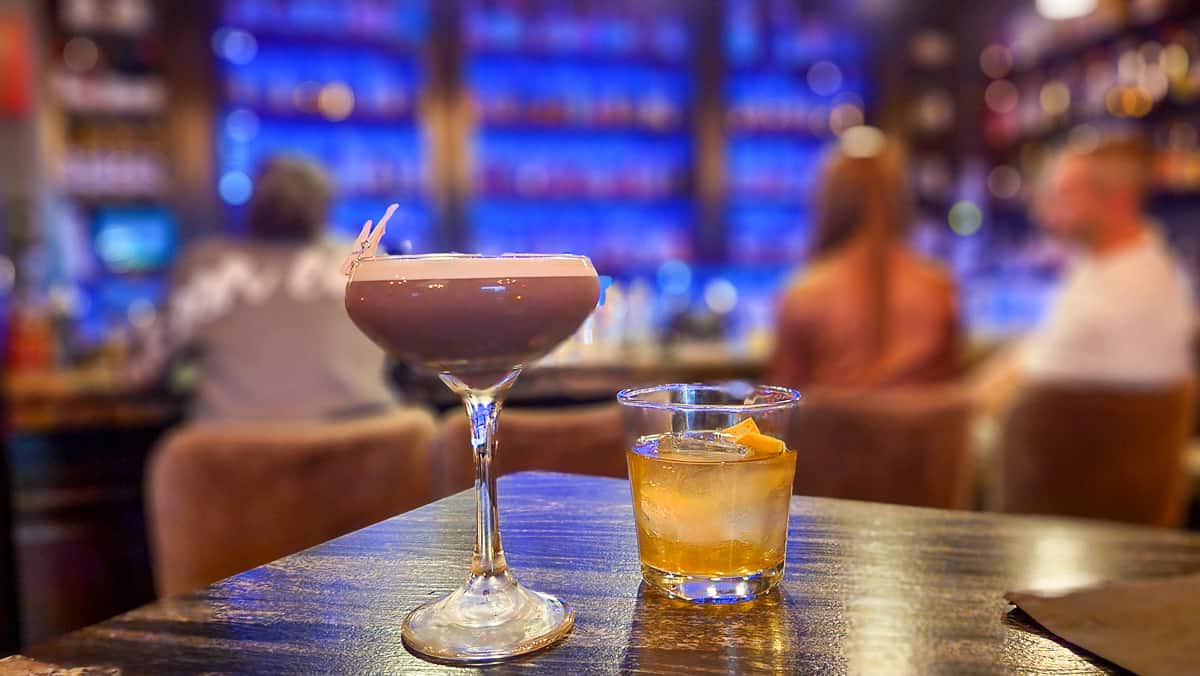 Hours: 7 days a week, 4 PM to 2 AM
Food available: Yes
Happy Hour: 4-6 PM Monday – Thursday
If you're in the mood for something a little more moody, Shame & Regret is the spot for you. Located in the alley between a cafe and comic book store, this unassuming bar has quite the selection of booze.
With over 100 American Whiskeys and 120 single malt scotch whiskys, the menu at Shame & Regret features an impressive selection of classic and modern cocktails, made with high-quality ingredients and creative flair.
The bar is dimly-lit and has a sultry atmosphere, making it the perfect spot for a nightcap (at least for us it was).
Their cocktail menu is small but mighty, with creative drink names like the "Curryosity Killed the Cat" and the "Unholy Water". They also have a mocktail list with a few options if you're wanting a drink albeit without booze.
In addition to the cocktails, they offer wine and beer as well as a hearty snack menu.
Chiba Bar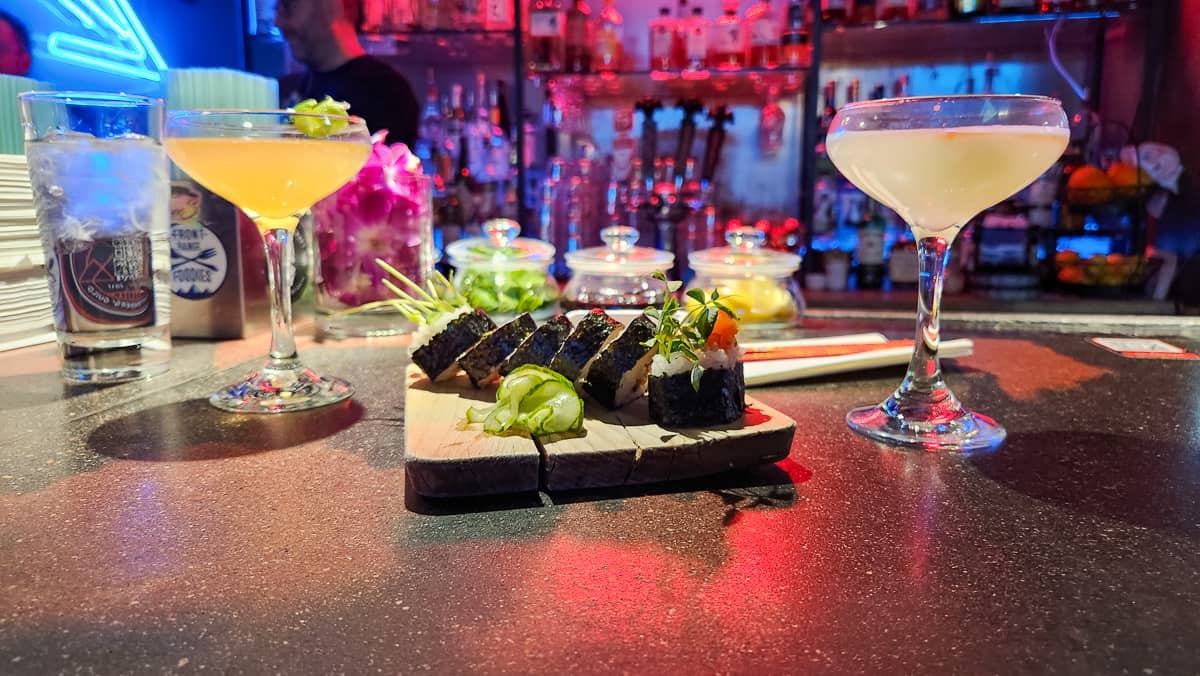 Hours: 7 days a week, 5 PM – 2 AM
Food available: Yes
Chiba Bar is another hidden gem in Colorado Springs, located outside the alley from Shame & Regret.
The Japanese-inspired pub is sleek and modern, with neon lights and black-and-white photos adorning the walls. While the bar and restaurant are cozy, their food and drink menu is the showstopper.
Their cocktail menu is impressive and bring a flare of Japan to each sip utilizing Japanese whiskeys, gins and other unique flavors.The bar also has an extensive sake selection, making it a great spot for a sake-tasting night.
We were craving a snack so we split a Tuna Roll. Unlike many others we've tried, the flavors were so fresh and different and we were super impressed with how well they blended together.
1350 Distilling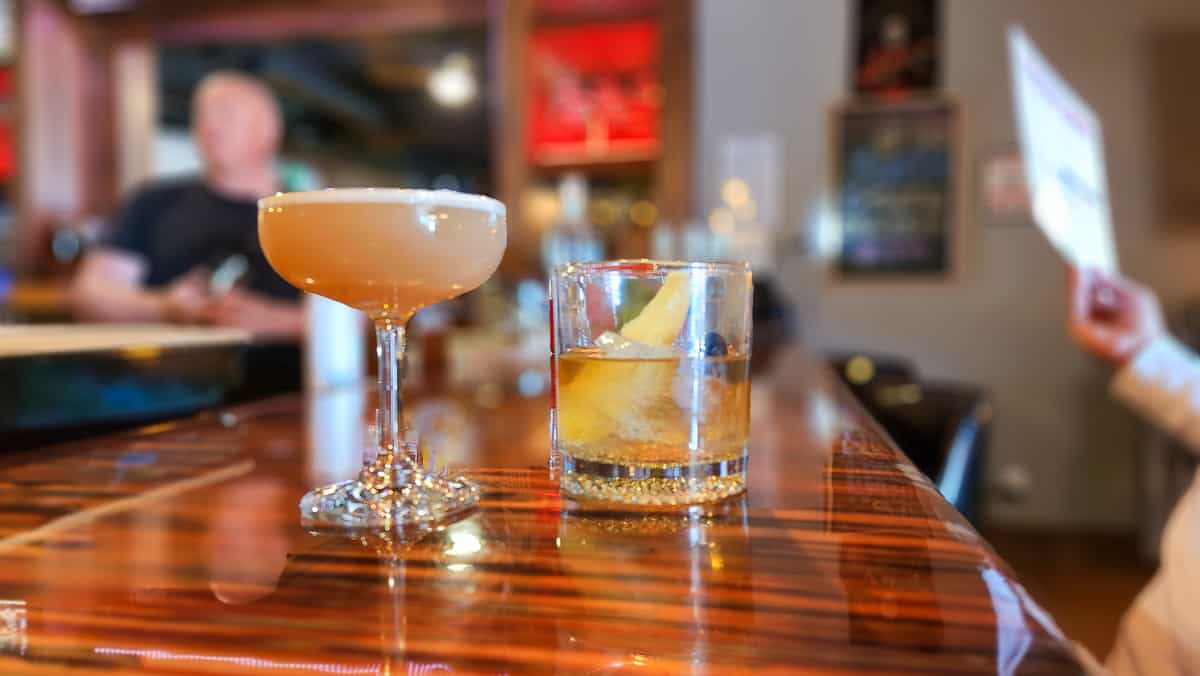 Hours: Wednesday – Sunday; hours vary daily
Food available: Food Truck only
Last but certainly not least is 1350 Distilling. If you're a fan of gin, whiskey, rum or vodka (basically any and all spirits), this is the spot for you. The distillery is located in an industrial area of town and all their spirits are made in-house. You can taste any of them on a flight or try one of their many cocktails.
I enjoyed the Sea Form (a whiskey sour) and Chris got the Mutiny (Fleet Admirals' Bourbon Barrel Aged Rum with Southern Seas tropical flavors of guava, mango, lime and ginger).
Overall, Colorado Springs has a great cocktail scene, and these bars are some of the best in the city. Each bar has its own unique vibe and atmosphere, making them perfect for a variety of occasions. Whether you're in the mood for a speakeasy experience, a tiki-themed night out, or a sultry nightcap, there's a bar on this list for you.
If you're planning on visiting one of these bars, here are a few tips to keep in mind:
Be prepared to spend a little more – these bars are on the pricier side, but the cocktails are worth it.
Don't be afraid to ask the bartender for recommendations – they know their stuff and can help you find the perfect cocktail for your taste.
Whether you're a local or just visiting, make sure to check these spots out for a night of delicious cocktails and great atmosphere. Cheers!