The Best Walla Walla Wineries guide for first-time visitors
When we first learned about the Walla Walla wineries, we were sitting at a wine tasting room in Montana (yes, they have those) and laughed because the name of the town seemed fictitious.
Upon further research, our laughs were quickly muffled when we learned there were over 100 wineries in and around Walla Walla, Washington.
The Walla Walla wineries are quickly gaining accolades for the region, so much so that Walla Walla was recently named "America's Best Wine Region" in the 2020 USA Today's 10 Best Readers' Choice Awards.
When spending a week or weekend here, it's near impossible to know where to start tasting as there are so many wineries in Walla Walla, so this definitely isn't a "Best of" or "Top 10" type list.
In an effort to find the local favorites, we only visited wineries that were suggested to us by a local. We traveled to Walla Walla in September of 2021 and can't wait to go back!
This post was originally published in September 2021, and was updated in October 2022.
**Boozing Abroad contains affiliate links throughout the site. If you choose to purchase items through these links, we will earn a small commission at NO extra cost to you. Read the full disclosure policy here**
What is Walla Walla WA known for?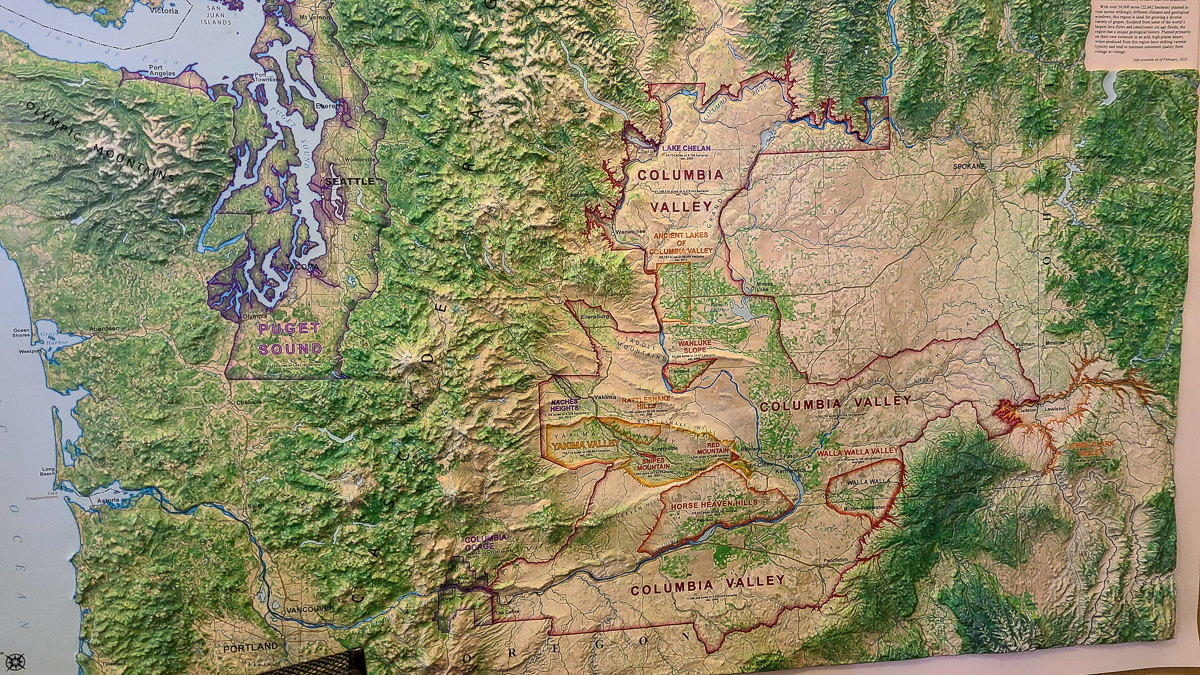 Walla Walla, WA is known for their agriculture, but it is quickly becoming a top wine destination in the United States too.
In comparison to many of the other wine regions across the rest of the U.S., Washington state was late to the wine game. In the 1850s, the first vines were planted in Walla Walla by immigrants.
While the western portion of Washington state is known for being rainy, wet, and luscious green, the eastern portion of the state resembles desert-like conditions which grapes just love (to an extent).
Known for having big, bold reds and dry whites, the Walla Walla wineries are renowned for their Chardonnay, Cabernet Sauvignon, Merlot, Syrah, Cabernet Franc, and many others.
Getting to the Walla Walla wineries
Flying in to Walla Walla
If you are looking to fly into Walla Walla, you'll only have 1 option: Alaska Airlines. They run 2 direct flights daily from Seattle.
Before you think flying this short distance is a bad idea, we have 3 words for you: "wine flies free".
Yes, you read that right.
On Alaska Airlines, you can check a case of wine for FREE on flights to and from Walla Walla and 31 other cities on the west coast! To see all the eligible cities, click here.
If you are looking to fly into a nearby location and drive, the closest options are listed below.
Yakima, WA is only 2 hours away and does offer a couple additional regional airlines that also fly from Seattle. Yakima has its own AVA wine region and has over 50 wineries to visit.
Driving to Walla Walla
We'd be lying to you if we said Walla Walla was easy to get to.
Check out the approximate drive times for the following cities, including some with larger airports.
From Yakima, WA: about 2 hours
From Spokane, WA: about 2 hours 45 minutes
From Seattle, WA: about 4 hours
From Portland, OR: about 3 hours 45 minutes
From Boise, ID: about 4 hours
Where to Stay in Walla Walla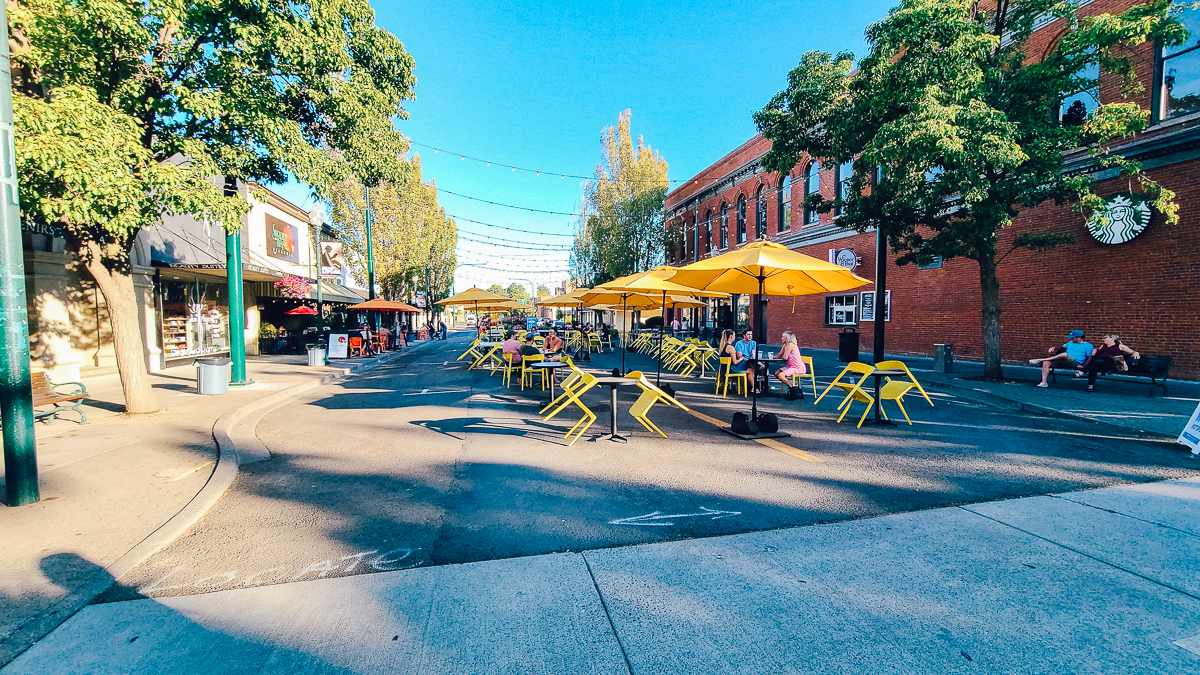 Most of the Walla Walla wineries are densely clustered within an easy 15-20 minute drive of the downtown area. Because of this, you really can't go wrong with what location you pick.
The perk to being close to downtown is the walkability to all the urban wineries in town.
Historic, fancy-schmancy hotel
Marcus Whitman Hotel and Conference Center
4.5 / 5 on Trip Advisor
Built in 1928, the Marcus Whitman Hotel is a landmark and will wow you with luxury. Named "2015 Hotel of the Year" by the Washington State Wine Commission, this property looks amazing, is in a great location and we 100% want to stay here the next time we visit Walla Walla.
>> Check availability or Book a room here on booking.com
Modern and Chic Hotel
The FINCH
5 /5 on Trip Advisor
The FINCH is rated #1 for Walla Walla hotels and offers super modern, funky rooms with all your favorite amenities. Like most downtown hotels, this place is walkable to all the tasting rooms and restaurants.
>> Check availability or book a room at The FINCH on booking.com
Budget Friendly Option
The Hampton Inn & Suites Walla Walla
4.5 / 5 on Trip Advisor
The Hampton Inn & Suites Walla Walla is located just south of downtown and puts you closer to the southside Walla Walla wineries.
A quick 5-minute drive will get you to the heart of downtown where you can eat, drink and shop. This is a great budget option that will save you a few bucks, which you can then spend on more wine!
>> Check availability or book a room at The Hampton Inn on booking.com
Walla Walla Wineries
Walla Walla Wineries Map
HOW TO USE THIS MAP: To view the layers and see the names of the places on this map, click the tab in the top left corner. You can select the check marks to show or hide certain layers. If you select the icons on the map, you will get more information about the point of interest.
HOW TO SAVE THIS MAP: If you select the star icon next to the map name, you can save this map to your Google Maps account. To view it, open Google Maps in desktop or on your phone, select the menu button, go to "Your Places," scroll to the right to Maps, and you will see this map.
To help break things down a bit further, the wineries and tasting rooms in the Walla Walla region are sprinkled throughout five main districts:
Downtown

Westside

Airport

Eastside

Southside
1 – The Downtown area of Walla Walla boasts nearly 40 tasting rooms, and it's not a big downtown at all.
In fact, along one of the main drags through downtown (2nd Ave), you could ping-pong back and forth across the street and probably hit over 10 tasting rooms within a few blocks! Talk about population density!
2 – The Westside district, which is closest to the Yakima Valley, is the most established area.
3 – The Airport district is, coincidentally, near the airport and its wineries are unique in that they have set up inside old mess halls from the World War II era, hanger buildings, and firehouses.
4 – The Eastside district is a bit further east of the airport and has some picturesque views and some can't-miss wines.
5 – Last but not least, the Southside district extends into neighboring Oregon and gives you some stunning views of the Walla Walla valley amongst the traditional estate vineyard setting.
Downtown Walla Walla Wineries
Lagana Cellars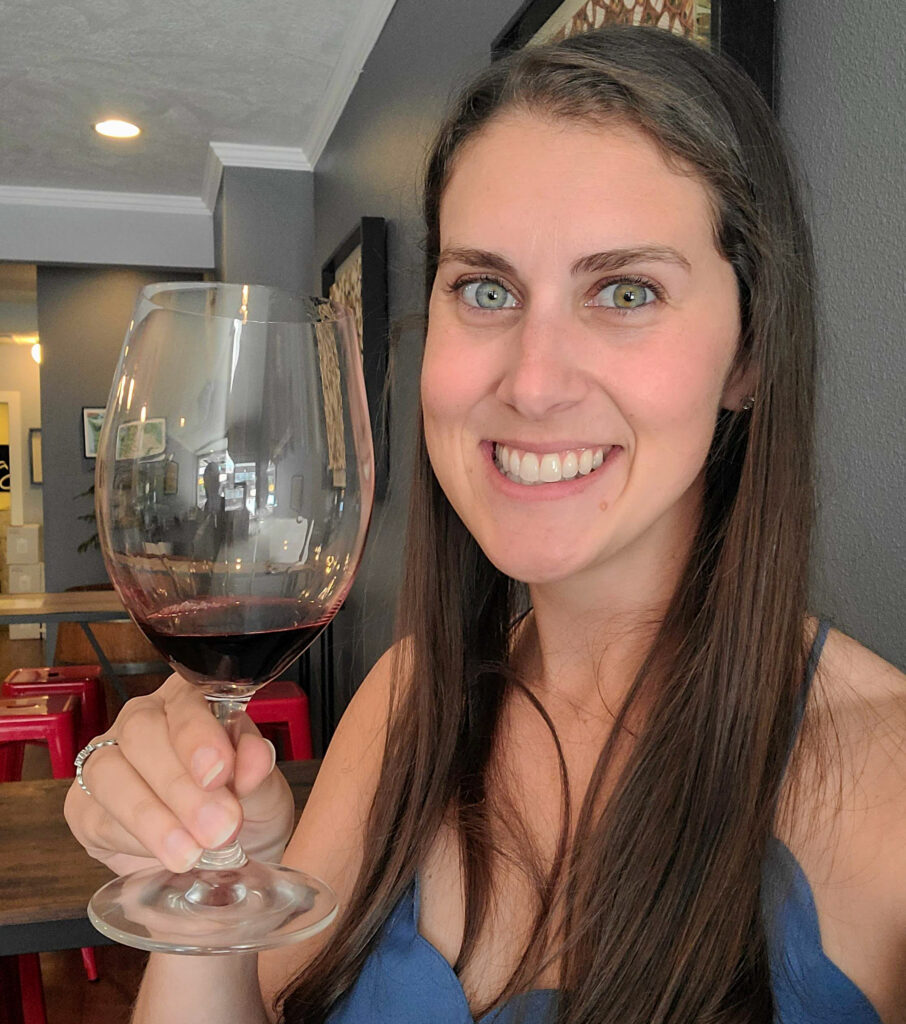 Our first experience at the Walla Walla wineries was Lagana Cellars. This stop was recommended to us by a winemaker in Boise, Idaho who had attended the wine college program here (yes, that's a thing – and more on that later).
An added bonus was this stop was on our Priority Wine Pass so it meant our tastings were free (many locations on the pass are 2-for-1, so this was a literal steal).
Founded in 2013, Lagana Cellars, like many Walla Walla wineries, is a boutique winery with a tasting room located on the main street in the downtown area.
While they don't have a vineyard location you can visit, all grapes are sourced from the local AVA regions, including the Columbia River Valley and Walla Walla.
Since this region is known for their dry whites and bold reds, we really enjoyed their Sauvignon Blanc and their Cabernet Franc (a favorite of Sam's).
Time & Direction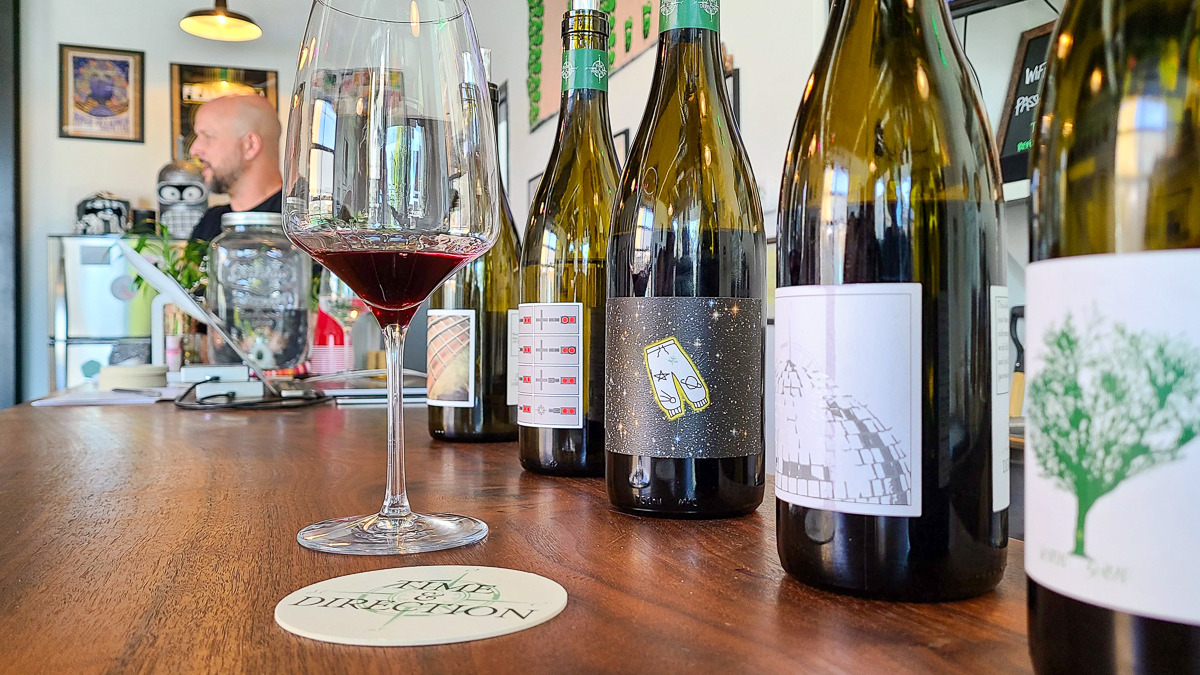 Calling all Star Wars lovers and gaming nerds, this winery is for you!
Steve Wells, owner of Time & Direction, had a vision so strong he abandoned his East Coast lifestyle in New York as a Sommelier to move to Walla Walla.
So we bet you are wondering, why should Star Wars lovers and gaming nerds love this winery?
Aiming to make wine approachable and inviting, Steve incorporates his favorite things in life (movies, games, disco music) into his wine.
With wines named after cheat codes in video games or his favorite pickup line (your ass is out of this world), all of Steve's wines were what he set out to achieve: approachable and inviting.
El Corazon Winery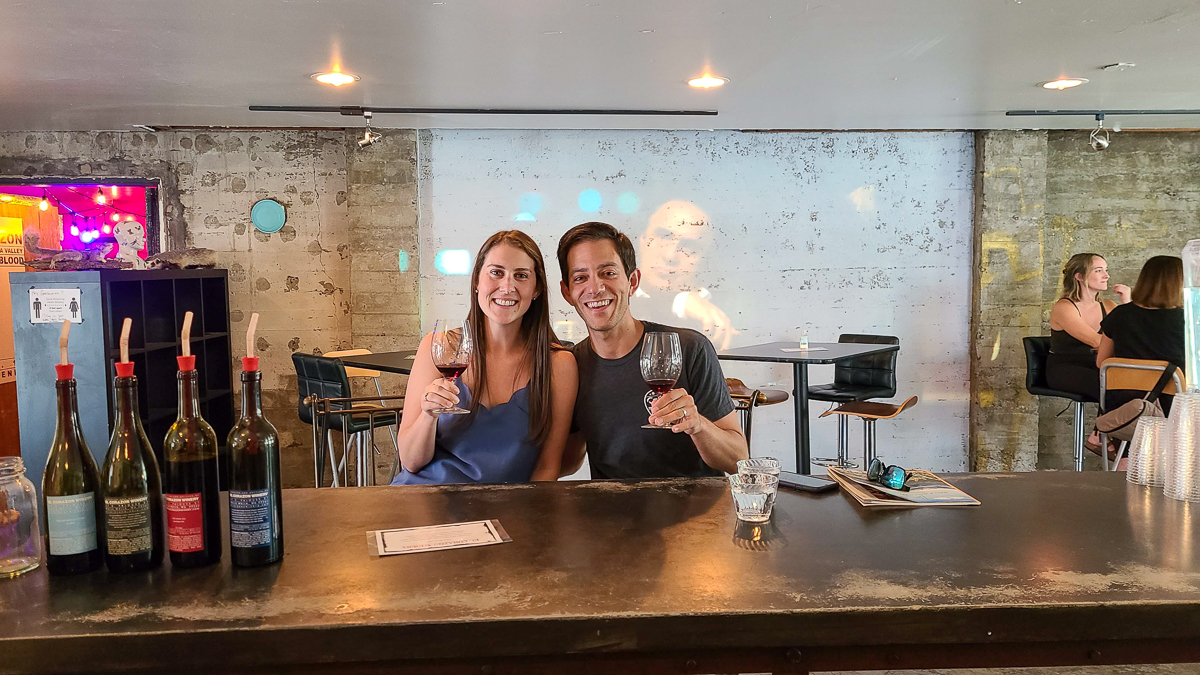 El Corazon Winery is changing the scene of the typical feel at the other Walla Walla wineries.
If you are looking for a posh tasting room, this winery isn't going to be for you and we loved the change of pace.
Straying away from the traditional tasting room vibes (how many winery tasting rooms have you been to that have a projection screen playing non-PG movies?), El Corazon (meaning "the heart") is quirky, laid back, and fun.
They also carry some of the biggest, boldest reds we found in the area and all of them pack a punch.
Something that we really enjoyed was the chance to taste some of their single-varietal wines made with (some of our favorite) grapes that are often used as blending grapes, such as Cabernet Franc and Petit Verdot.
Southside
Sleight of Hand Cellars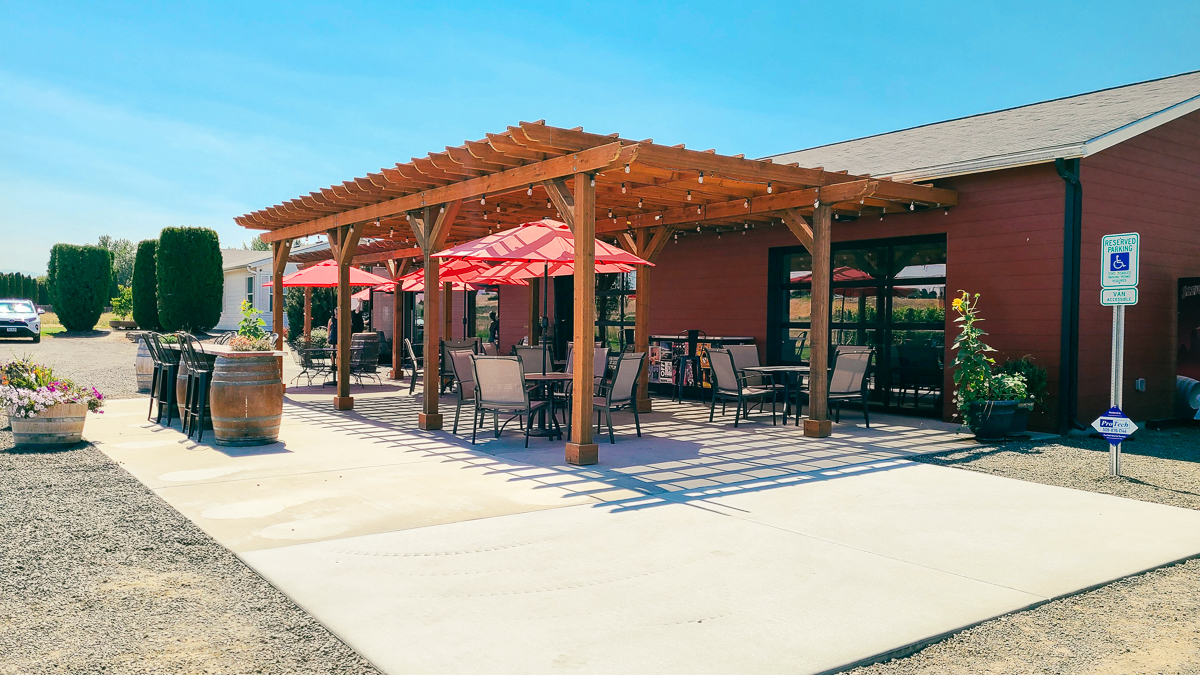 During the lead up to our time in Walla Walla, one winery kept coming up in suggestions (from you, our readers and followers) of must-visit places: Sleight of Hand Cellars.
We're easily persuaded, especially when it comes to wine, so we made the trip to their tasting room on the south side of Walla Walla which is just a hop, skip, and a jump away from the Oregon border.
The goal here is simple: make serious wines without the serious attitudes.
Judging by the energetic and loud music, the thousands of records that are available to play on their turntables, the numerous concert posters decorating the walls, and even a magician turning card tricks (as you might expect from a place with a name like Sleight of Hand), they are definitely succeeding with having fun and keeping things not-so-serious.
And, even more importantly, the wine is really good and is garnering the attention of many wine experts.
If you don't take it from us, take it from two of the top wine publications out there – a top 100 recognition by Wine Spectator for their Levitation Syrah and Wine Advocate said "they've hit a new level recently, and the wines are now up there with the crème' de la crème' of the state (and beyond)."
Some of our other favorites included the Conjurer red blend (Cabernet Sauvignon, Cabernet Franc, and Merlot) and the Archimage red blend (Cabernet Franc and Merlot).
Amavi Cellars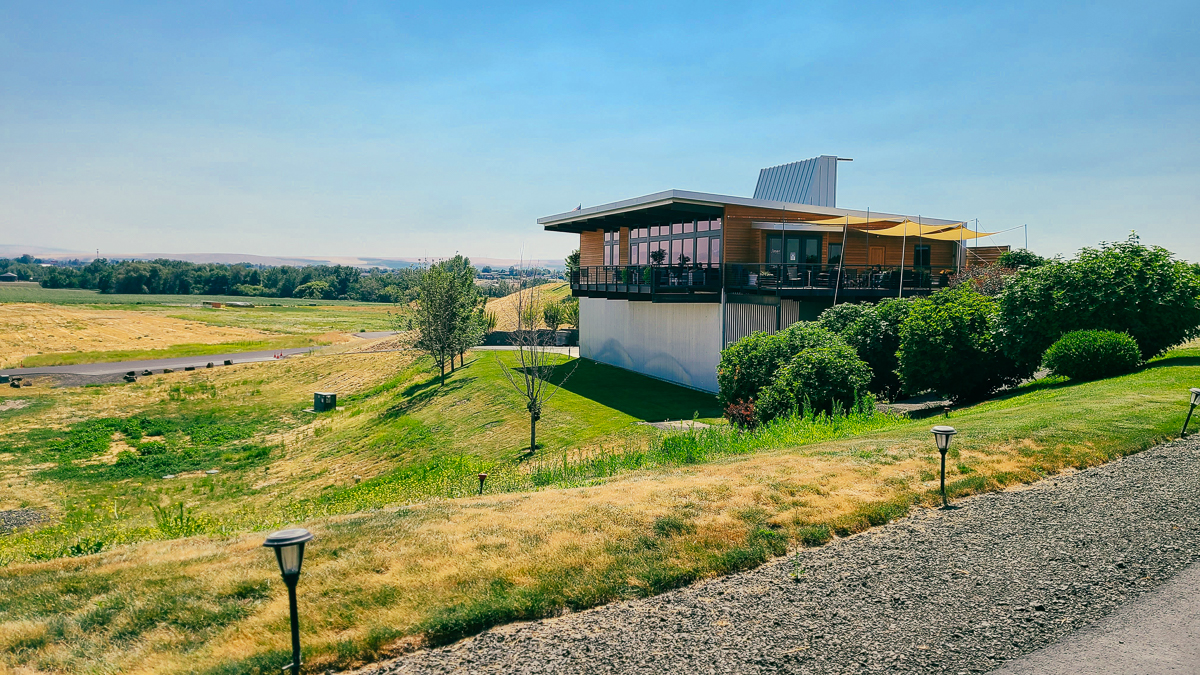 Arguably one of the better views for a tasting room, Amavi Cellars has a modern-style tasting room nestled atop the hillside with views into the up-and-coming wine region below.
With large glass windows and a suspended deck, this tasting room combines great Walla Walla views with great Walla Walla wine.
With 100% estate-grown grapes, Amavi has earned recognitions of "Top 100 Wine" from the Wine Spectator in both 2008 and 2014.
Established in 2003, Amavi is one of the larger wineries in the area in terms of acreage and has grown to incorporate 3 sister wineries in the area and provides grapes to many of the surrounding Walla Walla wineries.
Isenhower Cellars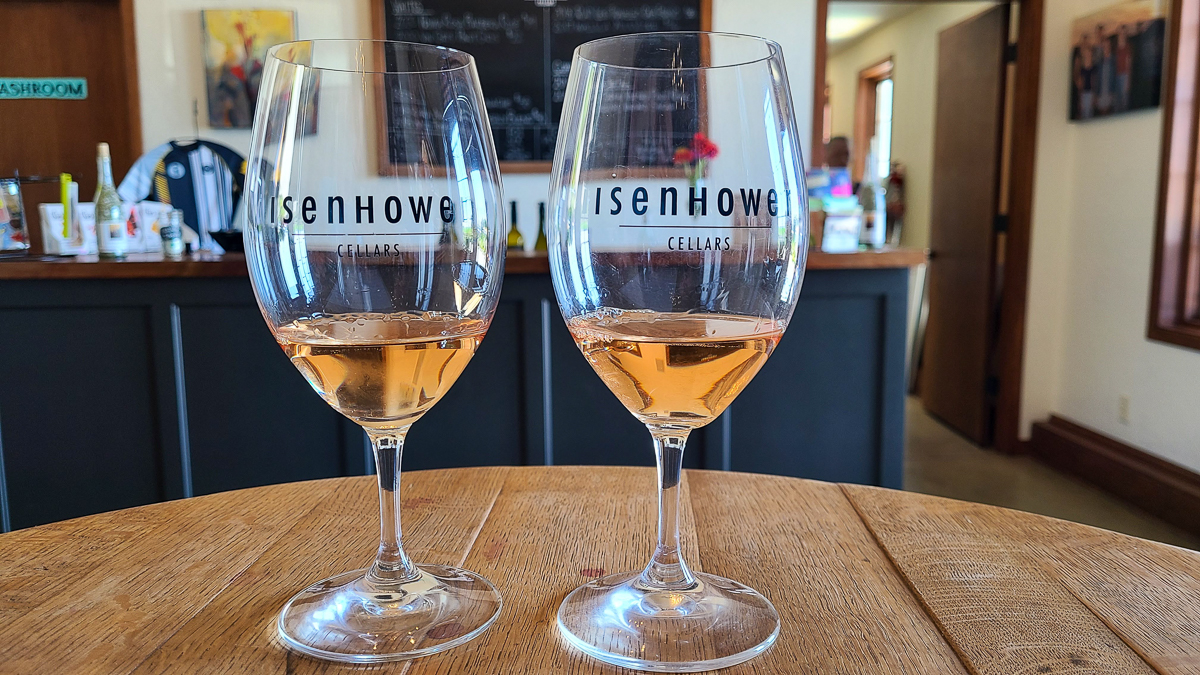 Isenhower Cellars, the 18th in the long line of Walla Walla wineries, sources its grapes from several different vineyards throughout the Walla Walla Valley, affording them great flexibility in the types of wines they make each vintage.
The husband-and-wife owned winery is focused on minimalist winemaking, meaning only light intervention in the process.
During our tasting, we had their Vin Gris, which was a Pinot Gris which sat on the skins for a bit, giving it a slightly pinkish hue. Think of it as a Pinot Noir with less color.
They also had a Cabernet Sauvignon, par for the course in the region, and a single varietal Cabernet Franc, one of our favorite varietals out there but so rare to find on its own.
Tasting fees are $10 (waived with a bottle purchase) for 5 pours.
This winery is in the midst of a cluster of other wineries on the south side of the Walla Walla wineries, and could probably be missed if you're pressed for time (or liver space).
Brook & Bull
Let's start by saying that Brook & Bull is owned by Ashley Trout, who has a deep love for wine.
With her roots of wine planted at the age of 18, she paid her dues in Argentina, learning all about the wine making process.
Brook & Bull came around in 2016 and focuses on producing fine varietals and untraditional blends with minimal oak flavor.
The winemaker purposely highlights variations in different vintages and showcases everything that the Washington state terroir has to offer.
Wine tastings here are $20 for a taste of 4 wines, of which the Silent Ode was our favorite (50% Cabernet Franc, 20% Malbec, 20% Cabernet Sauvignon, 10% Petit Verdot – basically all of our favorite red varietals in a single bottle).
Caprio Cellars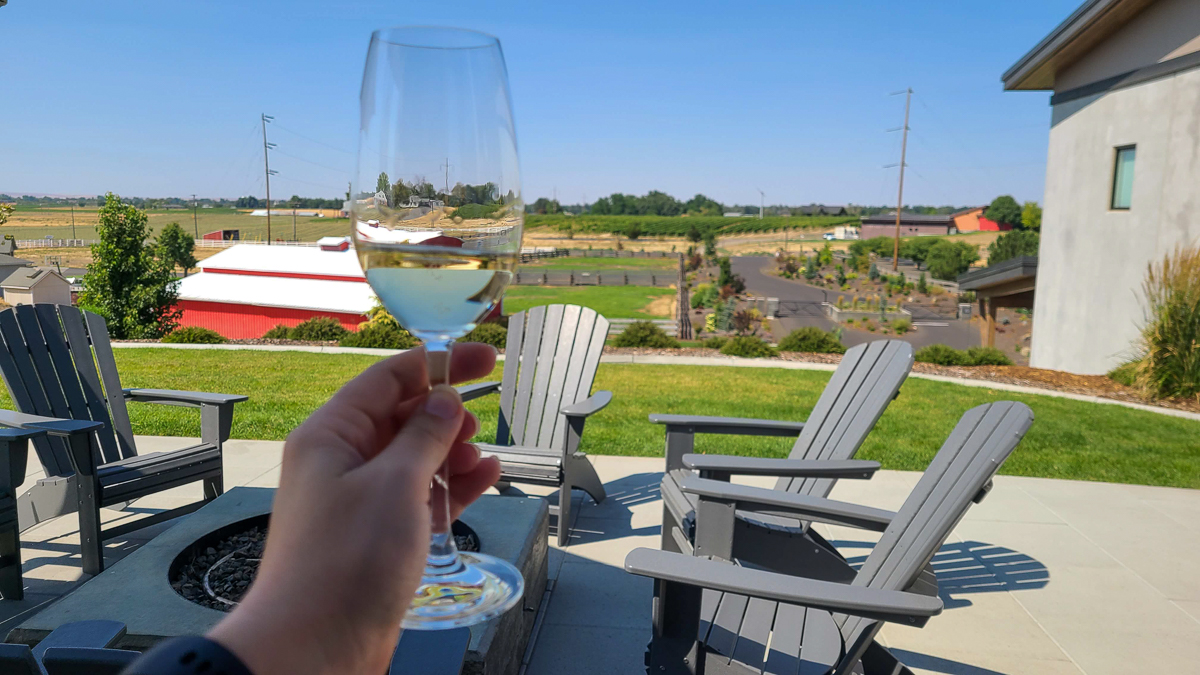 First things first. Reservations are required. We pulled up to the gated Caprio Cellars one afternoon and were turned away without a reservation.
We were intrigued by the exclusivity of this place (FOMO is real), so we booked a reservation for the next day to see what it was all about.
And boy are we glad we did!
Having gotten past the gate the 2nd time around, we were greeted at the door with a flute of bubbles (can't every place do this? Wineries, dentists, shopping malls, etc).
Once inside, we were told to pick a spot where we felt comfortable and once settled, we were given the run down of the tasting, which was paired with small plates of food.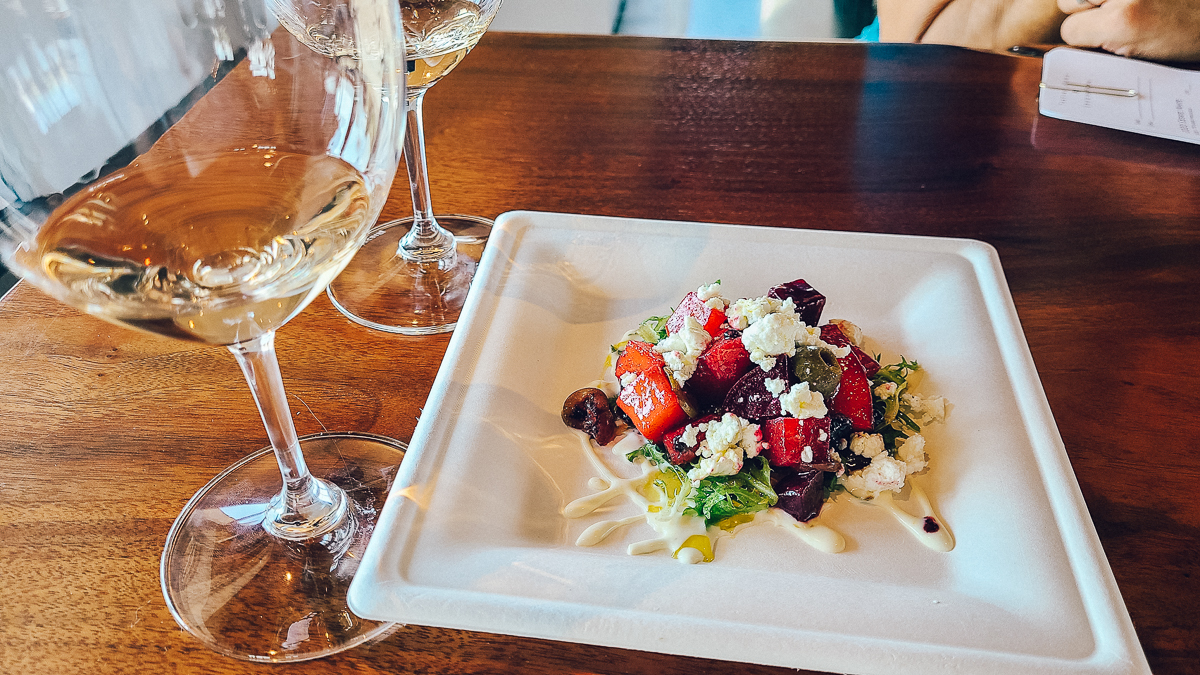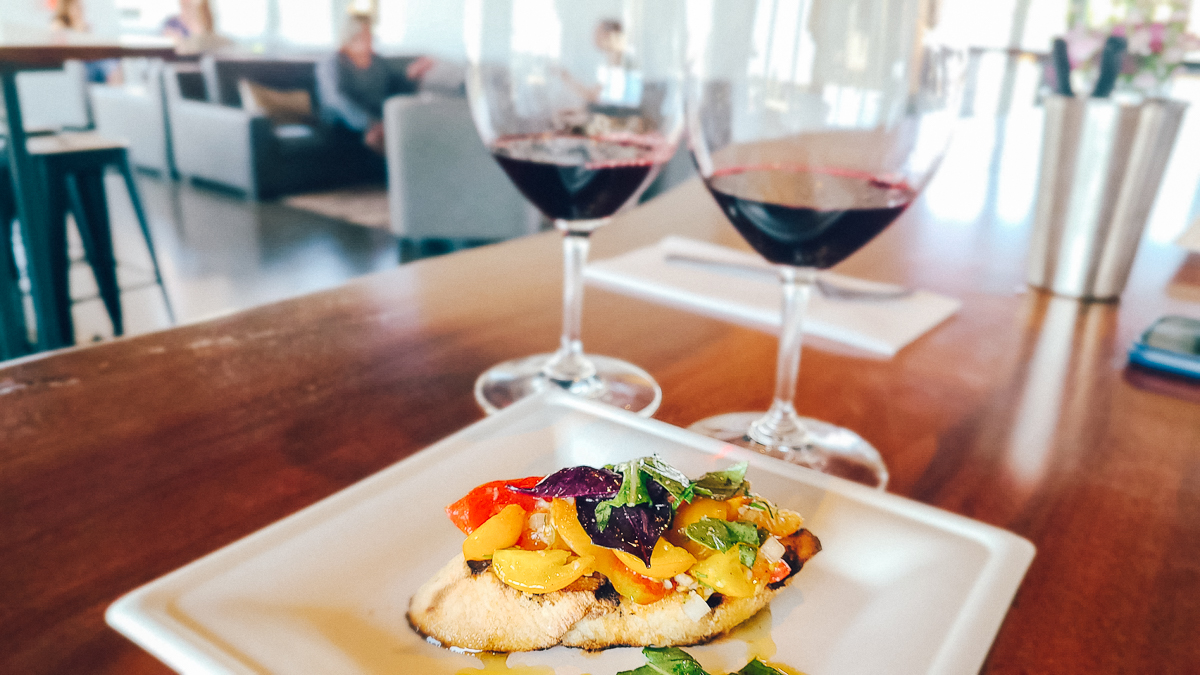 While we initially thought this was going to be a pretentious visit given the gated entrance and exclusivity, we were dead wrong.
The servers were fantastic (we already mentioned bubbles at the door), attentive, and informative.
The food was unique and absolutely delicious. And it paired just perfectly with each of the wine tastings that we enjoyed.
Best part about all of this? It was completely free. Yep, free. $0. Just unheard of in these days!
Eastside/Airport District
Walla Walla Vintners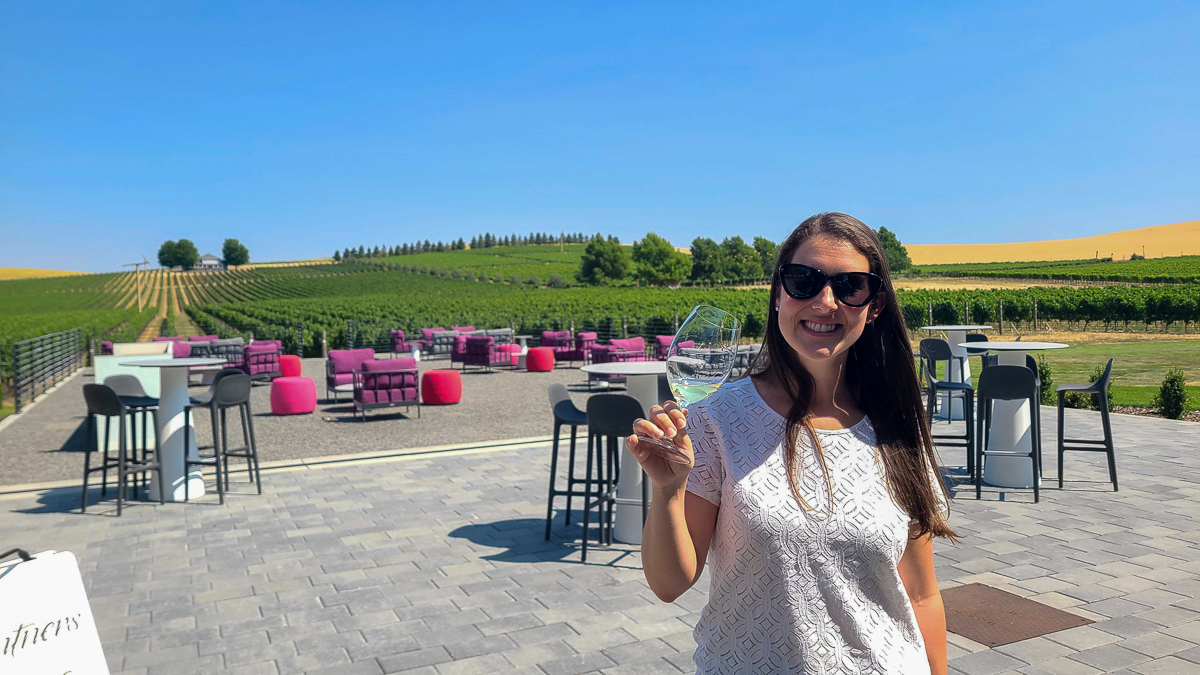 If you're looking for some of the most picturesque vineyard views at the Walla Walla wineries, look no further than Walla Walla Vintners, a family-owned winery that has been around since 1995.
The specialty here, like many of the Walla Walla wineries, is big, bold red wines (our personal favorite).
Think Merlot, Syrah, Cabernet Sauvignon, and Sangiovese.
There's a small tasting room, but if the weather permits, you're going to want to enjoy your wine outside on their patio. The view overlooks several blocks of the vineyards or under the large trees with views of the vines, barn/tasting room, and surrounding valley.
Tasting fees are $20 (waived with a $30 purchase) and gets you five of their delicious wines.
Although reds are their bread and butter, they do usually have a white wine on the tasting menu.
Aluvé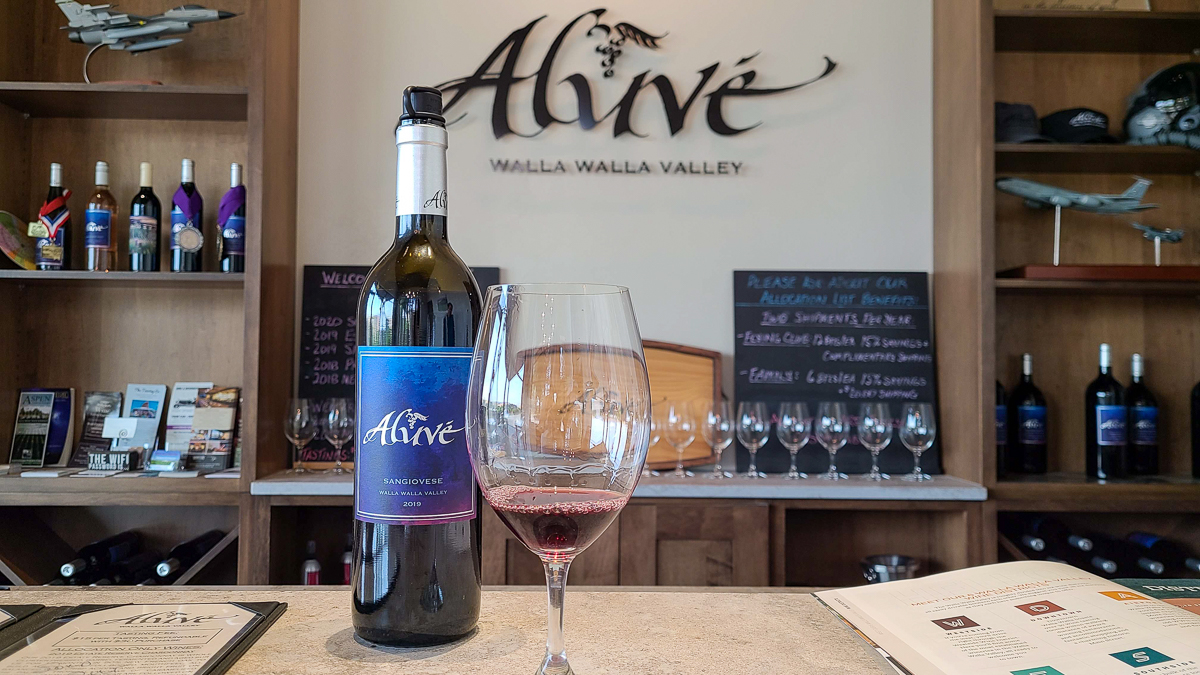 If you're looking for a badass winemaking husband-and-wife duo, look no further than Aluvé owners JJ and Kelly.
These two were classmates at the US Air Force Academy and served as Air Force pilots for over 20 years.
Along the way and all over the world, they visited many different wine regions and that's where the idea and spark for Aluvé began.
Aluvé is a combination of the Italian words meaning Winged Grape and combines the two passions of those pilots-turned-winemakers – flying for their country and sharing great wine.
The production currently focuses on Cabernet Sauvignon and Chardonnay, both estate grapes, but they do source grapes from other vineyards to round out their tasting menu.
The production capacity is pretty small as Aluvé ramps up, but that just means more caretaking goes into each bottle.
The tasting room is located on the same property as their vineyard and their beautiful home and we really enjoyed talking with both JJ and Kelly while sipping on the Chardonnay, Sangiovese rosé, Sangiovese, and Cabernet Sauvignon.
The story of how we heard about Aluvé is worth telling since it was at a brewery in Houston, Texas, where we learned about this winery.
Fast-forward several months and about 2,000 miles northwest, and we made sure to stop in at this tasting room and thoroughly enjoyed our time and their wine.
College Cellars of Walla Walla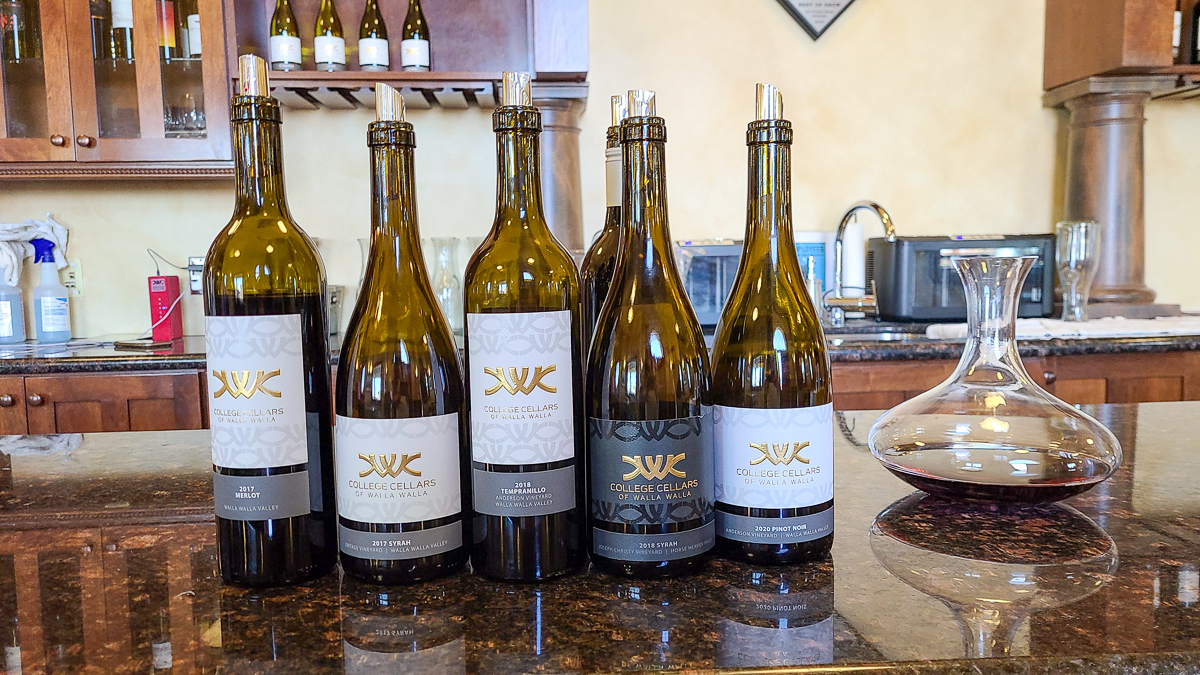 Who said college kids don't like wine?! (Excuse the politically incorrect use of "kids".)
At College Cellars of Walla Walla, the winemaking is done by the college students that are currently in the wine program at Walla Walla Institute for Enology and Viticulture at Walla Walla Community College.
And while you may think that college students couldn't possibly keep up with the increasingly well-known winemakers in the region, the wine that these students make is actually a portion of their grade in the school program.
So there's definitely some added motivation to produce a high-quality product.
To be honest, you probably won't find many wines here that are meant for aging in your wine cellar. But wine is meant to be drunk, amirite?!
We found all of our wines to be incredibly approachable and drinkable, and there is absolutely no pretentiousness here, whatsoever.
For the price of the tasting ($10 for 6 different student-made wines – 3 reds and 3 whites), this is one of the best values in Walla Walla. And who knows, you might even be tasting the creation of the next great winemaker!
Things to drink other than wine in Walla Walla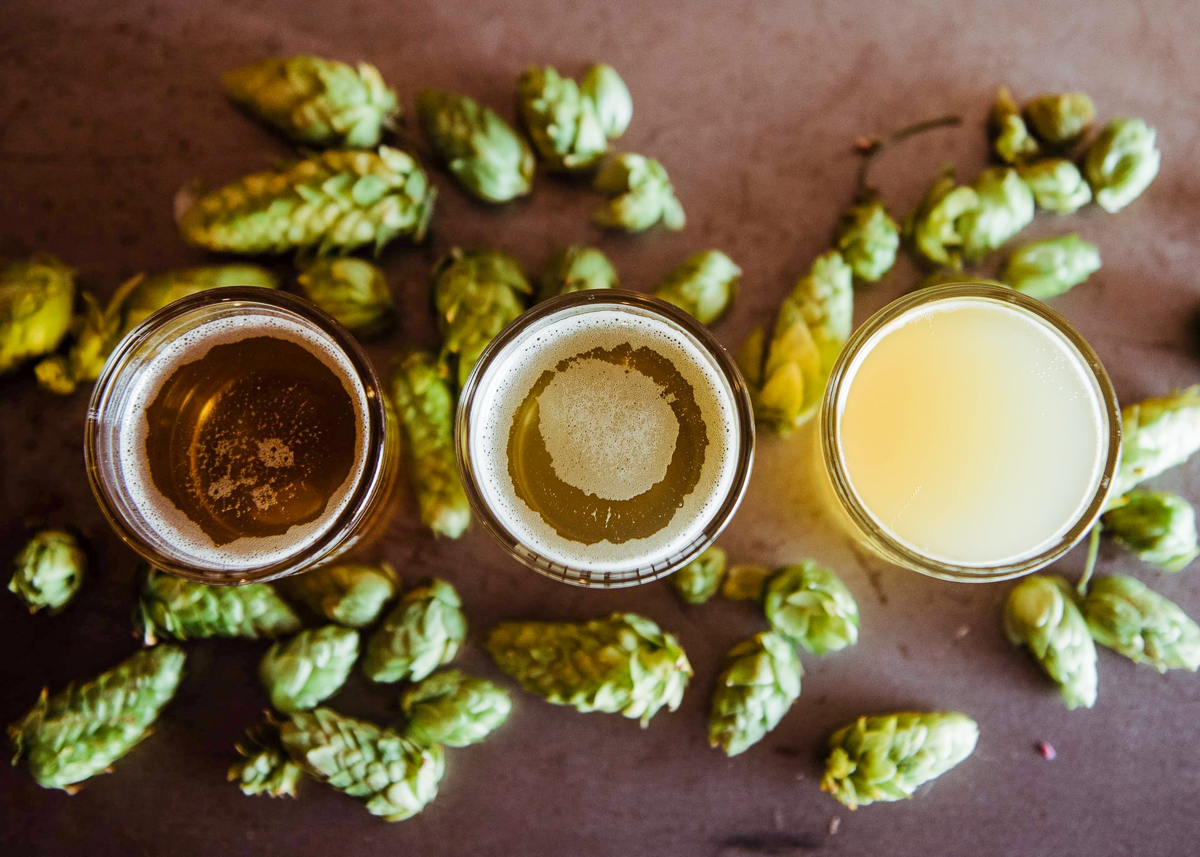 While the Walla Walla Valley is more well-known for their grape growing, it would be a crime not to mention the hop production in Washington State.
And hops means beer.
75% of all hops in the USA are grown in Washington which has led to some incredible craft beer.
There are a few breweries in the Walla Walla area, so you can take a break from your grapes and enjoy some grains!
While we focused our drinking efforts on some of the best Walla Walla wineries, we had several locals tell us to check out the following stops, so we'll tell you to check them out and let us know what you think.
Burwood Brewing
Quirk Brewing
If you are looking to get into the more "spirited stops", there are also 2 distilleries in Walla Walla.
Walla Walla Distilling Co
DW Distilling
Where to Eat in Walla Walla
It goes without saying that before you tackle the wineries in Walla Walla, you must be sure to add some substance in your stomach.
All of the restaurants below were local suggestions as well.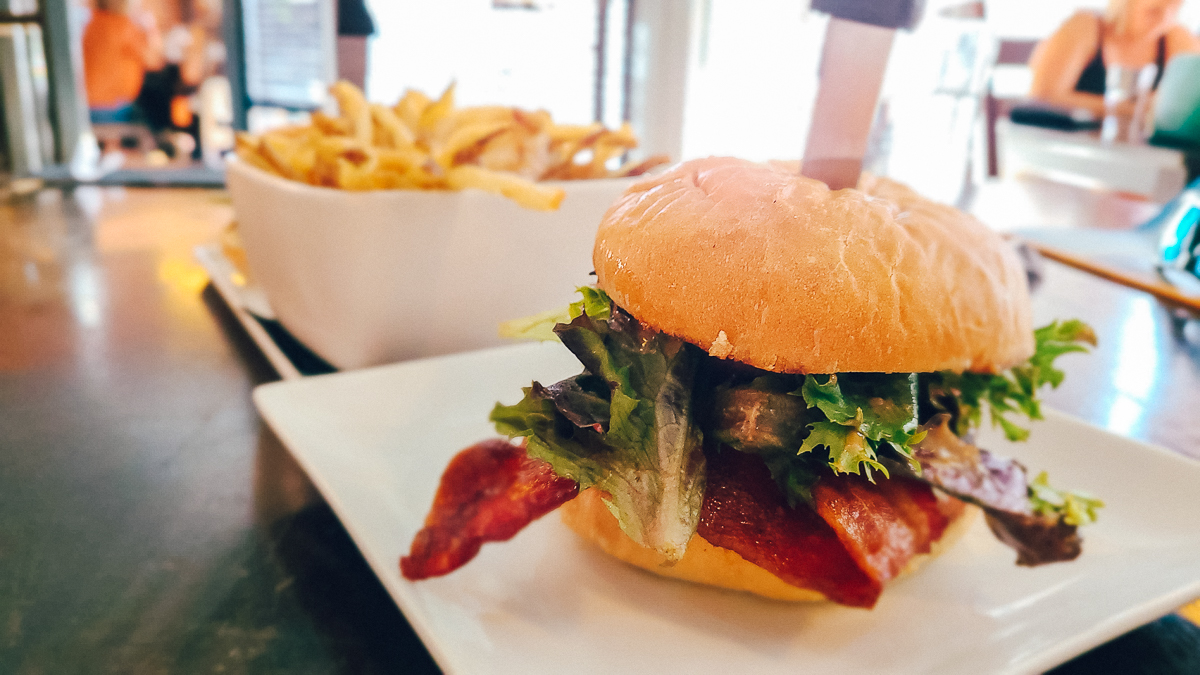 Public House 124 – a solid lunch/dinner spot located off the main street in downtown.
We highly suggest the burgers. They were scrumptious.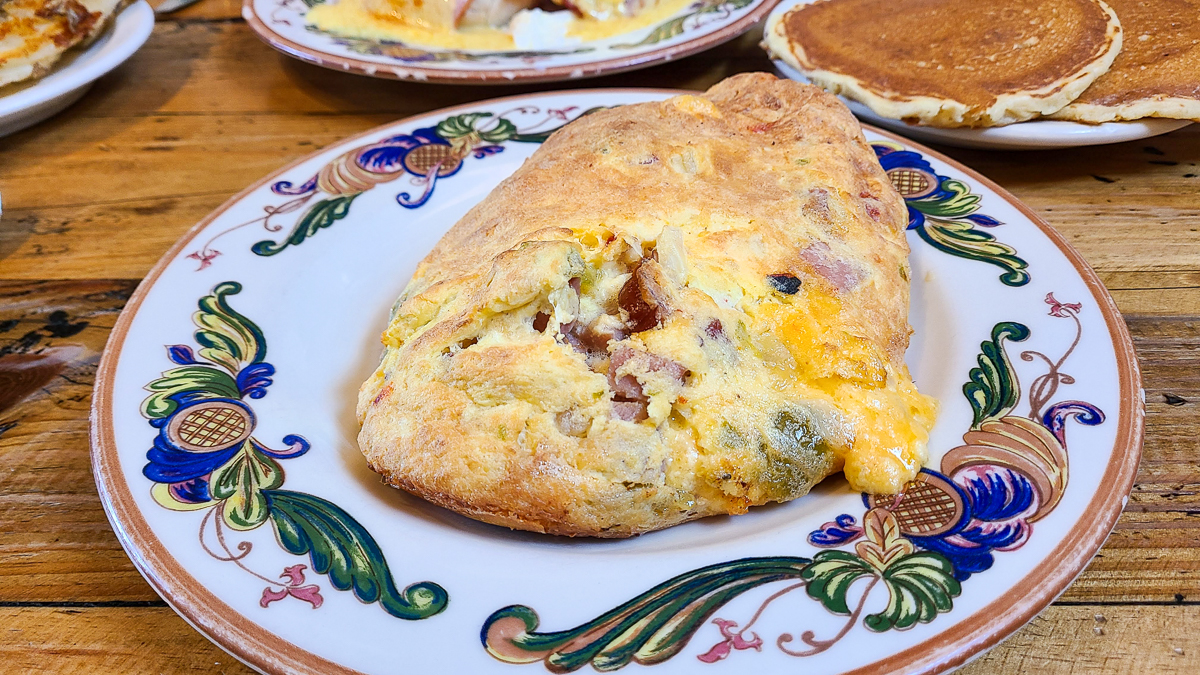 The Maple Counter Cafe – this is a go-to spot for brunch and it will be packed.
Our suggestion is to get the French Baked Omelet, any style.
If you've never had one before, it's otherworldly, heavenly, and is a great base layer for wine tastings.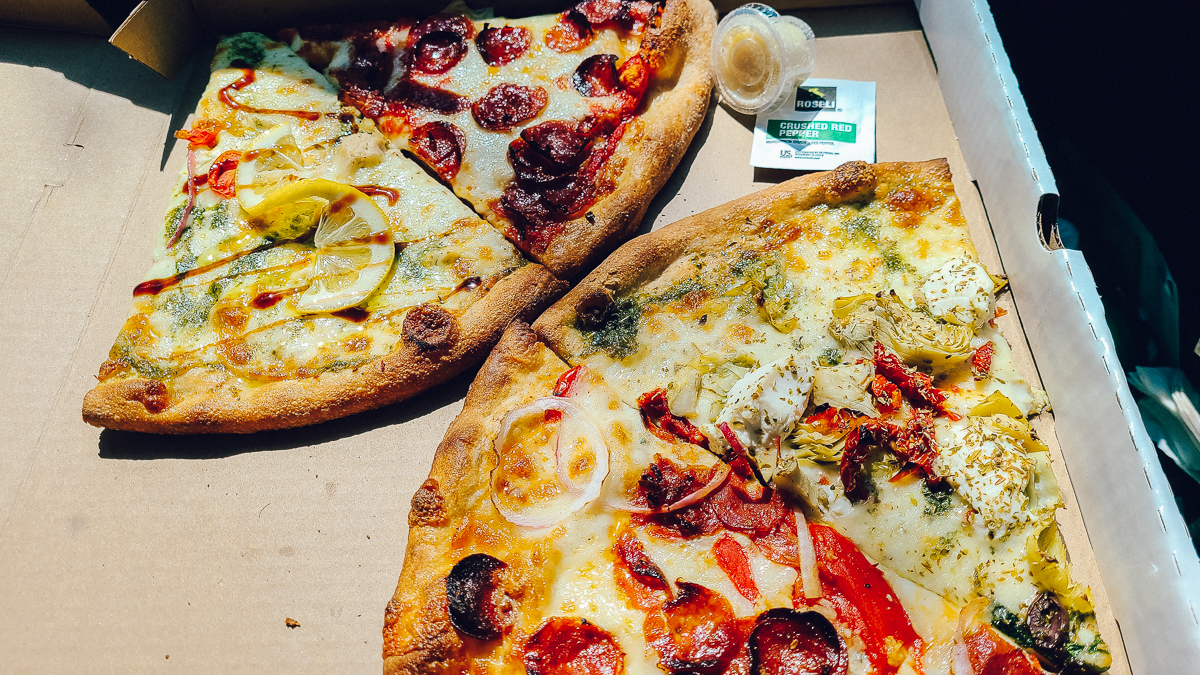 Best Pizza Ever – yes, that is the name of this restaurant.
While we can't definitively say it's the "best pizza ever", after having a few flights of wine, we inhaled our jumbo slices happily.
Restaurants we didn't make it to, but came highly recommended:
Brasserie Four

Hattaway's on Adler
Walla Walla Wineries that we missed
With so many Walla Walla wineries and so little time, here are the ones we missed, but were suggested to us by a local:
Abeja Winery and Inn

Buty Winery

Doubleback Winery

Grosgrain Vineyards

Locati Cellars

Tranche Cellars

TruthTeller Winery
If you are looking for other fun activities in and around Walla Walla, take a peak at the Best Vacation Destinations in Washington State guide. 
Overall Walla Walla Wineries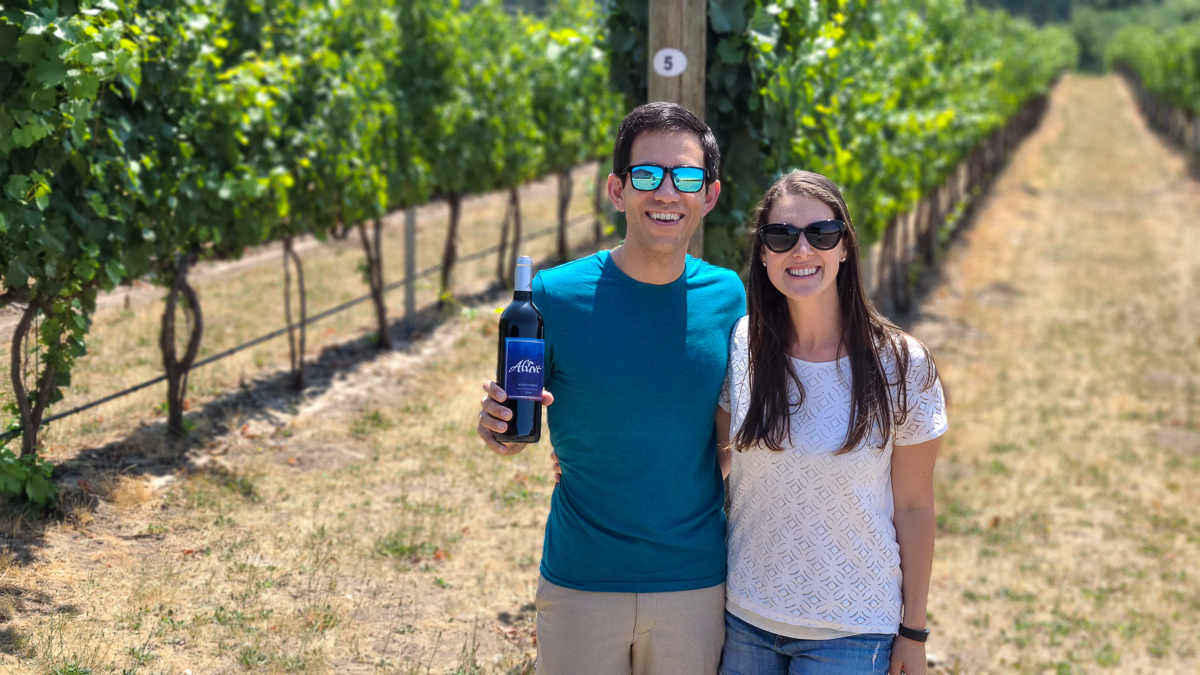 With over 120 Walla Walla wineries in the area to explore, no amount of time seems like enough in this small town of about 33,000 people.
From incredible food to luscious rows of hops and vines, it goes without saying that Walla Walla is worth the trip.
With this region gaining notoriety for their high-quality wine, we highly suggest tasting the smooth reds and refreshing whites from the Valley!
Have you tried Walla Walla wines yet? Let us know in the comments below!