A Weekend in downtown Charleston, SC
Charleston, SC is a wonderfully-historic, classy city situated on a peninsula that leads to the Atlantic Ocean.
Luckily for us, we have family in downtown Charleston and have been several times over the years!
We always make a point to drink local and enjoy family time while acting like a local.
There are literally hundreds of things to do in downtown Charleston so we've created a list to pick from for the best weekend!
Whether you are taking in a sunset from a rooftop bar or strolling down historic roads, there is no shortage of fun to be had in downtown Charleston!
Short on Time? Don't miss our favorite downtown Charleston activities: King Street strolling, shopping at a local market, eating delicious southern cuisine.
Keep reading to find our more!
This post was originally published in September 2019, and was updated in March 2023.
**Boozing Abroad contains affiliate links throughout the site. If you choose to purchase items through these links, we will earn a small commission at NO extra cost to you. Read the full disclosure policy here**
A Weekend in downtown Charleston, SC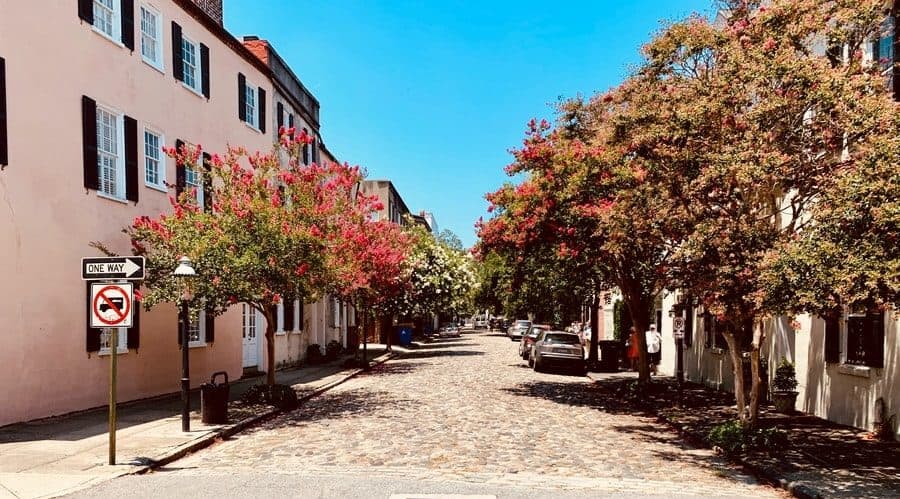 Where to Stay in downtown Charleston
Booking.com probably has the widest selection of budget (and luxury) accommodations in the world. In our experience, they consistently found the cheapest rooms. We also like their easy to use interface and no money down policy. When we book our travel stays, we personally use booking.com.
Downtown Hotels in Charleston
Belmond Charleston Place
The Belmond Charleston Place is the creme de la creme of hospitality in the heart of Charleston, SC. From bronze fountains to 12-foot wide chandelier-lit grand staircases, this luxury hotel will be sure to make you feel like Southern Royalty.
With an indoor saltwater pool, rooftop lounge, relaxing spa and concierge station, you won't miss a single first-class amenity here.
>> Check Availability and Prices on Booking.com
Wentworth Mansion
We don't typically cover 2 luxury options (since we like to spend our money on booze), but the Wentworth Mansion is incredible. The Wentworth Mansion is literally a mansion that was converted to a luxury B&B in 1998. Nothing says Southern Charm quite like this place!
The home was a private residence constructed in 1865 and no expense was spared in its construction. From marble fireplaces to Louis Comfort Tiffany stained glass windows, step back in time (minus the modern amenities like wifi and TVs, of course) with this elegant option.
>>Check Availability and Prices on Booking.com
Holiday Inn Charleston Historic Downtown
Situated 1 block off of King Street in the middle of downtown, this Holiday Inn Charleston Historic Downtown is in a prime location for walking around to the shops, breweries, bars on King Street!
While it isn't a luxury hotel, this newer hotel is clean and the staff have a great reputation for displaying southern hospitality. Depending on what attractions you are looking for, it's just a little over 1 mile from the French Quarter, but in the best location to explore King Street shopping, bars and restaurants.
>>Check Availability and Prices on Booking.com
Days Inn
Days Inn by Wyndham Charleston Historic District is another great affordable option closer to the French Quarter in downtown Charleston. Located a half-block from the Historic Charleston City Market, this hotel is a 3-minute walk from the Shops at Charleston Place, a 5-minute walk from the Dock Street Theatre and about 1 mile from The Battery.
The rooms are standard hotel rooms with Wi-Fi, TVs, microwaves, minifridges and desks. There's a casual restaurant & bar and an outdoor heated pool. Parking is available for a fee. This is a great option for walkability as well as being close to the College of Charleston.
>>Check Availability and Prices on Booking.com
What to do in downtown Charleston
Click on the interactive map below to see all the things to do in downtown Charleston.
HOW TO USE THIS MAP: To view the layers and see the names of the places on this map, click the tab in the top left corner. You can select the check marks to show or hide certain layers. If you select the icons on the map, you will get more information about the point of interest.
HOW TO SAVE THIS MAP: If you select the star icon next to the map name, you can save this map to your Google Maps account. To view it, open Google Maps in desktop or on your phone, select the menu button, go to "Your Places," scroll to the right to Maps, and you will see this map.
Market Hop
Historic Charleston City Market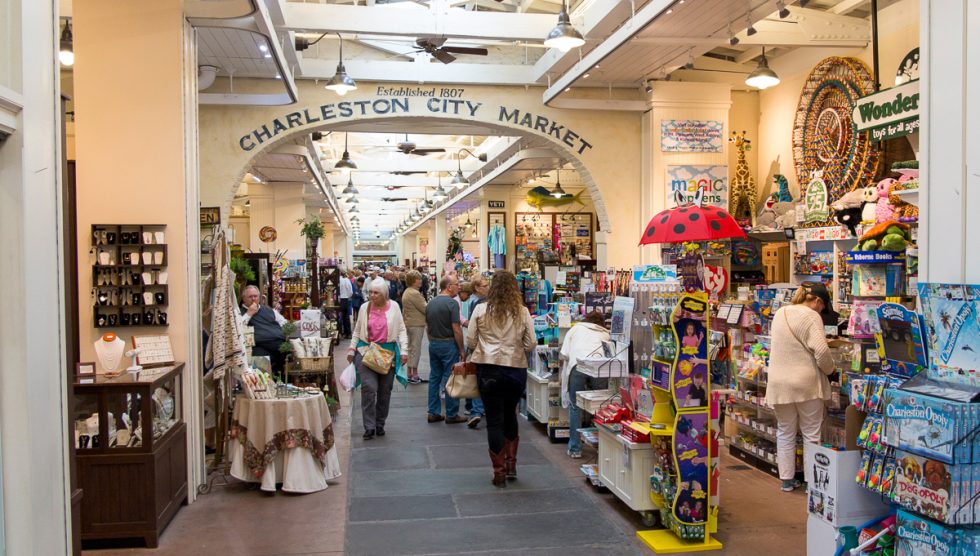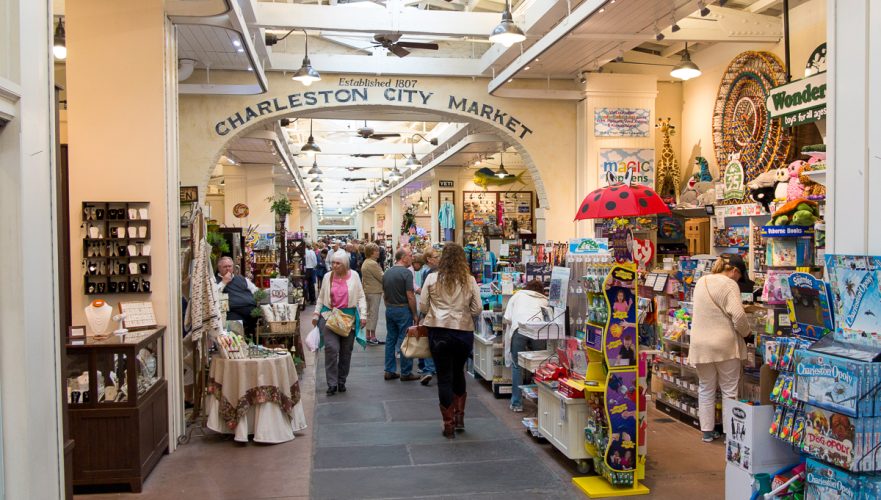 The famous Historic Charleston City Market was established in the 1790s on the corner of Meeting Street and Market Street.
The market stretches for four city blocks and you can find just about any type of souvenir you could think of here.
With vendor after vendor lined up, you can meander through the multiple buildings looking for your perfect trinket.
Charleston Farmers Market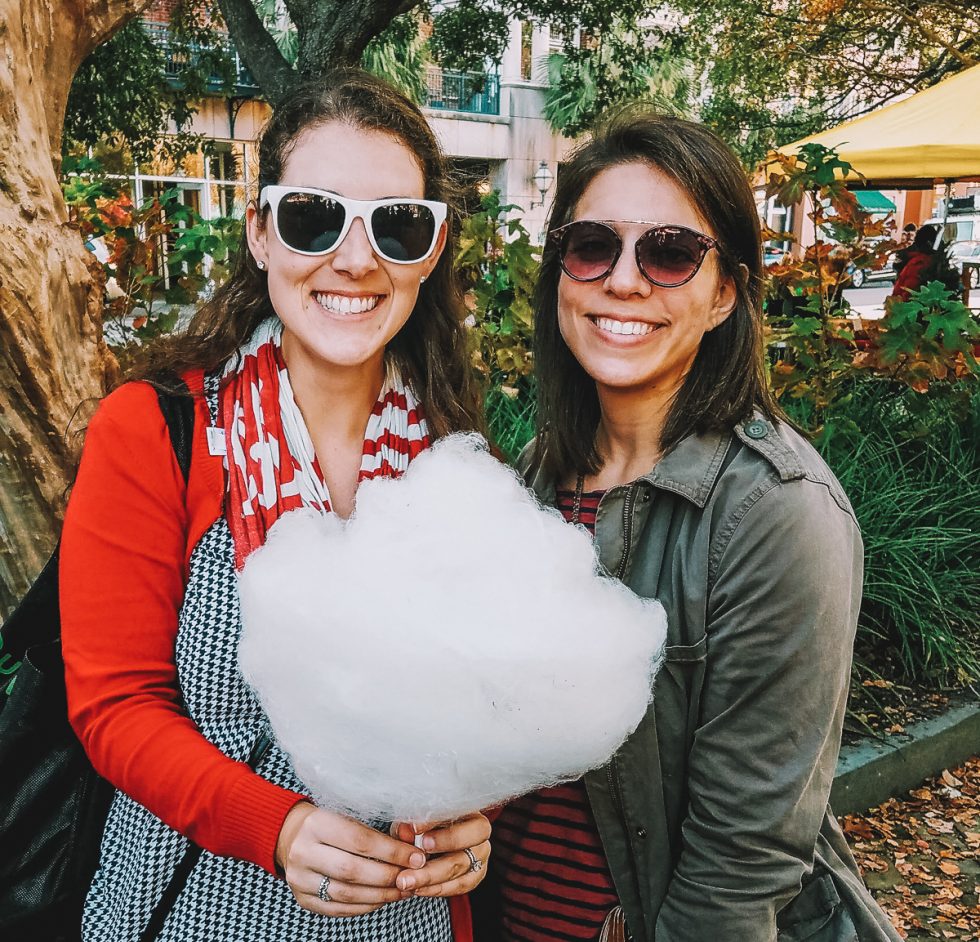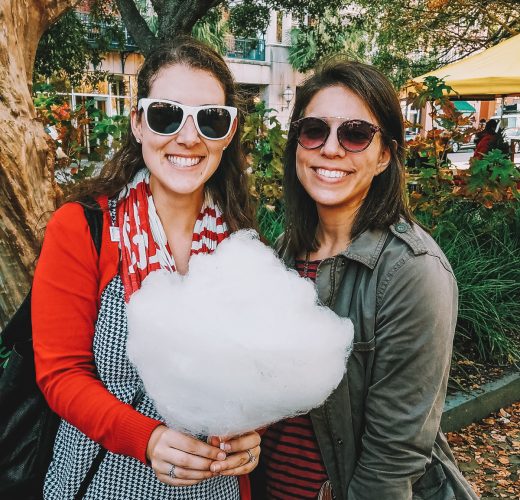 A great market for both locals and tourists, the Charleston Farmers Market is located in Marion Square in the heart of downtown Charleston and operates most Saturdays from 8 AM to 2 PM. It starts in mid-April and goes through November.
You'll find everything from produce, art, trinkets, honey, and a variety of yummy local food trucks. Even vegan cotton candy (of course, Samantha had to get some!).
Stroll down King Street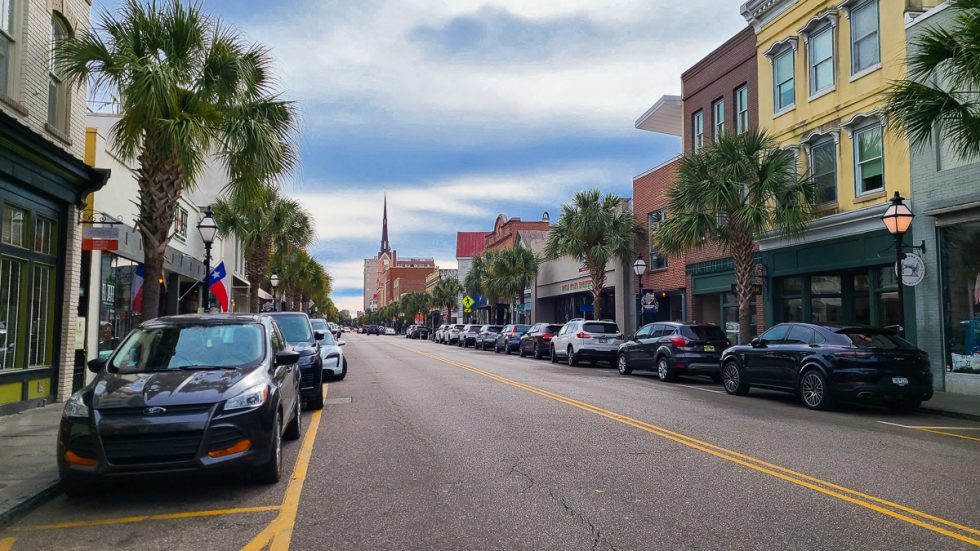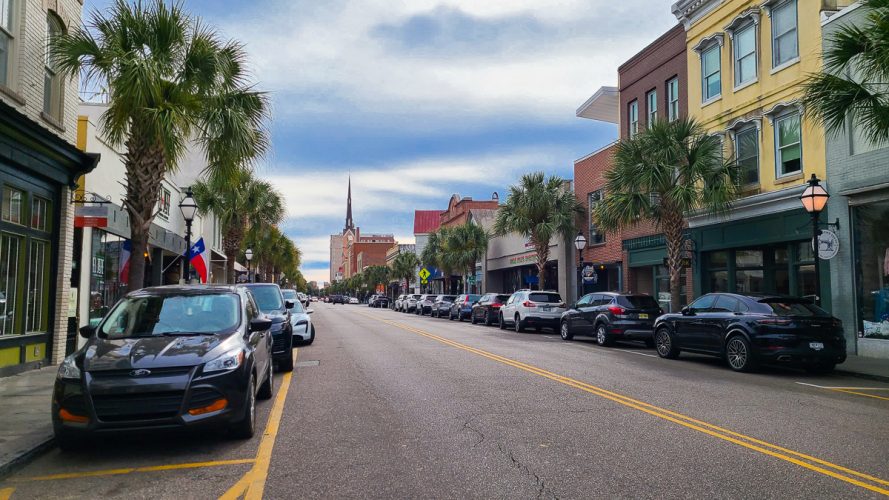 Wandering around downtown Charleston's main drag, King Street is the best spot for all sorts of shops, restaurants, and bars. Be on the lookout for Charleston's resident celebrity, Bill Murray, lurking around town.
Also, if you've seen the movie, The Notebook, make sure you make it to the American Theater! A few scenes were filmed in front of this theater and along King Street. For you Ryan Gosling heart-throbs, trust us, you'll recognize it.
Find Southern Comfort with a meal
If you didn't come to Charleston hungry (and thirsty), you need to re-evaluate why you came. Seriously! This is a food haven!
Charleston has some of the best restaurants in the south and the food, for once, is something to actually write home about.
There are so many amazing places to try for a meal and we suggest these as they are some of our favorites. We constantly seek them out when we visit downtown Charleston.
Breakfast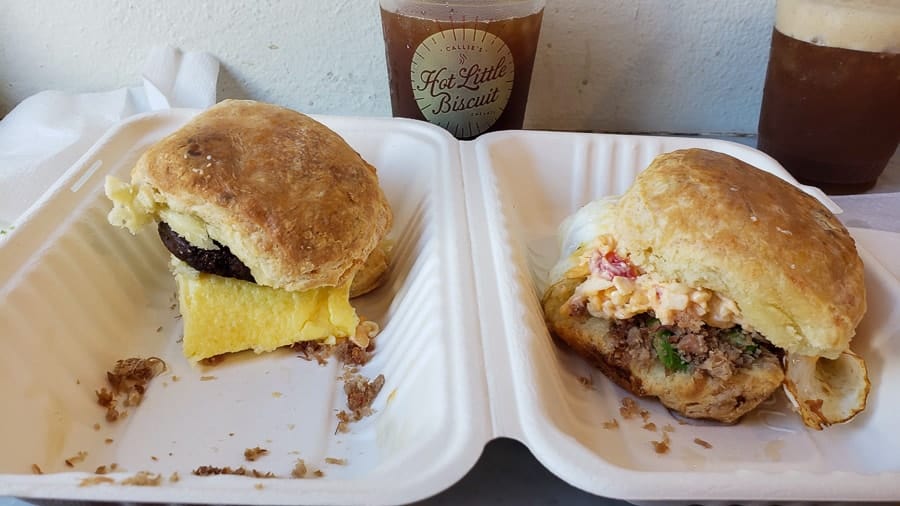 We highly recommend Callie's Hot Little Biscuit which is conveniently located on King Street. Not only were these some of the best biscuits we've ever eaten, they were instrumental in the day's drinking itinerary.
Samantha built her own biscuit with ham, egg, pimento cheese, and sliced avocado while Chris got the classic bacon, egg and cheese. We are still dreaming about these biscuits and luckily, they can ship their biscuits to your front door!
Lunch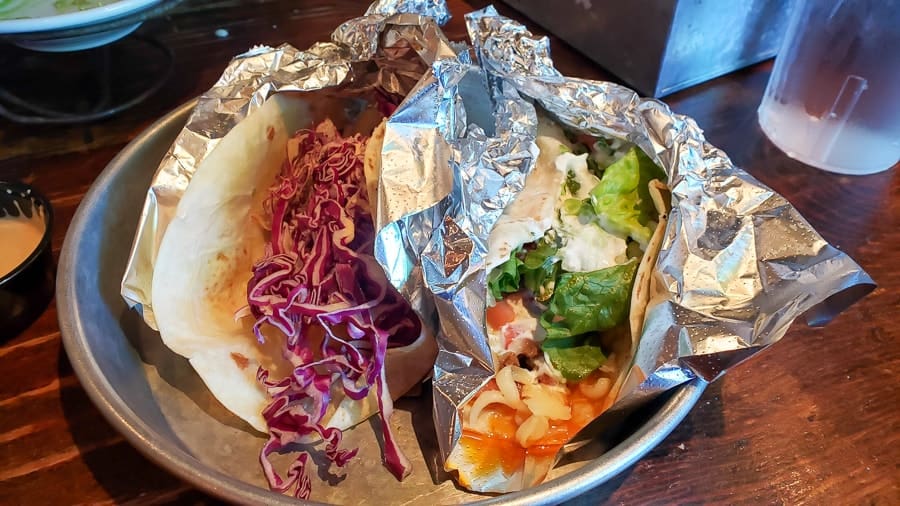 Head to Taco Boy for a midday snack/lunch break. Their motto is "Skip Siesta, Let's Fiesta!" Now that's something that we can get on board with!
Lots of different options for specialty tacos, all of which will make you wish you had unlimited stomach space. Make sure you start with the appetizer trio of salsa, queso, and guacamole, too. Yum! They make a kick-ass margarita and have lots of local options to drink here.
Baker & Brewer
Head to one of downtown Charleston's newest and most popular collaborations in town, Baker & Brewer.
The collaboration is between EVO (Extra Virgin Oven) Pizzeria, which started as a mobile wood-fired pizza truck back in 2005 (brick and mortar came in 2007), and Holy City Brewing, one of the early-birds to Charleston's craft beer scene.
Holy City Brewing uses Baker & Brewer as a pilot system of sorts to test out new recipes and batches before bringing them to the big brewery-sized scale.
Grab a beer, order a pizza, and sit out on the patio and enjoy the warm Charleston weather. Side note, it's not located in the best of neighborhoods, but don't let that deter you as there will be plenty of people around!
Dinner
Lewis Barbecue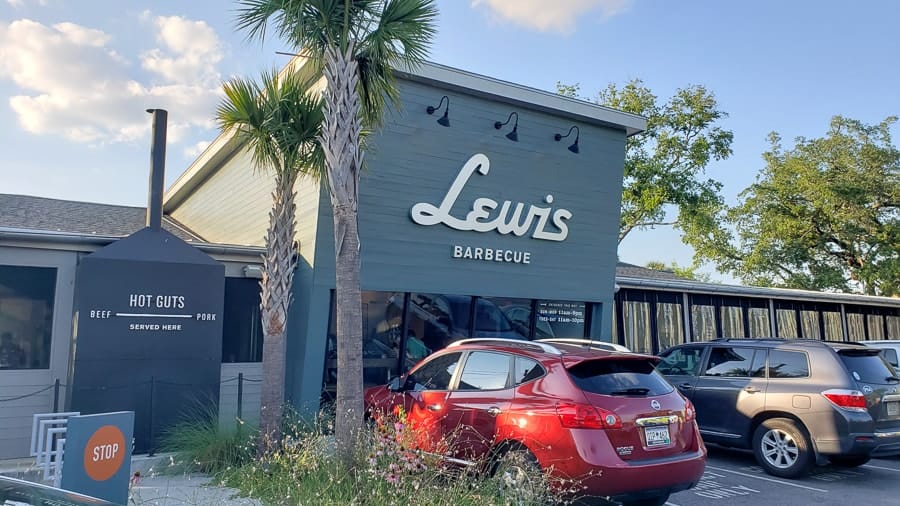 Do NOT skip this stop.
Lewis Barbecue is Texas-style smoked BBQ which is absolutely delicious! The chopped brisket sandwich was heavenly, and the mac-and-cheese was the stuff you dream of.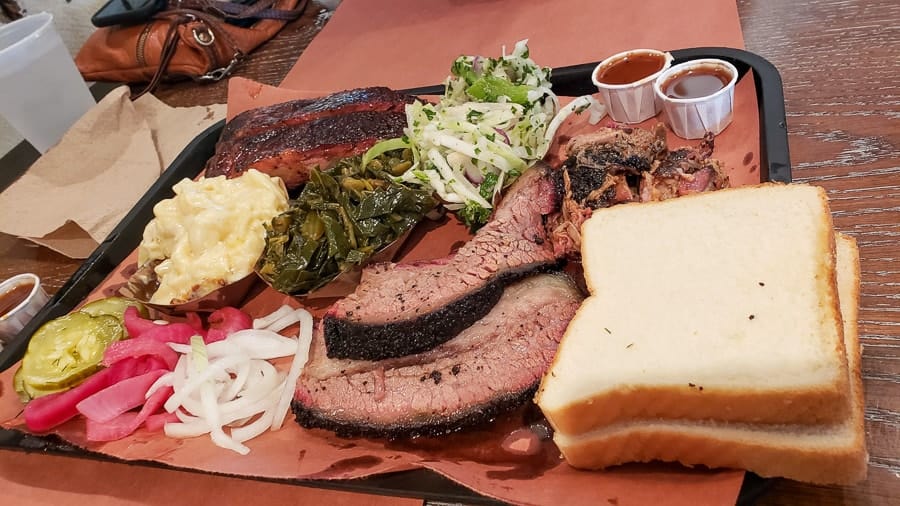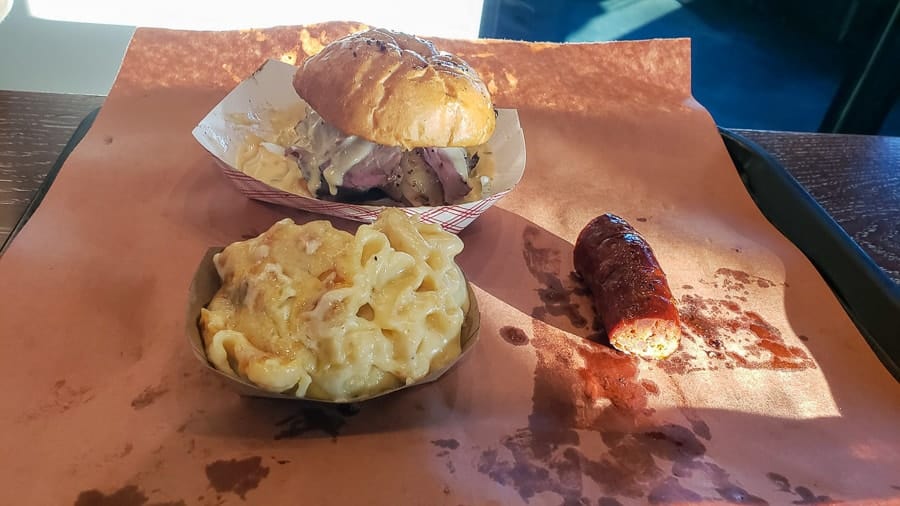 Be prepared to wait in line though as this place was named by Southern Living as one of the top 50 BBQ joints in the south in 2018 (FWIW, Home Team BBQ, which is a short walk from here, was also on this list).
Find your inner Southern charm at a local distillery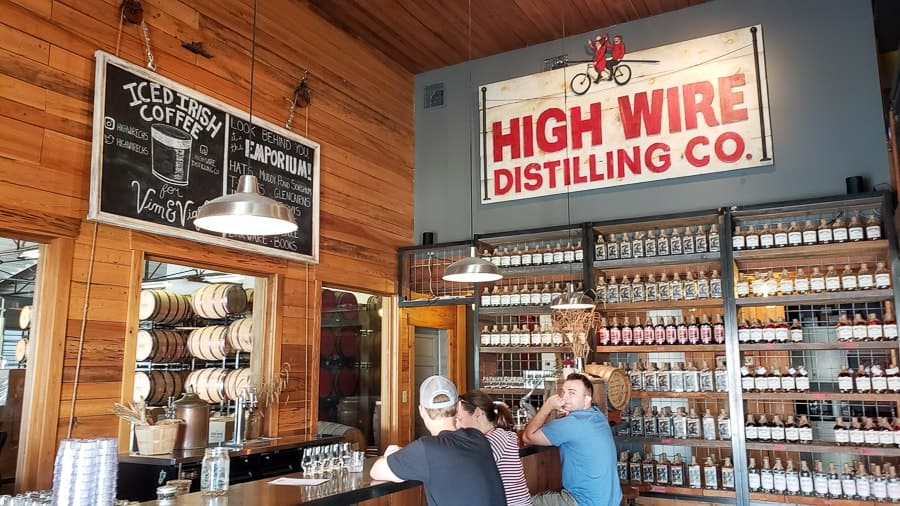 There are a few distilleries in downtown Charleston and many of the bars support their local distillers. If you want to visit one in person, just up the road on King Street is High Wire Distilling.
Hire Wire is Charleston's first distillery since Prohibition and specializes in small batches producing a couple of varieties of gin, a few types of whiskey, and vodka.
Don't forget that you're required to take a tour, which was great, as the head distiller was there making his magic potion. It was also great to learn they still hand bottle all of their product!
According to SC law, 3 ounces is the maximum amount of liquor that you can consume on-site, so choose your spirits and drinks wisely.
Sip some suds at a local brewery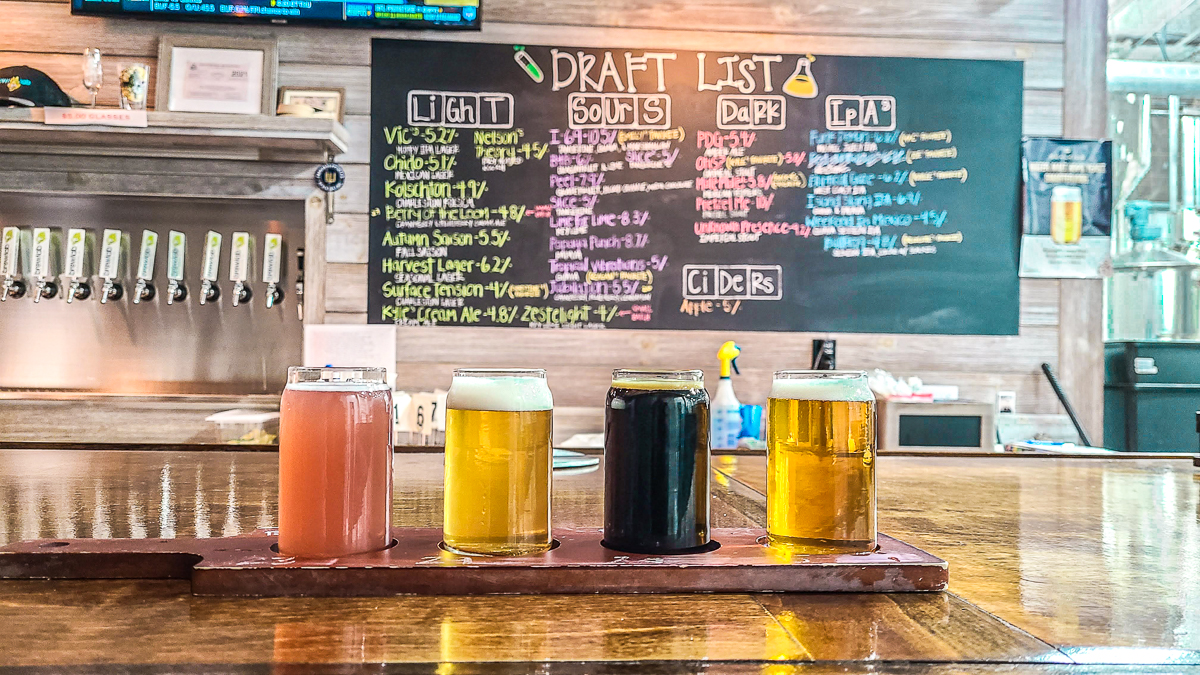 The brewery scene in Charleston has grown over the last several years. With several breweries clustered together in the Brewery District, it's easier than ever to support local and sample some local beers.
>>> Check out our Guide to the Breweries in Charleston, SC <<<<
Take in a view of Downtown Charleston
Arthur Ravenel Jr. Bridge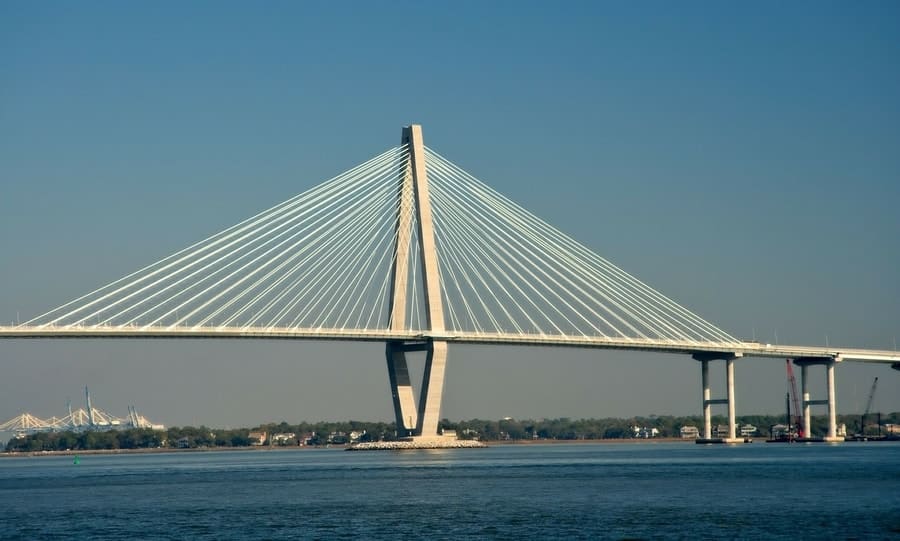 More than just a simple bridge, the Arthur Ravenel Jr. Bridge is the third longest cable-stayed bridge in the Western Hemisphere and connects downtown Charleston with Mount Pleasant (large suburb of Charleston) across the Cooper River.
Built with a pedestrian lane, take a long hike up the bridge for a great view of downtown Charleston. It's so popular that there is a big 10k race every year that crosses over this 1,500-foot bridge.
Drink in the views at a Rooftop Bar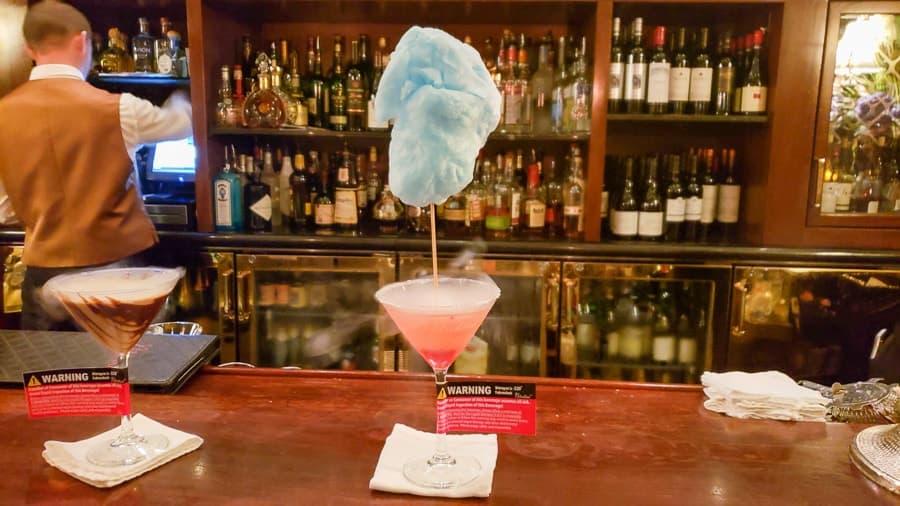 Grill 225 is a fine-dining restaurant in the Market Pavilion Hotel. With this being a luxury hotel, we're only here for the drinks and it's worth every penny. Specifically, the Nitrotini – a martini blasted with liquid nitrogen to make it super-duper cold.
How cold, you ask?
Well, there is a warning label sticker on every glass telling you to wait 3 minutes before drinking it and to not to drink it too fast or else it might, you know, freeze your insides!
It is -320 degrees Fahrenheit, after all! As you might expect, these drinks are rather touristy, and therefore, come with a steep price tag (anywhere from $17 to $19).
Don't think you only have a few options though….choose from one of 33 different Nitrotinis! We ordered the cotton candy Nitrotini which came complete with a stick of cotton candy on top!
Unless you're here for dinner or just want to hang out in the hotel bar, grab your now-safe-to-consume drink and head upstairs to the rooftop Pavilion Bar for a great view of downtown Charleston.
Be careful of the pool that awaits you as soon as you walk out of the door though. We were there at night and the edges of the pool definitely should have been more well-lit! Luckily, we didn't take an unplanned dip.
Explore the Historic side of Charleston
The Battery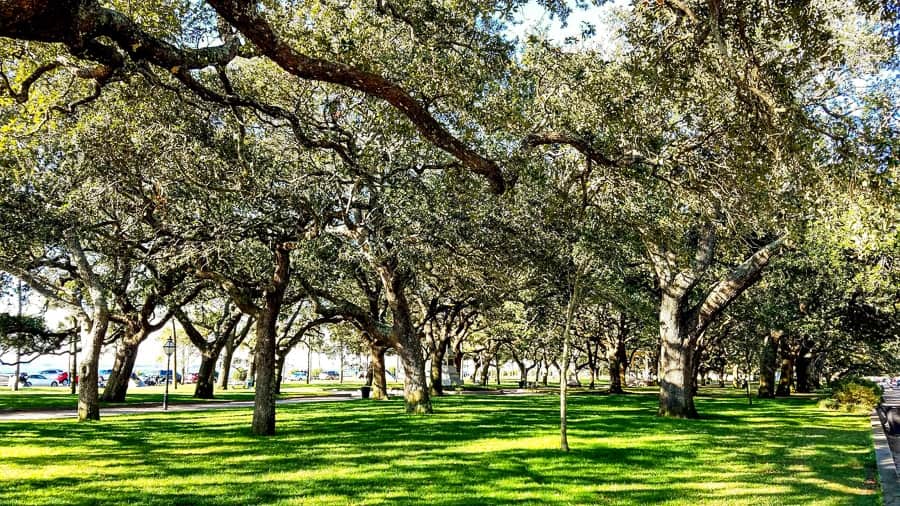 Feeling historical? Head down to the Battery and walk along this Civil War-era defensive seawall at the point of the Charleston peninsula. You'll see tons of runners, walkers, and dogs throughout this area of the city, lined with beautiful (and massive) antebellum homes.
From here, you can even see Fort Sumter off in the distance, the site of the first battle of the Civil War. White Point Gardens sits right behind the Battery and has some historic statues and cannons throughout, as well as a large gazebo in the middle which makes for a picturesque Southern setting.
Waterfront Park
With sensational views of Port Charleston, this park is perfectly matched with Rainbow Row. Park the car and stroll around the waterfront park before heading over to the infamous Rainbow Row.
There are two fountains and the park is lined with trees and charming houses. It can get a bit crowded due to it's popularity, but nonetheless it's a beautiful view of the water.
Rainbow Row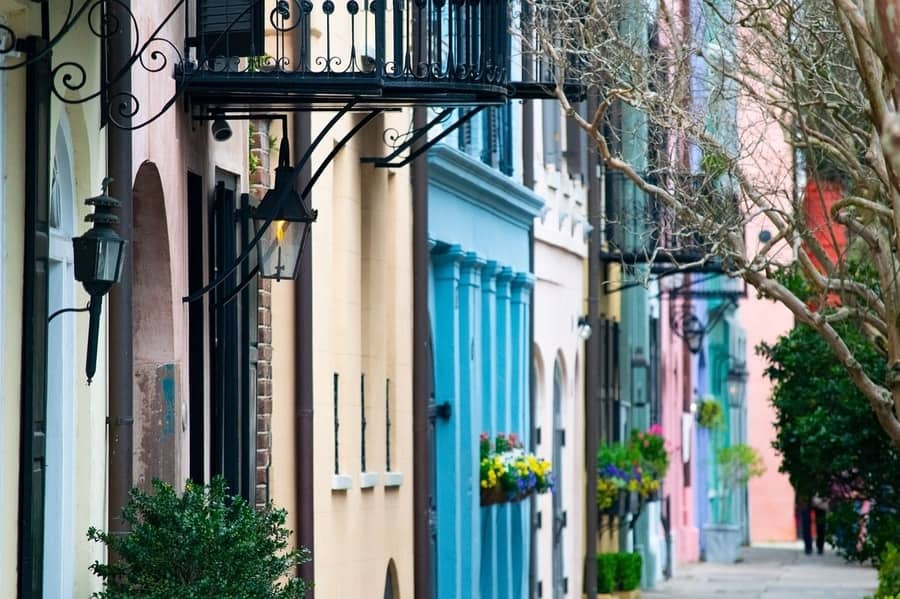 If you're up for a walk from the Battery, head north (towards the city – water on your right) for about a half-mile and you'll pass what is known as Rainbow Row, which are pastel-painted Georgian-style row-houses dating from 1748 to 1845.
Think of rainbow sherbet, but tastefully painted across 13 houses (see what we did there?).
If you keep walking, you'll eventually (about another half-mile) come up to the back-end of the Historic Charleston City Market which we visited above.
Visit a Museum
The Charleston Museum
Founded in 1773, The Charleston Museum is the first museum in America and houses several artifacts and relics from South Carolina and the Civil War. This is a relatively large museum and is methodically organized to take you through the history including a natural history section with animals.
Aiken-Rhett House Museum
A true southern home dating back to the 1800s, visit this house museum to learn about the influential family living here during the time and their impact on Charleston.
This is one of the few historical houses that was "restored" to its glory day and preserved to truly capture the moment in time.
Unlike many other homes in the area, the Aiken-Rhett House still has its slave quarters in the back, which is explained, in detail, in their self-guided audio tour.
Old Exchange and Provost Dungeon
The Old Exchange and Provost Dungeon is a unique museum to visit with a costumed-led tour (think period clothing, not Halloween) taking you through the dungeon.
The tour is entertaining and rich with history and it's where South Carolina declared their independence from England.
Old Slave Mart Museum
The Old Slave Mart Museum is the building that was a former auction building for slaves and will help you understand the horrors and inhumanity of the slave trade.
This museum isn't rich on artifacts, but you will deep dive into the history of the slave trade in Charleston.
Charleston Beaches
Let's get this out of the way. Charleston is hot and sticky. And not in the fun way – like a cinnamon bun. At some point during your stay, you're probably going to want/need to cool off in the water. Luckily, there are several options for you.
Unfortunately, none of these are located in downtown Charleston.
Folly Beach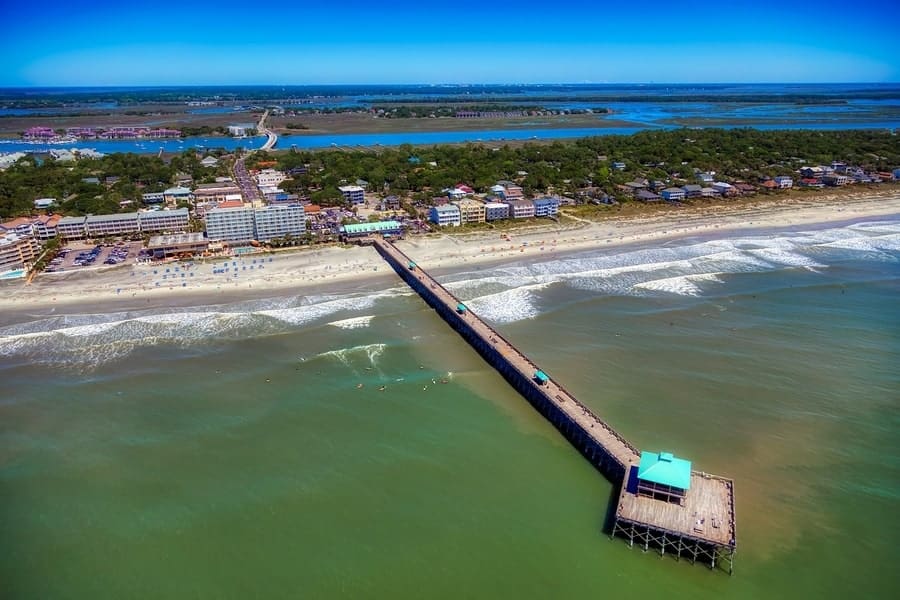 One of the popular local beach hangouts is Folly Beach, which is about 25 minutes from downtown Charleston.
Make sure you head there early, as beach traffic on this 4-lane road (which reduces to a 2-lane road) can get pretty backed up once you get close to Folly Island. If you're lucky enough to have friends with a house, parking might be easy for you.
For the rest of us common folk, find street parking anywhere you can. Just make sure all 4 of your tires are off of the pavement or else you'll find a ticket on your windshield when you get back.
In the past few years, the authorities have gotten more strict with prohibiting alcohol on the beach, which is technically not allowed. However, bring that big double-walled thermos, hide what you are pouring, and don't act like a complete drunken idiot and you'll be fine.
Here are some more rules for Folly Beach just so you know going into it.
INSIDER TIP:
On your way back to downtown Charleston, if you have some stamina left and you're not burned to a crisp, make a pit-stop at The Barrel, which is actually on James Island, for some cold beer and live music.
The Barrel has 33 taps of local and regional craft beer and its waterfront backyard (it's situated on a creek, not the ocean….but hey, it's still waterfront) is dog-friendly and has some of the best sunsets in the area.
The backyard area has a stage for live music, string lighting to set the mood, and cornhole and shuffleboard courts to pass the time.
Capers Island
Prefer something a little more laid back and secluded (and have a boat, or more conveniently, a friend with a boat)? Then head to Capers Island, which is about 15 miles northeast(ish) of downtown Charleston. Capers is an undeveloped barrier island, so you won't find any bars or restaurants here.
Bring your food and drinks for the day, anchor your boat to the shore, and waste away the day playing bocce, frisbee, or horseshoes.
Sullivan's Island
A quick 20-minute ride from downtown Charleston, Sullivan's Island is the next closest beach to the city. As one of the pricier locations for real estate in the country, Sullivan's Island is probably better suited for beach-sittin' and bar-sippin' than it is everyday-livin'.
There is a great restaurant scene along Middle Street, the main street on Sullivan's Island. Some of your options include Poe's Tavern (local watering hole), Mex 1 Coastal Cantina (get the queso as an appetizer and at least one of the pork belly and pimento cheese tacos), and The Obstinate Daughter (a little more upscale American fare).
Charleston, SC is such a charming city. With a classic Southern flair, there is so much to do, see, eat and drink! We are lucky enough to have family living there so we always get a local experience when we go.
Whether you are there for a long relaxing weekend or looking to go to sample all the breweries in Charleston SC, you will find no shortage of things to do in downtown Charleston.