A Local's Guide to the Best 9 Breakfast in Charleston, SC
Charleston, SC is known for its southern hospitality and that definitely extends to their food scene.
Luckily for us, we have family that lives in Charleston so we know all the best spots for breakfast in Charleston.
Check out our guide on the best breakfast in Charleston to help you narrow down the choices with 100% input from our local family members! We usually try to visit Charleston 1-2 times a year, not only to see family, but because we love it so much!
Psst: Looking for more Charleston info? We have a few guides! Browse them here:
This post was originally published in June 2020, and was updated in April 2023.
**Boozing Abroad contains affiliate links throughout the site. If you choose to purchase items through these links, we will earn a small commission at NO extra cost to you. Read the full disclosure policy here**
The Best Breakfast in Charleston
Interactive Map of Breakfast in Charleston
HOW TO USE THIS MAP: To view the layers and see the names of the places on this map, click the tab in the top left corner. You can select the check marks to show or hide certain layers. If you select the icons on the map, you will get more information about the point of interest.
HOW TO SAVE THIS MAP: If you select the star icon next to the map name, you can save this map to your Google Maps account. To view it, open Google Maps in desktop or on your phone, select the menu button, go to "Your Places," scroll to the right to Maps, and you will see this map.
1. Miller's All Day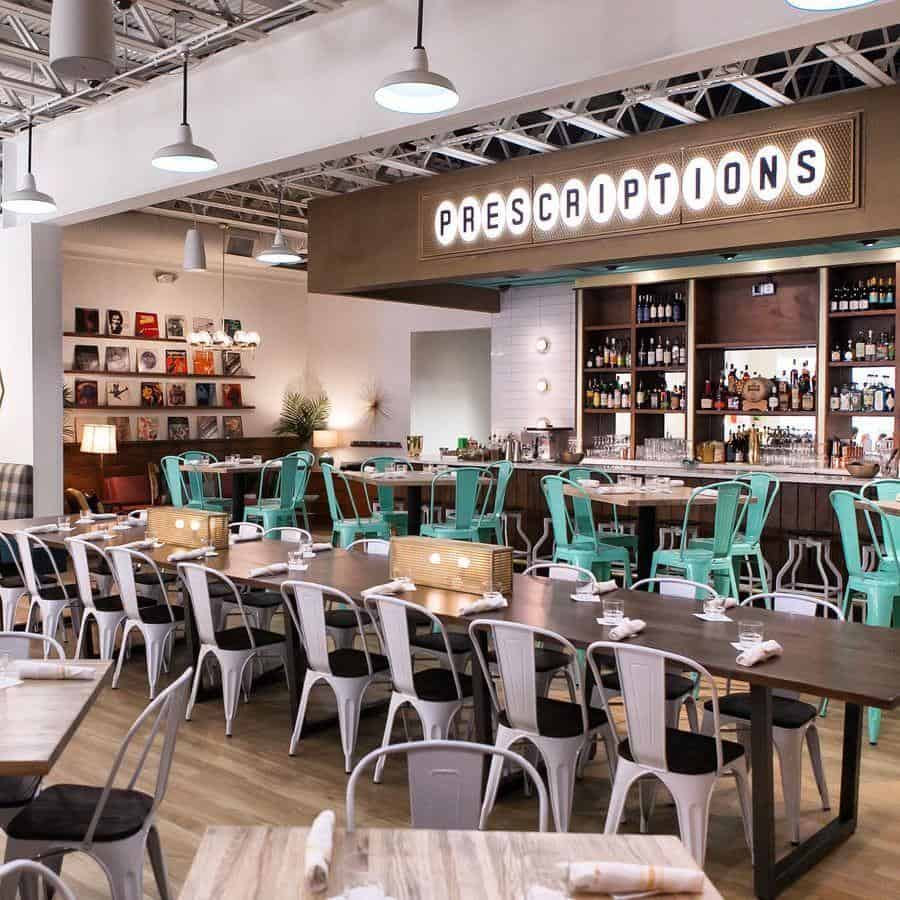 Photo Credit: Miller's All Day Facebook
Breakfast Hours: all day (as their name states); specifically Monday-Friday from 8 AM-3 PM; Saturday-Sunday 8 AM – 4PM
Reservations: Sorry folks, no dice.
Must try dish: crab fried rice bowl
Miller's All Day believes that breakfast is the most important meal of the day (and we can't argue with that – especially a yummy breakfast in Charleston).
Located on Lower King Street, this downtown brunch spot gets packed fast so get there early or late in the afternoon (peak time is between 10 AM – 12:30 PM). Don't forget to try one of their Bloody Marys. We suggest the Big Bourbon!
2. Poogan's Porch
Photo Credit: Poogan's IG
Breakfast Hours: Everyday from 9 AM – 2:30 PM
Reservations: Yes – recommend a reservation for a larger group
Must try dish: anything with their buttermilk fried chicken in it – it's their signature dish
Hidden away on Queen Street in a classic Victorian House, Poogan's Porch is another good spot for breakfast and brunch in Charleston.
Established in 1976, Poogan's Porch is one of the oldest independently-owned restaurants in Charleston which means you will find the best of southern charm here.
Wash down your delicious meal with Poogan's Salty Dog cocktail – vodka, grapefruit, lime, and ginger beer – it makes for a heavenly combination!
3. Grace & Grit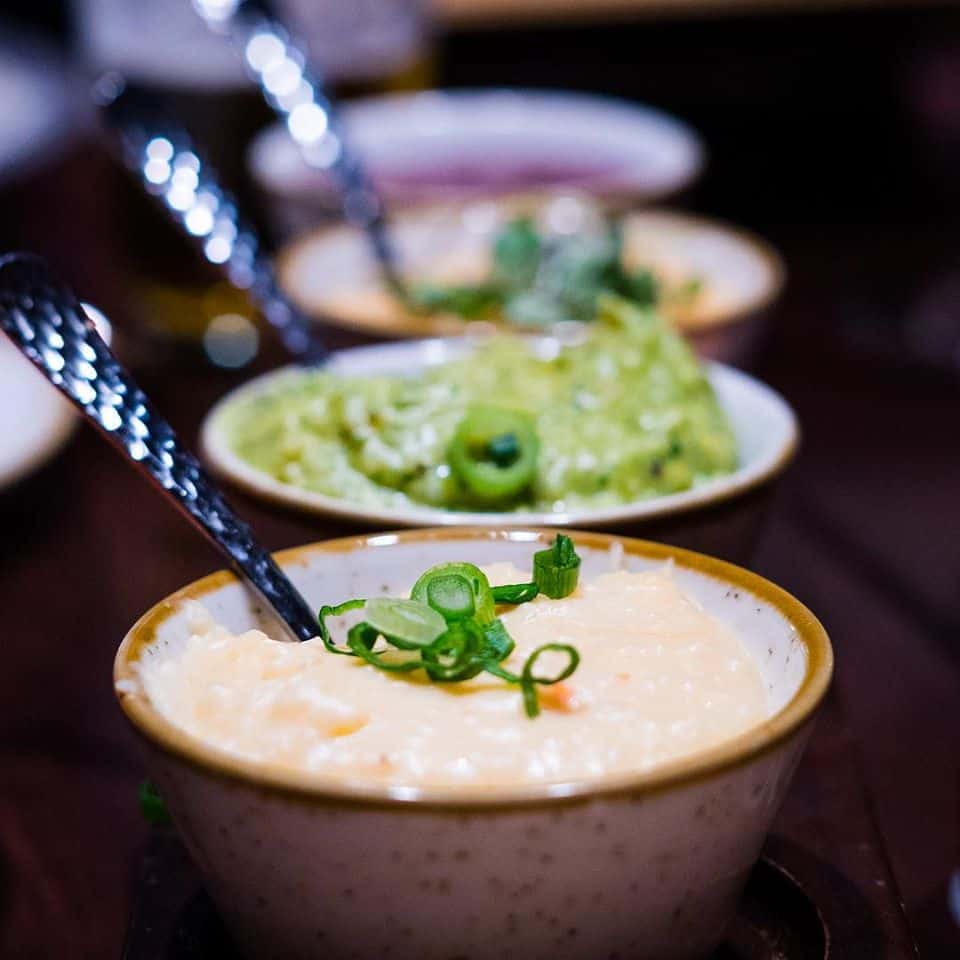 Photo Credit: Grace & Grit Facebook
Breakfast Hours: Sunday only 10AM – 2PM
Reservations: Yes, look for a tab on their website
Must try dish: Grit Flight
A local family-run restaurant, Grace & Grit is in Mount Pleasant right over the bridge so if you are in downtown Charleston, it isn't hard to get to. And it's a great way to kick-start your weekend in Charleston.
Grits are staples in the south and if you haven't tried them before, this is definitely the spot. With good prices and locally-sourced food, this place offers a coastal homey feel which is only amplified by their home cooking.
Make sure you grab the creative Peanut Brittle Old Fashioned or the Honeysuckle Martini to add to your scrumptious meal.
4. Callie's Hot Little Biscuits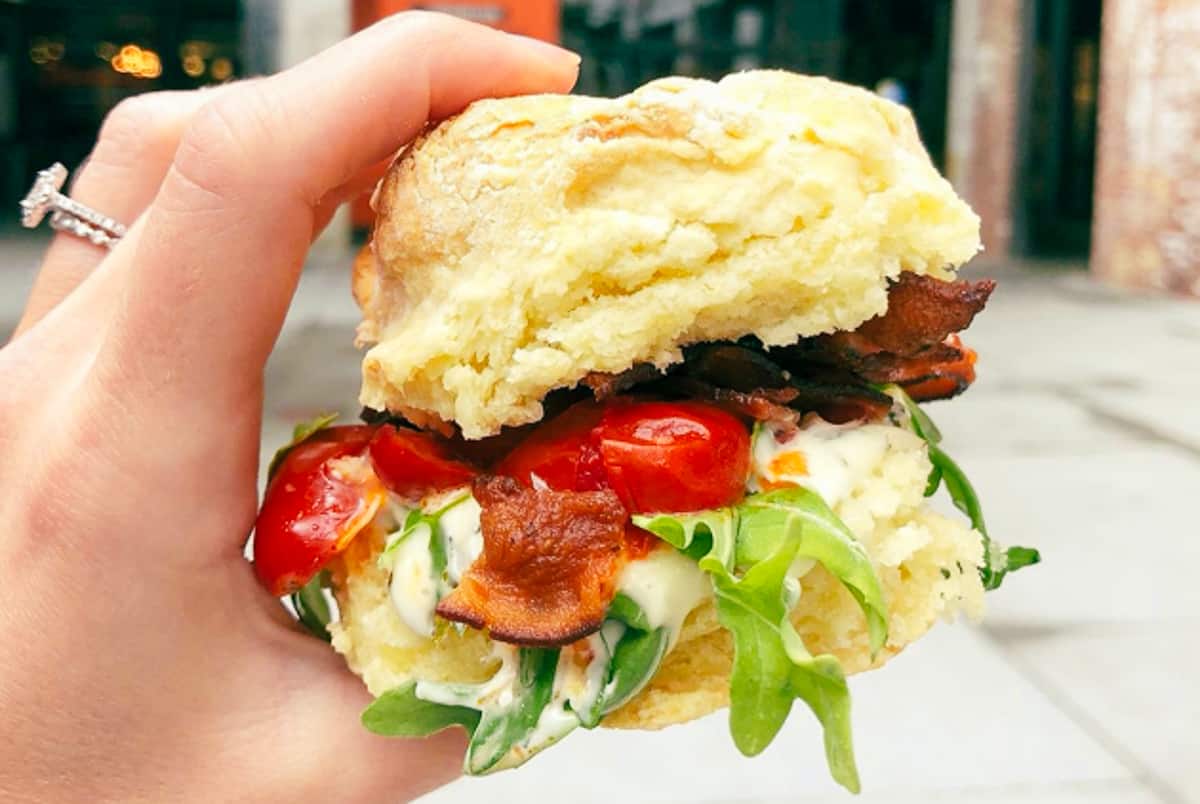 Photo Credit: Callie's Facebook
Breakfast Hours:

8AM – 1PM everyday, closed Tuesday

Reservations: No, since there isn't really seating. Be prepared to wait in line and eat on the go.
Must try dish: Pimento Cheese Biscuit
Callie's Hot Little Biscuits makes the list for best breakfast in Charleston despite the fact that there are only 6 chairs for seating. A family-owned establishment, Callie's makes handmade biscuits daily to deliver the most amazing breakfast sandwiches.
There are 6 sandwich options (1 is a build-your-own) as well as gluten-free biscuits so all members can enjoy a sandwich! Did you even really go to the South if you didn't eat a southern biscuit (and have picture proof of it)?
Since they don't serve alcohol, we stopped here as a base layer for our self-guided alcohol tour in Charleston. However, the coffee is amazing and a great pick-me-up addition to your sandwich!
5. Page's Okra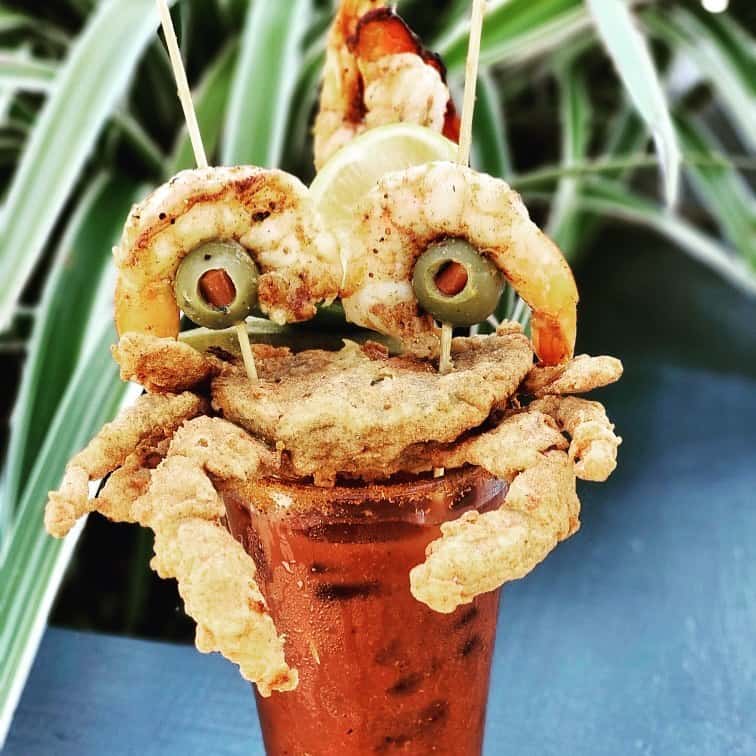 Photo Credit: Page's Okra Facebook
Breakfast Hours:

Served daily during the week until 10:30 AM and brunch on the weekend until 3 PM

Reservations: yes, recommended
Must try dish: Cinnamon Bun Waffle Breakfast
With over 6,000 Google reviews at the time of writing, you know this place has to be good. Known for their generous portions, Page's Okra is a solid stop for breakfast in Charleston, especially when you are hungry.
In addition to their scrumptious food selection, Page's Okra has the #1 voted Bloody Mary in Charleston. Their bar menu focuses on local spirits and craft breweries which makes this a one-stop-shop for all your local food and booze needs!
6. Daps Breakfast & Imbibe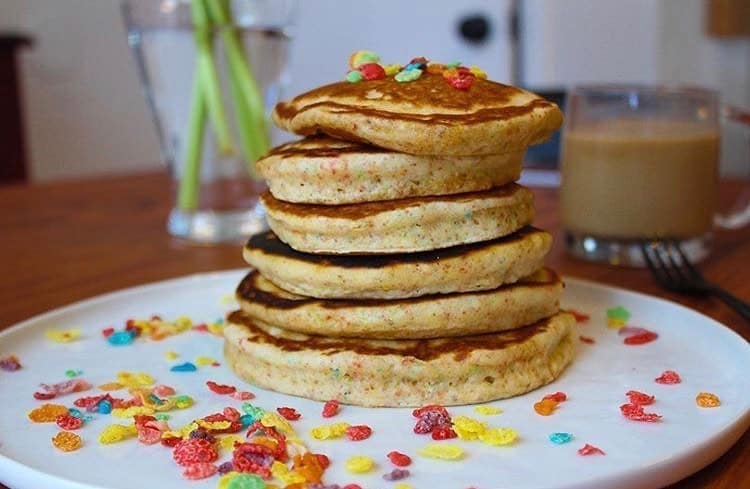 Photo Credit: Daps Breakfast & Imbibe Facebook
Breakfast Hours: 8 AM – 3PM
Reservations: Nope
Must try dish: Fruity Pebble Pancakes
As their name suggests, Daps Breakfast & Imbibe places equal priority on breakfast and booze. Their mission is to be all-inclusive and you will find the breakfast menu does just that.
With cocktail names like "Pimped out Gucci Suit" and "Catch You on the Flippity Flip", you are sure to have a great meal in this fun, casual atmosphere.
>>> Looking for more local booze? Check out our Guide to the Breweries in Charleston SC <<<
7. Eli's Table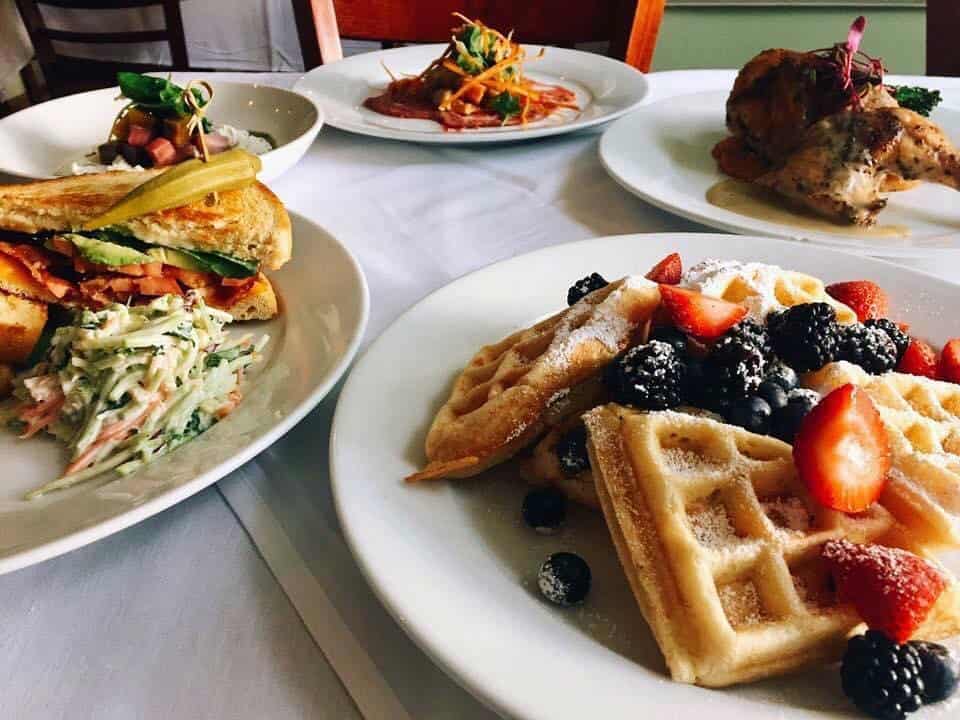 Photo Credit: Eli's Table Facebook
Breakfast Hours: Daily from 9AM – 5PM
Reservations: Yes, recommended
Must try dish: Beignets OR Fried Green Tomato Napoleon
Eli's Table has combined southern cuisine with sophisticated worldly flavors in an approachable and classy atmosphere. With locally-sourced ingredients, Eli's Table takes you on a food mecca of flavors with every bite.
Don't forget to try one of their unique cocktails such as the European Tour, a martini style drink with St. Germain elderflower liqueur topped with Italian Brut.
8. 132 Spring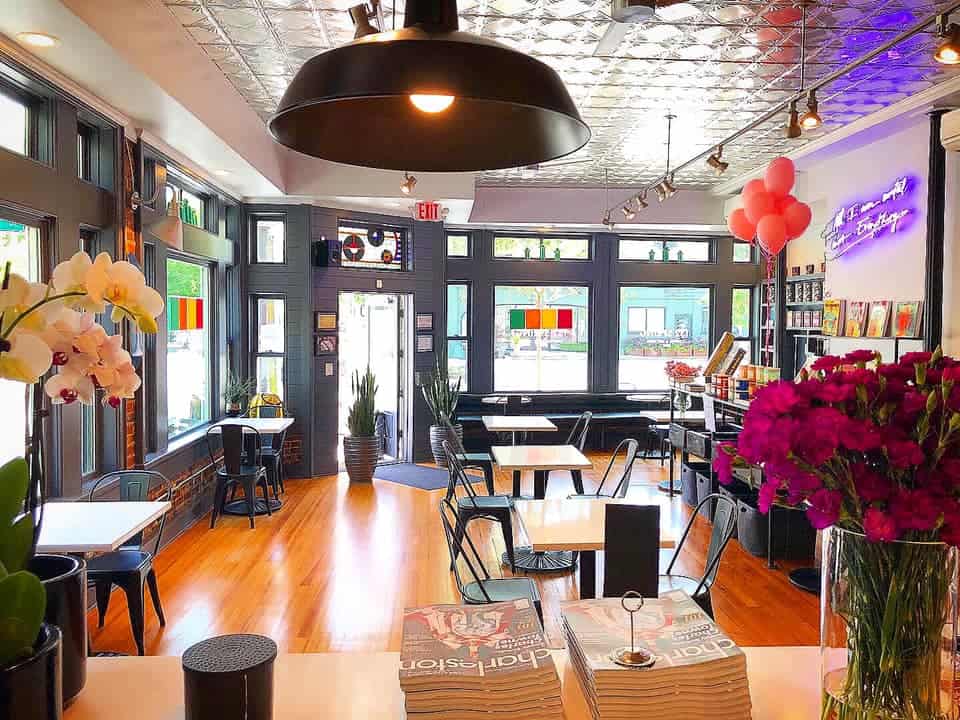 Photo Credit: 132 Spring Facebook
Breakfast Hours: Monday-Friday 8 AM – 3 PM, Saturday 8:30 AM – 3 PM, Sunday 9 AM – 3 PM
Reservations: Nope, it's a cafe
Must try dish: Tacos if they are available!
132 Spring is a cozy cafe offering a great cup of coffee and delicious homemade sandwiches and bowls. Despite its quaint size, their food packs a big punch with excellent presentation and an ever-changing menu.
They are known for their Kusmi Tea and assortment of candies. So while you are browsing the books, be sure to pick up something for later.
9. Big Bad Breakfast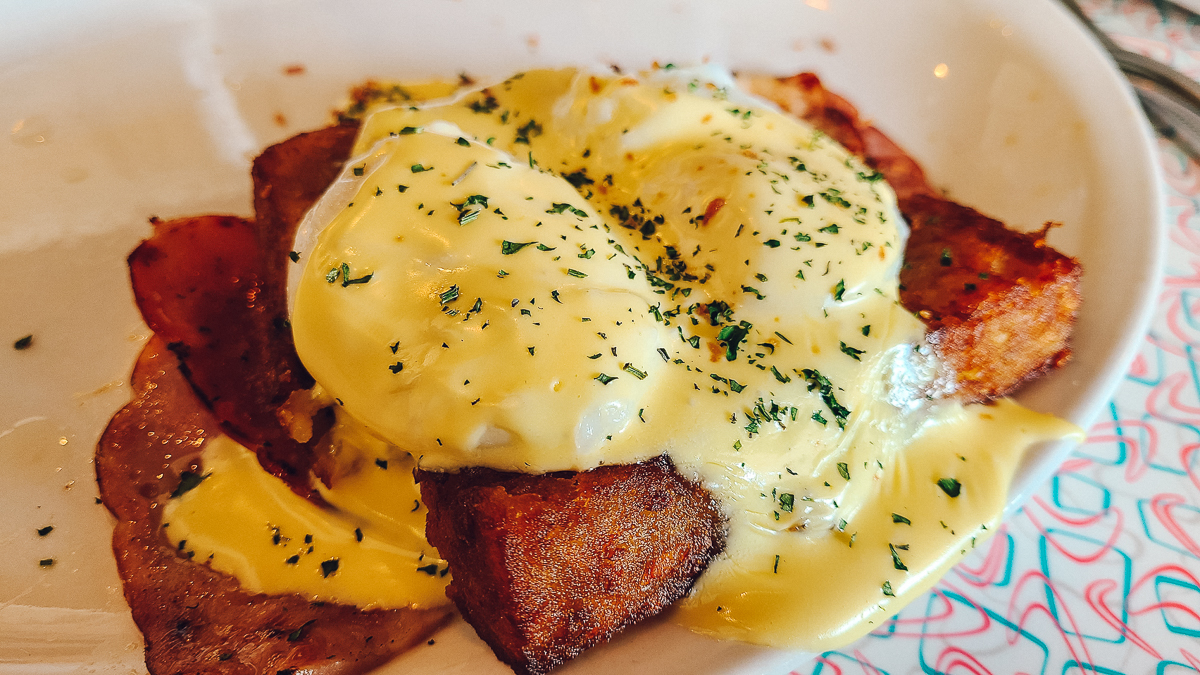 We've had the pleasure of going to Big Bad Breakfast twice while venturing out for brunch. Known for their Southern style options, there is no shortage of the classics available here…and in massive portions.
Arguably one of the best pancakes in town, Big Bad Breakfast has such an extensive menu that even the pickiest of eaters could find something to eat. It's also one of the larger restaurants with loads of seating, so while there is typically a wait, you can sit some larger parties.
No reservations are excepted and breakfast is served daily from 7AM-2:30PM. You can join the waitlist online and enjoy a cocktail or coffee while you wait.
10. Bonus: Jackrabbit Filly
Jackrabbit Filly specializes in Chinese cuisine with a twist and is one of the top things to do in North Charleston, SC for food. They have limited hours and a small seating area so either go early or be prepared to wait.
While they are known for their incredible lunches/dinners, on Sundays, they're unique brunch menu will leave your taste buds wanting more. Their Dim Sum Sunday Brunch menu includes choices such as krab rangoon (with hot honey, everything bagel seasoning, and cornbread) or the buttermilk scallion biscuit (5-spice pork rillette, tiger salad, hoisin).
It's important to note that Jackrabbit Filly is so popular that the majority of seating is reservation only. You might get lucky walking in, but prepare in advance if you want to get your Dim Sum breakfast on. They are only open for brunch on Sundays from 11AM-2PM.
You can't go wrong with options for breakfast in Charleston as there are so many restaurants to pick from.
We are fortunate to have family living here to give us the best options from the locals. Charleston is a fun city and there is so much to do and eat.
When you visit this charming southern city, let us know your favorite breakfast spots so we can try them out when we go back!
Ready to keep exploring Charleston, keep reading: