The Best Breweries In Sedona, AZ (+Beer Bars)
The best breweries in Sedona are super easy to visit in one day because there are only 2 actual breweries. Yep, you read that right, two.
While there are numerous places to get a pint in Sedona, you'll be hard-pressed to find more than two breweries. Don't let all those other articles fool you about the top 6 breweries.
If you're in Sedona, you are probably there to enjoy the scenery and do some short hikes in Sedona. And rightfully so…it's insanely gorgeous. We personally love to do a hike and then head over to a brewery or bar for a reward drink and Sedona has no shortage of places for that.
The past few years we've wintered in Arizona and have spent a lot of time in Sedona and in the state drinking our way through each city we visit. If you're visiting on vacation, be sure to check out the beer bar section below so you can try even more local beers in the area.
Short on Time? Here are the key takeaways:
There are only 2 breweries in Sedona despite what the internet is telling you
Between the two "Best breweries in Sedona", Sedona Brewing was our favorite
We've listed a couple of great beer bars where you'll be able to try more local beer
Psst: Looking for more Arizona info? Browse all our AZ guides here!
Map of the breweries and beer bars in Sedona
Click the interactive map below!
HOW TO USE THIS MAP: To view the layers and see the names of the places on this map, click the tab in the top left corner. You can select the check marks to show or hide certain layers. If you select the icons on the map, you will get more information about the point of interest.
HOW TO SAVE THIS MAP: If you select the star icon next to the map name, you can save this map to your Google Maps account. To view it, open Google Maps in desktop or on your phone, select the menu button, go to "Your Places," scroll to the right to Maps, and you will see this map.
Best Breweries in Sedona
The best breweries in Sedona is a pretty short list considering there are only 2 actual breweries. While you'll see Squid Ink listed on numerous other articles, this is a members-only establishment, and sorry Charlie, you ain't part of that club. If you don't believe us, here is Squid Ink's Facebook page for more info.
The breweries in Sedona that you can actually visit and drink at are listed below.
1. Sedona Beer Company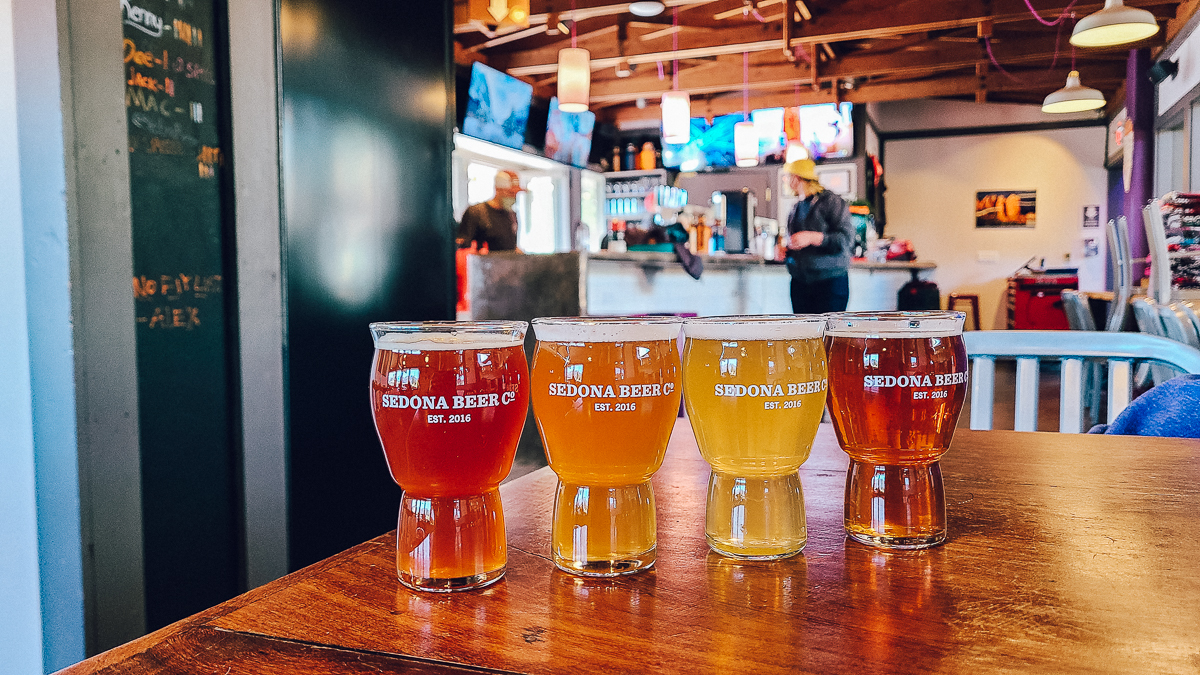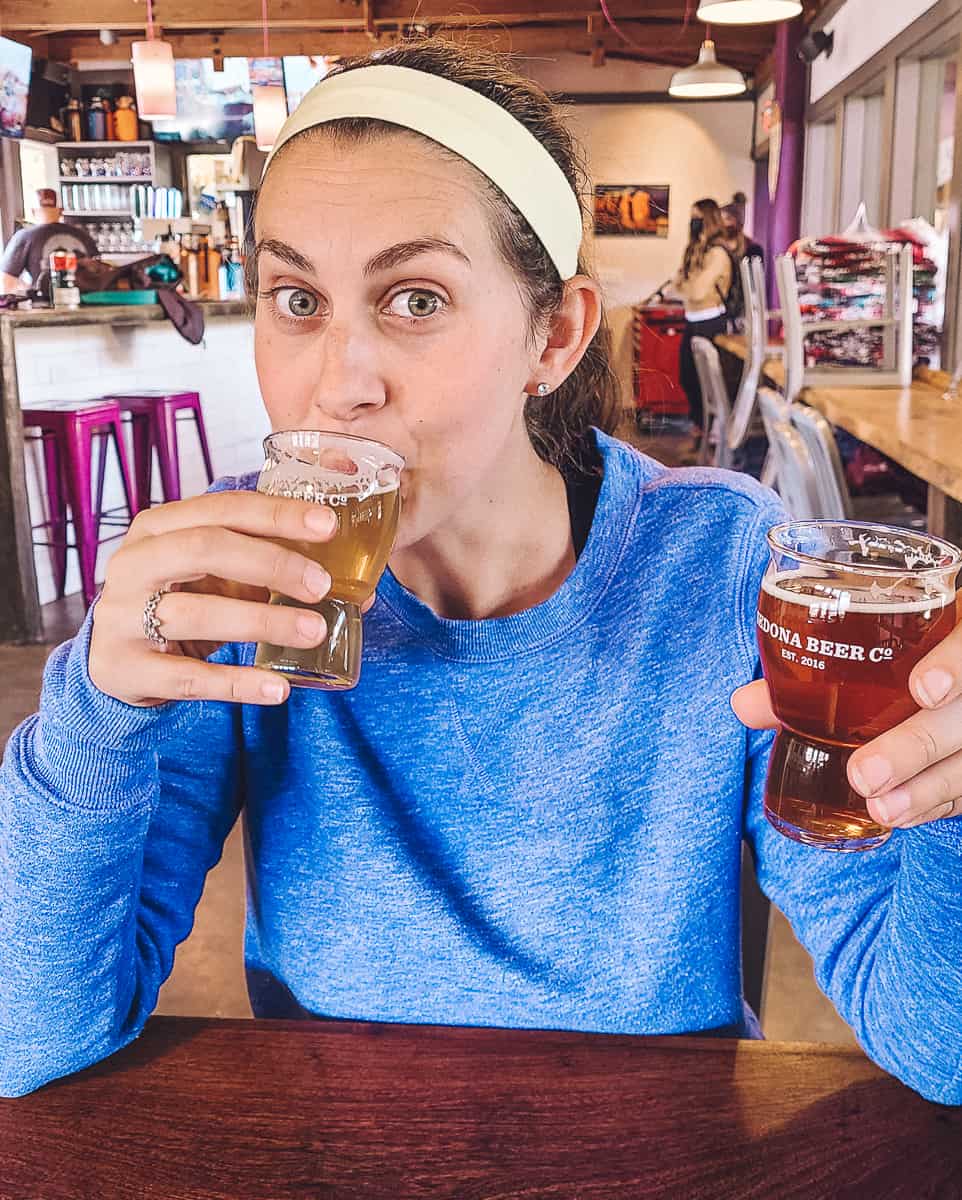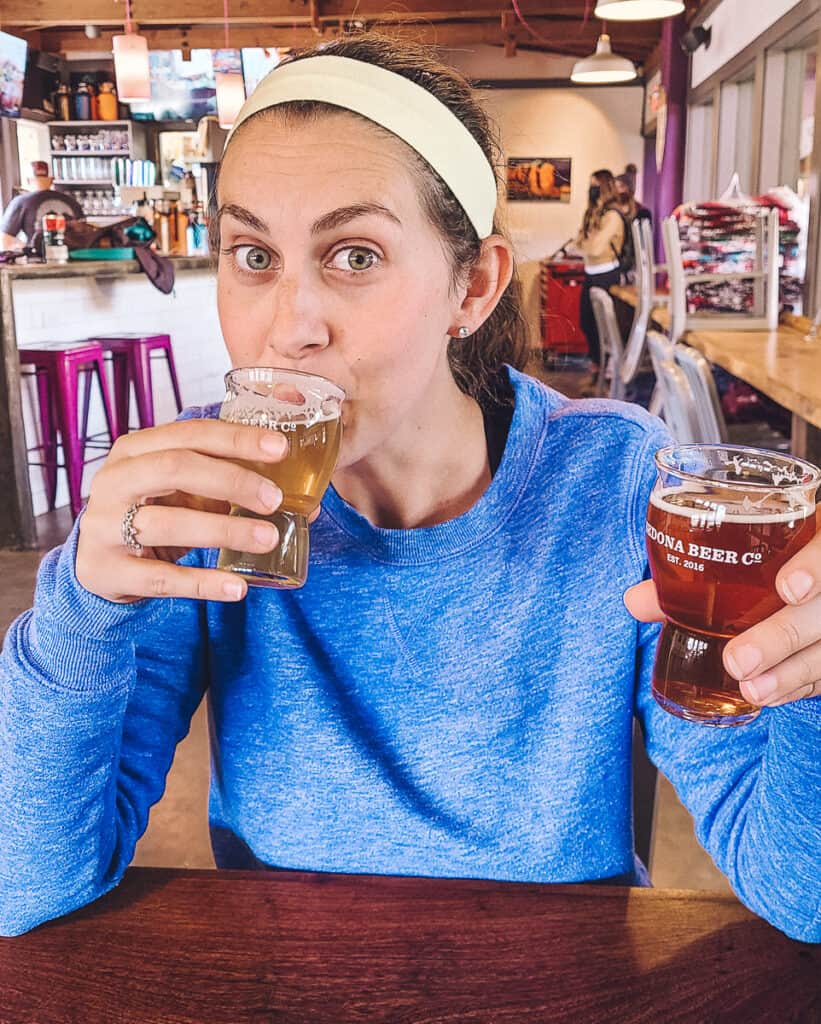 One of the two breweries in this beautiful town, Sedona Beer Company is making "Beer for Here". And that means more than just a fun place to hang out and drink craft beer. It's about making beer that connects you with where you are.
What better way to do that than by using malt that is all grown and processed in the same Verde Valley region?!
Sedona Beer Co. is also a certified sustainable business and uses "squarrels" (square barrels) to barrel-age their beers which uses less wood and water than a standard barrel without compromising the integrity of the beer.
The tasting room and brewery are located just behind all of the busyness of downtown Sedona and offers a full food menu (including beer cheese and bacon fries…just sayin') to go along with their diverse draft lineup.
Some of their beers include the Kölschture Shock (incredibly drinkable), Pink Drink (wheat beer with prickly pear, pomegranate, raspberry, and honey), and the Honey Golden Barrel-Aged Sour which was funky and delicious.
2. Oak Creek Brewing Co.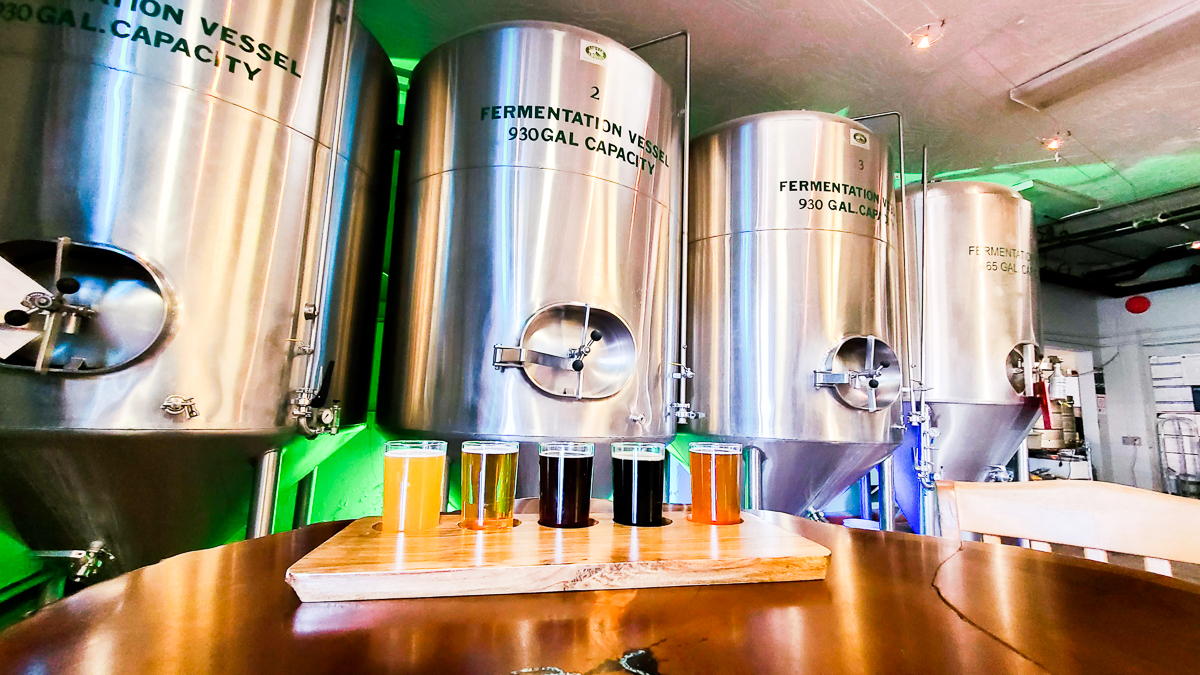 While the overall environment may feel a bit like you're drinking in the basement of your friend-turned-homebrewer, Oak Creek Brewing Co. is Sedona's first craft brewery and has been whetting thirsty travelers' whistles for over 20 years.
The original location is right off the main drag through Sedona, 89A, but a couple of miles away from the craziness of downtown.
The tasting room shares a space with the large fermentation tanks for that authentic "brewery" experience. An outdoor beer garden/patio is also perfect for the numerous live music events they have throughout the year.
Oak Creek's draft menu is fairly standard, but all beers are true-to-style and very good.
The Hefeweizen has all of those notes of banana and cloves and won a Gold medal at the Great American Beer Festival back in the day.
The Nut Brown ale is incredibly flavorful and one of the house favorites, while the King Crimson is an imperial red ale that is very malty and delicious.
If you're closer to downtown Sedona, they also have a sister brewery, under the same name. The second location has a great food menu and those red rock views for which Sedona is known.
Beer Bars in Sedona
Now that you've drank your way through the best breweries in Sedona (hehe), let's move on to some great beer bars that offer other local beer options.
1. Vino di Sedona
Vino di Sedona is a wine and craft beer bar located about five minutes away from the craziness of downtown.
With over 19 craft beers on tap, this is a solid option if you want to taste some more Arizona craft beer. If beers on tap won't satisfy your needs, they also have dozens of cans and bottles for you to browse in search of your perfect sudsy treat.
They have a massive courtyard/patio area out back and have food available if you get hungry. We both enjoyed the Caprese skewers for our snack.
If you are traveling with someone who doesn't like beer (and don't want to ditch them), Vino Di Sedona also has over 900 wines in their bottle shop and a fairly extensive wine list in addition to mead, cider, and cocktails.
We ended up finding a bottle that we couldn't live without and took it home with us.
2. Mooney's Irish Pub
Don't let this name fool you, Mooney's Irish Pub will surprise you with some great craft beer options. While their website lists nothing about it, they actually have 16 taps with local beer options for you to try.
To put it nicely, this place isn't super polished. If you are looking for a spot where there aren't signs on the wall that reads "Sluts Welcome" or "Titty Milk Dr", then you should skip this stop. It's not what we would call a dive, but it's pretty close.
For what it's worth, in 2022, they were voted the Best Bar/Lounge in the Sedona area by Market Surveys of America.
They do have live music and if you are getting hungry a full menu as well. They are known for their burgers and we highly suggest trying the lamb burger if they have it.
While there aren't many downtown Sedona breweries, they are still fun to visit after a day of taking in the gorgeous red rocks.
There are a number of breweries (and wineries) in the surrounding area if you are looking for more local beer options.
Ready to keep drinking in Arizona? Check out all our AZ guide here.