Top 5 most popular short hikes in Sedona Arizona
There are dozens of Sedona Hiking Trails to explore all varying in length, but there are 5 specific short hikes in Sedona that you absolutely don't want to miss!
To be clear, we consider these short since they are under 5 miles.
From jaw-dropping views and breathtaking panoramas, these 5 hikes are sure to please!
One thing to keep in mind as you head out to park at these different trailheads: most of the Sedona hiking trails require you to have the Red Rocks Pass, specifically any time you are on National Forest land.
There are several options, which you can read more about the passes here, but there is a day pass ($5), a weekly pass ($15), an annual pass ($20), or an annual National Park pass ($80) will also work.
Be sure to leave your pass on the dashboard of your/visible through the windshield to avoid any citations.
If you're merely stopping to take a picture or just enjoy a beautiful lookout, you don't need a pass, so long as your enjoyment lasts only about 15 minutes.
Psst: Looking for more on Arizona? We have a bunch of guides! Browse all our guides here.
This post was originally published in January 2021, and was updated in June 2023.
**Boozing Abroad contains affiliate links throughout the site. If you choose to purchase items through these links, we will earn a small commission at NO extra cost to you. Read the full disclosure policy here**
Sedona Hiking Tips / Gear Suggestions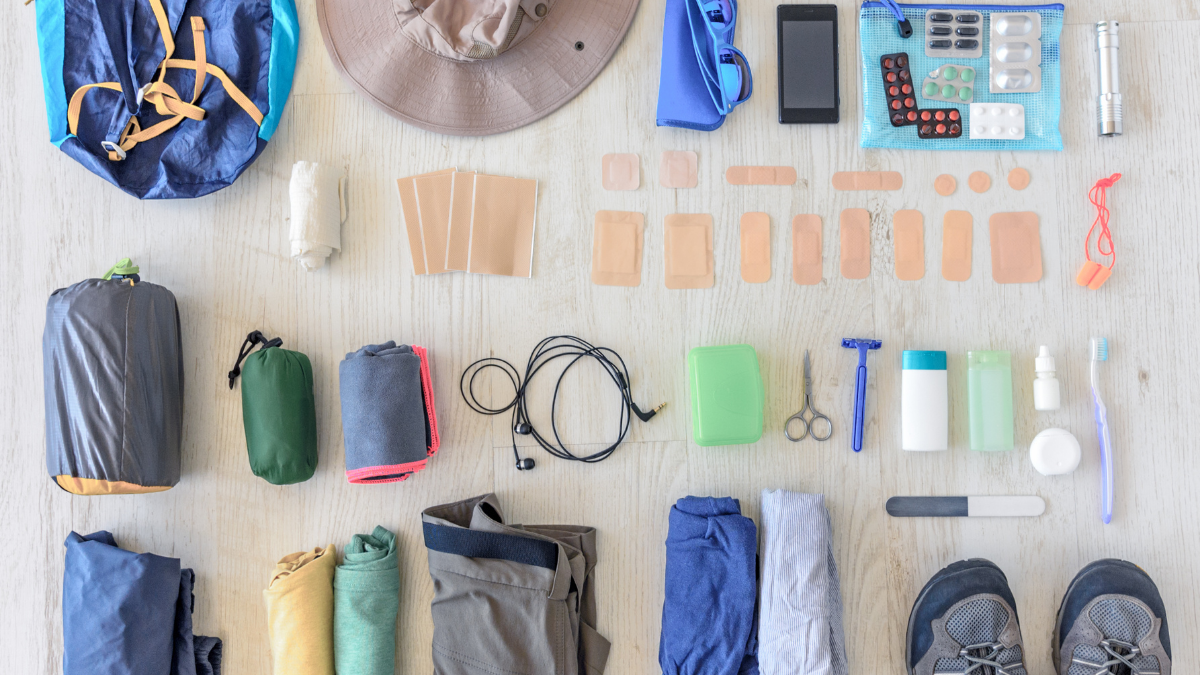 Practice "Leave No Trace"
If you're unfamiliar with "Leave No Trace", it means to keep the land as you found it. Don't leave trash. Stay on the marked trails. Don't feed/pet wildlife.
Sunscreen, layers, and hats
The sun and weather can be intense on hikes and shade isn't always available. Always carry sunscreen with you. You'll never catch us without it.
Water, water, water
Don't underestimate how quickly the body can dehydrate on a hike. We typically hike with our hydration bladders and suggest a minimum of 1 gallon per person, per day, depending on the length/difficulty of your hike(s).
Map – trailheads for short hikes in Sedona
Click the interactive map below!
HOW TO USE THIS MAP: To view the layers and see the names of the places on this map, click the tab in the top left corner. You can select the check marks to show or hide certain layers. If you select the icons on the map, you will get more information about the point of interest.
HOW TO SAVE THIS MAP: If you select the star icon next to the map name, you can save this map to your Google Maps account. To view it, open Google Maps in desktop or on your phone, select the menu button, go to "Your Places," scroll to the right to Maps, and you will see this map.
1. Soldier Pass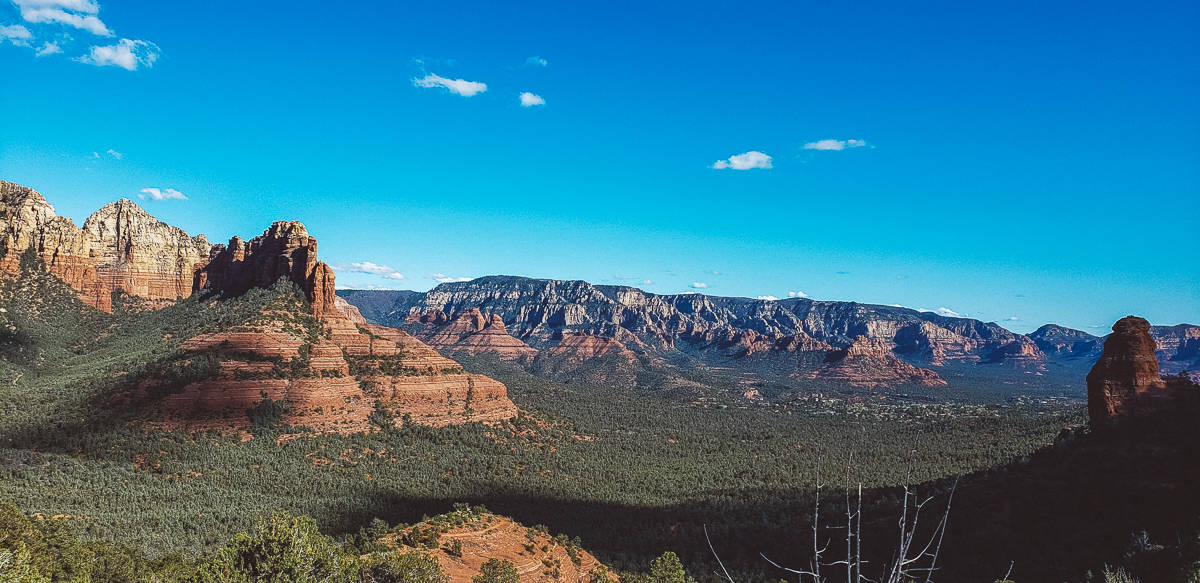 Distance: 4.1 miles, out-and-back
Elevation Gain: 620 feet (more if you climb to explore the cave)
Why it's awesome: there are several things to see including the Seven Sacred Pools, Soldier Pass Arch, and a secret cave
We did this hike when we came to Sedona the first time and it was a great snapshot of everything that Sedona has to offer: red rocks (of course), sinkholes, arches, caves, and fantastic vistas.
First things first, the Soldier Pass trail is probably one of the hardest Sedona hiking trails…to find parking. Seriously, the parking lot maybe has room for 15 cars and is only open from 8AM to 6PM.
Keep this in mind if you want to do a sunrise or sunset hike as the gate gets locked.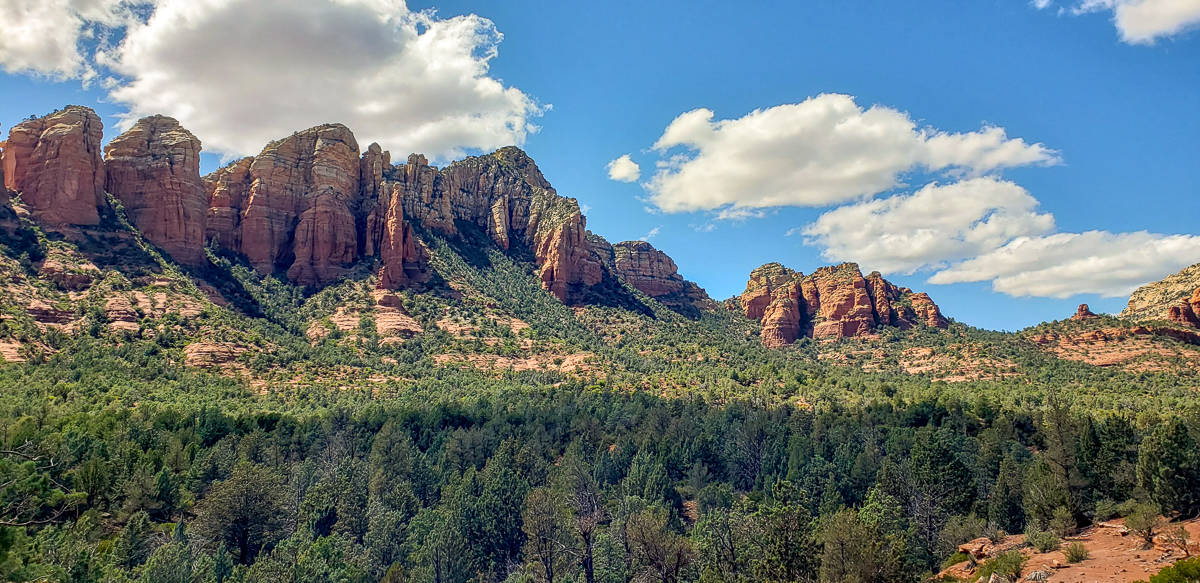 Get here early to start your hike or else you'll be waiting for someone to leave.
There is some street parking in the residential neighborhood surrounding the trailhead (which will add a little bit of extra distance to your hike), but be sure to read the posted signs very carefully or your car might be ticketed or towed while you're on your hike!
You can also start your hike at the Jordan Road Trailhead (no time constraints to this parking lot). This will add about an extra mile on the Cibola Pass Trail to reach the Soldier Pass trailhead.
Of the Sedona hiking trails, Soldier Pass probably has the most to offer in terms of scenery and features to discover. You don't have to hike far to start to see some views!
After about a quarter of a mile, you will arrive at Devil's Kitchen. This massive sinkhole most recently collapsed in 1995, with a major collapse in 1989 which increased the size of the hole by 40%!
About a half-mile after the sinkhole is where you will find the next highlight of the trail – The Seven Sacred Pools.
These are small watering holes (not of the alcohol variety) on the side of the ridge which fill up after a rainy desert day.
Since "rainy desert day" is an oxymoron, you may find that these "pools" are actually completely dried up on your hike.
If you're lucky enough to be able to see them filled, consider a photo that gets all seven pools in your frame by viewing it from the parallel Jeep trail or capture the red rock formations in the reflection of one of the pools.
From here, continue on the trail for about a mile and you'll come to a fork in the road. Take the trail on the right and there is a large open mesa with a red rock wall off in the distance.
If you look hard enough, you'll see Soldier's Arch which is also the entrance to the not-so-secret cave. The climb up to this arch can get fairly steep if you approach it from the right, but there are somewhat-defined trails either way you go.
As you get closer, a second arch will come into view and you can get up close and personal with both of them.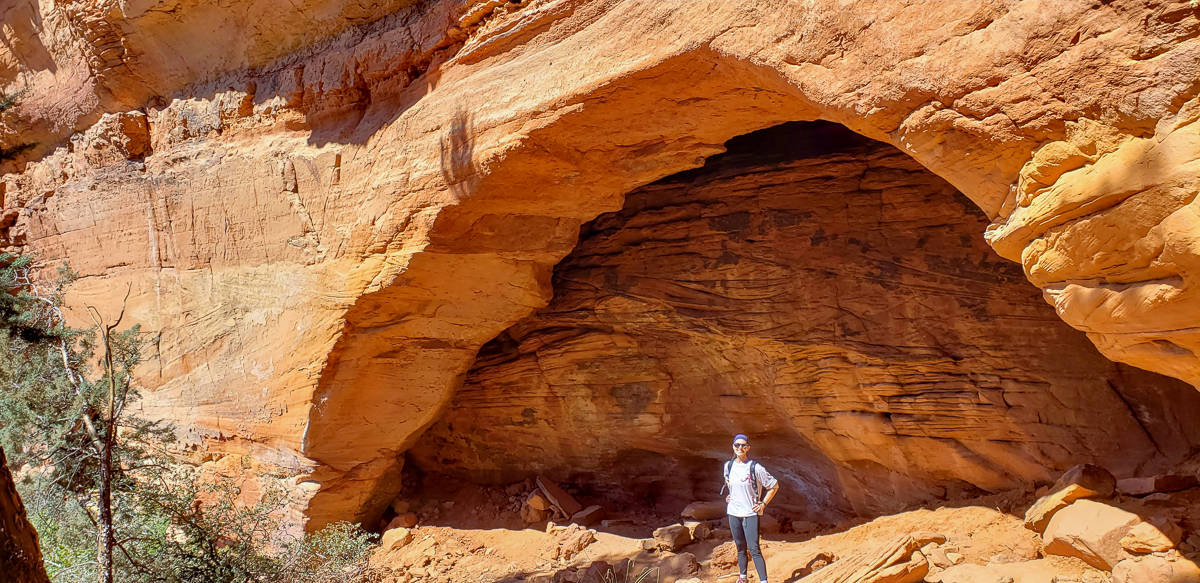 If you're up for it, you can climb up into this cave using the stacked rocks placed by previous hikers. You will probably need to use your hands to get all the way up and keep your balance.
Once inside the cave, there is a small sliver of light coming from the small opening at the top of the cave. There is also a perfect window looking out at the hike you've completed thus far.
Since it's protected from the constant desert sun, it's much cooler inside the cave than outside. Spend some time exploring inside the cave and take a break to eat some food and hydrate.
After you've carefully climbed back down from the cave and back to the main trail, you can retrace your steps back to the trailhead.
Or, if you just can't get enough and want to make this short hike in Sedona longer, Soldier Pass trail does link up with a few more attractions like the Hole in the Sky, Brins Mesa, and the Mitten.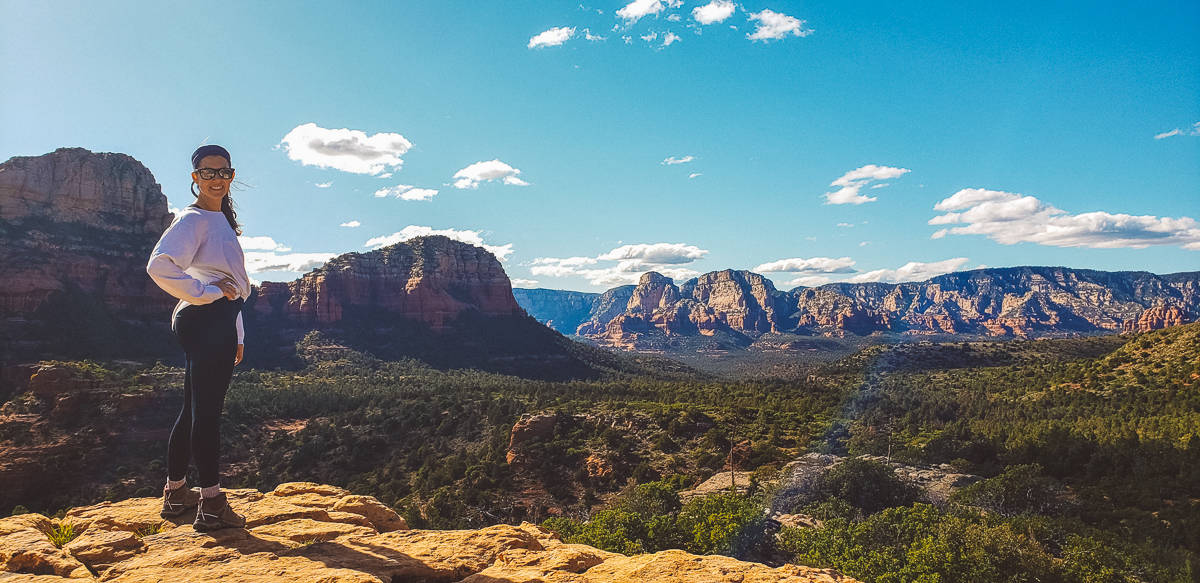 When we did this hike, we continued on from Soldier's Arch, up and around the red rocks until we linked up with Brins Mesa Trail and reached the Hole in the Sky viewpoint, which was absolutely stunning!
From here, we continued the full loop on Brins Mesa until it crossed with Jordan Trail, eventually ending up back at the Soldier Pass trailhead.
Overall, this is one of the most diverse of the short hikes in Sedona trails. You definitely won't get bored with all of the different features and attractions to view along the way.
2. Cathedral Rock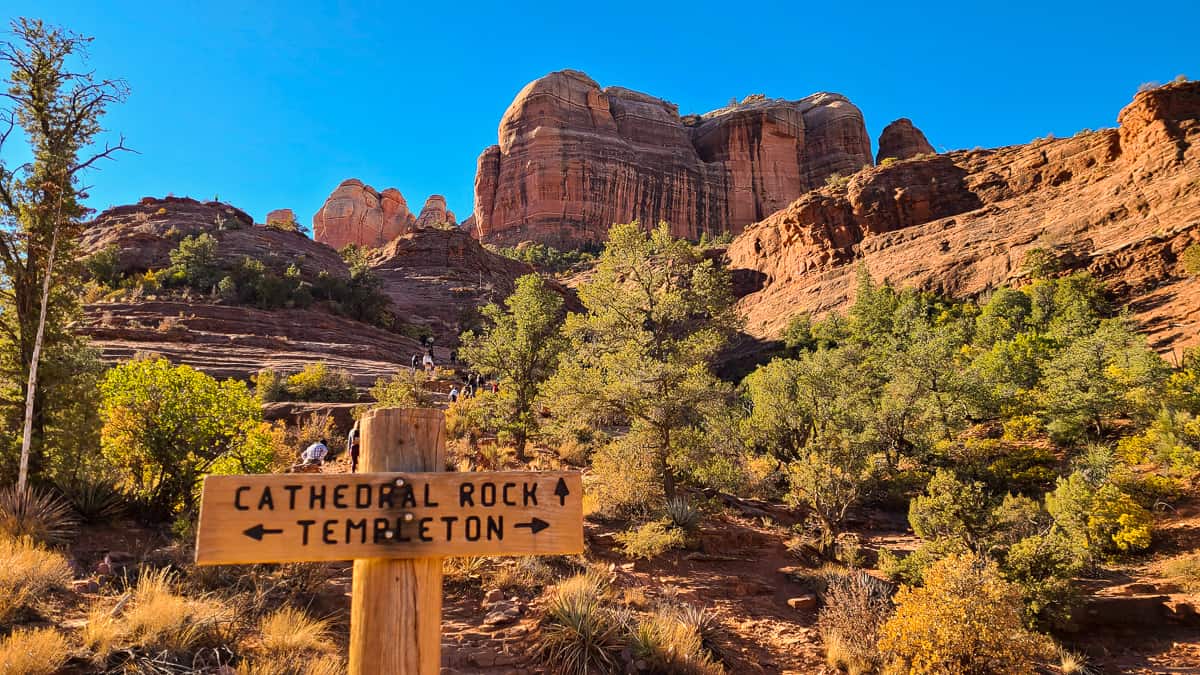 Distance: 1.3 miles, out-and-back
Elevation Gain: 770 feet
Why it's awesome: for this relatively short hike, you rock scramble up some decent elevation gain to get amazing views from the top
Cathedral Rock might be one of the shorter trails in Sedona, but it definitely makes up for it with some serious elevation gain, some fun rock scrambling, and absolutely gorgeous views at the summit.
It was easily our favorite short hikes in Sedona!
This is another one of the popular Sedona hiking trails because it's short and rewarding. You get all of those iconic red rock formations that Sedona is known for and a pretty kick-ass workout too.
The trailhead is about 10 minutes south of downtown Sedona and can be accessed a few different ways. You can link up with the trail via the Baldwin and Templeton trails or you can start from the main trailhead which has two small parking areas.
And they are small parking areas for how popular this trial is. So get there early to avoid the rush or just hope you'll get lucky and stalk an outgoing hiker to their car.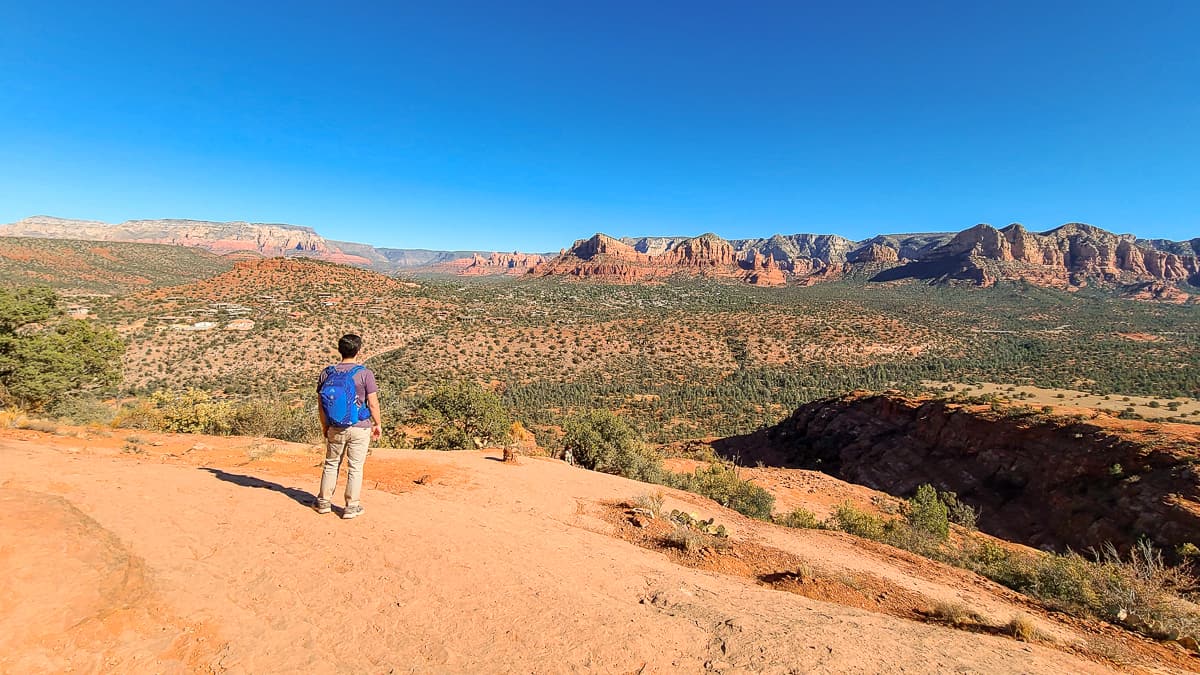 Follow the huge basket cairns to stay on the path just look up and follow the other hikers. You can't really get too lost if you keep heading up the mountain.
You'll be walking on a lot of slickrock on the way up, but there are some parts where you will be rock scrambling and will need your hands for balance and leverage.
Good hiking shoes are highly recommended!
Throughout the trail, and as you stop to catch your breath, don't forget to turn around and look back out over the valley. It's just beautiful. And it is only going to get more beautiful the higher you go.
The outbound hike is only about 0.7 miles but you'll also gain almost 800 feet in elevation in that short time. It's a doozy, but totally worth it.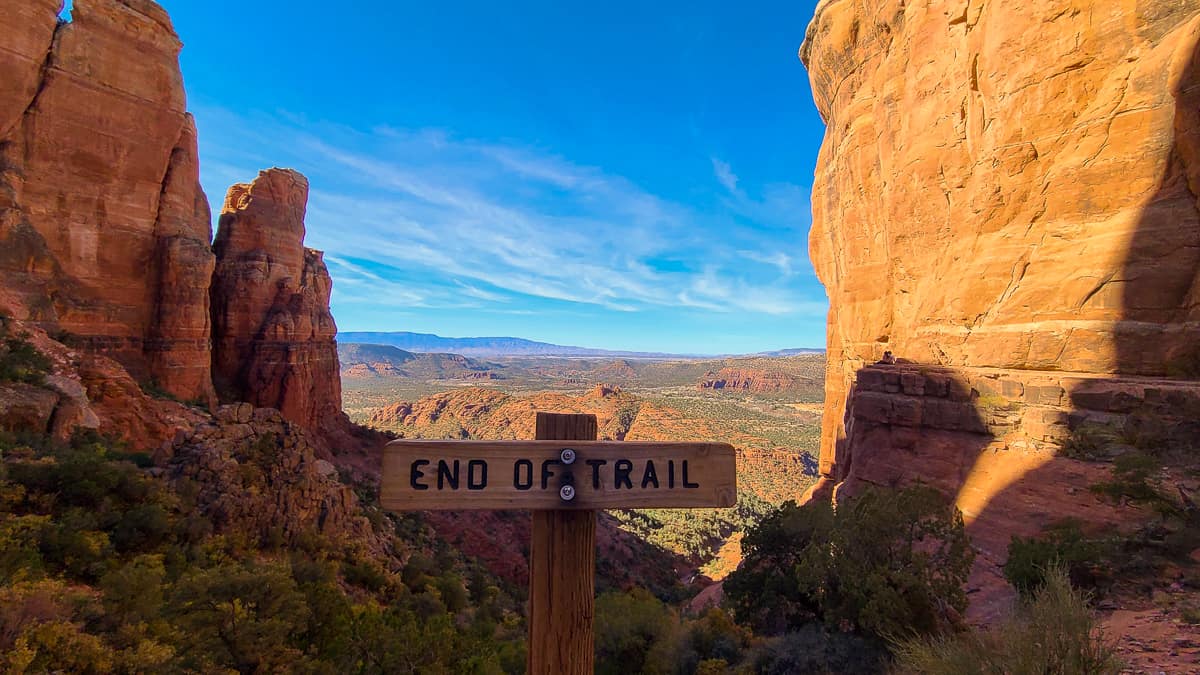 Once you reach the top, you'll thankfully see an "End of Trail" sign (why more hikes don't have this is beyond us) and this is what you endured the pain for.
Absolutely stunning views over the cliff and down into the other side of the valley.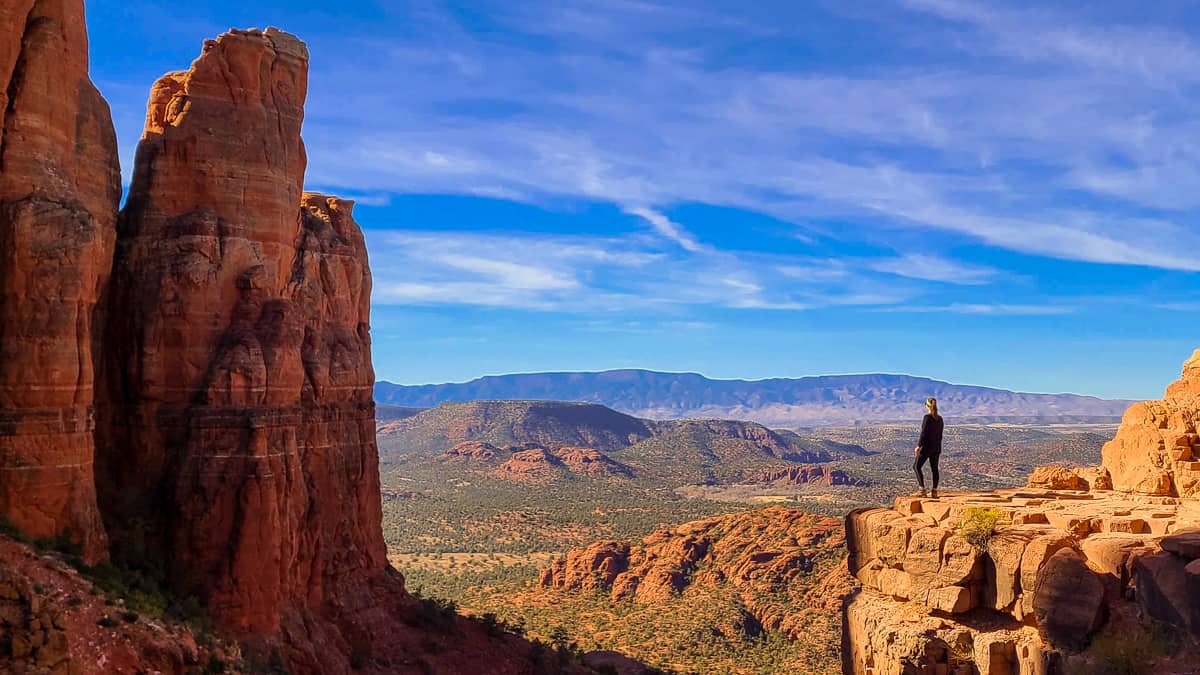 There is a small path that juts out on the right side when looking out which is perfect for pictures to capture the true beauty from this vantage point.
This is absolutely, positively, one of the must-do short hikes in Sedona.
3. Devil's Bridge Trail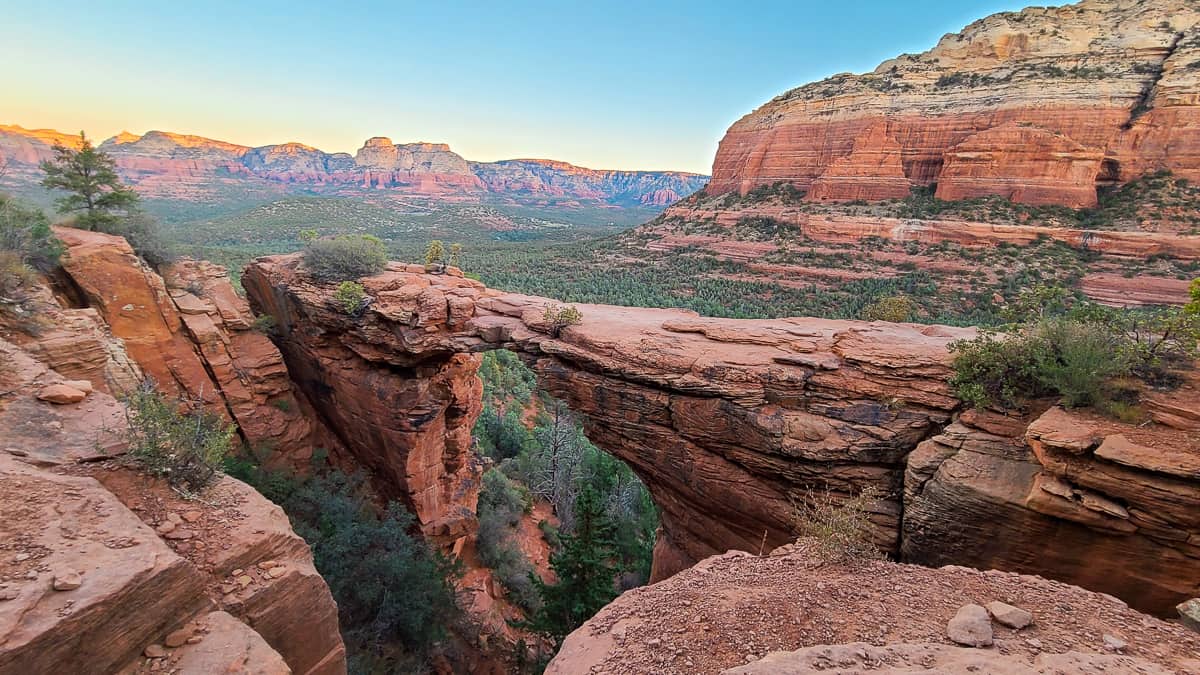 Distance: 4.2 miles, out-and-back
Elevation Gain: 560 feet
Why it's awesome: Devil's Bridge is the largest natural sandstone arch in Sedona and you can walk on it for that IG-worthy picture
Considered one of the most popular Sedona hiking trails, Devil's Bridge is a relatively easy 4.2-mile out-and-back trail.
And because the red rock Sedona landscape isn't pretty enough, Devil's Bridge is the largest natural sandstone arch in Sedona and you can even walk out on it for your IG-worthy picture!
Since it's the most popular of the Sedona hiking trails, that means this hike can get packed during the day, and recently, there have been lines as long as an hour wait to take a solitary photo on this iconic bridge.
To avoid this zoo, we got a very early start to our morning and started hiking in the dark to be at the bridge for sunrise. Suffice it to say we were thrilled we did!
Only a handful of people were in the area of the bridge when we arrived and we were able to get our picture taken in under 5 minutes!
After that, we sat and enjoyed the sunrise and watched as it showered the red rock formations with incredible glows.
There are a few options for completing this hike, depending on what type of car you have (4×4 high-clearance) and depending on where you park.
If you don't have a 4×4 vehicle, you're going to access the trail from either the unpaved portion of Dry Creek Road (most popular), the Chuckwagon Trail, or the Mescal (to Chuckwagon) Trail.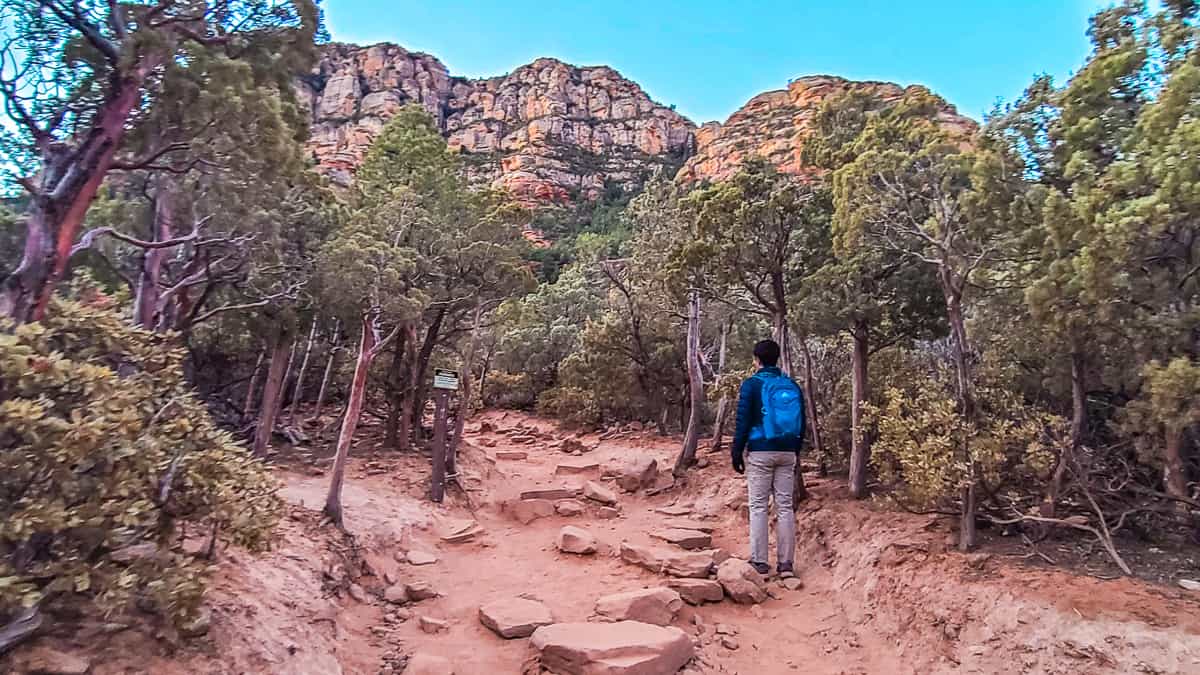 From the parking area at Dry Creek Road, you'll follow the relatively smooth (sometimes rocky) jeep trail for about a mile through the wash until you come upon a small dirt parking lot on your right.
This is where the Devil's Bridge Trailhead officially begins.
If you do have a 4×4 vehicle, you can actually drive on the trail (watch out for hikers) until you reach this parking lot. Driving this portion will shave off about 2 miles from your hike round-trip. This is an easy way to access this short hike in Sedona trailhead.
From the beginning of the official trailhead to the bridge is just about a mile each way, but it's where all of the elevation gain happens.
You'll continue up a steep rock staircase and get to a lookout with incredible views, but you're not there yet.
Almost!
Keep going up one more level of rock stairs and you'll reach Devil's Bridge.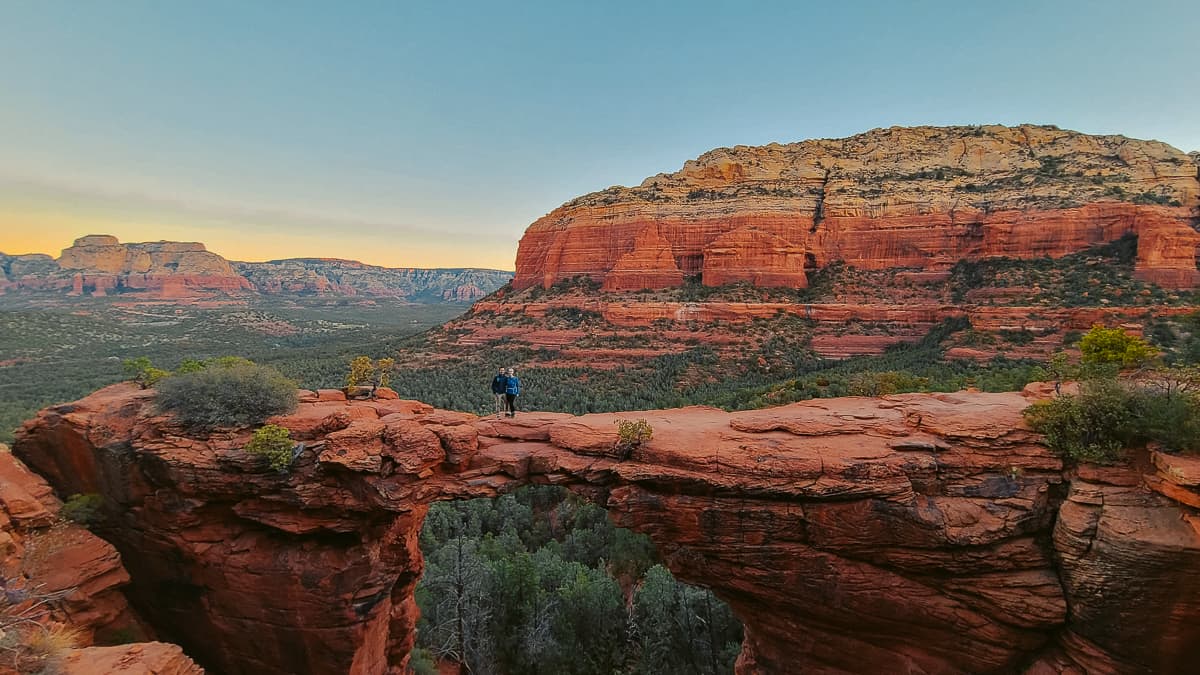 Just be careful when you are up on the bridge as it's a pretty LONG way down!
PRO TIP: Get here early to avoid the long wait for a picture and also to avoid the dust kicked up when the Jeeps and other vehicles drive down the first part of the trail.
4. Birthing Cave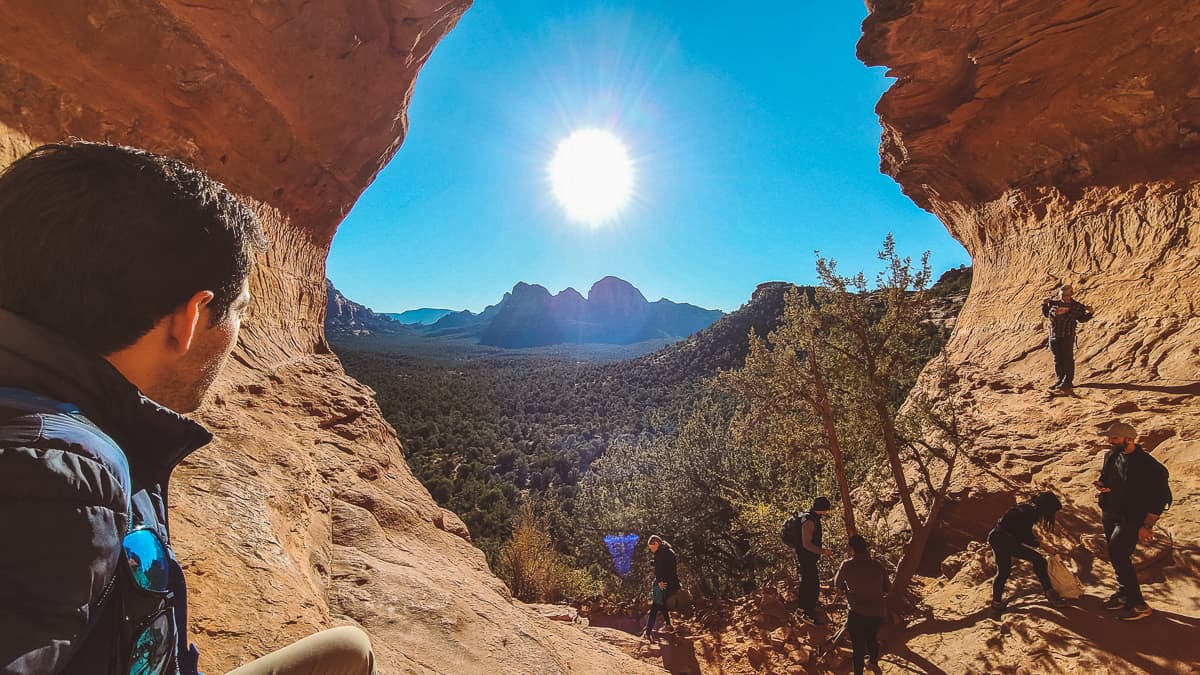 Distance: 2 miles, out-and-back
Elevation Gain: 290 feet
Why it's awesome: this short, flat hike ends in a unique cave with a fantastic view
The Birthing Cave is not one of the super-popular short hikes in Sedona, but it is still a beautiful hike with awesome views at the end.
This trail doesn't actually have its own separate trailhead, rather it starts at the Long Canyon trailhead.
*Word to the wise: don't expect Google Maps directions to Birthing Cave will get you to the trailhead.
Those directions will take you through the entrance to the Seven Canyons Golf Club and the very nice gate attendant will turn you around and send you back about a half-mile.
The Long Canyon trailhead does not have a true parking lot, just a small dirt area off the side of the road.
It doesn't hold many cars so if it's full, you may have to find another spot along the street.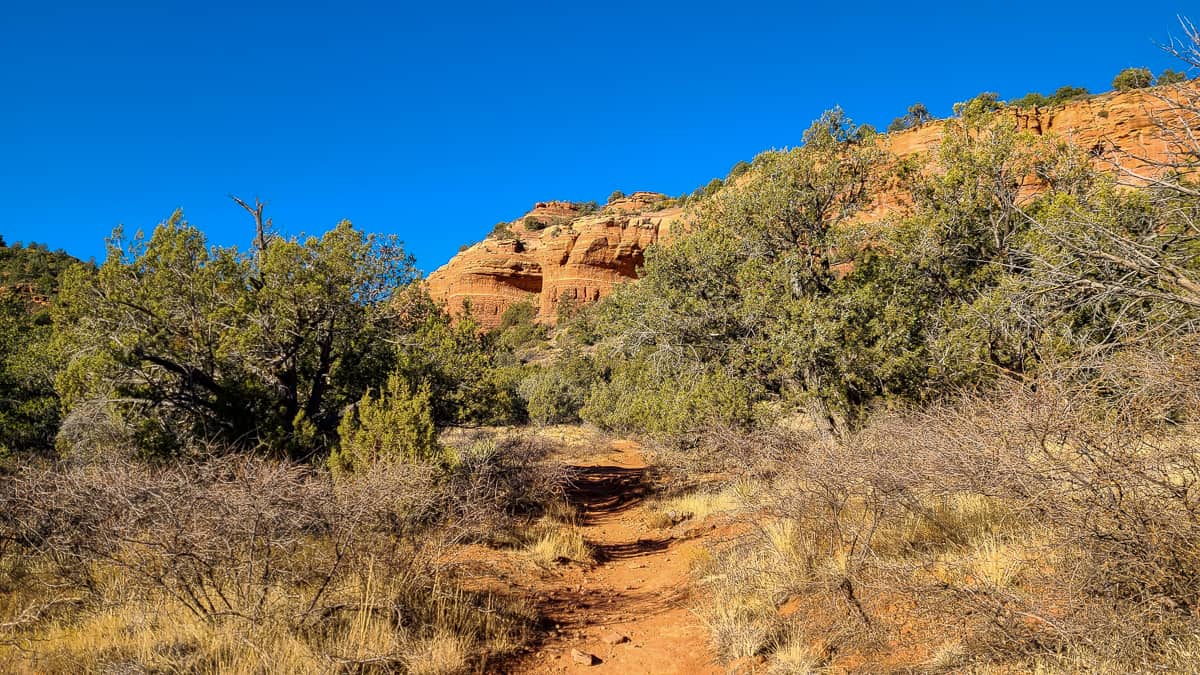 Most of the trail is pretty flat and wide, making it rather easy and a great short trail in Sedona.
This also makes it a great biking trail, so be on the lookout for bikes zooming around blind corners! The trail is decently marked and well-traveled, but just know to stay left on the outbound hike to get to the end goal.
You won't have any cell service once you leave the trailhead, so save the trail map beforehand.
After about a half-mile of hiking, you'll pass a golf course on your right. A few minutes later, you'll come to another fork in the path.
The path on the left (which we told you to go down) will be blocked by a large log. Just step over it and continue on to the Birthing Cave.
Another half-mile (probably less) and you'll reach the rocky trail that climbs up to the Birthing Cave. It's a short ascent, but it is certainly steep and good hiking shoes are recommended.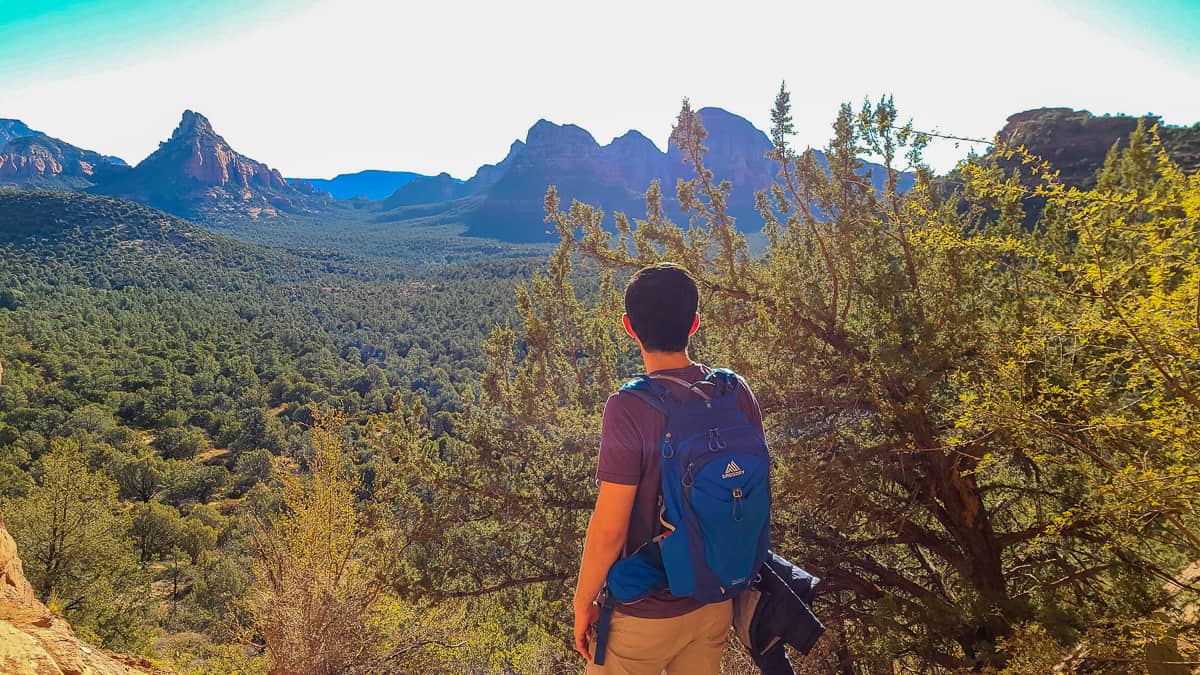 It's a really neat cave which gives you great views out across the trail you just walked.
If you're really nimble, there is a second depression about halfway up in the cave which kind of resembles a belly button.
You can climb up and sit in this "seat" if you have good footing and aren't scared of slanted slickrock!
So, you've probably been wondering this whole time why it is called the Birthing Cave.
It turns out that the Hopi Indian tribe would send their pregnant women to this Birthing Cave right before going into labor and sit, wait, pray until their child was born.
Having completed this hike while not pregnant, more power to those women for making that tough climb while 9 months pregnant!
5. Airport Loop Trail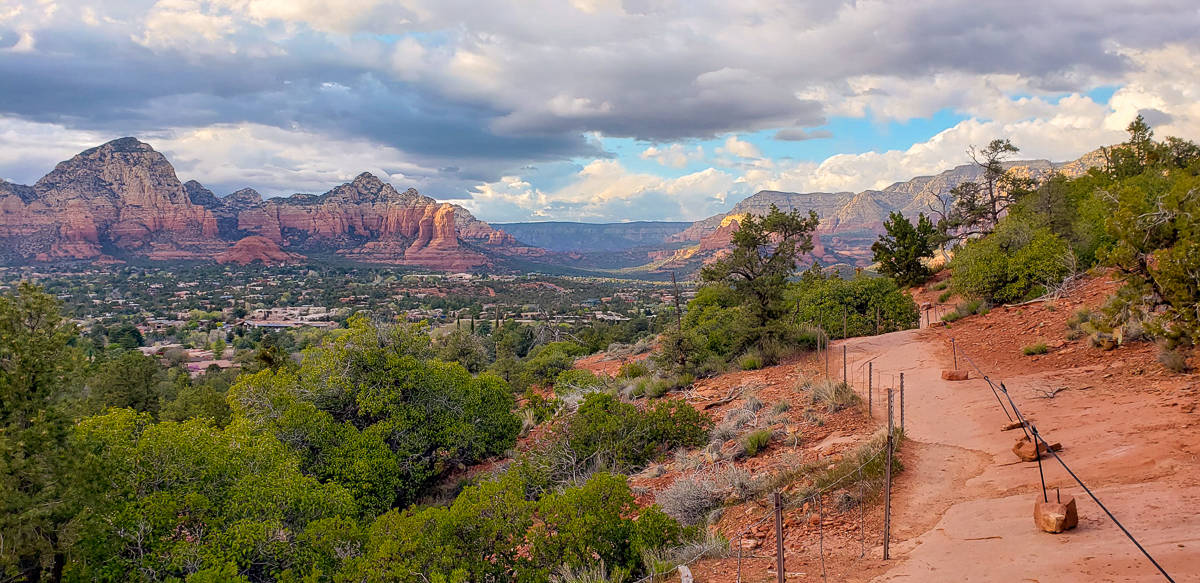 Distance: 3.2-mile loop
Elevation Gain: 416 feet
Why it's awesome: relatively short and easy hike and a great place to see the highlights of the Sedona area. Plus, there are mysterious energy vortexes!
The Airport Loop Trail is one of the easiest Sedona hiking trails to find because, well, it's located at the Sedona airport. Bet you didn't guess that one!
This loop trail circles the upper portion of the airport mesa and is one of our favorite short hikes in Sedona because it provides some gorgeous panoramic views of the main red rock landmarks in the area (Elephant Rock, Courthouse Butte, Bell Rock, and Cathedral Rock).
Plus, you can have a true Sedona experience at a vortex site.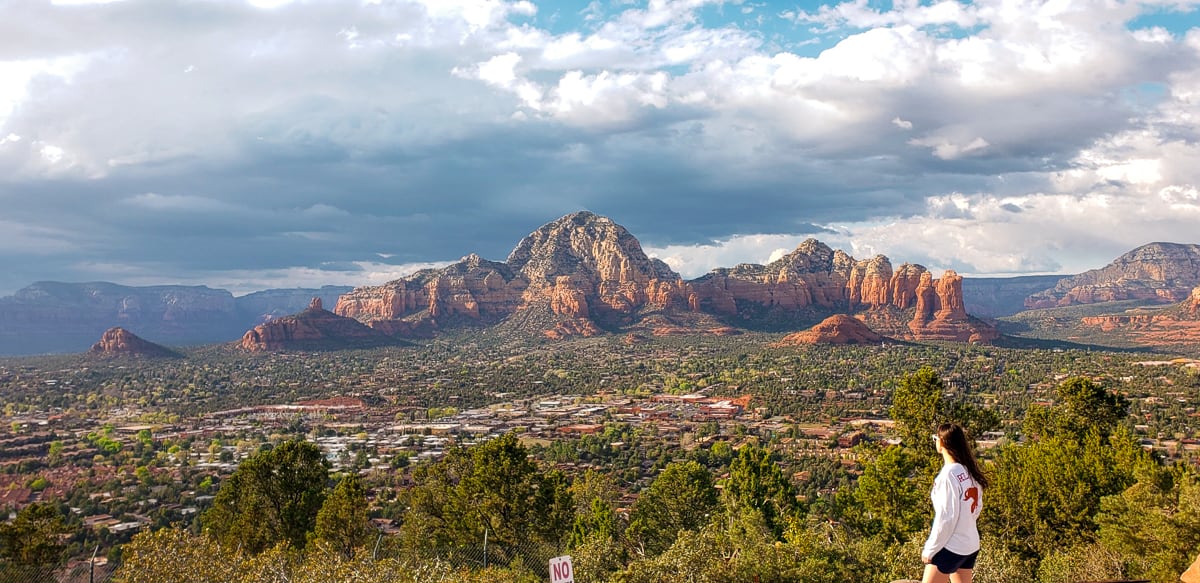 If you're unfamiliar, a vortex is just a place in nature where the earth is said to be alive with energy.
In Sedona, the vortex is a place where that energy swirls around like a tornado.
Look close enough and you might see trees that have twisted their trunks due to this powerful energy.
The trail is accessed from a parking lot on the left of Airport Road on the way up the hill.
If you can't find a spot at this small parking lot, there is another parking lot at the top of the hill, but this one costs $3.
If you park in the paid-for lot, there is a scenic lookout from the top which is a great overlook down into the town of Sedona with the red rocks behind it.
It was one of our first views of Sedona (we did it at sunrise and sunset) and is just unbelievably beautiful. From this lot, you can also access the Sedona View Trail, which is a short trail that intersects with the beginning of the Airport Loop Trail.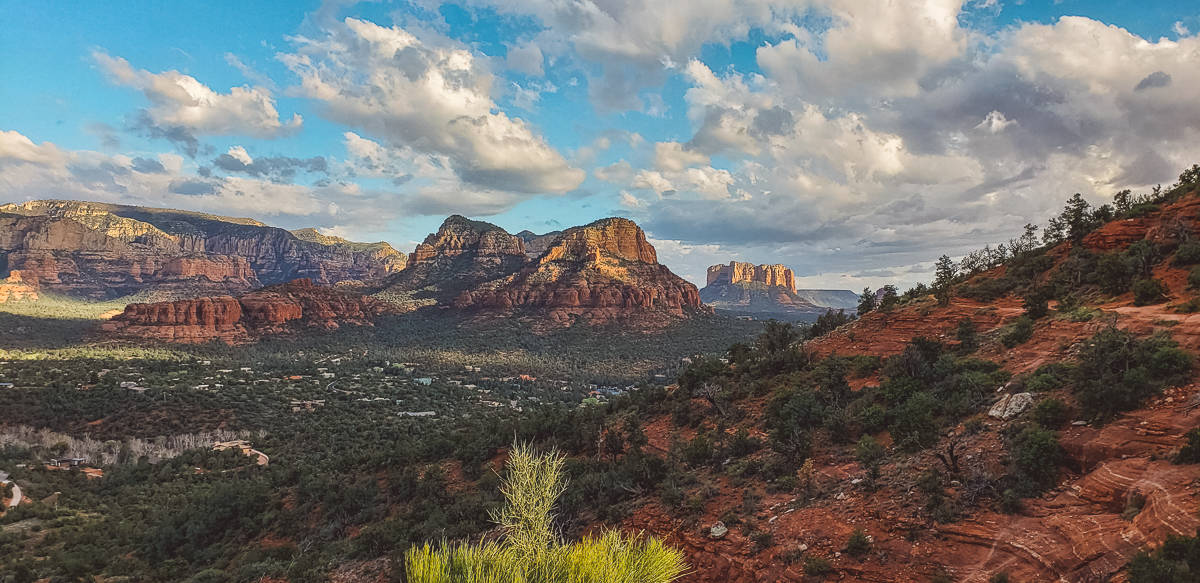 Assuming you can snag a spot at the actual Airport Loop trailhead, you'll start heading south towards the southern portion of the mesa.
You can go either way (clockwise or counterclockwise) and whichever way you choose, the trail will be relatively flat for the first mile or so, before beginning a slight incline as you get to the southern part of the mesa.
At the southern part of the mesa, you'll have fantastic views of Courthouse Butte, Bell Rock, and Cathedral Rock.
The trail follows along the airport's perimeter fence for a good portion of the trail.
Keep in mind that much of this trail is in full sun, so plan the timing of your hike and your clothing accordingly.
Overall, this is one of the underrated short hikes in Sedona, but you get a birds-eye view of many of the well-known rock formations and the chance to soak up the mystical energy from the Sedona vortex.
While there are numerous short hikes in Sedona to choose from, the ones we've listed above are our favorites for many different reasons.
The scenery and formations are obviously the top reasons, but some of these Sedona hiking trails provide panoramic views of many things at once, some require rock scrambling and technical hiking, and some are so diverse that you'll never get bored.
Whichever of these Sedona hiking trails that you choose to conquer, we promise you one thing: you will love it (or at least you'll have earned yourself a drink)!
Looking to get your drink on after your hike? Check out:
Let us know your favorite short hikes in Sedona and definitely let us know if we missed any.