Complete Guide to the 4 Cheyenne Breweries in Wyoming
Cheyenne, Wyoming is a city that's known for its cowboys, its rodeos, and its wide-open spaces. But did you know that Cheyenne is also home to an up-and-coming craft beer scene?
That's right, there are now four breweries in Cheyenne, each with its own unique personality.
As the capital and largest city of the state of Wyoming, these breweries are serving up some local and down-home(grown) beers that are crowd-pleasers. Whether you're a fan of hoppy IPAs, smooth stouts, or fruity sours, Cheyenne breweries are crafting some incredible stuff.
Short on Time? Here are the key takeaways:
All of the Cheyenne breweries offer something unique, and for that reason, we can't pick a favorite.
Live music can be found at Black Tooth and Blue Raven.
In our opinion, don't miss our bonus stop at Paramount Ballroom, especially if you like craft cocktails.
**Boozing Abroad contains affiliate links throughout the site. If you choose to purchase items through these links, we will earn a small commission at NO extra cost to you. Read the full disclosure policy here**
Map of Cheyenne Breweries
HOW TO USE THIS MAP: To view the layers and see the names of the places on this map, click the tab in the top left corner. You can select the check marks to show or hide certain layers. If you select the icons on the map, you will get more information about the point of interest.
HOW TO SAVE THIS MAP: If you select the star icon next to the map name, you can save this map to your Google Maps account. To view it, open Google Maps in desktop or on your phone, select the menu button, go to "Your Places," scroll to the right to Maps, and you will see this map.
Accomplice Beer Company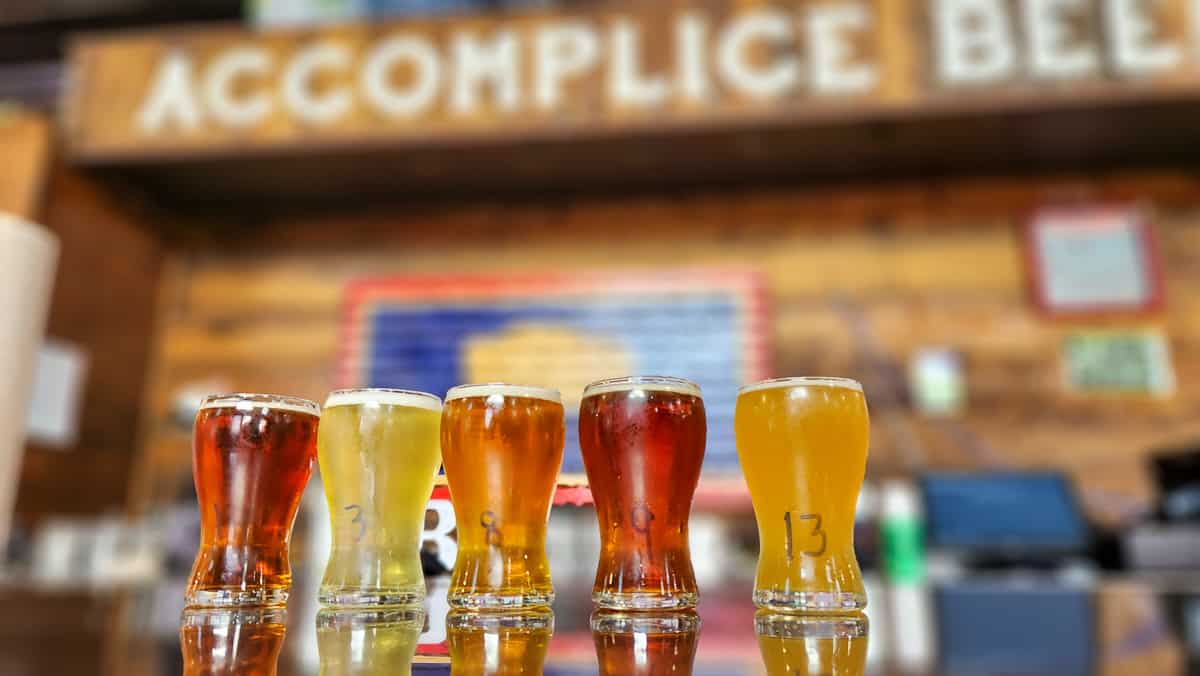 Hours: 8 AM – 9 PM daily
Food Available: Yes, full menu

Breakfast (aka "The Good Egg") is served from 8 a.m. – 12 p.m.
Located in the heart of downtown Cheyenne, Accomplice Beer Company was founded in 2014 by two friends who were passionate about craft beer. 
With 14 beers on tap, Accomplice offers a variety of styles, including IPAs, stouts, porters, and sours and offers flights, glasses and growler fills.
When we visited, we noticed that they had a self-service tap system installed that wasn't being used. We asked the bartender if it was going to be used in the future, but were told that the system would break frequently and patrons weren't getting the best quality pours. So no self-pouring for you.
Instead, we split a flight of 5 beers to kick off our brewery hopping day in Cheyenne. The Krimson King and Sol Dance are two of their flagships and we went with 3 other seasonals. I (Sam) really enjoyed their sours and Chris enjoyed both of his IPAs – a New England Style Hazy as well as a Triple IPA.
Accomplice's outdoor patio is situated next to train tracks, which is not only important to Cheyenne history, but Accomplice also managed to turn it into a fun game.
Quick History: In 1867, the Union Pacific Railroad finally made it this far west and the city of Cheyenne was founded. The city quickly grew as a major transportation hub, and it became the capital of the newly-formed Wyoming Territory in 1869.
Why is this at all related to beer? Well….
Accomplice offers a $1 shot whenever a train passes. We hung out for a bit hoping a train would roll on by, but unfortunately, didn't get to partake in the train shots.
Be sure to check their Facebook for the most up-to-date info on what's on tap and any events they have during the week. 
Blue Raven Brewery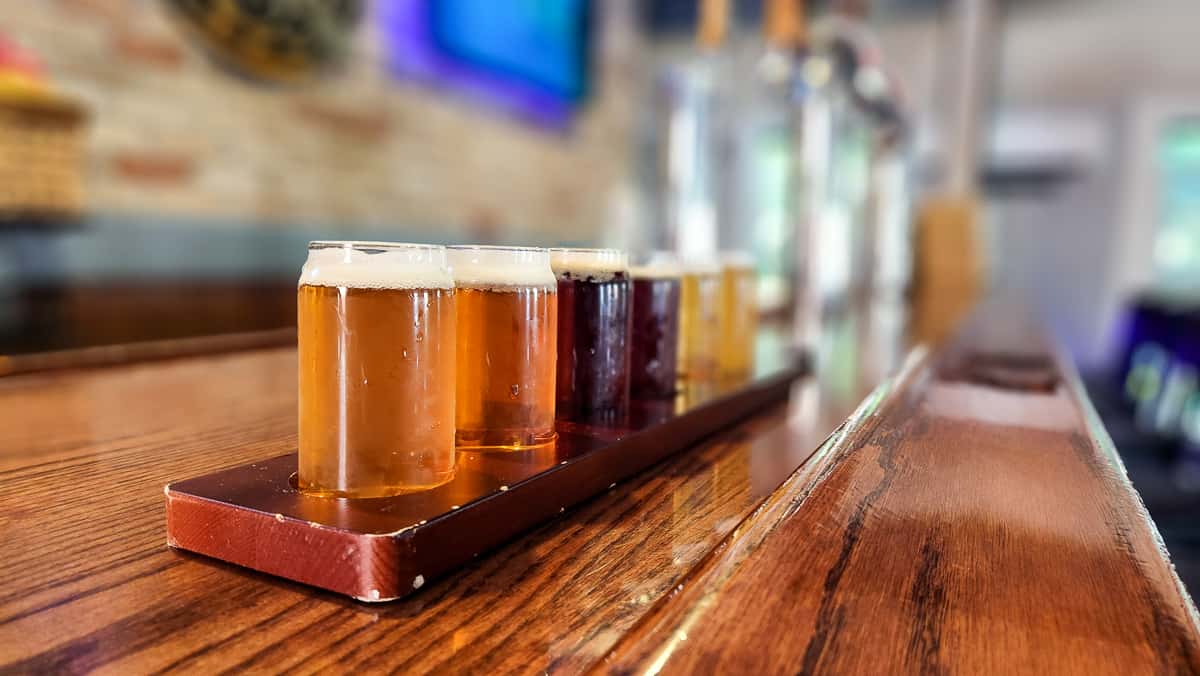 Hours: Monday – Thursday 12 PM – 10 PM

Friday – Saturday 12 PM – 11 PM
Sunday 12 PM – 11 PM

Food Available: Rotating Food Trucks
If you're looking for a cozy and welcoming brewery, then Blue Raven Brewery is the perfect spot for you. 
Opened in 2022, Blue Raven Brewery is the newest brewery in town with a budding line up of 10 beers to try. Located in the historic Corson House, you can take in a bit of history while sampling great beer.
Constructed in 1883, the Corson House is one of the oldest buildings in Cheyenne, starting as a family home and being converted over the years from shops to a daycare facility until finally being transformed into a taproom.
We split another flight here mixed with flagships and seasonals which included the Corson (German Pilsner), Slow Roll (hefe), Drunken Uncle (Dunkel Weisse), Dominatrix (Dark Sour Ale), Blue Raven (IPA).
They offer a variety of events from live music and trivia to supporting small local businesses through art exhibits and local classes. When we visited, they were offering a jewelry-making class with a local store.
Well-behaved pets are welcome both inside and on their patio. They offer a rotating food truck line up if you get hungry.
Black Tooth Brewing Company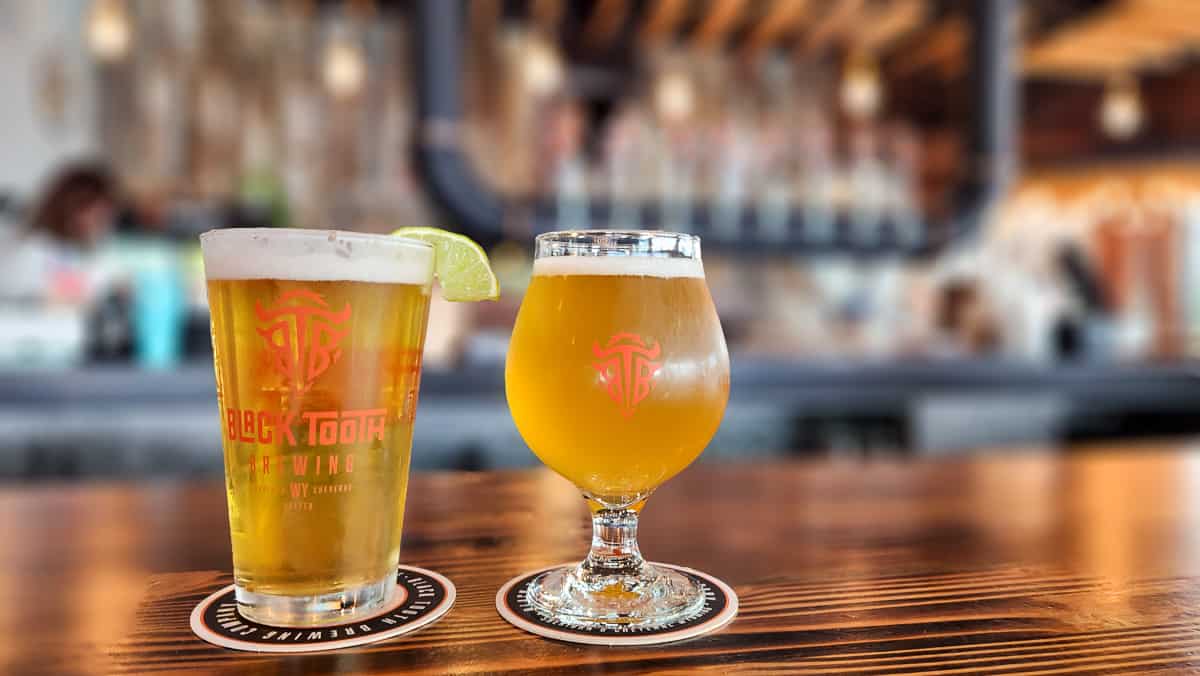 Hours: Monday – Thursday 12 PM – 10 PM

Friday – Saturday 12 PM – 11 PM
Sunday 12 PM – 7 PM

Food Available: Snacks
Originally founded founded in 2010 in Sheridan, WY, Black Tooth Brewery opened their Cheyenne location in 2020 in the historic Frontier Park district in downtown Cheyenne.
Their original 10 barrel system was relocated to Cheyenne and serves up a variety of craft beers to this Capital City. The brewery is dedicated to using local ingredients in their beer, so you can taste the unique flavors of Wyoming in every sip.
Black Tooth Brewing is easily found across Wyoming and nearby states. The first time we had it was actually in Hot Springs, SD and it made us want to visit even more.
Their Cheyenne taproom is massive with large garage doors that open up to give you a break from the sun, but also a ton of natural light.
Two of our favorite year round beers are the Saddle Bronc Brown Ale and their Bomber Mountain Amber Ale. The Saddle Bronc won bronze at the Great American Beer Festival in the English Mild category in 2022.
Similar to other Cheyenne breweries, Black Tooth hosts events throughout the week, so make sure to check out their Facebook page to see what's happening. They also have a small selection of snacks and light bites available if you're feeling peckish.
Freedom's Edge Brewing
Hours: Monday – Thursday 3 PM – 9 PM

Friday 12 PM – 11 PM
Saturday 1 PM – 11 PM
Sunday 1 PM – 6 PM

Food Available: Rotating Food trucks
Last but not least, Freedom's Edge Brewing opened in 2012 and is a great spot for beer lovers who enjoy trying something new. This brewery has a rotating selection of beers on tap, so there's always something new to try as they like to research and experiment new things. 
With 8 beers on tap to choose from, we opted for full pours at this stop. Chris sipped on their Hulk Smash IPA while I drank their Solshine Orange Peel Wheat beer.
While their taproom is quaint, they do offer outdoor seating on their parking-lot-turned-patio with an incredible mural on their building. We also had some delicious food via a food truck here.
New to 2023 is the introduction of their mug club in addition to some collaboration beers with Blue Raven and Accomplice. Be sure to check out their Facebook page to see all their events and new releases.
Bonus: Paramount Ballroom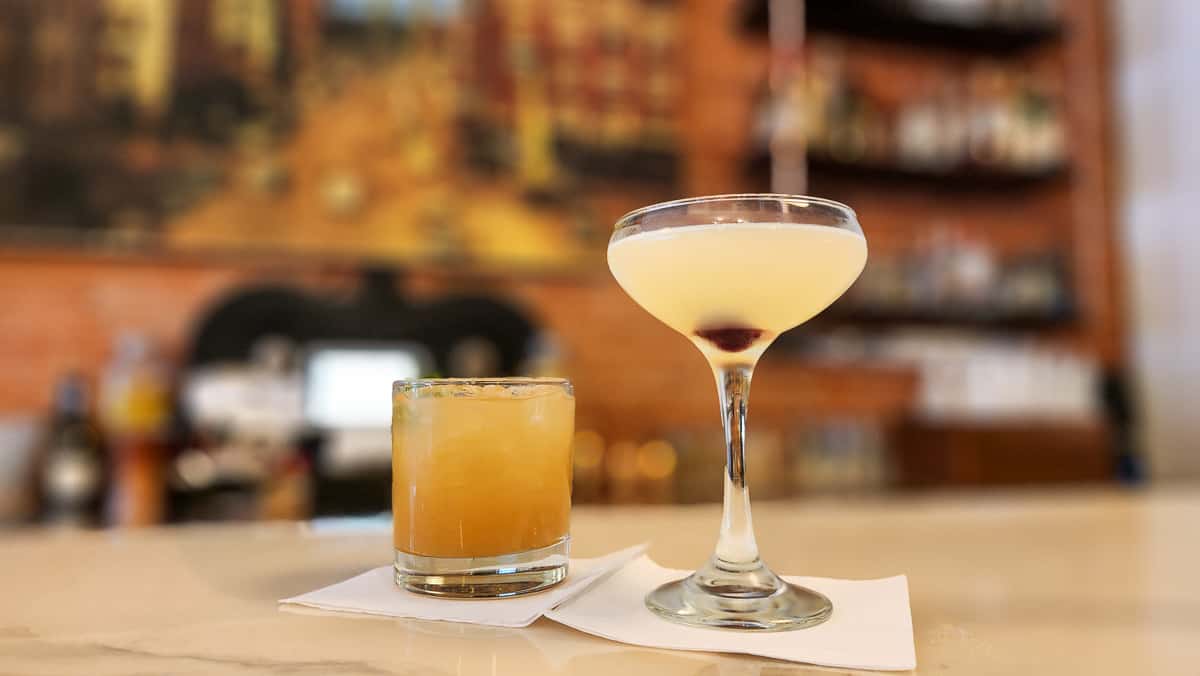 Hours: Wednesday – Saturday 5 PM – 10 PM
Food Available: Yes, small bites
In our opinion, this is a must-add drinking stop if you are out tasting beer at all the awesome Cheyenne breweries. Paramount Ballroom came highly suggested from numerous locals when asked where they go for a drink. 
With a sleek and modern tasting room, Paramount Ballroom is THE place to go to get a high-quality craft cocktail in Cheyenne. Their bartenders are true mixologists and can whip you up a cocktail that suits your taste, even if you don't know what you are looking for.
Chris drank The Gamblers, described as citrusy & well-balanced and made of bourbon, rye, absinthe wash, orgeat, lemon and simple syrup.
I couldn't decide on a menu item and the bartender made me an off-menu glass of deliciousness called The Last Word. This is a gin-based prohibition-era cocktail that consists of gin, chartreuse, lime and maraschino liqueur. It was absolutely incredible and he nailed exactly what I wanted.
They also have a small bites menu and we are here to tell you, come hungry. We had the artichoke dip and I swear magical fairies made it because it was scrumptious.
Cheyenne, Wyoming may not be the first place that comes to mind when you think of beer, but these four breweries (and one craft cocktail bar) are proof that the city has a lot to offer when it comes to craft beer. When we visited for the first time in 2020, we were just passing through, but made it a point to return to spend more time exploring this great city and enjoy their awesome craft beers.
Looking for more Wyoming guides? Check out the Drinking Guide To Jackson Hole Breweries, Wineries And Distilleries.