An Epic Weekend Itinerary for a Bachelorette Party in New Orleans, LA
Trying to find the perfect spot for a bachelorette party? A bachelorette party in New Orleans offers just about everything you could possibly want – from pole dancing classes and erotic male dancers to sensational meals, bars, and so much more.
I had the opportunity to attend a bachelorette party in New Orleans and it's definitely been one of my favorite destinations so far (other places included Key West, Charleston, Asheville, just to name a few).
There's never a dull moment in New Orleans and every day is like a party, making it one of the best places to have a bachelorette party!
Short on Time? Here are the key takeaways:
There is so much more to experience than just bourbon street. However, my bride and crew collectively thought the Cat's Meow was the best spot.
Humkomania was very hot and steamy if you're looking for a Magic Mike experience.
New Orleans has a great food scene. Be sure to make reservations for dinner!
This post was originally published in March 2022 and was updated in April 2023.
**Boozing Abroad contains affiliate links throughout the site. If you choose to purchase items through these links, we will earn a small commission at NO extra cost to you. Read the full disclosure policy here**
Map of Bachelorette Party in New Orleans, LA itinerary
Click the interactive map below!
HOW TO USE THIS MAP: To view the layers and see the names of the places on this map, click the tab in the top left corner. You can select the check marks to show or hide certain layers. If you select the icons on the map, you will get more information about the point of interest.
HOW TO SAVE THIS MAP: If you select the star icon next to the map name, you can save this map to your Google Maps account. To view it, open Google Maps in desktop or on your phone, select the menu button, go to "Your Places," scroll to the right to Maps, and you will see this map.
Why New Orleans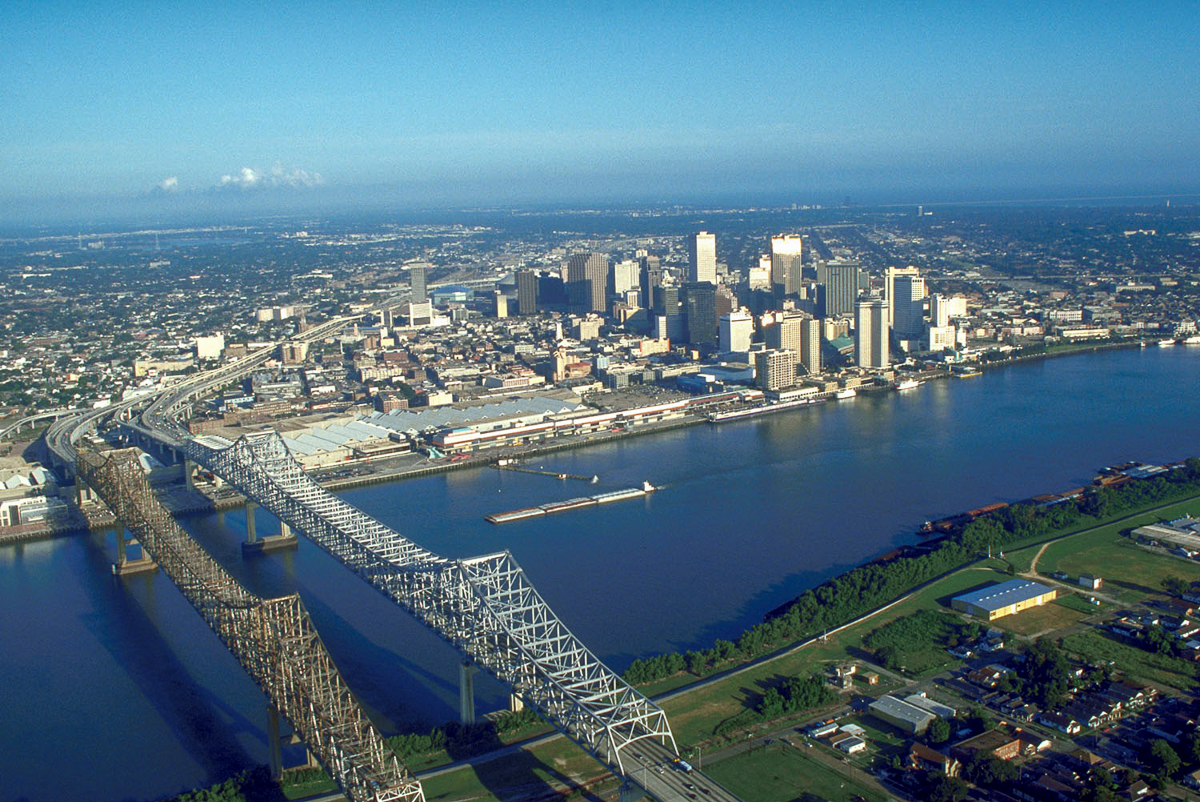 New Orleans is a melting pot of American, African, Caribbean, and French culture which is readily apparent everywhere you go in the city.
New Orleans is known for its music since it's the birthplace of jazz and it also offers plenty of live performances on the street, ranging from rock to reggae.
It's also a foodie town with signature foods like gumbo, jambalaya, boiled crawfish, and much more, which is why New Orleans is considered one of the best places to eat in the US.
The majority of the partying locations are heavily concentrated in the city so bar hopping is easy for a bachelorette party, no matter how many people!
When to Visit NOLA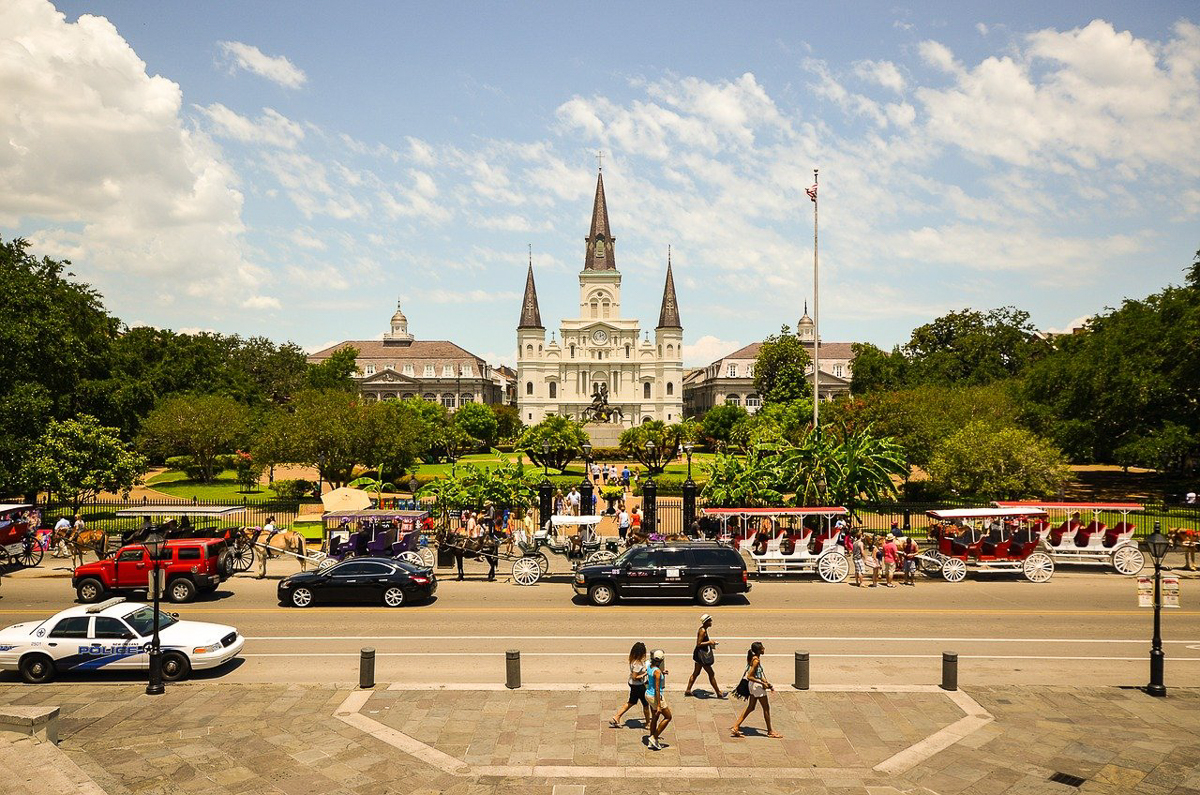 While you can visit New Orleans any time of the year, Spring (February – May) is considered to be the best time to visit.
The weather is mild and the Mardi Gras season runs from January to March and attracts visitors from all over the world. However, be aware that it can get crowded and very expensive during Mardi Gras season and you'll need to book a hotel well in advance.
Visiting New Orleans in the fall can be tempting because of the nice weather and fewer crowds, but we recommend avoiding August and September, which are the height of the hurricane season. When I went, it was late October and the weather was perfect!
Where to Stay – New Orleans hotels for bachelorette party
Fairfield Inn & Suites New Orleans Downtown
This is where our bachelorette party stayed and we had a blast! They were super accommodating getting us rooms close to each other and even upgraded the bride's room to a suite for us!
The Fairfield Inn is conveniently located in the heart of the city. Famous attractions like the Morial Convention Center, the St. Charles Avenue Streetcar Line, and the Audubon Zoo are all within walking distance of the hotel.
We were able to easily walk to Bourbon Street (about 8 minutes away) and we had no problems grabbing Ubers/Lyfts when we didn't want to strut in our heels.
The Fairfield Inn offers plenty of amenities to make your stay as comfortable as possible, like pillowtop mattresses, floor-to-ceiling windows, free WiFi, and more. There's also complimentary breakfast in the mornings to cure that hangover and a 24-hour fitness center if you can somehow muster the energy to get a workout in during/after your bachelorette party in New Orleans.
Place d'Armes Hotel
Place d'Armes Hotel sits in the middle of the French Quarter, close to the excitement of Bourbon Street and Jackson Square.
Something unique about Place d'Armes Hotel is that it offers a calm and peaceful vibe – pretty uncommon for New Orleans. The historical building is surrounded by green courtyards, an outdoor swimming pool, fountains, and magnolia trees. However, the hotel still has modern amenities like a TV in each room and free WiFi.
This was actually our first choice for a hotel but it was booked the weekend we were in town. Given that is so close to the bars, it might be a bit noisy, but if everyone wants to stay out late, this is a great choice and makes it super easy to get back home for the night.
Four Points by Sheraton French Quarter
The Four Points by Sheraton is located in the middle of the French Quarter, overlooking Bourbon Street. The hotel's convenient location means that it's close to many famous attractions like the Superdome, St. Louis Cathedral, Cafe' Du Monde, Jackson Square, and much more.
All the rooms in the hotel are modern and comfortable, equipped with flat-screen TVs and mini-bars. Some even have balconies that overlook Bourbon Street (hello Mardi Gras!). The Four Points by Sheraton also features a 24-hour fitness center, an outdoor pool, and a restaurant, Café de l'Opera, which serves Creole food, drinks, and a breakfast buffet.
How to Get Around
Walking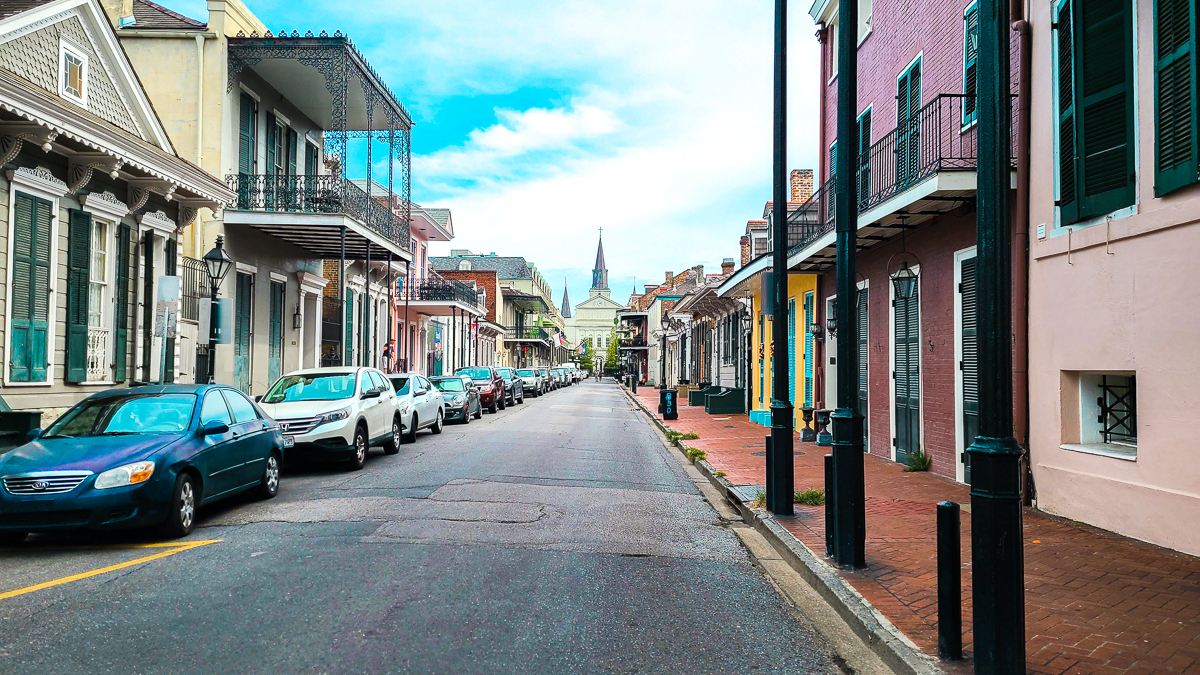 With all of the street musicians and the beautiful weather, walking is one of the best ways to get around New Orleans, and if you stay in the French Quarter, walking is a great way to save money for other parts of your bachelorette party in New Orleans.
Plus, you'll get to enjoy everything that the French Quarter has to offer that you might miss in a car, like the colorful buildings, iron balconies, and its iconic nightlife.
Rideshare
Ride-sharing is a great way to get around during your bachelorette party in New Orleans since it's quick, easy, and convenient.
If you'd like an airport pickup, you can head to the bottom of the New Orleans airport parking lot, where there is a designated spot for ride-sharing with plenty of drivers available. If you'd like to ride-share within the city, you can download the Uber or Lyft app.
Taxi
Like ride-sharing, taxis are also very convenient, especially if you've been drinking!
They're affordable, too. A ride to the other side of town will usually cost you less than $20. If you'd like a taxi to pick you up from the airport, there are plenty of them at the bottom of the airport parking lot next to where the ride-share drivers are waiting.
When you're out and about in the city, you will find taxis near every major hotel and attraction.
But, if you happen to have difficulty finding one, you can contact a major New Orleans taxi company like Alliance, American Taxi, and more.
Bachelorette Party in New Orleans (suggested by day itinerary)
Friday in NOLA
This New Orleans bachelorette party itinerary assumes that you will be flying in on Friday morning, leaving you a half-day to explore and party on Friday.
With that being said, if your bachelorette party flies in Thursday, we've added a list of other things to do below.
French Quarter and Jackson Square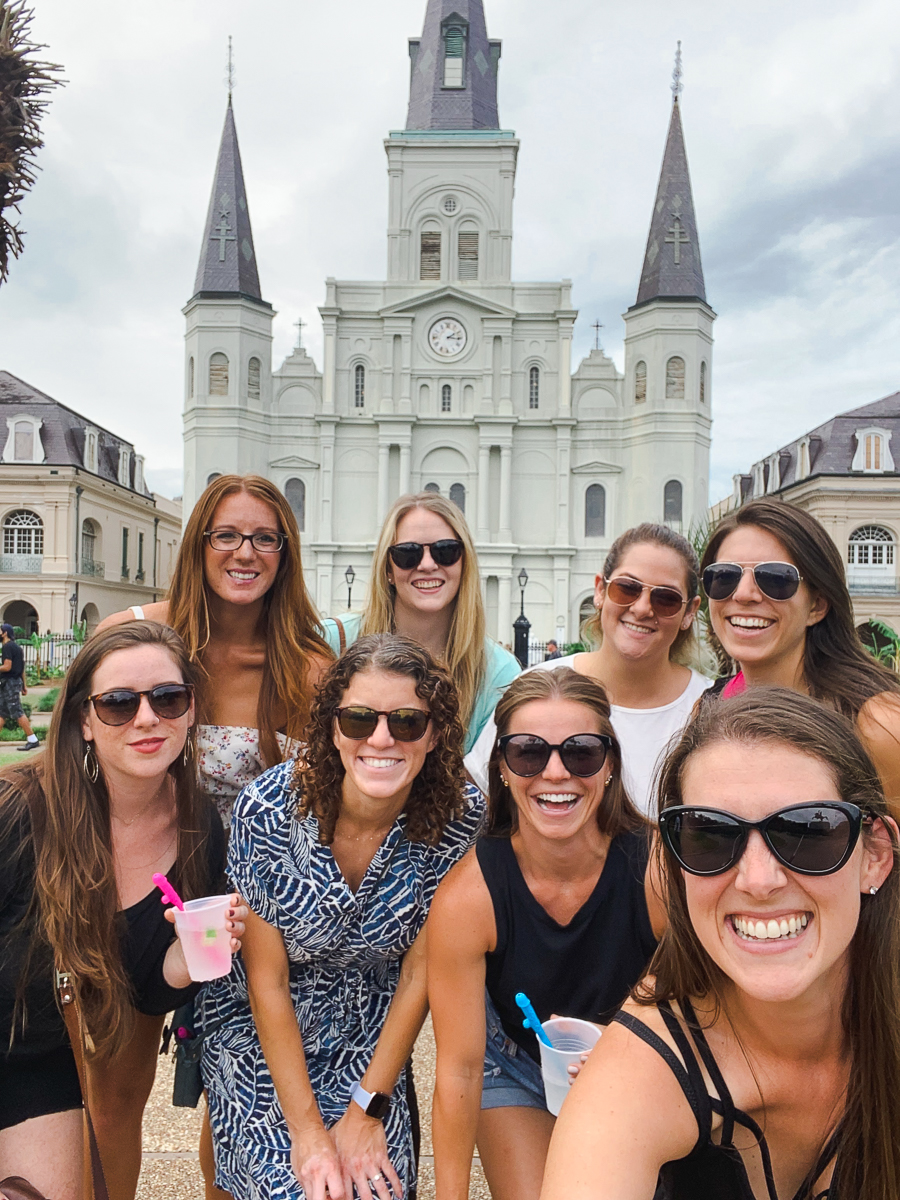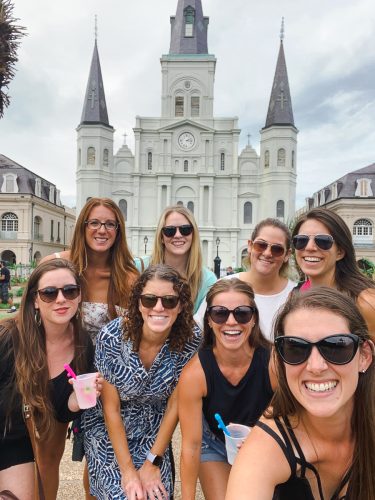 Considered the heart of the city, the historic French Quarter is a bustling neighborhood in New Orleans with shops, restaurants, and bars. There's a calmer side to the neighborhood as well, with colorful architecture and peaceful gardens and courtyards.
One of the most-visited parts of the French Quarter is Jackson Square, which is a park registered as a National Historic Landmark. The park is home to some of the oldest buildings in the city and it attracts over 2 million visitors a year.
Jackson Square has plenty of plants, flowers, and trees that offer a beautiful view in the summertime. The square is also home to concession stands, art exhibitions, and other events throughout the year.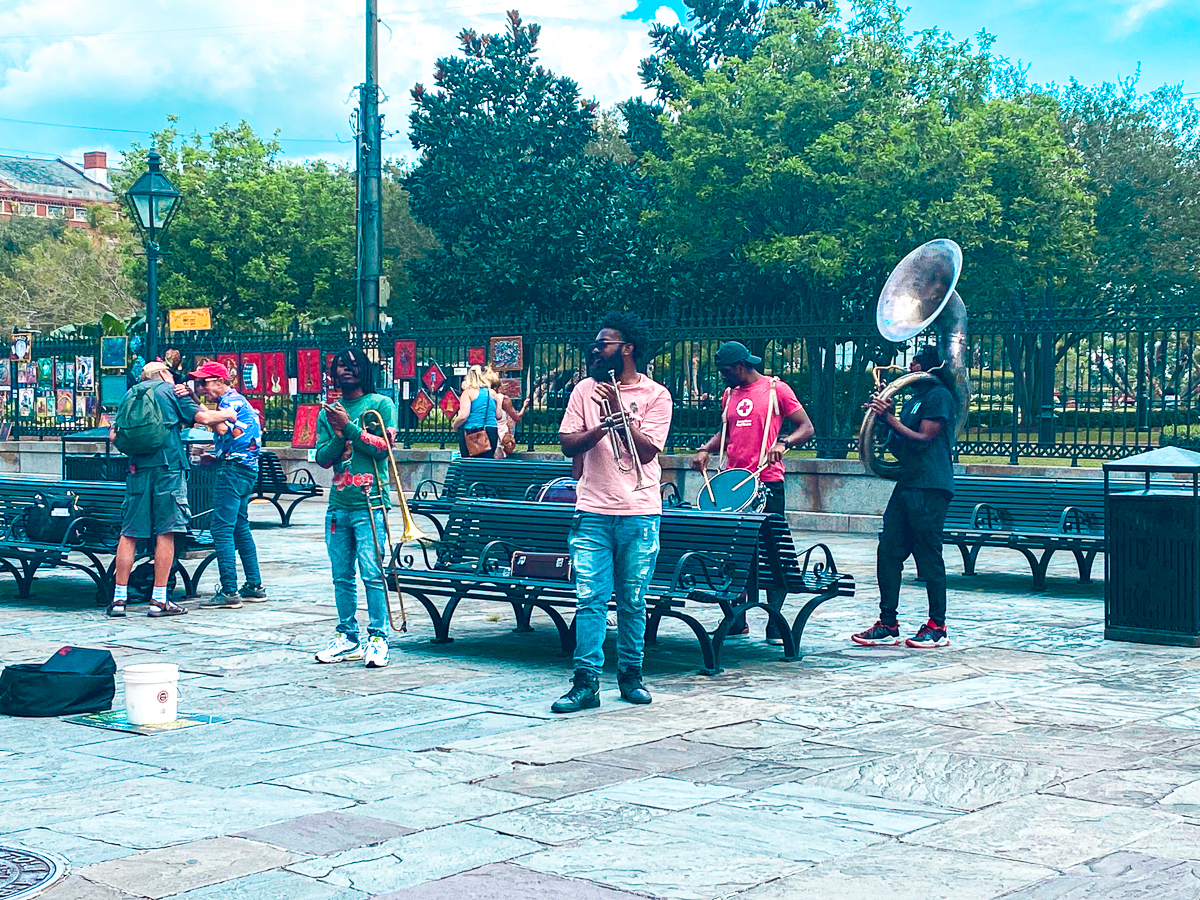 A unique thing about the French Quarter is the street performers. Most are musicians, but there is even a woman who gets paid to stay perfectly still, and a man who gets paid to tell jokes on the spot. There's also an escape artist, a puppeteer, magicians, and much more.
We have good news for your New Orleans bachelorette party! There is an Open Container Law that exists in New Orleans, which allows you to carry around an open container of alcohol in public.
This means that you don't have to stay and finish your drink at a bar – you can take it to go while you explore the city!
Pro tip: some of the bars surrounding the main attractions can be pricey! To save money, hit up a convenience store first or go a block or two away from the attraction to find better prices.
Café Du Monde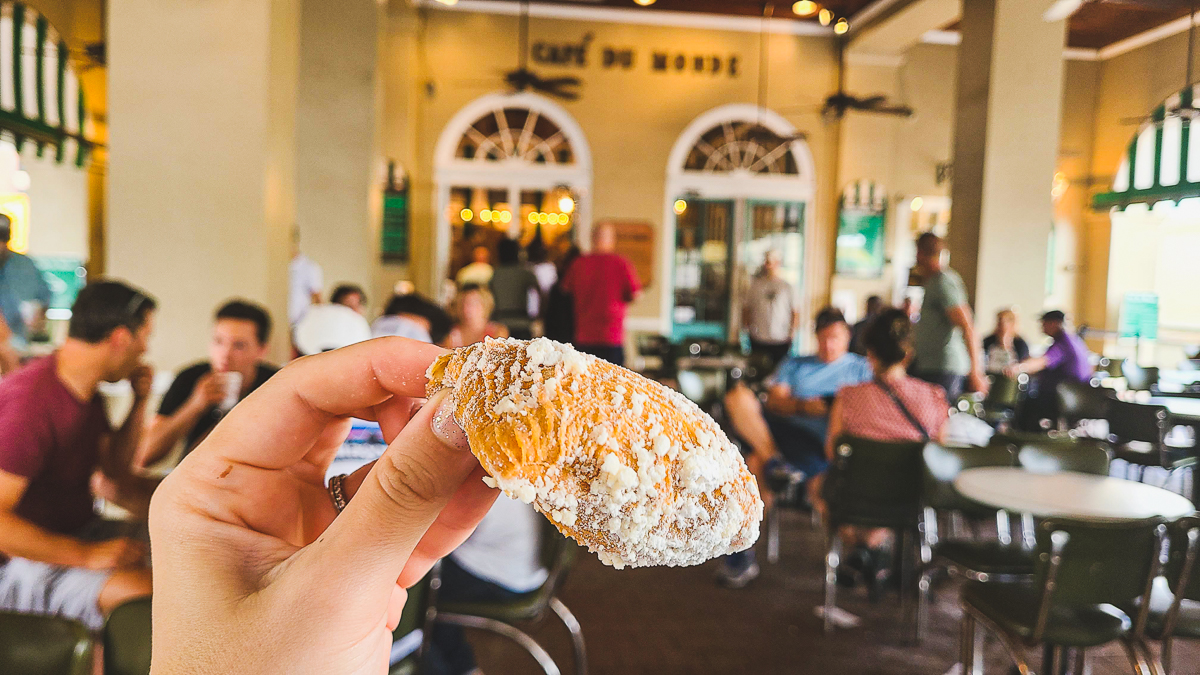 Café Du Monde, around since 1862, is an iconic and traditional coffee shop located in the French Quarter that is known for its café au lait (coffee with hot milk) and scrumptious beignets (deep-fried pastry covered in powdered sugar). You can even watch them cutting the dough and tossing it into the fryer for the full experience.
You can purchase items from the café like coffee and beignet mix, gift baskets, clothing, and more – all of which are available online as well.
Two quick things about visiting Café Du Monde:
1 – There is a cash-only line which moves faster than the credit card line. Be sure to look for ordering windows on the far side of the awnings. There is usually a shorter line!
2 – Beignets are covered in WHITE powdered sugar. Be sure to eat down wind as not to get your clothes messy!
You can visit Café du Monde for breakfast, lunch, dinner, or a late-night snack since it's open 24 hours a day, 7 days a week (only closed on Christmas Day). Outdoor seating is available as well which is perfect to watch all the street performers.
Dinner at Paladar 511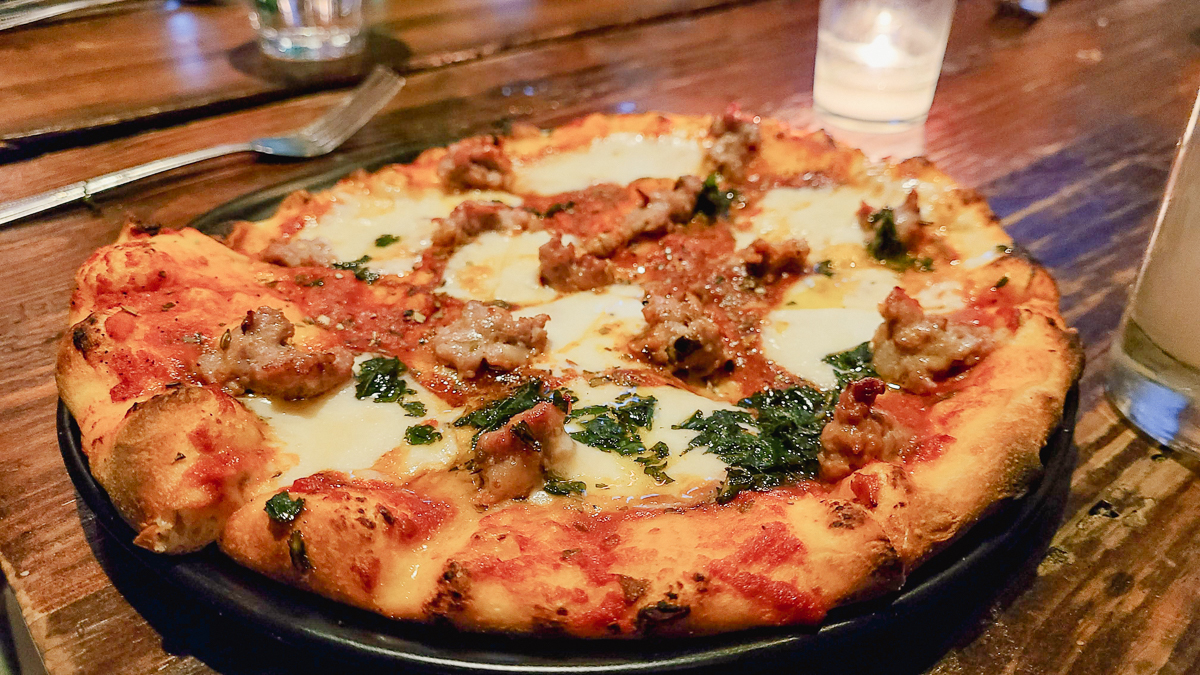 Our bride wanted Italian food for dinner and Paladar 511 didn't disappoint!
Paladar 511 is an Italian restaurant with a twist that serves pizzas, pasta, seafood, and more. The drink menu includes cocktails, beer, and an extensive wine list that includes wine from France, Germany, Spain, the US, and of course, Italy.
The interior of the restaurant is very modern and sleek with exposed brick walls, tall windows, and high ceilings. The vibe is calm and laid-back, making Paladar 511 the perfect place to have a fancy dinner before going out for the night.
This was our "little black dress" night so this meal was a bit nicer and the prices reflected it. The portions are somewhat large so you can share with another person. I shared the arancini (fried rice balls) and tartare! Absolutely DIVINE!
Bourbon Street
Lafitte Hotel and Bar
Lafitte Hotel and Bar was originally a family home in 1849, which has been restored into a cozy and intimate hotel with only 14 guest rooms. However, the best thing about the hotel is the bar. Lafitte's Blacksmith Shop Bar and Lounge has been around since the 1700s, making it one of the oldest bars in the US!
Laffite's is what you'd expect from one of the oldest bars in the country – old-fashioned and dimly lit. But that only adds to its appeal. Candles fill the small space and there's a piano player that sits in the back, making it a calm and unique experience.
The piano player was incredible and took a large portion of our requests as we danced and enjoyed the music.
The drink menu includes beer, cocktails, frozen drinks, and more. We recommend the Voodoo Daiquiri, it's a crowd favorite!
Fritzel's Jazz Bar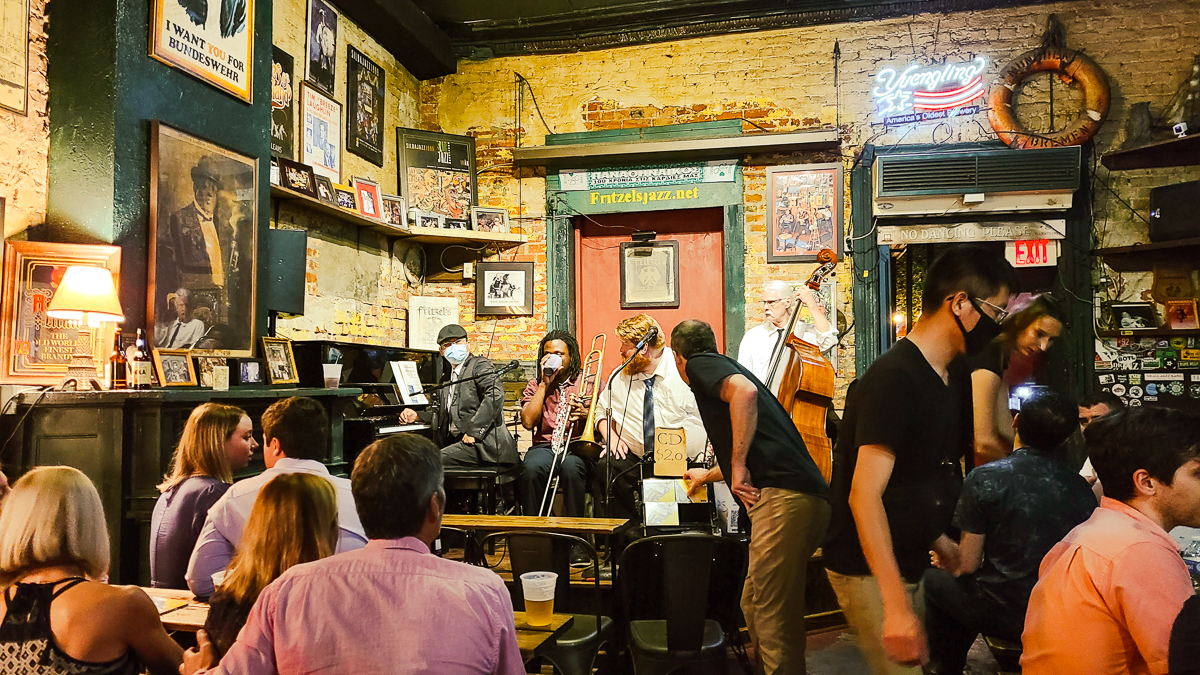 Wanting to hear some LEGIT jazz music in NOLA?
Fritzel's Jazz Bar is the perfect place to go if you'd like to sit back and listen to traditional New Orleans jazz music while having some drinks in a low key bar setting. Fritzel's has been around since 1969 and local musicians have performed there ever since.
Fritzel's doesn't just offer great music, but great drinks too. Beer, cocktails, and a wide range of house specials are on the menu. When we were there, it was a 2 drink minimum so just be sure to ask before you enter.
The space is small and intimate, making Fritzel's Jazz Bar a great place to chat with friends and enjoy the live jazz music during your New Orleans bachelorette party.
Cat's Meow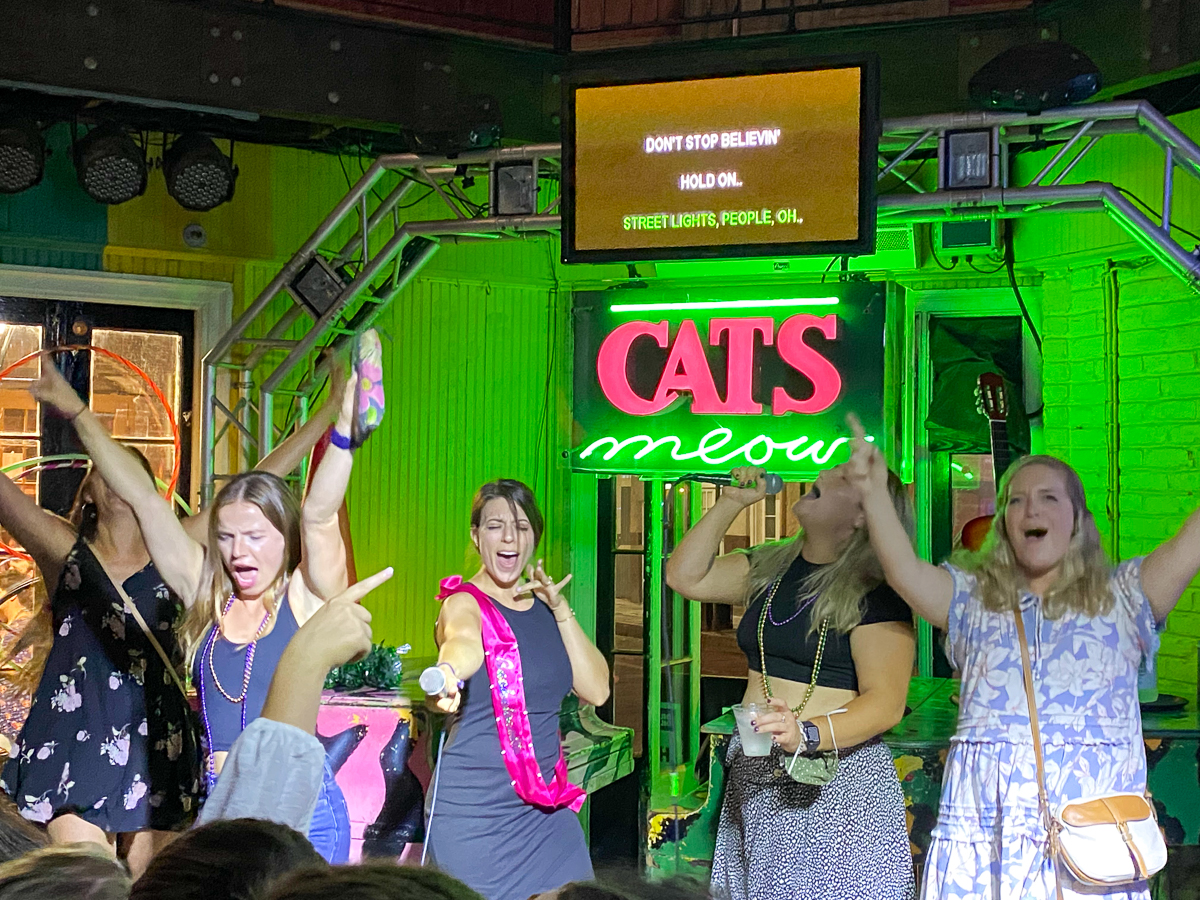 What better way to let loose and have fun during your bachelorette party in New Orleans than doing some karaoke?
Cat's Meow is situated in the French Quarter and it has quite the reputation of being the best karaoke bar in the world! Artists like Seal, N'Sync, Mario Lopez, and many more have visited Cat's Meow throughout the years.
The bar offers hundreds of songs from various genres like 1950s, disco, classic rock, hip-hop, pop, today's hits, and much more.
Collectively, this was our group's favorite spot as every lady in our party LOVED this place. If you are ready to sing your heart out in a tipsy state (or watch as others try), you can't miss this bar.
There are plenty of drinks to choose from including beer, wine, and a large list of specialties.
The best part about Cat's Meow is the 3-for-1 Happy Hour for cocktails and beer that's offered every day from opening time until 8 pm. Yep, 3-for-1! Also, there is a wide range of party packages available that include things like drinks, cut-the-line passes, and more.
Don't forget to venture upstairs on the balcony and view the chaotic Bourbon Street from above.
Saturday in NOLA
Brunch at The Ruby Slipper Cafe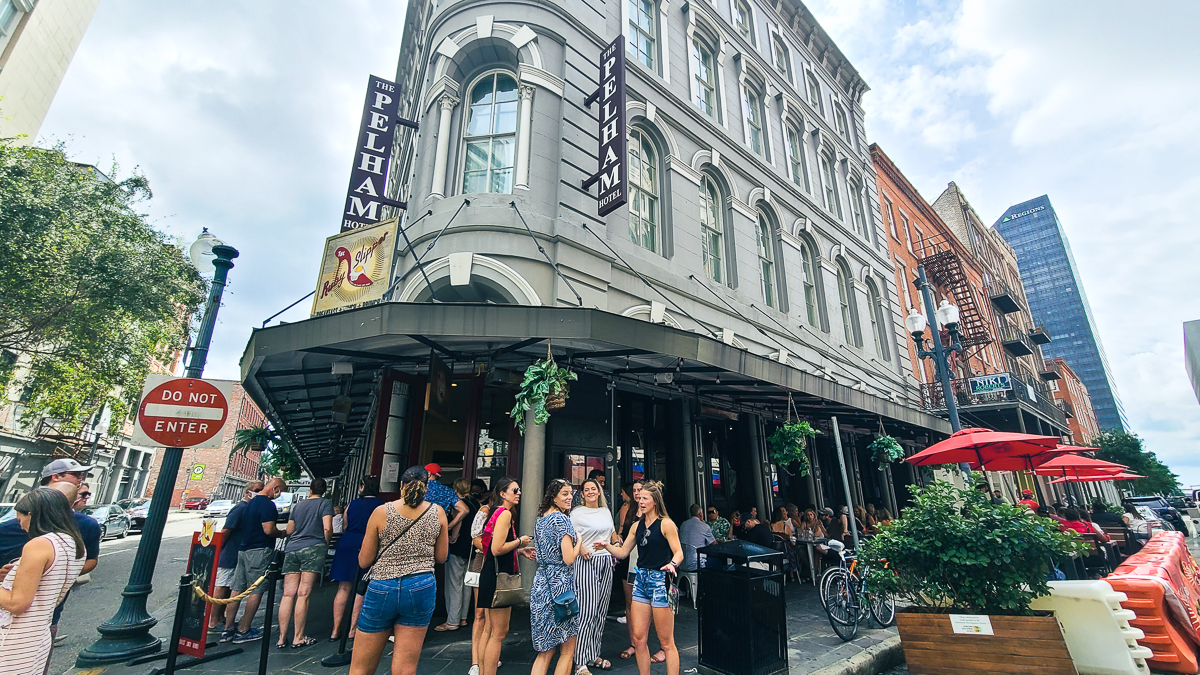 Assuming you or the group is a bit hungover, you'll be needing a solid brunch spot to recoup.
The Ruby Slipper Cafe is the perfect place to go for some breakfast or brunch after a night out since the food is a perfect mix of comfort and protein to absorb last night's poor choices.
The atmosphere is warm and welcoming and the menu includes classic breakfast foods like omelets, benedicts, pancakes, and plenty of specialties.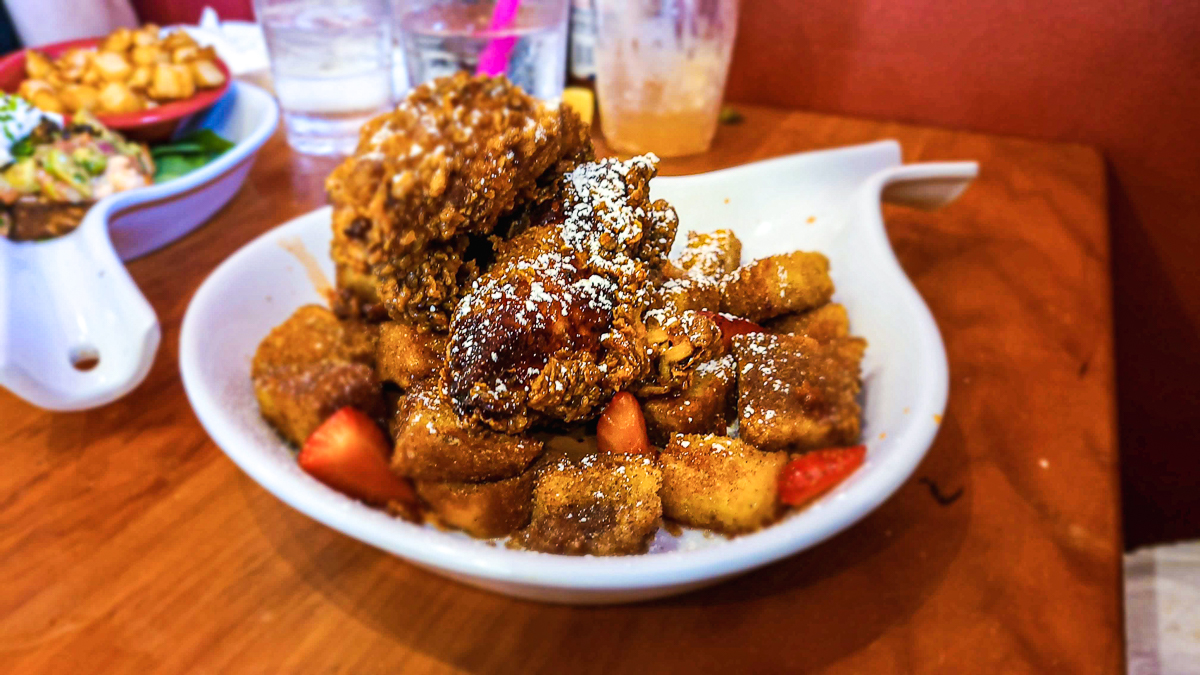 Of note, you can't make reservations, but you can add yourself to the waitlist the morning of from the comfort of your dark hotel room until you can brave the daylight.
We highly suggest adding yourself to the list beforehand. We didn't learn about this until AFTER we got there and ended up waiting 45 minutes for our bachelorette party of 14. Don't worry though.
They understand and will have an outside server come to your group for drink orders while you wait. THANK GOODNESS for the open container law!
Pole Dancing Class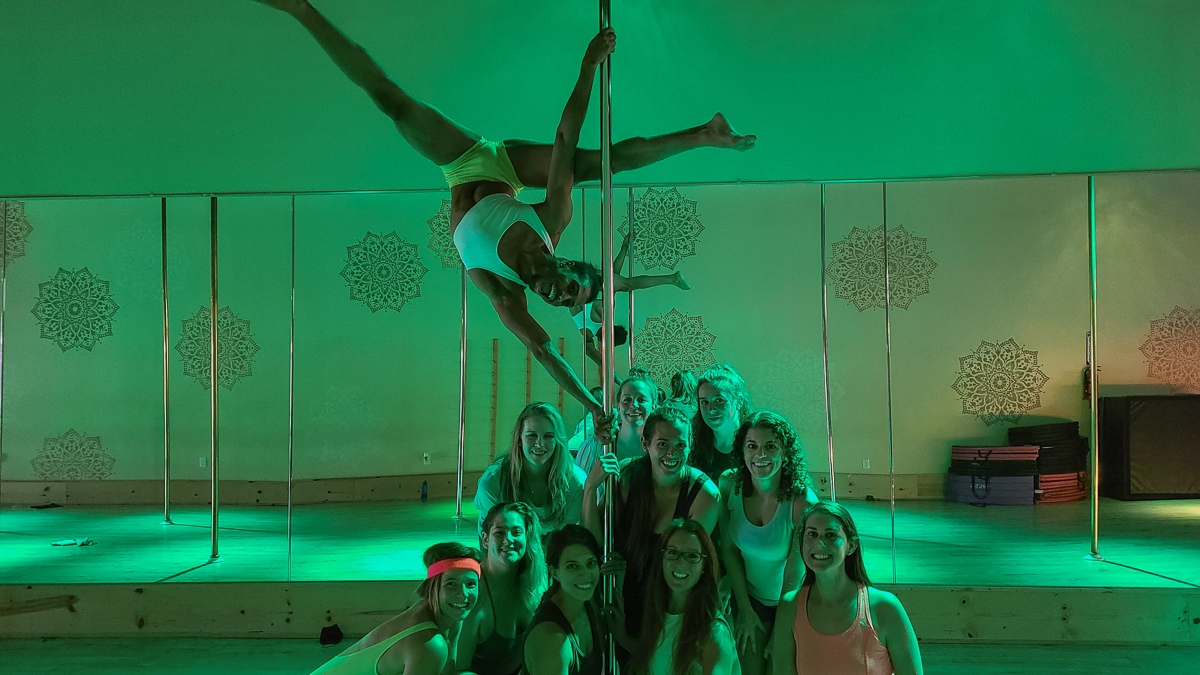 Nothing says a bachelorette party in New Orleans like a pole dancing class, and Awakening Pole Fitness is the place to go! The studio is conveniently located next to the French Quarter and close to Bourbon Street and was easy to walk to from our hotel.
One of the best options for a bachelorette party is the private pole and aerial party package, which is 75 minutes long and you're free to learn whatever you'd like, whether it be a chair dance, a twerk lesson, or a floor dance routine.
You can focus on sexy dance moves, climbing the pole, or if you'd like to just stick with fitness, that's okay too!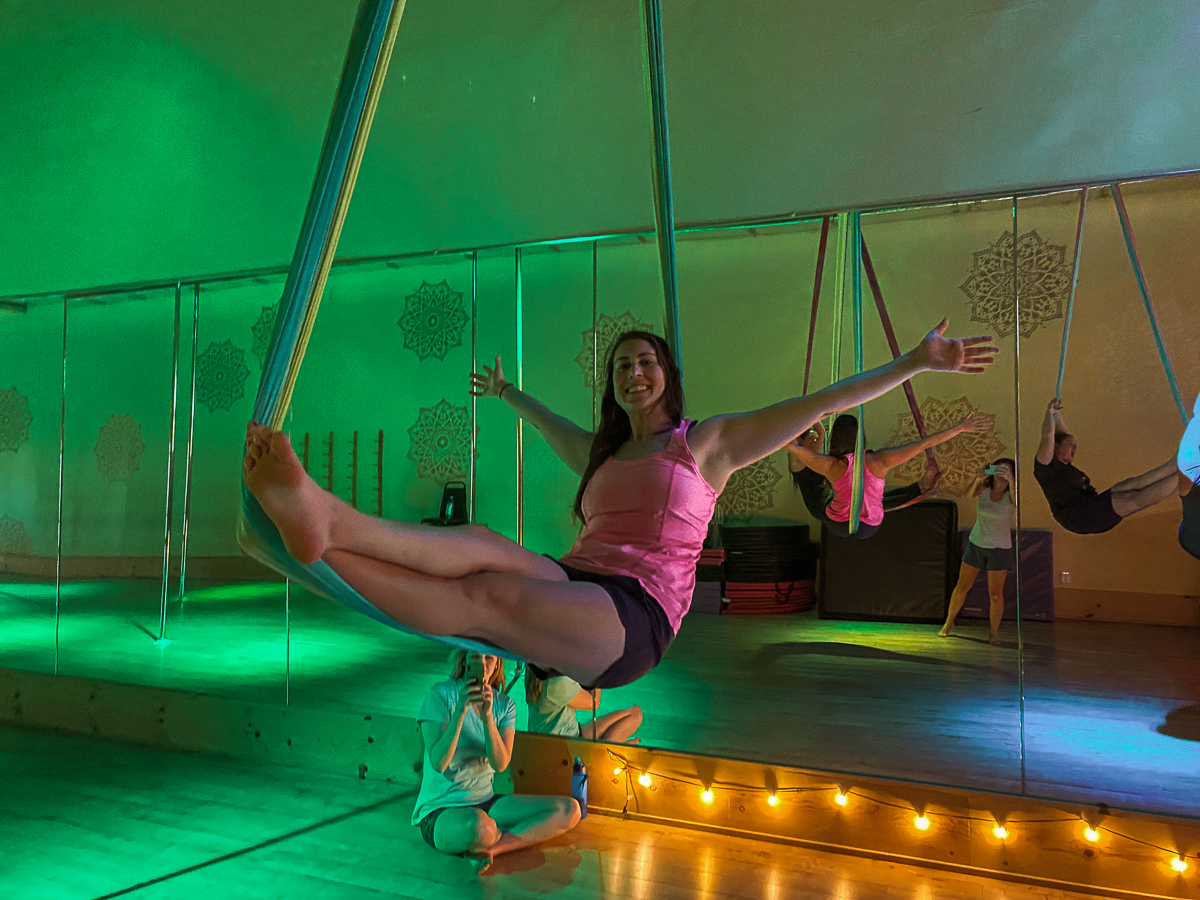 After this class, let's just say that I will NEVER underestimate how hard pole dancing. Never. We all were laughing the next several days after the class about not knowing there were muscles in our armpits and other miscellaneous parts of our bodies.
This was GENUINELY a workout.
Plenty of time is allowed to take pictures with your group and you can request extras for a small upcharge, like UV body paint with the lights off, a Hunkomania Male Dancer, or extra studio time.
Hunkomania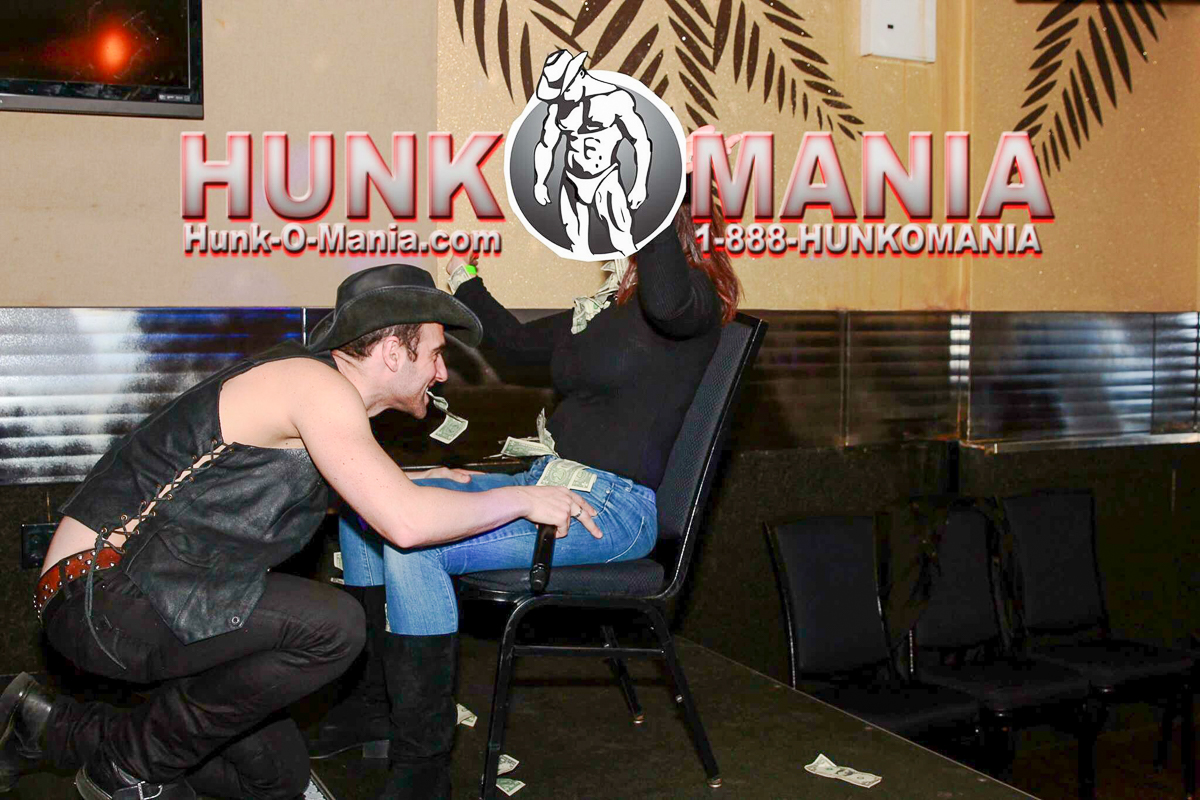 Would a bachelorette party in New Orleans be truly complete without male strippers?
Hunkomania is similar to a Magic Mike show featuring the very best male strippers. The men are not only unbelievably good-looking, but they have amazing dance skills and know how to make women swoon too.
The strip show is 2 hours long and includes R-rated dancing, gyrating, thrusting, and a WHOLE lot of men to gawk at.
We didn't know until we arrived, but were asked if we wanted to put the bride in a "hot seat" on stage. We opted to pay the $50 to get her up there. I'll leave it up to your imagination, but let's just say, they got up close and personal. I still blush thinking about it.
After the men dance on stage, they come down and dance with people in the audience, too. You can also buy lap dances from them as one last party after the show.
We'll be honest, we were all delightfully shocked at how interactive this show was with these hunks.
If you're looking for a wild, sexy, and fun event, this is it.
Bar Hopping and Live Music on Frenchmen Street
After Hunkomania, we walked the 15 minutes to get to Frenchmen Street for some more bar hopping.
Cafe Negril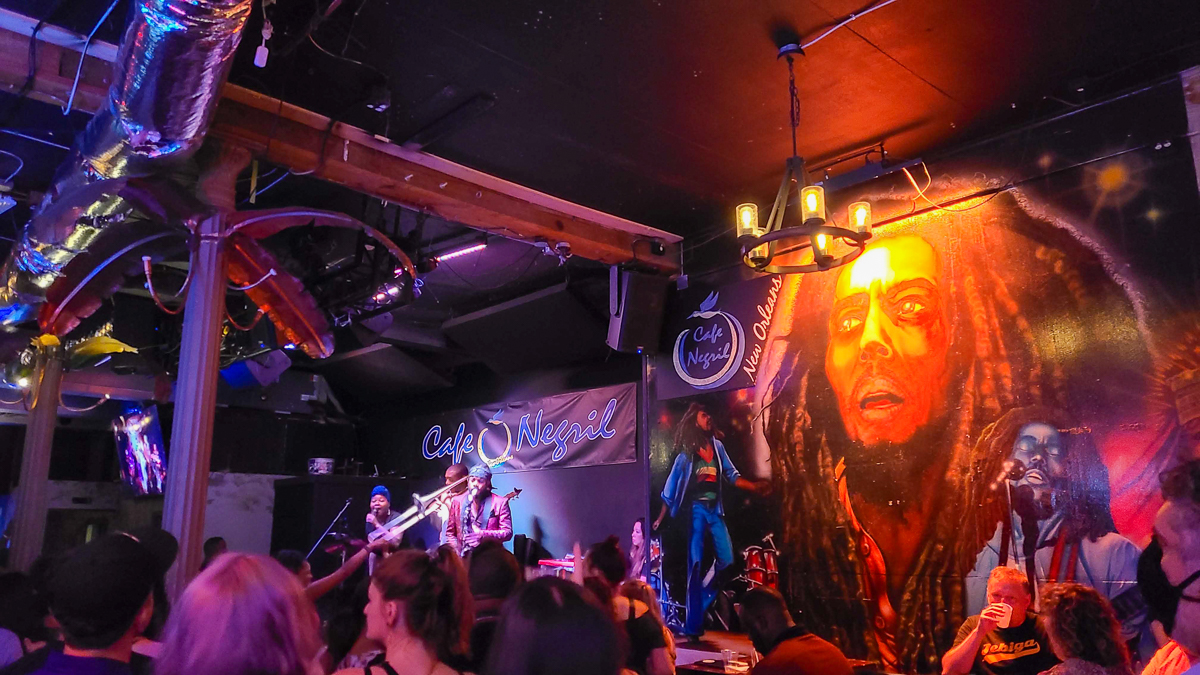 Cafe Negril is a must-do during your New Orleans bachelorette party if you're a music lover. Two or more bands play at Cafe Negril every single night and the music includes rock, reggae, jazz, and more.
Foods like tacos and burritos are available from Reuben's Taco Stand, which is located next to the bar.
The best thing about Cafe Negril is the intimate atmosphere. Most of the musicians have been playing at the cafe for several years and consider it home, just like so many locals do!
Snug Harbor
Snug Harbor Jazz Bistro has been around for over 30 years and it's known for its live music and creole cuisine. The bistro features a music room where musicians perform jazz music every single night.
The music room has two floors, so you can choose if you'd like to sit on the bottom floor in front of the stage or on the top floor overlooking the stage.
Snug Harbor has excellent food too. The menu has tons of options including Jambalaya, sandwiches, seafood, desserts, and more. The drink menu has plenty of wine, cocktail, and beer options.
Snug Harbor is the best place to go to during your bachelorette party in New Orleans if you'd like to experience New Orleans jazz and delicious food in an intimate setting.
The Spotted Cat Music Club
The Spotted Cat is one of the most popular Jazz Clubs in New Orleans. The club has appeared in numerous commercials and movies and has been visited by celebrities. Plus, the club is ranked as one of the top jazz clubs in the country on many websites and guidebooks.
Over 30 different artists and bands perform at the Spotted Cat throughout the entire week. There are at least two performances every day, but usually three.
As far as drinks, the Spotted Cat has a wide selection of beer, cocktails, and wine. Even mocktails are available for those who want a non-alcoholic option!
Sunday in NOLA
Brunch at Willa Jean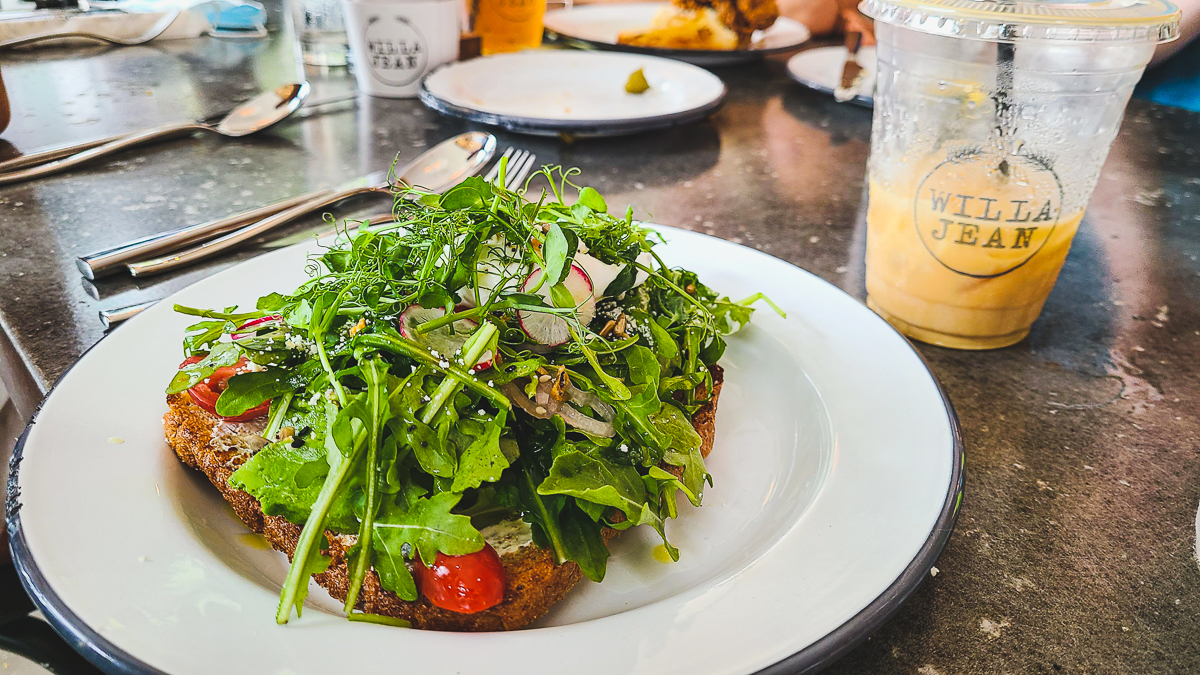 Willa Jean is a restaurant and bakery that focuses on southern food.
One of the best things about Willa Jean is the diverse menu that includes snacks, soups, salads, sandwiches, and much more.
You can get sandwiches and baked goods to go or opt to wait for a table for full service. The restaurant also offers drinks like beer and wine, and plenty of non-alcoholic options like coffee, tea, and soda. Basically, you can get whatever you need for the hair of the dog!
Willa Jean is modern, chic, and the perfect place to chow down on some comfort food before heading home from your bachelorette party in New Orleans.
Other Things to do for a New Orleans Bachelorette Party
Mississippi River Booze Boat Cruise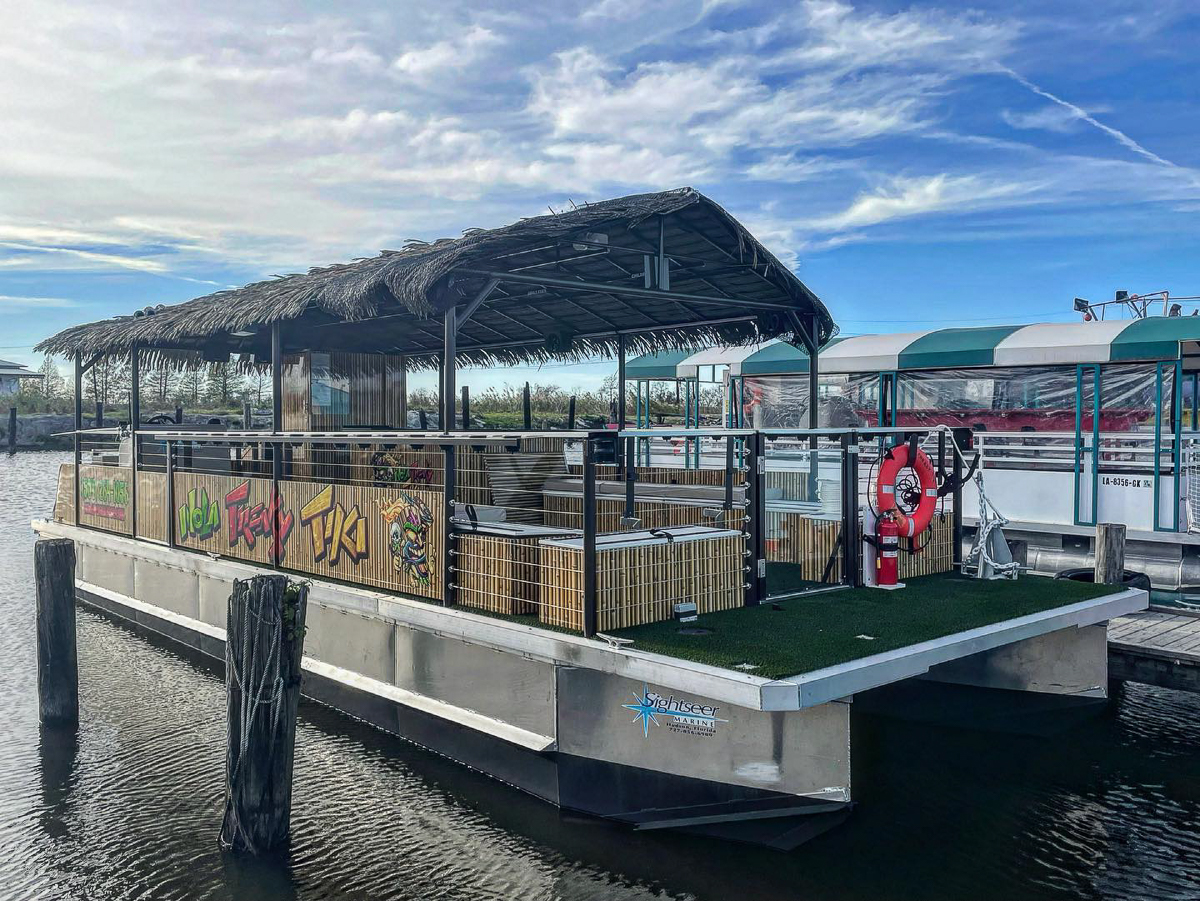 New Orleans Booze Cruise is the first pedal party boat in New Orleans and it offers the best way to spend some time outdoors on the Louisiana bayous while enjoying drinks with friends and getting views of the New Orleans skyline.
The standard public boat cruise is 90 minutes long, features 12 pedal stations, and can seat up to 18 people. There's also a variety of packages, like the private pedal bike barge charter which is 2 hours long and is the best choice for your New Orleans bachelorette party.
There's also a mega pedal bike barge which can seat up to 22 people and has Bluetooth speakers and party lights. Luxury pontoon rentals are available as well, which are 1 hour and 45 minutes long and can seat up to 12 people.
Cocktail Tour
Gray Line offers a variety of tours, but one of the best choices for your bachelorette party in New Orleans is the cocktail walking tour.
The tour starts with a complimentary drink and then you'll make your way through the French Quarter, stopping at the most famous bars and restaurants and learning about what kinds of drinks they offer while a guide tells you stories about the famous drinks and the unique recipes behind them.
Gray Line offers the cocktail tour from September 17th – December 31st. The tour is 2.5 hours long and departs at 4 pm from the Gray Line Lighthouse ticket booth.
Cooking Class
Langlois is a group of experienced local chefs that are devoted to teaching people how to make delicious New Orleans food and, most importantly, to have fun while doing it! Langlois was even named one of the "Best Cooking School Vacations" by USA Today.
For your bachelorette party in New Orleans, there is a special package available that includes Cajun Gumbo, grits, crepes, and Flambé. An electronic recipe packet will be sent to the meeting organizer as well.
All cooking classes are laid-back, relaxed, and guaranteed to leave you with better knowledge of New Orleans cuisine.
Shop Boutiques on Magazine Street
Magazine Street is known for being the best place to get some shopping done while you're in New Orleans. The street is 6 miles in length and is full of stores, most of which are locally owned.
One store that we recommend checking out is Miss Smarty Pants, which is a locally-owned gift shop that has been in business since 1999.
Miss Smarty Pants sells home decor, accessories, jewelry, party goods, and more. If you're looking for some gifts to bring back to friends and family after your bachelorette party in New Orleans, Miss Smarty Pants is the place to go!
Since New Orleans is known for vibrant nightlife, delicious restaurants, and live music, it's the perfect place to have your bachelorette party.
The city is packed full of bars, restaurants, and jazz clubs all within close proximity of each other, so it's not that difficult to explore the entire city in just one weekend.
A great thing about New Orleans is that, even if partying isn't your thing, you'll still enjoy your time there since there are plenty of other ways to have fun, like enjoying delicious food at one of the city's many restaurants, watching the live performers on the street, or doing some shopping on Magazine Street.