A Local's Guide to the Charleston Breweries in South Carolina
If you are looking for local's guide to the Charleston breweries, this is the perfect guide for you. Our family has lived in Charleston for over a decade now and they have made sure to take us to all the breweries.
While there are several breweries in and around Charleston, we chose to focus on the breweries located in or near the downtown area (no crossing the bridges to get to them – aka Mount Pleasant area).
We have listed the breweries in order from downtown and out so if you are staying in downtown Charleston, you will know which are the closest.
Most of these are clustered in the Brewery District in Charleston, so the last several are clustered together in one area which makes for easy brewery-hopping!
Psst: Looking for more Charleston info? We have a few guides! Browse them here:
This post was originally published in June 2020, and was updated in September 2022.
**Boozing Abroad contains affiliate links throughout the site. If you choose to purchase items through these links, we will earn a small commission at NO extra cost to you. Read the full disclosure policy here**
How many breweries are in Charleston?
There are approximately a dozen breweries in the downtown Charleston area, but many more just outside the city.
Our guide will cover those that are in the city limits and excludes the surrounding area.
Short on Time? Our top 3 can't miss breweries in Charleston are:
Edmund's Oast
Revelry
The BrewLab
Map of Charleston Breweries
Click below to view the interactive map!
HOW TO USE THIS MAP: To view the layers and see the names of the places on this map, click the tab in the top left corner. You can select the check marks to show or hide certain layers. If you select the icons on the map, you will get more information about the point of interest.
HOW TO SAVE THIS MAP: If you select the star icon next to the map name, you can save this map to your Google Maps account. To view it, open Google Maps in desktop or on your phone, select the menu button, go to "Your Places," scroll to the right to Maps, and you will see this map.
Charleston Breweries
Palmetto Brewing Company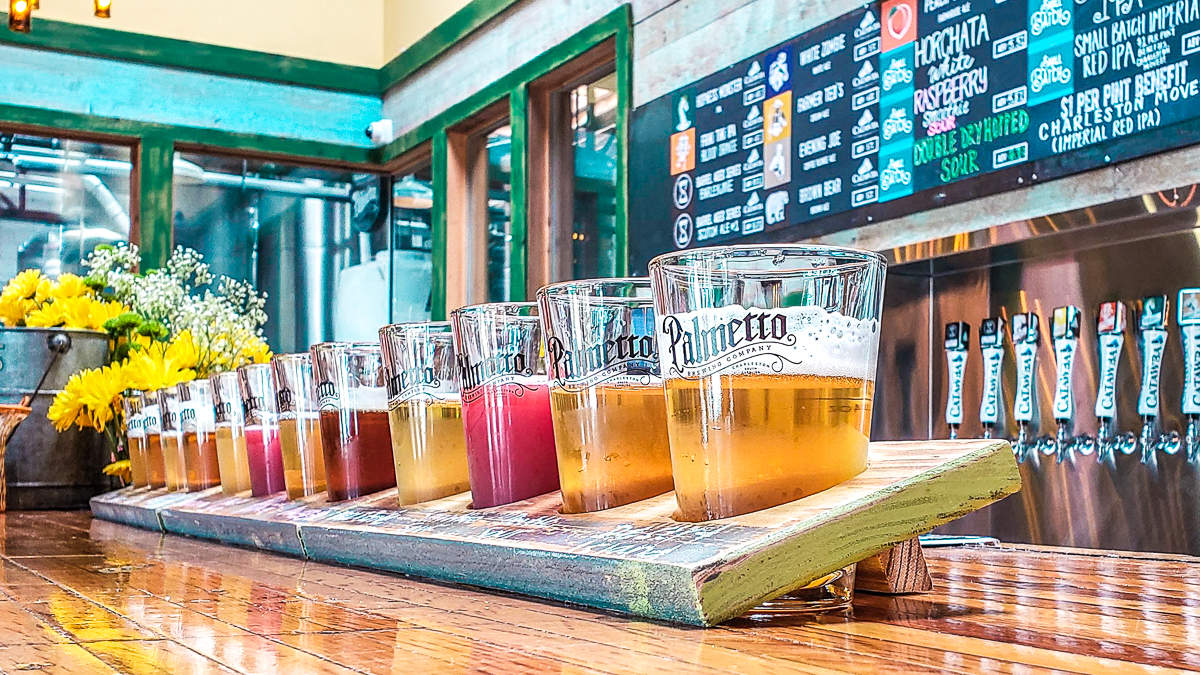 Palmetto Brewing Company was Charleston's first brewery and tasting room and they have, in our opinion, the most diverse selection of beer to choose from.
From ales and pilsners to sours and IPAs, no matter what type you drink, it will be here.
You can get to Palmetto's tasting room/bar from Huger Street (pronounced "you-gee") where you'll enter their large garage area with picnic tables and cornhole that serves as an overflow room to the main tasting room.
Also a good note, their sister brewing company, Catawba (in between Charlotte and Asheville, NC) is on draft as well as some cider options.
With 30 taps, you can't go wrong! (Unless you try all 30 at once, which is really not recommended as there are more Charleston breweries to try!)
Revelry Brewing Co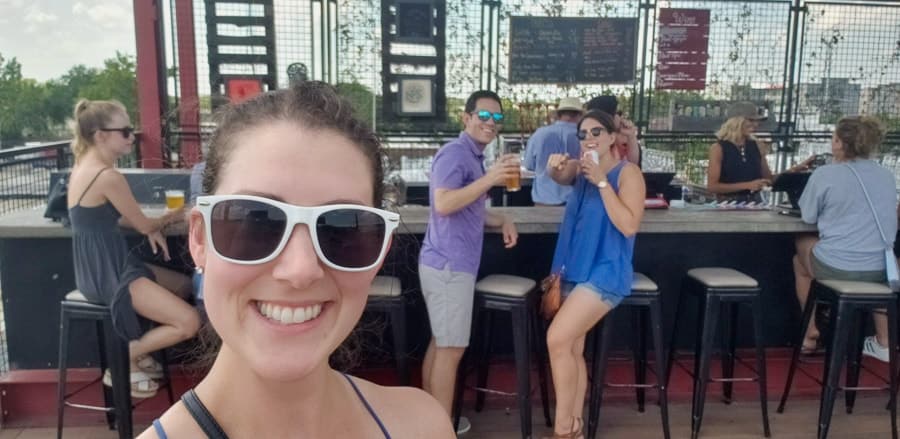 Sought out by locals, Revelry Brewing has a great view of the city with a rooftop patio option, in addition to the original tasting room downstairs (which has more beers available). This is usually the first stop we make when visiting the Charleston breweries.
Locals hang out here after their kickball games, which take place right across the street. Revelry usually has live music and a kickass sushi food truck, which we were advised by Chris's sister as being delicious.
We don't typically suggest pairing sushi with beer, but it's really good and pairs surprisingly well!
The Hold by Revelry Brewing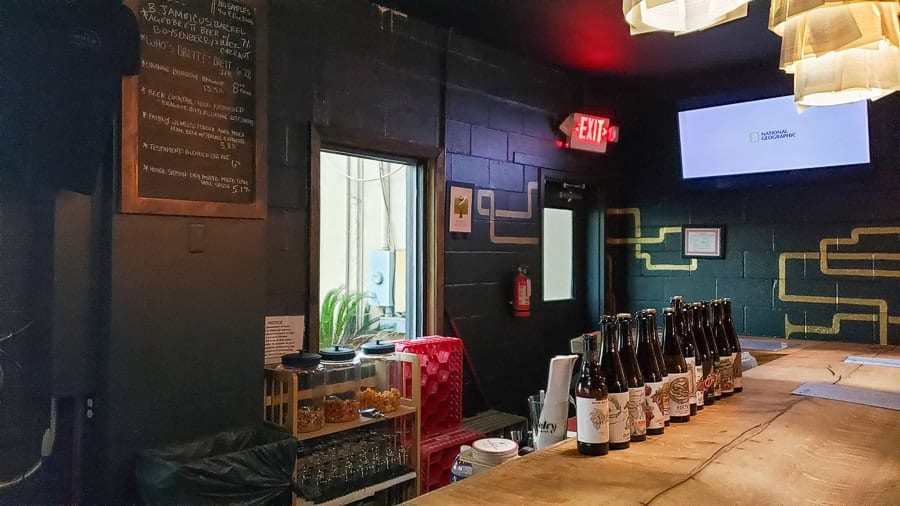 The Hold by Revelry Brewing specializes in crafting barrel-aged beers. While many Charleston breweries are experimenting with IPA, these funky beers and sour beers highlight this new endeavor by the folks from Revelry, which is right around the block from the original Revelry location.
These beers were very different and unique, and the one we tried, Orange Blossom Braggot, was a perfect after-dinner treat!
If you crave more traditional style beers, prepare your tastebuds for the unusually delicious flavors!
Edmund's Oast Brewing Co.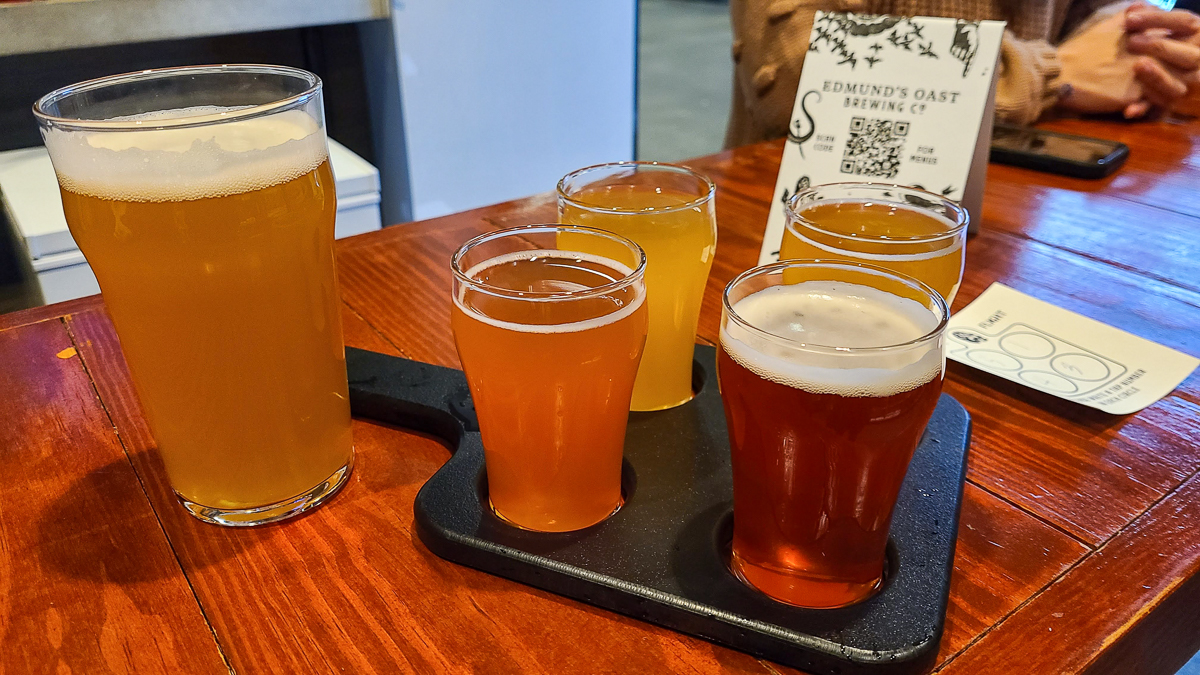 Edmund's Oast Brewing Co. offers a wide variety of beers on tap, including many IPA's and sours, as is the norm these days. This Charleston brewery has 26 total taps, but they also have cocktails and wine too if you have a friend who doesn't like beer. (Find a new friend…just kidding).
It's also a restaurant with pretty good food available. They actually have a restaurant-only space less than a mile from the brewery, but you can get food at the brewery as well. Both restaurants come highly recommended from our local family members.
Unrelated to beer, but worth noting…..one of the owners apparently really likes wrestling, so there are old-school wrestling matches on some of the TVs.
We had the pleasure of watching Hulk Hogan battle Andre the Giant at Wrestlemania! Okay, so it wasn't at all pleasurable, but extremely awkward.
The BrewLab Charleston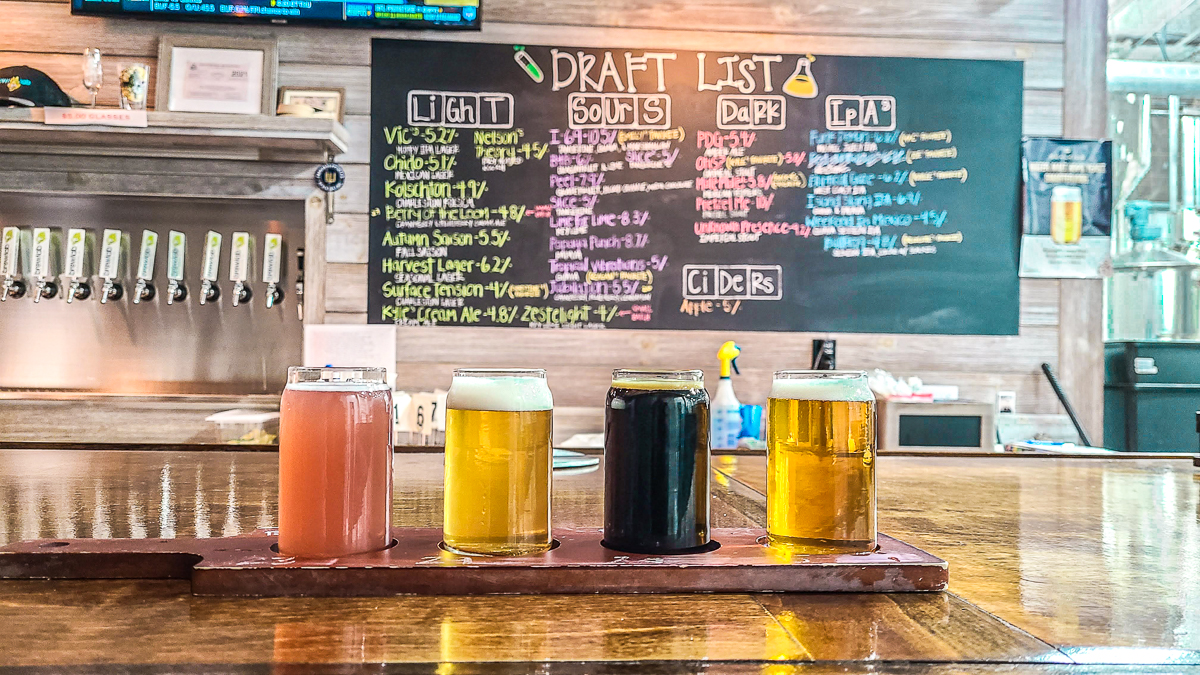 New to the renovated Charleston brewery district as of September 2020, Brewlab has quite an impressive beer selection, experimenting with funky and fresh styles.
With 32 taps, BrewLab is shaking up traditional styles by adding experimental twists with each brew. We hate to say the phrase "something for everyone", but the numerous options here can make any beer palate happy. If you find a brew you love, be sure to get a growler (or sit and drink more). Due to the small batches and experimental nature of the brewery, once the keg is tapped, you might not see it again for a while, or at all.
In addition to the beer, there is a food menu for when you get hungry AND both wine and liquor for those that go against the grain (hehe!).
We were very impressed with our beers and will be making this a regular stop when we visit Charleston breweries in the future.
Fatty's Beer Works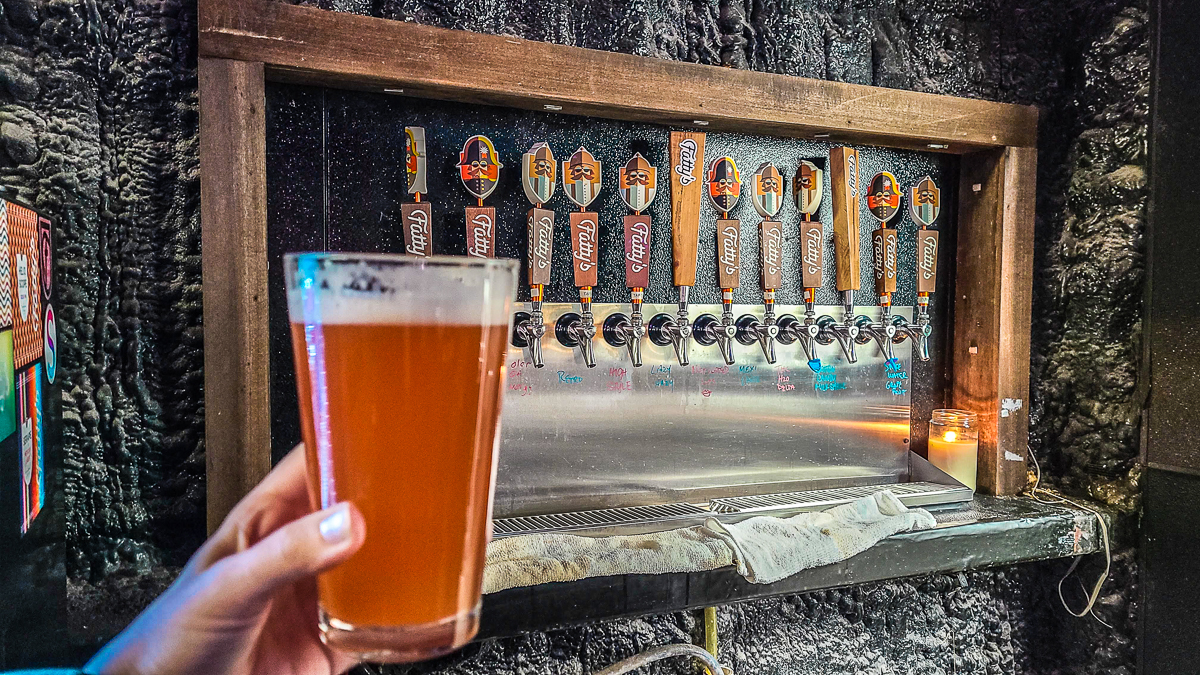 Established in 2014, Fatty's Beer Works has a neat backstory, like many of the Charleston breweries, and a comical reason for the name.
When the founder, David McLain, went to college, he put on a little more weight than just the "Freshman 15", and his friendly fraternity brothers gave him the nickname of "Fatty". Over time, David lost the weight…but you don't just lose a nickname!
After college, nickname in tact, Fatty moved up to one of our favorite states, Montana, and really got interested in brewing beer. At the time, domestic beer was really the main beverage of choice with no good craft brews (for what it's worth, that is no longer the case – Bozeman beer, Billings beer, Butte/Helena beer, and Missoula beer), so he decided to come back to South Carolina and explore his love of craft beer even more.
While his wife was pregnant, he knew he needed a hobby – enter homebrewing. In between his day job and helping around the house, he still found time to brew in his garage, and after a few years, he produced his first small batch beer, First Shot IPA, which is now the flagship beer at Fatty's.
The draft list has the First Shot IPA, the Lazy Hazy IPA (another flagship), as well as numerous other beers and styles (pilsners, sours, sour IPAs, stouts, lagers, and more) to enjoy in the small, laid-back tasting room. If you're lucky, you might even show up on a night when Fatty himself is playing music at the brewery.
Munkle Brewing Co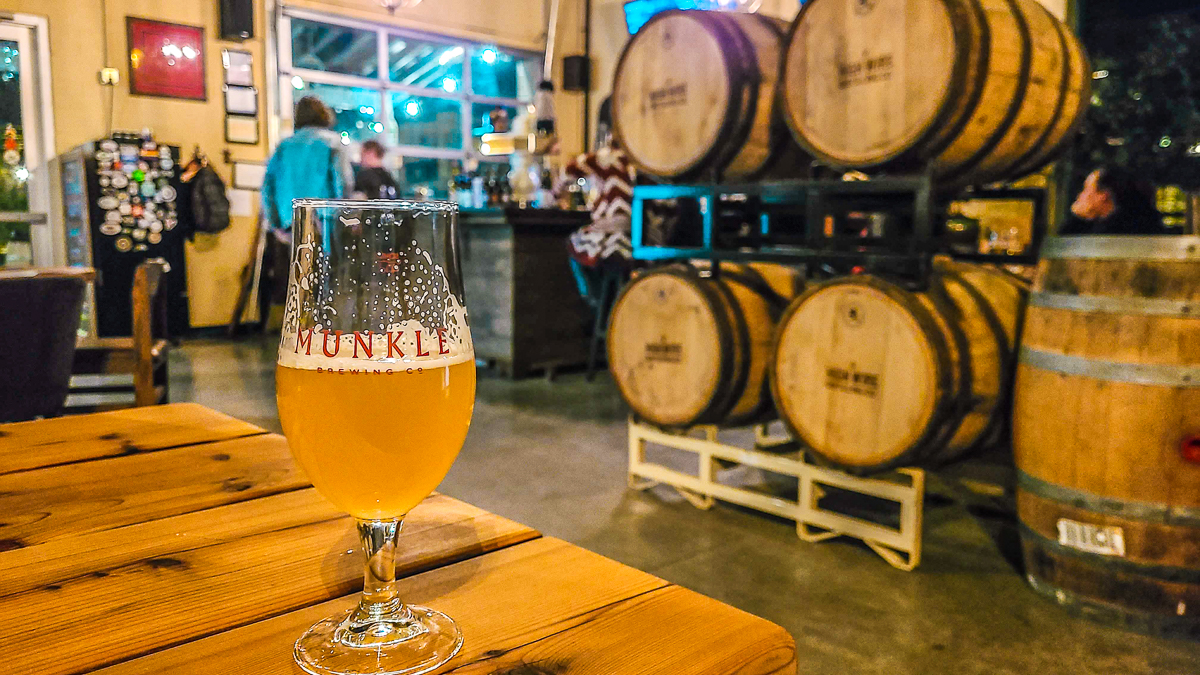 Most of the Charleston breweries will have an abundance of IPAs on tap. But Munkle Brewing is not that type of brewery.
Munkle Brewing will make you a believer in Belgian style beers. Of all the breweries in Charleston, Munkle has the most robust selection of traditional beers to try – like the Brugge City Brune, a brown Belgian ale, and the Gully Washer Wit, a citrusy wheat beer. They also have different pilsners, lagers, stouts, dark ales, and table beers.
And you'll get to drink them in what kind of feels like an old-time beer hall with lots of warm colors and textures and big communal tables.
The brewery is named after the founder's uncle (born only three months apart), who learned the tricks of the trade during his time at a Benedictine monastery – hence, Munkle. So, this stuff is the real deal!
Cooper River Brewing Co
With most of the Charleston breweries are located in the Brewery District, Cooper River Brewing is no exception to this HOP-ping area (get it HOP-ping, like hops?).
If full-bodied beers are your thing, Cooper River Brewing will not disappoint.
Hitting the Charleston brewery scene in 2015, their top brews are the Orange Infused Blonde Ale and Golden. Their bar is always packed with their brewing equipment as a backdrop.
Tradesman Brewing Co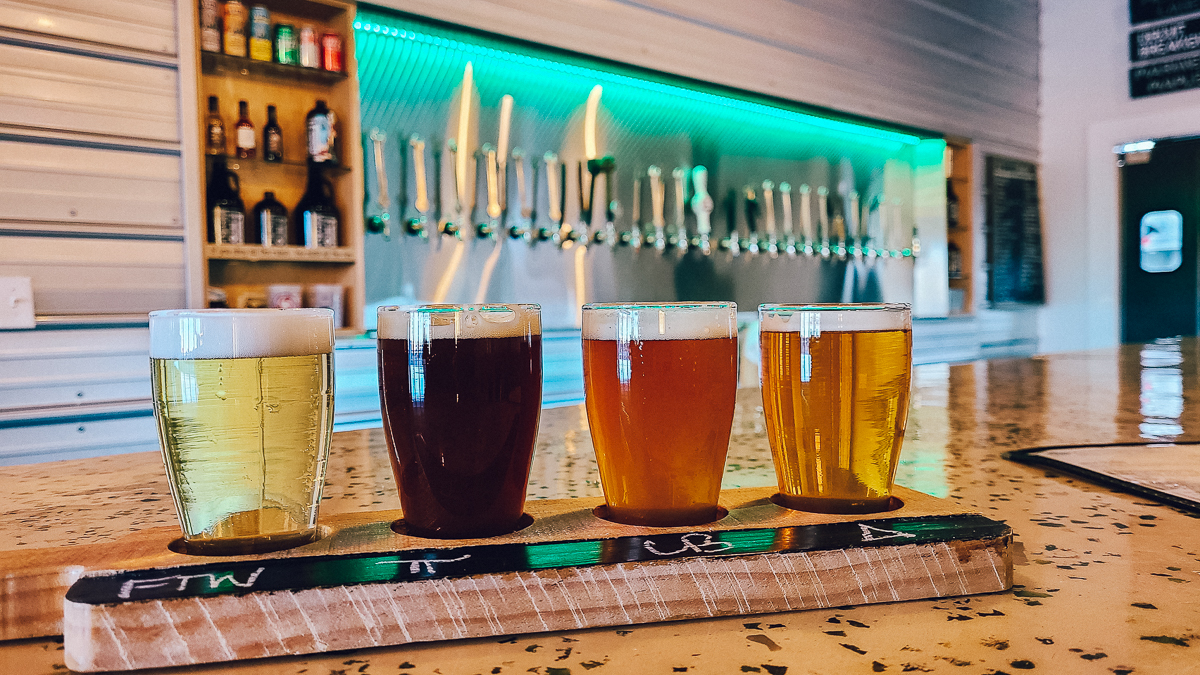 Tradesman Brewing is an independently-owned, family nano-brewery. As is the case with the beginnings of most breweries, they were homebrewers to start. After their friends drank them dry for the last time, they decided to go all-in and open up a brewery.
In 2014, they opened a small spot on James Island just outside of Charleston, but today have a much bigger location on King Street heading into downtown from North Charleston.
They offer crowd favorite staples like the Circuit Breaker IPA, the Jorts & Boots cream ale, the Welders Wheat, or the incredibly interesting Shift Change white stout. They also have a diverse selection of seasonals with a huge patio where you can come and enjoy a refreshing cold one.
Lo-Fi Brewing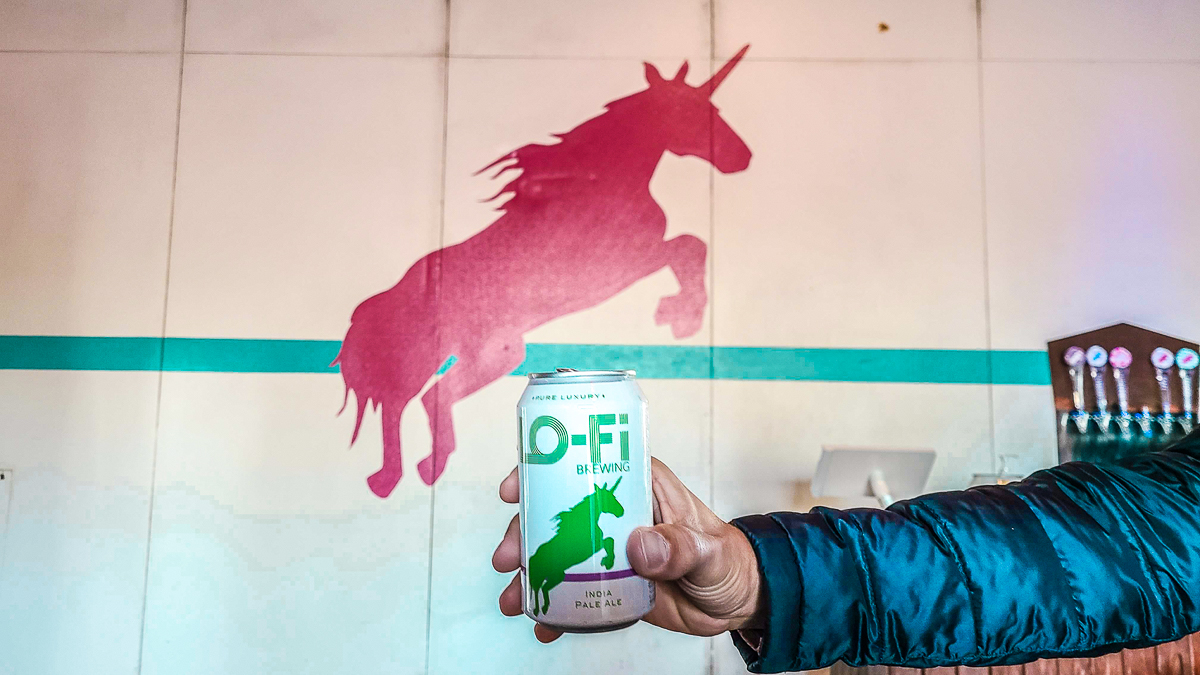 Last, but not least on this list, is Lo-Fi Brewing. While it's the "farthest" away from downtown Charleston, it's only 1 mile from Tradesman Brewing and definitely worth a visit.
A unique and quirky atmosphere in a refurbished warehouse, Lo-Fi Brewing is a chill place to come knock one back with friends.
Be sure to try the Glitter Pony Triple or Rally Cat IPA which are bomb AF!
Another reason to love them – they have a brewery cat named Kit Kat!
Holy City Brewing
If you are looking for Holy City Brewing, that is located about 15 minutes North from the other Charleston breweries.
North Charleston is definitely worth the visit and you should arrive thirsty. There is plenty to eat and drink there too!
Charleston Breweries Shuttle
Every Saturday, there is a free shuttle that will take you to the breweries in the Charleston Brewery district. It runs every Saturday from 1 p.m. to 9 p.m.
The shuttle runs on this schedule every hour:
:00 Tradesman Brewing
:05 Edmund's Oast Brewing Co.
:10 The Brewlab
:15 Cooper River Brewing
:25 Palmetto Brewing
:30 Baker & Brewer
:35 Revelry Brewing
:40 Fatty's Beer Works
:45 Lo-Fi Brewing
:50 Munkle Brewing
:55 Arrive back at Tradesman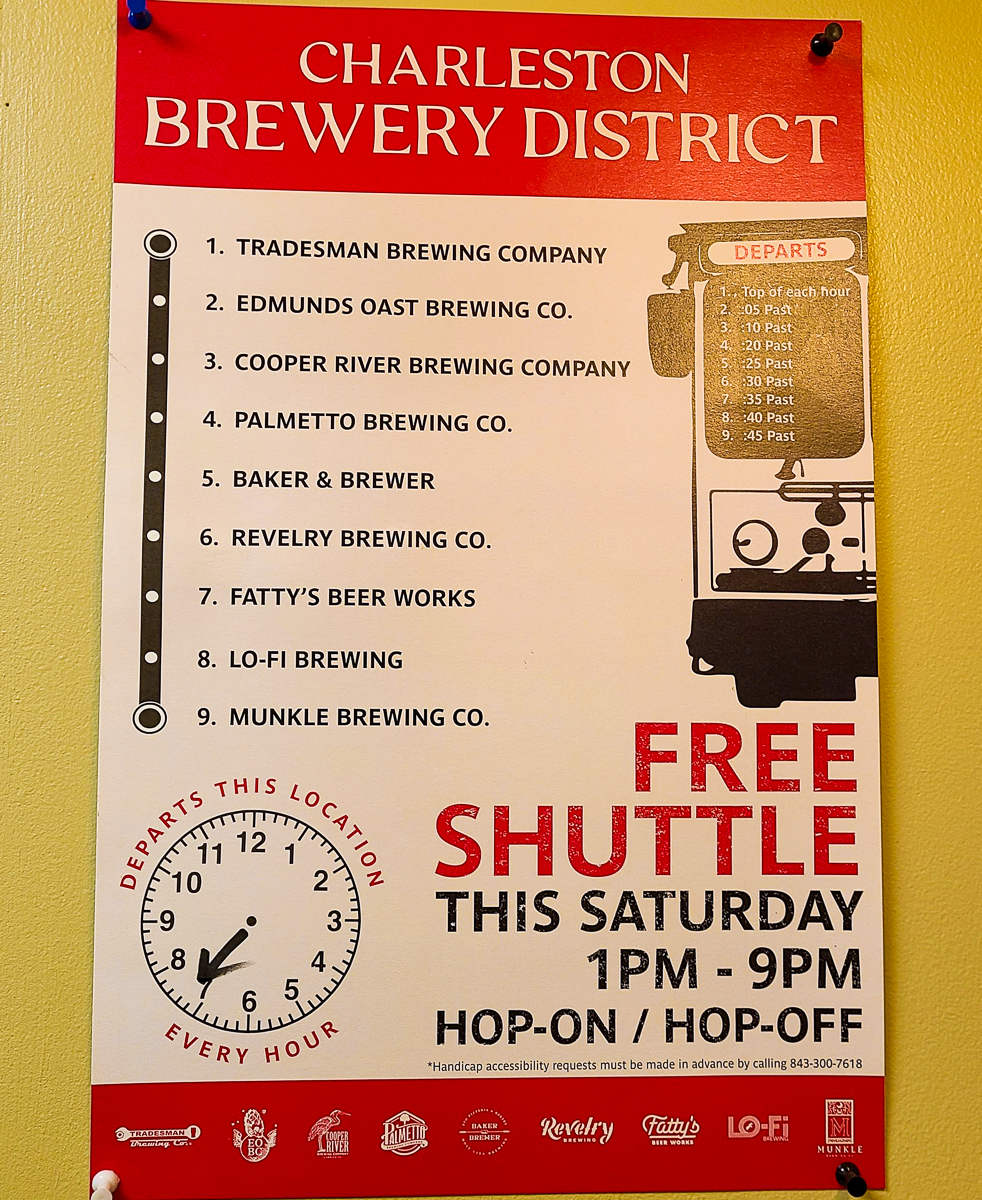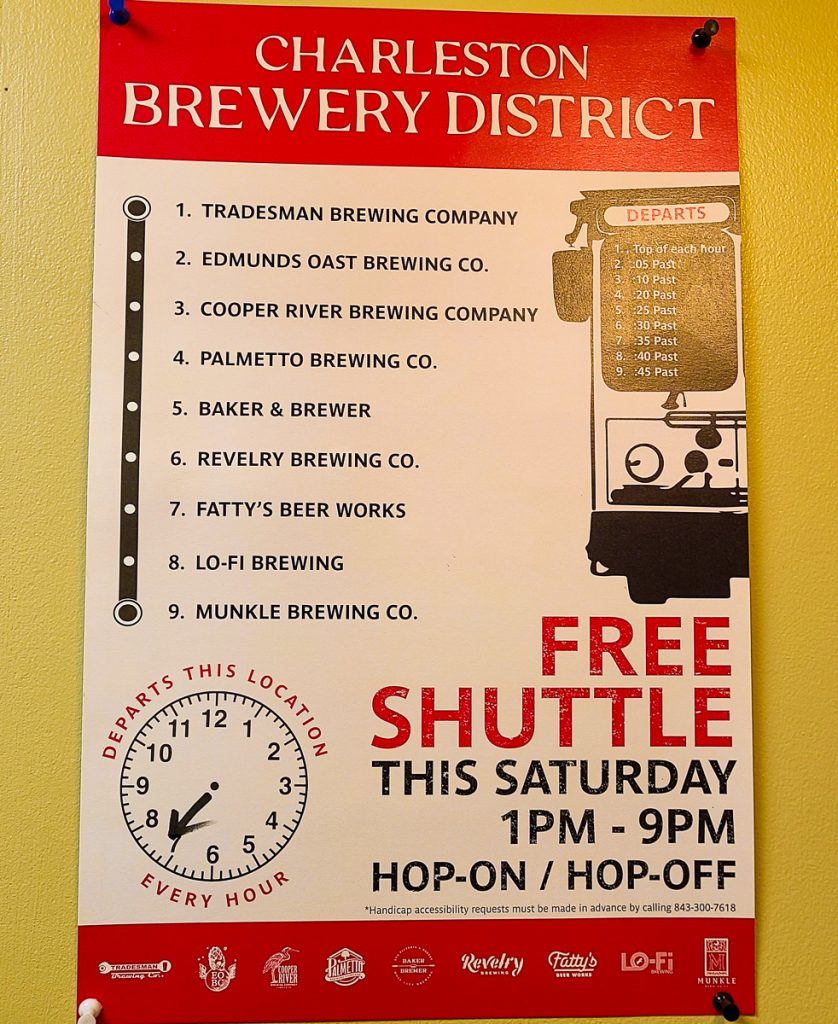 This shuttle runs seasonally so be sure to call one of the breweries before you plan to use it to see if it's running.
No reservations are required and the best part, it's FREE. You can hop-on and hop-off at your leisure which is a great way to get around without drinking and driving.
Note: animals and "roadies" (aka open alcohol) aren't allowed on the shuttle.