The 6 Best El Paso Breweries in Texas
El Paso, Texas is located in the far southwestern part of Texas and is one of the biggest cities in the state and in the country. Given the size and population, it's no surprise that there is a plethora of drinking options, specifically El Paso breweries, to choose from in this majority-Hispanic city.
When it comes to craft beer, you can find a little bit of everything in this city – whether it's plain and simple craft beer, new and exciting craft breweries, beer bars and bottle shops, or even an international stop for a famous margarita, El Paso has it.
Short on Time? Here are the key takeaways:
The top 3 breweries in Santa Cruz per our ranking method are: Craft Rhythm & Brews, Blazing Tree Brewery and Old Sheepdog Brewery
However, Aurellia's Bottle Shop and Deadbeach Brewing were our favorite.
In terms of beer bars, Tin Man is a popular spot for locals and we recommend a visit.
This post was originally published in March 2021, and was updated in June 2023.
**Boozing Abroad contains affiliate links throughout the site. If you choose to purchase items through these links, we will earn a small commission at NO extra cost to you. Read the full disclosure policy here**
Map of Breweries in El Paso
Click the interactive map below!
HOW TO USE THIS MAP: To view the layers and see the names of the places on this map, click the tab in the top left corner. You can select the check marks to show or hide certain layers. If you select the icons on the map, you will get more information about the point of interest.
HOW TO SAVE THIS MAP: If you select the star icon next to the map name, you can save this map to your Google Maps account. To view it, open Google Maps in desktop or on your phone, select the menu button, go to "Your Places," scroll to the right to Maps, and you will see this map.
The Best El Paso Breweries
Rather than trying to explain our pretty strong views on what makes a brewery the best, we've designed our own formula to objectively tell you what's literally the best.
We've devised our own ranking system based on 3 factors:
Public ratings (sites such as Google, Facebook and Yelp)
The brewery's rating on Untappd
Popularity
In the end, each brewery receives a score out of 5. We will break ties using the total number of reviews. In general, the higher the score, the better!
Here is our ranked list of which breweries offers the best craft beers in El Paso:
| Rank | Brewery | Score |
| --- | --- | --- |
| 1 | Craft Rhythm & Brews | 5.29 |
| 2 | Blazing Tree Brewery | 5.25 |
| 3 | Old Sheepdog Brewery | 4.90 |
| 4 | Sun Brewing Co | 4.78 |
| 5 | DeadBeach Brewery | 4.75 |
| 6 | Aurellia's Bottle Shop and Brewhouse | 4.72 |
If you want to learn more, read our ranking formula.
Ready to learn about each of these breweries and choose your own favorite brewery in El Paso?
El Paso Breweries
1. Craft Rhythm & Brews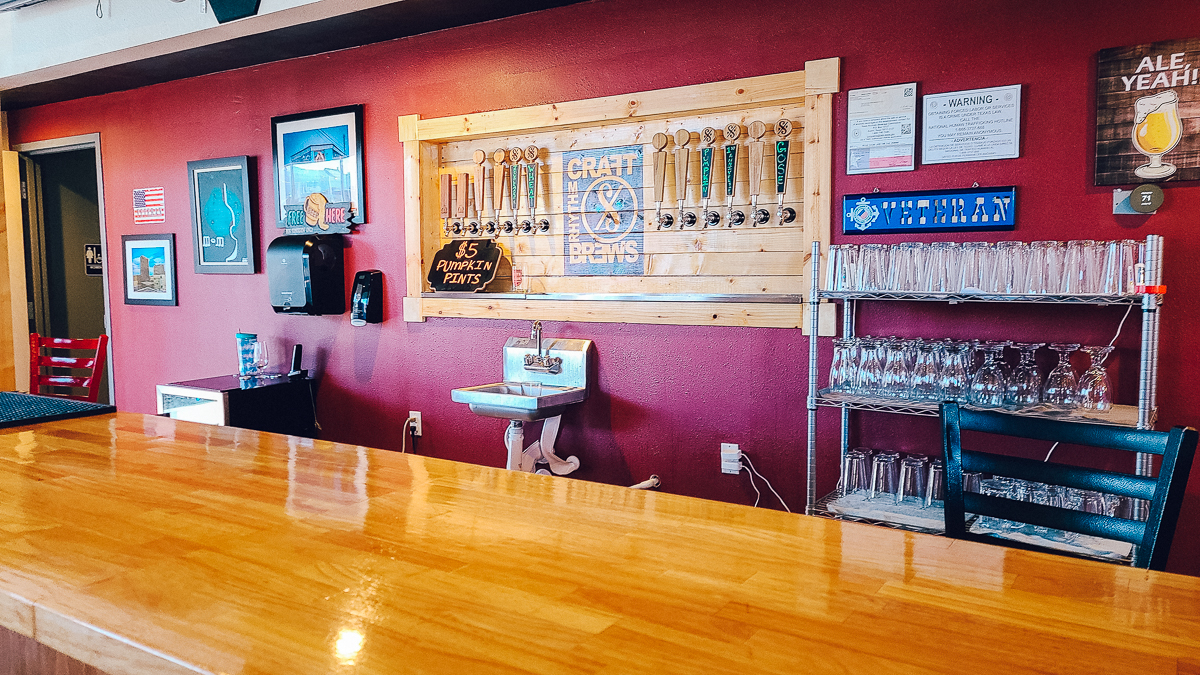 Craft Rhythm & Brews is one of the newer El Paso breweries, located just outside of downtown, and is woman-owned and veteran-operated. It's an entire family affair here too, as husband, wife, and son are all involved in the brewing and taproom operations.
The husband is no stranger to the craft beer industry as he was one of the founders of another of the El Paso breweries on this list, Blazing Tree, but he is now devoting all of his efforts to making the family business a success.
CR&B beers aren't for the faint of heart, either. One of their mainstays, the Troublemaker IPA, clocks in at 9.3% ABV, their delicious 1301 Vanilla Porter is about 7.3%, and the None Udder milk stout is just shy of 9%.
Even the Thirsty Lizard Wheat beer is 8.3%. Despite the booziness, these beers are remarkably well-balanced and drinkable.
2. Blazing Tree Brewery
Blazing Tree Brewery has been around on the El Paso breweries scene since 2017 and offers a wide selection of flagship beers and seasonal options, as well as an enticing full food menu (Nacho Burger anyone?).
The Peanut Butter Brown Ale was one of the most-talked about beers by other El Paso breweries during our time in town, but there are so many other options if darker beers aren't your thing.
While this is about 15 minutes east of downtown, it is well-worth the visit if you find yourself in the area or looking for more good beer.
3. Old Sheepdog Brewery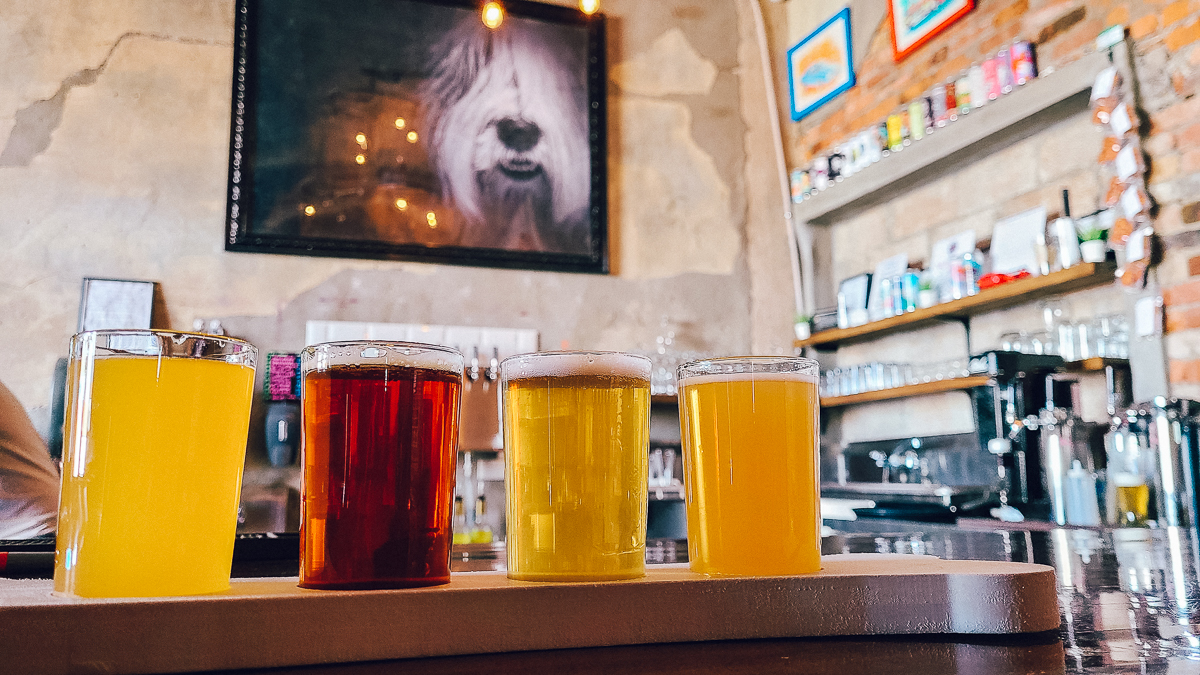 On the eastern side of town, you'll find a humble brewery called Old Sheepdog Brewery. Tucked into a neighborhood about 5 minutes outside of town, Old Sheepdog has a diverse menu of beers available, including some guest beers.
And yes, there is a large picture of a scruffy Sheepdog adorning the bar (his name is Geoffrey, one of the three owned by the founders).
Opened in 2019, Old Sheepdog Brewery started like many other breweries – as a garage hobby – but morphed into a full-on brewery operation. They host a variety of events like jazz night, open mic night, cigar and beer pairing classes, date night beer dinners, and more. To see all their upcoming events, check their Facebook.
They've outgrown their original 2-barrel system and will be graduating to a 14-barrel system, which will let them continue to dive deeper into different styles of beers. We got a flight of four beers which were all very good, but got to taste a few beers that weren't on our flight and those were actually our favorites. As they continue to come into their own and find their beer "voice", styles and beers will continue to rotate.
Food trucks come on-site and often align with the theme or type of event happening at the time.
4. Sun Brewing Co
Although it wouldn't be considered one of the El Paso breweries based on location alone – it's located 20 minutes north of downtown in Canutillo, Texas – Sun Brewing is included on this list because it is a unique nano-brewery option that is very different from the other operations on this list.
No matter your knowledge of craft beers, Sun Brewing wants you to come as you are. The owner is on record as saying that "this place does not cater to snobs. All people are equal and I just hope you like the beer." Simple as that. The owner is passionate about beer (and cooking) and loves to share that passion with whoever walks through those doors.
The beers are pretty darn good too, many national and even international award winners. Because of the small size of its operations, the beers are constantly changing, but one of the most popular beers is the Meados de Alien (loosely translated as "Alien Piss"), which is a fruited beer with hints of apricot and a pinch of chile that warms you up just right.
5. DeadBeach Brewery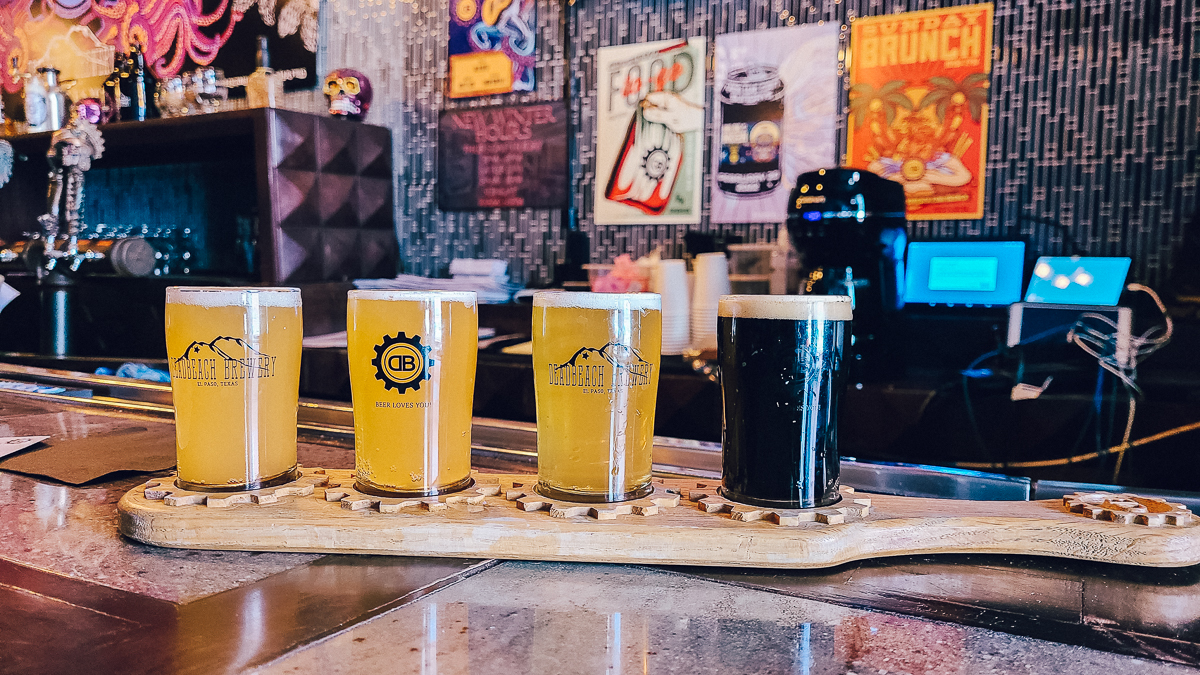 Located adjacent to the Mexican border (El Paso shares its border with the Mexican city of Ciudad Juárez across the Rio Grande River), DeadBeach Brewery is one of the most popular El Paso breweries.
It has a small, unassuming taproom and massive patio with a rock vibe, incredible beers, and astounding food.
Some of the mainstay beers include the Abuela Mexican chocolate stout, the Brown Bunnie brown ale, and the classic DeadBeach IPA.
Inside the taproom, you'll find 12 taps (6 mainstays, 5 rotating/seasonal, and 1 guest tap). And what pairs well with craft beer? Food, duh.
DeadBeach has a full menu for any appetite, but the star of the show is their selection of meats smoked in-house weekly. Brisket, pork, turkey, and pastrami that are served straight or on something delectable like fries, sandwiches, or tacos (we are next to Mexico, after all).
On Sunday, they brunch. Hard. From biscuit benedicts to breakfast tacos, you can't start day drinking if you don't start in the morning! Just remember to fuel up beforehand.
6. Aurellia's Bottle Shop and Brewhouse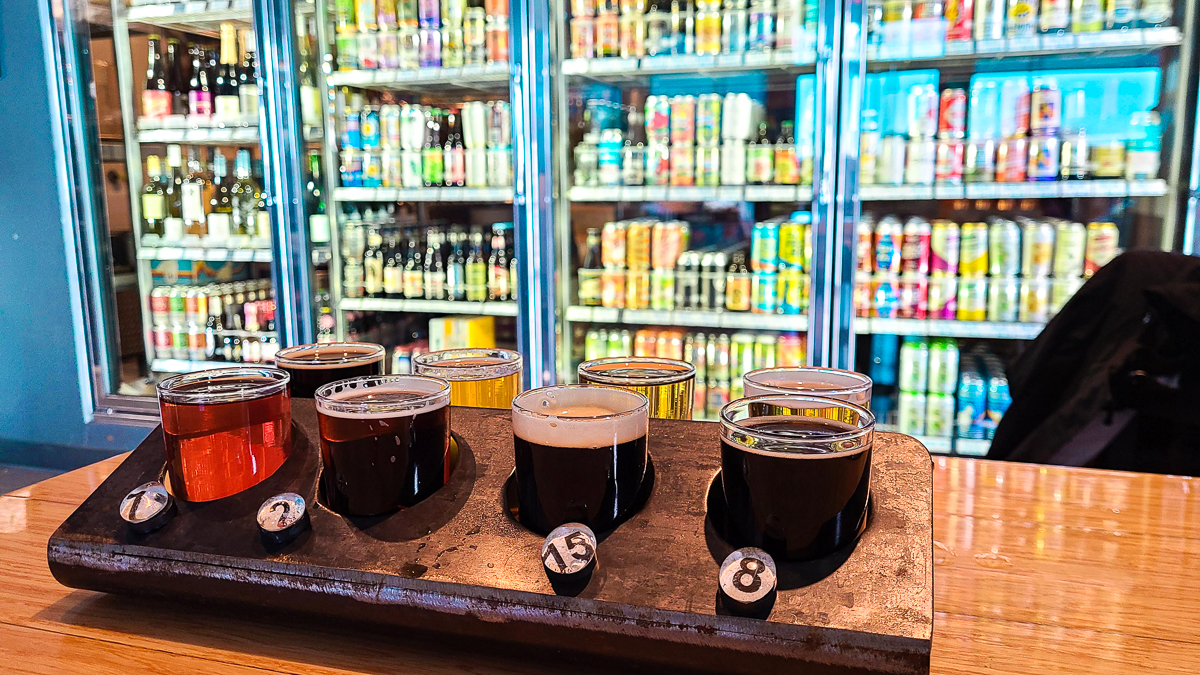 A bottle shop with great local beer to try in-store or to-go. A brewery making interesting and delicious beers. And an operation that is all-electric with no gas emissions. It's the best of all three worlds!
Aurellia's Bottle Shop and Brewhouse is a great stop in El Paso, Texas, for beer and wine from local and national options. Aurellia, short for the Automated Ubiquitous & Revolutionary Experimental Logarithmic Libation Inception Apparatus, is an extremely innovative system that creates great beers with responsible energy and mathematical precision (thank you for the abbreviation to Aurellia's).
Though some might think that the "craft" and magic is taken out of the brewing process when using such mathematical processes, one thing you know you'll get: a well-made and consistent beer. It's certainly one of the most innovative of the El Paso breweries!
You can grab a flight, pint, or growler of any of their draft beers, many of which are made on their Aurellia system. And before you go, check out their to-go coolers for all of your build-your-own-six-pack needs.
Of their in-house beers, we had the Texas Fog (cream ale with lavender, vanilla, and Earl Grey tea – porch pounder status), the Bulma blonde ale made with Italian plums, King Under the Mountain imperial red IPA, and the Pride of Derbyshire milk stout.
Bonus El Paso Beer Bars
Hoppy Monk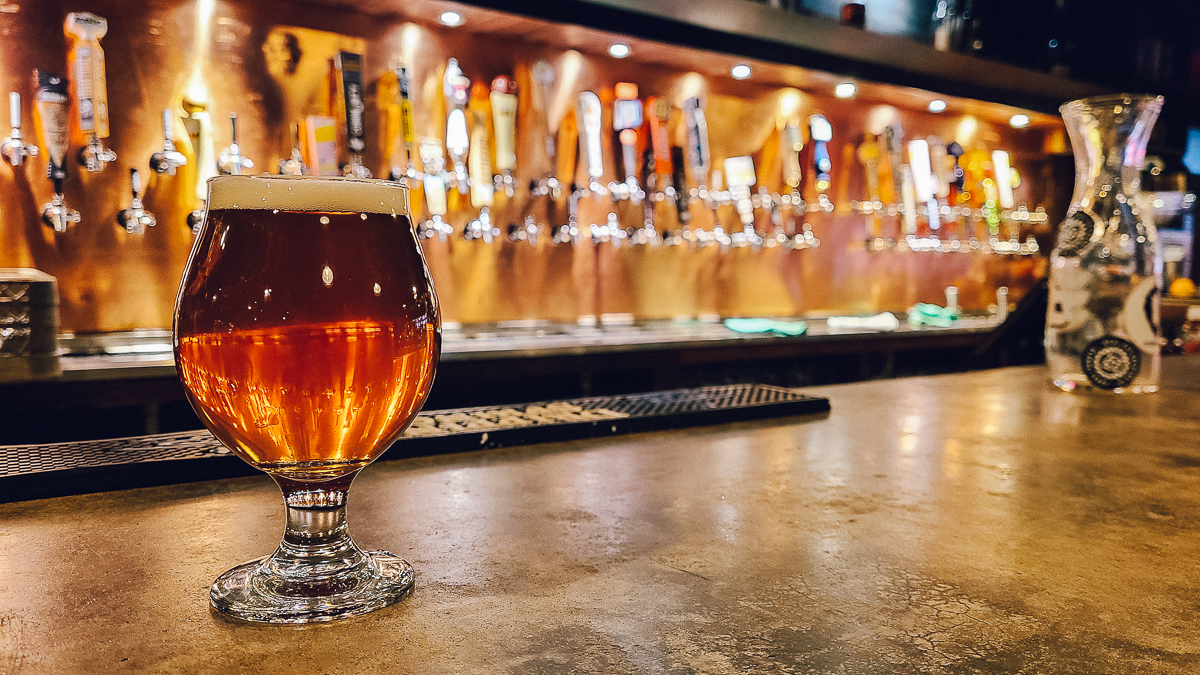 Just north of downtown, Hoppy Monk is a bar and restaurant committed to supporting only independently-owned breweries and distilleries.
Based on the huge tap list and variety of spirits offered, it might well be the holy grail of drinking options in El Paso. You can get a flight of beer or a flight of whiskey, tequila, or mezcal.
The interior gives off that monk-ish vibe, with tons of dark wood, communal picnic tables, and good booze all around. If the wall of beer taps isn't interesting enough for you, head outside to their patio where you'll find a wall of beer taps that (sadly) functions only as a waterfall feature.
A full menu of delicious food options complements the beverage program and includes brunch on Sundays (10AM – 3PM). If you're on the eastside of the state of Texas, there is a second Hoppy Monk location in San Antonio.
Happy's Barley and Vine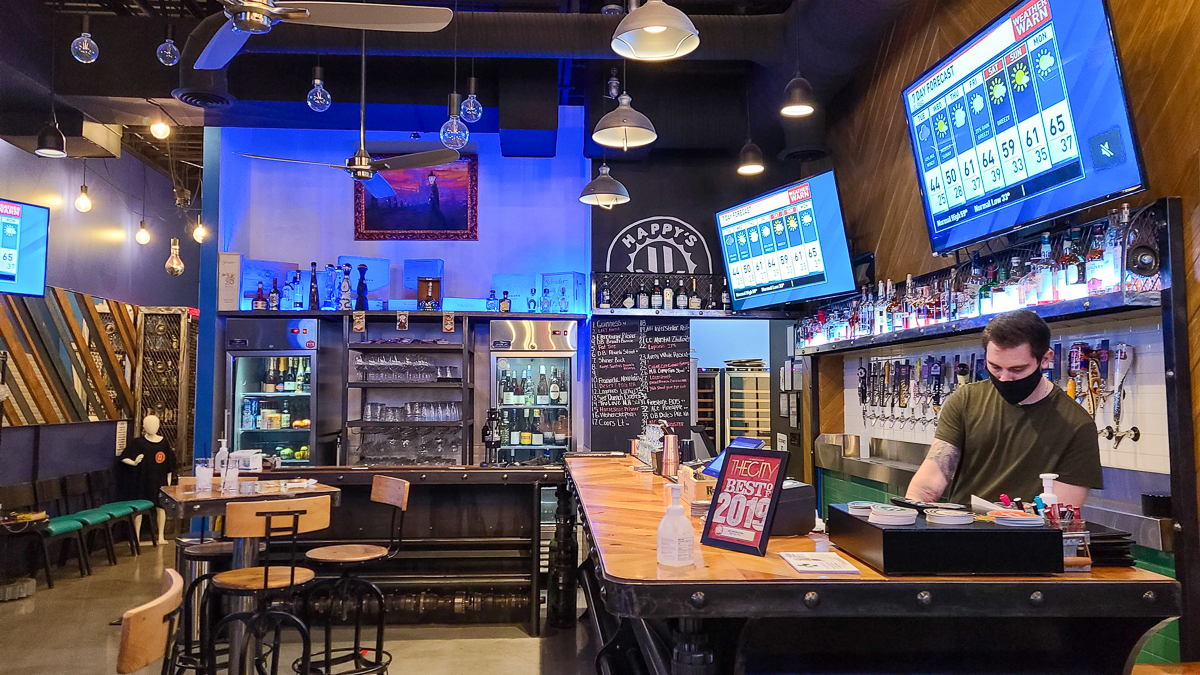 One of the reasons we got into this whole travel and booze blog was that no matter where we traveled, booze was always a commonality. We'd always get immersed into a culture and place so much quicker with a drink in our hand.
Enter Happy's Barley and Vine bar in El Paso, Texas. The four owners of Happy's have been friends since a young age, but all went their separate ways when it came time to start their careers.
But at their core, they were still four guys who loved alcohol (in a responsible way) and its cultural impacts. No matter their backgrounds, alcohol was always the unifier.
Happy's offers a 30-tap draft list with local, regional, and national beers, an extensive wine list with options from all over the world, and a full liquor lineup.
During our visit, we tried the delicious Abuela stout from one of the local El Paso breweries above (DeadBeach Brewery) , and a vodka from El Paso's own Free Range Vodka, a woman-owned distillery. Both were delicious and succeeded in making us "happy".
Tin Man Filling Station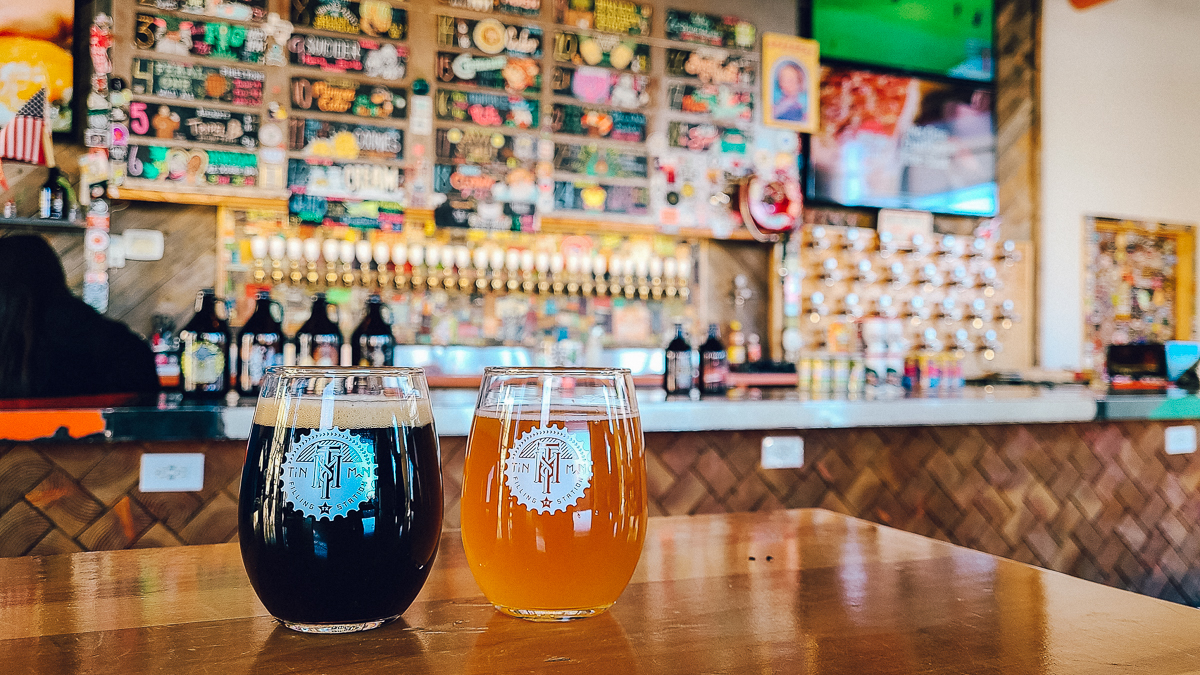 Raise your hand if your growlers are sitting on top of your kitchen cabinets at home? That was definitely our growler-storage area when our home wasn't on wheels.
If you're in El Paso and looking to dust off and fill those growlers, or just looking to fill your stomachs, look no further than one of three Tin Man Filling Stations. Tin Man has everything you need for taking home your favorite brew in a growler and they even offer draft beer for on-site consumption.
There are specials throughout the week, including Penny Growler Fills on Thursdays, Cider Day on Saturdays, and Kill the Keg on Sundays.
When we visited, we had two different beers from another Texas brewery, Martin House in Fort Worth – an absolutely perfect combination of a cookie dough stout called Cookies and a cream ale called Cream. If only childhood tasted this good!
BONUS: World Famous Kentucky Bar & Grill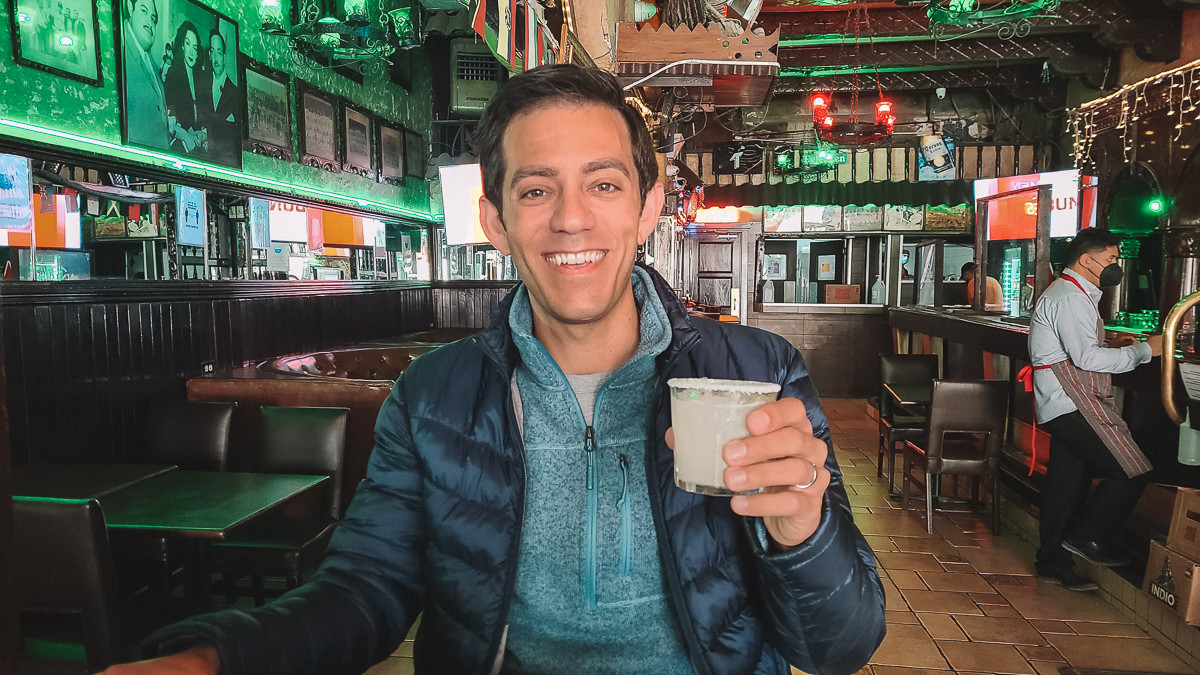 The Kentucky Club is just your average American bar serving up nachos, quesadillas, tacos, beers, and mixed drinks. There are sports on TVs, memorabilia on the walls, and even dim-green neon-like lighting all over the place.
So what makes this place worth a bonus entry? Well, it claims to have invented and served the very first margarita. And it's also located just across the US-Mexico border in Juárez, Mexico, a short 15-minute walk from El Paso, Texas. That's right, you can walk to Mexico from El Paso.
And what screams Mexico more than Kentucky?
Only two years into Prohibition, a Kentucky distillery couldn't take it anymore, so they opened The Kentucky Club as close to the US as they legally could…just two blocks south of the border.
Rather than opening another Mexican cantina, they ordered an ornate wooden bar from France, reminiscent of those old-timey American bars, and filled the spot with the comforts of home, including whiskey.
Fast forward to 1944, after Prohibition had ended and the Kentuckians had returned home, the Mexico-based Kentucky Club kept on, and created the (self-proclaimed) first curious cocktail concoction which we now call the margarita.
Though we haven't thoroughly fact-checked this claim and we know of several other claims to the "first" margarita, we did imbibe and thoroughly enjoyed our drink, tacos, and short stay in Mexico!
We'll admit it – El Paso was not on our list of places to visit on our road trip. It was merely a big city on the way to another destination. But having spent two different stints in El Paso over the past few years, we can say we wrongly overlooked this southwestern city.
Sure, it might look a little rough around the edges, but it's a very cultural city and the El Paso breweries and other drinking options do wonders to make this a destination for travelers and passersby.
Still Thirsty? We have a bunch of guides. Check out some of our most popular posts: