2023 Couples Travel Bucket List for Incredible Boozy locations in the U.S.A.
Looking for an epic 2023 couples travel bucket list?
If you are reading this, you know that it's never too soon to plan your trip and getting inspired is half the fun of planning. While traveling with friends and/or family is great, sometimes you just need to break away and take a trip with your significant other.
To help, we've created a Couples Travel Bucket List, but with a twist (wink, wink). Our bucket list destinations will be booze-focused spots so you can relax and unwind!
Whether you are looking to "wine" down or find a "budding" craft beer mecca, we've created the perfect Couples Travel Bucket List for all of you thirsty adventurers out there.
**Boozing Abroad contains affiliate links throughout the site. If you choose to purchase items through these links, we will earn a small commission at NO extra cost to you. Read the full disclosure policy here**
Map of Boozy Destinations for Couples Travel Bucket List
Click the interactive map below!
HOW TO USE THIS MAP: To view the layers and see the names of the places on this map, click the tab in the top left corner. You can select the check marks to show or hide certain layers. If you select the icons on the map, you will get more information about the point of interest.
HOW TO SAVE THIS MAP: If you select the star icon next to the map name, you can save this map to your Google Maps account. To view it, open Google Maps in desktop or on your phone, select the menu button, go to "Your Places," scroll to the right to Maps, and you will see this map.
Craft Beer Destinations
1. Bend, Oregon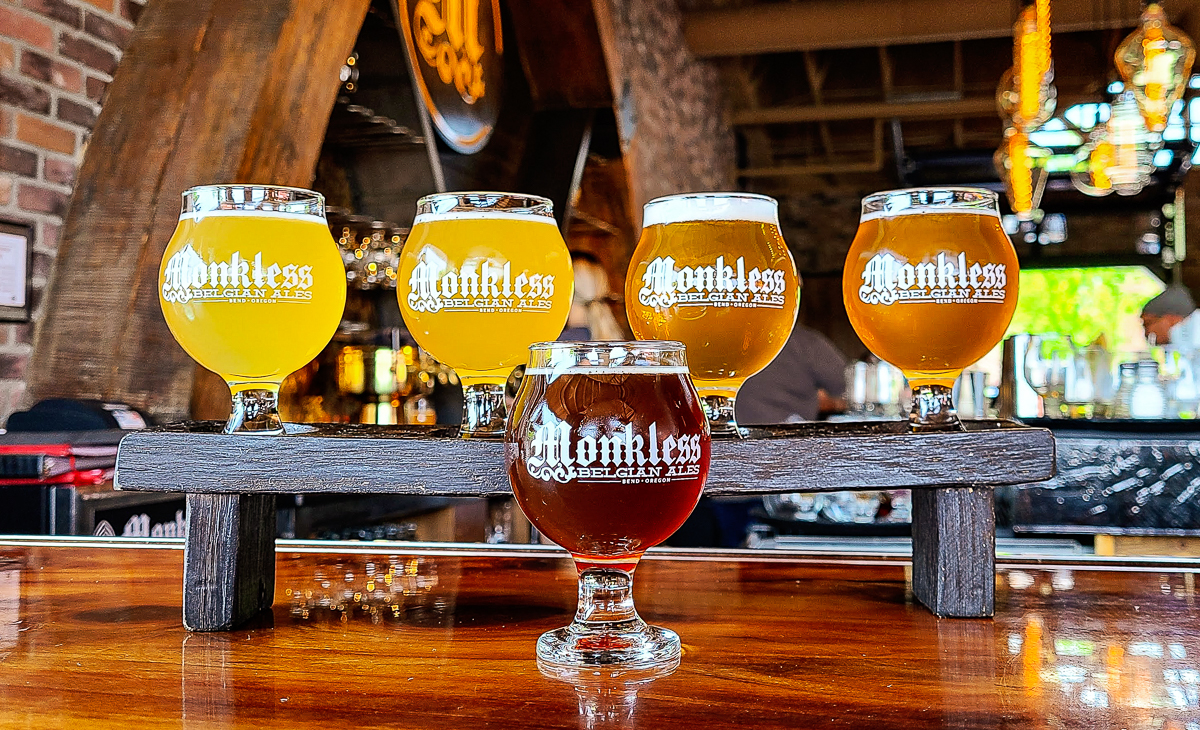 Bend, Oregon is a small city along the Deschutes River in the center of the state and is known for numerous hiking trails, gorgeous mountain peaks, and overall natural beauty.
For a city around 100,000 people, Bend is also becoming renowned as one of the beer capitals of Oregon and one of the top beer destinations on the West Coast and around the world.
There are over 20 breweries in Bend, Oregon (and even more in the surrounding areas)!
>> Read more on the breweries in Bend, OR here
2. Richmond, VA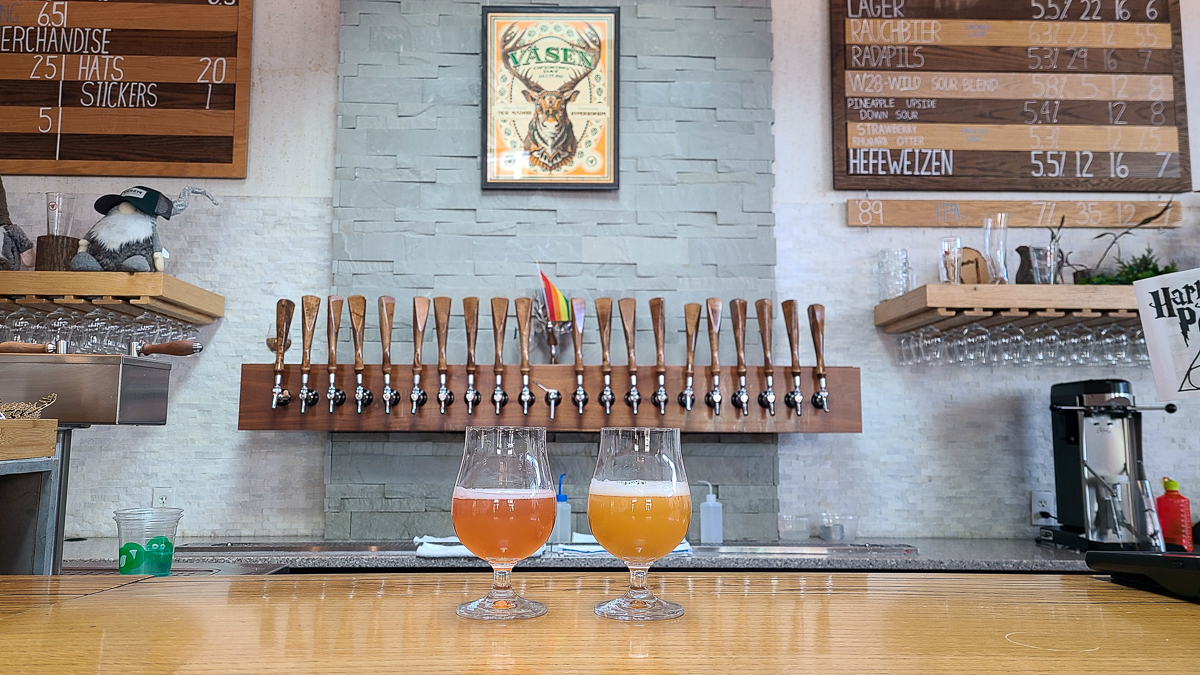 Richmond, VA is becoming a top beer destination on the East Coast and has truly tapped into what makes a craft beer scene incredible: walkable and lots of food options nearby.
While there are over 30 breweries in the greater Richmond area, Scott's Addition has become the oasis in town as you are able to walk to 10 breweries/cideries, a winery, and a couple distilleries.
As if that wasn't great enough, this area also is home to some highly sought-after restaurants.
>> Read more about Scott's Addition booze scene in Richmond, VA
3. Colorado Springs, CO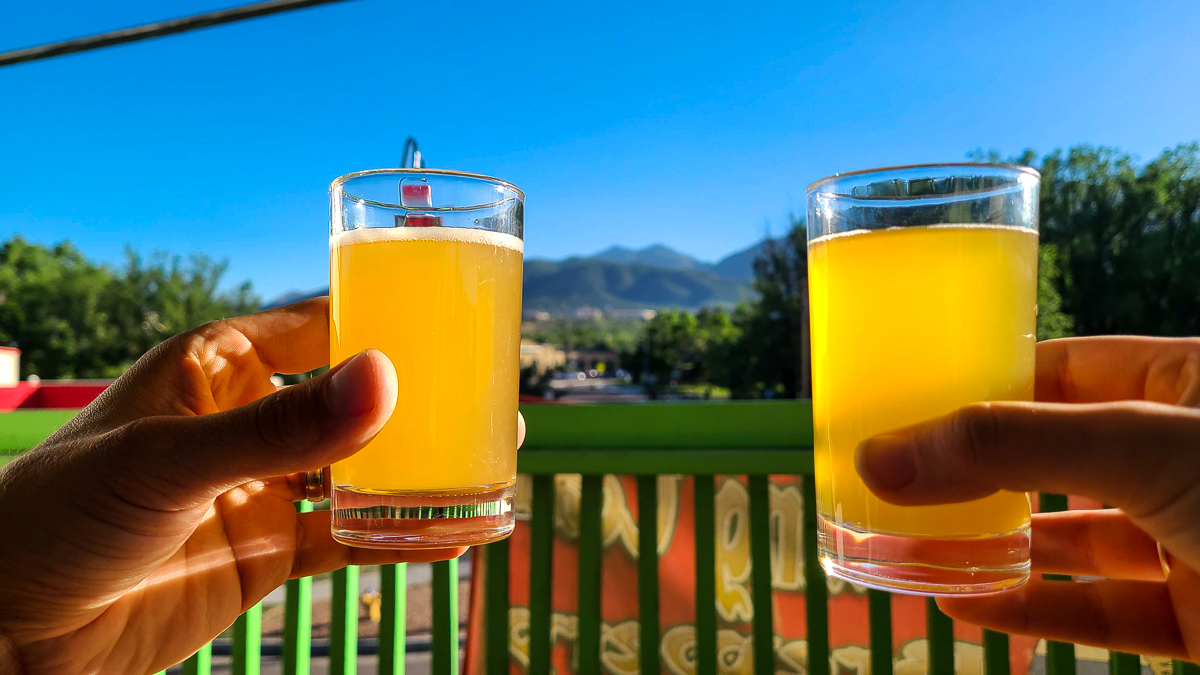 To say we were impressed by the breweries in Colorado Springs would be a huge understatement.
For a small town that many might consider Denver's younger sibling when it comes to beer, Colorado Springs' beer scene is top-notch.
And there is plenty to do in the beautiful outdoors during the day, so you can end your evening with a cold, frothy brew.
Though it's Colorado's second-largest city, it still feels fairly small and navigable.
There are numerous different pockets or neighborhoods with their own feel and vibe to which the breweries in Colorado Springs all contribute.
>> Read more on the Breweries in Colorado Springs, CO
4. Milwaukee, WI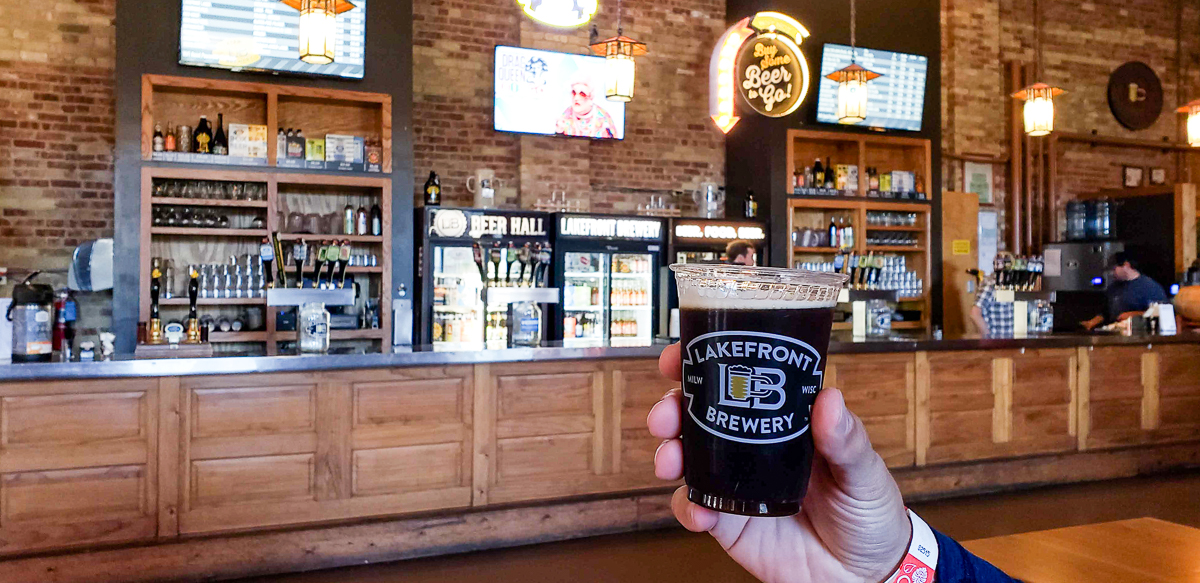 Milwaukee was actually one of the first beer-centric trips we took as a couple and we had an absolute blast!
Having been back a few times, Milwaukee doesn't disappoint in their craft beer offerings.
While there are many brewery tours you can purchase for ease of access and planning, we opted to created our own self-guided tour which only added to the fun!
>> Read more about the breweries in Milwaukee, WI
5. Portland, Maine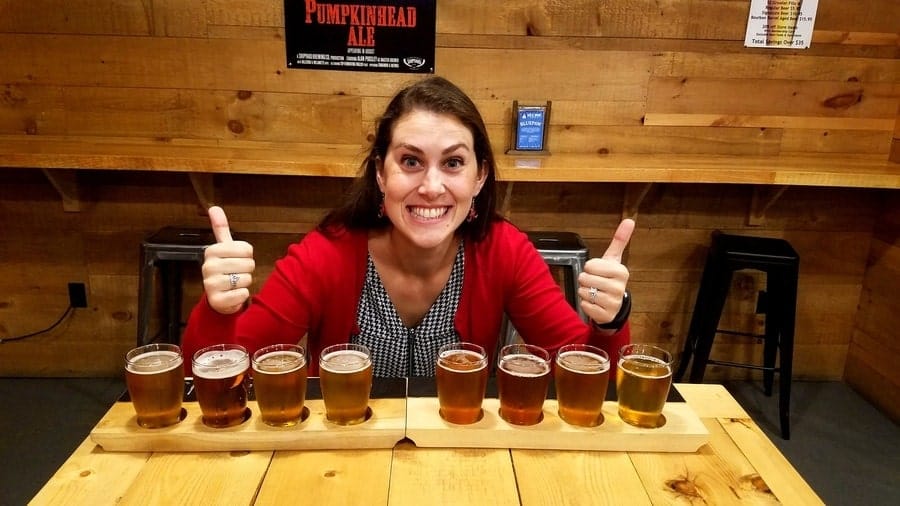 Often caught in the shadows of the Oregon city by the same name, Portland, Maine is a bit of a hidden gem in the Northeast and is a great Couples Travel Bucket List destination for the fall or summer months.
The Portland, Maine, brewery scene boasts one of, if not, the highest number of breweries per capita in the United States.
With roughly 70,000 in population and nearly 20 breweries, that's a lot of beer per person!
We visited most of the breweries in Portland, Maine and have created a guide for you to know all the different areas of town to visit.
>>Read more about all the breweries in Portland, Maine here
Wine Destinations
Did you know there are over 250 established and recognized wine regions in the United States?
Everyone knows about the California wine regions (and they have more than half of them), but most people don't realize just how dang expensive it is to drink from the source in California.
We wanted to highlight some of the more affordable options for your Couples Travel Bucket List. While we tried to pick different locations across the country, no matter the season, you'll have a few options.
1. Walla Walla, Washington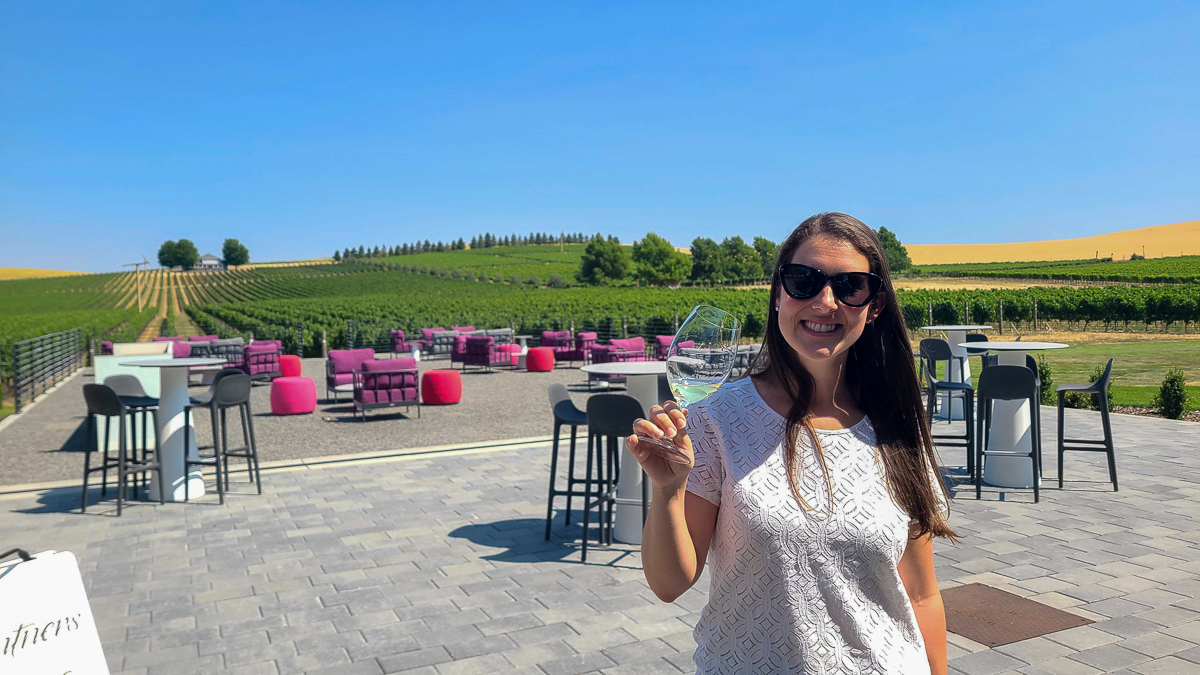 We can't say enough about Walla Walla, Washington.
Mark our words, Walla Walla is quietly becoming the next BIG wine destination, and for good reason: the wine is damn delicious!
In our humble opinion, it's giving California wine a run for its money.
Many wine tastings in Walla Walla are free (with a few up to $10) – a far cry from the likes of California's Napa Valley.
And it isn't just bargain wine, either. Walla Walla is producing some excellent red wines!
With over 100 wineries within an hour radius, you should add Walla Walla to your bucket list for wine getaways.
>> Read more about Walla Walla Wineries here
2. Charlottesville, Virginia
For quite some time, Charlottesville wine has been the talk of the Virginia alcohol scene.
Charlottesville wine is delectable and the number of Charlottesville, VA wineries are numerous, making putting together a wine trail for couples fun and relatively easy.
While the star of the show in Charlottesville is the wine, we'd be remiss if we didn't mention the incredible breweries and delicious distillery along the same trail.
You can choose to focus on all the grapes, but if you aren't sure your partner can handle an exclusively-wine destination, this is a great option with lots of variety nearby.
>> Read more about a boozy getaway in Charlottesville, VA here
3. Boise, Idaho aka Sunnyslope Region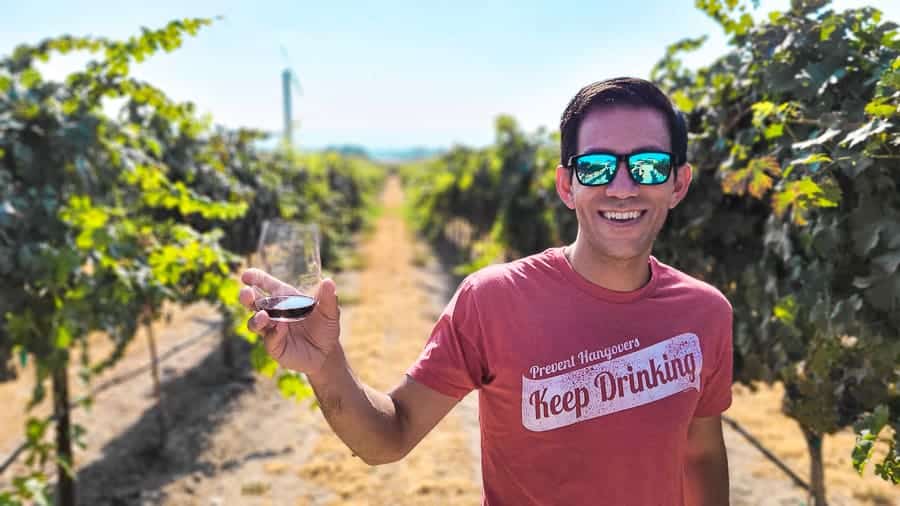 When you think of top wine regions in the U.S., the Snake River Valley region in Idaho probably doesn't roll off of your tongue.
Trust us, we thought the exact same thing!
Situated between the Snake River and the Rocky Mountains, this region of Idaho, aka Caldwell, wineries sits on the same parallels of countries like Italy, Spain, and France. This means they have the climate to produce some tremendously-delicious wine!
We have been back several times to enjoy the wine they are producing and always recommend it to friends and family when they are looking for a new place to explore.
>> Read more about the Sunnyslope Wine Trail in Idaho
4. Willcox/Sonoita, Arizona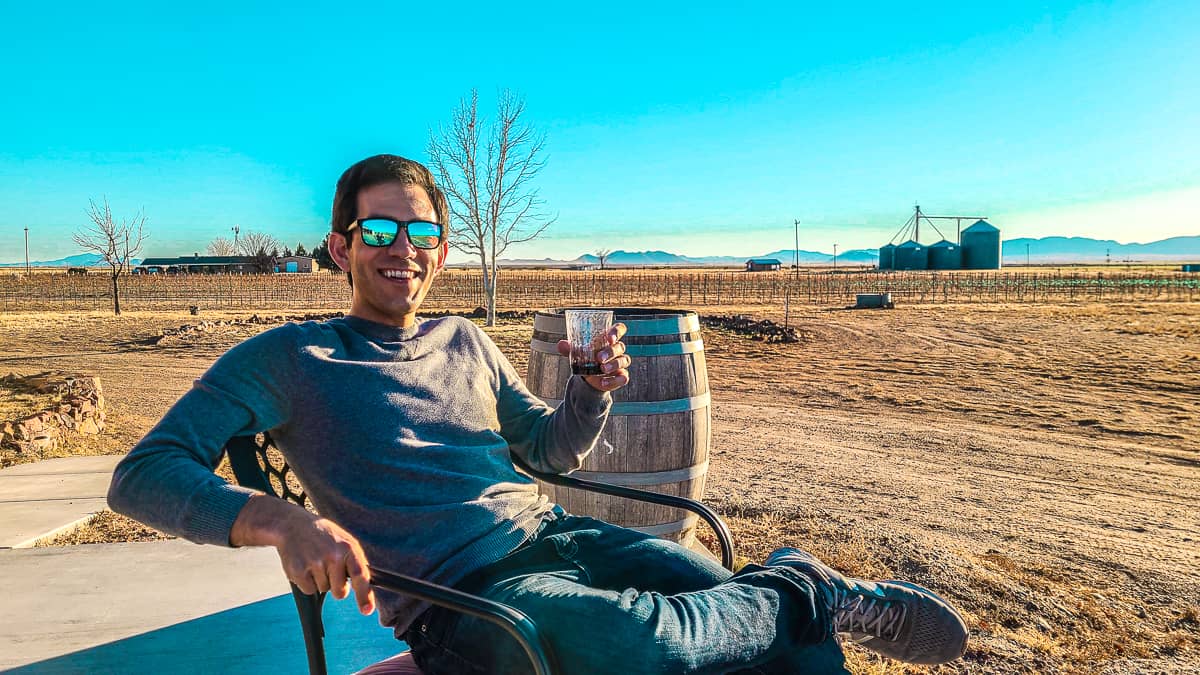 When we found out that Arizona had a wine region (they actually have three total AVA's), we were seriously stunned.
How the hell do you grow grapes in the desert?
But believe it or not, the wineries in the Willcox and Sonoita AVA regions are not only thriving, but they've received numerous accolades over the years for their wine production.
Intrigued? We were too.
While the wineries are concentrated in the Willcox/Sonoita areas, you will still need to rent a car or a driver to get to the various wineries as most are not walkable.
Make sure you consider this location a fall/spring spot since summers in the desert can get HOT.
>> Read more about Willcox, AZ here OR Sonoita, AZ here
5. McMinnville, Oregon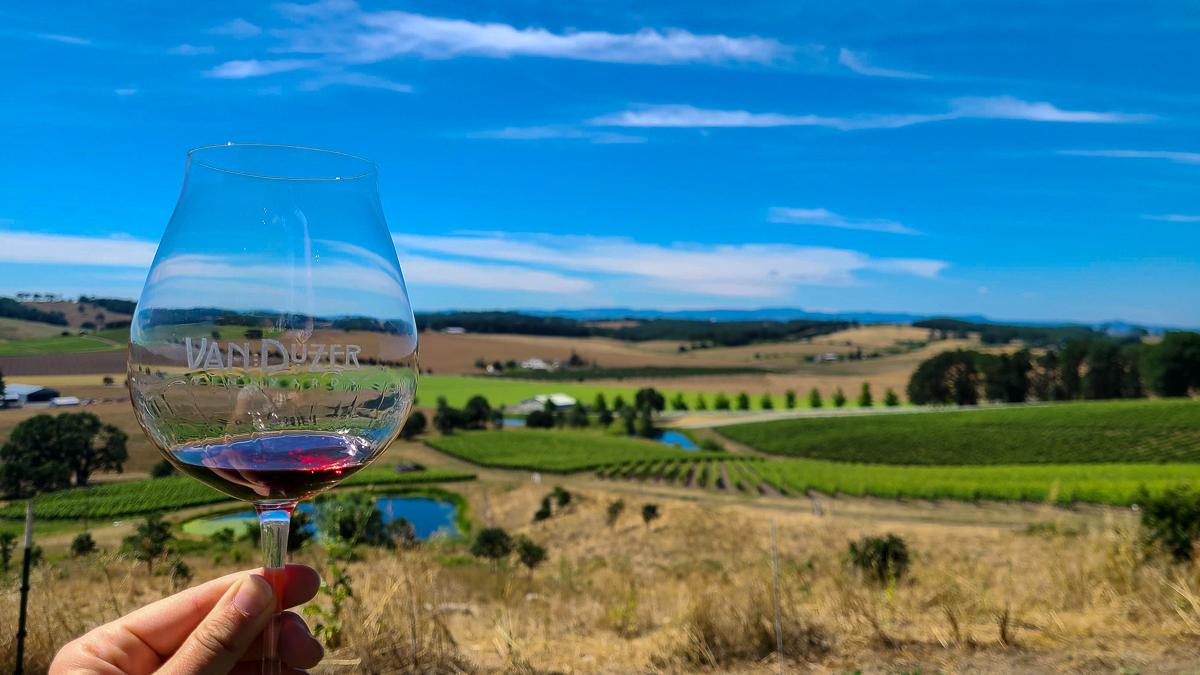 Calling all Pinot Noir lovers! If you enjoy a lighter-bodied red, the Willamette Valley in Oregon is what you're looking for (though there is plenty else to drink other than just Pinot Noir).
We'd recommend staying in the town of McMinnville as their downtown area is littered with walkable wine tasting rooms and some great food options.
The Willamette Valley is located between the urban areas of Portland and Salem, and has a bit of everything: vineyard-covered hills, lush forests, mountain views, hop farms, and a river valley.
This wine valley is a bit more spread out than Napa at about 100 miles, but still has numerous wineries in the region, making Oregon second on the list of number of wineries in the US.
Our complete guide is coming soon!
Appreciate America's "Spirit" with distilleries / cocktail bars
1. Bourbon Trail in Kentucky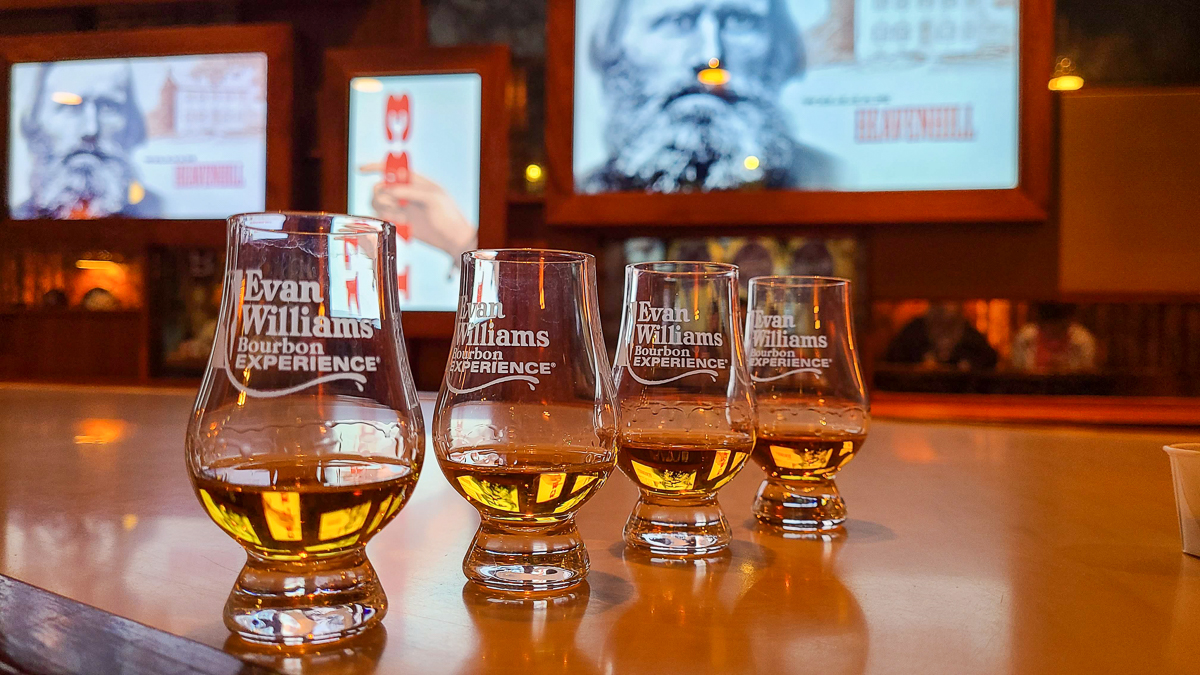 This iconic destination is a no-brainer if you are looking for a dense location of distilleries.
Though the distilleries are located on the "trail", it's worth noting that the "trail" isn't walkable and you'll need to rent a car (with a designated driver) or book an organized tour.
Of note, if you are sticking only to downtown Louisville, you might be able to get away with walking or ride-sharing to the various downtown tasting rooms; though you will miss some of the better places on the outskirts.
The Birthplace of Bourbon, and continued Bourbon Mecca (95% of the world's bourbon is produced in Kentucky) is a bucket list item for any bourbon-lover.
This triangle-shaped area of Kentucky (between Louisville, Lexington, and Bardstown) has no shortage of distilleries (over 70 in Kentucky) crafting up some delicious bourbon.
Complete guide in progress!
2. Charleston, South Carolina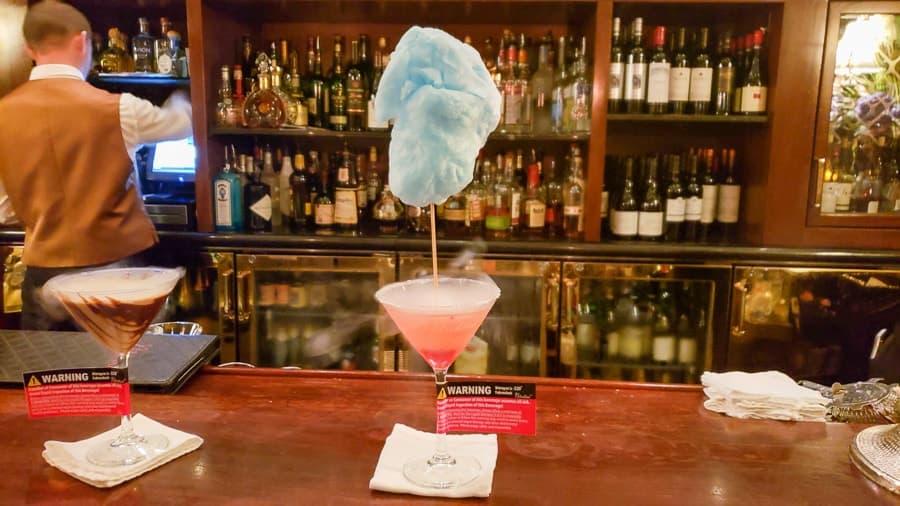 Charleston, SC ranks #2 on our spirits destination for a few reasons.
First, there are over 5 distilleries within 20 minutes of downtown Charleston. While it's no bourbon trail, the distilleries are easy to get to and offer a variety of different alcohols.
Second, the craft cocktail scene in Charleston only adds to the incredible spirits available.
From known favorites like Vintage Lounge and Gin Joint, to lesser known places like Paddock & Whiskey and Proof, finding a cocktail bar is easy and most bars have extensive options to pick from.
Our personal favorite for craft cocktails is the charming french-inspired Félix Cocktails et Cuisine.
If you are looking for a unique, one-of-a-kind drink option, you can head over to Grill 225 for a Nitrotini (see above picture). While it's expensive and somewhat outlandish, your Instagram followers will love it!
Keep reading here about spending a weekend in downtown Charleston.
3. Denver, Colorado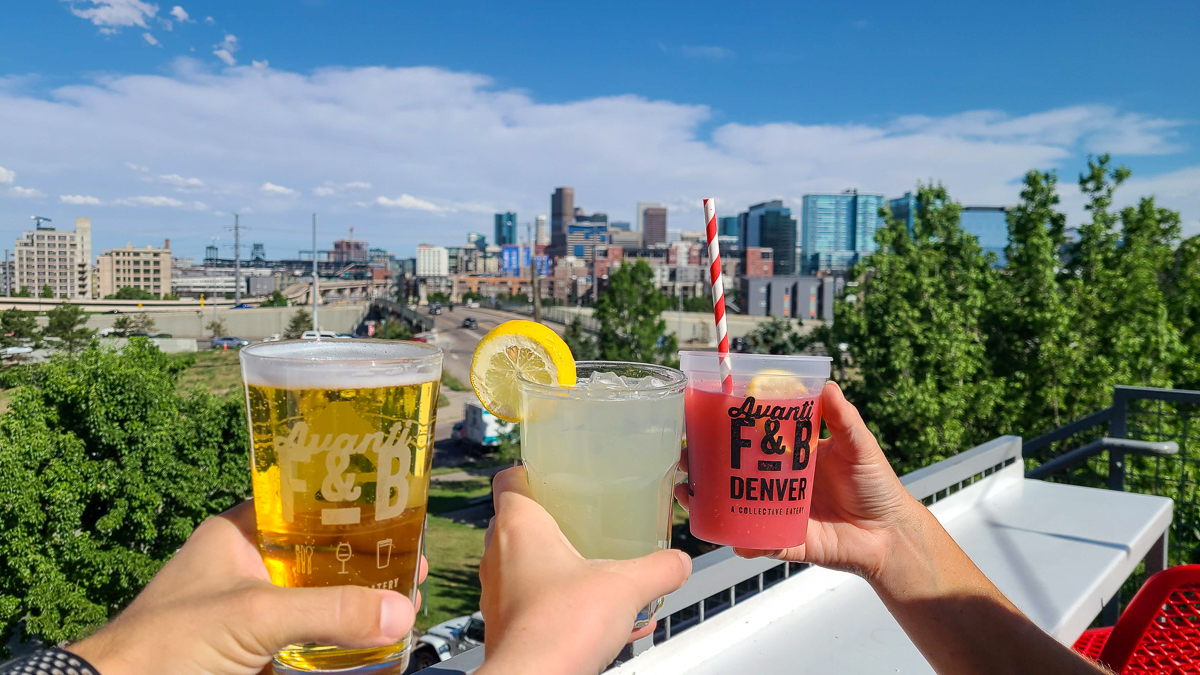 Denver, CO is teeming with distilleries and craft cocktails bars making it to #3 on our list.
Colorado states it is home to more than 50 distilleries, which is somewhat shocking since there are over 400 breweries in the state as well (and over 150 wineries).
It's safe to assume there is no shortage of alcohol options in Colorado.
The downtown Denver area houses 10 distilleries all of which have a tasting room and different experiences:
Leopold Bros offers private and group cocktail classes

The Family Jones Spirit House features the perfect pairing of food and spirits

Take a tour at either Stranahan's Colorado Whiskey or Laws Whiskey House
In short, you can enjoy the best of all worlds in Denver with craft cocktails, specialty spirits, wine, and of course, their hopping beer scene.
Be sure to download the Colorado Spirits Trail map for quick and easy access to all the offerings.
Complete Denver guide coming soon!
4. Cincinnati, Ohio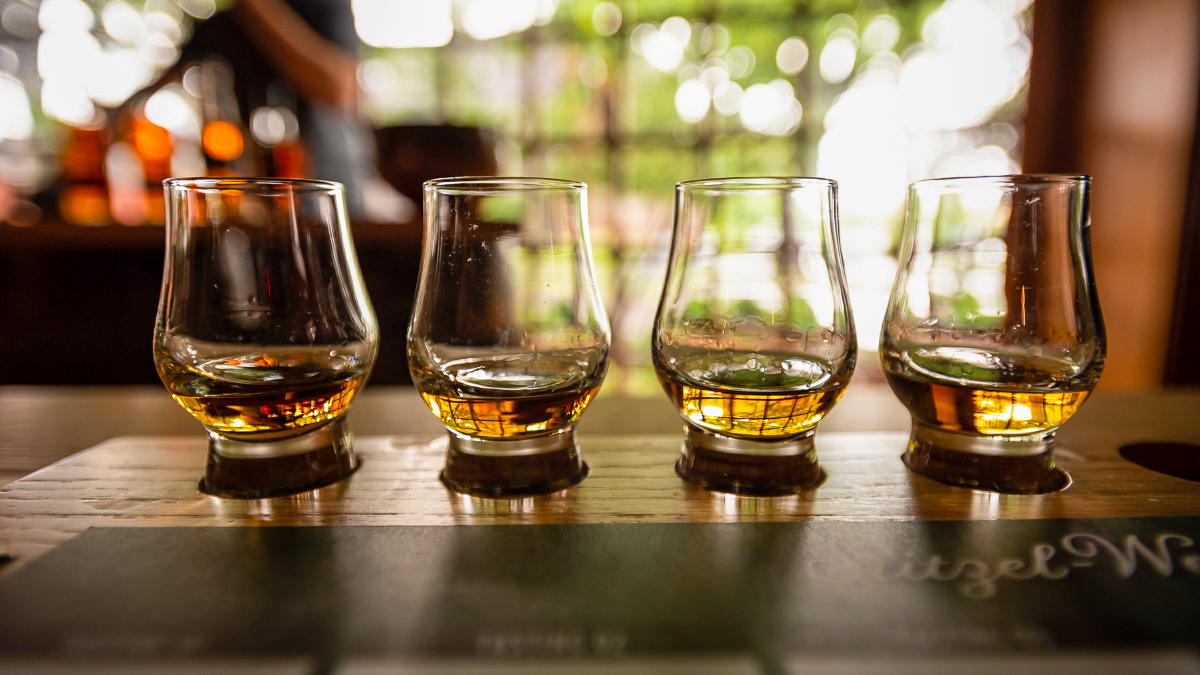 Cincinnati, OH is becoming an extension of the Kentucky Bourbon Trial with many well-known bourbon distilleries like New Riff Distilling and Second Sight Spirits calling Ohio home.
With more than just bourbon to offer, you can enjoy over 10 craft distilleries producing high-quality spirits including rum, gin, vodka, and moonshine.
Not convinced yet?
During the 2022 U.S. Open Whiskey and Spirits Competition, Cincinnati Distilling and Northern Row Brewery and Distillery were named the second best whiskey distillery second best spirits distillery in the nation, respectively.
Trust us, we are as shocked by you that Cincinnati is on this list, but there is no denying the libation scene there. More coming soon on Cincinnati!
5. Portland, Oregon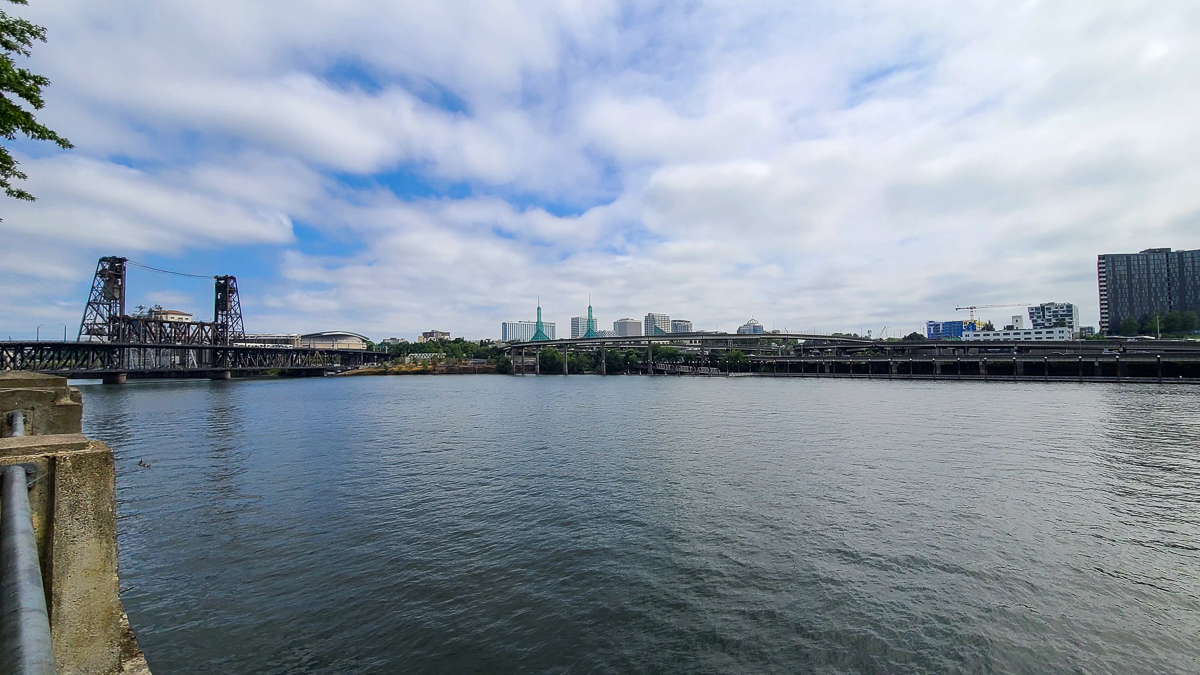 When a city has a section named "Distillery Row", you know you'll be able to find some spirits!
Home to over 20 distilleries, Portland, OR is really a one-stop shop when it comes to alcohol.
On "Distillery Row", you can easily hop between craft distilleries all producing a variety of spirits.
From the spicy Hot Monkey Vodka at New Deal Distillery to the rice-based spirits at Vinn Distillery, you can allow yourself to be immersed in a plethora of contrasting flavors and craft cocktails.
Want to make the most of your visit?
Consider purchasing the Distillery Row Passport, which offers exclusive promotions and prizes for participating. The passport is good for 2 years so you don't need to worry about binge drinking on your visit. More on Portland coming soon!
Bonus: Outdoorsy Trips near booze spots
1. Bozeman, Montana / Yellowstone National Park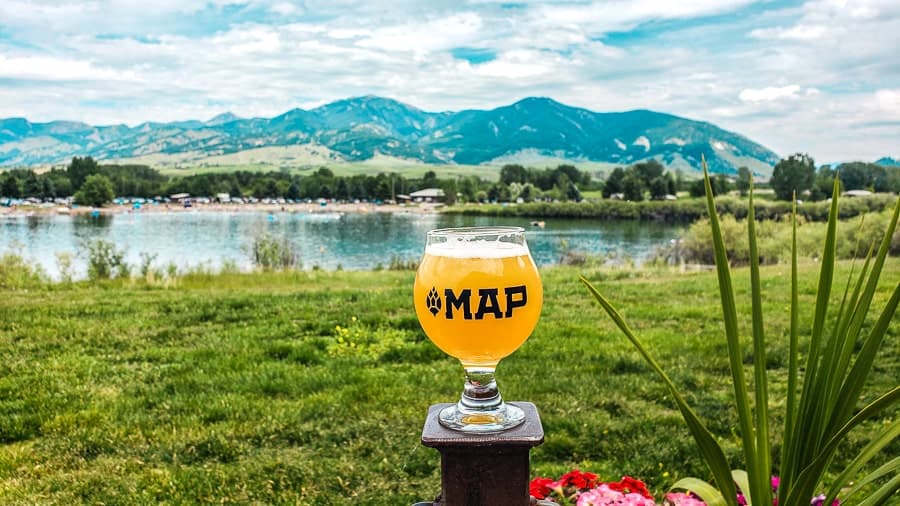 Bozeman, Montana is considered by many to be the gateway to Yellowstone National Park.
Only a 1.5-hour drive to Yellowstone's north entrance, Bozeman offers not only a surprising amount of breweries, but a great distillery scene too.
The majority of people fly into Bozeman to get to Yellowstone and we're here to tell you to add in 1-2 days to your Yellowstone itinerary to spend soaking in the suds/spirits in Bozeman.
2. Jackson, Wyoming / Grand Teton National Park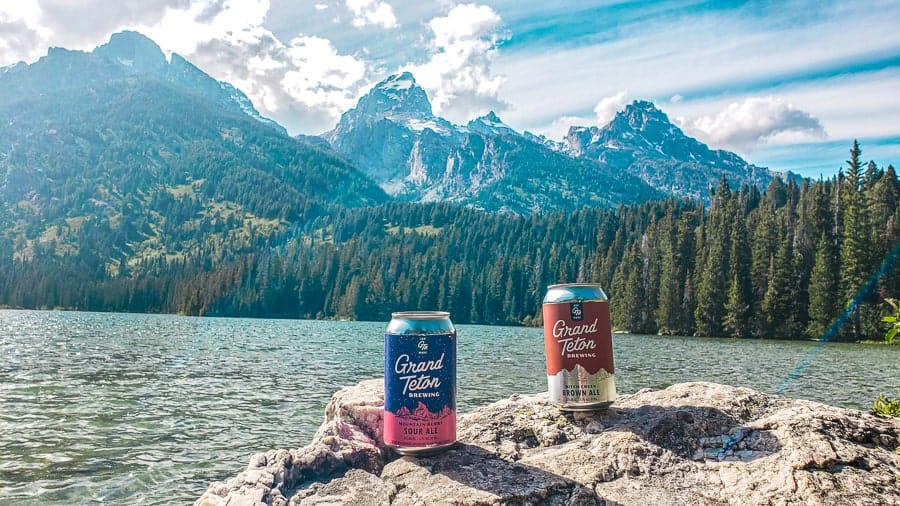 We personally love to pair a good hike with a drink which makes Jackson, WY one of our favorite places to stay when visiting the Tetons.
Using Jackson Hole as your basecamp, you can hike in the Tetons during the day and enjoy various local drinking options when you are done.
For a town of only 6,000 people, Jackson's booze scene is surprisingly robust.
>> To start planning, read The best drinking guide to Jackson Hole Breweries, Wineries and Distilleries and then the Hiking in the Grand Tetons guide.
3. Kalispell, Montana / Glacier National Park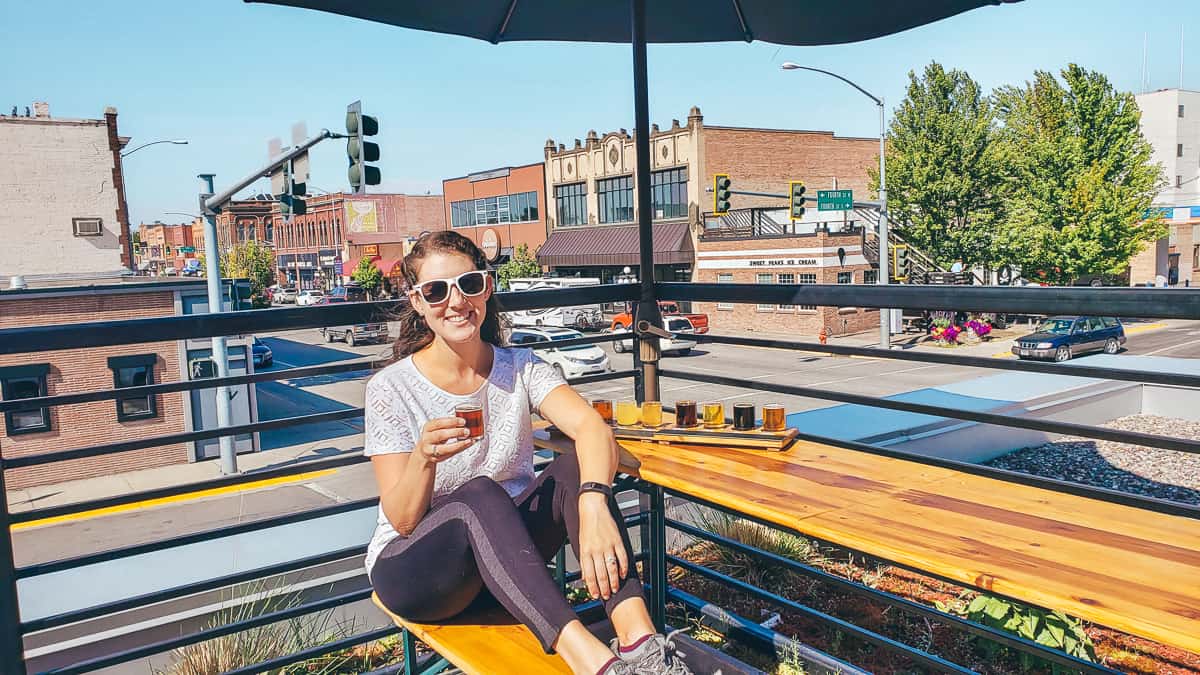 Glacier National Park is, without a doubt, one of our favorite national parks that we have visited. Ever.
With over 700 miles of trails, there are so many great hikes with jaw-dropping views, both throughout and at the end.
Unless you are local to Montana, chances are you are flying into Kalispell to visit Glacier.
Whether you are just here for the weekend or passing through, the Whitefish and Kalispell breweries are definitely worth a stop in before, during, or after your visit to Glacier National Park.
>> To start planning, read The Ultimate Glacier National Park Hikes and Trip Planning Guide and then check out the fantastic Whitefish and Kalispell Breweries.
4. Cottonwood, Arizona / Sedona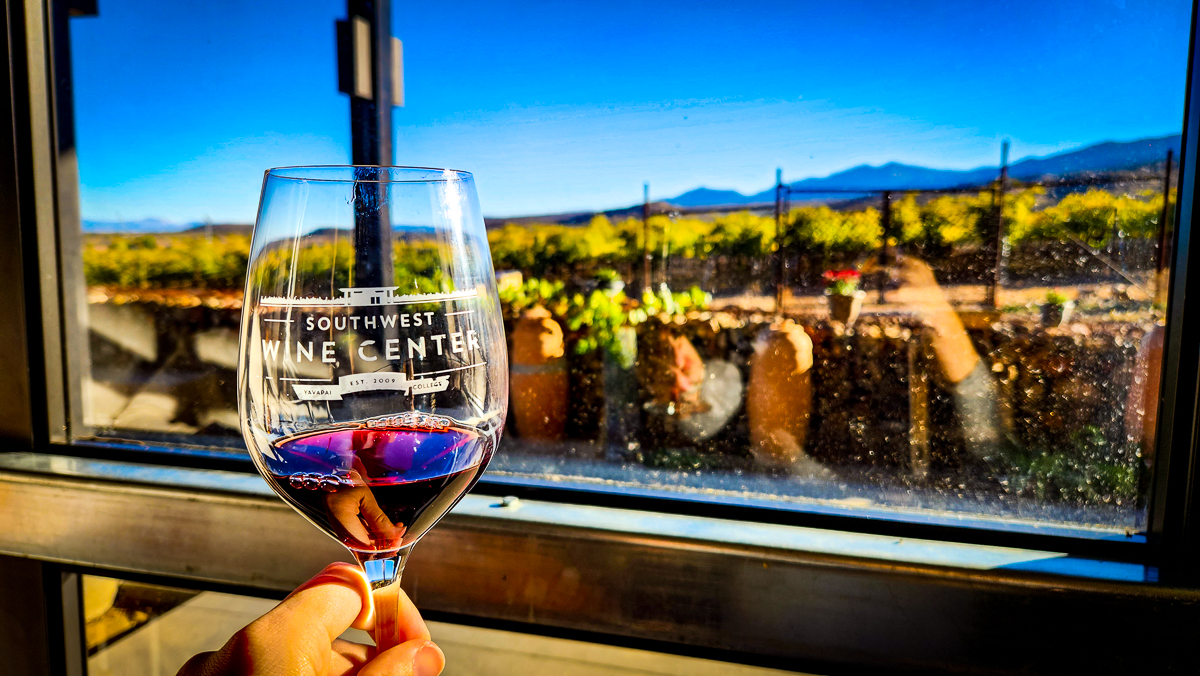 If you're in Sedona, you are probably there to enjoy the scenery and do some Sedona hiking trails.
And rightfully so…it's insanely gorgeous.
But, while you probably didn't expect it, there are a handful of wineries and breweries that are worth a visit when traveling to the picturesque and iconic Sedona.
We have been twice and both times we have visited, we have ended a full day of hiking with some of the grapes and suds from the Sedona and Cottonwood wineries and breweries to unwind and celebrate our summits.
>> To start planning, read Top 5 most popular Sedona Hiking Trails you won't want to miss and then the Verde Valley Wine region near Sedona.
5. Hill City, South Dakota / Custer State Park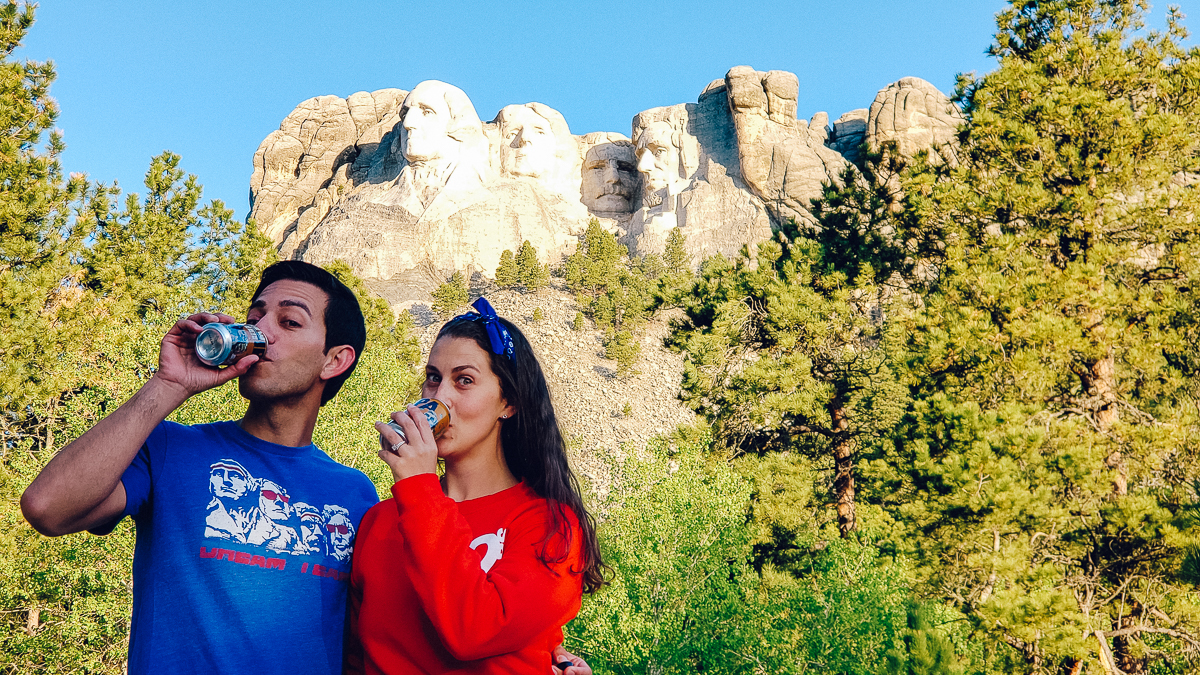 We've been back to the Black Hills in South Dakota numerous times and each time we go, we find a new hike, experience fun wildlife encounters, or catch a buzz at a local booze establishment.
Whether you're driving through the scenic Black Hills to see the "Fab Four" at Mount Rushmore or you're stuck in a bison traffic jam, make a pit stop at one (or all) of the wineries and breweries that are scattered across the region.
The cities/towns of Rapid City, Hill City, Custer, Sturgis, and Spearfish have it all: breweries, wineries, beer bars, wine bars.
Make a day of it and visit the surprisingly great craft beer and wine scene of the Black Hills.
>>To start planning, read the South Dakota Road Trip guide to the Black Hills and then the Black Hills Breweries and Black Hills Wineries guide.